Update an old vanity quickly and easily with this simple tutorial.
For my recent budget-friendly bathroom makeover and mini remodel, I had a budget that I had to stick to. As much as I wanted a beautiful new vanity (like one of these vanities!), it would have completely blown my tight budget. Plus, my vanity is only a few years old and in good condition, so it didn't make sense.
Instead, I opted to give my existing vanity a new look with some cabinet paint, spray paint and a new faucet.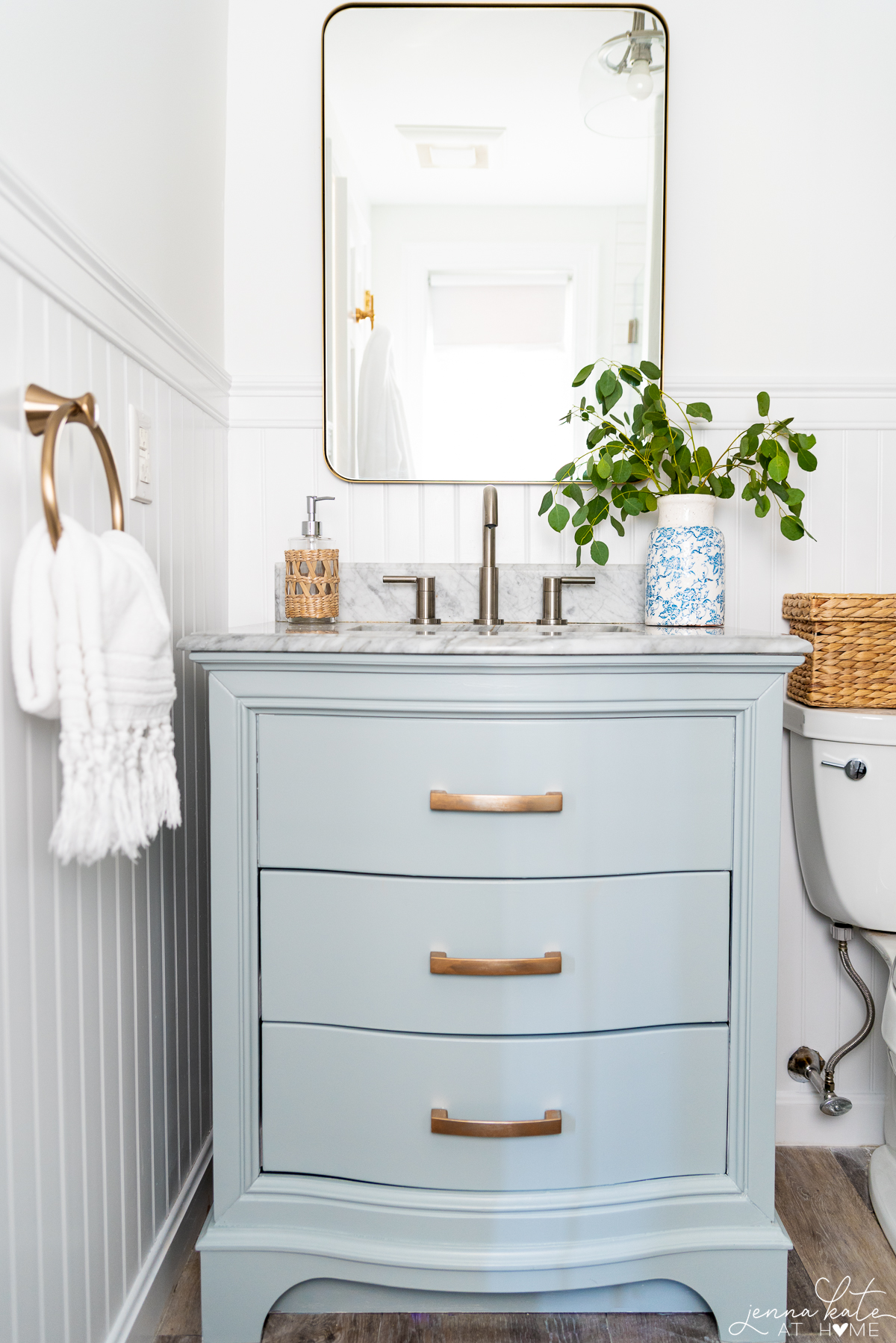 This is such an easy project to do. I promise you, if you follow these steps you'll get a beautifully painted vanity, too.
I've spoken about the best paint for kitchen cabinets in the past, so no surprise that I'm using my number one recommended paint for my bathroom vanity, too. Benjamin Moore Advance paint is an alkyd paint. It basically acts like an oil-based paint without being a oil-based paint! Once you follow the proper steps and allow it to cure completely, it will dry to a rock hard finish that resists chipping.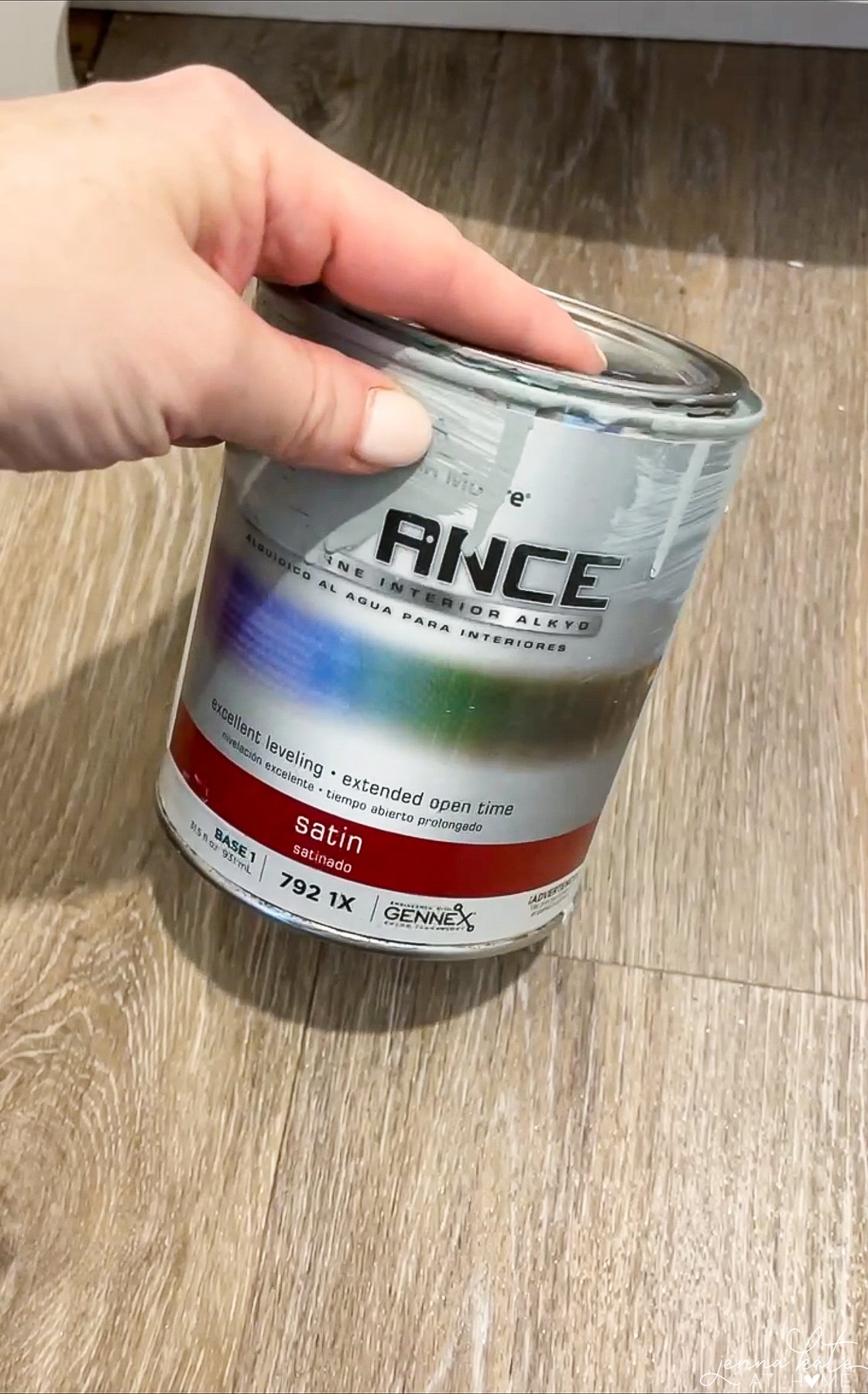 For the vanity, I chose the same paint color that we used on our kitchen island and pantry cabinets, Benjamin Moore Boothbay Gray.
Our kitchen has a factory finish, but I did have this paint left over from painting the shelves in our pantry. Despite some seriously heavy use, there's not a single chip on those shelves after 18 months…so this is good paint!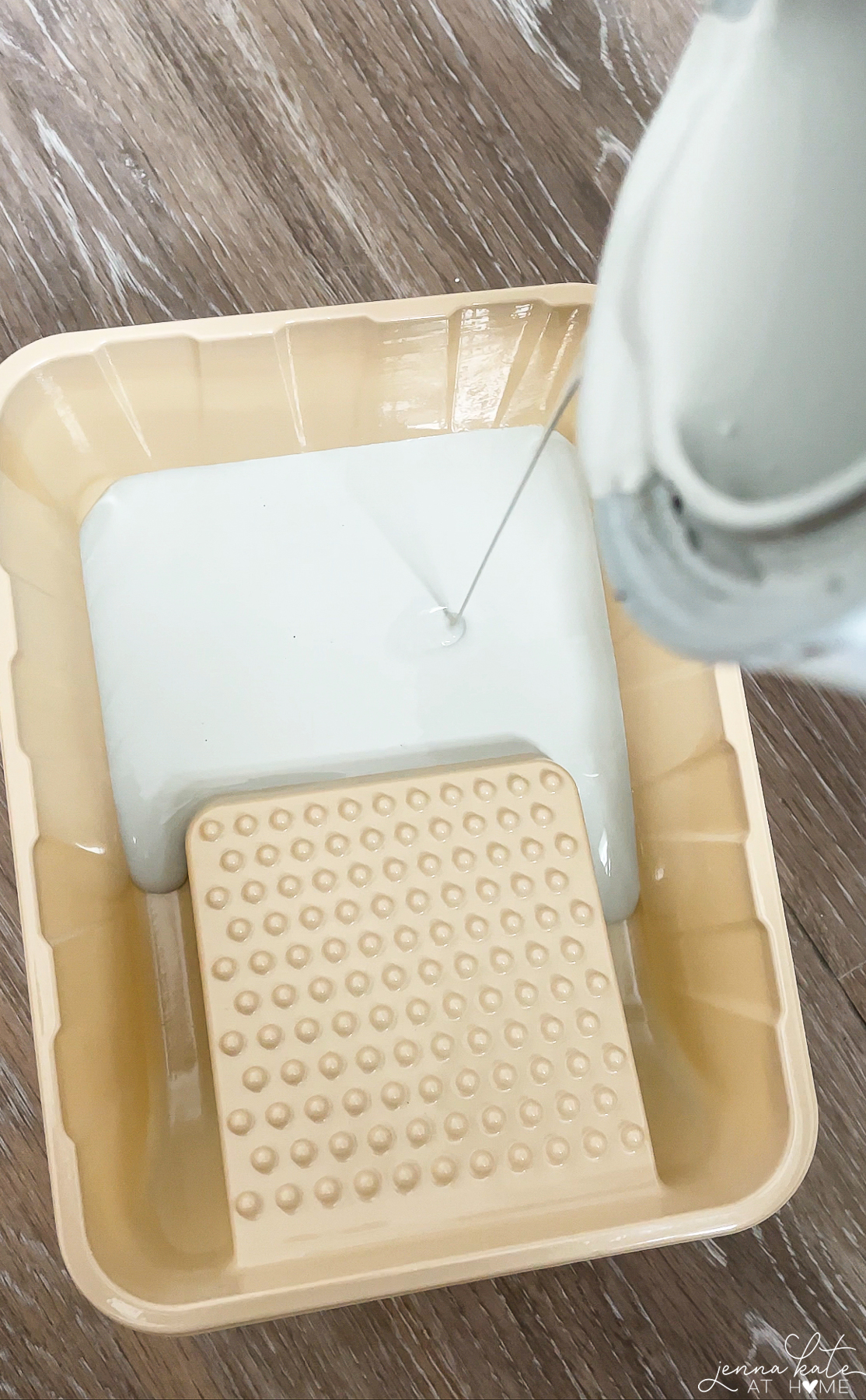 What You'll Need
How to Paint The Vanity
Remove the drawers and hardware.
Clean the entire vanity to remove any grease or dirt.
Lightly sand the entire surface to scuff up the finish and enable the paint to properly adhere.
Clean the sanding dust with a vacuum and then a tack cloth.
Use a roller to roll as much of the surface as possible. Any corners and crevices will require the paint brush.
Allow to dry for 16 hours before re-coating. I only needed 2 coats of paint, but depending on the color you may need 3.
Lightly sand between coats and wipe with the tack cloth.
Do not sand the final coat.
The paint will take about 3 weeks to fully cure but light use after about 3 days is usually fine as long as you are careful! If your drawers stick anywhere, it's best to leave them off for a few weeks so that you don't scratch off the paint. Hardware can go back on after a day or so.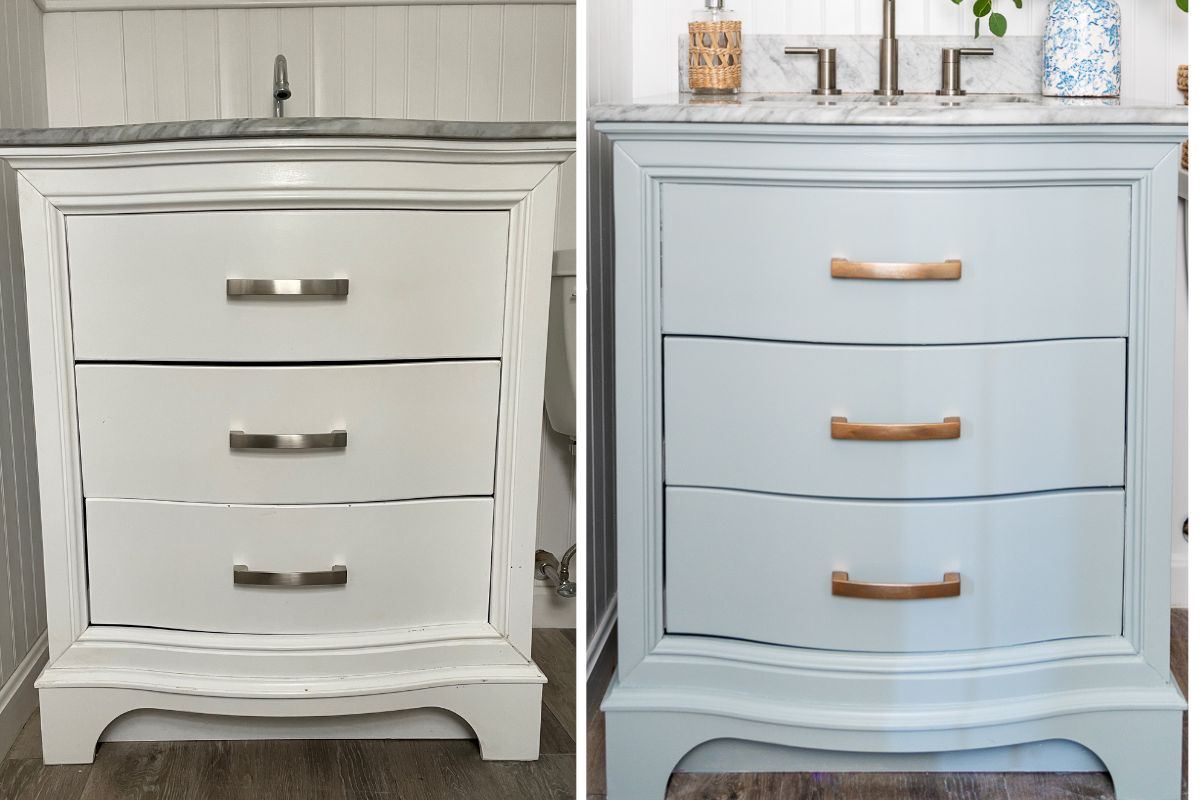 Note: It's up to you whether you paint the inside of the cabinet and drawers or not. I didn't bother because no one sees inside it but me.
Vanity Hardware & Faucet
The easiest way to update a vanity's hardware is to spray paint it. Matte black or any shade of gold work well. Of course, you can just as easily buy new hardware but I couldn't find anything that I liked in a 5-inch pull that didn't cost a small fortune.
A faucet is another quick and easy item to switch out. Pay attention to what you currently have, though, as the replacement one will need to be the same (one hole, or 3 holes).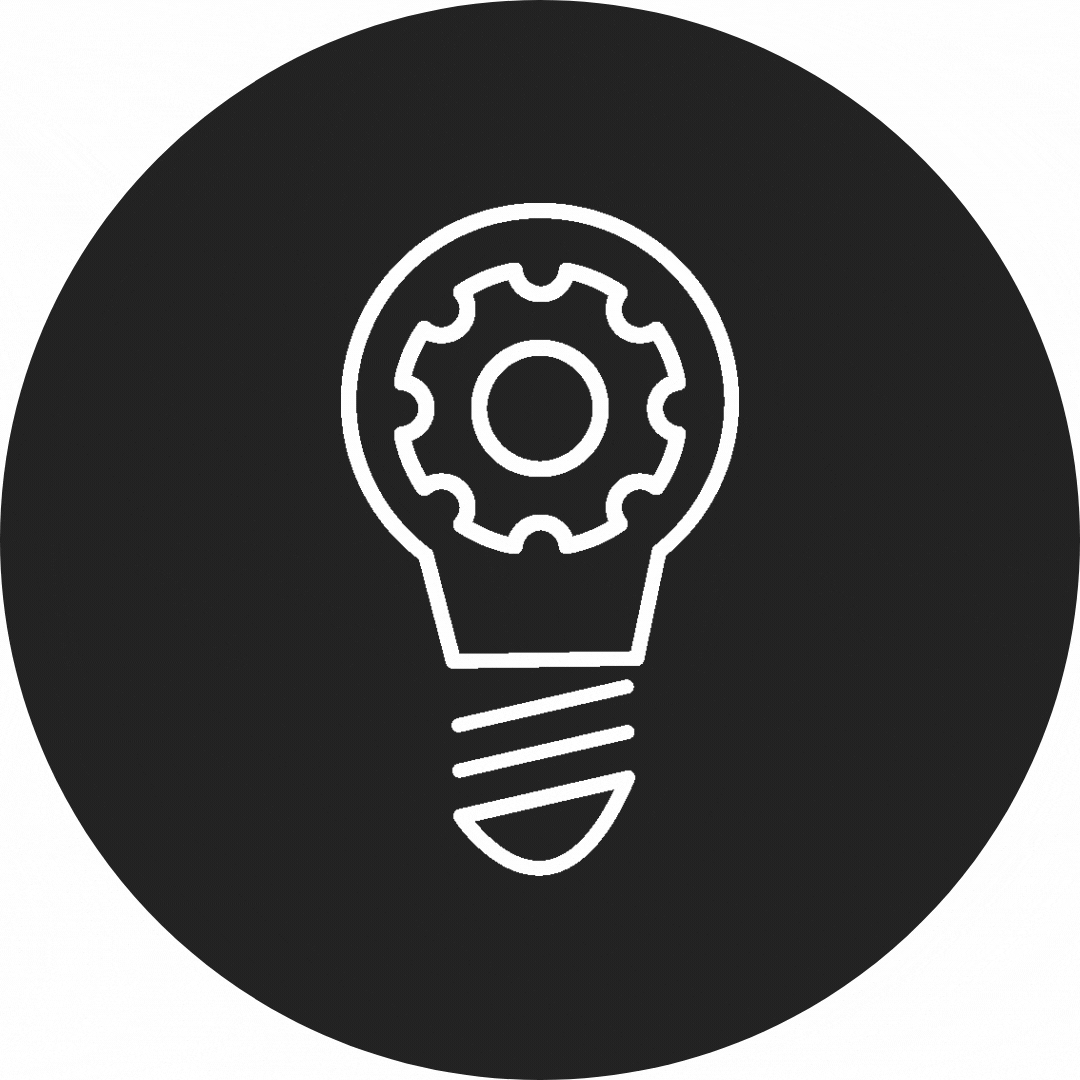 FAQs