This post may contain affiliate links | For further details, please read our privacy policy
Hello friends! The big day is finally here! Yep, it's the One Room Challenge Reveal Day, featuring my Powder Room!!!
In order to fully appreciate the "afters" let's reminisce about the awful and very 60's "befores"…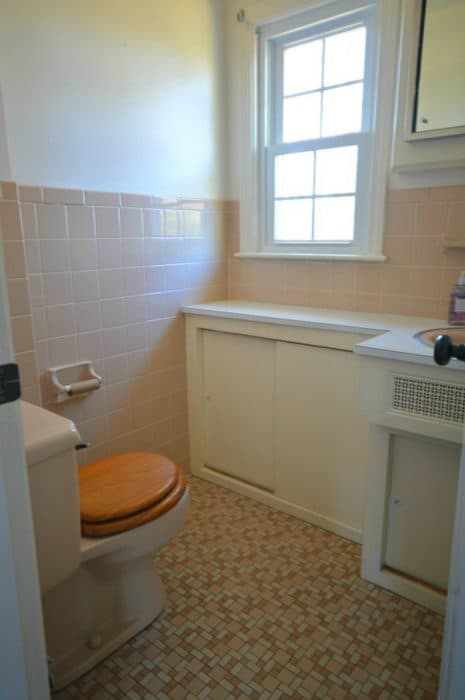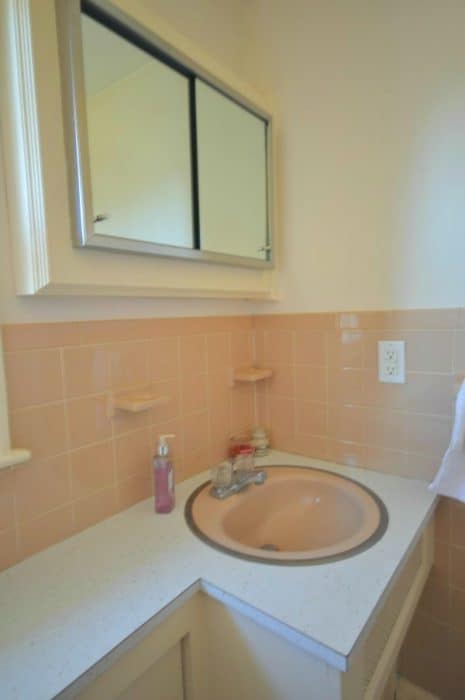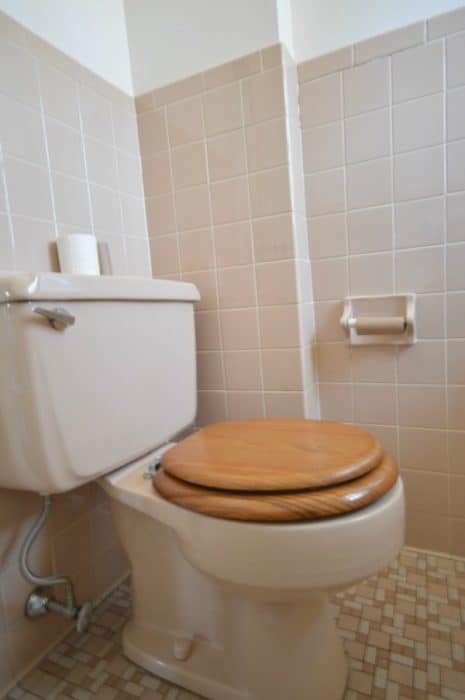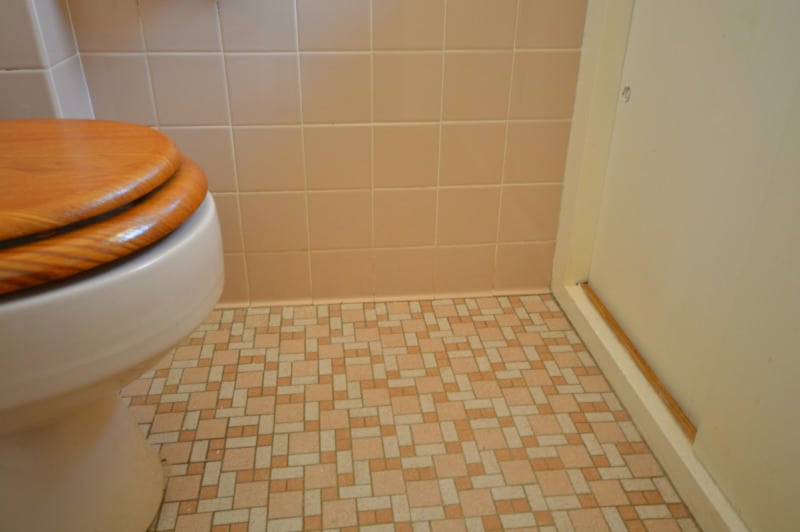 And now I present to you, our new Powder Room: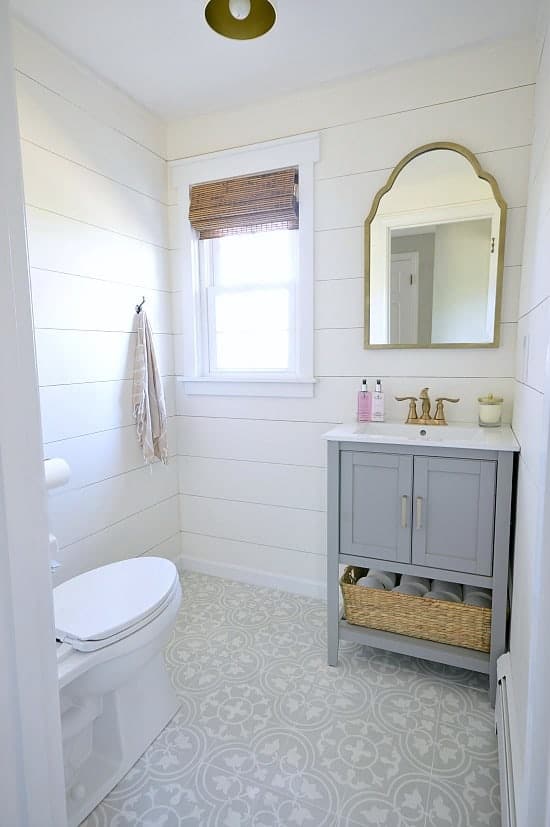 My original inspiration for this space could be summed up as light, bright and airy with a color palette of grays accented with gold. I think this space definitely delivers on that.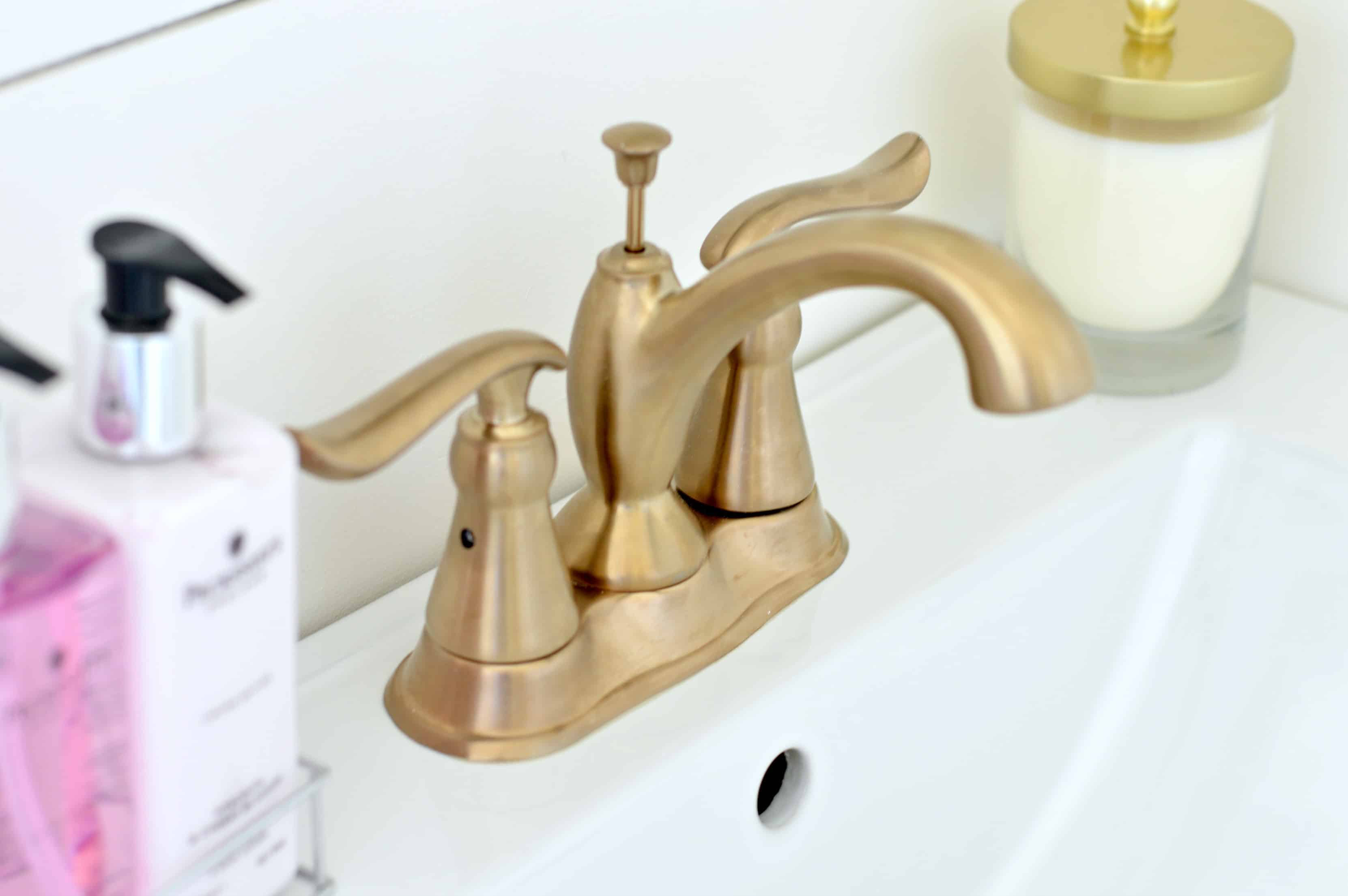 From Day 1 I pushed for shiplap and eventually got my way. We used plywood planks ripped down to 8 inch pieces. Each piece was sanded, primed and painted Swiss Coffee by Kelly Moore. The creamy tones of this paint color really popped out once the trim was painted a bright white.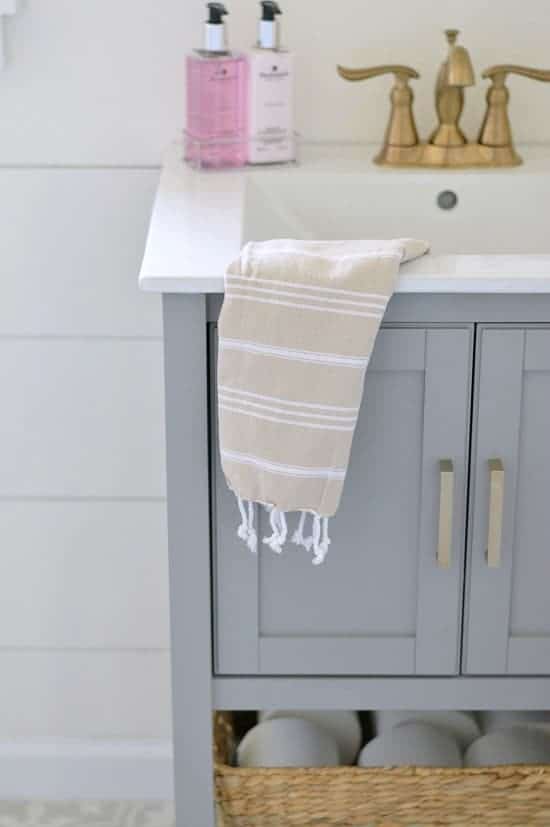 After all the drama with installing the vanity, it's nice to see it at home in the corner of my powder room. I love everything about it – from the shade of gray to the deep sink. My vision would not have come to life without it!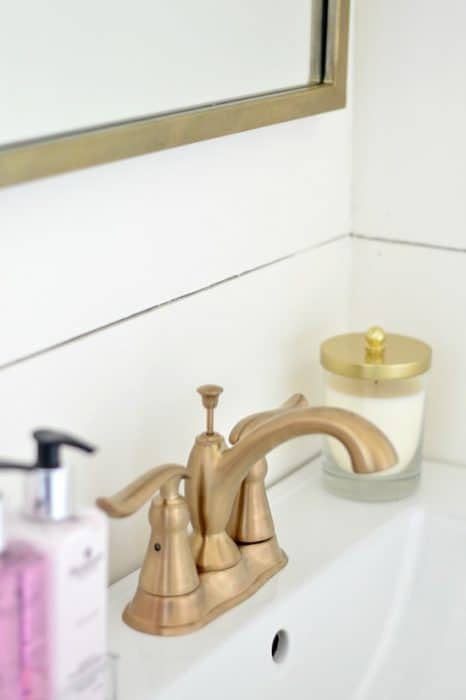 I usually like to play it safe with chrome or nickel but the Champagne Bronze faucet and mirror really are the icing on the cake. The previously nickel handles on the vanity even got in on the gold action thanks to some spray paint.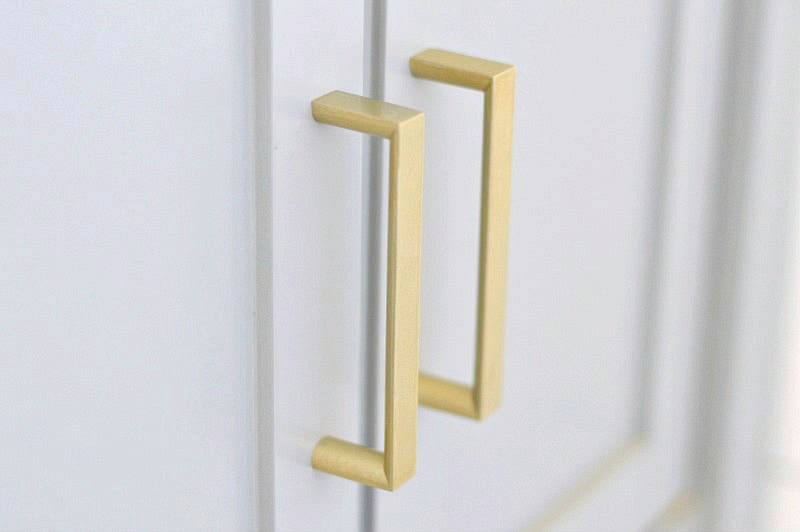 One of the riskier elements of this design was the cement tile, because of both the busy pattern and slightly trickier installation process. But, I knew that by keeping everything else simple that the floor would be a real statement piece. Plus, I figured a small guest bathroom would be the perfect place to experiment with such a bold pattern.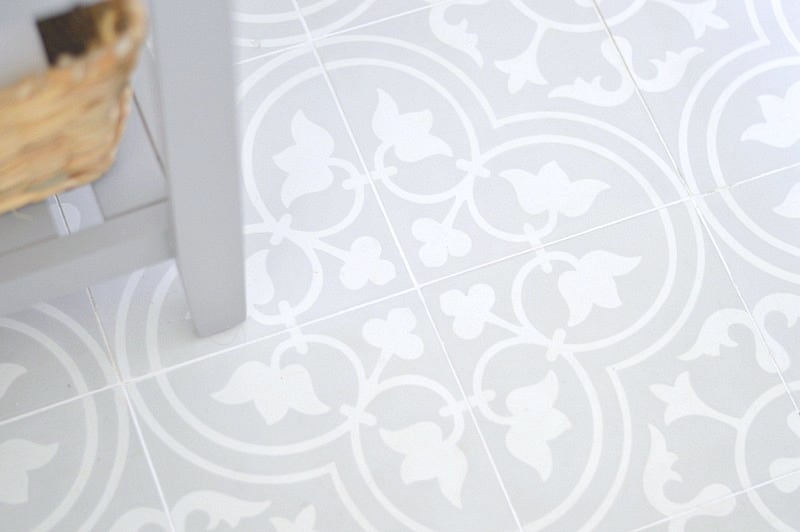 There's quite the mish-mash of styles happening but repeating certain elements helps make it cohesive.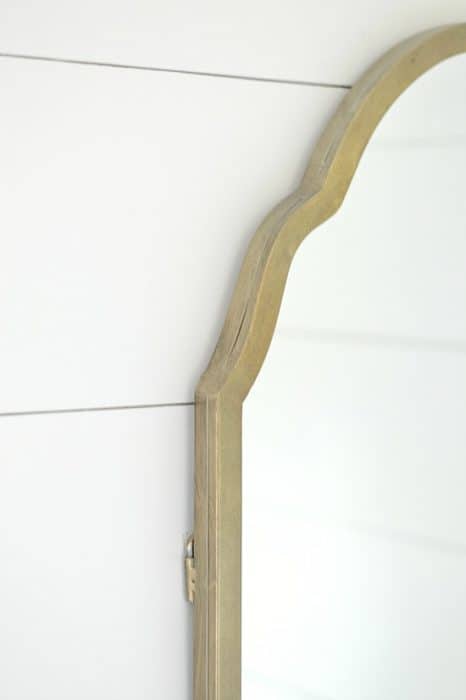 For instance, the champagne bronze is in both the mirror and faucet but is also reflected in the candle and flower holder.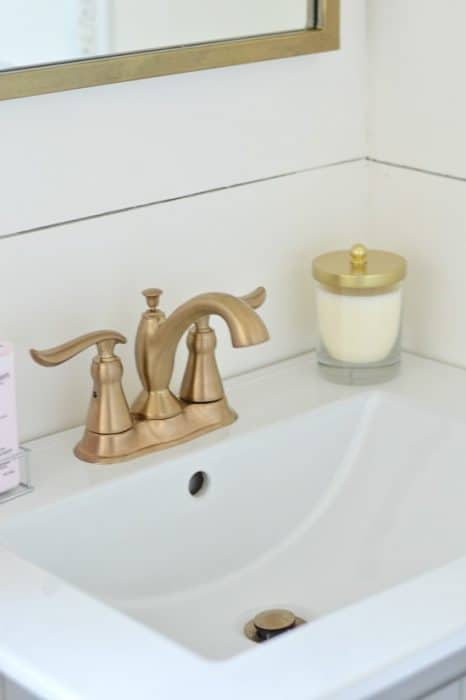 The angular lines of the craftsman style window trim complement the horizontal plank walls and the bamboo shades, the wooden picture frame and the wicker basket help to ground everything and bring that natural, rustic warmth that I think every room should have.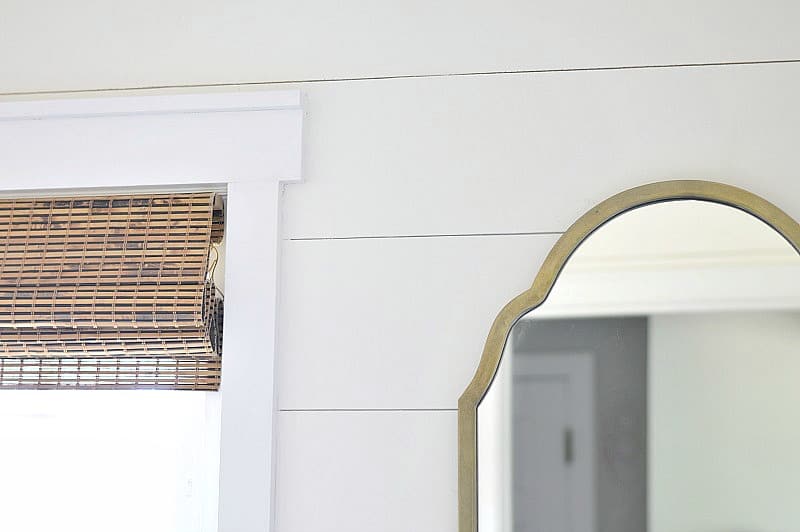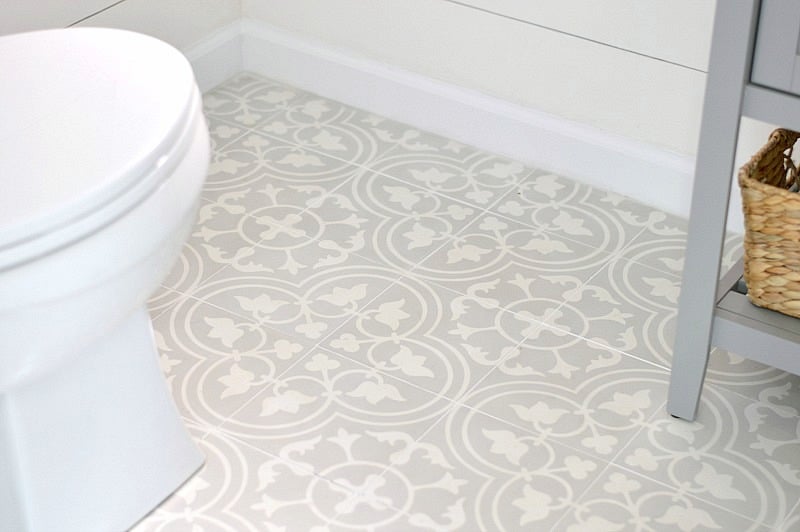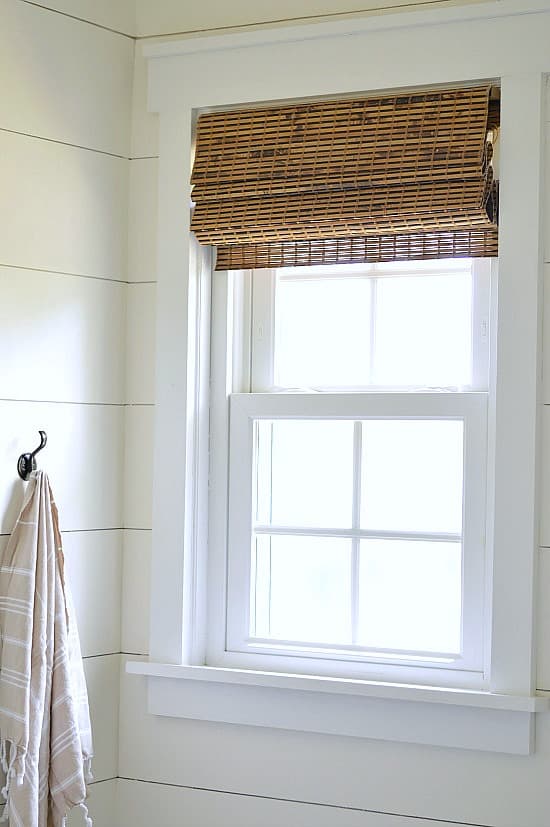 The plank (shiplap) walls were a great DIY that saved us a lot of money. Plus, I don't think a professional could have done a better job than Brian did!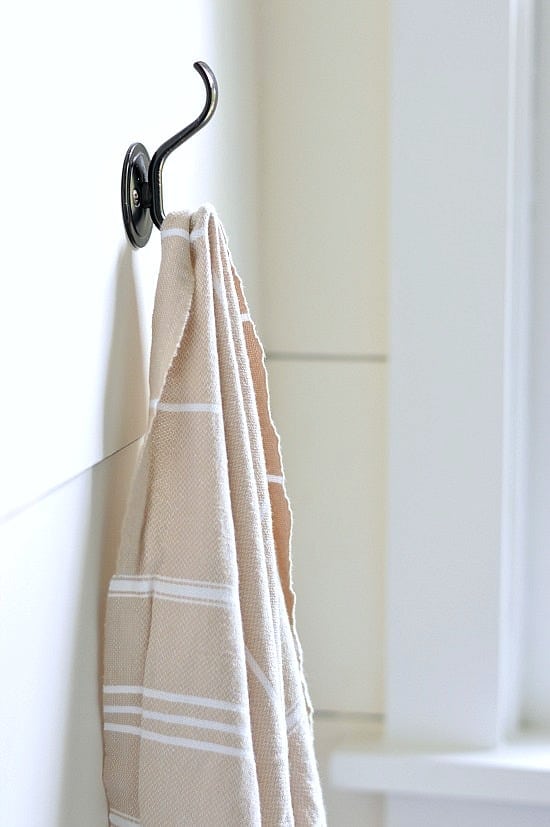 Don't be afraid to mix metals. Champagne Bronze or Antique Brass pair beautifully with Oil Rubbed Bronze and stops everything looking too gold. We don't want to get into 90's brass territory. Restraint is key when it comes to gold – a little goes a long way!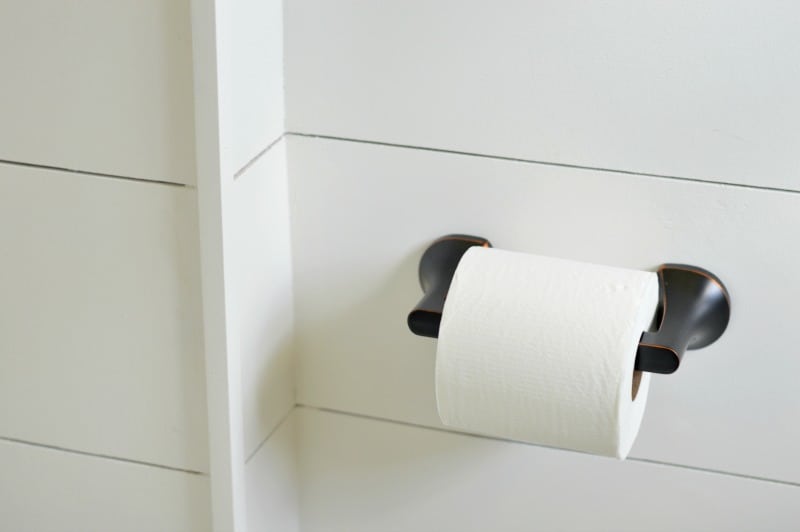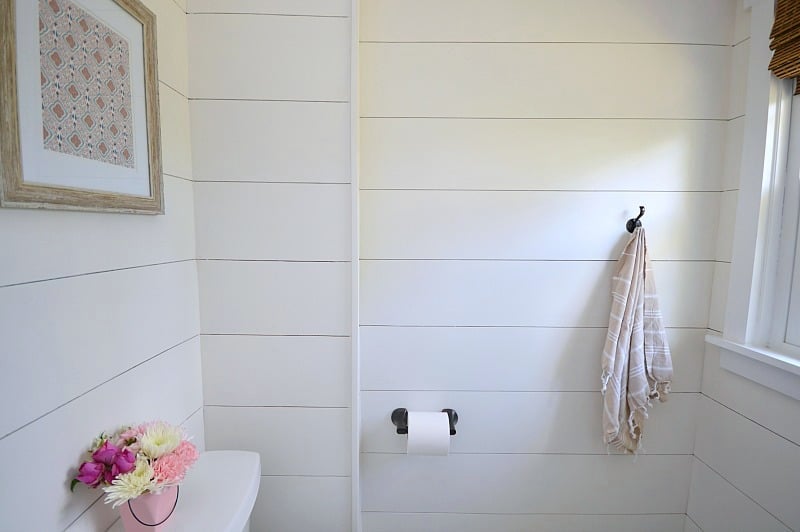 For such a small space (5′ x 5′) there's a lot of visual interest. The horizontal orientation of the plank walls helps draw your eye around the room and take it all in.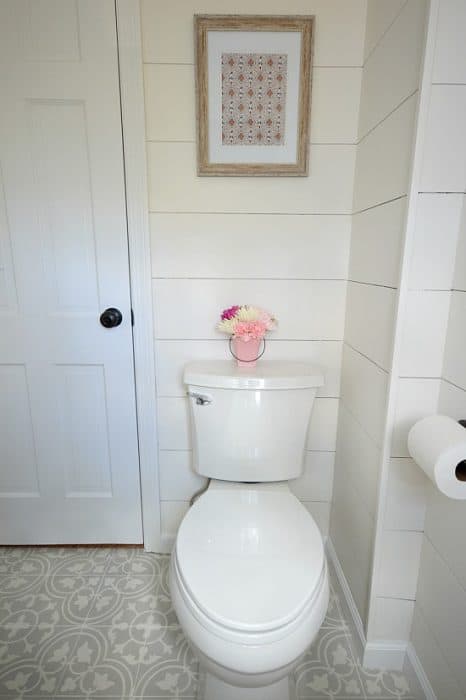 Clearly, the wide angle lens was needed to capture the majority of these shots. And while it does make the bathroom appear larger than it is, I do think it helps to capture the feeling this space evokes – clean, crisp, warm and fun.

Artwork is always the final piece of the puzzle for me. I knew I wanted a wooden frame and while I originally had printed up some botanical prints, the colors of this print helped to add some warmth amid all the grays and whites.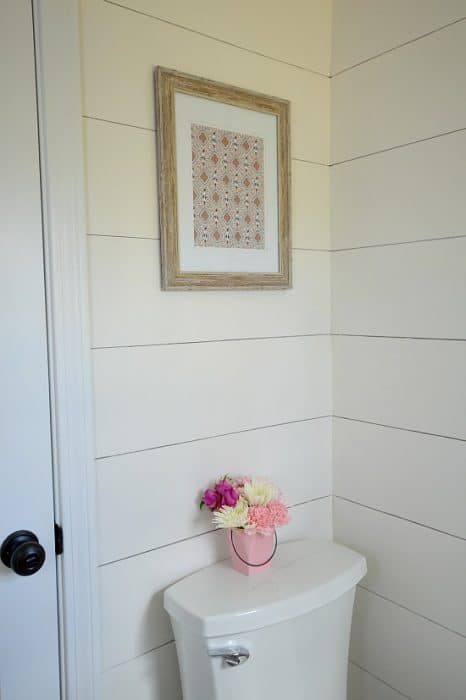 Who doesn't love fresh flowers in their bathroom?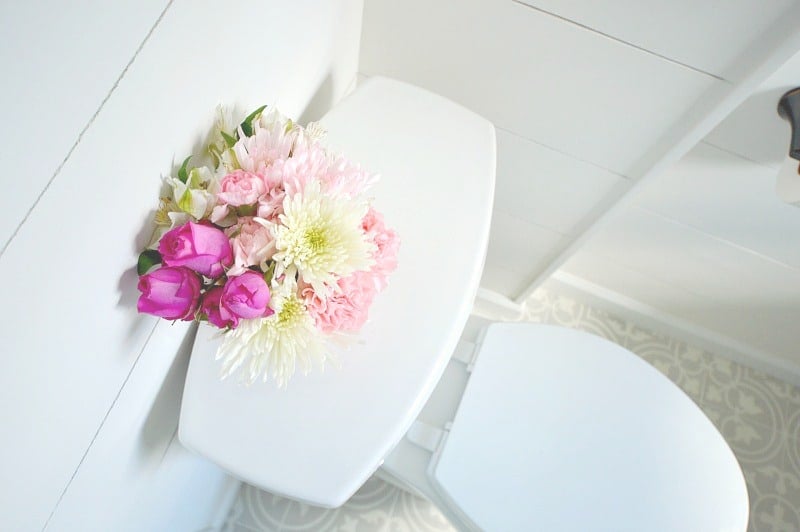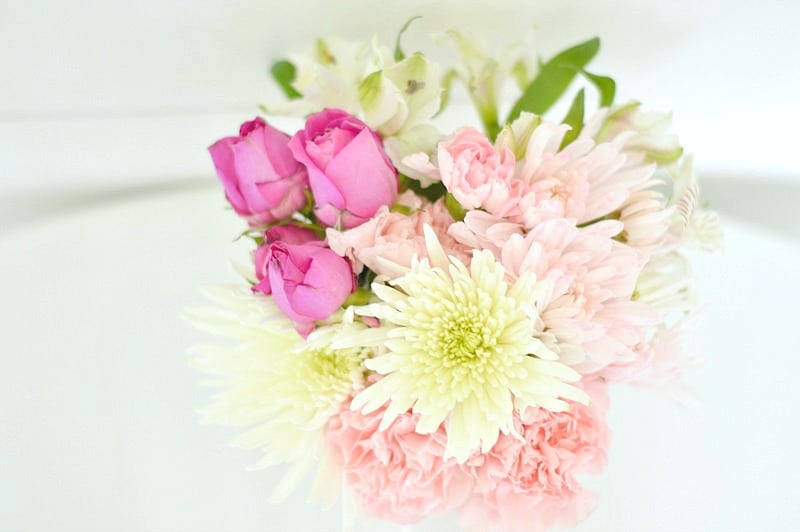 Every little detail was carefully thought out – from the color selections to thickness of the wall planks to the ceiling light. It's all the parts combined that make the whole, after all! How awesomely retro is this flush mount ceiling light by the way?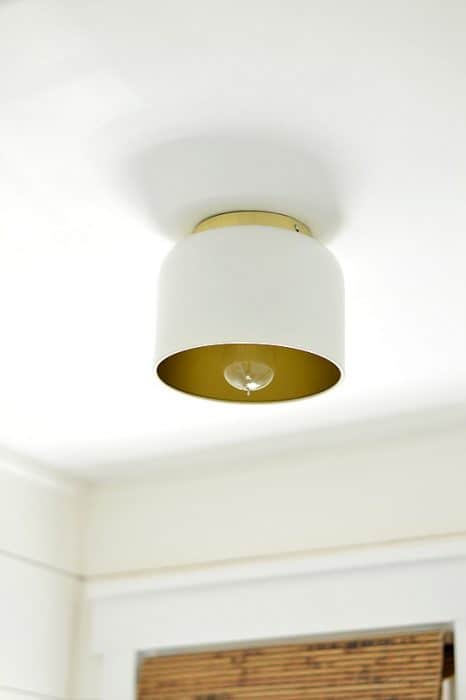 And one more time…because I cannot stop drooling….
Those floors…swoon…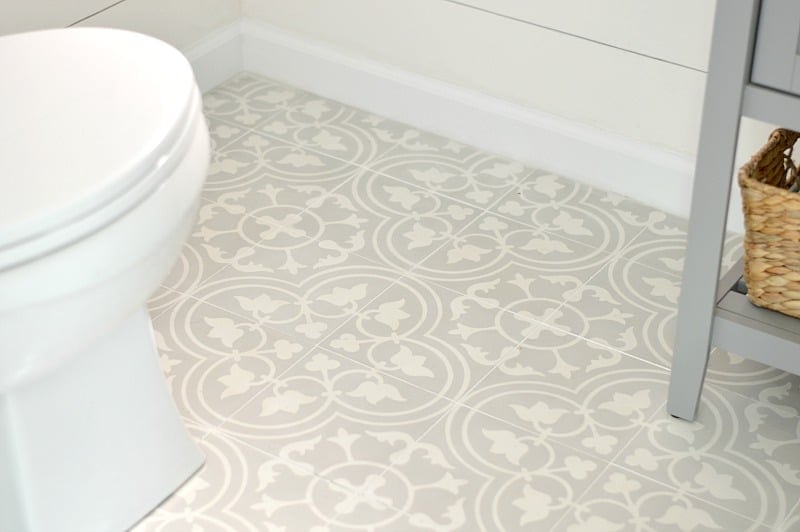 Want to see the entire process from start to finish? I've pulled together all the highlights in video form for you:
Full Powder Room Source List
Floor tile: Cement Tile Shop
Wall color: Kelly Moore's Swiss Coffee (flat)
Trim color: Benjamin Moore's Decorator's White (satin)
Vanity: Wayfair
Faucet: Amazon
Basket: Home Goods
Candle: Target
Soap: TJ Maxx
Bamboo shade: Lowes
Toilet: Amazon
Flower bucket: Target
Toilet paper holder: Lowe's
Towel hook: Lowe's
Turkish hand towel: Etsy
Light fixture: CB2
Now I'm off to relax in my tiny bathroom and enjoy the fruits of my labor!