Whether you've happily perfected your chocolate souffle or ruined your first roasted chicken, having an organized kitchen is essential to any home chef. January is a time to purge and revitalize, so let's get you started with some of the best kitchen organization ideas
The kitchen can be one of the most relaxing yet high-traffic areas of the house. Doesn't that sound like a complete contradiction? But it's true! Thankfully, there are infinite ways to organize it for better flow and a more mindful cooking experience.
A well organized kitchen will allow you to find the tools you need quickly, to perform each task effortlessly and create exquisite meals for you and your loved ones to enjoy. And after the meal is savored, clean-up should be less of a chore, giving you more time with your family.
Here are a few of the clever ideas I've discovered over the years – I'm sure a few of them will inspire you to upgrade your kitchen layout!
Provide a Tidy Home for Pots and Pans
A missing lid is a constant source of annoyance, almost as much as a huge assortment of pots and pans still sitting in the dishwasher because they have no dedicated storage area.
Solve this storage dilemma with simple tools like these metal racks and dividers that transform your empty cupboard into a functional space.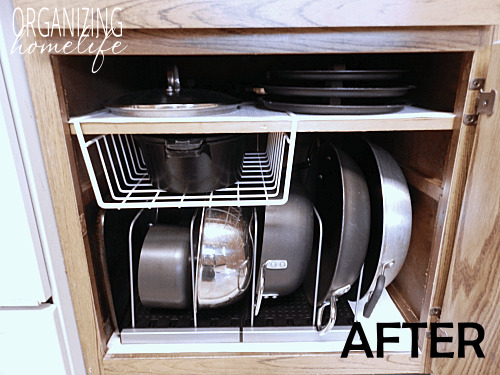 Install Pull Out Racks
Add more accessibility to your cupboards by installing pre-made pull-out shelves. There will be no more struggling to reach that pot that's stuck in the back of the cabinet.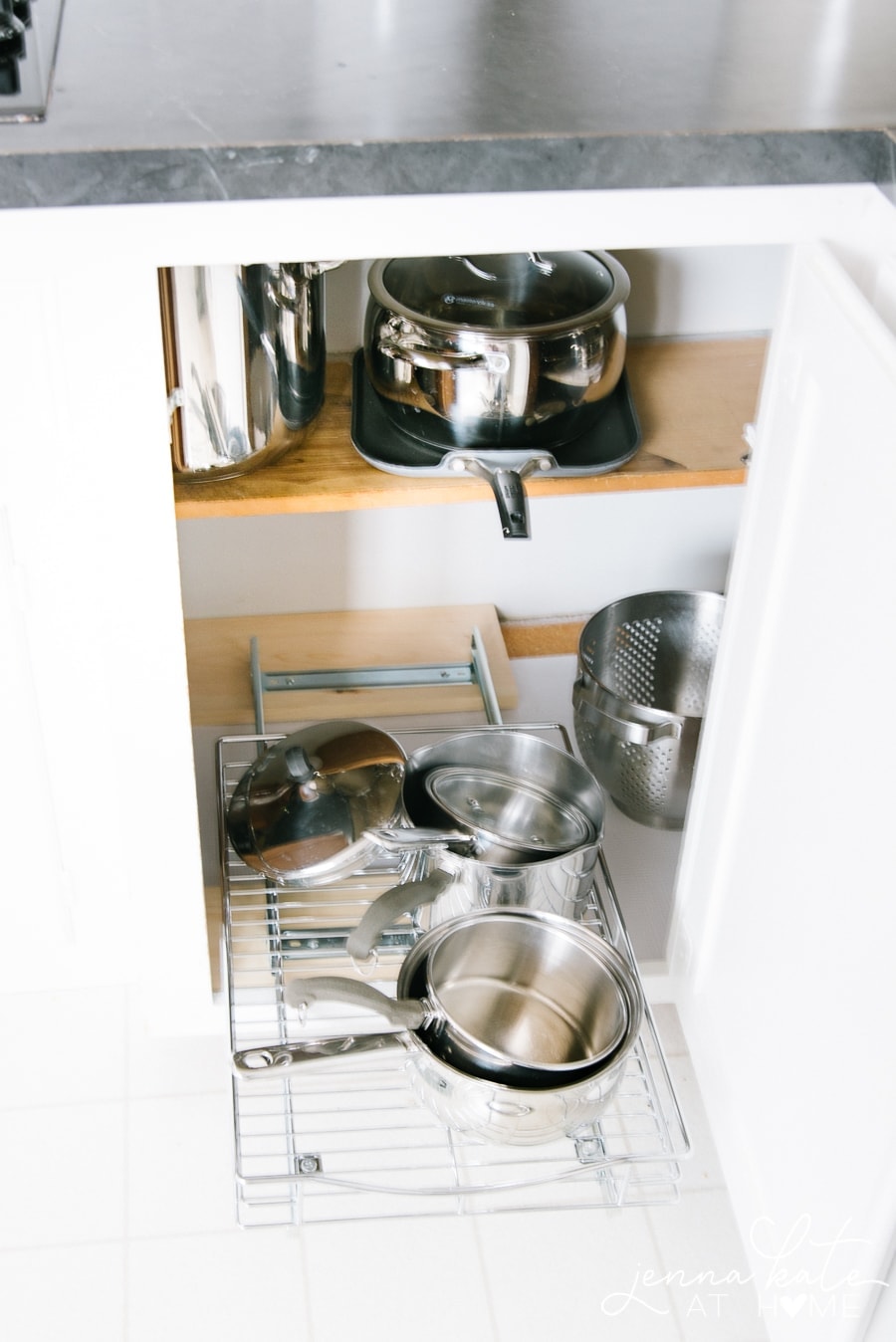 Even your baking pans will love this new slide-out rack.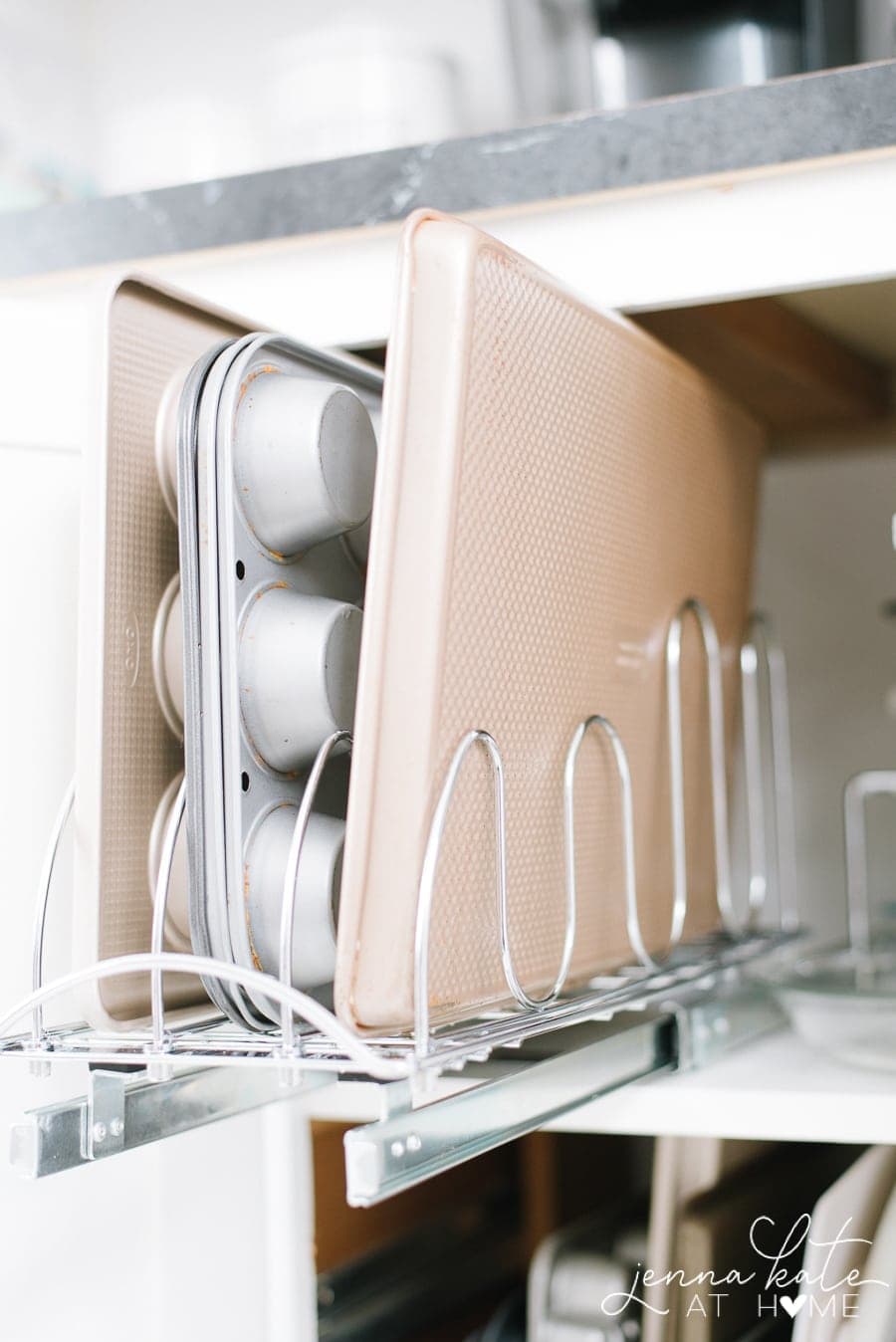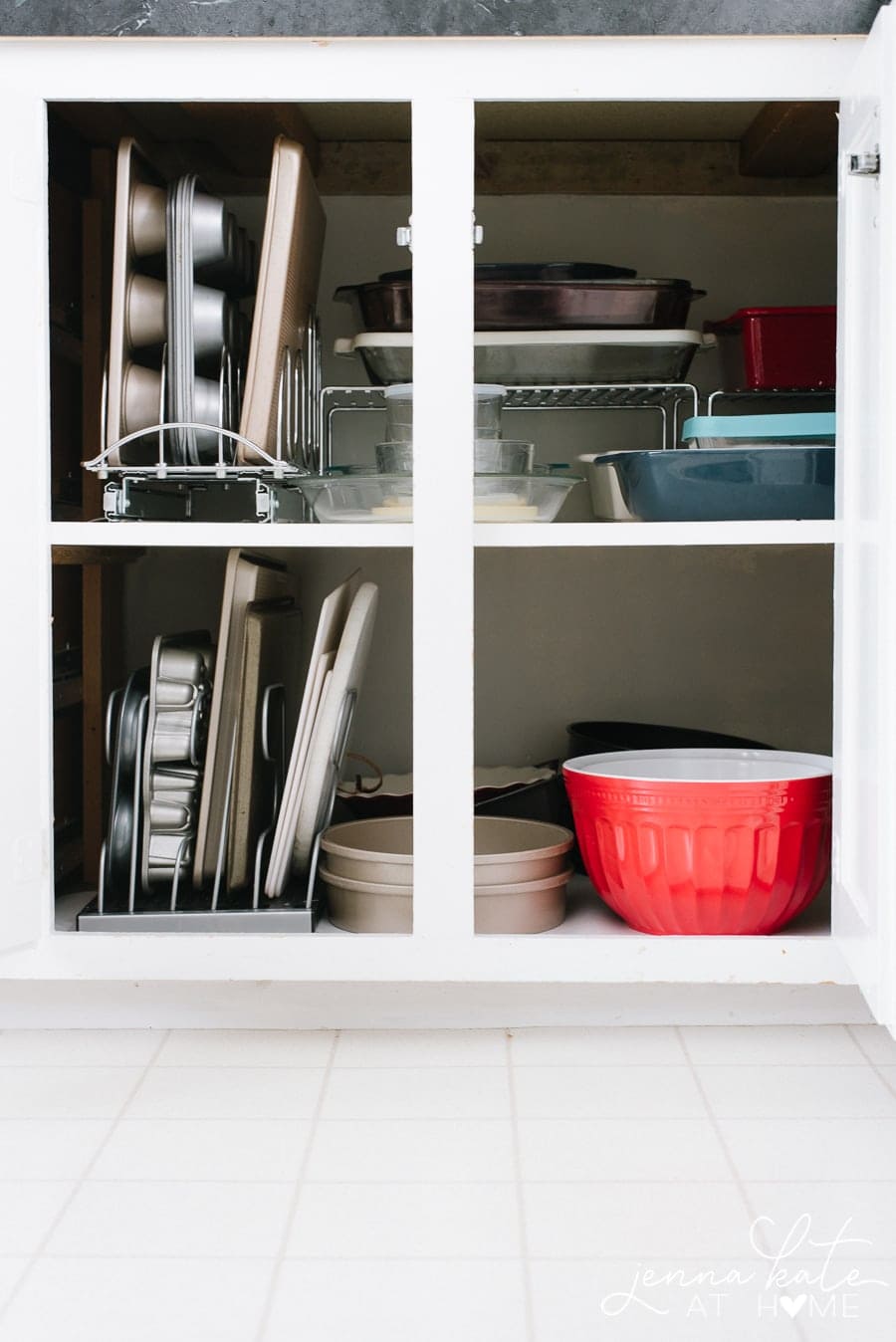 You can even line the shelves with your favorite designer contact paper to brighten your mood when you're ready to cook. Contact paper also improves the look of old, dingy cabinets and creates a non slip surface for bowls, plates and other serve ware. Does your cutlery organizer slide around in your drawer? A non slip drawer liner will prevent that, too!
Adjustable pan racks are another great option that allows easy access to the pan you need. Their vertical design gives you more versatility, depending on the size of the cupboard.
Don't Lose Another Lid
Once all your pots and pans are neatly organized, hang the lids inside your cabinet door with one of these smart cabinet door lid organizers. These handy dividers will save you from the agony of hunting for a matching lid for your pot.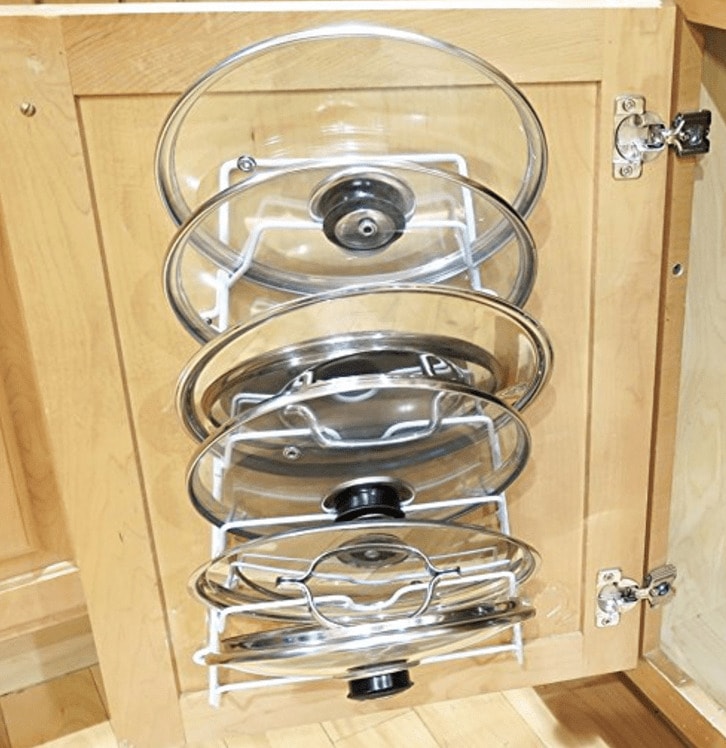 Organize Those Drawers!
Cutlery trays are not just for your utensils anymore – many now accommodate other important kitchen gadgets and tools so you can find everything in one place.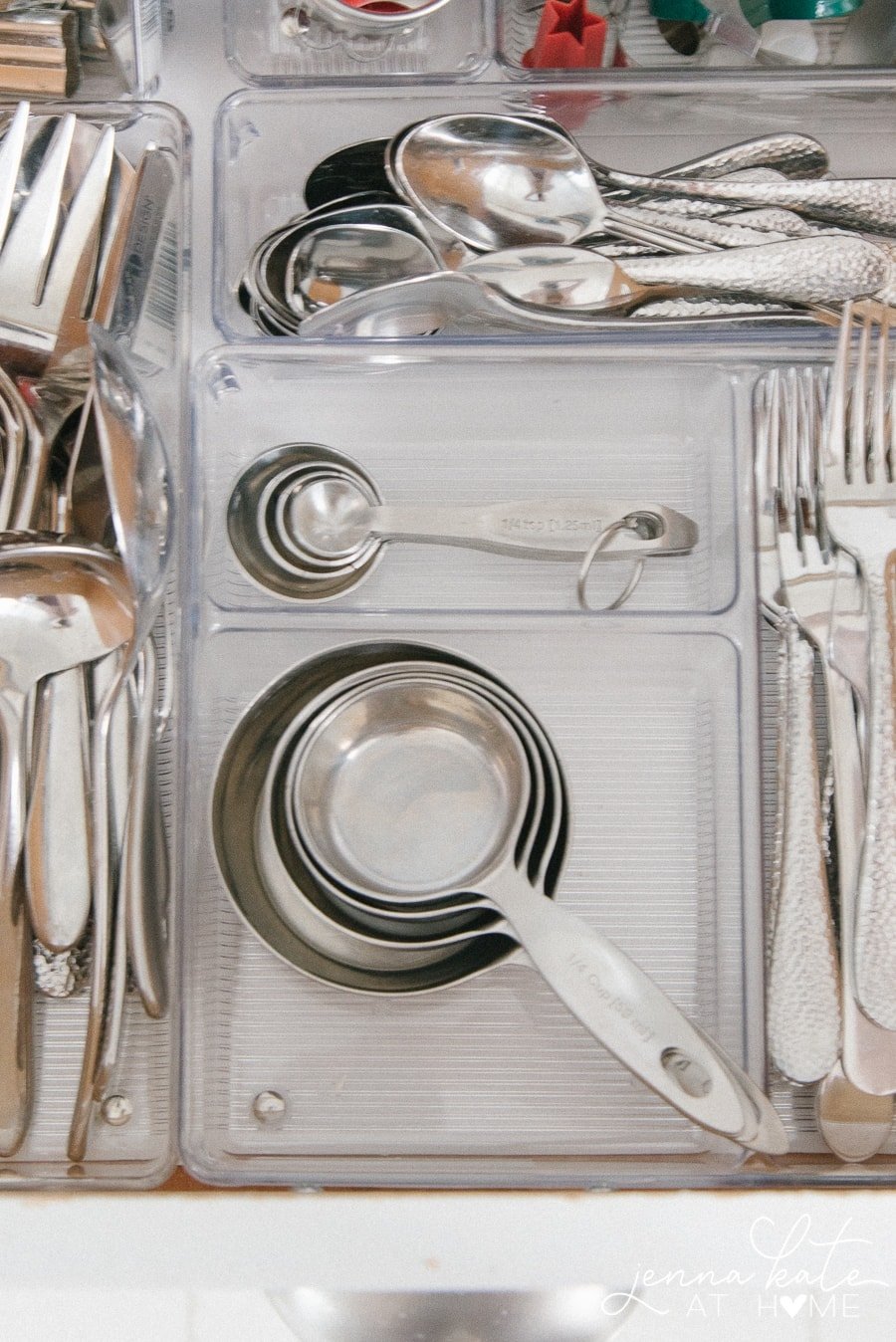 Roll towels instead of folding them flat and use a drawer divider. You can store more this way.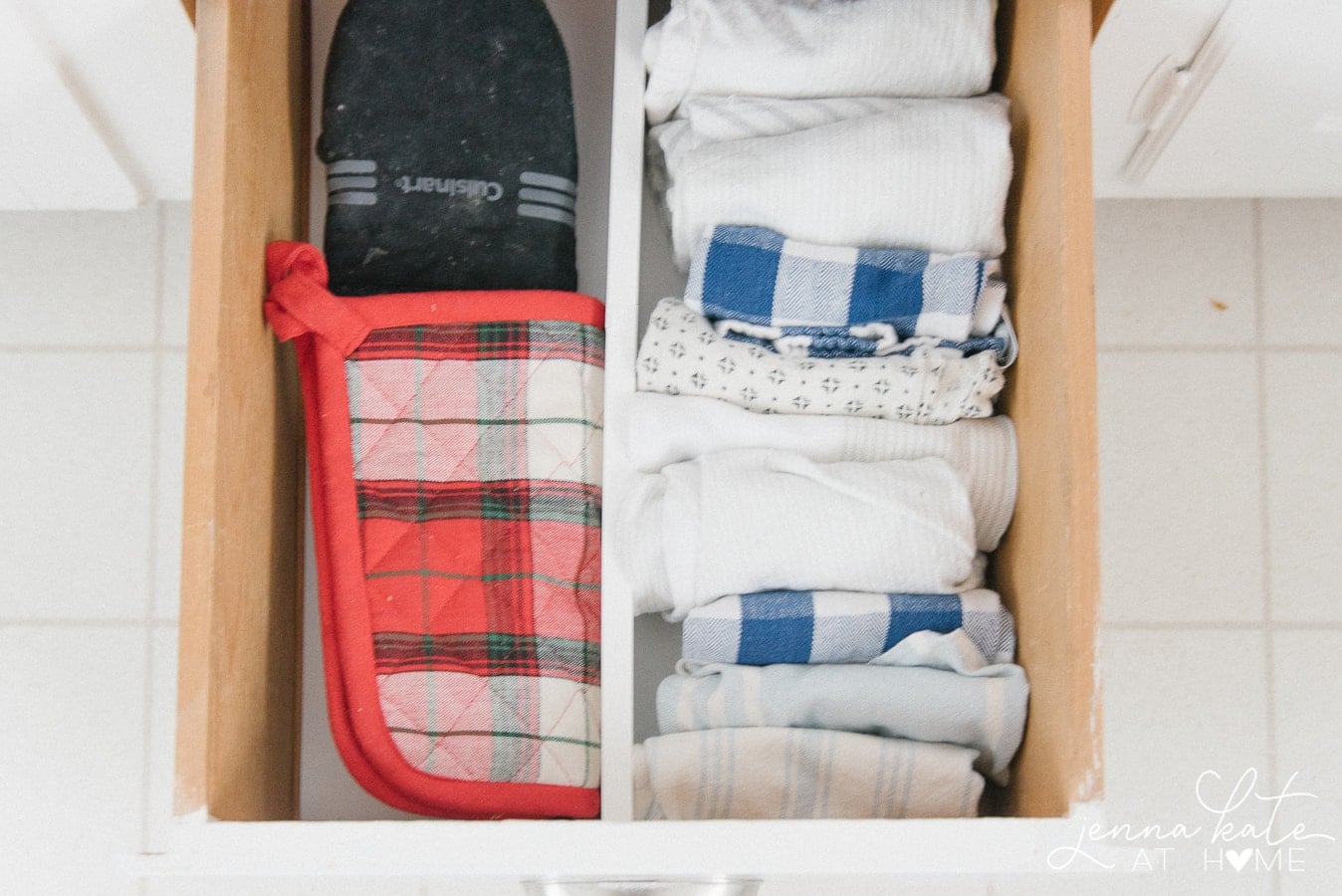 Bake a Lot?
You can also display your measuring spoons on tiny hooks on the back of a cabinet so you can find them easily . Remove the guesswork by labeling them with these decals available on Etsy.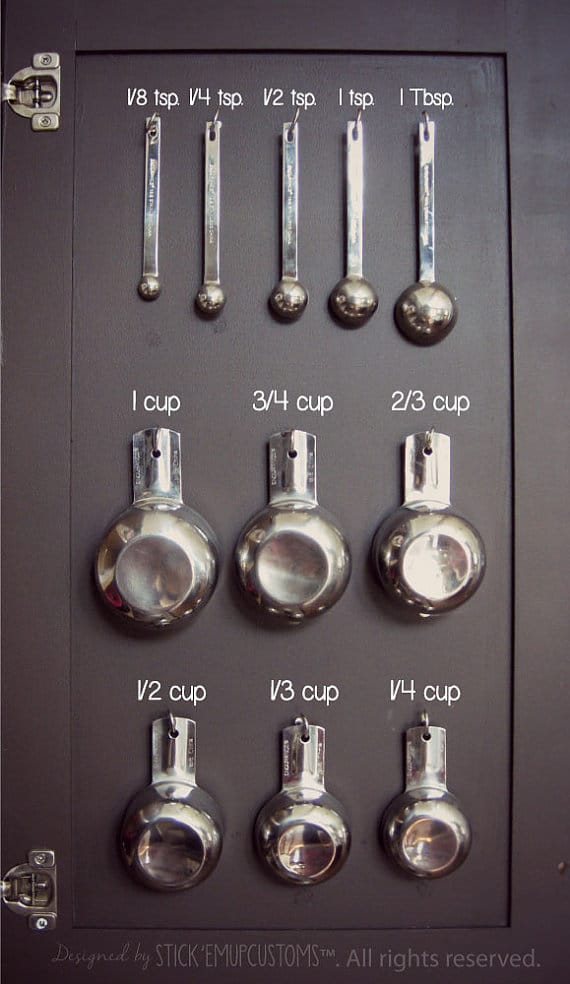 See Pantry Ingredients at a Glance
Food items don't need to remain in their original containers – transfer them to clear, uniformly-sized jars with tightly-sealed lids for a better fit on your shelves.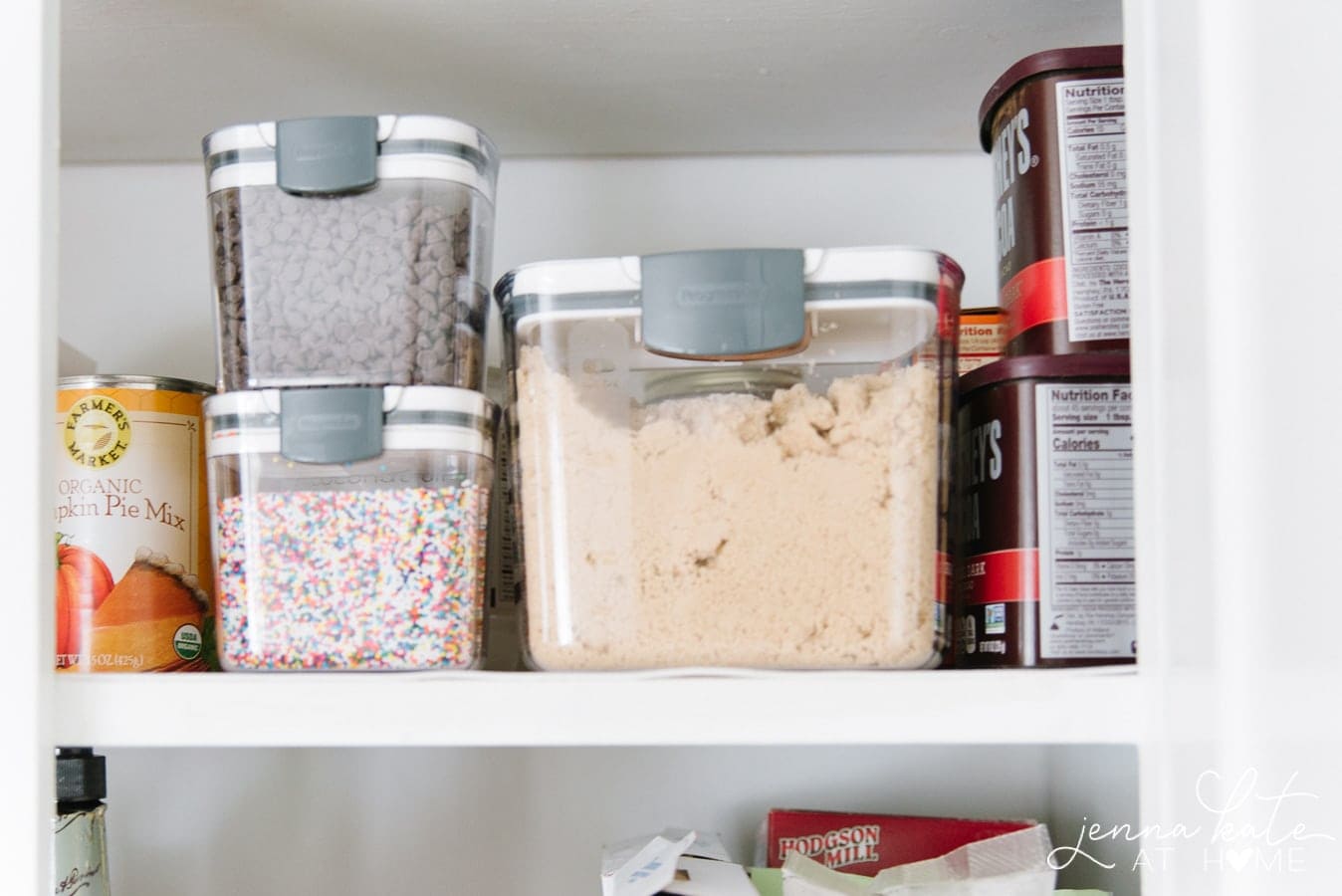 Spice racks come in all shapes and sizes – try to position your most frequently-used spices on the first shelf.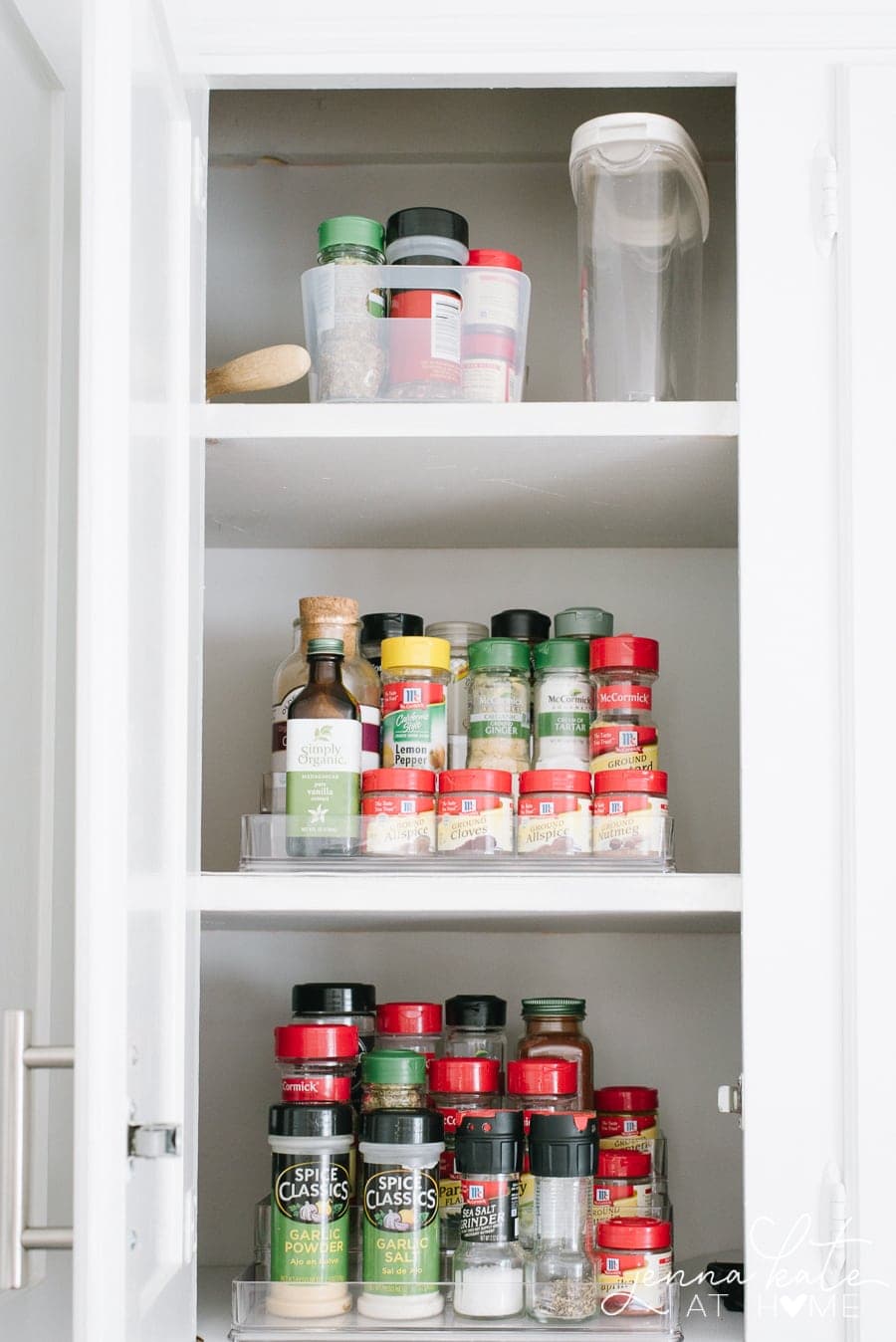 Display all your baking supplies in clear containers in one dedicated cupboard. The fascinating part of this gorgeous layout lies in its efficiency – each item has its own place so once you're done mixing your batter, you can quickly replace everything before the cake starts rising!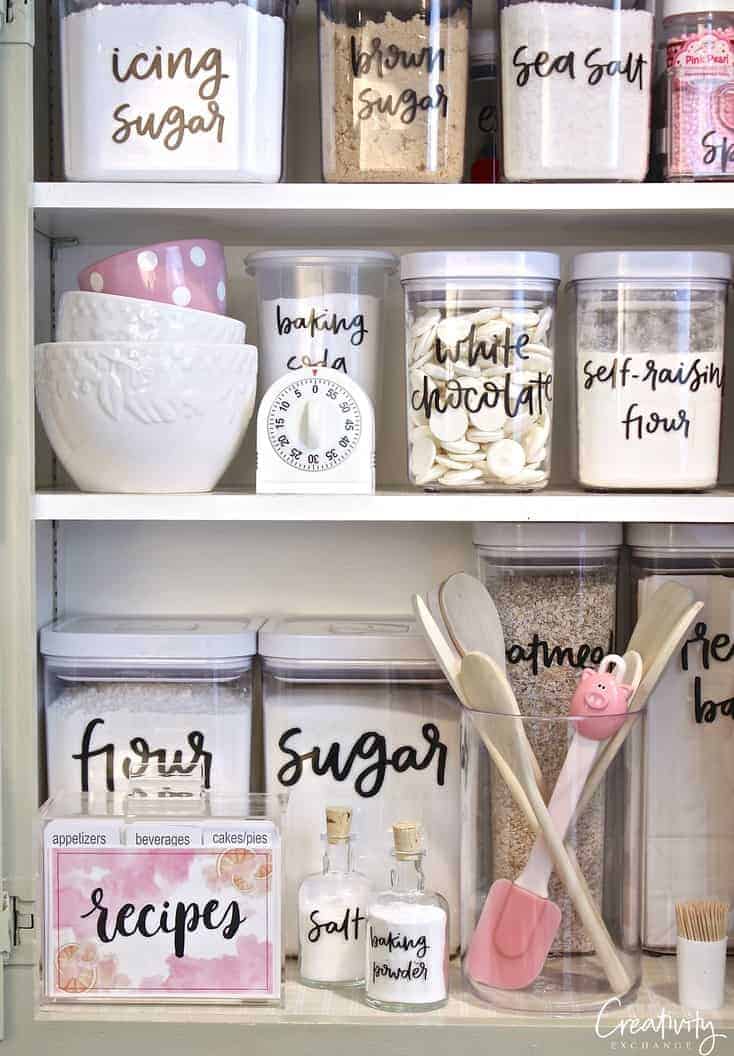 If you're feeling fancy, check out these FREE (and pretty) labels from The Creativity Exchange.
I have a more more in-depth post on how to organize your kitchen cabinets, that you'll also find helpful. You'll be surprised at what a difference it can make, and how you'll feel like you've gained so much extra storage!
Bring in Other Storage Units
Not every cabinet configuration is perfectly designed to meet all your cooking and baking needs – sometimes, you have to think outside the box, or, in this case, the cupboard!
In the example above, a slim wardrobe or armoire blends well with the kitchen décor and adds much-needed storage space.
Adding baskets and clear containers to corral your food items is an excellent way to organize your pantry, adding a touch of style as well. Don't forget to get rid of old or expired foods while you're at it!
Bring Order to Your Fridge
The fridge is a challenging area to organize because you only open it for short periods of time and you must find the precise item you need as quickly as possible.
Items relentlessly travel to the back of the fridge – you might find yourself pulling everything out before you locate the condiment you need for your recipe!
Use acrylic plastic holders for your beverage cans and small food items so your children can help themselves to a healthy snack without yelling, "Mom! I'm hungry!".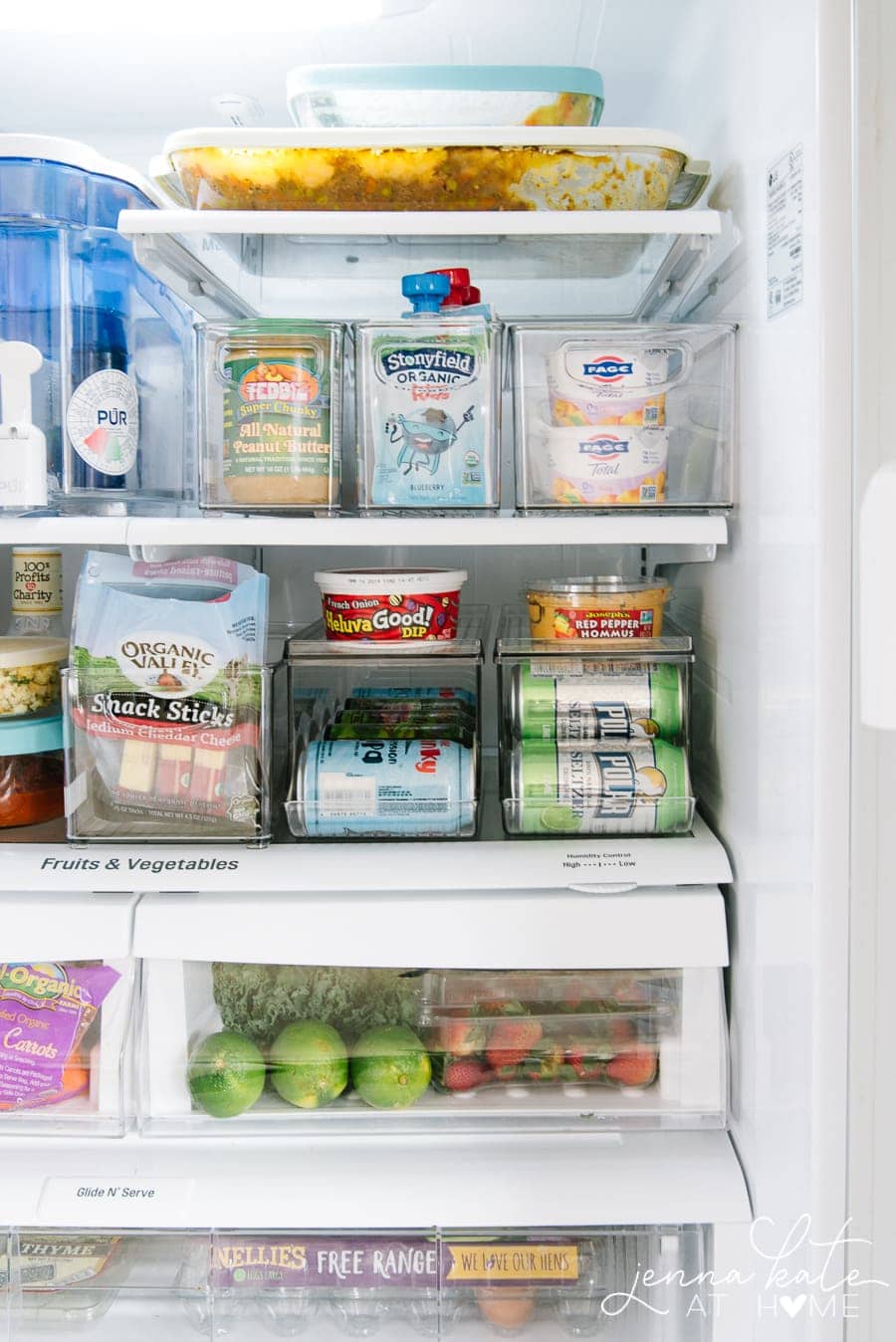 Using a lazy susan is another great way to easily have the most commonly-used items in reach at all times.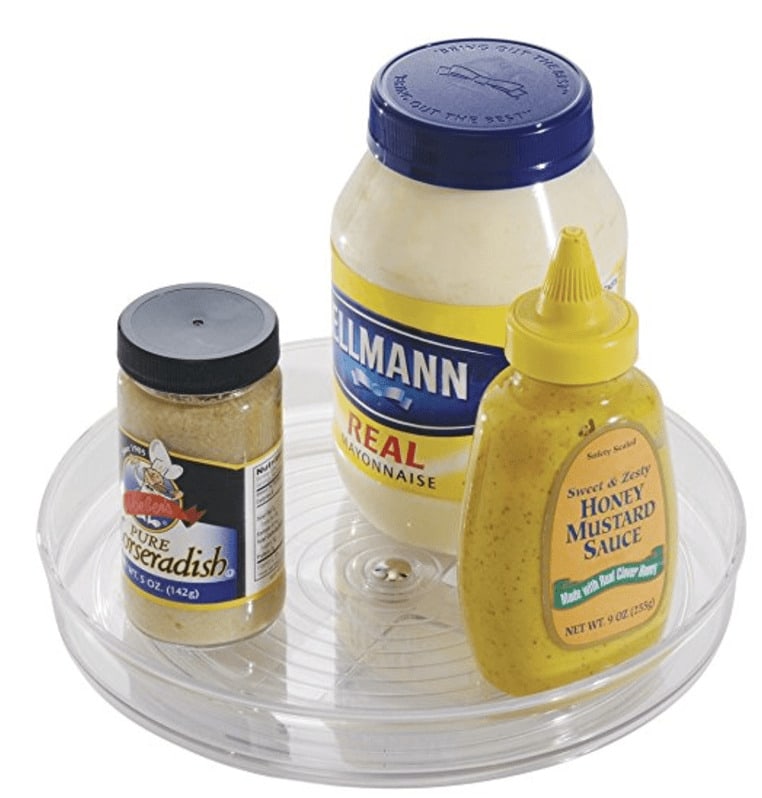 Add a Kitchen Command Center
Some of the best kitchen organization ideas can change more than your cooking routines. Any home chef can feel like the queen of her domain with a kitchen command center like this one! Daily inspiration, a large white-board for notes and well-labeled filing slots bring order to the daily chaos.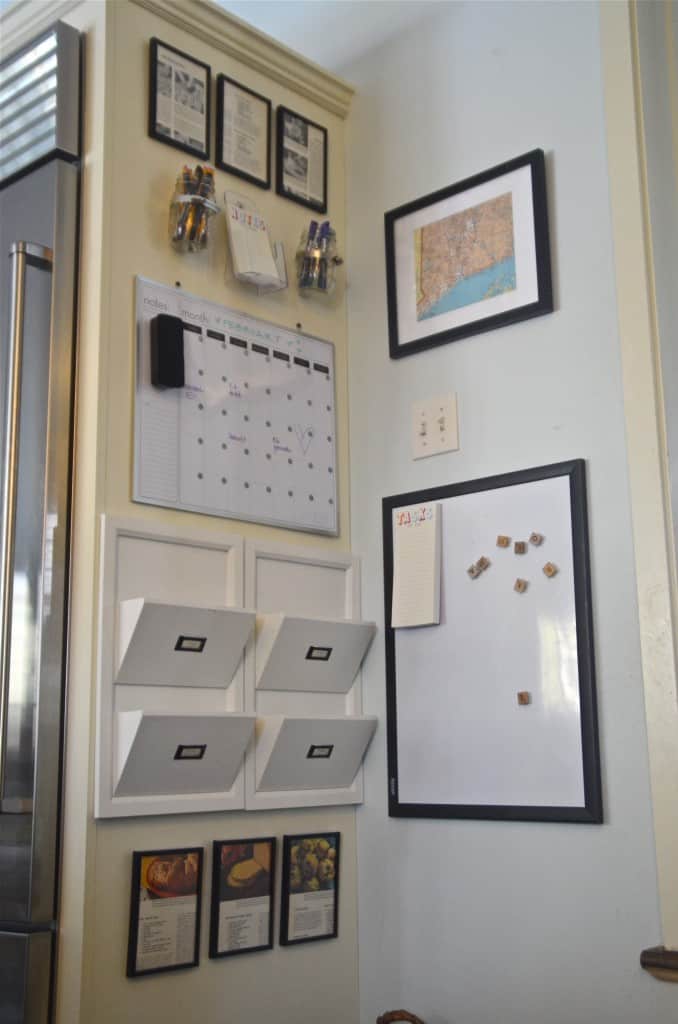 For more helpful ideas, check out my round-up of amazing family command center ideas.
Clear Off Your Counter Tops
Tired of fruits and vegetables cluttering your island or counter top? Display them in this gorgeous wire basket to add charm and organization to your space.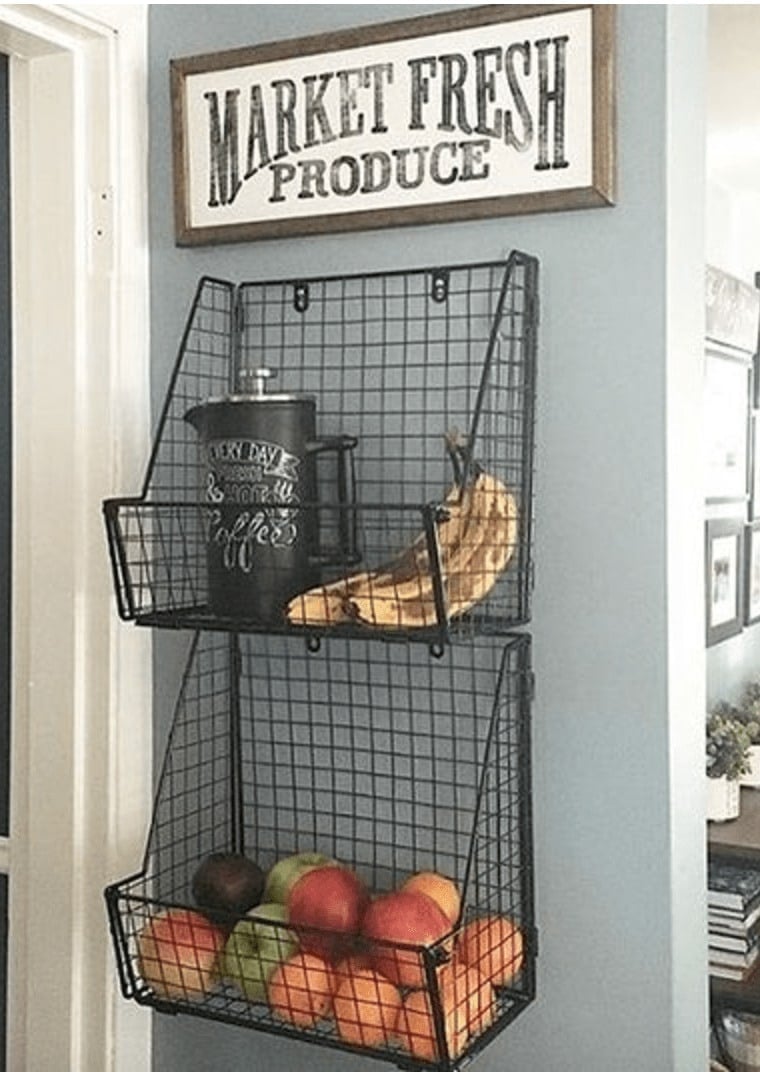 Have fun exploring some of the best kitchen organization ideas I've seen – any one of them can make a huge difference in the way you function in your kitchen.
And each new idea brings you closer to achieving harmony in this busy space.
More Organization Posts