This post may contain affiliate links | For further details, please read our privacy policy
These clever and functional command center ideas will keep your home and busy family organized at all times.
If you're looking to boost your entire family's organization, a command center might be the best solution. It will save time, improve punctuality and create a smoother flow in your day to day life. Now who doesn't want that?
I've had a little more downtime than normal and have been researching some of my favorite command centers. I want to share them with you guys today!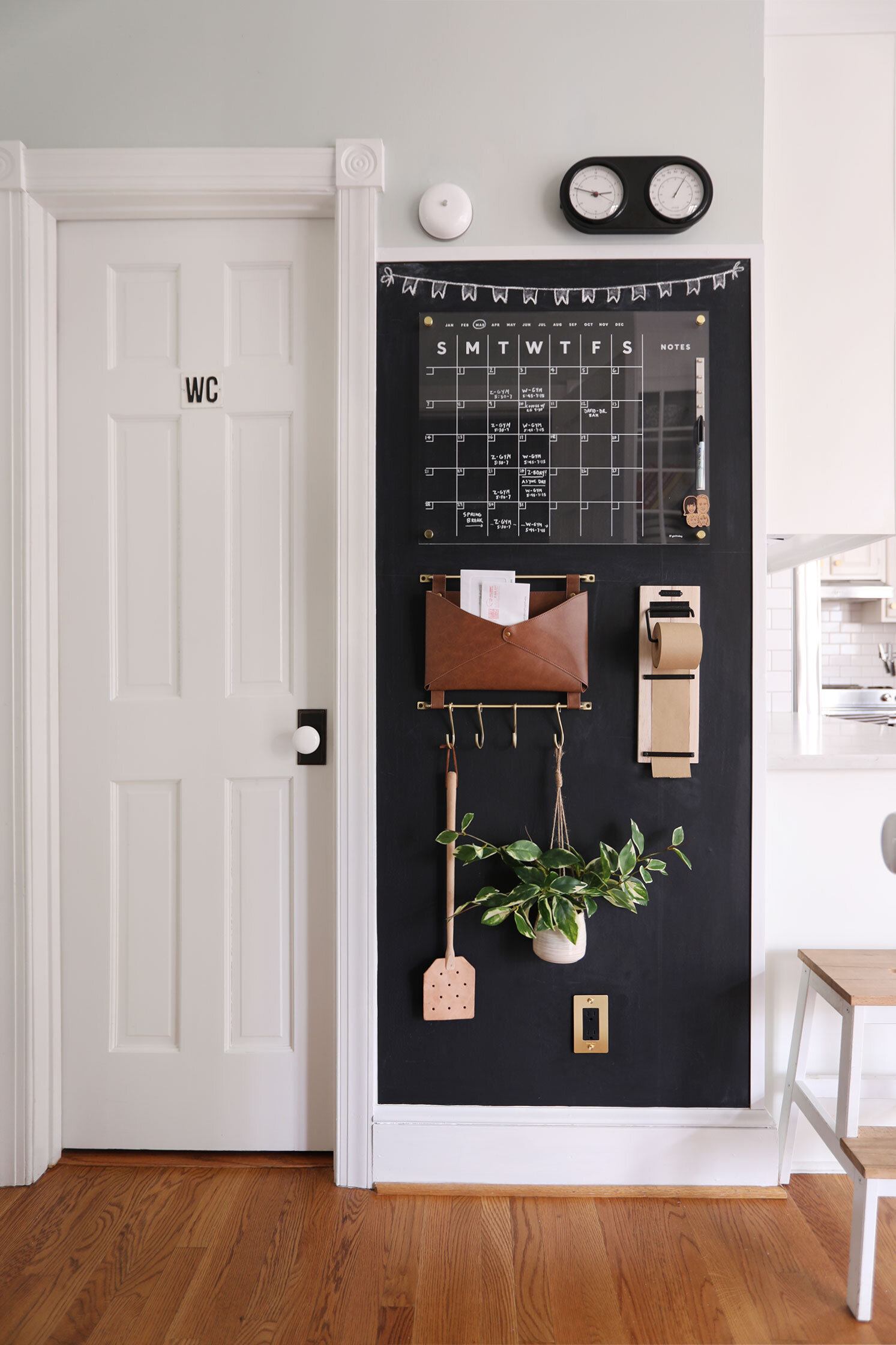 What is a Command Center?
A family command center is a designated spot in your house that serves as a central location for keeping everyone organized.
From sports, to school projects, and even meal planning – the command center is the hub of the chaos! Not only should it help keep your days organized like a planner would, but it's the perfect spot for incoming mail, important papers and even keys.
It doesn't have to be big or even take up a lot of space. But, by having an area for this assigned purpose, you will feel more at ease about getting all of your tasks done each day.
Why You Need a Command Center
You need a command center if you are frazzled, stressed, and overwhelmed with the many things piling up on the monthly calendar. It's a great way to stay more organized!
It can be hard enough to keep up with your own work schedule, appointments, or even just the meal planning for the week! Not to mention the schedule of your children or spouse. A command center will take the pressure off your brain to remember everything.
It will also keep other family members informed and aware of what's going on. This means less last minute running out the door!
What Should Be Included in a Command Center?
You can include many different things in your command center depending on what best suits your family. Below are a few popular items to incorporate.
Family Calendar
Mail Holder
Key Hooks
Chore Charts
Meal Planner
Dry Erase Board for Notes
Clock
Hanging Wall Files
Bulletin Board
Charging Station
To-Do Lists
Shopping Lists
Don't have school-aged children? Scrap the chore chart! Not a fan of how dry erase boards look? Swap it for a magnetic chalkboard! Cook frequently? Add a grocery list section! Use this list simply as inspiration to determine what you might use the most.
Where Should a Command Center Go?
The best location is a place where each member of the family regularly passes by or gathers. Popular locations include the laundry room or a mudroom. But, I've seen it in the entryway of a kitchen look fabulous, too!
The most important thing is that the location is functional for your family. So, wherever that may be, go for it.
What is the Purpose of a Family Command Center?
The ultimate purpose is to act as the headquarters of a home. It is a place to display schedules and allow for communications within the family unit to take place.
It also serves as a storage space for all those tiny objects such as mail, keys, and loose change that desperately need a home.
How Do I Set Up a Command Center for My Family?
It isn't hard to set up a command center! Start by finding the perfect place to house your command center.
Once that is established, consider what will be most beneficial to have more organized. Maybe it's getting a wrangle on your weekly meal plans or maybe it's just having a larger calendar to share with the family.
Once you have those two things narrowed down, explore how you can incorporate one of the twelve ideas below to bring your inspiration to life!
The 12 Best Family Command Center Ideas
Now that you are convinced a family command center is a must, I'm here to show you twelve popular ideas for designing your new space. It's easy to build a DIY family command center if you get creative!
1. Refrigerator Command Center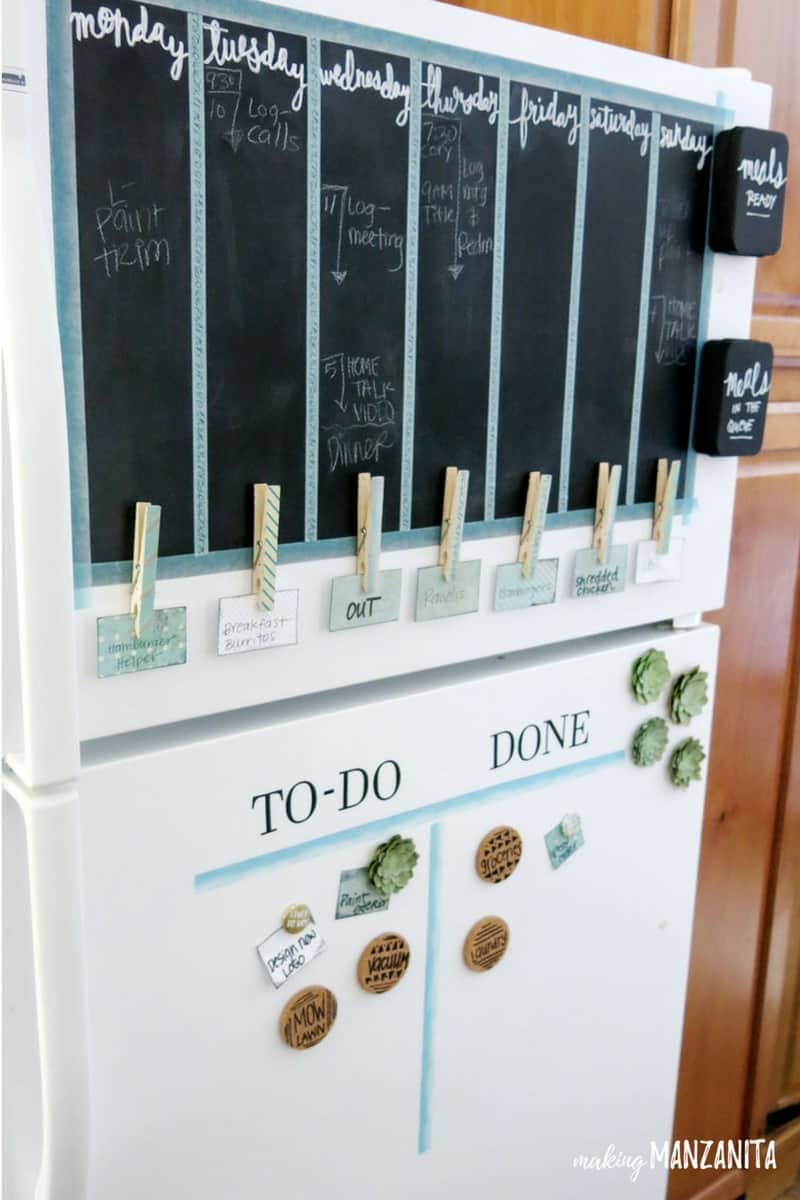 For some, you know you want a command center but just don't have the space. You can do what Chelsea and Logan did at Making Manzanita and utilize empty space on your fridge to keep everything in one spot without adding another "room" to your home.
Plus, if your family is anything like mine, they're making multiple trips to the fridge which means no excuses for forgetting something!
2. Chalkboard Command Center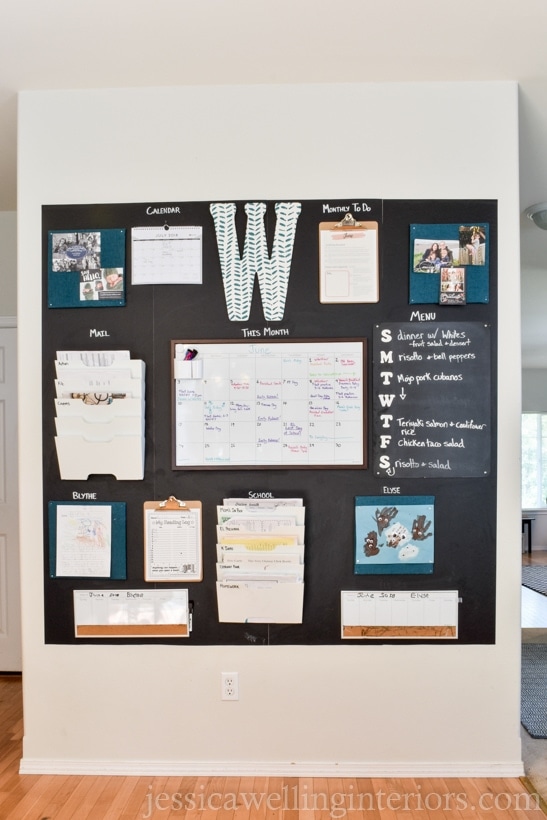 If you have a big empty wall that seems to be screaming for wall organization, this is a great idea for a home command center. All you need is chalkboard paint!
I love the idea of having folders for everyone to keep personal or school papers, but one big calendar centering it all and (hopefully) keeping everyone's schedule on track.
3. Streamline Schedules in Style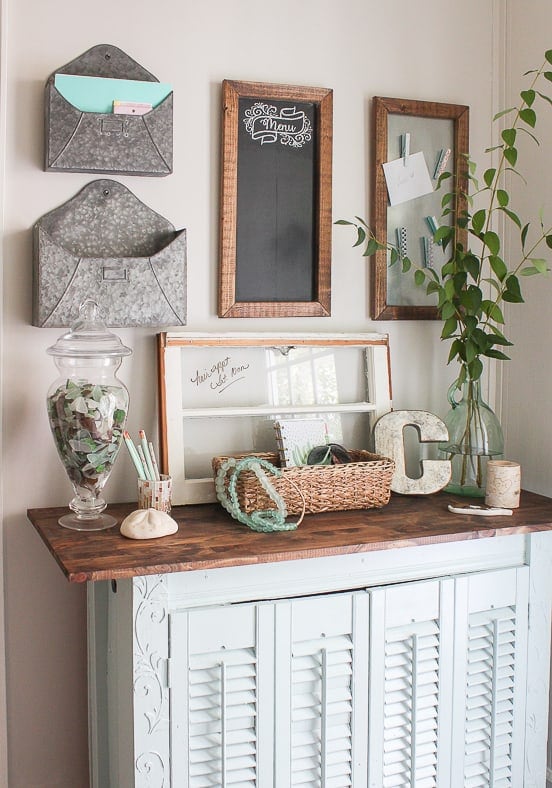 My favorite part of this idea is that at a glance, this just looks like decor! It is that stylish. This is the best option if you don't love the look of traditional command centers.
This looks like it's set up in an entryway, and with the glass window, metal letter, and other decor items, you almost miss that there are things to help you keep organized – including using the glass window as a dry erase board!
4. Keep it Uncomplicated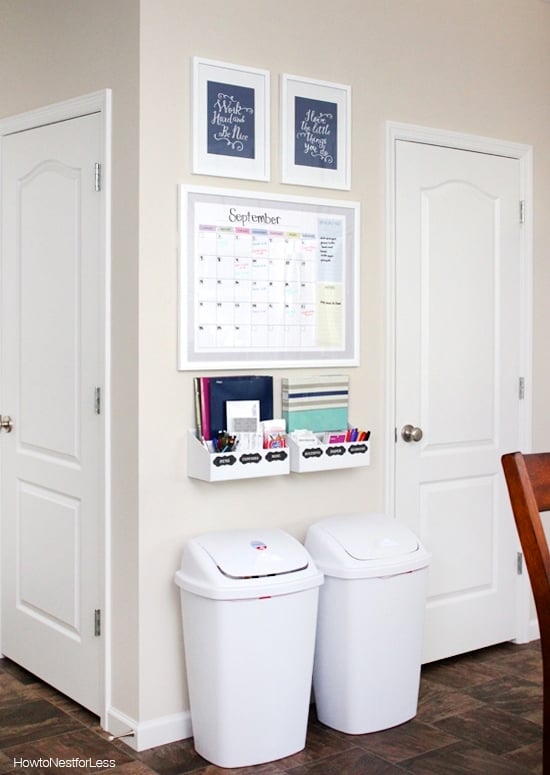 I think my favorite part is that this looks so light and bright that it blends right in. I love that the frame around the dry erase board matches the frames where she added some sweet, simple artwork.
It's super no fuss and gets right to the point. All she needed was a calendar and some wall storage. Easy peasy! Plus, this comes with a free printable that you can print out to use in your own home command center.
5. Make It Interactive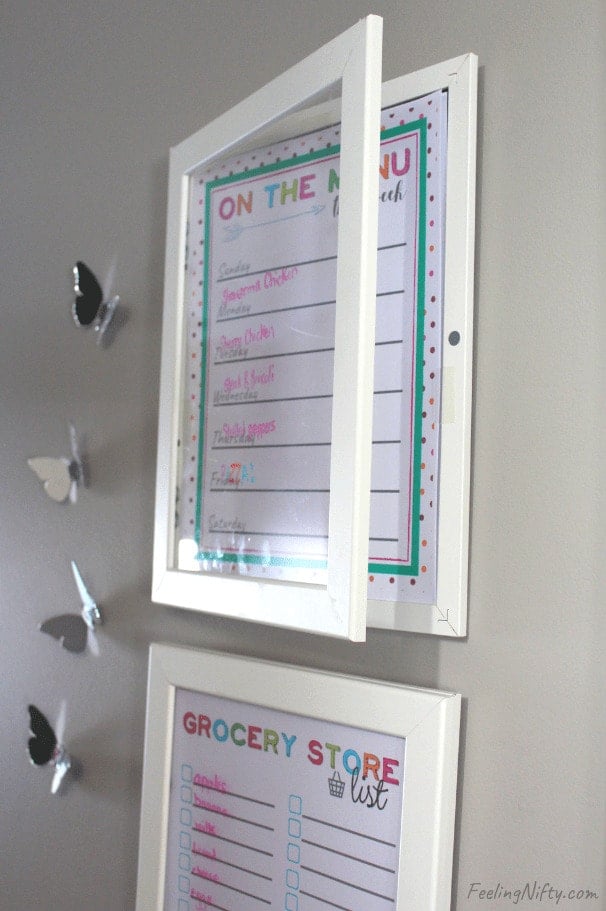 I love this simple idea of using open frames to create a dry-erase board space for kids to use.
They can easily check off their chores or other tasks by opening the frame up and using dry erase markers to notate what they have completed. Plus, it's easy for you to swap out the printable inside.
6. Hide a Command Center in a Cabinet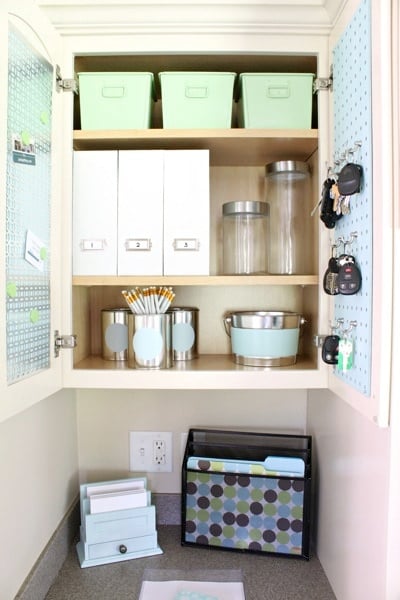 I know it's super easy to get overwhelmed with all the things you can find on Pinterest boards for a home command center, but the truth is, you may not have a huge blank wall.
I love that even though this is a very small space, by utilizing a cabinet with a pegboard inside to store keys you create a very functional command center. Genius!
7. Use Vertical Storage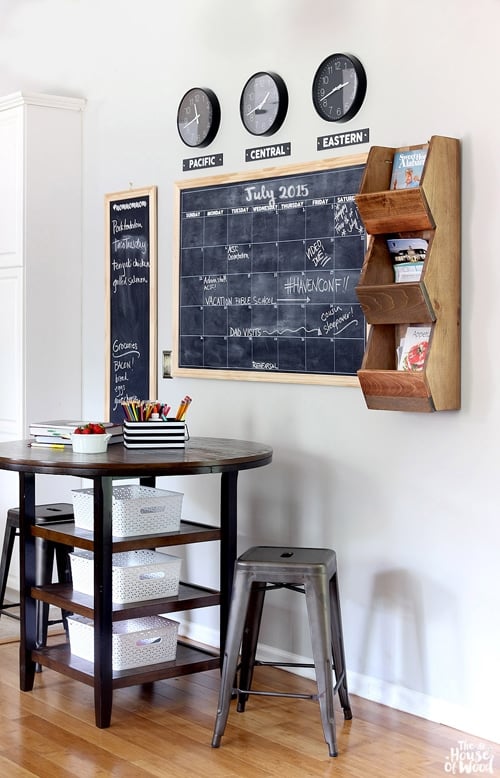 My favorite part of this personally is the 3 clocks above the chalkboard that have 3 United States time zones in them. So, it's keeping you organized and educated all at the same time. Win win!
Vertical storage is a must in a command center and the idea of using wooden produce bins can add some visual depth to the space that helps it feel like decor. You can personalize this to match your own home's decor style.
8. Kitchen Command Center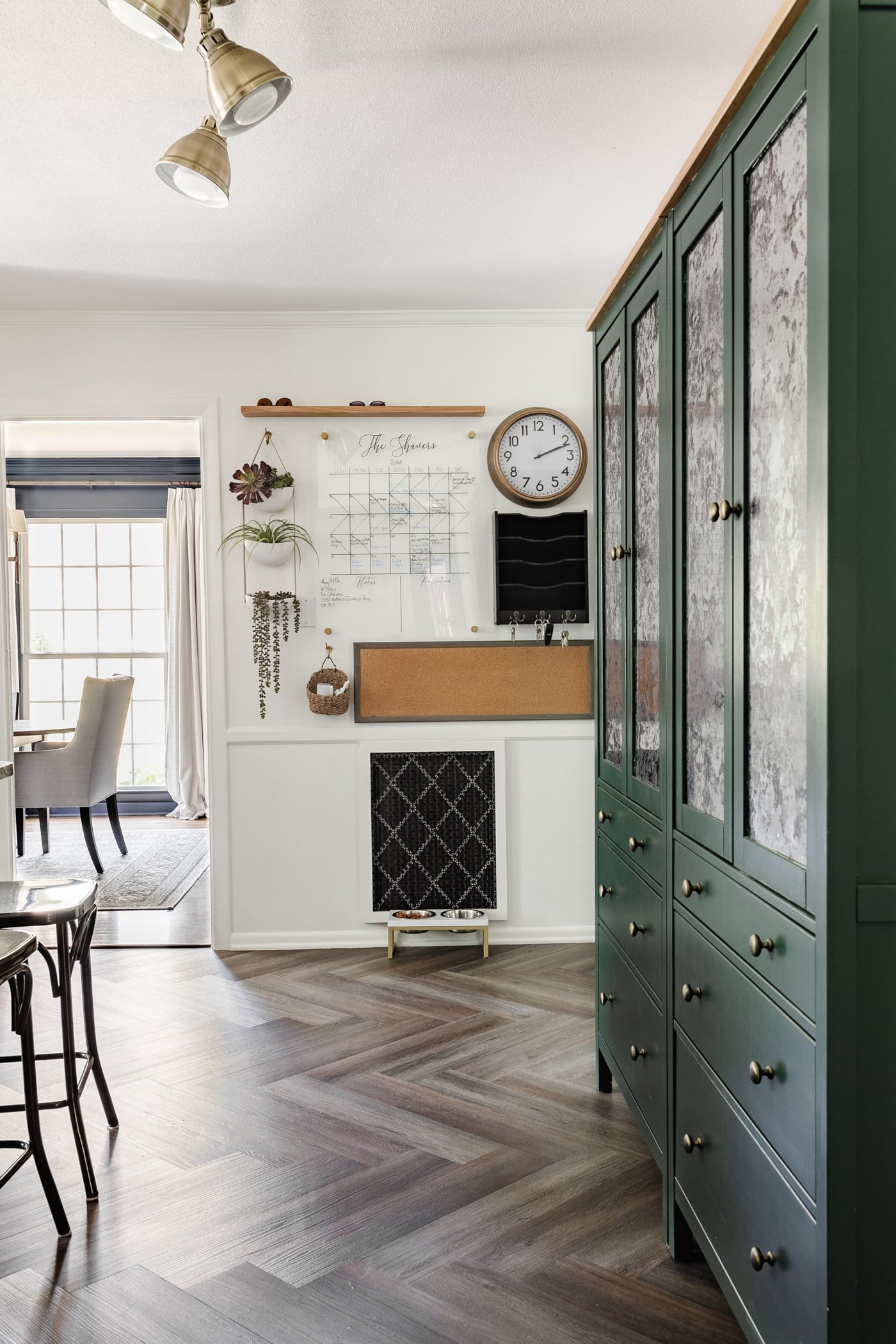 Just about anything Lauren touches turns to gold and her command center is no exception.
The touches of gold, the clock accent, and the sleek appearance of the cork board turned this command center into a stylish kitchen display.
9. Put Small Walls to Work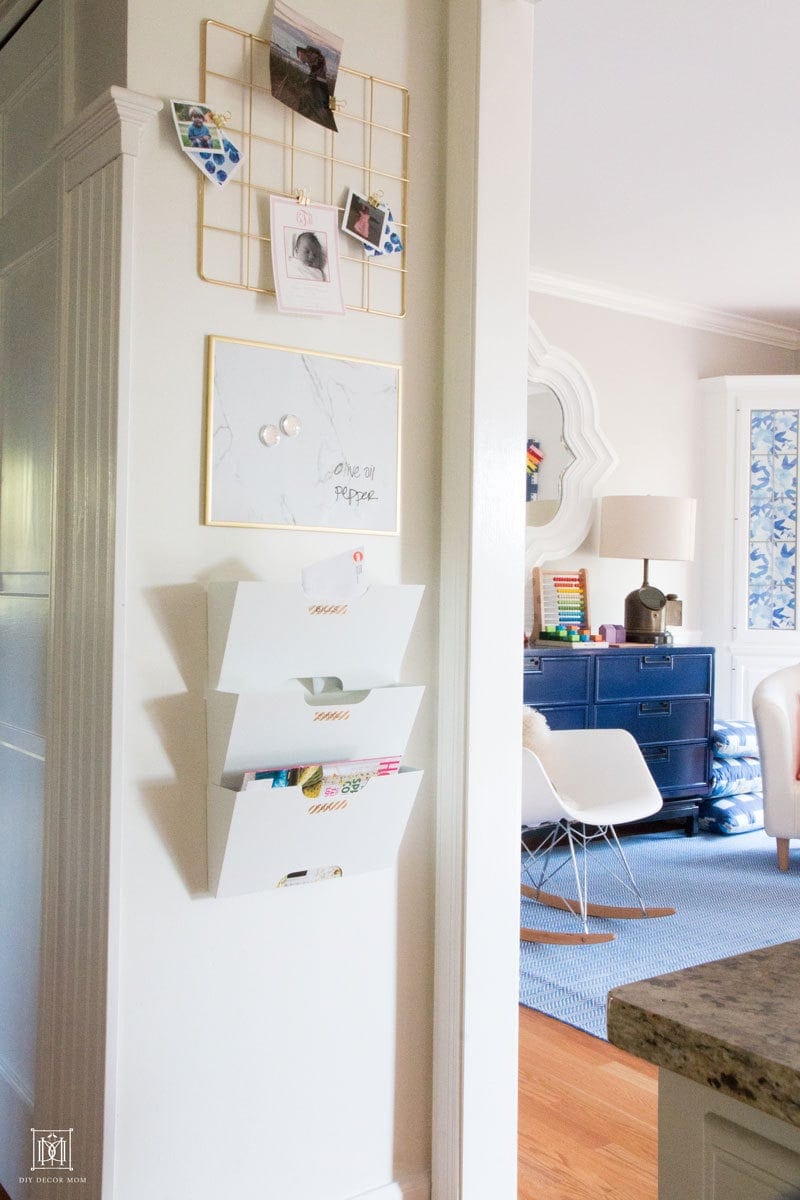 Annie used a very tall, narrow wall space here that otherwise would of been wasted space and turned it into a very efficient family command center.
Again, you don't have to have a ton of room to feel organized. By using a few simple items like Annie did, your family is on the way to staying organized in no time.
10. Hall Space Command Center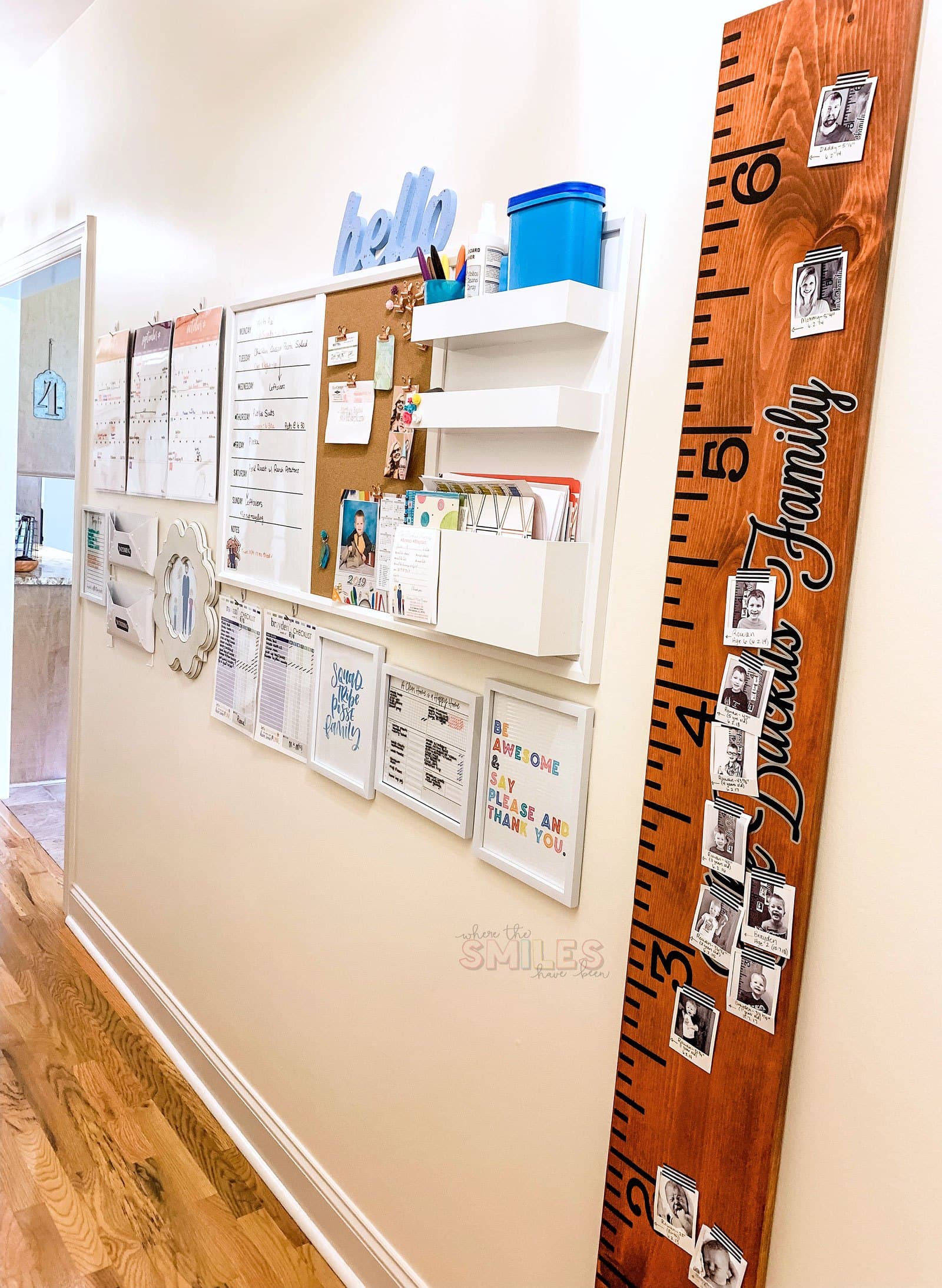 Most command centers I've seen live in a mudroom or entryway, but I love this idea of utilizing your hall space if you don't have any space elsewhere. You can make it like a giant gallery wall, but also include items that allow you to hold paper items in one place.
11. Give the Pantry Another Purpose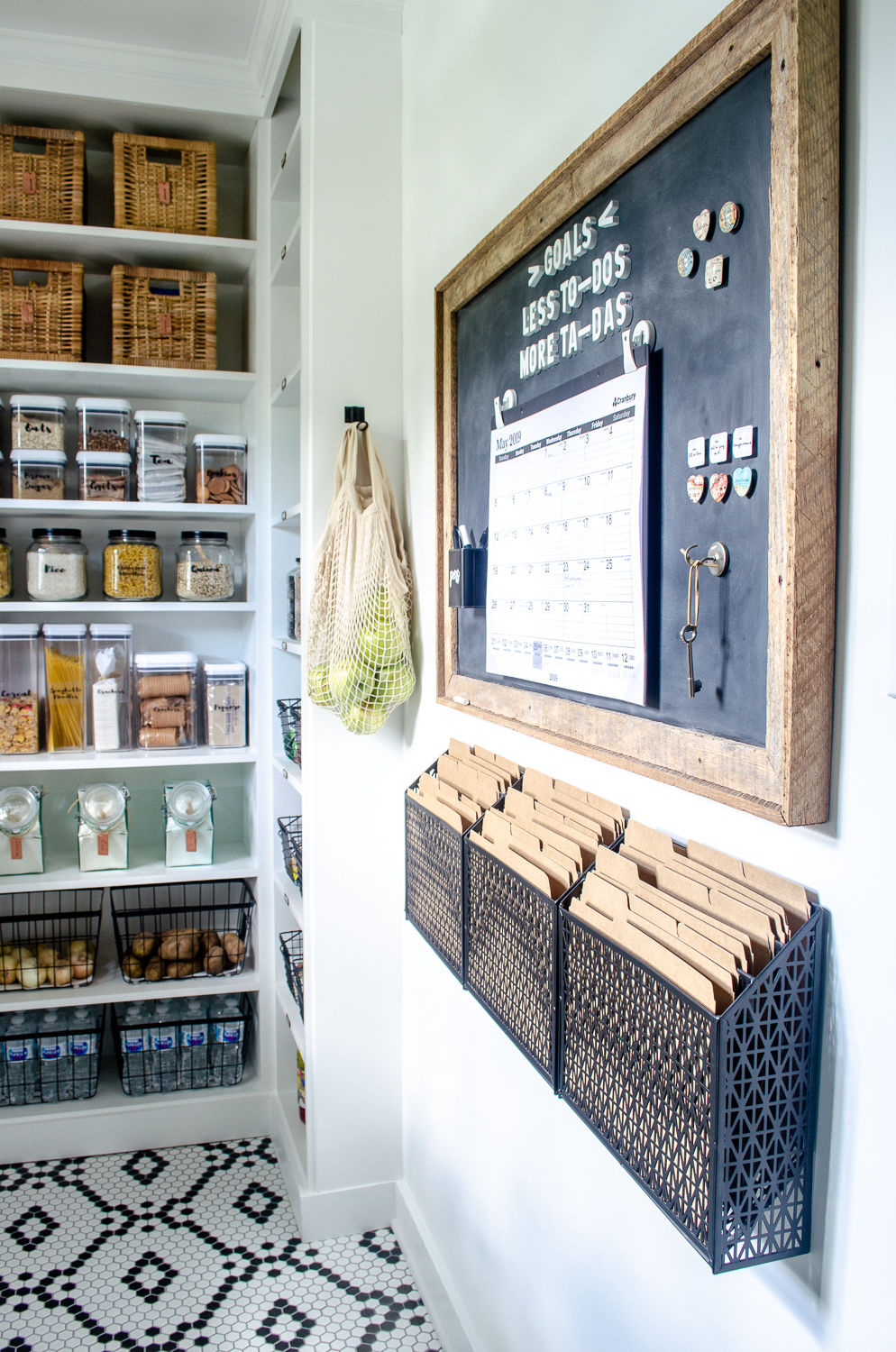 If you are lucky enough to have a giant walk in pantry, it'a the perfect spot for a command center!
It seems like a good trick to put a command center where you know you'll constantly be going. Here's a good example of just a frame chalkboard and some file folders to house mail and school papers.
12. DIY Shiplap Command Center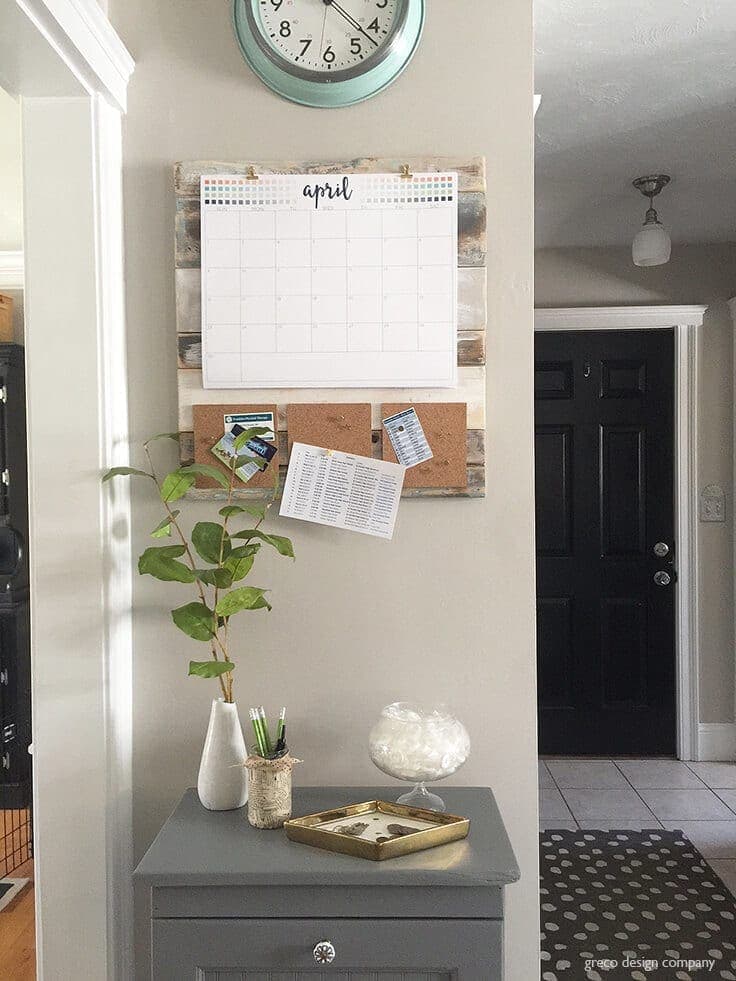 If you have farmhouse style, you most likely are familiar with and love shiplap! So, here's a great farmhouse designed command center that is also great for small spaces.
Which Family Command Center is Right For You?
Whatever style of family command center you decide to adopt, make sure that it works for the specific needs of your family.
With that being said, I hope these ideas have sparked some creativity in creating your own family organization station!