This post is sponsored by The Container Store. All opinions are 100% my own.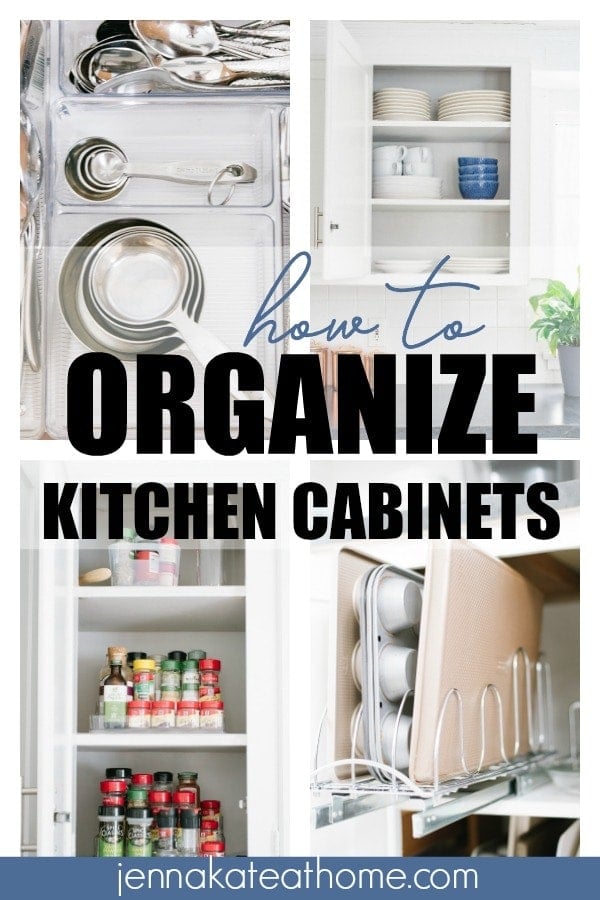 How To Organize Kitchen Cabinets
Today I'm channeling my inner Martha Stewart and Marie Kondo to finally tackle the disaster that is my kitchen cabinets. Finding a cabinet organization system has been on my to-do list for quite some time but I knew it was going to be quite the undertaking since every single one of my cupboards was a disorganized mess.
Where To Start When Organizing Your Kitchen Cabinets
Not only was there zero organization but the insides of the cabinets themselves looked dirty (they weren't but they looked it) since the floor of the cabinets is chipboard and the backs looked like they hadn't be painted since the kitchen was installed thirty years ago.
So the first thing I did was empty out all the cabinets, paint them white and put some some shelf liners. Instant improvement, right?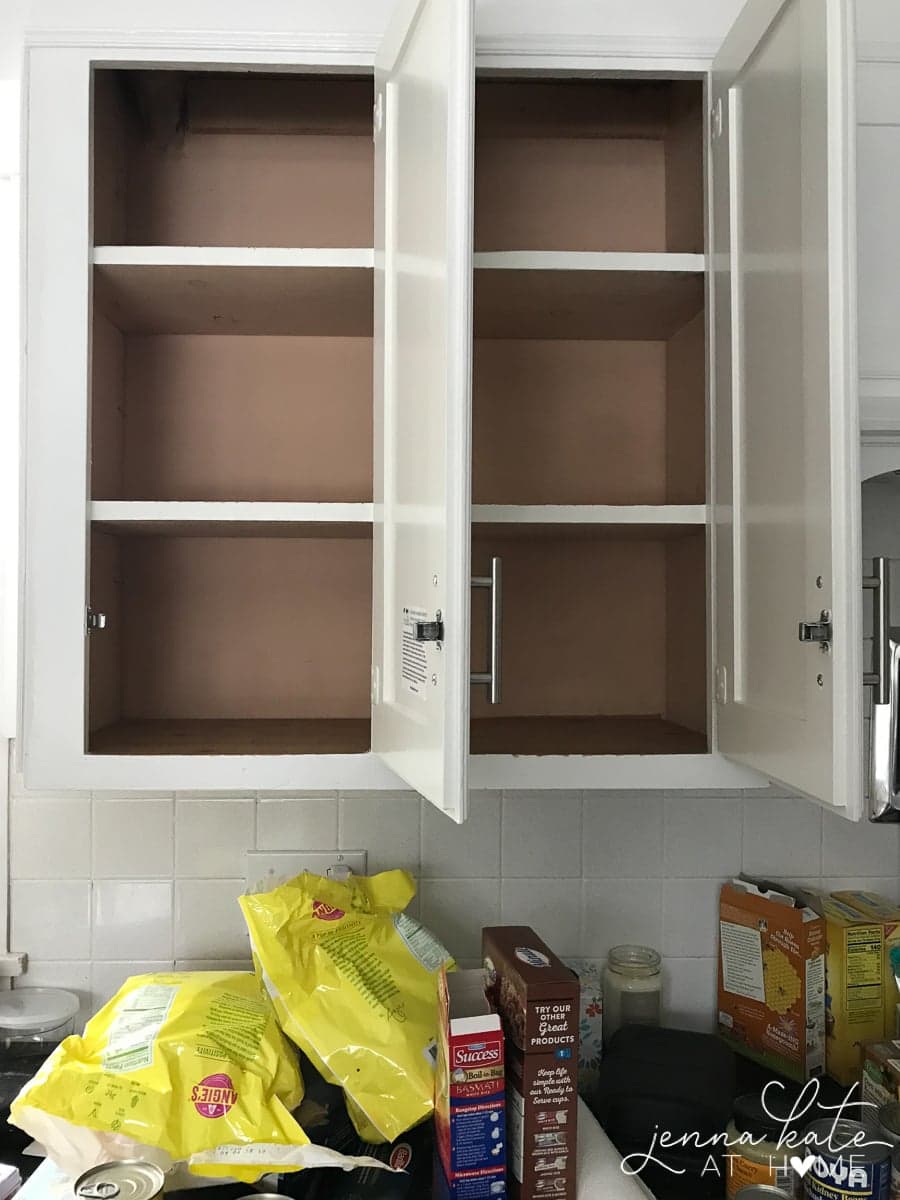 ---
---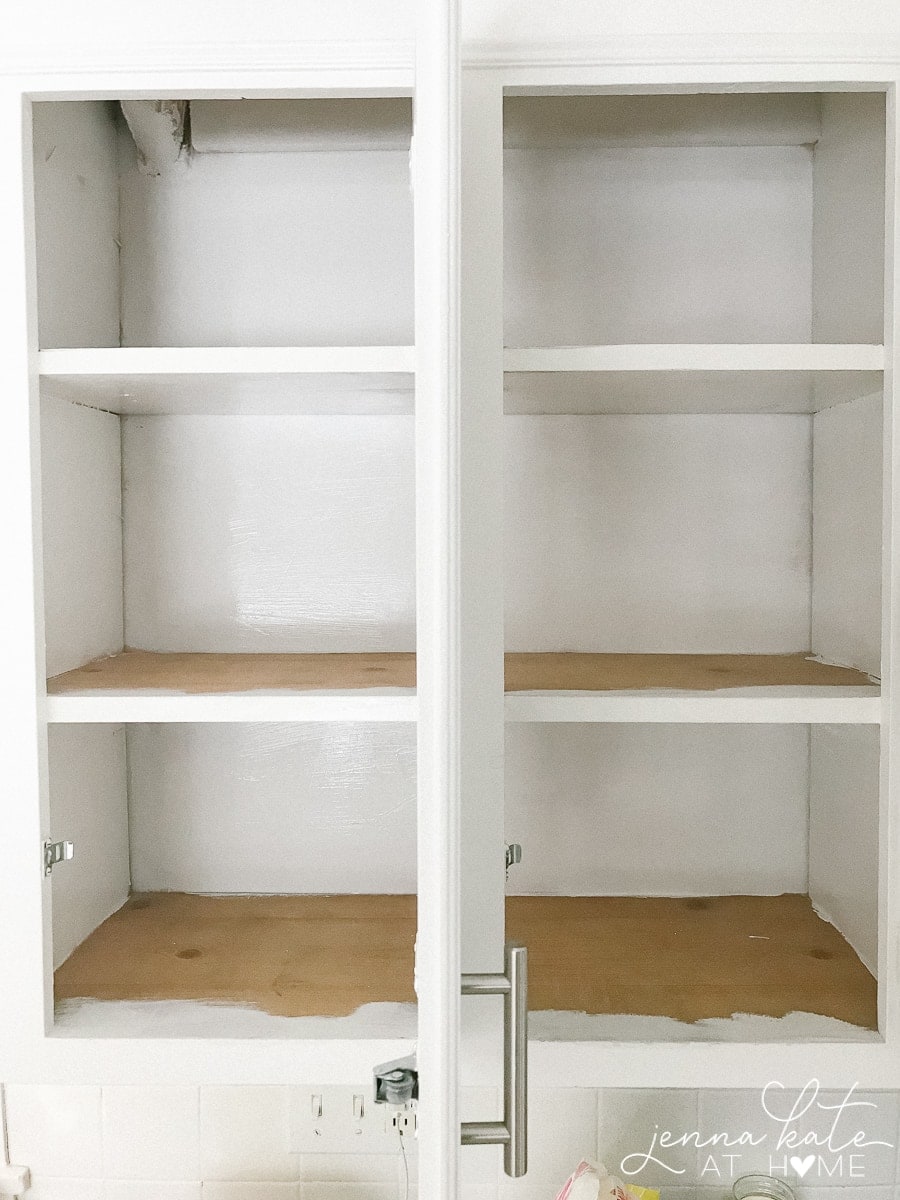 What Goes Where?
OK - let's talk about what goes where when you're organizing your kitchen cabinets. This part is very important because it determines how well your kitchen will function.
You want dishes, utensils and bake wear close to the dishwasher so that you can easily unload.
Keep oils, spices and anything else you use for cooking close to the stove.
Keep snacks together, cereal together, and packaged foods together. Reserve a separate area for baking essentials like sugar and flour.
Pots and pans can be tricky - I like mine close to the stove so that I can grab them and pop them right on but you may want them close to the dishwasher. That's more of a personal preference!
Pretty simple, right? Once you've figured out where everything should go, it's time to purge. Keeping your home organized also means getting rid of what you don't need. Throw out broken dishes or donate the third or fourth set of dishes that you never use. Go through your cutlery and utensils. Get rid of extras. The same goes for food. Throw out that out of date baking soda and 3 year old half-eaten bag of raisins.
Now we can start putting things back!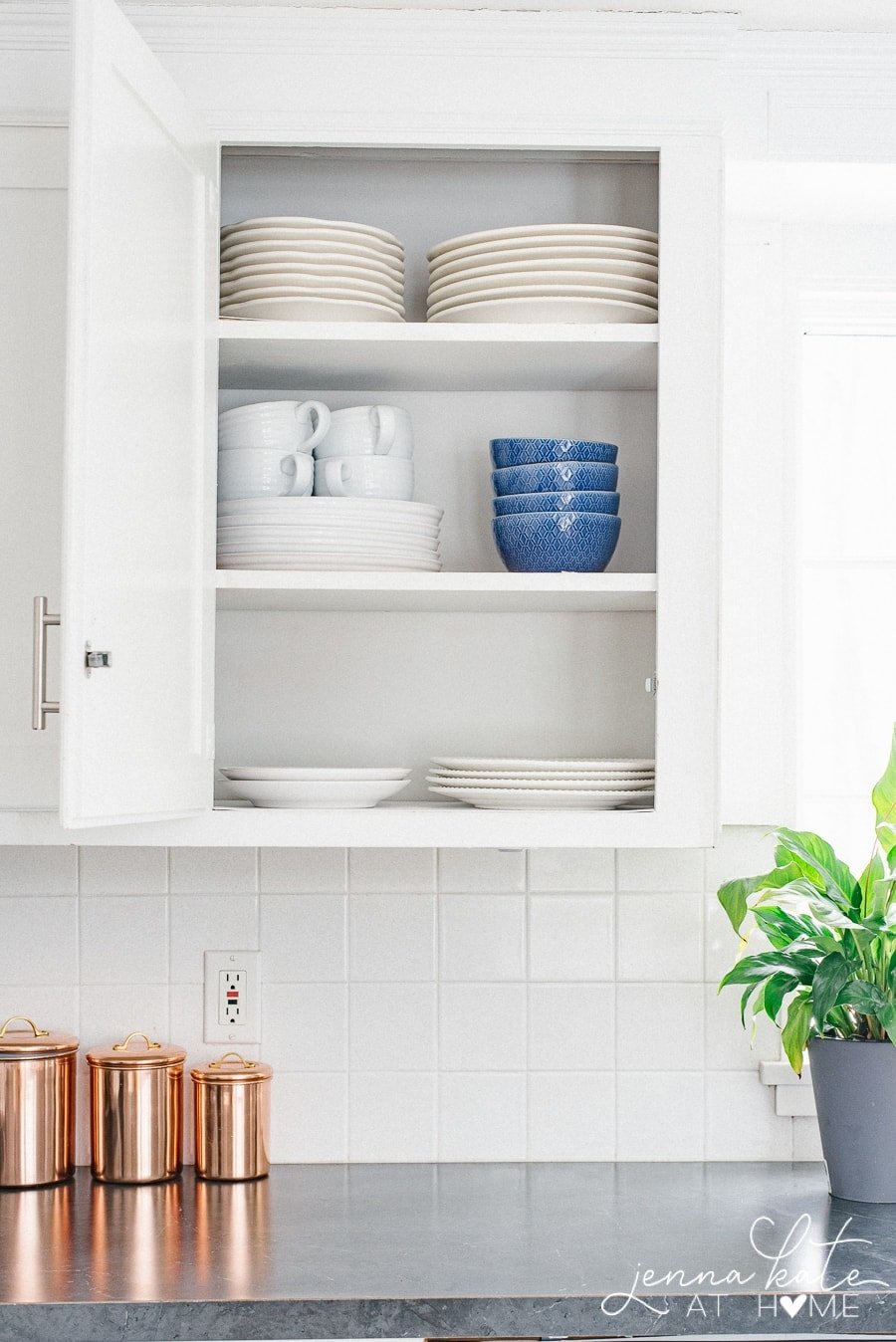 Related: 11 Ways To Update Your Kitchen Without Remodeling
You really only need 2 sets of dishes. An everyday set and a good set. I favor white for both. But I'm not using my expensive Pottery Barn set every day so they go up top. My cheaper plates and bowls are down lower.
Baking & Cooking Supplies Before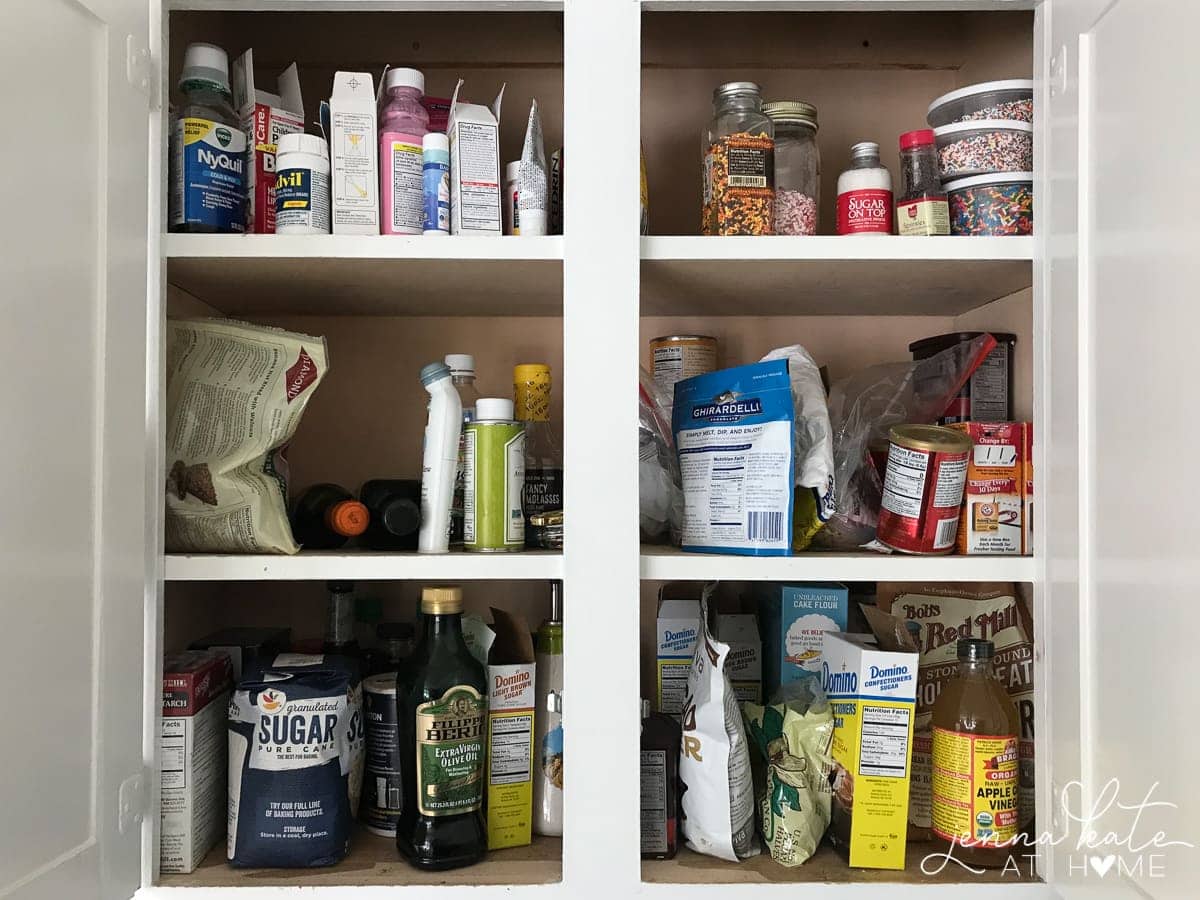 Baking & Cooking Supplies After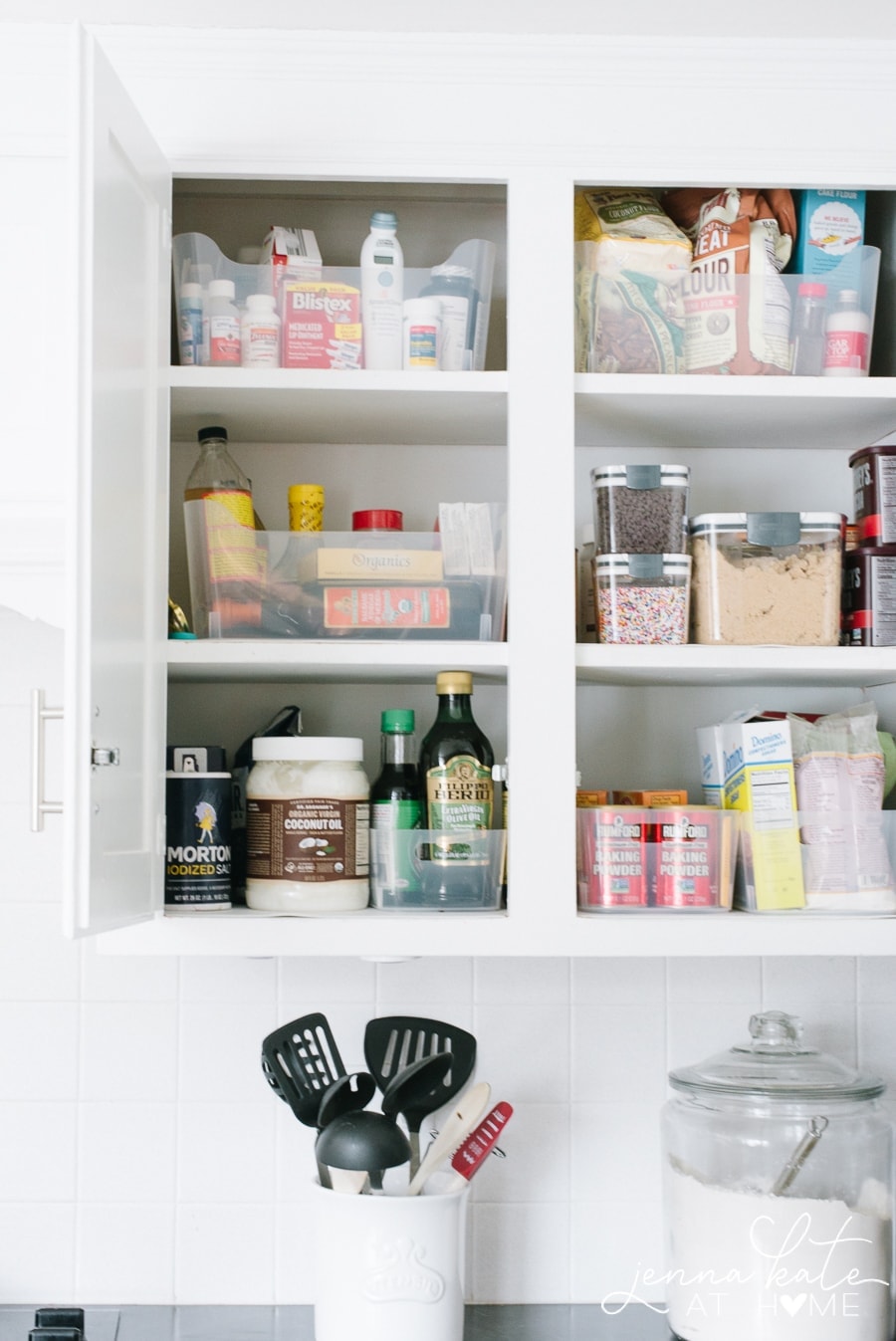 Everything is corralled with plastic bins. They are easy to pull out and stop items from falling over. Like items are grouped together (baking soda with baking powder - all cooking oils together, etc.). My cupboard shelves are really low and the height is fixed so I'm unable to stand some taller bottles up. The plastic bins stop me worrying about anything ever spilling while still keeping it looking neat.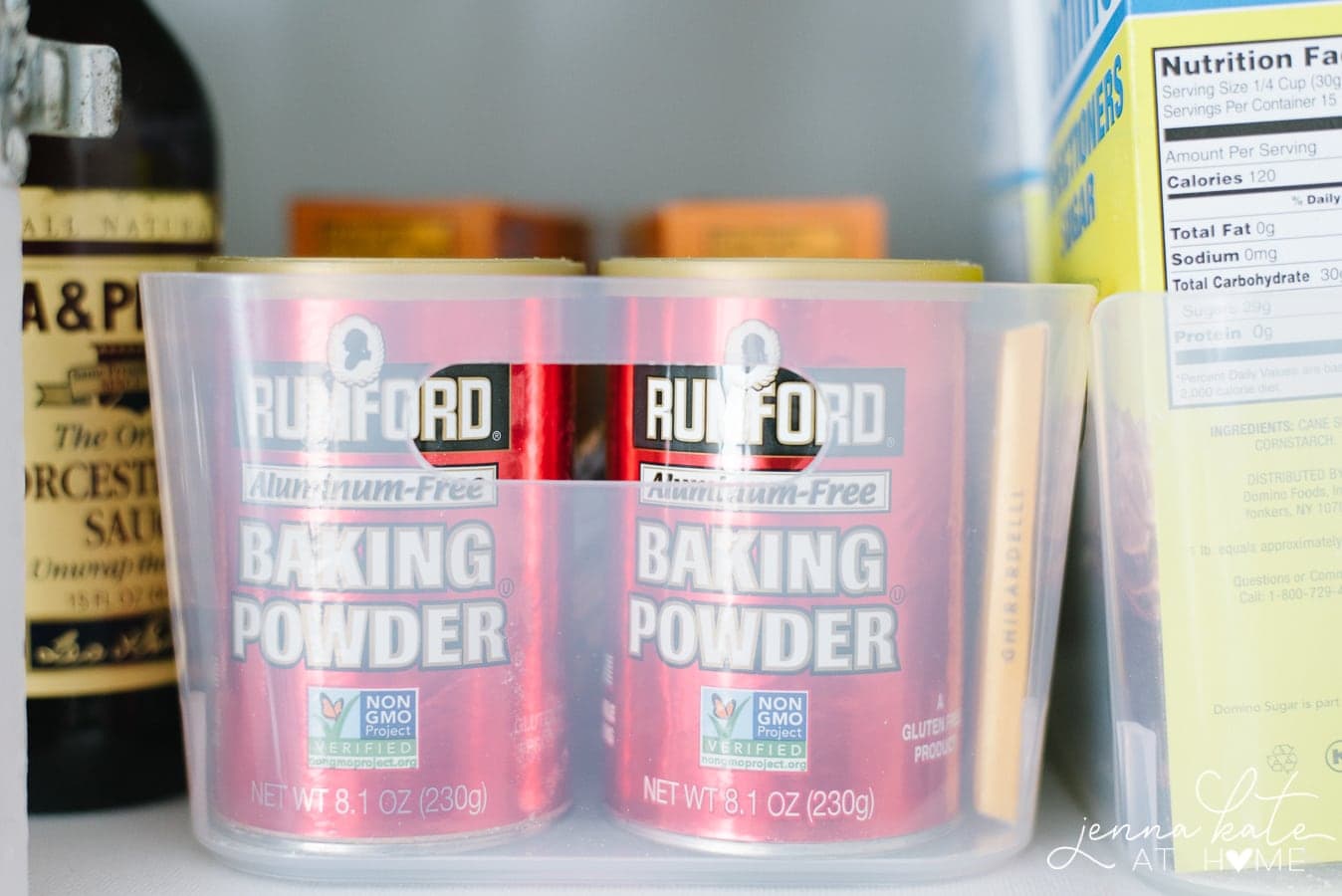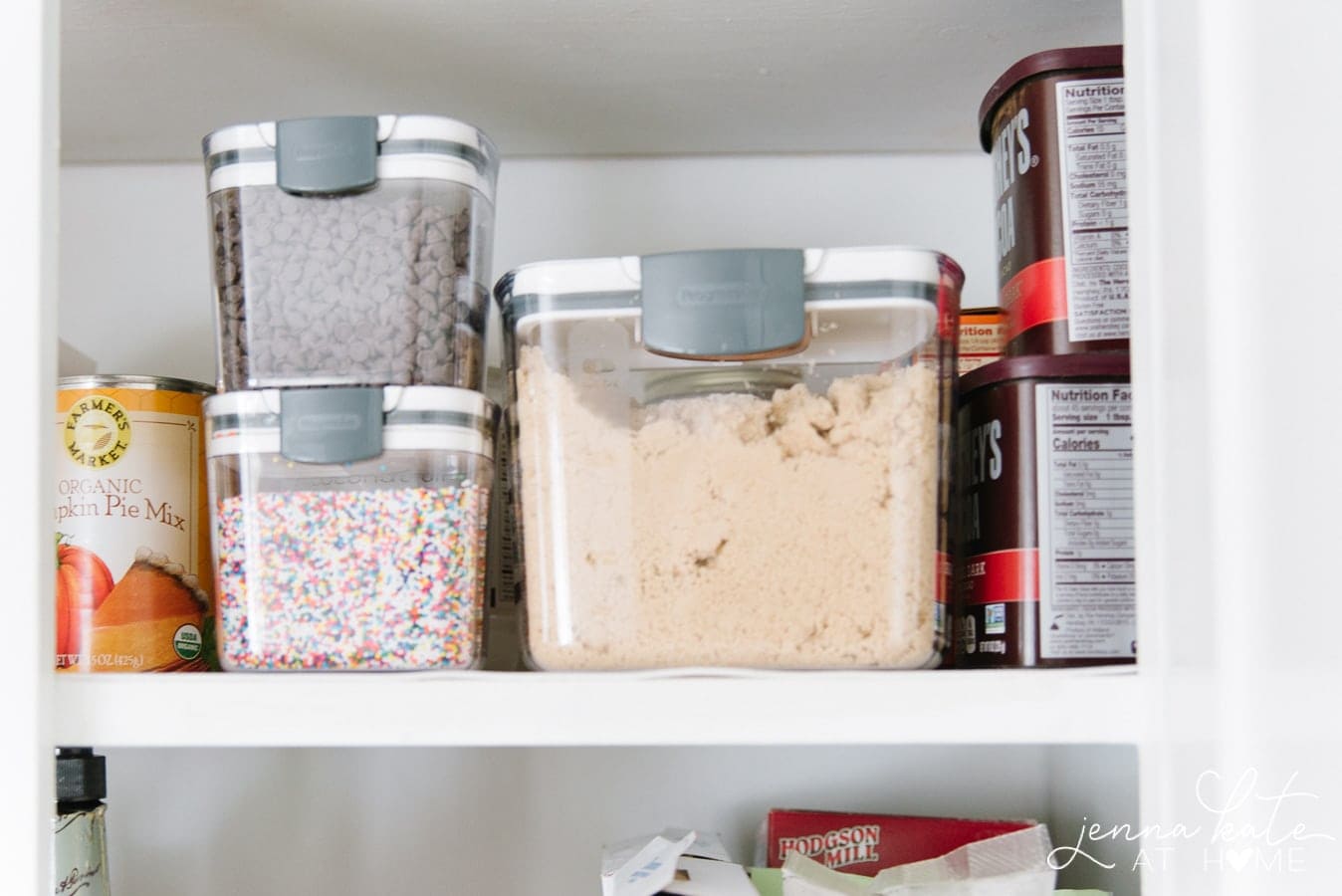 Stop food waste by pouring sugar, flour, chocolate chips, etc. into storage containers. I particularly like these ProKeeper food storage containers because they lock air out. The brown sugar version has a terra cotta disc inside to stop the sugar from drying out, which is so smart! And the mini versions are perfect for sprinkles and chocolate chips since they have a dispenser inside that allows you to sprinkle or pour.
Spice Cabinet Before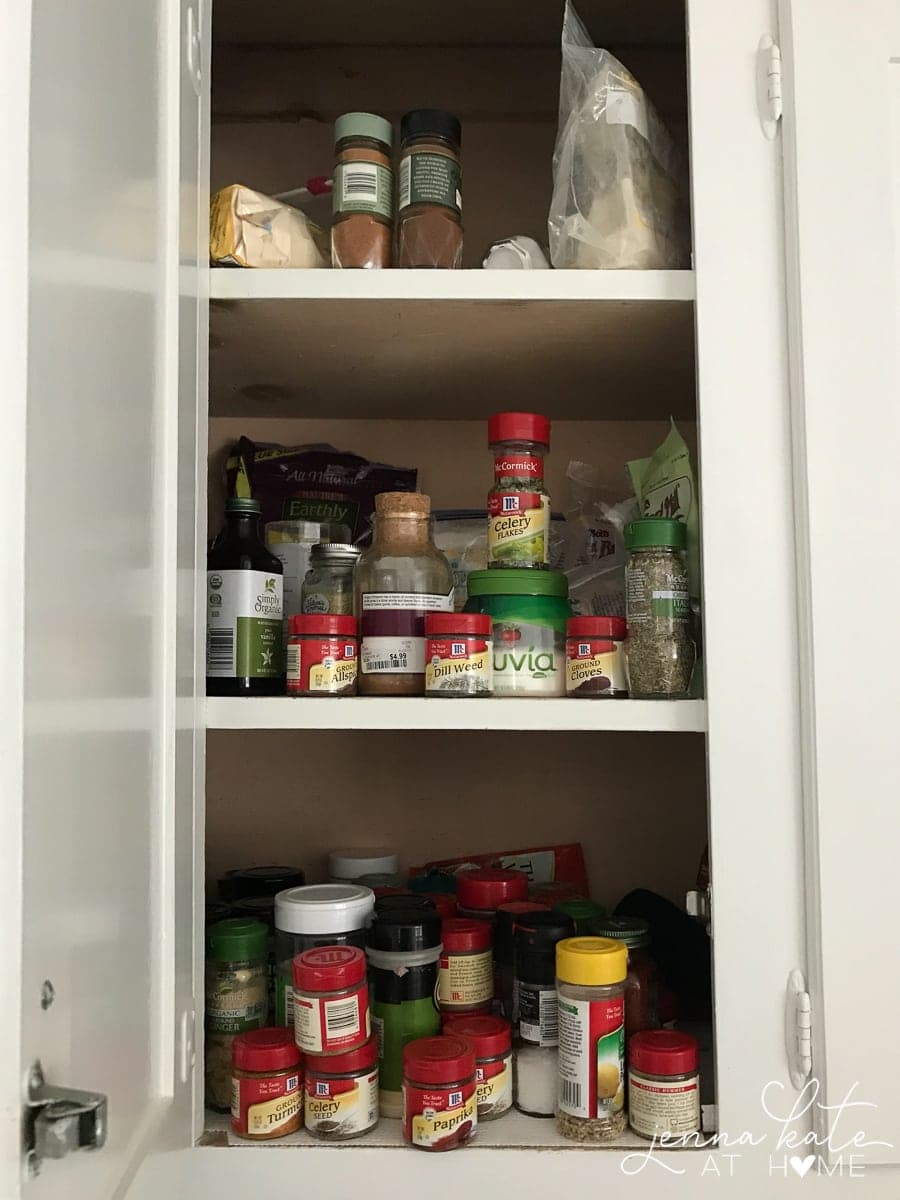 My spice shelf was so bad that I could never find what I needed. After throwing out spices that were 2 years past their sell-by date, I added some tiered storage. Now, all the spices are easily visible and accessible.
Spice Cabinet After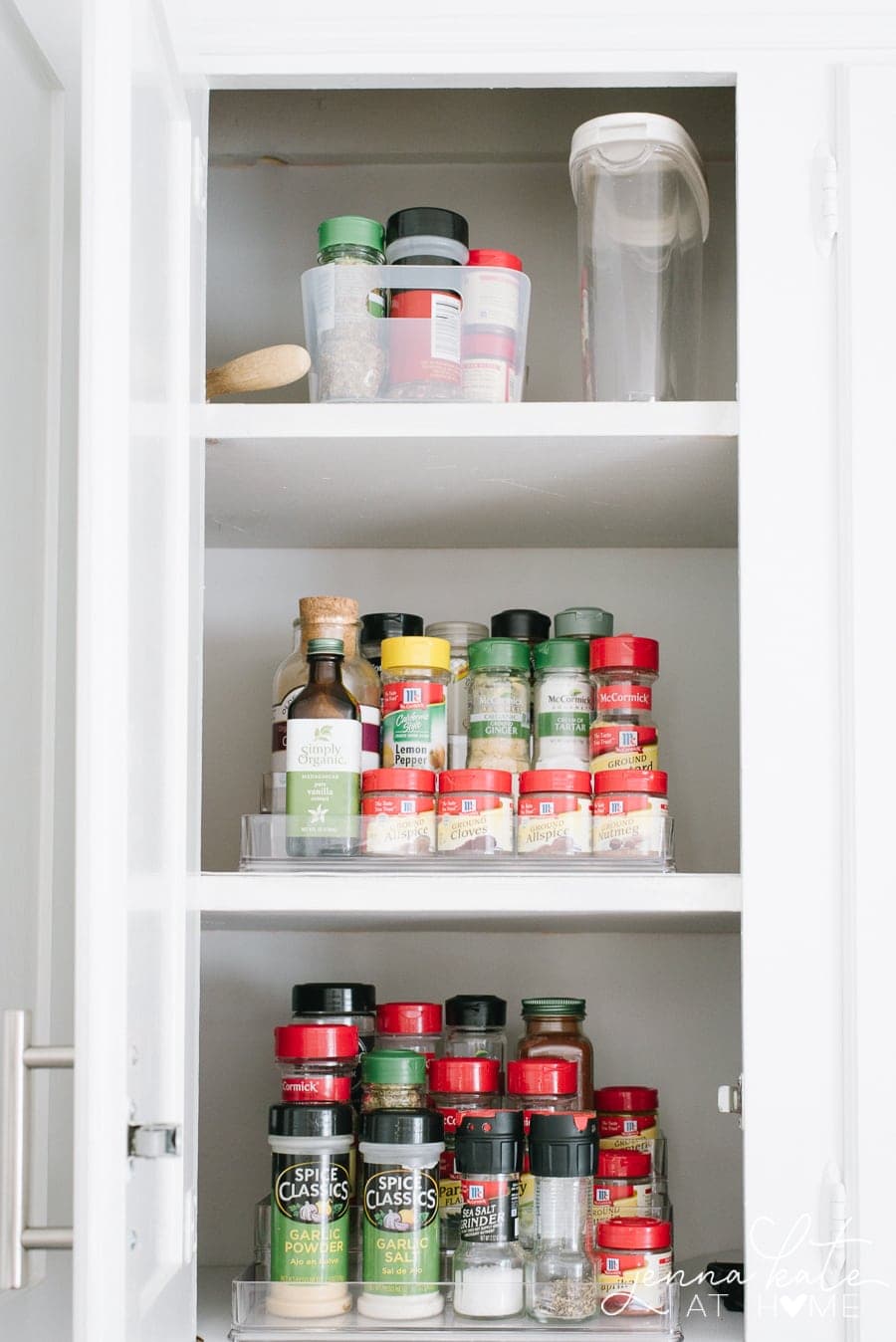 Packaged Foods Before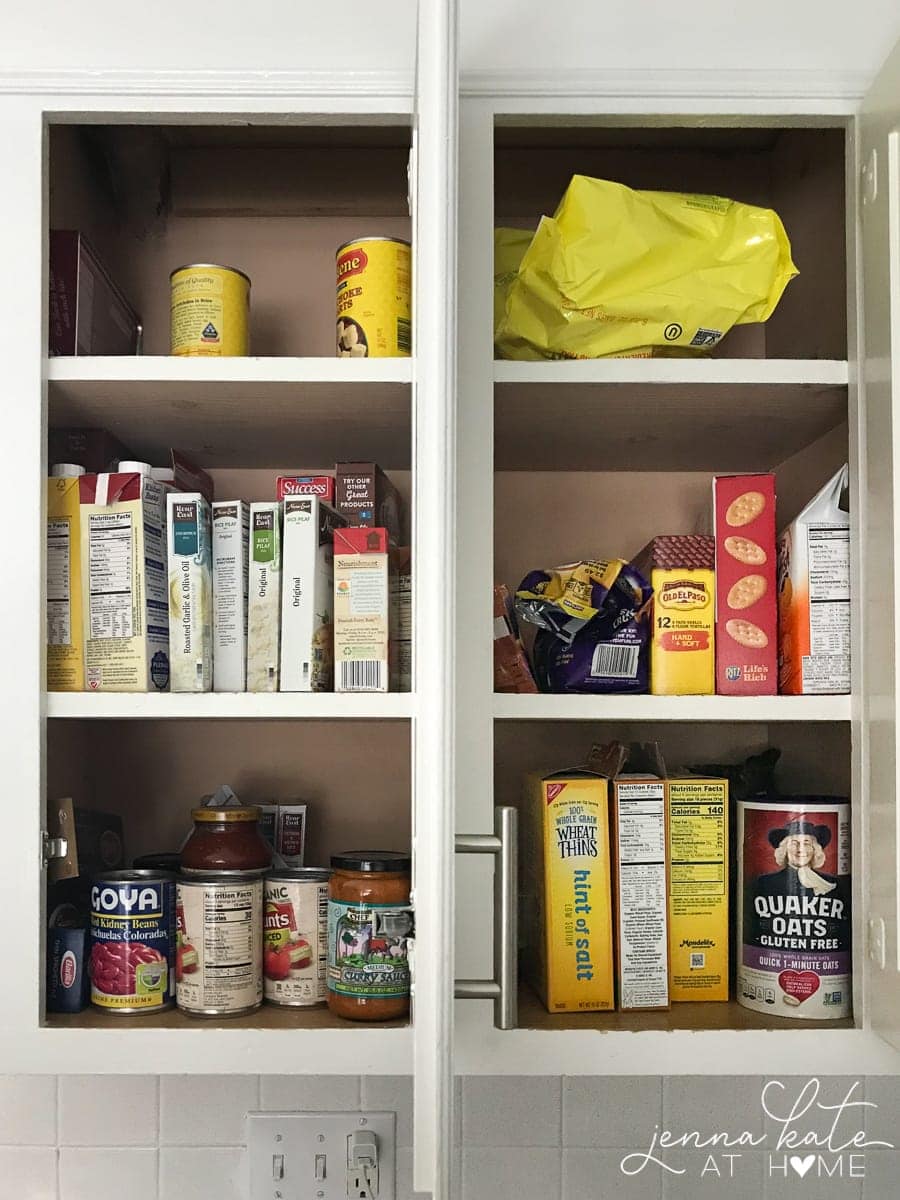 Packaged Foods After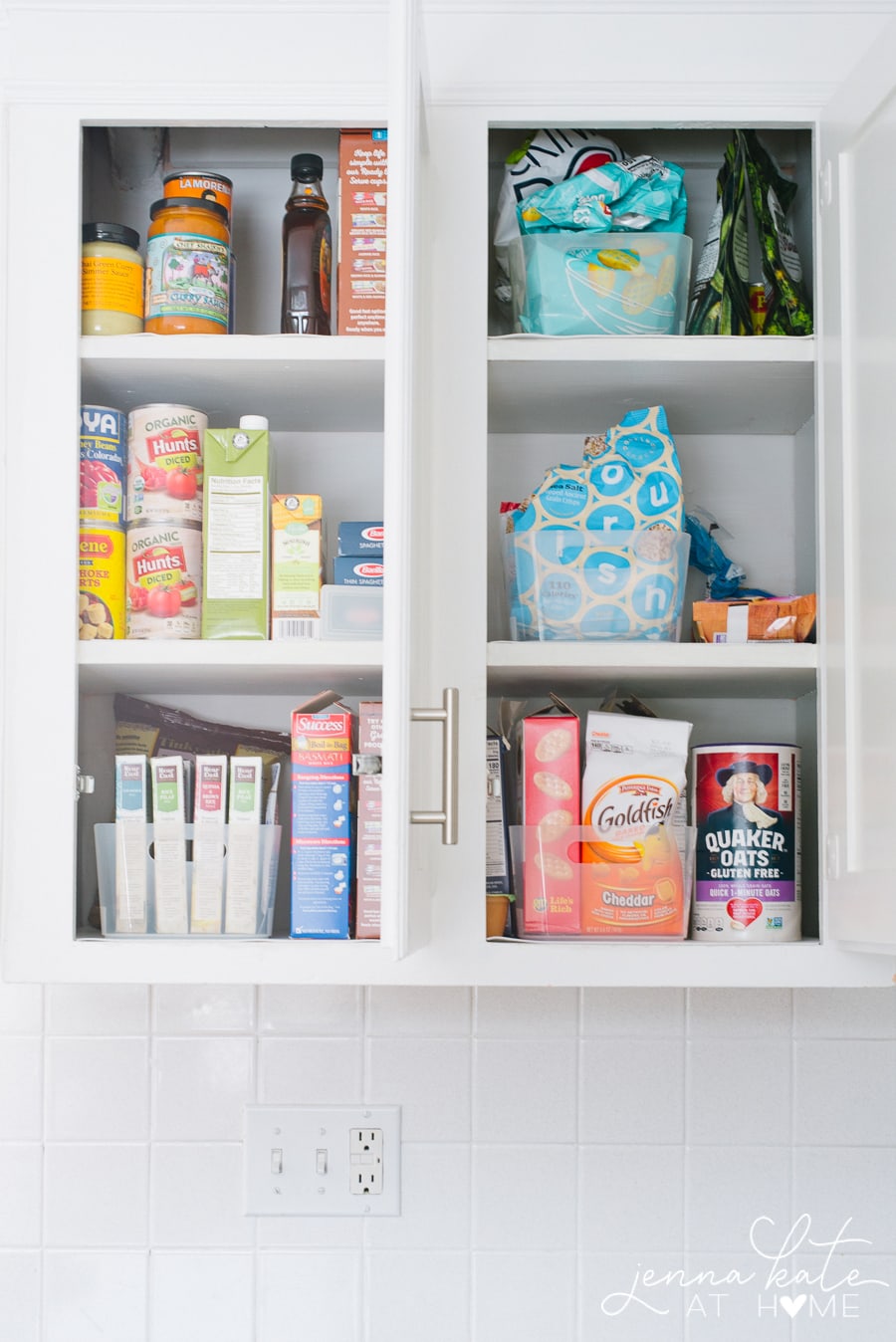 We do not have a pantry and I really don't think we will ever have a use for one. As you can see, this is the extent of our boxed and packaged foods. One side holds cans, rice and soup while the other side is for snacks. I don't bulk-buy anything and we mostly eat fresh produce in favor of processed foods which means I don't need to store a lot of food in here! Of course, if you have a pantry, the exact same organizational systems will work!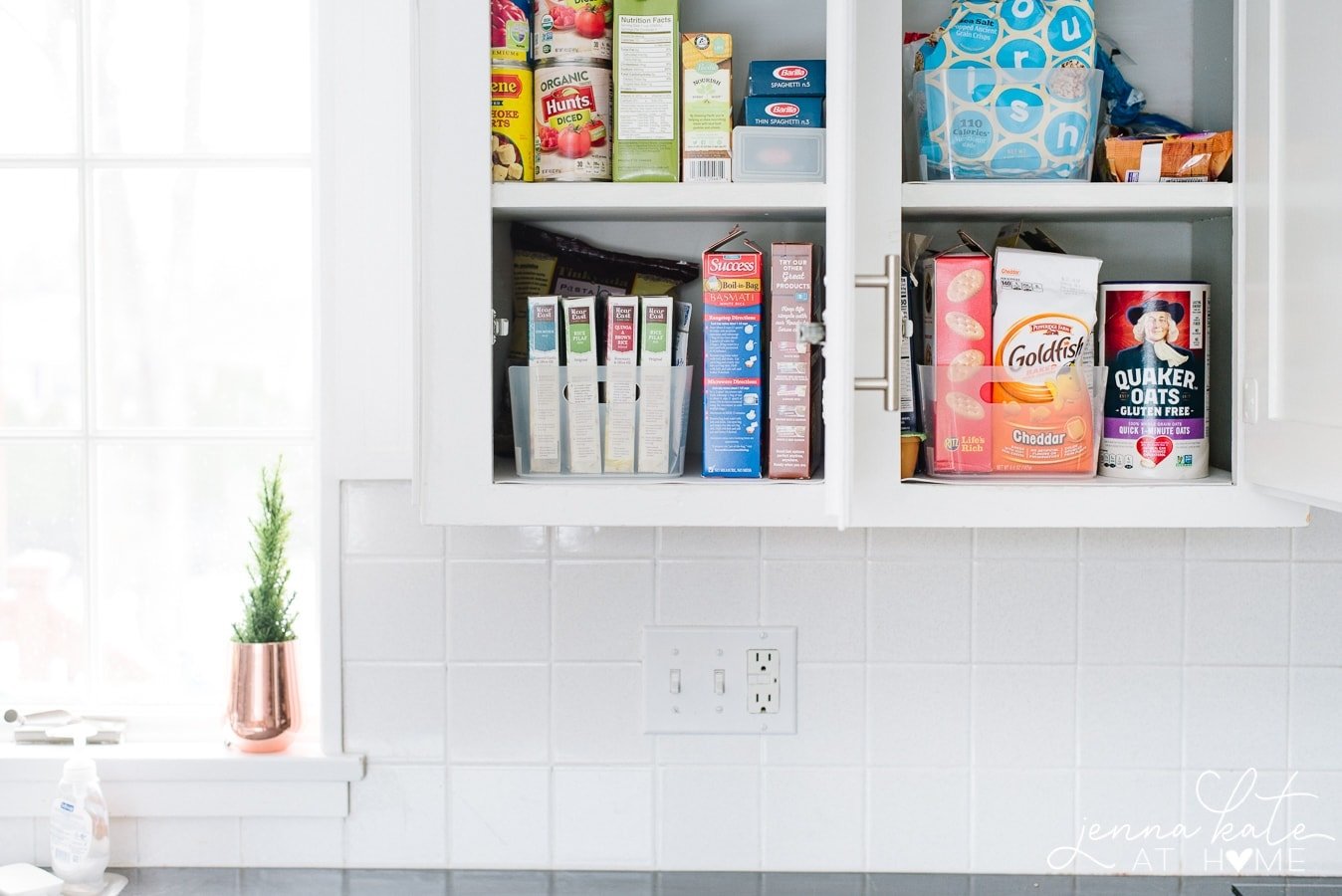 Again, you can see how the little plastic bins come in handy to keep everything together.
Bakeware Cabinet Before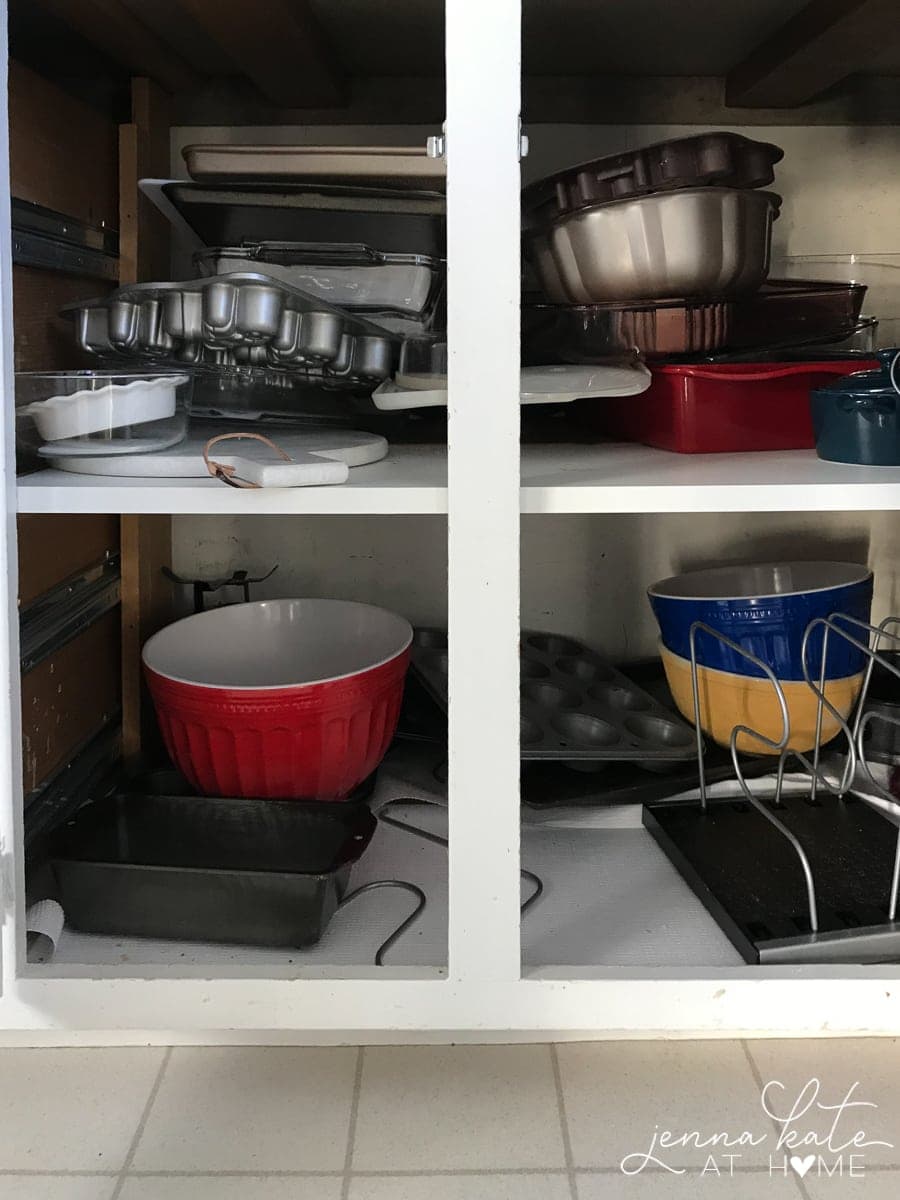 This may be the worst offending cabinet! But now it's really functional and organized...
Bakeware Cabinet After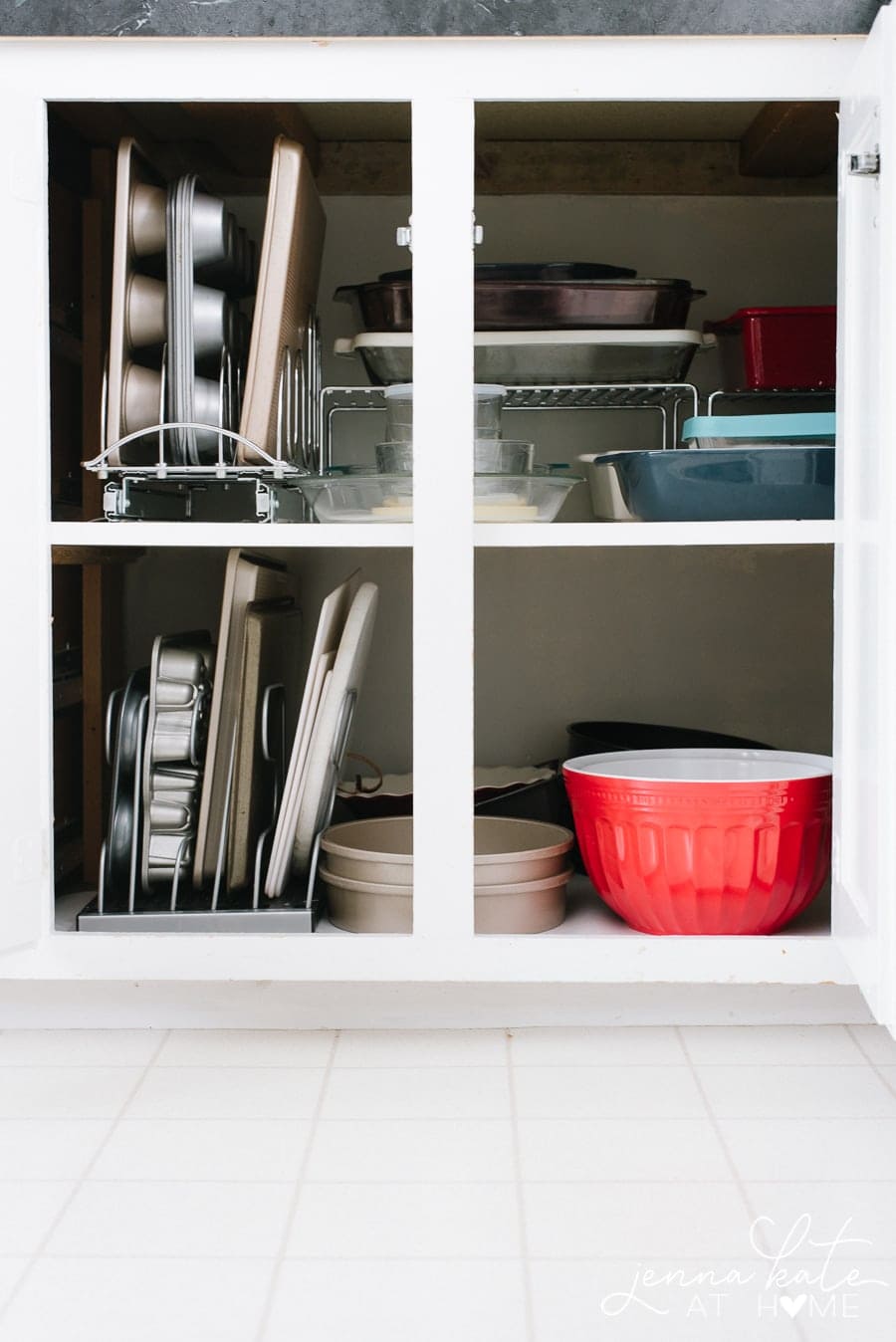 First, I got rid of any broken bowls, plastic food containers and rusted baking sheets. I purchased new glass food storage containers and a new OXO gold bakeware set.
All my baking sheets and cupcake trays found a home in this pull-out lid organizer which makes it so easy to grab what I need. These type of organizers are particularly amazing when you have deep cabinets since you can pull them out instead of sticking half your body inside to get what you need!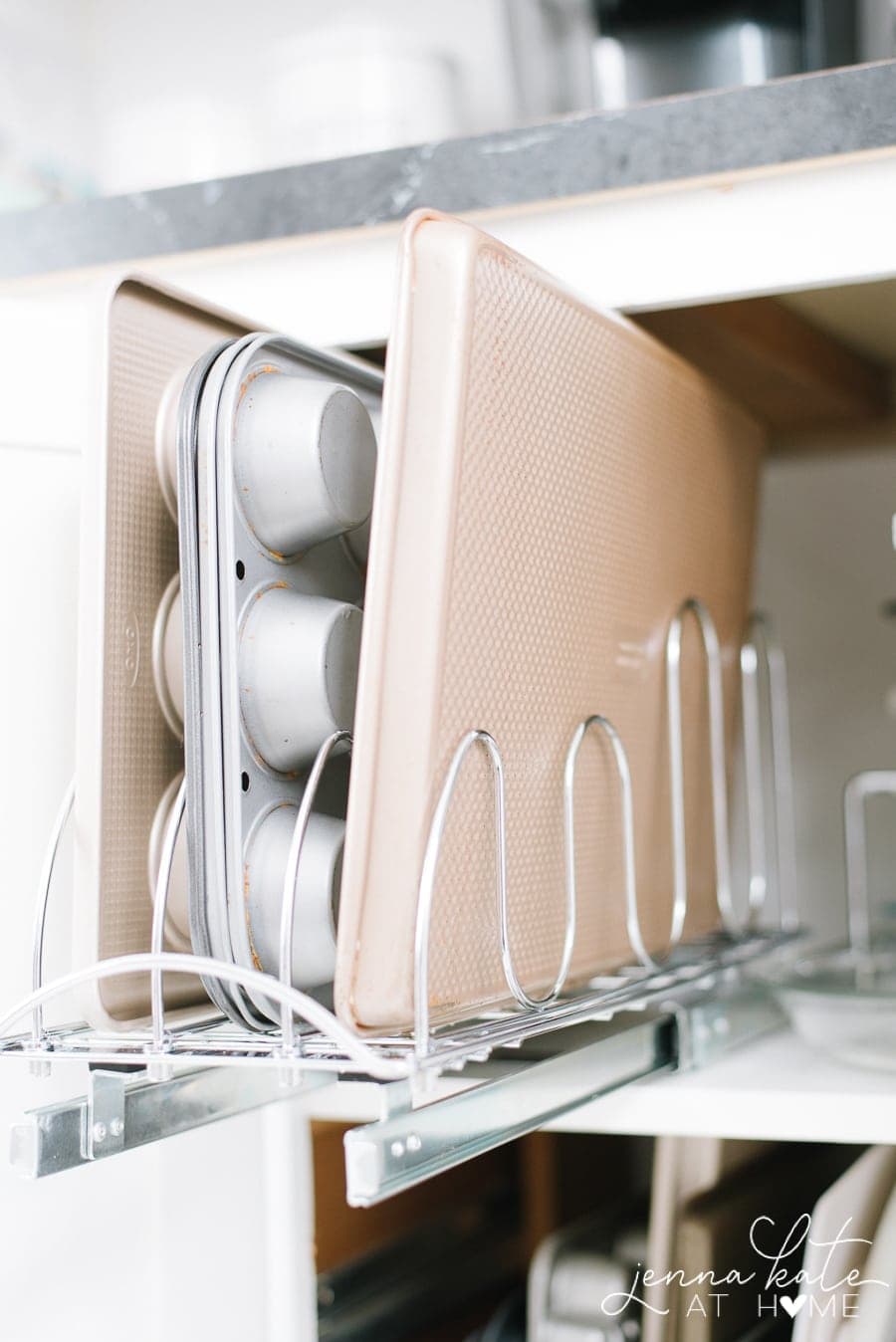 The other baking sheets, cutting boards and items that don't get used as often are in another organizer on the very bottom shelf.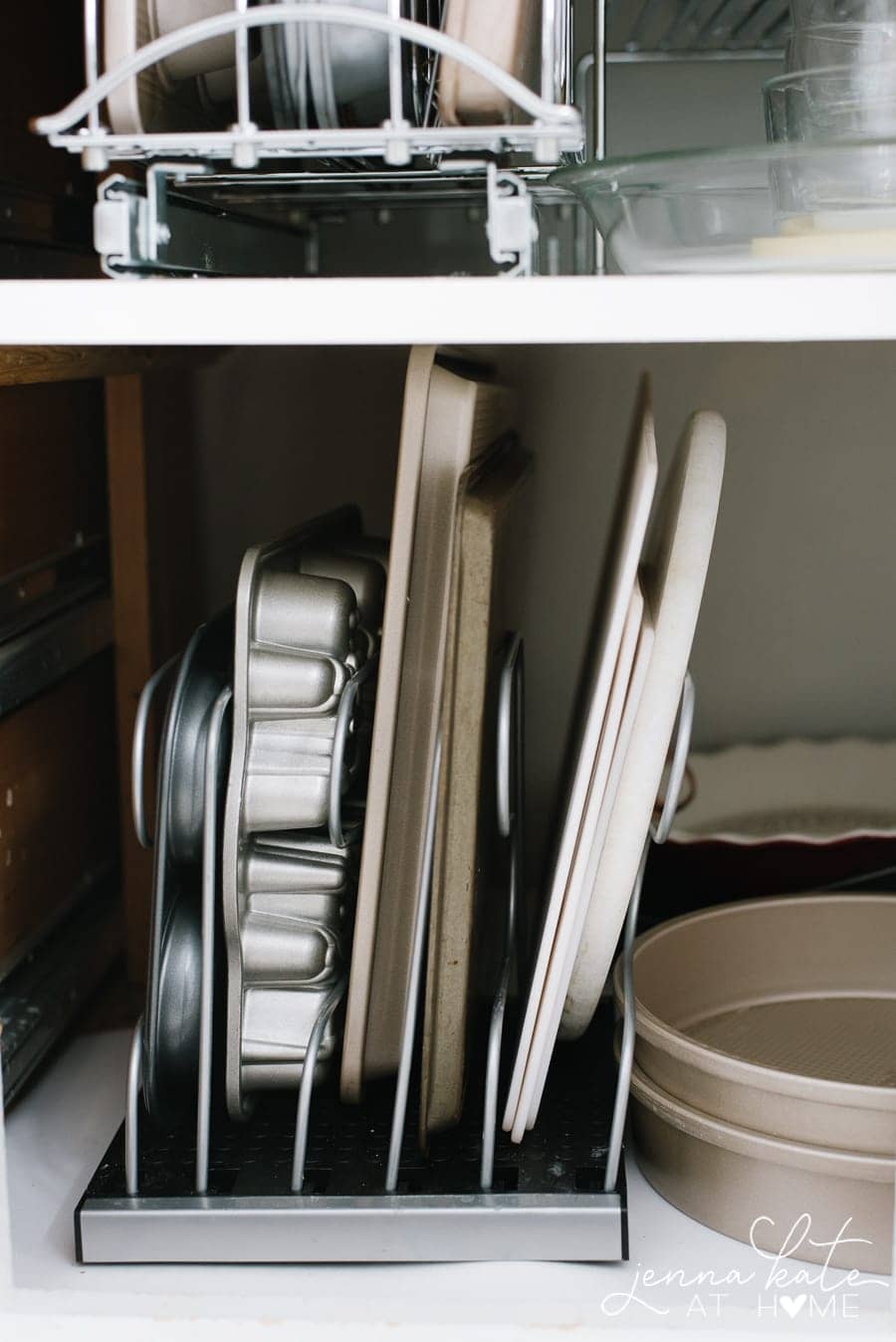 To create more space for my casserole dishes, I added two chrome cupboard shelves which doubled the amount of storage inside.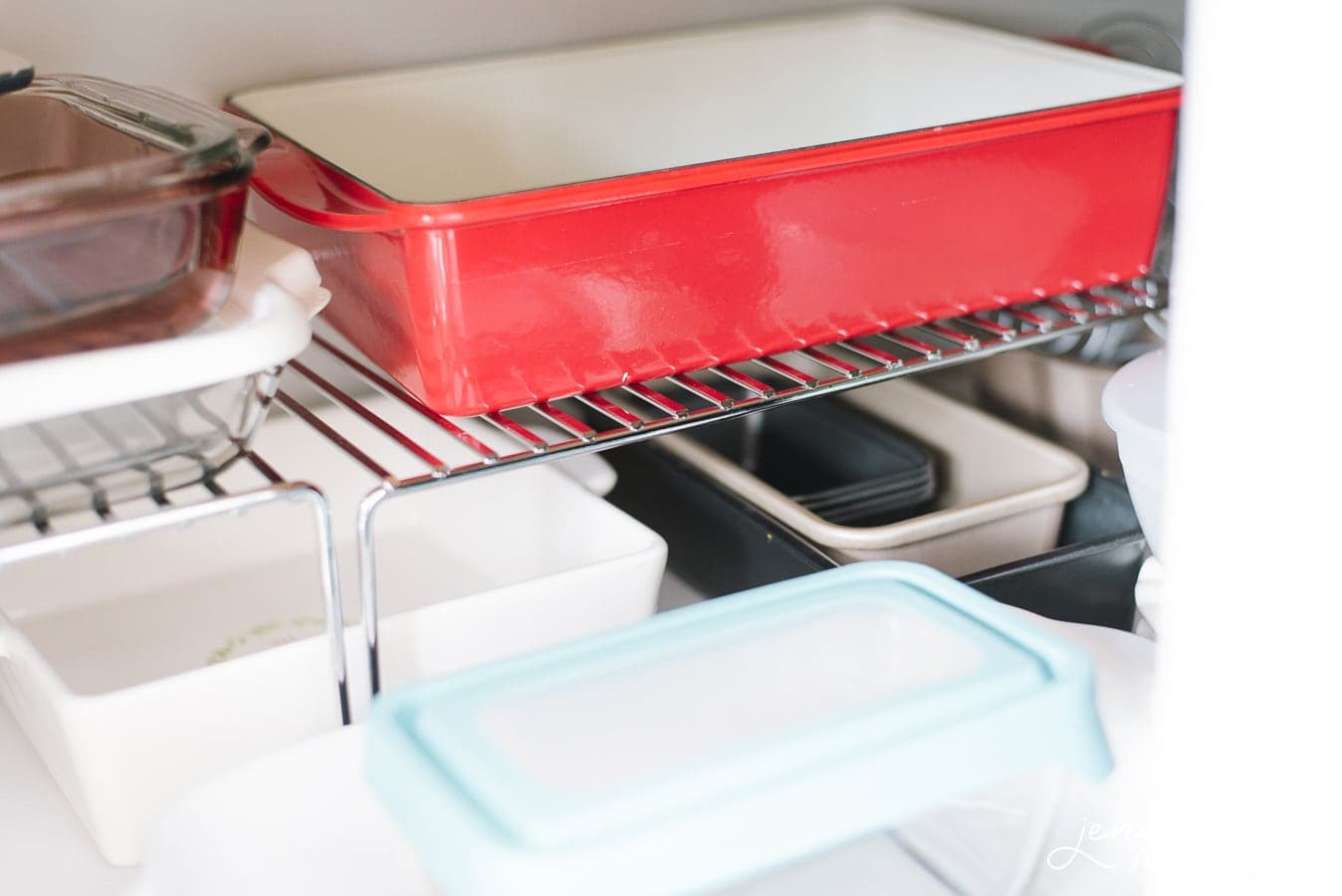 How to Organize Kitchen Drawers
If you are dealing with a standard drawer in an older kitchen, drawer dividers and organizers are going to be your best friend. I've tackled my cutlery drawer along with all the other drawers in my kitchen to show you how to easily organize them.
Cutlery Drawer Before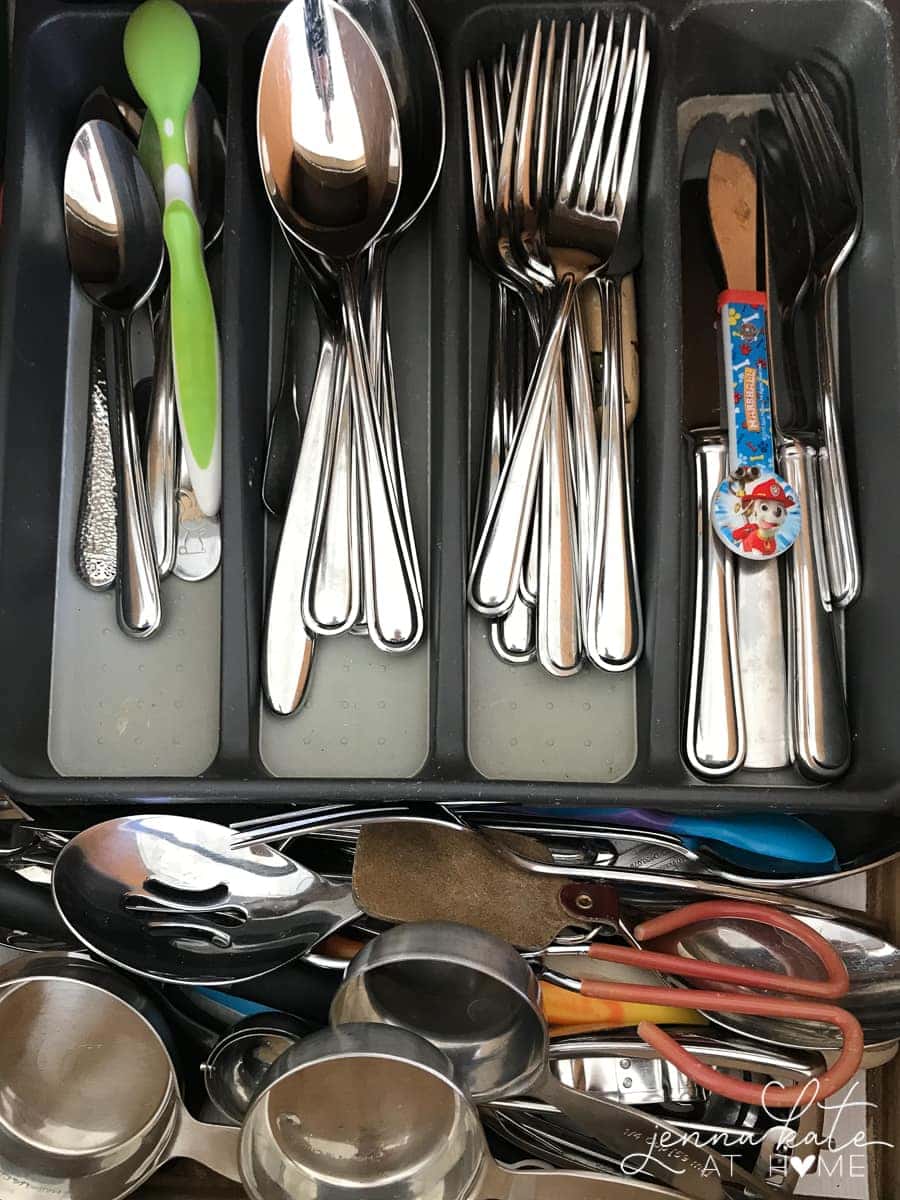 Cutlery Drawer After
Our drawers are oddly shaped so that most cutlery organizers don't fit. These ones from The Container Store are individual pieces so you can mix and match so that they fit your needs.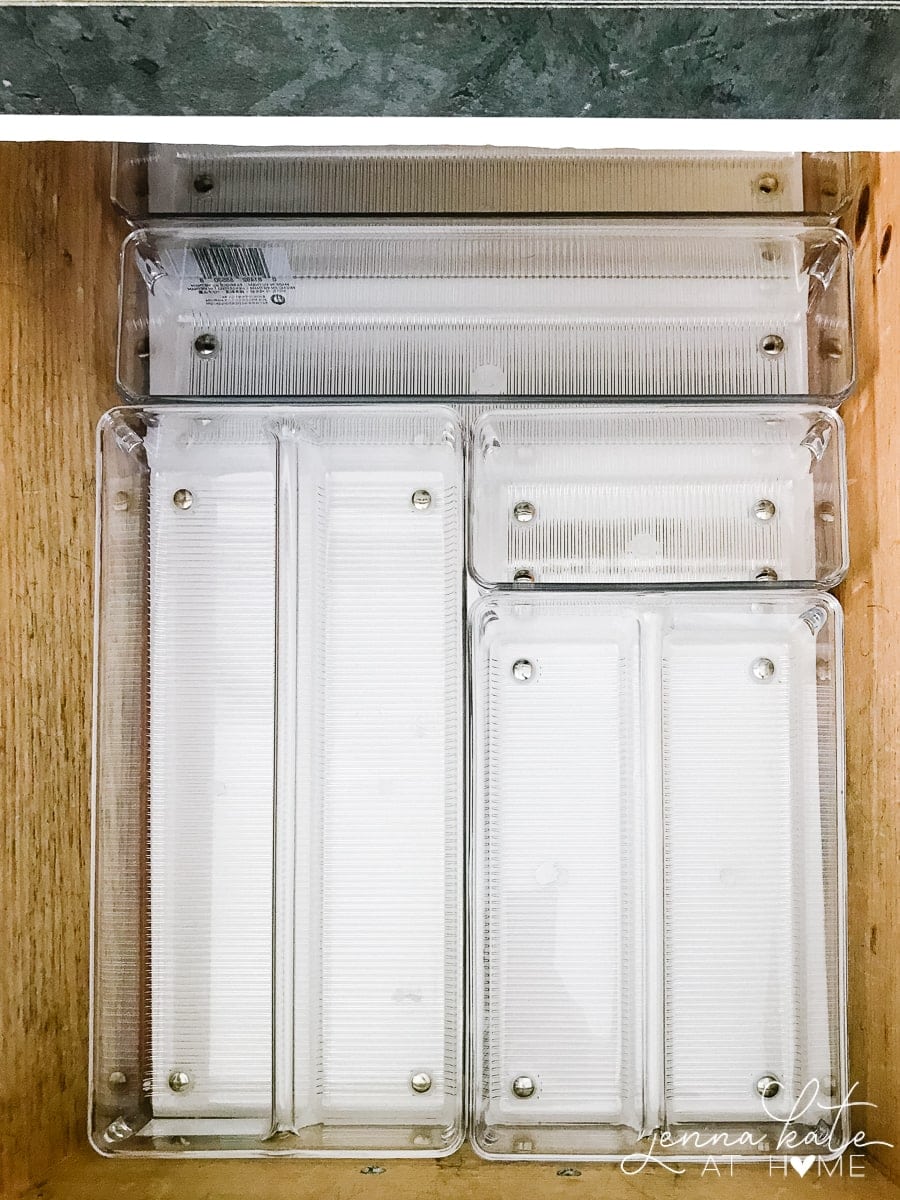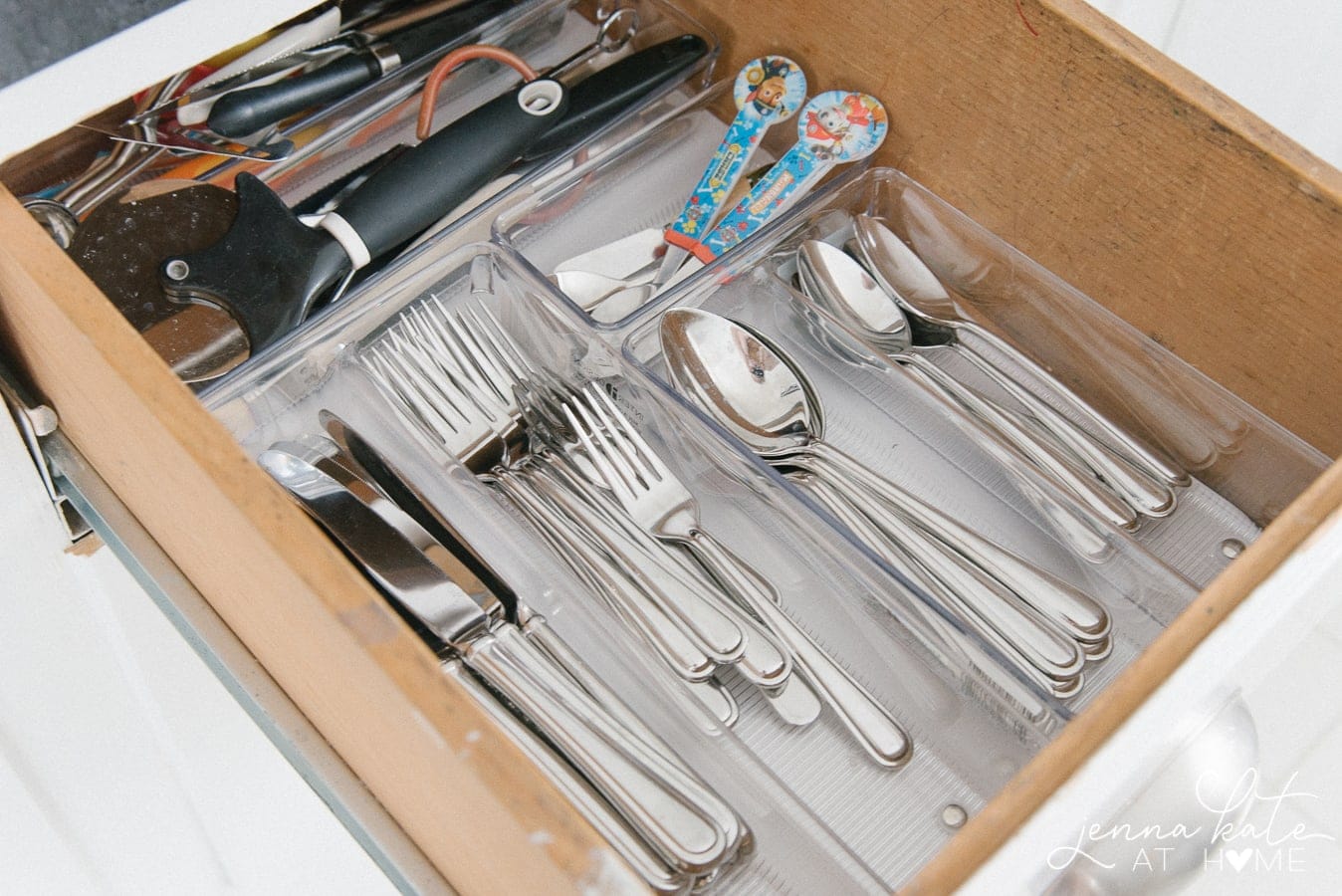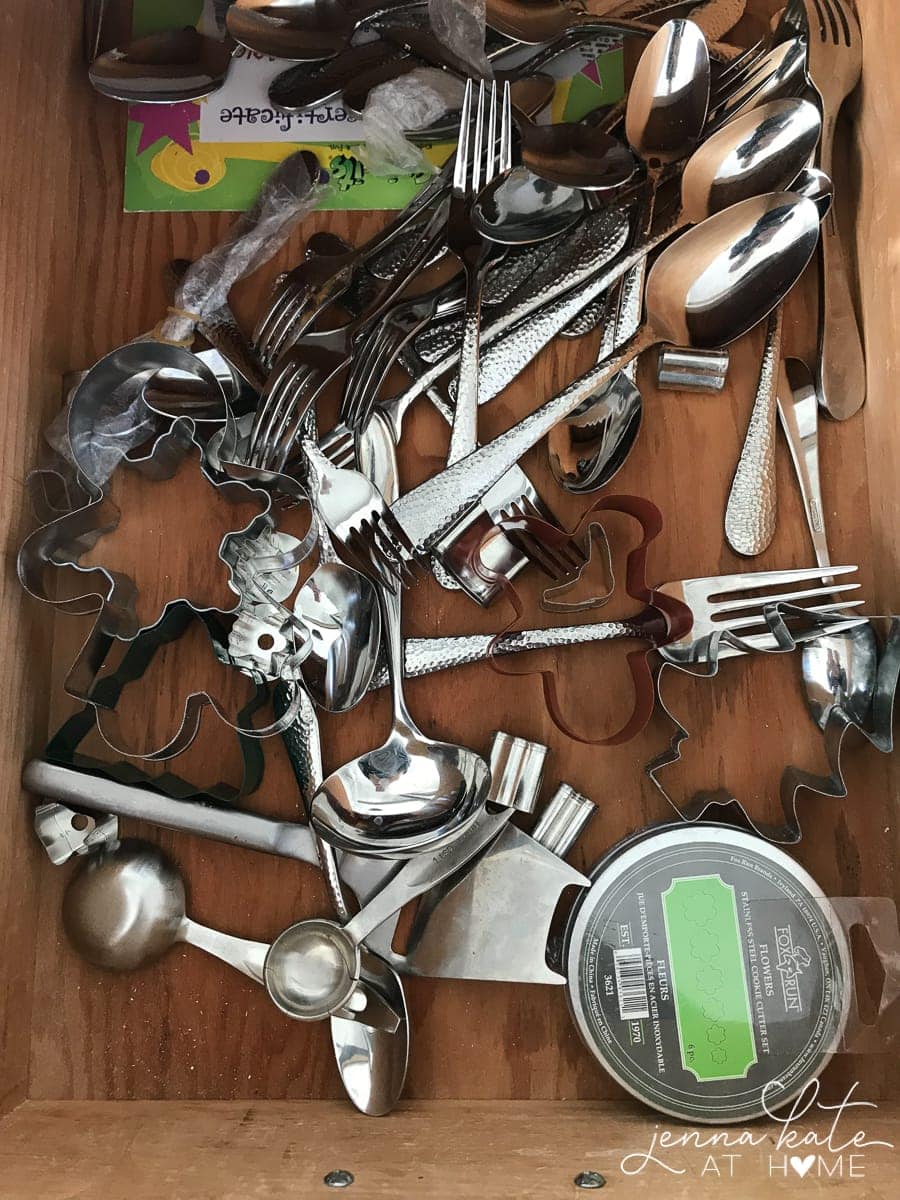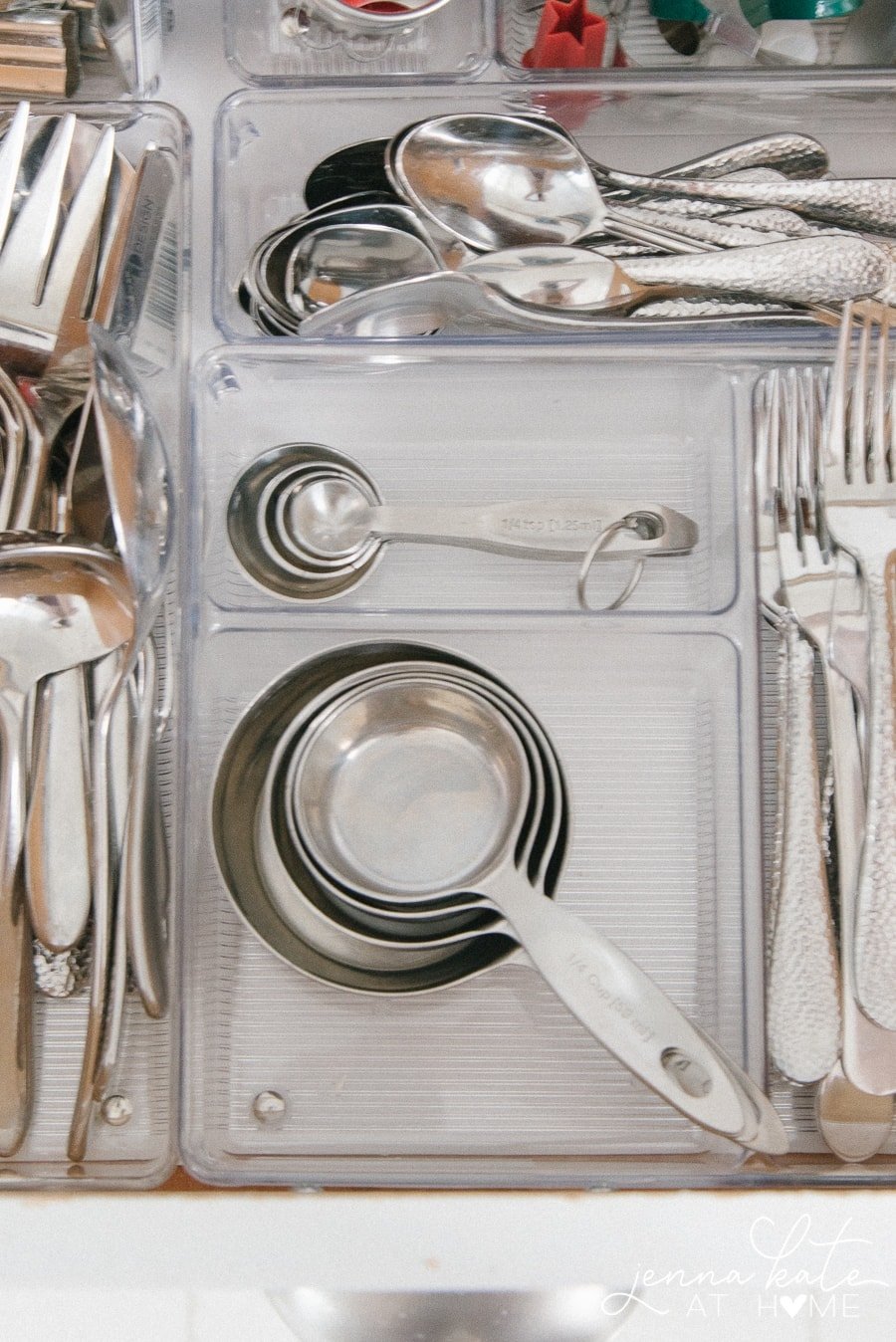 On our other drawers, drawer dividers came in handy to help organize my napkins and towels.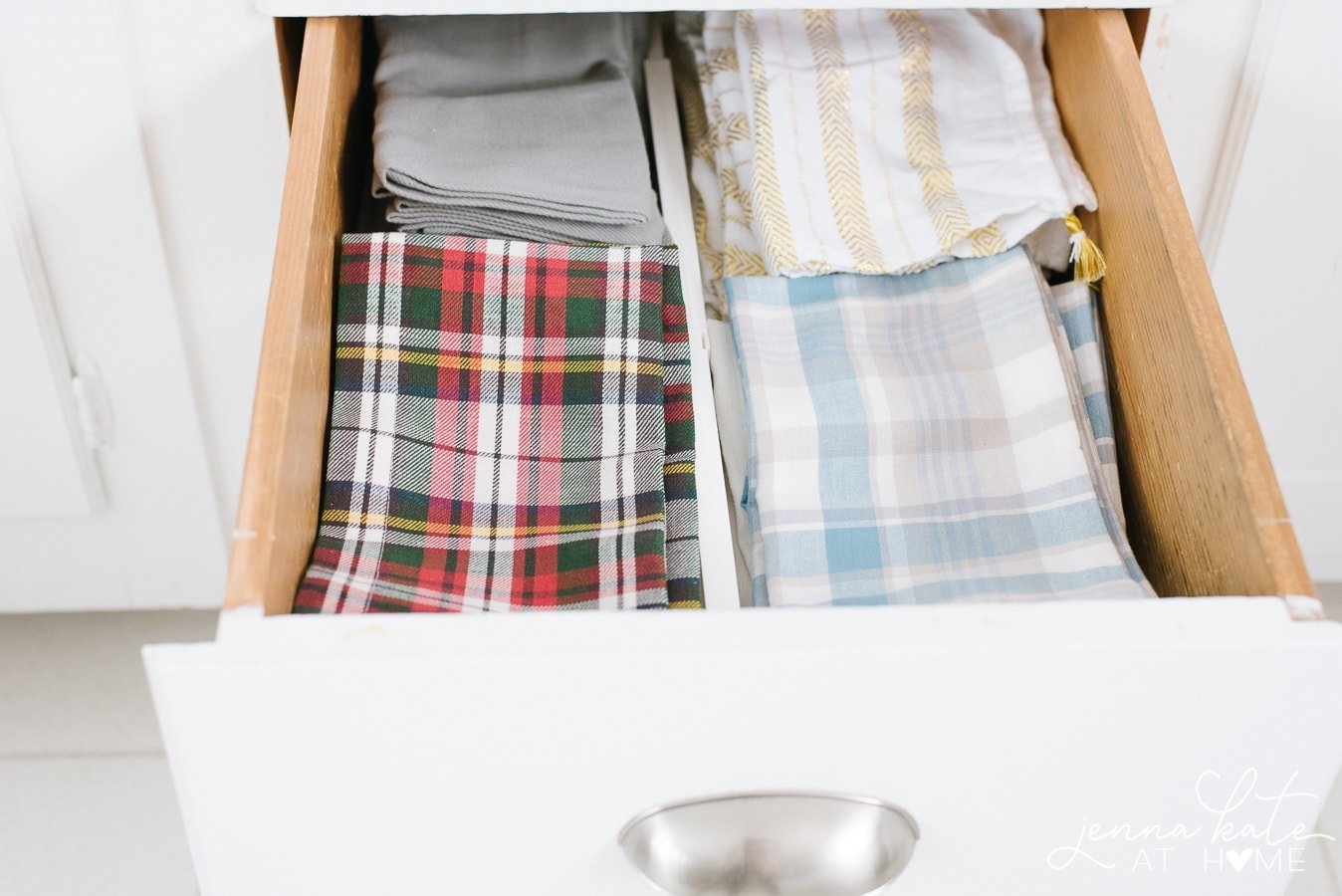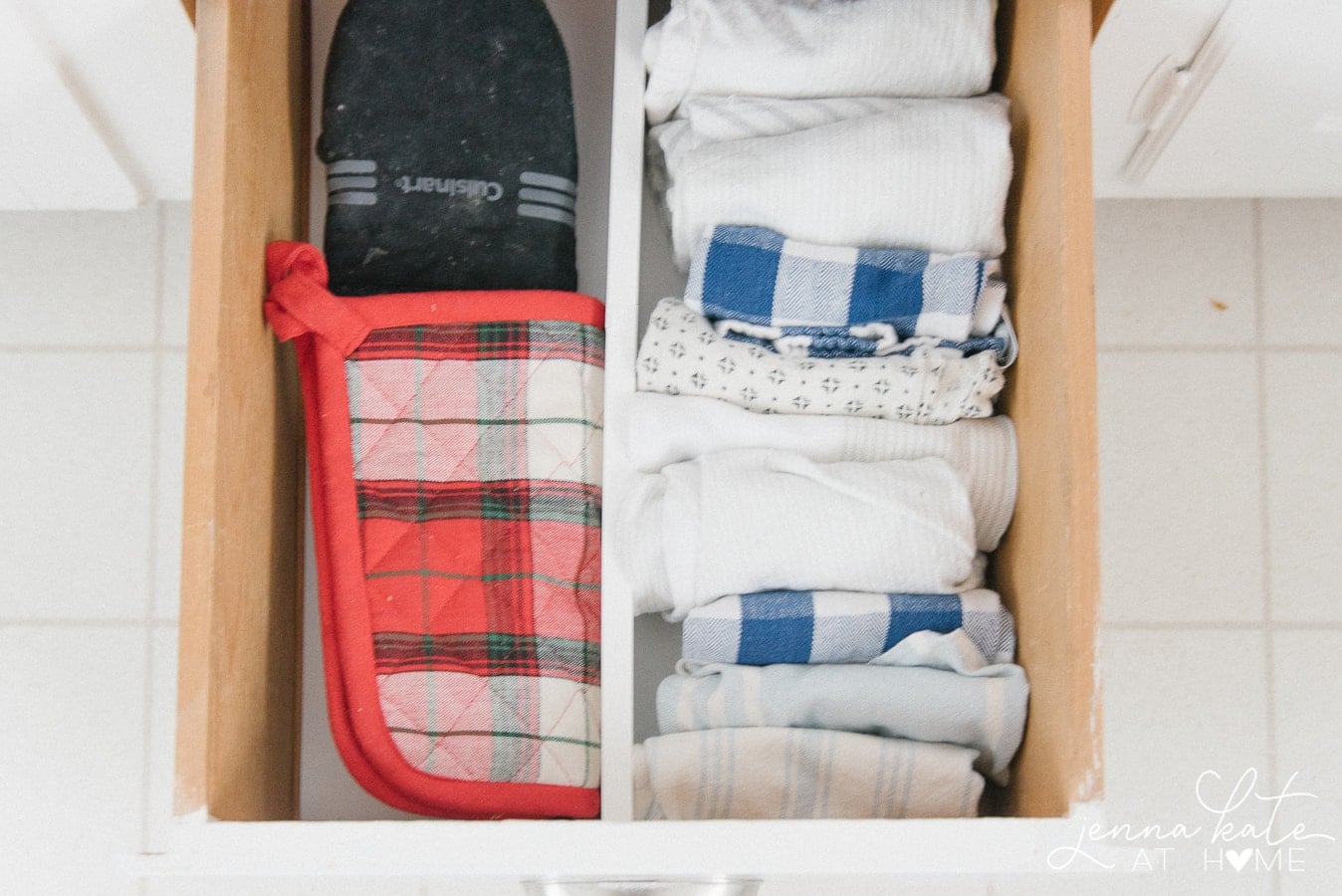 Organizing the Pots and Pans
This was another area that was just in utter chaos.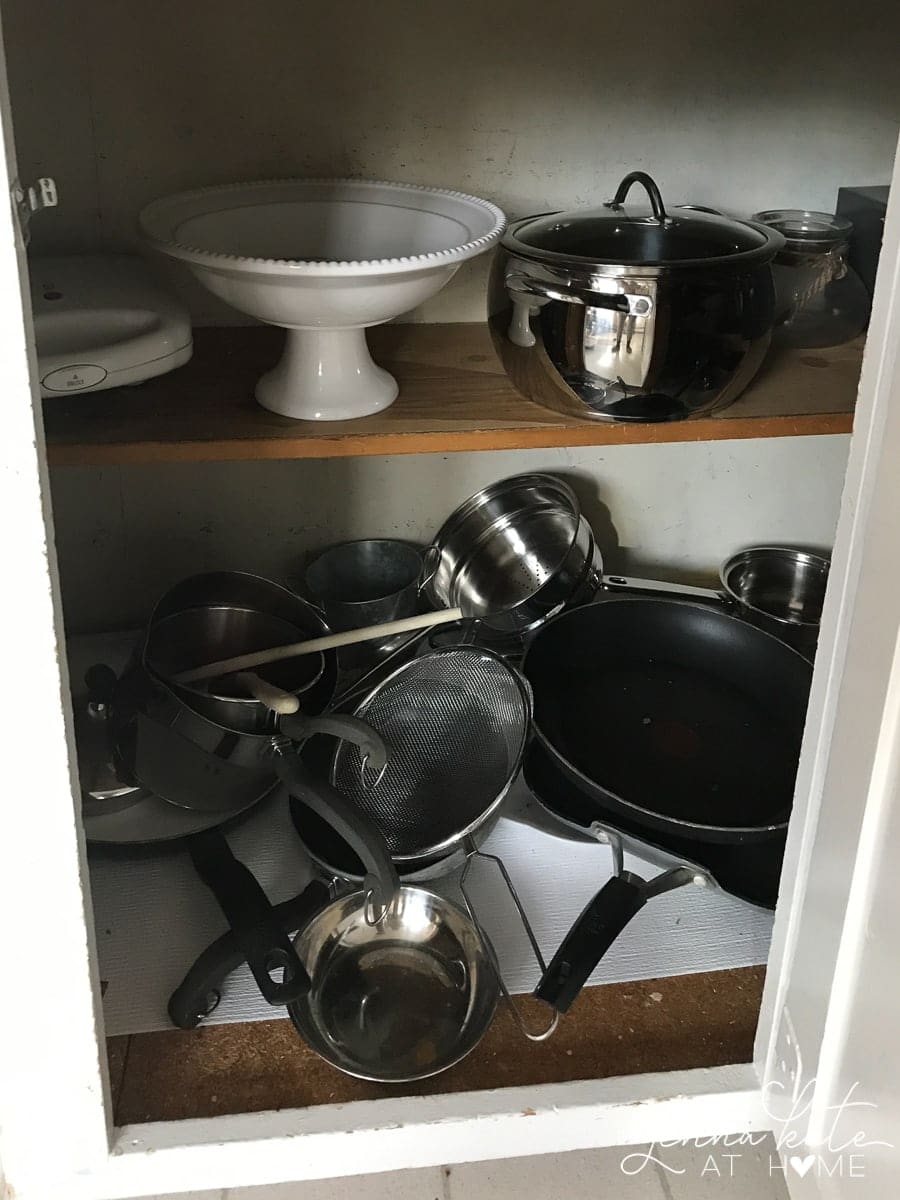 After some paint, new shelf liners and a pull out drawer, the pots and pans are now easily accessible and fully organized.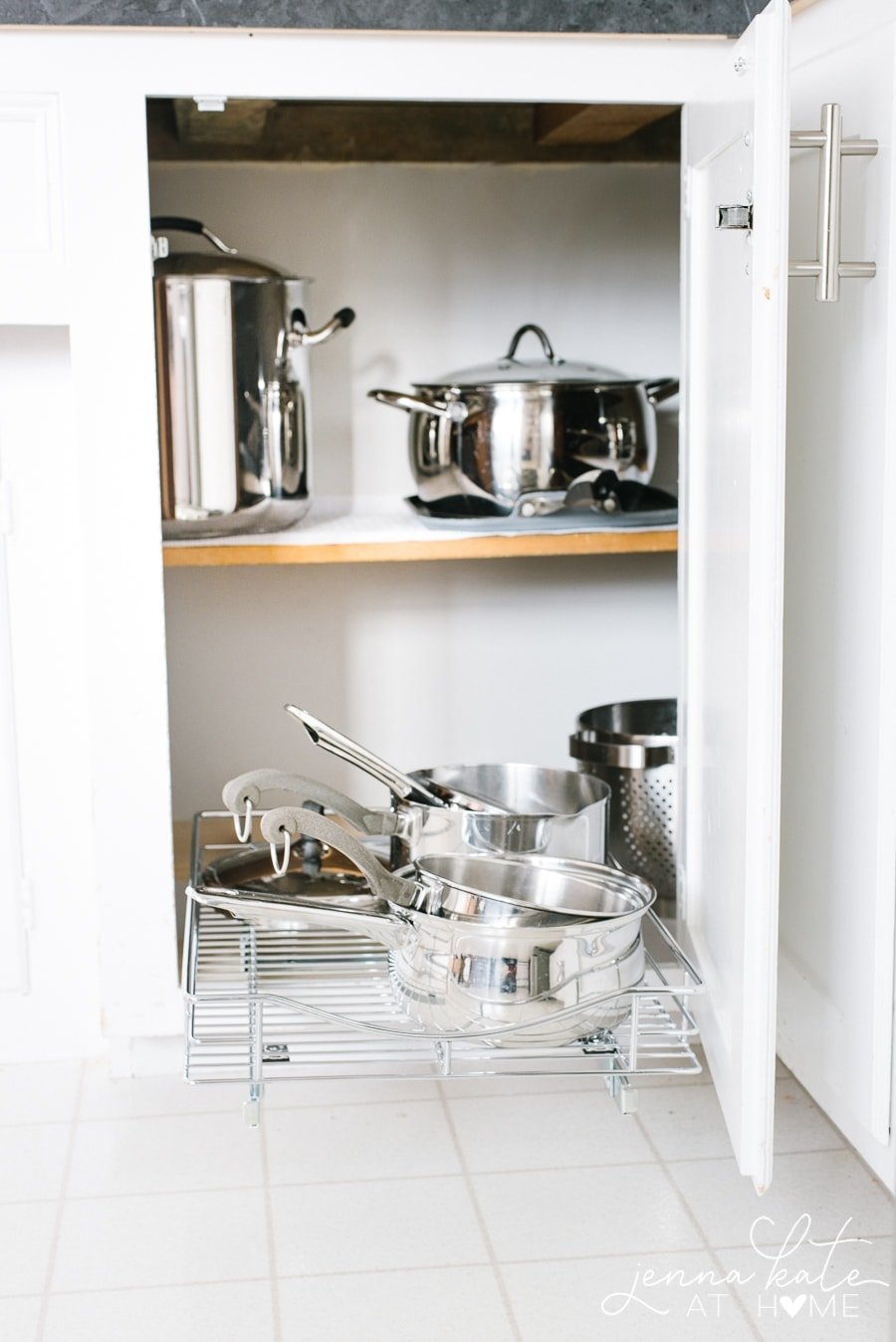 Again, these roll-out drawers are perfect for organizing pots and pans in deep cabinets so that you don't have to always be reaching into the back. They come in different widths and just screw directly to the cabinet base.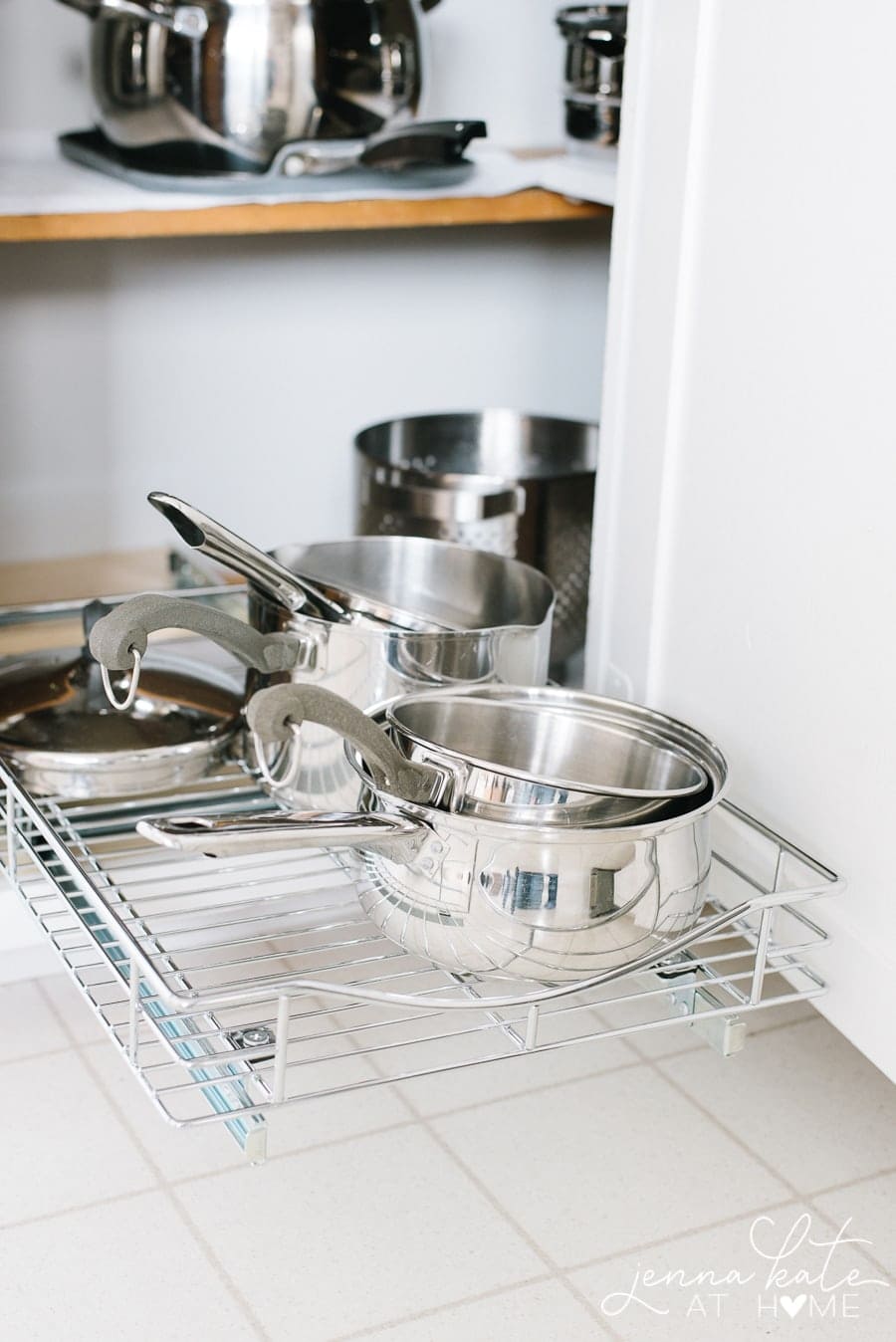 Kids Art Supplies
I keep a lot of the kids' art supplies and Play Doh in the kitchen since they do all of that at the kitchen table. Before, I had it all thrown into a drawer but now thanks to these pull out mesh drawers, everything is organized and easily accessible.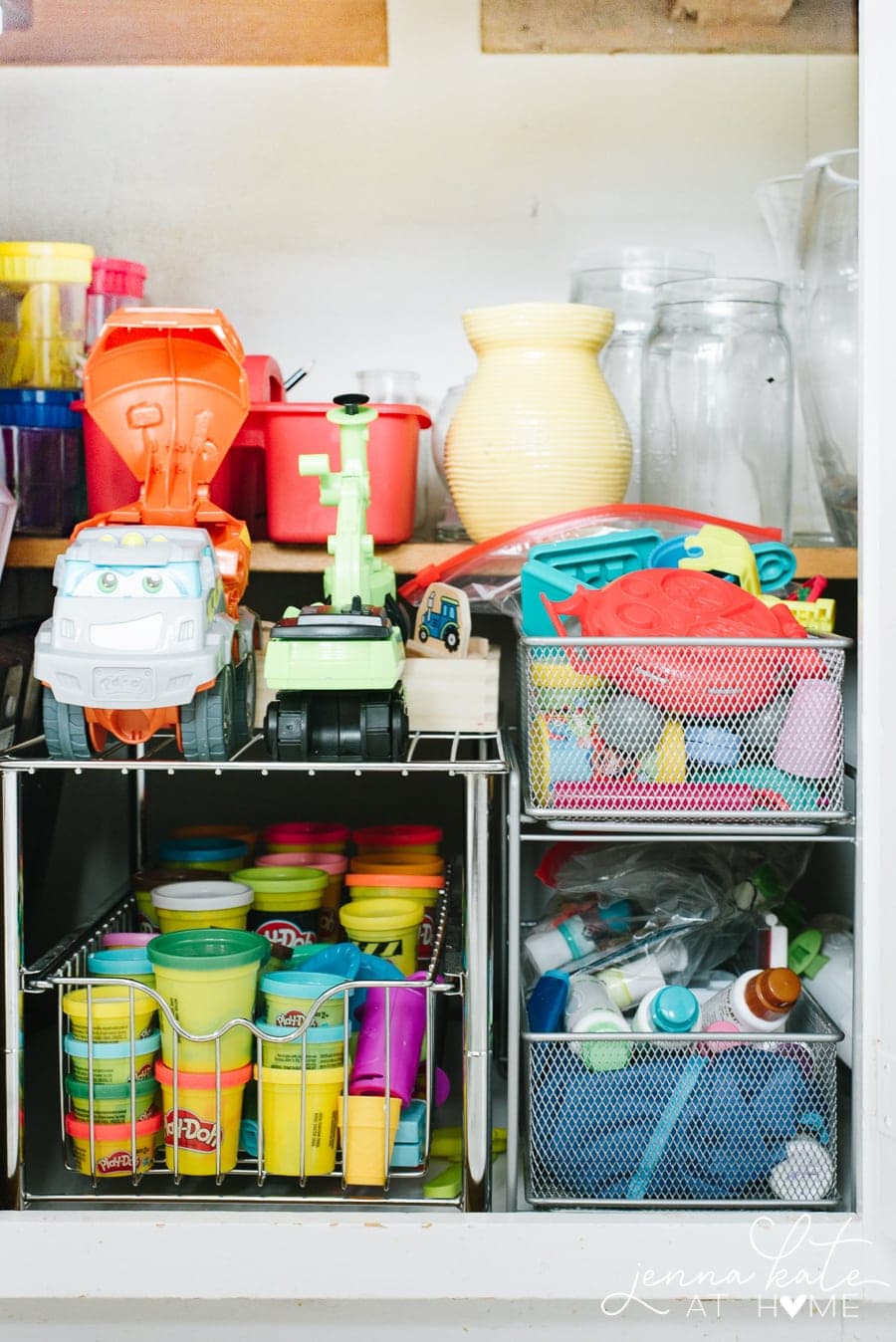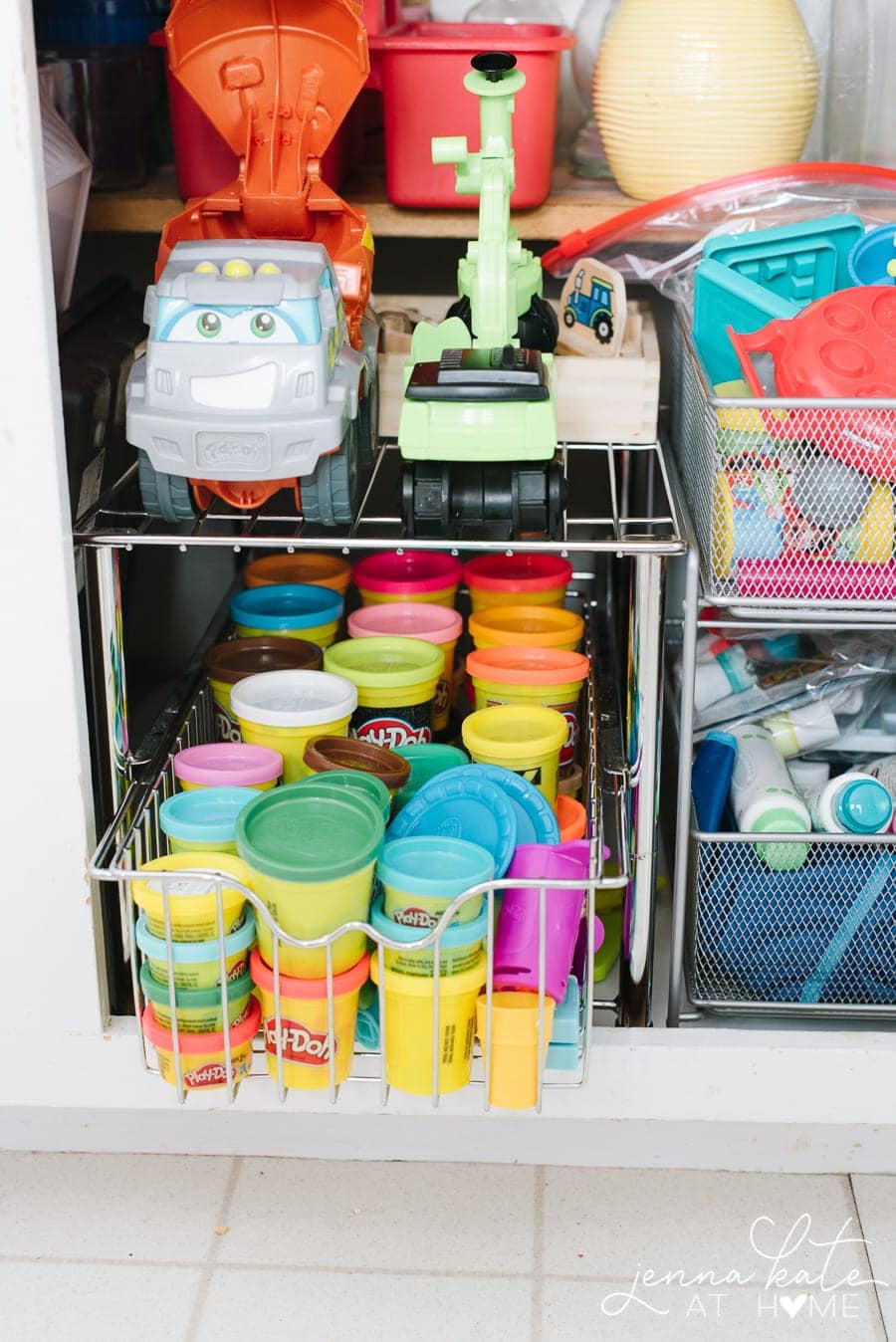 Household Essentials Before
Finally, under our wall oven we store household essentials and bottled water.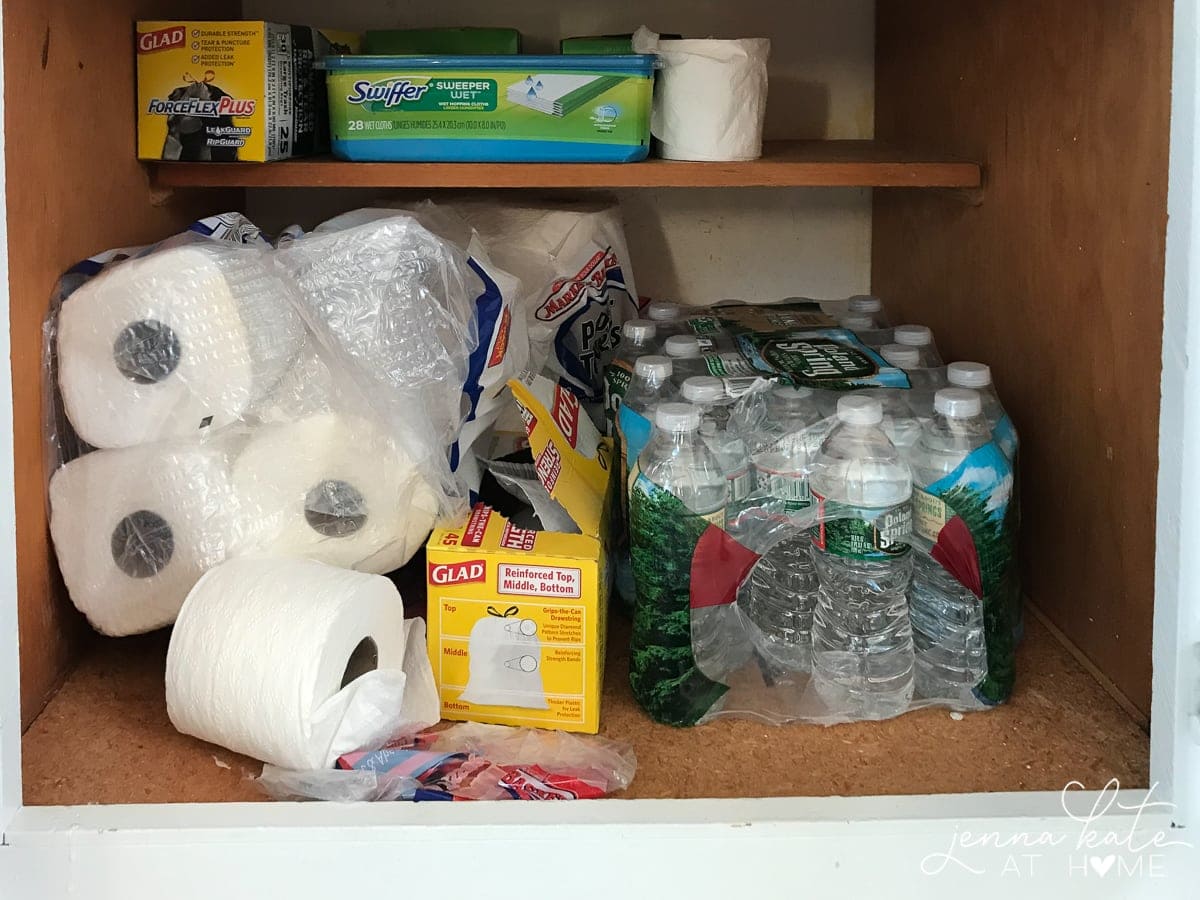 Household Essentials After
After freeing up space in some of our drawers, the Swiffer wet wipes got moved there. By adding some stacked storage bins, the paper towels and toilet paper were quickly organized. Another pull out mesh basket is the perfect spot for bottled water and the boxes of trash bags then fit neatly along the side.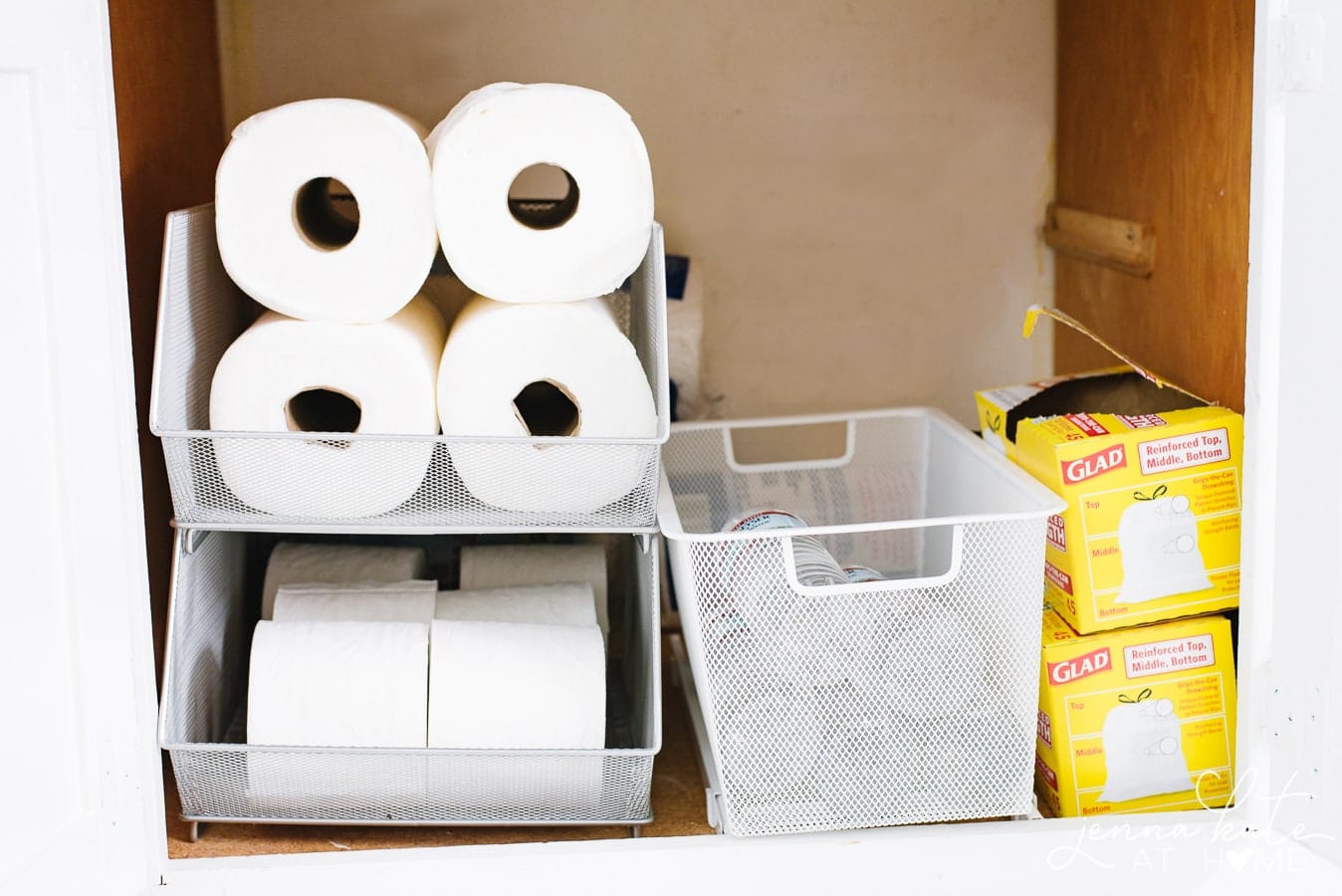 This cabinet dips in the middle (old kitchen!) if you're wondering why everything looks like it's sinking!!
My kitchen may be very old and not the most attractive but at least now it's organized. Since completing this project, I've also noticed that keeping it clean is SO much easier now that I have a designated home for everything.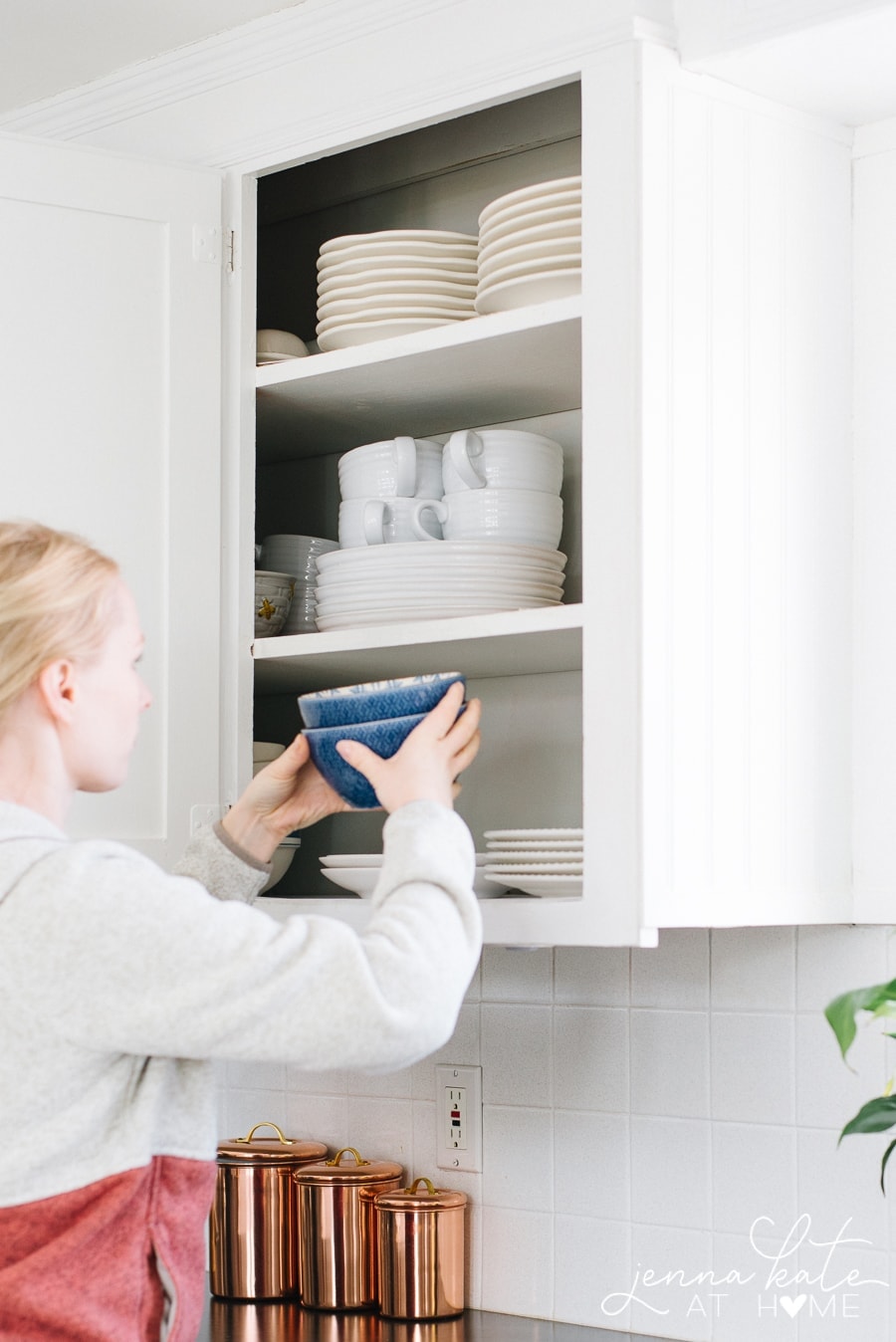 Have you tackled organizing your kitchen cabinets recently? If you haven't I hope this post has given you some ideas to get started on your own. I think you'll be amazed at what a game-changer it is! Not only will everything look prettier but you'll find you have much more space that you thought you had and you'll be able to find items much easier!
Full Source List
2 Drawer Mesh Organizer (paint supplies)
Open Front Mesh Stacking Bin (paper towel/toilet paper)
Mesh Easy Glider (water bottles)
Mini Food Container (sprinkles/choc chips)
Glass Food Storage Container with Blue Lid
Drawer Organizer Kit (for cutlery etc.)
Roll-Out Lid/Baking Sheet Holder