This post may contain affiliate links | For further details, please read our privacy policy
Having strategically organized cabinets and drawers in your kitchen can make your daily routine so much easier.
From emptying the dishwasher in the morning to making dinner, having a place for everything – and everything in its place – is the key to a kitchen that not only looks neat and tidy, but operates functionally and efficiently.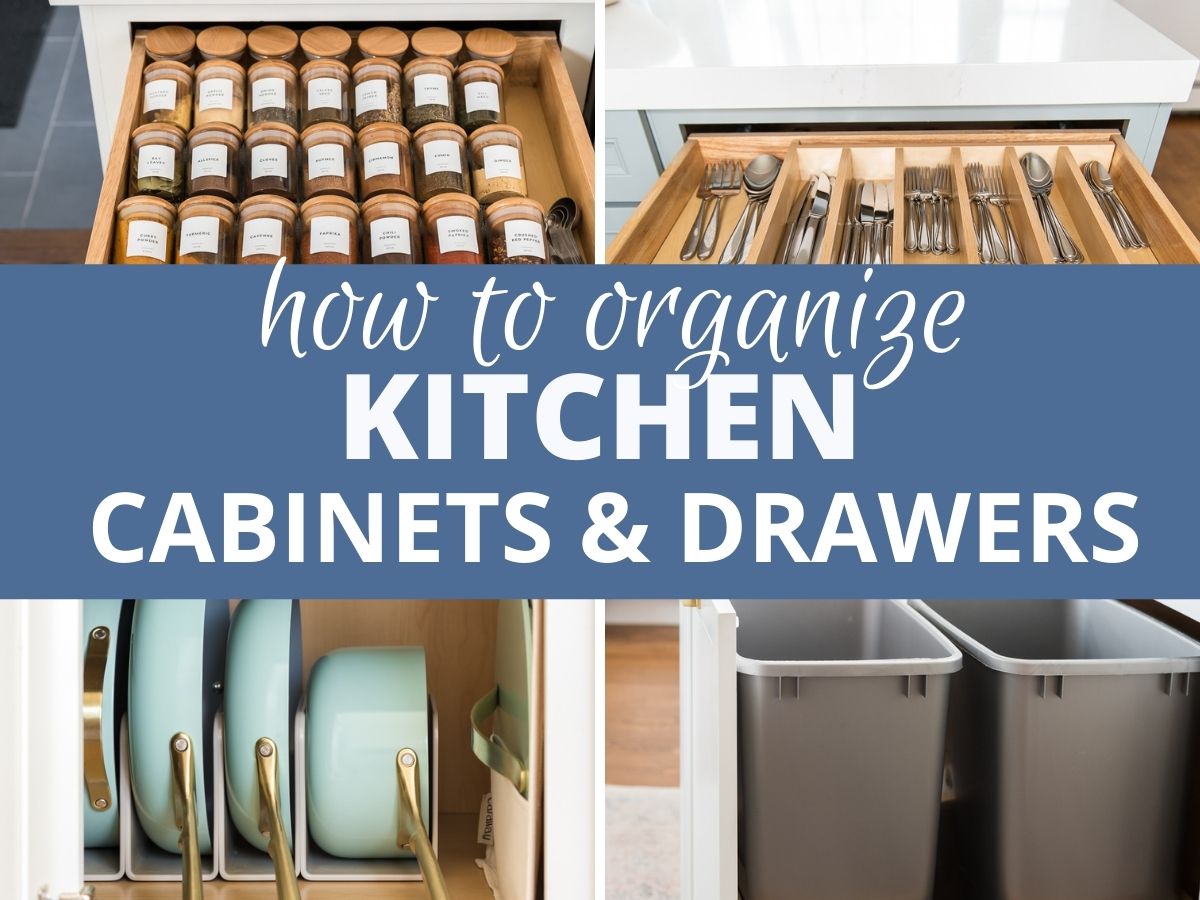 Where To Start When Organizing Your Kitchen Cabinets and Drawers
Empty Everything Out
The first step in organizing your kitchen cabinets and drawers is to empty everything out. You need a clean slate to figure out how much storage space you have to work with.
Assess what you have, and more importantly, what you no longer need. Toss anything that's broken and check expiration dates on all food items.
Clean the cabinets and drawers (a handheld mini vacuum is perfect for the task).
If you have old dingy cabinets, consider giving them a coat of paint inside and putting down some non-slip shelf liners. You'll be amazed at the difference it makes.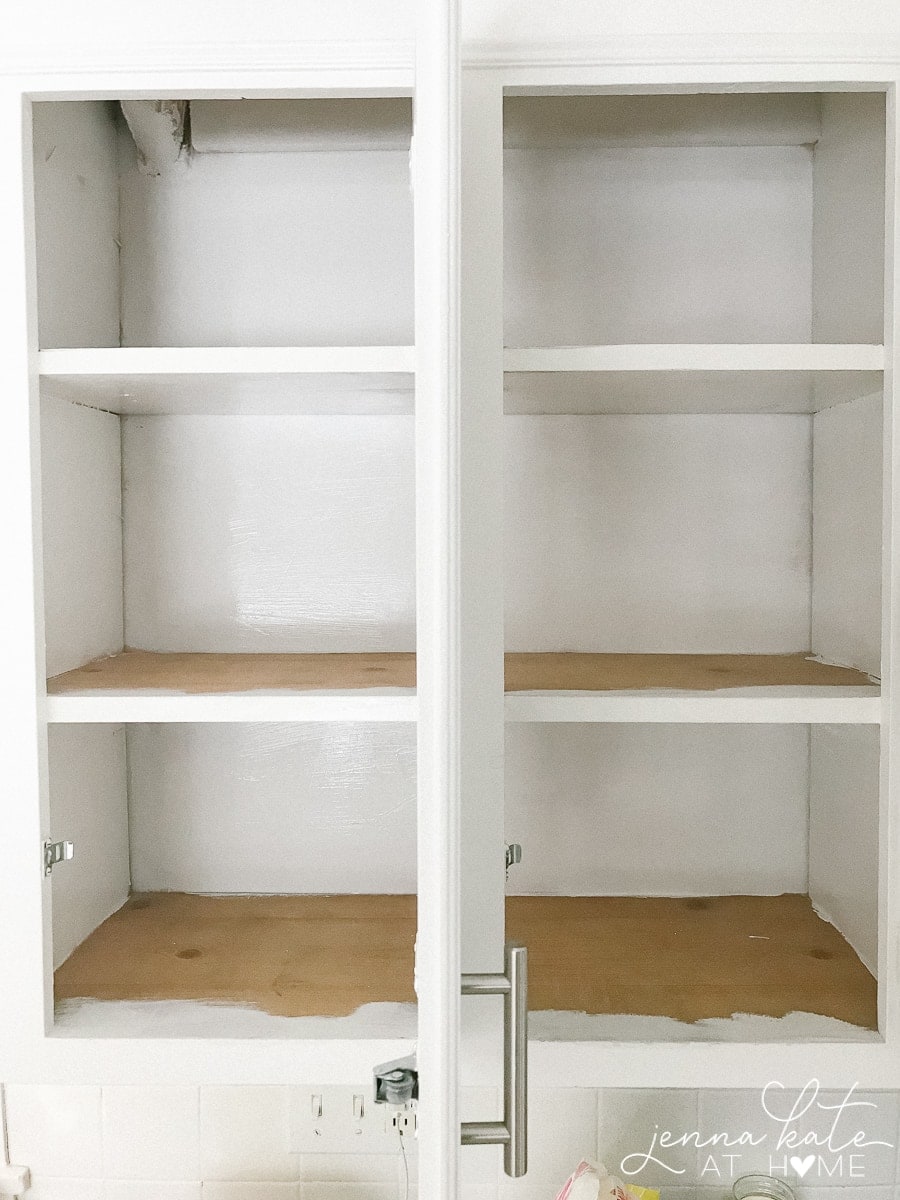 What Goes Where?
OK – let's talk about what goes where when you're organizing your kitchen cabinets and drawers. This part is very important because it determines how well your kitchen will function.
You want dishes, utensils and bake wear close to the dishwasher so that you can easily unload.
Keep oils, spices and anything else you use for cooking close to the stove.
Keep snacks together, cereal together, and packaged foods together. Reserve a separate area for baking essentials like sugar and flour.
Pots and pans can be tricky – I like mine close to the stove so that I can grab them and pop them right on but you may want them close to the dishwasher. That's more of a personal preference!
Now we can start putting things back!
Decide What Organizers Will Help
Once you've taken stock of everything in your cabinets and drawers, it's time to assess whether organizational pieces will help keep everything organized going forward.
Once I started intentionally using organizers in my cabinets and drawers, keeping my kitchen clean and organized became a much easier task. I know the same will be true for you!
Plates and Bowls
Store these near the dishwasher so it's quick to unload them into their correct spot.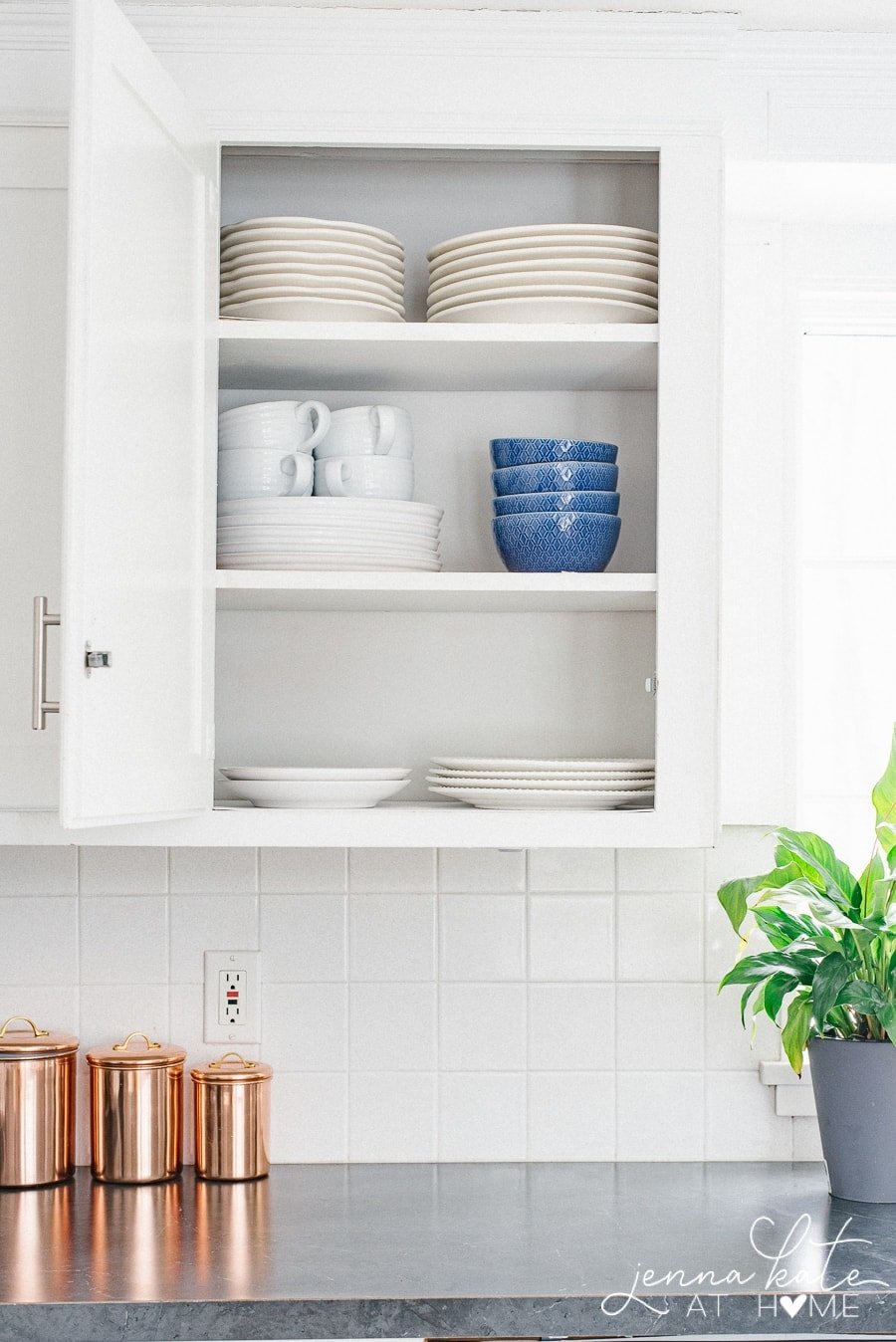 If you store them in a cabinet, stacking them is fine. If you have drawers, like I do in my new kitchen, then a peg organizer stops them moving around and gives them a designated spot.
The pegboard can be easily cut to fit any size drawer and then the pegs simply screw in to the pre-drilled holes.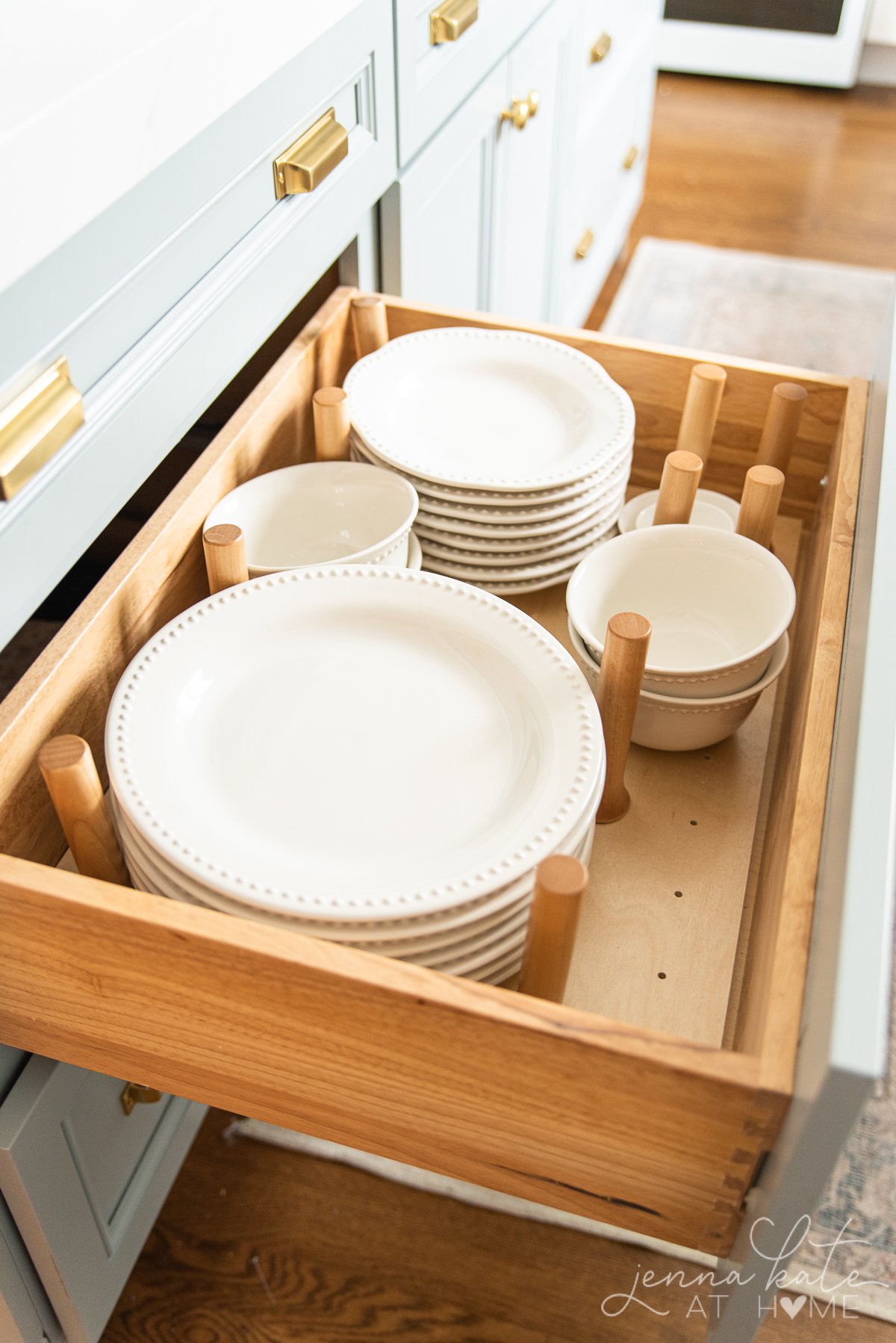 You really only need 2 sets of dishes. An everyday set and a good set. I favor white for both. I really love this set from Crate & Barrel because they stack perfectly and don't chip in the dishwasher.
We've had them for several years and highly recommend them. My other set (pictured) is our good set from Pottery Barn.
Flatware and Cutlery
For flatware, we use this maple organizer for our shallow top drawers in our island. If your drawers are deeper, you can also get a two-tier cutlery organizer that allows for separate compartments, top and bottom, in one single drawer.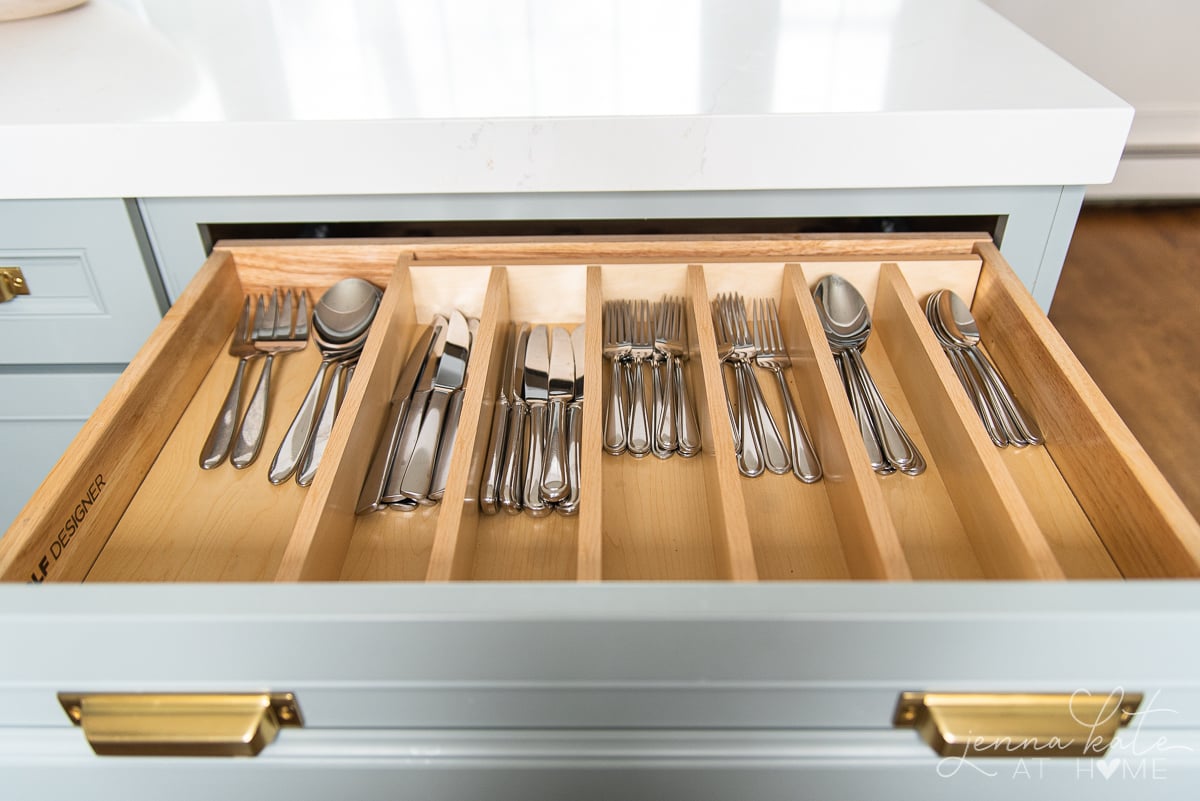 Similarly, you can get a knife block insert for inside your drawers to help keep your countertop free of clutter.
However, I don't recommend a knife block inside a drawer if you have little kids. My 2 year old can open the top drawer in the island and the last thing I need is for him to grab a massive sharp knife!
Spice Storage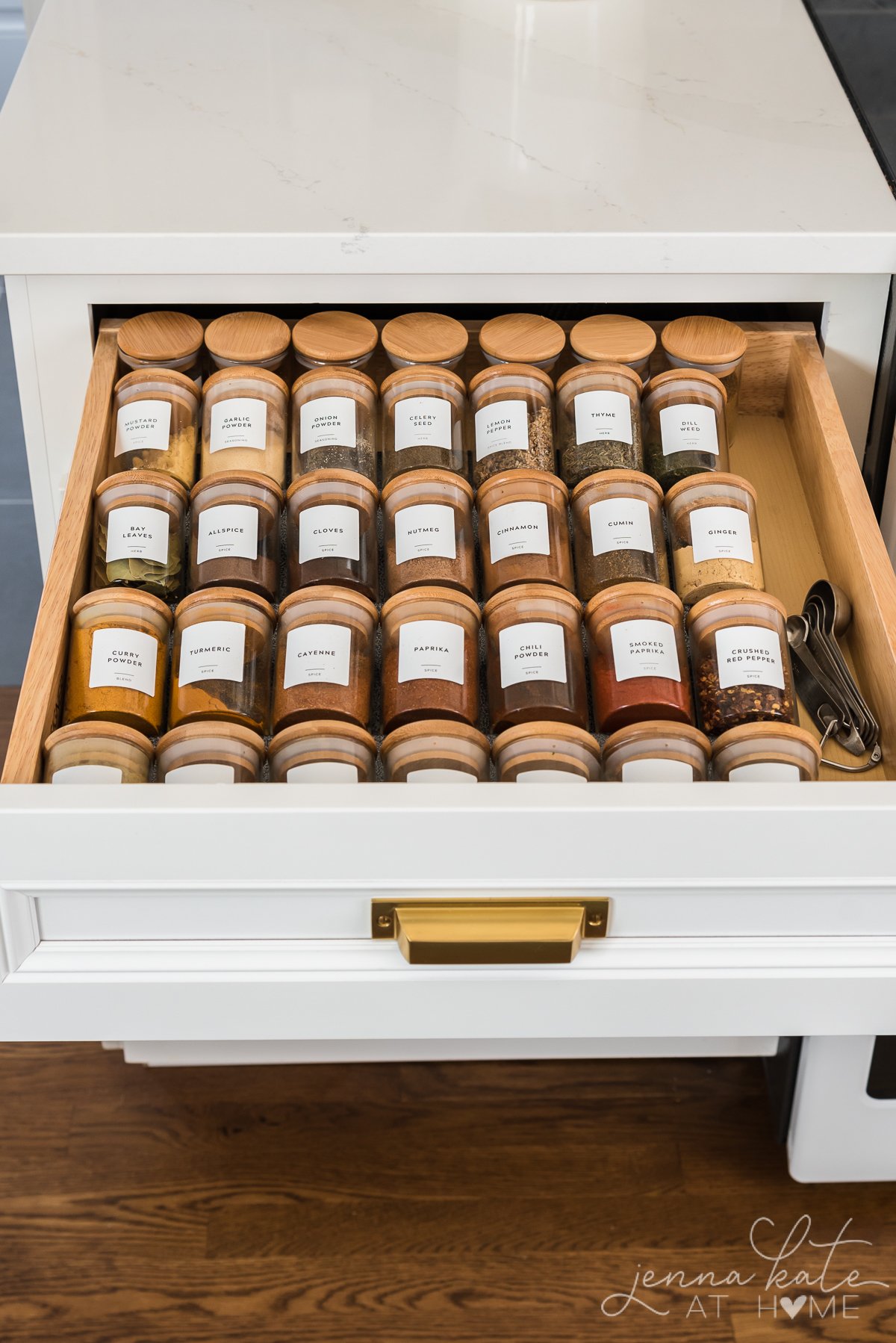 You know you're getting old when an organized spice drawer excites you as much as this excited me.
I used a wooden spice drawer insert to create the base for the spice rack, then emptied out all my spice containers into these bamboo spice jars with custom spice labels.
I keep a set of measuring spoons in the same drawer for convenience.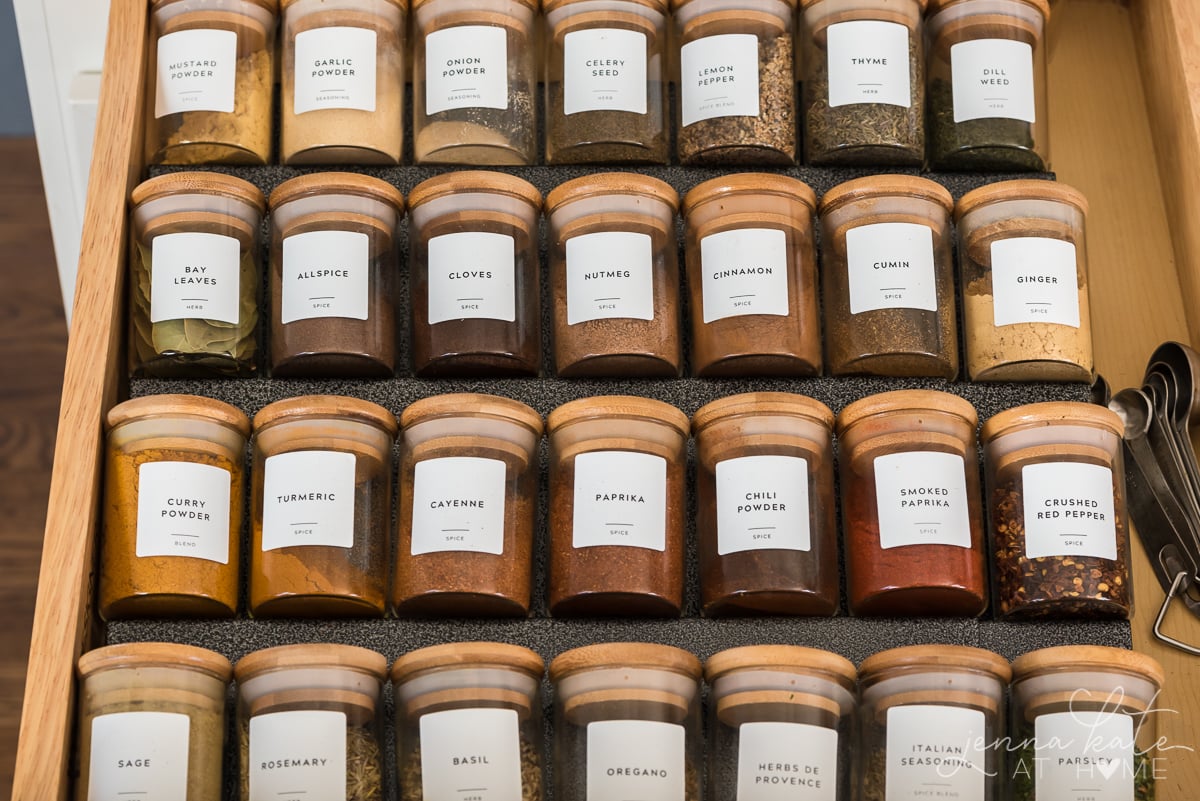 If you don't have a drawer for your spices, using a tiered spice rack in an upper cabinet works well, too. You could still buy the pretty spice jars to beautify the set up a bit!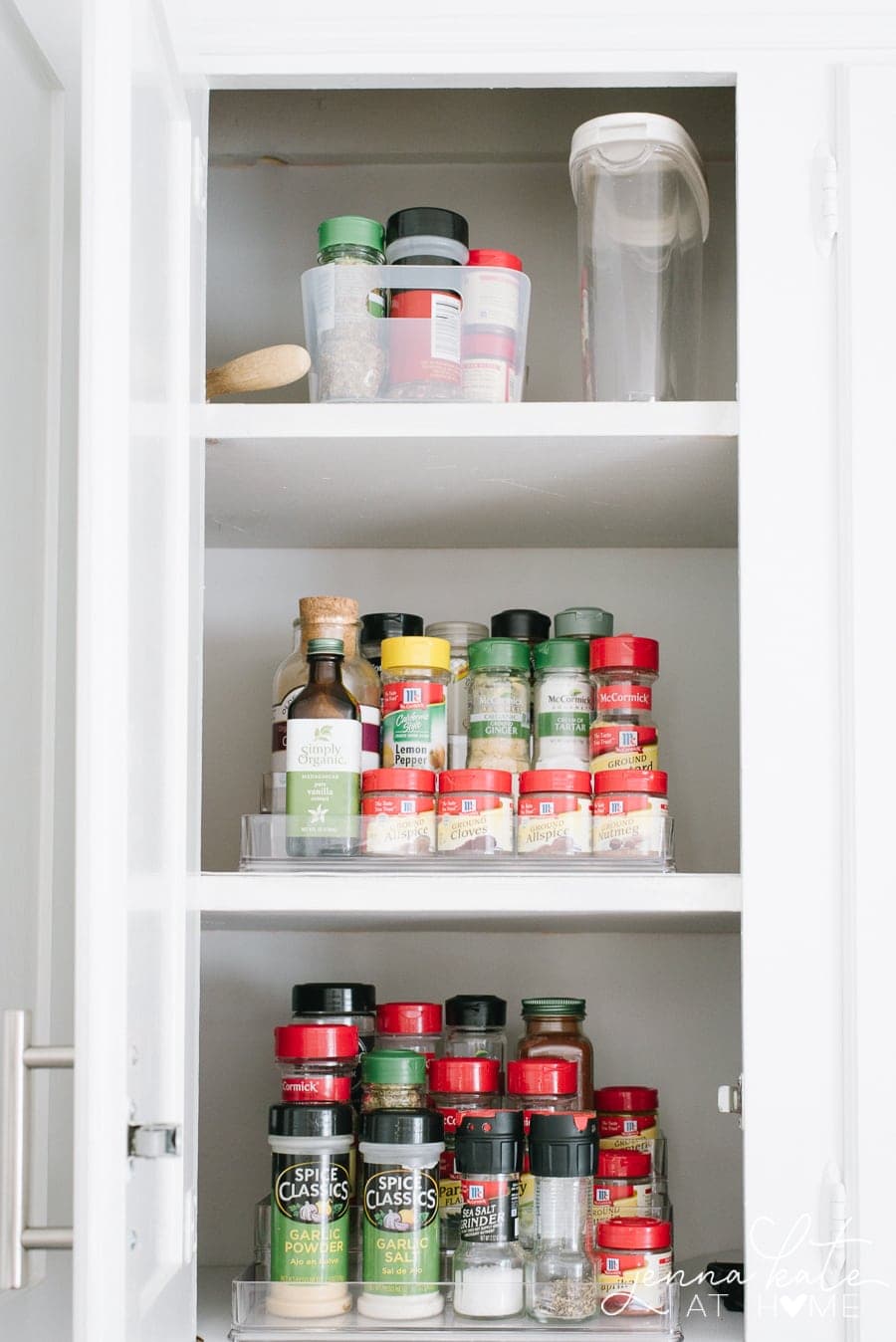 Kitchen Trash and Recyling
A pull-out trash organizer makes good use of deep lower cabinet space, and ensures that your trash cans have a home that's not right out in the open!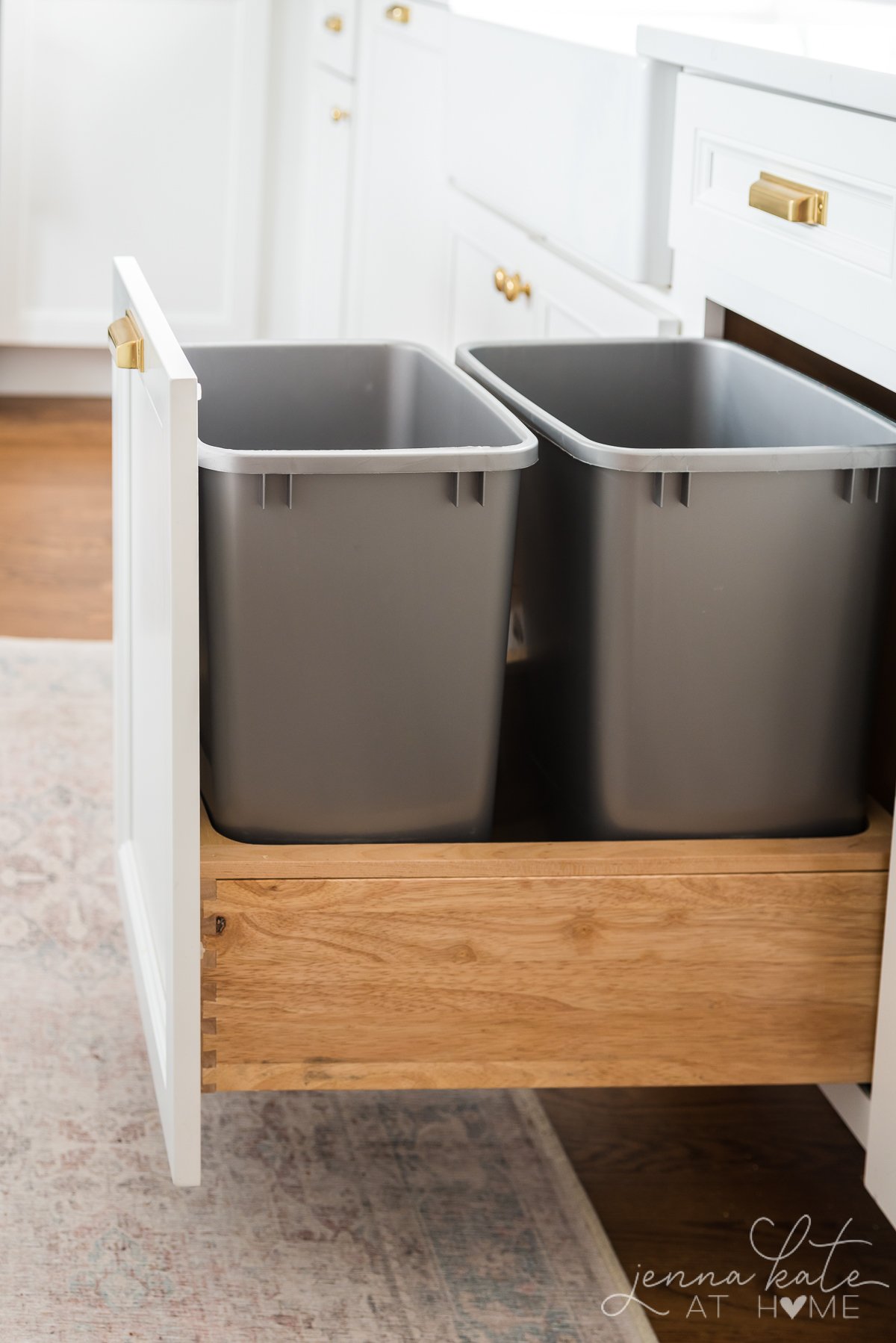 We had our pull out installed as part of our kitchen remodel, but you can easily retrofit an older kitchen using this easy to install pull-out trash can organizer from Rev-a-Shelf.
Baking Sheets
In our new kitchen, I had an organizer specifically designed to house baking sheets and cutting boards. It's one of my favorite features in our kitchen!
If this isn't an option for you, a simple wire organizer works, too. In our old kitchen, all my baking sheets and cupcake trays found a home in this pull-out lid organizer which makes it so easy to grab what I need.
These types of organizers are particularly amazing when you have deep cabinets since you can pull them out instead of sticking half your body inside to get what you need!
The other baking sheets, cutting boards, and items that don't get used often are in another organizer on the bottom shelf.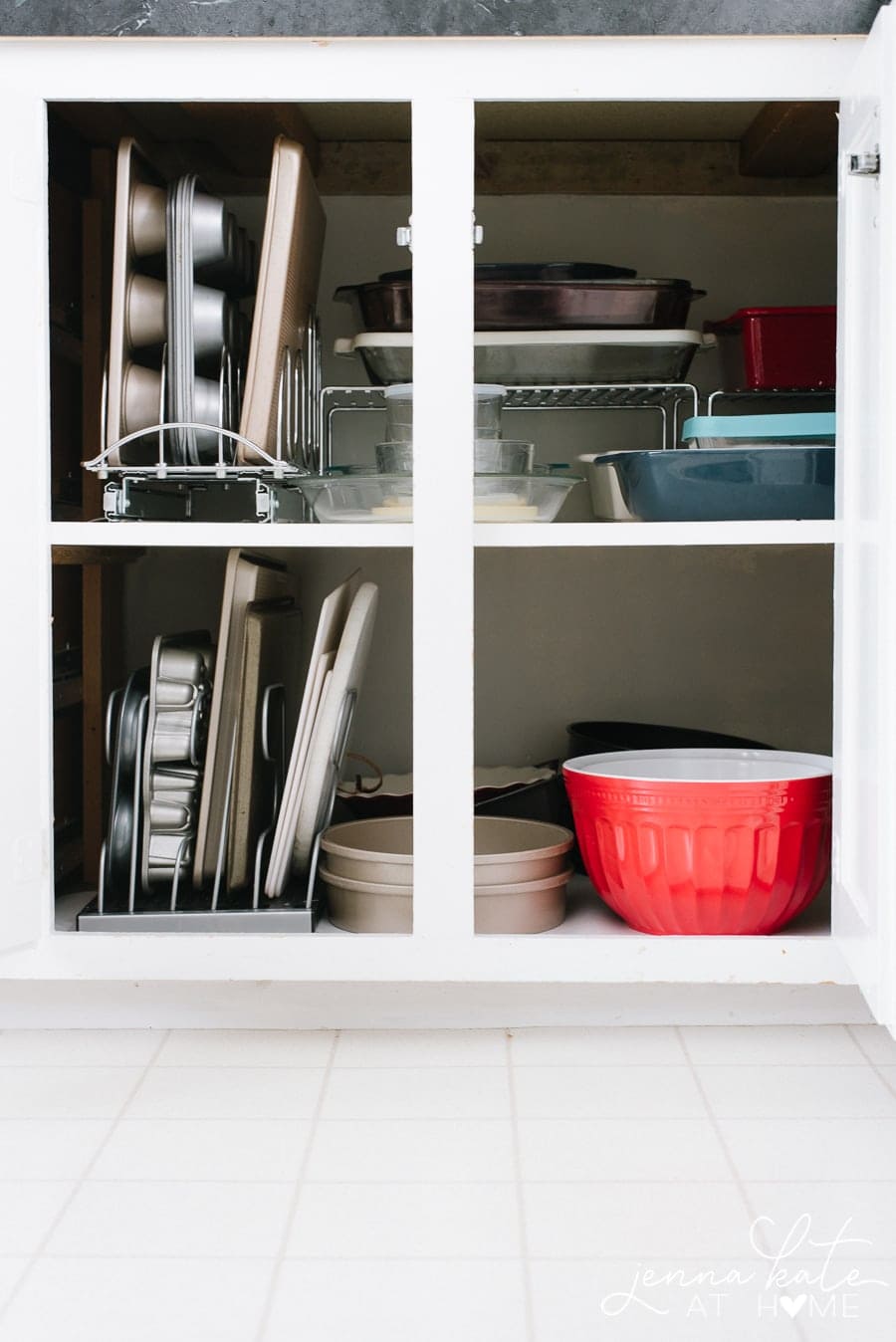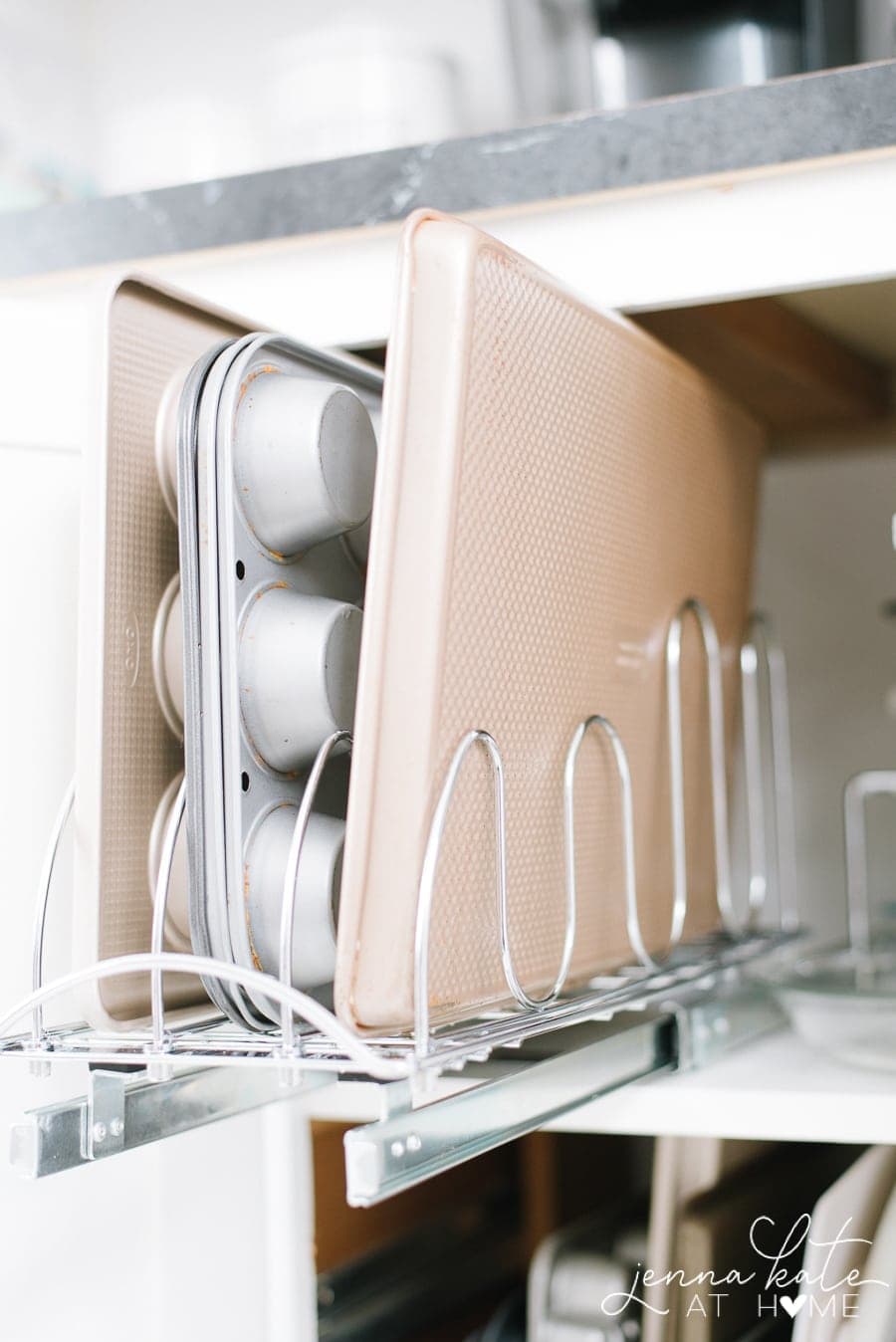 Casserole Dishes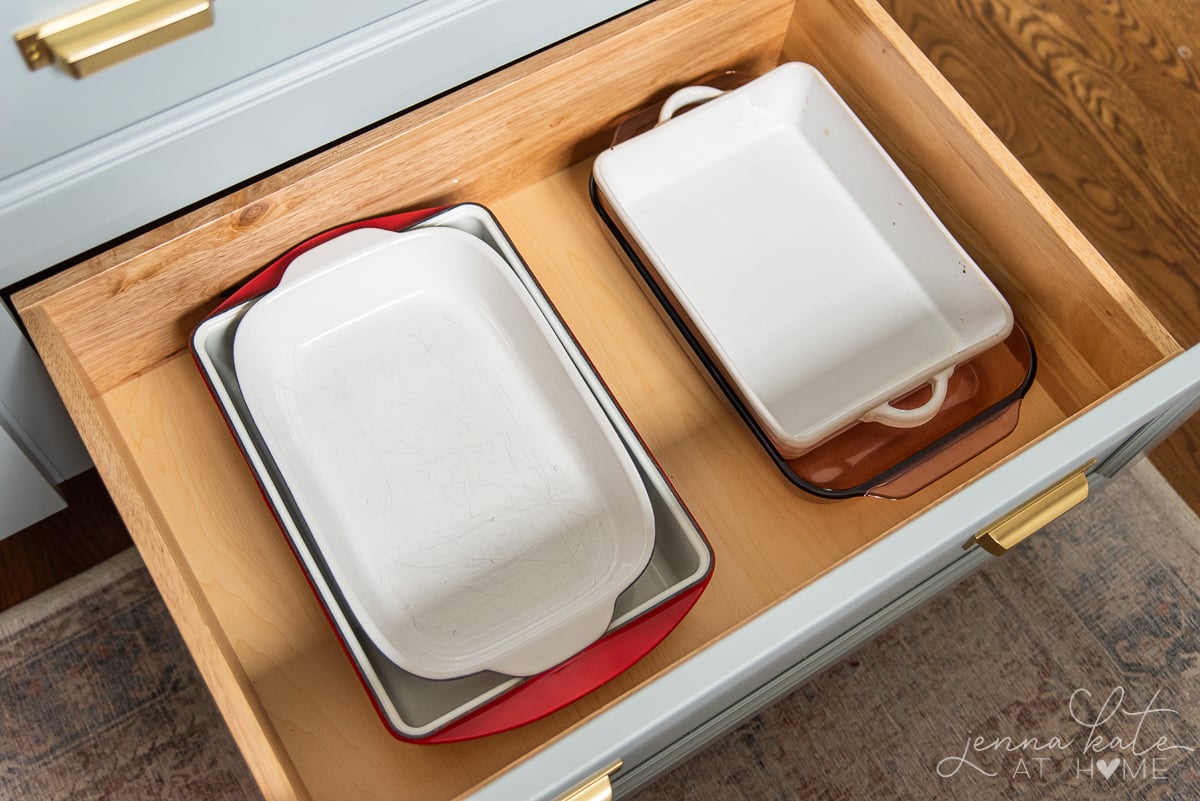 I use one of the bottom drawers in our island to store all our casserole dishes. Since they are so heavy, they never slide around. If your find yours are, nestling them in between pegs (like I did with my plates and bowls) is a great solution.
Plastic Wrap, Bags and Foils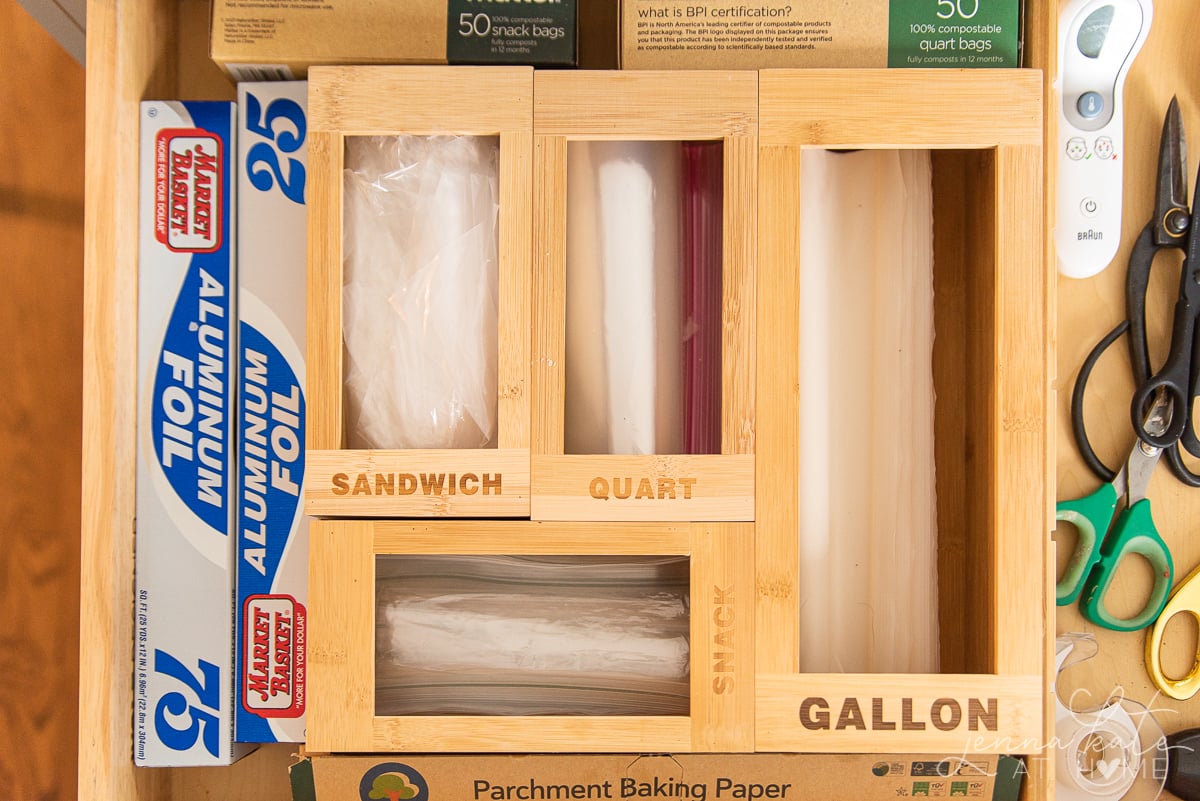 These bamboo bag organizers have been a great addition to our kitchen. Not only do they look pretty, but they do a great job of cleaning this drawer clean and organized.
I'm in the process of using up all the plastic bags and replacing them with compostable versions. But since we don't use them very often, it's a slow process!
Kids' Snacks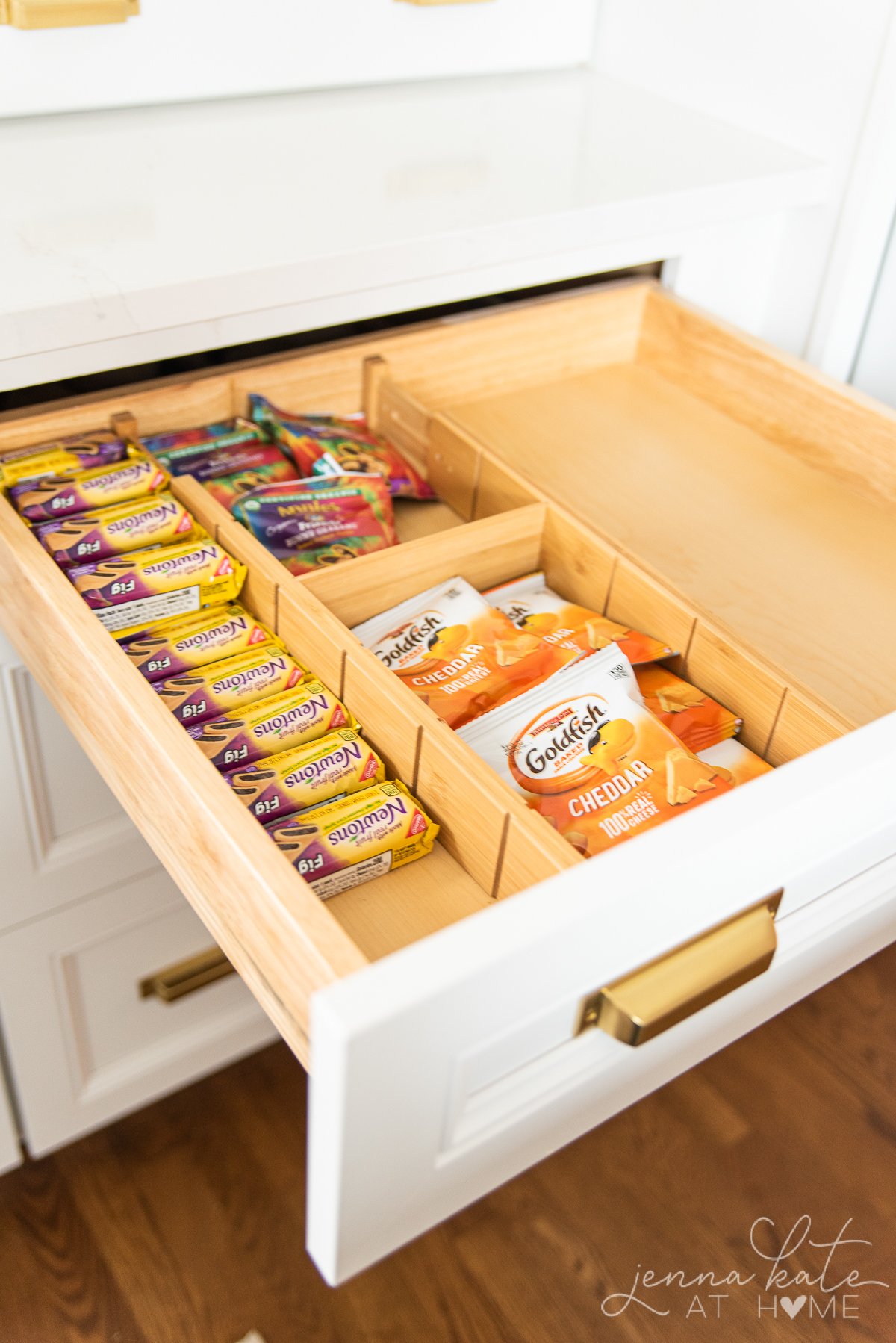 Sometimes our snack drawer is full, and other times it's running a bit low like in this photo. However, it's always organized and easy for the kids to grab their own snack when they want one.
The bamboo drawer dividers that I used can be used in a variety of different ways – to organize towels, cooking utensils and so much more!
Baking & Cooking Supplies
Everything is corralled with plastic bins. They are easy to pull out and stop items from falling over. Like items are grouped together (baking soda with baking powder – all cooking oils together, etc.).
My cupboard shelves are really low and the height is fixed so I'm unable to stand some taller bottles up. The plastic bins stop me worrying about anything ever spilling while still keeping it looking neat.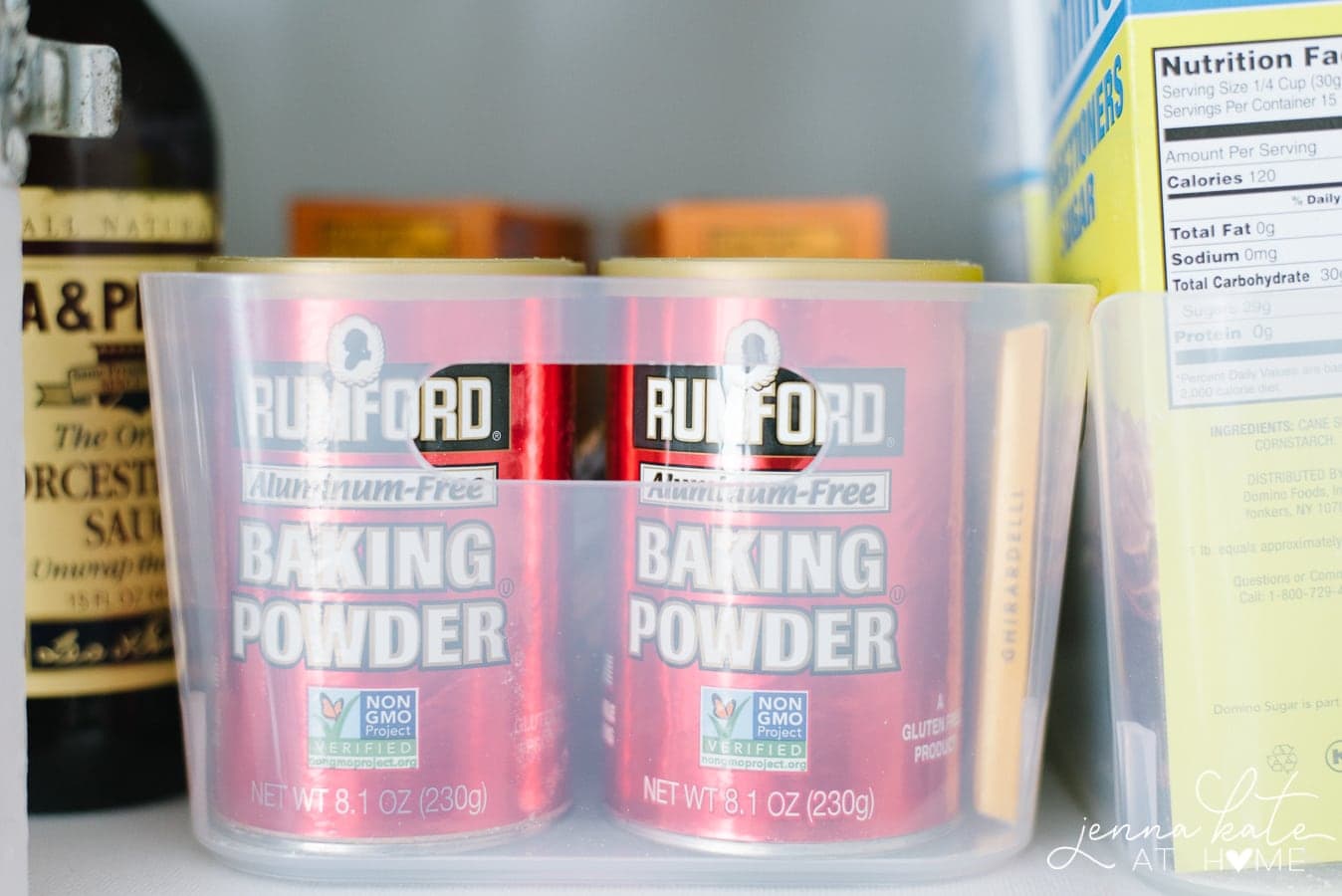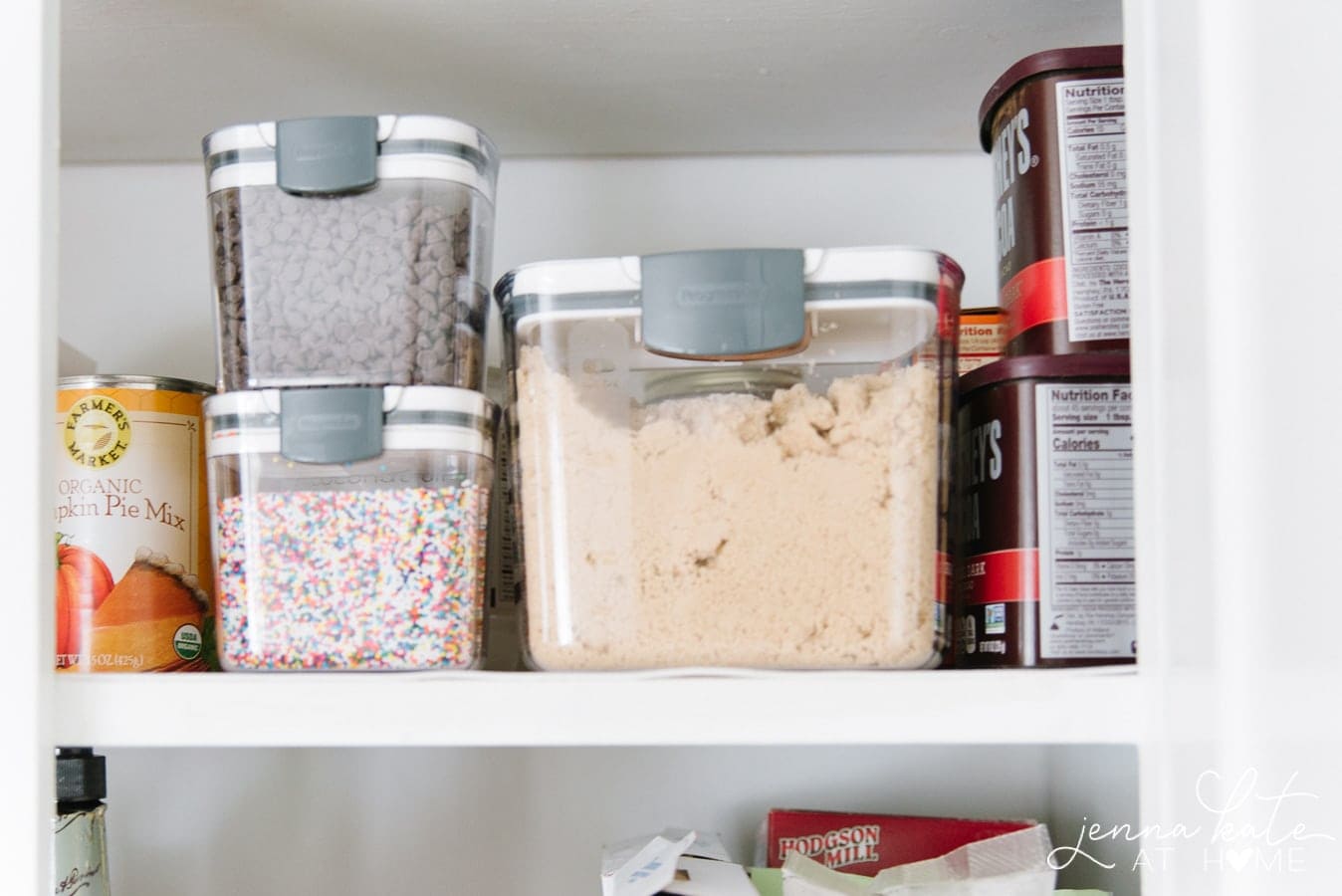 Stop food waste by pouring sugar, flour, chocolate chips, etc. into storage containers. I particularly like these ProKeeper food storage containers because they lock air out.
The brown sugar version has a terra cotta disc inside to stop the sugar from drying out, which is so smart! And the mini versions are perfect for sprinkles and chocolate chips since they have a dispenser inside that allows you to sprinkle or pour.
Clear containers make it easy to see what's inside, but when you're dealing with items that look similar (flour, sugar, salt, different rices, etc.) adding a label to each container is a smart idea.
Pots and Pans
Roll-out drawers are perfect for organizing pots and pans in deep cabinets so that you don't have to always be reaching into the back. They come in different widths and just screw directly to the cabinet base.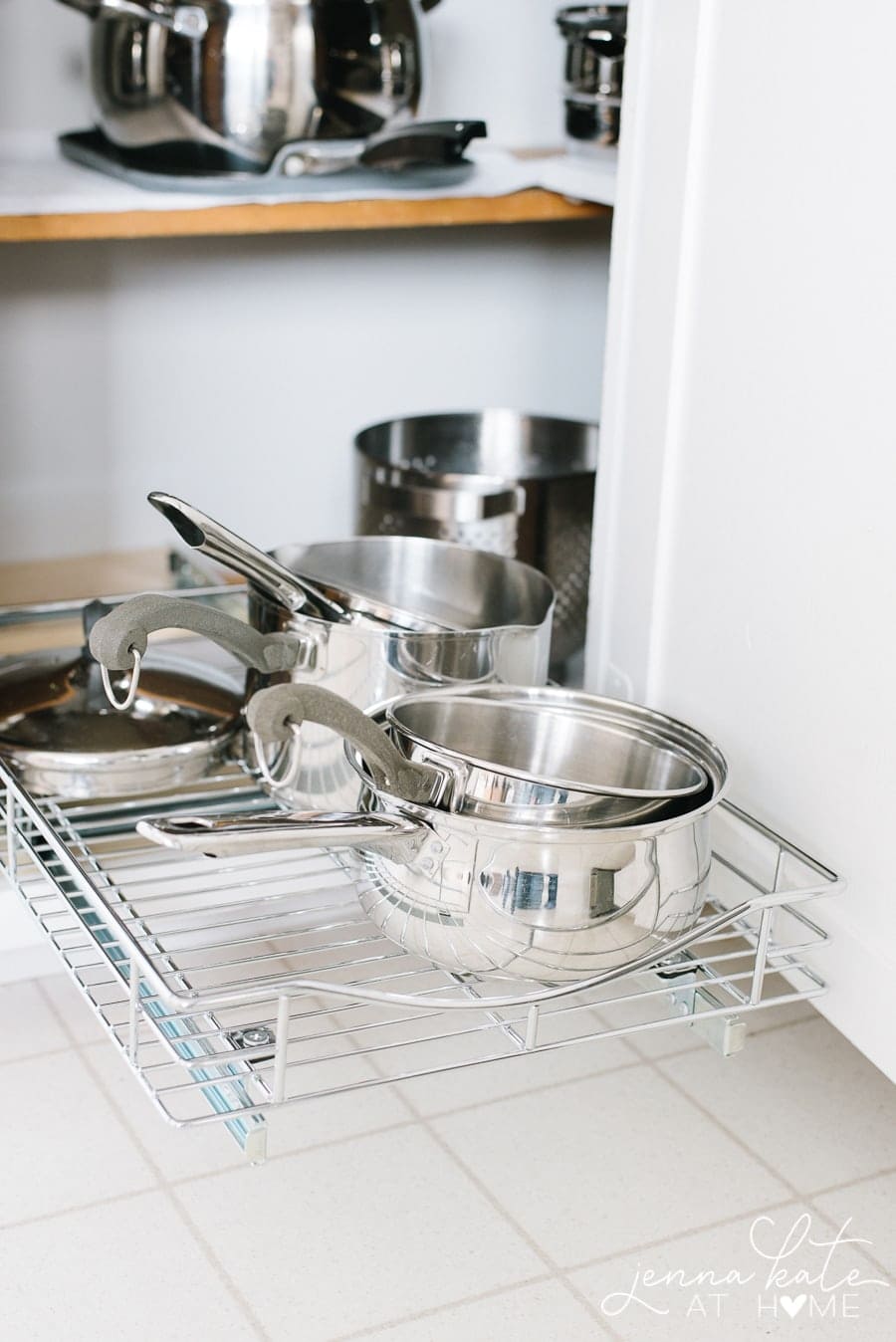 For my new kitchen, I purchased a whole new set of mint green & gold cookware, which conveniently came with a magnetic storage rack and a lid holder for the back of the cabinet door (or inside the cabinet in my case).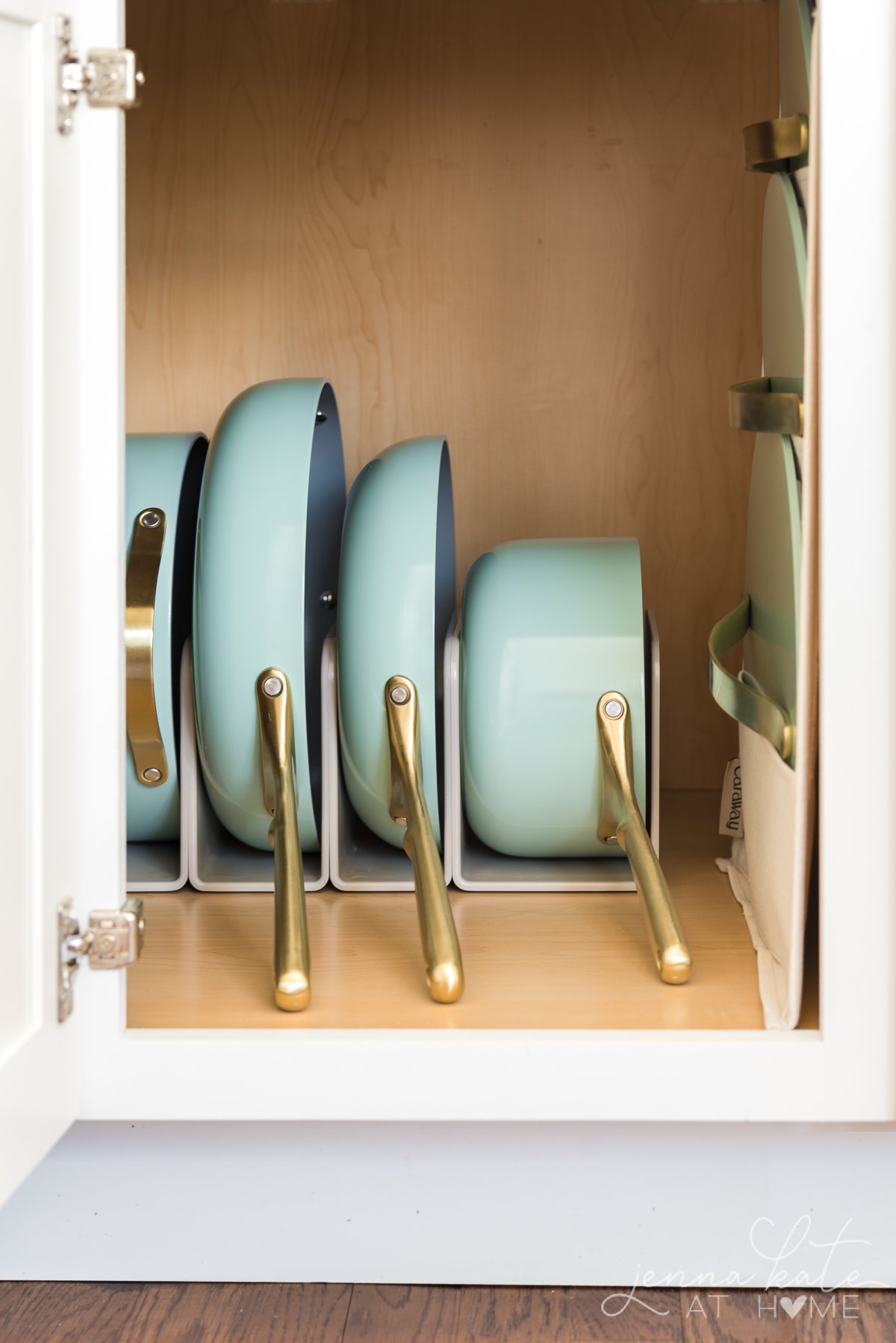 If you're looking for new cookware, I highly recommend this set. I tested 2 pots out for an entire year before committing to purchasing the entire set. They are worth every penny – and they are non toxic since they are ceramic.
Under The Kitchen Sink
Since I little kids, I don't keep anything dangerous or toxic under my kitchen sink. Instead, products like dishwasher tablets and other kitchen cleaners are kept up high in both our pantry and laundry room.
Under the kitchen sink can be a massive waste of space if you don't utilize it correctly. A pull out basket organizer will help you corral whatever items you wish to store under there.
Pantry Organization
My main goal when we added this pantry to our kitchen was to have a space to keep all my extra appliances: the air fryer, toaster, microwave, coffee machine, electric kettle, crockpot, blender, griddle and a few more live in the lower cabinets and countertops in this space.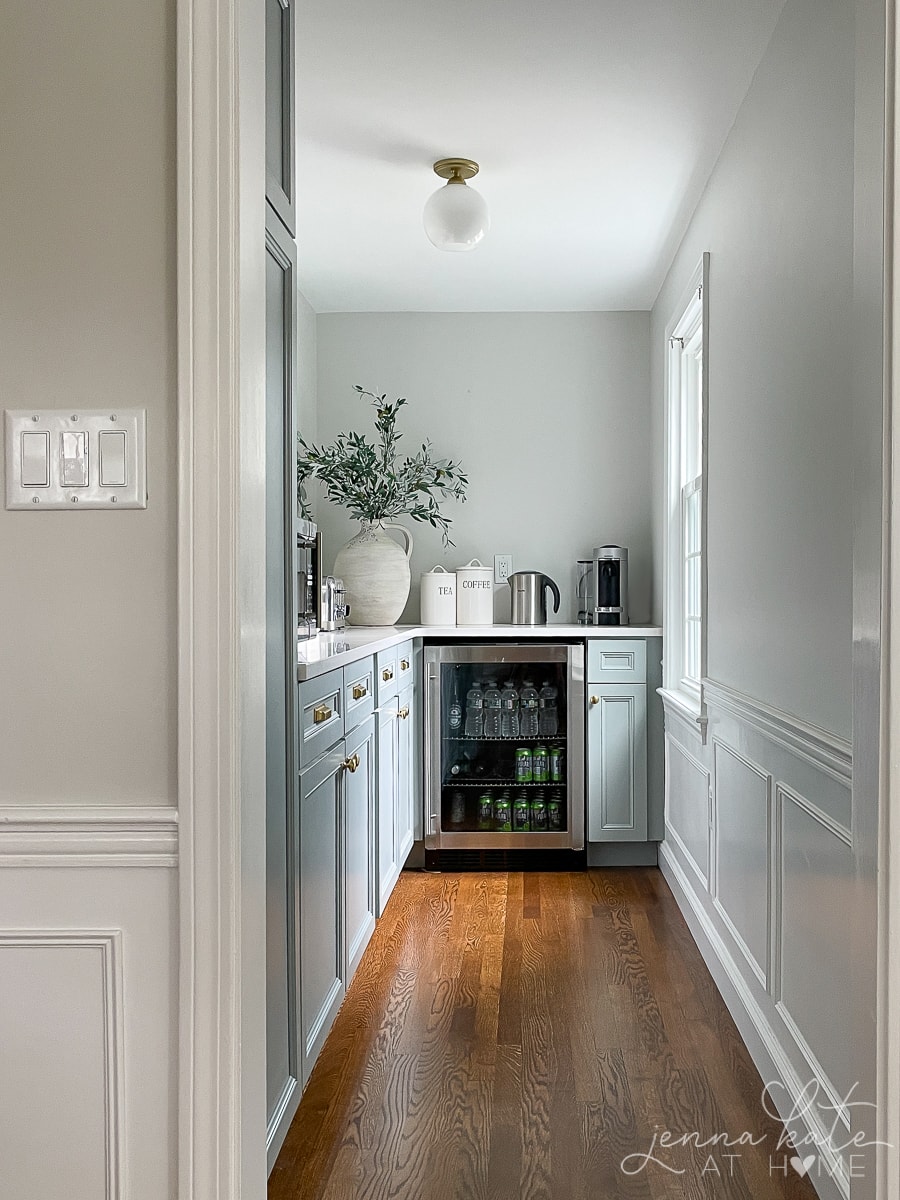 This has been an absolute game changer in being able to keep my counter space free for food prep, and to make cleaning and wiping up after meals a breeze.
Junk Drawer: Even the most organized home needs a junk drawer. Ours is in our pantry and mostly contains batteries, a set of mini screwdrivers(always needed for the kids' toys!), a flashlight and a few other random bits and pieces.
Final Thoughts
Have you tackled organizing your kitchen cabinets recently? If you haven't I hope this post has given you some ideas to get started on your own.
I think you'll be amazed at what a game-changer it is! Not only will everything look prettier but you'll find you have much more space that you thought you had and you'll be able to find items much easier!