This is a sponsored post on behalf of BLANCO.
Tired of white kitchens? If your idea of a beautiful kitchen doesn't include white cabinetry, a white (or stainless steel) sink and the sometimes sterile feeling that can bring to a kitchen, then you're going to love this post.
Whether you're drawn to a farmhouse, coastal or modern vibe, today I'm sharing some kitchen mood boards with alternatives to the ubiquitous white cabinets.
Every kitchen design needs a starting point. For these mood boards, I'm designing around the new IKON® 33″ 1-3/4 Low Divide Apron Front Sink in either Concrete Gray or White. I chose this as my starting point because let's face it, we spend a lot of time at the sink every single day, so a beautiful sink is a must-have.
I also like this sink because of the color options. The sink is a fun and unique way to add some color to your kitchen while still tying in with the overall design and remaining neutral.
The first mood board that I have designed for you features the IKON® 33″ 1-3/4 Low Divide Apron Front Sink in Concrete Gray alongside gray cabinetry, a white backsplash and some pretty coastal blue accessories.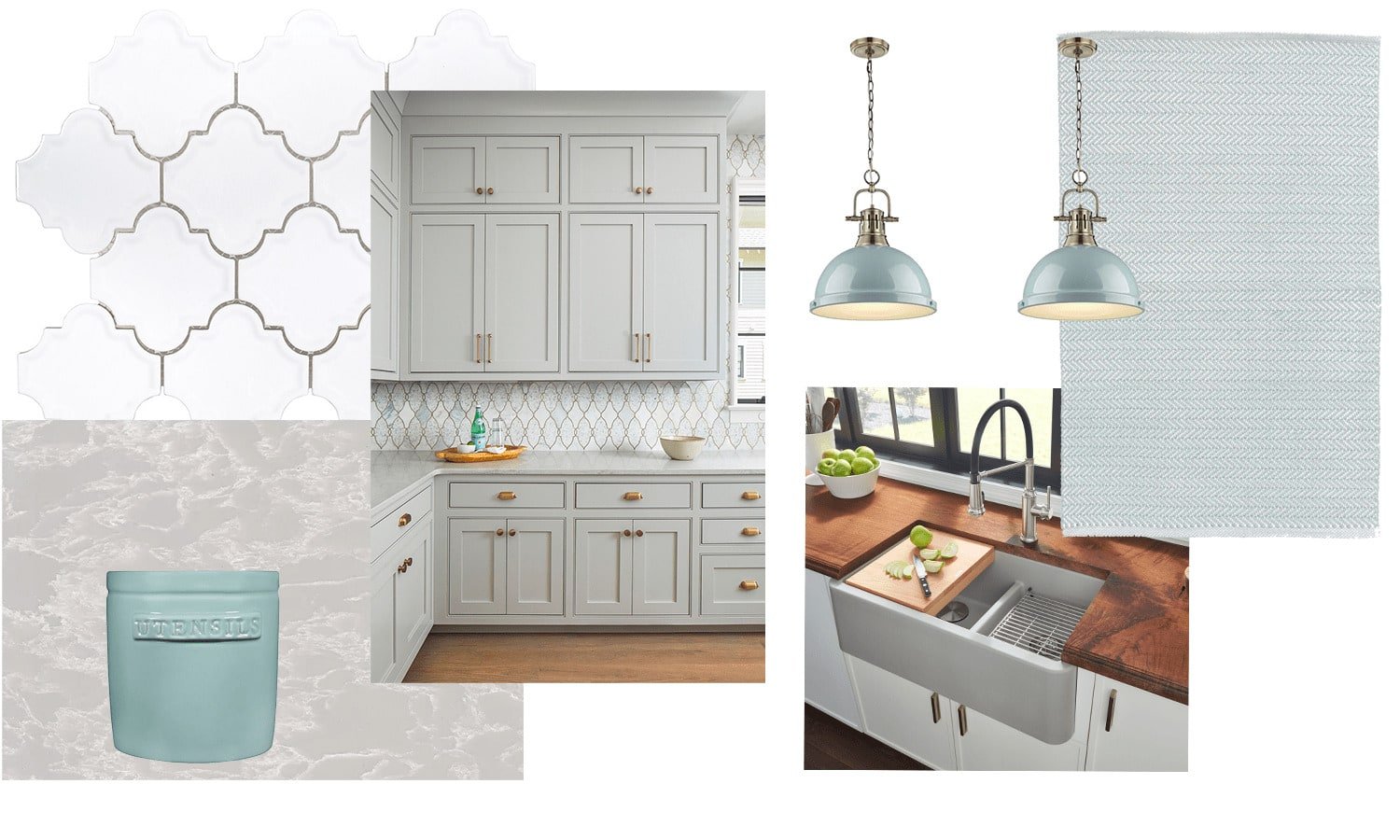 IKON®is the world's first apron front sink made of SILGRANIT®, BLANCO's patented granite composite material available in eight trending colors.
The new IKON sink's low divide makes it easier to handle large pots and baking sheets while still dividing the sink into cleaning and prepping bowls.
Now, on to my next design!
If you still love the look of a white sink but not white cabinets, then I think you're going to love the crisp lines of this sink in white, too…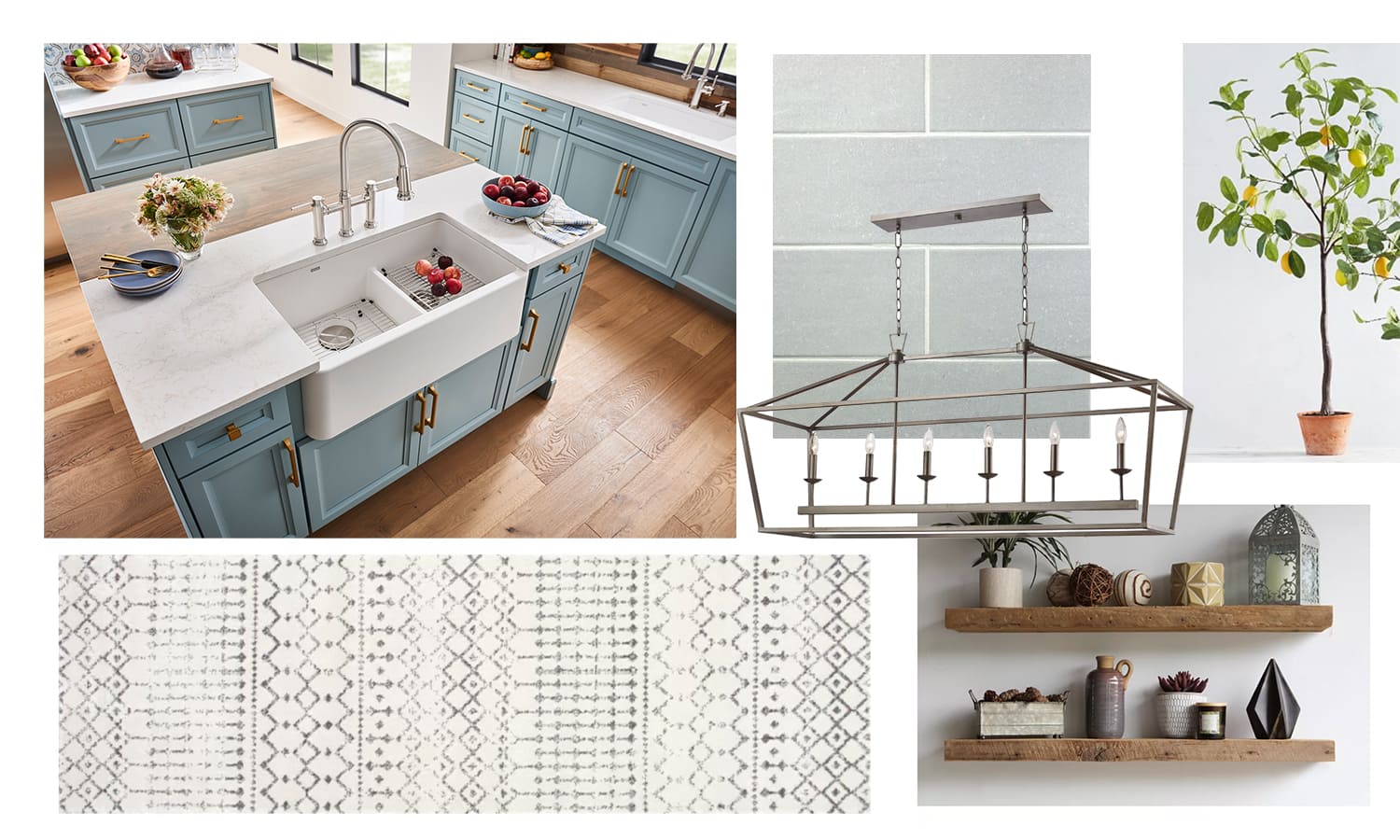 How about some drama? Green and black cabinets have become more popular over the past few years and can look truly stunning in the right home.
Design number 3 is quite breathtaking…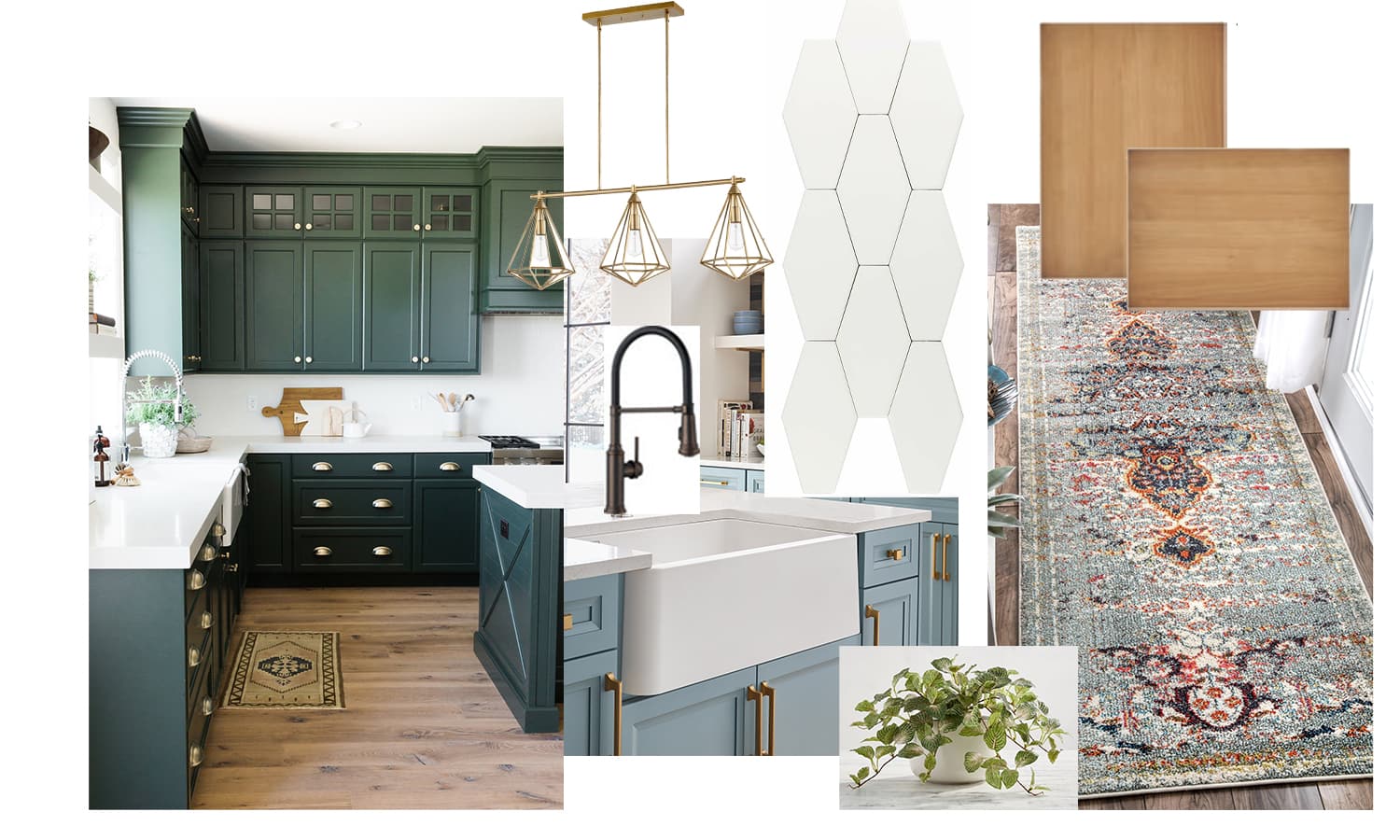 Isn't this kitchen a cook's dream? This shade of green alongside the brass, wood and touches of black is so elegant. Another thing that every cook or baker will love is the optional accessories that can be purchased for the IKON® 33″ 1-3/4 Low Divide Apron Front Sink including a floating cutting board that creates another workspace and a floating grid that makes it easier to place a pot into the sink.
A small kitchen with minimal light will have a hard time pulling this dark green color off, but if yours is big and bright, it will truly look amazing.
Did you know..

Since apron front designs are installed further forward and eliminate the countertop, they minimize the need to lean over as much and help to reduce strain.
No matter what the cabinet color, introducing natural elements should be an important consideration in your design. Whether that's SILGRANIT®, BLANCO's patented granite composite material, natural stone countertops, hardwood floors or even just plants and wooden accessories, these thoughtful touches will be what brings your design to the next level.
Now, what do you think of those beauties? Not a white cabinet in sight but all three designs are beautiful and timeless.
If you were to design your dream kitchen right now, what cabinet color would you choose and do you think the IKON® 33″ 1-3/4 Low Divide Apron Front Sink would be the star attraction like in these designs?