Today, I wanted to share some table inspiration with my simple coastal-inspired summer tablescape featuring shades of blue, lots of white, and pops of green.
Regular followers of my blog may know I've been sharing a virtual summer home décor tour. Today, I wanted to continue that tour by sharing my dining room.
Without further ado, let's explore my dining room and summer tablescape!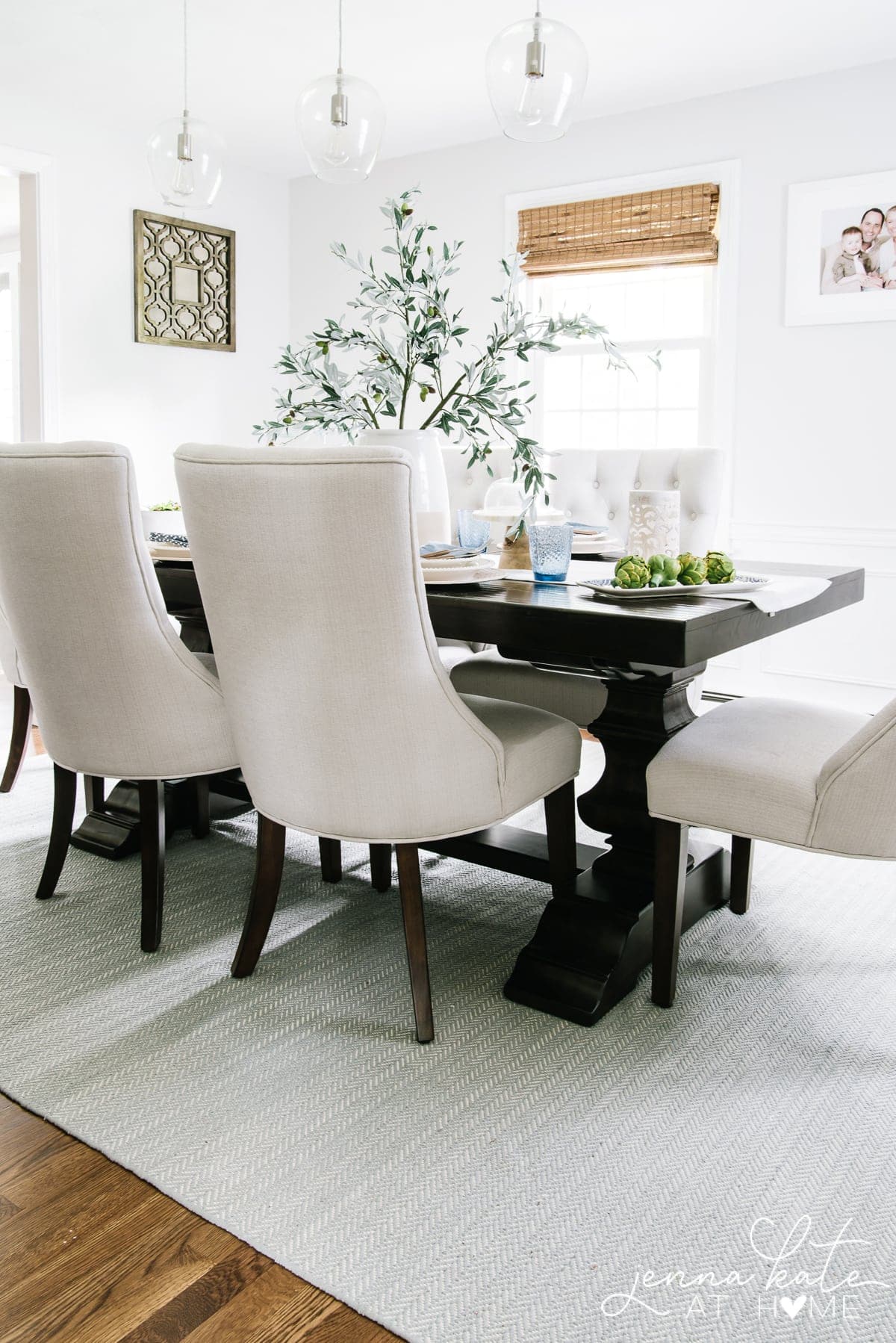 Seeking Simplicity with My Summer Tablescape
It was time for my dining room to get a quick refresh for summer. I'm saying "quick refresh" because this year, my goal has been to keep everything relatively the same as it was in the spring but with just a few very simple changes with the seasons.
The decision to hold off on major decorating projects came about for two reasons: 1. For once, I'm actually happy with how my decor looks (I usually get bored quickly) and 2. I'm pregnant and simply don't have the energy to reinvent the wheel right now. If it's not broken, I ain't fixing it!

When I selected the coastal color palette for summer, I wanted easy items that would offer a pop of beachy color without a lot of fuss. Sea glass inspired blues and pops of green were just the tickets to complement my already fairly neutral décor.
I like a lot of white (it's not nearly as hard to keep clean as some may think). It feels so fresh and clean. Plus, the white brings everything together and helps the room appear large but cohesive. I love my dining table, but the dark color can be overwhelming without the right items to brighten and lighten it up.
This post contains affiliate links for your shopping convenience
Get the Items from My Coastal-Inspired Tablescape


Because I was keeping this refresh simple, I didn't want to buy a lot of extras. I love the simplicity of the beach. I was thinking of white sands, blue water, and natural elements. Mostly, I shopped items I already had on hand and gave them a new life as part of the dining table area.
As the focal piece of the table, I brought in my large ceramic vase from the entryway along with my favorite olive stems. I thought it would bring some drama to the décor, but I was worried that it would be too large. After seeing it incorporated into the tablescape, the size doesn't bother me at all; in fact, I kind of like how oversized it is.
The olive stems are so beautiful and feel very Mediterranean. I kept thinking of Southern France and Spain as the "feeling" I wanted to evoke with the tablescape. The stems are amazing, and I have to say, they're one of my favorite purchases over the last few months.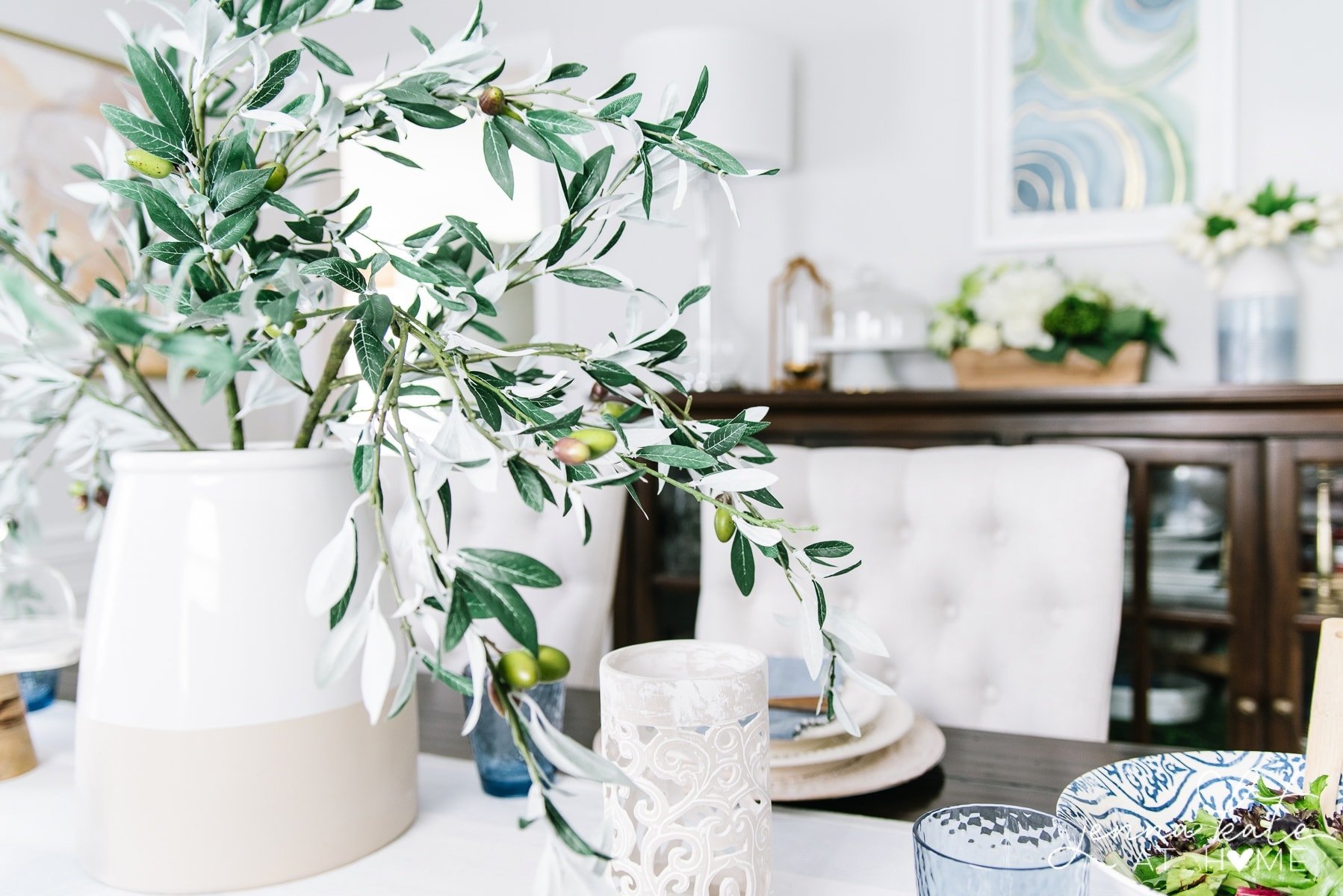 ---
Looking for more summer decor ideas?
---
Coastal-Inspired Dinnerware Pulls the Summer Tablescape Together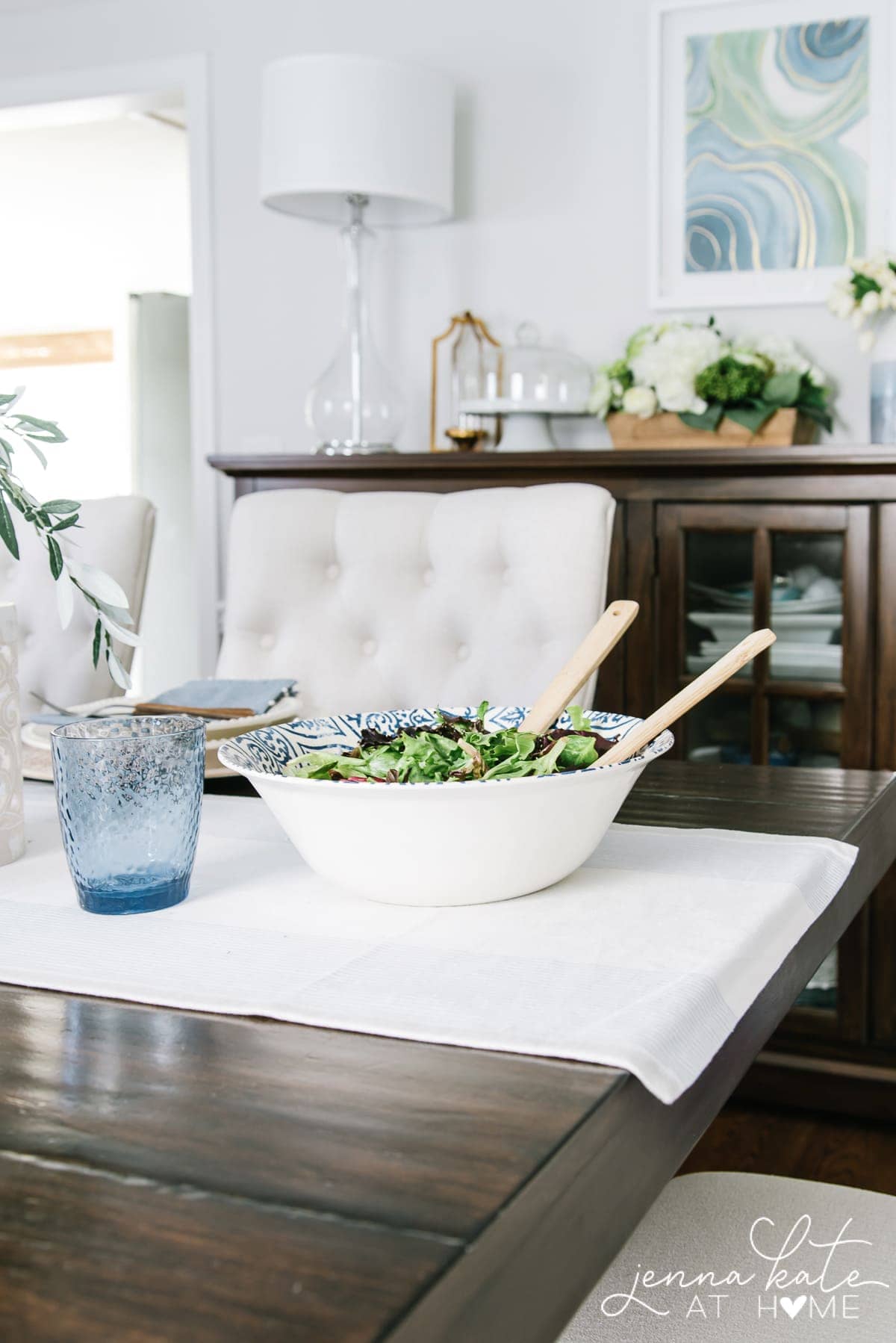 In preparation for our new outdoor patio, I've been buying acrylic glasses and dinnerware that I'm dying to use! The items I selected are perfect for dining indoors or al fresco on the patio.
Regular readers of the blog probably know my love of blue, so there's no surprise what color glasses I chose! I love the pop of color and vibrancy they add to the table decor! And they work perfectly with my favorite blue napkins. The chambray fabric and the delicate hand-knotted border elevates the faded denim-color of the napkins.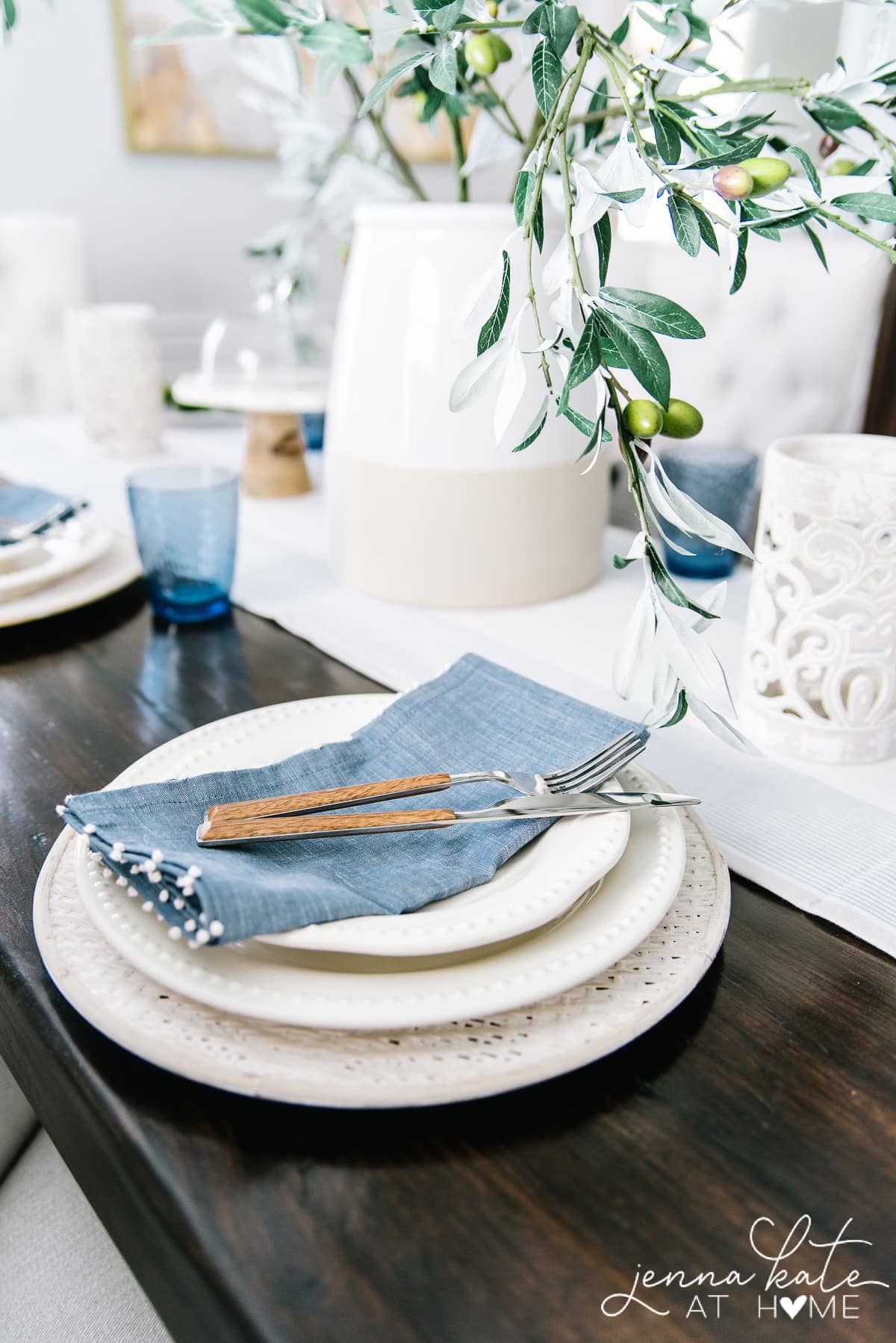 Blue and white is such an easy color palate for a summer tablescape because it really does go with practically any style. These elements could fit with a clean, modern style, a country or bohemian look, and of course, a beachy cottage tablescape.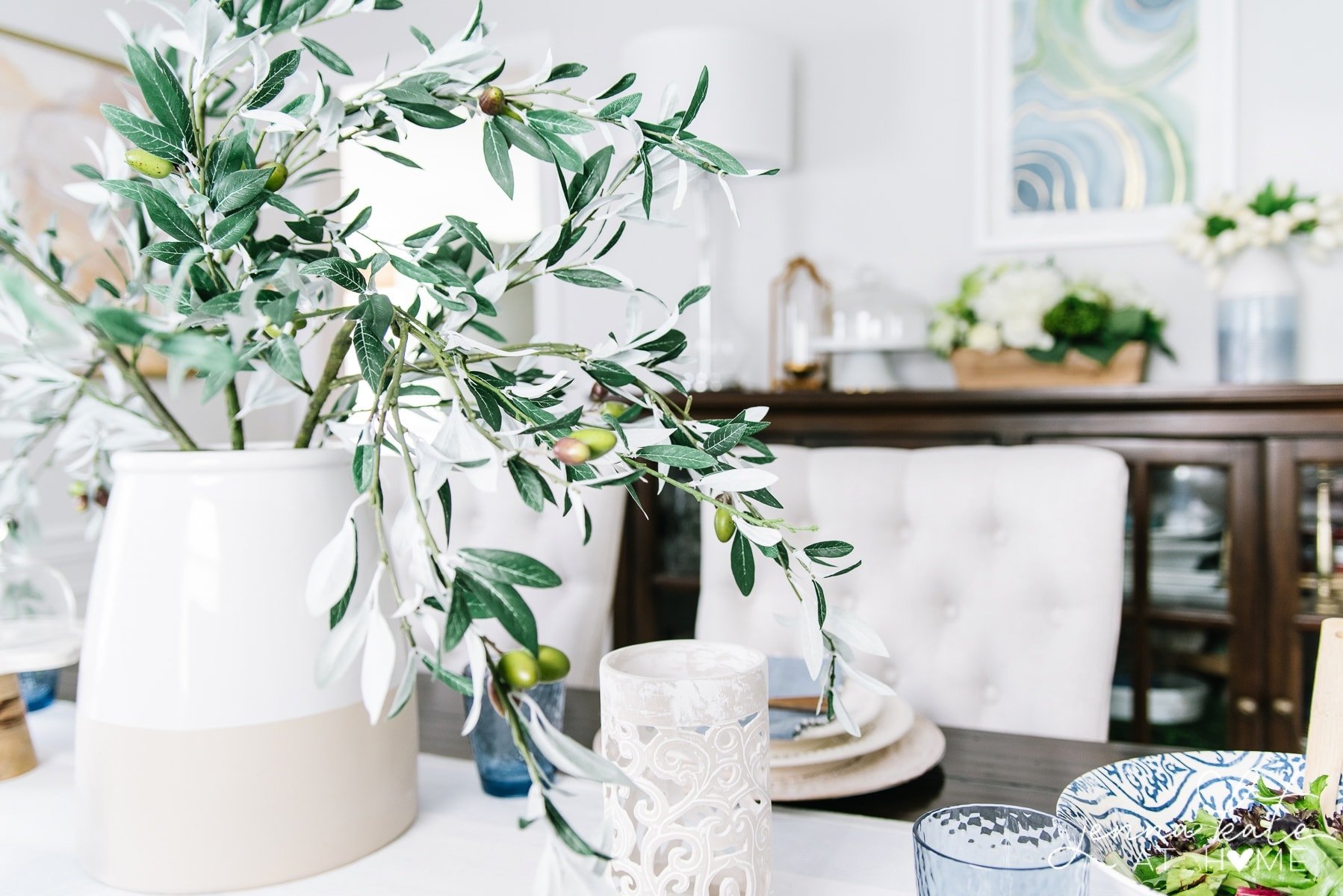 To bring the summertime beachy tablescape together, I've paired the blues with simple white dishes—my favorite from Pottery Barn—and some wood-effect flatware. The rest of the table setting like my serving dishes are simple white with a few blue elements and bamboo serving utensils. Fresh and summery, right?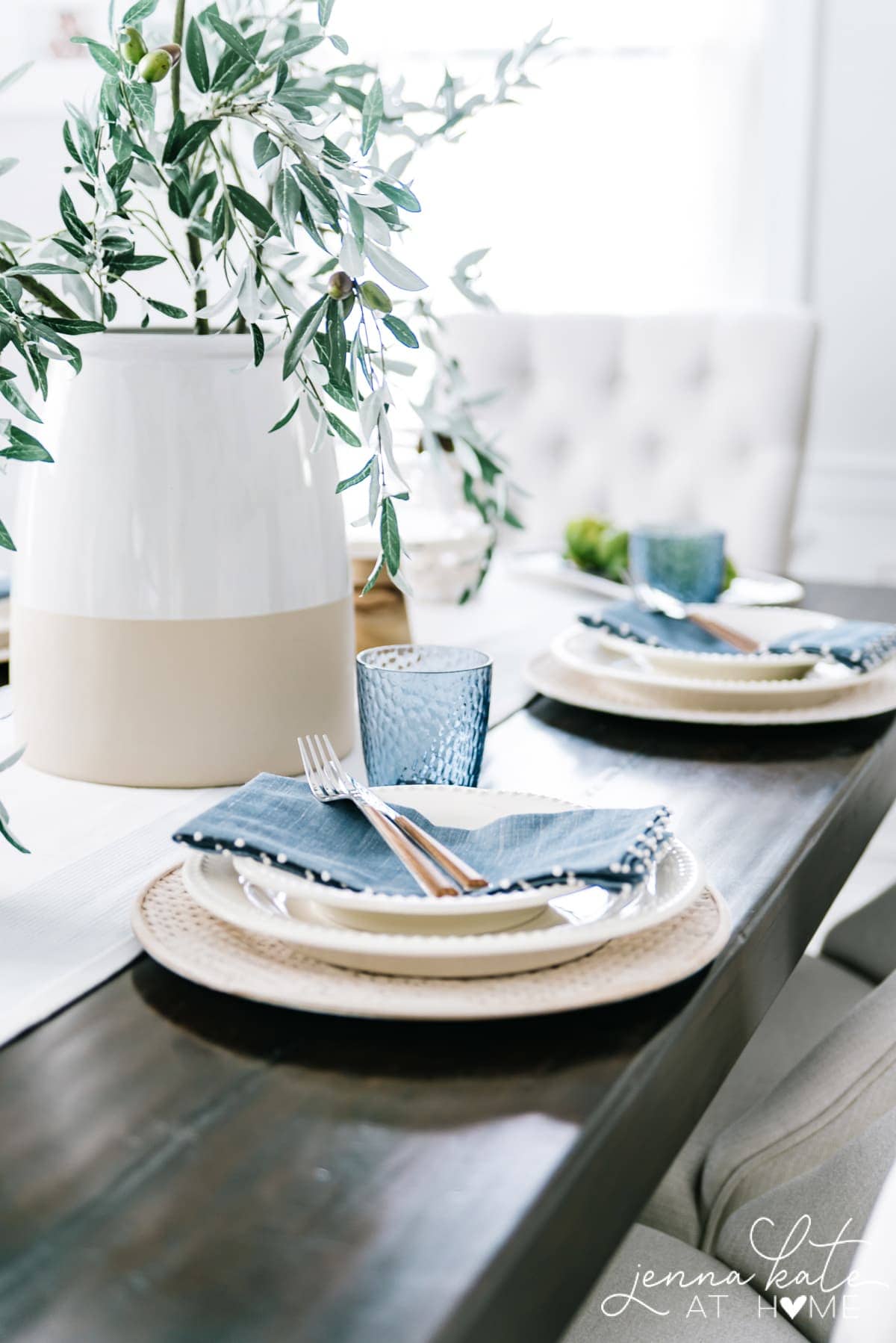 Dining Room Neutrals Elevated By Pops of Blue & Green
There's something about keeping things mostly neutral but adding in the coastal elements of those blues and greens that really works for me. I love how you can vary the tones of both colors to make it work for any season, which is great because it makes it extra easy (and affordable!) to mix and match!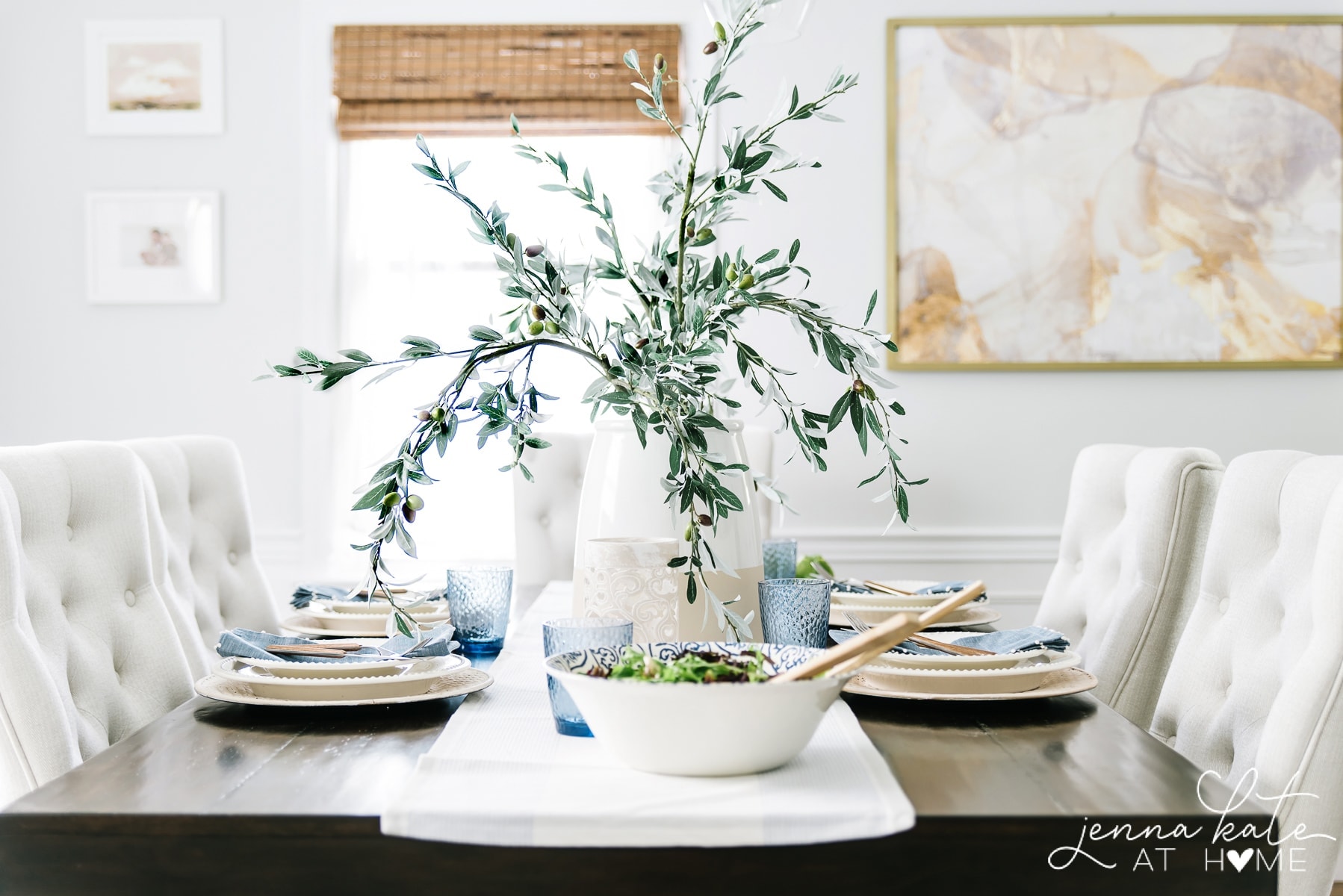 I've kept the color pallet of this room purposefully light and bright. The white table runner and white chairs work with my dark chocolate-colored (Alfresco brown) Banks extended table from Pottery Barn. I love the size and sturdiness of the beautiful table too. I think it fits the room so well.
You may even notice how the bamboo utensils and "wood-effect flatware" pick up the wood tones in the teak shades and wall art. I think that the sand color continues the beach effect. The mossy green artichokes feel Mediterranean-themed as well with my olive branches.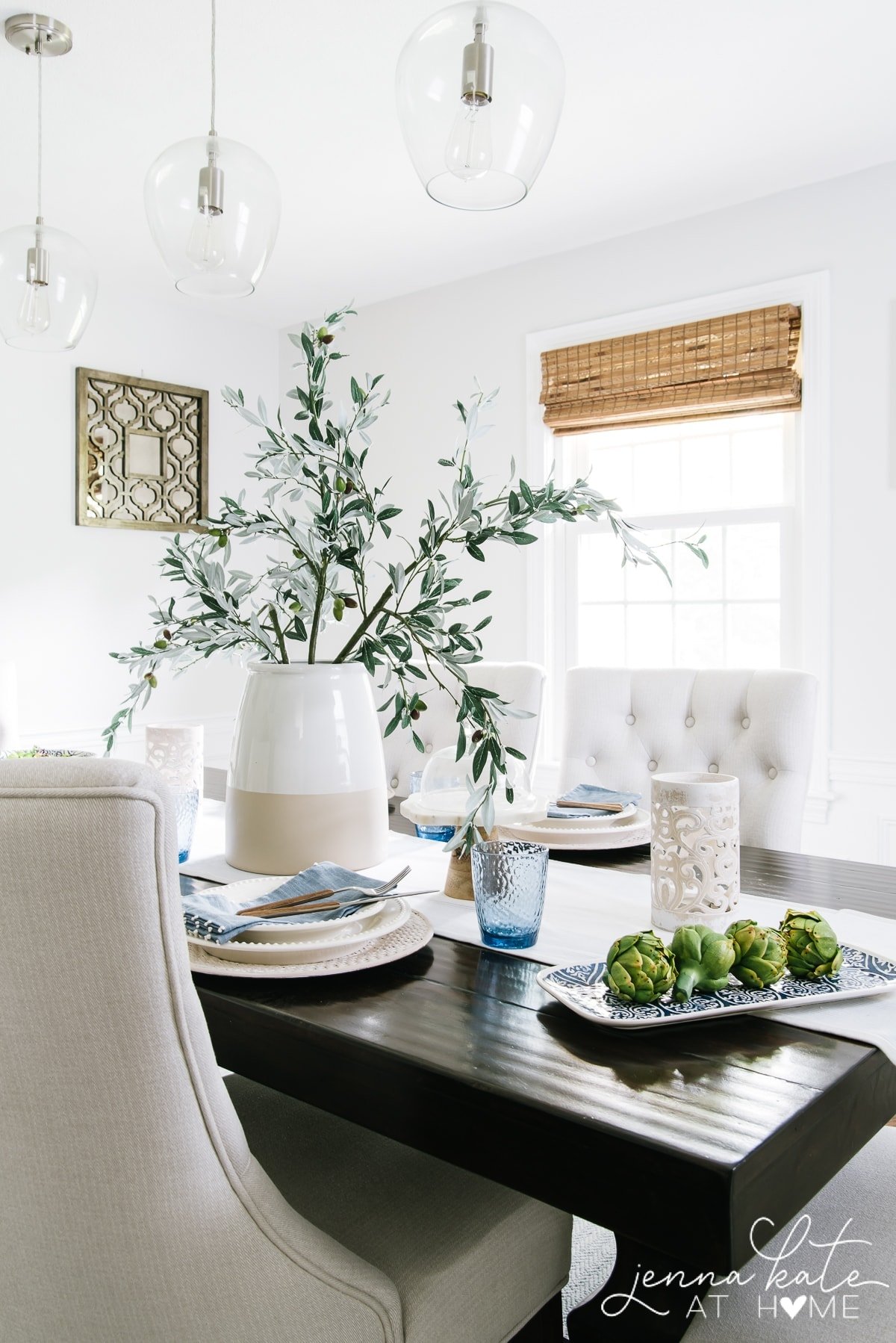 So, if you're looking to create a coastal summer tablescape of your own, I suggest using colors inspired by the ocean—watery blues, mossy greens, whites, and sandy neutrals. I think my summertime dining room is so calming and relaxing—I may just stay here for the next several months and pretend I'm at a beach on the European coast!
I hope you enjoyed this excursion through my coastal-inspired summer tablescape! Remember, you don't need to spend a lot to create a beautiful table setting. Use elements you already have on-hand and work within the pallet of your existing dishes. Add a few pops of color or a big vase for some drama.