Learn how to pick the perfect white paint color for kitchen cabinets with this guide to the most popular shades of white.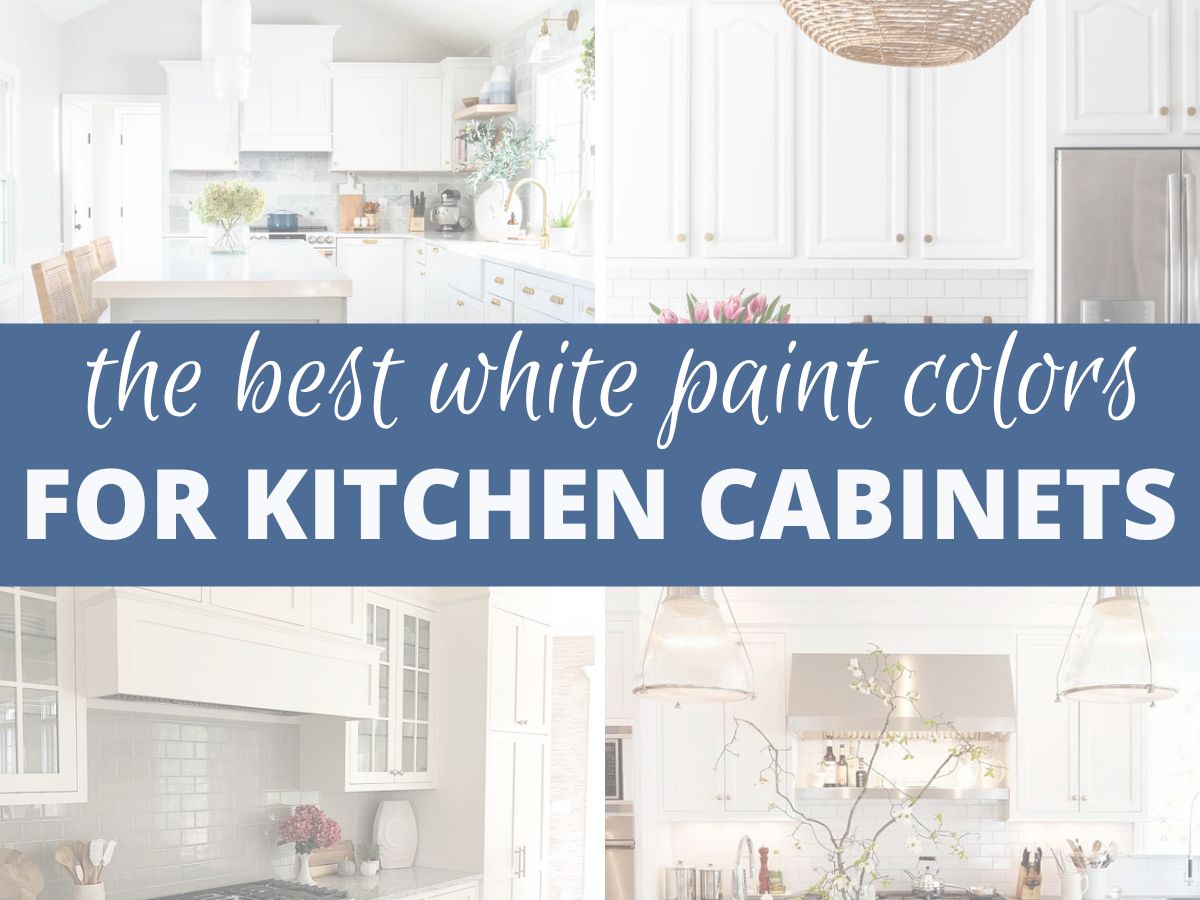 With all the different shades of white and their wide array of undertones, picking the perfect shade of white for your kitchen cabinets can seem like a mind field.
However, once you understand that white paint colors fall into three categories: cool whites, neutral whites and warm whites, finding the perfect color for your kitchen suddenly becomes a lot less daunting.
Before even deciding on which category of white is right for you, it's important to take a step back and think of the big picture.
What colors do you mostly decorate your home with? What kind of light (exposure) does your kitchen get? Will your cabinet hardware be chrome, black or brass? All these factors are important to consider before choosing a paint color.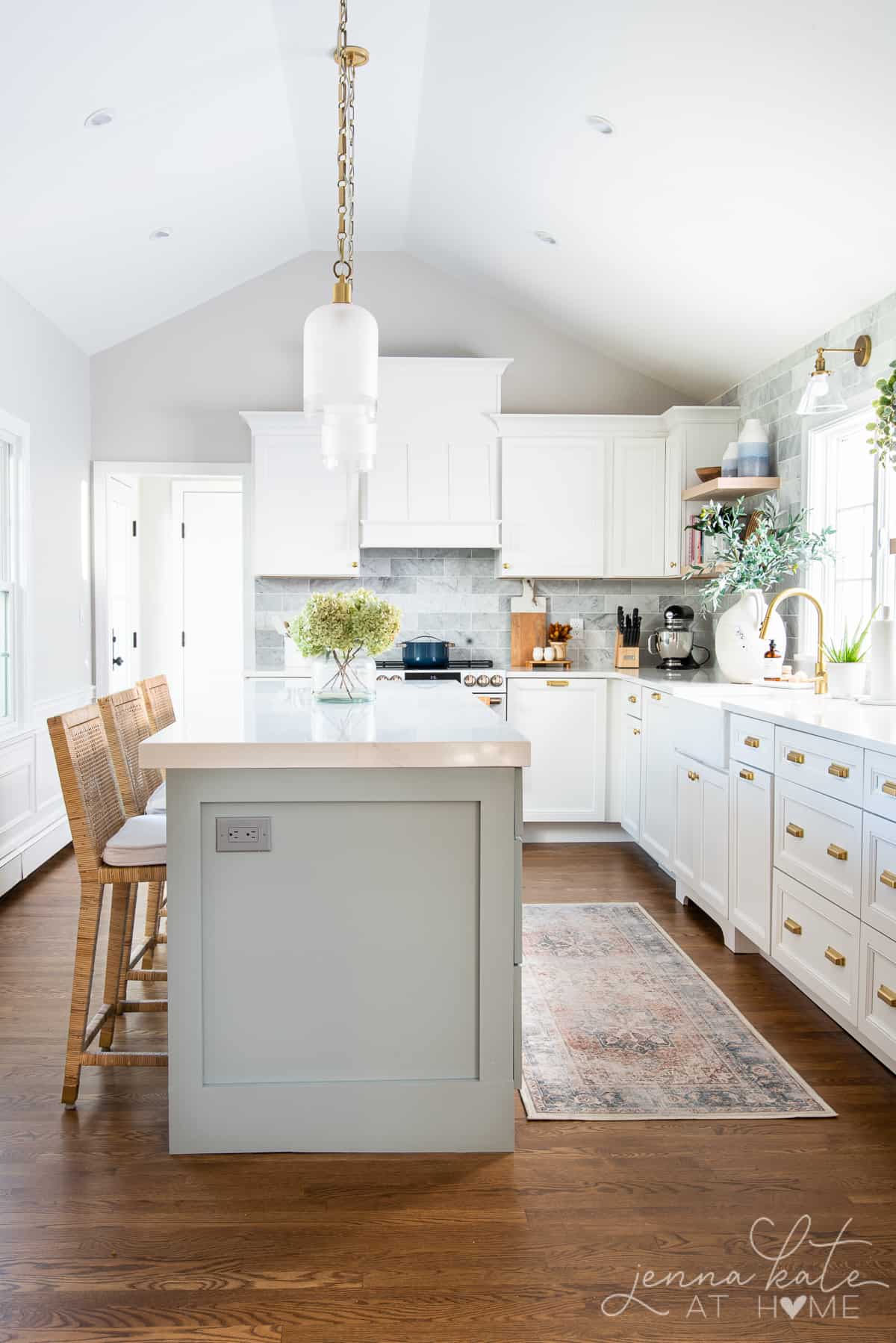 Room Exposure
Understanding the light that comes into your kitchen is probably the single most important factor when deciding on the right shade of white. Pick the wrong color and that beautiful crisp white paint will look baby blue or that slightly warm white may look distinctly yellow!
Typically, north facing windows allow grayish toned light into a room. This will emphasize blue or gray undertones in paint colors and make them look a little dull, cold and flat. The same paint colors may be perfect in a room with warmer south facing light.
Conversely, a really warm paint color may become too warm in a kitchen with a lot of southern exposure, and you may prefer a brighter, cooler white to offset some of that warmth.
For rooms that get morning light (eastern exposure) and/or afternoon light (western exposure) finding a middle ground is important as you need to balance out the sunlight from one part of the day with the cooler light the rest of the day will get.
For this reason a more neutral paint color may be more appropriate, unless you're ok with some undertones being more visible at certain times of the day.
Factor In The Colors That You Decorate With
The colors that you decorate with can also be a great indication of what type of white will work best in your home. If you love a coastal style and favors lots of blues and bright crisp whites, then a cooler or neutral white may be more in line with your tastes.
Another important element to factor in is whether you're planning a different color kitchen island. In which case you're going to want a wall color that works with both your perimeter cabinets and your island color.
I'm a big proponent of keeping walls a more neutral, light color and letting your cabinets and decor shine. It's so much easier to decorate when your walls don't scream for attention – so keep that in mind!
Consider The Cabinet Hardware You Want
If your home is filled with neutrals and creamy tones, a warmer white or even a color verging on cream may suit your tastes better.
Gold or brass cabinet hardware will work best with neutral or warmer shades of white cabinets, while chrome, nickel and black work best with neutral and cooler toned whites.
With all that being said, let's take a look at some of the most popular shades of white paint for kitchen cabinets and see what they look like in real homes.
Cool Whites
Benjamin Moore Chantilly Lace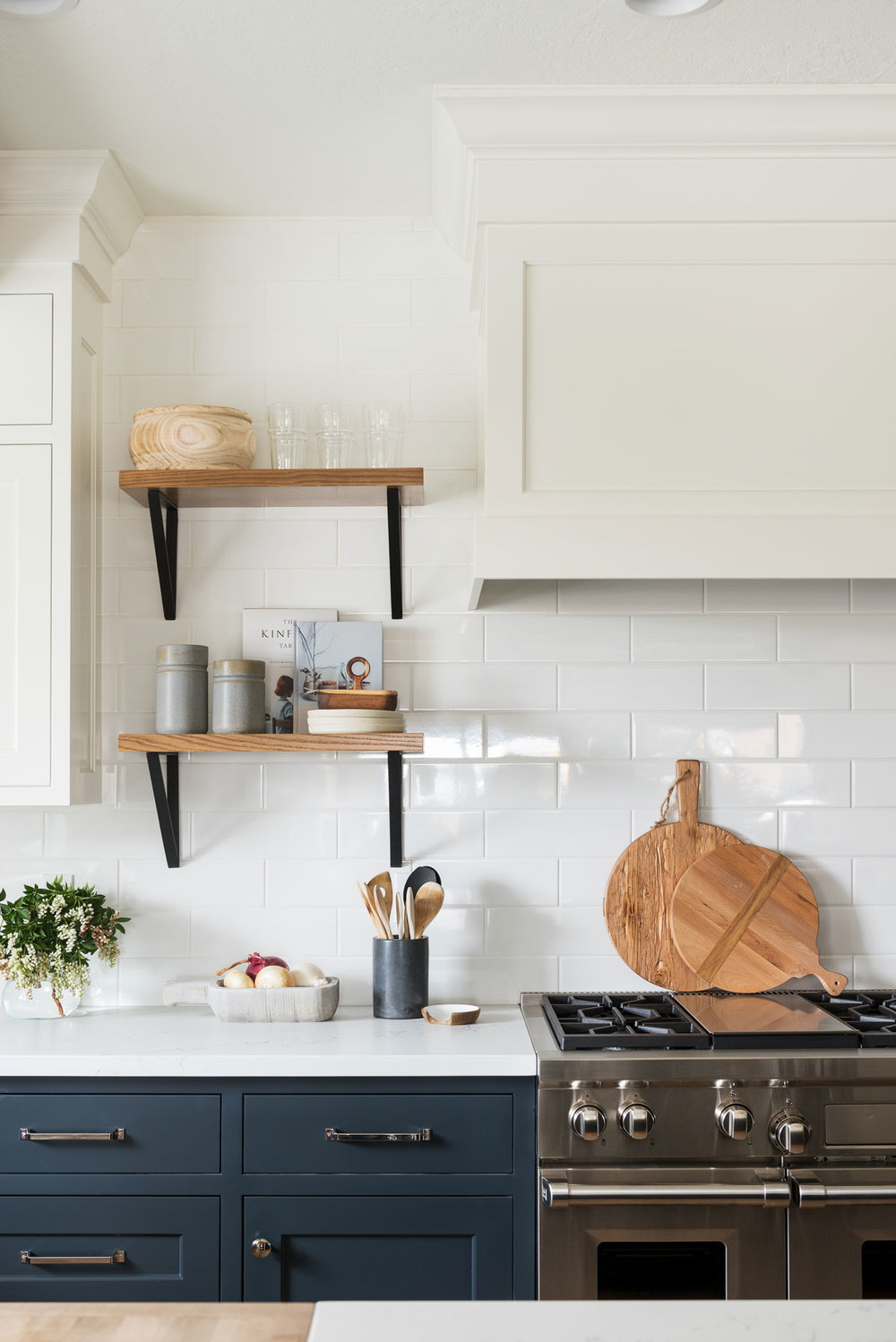 If you are looking for a bright white paint color with just a smidge of coolness, then Chantilly Lace is an excellent choice.
The slight blue undertone may become apparent in cooler light, but it's a really bright crisp white that looks awesome in a kitchen with lots of natural light.
Sherwin Williams Extra White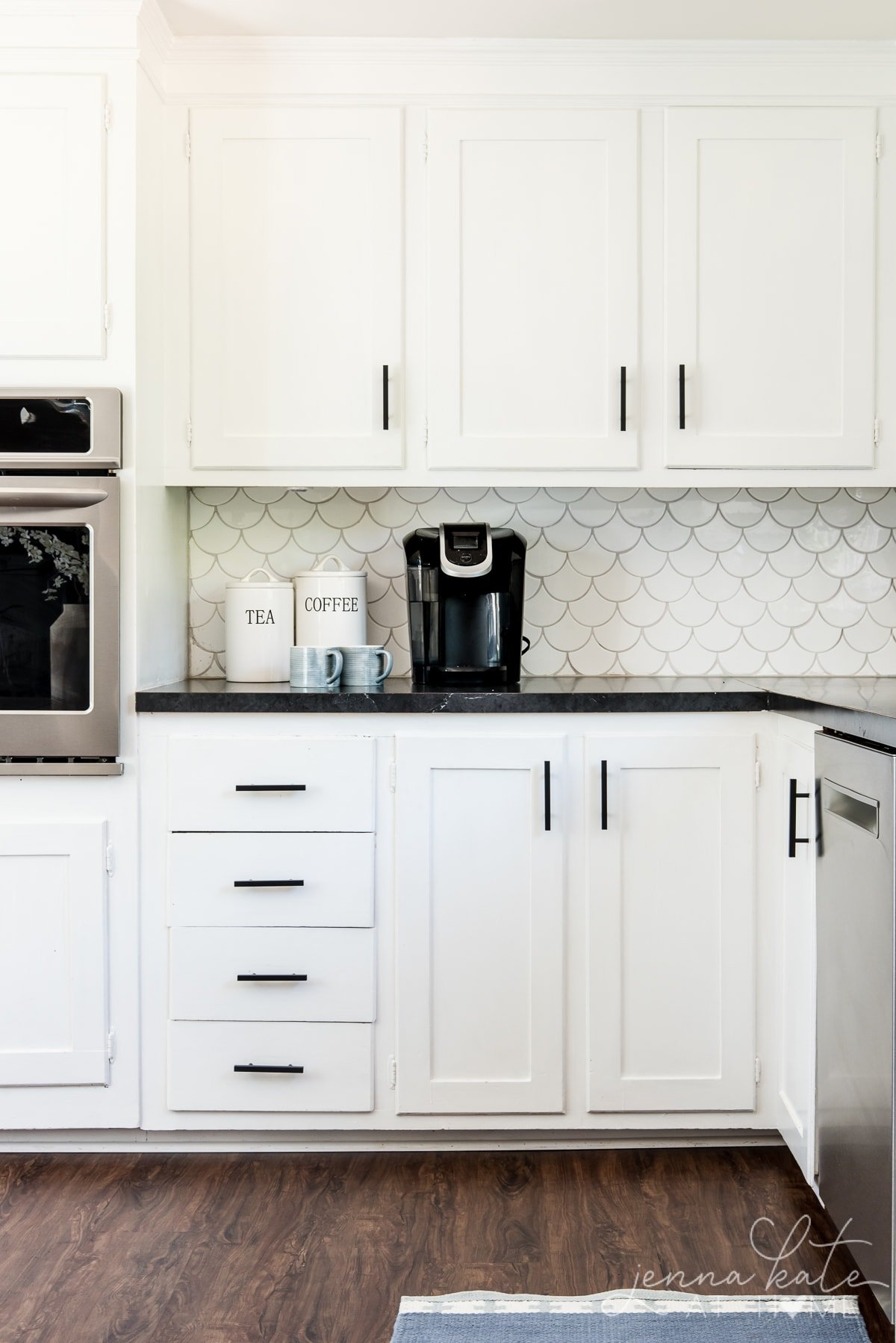 Sherwin Williams Extra White is what I originally had in my kitchen (before we remodeled). It's another bright white paint color, but it definitely can lean blue or grayish in cooler light.
My kitchen has both east and west exposure and I found the morning light not strong enough to counteract the gray but it did soften up considerably in the afternoon.
Sherwin Williams Snowbound
Snowbound is becoming an increasingly popular choice and for good reason. It's a beautiful shade of white with just enough warmth as well as a drop of gray to stop it being too warm.
The warmth comes from the slight taupe undertone, that usually won't be apparent but may come to the fore with a lot of warm light or when Snowbound is paired against a cooler, brighter white.
Benjamin Moore Decorator's White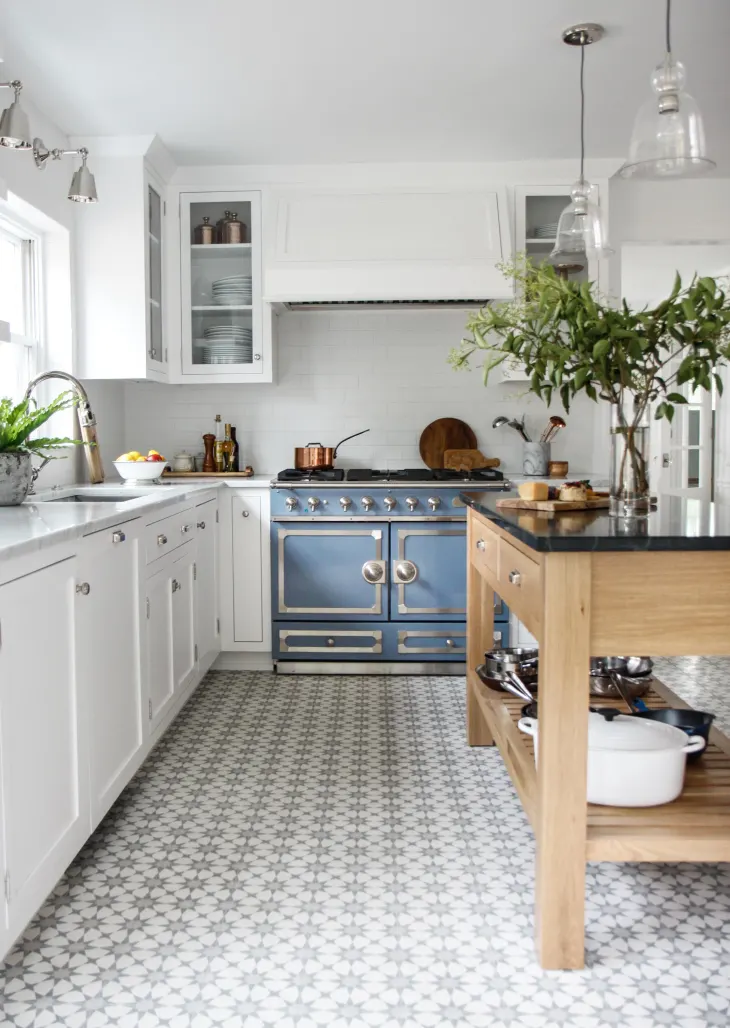 Decorator's White is a cool toned white with a gray undertone. If you compare it directly next to a brighter white like Chantilly Lace, it will look dirty.
By itself, it's a more muted white but still comes across as clean and bright. I would not recommend it in north facing kitchen as it will look a little dull.
Neutral Whites
Sherwin Williams High Reflective White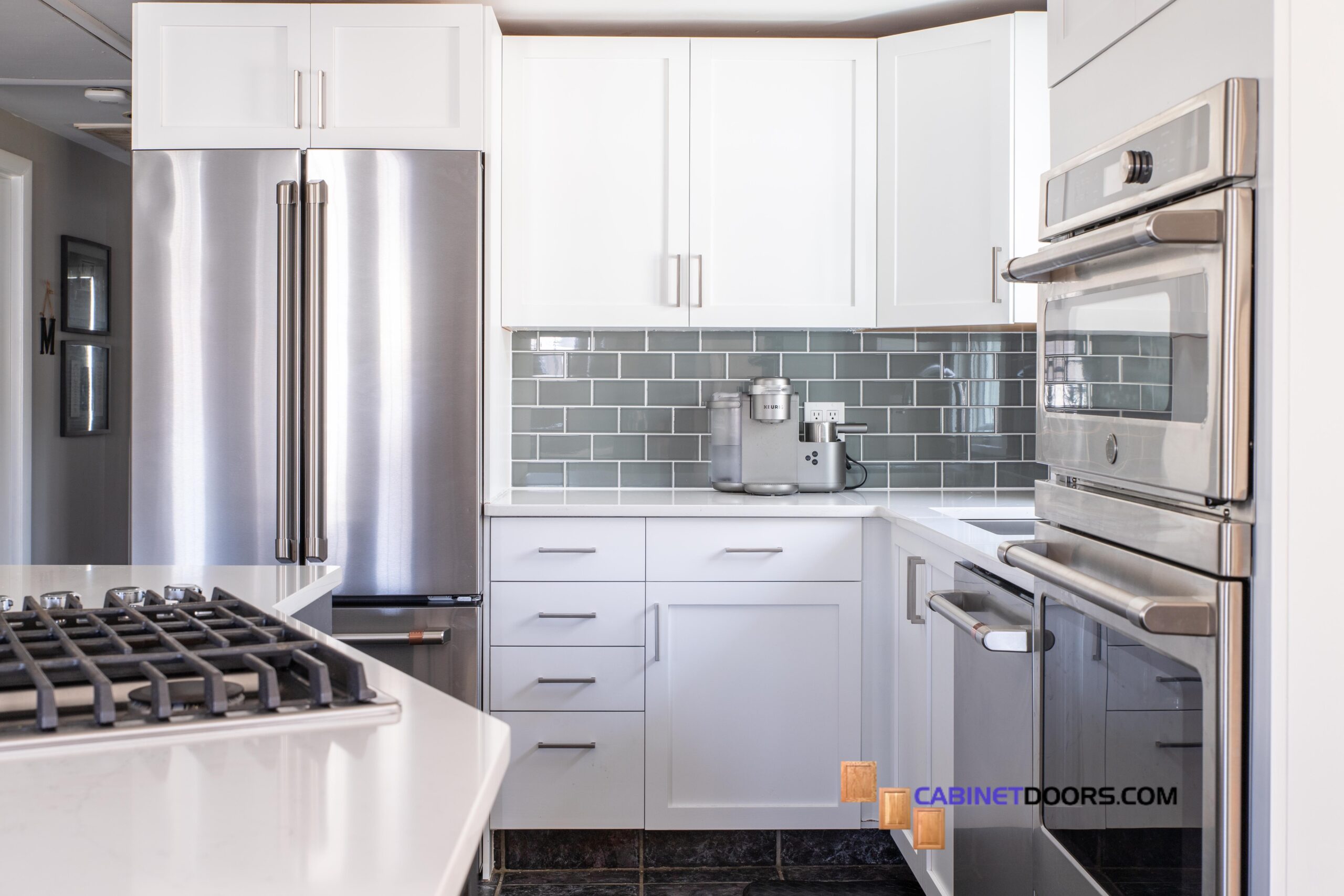 High Reflective White is Sherwin Williams' whitest white, but not all stores carry it. It is a very bright white with little to no undertones.
If you like Chantilly Lace but prefer to stick with Sherwin Williams paint, this would be your best choice.
Sherwin Williams Pure White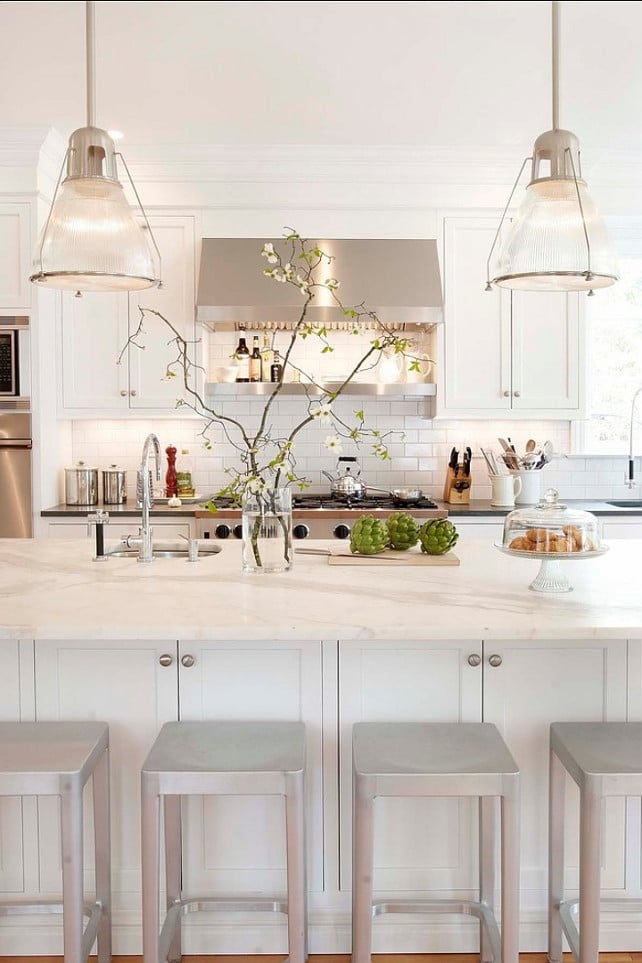 Personally, this is my favorite shade of white paint as it seems to just work everywhere. It's clean enough to look like a nice bright white, but has just enough warmth that it never looks cold.
Because it also has a drop of gray, it works equally well if you decorate with cool or warm toned colors.
All the trim and doors throughout my house is Pure White and I'm very happy with it.
Warm Whites
Benjamin Moore White Dove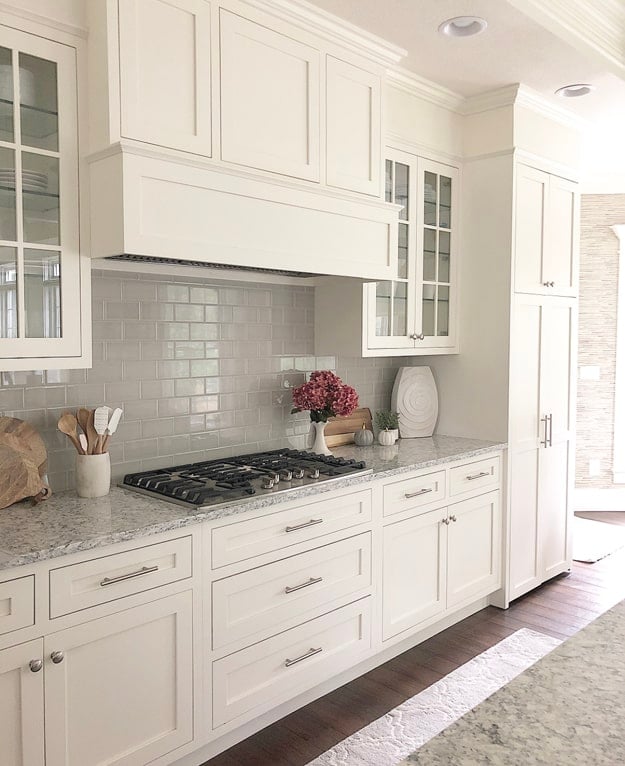 Year after year, White Dove remains one of Benjamin Moore's most popular shades of white. In the right home, with the right lighting conditions, it is the perfect soft creamy (not too warm) shade of white.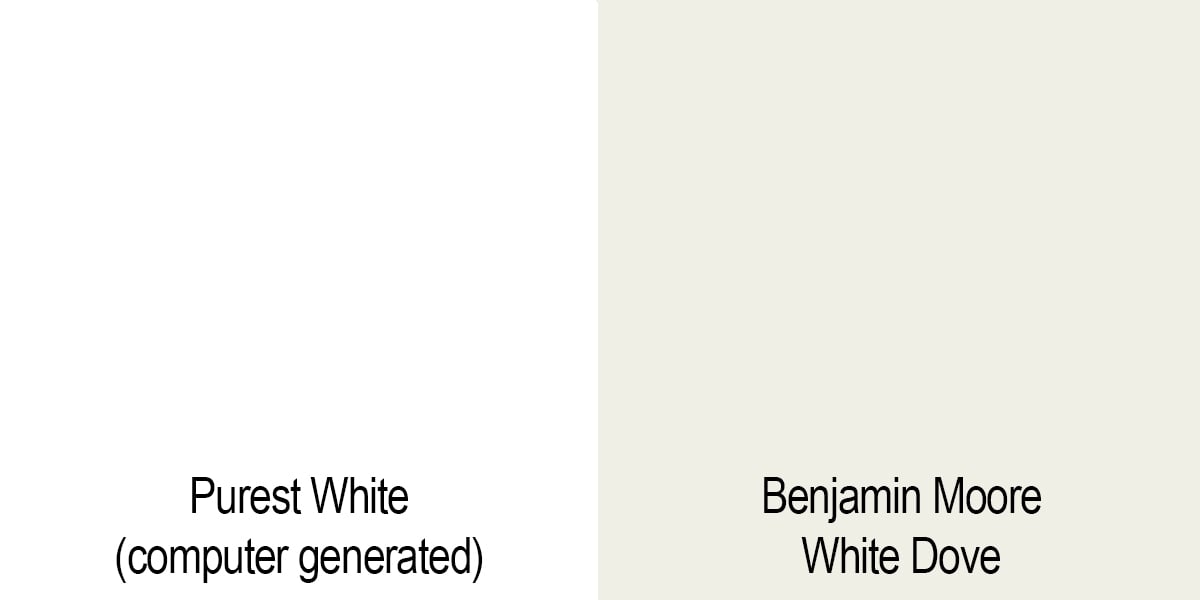 However, under the wrong conditions it can be very yellow. Look at the image above – a comparison of pure white (actually the perfect purest white, not the paint color!) versus the paint color White Dove.
You can clearly see how much warmth is in White Dove. Not just a yellow undertone, but a touch of green and gray too. This means that in the wrong light, or even when paired with bright white quartz countertops, White Dove can actually make cabinets look dingy and tobacco-stained.
This is not to scare you away from narrowing down your selection to include White Dove, but instead to remind you of the importance of testing paint colors in your home before committing. Don't go by what a color looks like in someone else's home!
Benjamin Moore Simply White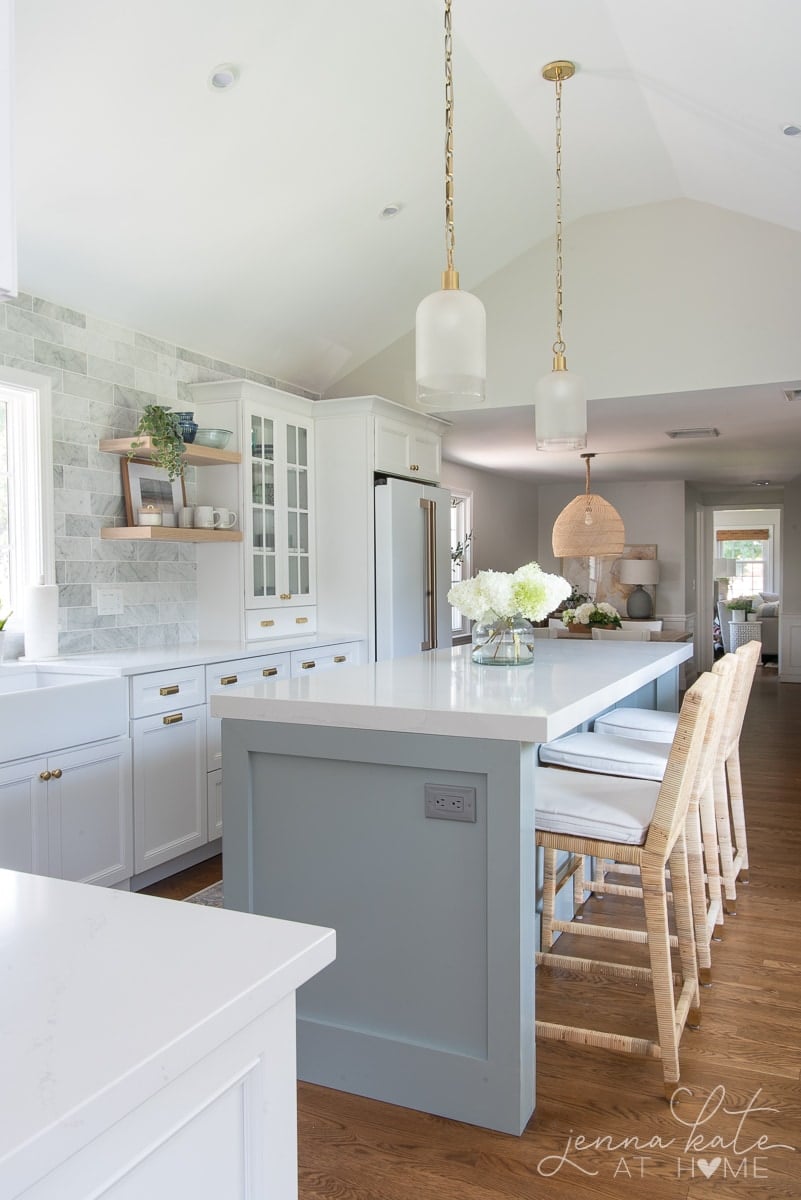 In the right light, Benjamin Moore's Simply White can be the perfect warmer white. While my kitchen cabinets are technically a stock cabinet color, we had them color-matched to Simply White so I know they are a pretty close match.
Since my kitchen gets so much bright light, the color works really well in here. The warmth is enhanced by the warm tones of the brass and wood, while simultaneously contrasted with the cool marble backsplash tile, blue-gray island and white quartz countertops. We painted the kitchen walls Repose Gray (lightened by 50%) which has the perfect balance of gray and enough warmth to balance everything out.
However, in a room that doesn't get a lot of light and relies heavily on artificial light sources, Simply White can come off as downright yellow. So be sure to get a sample and watch how the color changes in your space throughout the day.
Sherwin Williams Alabaster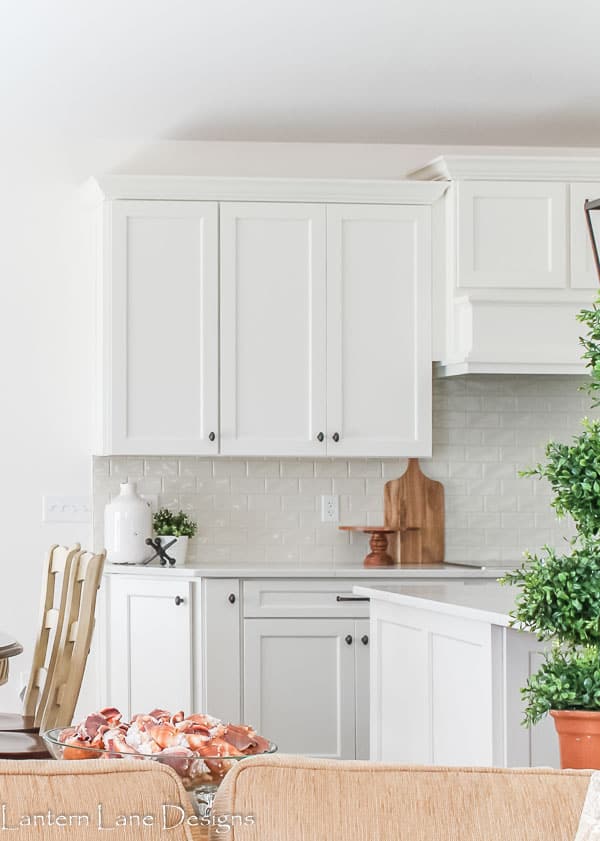 Sherwin Williams Alabaster is another very popular choice when it comes to picking a softer, warmer white for cabinets. It has both a yellow undertone and touch of gray. With plenty of natural light it is beautifully soft and warm, but artificial light will bring out the yellow.
Sherwin Williams Greek Villa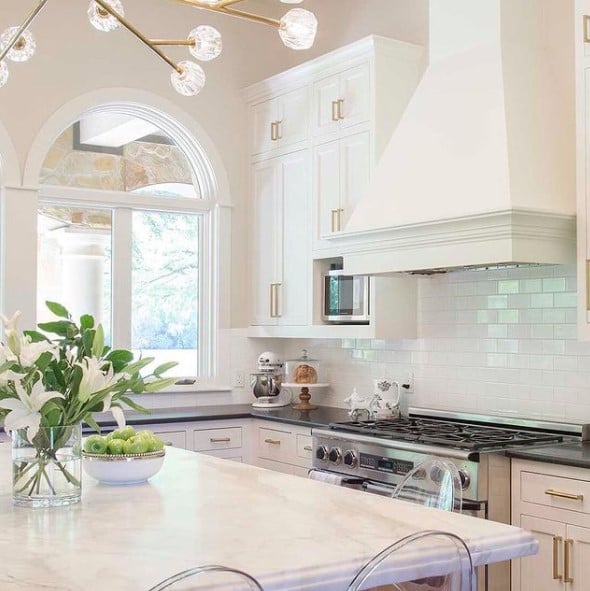 Greek Villa is a warmer white with a beige undertone. It has an LRV of 84, so it's still definitely in the bright white range.
It works beautifully on cabinets especially when paired with warm wood tones and brass, which highlight the creaminess of the color.
Benjamin Moore Swiss Coffee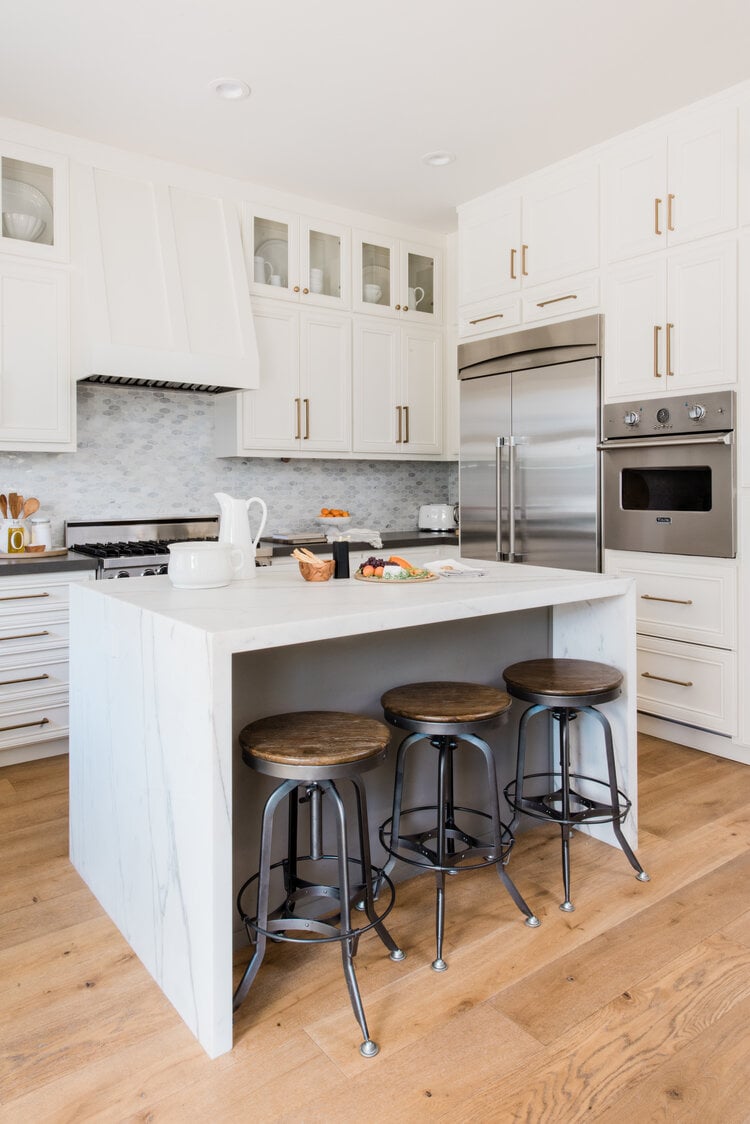 Benjamin Moore Swiss Coffee is very comparable to the other very popular soft white, White Dove. However, it has more of a tendency to flash a bit green.
Swiss Coffee has become very popular in the past few years partly in thanks to Shea McGee's love for it. However, she usually lightens it by 25% which makes it just a smidge lighter than White Dove and may play a part in downplaying the possibility of that green undertone.
Ceiling Color
Finally, and this is especially important if you've chosen a warmer shade of white for your cabinets, be careful when choosing a ceiling color. If your cabinets run right to the ceiling, you're not going to want that creamy shade of white to butt up against an ultra bright white (which is what most ceiling paint colors are).
Instead, paint it the same color as your cabinets or just a bit lighter. If the ceiling is glaringly cooler toned, it will emphasize the yellow in your cabinets and it will not look good!
If you have a neutral white or cool white on your cabinets, standard off-the-shelf ceiling white is absolutely fine.
Final Thoughts
Paint color never stands alone, and this applies to white paint imore than any other. The color will always vary depending on not just lighting, but other surfaces such as wood flooring or tile, carpeting and furniture.
The great outdoors as seen through your windows also impacts your interior colors — grass, garden, trees, sky, and even your neighbors' homes can add hints of green blue or red to your previously clean white color palette.
Don't Forget…
Don't forget – no matter what you've read or photos you've seen online, it's really important to sample paint colors in your home before committing!
Samplize provides real paint samples that are easy to move around your home, and cheaper than buying a gazillion paint pots! It's the only way I buy paint samples.
Use code JENNAK10 at checkout and get 10% off your order
Coupon entitles all customers to 10% off the entire order with no minimum purchase requirement. This is a one-time use coupon and it cannot be combined with other discounts.