It doesn't take a lot to completely transform the look of a room. With a few furniture switches and some cozy touches, you can make any space look good.
Take this wall in our basement for example. When we originally remodeled our basement almost 7 years ago, this sideboard seemed like a good idea. Fast forward to now, and not only does it look too dark and outdated in the room, but it didn't offer the storage we need for all the kids' stuff.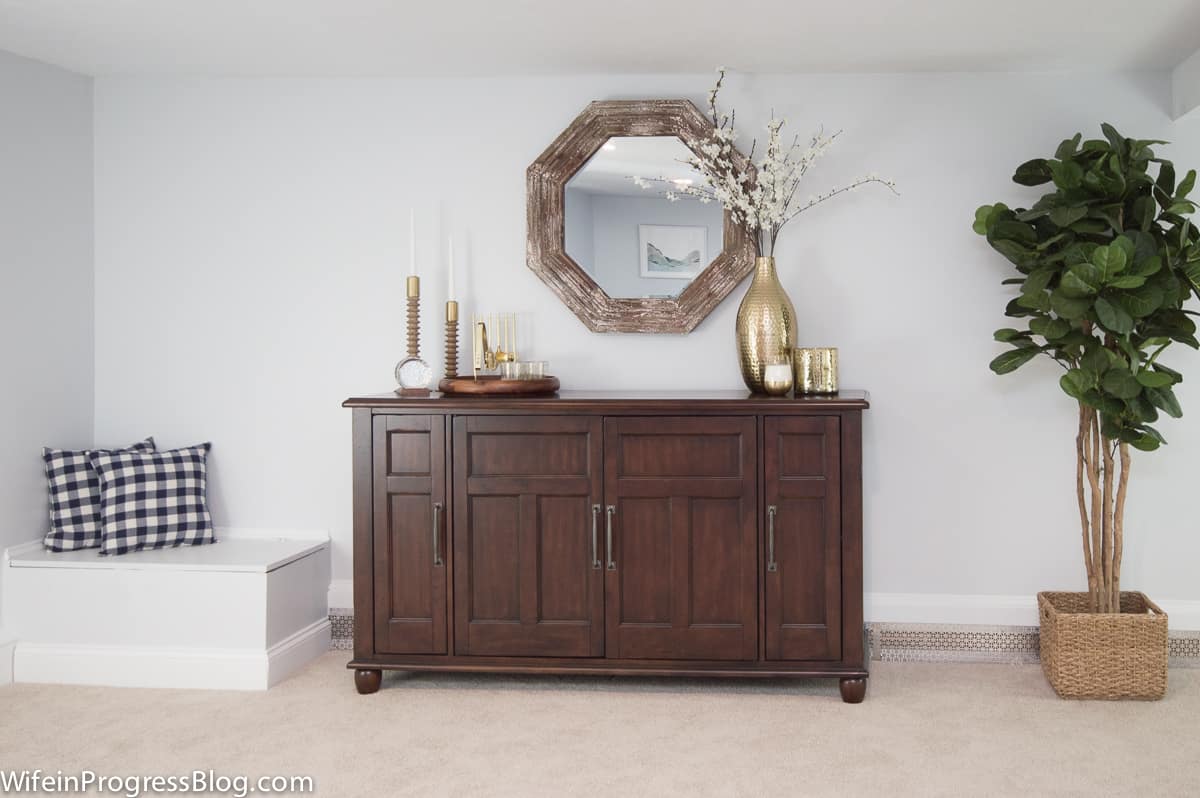 Our basement is basically the kids' zone. They watch TV down here and it's their playroom. They're pretty well trained in keeping their toys organized and put away, but that requires the proper systems to be in place so that it's easy for them to do so. So adequate storage is a must.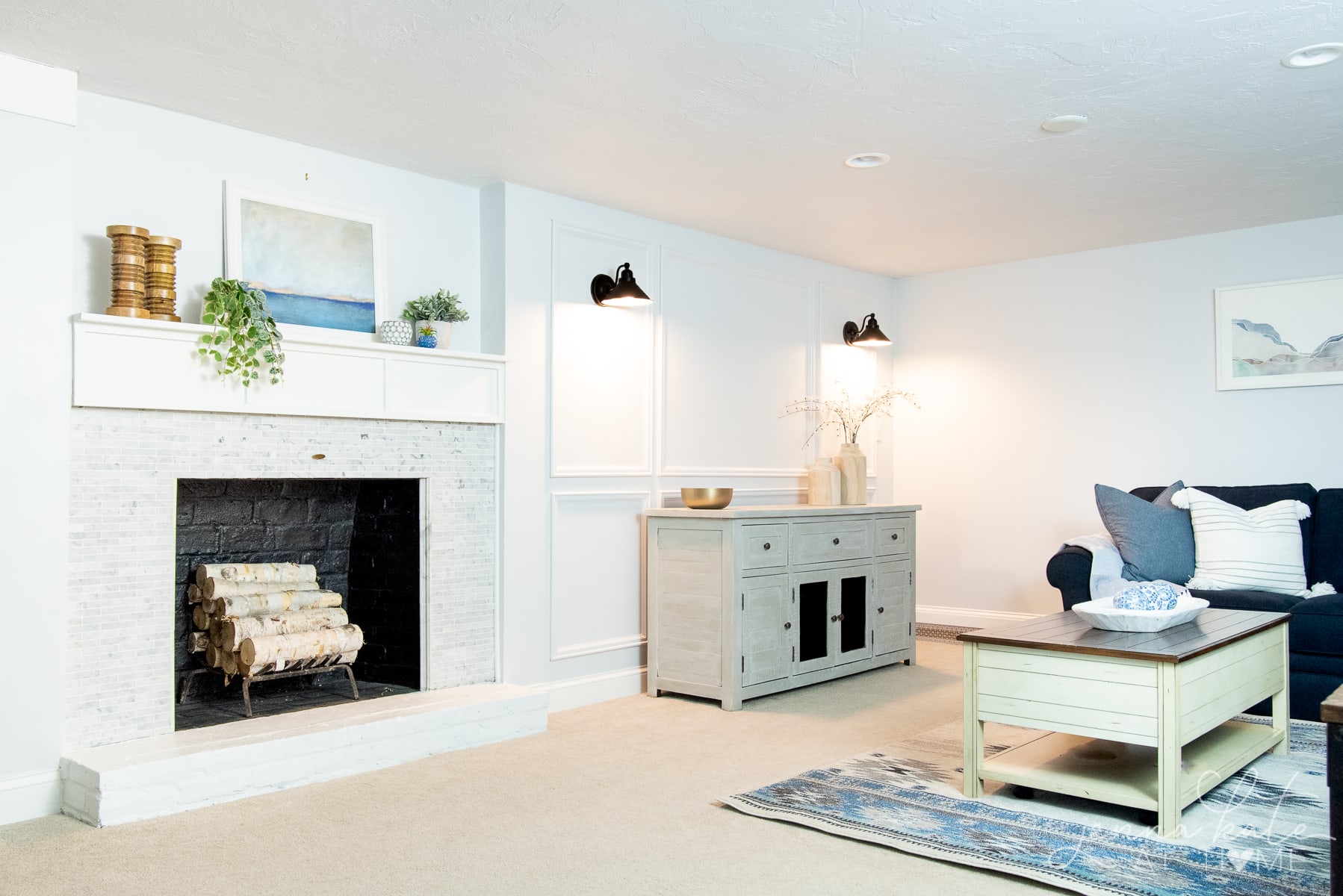 My 5 year old loves to draw and build Lego, but he's always spread out all over our dining room table right before dinner and gets upset when he has to remove a half-built creation. So in addition to needing the extra storage, I wanted a desk down here where he can "work" and not have to immediately tidy up.
After moving out the incredibly heavy sideboard, and assembling some new furniture, here's what I came up with…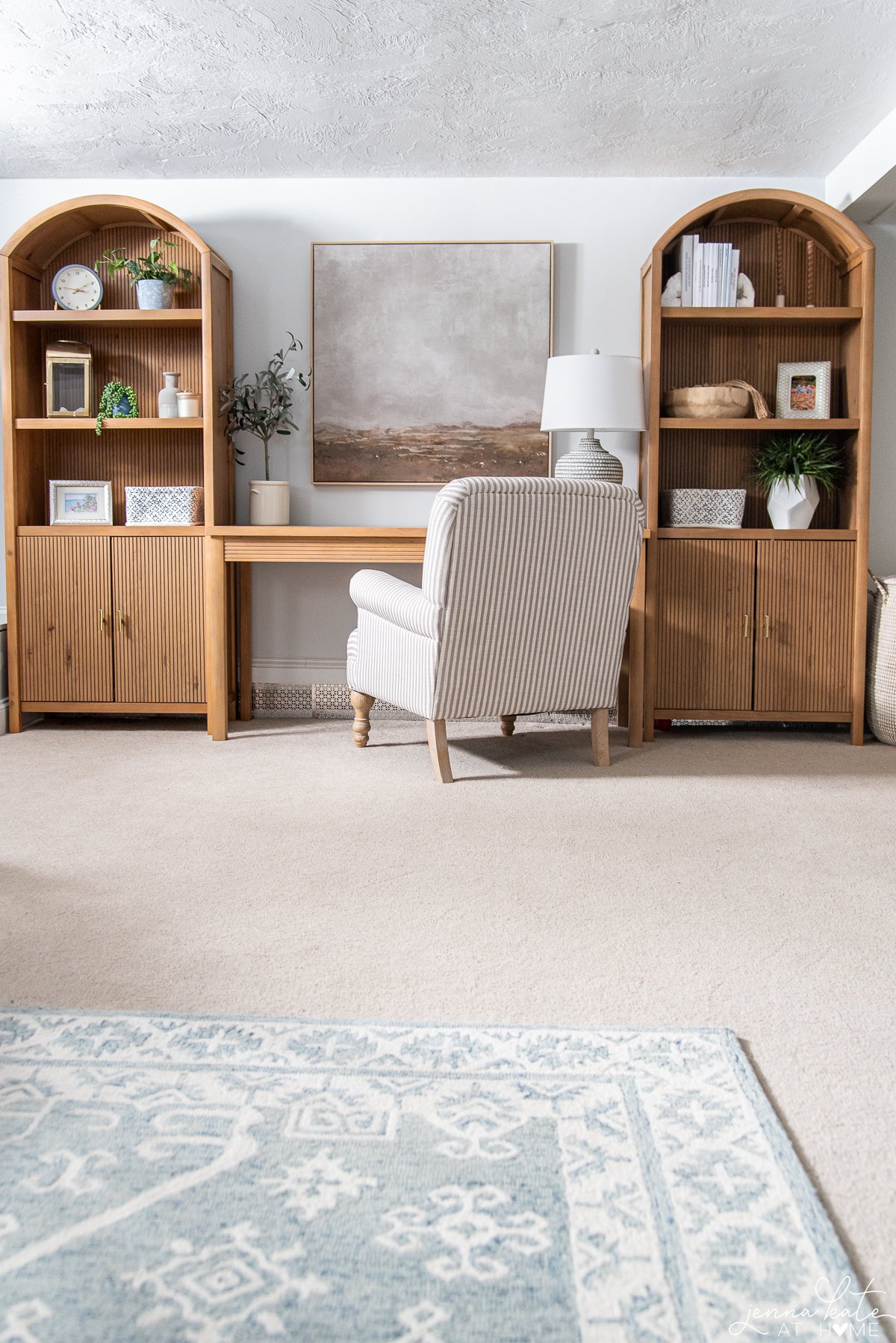 Looks like a totally new space right? It's functional and beautiful, and the addition of the table lamp adds so much coziness to this previously neglected side of the room.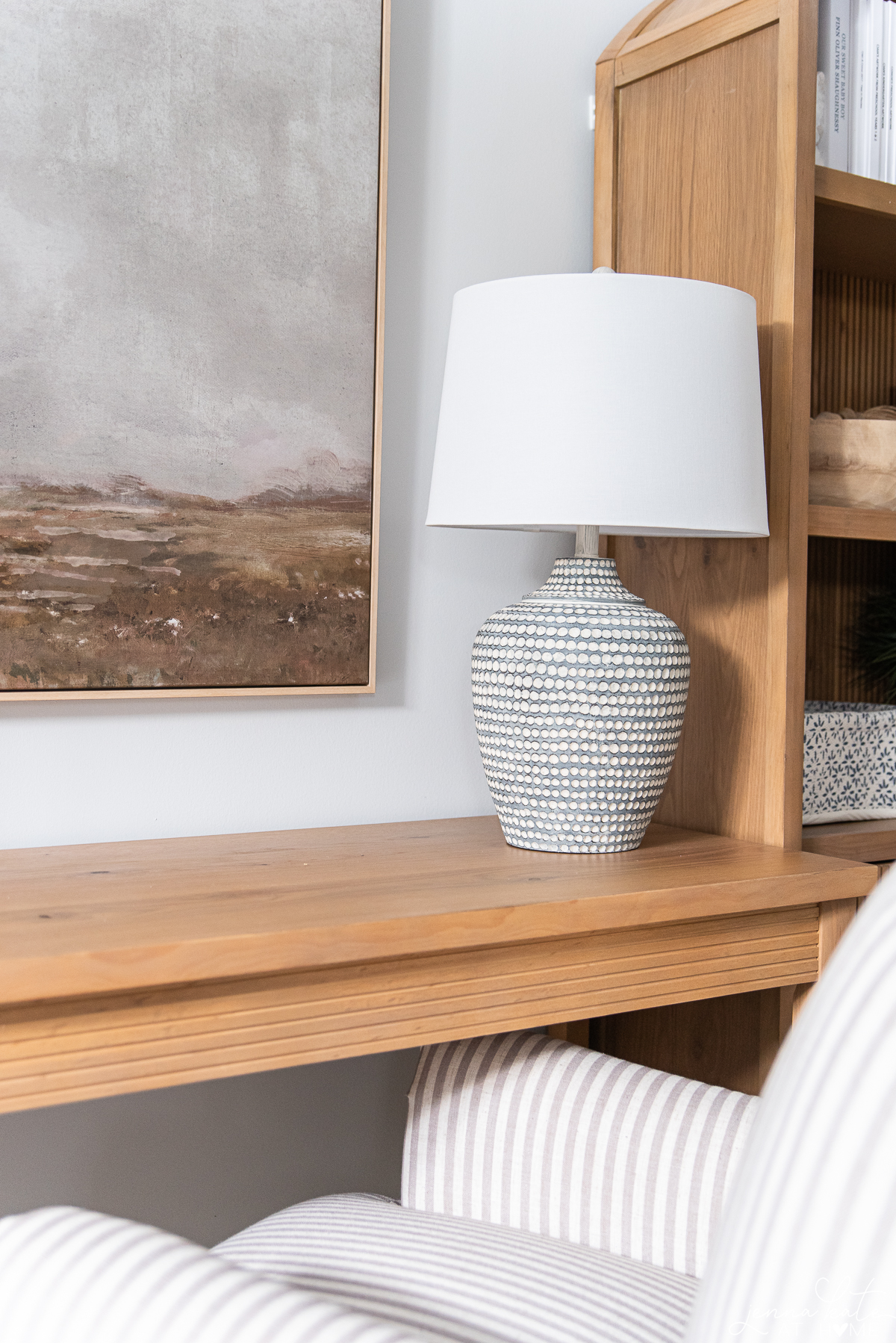 The new desk and bookcases are from Target, the artwork is also Target, the arm chair I bought several years ago and the new lamp is a great Amazon find. (Note: The Target items go in and out of stock constantly, I highly suggest getting the Target app and turning notifications on for when they come back in stock. My lamp is the blue/gray color and also goes in/out of stock frequently. Follow my IG stories and I'll link when it's available again.)
I've been incredibly surprised at the quality of the bookcases. Yes, they look stunning but they are also extremely heavy and sturdy. We have them anchored to the wall because if they ever toppled it would not be a good situation.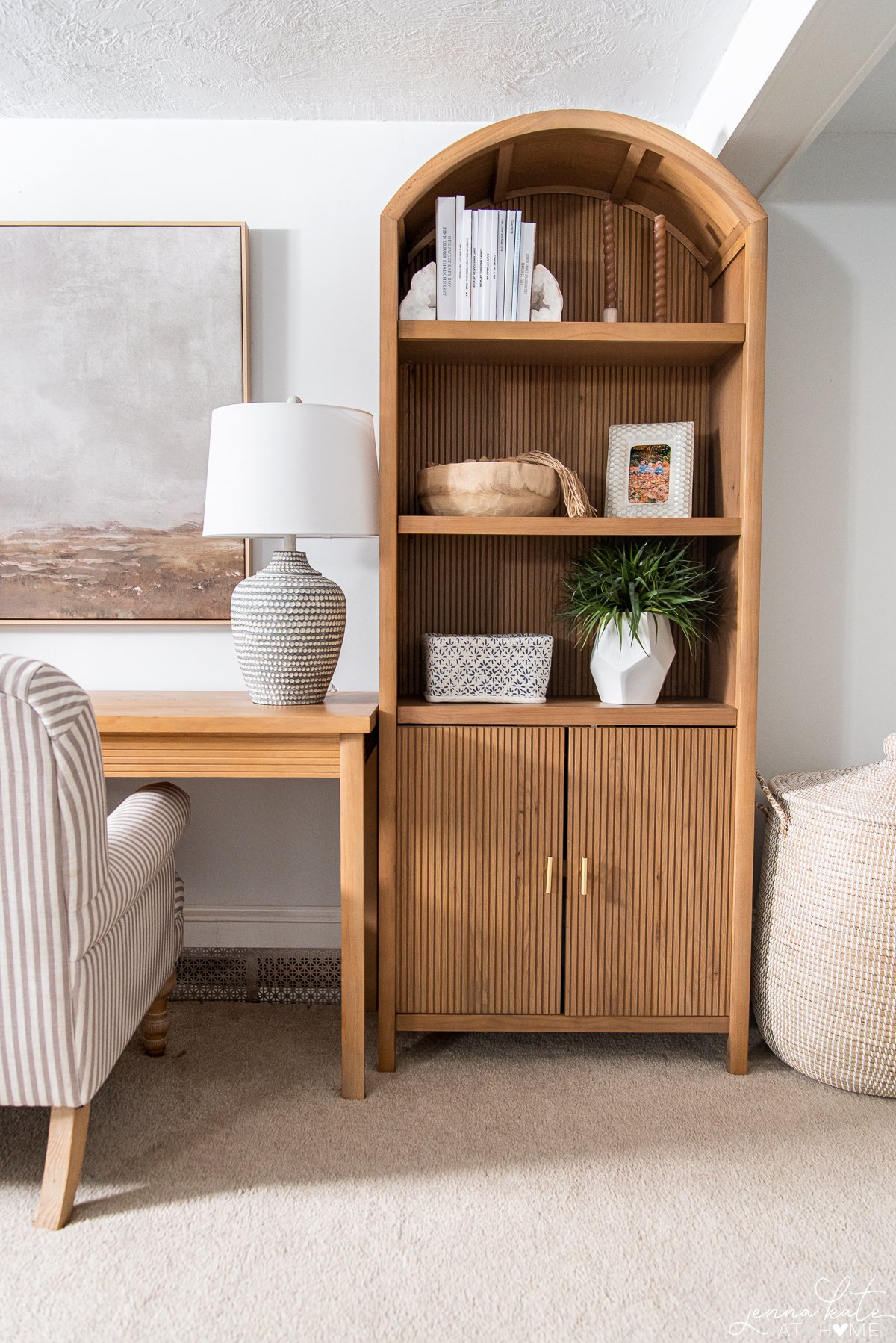 I love the arched detail and the grooved wood detail. It adds the perfect amount of texture and interest to make a pretty piece of furniture truly stunning.
The cabinets below offer the perfect amount of storage for all the kids' puzzles and games as well as a few bins of Lego. The shelves above give me a fun moment to decorate while a few baskets corral more toys.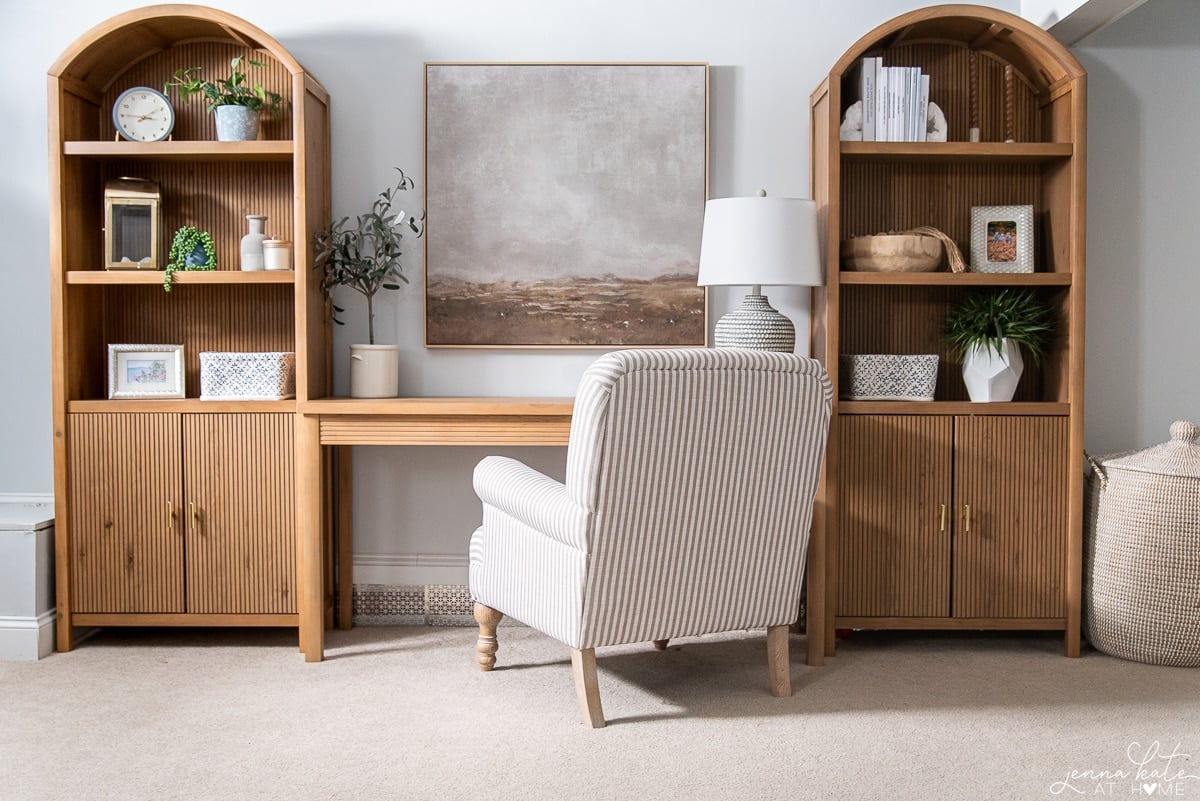 The desk of course, is my son's favorite addition as he now has a ton of dedicated space for his creations.
Other than that, we didn't change the basement wall paint color or anything, but it looks so different!
I love how it turned out, and I can't wait to hear what you think, too!