This DIY laundry room makeover takes a small space and completely transforms it into an organized and beautifully decorated space on a budget. You're going to be amazed by the before and after.
You guys! It's finally time for the laundry room reveal! I've been harping on about this space for the past month or so, giving you glimpses of the tiling process, laying the floor and styling the space. And while it may seem like it's been this labor-intensive process…this is by far the easiest and quickest makeover I've ever done! I do all my DIY during the week when the kids are napping, so sometimes things take longer for that reason. If I had a weekend to myself, this laundry room makeover would easily have been completed in 2 days.
---
See All The DIY Projects From This Space
---
Before I share the finished space with you, remember that this is a multi-use room. Not only is it our laundry room but it's also our mudroom. You can enter this part of our home from the front, the garage AND the back deck. I needed a floor that is easy to clean, looks pretty and is durable. I also need somewhere to hide shoes, hang coats and backpacks as well as fold clothes.
This is how our small and sad laundry room looked like the day we moved in….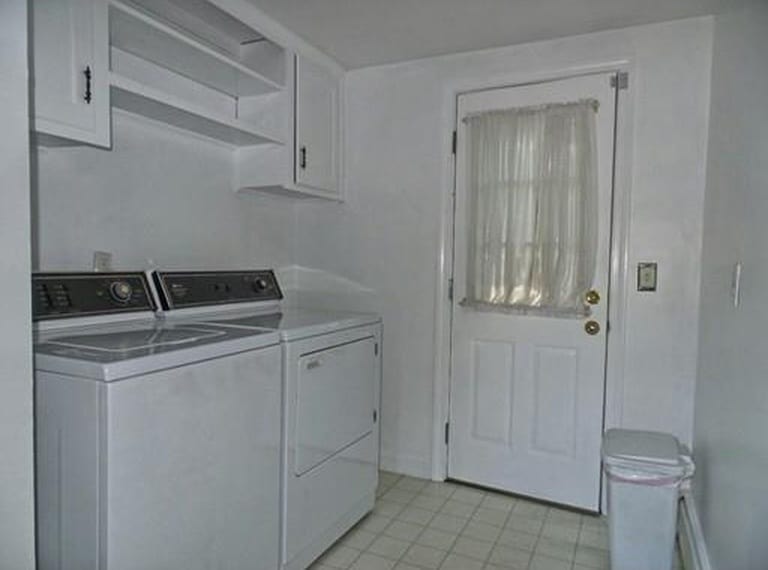 and more recently…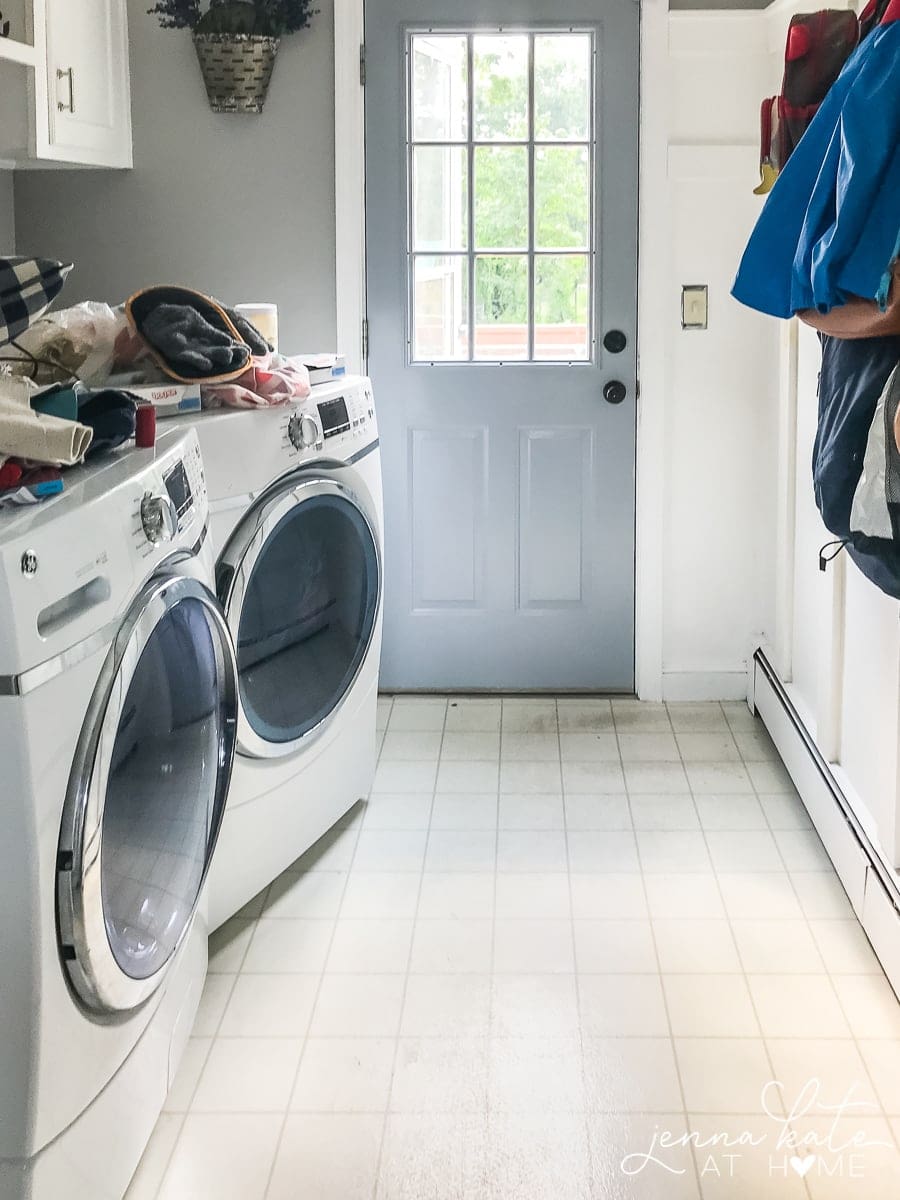 DIY Laundry Room Makeover
Ready to see it now and learn how we accomplished everything that this room needs to be able to handle? EEK! Here it is…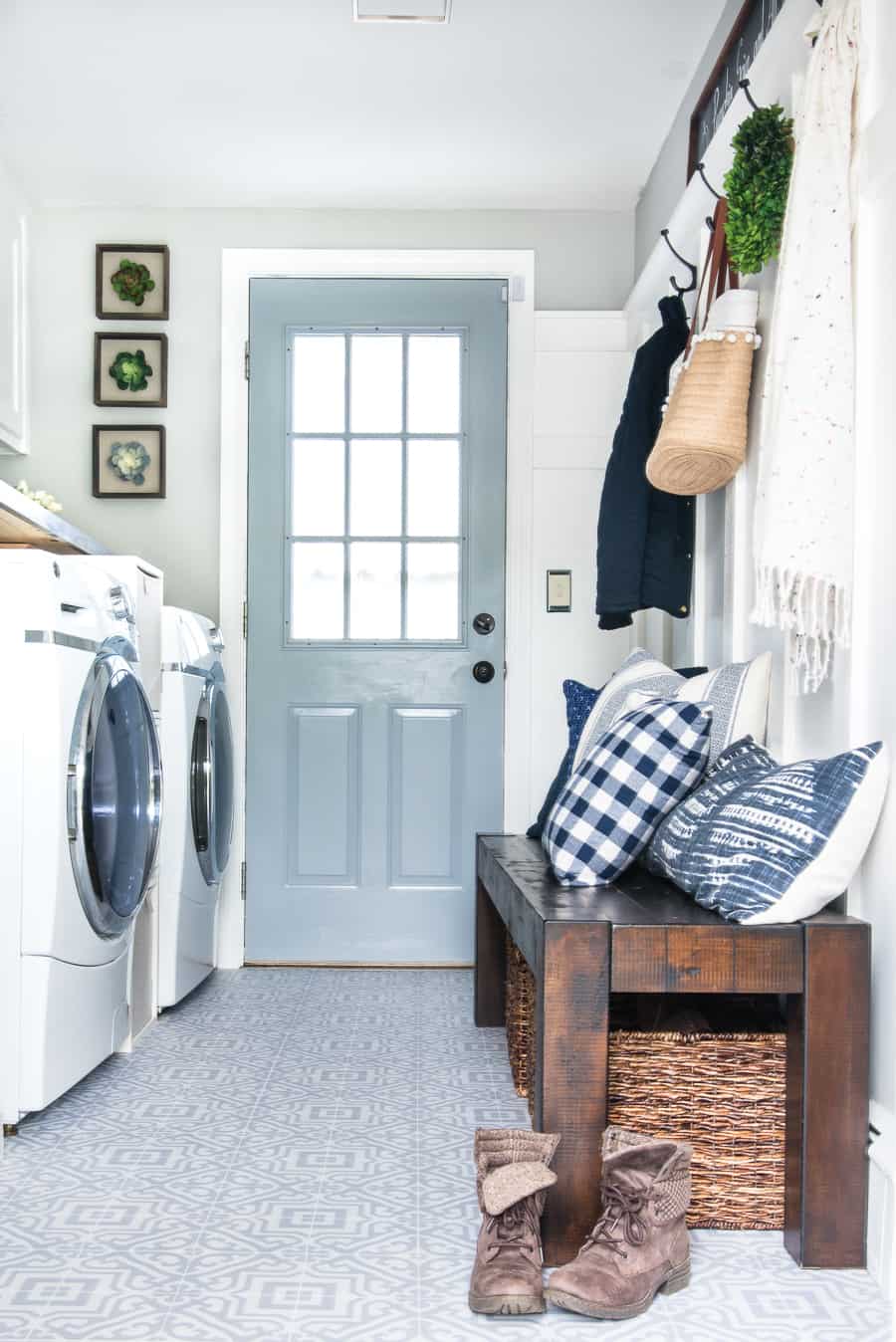 The mudroom side is to the right. You can see how this side of the room was made over last year thanks to a new bench, a coat of paint and the DIY board and batten treatment on the wall.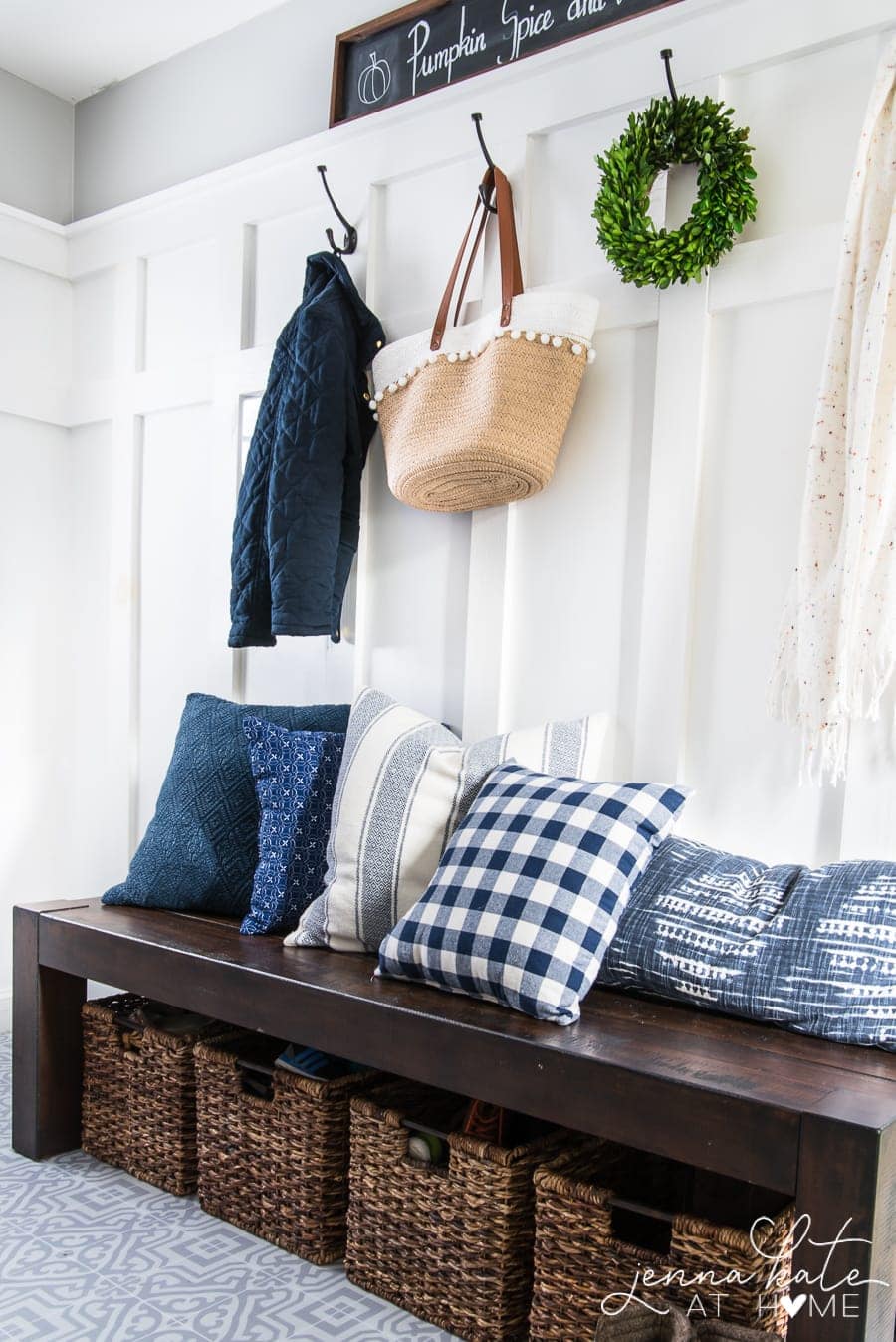 The laundry room side has been my focus this time around. Since we enter the house this way, I wanted this small laundry room to not only be functional and clean but to look pretty, too.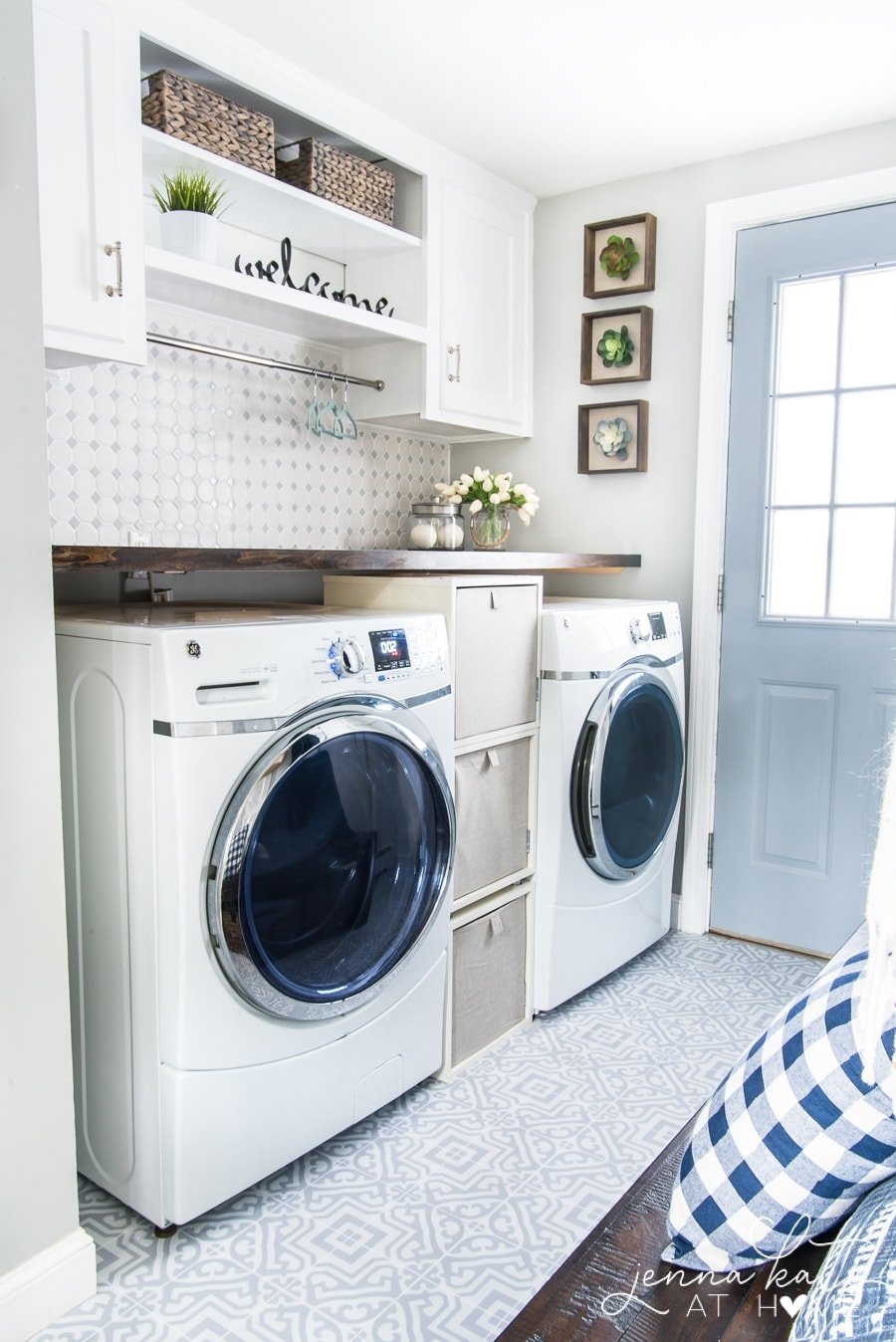 Adding the DIY vinyl peel and stick flooring went a huge way to improving the space. It was such an easy project but the single biggest thing that has improved this space. We've been living with it for just over a month now and it looks just as good as the day I installed it! It's the first thing people notice when they come to our home and everyone agrees on how pretty it is.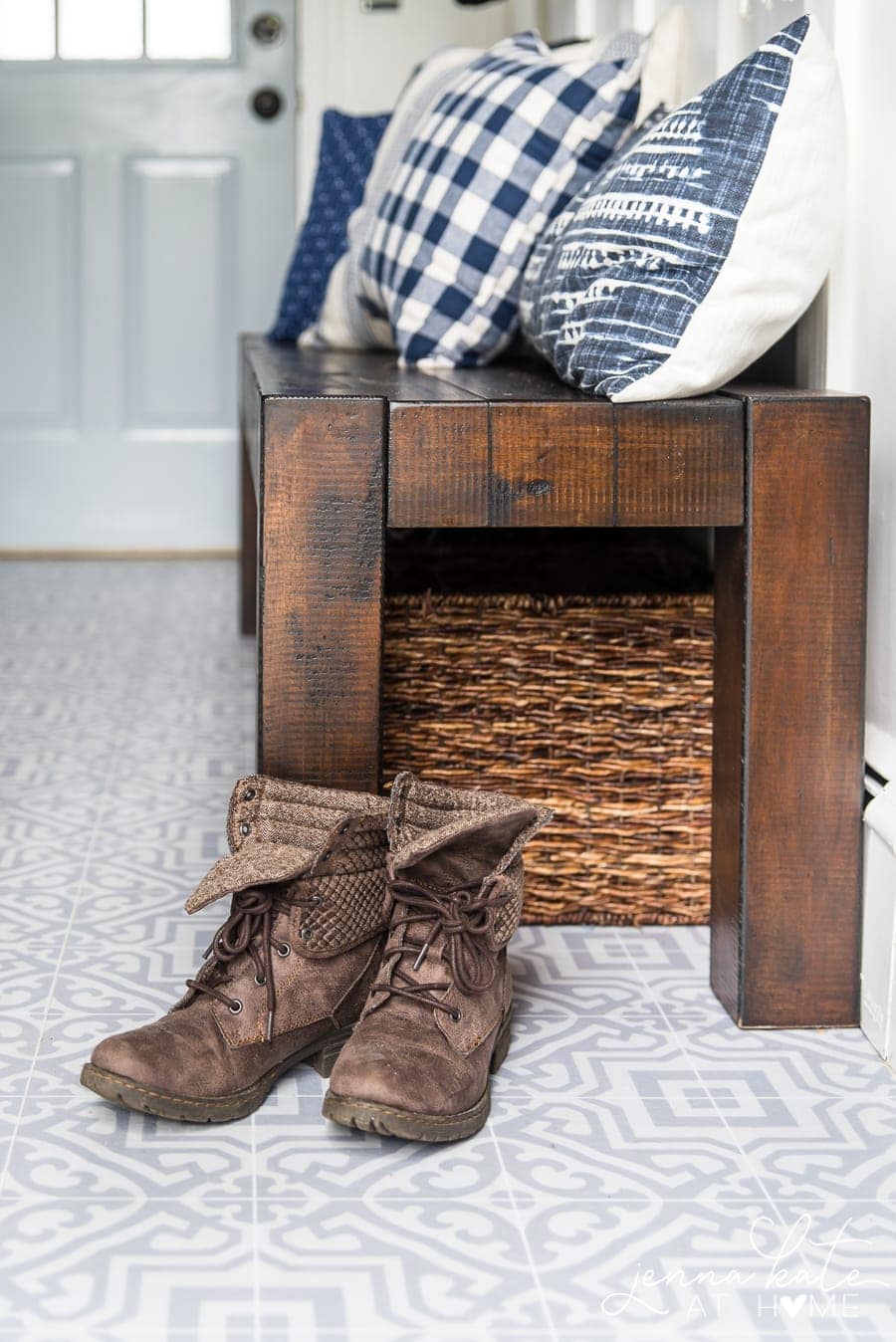 Did you spot the new counter top over the washer and dryer? That's another really simple DIY project that we did one afternoon. I purchased cheap pine boards from the hardware store, stained them, added two coats of poly and created a worktop! It's a little higher than I would have preferred to accommodate the water hookups and the plug but it does the trick.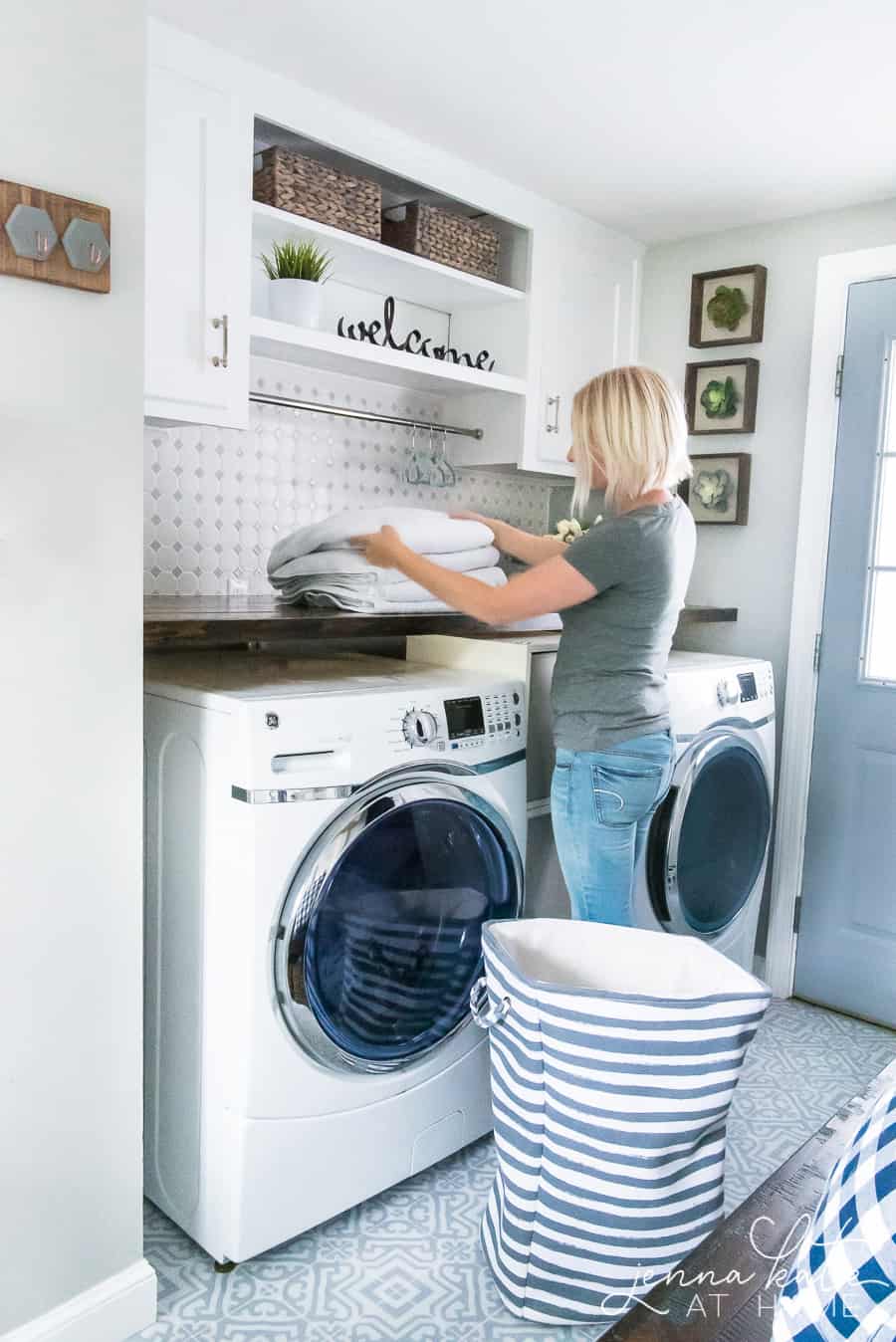 The stackable storage cubes wedged in between the washer and dryer are the perfect spot for additional items that won't fit in the shoe baskets or on hooks. Right now I've got my laundry detergent in the top bin and the bottom two bins are full of hats, scarves and gloves for when winter hits. It was the perfect way to use up the dead space there while serving a good purpose. I'm all about keeping this laundry room organized now that it looks this good!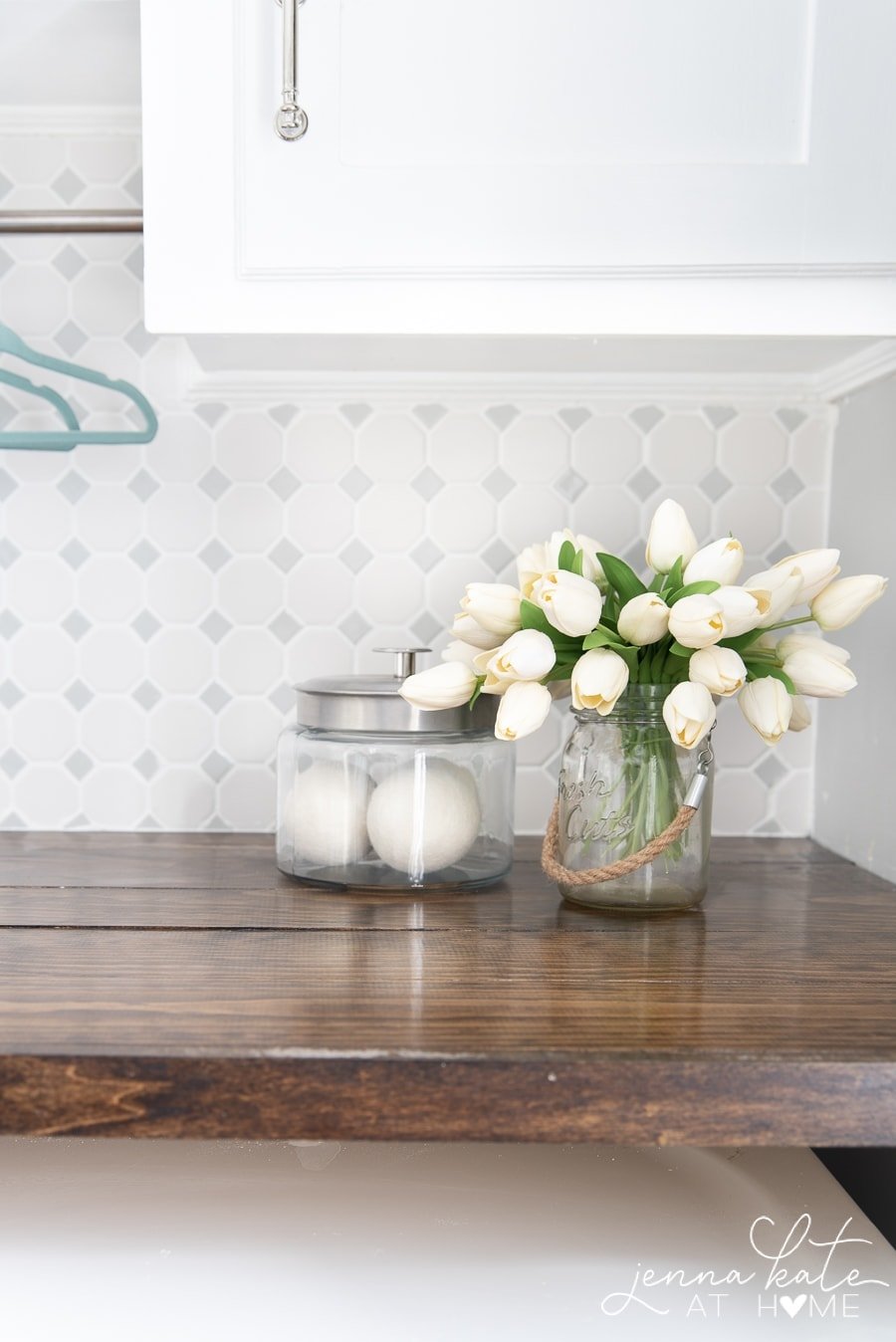 While the floor is my favorite part of this small laundry room makeover, the hexagon tile backsplash is a pretty close second. I found it at Lowe's for only $3.98 a piece and I couldn't believe how perfectly the little diamonds tied in with the gray walls. It was made for this space!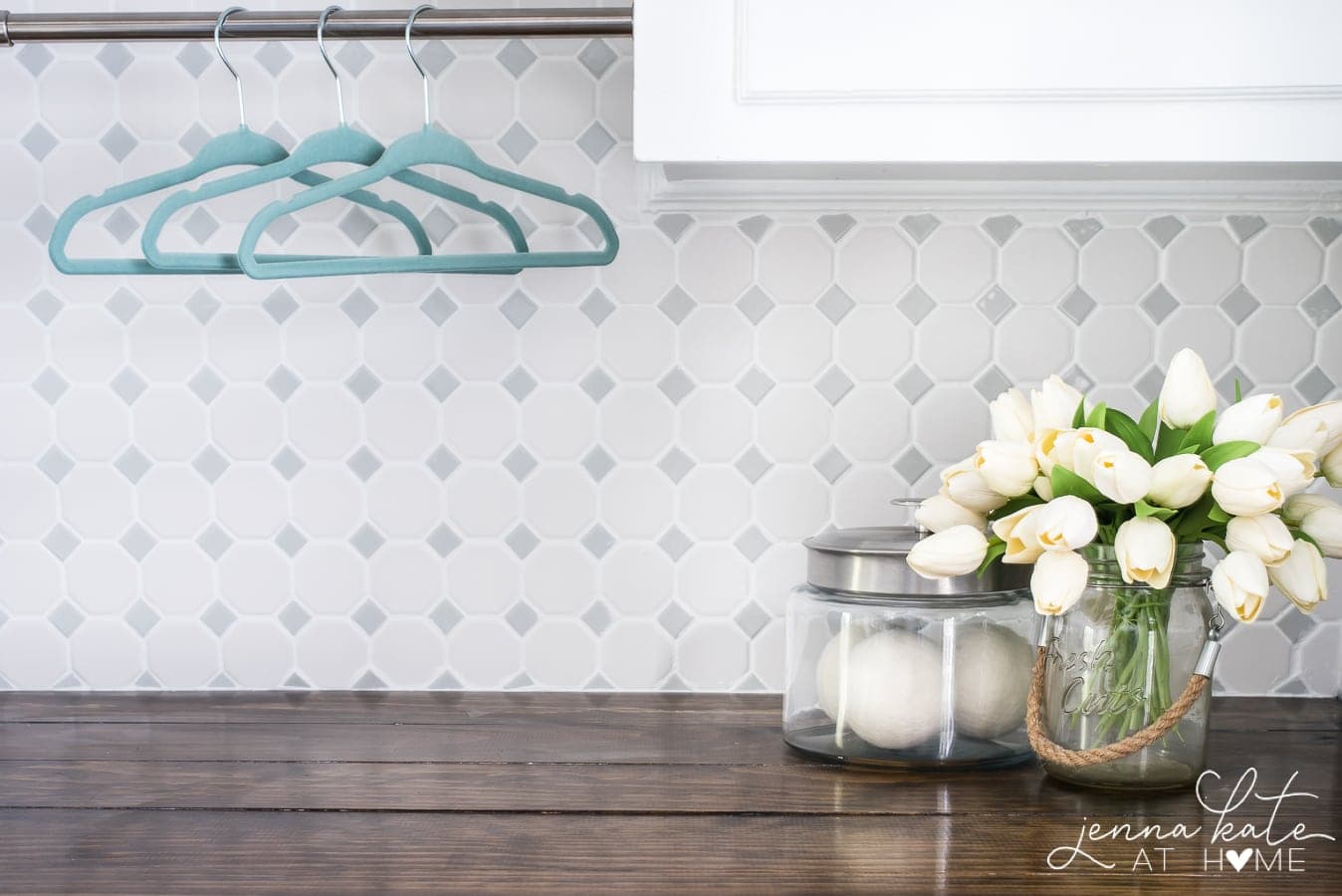 After that, I added the hanging rail (another quick DIY project thanks to this kit) and some cute accessories and called it a day!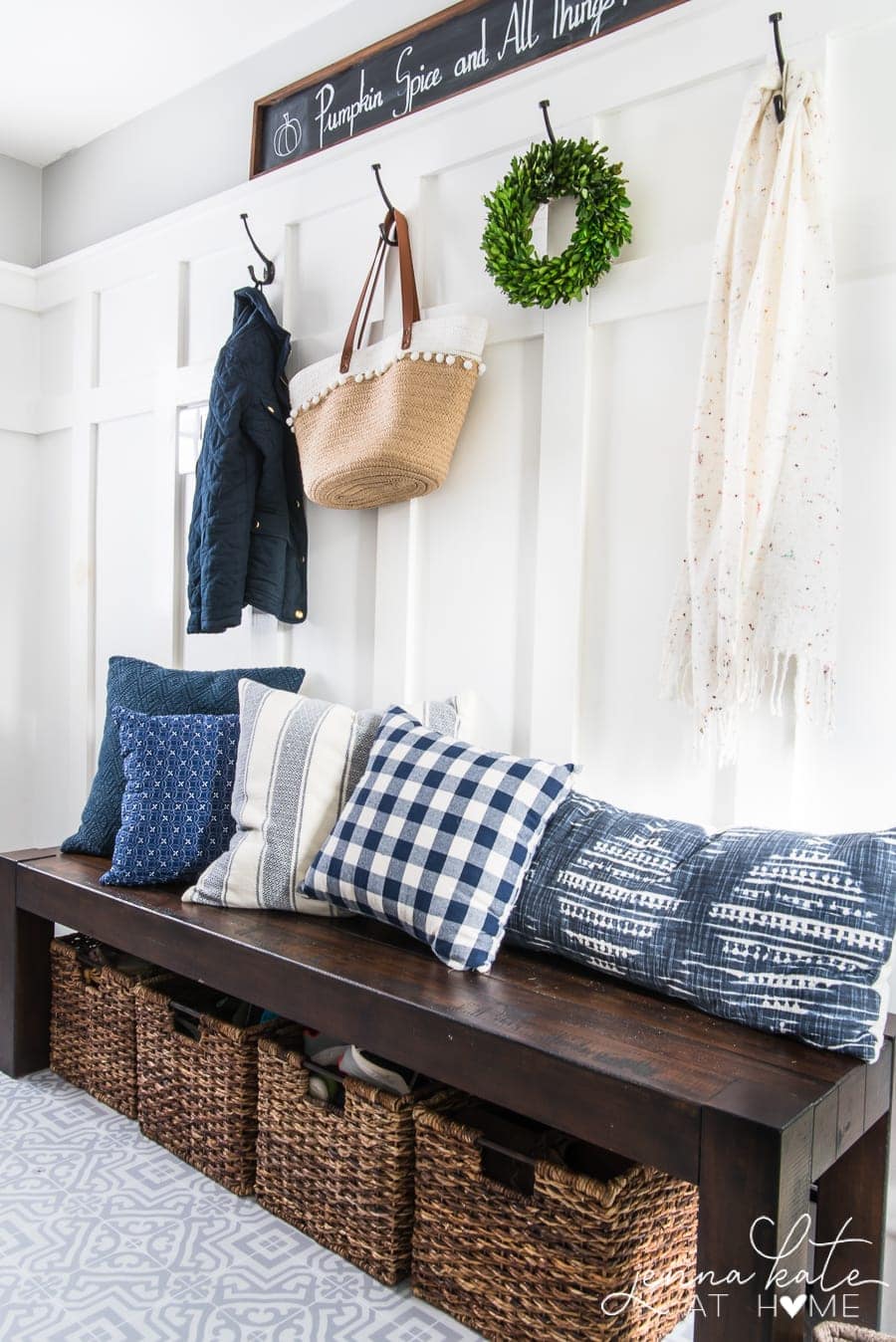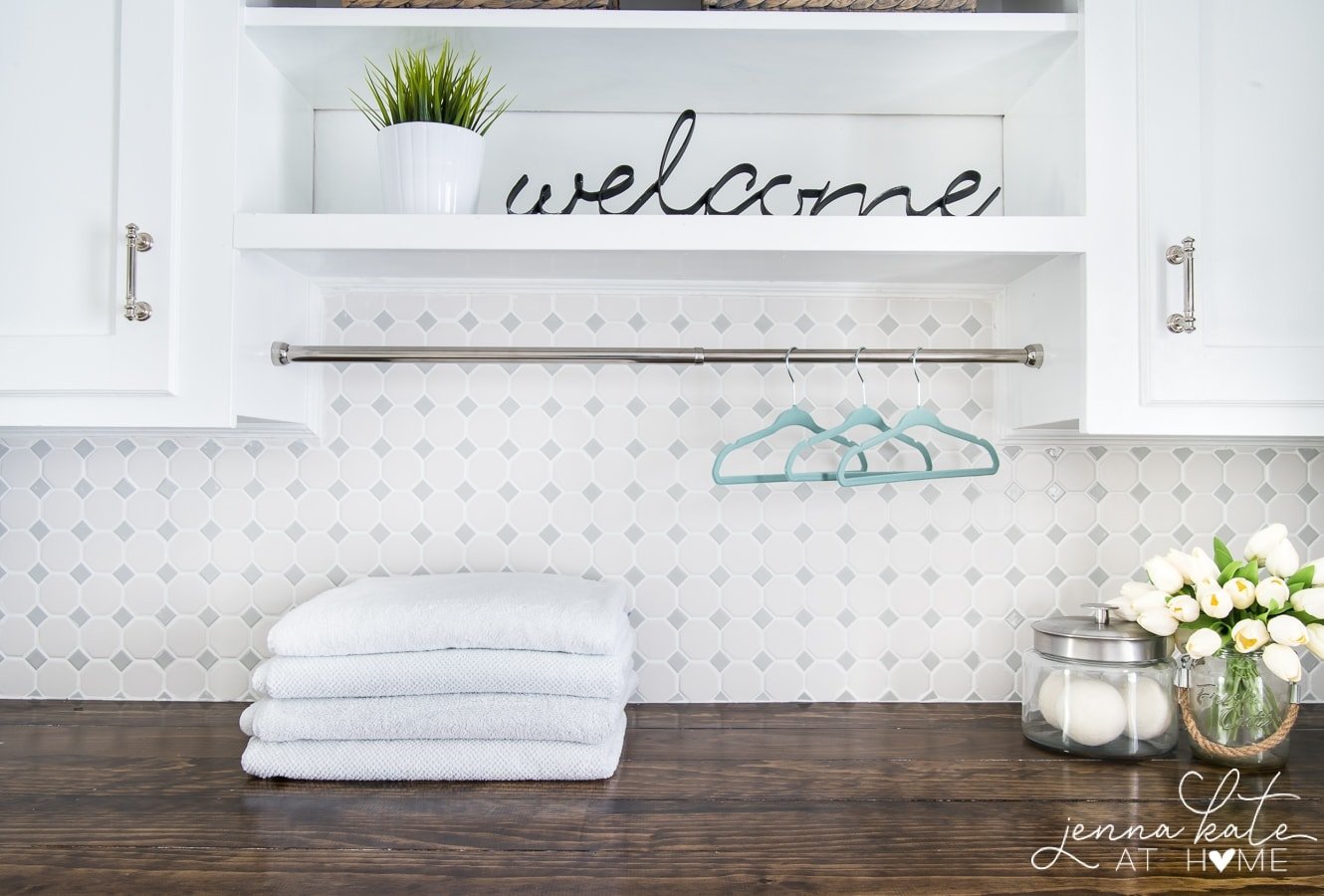 Ready to get a similar look in your laundry room? Shop the post directly below!