This post may contain affiliate links | For further details, please read our privacy policy
Just because you have a small bathroom, doesn't mean you have to limit your options when it comes to bathroom flooring.
A small bathroom can still have BIG style and these bathroom flooring ideas are sure to inspire you to create a bathroom that is not only functional but stylish.
Design Choices
Before picking out a style of tile for your small bathroom or powder room, decide on your goals and end vision for the space.
Do you want to give the illusion of a bigger space? Or do you want to pack wow factor in by the bucket load? You can of course do both! It's also important to consider budget and durability before making your final decision.
Tile Pattern and Color
Nowadays, there's so many choices when it comes to choosing the color and pattern for your bathroom floor tile. For a small bathroom or powder room, it's important not to overwhelm the space and make it feel more closed in than it already is.
If you are looking for a statement patterned tile, or a tile that's a dark color, consider keeping the walls simpler.
White shiplap, white (or light colored) painted walls or white subway tile are good options. This will ensure that the floor has big impact and that the walls don't compete for attention.
Bold patterns can bring visual interest to a small space and are such a fun choice for a powder room. While something so visually striking might not be your first choice for a larger bathroom or kitchen backsplash, powder rooms are a great place to try out some design risks!
Plus, you'll have to buy such little flooring that even something that would normally be out of budget will be affordable!
1. Cement Tile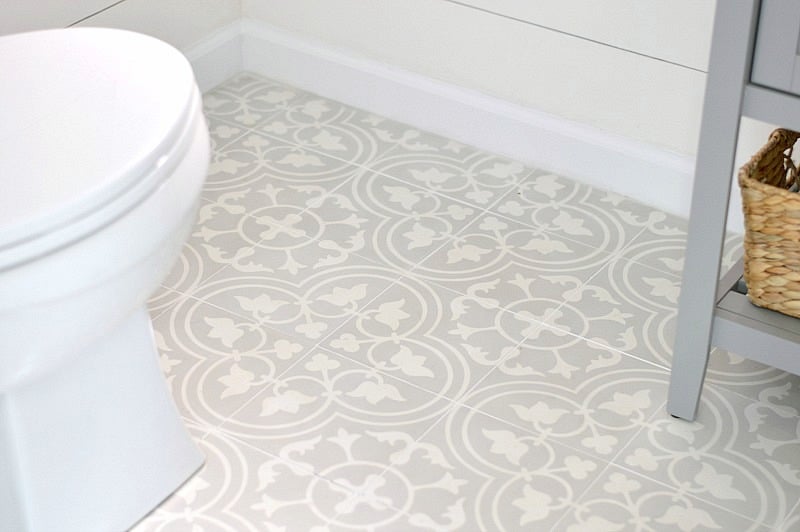 Cement tile has been around for a very long time and is a beautiful product and can be used on both floor and walls. However, it's a bit more difficult to install, since it's so thick and can chip easily.
The beauty in this style of tile is that the pattern is baked right down through the tile instead of just on the surface. It will age and patina over time and does require some maintenance, but it's a truly beautiful product.
This tile also comes in an almost identical porcelain version, that requires zero upkeep and maintenance and is a fraction of the price.
2. Ceramic Tile
This is a quality tile, that comes in many colors, patterns, and shapes. Perfect option, if you are looking for something that looks high-end, without the hefty price tag.
Not only does it look amazing, this is a durable option that will last for a long time. Plus, it's easy to clean and easy to install.
Another benefit is it is an easy flooring to maintain. Ceramic tiles will not degrade in quality because of foot traffic, flooding, or wear-and-tear like other forms of tile.
Use ceramic tiles to make an elaborate mosaic scene, or install large tiles to make your small bathroom appear larger.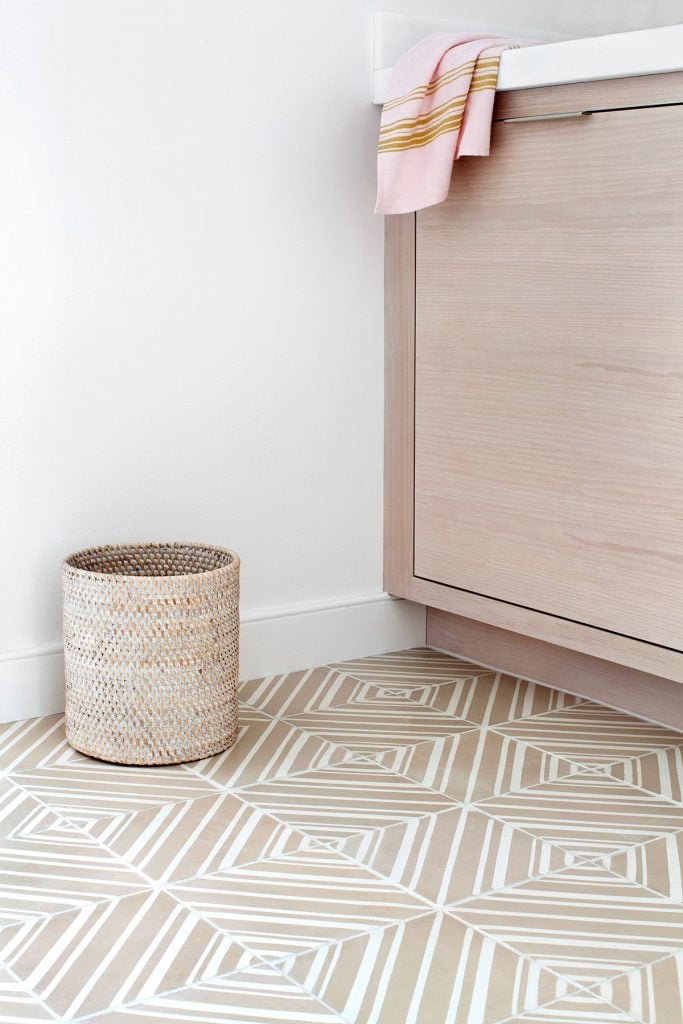 This small bathroom is set with neutral colors designed around this beautiful handmade, patterned ceramic floor tile.
Some of my favorite ceramic tile options

3. Porcelain Tile
When it comes to a variety of styles and colors, porcelain tiles offer that and much more. They are usually affordable, durable, easy to care for, and waterproof.
Want to know a fun fact? Porcelain tile comes in a glazed option that is made to look like marble, wood, and even natural stone, which makes them popular with interior designers trying to achieve a high end look on a budget.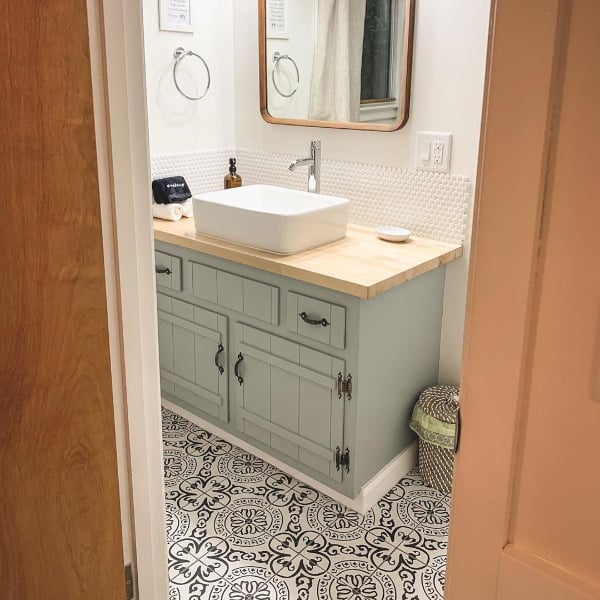 When it comes to small bathrooms, this one sure is a tight space.
This fun black and white patterned floor helps make the room look a little bigger than it actually is.
Some of my favorite porcelain tile options

4. Natural Stone Tile
Looking for a durable, yet classic flooring choice? Natural stone tile commands two thumbs up when it comes to flooring choices. This one is not recommended for wall tiles, but specifically for floors.
There are plenty of fun colors and styles for you to choose from.
It can be expensive, however it usually increases property value on your home.
You will need to seal the stone to preserve it from wear-and-tear, water damage, and stains.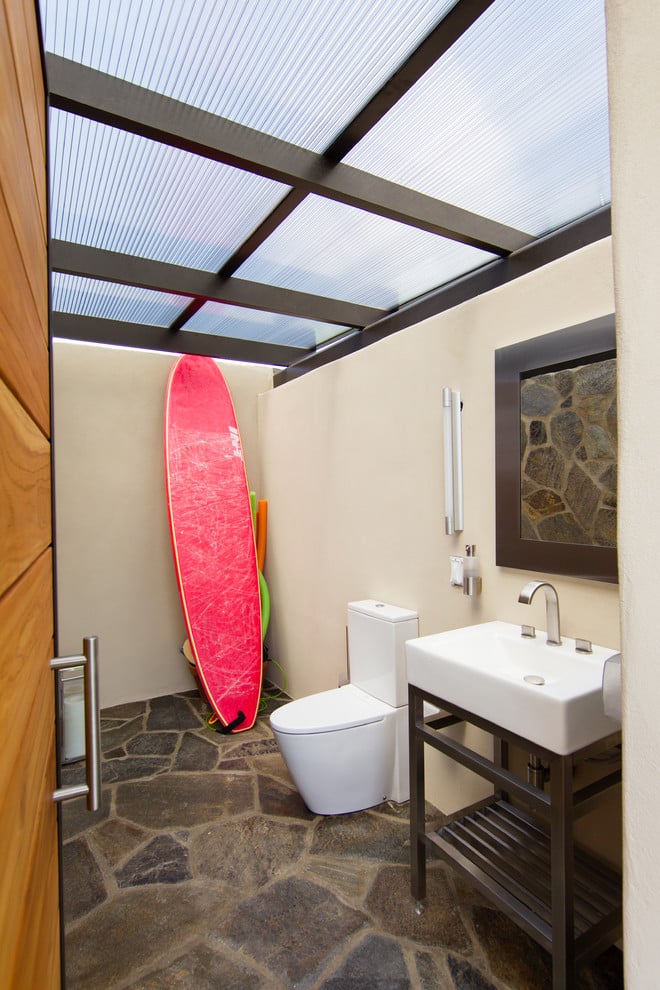 Depending on the style you choose, larger syles with give off the illusion of a larger space.
This colorful surfboard looks amazing on this tile floor, colorful decor will surely pop!
Another example of natural stone is marble. And we all love marble! It comes in many forms of tile – from large format squares to penny tile.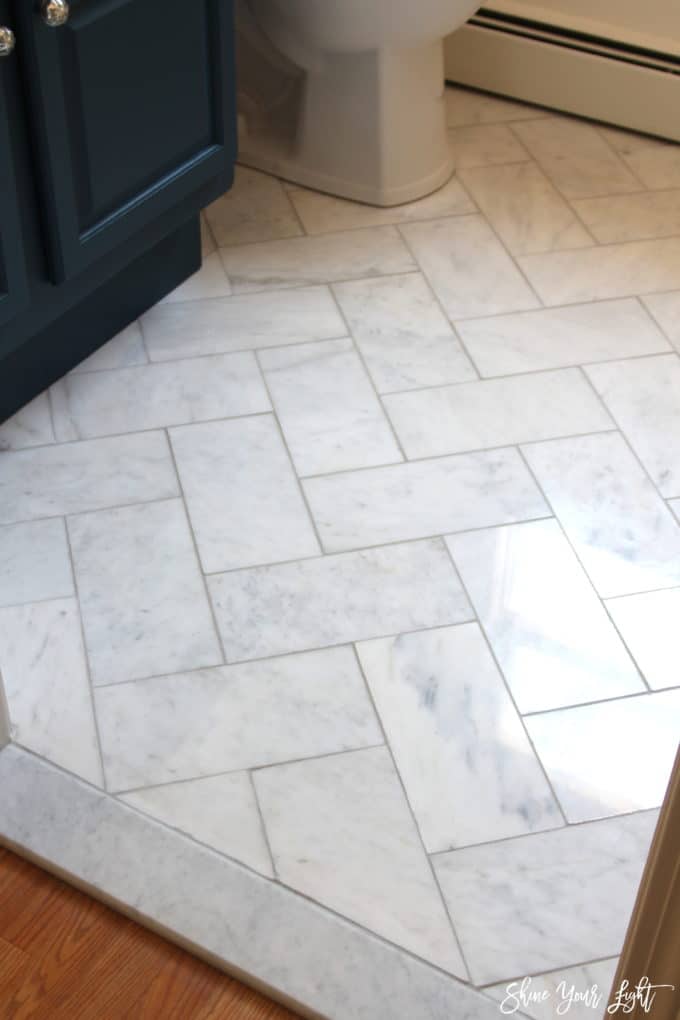 Some of my favorite marble flooring options

5. LVP Plank Flooring
If you are looking for durable bathroom flooring ideas, LVP plank flooring is a great choice. These planks are super resilient and waterproof.
So if you have children, pets, or just a lot of foot traffic, this choice will hold up well. You can also use it throughout your home.
It is an easy-to-install option, affordable, and easy to maintain.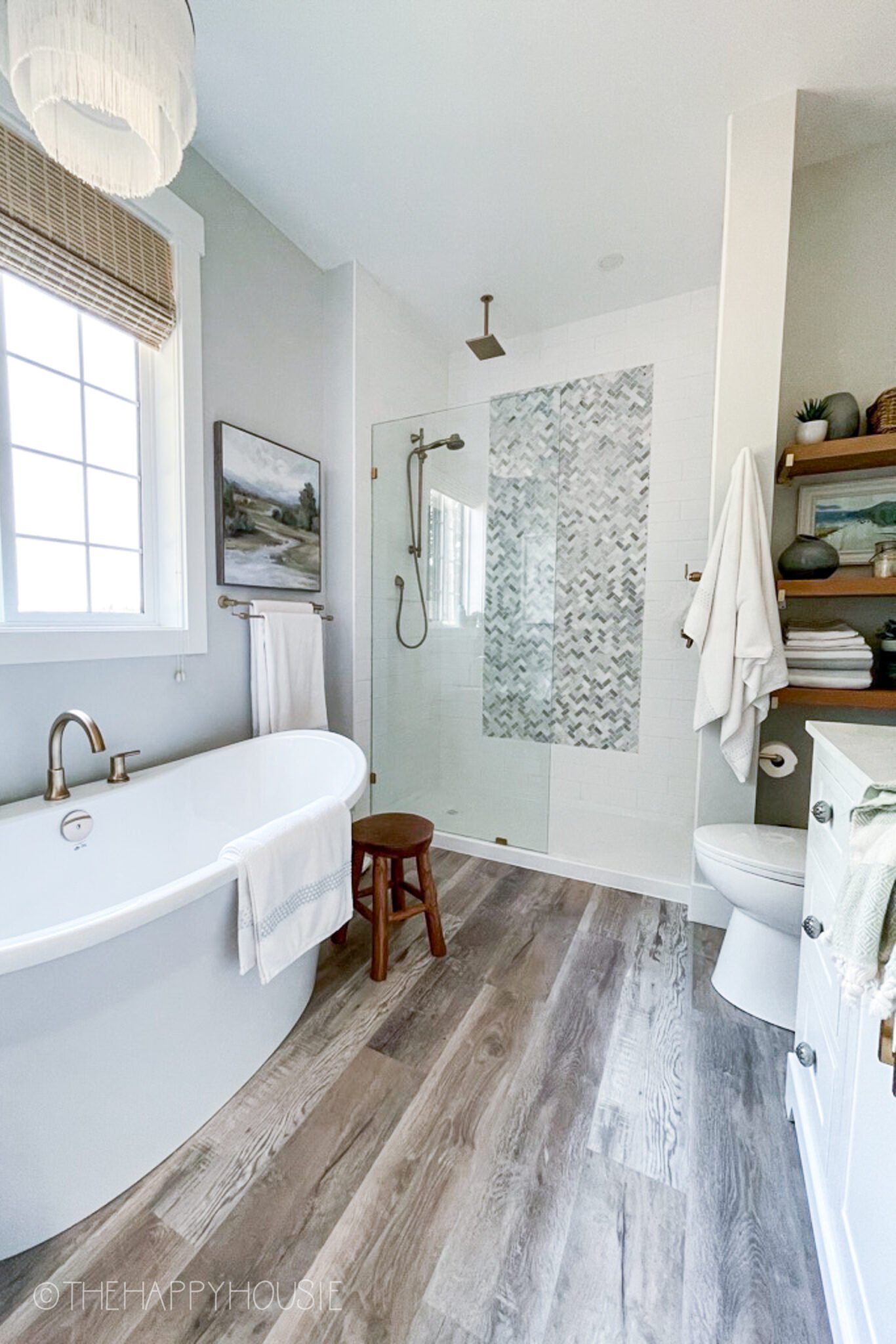 Krista's bathroom may be small, but it is mighty! Look at the gorgeous attention to detail.
She has made her small space look bigger, and it is on trend.
We loved the freestanding tub, and the tiled shower. The wood grain on this LVP Plank is so pretty!
I used LVP planks in my tiny master bathroom several years ago, and it has help up so well! It also feels soft underfoot and never gets cold!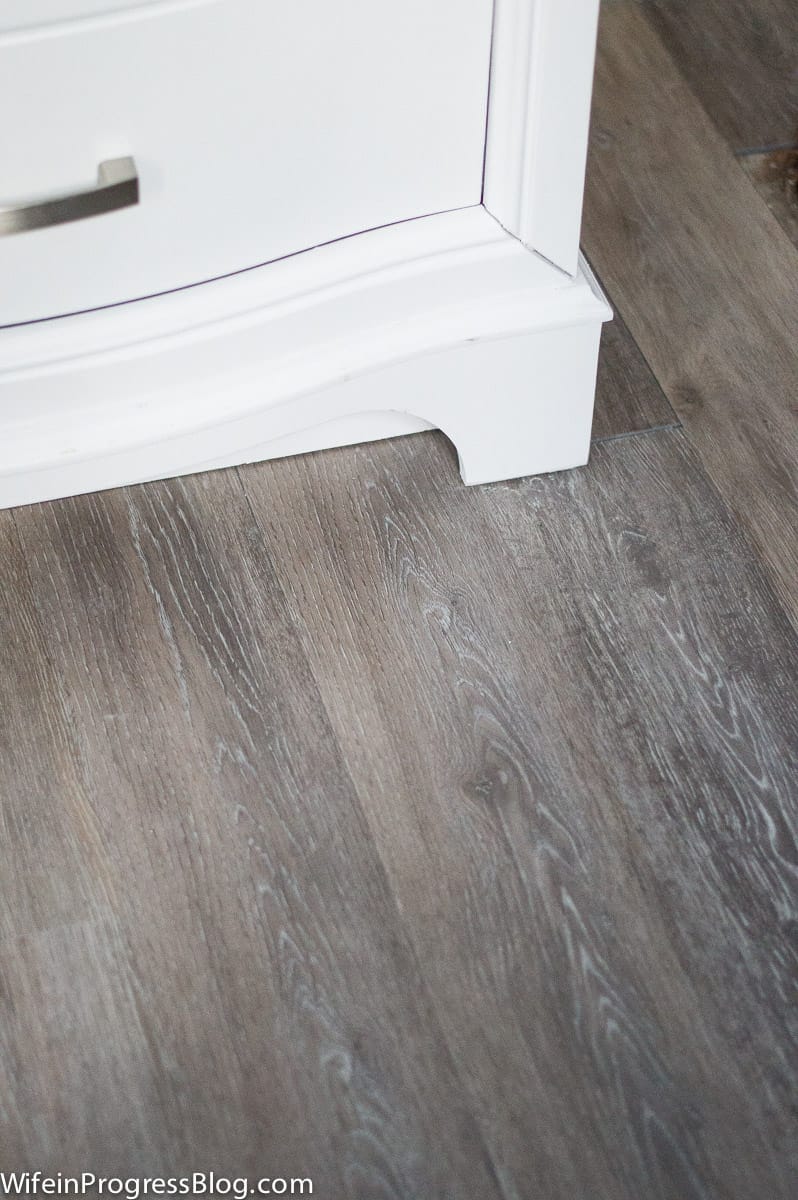 6. Luxury Vinyl Tile
Not only is luxury vinyl tile an inexpensive option, it is gorgeous to boot! This is a way to give off the traditional high-end bathroom floor look, without the hit to the wallet.
This type of flooring is water damage resistant, and it will not scratch or stain. There are many design chooices such as ceramic tile, stone, or hardwood looks.
This is another great option in bahtrooms with high moisture and humidity.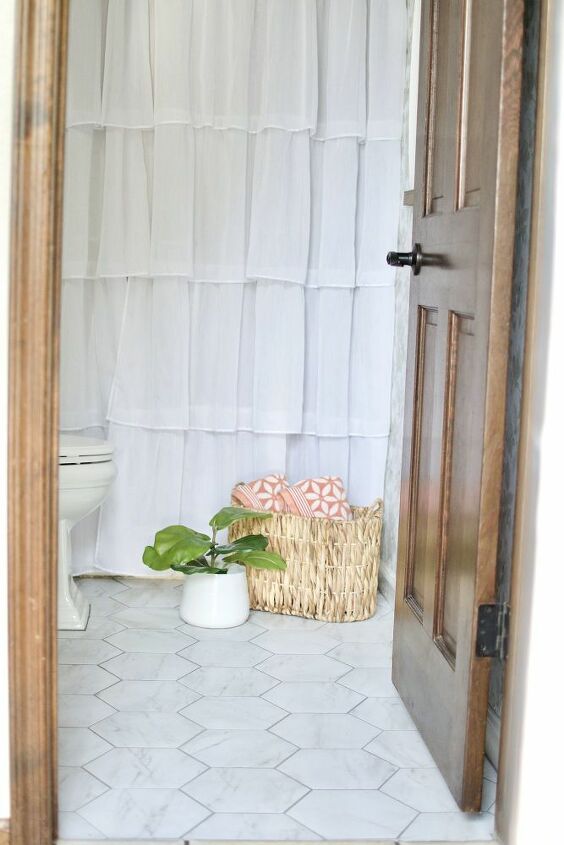 Jenna did an amazing job with her bathroom remodel. She wanted to update her flooring without the huge price tag.
7. Hardwood Flooring
Hardwood is a traditional, yet timeless look. They can bring warmth into your bathroom, and an outdoor element inside.
However, it isn't waterproof, or water resistant. Some pro's are that it is a durable choice, and good for high traffic areas.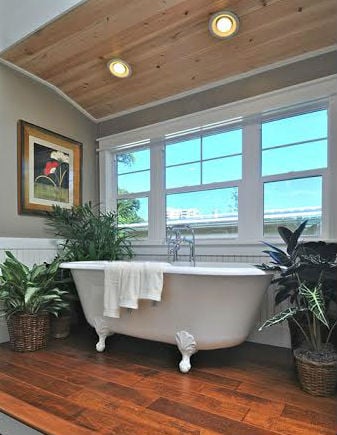 While I would not recommend hardwood floors in a bathroom with a tub or shower, there won't be as much moisture in a powder room.
With a few extra precautions you can maintain the wood floors in your bathroom. It may be worth the extra steps to have this gorgeous look.
8. Herringbone Tiles
This type of tile will definitely make your bathroom look larger. It also works perfect in narrow spaces.
The smooth and sleek movement of the pattern, offers a fantastic style to any small space.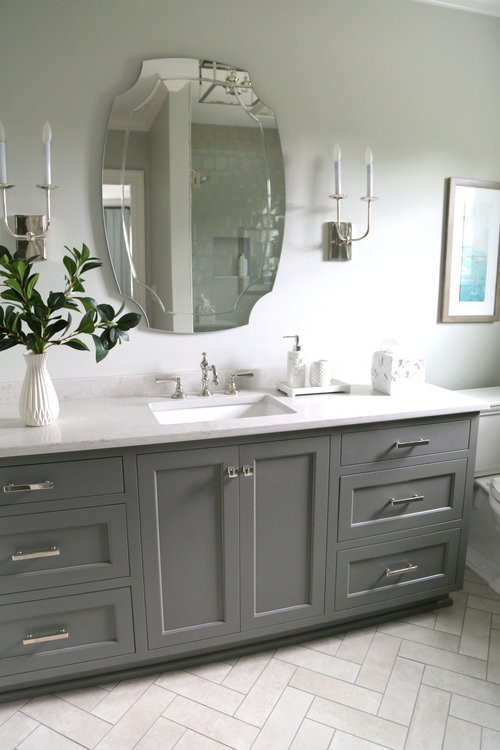 Look how lovely and sophisticared this herringbone floor looks in Kristie's bathroom. All the details in her remodel are perfection, and her floor pairs perfectly with her grey cabinets.
The herringbone pattern can be replicated with any type of brick-style tile. So whether you prefer ceramic, porcelain or marble, you can get the look you want.
9. Stained Concrete
Stained or textured-stamped concrete areas are perfect when you want to make a statemen and get a customized look. Fun opions are concrete that looks like, marble, leather, stone, or even wood planks.
Some benefits of stained concrete are it's affordable, water-resistant, heat, dent, and chip-resistant.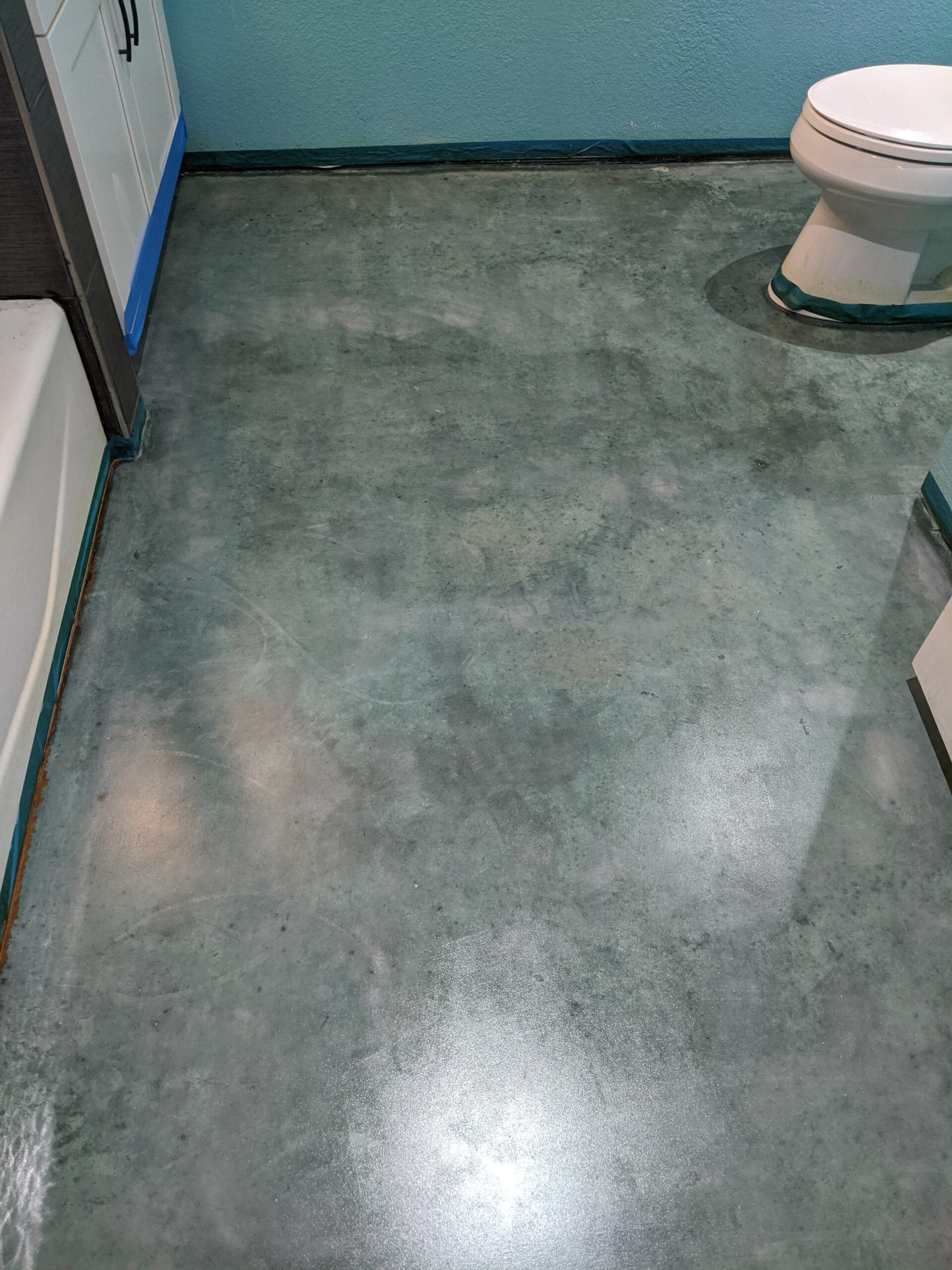 This is an example of a Azure Blue Acid Stain, with water-based High Gloss Sealer and finished off with Residential Concrete Floor Wax.
10. Cork Tile
There are many benefits to choosing cork tikle for your small bathroom. Not only is it eco-friendly and hypoallergenic, it is also resistant to mold and mildew.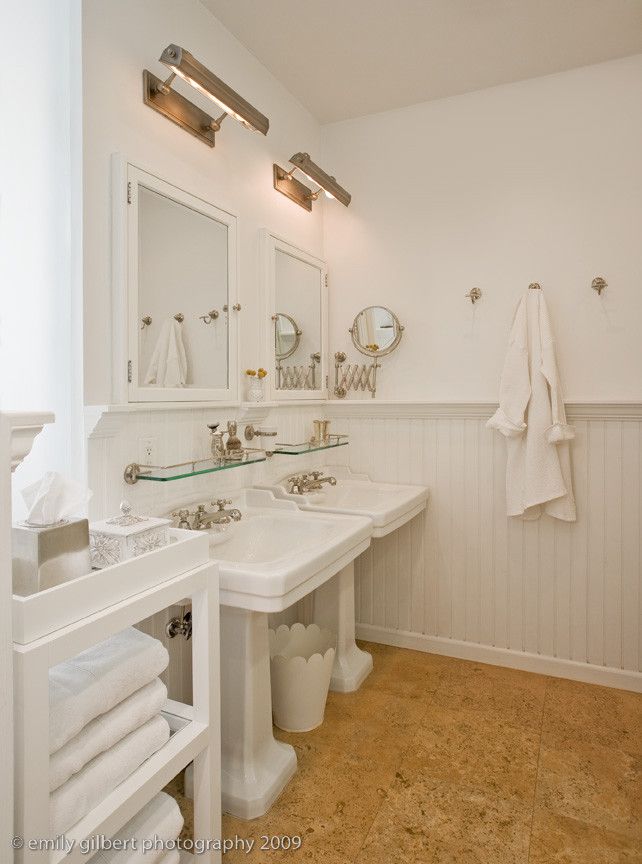 This is a non-traditional choice, but has some fun benefits like the thermal properties that offer natural heat. Cork tile is soft and spongy, which feels great on your feet.
Final Thoughts
When it comes to options for small bathroom flooring, you have a ton of choices. Just keep it simple and clean, all why utilizing your every inch of your space. You can install larger tiles to make your space feel bigger.
Why not add drama through fun and creative patterned tiles? When installing flooring in a small bathroom it can be very budget-friendly, since you need fewer materials.