As the autumn season approaches, it's the perfect time to transform the heart of the home into a festive kitchen for fall. By adding in simple fall touches, your kitchen will feel cozy and radiate the fall spirit.
Whether you're a seasoned decorator or just starting on your journey, these ideas are meant to inspire you and show you just how many easy ways there are to create a beautiful, inviting space that reminds you of the beauty of fall.
Design with a Fall Color Palette
When walking in to an inviting kitchen, the first thing the eye is drawn towards is the color. Select colors that mimic what fall looks like and how you want it represented in your home. Ideally, it should remind you of the changing season and outdoor scenery of fall.
Applying various fall colors throughout your decor will instantly upgrade your kitchen in a great way!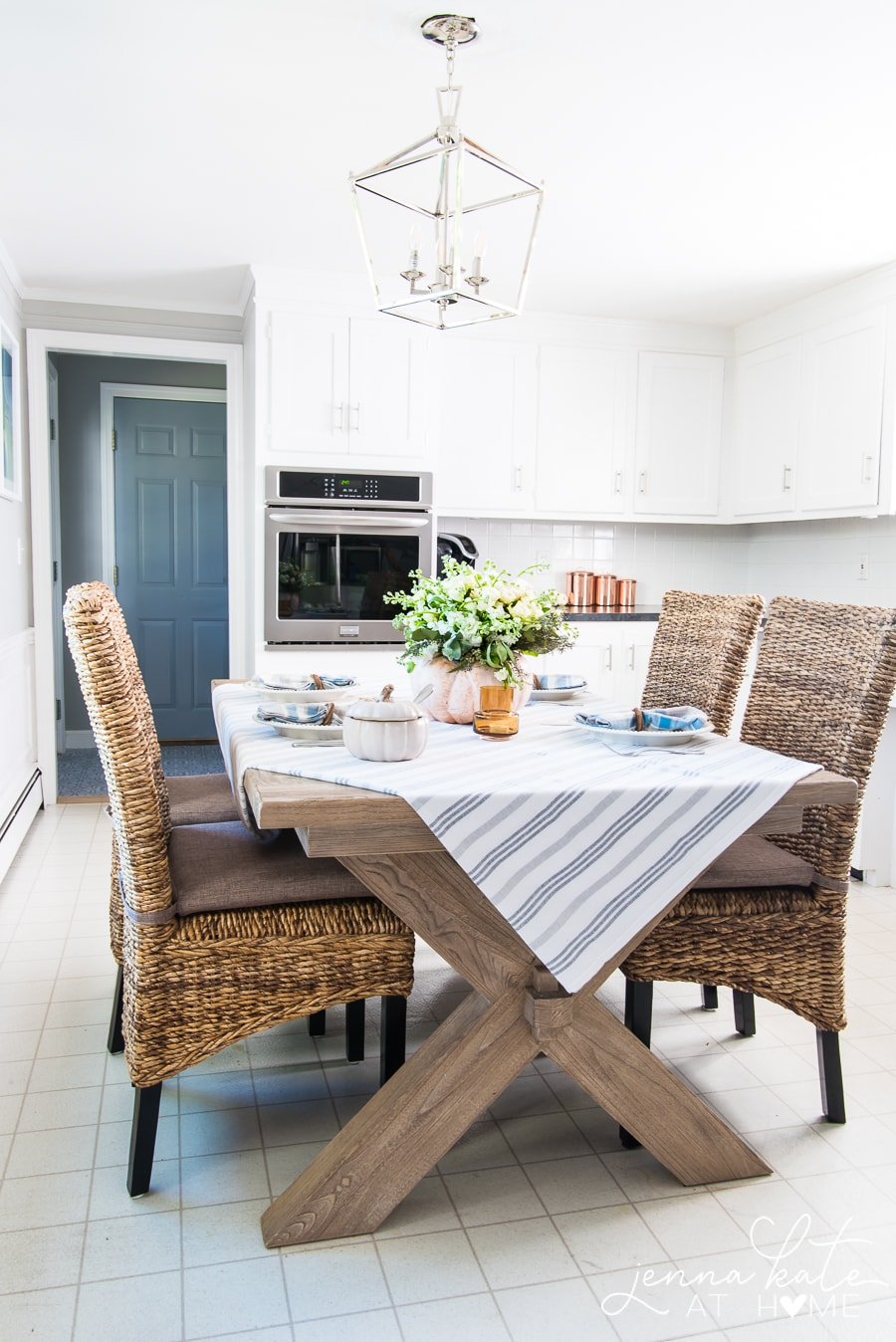 Deep burgundy, rusty orange, and a darker blue are all great color selections. I also use cream as a neutral color to enhance the brighter fall shades.
Add Fall Touches To Your Shelves
An easy way to create a simple fall kitchen is to strategically place hints of the season throughout open shelves.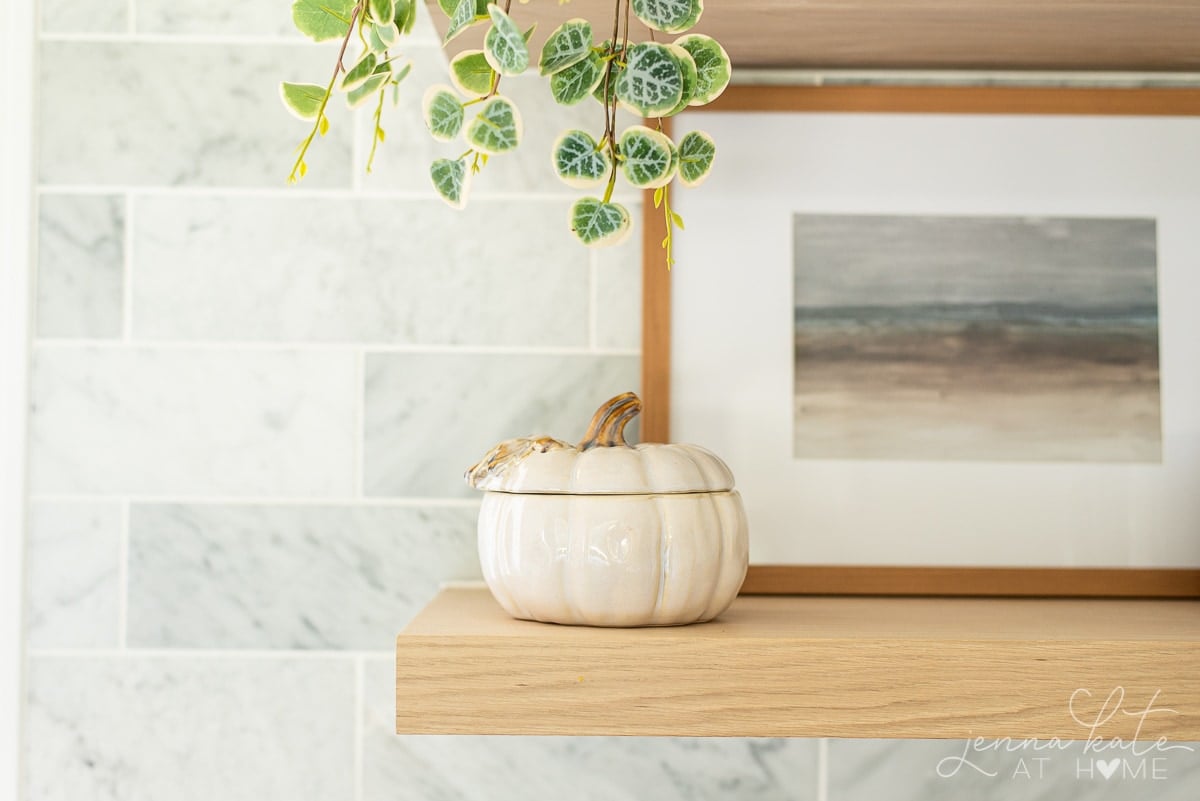 It doesn't take much to create a simple fall kitchen. By adding in small hints of fall throughout the space, you create a minimalistic and modern feel. Try adding fall touches to your shelves with decorated pottery, a tiered tray with mini pumpkins, or pine cones nestled in some greenery.
A simple piece of wooden art can showcase the time of year while staying simple and sophisticated.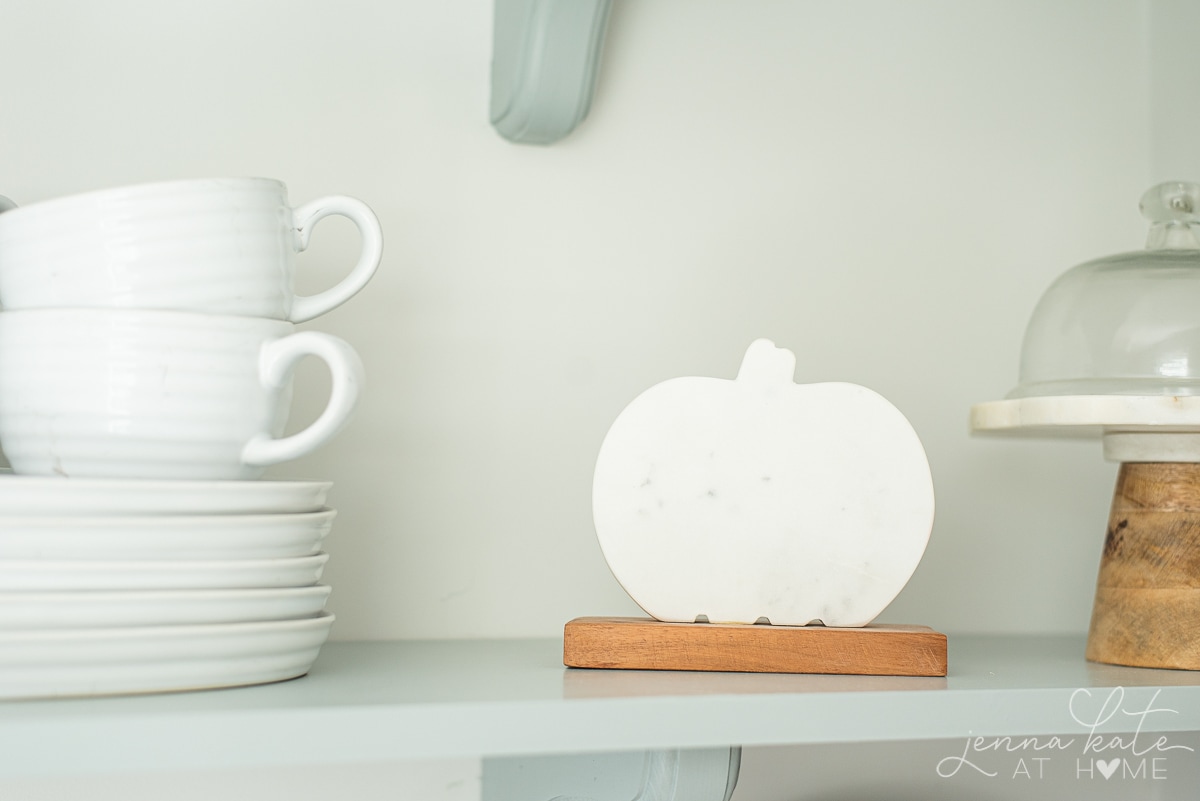 Use Branches and Foliage
Incorporating fall foliage into your kitchen is a simple way to bring a touch of nature indoors during the autumn months. Try adding a centerpiece made of an arrangement of fall items such as fall leaves, branches, and berries to your kitchen table or island. Not only will this brighten up your space, but it will also create a cozy and inviting atmosphere.
Here are a few ways to bring fall foliage and branches into your kitchen:
Scatter some autumn leaves on your countertops or shelves as a simple decoration. You can use real leaves or opt for artificial ones that won't crumble or fade.
Arrange a few branches in a vase or use them to create a hanging decoration above your kitchen window.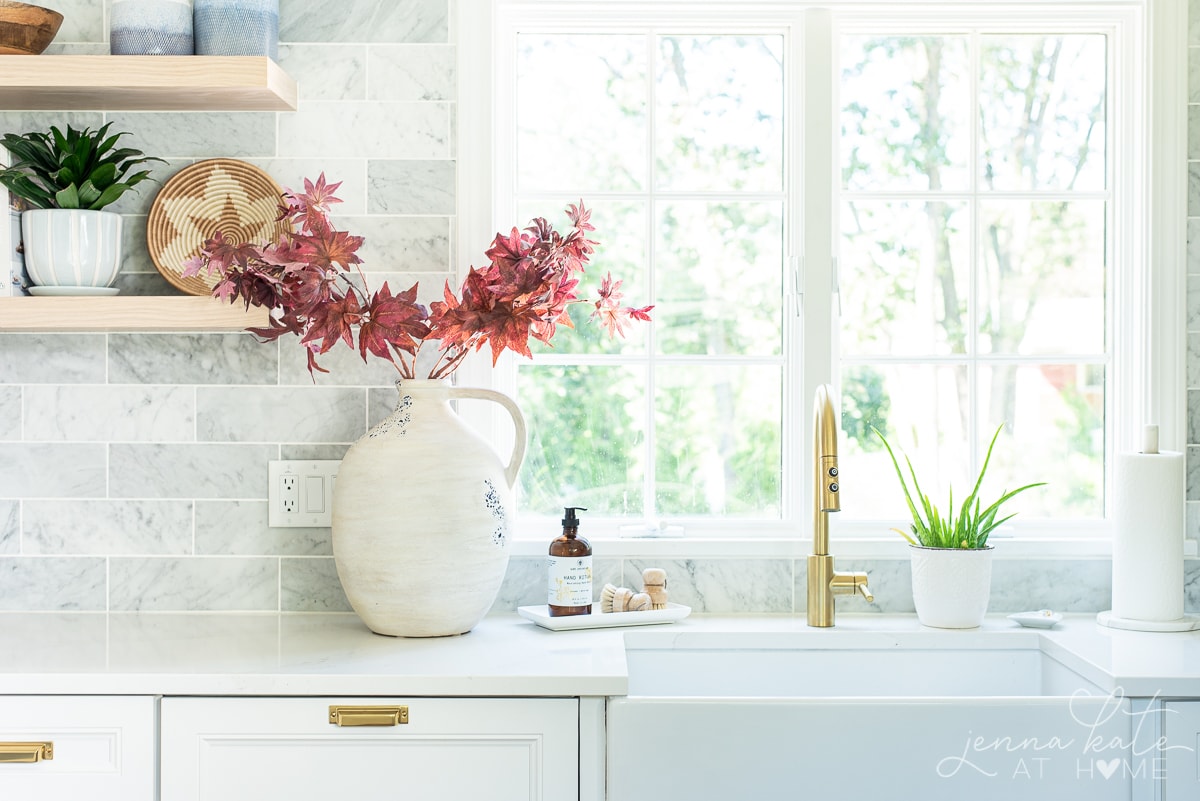 You can use bright leaves in a neutral hand-crafted vase or muted leaves for a modern, sleek look. Simplicity is key so arranging just a few of your favorite leaves will be a great focal point of your fall decor.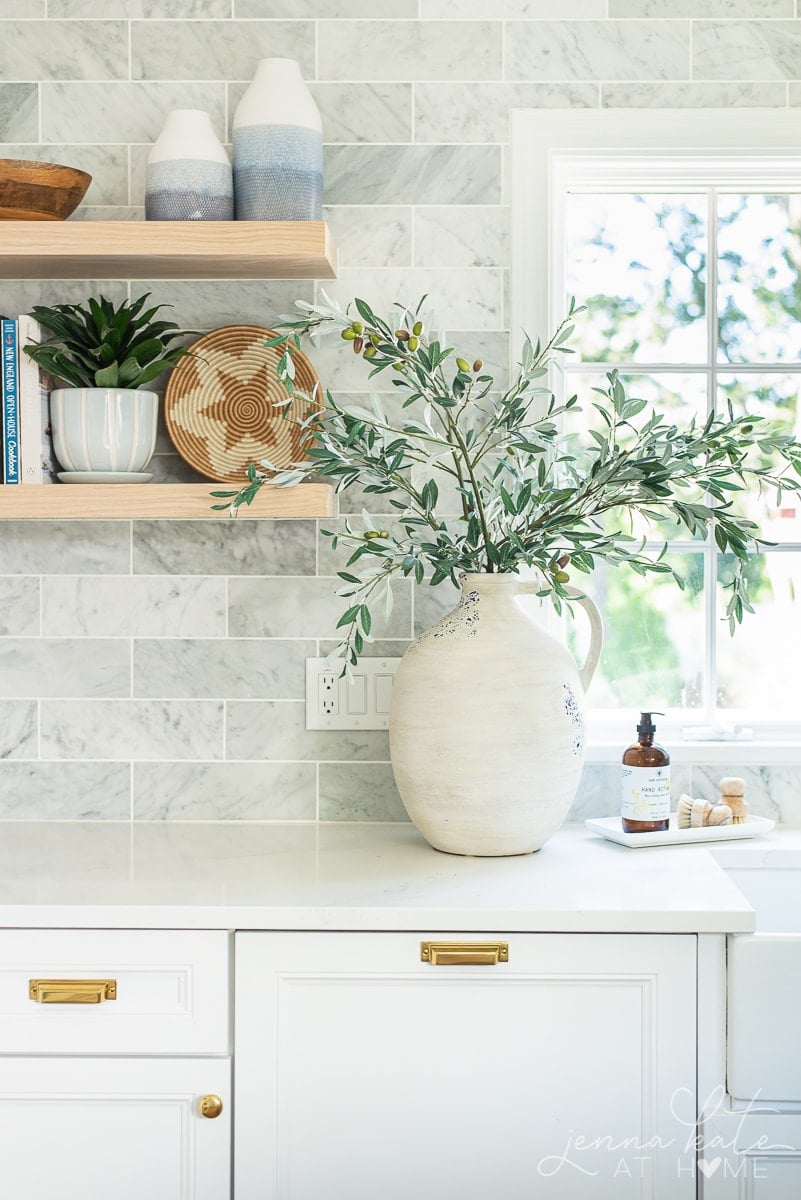 A bundle of branches also makes for a simple fall centerpiece. Pair with a rustic vase or jar.
Pick Fresh Flowers to Arrange
Flowers can enhance the overall ambiance of your kitchen and make your fall decorations even more stunning. Flowers are an easy way to add dimension to a "flat" room.
(I kind of think we need to replace the pic below with something a little more floral, but this picture would also probably work)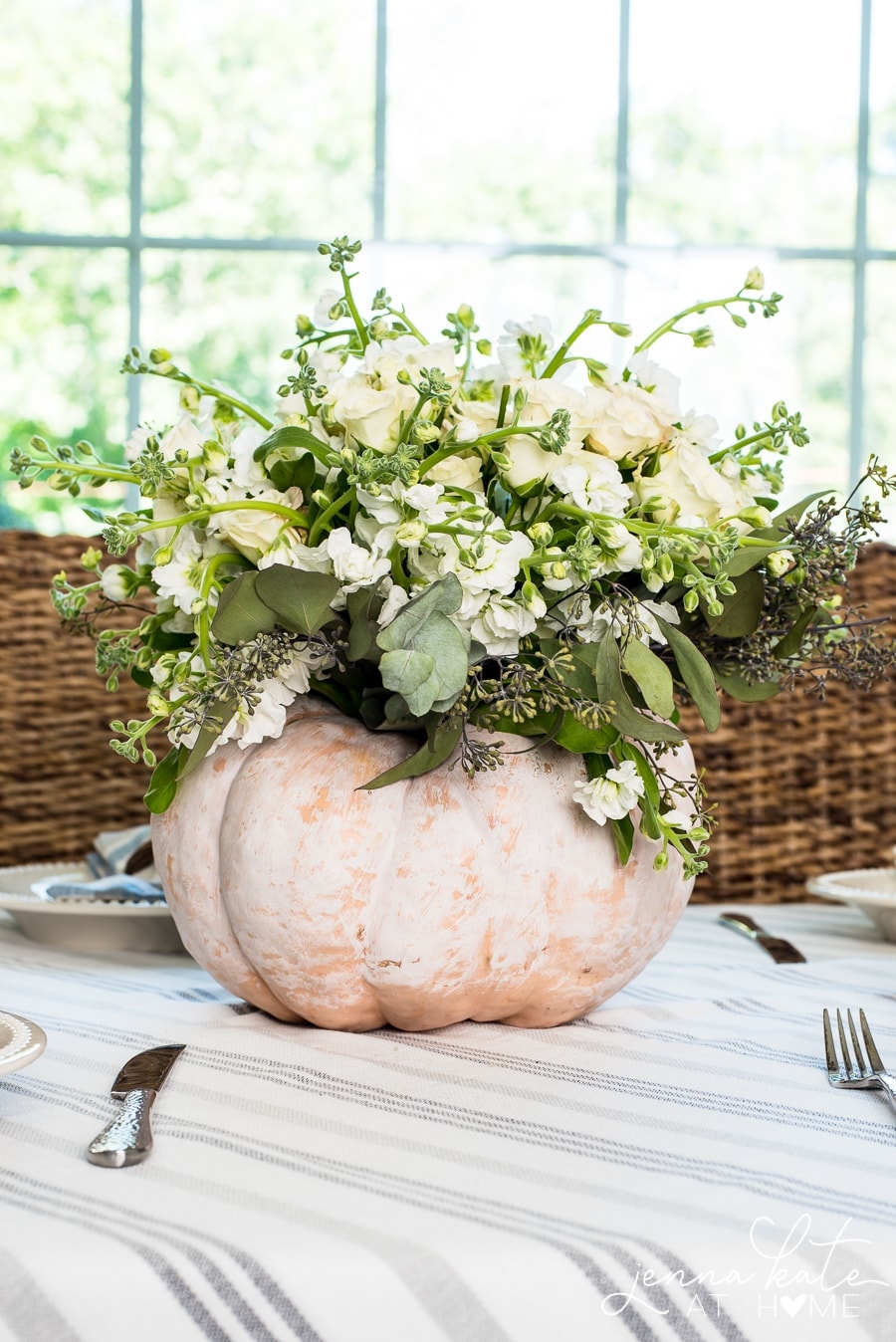 Here are a few ways to simplify decorating with flowers in the fall season:
More than likely you've got a rustic old mason jar, ceramic vase, or clay pitcher you can place your bright autumn blooms in to create a lovely vase arrangement.
If you are still overwhelmed with designing a fall table centerpiece, use a bouquet of fall flowers as the centerpiece for your kitchen table or island.
Add a small floral touch to your existing decor by incorporating fall flowers. Layering flowers with other seasonal decor can add character and style.
Explore different combinations of greenery, flowers, and seasonal elements to see which works best for your kitchen layout and personal style.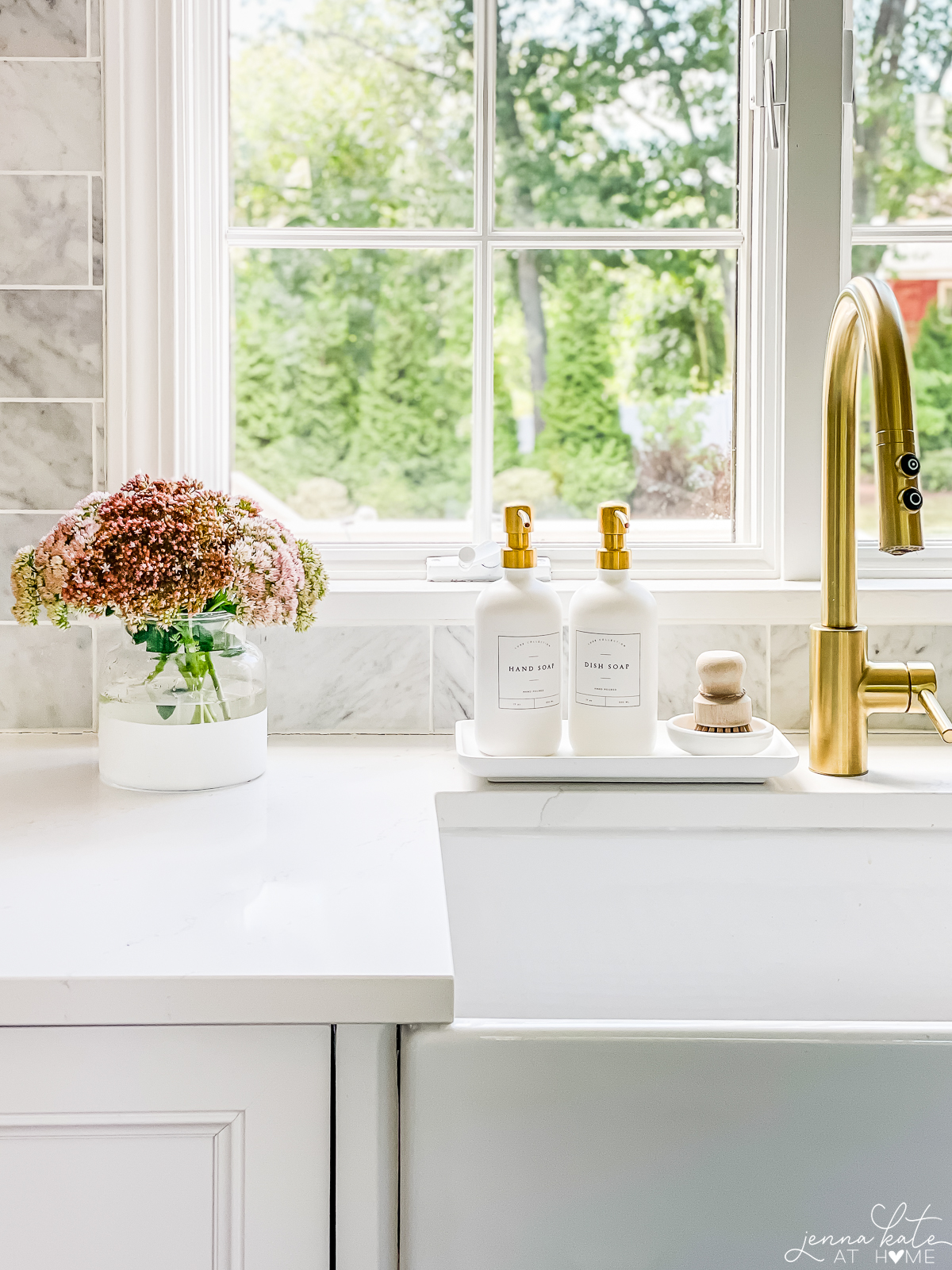 Pumpkin Themed Decor
As you start to decorate your kitchen for fall, incorporating pumpkin-themed decor is always a popular choice. Pumpkins come in various sizes and colors, which can make your kitchen feel like a festive and cozy haven.
A few of my favorite styles to employ are white pumpkins, an arrangement of mini pumpkins, or fresh pumpkins.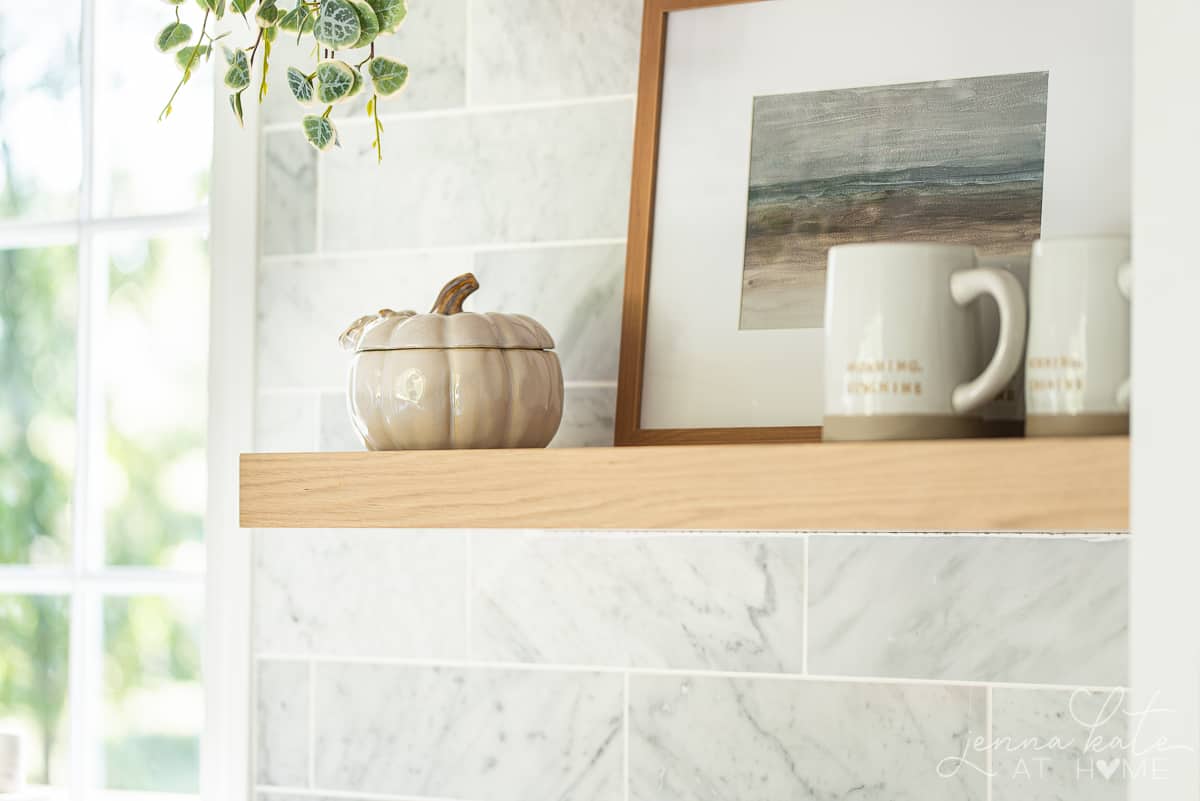 Real pumpkins are preferred, but faux pumpkins are of course acceptable. Even pumpkin-shaped items such as bowls and candles are fun to include!
Burn a Fall Scented Candle
Don't forget to include candles in the mix, as they add that soothing touch of warmth and coziness to your fall-themed kitchen island centerpiece.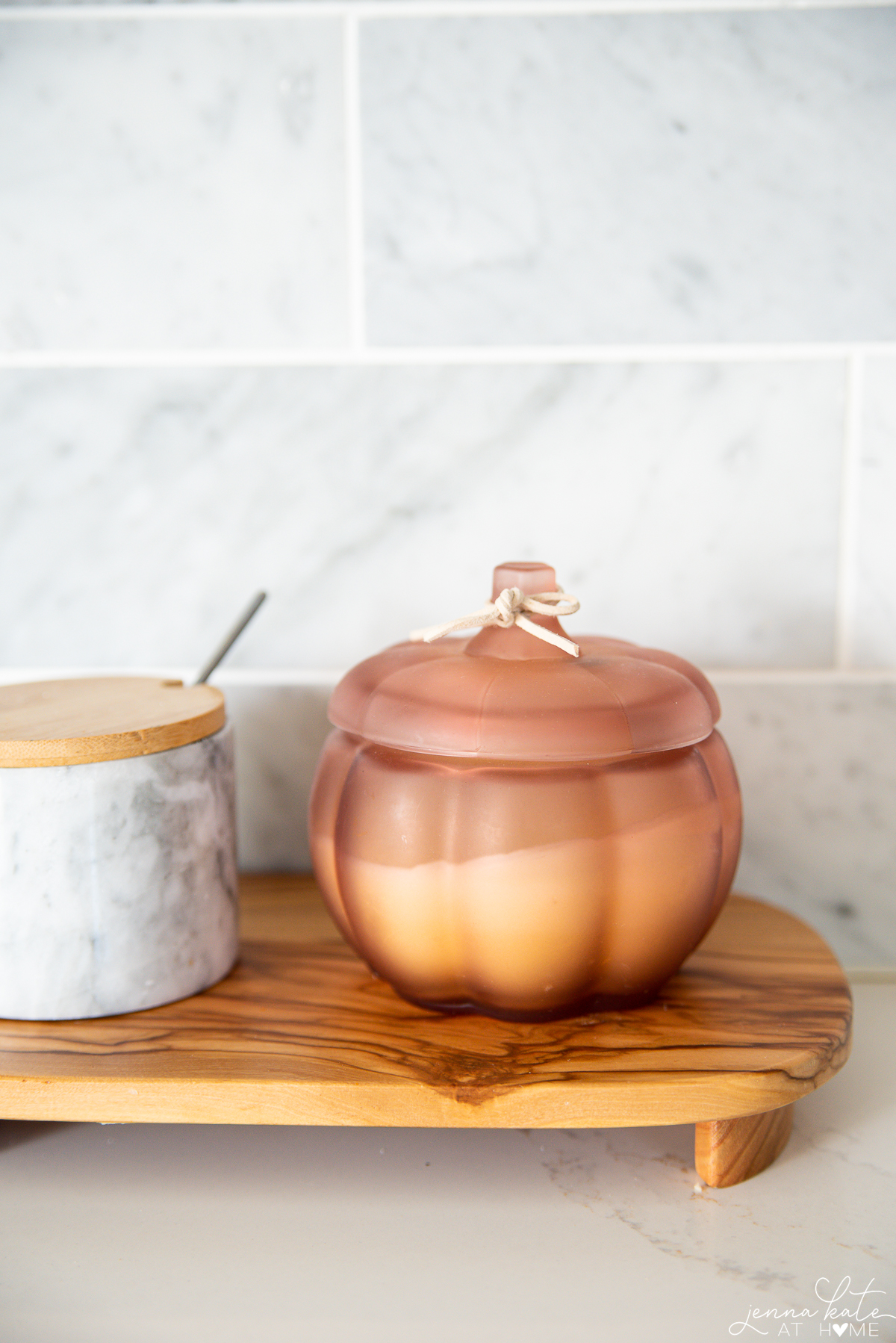 There's nothing quite as comforting than filling your kitchen with warm fragrances of fall. One simple way to achieve this is by using a fall-scented candle. Candles evoke the essence of the season and can truly transform your kitchen into a warm gathering space.
Some nostalgic scents of autumn include apple cider, sweet cinnamon pumpkin, and autumn harvest. Place them strategically around your kitchen, like on countertops or the dining table, to create a warm and inviting atmosphere.
The flickering candlelight will also add a subtle, calming ambiance to your cozy space.
Showcase a Centerpiece
A captivating fall centerpiece can make a statement in your kitchen and increase the seasonal atmosphere. For an eye-catching island centerpiece, start by utilizing a spare serving tray or wooden natural element as the base. This brings in rustic charm and gives you a solid foundation to layer your decorations.
(centerpiece photo)
Next, start styling your small pumpkins, fall foliage, or candles. Be mindful of balance and height variations to create visual interest.
Even if the rest of your fall kitchen counter decor is minimal, the centerpiece will be enough to still have a festive kitchen.
Create a Fall Inspired Table
To set up a fall-inspired table that complements your centerpiece, begin by selecting a tablecloth or runner in a autumn hue like cream, rustic burgundy, or golden yellow. Seasonal linens can bring a relaxed and earthy feel to your table setup.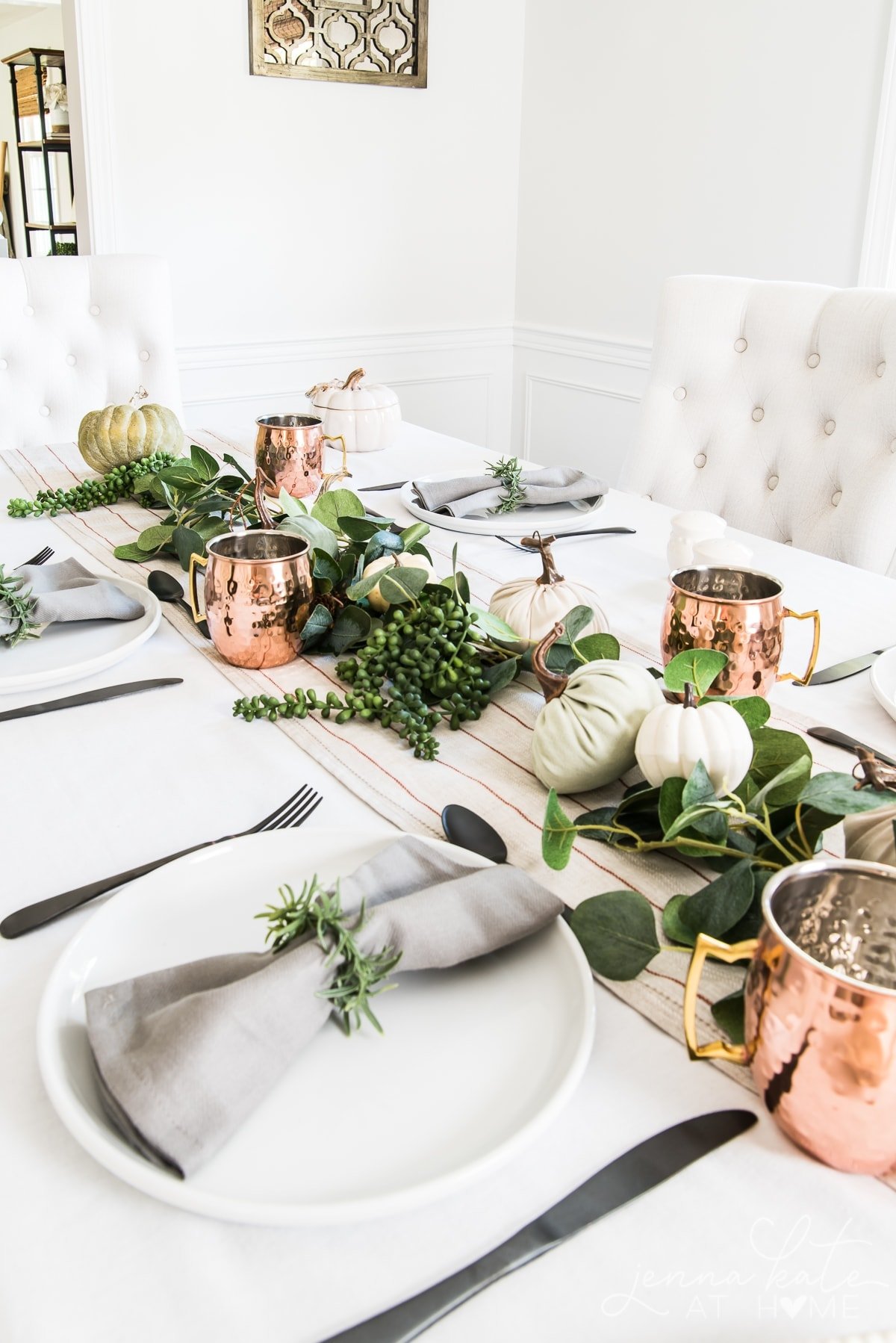 Next, I love scattering a few faux leaves, mini pumpkins, and eucalyptus along the centerline of the table to accentuate the fall theme. You can adorn your kitchen table or dining room table with these accent pieces.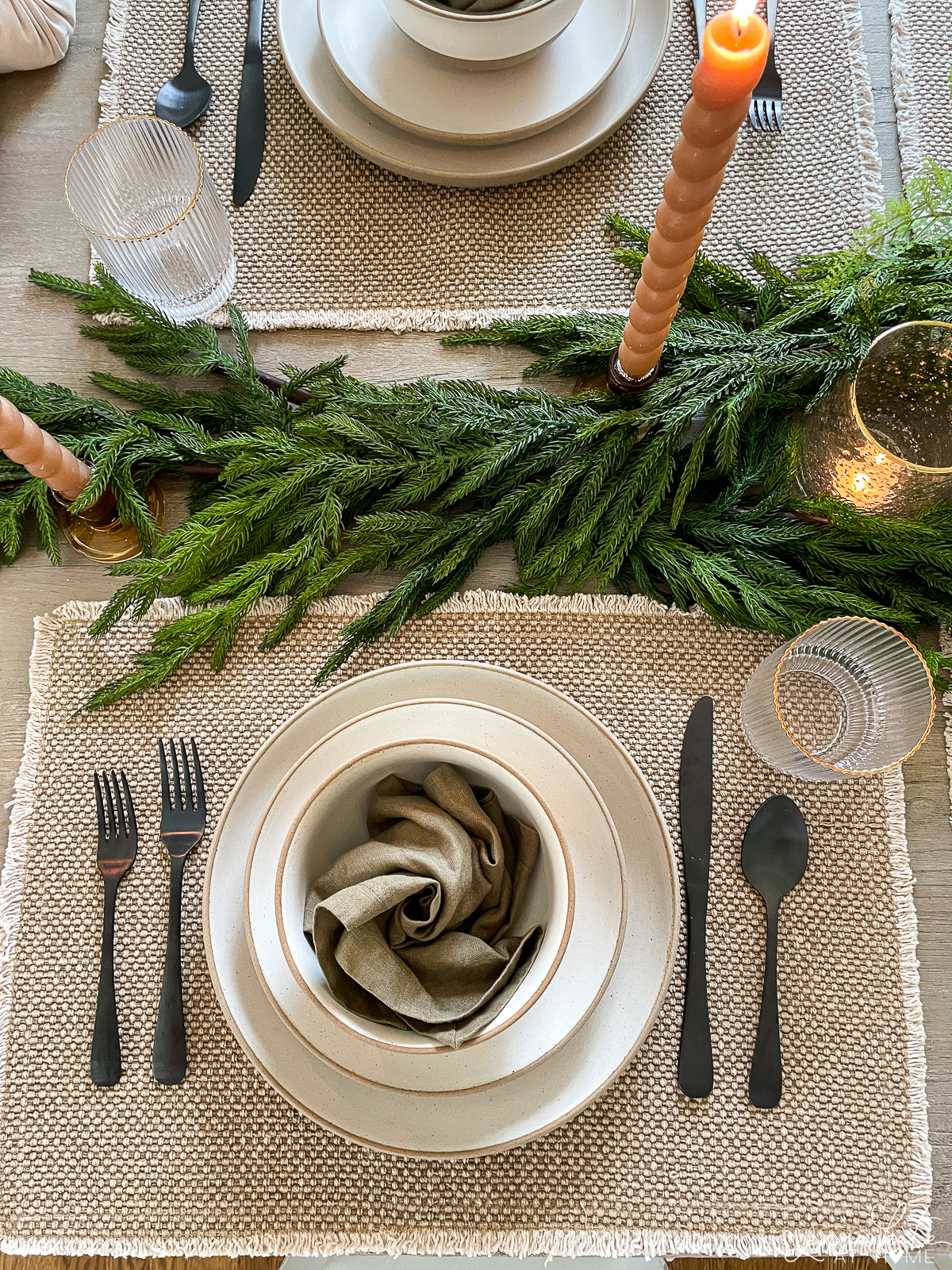 Set up a Fall Themed Coffee Station
You may find yourself craving a hot drink more often as the temperature cools, so decorating your coffee station is a great way to create a more personalized display.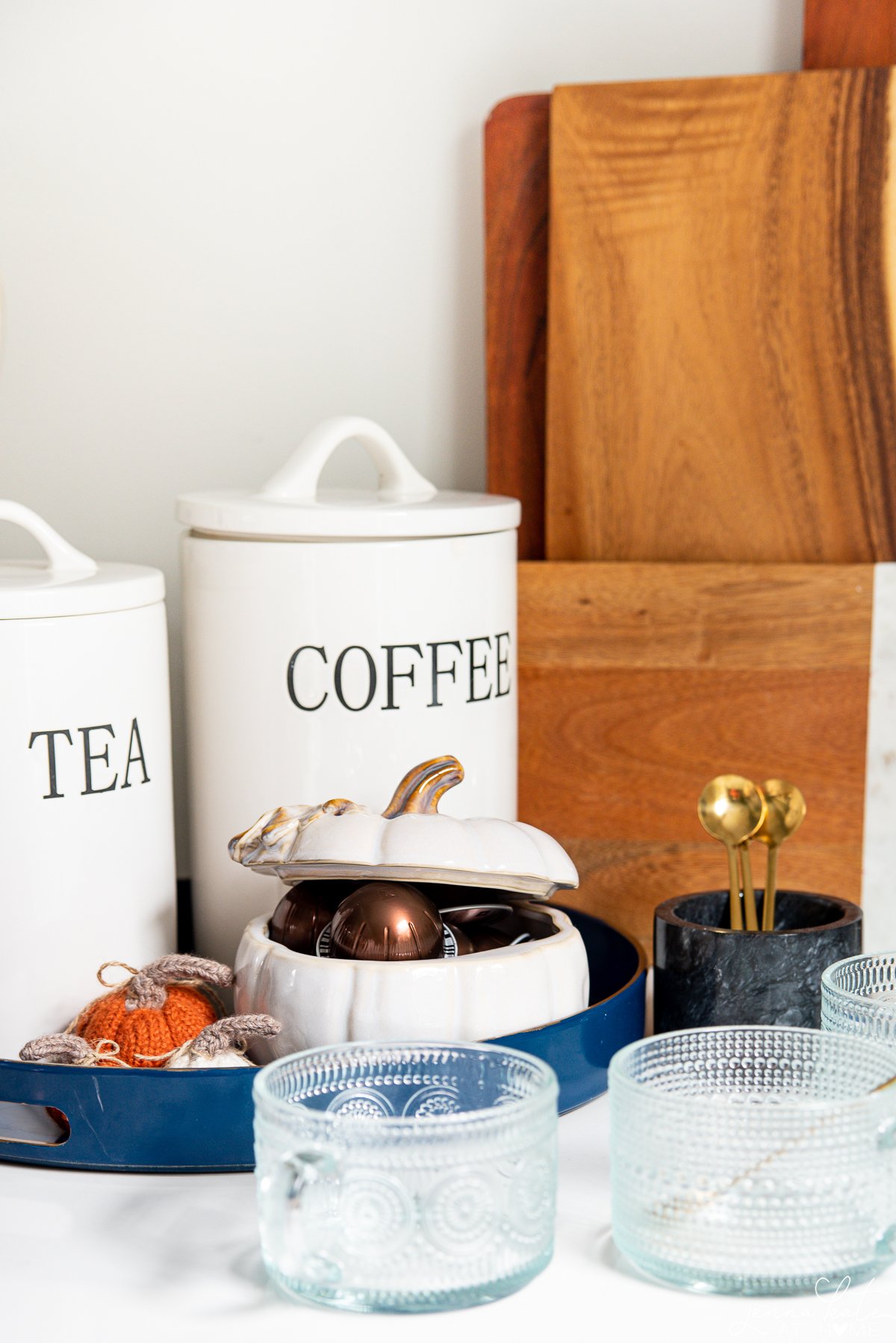 To create a fall-themed coffee station in your kitchen, start by designating a specific area for it. Organize the space for a simple and clean feel. This may include arranging your coffee machine, filters, pods, or grounds, elegantly in this space.
Then, you can add elements of fall by incorporating seasonal decorative items:
A tiered tray can easily display your fall mugs and other accessories. Use this space to show off any favorite mugs that are seasonal.
Introduce fall colors with items like placemats, napkins, or even small stirring spoons in shades of cream, olive green, or golden yellow.
Add some fall-themed accents such as mini pumpkins, gourds, or faux leaves to your simple fall kitchen.
Tea Towels and Kitchen Linens
A very simple way to revamp your fall kitchen decor is to merge a few seasonal towels with your day to day kitchen linens. Play with different patterns, textures, and seasonal motifs to reflect your style and the new season.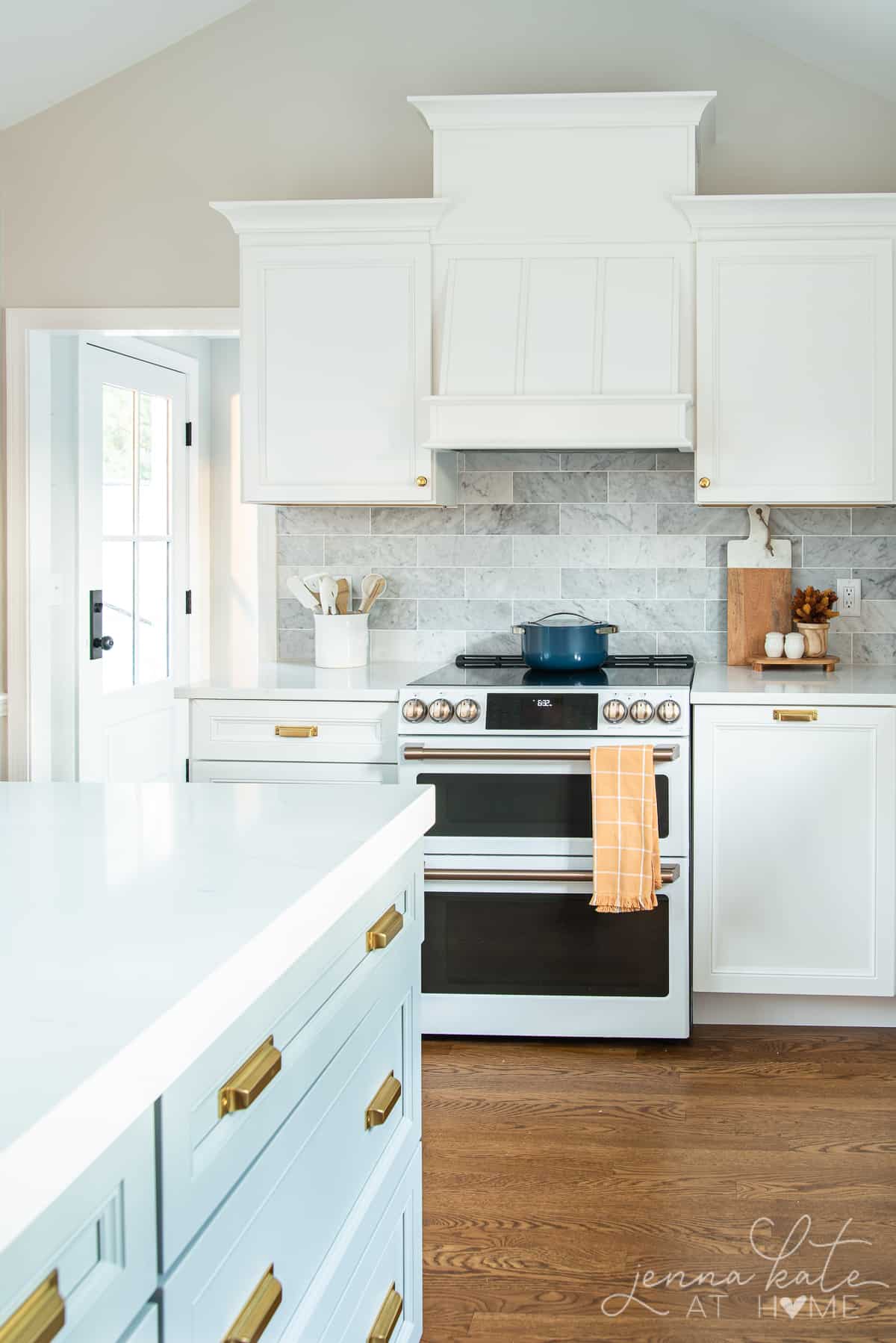 One way to do this is to display kitchen towels hanging over the oven door handle. Or, you may simply place a folded fall towel beside the sink. Not only are these functional elements of your home but simple ways to construct a simple design for your fall themed kitchen.
This might be a good opportunity to bring in an accent color or fall print, since it will be minimal and maintained.
Replace Kitchen Mats
Replace your current kitchen rugs or mats with ones featuring autumn designs or hues.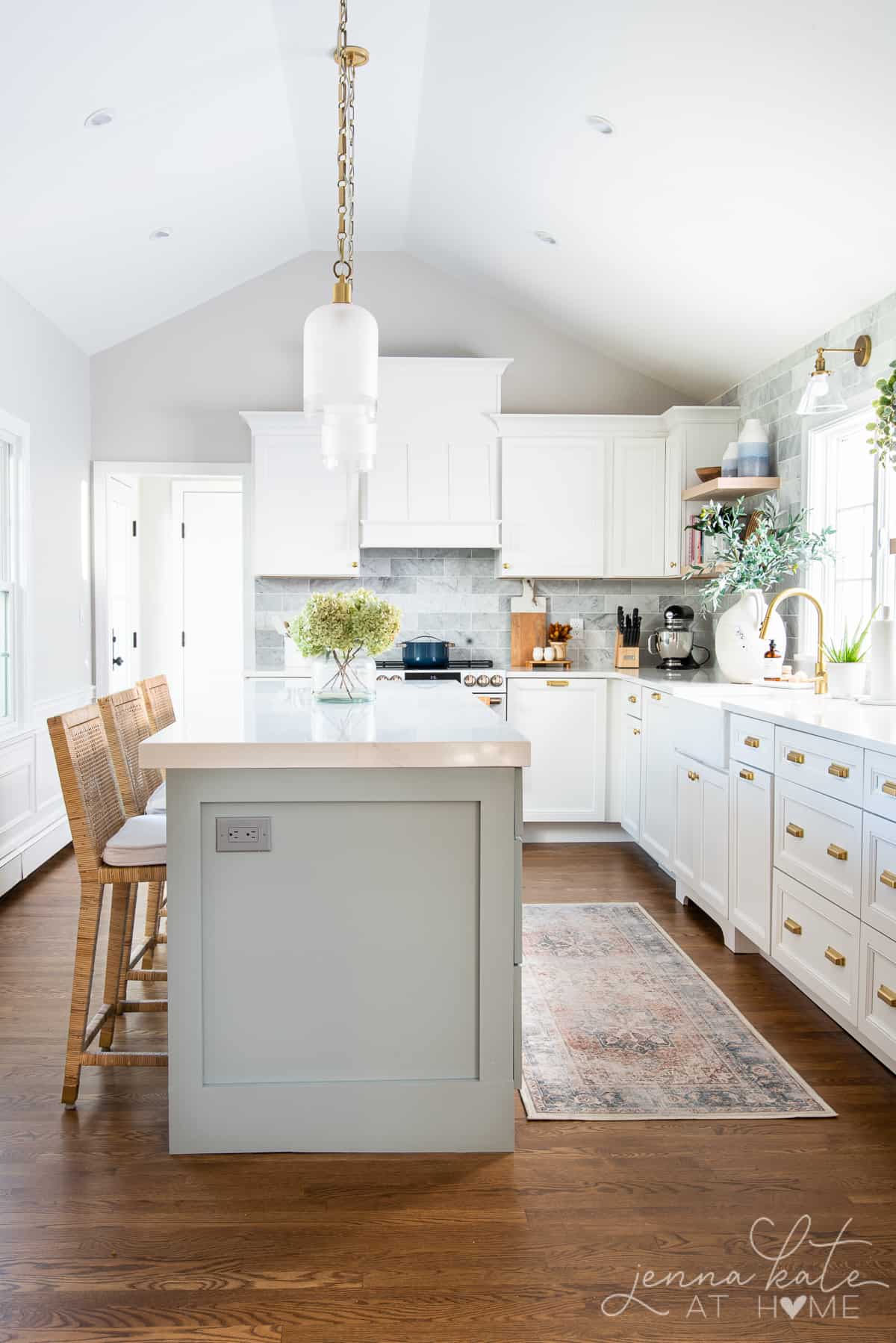 You spend a lot of time in the kitchen. Chances are, your kitchen mats probably have a lot of wear and tear. Swap out your old mat for a durable solid color option in burgundy, mustard yellow, or cream to transition from summer to fall.
This could also be your chance to include an accent piece for the room with a patterned rug. Do this by choosing a fall scene to display.
Final Thoughts
Now that you are ready to start decorating your kitchen for fall, try implementing a few of these cozy home tips for fall that will make your space truly shine.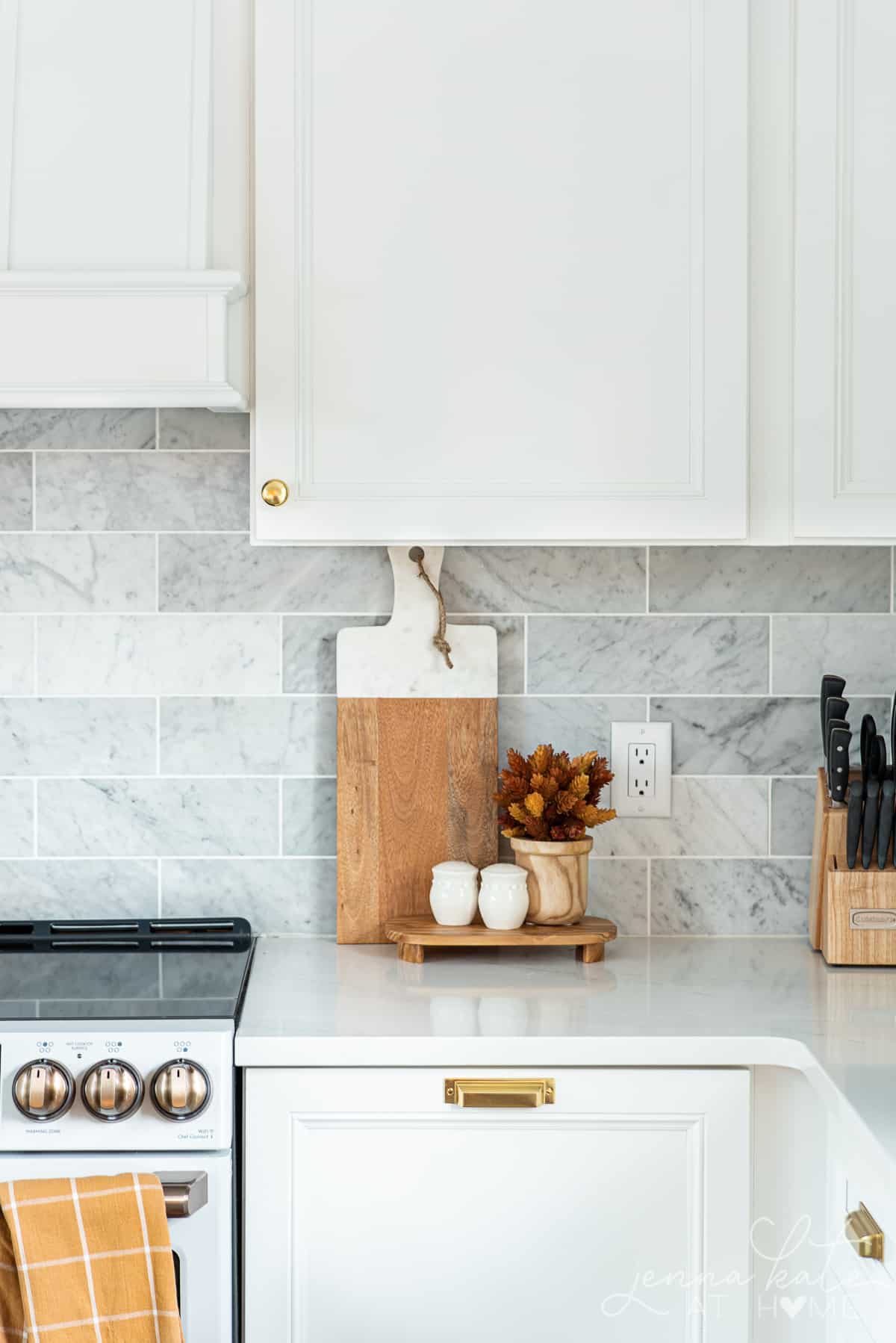 I hope you found some simple ways to give your kitchen that extra seasonal touch, while maintaining a friendly and welcoming atmosphere in your cherished kitchen area.