This post may contain affiliate links | For further details, please read our privacy policy
These bedroom rug ideas will add the perfect finishing touch to your design! Plus, get tips on choosing a color and rug placement.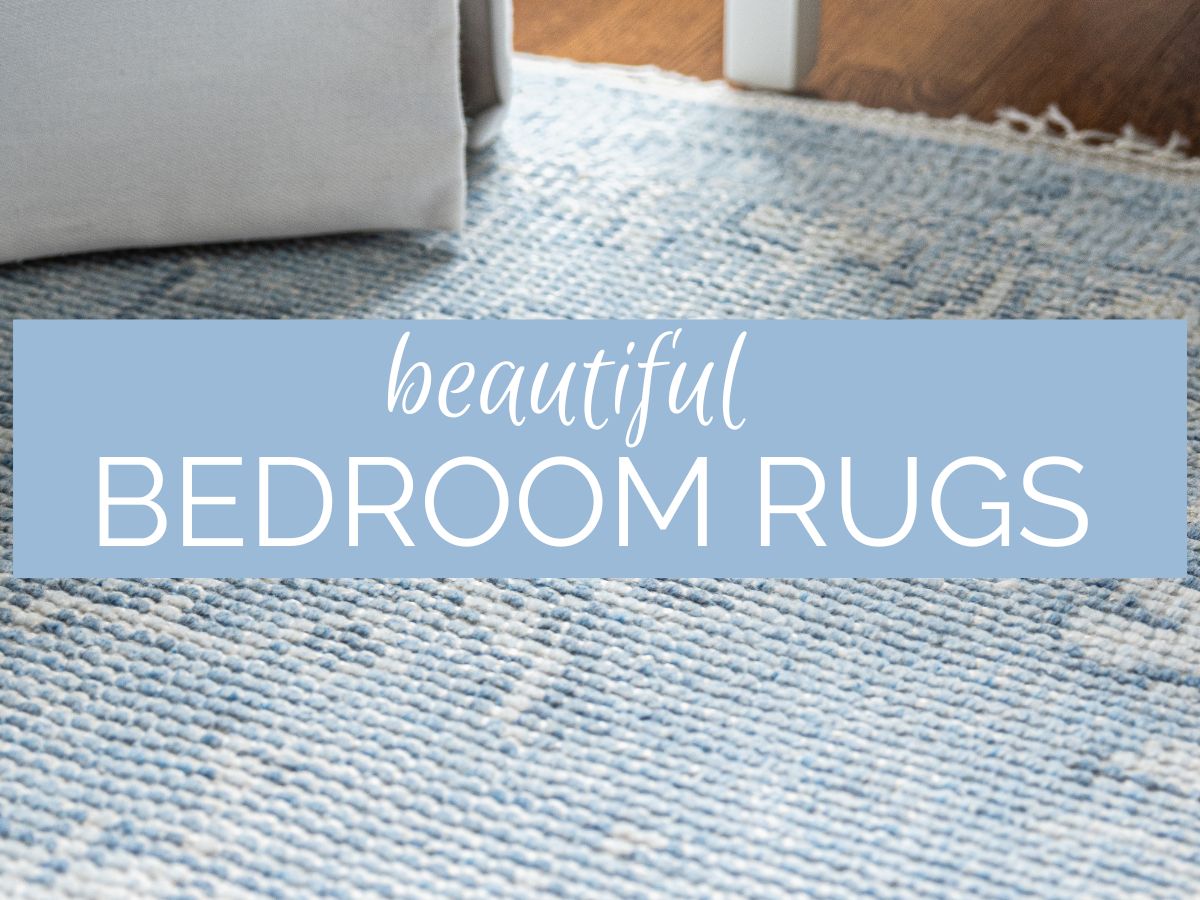 Try these bedroom rug ideas to add a touch of luxury to your design, plus get tips from the experts on size and placement
Bedrooms are typically not high traffic areas, so the world is your oyster when it comes to picking an area rug to really elevate your space.
For me, rugs are up there with throw pillows as an easy way to completely change the look of a room. They add warmth, texture and color and are really such a simple way to elevate any bedroom, or give it a whole new look.
Before choosing a rug for your bedroom, you'll first want to consider what size rug you need. The easiest way to figure this out is to grab a measuring tape!
You want the rug to obviously fit under your bed, but most importantly, it should be long enough that the front of your nightstands just about meet where the rug starts, and the rug ends past the bed. For the width of the rug, it should at a minimum be as wide as the nightstands.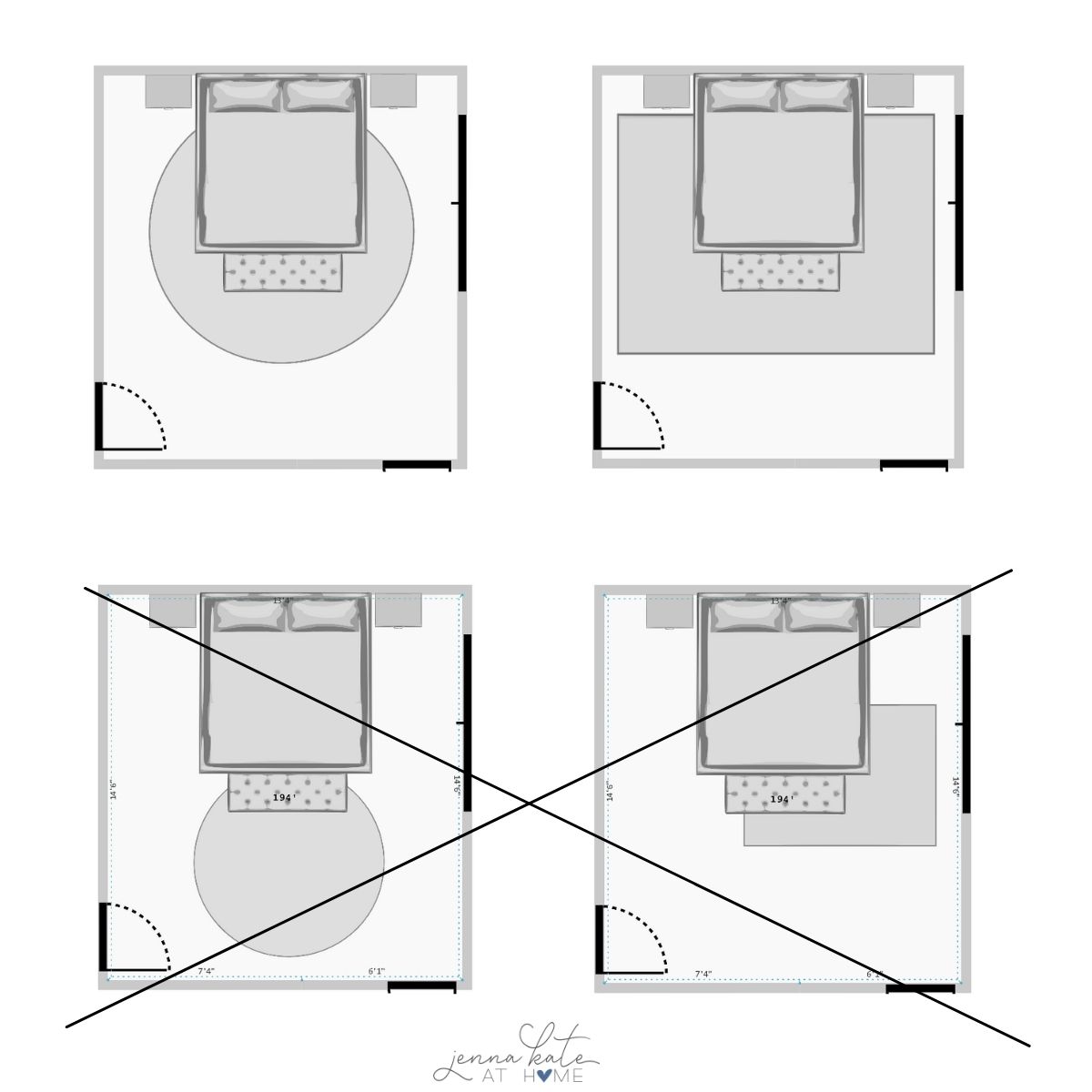 Picking a Rug Color
Picking a rug color depends on what's already in the room, as well as the current wall color. If your bedroom is mostly neutral, you can add some additional color or texture with a rug. If your walls are already a more vibrant color, or you have accessories or bedding in a specific color, you'll want to choose a rug in either a similar tone or one that complements what you already have.
My favorite tip for choosing a rug (especially a patterned one with several colors) is to find one with one of your main decor colors in it. For instance, if your room is mostly neutrals but you have decorated with pops of green, perhaps choose a warm neutral rug with a pattern that has a little bit of green in it.
Since most of the rug is covered by the bed, you can also pick a much bolder patterned rug for a bedroom than what you might choose for a living room.
Need a kitchen runner rug, too? Then be sure to take a look at this other post for The best kitchen runners.
What Type of Material Should a Bedroom Rug Be?
My preference for a bedroom rug is 100% wool where possible. These rugs will last a long time and tend to be thicker and plusher. With that being said, I've had polyester rugs that were just fine, too.
Neutral Bedroom Rugs
If you've already got a lot going on in your bedroom and just want a simple neutral rug to ground the space, or want to maintain a light and bright feel, then these neutral bedroom rugs will fit the bill.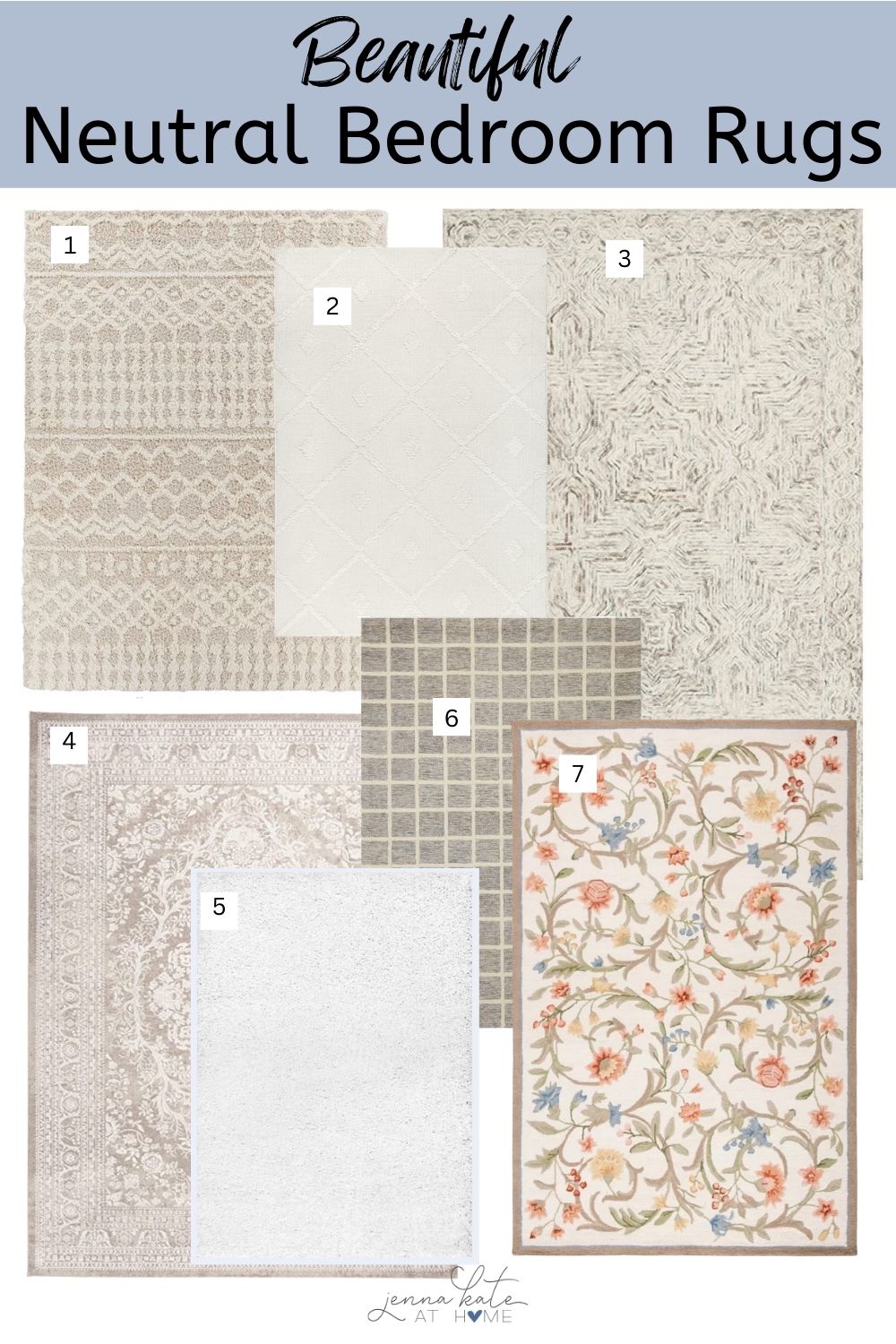 I have several neutral rugs in the bedrooms of my home, and I love how bright they make the rooms feel. Number 3 (above) is what I have in my own bedroom, and this pretty rug (below) is in my 3 year old son's bedroom (FYI – it definitely needs a rug pad)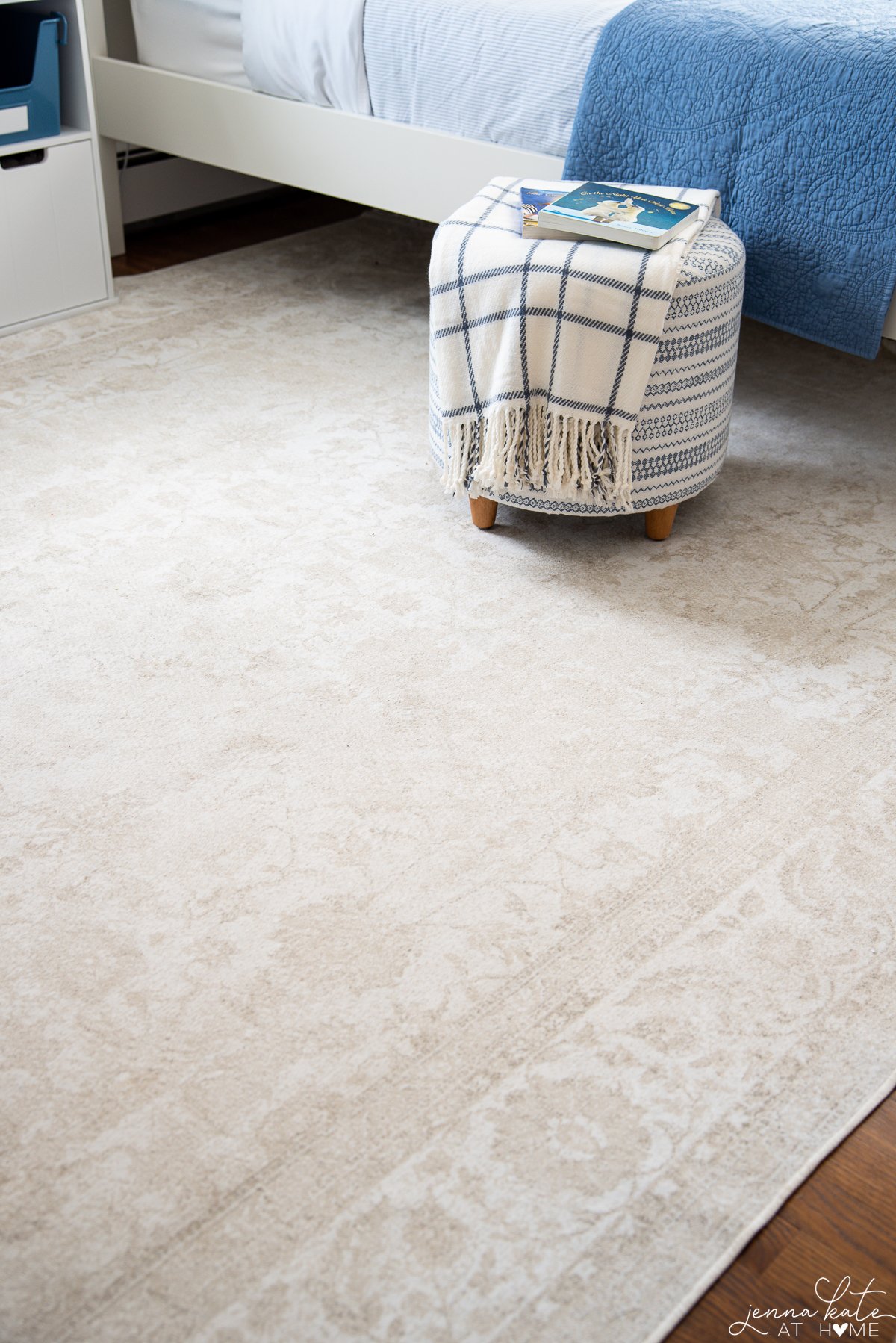 Blue Bedroom Rugs
Blue is such a calm and restful color, which makes it perfect for any bedroom! Whether you go soft and muted or pack in some stronger color and pattern, these blue rugs will add a real design punch to your bedroom.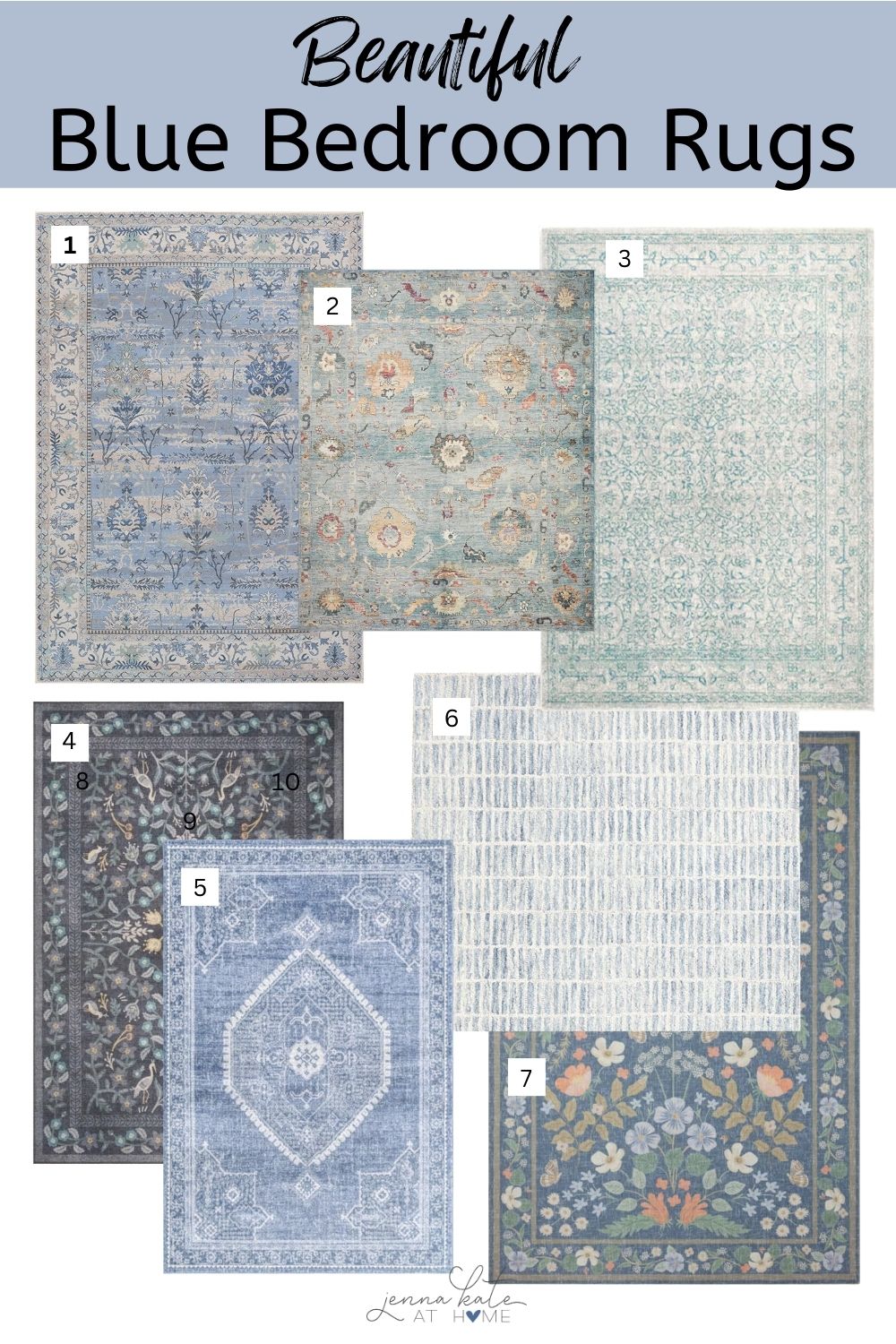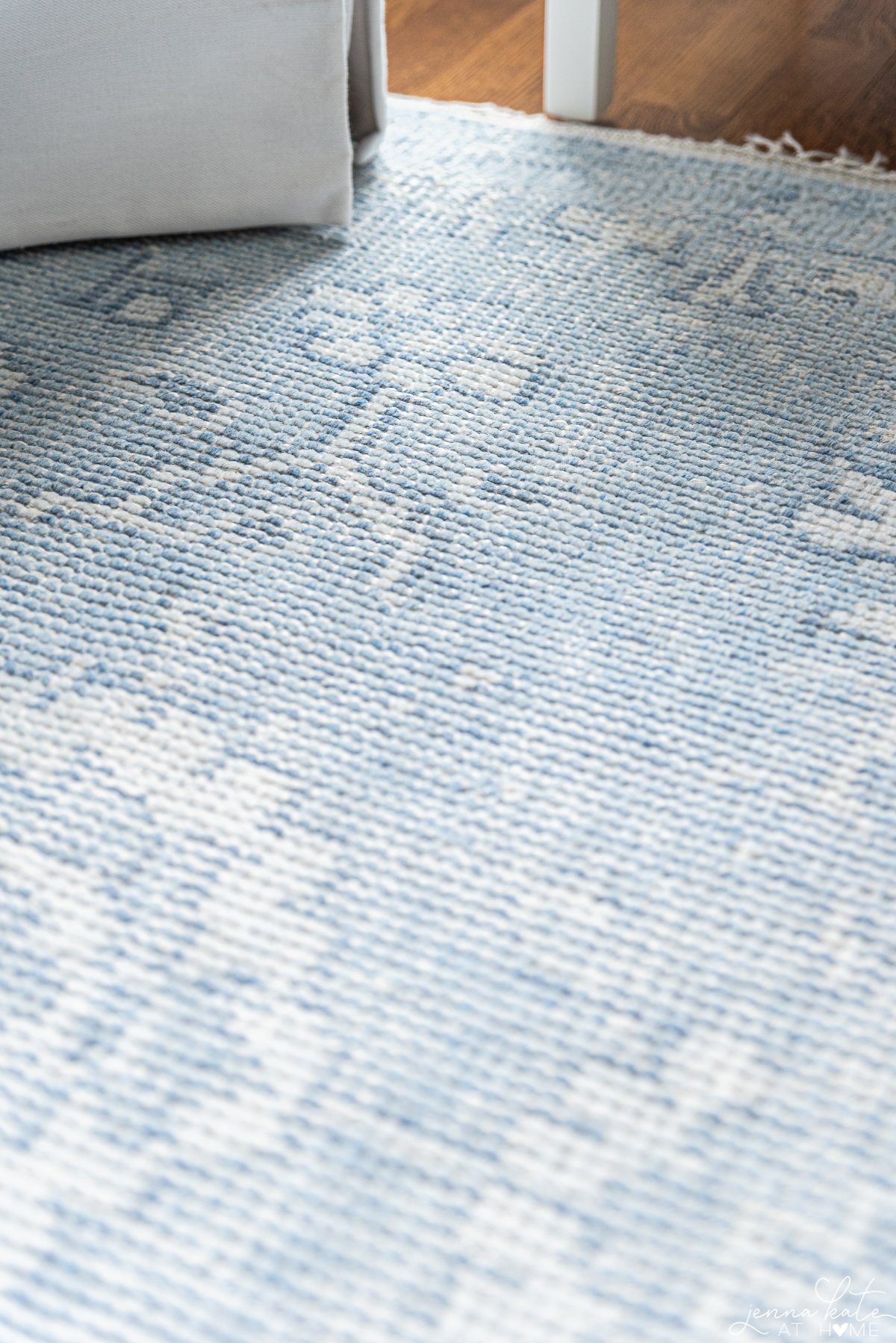 Green Bedroom Rugs
These shades of green work beautifully alongside other neutral colors, to add a warm touch of color to your bedroom floor. Don't be afraid to pick out some of the other colors you see in these rugs and use them in accents or pillows to really tie the look together.
Regardless of the thickness of the rug, you may want to consider a rug pad for underneath. Thin rugs will need one to add that plush feeling you want underfoot (especially in a bedroom) but a pad will also protect the floors underneath the rug from scuffing. These felt rug pads are my favorite, but these low profile ones are a good option if your rug is already thick.