This is a sponsored post written by me on behalf of Floor & Decor. All opinions are 100% mine.
When updating or remodeling a kitchen, a backsplash is a major part of the final aesthetics of the kitchen. Whether you prefer timeless styles like marble and subway tile, or want something really on trend like the popular hand crafted and glazed Moroccan tiles known as Zellige, there's something out there for every budget and style.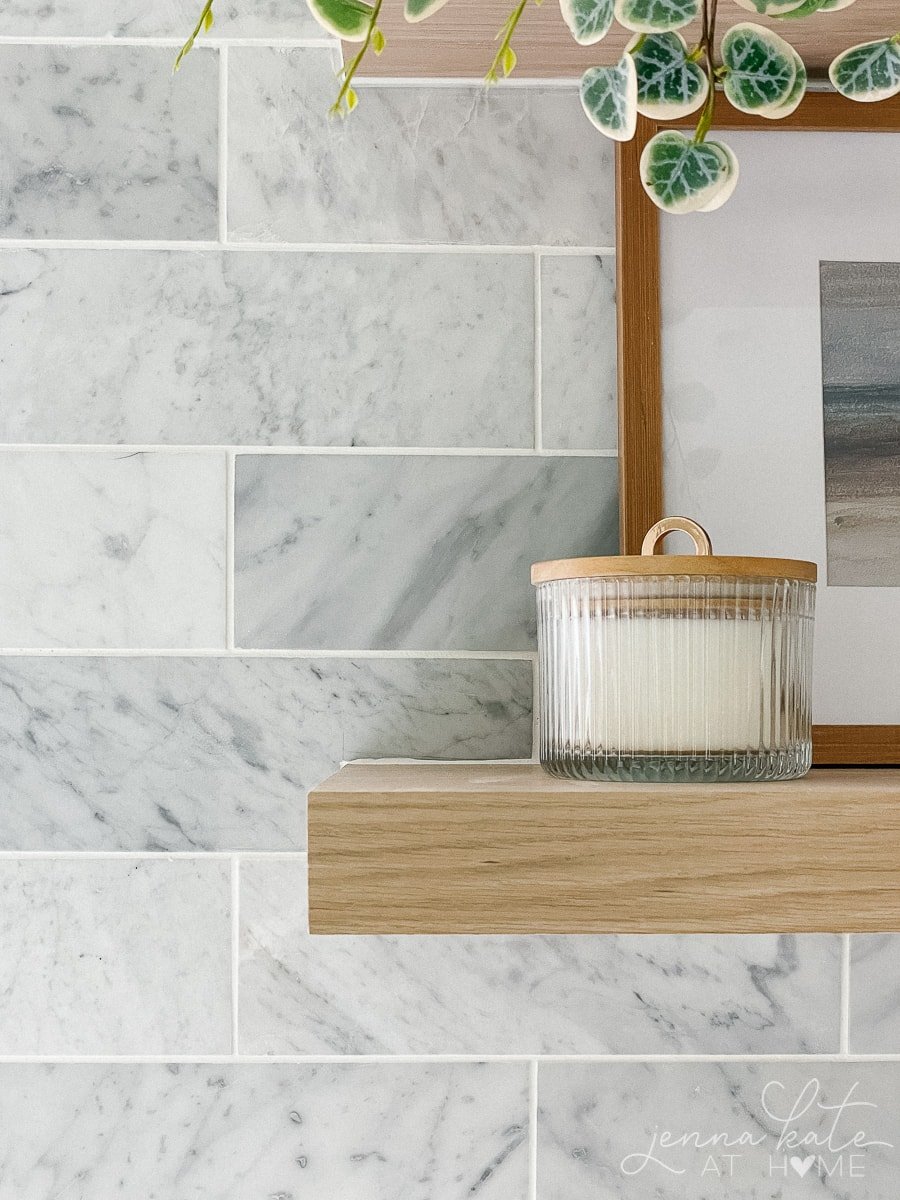 Pick A Tile You Can Live With For Years To Come
While tile can be removed and new tile installed down the road, most of us want to choose a tile that we will love 5 – 10 years from now. If you're dead set on something trendy, just know that you may not like it years from now. If you can live with that, then go for it!
I know that we will never plan on remodeling this kitchen again, so it was important to me that I chose a tile that would stand the test of time. While the honed marble I ultimately chose is not a budget-friendly choice (subway tile, on the other hand, is!), it is a classic that I know will stand the test of time.
Choosing Tile To Match Countertops
Choosing tile to match countertops is important for a few reasons. A mismatched backsplash can look tacky and unprofessional, like it's there only because it was cheap.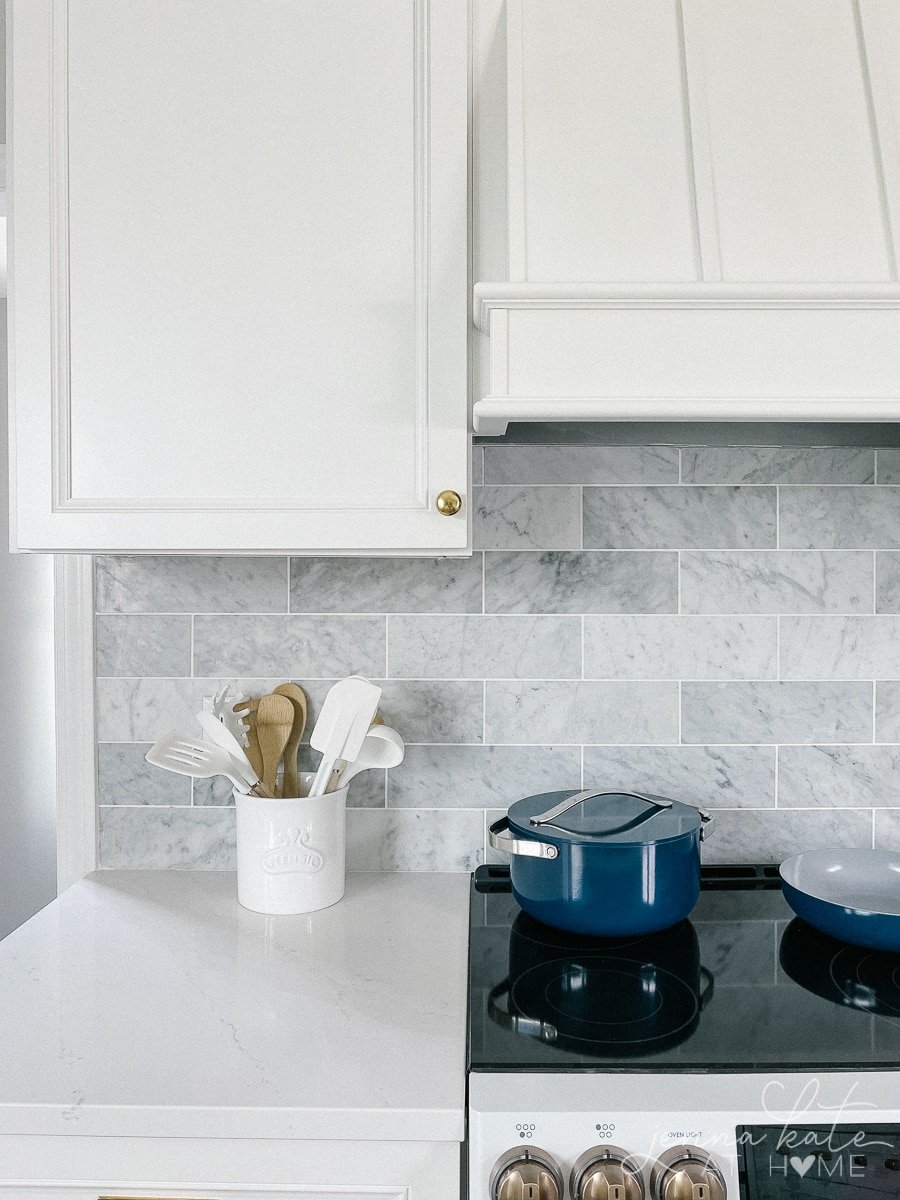 You want to make sure your kitchen looks its best, so buy the most suitable material (tile, glass or marble) according to your tastes and budget.
When shopping around for materials have pictures in hand of different materials you like, then compare them with the current countertop. It will be hard to visualize how something new will work without actually being able to hold it in your hands and see what works together.
Do not buy your countertop and backsplash tile in isolation. I already had my heart set on these Bianco Carrara subway tiles from Floor & Decor, so I brought a sample with me when I was countertop shopping, along with a sample of my cabinets, too.
That way I was able to make sure that the countertop wasn't too bright white or too creamy against the cooler tones of the tile and slightly warmer white of the cabinets.
If you are working in reverse (you already have a countertop or chose it first), then bring a sample tile shopping with you. If you can't do this, narrow down your tile choices to 5 or 6, purchase a sample of each and bring it home to sample against your countertop.
Anything you don't use can easily be returned (yes, even individual pieces!).
Don't Forget to Consider Your Flooring
While the flooring isn't nearly as important to match, since our new mudroom floor would be visible from the kitchen, I wanted it to flow and not look disjointed.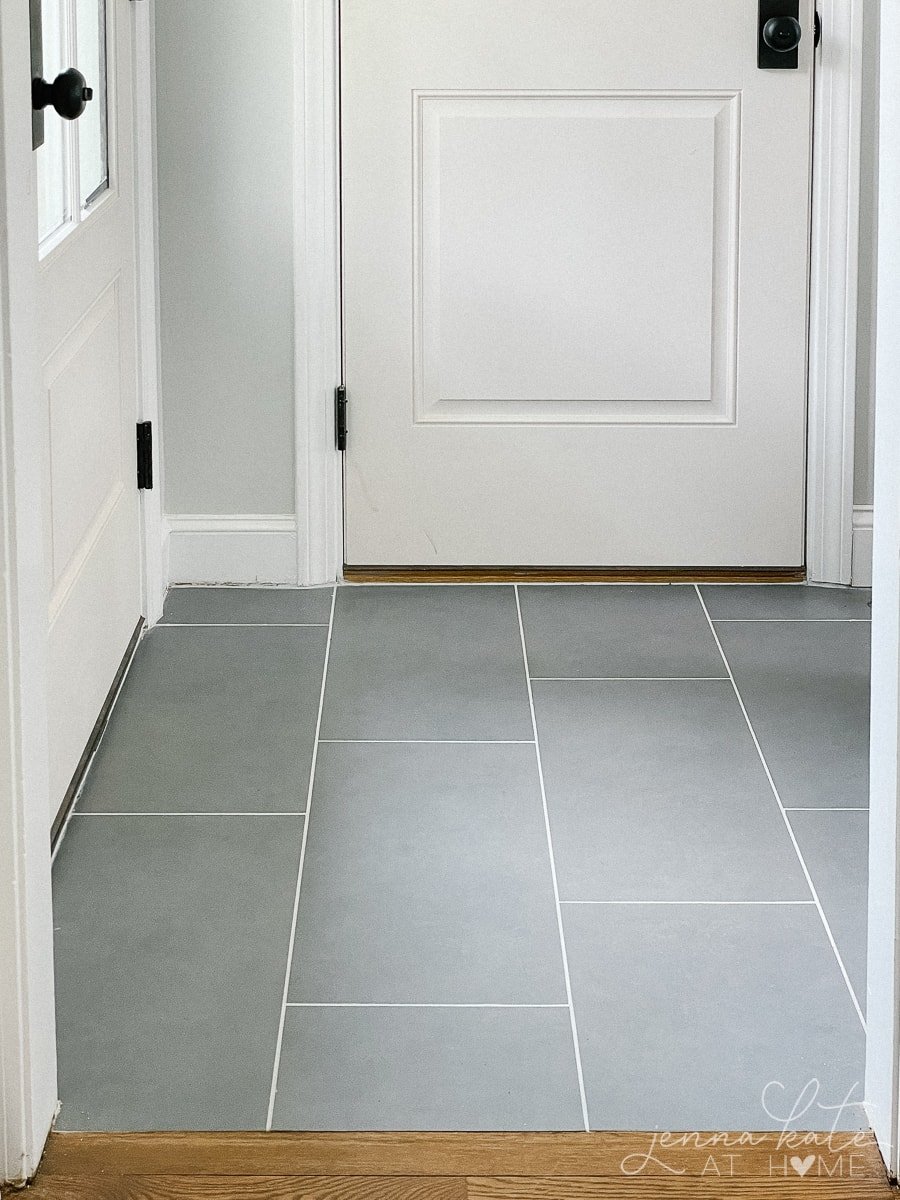 For this reason I chose a simple large format gray tile with gray grout (the color "cobblestone" from Mapei). I It meshes well with the gray in the kitchen backsplash and is easily cleaned, since the mudroom is a high traffic area.
Why I Chose Honed Marble Tile
Subway tile and Zellige tile seem are currently the most popular type of tile for a backsplash. I think they are both beautiful. Subway is inexpensive and always looks good, and the natural variation and glazed finish of the Zellige tile adds more texture an interest than a basic subway.
However, I'm already sick of seeing these types of tile on Instagram so I was worried that I was quickly tire of them in my own home, too.
Marble is considerably more expensive than subway tile (or many other tiles for that matter. But marble has been around for centuries and still looks beautiful to me. It has so much variation in each piece of tile and it works with the overall cooler color scheme I have in my home.
It's also very durable, especially when sealed properly.
I shopped around a lot for larger marble subway tiles, and was happy to find the best price and selection at Floor & Decor. Whatever tile you have your heart set on, I bet you will find it there! It's such an amazing store.
The Boxes of Tile Need to Be Mixed Prior to Installation
My only major caveat with marble is that because it's a natural stone, there will be a lot of variation. The "white" carrara that I purchased has been sorted so that it's generally on the lighter scale of grays. However, there's definitely still some darker grays, some beiges and even tile with naturally occurring patterns that would have bothered me.
For the most natural look, the boxes of marble need to be mixed prior to being installed. This is really important to avoid sections that are darker and lighter – because the tile tends to be boxed similarly (you'll find one box of all lighter, almost white tile and then another that's all dark tile).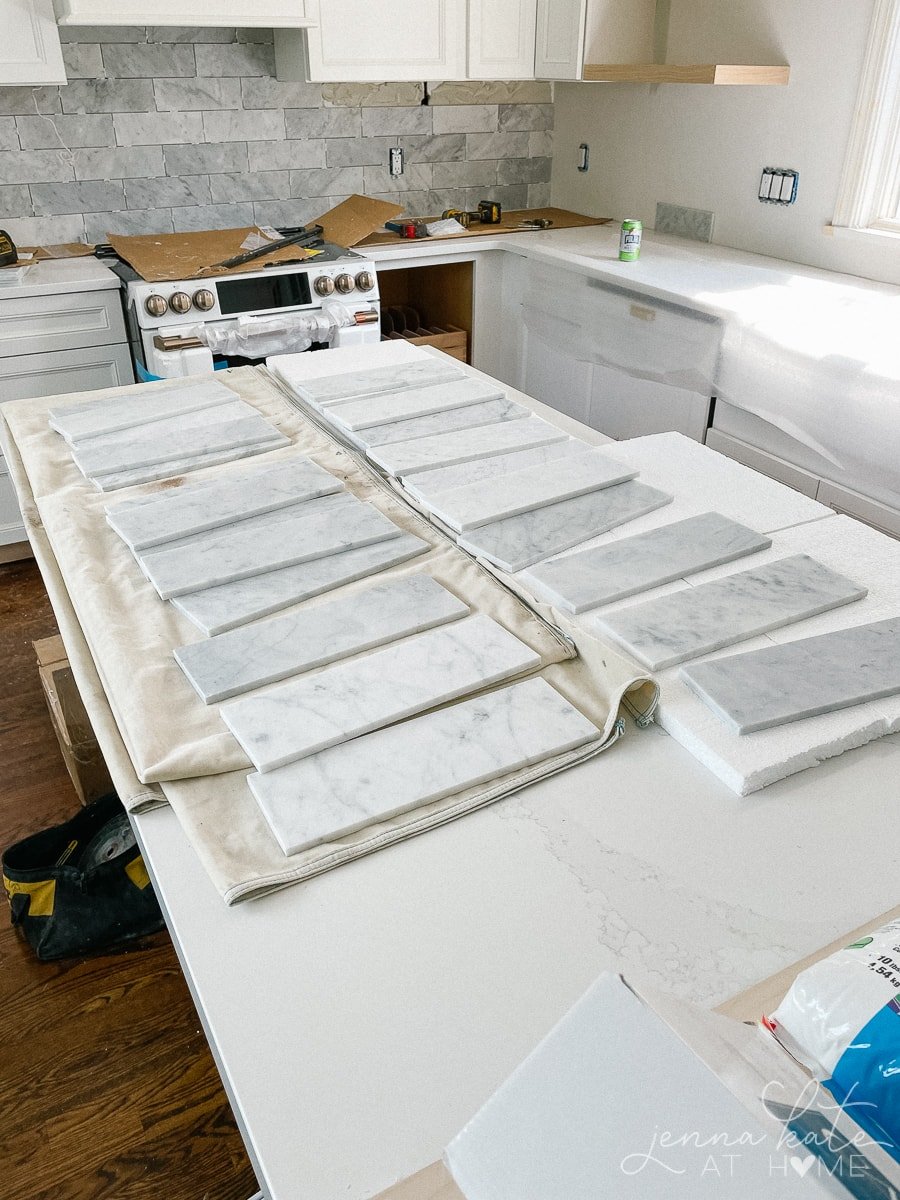 I was a bit extra, and went a step further, and hand-picked every single piece of tile that went up on the wall. I know from past experience that there's nothing more annoying that one piece of marble that has a pattern like a face, or a wave or something weird, that will stick out like a sore thumb and bother me for eternity.
I also pulled out all the darker tiles that I didn't like, as well as any that had a beige or slightly yellow/green cast to them.
How to Decide on a Grout Color
While choosing a grout color is partially dictated by the tile itself, it's also personal choice.
When I was ready to have my new honed marble backsplash installed, everyone told me to choose gray grout for easy cleaning and so that the marble would blend together, creating a more seamless feel.
However, I didn't want a seamless feel and I love the look of white grout with Carrara marble. Yes, it creates more of a "picture frame" look (similar to white subway tile with darker grout) but I like that, and I like how the white grout stops the marble from ever looking too dark.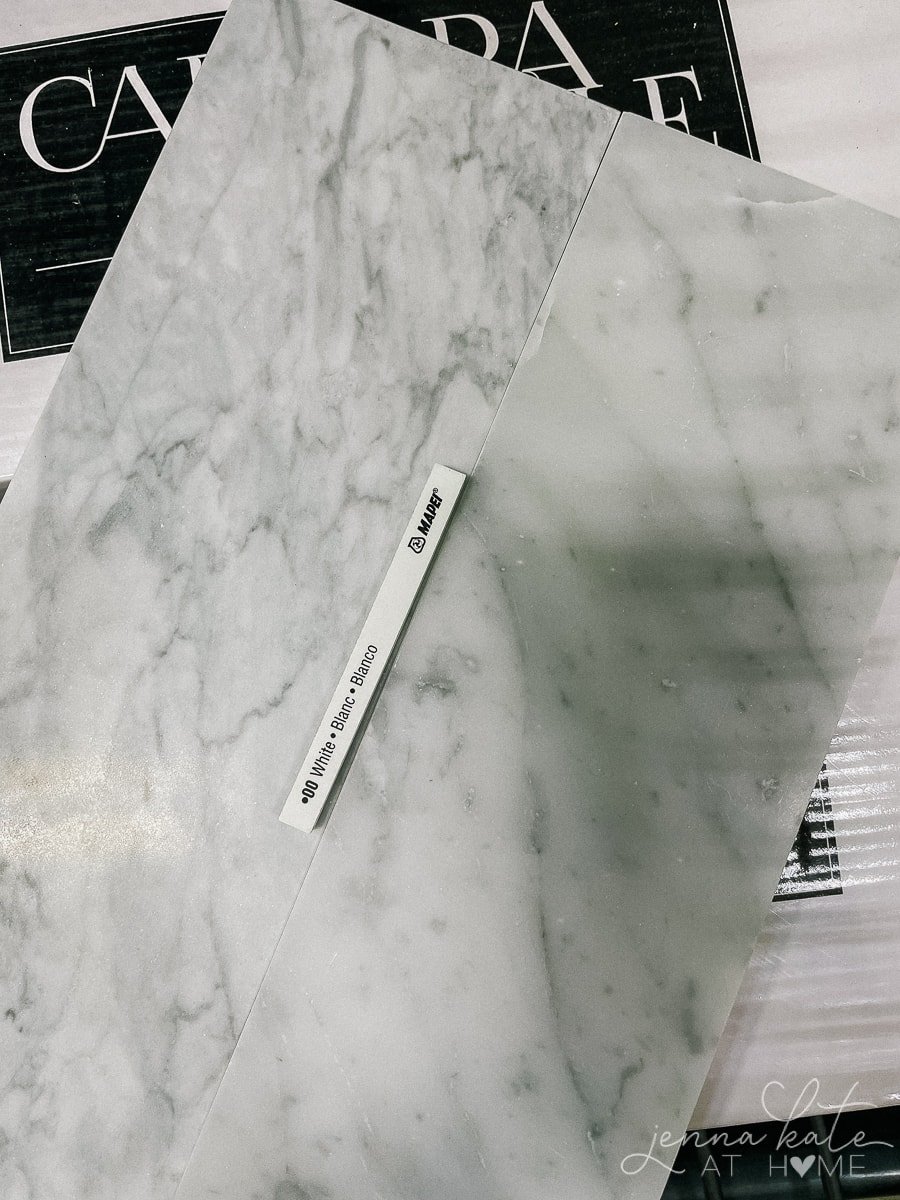 I didn't go into this blindly knowing what colors of grout to use, though. I made sure to do my homework and I worked with a store assistant at my local Floor & Decor store who helped me match my tile to a few suitable grout colors. Then we narrowed it down from there.
The best tip she gave me was to look at the colors in the tile itself. Those will dictate what grout colors will work best. In the case of my marble, I had white, light gray and darker gray. Any of those three colors made for the perfect grout compliment.
If you're dealing with a plain white tile (like subway), you can choose whatever grout color you want. Just keep in mind, the darker the grout the less forgiving it is. Medium to dark gray grout will show every single minor imperfection and amplify it.
For those of you who need a bit more help beyond just choosing grout colors, Floor & Decor offer free design services. Their designers can help you pick product and materials to help you finish the project. When renovating, every bit of free help is welcome, right?!
What's The Best Grout Line Size for a Backsplash?
Your grout line size depends on the look you are trying to achieve and where it will be.
Smaller grout lines help tile blend more seamlessly and require less cleaning. My tile guy recommended 1/16 inch as what most people want for their backsplash, but after comparing it side by side with the 1/8 size, I opted for the slightly larger grout size. But that was totally a personal preference thing!
Larger grout lines on backsplashes are generally considered outdated, and should be reserved for flooring. For my pantry floor, I also chose the 1/8 size but up to 1/4 inch would have been fine. I wanted to keep the grout line relatively small, to avoid worrying out cleaning too much grout in the future!
How to Seal Marble Tiles
Marble has been around forever because it's easy to clean, very durable and beautiful. However, marble is porous (especially the honed type that I chose) so it needs to be sealed to avoid stains.
Sealing is actually very easy to do and can be re-done every six to 12 months to keep your marble backsplash looking its very best. To seal your marble backsplash make sure to use an impregnating sealer that's compatible with marble.
Final Thoughts
I hope hearing about my process for selecting tile for my kitchen remodel was helpful for you! It was one of my favorite aspects of designing my new kitchen and I'm so thrilled with how it turned out.
Other Posts You'll Enjoy