Ready to refresh your home for 2023? These are the best (and most realistic) home design and design trends for you to incorporate in your own living space.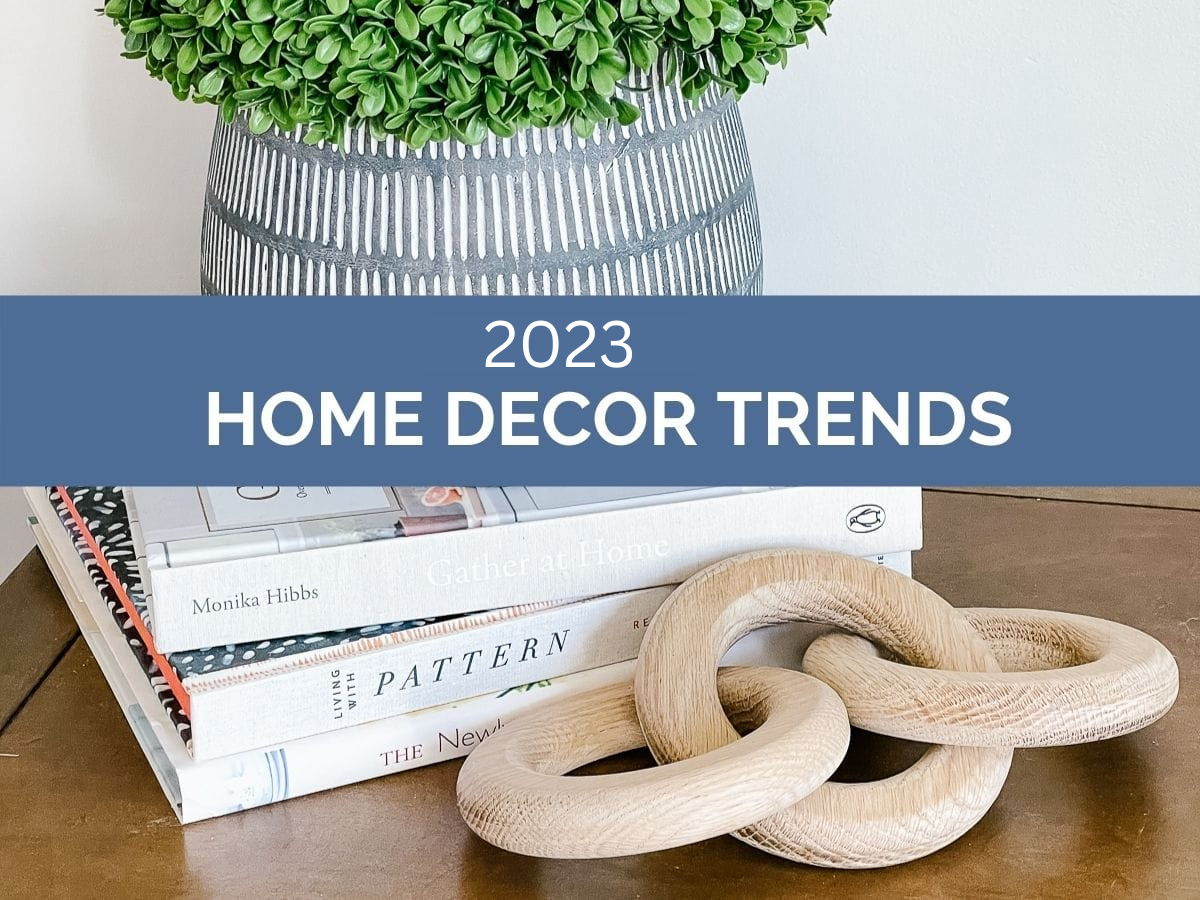 There's been a major shift in design style this year. We're quickly drifting away from the gray era from recent years and adding more warmth to our homes along with a more personalized approach to our decor.
The top home decor trends for 2023 will have us really making the most of our space, creating a cozy, natural atmosphere, and bringing a bit of new and old into the mix. There will be a strong emphasis on creating warmth by adding natural elements while adding a touch of sophistication with the use of gold and black.
So without further ado, here are my ten favorite home decor trends for the upcoming year.
Moody Colors
One of the biggest trends this year that is taking center stage is saying goodbye to gray and hello to color. Most notably, to those moody, earthy, and jewel-toned shades that really make a statement.
These darker paint colors work seamlessly with another top trend on this list—the use of natural woods. We're veering away from the very clean and sterile look that once was and leaning more towards a warm and cozy, with a pop of drama in 2023.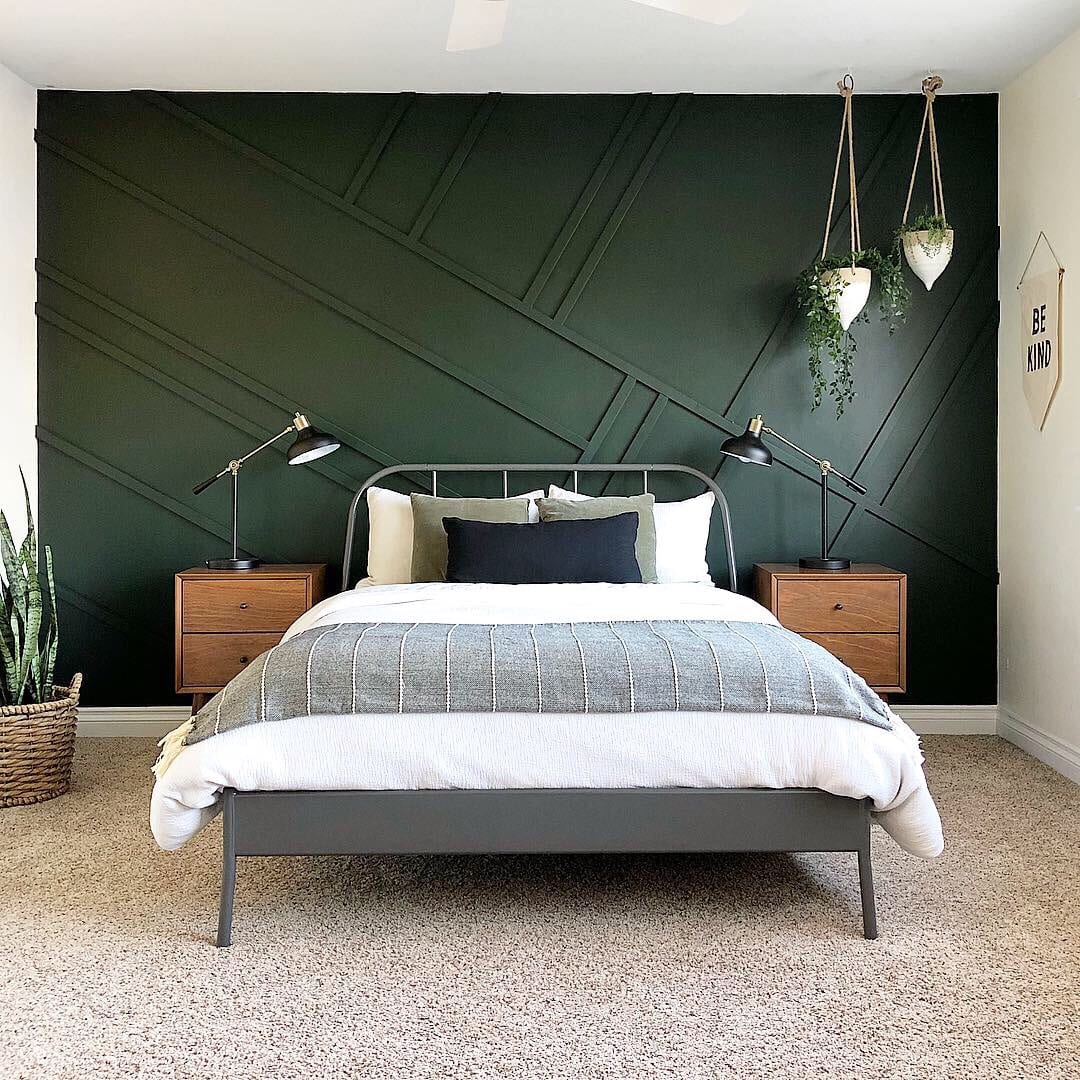 This trend can easily be accomplished through a stunning accent wall, a bold kitchen island, refreshing an old entry table with a new coat of paint, or bringing in a gorgeous velvet accent chair.
It's no doubt, interior designers are saying color is king in 2023! The more saturated the better. And the vision goes beyond the walls though, as they're starting to see monochromatic ceilings and walls become the trend.
Paint colors such as Benjamin Moore Black Raspberry, BM Caponata, or Sherwin Williams Naval are great options to give you a bit of drama and moodiness in your space. If these paint colors scare you, easily incorporate this trend with some throw pillows, artwork, or smaller home decor.
Gold Accents
Pairing perfectly with these moody colors are gold accents throughout the house. We started seeing gold become popular with kitchen hardware in the past couple of years and now it's beginning to shine all throughout homes.
This switch from brushed nickel to gold doesn't come as a surprise with the shift from gray to colors. The experts are saying that the gold and brass elements on the market today are the new classic and are here to stay for a while.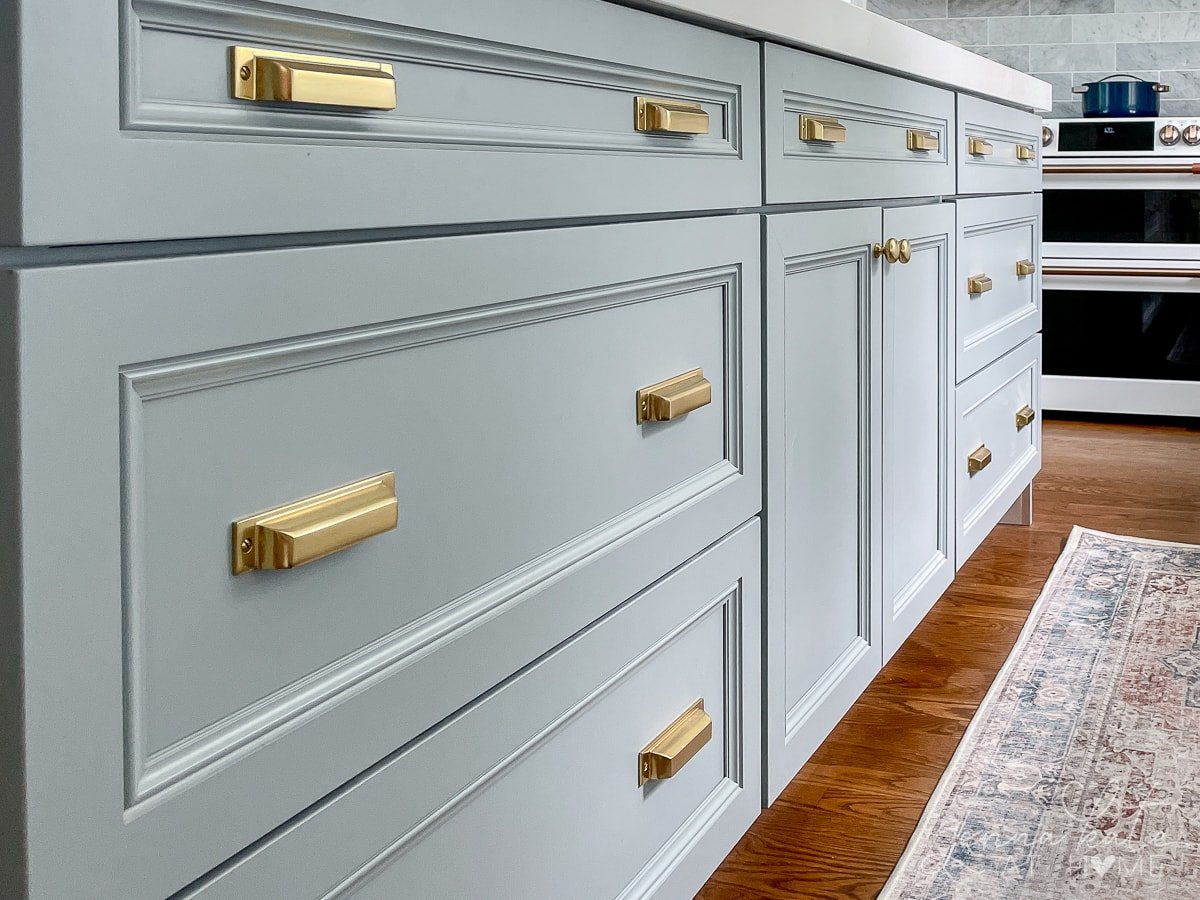 Both sleek and eclectic gold mirrors are popping up everywhere from the bathrooms, bedrooms, and even hallways. They add a sense of elegance and glamour, especially next to those dramatic colored walls.
If you're worried about your space getting stuck in the 80s or 90s, try adding a simple gold light fixture or decorative vase in your kitchen or bathroom along with a warmer palette of colors to help you embrace this trend.
Creating a Sustainable Home
I'm glad to report that 2023 is going to be all about sustainability. I love the idea of living in a more eco-friendly way – whether that's reducing the consumption of plastics in our home or even being mindful about where our textiles and clothing comes from. 2023 is all about making a pledge to live in a more sustainable, earth-friendly way.
One of the ways we can do this is by being more aware of where our home decor come from – instead of buying new, it's now more about thrifting, buying second-hand, and even repurposing and up-cycling furniture. By reducing the unnecessary purchasing of new items, we are being far more conscious about our levels of consumption and therefore we are having a more positive impact on our planet.
The approach of seeking out more sustainable home decor even extends to textiles – think fabrics that are more durable, long-lasting, and generally much more environmentally friendly during their production processes.
A few examples of these include organic and recycled cotton, linen & bamboo. So instead of thinking "what's the next thing I can buy to make my home feel and look more trendy" think, "how can I repurpose what I already own to reduce unnecessary waste?".
Black is Back
Along the same trend as the moody paint colors, we're going to start seeing a lot of black accents. Not just on accent walls, but hardware, lighting fixtures, doors, are more. This is the perfect trend to embrace if you've been on the fence about painting an entire wall in a dark, rich, black.
No matter your decorating style, adding a touch of black will immediately add sophistication with a bit of drama to any space. And don't worry, they don't see this trend fading anytime soon. You might not realize it, but due to its lack of undertones, most black paints can be used as a neutral color.
If the black-and-white color scheme is a little too stark of a contrast for you, try adding touches of black along with some gold elements mixed in with natural wood for a warmer look.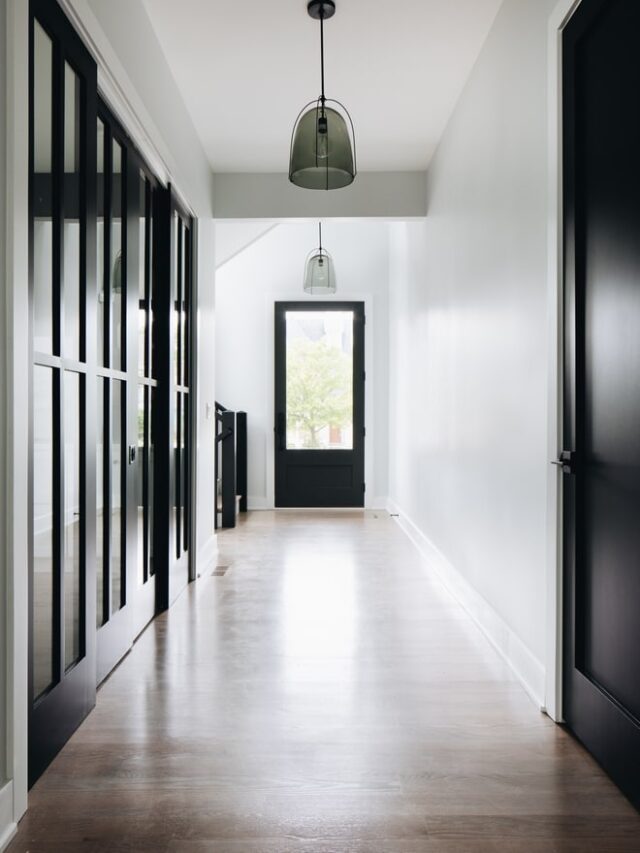 Natural Wood
One trend that continues to always make a big comeback is the use of natural materials. On par with the ending of the gray era and the beginning of warmer tones, the move towards more natural wood adds depth and creates a cozier space.
This trend probably has something to do with the mixing of old and new pieces as you'll see below, and I'm absolutely loving it. So before you go painting those honey oak cabinets, you may want to think again … you might just be ahead of the trend!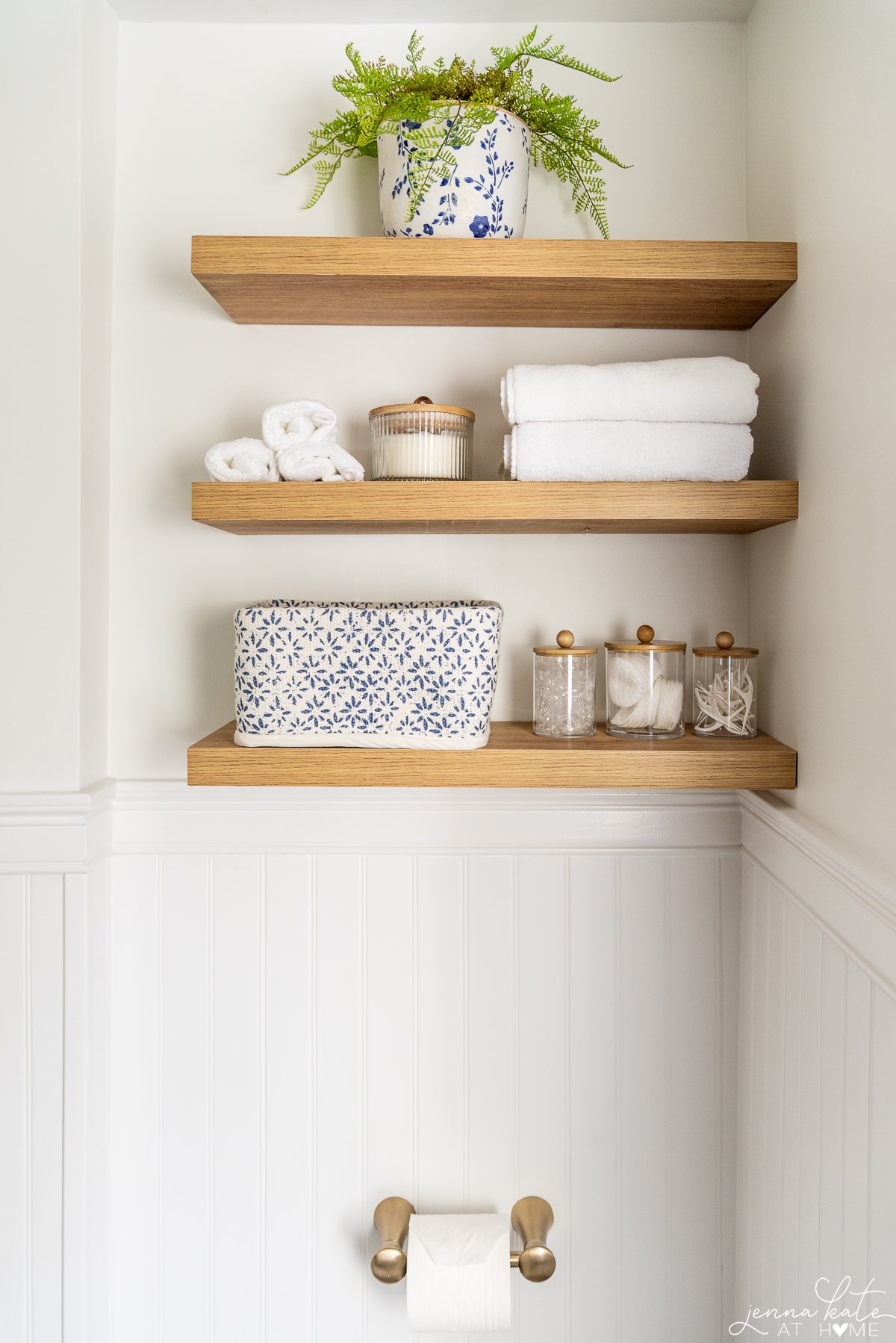 We're seeing everything from smaller natural wood shelves, and mirror frames, to larger-scale items like cabinets, consoles, and of course wood floors. Not only do these elements bring a source of warmth but also tons of texture to your space.
Mixing of Old + New
Last year we saw a rise in a vintage and old-world style that gave your space a quirky and vibrant, yet timeless look. This year it's all about taking those pieces and blending them in with newly purchased pieces. It's eclectic yet curated and perfectly put together style.
I love this trend for so many reasons. It's all about going slow, so this is not a trend you can or should achieve overnight. This involves playing the long game.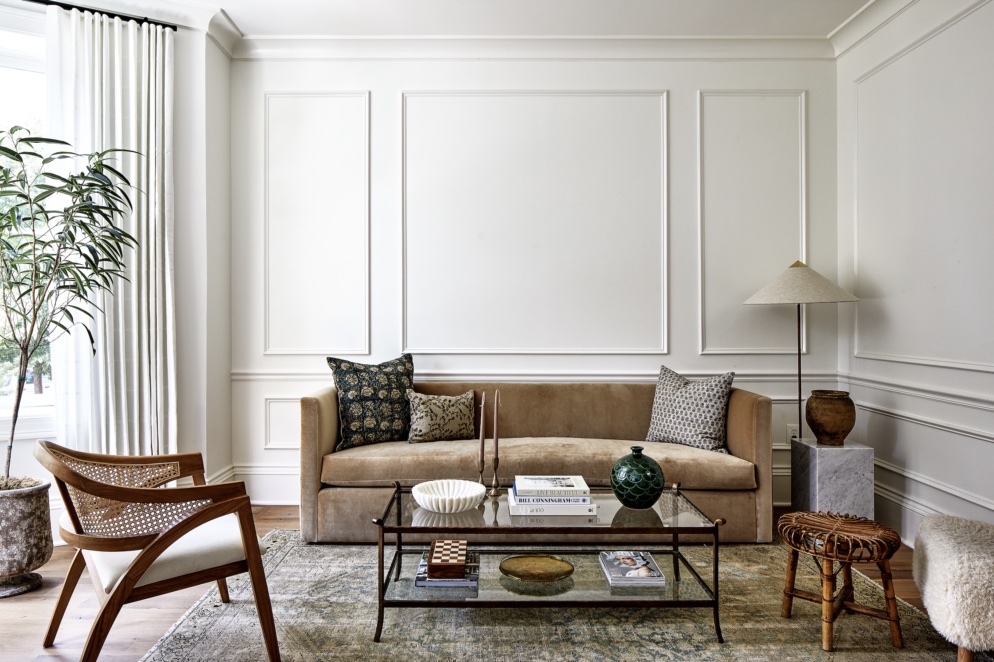 The mixing of old and new trend lends itself to layering up items you have collected over time together with pieces that are much newer. It's definitely more about the process than the end result – so think about spending your time mindfully collecting vintage pieces that you love and adding them to your home to create a layered, quirky look. What I love most about this trend is that no space will ever look the same – it's a testament to your own personal style and creativity.
2023 will no doubt see more people trailing through antique shops, buying and selling old furniture pieces, and generally taking their time and effort to collect beautiful vintage-inspired items to add to their home collection. So don't pass up those vintage rugs, they are the perfect way to incorporate this trend into your space.
Closed Floorplans
Believe it or not, those marvelous open floor plans we all dreamt about are making their way out. The trend is focusing more on individual, intimate living spaces. We'll now look for more private areas while a good majority of people are now working from home.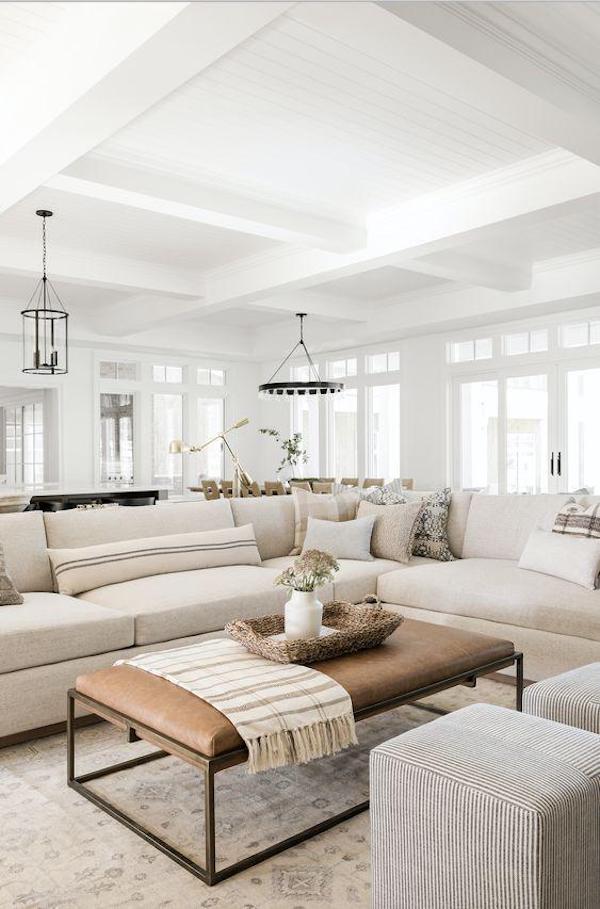 But this isn't just about workspace, this closed concept is coming back to the kitchens, dining rooms, and living areas. Creating smaller, cozier spaces within the home is becoming the more desirable option.
If you're home has a large open space, you can easily create the division of rooms simply by rearranging the furniture to designate the different functions of each room.
Natural Stone Finishes
Beautiful natural stone finishes are making a big movement in 2023. We're seeing them most commonly in kitchen countertops with the use of marble, limestone, granite, soapstone, and other natural materials. But more importantly, we're seeing more exotic and unexpected patterns and tones.
If you don't have the budget for a massive kitchen counter or backsplash update, you can easily incorporate this trend by finding smaller pieces such as vases, decorative bowls, and even dinnerwear.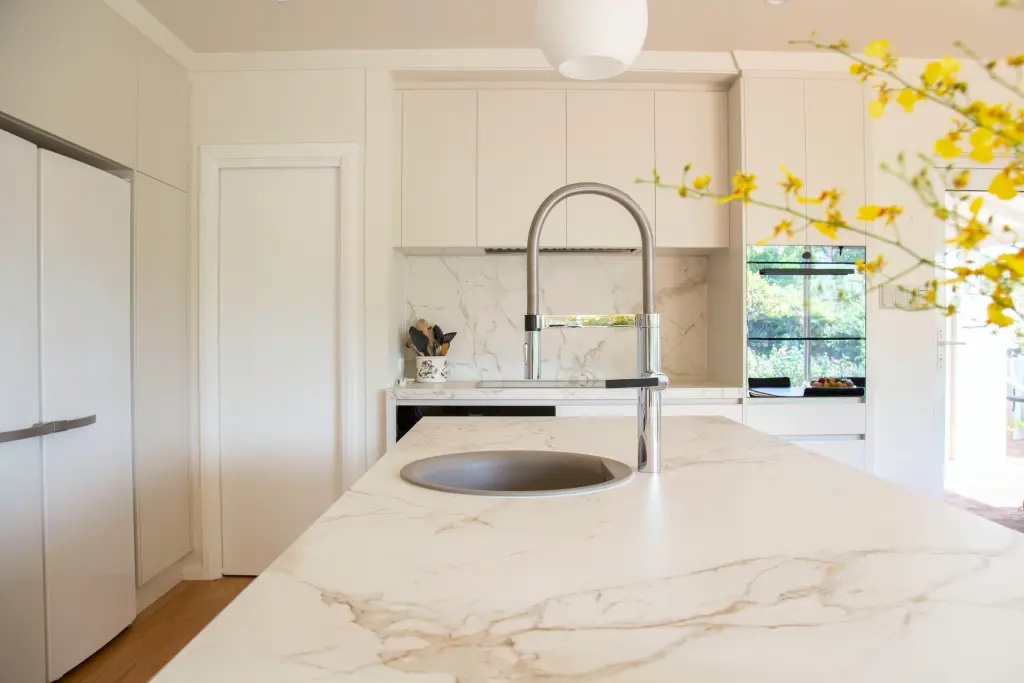 One of the charming things about using natural stones is their variations in the look, natural textures, and shine, so embrace the beauty of their imperfection. This trend is just one of the ways interior design is moving towards a more personal approach.
Refined Farmhouse
Even Chip and Joanna have added a bit more sophistication to their trademark farmhouse style. We're seeing a mix of Scandinavian, coastal, modern European and more incorporated into the modern farmhouse look these days.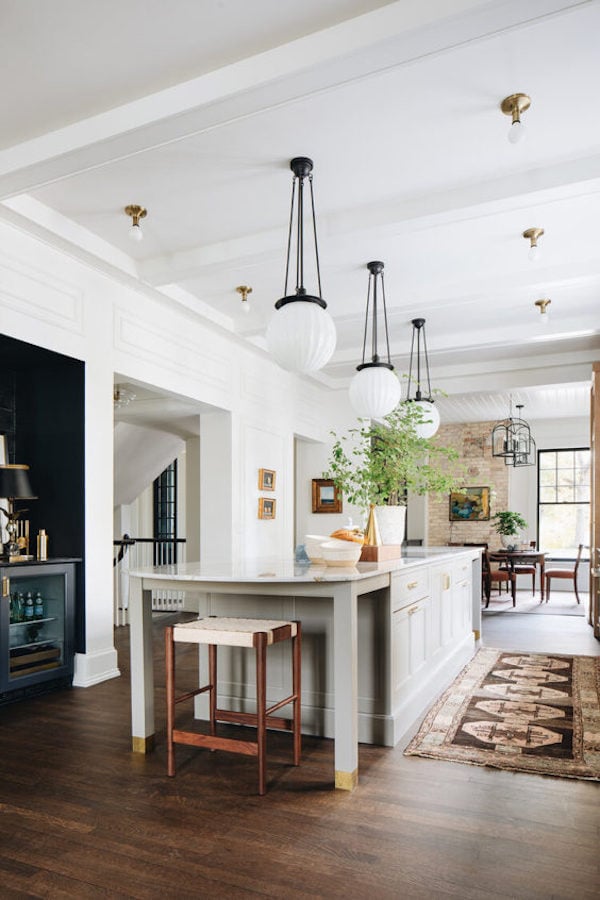 Our beloved farmhouse design is getting a more classic, sophisticated makeover that is becoming a more timeless design. Picture crisp white walls, black accents, and gold fixtures, mixed with natural elements along with new and vintage pieces, all perfectly curated.
We've all been accustomed to the Modern Farmhouse style that includes ALL the shiplap! This new trend is a bit more sleek and polished while still feeling very welcoming. If you're currently sporting the farmhouse style, this updated version should be fairly easy to upgrade to with some simple switches.
Warm Earth Tone Paint Colors
As I've been mentioning, gone are the days of HGTV Gray in every room. Trending big in interior design wall colors are more earthy and warm tones like browns, beiges, warm yellows, and even shades of green.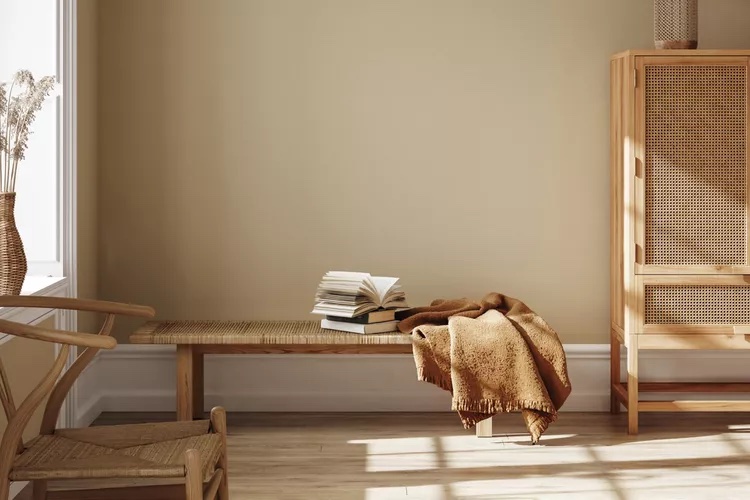 If you're not quite on board with such a drastic leap from your gray walls, an easy transition would be Anew Gray from Sherwin Williams. This warm greige is saturated yet soft, giving you that sense of warmth and energy that this popular trend is seeking.
These warm earth tones give you neutral color palettes to work with so you can easily adjust your home decor without a complete makeover. Experts suggest that these warm neutrals will help add a little more personality to your home that stark whites and grays don't accomplish.
Final thoughts
What I adore so much about these home design trends in 2023 is how well these individual trends merge together in harmony and work with so many different styles that you may already have in your home. They borrow and share certain elements whilst the main theme of beauty in nature serves as the anchor point that we just keep coming back to!
No matter what style of home decor you ultimately sway towards, so much of the beauty of 2023 will be in the mindful process of creating rather than the actual finished project. It sure is a year to look forward to for many reasons!