These tips, solutions and hacks will transform your garage from a dumping zone to a functional, organized space.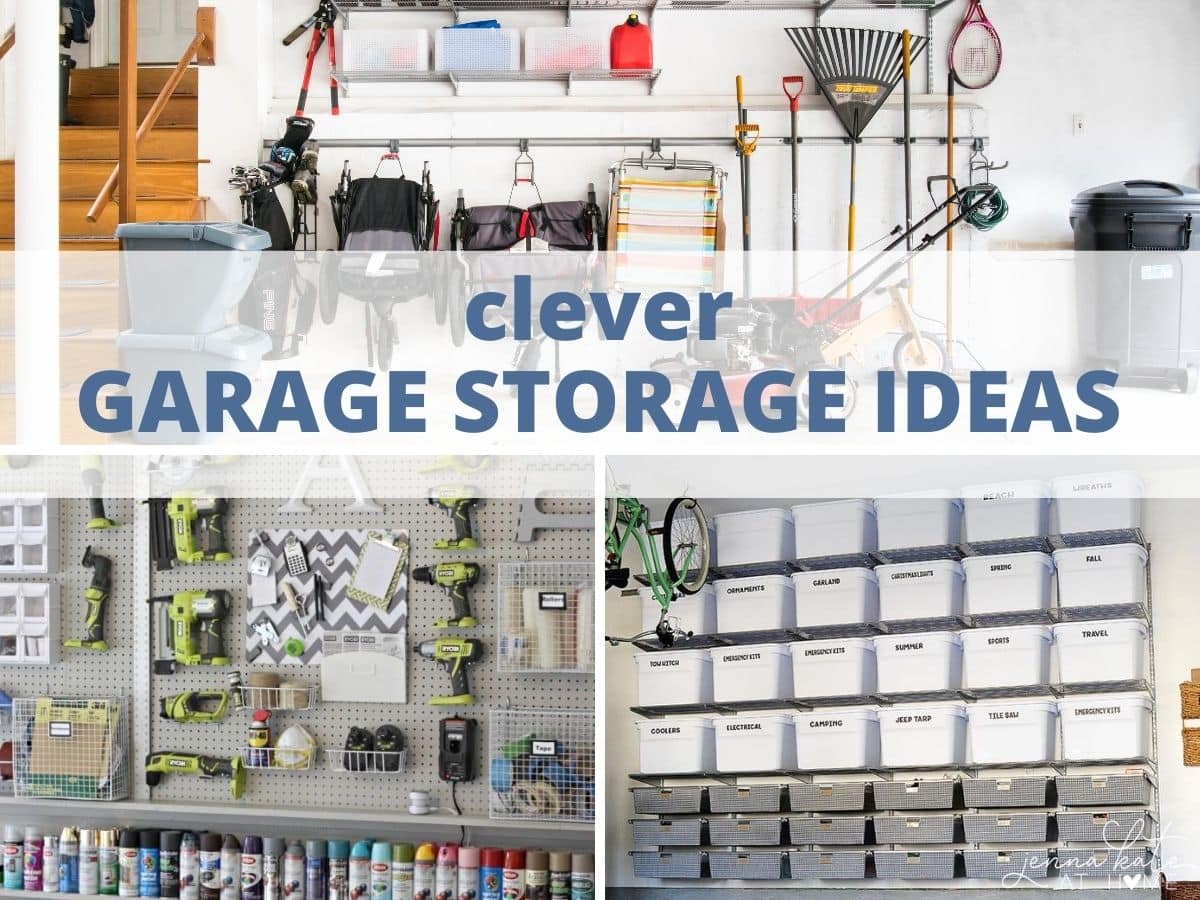 I've been on a cleaning binge lately! After writing my post about Daily Habits For Keeping a Clean House, I knew I should also share my tips for how we keep out garage look neat and tidy.
The garage is often a dumping ground for whatever doesn't fit into the house. If your garage needs a serious overhaul, set aside time to put it right with these genius organization ideas.
It requires a little bit of work and money upfront, but the freedom of actually being able to find what you need and being able to pull your car into the garage is so worth it!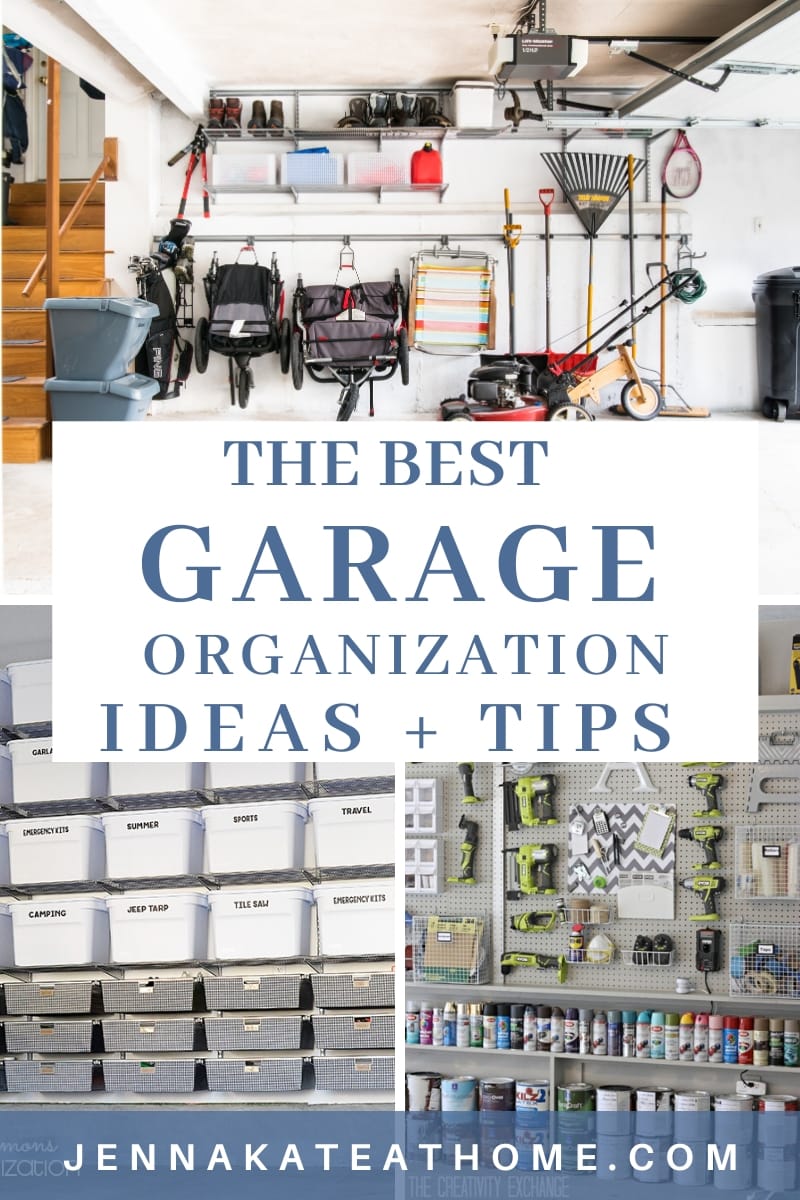 1. Add Shelves
Utilize as much vertical storage space as possible. This gets items off the floor where you need the extra space. For example, toys, bikes, strollers. Mount shelves and add bins for toys, etc. Or get create and mount giant storage buckets for balls, toys etc.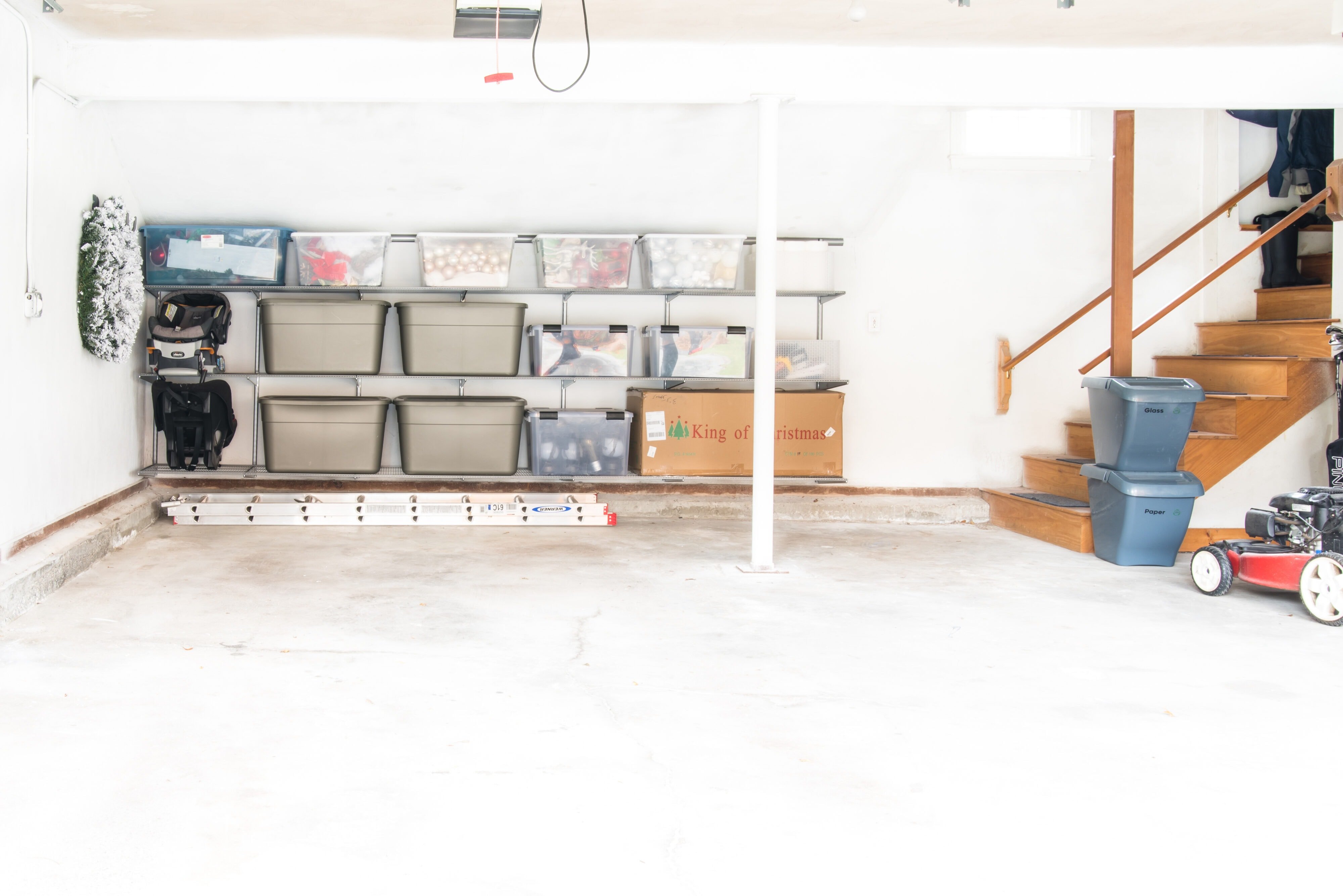 2. Logically Group Similar Items Together
Keep landscaping tools in one spot, toys in another as well as seasonal decorations or extra parts
3. Use a Track System
A track system allows for multiple hooks, shelves and other components. The bonus of using a track system is that you can maneuver the components as your needs change.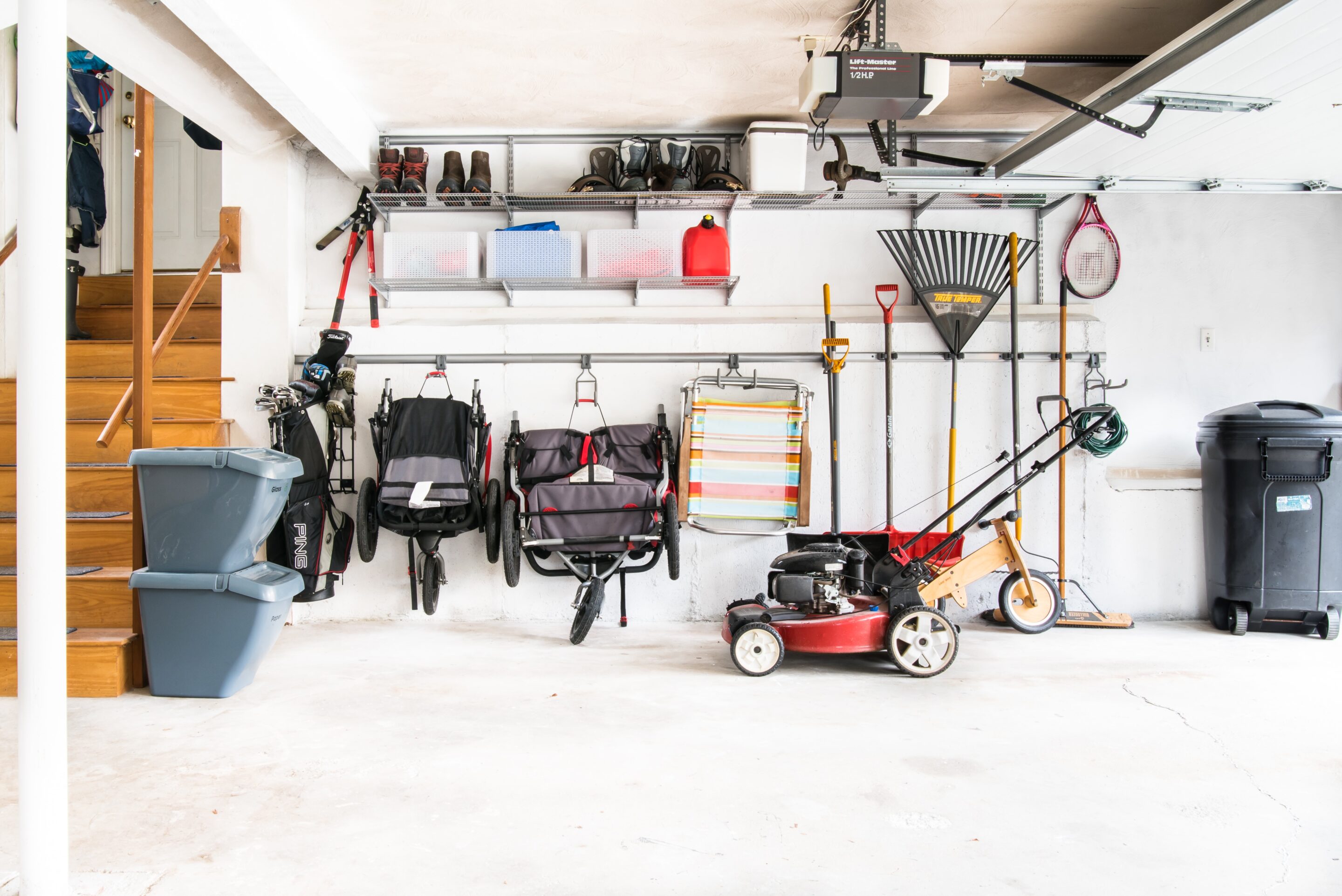 4. Use Heavy Duty Hooks For Big Items Like Strollers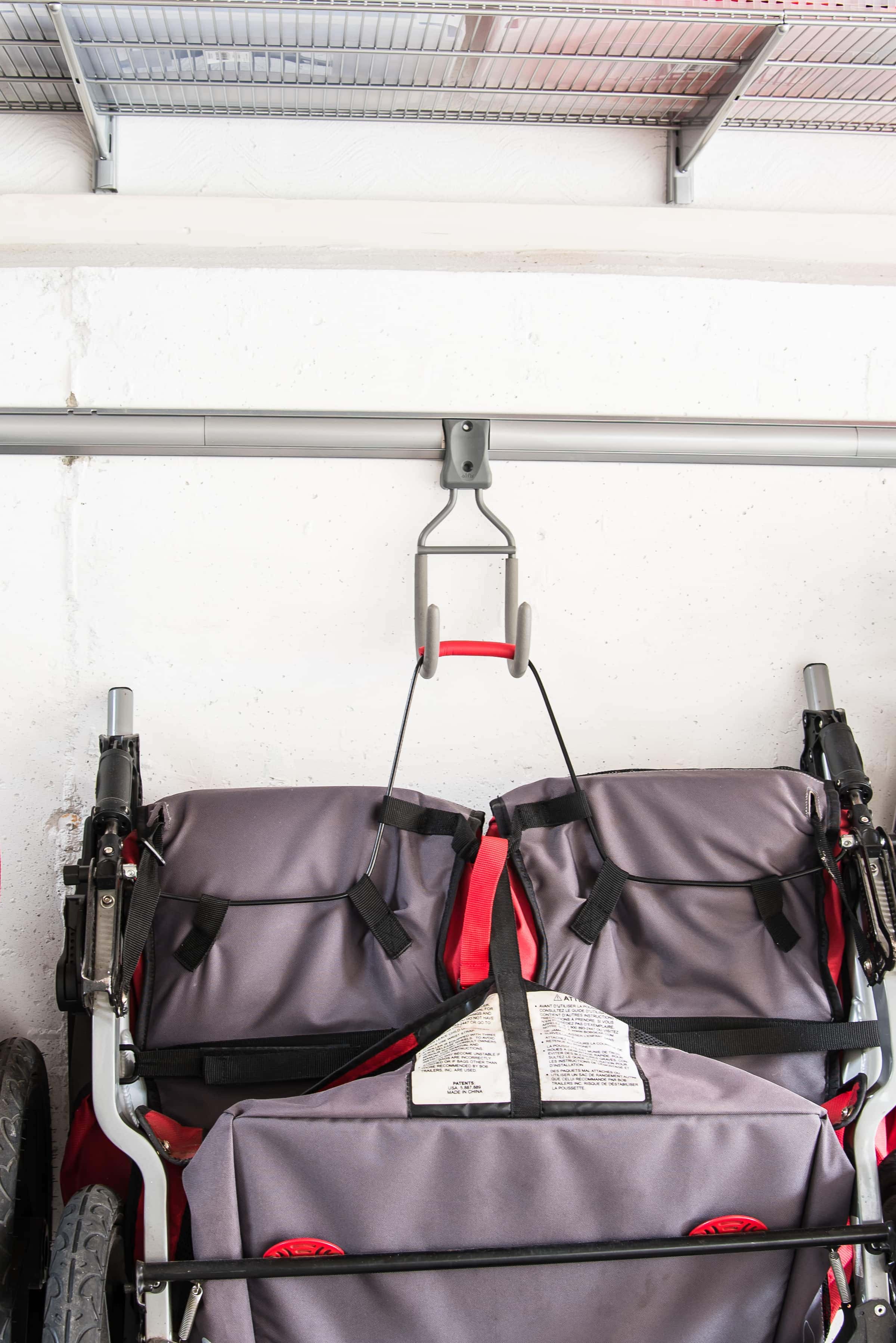 Looking For More Home Organization Ideas?
5. Hang a Peg Rail
Don't want to invest in a track system or need a simpler solution for another wall? A peg rail is perfect for hanging brooms, mops, dustpans and even dog leashes!
6. Use Metal Shelving Units
Metal shelving units are perfect for storing paint cans an other larger items. Use baskets to corral excess supplies of paper towel, toilet papers, water, etc.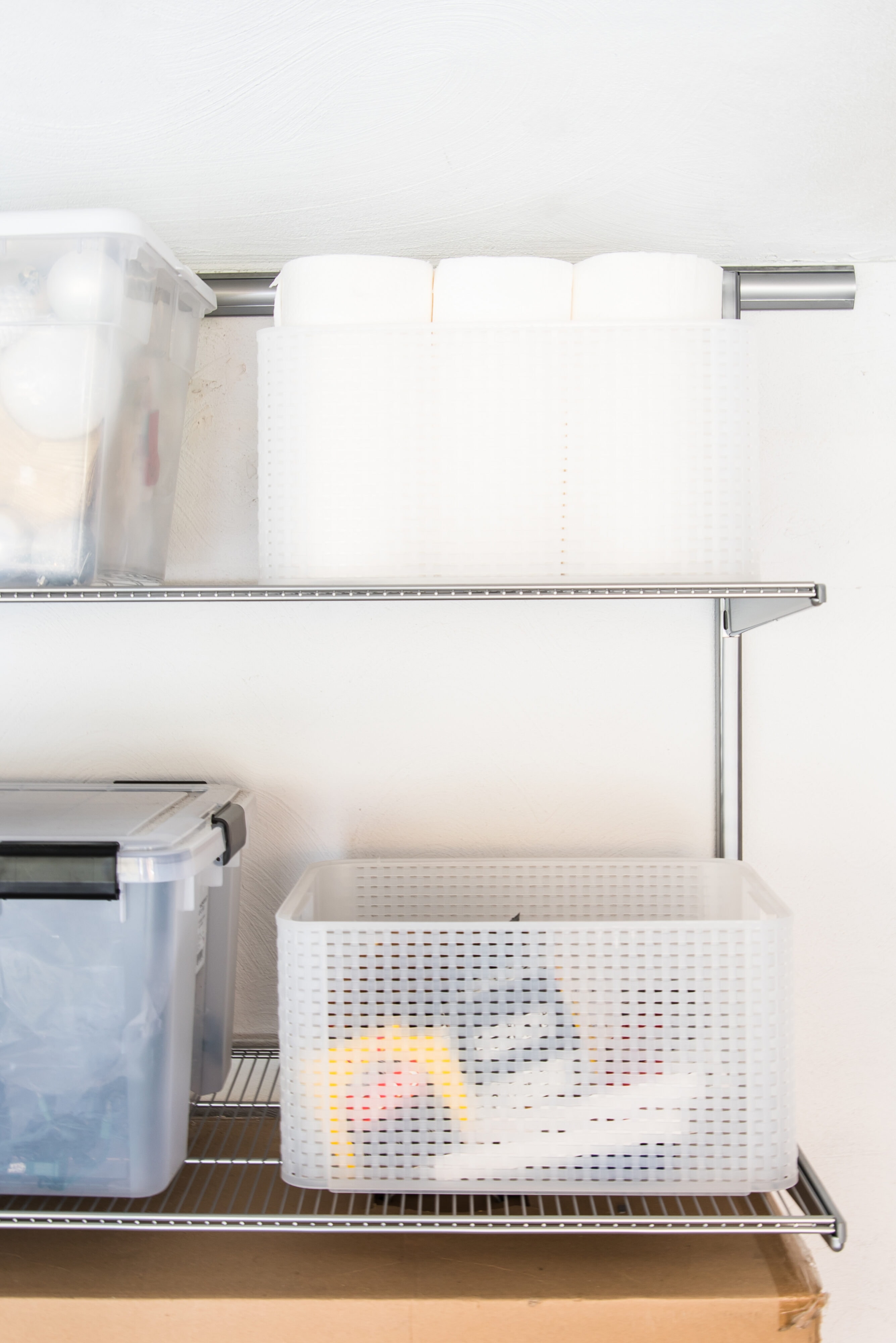 7. Use Pegboards
If you have tools in your garage, pegboard is always a great solution. No matter the size of your garage, pegboard will fit. Use a variety of hooks and baskets to hold tools and paint supplies.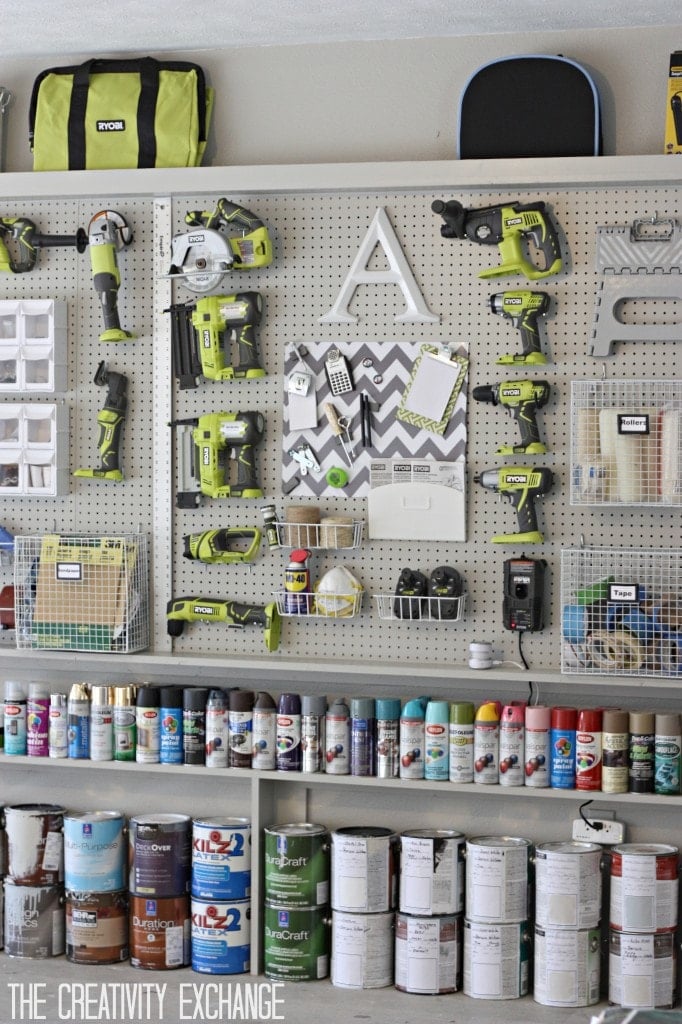 8. Create a Workstation or Workbench
A little garage workstation is the perfect spot to fix broken items, get project supplies together and so on. If space doesn't permit for a full workbench, opt for one that folds down flat against the wall.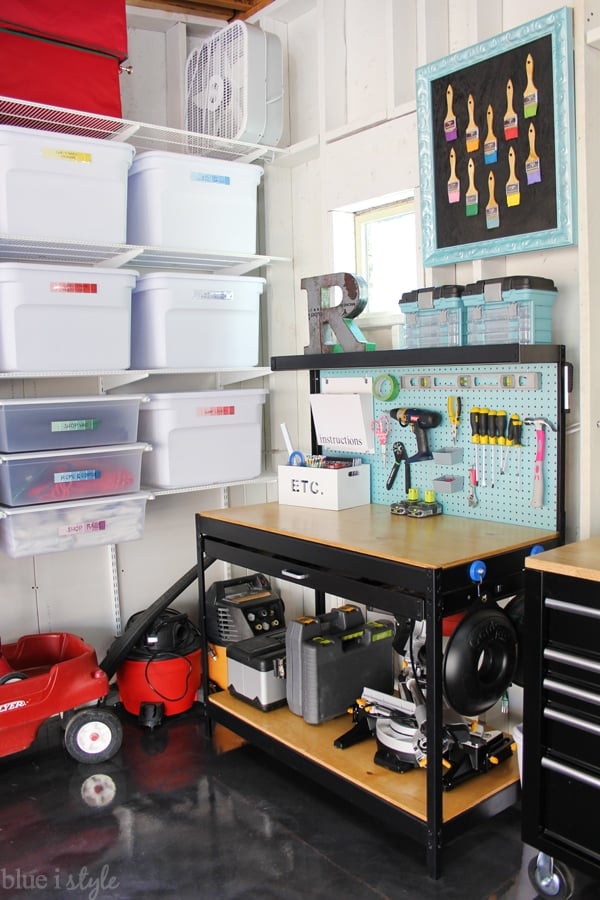 9. Use Clear Bins to Easily See Items
These are perfect for seasonal decorations. We store all our Christmas decor in our garage. Each bin is filled with similarly colored items (all red, all green, all silver, etc.) so when I start decorating for the holidays, it's easy for me to just grab the colors I'm decorating with that year.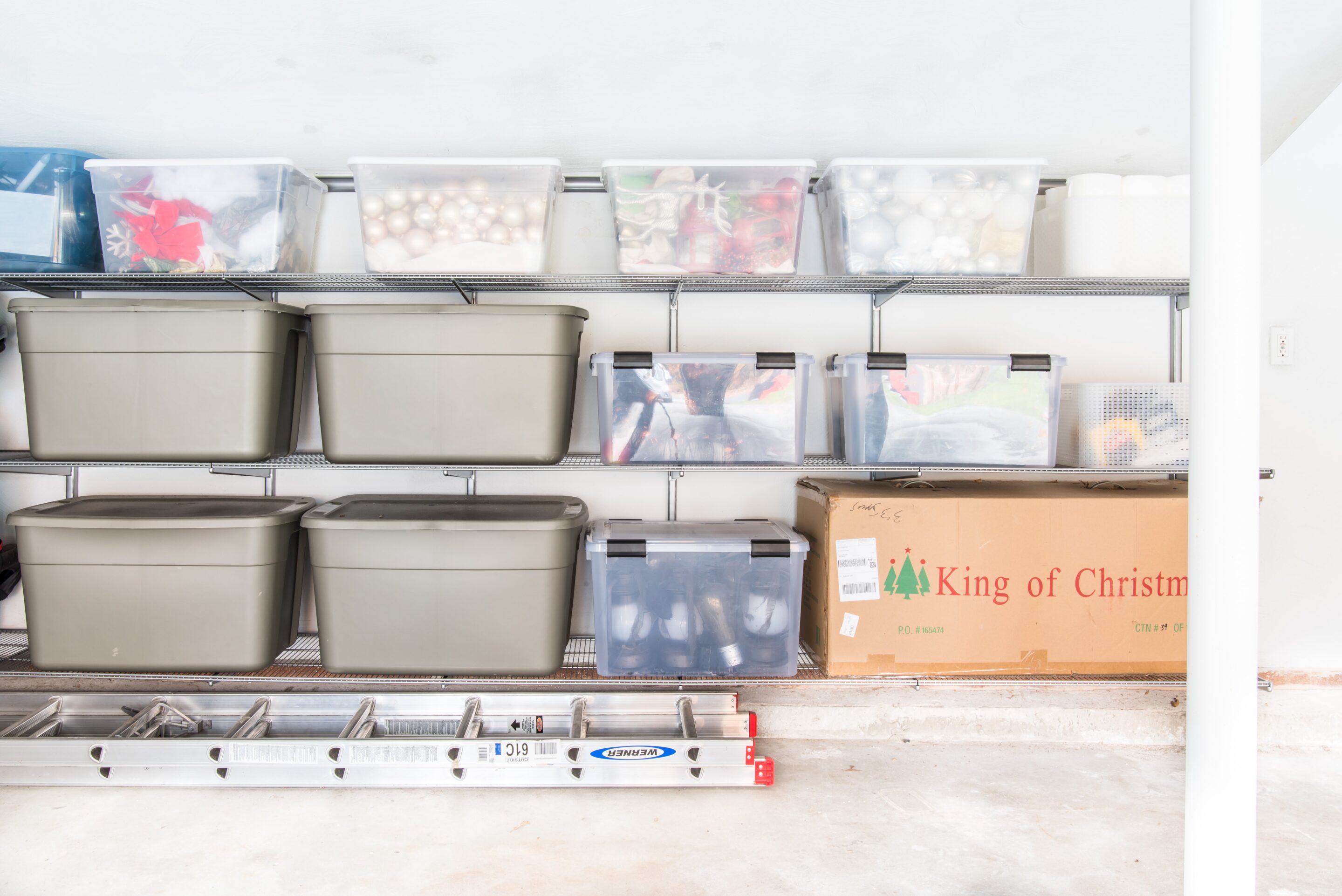 10. Label Tote Bins
if you have items you don't want on display in clear bins, make sure they are clearly labelled. Even with clear bins, it's also a good idea to label them if they are higher up so that you don't have to pull them down to remember what's in them!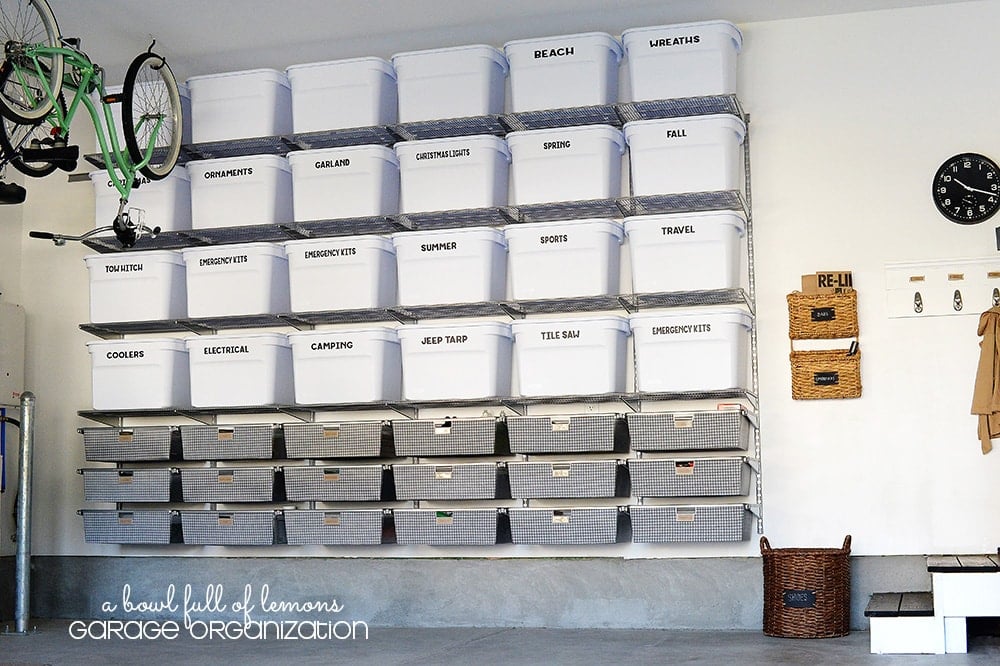 11. Corral The Hose and Extension Cords on a Reel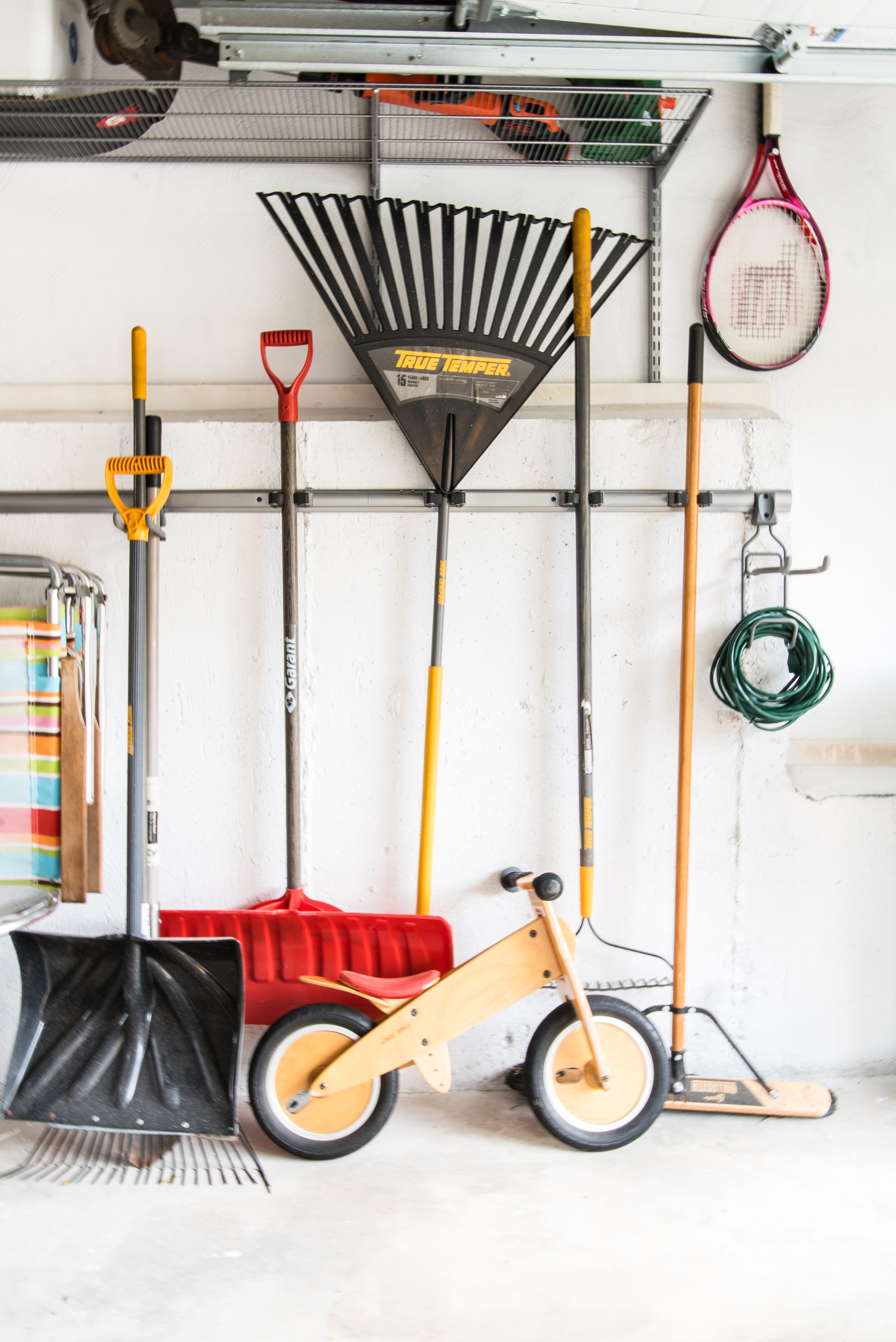 13. Hang Bikes Up
bikes take up valuable floor space. Install a bike rack on the wall or the ceiling, to get them up off the floor.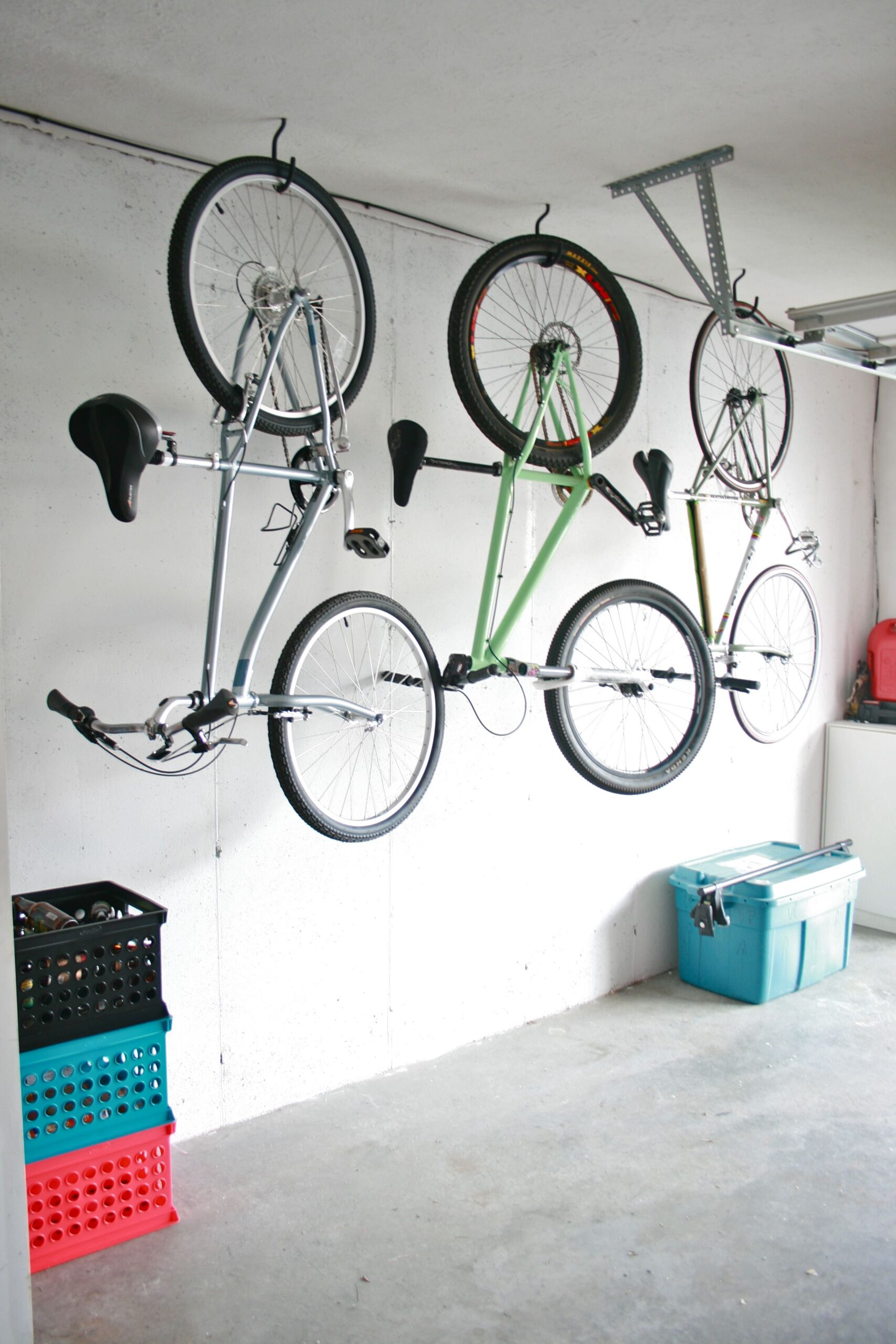 14. Hang Up Ladders
again, keep the valuable floor space for items that have to be on the floor. Simple hooks mounted to the wall will happily hang a ladder.
15. Create Drop Zones For Shoes, Back Packs and Sports Gear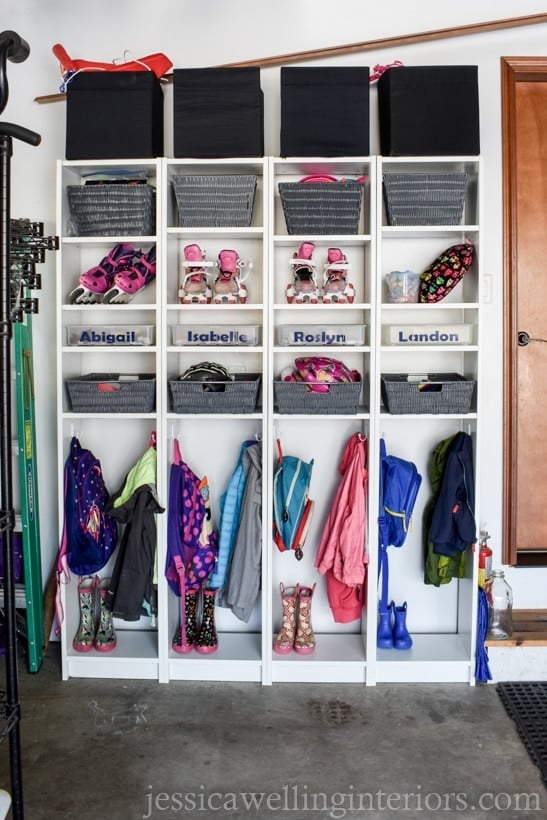 16. Hang Buckets and Totes On The Wall
These are the perfect spot for car washing supplies, balls and other outdoor toys. Melissa from Polished Habitat even has a special hook that she uses to quickly and easily attach them,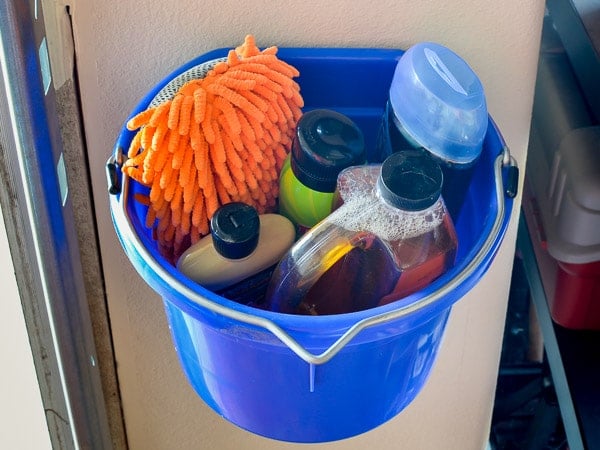 17. A Place For Everything...
My husband's golf bag was also falling over and being left right in the middle of our garage floor until we added this golf bag storage to our track system. No matter what the item, find a designated spot for it!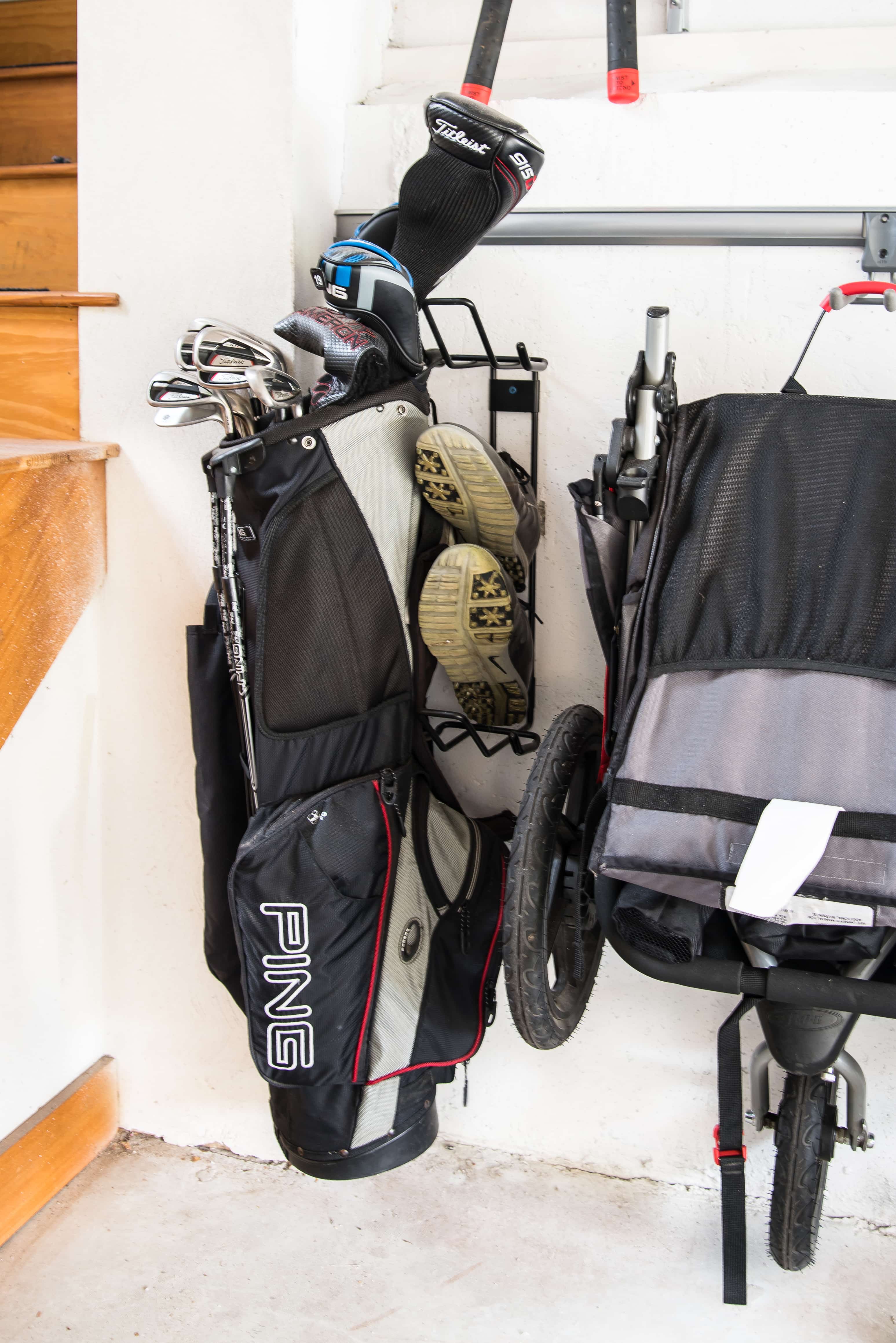 18. Utilize The "Fifth Wall"
Short on wall space? Look no further than up for additional storage space! A garage ceiling rack can do wonders to get infrequently used items off the ground.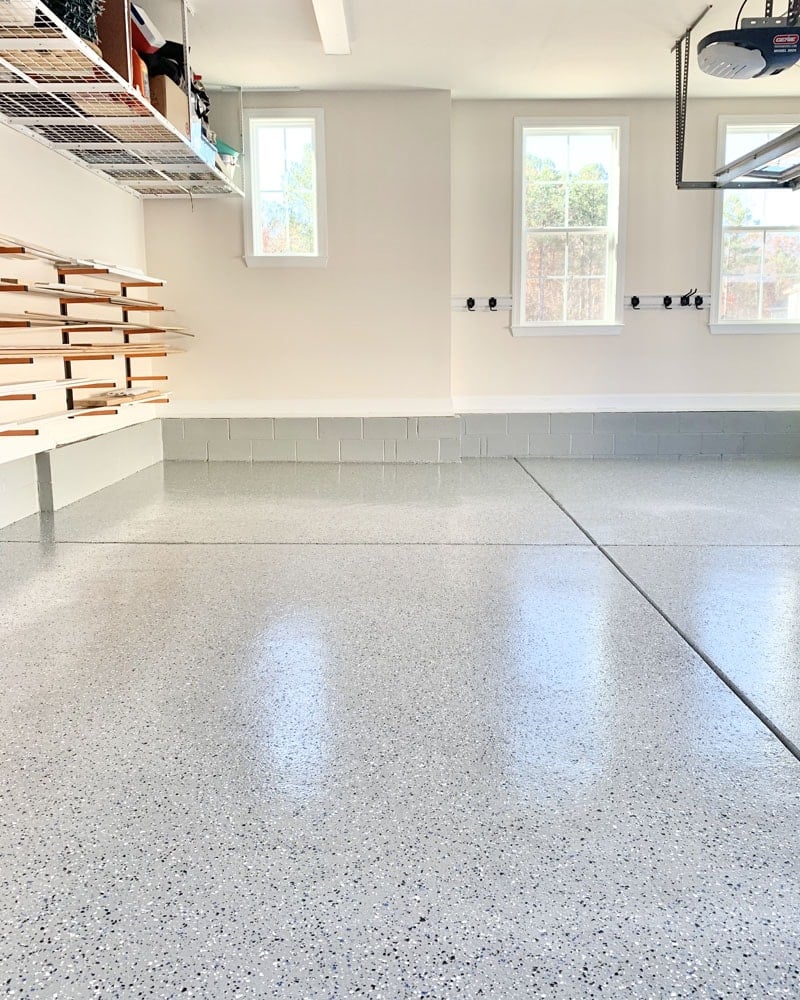 Using all or a combination of these organization ideas will not only free up space in your garage but make the space so much more functional and easier to find what you need. And at the end of the day, that will only make your life easier!