This post may contain affiliate links | For further details, please read our privacy policy
Is your garage becoming an eye sore you just can't continue to dismiss? I know mine was! Not to mention the lost storage space and functionality I desperately needed. It was time to tackle the garage once and for all.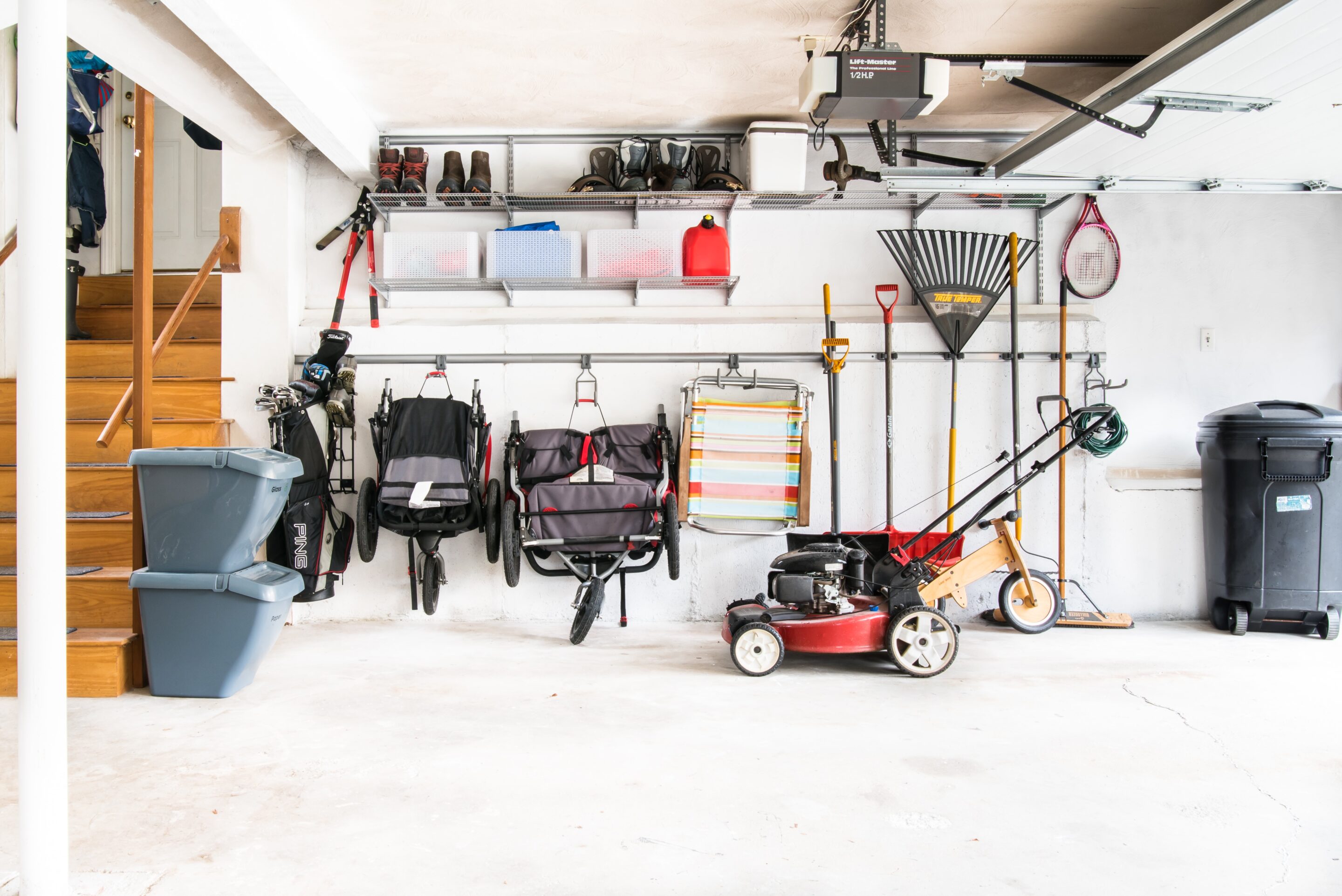 You won't believe your eyes when you see the before and afters of this garage makeover. With some intentional garage storage solutions, wall shelves, and a garage door transformation, you too can achieve a similar result!
Before Photos
This was my garage floor prior to starting this garage renovation project. I'm pretty embarrassed to share these photos with you and the only reason I am is that it no longer looks like this!

It got a brand spanking (and very clean!) new look I am proud to share. Not to mention the fact that now it's a very functional area.
Garage Makeover Ideas
Today I'm happy to present some concepts I utilized to make this garage space much more visually appealing and most importantly, functional! The entire process can be spaced out over time or can truthfully be done all in one day. Is there anything better than a clean garage?
1. Make a Toss and Donate Pile
First things first, purge! Our first step was to rent a dumpster and work through trashing things we no longer need. Spend an afternoon (or entire day if needed!) going through your messy garage and making a donate and trash pile.
I'd suggest locating old strollers you might not need anymore, bicycles, old furniture, and anything else in good shape and donate it to a local organization. Anything not salvageable goes straight to the dump!
2. Use Storage Bins
Now that you are left with the things in your garage you actually love and use, it's time to organize!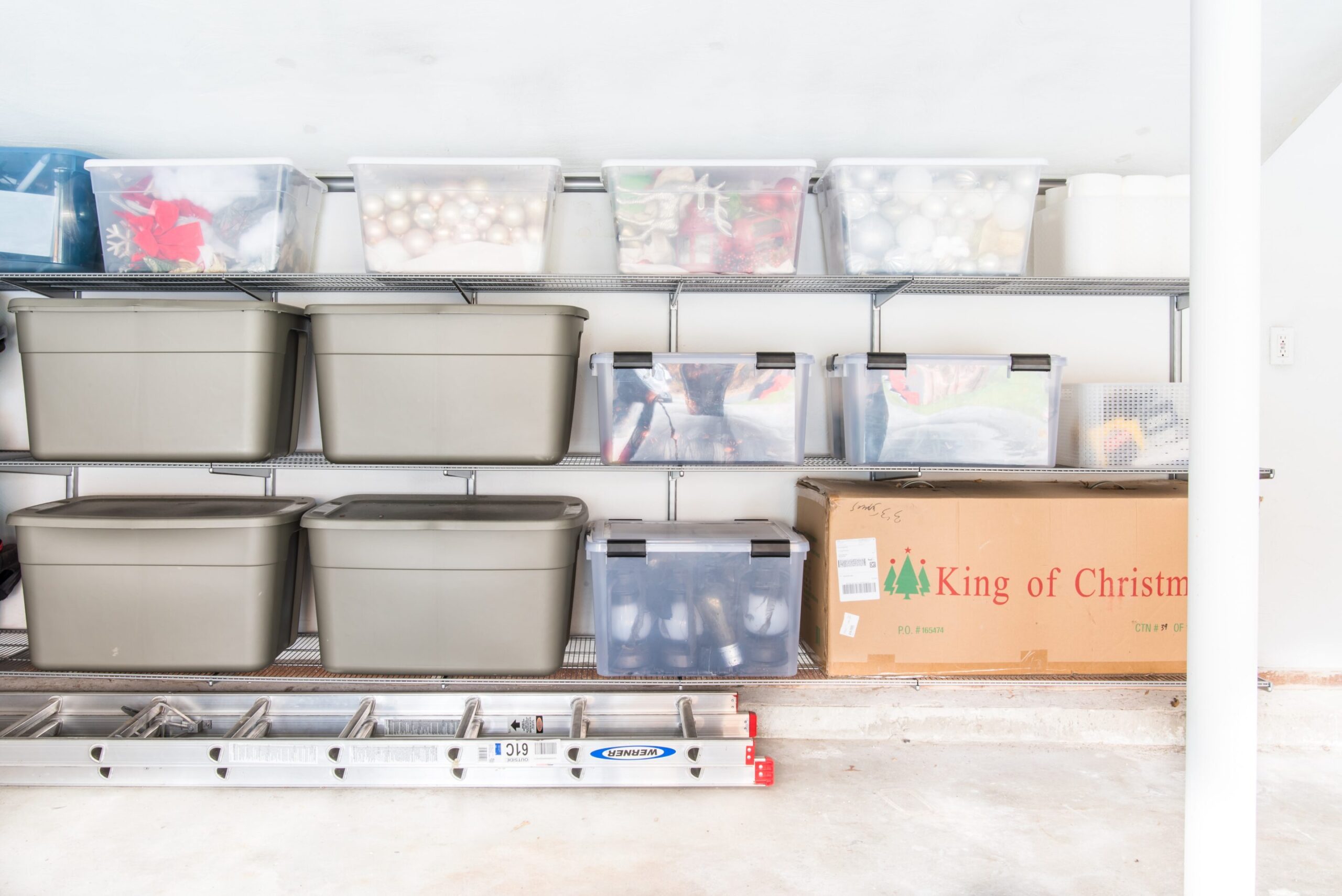 Large storage units are perfect for smaller items like holiday decor, garden tools, household staples (like paper towels and toilet paper), toys, lightweight power tools, and other miscellaneous items.
I've found that the clear bins are best for seasonal decor because you have in easy reach what you need for each holiday without digging through all of them.
I love that these are pretty affordable, hold a ton of stuff, and truly improve the visual aspect of organizing so many things.
3. Go Vertical
When it comes to garage organization, getting outdoor items up off the floor and vertically onto the wall is the best way to gain additional storage.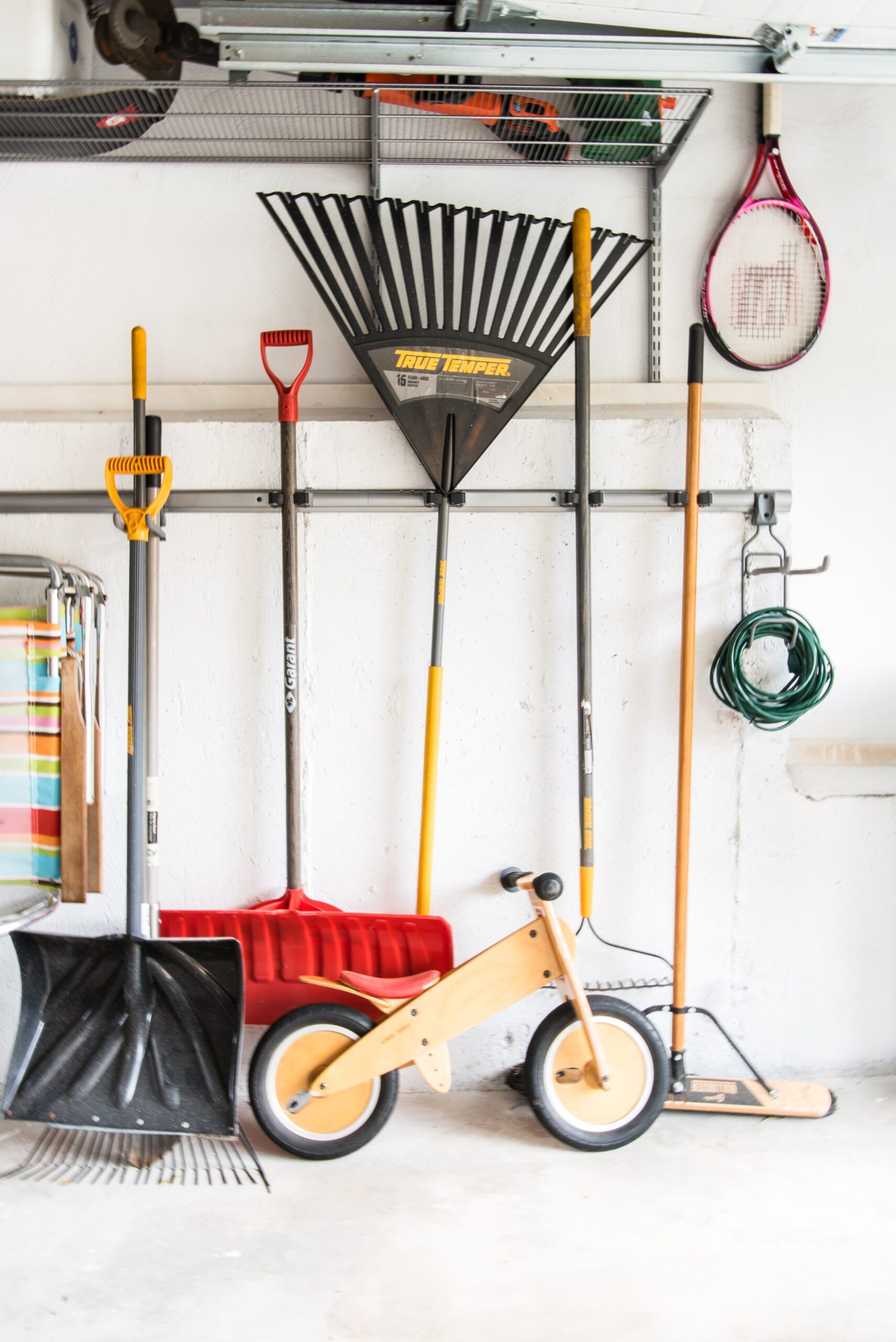 You can easily do this with wall shelves, racks, and hooks. Especially items like tennis racquets, snow boots, coolers, and skates that you don't use all that often are perfect to brush the edge of the ceiling with.
4. Wall Rack and Hooks
One of the most effective ways we organized our garage was with sturdy wall racks and hooks specific for our needs.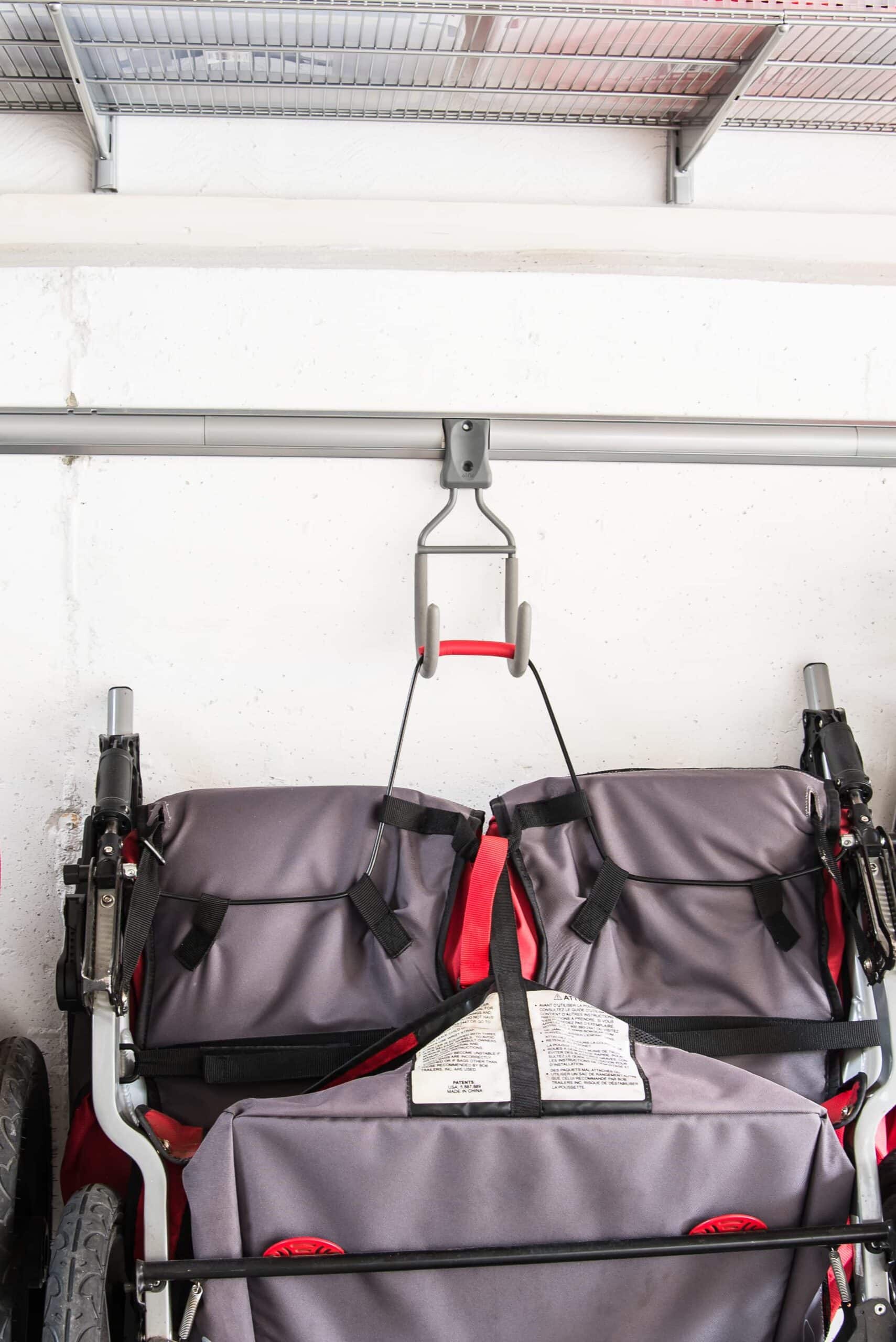 It was important for our family to have a place for everyday life items like strollers (since we have young children still) and golf clubs (for my husband). Of course, opt for hooks that will fit the needs of your entire family the best!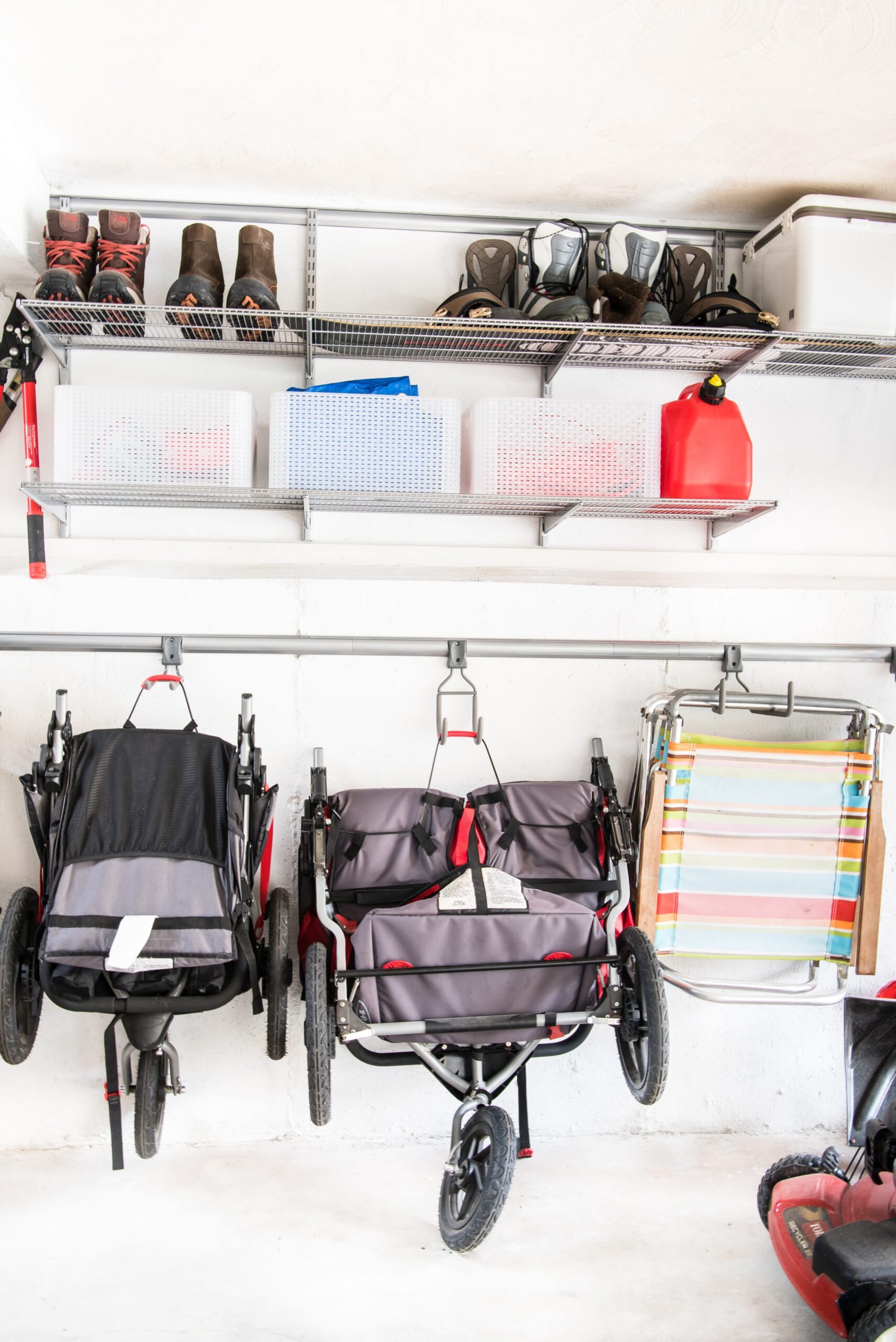 By folding and hanging the strollers in this manner we free up so much floor space. I love that we have easy access to the items still, but they remain compact and out of the way. Now my husband can finally pull his car in when it snows.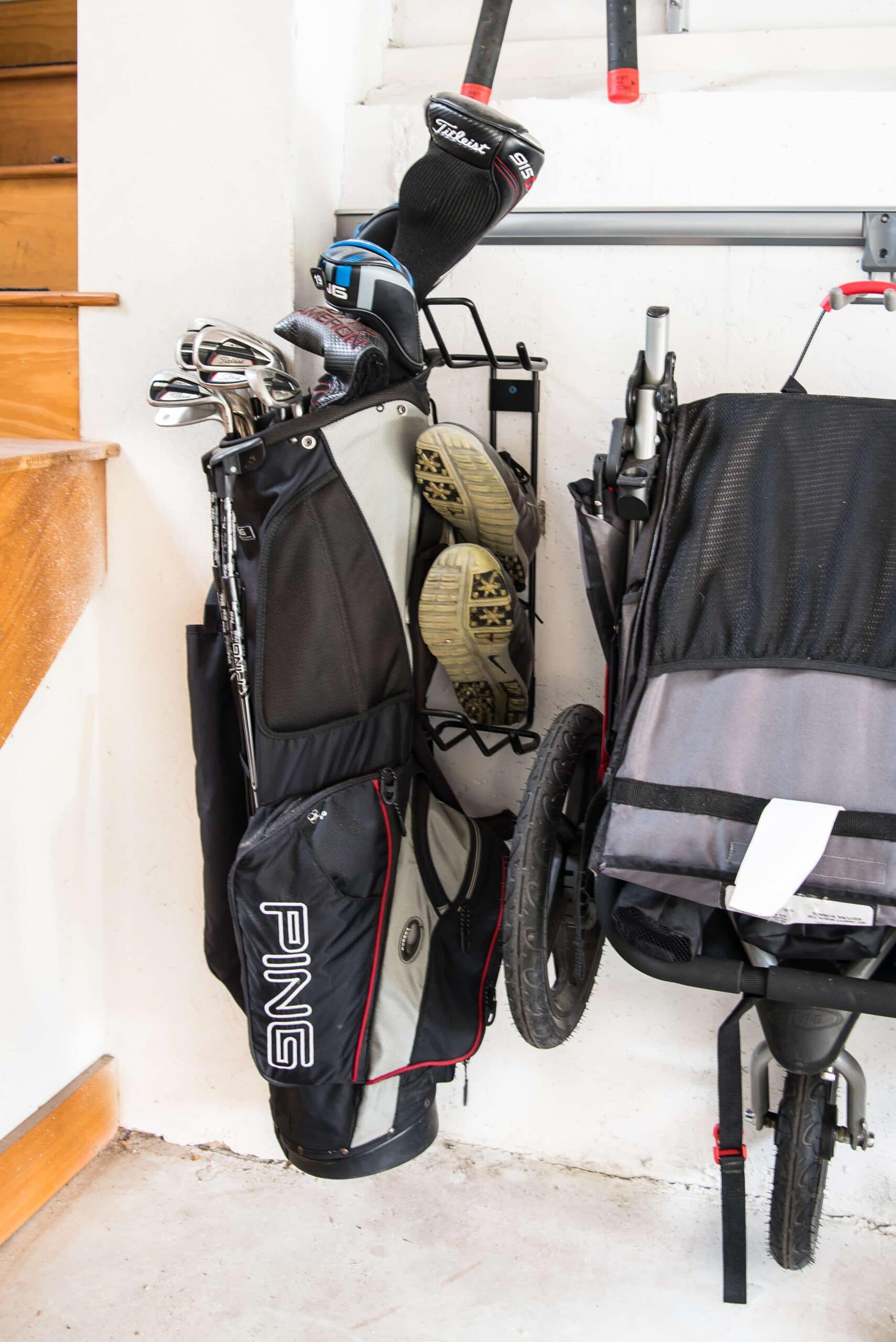 We're also excited to have a designated spot for the golf clubs. A hook specifically for golf bags is a great way to store them if you or your husband enjoy a weekend game every now and again!
5. Add Shelving
Shelves help you stay vertical with your storage and provide a place for those bins. Larger items that don't blend well with storage bins can also be placed on shelves to get them out of the way efficiently (like fake Christmas trees as one is shown below).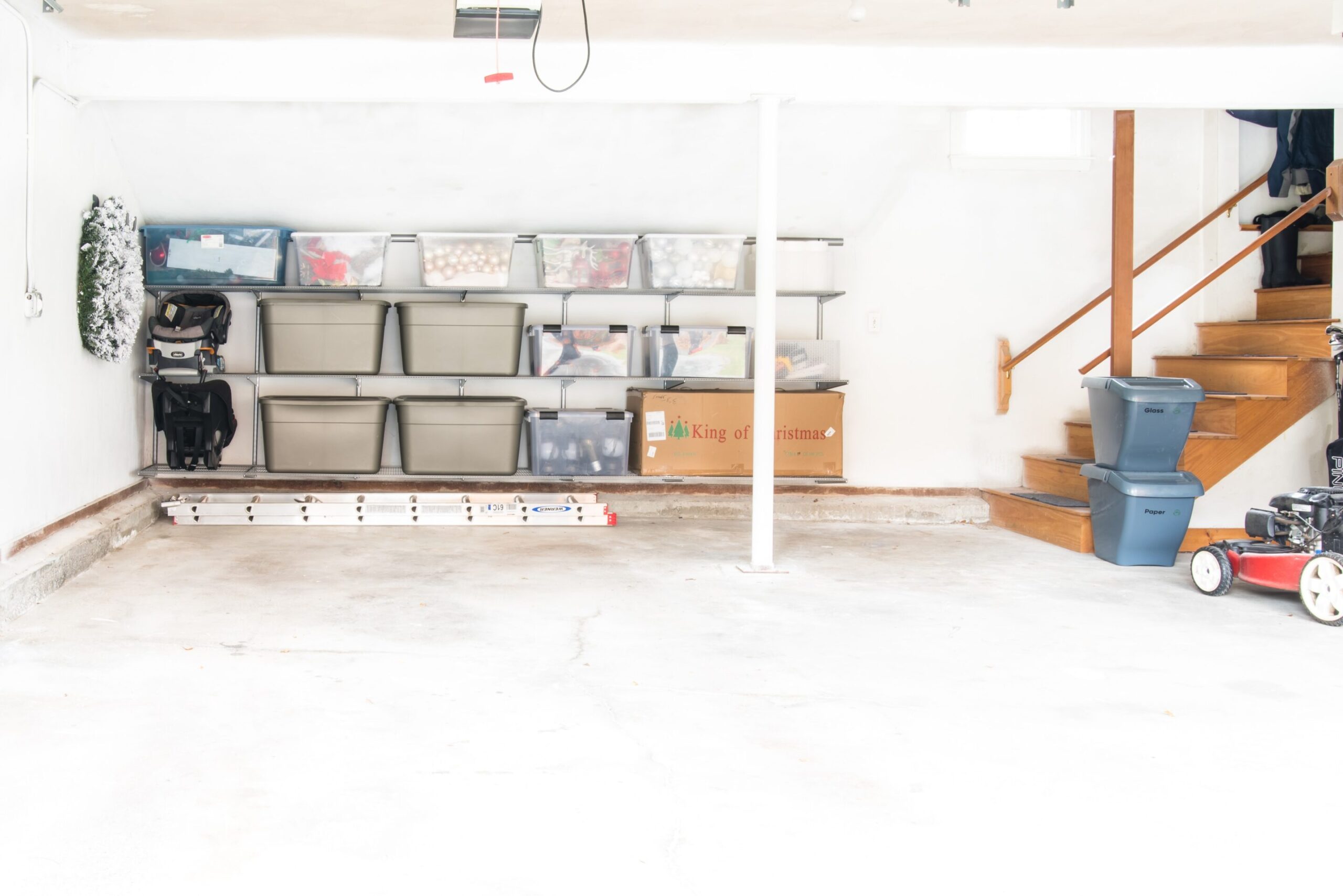 Whether you need a place to stack holiday wreaths or you just want to finally get that wholesale club membership and stock up on paper towels, shelving will help you do that.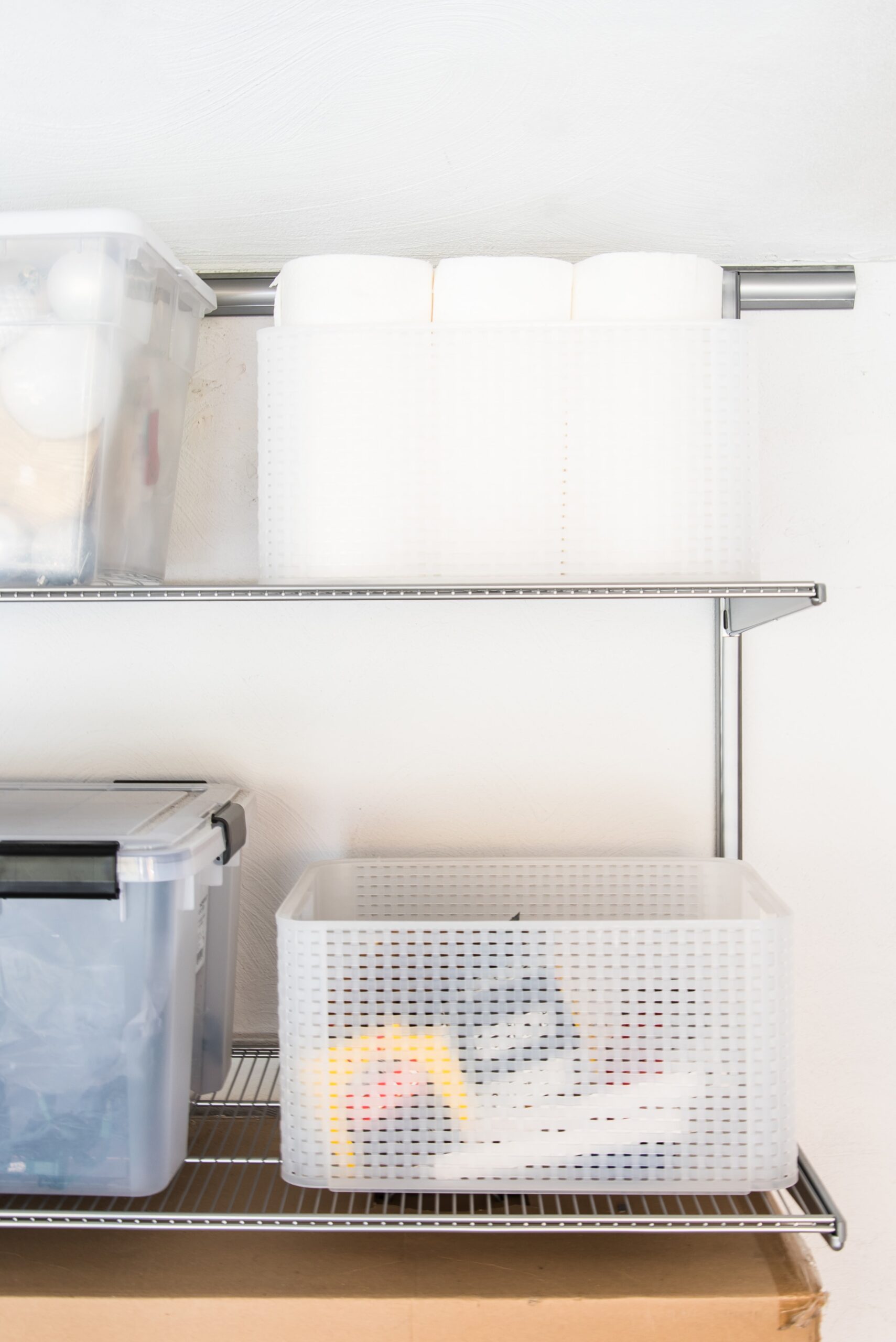 We assigned the back of the garage as our shelving wall and it gives such a clean look to this separate area of the garage!
6. Transform the Garage Door
Last but certainly not least, add a finishing touch by attaching magnetic windows and accents to the outside of your garage door. Our old garage door just screamed for some character!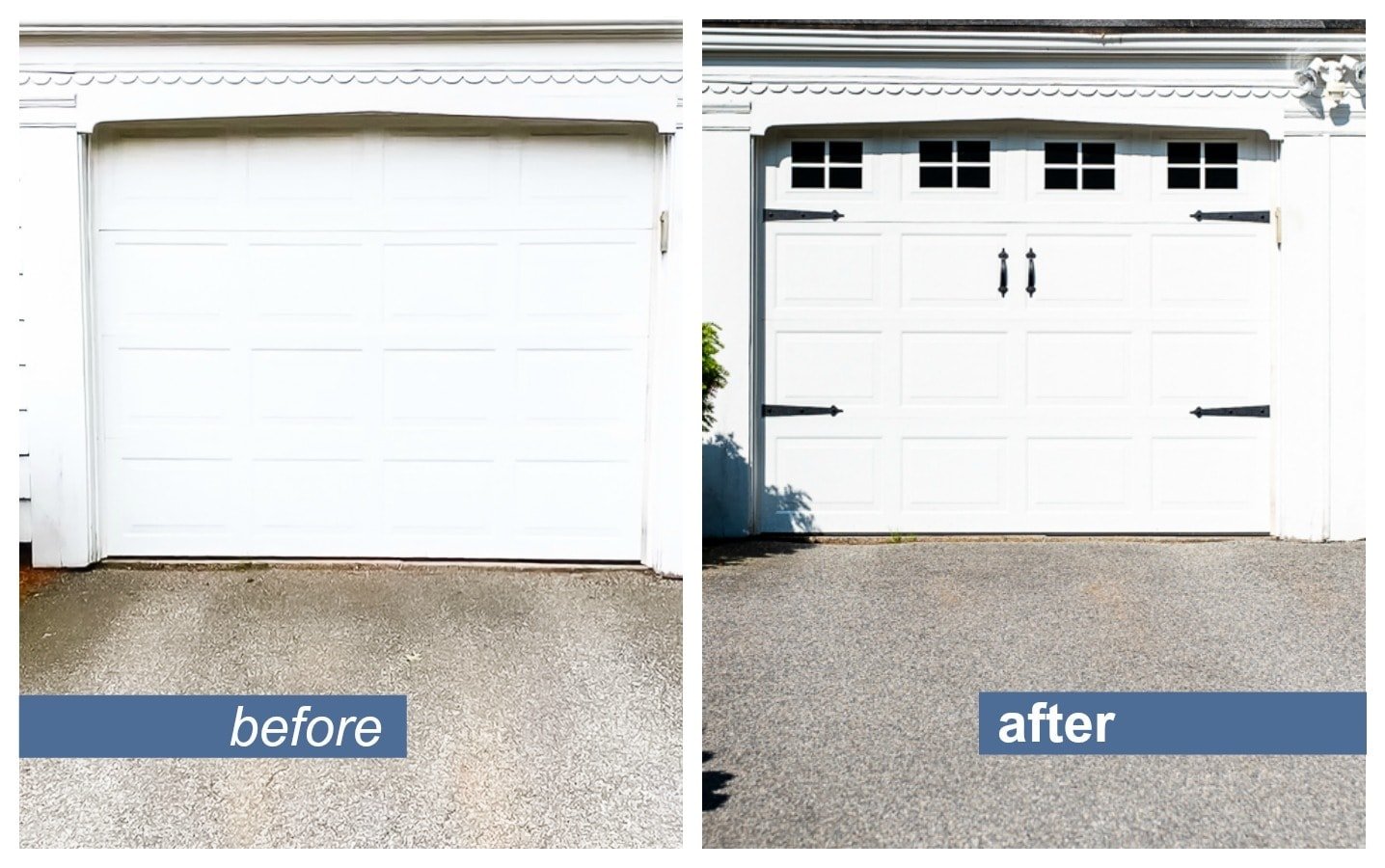 Doesn't this small, inexpensive trick instantly up the curb appeal? It truly takes a very boring garage door and turns it into a beautiful, luxury garage look! Be sure and read the full step-by-step tutorial to see these design features in action.
Final Thoughts
I feel like we accomplished our mission to clean and create a functional space for our garage. What do you think?! I'm so pleased with the overall result and we finally have ample space to pull both cars in.
Who would have thought getting organized would completely transform the way we live and make us feel so free? If you're up for it, I challenge you to make cleaning your garage a priority this year! I know you'll feel SO good once it's done.
I'd love to hear about your own garage projects in the comments, too!