Are your outdoor cushions in need of a good cleaning? Hand washing patio cushions is a simple process that requires only a few household supplies and about an hour of your time. Before you know it, your cushions will look brand new again!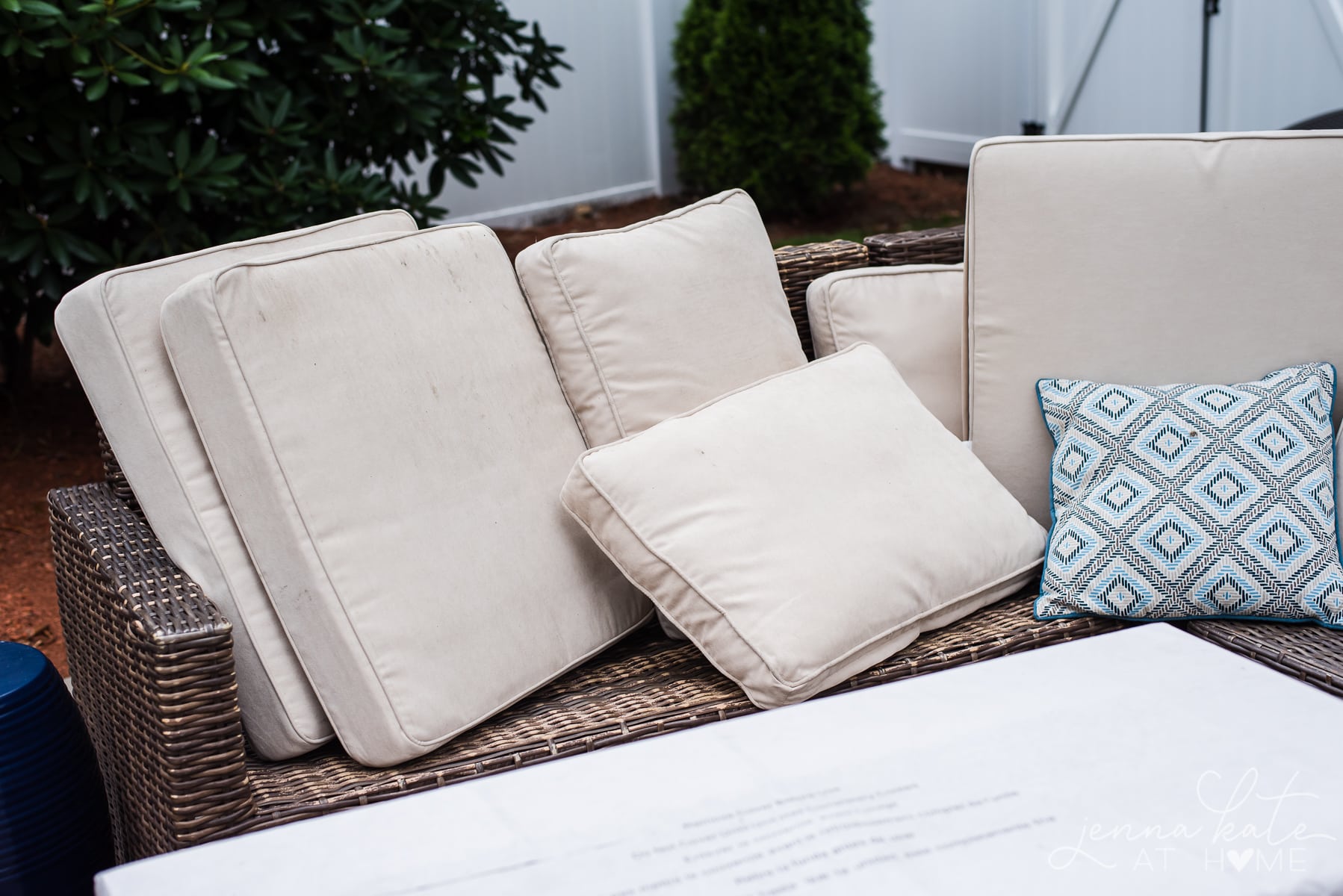 We've been enjoying so much time out on our patio since installing it last summer. It has definitely been one of the best investments we've made to our home.
And this past week I tackled cleaning our patio cushions for the first time in 3 years! Isn't that amazing?
I'm pretty impressed that I managed to keep them so clean for so long. This was until my 3 year old dripped orange popsicle all over them, and then on the very same day then they got left out in a particularly bad rainstorm, which splattered dirt all over them.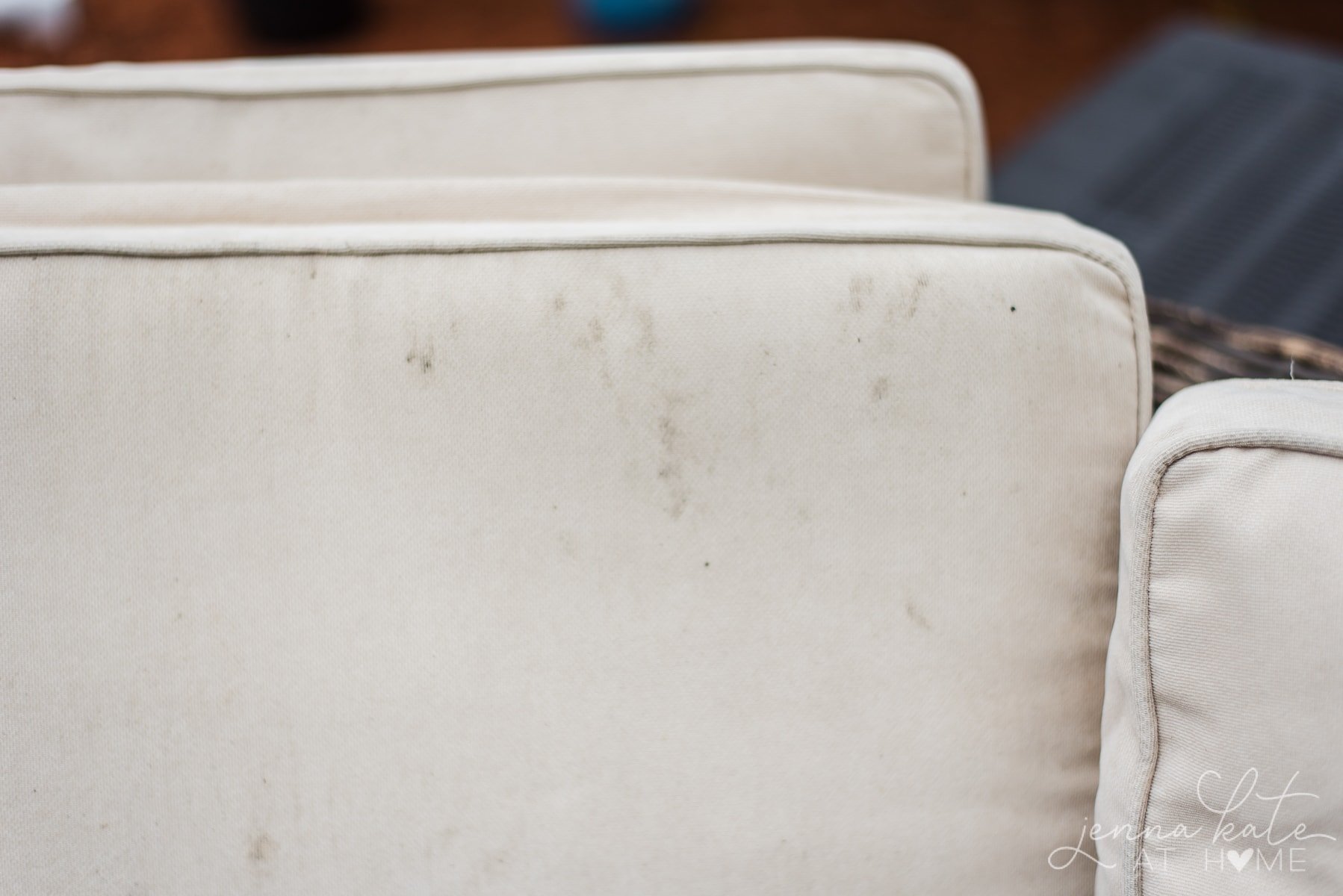 If you're wondering how we went so long without having to wash them, it's because we take them off our patio furniture every night and store them in a deck box.
It's much quicker than trying to fit one of those giant covers over the furniture and has really kept our cushions looking brand new.
Sometimes of course, a thunderstorm will roll through in the afternoon while the cushions are out on the patio furniture. If I'm not around, or simply don't have time to store them all away, they can get dirty. It happens!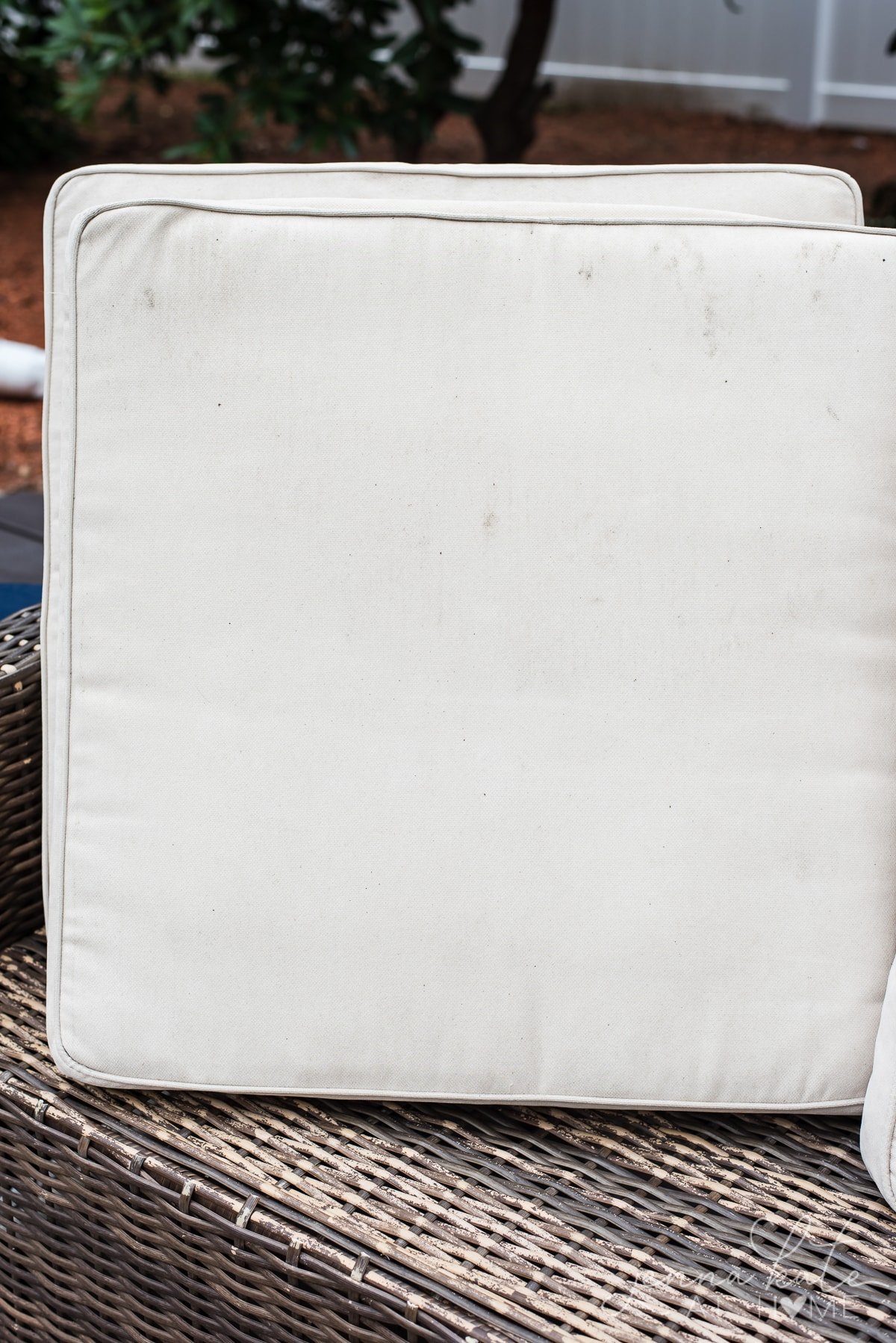 Inevitably, no matter how well you take care of your outdoor cushions, they're going to have to be cleaned at some point in time.
Can Patio Cushions Be Machine Washed?
If your cushions have zips, the covers can mostly likely be removed and machine washed, leaving the inserts untouched. However, if your seat cushions are tightly fit like ours are, I don't recommend doing this option as there's a good possibility of the zips eventually breaking.
Our back cushions are soft and easy to unzip and remove the inner cushion, so I do machine wash those one.If you can machine wash, then definitely do. It's the easiest of all the cleaning options! I do this with my living room couch cushions, too!
Can You Pressure Wash Outdoor Cushions?
If your patio furniture does not have zippered covers, then pressure washing is certainly less time consuming than hand washing and a sure-fire way to get your patio cushions clean.
However, frequently using this method may degrade the cushion fabric. If you do choose to go this route, use a low PSI pressure washer and don't do it more often than once per year.
Hand washing cushions that don't have removable covers is a much better solution if you want to extend the life of your furniture.
Instructions For How to Hand Clean Outdoor Cushions & Pillows
Cleaning patio chair cushions is actually very simple and only requires a few supplies.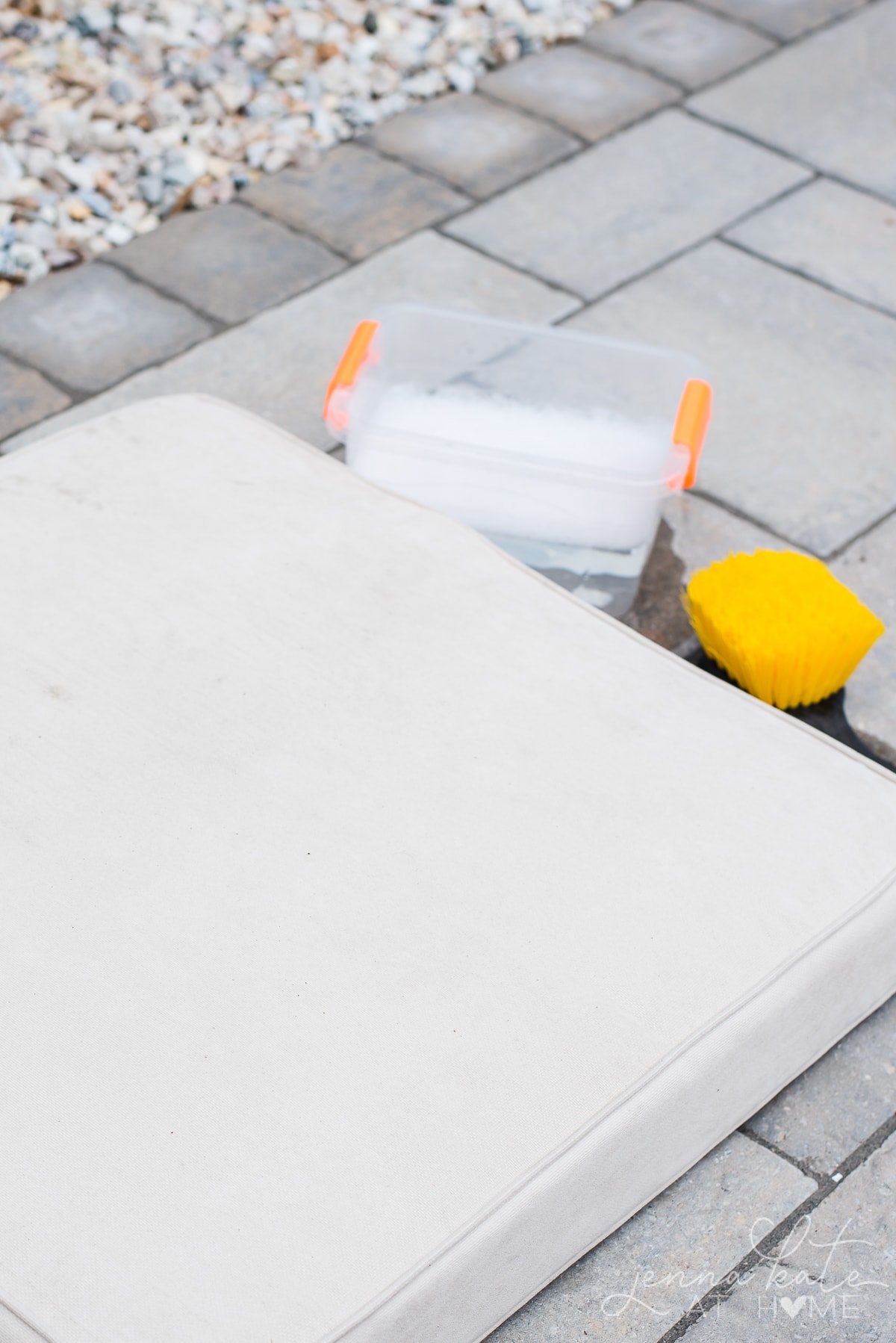 Supplies:
Bucket or other container
Liquid dish detergent (dish soap)
Warm water
Borax (optional)
Garden hose
STEP 1: Mix the Cleaning Solution
Lay your cushions out on a deck or patio. Do not wash them in your yard as you will only get grass stains and mud all over them.
In your bucket or container filled with warm water, add 1 – 2 tablespoons of dish detergent and (optional) ¼ cup of Borax. The Borax helps if you have mildew stains, but otherwise it's not needed.
STEP 2: Soak the Cushions and Scrub
Remove any loose debris or dust by quickly brushing over the cushions with a soft-bristle brush or a vacuum cleaner with the upholstery attachment on.
Thoroughly soak the cushions with the hose, then using the scrubbing brush, generously apply the cleaning solution all over the cushions.
Allow it to sit for 10 -15 minutes, then scrub in a variety of directions to loosen any stains.I like to scrub up and down, then in circular motions all around the cushion. Don't forget to give the area around the seams extra attention – that's where the dirt really likes to get trapped.
Stubborn stains may require another round of cleaning solution and scrubbing.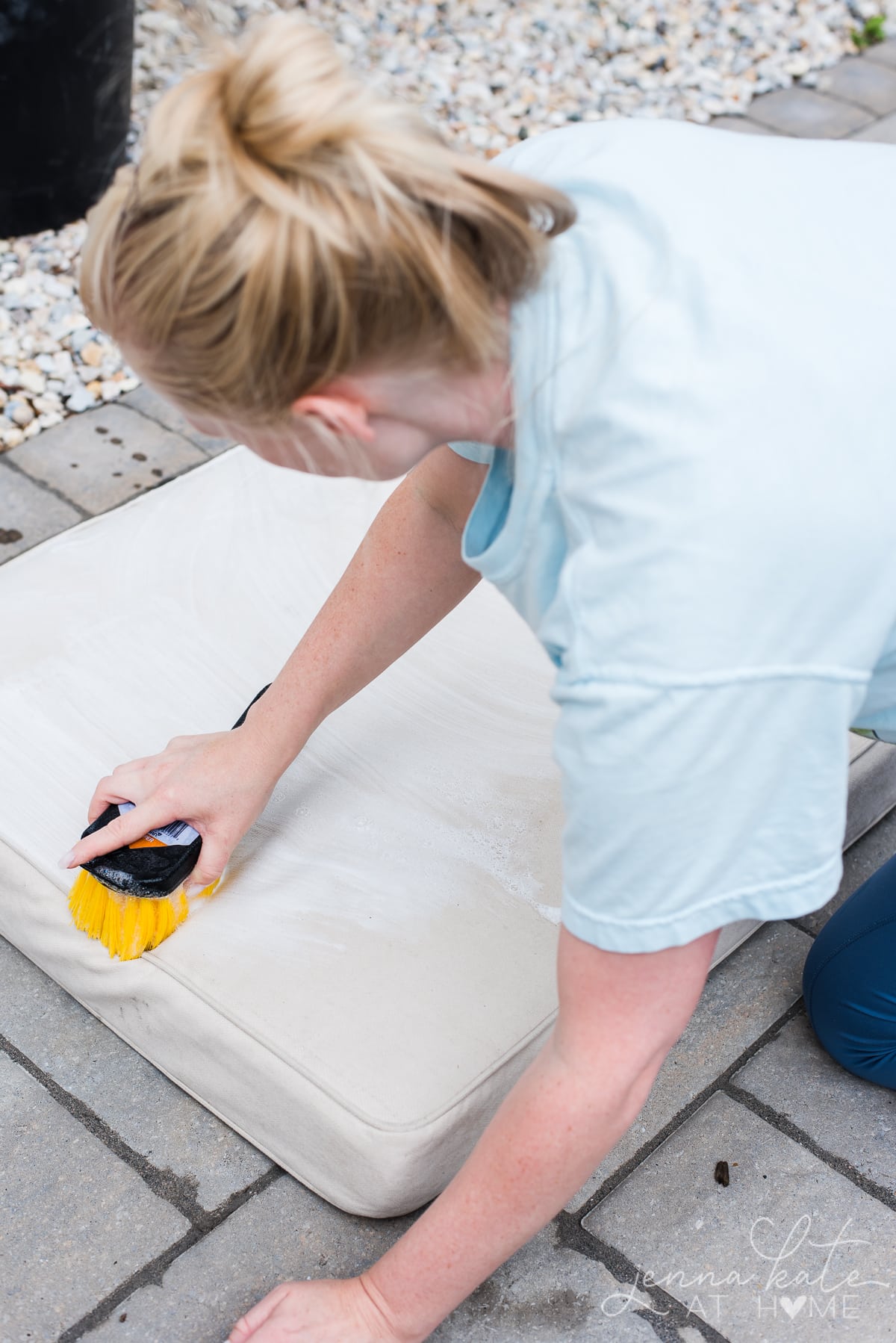 STEP 3: Rinse
Using a garden hose on a high pressure setting, spray down the cushions until the water runs clear and no soap residue remains.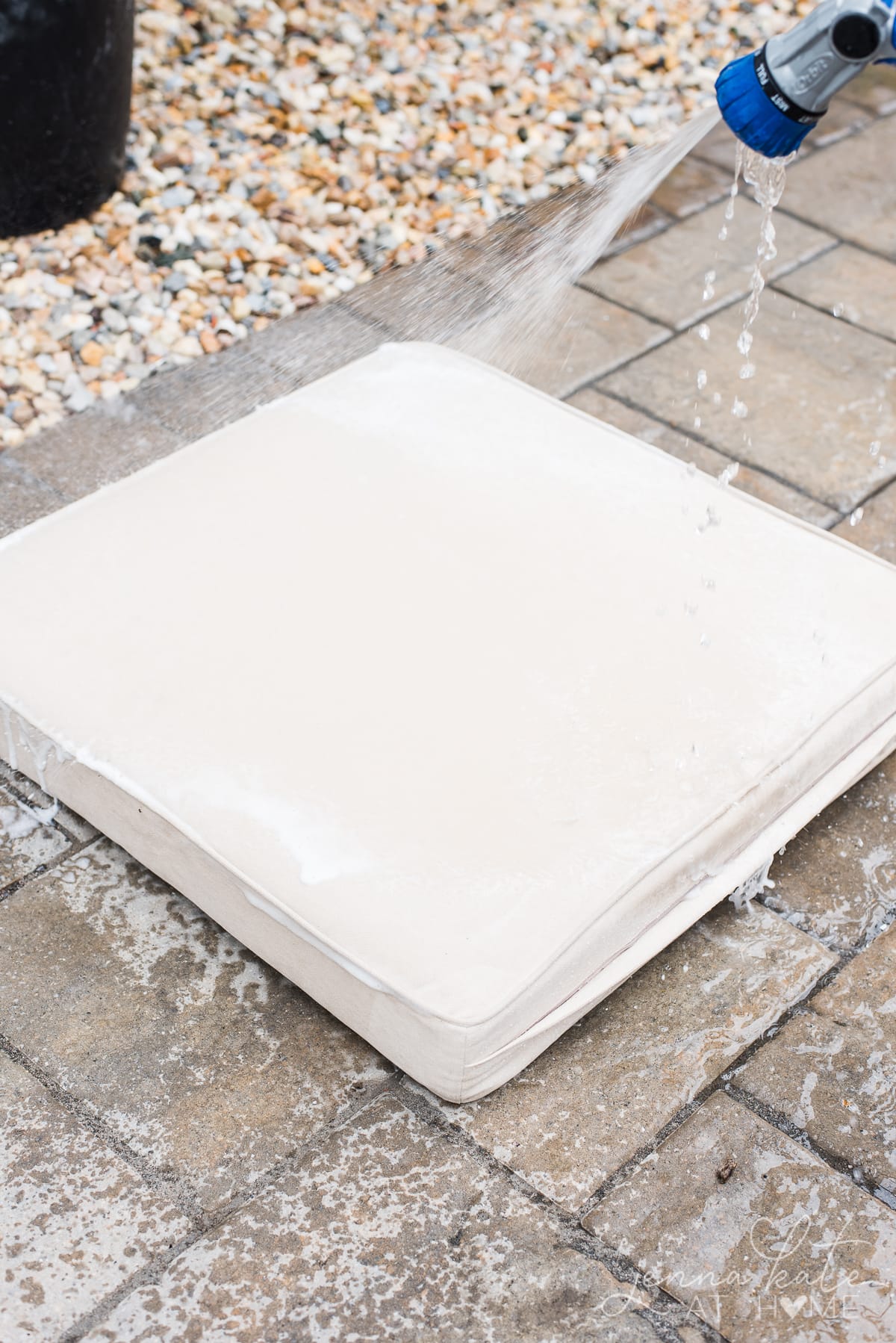 STEP 4: Allow to Dry
Squeeze the cushions to release excess water. Then, using a towel, blot the cushions to absorb as much water as you can.
Stand the cushions on their edge in direct sunlight and allow to air dry. On a hot day, this may take 4 – 6 hours. On a less sunny day, approximately 12 hours.
Ensure that the cushions are completely dry before storing them or you'll face a rapid growth of mildew.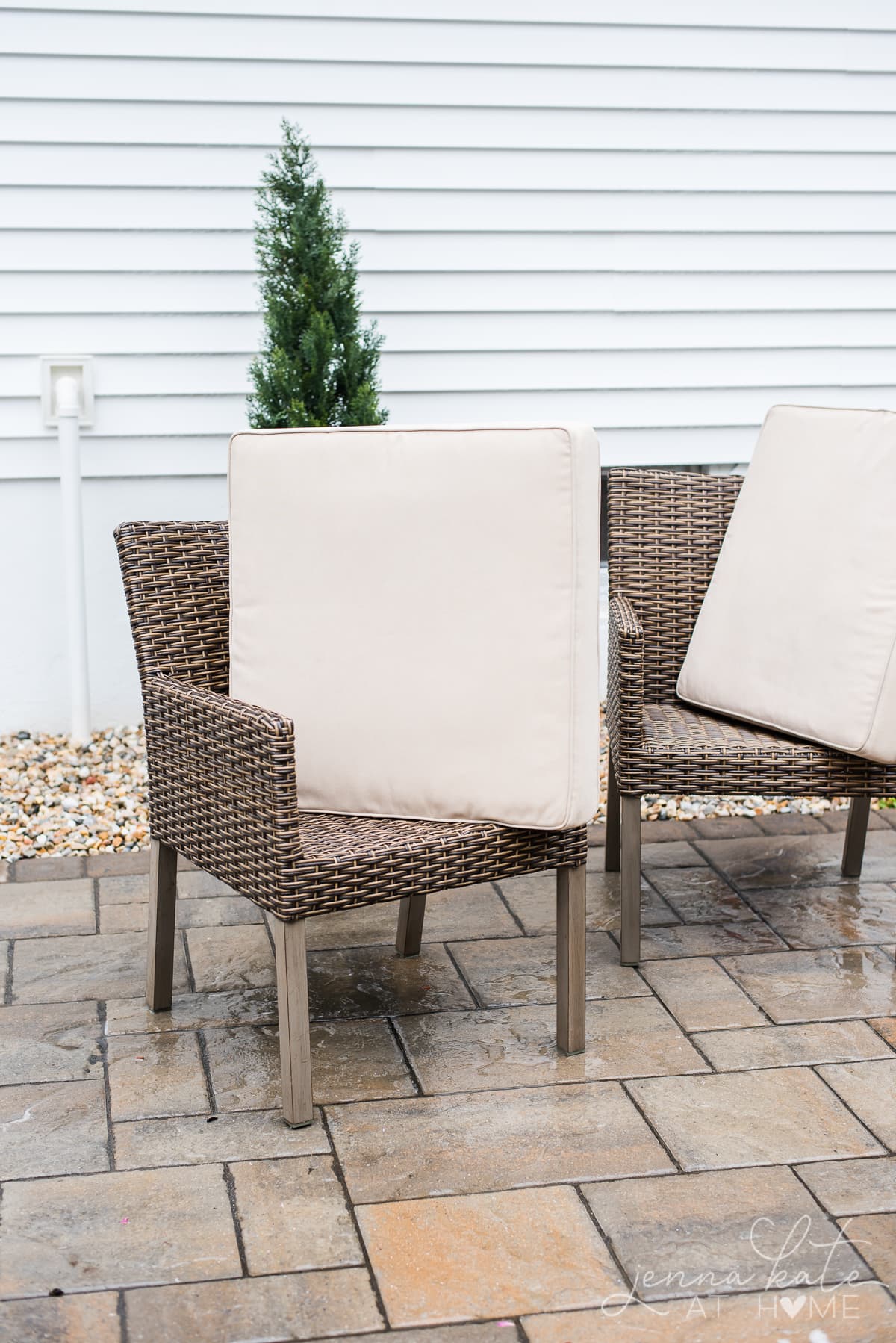 The Result? Clean Cushions!
Once again, our cushions look brand new!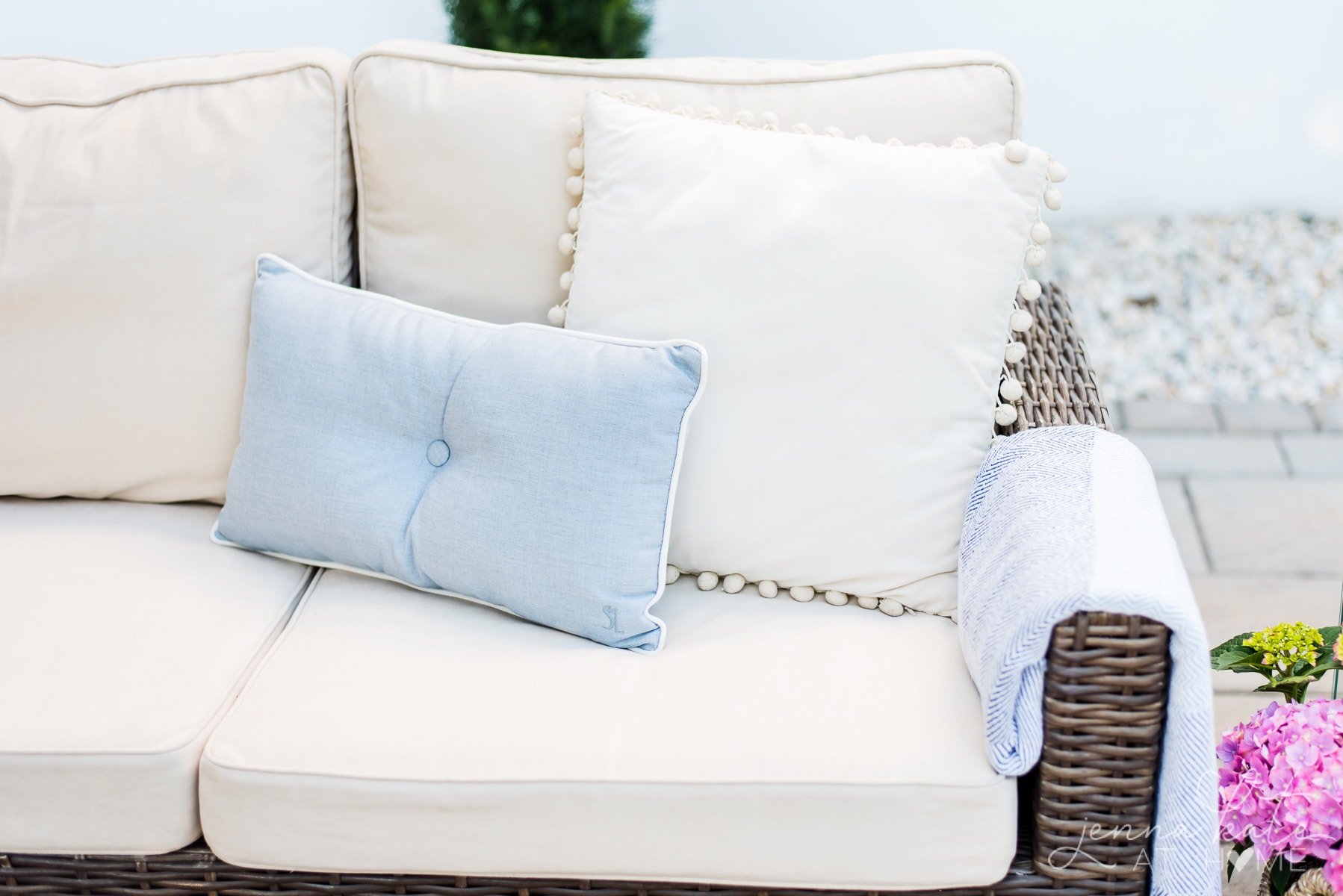 Tips For Keeping Your Outdoor Patio Cushions Looking Brand New
If you are someone that does not want to store patio furniture cushions every night, then I recommend either buying a large cover that fits over your entire piece of furniture (cumbersome to put on – we only do this to protect the furniture over the winter).
At the very least, tilt the cushions upright so that if it rains, the water runs straight down them.
I've had a lot of Instagram comments in the past about how it's way too much effort to put cushions into a deck box every night.
Honestly, it takes 5 minutes once you get in the habit of doing it, and it has kept our cushions in perfect condition for years! The fact that this is the first time I've had to scrub them in 3 years speaks to my method!
Other Frequently Asked Questions
Can Mildew Stains or Mold Be Removed From Fabric?
Yes – using a solution of 1 part Borax to 4 parts warm water, soak the cushions and allow the solution to sit for around 10 minutes.
Then, using a stuff scrubbing brush, scrub the cushions until clean. Hose off the suds and allow the cushions to dry.
Can Oil Stains Be Cleaned?
Yes – first soak up any excess oil by gently dabbing with a microfiber cloth.
Then apply an absorbent powder such as cornstarch or baking soda to the stain.
Allow the powder to sit for 10-15 minutes and then scrape it away with a straight edge. Follow by cleaning as mentioned at the top of the post, including Borax as needed.
How to Remove

Tree Sap

From Outdoor Cushions
To remove the sap stains residue, soak a paper towel or small piece of cloth in hand sanitizer or rubbing alcohol, then lightly blot the stain with it.
The alcohol will act as a solvent and break down the tree sap and act as a stain remover.
Try to avoid scratching or aggressively rubbing the stain, as this may make it worse.You may have to repeat this step a few times to get rid of the residue completely.
How to Clean Cushion Covers With Vinegar
If your cushions are otherwise clean and you just want to remove a few mildew stains, spray undiluted vinegar onto the moldy spots and rub with a dry nylon scrubbing brush. Allow the vinegar to sit on the fabric for about an hour, then wipe it off with a damp sponge.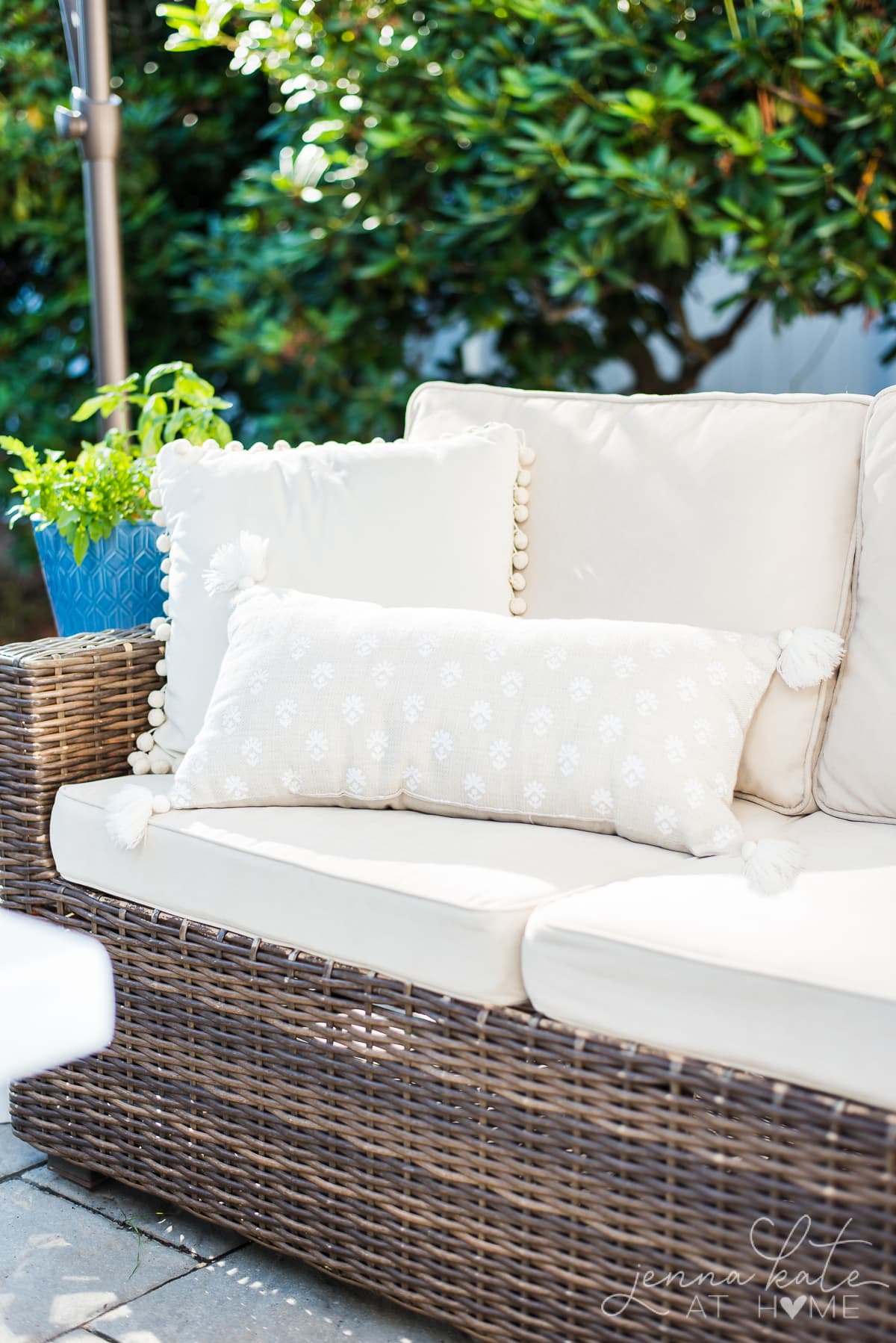 Store Them Away Each Evening or Cover Them
By storing your cushions in a deck box or using outdoor furniture covers, you'll prevent stains from rain and debris from happening to begin with.
If you don't use your patio furniture every day, storing them in a deck box really is a great solution. If you don't want to have to pull them out every time you want them, then investing is good quality covers is essential. However (and I've timed this!), properly putting the covers on takes more time than just gathering up all the cushions and throwing them into a deck box!
Vacuum Regularly
Regularly vacuum, sweep or use a leaf blower to remove leaf debris and other little bits that will settle on your cushions, so that they don't have a chance to stain.
My husband uses the leaf blower on ours every weekend after mowing the lawn and sometimes I will bring out our little handheld car vac if the kids leave crumbs on the cushions.
Consider Applying a Fabric Protector
If your cushions are not Sunbrella fabric or don't seem to be adequately treated for outdoor exposure, the color will fade over time and they will absorb much more moisture than they should.
Applying a waterproofing fabric protector will allow water and spills to bead up and simply run off the fabric. A specially designed spray like Scotchguard Water & Sun Shield also minimize fading, allowing you to enjoy your furniture for longer.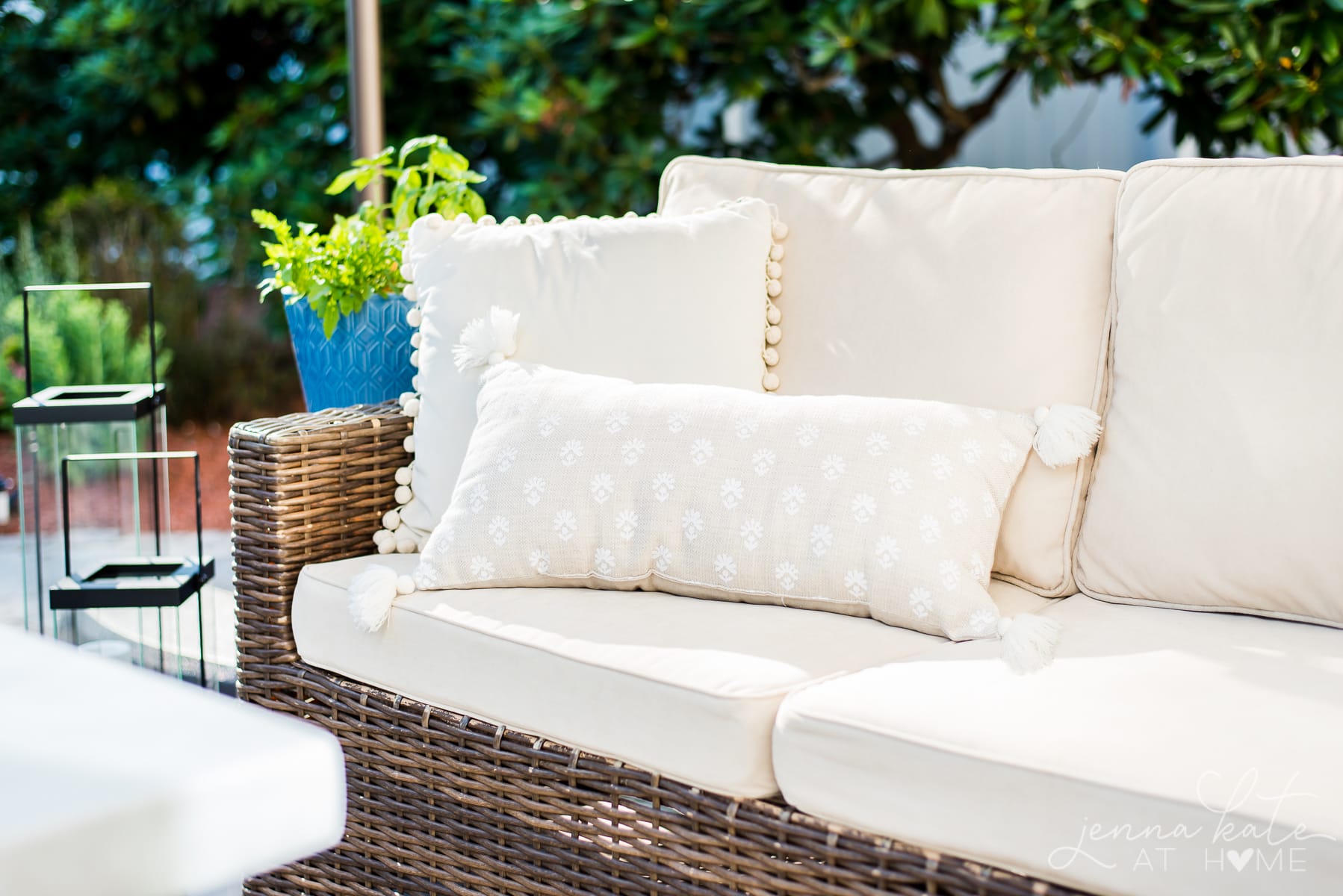 More Ideas You'll Like