This post may contain affiliate links | For further details, please read our privacy policy
I am excited to share 30 Creative Gift Wrapping ideas with you today. There are so many beautiful and creative ways to wrap gifts.
Not only will they jazz up your under-tree decor, but they will also add a little special touch to the Christmas gifts you're giving friends and family.
Let's check out the 30 creative ways to wrap your gifts this holiday season!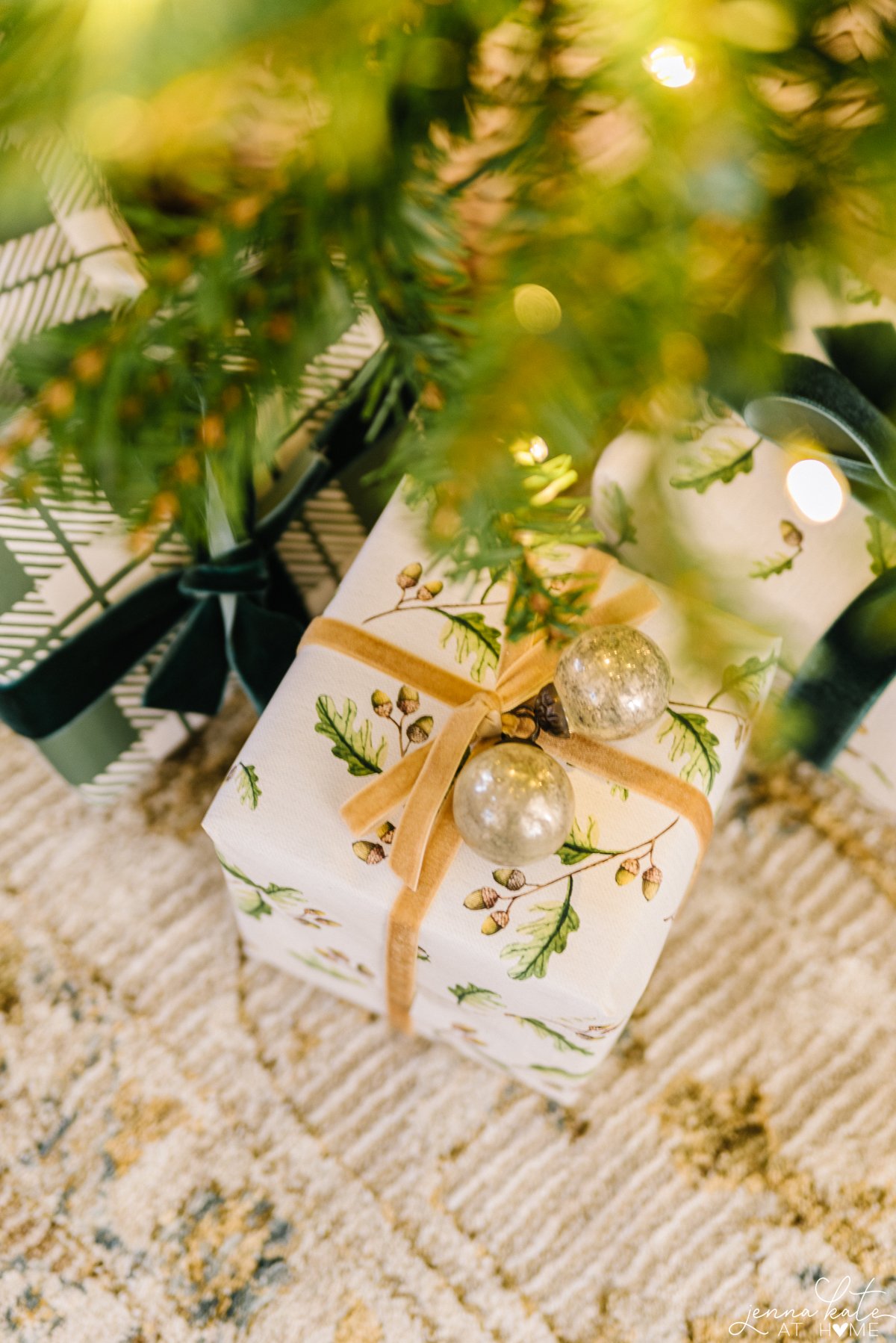 1. Custom Paper
Designing your own wrapping paper, allows you to create the exact look you want, and creativity reigns over the paper.
I designed and printed up a bunch of this cute blue truck wrapping paper, using watercolor images that I purchased.
Isn't it cute?
I printed the paper up on regular printer paper, knowing that my gifts were small but if you needed more, it's pretty inexpensive to get it printed at Staples.
Nice gift wrap is not cheap so you may as well spend the money and make your own custom version!
Like mine? You can download it for FREE!
Download FREE Blue Truck Gift Wrap
2. Ribbon
It doesn't matter how pretty your wrapping paper is. Your gift always looks better with some added ribbon!
This beautiful sparkly ribbon is from Paper Mart but Home Goods and Michaels have beautiful selections, too.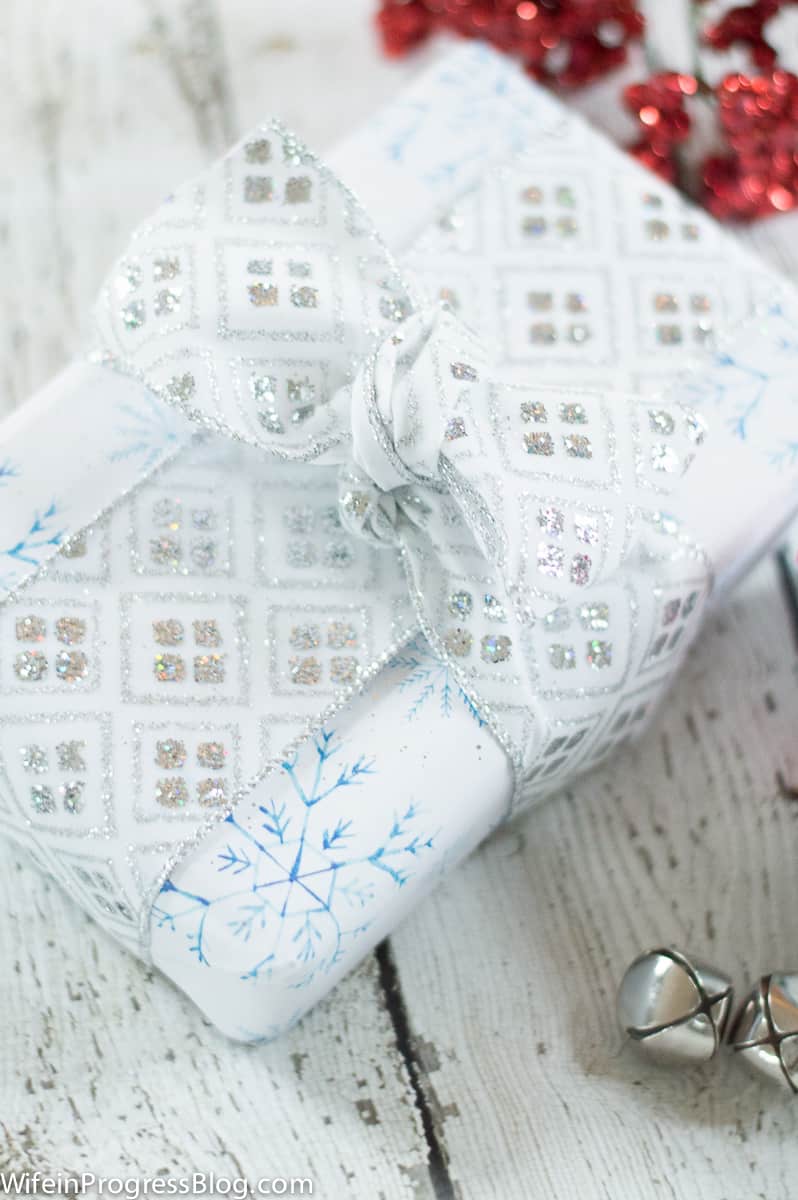 The gift wrap is another one I designed. It's full of pretty blue snowflakes.
Download FREE Blue Snowflake Gift Wrap Here.
3. Add Embellishments
Don't be afraid to add embellishments to your gifts to really add the wow factor. It's a beautiful way to add individuality to each gift.
Think mini bottle brush Christmas trees, jingle bells, wooden snowflakes, a cookie cutter, and even small tree ornaments.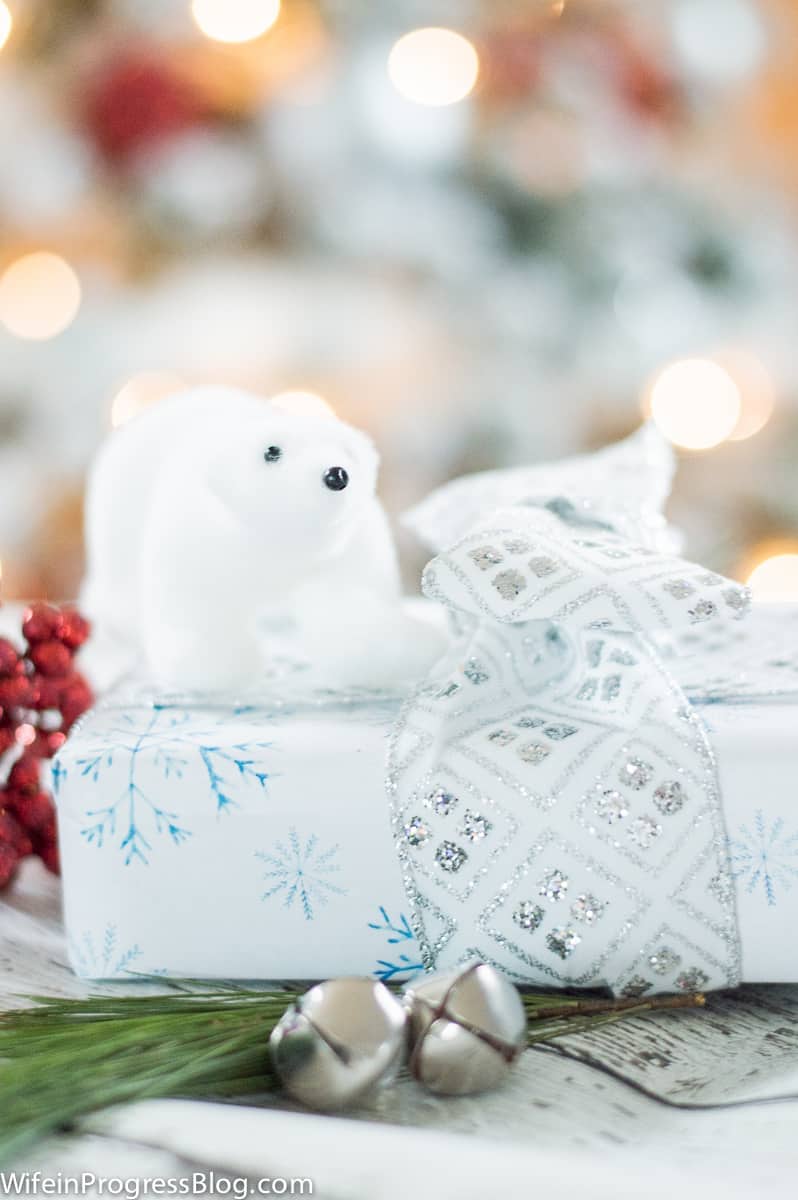 Use a hot glue gun or washi tape to attach them to the gift and you're good to go!
4. Fluffy Yarn
I'm only partially breaking my ribbon rule since I'm still adding the ribbon effect – this time using extra thick and fluffy yarn. This is the same stuff I used for my Snowy Christmas Trees. It's really soft and mimics the idea of snow. Wrap it once, twice, or several times around your gift!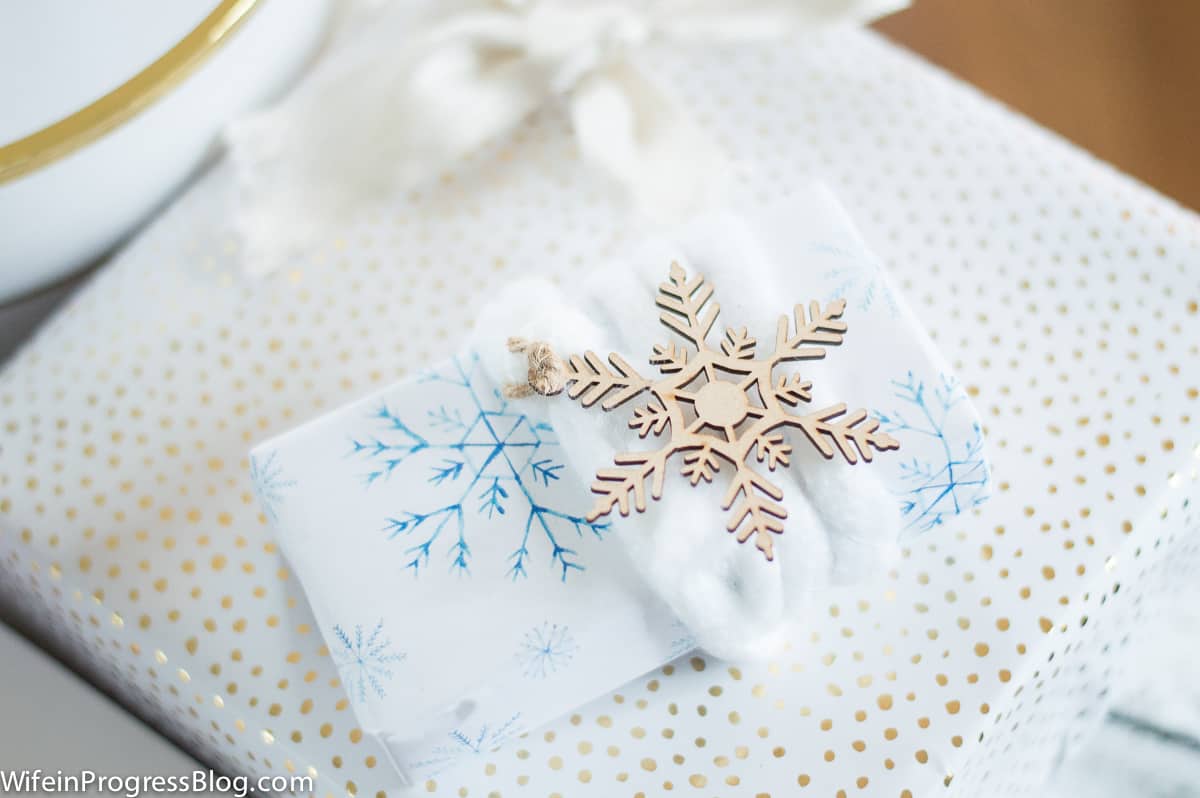 5. Boxes
Have horrible gift-wrapping skills? Purchase a gift box, Target has some stunning boxes! It's not only a time saver but also an easy way to avoid those paper cuts we always get when wrapping gifts.
The smallest boxes come with ribbons already attached and you can buy elasticated bows for the larger boxes that stretch right over the gift. Literally, no effort involved!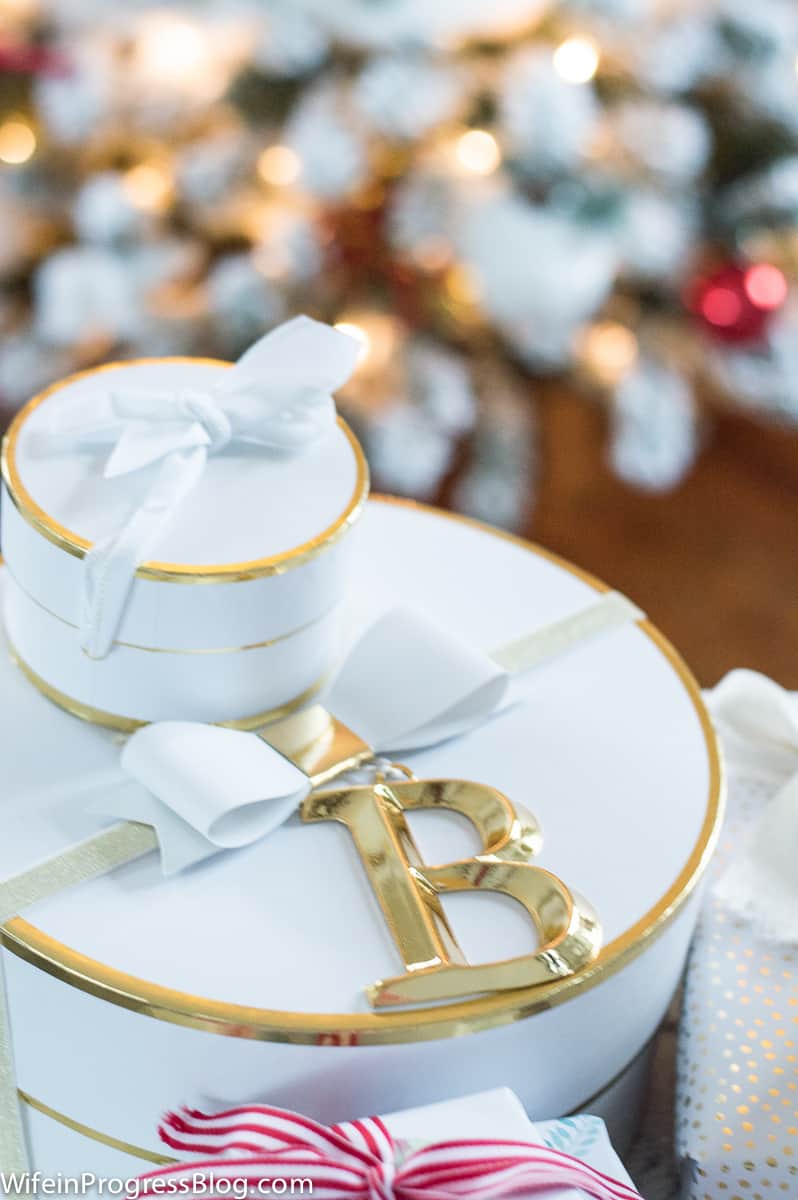 Finish with a gift topper such as these metal letters – or even just a regular gift tag – and you're done!
6. Layering Your Ribbon
It is always fun to add a bit of playfulness to your packages. You can choose multiple types of ribbons and textures to add to your holiday gifts.
Pair a Christmas floral with some colorful yarn for a fun pop of color.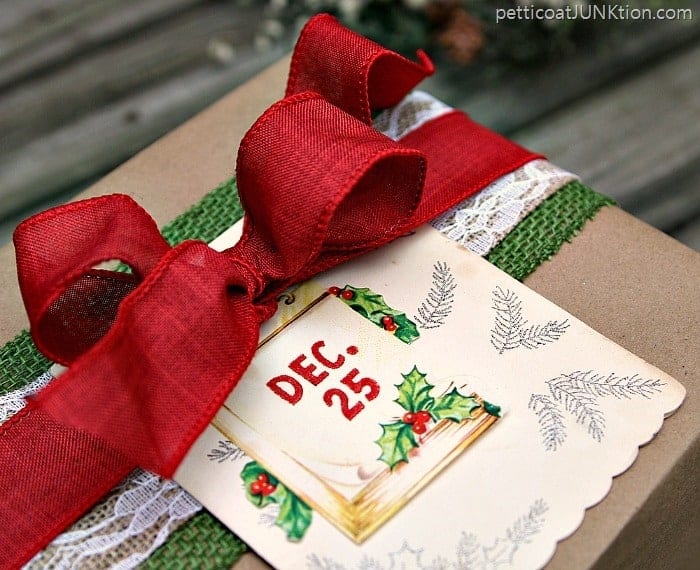 Such a creative idea via Petticoat Junction
I just adore how this present is layered with not only ribbon, but lace, and burlap.
7. Faux Flowers
Create something both fun and gorgeous by adding brightly-colored or traditional Christmas-colored faux flowers or even some faux red berries.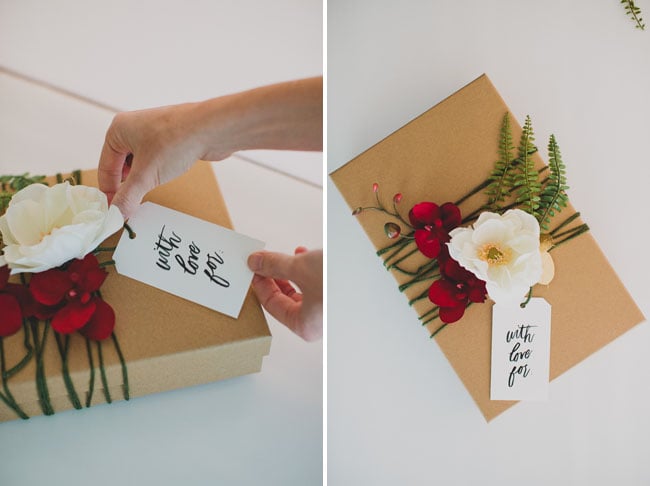 Simple yet elegant gift wrapping via Green Wedding Shoes
8. Fresh Greenery
Simply placing an evergreen sprig on Kraft paper, with a star sticker gives the appearance of your very own handmade Christmas tree. Such a fun and inexpensive way to spruce up your gift and add natural elements that scream the holidays.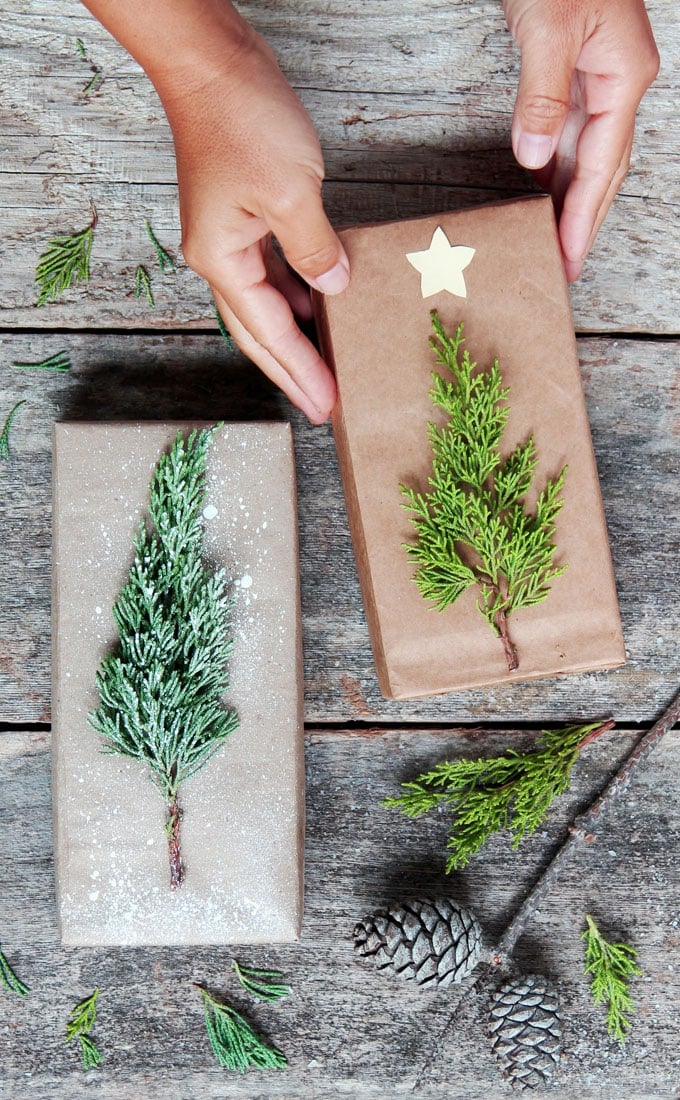 Find this full tutorial on A Piece of the Rainbow blog.
9. Tassels
This look is super easy to achieve. Find a large roll of white or brown craft paper and some colorful string. It's literally that easy!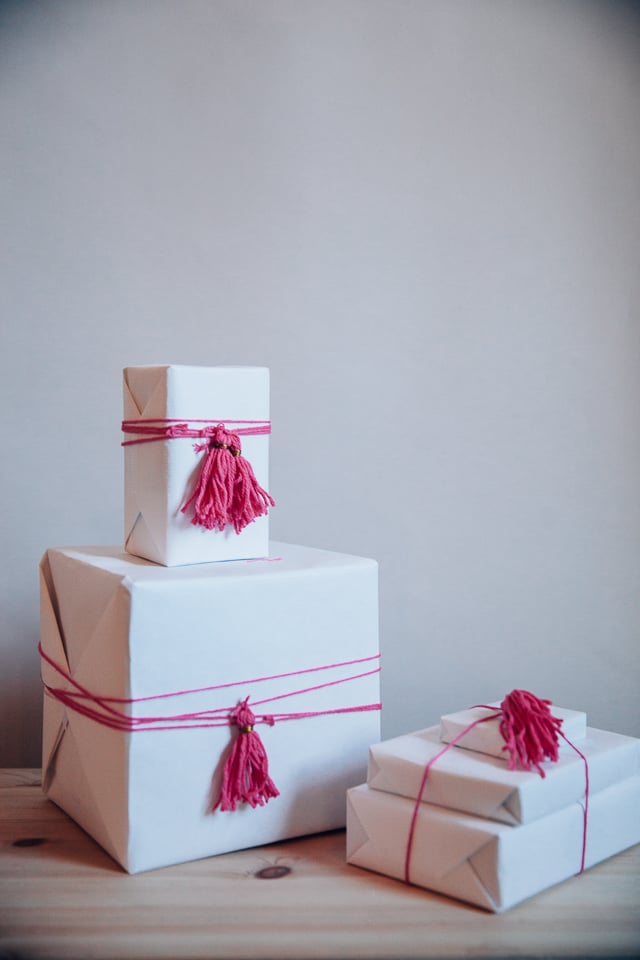 Whether you make your tassels or purchase them this is a fun way to layer your presents or give them some unique individuality via Gold Mine Journal.
10. Wearable Accents
Why not add part of your present to the wrapping? You can easily add a bangle, necklace, headband, or even earrings to add the perfect amount of bling to your wrapping project.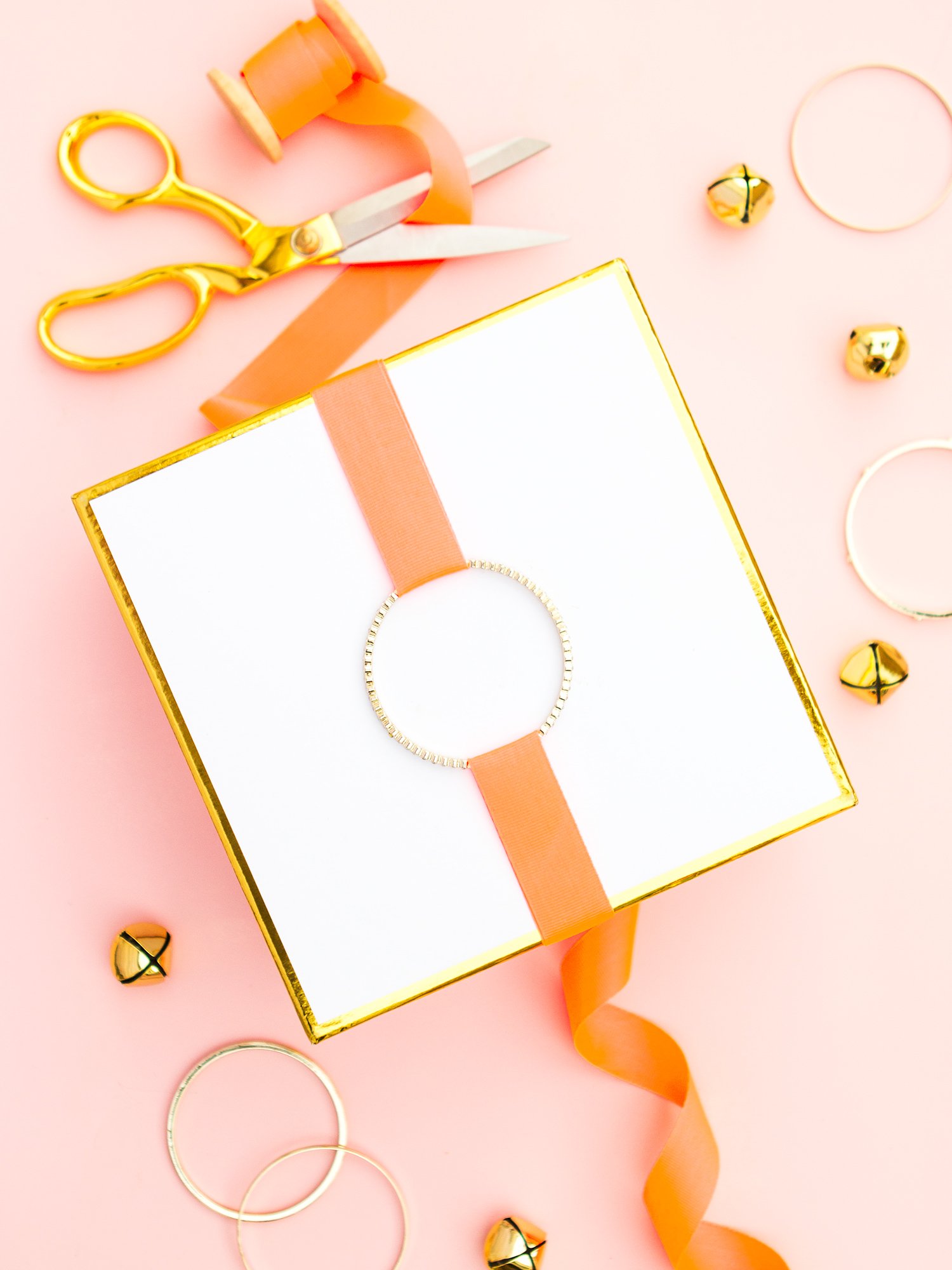 Such a unique way to add some extra love and bling to your Christmas presents this year via Sarah Hearts.
11. Bottle Brush Trees
Give a gift of decor with your gift, using these adorable bottle brush trees. This is an inexpensive cute way to add some character to your gifts. The Target Dollar Spot normally has these stocked early in November, grab them ahead of the rush!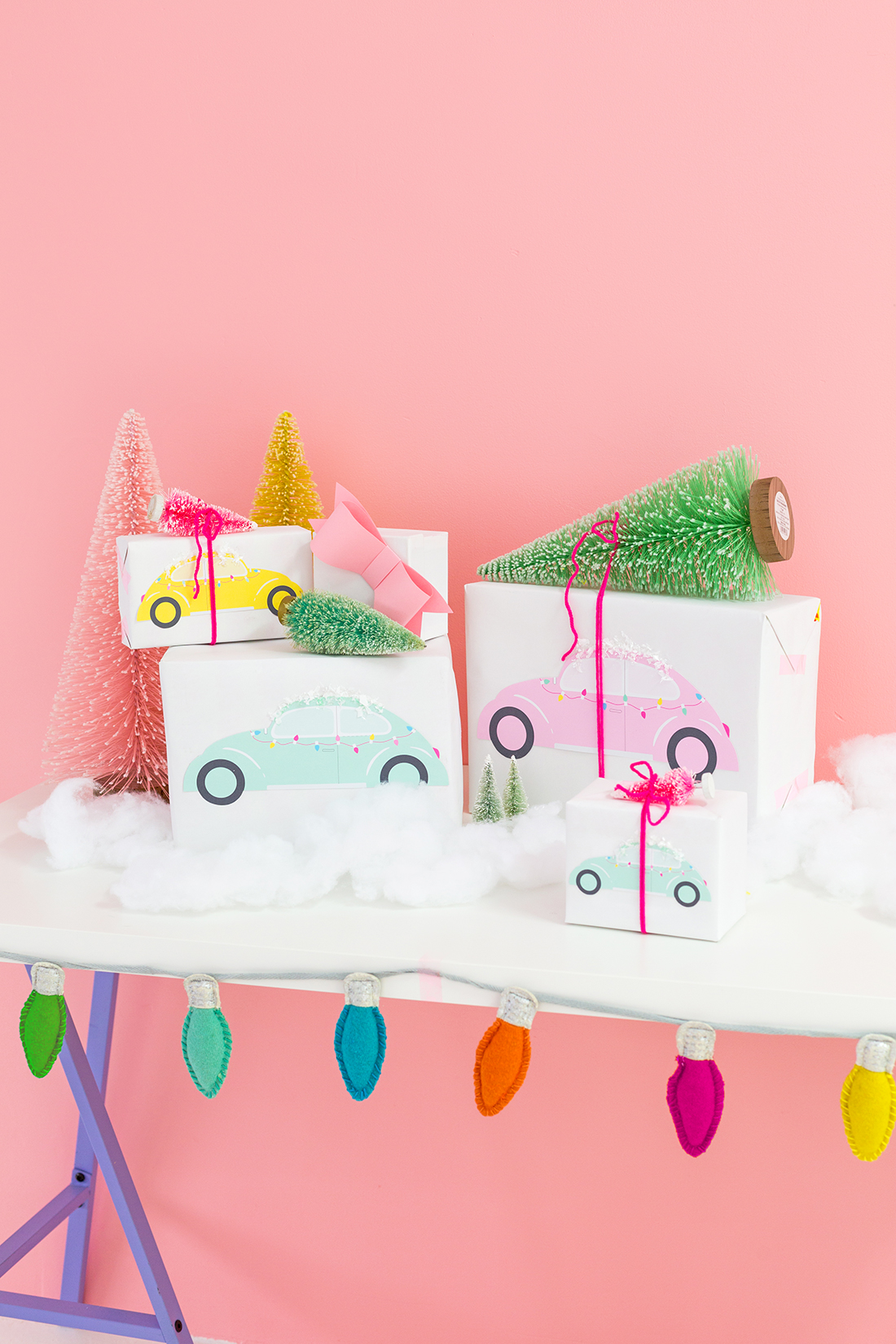 Add some colorful fun trees to the top of your gifts via Aww Sam.
12. Buttons
What a fun way to use leftover craft or sewing supplies, and then to arrange them into words or fun shapes.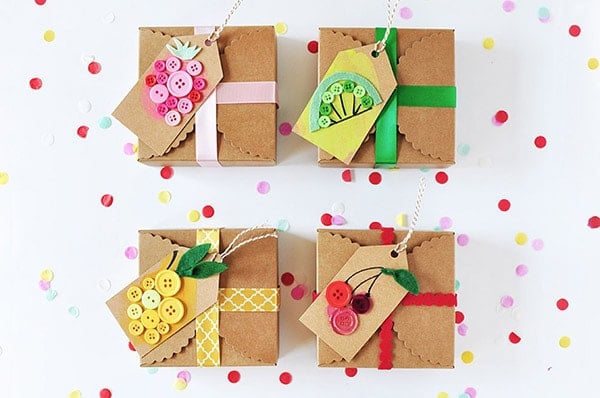 Use your imagination to create fun gift tags for your presents via Delineate Your Dwelling.
13. Minimalist Monochromatic
One of the most chic trends going around is to wrap your gifts in dark wrapping paper. You can create a classic vibe and use a matching ribbon or add a pop of color with a white ribbon. Christmas wrappings don't always have to be in the expected colors or theme.
If you have a more modern minimalist decorating style, this wrapping idea will go perfectly with your aesthetic.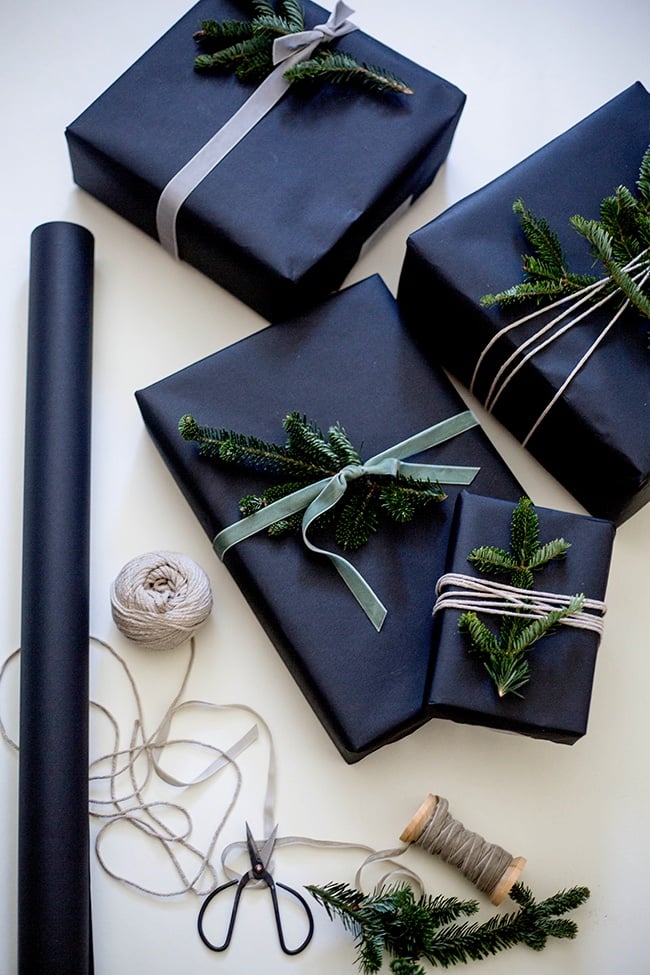 Black Wrapped Gifts via Shannon Kirsten
14. Add a picture
If you have a sweet picture of you and the gift receiver, add that to the top of the gift for a personalized touch! You can even add your family's Christmas card to the gift if you haven't mailed them. Save a stamp!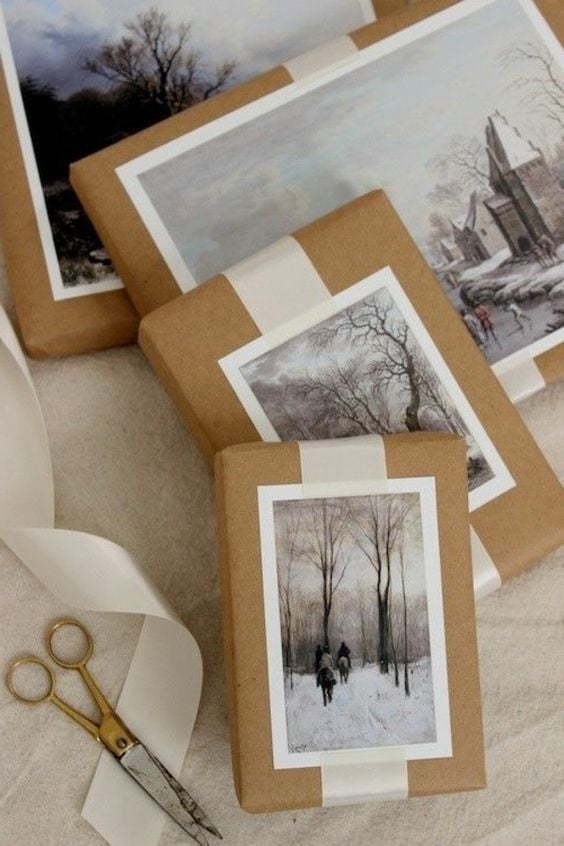 Idea via Bonjour Bibiche
15. Tea Towel
Tea Towels are such a cute gift to begin with, so why not use them to wrap Christmas presents?! Especially if it's for a mother-in-law or a girlfriend you are buying a gift for them to decorate with or use in their kitchen.
It's a great way to stay on theme with your gift!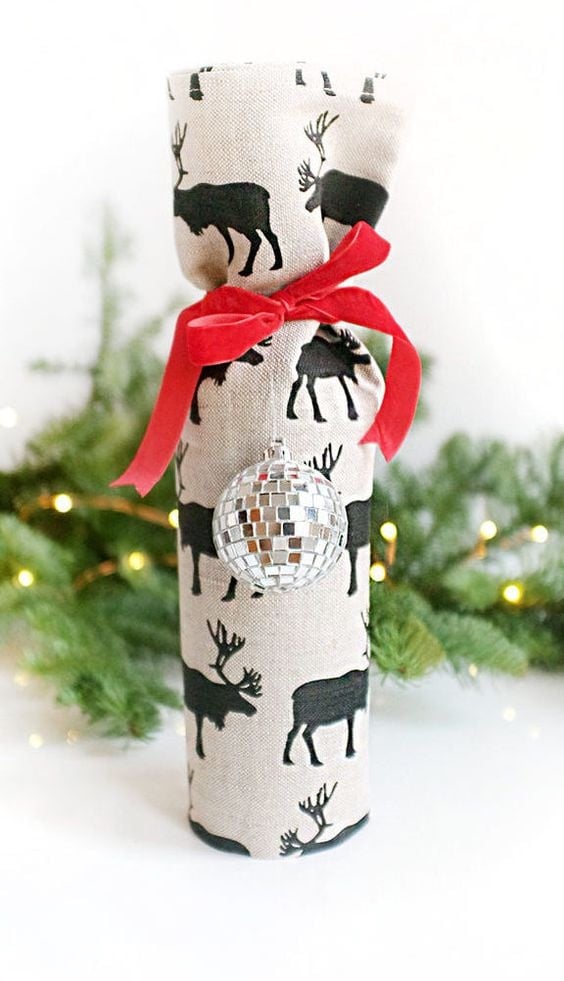 Tea Towel Wrapped Wine Bottle via Cool Mom Eats

16. Signed by Santa
If you have young kiddos or are giving gifts to young kiddos, how fun would it be to see a personalized note signed by Santa? Their precious faces on Christmas morning would be priceless seeing a note to them.
You can use brown paper and a Sharpie to write the note on the front of the gift. It looks chic but still connects to the childlike wonder of the season. Alternatively, you can design the outside to look like a mailed letter from Santa like this one from A Modern Homestead.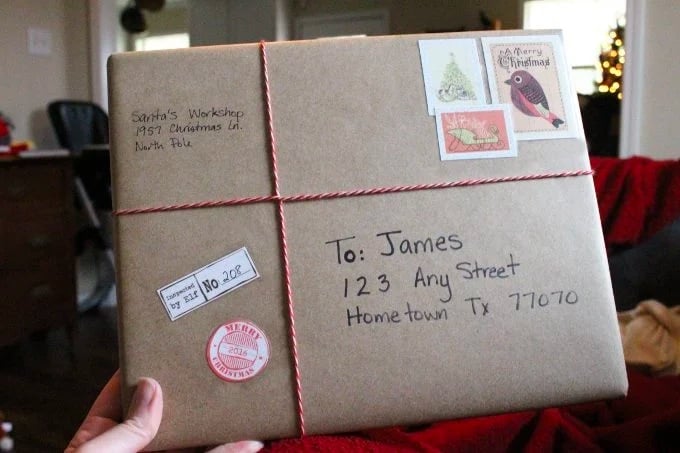 Santa Postcard Wrapping Tutorial via A Modern Homestead
17. Sheet Music of Christmas Songs
Old sheet music of the classic Christmas carols makes for such a vintage chic wrapping paper. For a personal touch, wrap the gift in their favorite Christmas carol.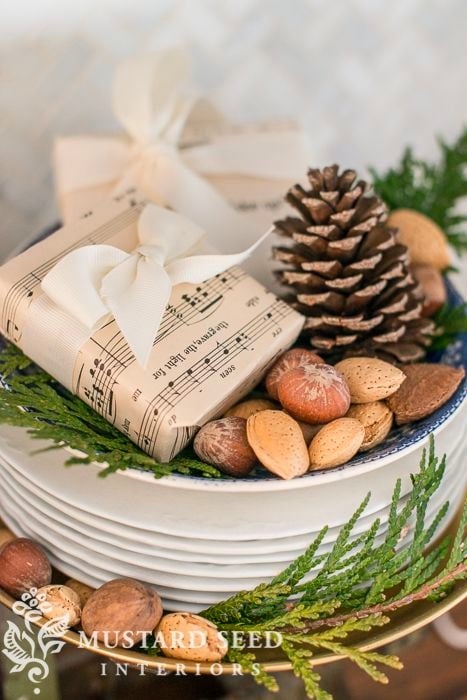 ​Image via Miss Mustard Seed
18. Brown Paper Packages
This is such a simple way to wrap a gift but sometimes the minimal look is best. If you have a rustic look to your interior design style, this is perfect for you!
You can add simple ribbon, red yarm, or baker's twine to finish off the minimalist look.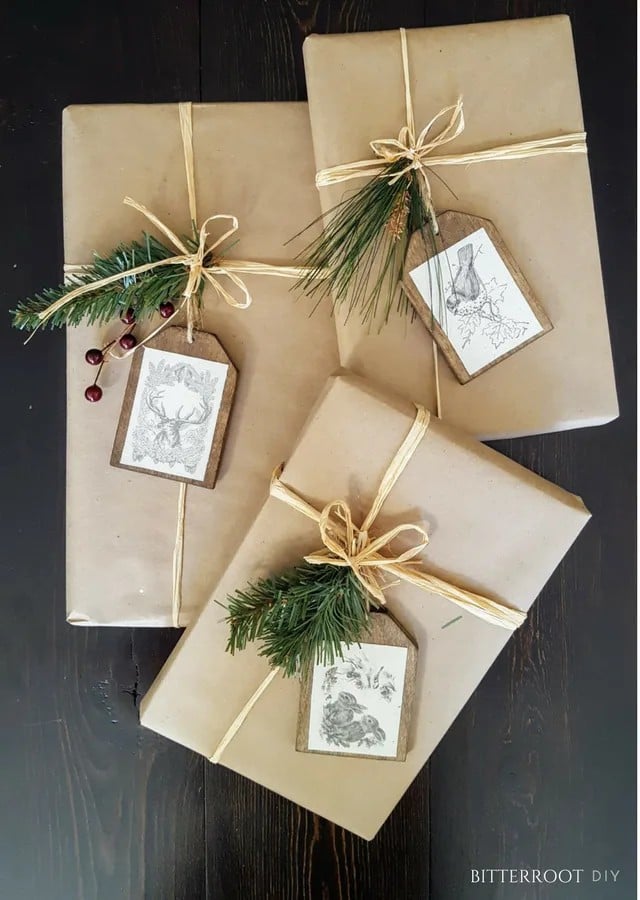 19. Old Maps
How unique are these presents wrapped in Atlas maps with a red ribbon via All Gifts Considered? Check your thrift store or your back closet for the maps you don't use anymore.
For someone who loves to travel, this would be such a special way to receive a gift.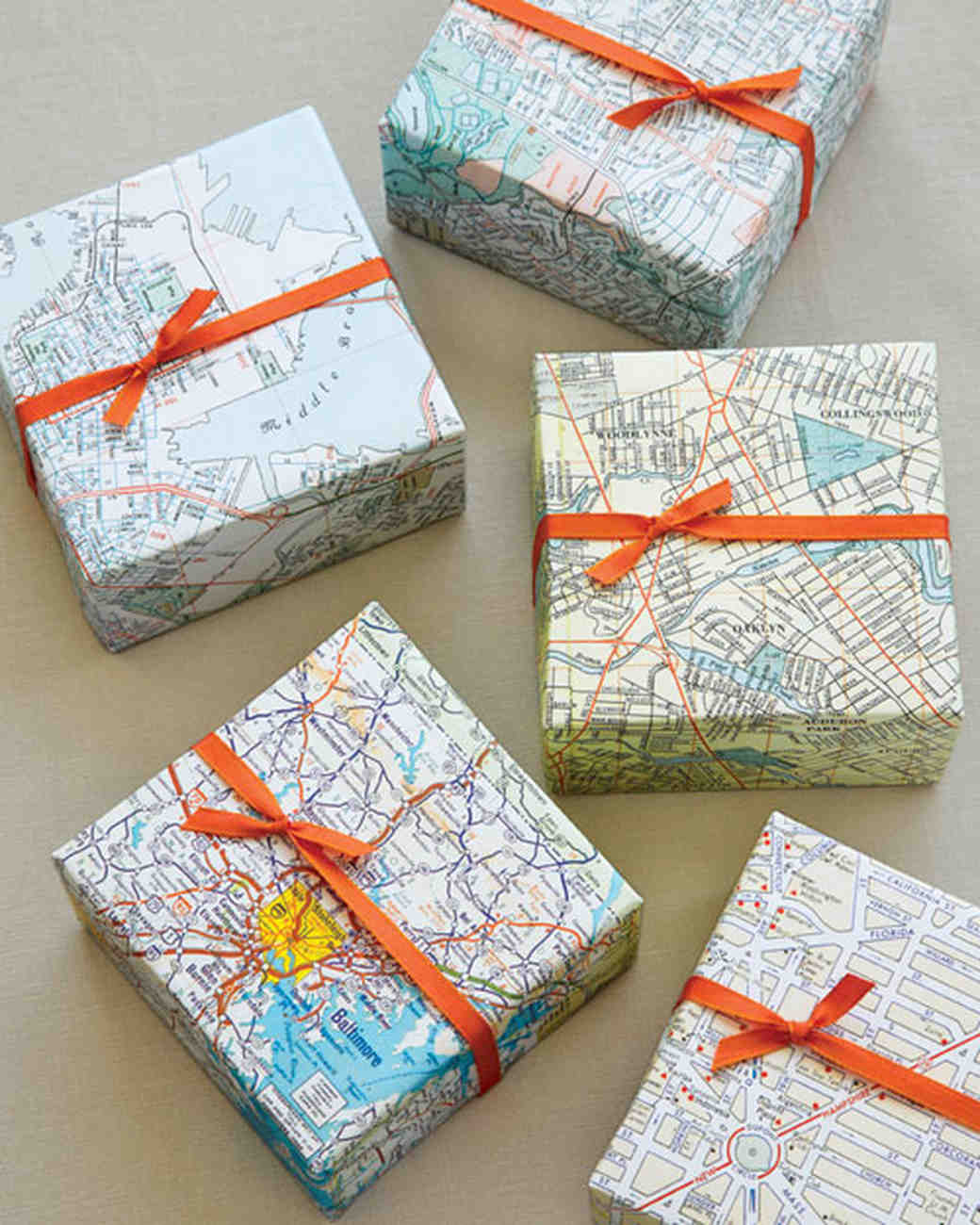 20. Paper Animals
Kids would love this cardboard box snowman, use multiple presents and boxes to create this fun look.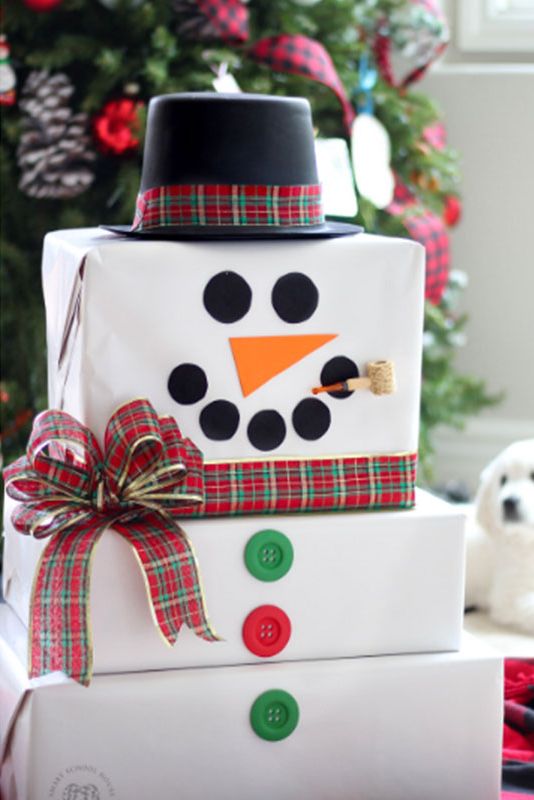 Snowman Boxes Wrapping Present via Smart School House
21. Faux Chalkboard
You can add some individuality by using plain Kraft paper and a white distress marker to give off the chalkboard appearance.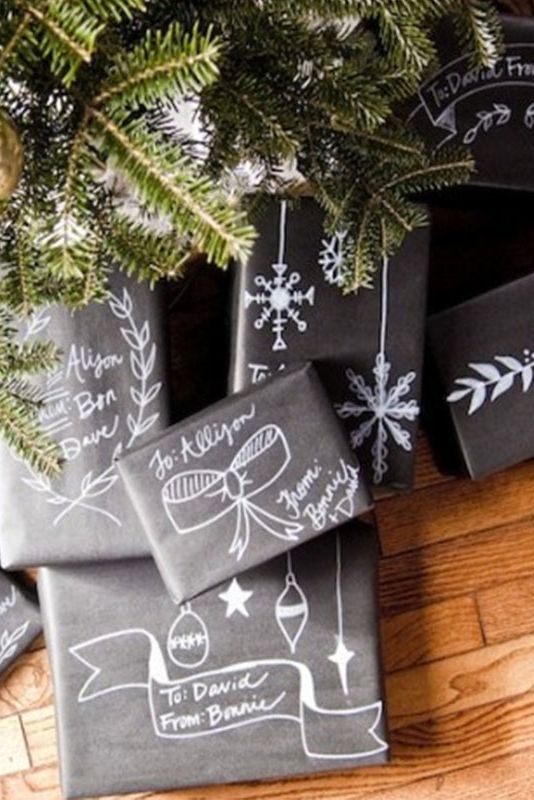 Photo via One Little Project
22. Personalized Santa Bags
Nothing says Christmas like a personalized Santa bag. There are so many fun designs, your child can keep for years to come.
They are also a great idea when you have hard-to-wrap-sized gifts.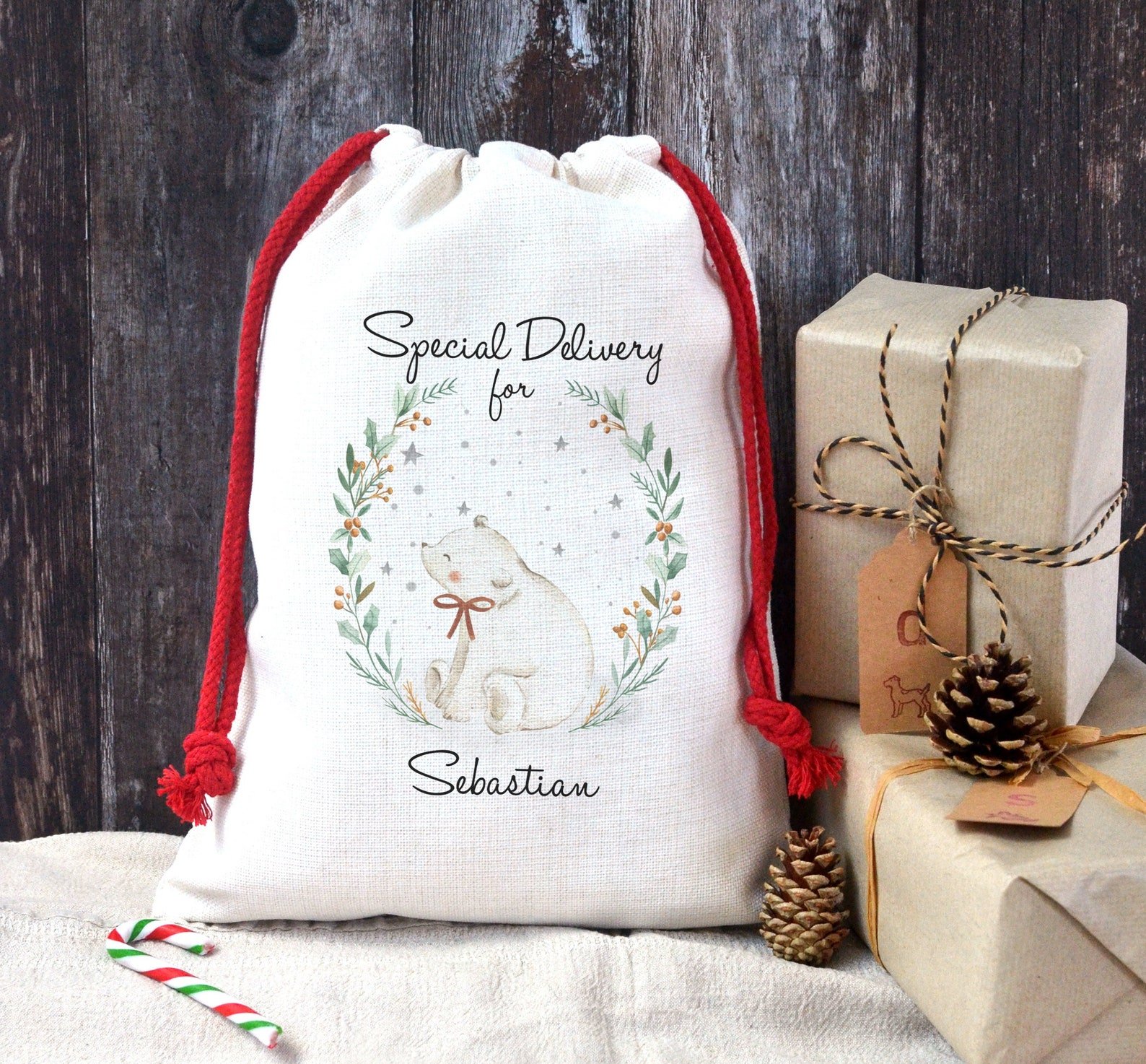 Personalized Santa Sack via Show Stopper Supplies (can put affiliate link here for etsy)
23. Paint Splatters
Another creative idea for making your own gift paper is to let your kids make a paint splatter art piece on white butcher paper. Let it dry and then use this to wrap up their gifts to their friends or grandparents. It's a great idea to have them be able to help and create some Christmas crafts along the way.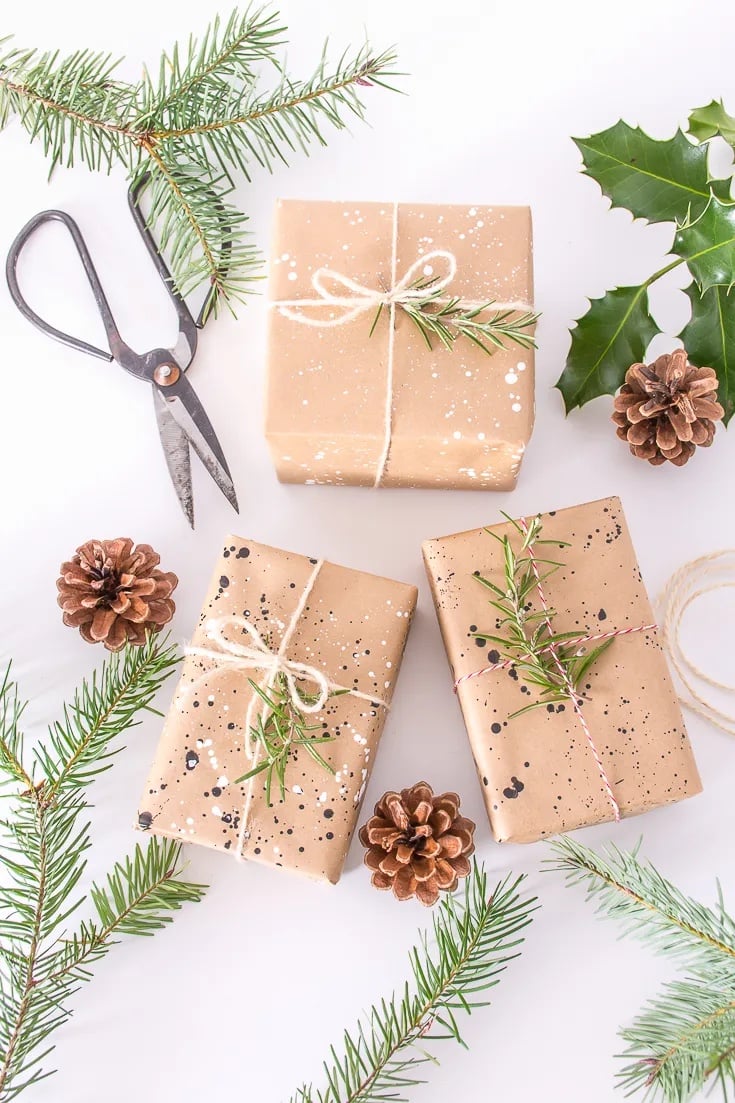 Tutorial by DIY in PDX
24. Emoji Faces
The iconic emoji faces make for a fun wrapping idea. You can grab a roll of yellow wrapping paper and then add your favorite face to it! The Art Kit Blog has printable stencils to use to cut out the faces.
Either craft paper or felt would work, whatever you have in your craft closet. You can use a hot glue gun, glue stick, or tape to attach the faces to the paper.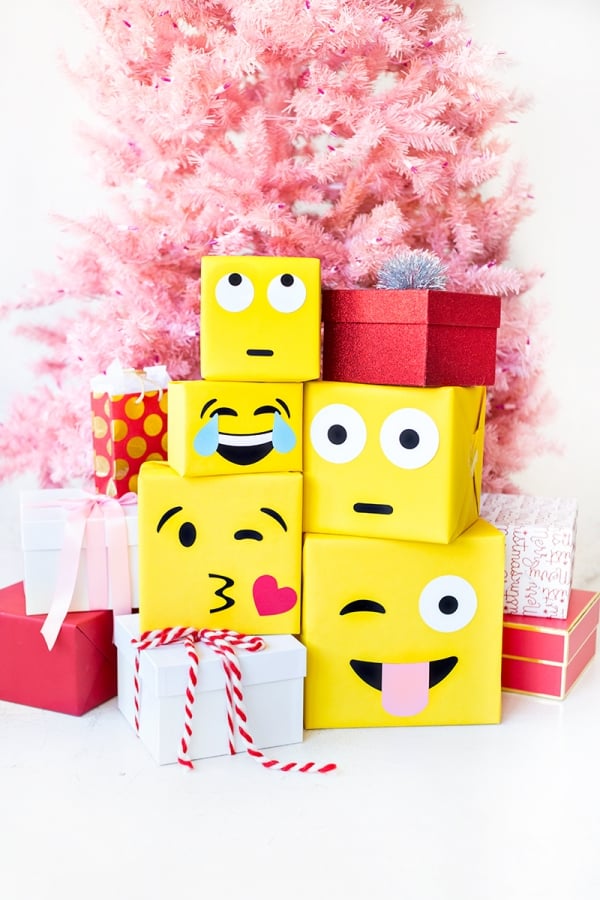 Emoji Face Presents by Stuido DIY
25. Cut out Snowflakes
Who doesn't love a hand-cut snowflake?! These can be such an elegant addition. Tie it with some ribbon on top of your gift and you're set. It can look something like this wooden snowflake when attached to your gift.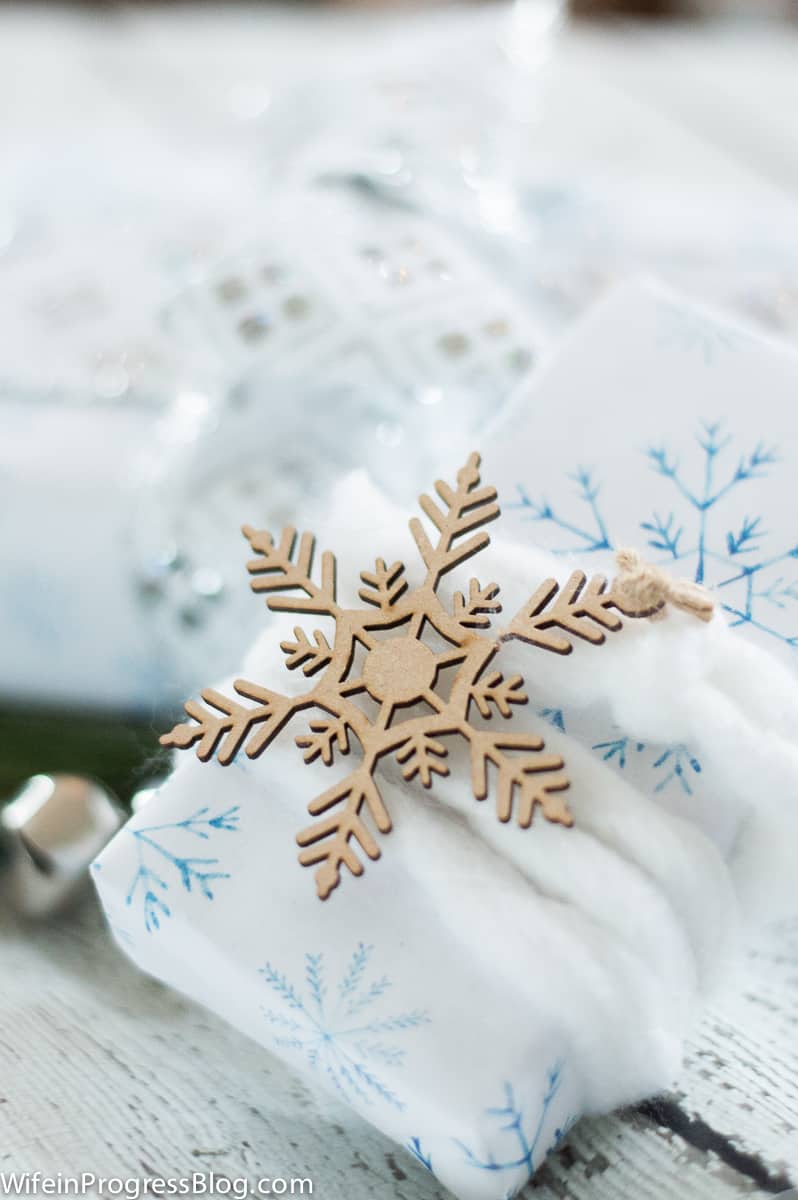 26. Woven Ribbon
If you have a lot of slim ribbons, this is a great way to make a bigger impact on the wrapped gift. Thesweetestoccasion has a great tutorial on this.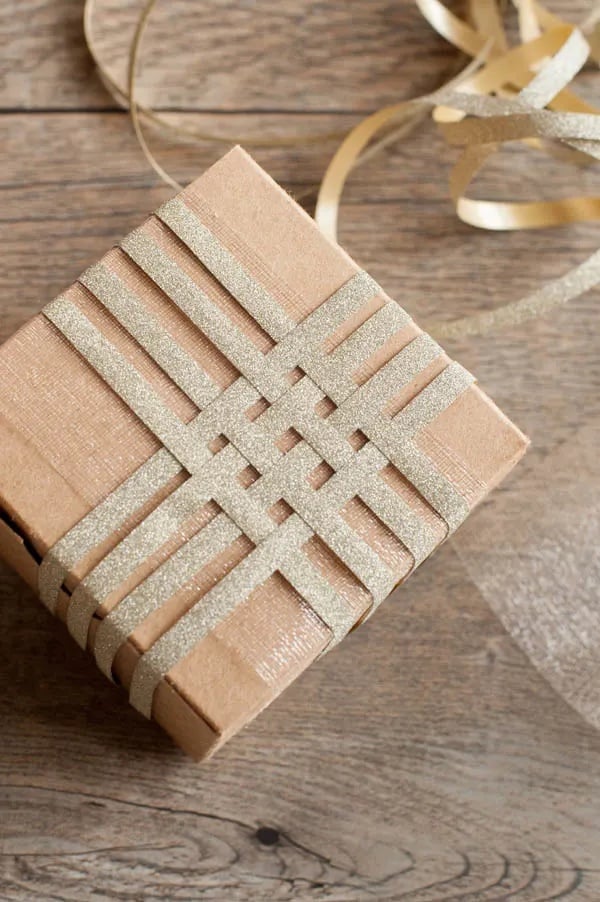 27. Cardboard Gift Tags
We all have extra cardboard boxes lying around, especially during the Christmas season with gift buying. You can use a cookie cutter to cut the shape you want, then either freehand a design or use a stencil.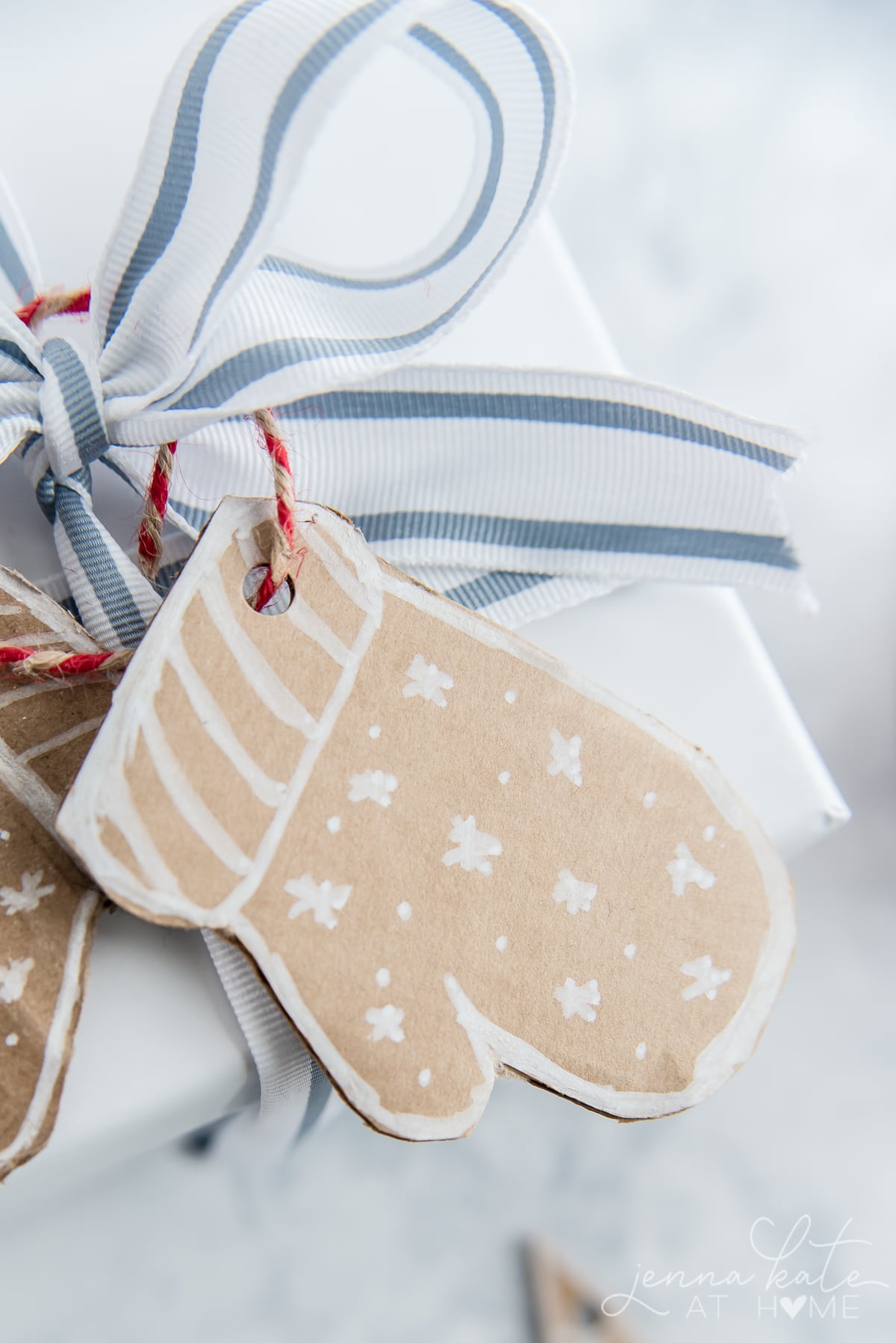 See the full tutorial I put together on Christmas Cardboard Gift Tags here.
28. Bow Patterns
Mini gift bows are so much fun and add great texture. You can use them to make a giant bow in the center of the gift or you can use them to create a pattern on top of the gift. Extra points for using a monochromatic theme.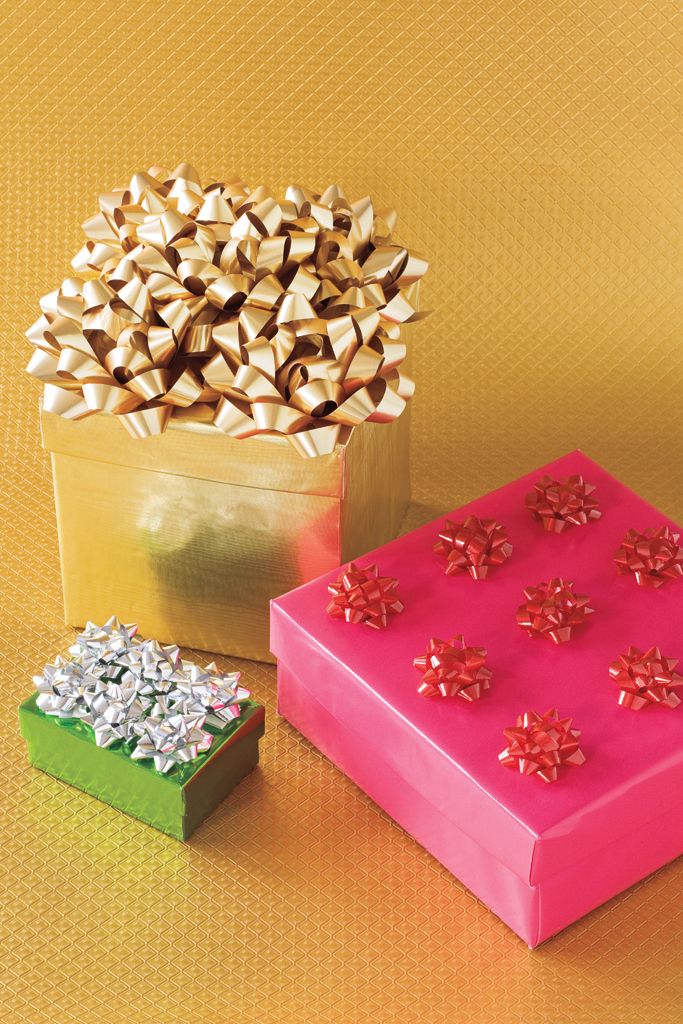 Image via Box N Wrap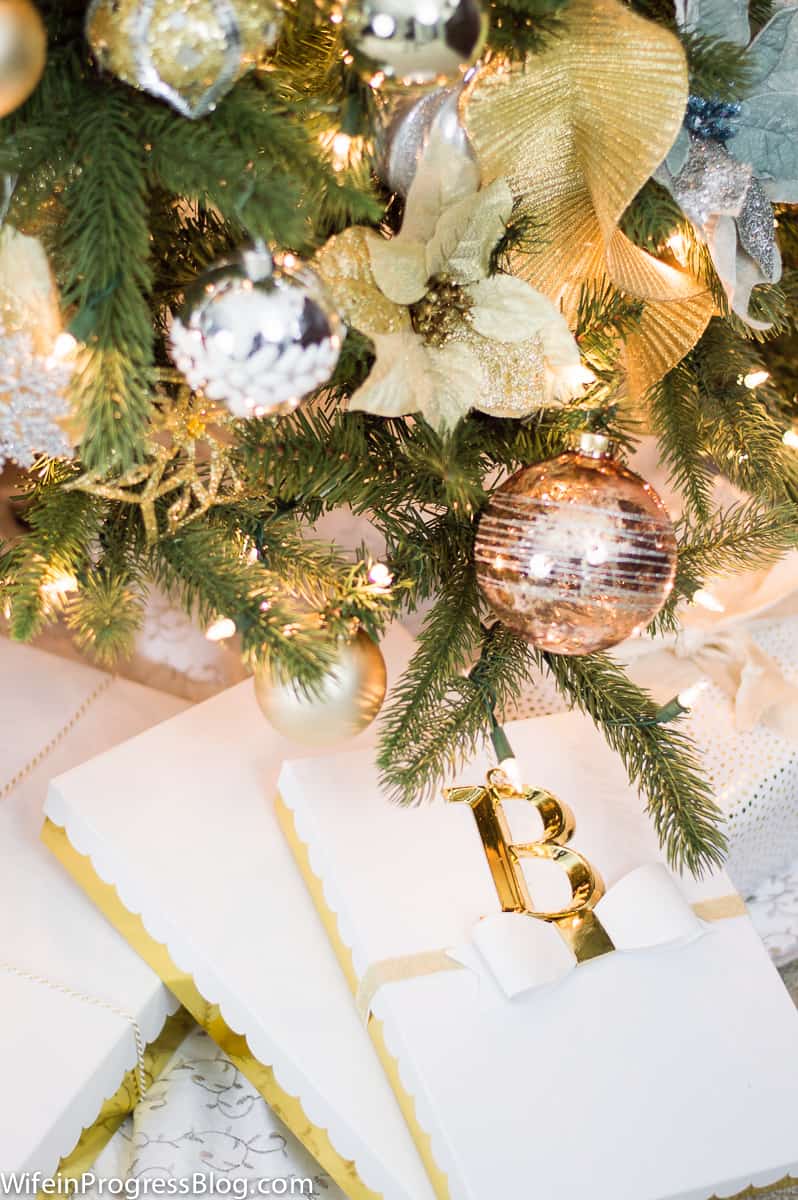 29. Candy Cane Additions
You've tied up your gift with the most beautiful ribbon, slip a candy cane in that bow to finish it off. Doesn't take any extra time but makes a great gift topper.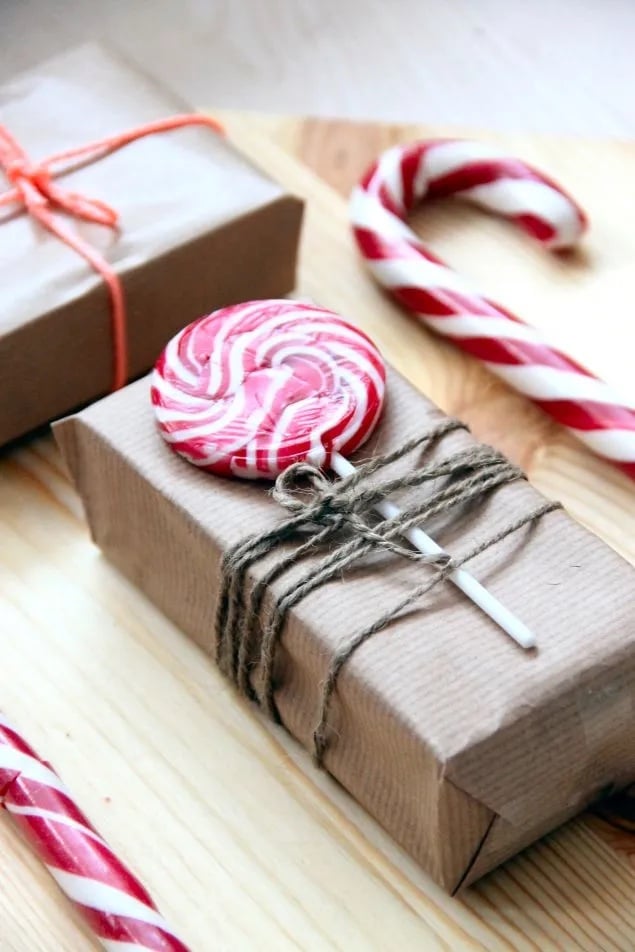 Image via Pottery Barn Blog
30. Brown Paper Bag
I love this paper bag house via Unify Handmade. These bags are underrated. They are so versatile! You can paint them, stamp them, or write a sweet note on them. Tie it with ribbon and you're done! These are especially great for baked goods gifts!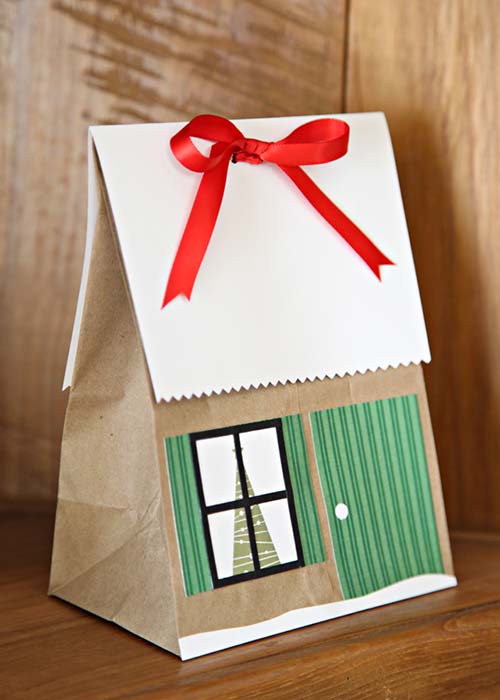 Shop for Christmas Wrapping Supplies
Here's a list of supplies! Grab a couple of items or all of them for your DIY Christmas gift wrapping ideas.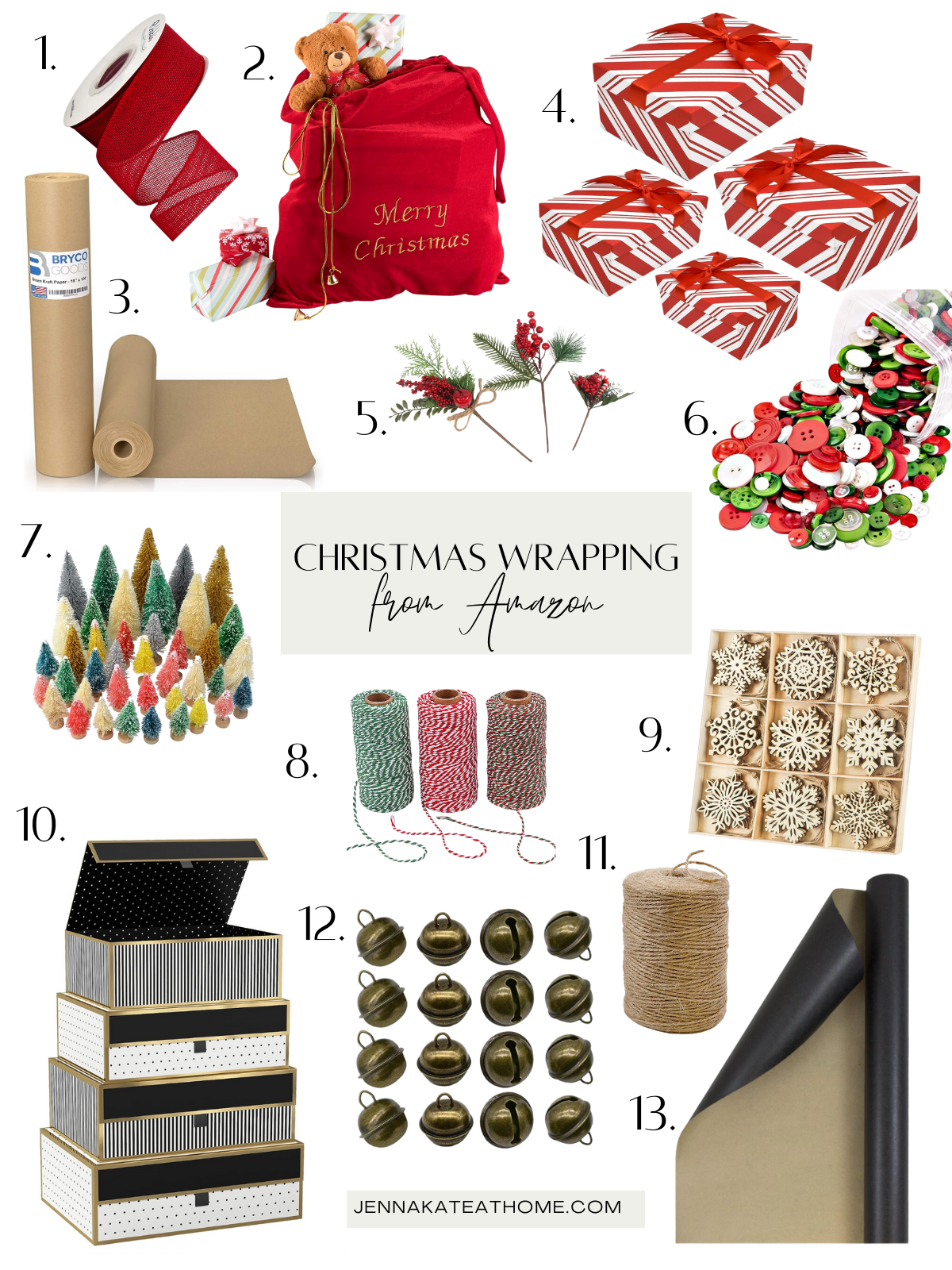 1 // 2 // 3 // 4 // 5 // 6 // 7 // 8 // 9 //10 // 11 // 12 //13
Final Thoughts
Whether you are trying to be creative or make your gift stand out, I hope you enjoyed some of these fun ways to wrap your gifts this year.
From adding a sprinkle of personalization, to using what you have on hand, your friends and family will appreciate the thought and effort you put into their gifts!