This post may contain affiliate links | For further details, please read our privacy policy
Adopting a minimalist approach to decorating doesn't mean your home will feel cold, or that you have to decorate in a Scandinavian style. For me, my minimalist approach to Christmas decorating means intentionally choosing items that will bring me joy, while keeping my home feeling uncluttered.
Keeping that uncluttered look can be more difficult at Christmas when we want to decorate every nook and cranny. But by carefully choosing what we do decorate, our homes will be festive and welcoming but not overwhelmed with unnecessary decor.
Simple Mantel Decor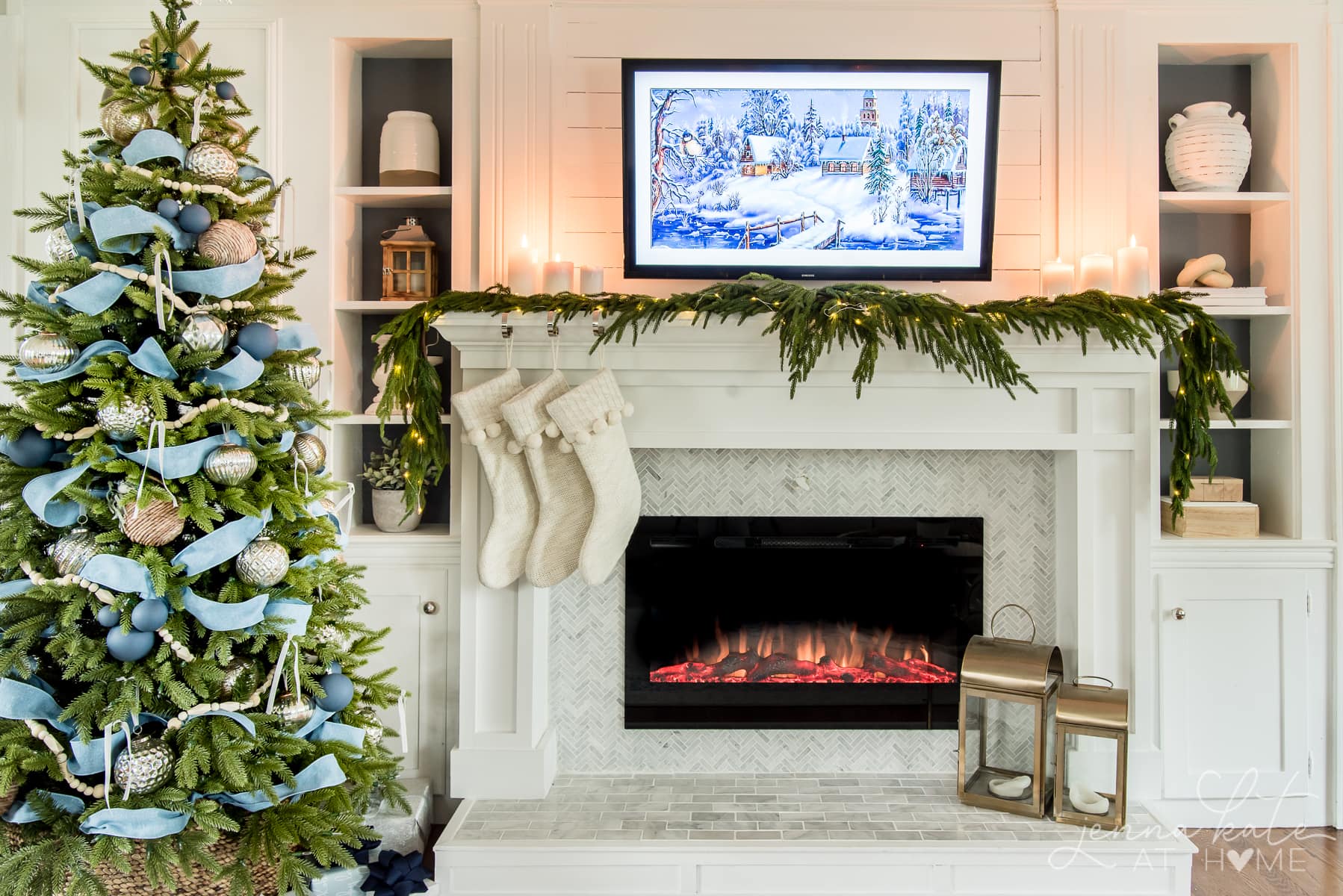 I think you will agree that my Christmas tree and mantel look appropriately decorated for the season, right? Cozy, warm and full of pretty twinkling lights and candles. But the look is simple. Faux greenery across the mantel, a string of micro-led lights and a few white pillar candles, and of course the stockings.
This year, I didn't even add any touches to my built-ins, and left the same lanterns on the hearth that I have year round. I don't think it looks as less Christmassy but it was one less thing to do, and it will be one less thing to un-do after the holidays.
By investing in a high quality artificial Christmas tree, you can actually get away with a lot less ornaments, too. The same goes for the artificial greenery on the mantel. If you're going to go the faux route – buy the best you can afford. It looks thicker and fuller, and will last forever. You could go the route of getting a sparse tree, which naturally requires decorating in a more minimalistic or Scandinavian fashion.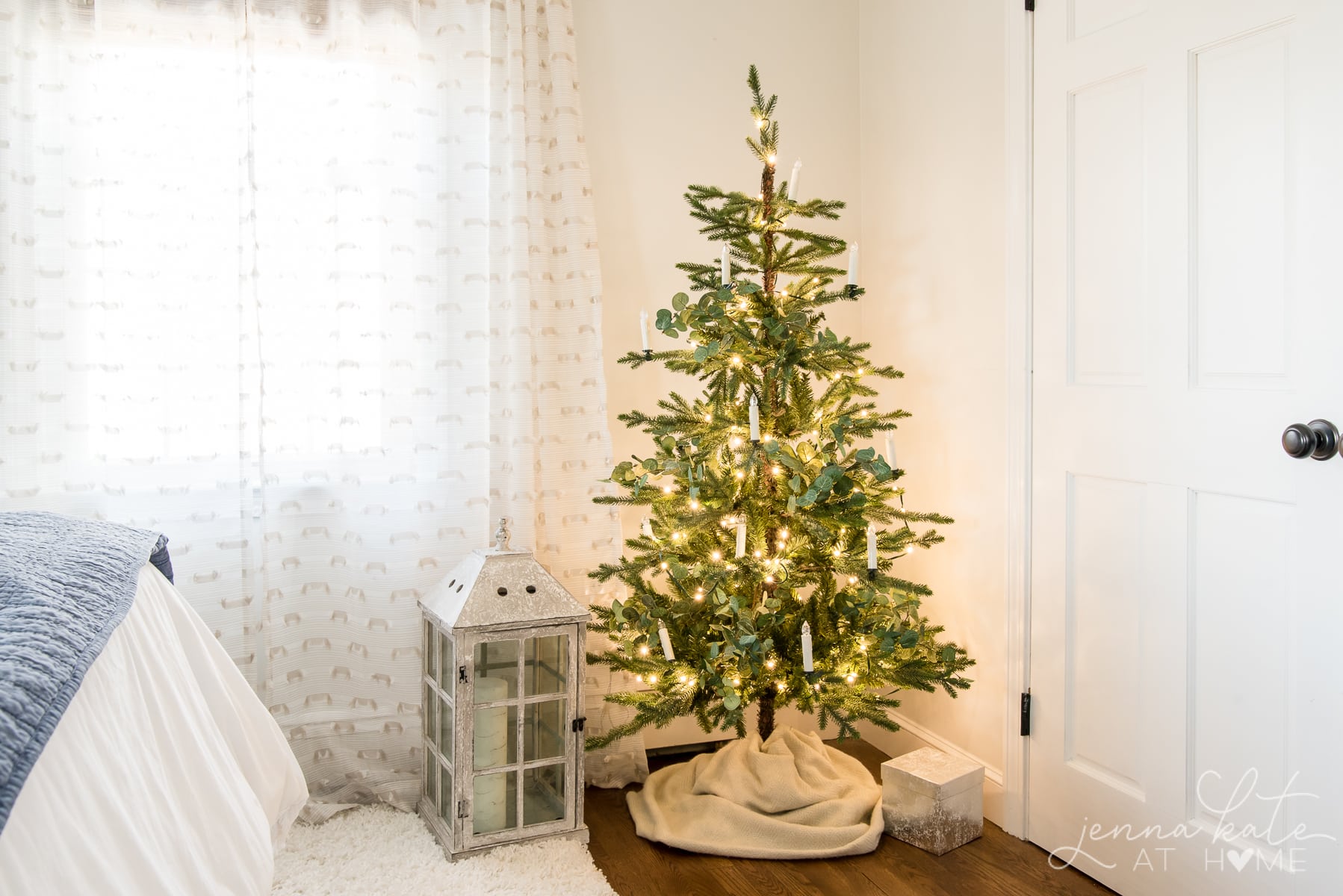 Of course, the real stuff looks a lot better AND you don't have to store it at the end of the season. But since I decorate early every year, trying to get 7+ weeks out of a real garland is a tall order.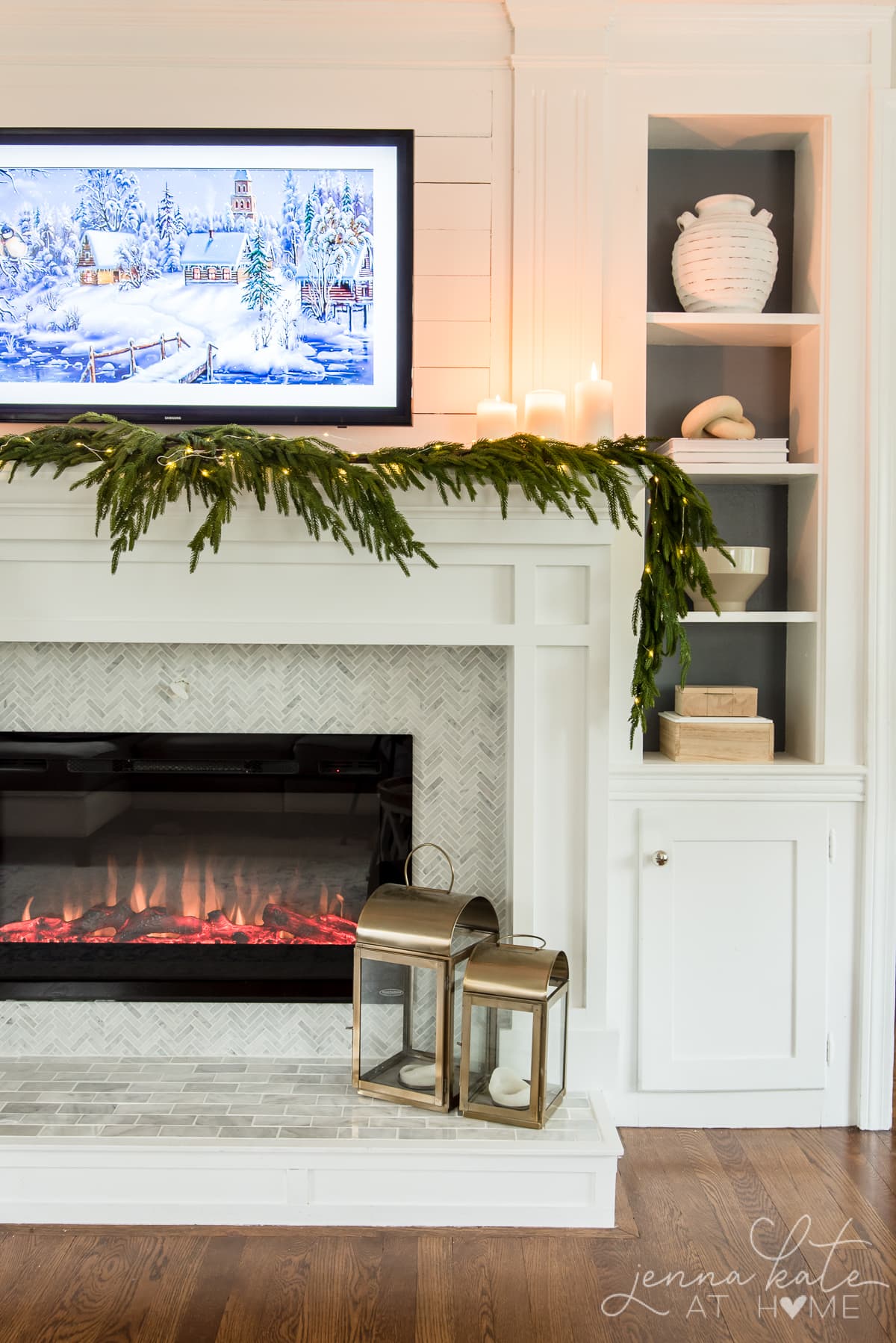 Ditch The Tree Skirt For a Large Basket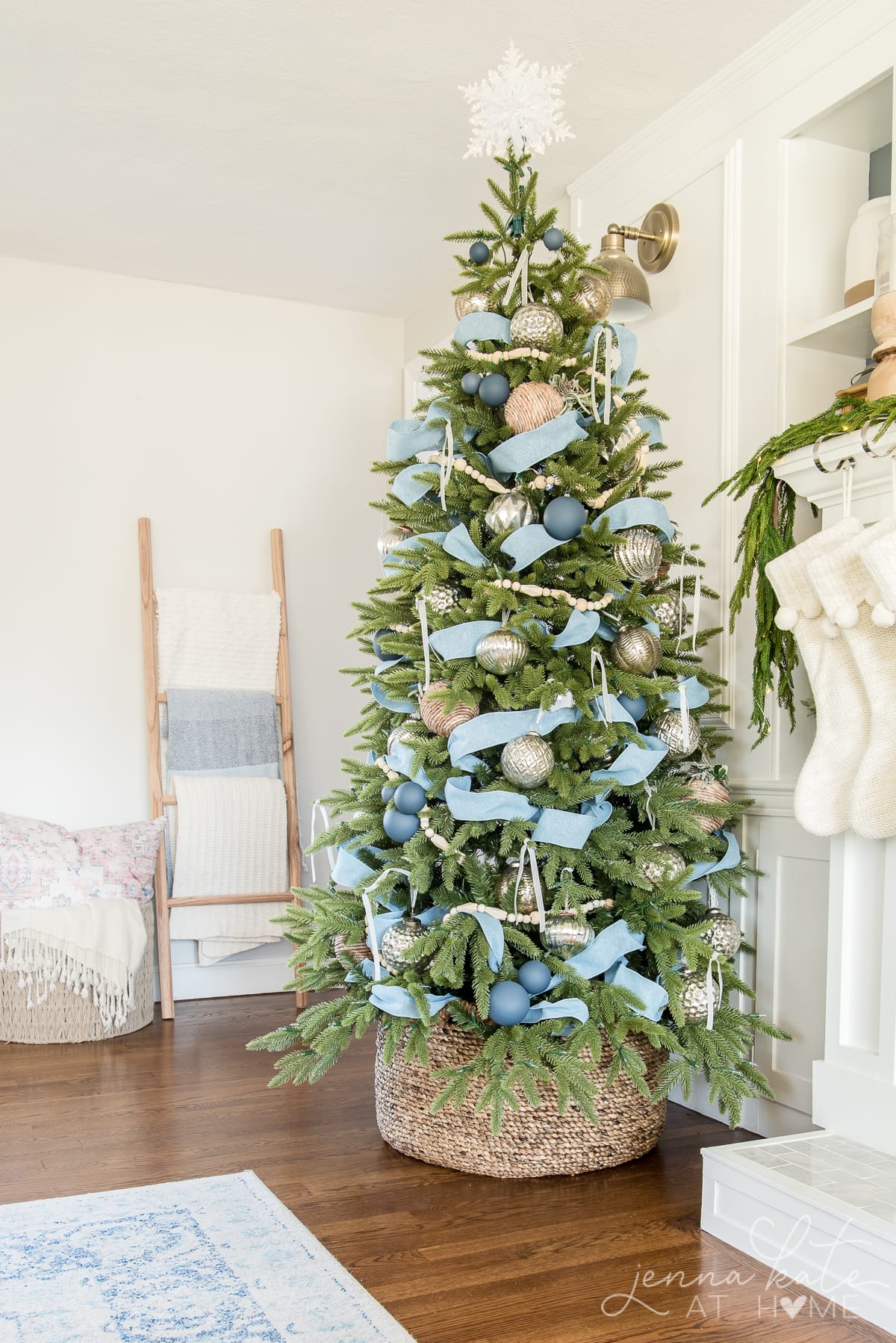 Keep the area around your tree neat, tidy and uncluttered by using a basket instead of a tree skirt (or collar). This makes cleaning the floor around the tree and total breeze, too. To find a basket big enough for your tree, simple measure the width of the tree stand and find a basket with the same (or bigger) diameter. The pop the tree stand in, and you're good to go!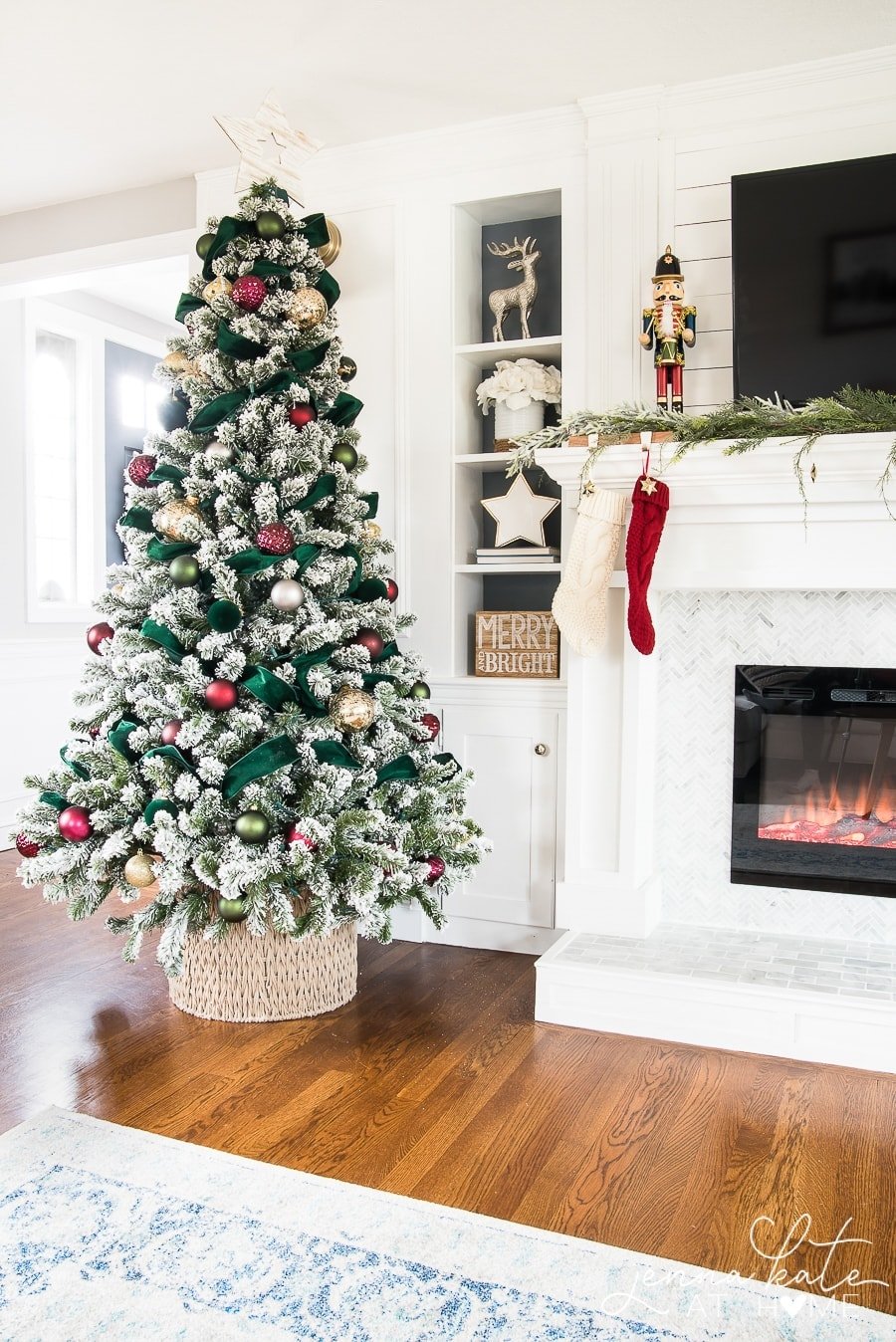 If you can't find a basket big enough, another option is to DIY your own weighted stand that's small enough to fit into a basket. You can do this by filling a bucket with cement and putting just the bottom portion of your Christmas tree in, and allowing it do dry.
DIY Greenery Filled Ornaments
I adore the simplicity and natural look to these greenery filled ornaments. Using clear plastic fillable ornament balls, just get some clippings from your yard (or a walk through the woods!) and fill the balls. Top them off with some pretty ribbon or string, and hang up on your Christmas tree.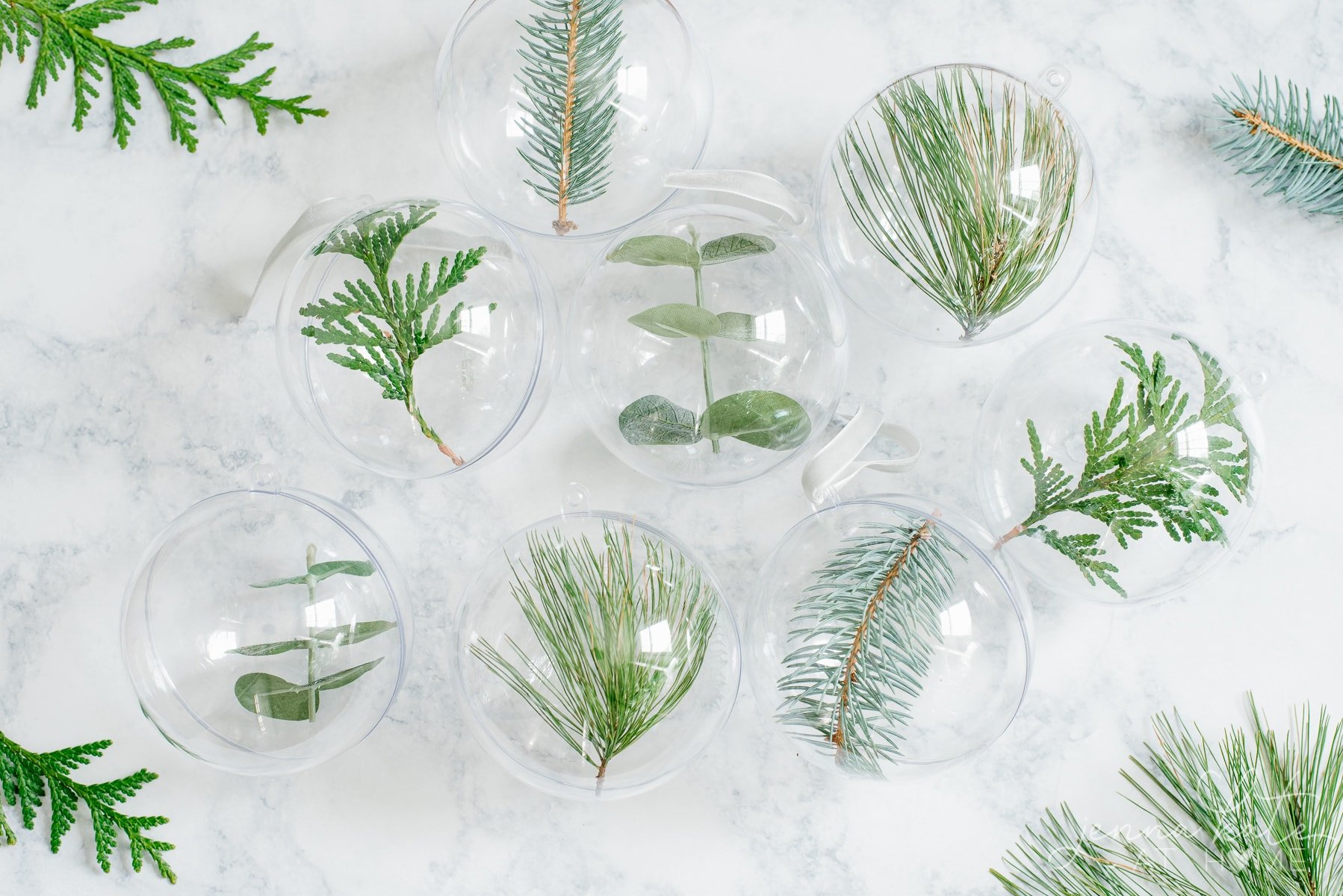 If you want something else to work with them on your Christmas tree, without sacrificing simplicity, stick to one other color of ornament and perhaps a simple wooden garland. These ornaments would look really great with matte white ornament balls or white ceramic stars.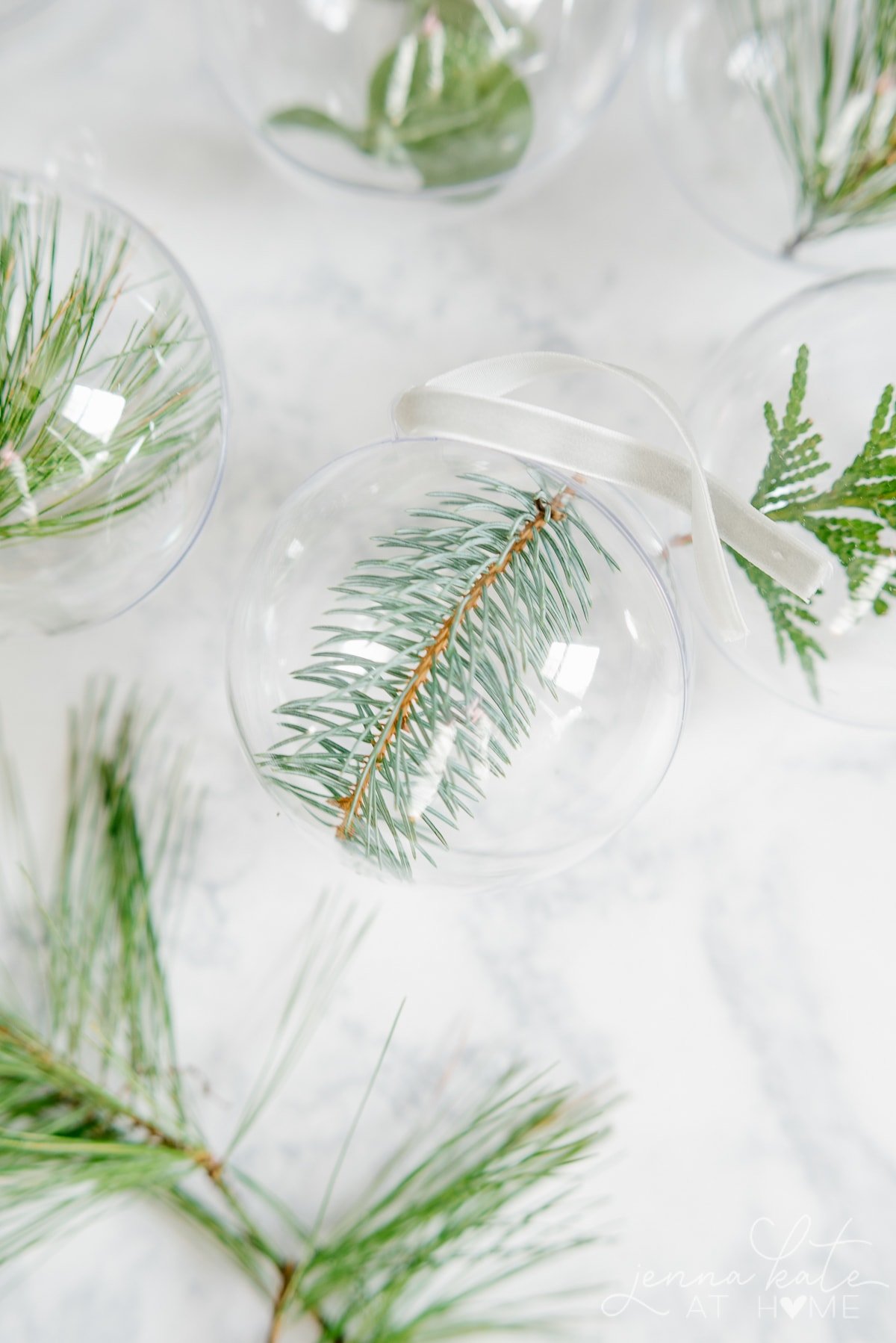 Fill a Bowl With Ornaments
Popping some pretty ornaments in a bowl along with some evergreens is such an effective centerpiece. It works on a dining table, coffee table, entryway console or even on a kitchen island. Because everything is contained in a bowl, it's incredibly easy to move out of the way if needed. This year, I included some battery-operated candles in mine for a little warmth.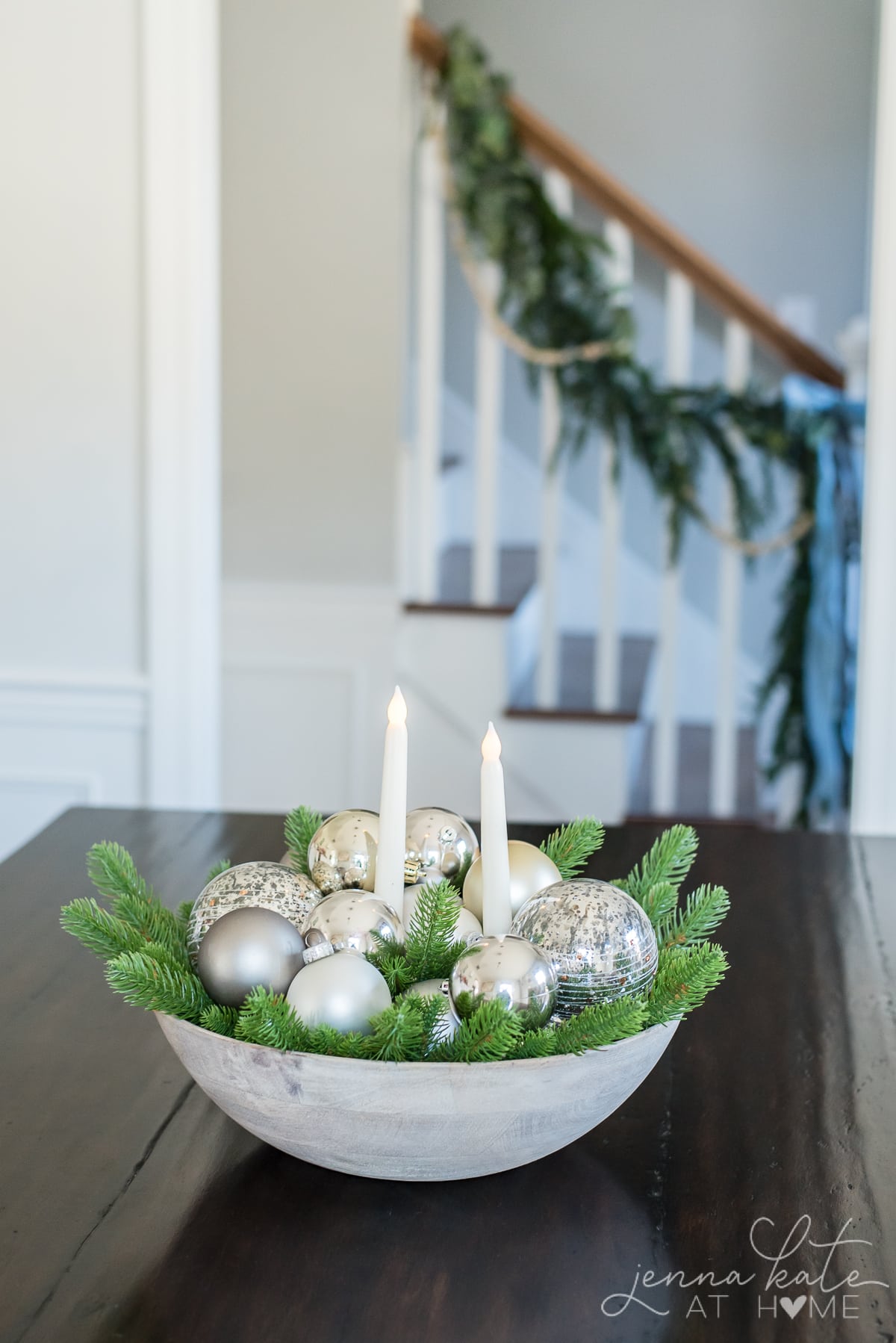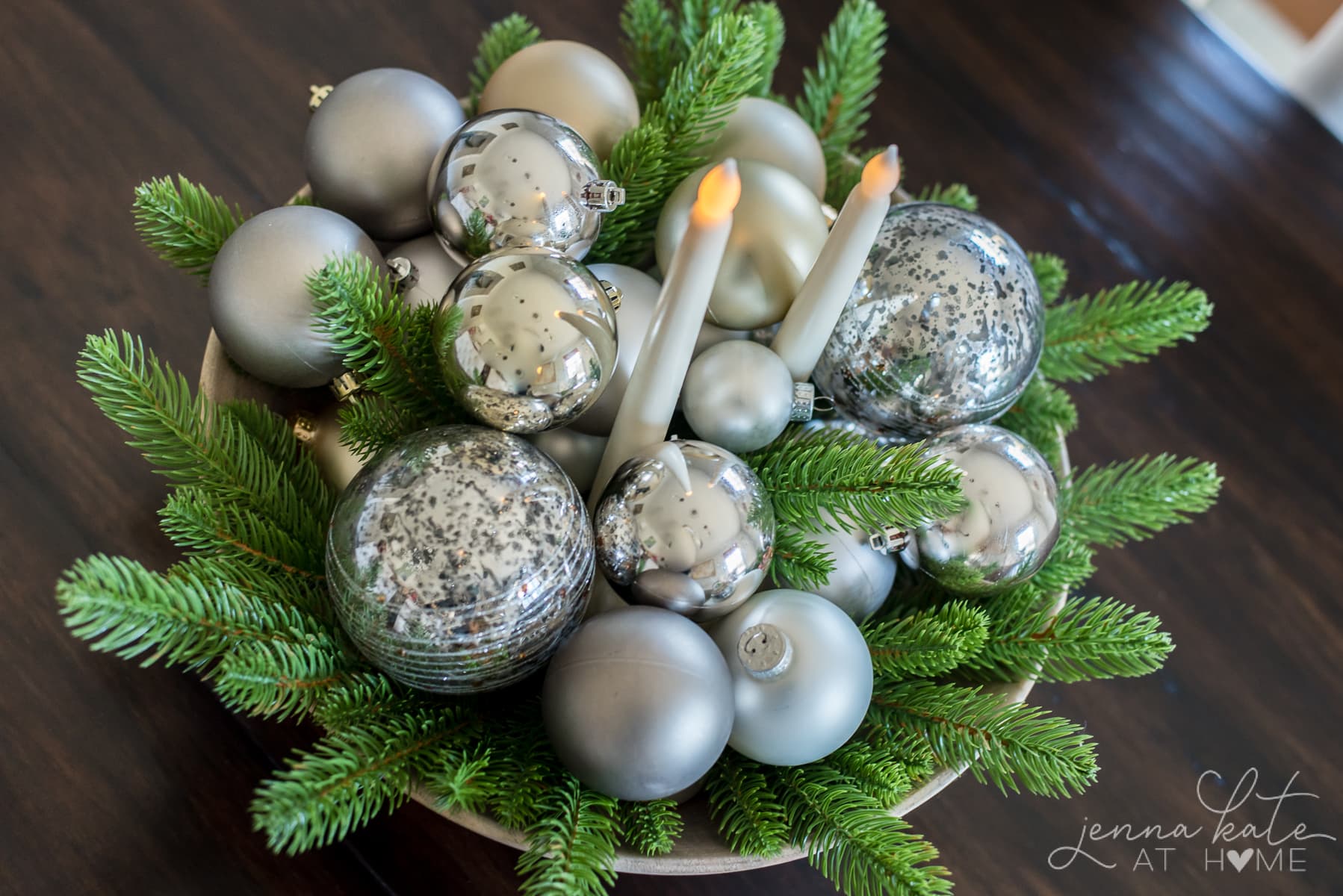 Decorate With Evergreens
Minimalist decor favors simplicity and beautiful evergreen clippings. Cedar, Fir and Spruce are great options. Skip the pine unless you want to be vacuuming up needles constantly.
I like to spray my fresh greenery with Wilt Pruf to make it last for several weeks. Fairy lights (on a timer) are always a welcome addition, too!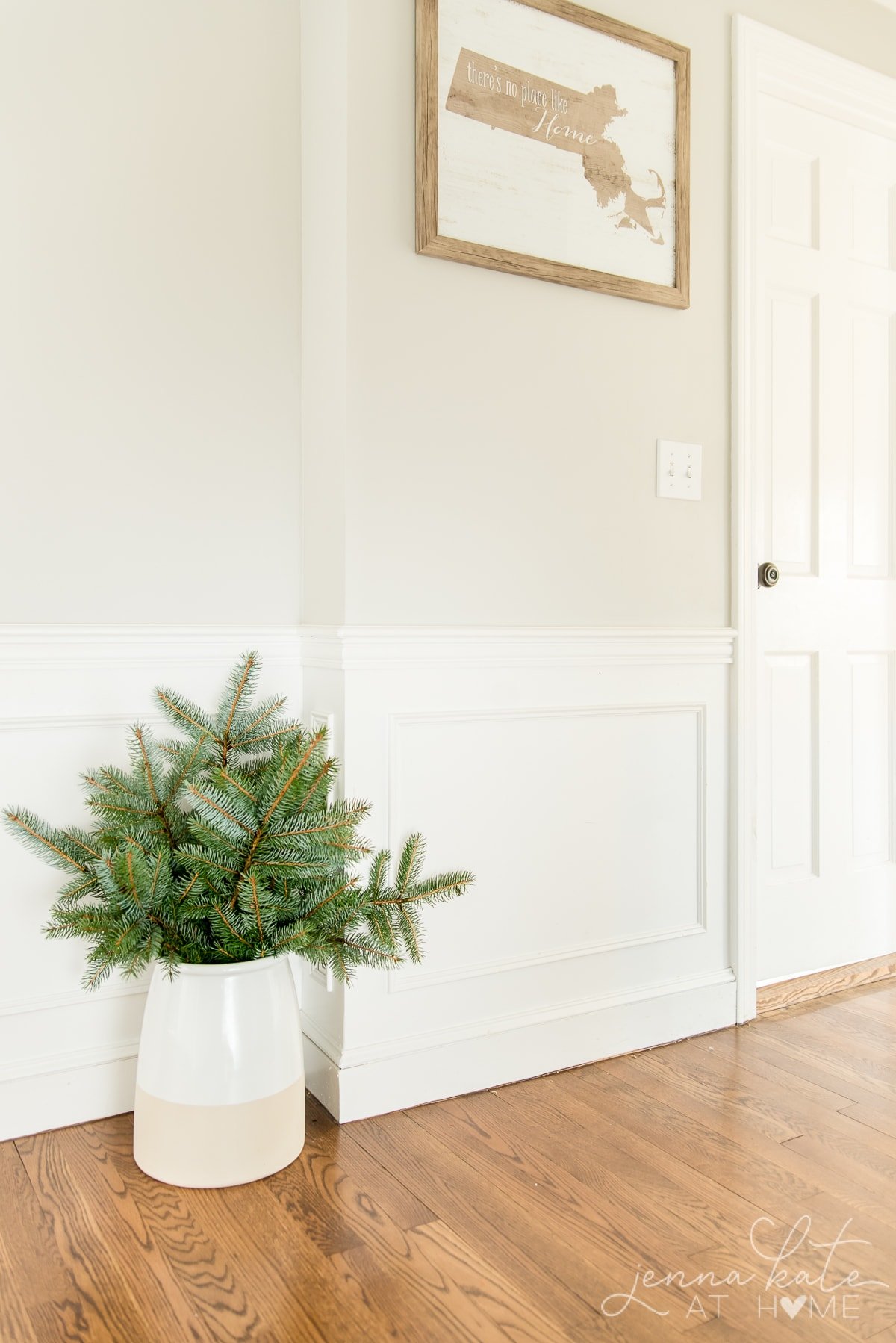 Have a Cozy Minimalist Christmas
Decorating your home for Christmas shouldn't require you to spend an arm and a leg, or to sacrifice your usual uncluttered style because you feel pressured to decorate every square inch of your home. If the excess stresses you out, I give you permission to decorate less this season! Your credit card will thank you. Your sanity will thank you. And when it all has to be packed away after the holidays, you're going to be thankful, too!
I hope you found these minimalist Christmas decor ideas helpful and hopefully you have found a sense of freedom (as I have) to do less, and yet enjoy it all more, this holiday season.
Other Christmas Posts You May Like