Simple and elegant fall table setting decor idea using the jewel tones found in figs, eucalyptus and miniature pumpkins. Perfect for a dinner party, fall wedding or Thanksgiving centerpiece.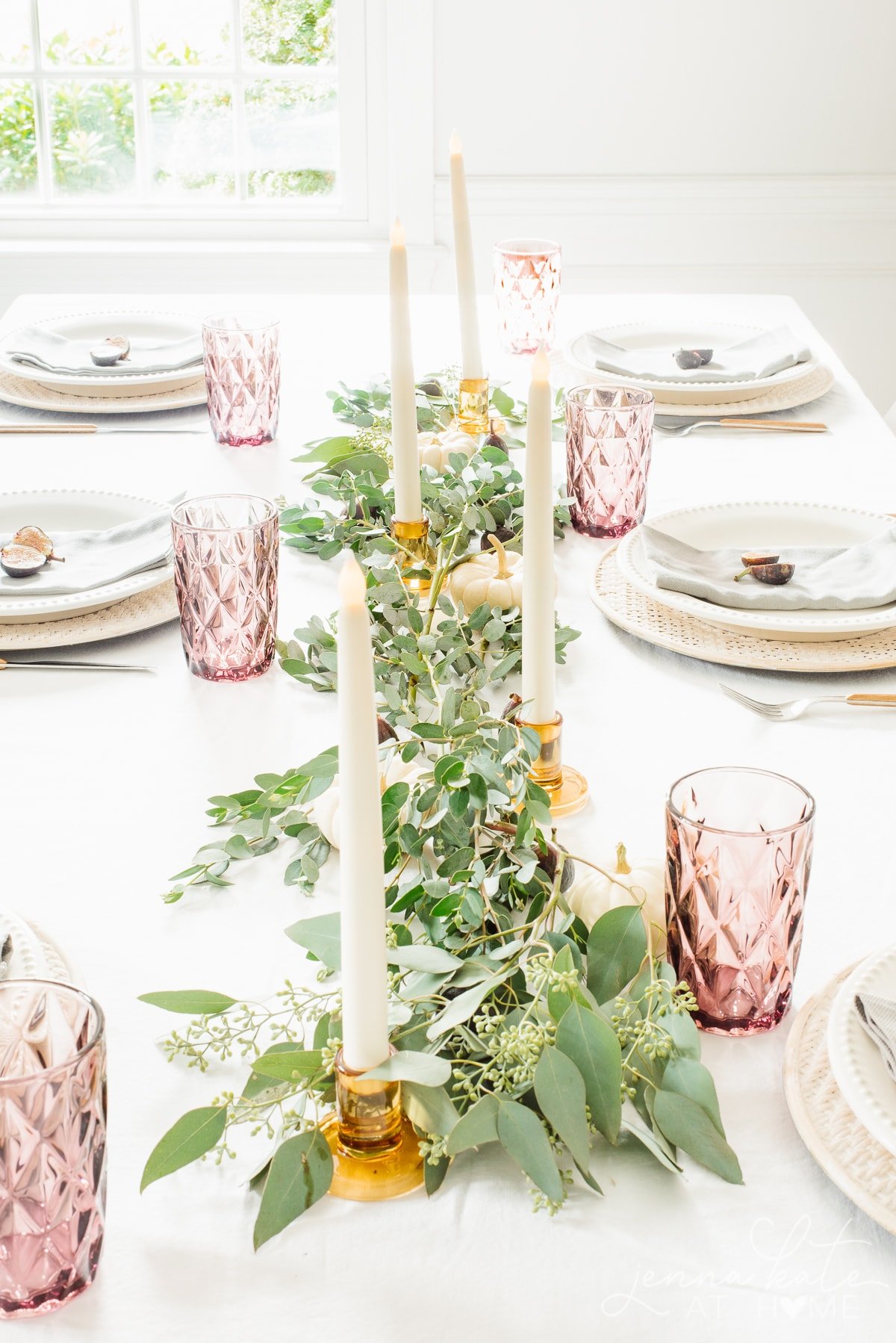 Every year I try to be creative when it comes to my fall and Thanksgiving table settings. I like them to be creative, but simple to assemble. After all, if I want you to recreate it, it needs to be affordable and attainable for the masses.
RELATED: Simple Thanksgiving Table Setting
Jewel Tone Tablescape
This year, I was inspired to create this jewel-tone tablescape after purchasing some figs and a bunch of eucalyptus at my local Trader Joe's. I had not bought either of them for this purpose, but the combination of the deep purple hue of the fig next to the beautiful green of the seeded eucalyptus instantly got me thinking of the perfect centerpiece.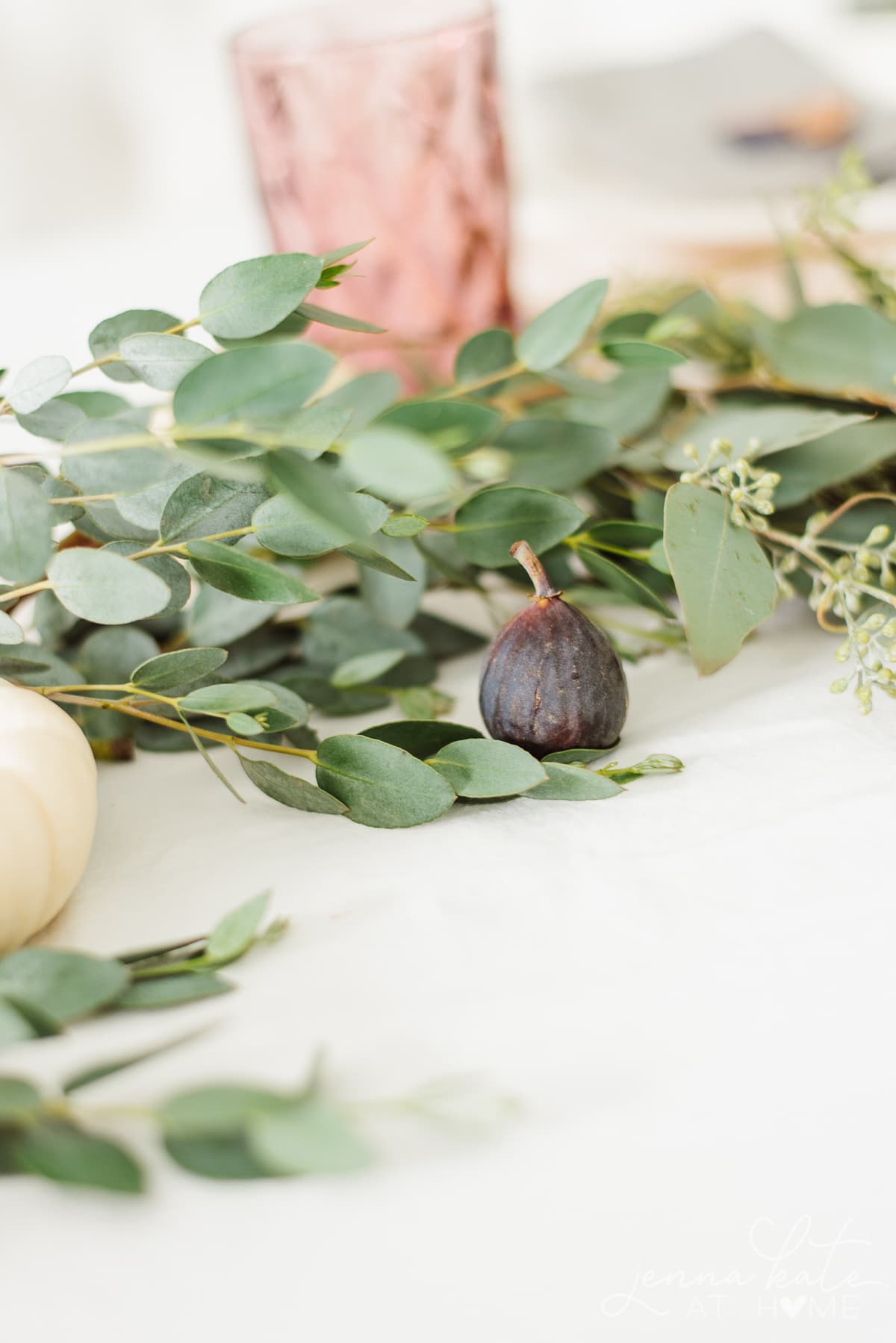 Simply by draping the eucalytpus down the center of my dining room table, just like a table runner, and placing figs and mini white pumpkins along the sides, I created a beautiful centerpiece.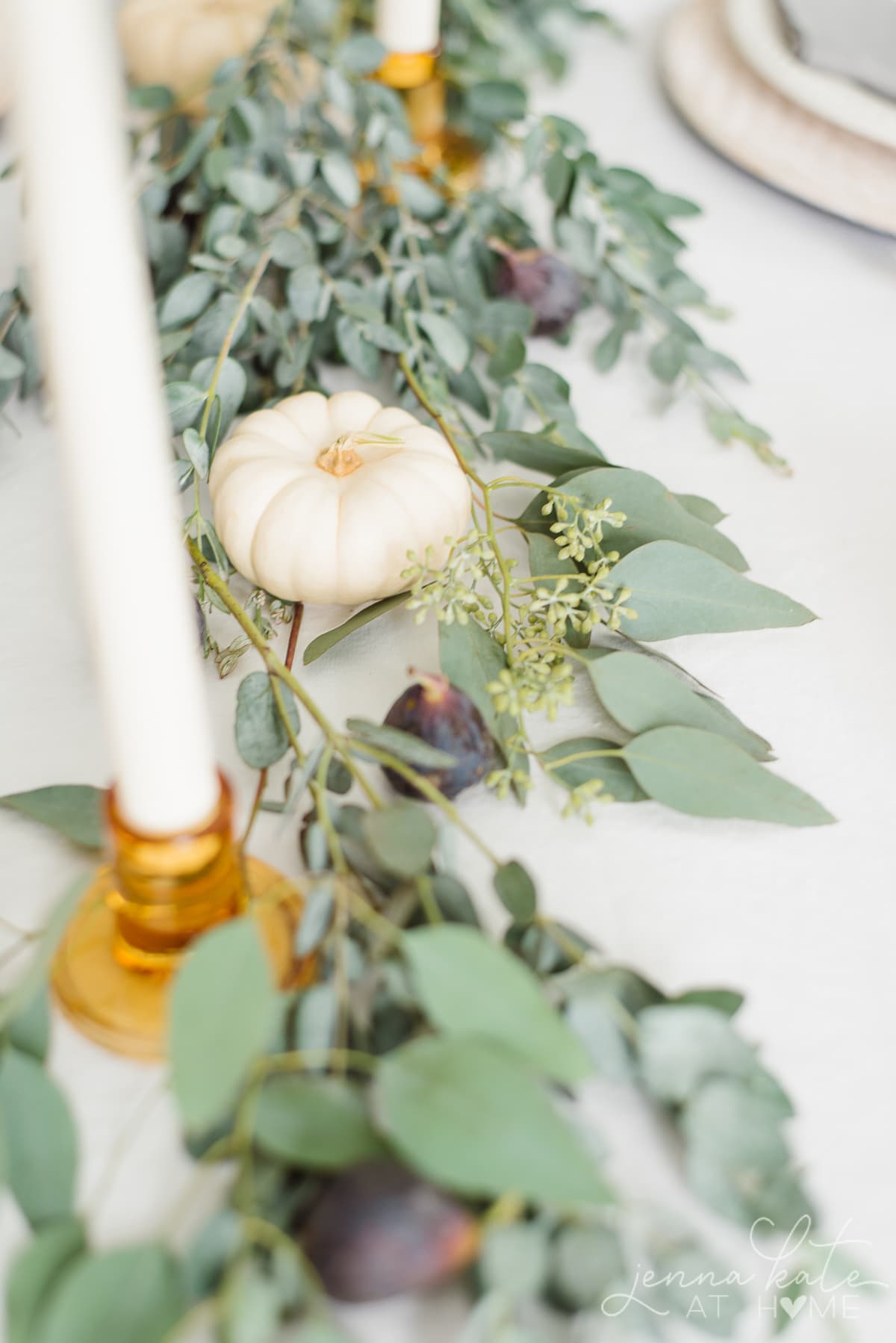 Table Decor That's Not Wasteful
I love fall decor that uses natural elements, and a tablescape like this is great because afterwards, you can use the eucalyptus as part of a flower arrangement and eat the figs! Zero waste!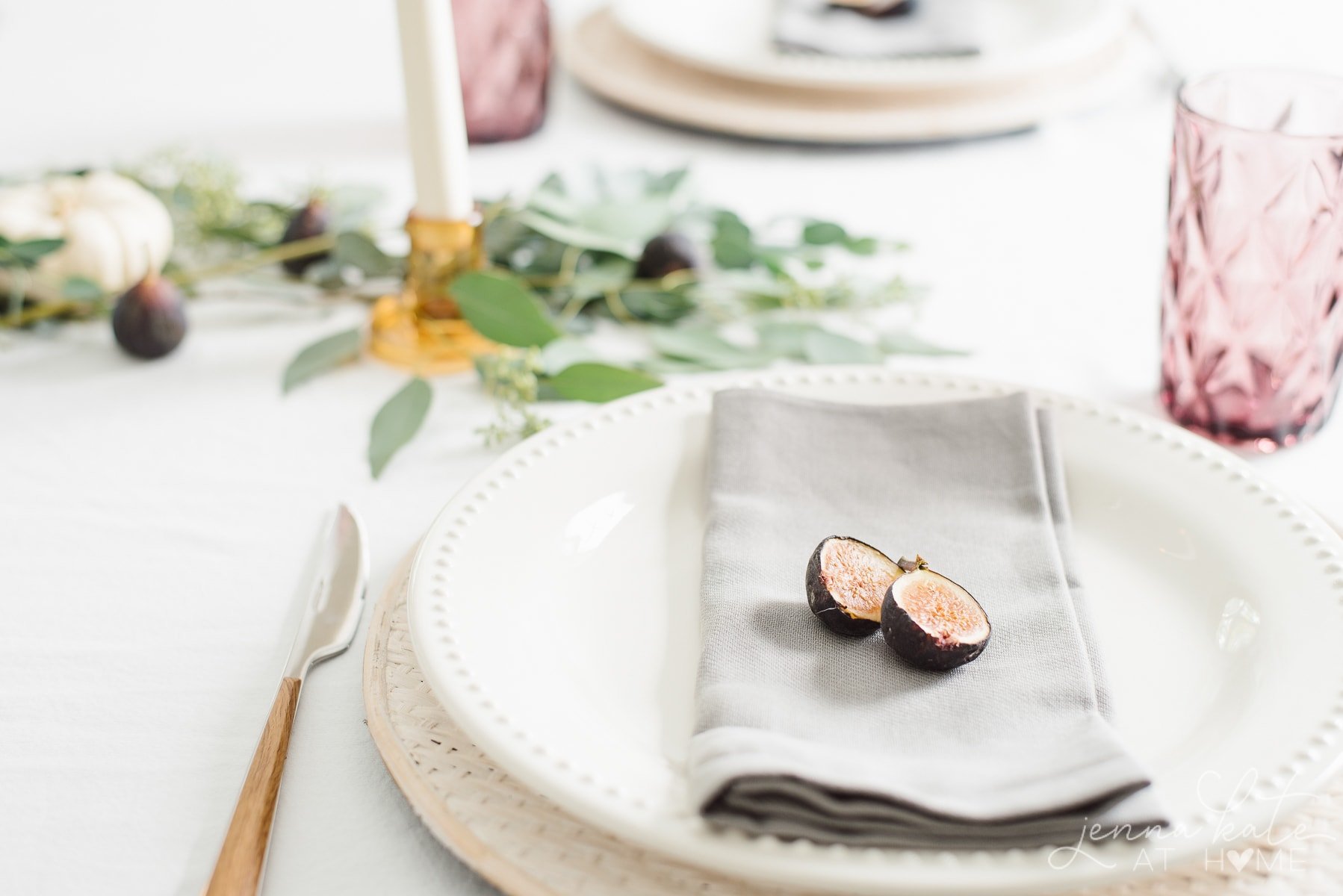 Every table setting looks better with candles, especially in the fall and winter, so I further enhanced the jewel-tone look with amber-colored glass tapered candle holders and flameless candles, that were provided to me by Lights.com. I also chose to use faux flame candles because with 5, 3 and 1 year old boys, real flames are never a good idea!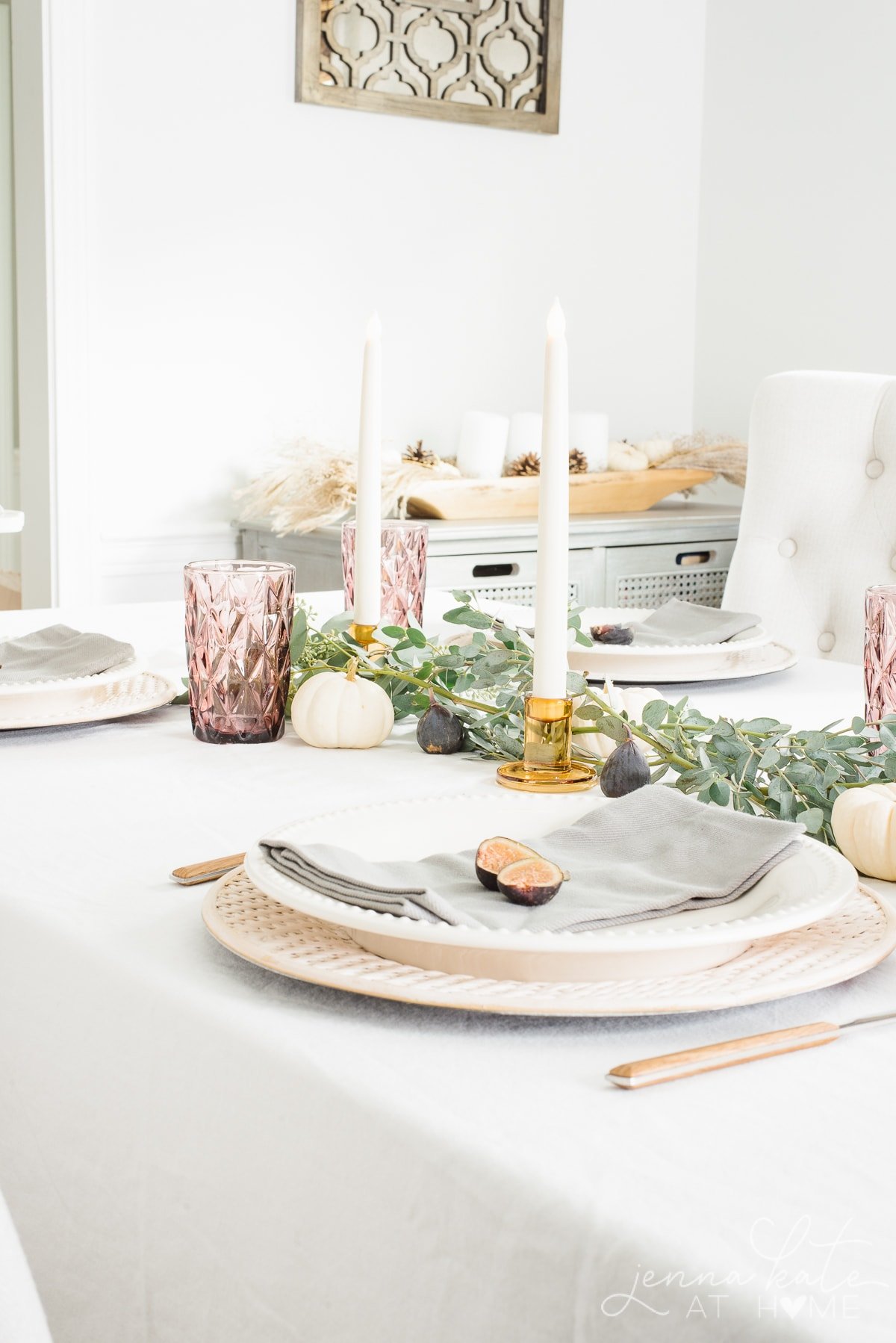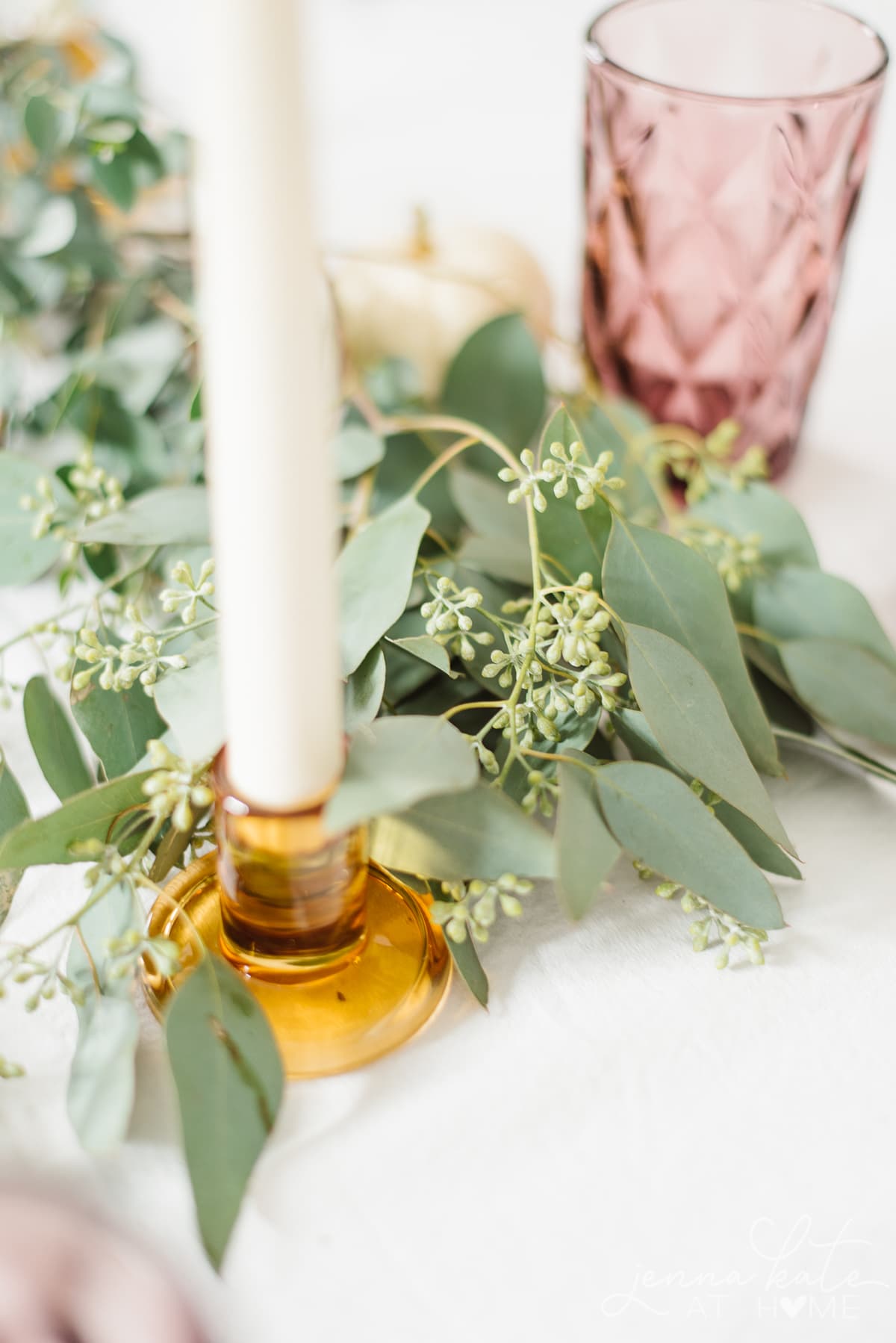 The Finishing Touches
I already happened to have the perfect glassware to match, too! Don't you love when that happens? They are unfortunately not sold anymore, but these plum version or these wine goblets would be a great match, too.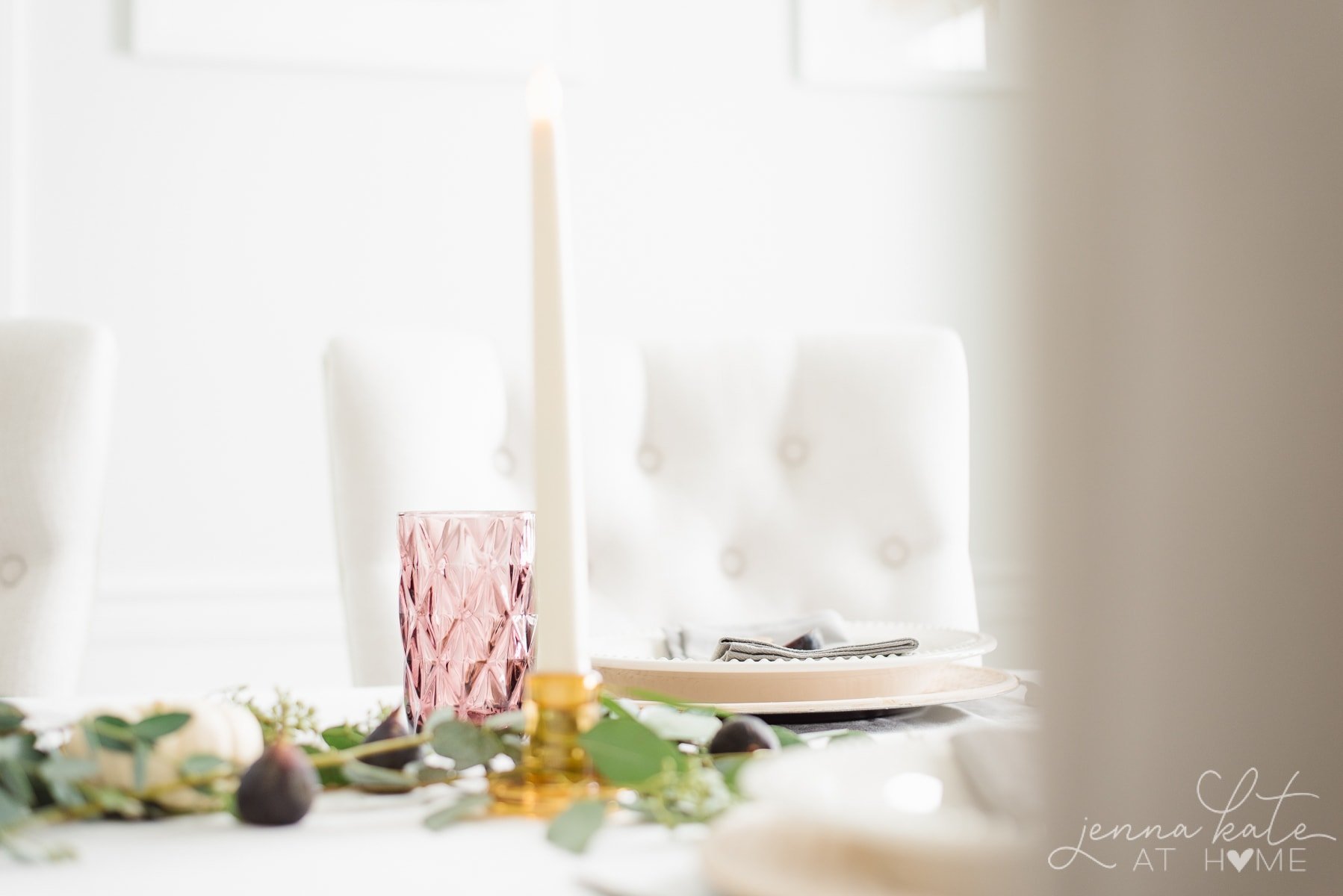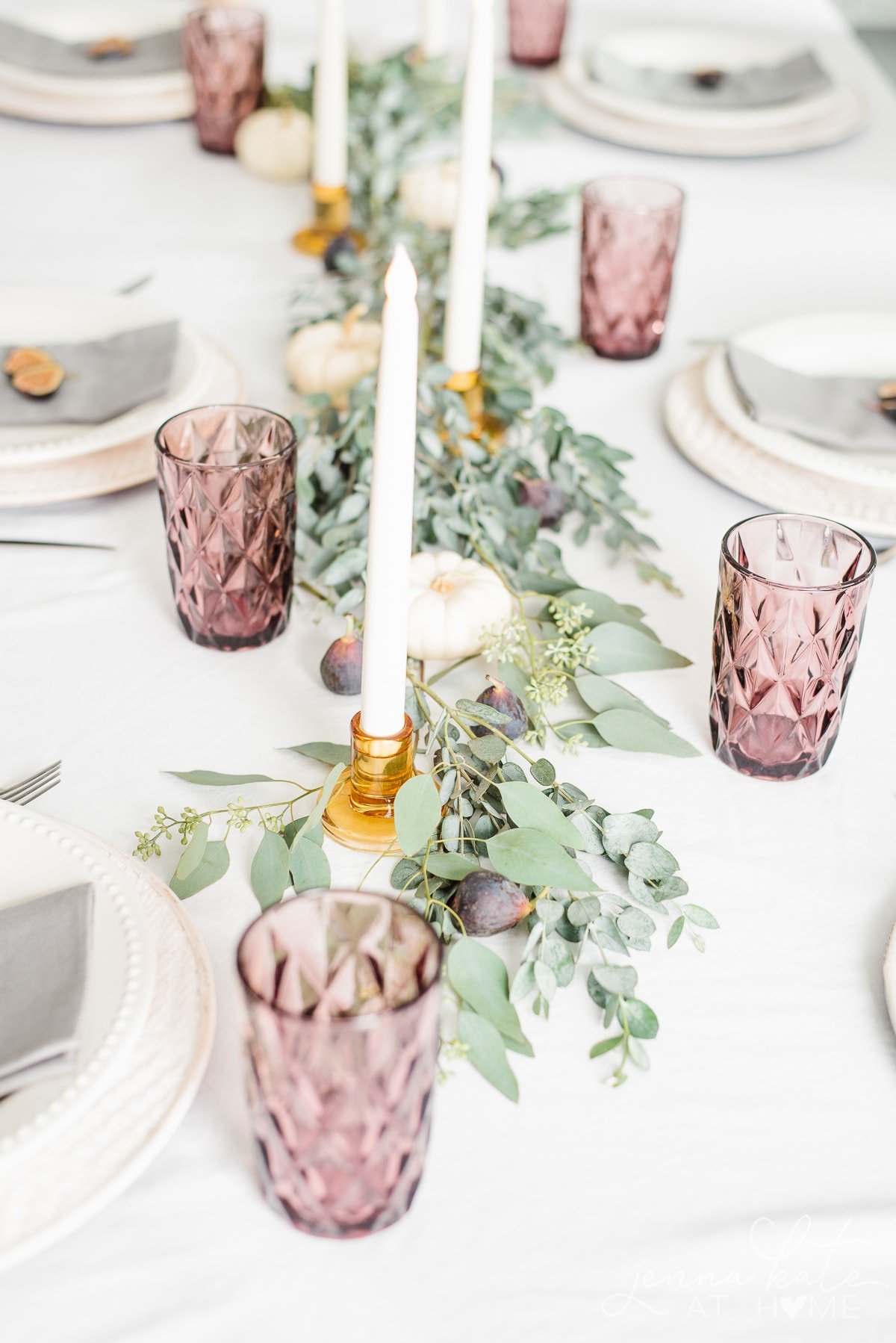 I kept the plates and charger simple and white, as I wanted the centerpiece to be the main attraction at the table. For the individual place settings, I added gray cloth napkins and a cut fig to each plate. Finally, rustic looking wood flatware completes the natural look.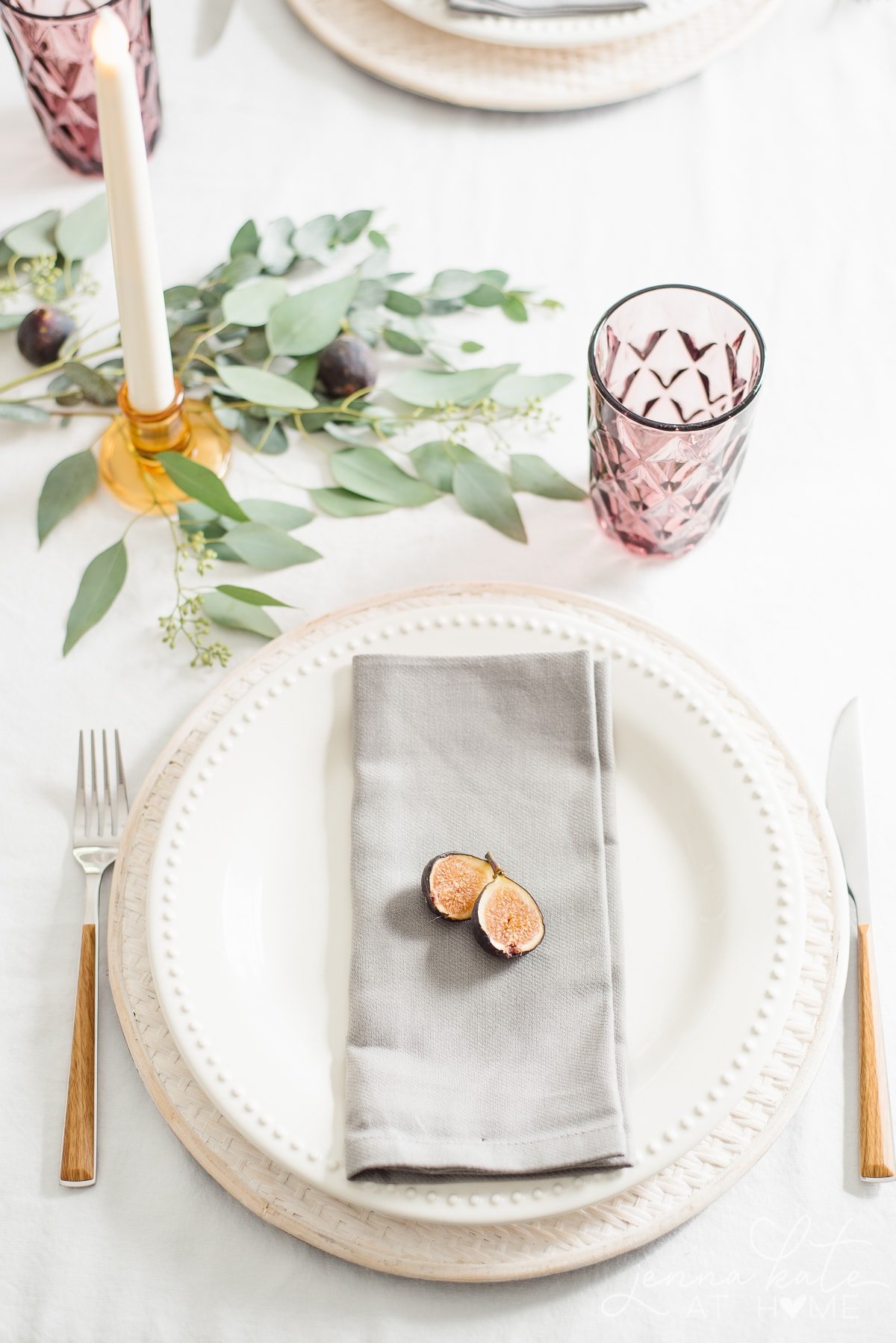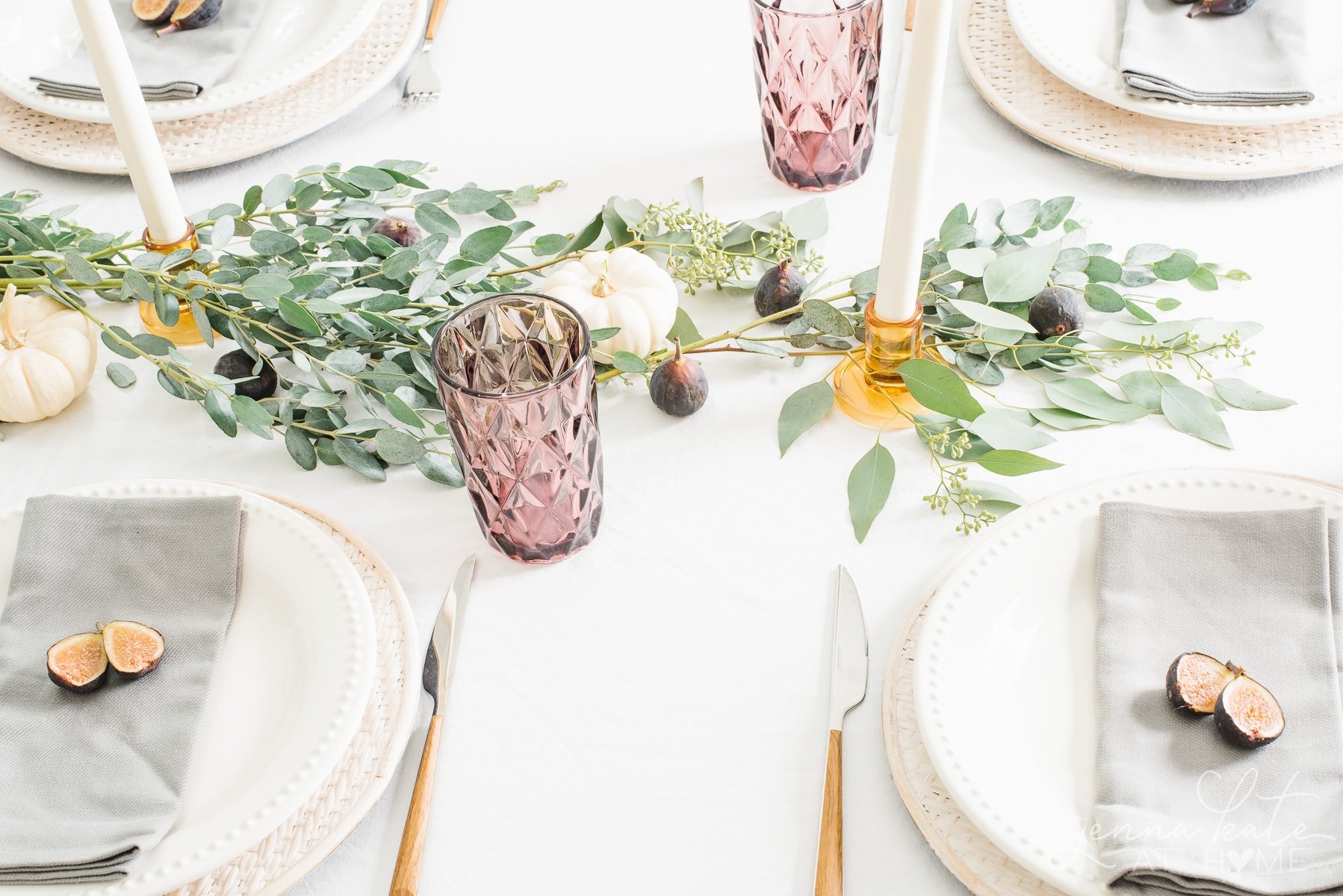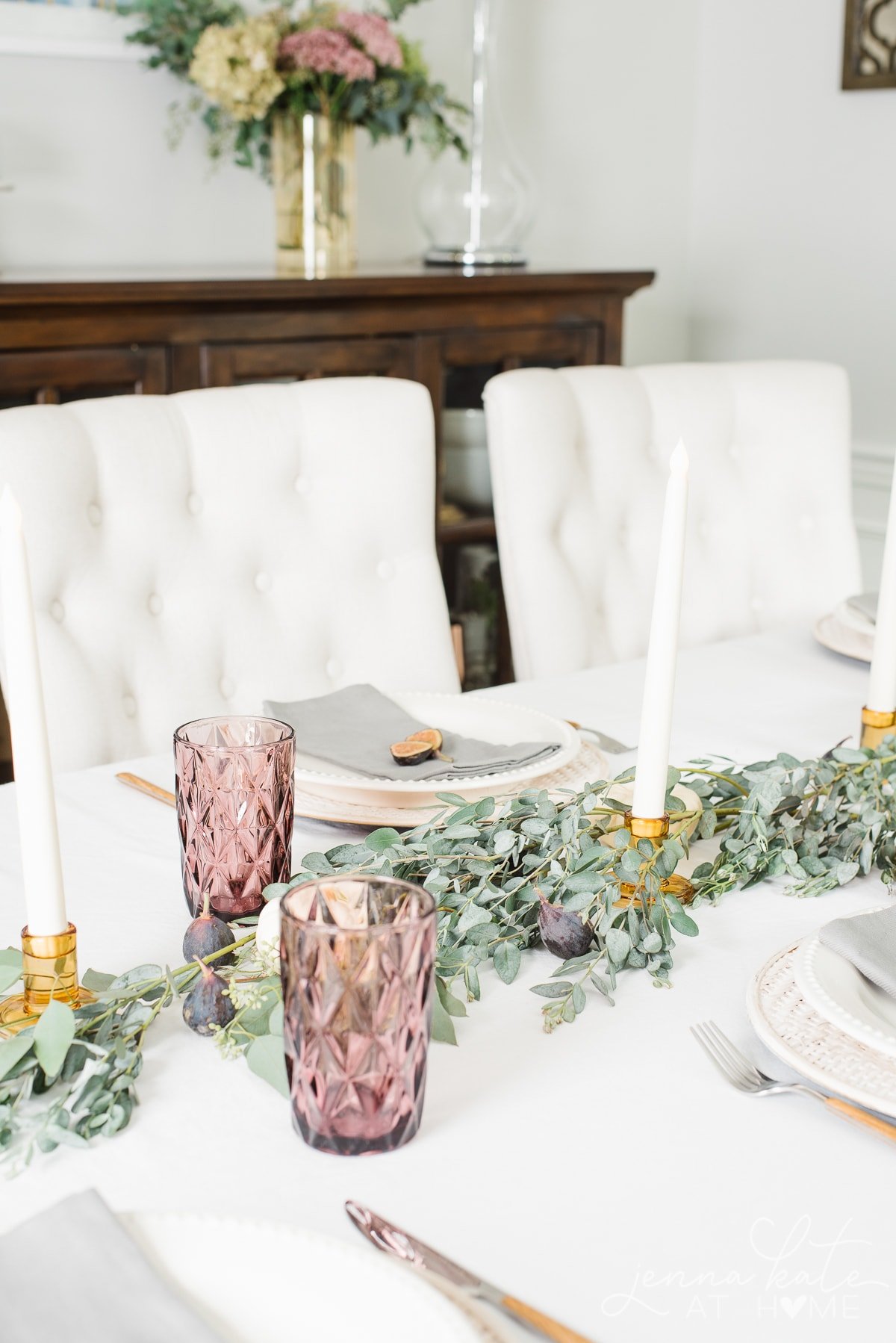 What do you think of this jewel tone tablescape? I personally love how it came together! If you recreate this, I'd love to see it! Be sure to tag me on Instagram!