Take inspiration from outdoors when decorating indoors for the fall season with these natural fall decorating ideas.
Fall is one of my favorite seasons to decorate for. Open the window, look outside and take in the wonders of nature. What do you see? Trees turning shades of red, orange, gold and bronze. Flowers shifting from the vivid hues of summer to the more muted hues of the autumn. Squirrels busy burying nuts for the winter.
Everything that is beautiful outdoors this season can be used as inspiration for simple and natural fall decorating ideas right inside your home.
Nature and Harvest Inspired Centerpieces and Table Settings
My favorite place to decorate for fall is my dining room table. Whether it's for a birthday dinner (we have several during the season) or in preparation for Thanksgiving, my inspiration is always a seasonal piece of foliage, vegetable or even a fruit.
Coastal with White Mini Pumpkins
Mini white pumpkins always look great placed on top of a napkin and plate. You could do the same look year after year and never have it look the same, simply by changing out the plates, chargers or napkins.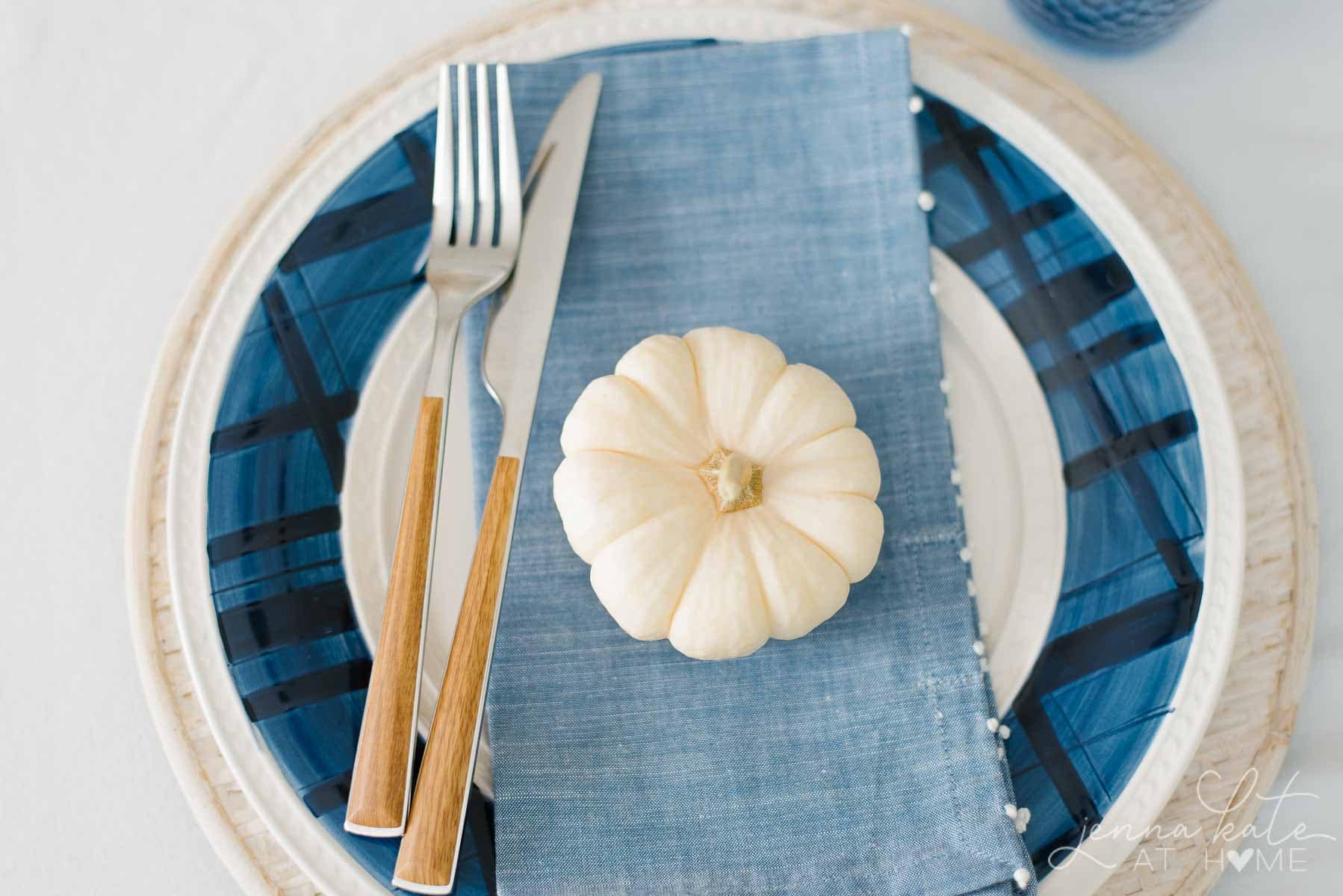 Fall decor can easily sway into "farmhouse style" decor if you're not too careful. If that's your style – great. But if it's not and you want to decorate for the season without your home looking like a farmhouse, then choosing your colors is important.
The white pumpkin paired with the blue plates and napkins is a very coastal look, but you could pick any of the colors you naturally see during fall to create your own place setting.
DIY Harvest Themed Centerpiece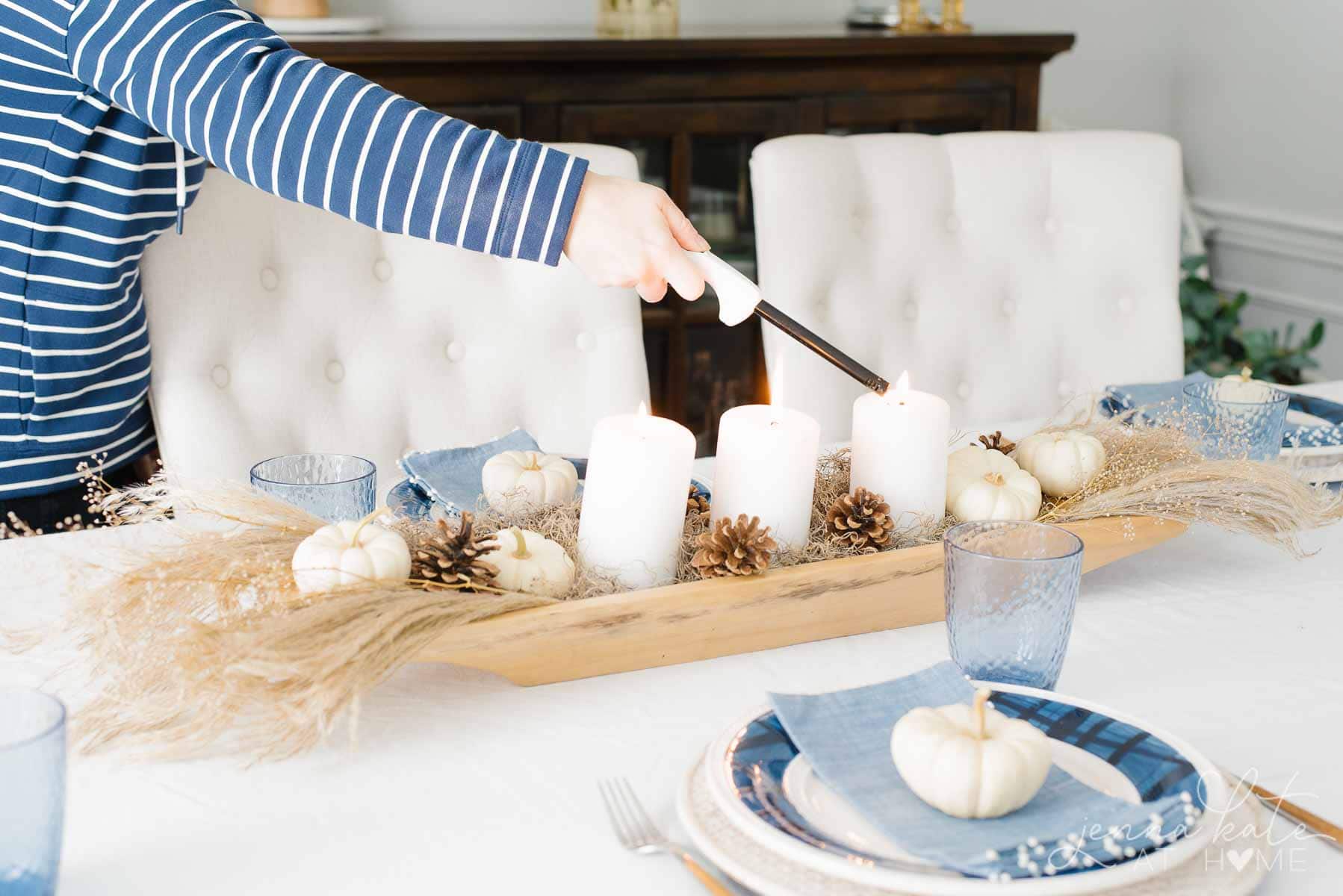 This DIY harvest-themed centerpiece looks beautiful as part of this tablescape, but could easily be placed on a mantel or console table. It's incredibly easy to make, too – a simple dough bowl filled with dried moss, candles, acorns, mini pumpkins and some pampas grass. It's a simple and natural look perfect for fall.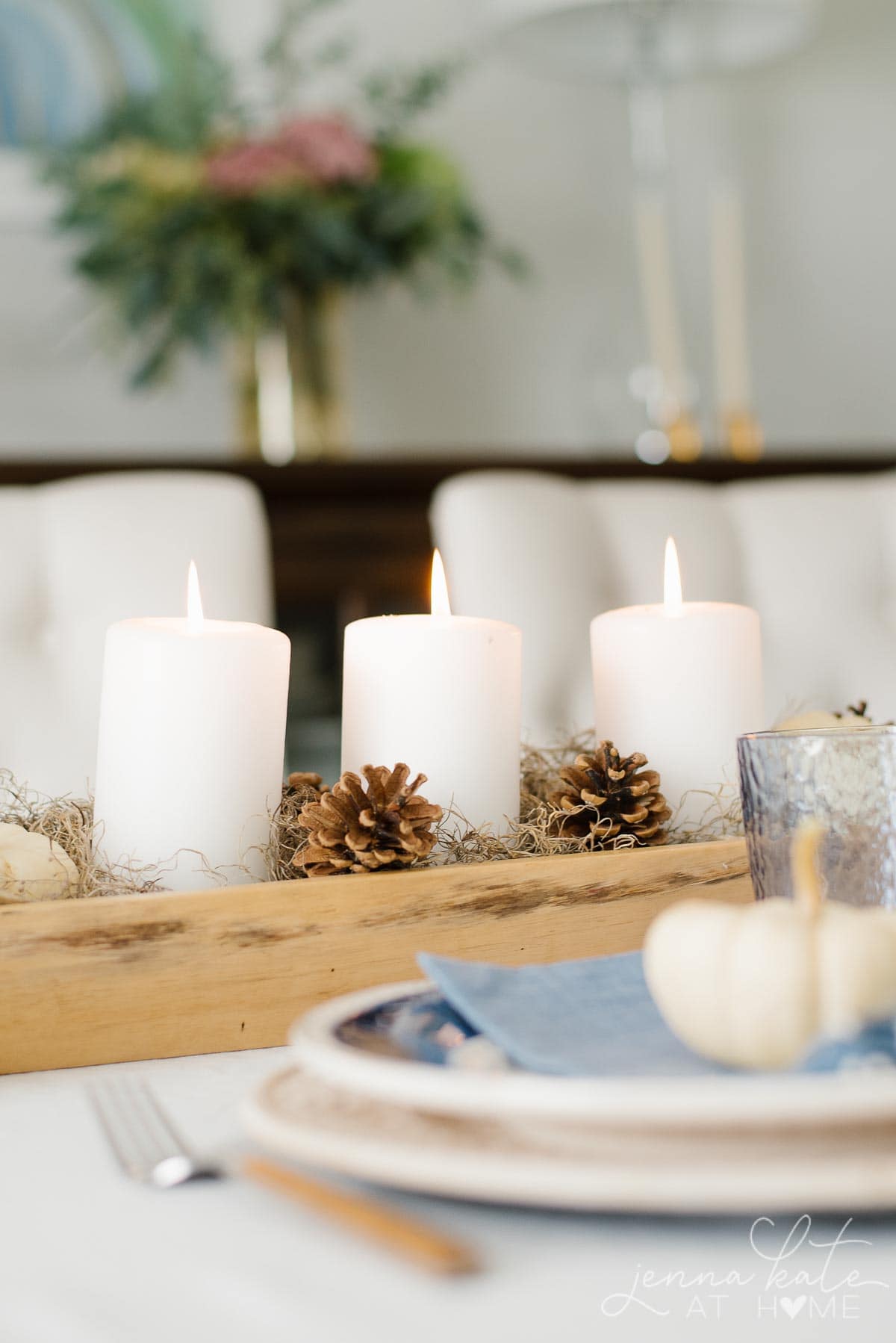 Fig Inspired Place Setting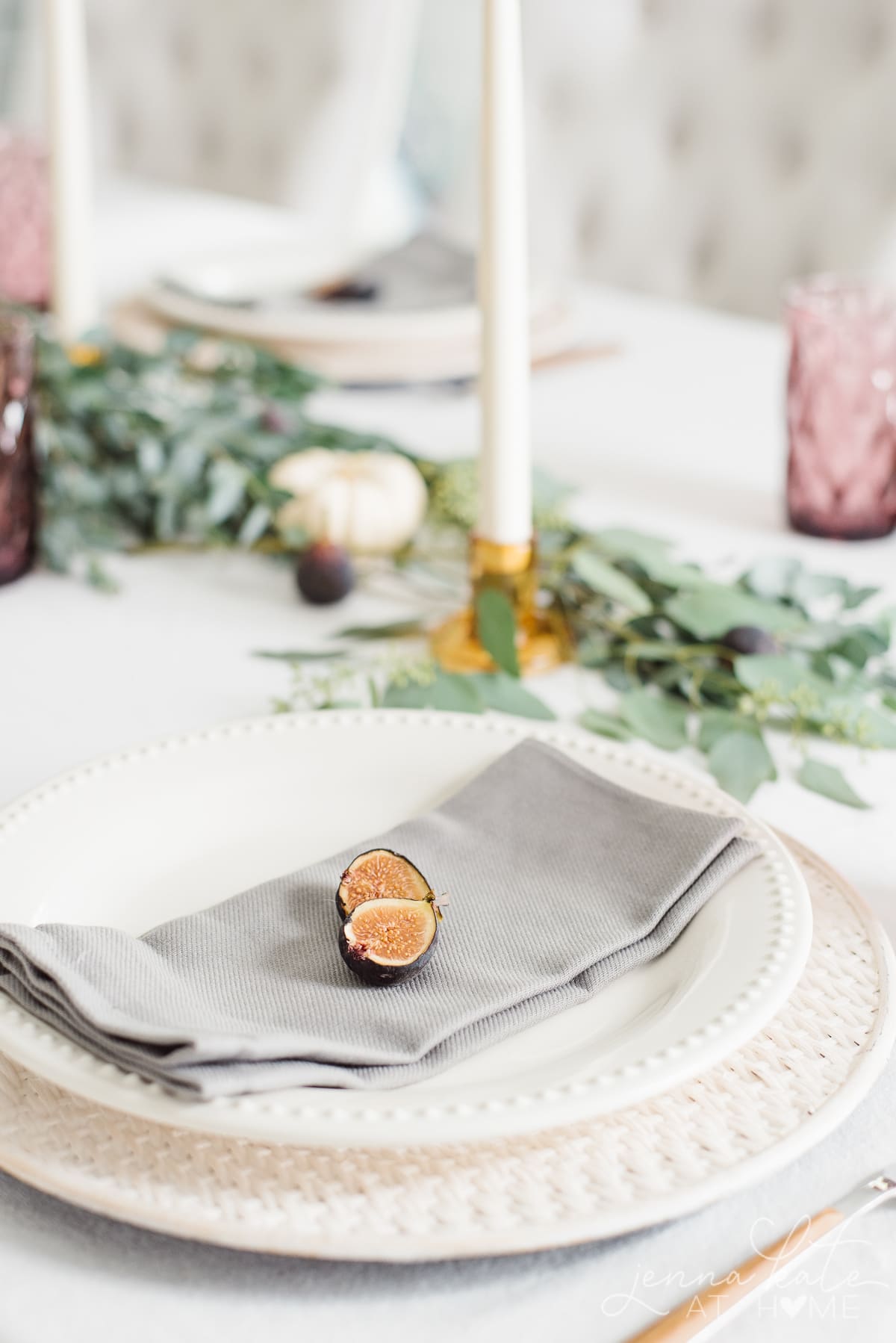 Think of all the fruits and veggies in season right now and use them as your starting point. The inspiration for this tablesetting was the humble fig.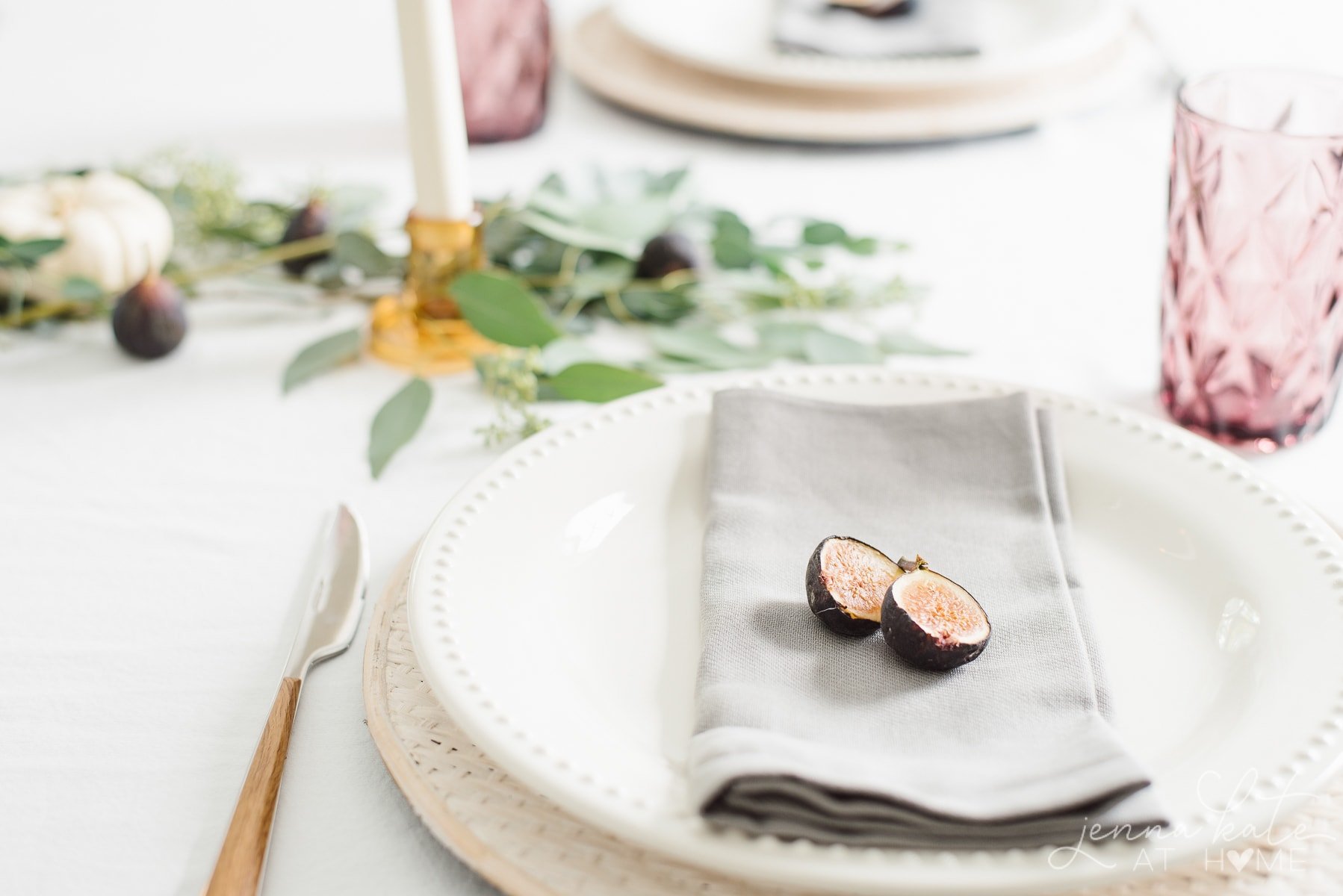 One of my favorite colors to decorate with for fall is shades of purple – fig, plum, eggplant and mauve. They might not be the most obvious choice, but their deep, rich jewel-tones are perfect for this time of year.
Pair anything with a simple runner of seeded eucalyptus and you will have a beautiful and natural-looking table setting in 5 minutes or less. I added some mini pumpkins, amber tapered candle holders and more figs to fill it out. Finally, natural wood flatware and plum-colored glasses make everything pop.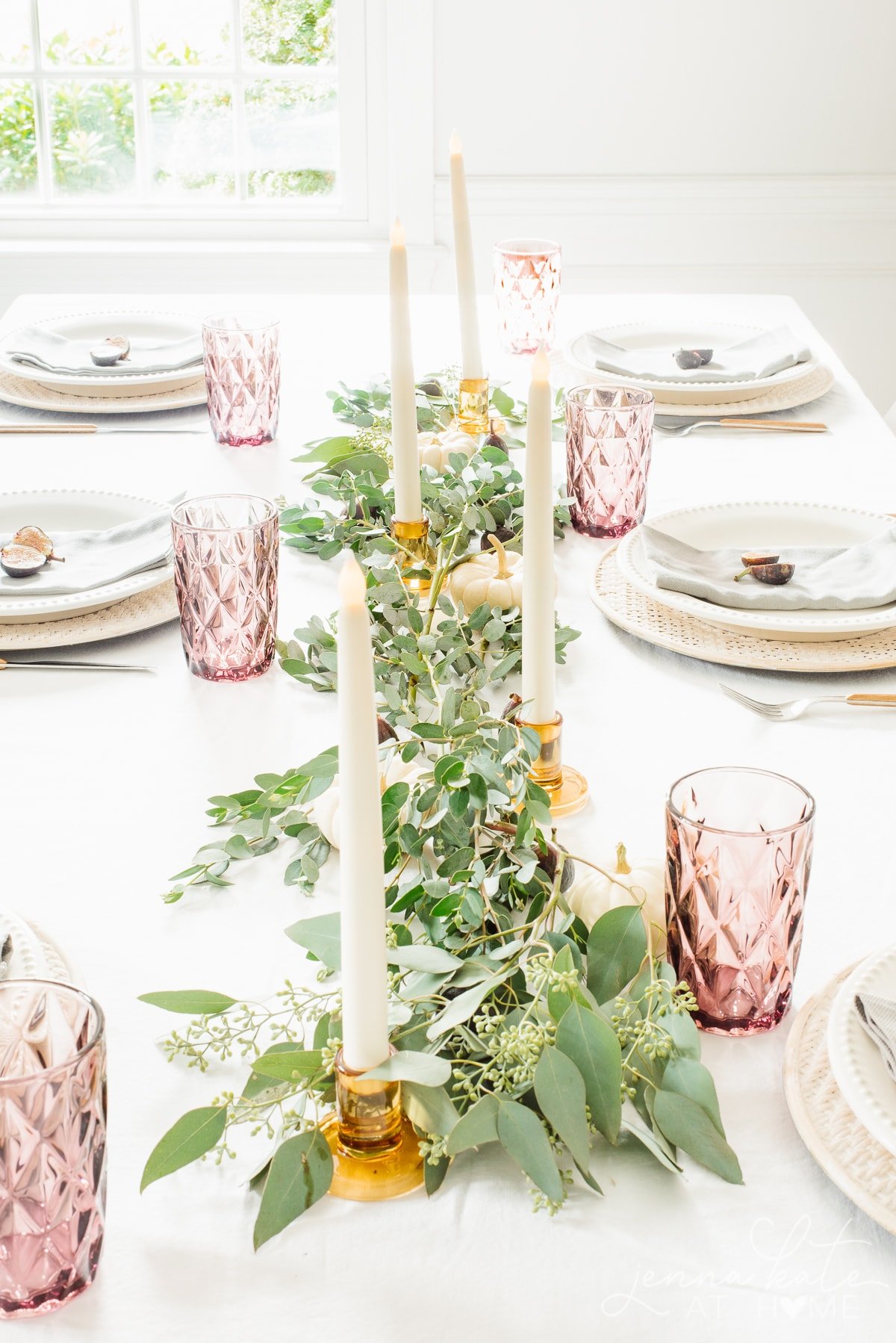 This version using apples, is another example of using seeded eucalytpus and fruits for natural elements on your fall dining room table. Real fruit and vegetables look best, but these apples are actually fake ones from HomeGoods that I've had for years. I use them in bowls, hurricanes and even part of a tablescape like this.
Apples and Eucalyptus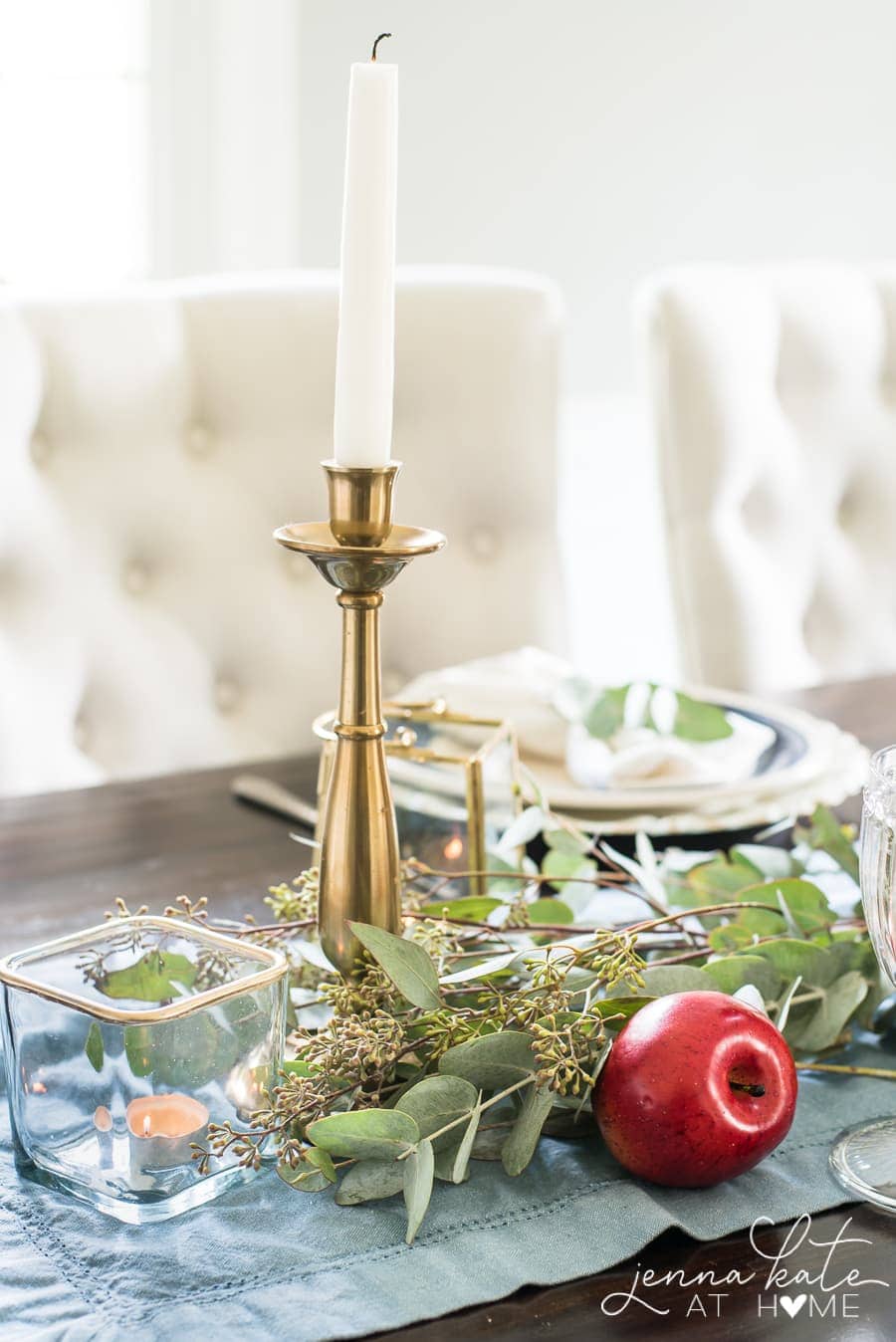 The fresh eucalyptus will last a few weeks (especially if you mist it every so often) but if you don't want to replace it, you could always use a faux garland instead. The tablesetting below features all faux eucalyptus, velvet pumpkins and plastic pumpkins and still looks beautiful.
Modern Harvest Style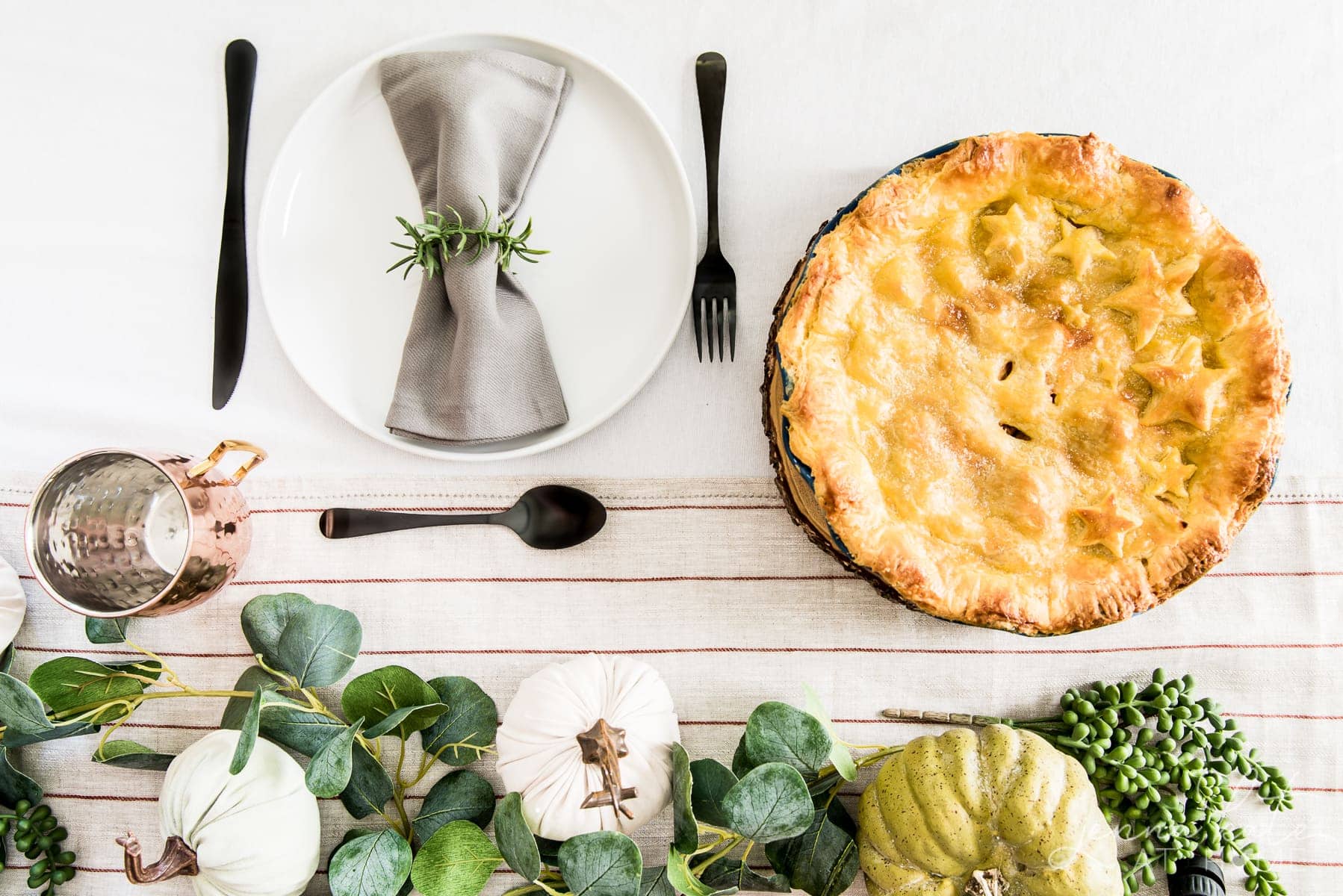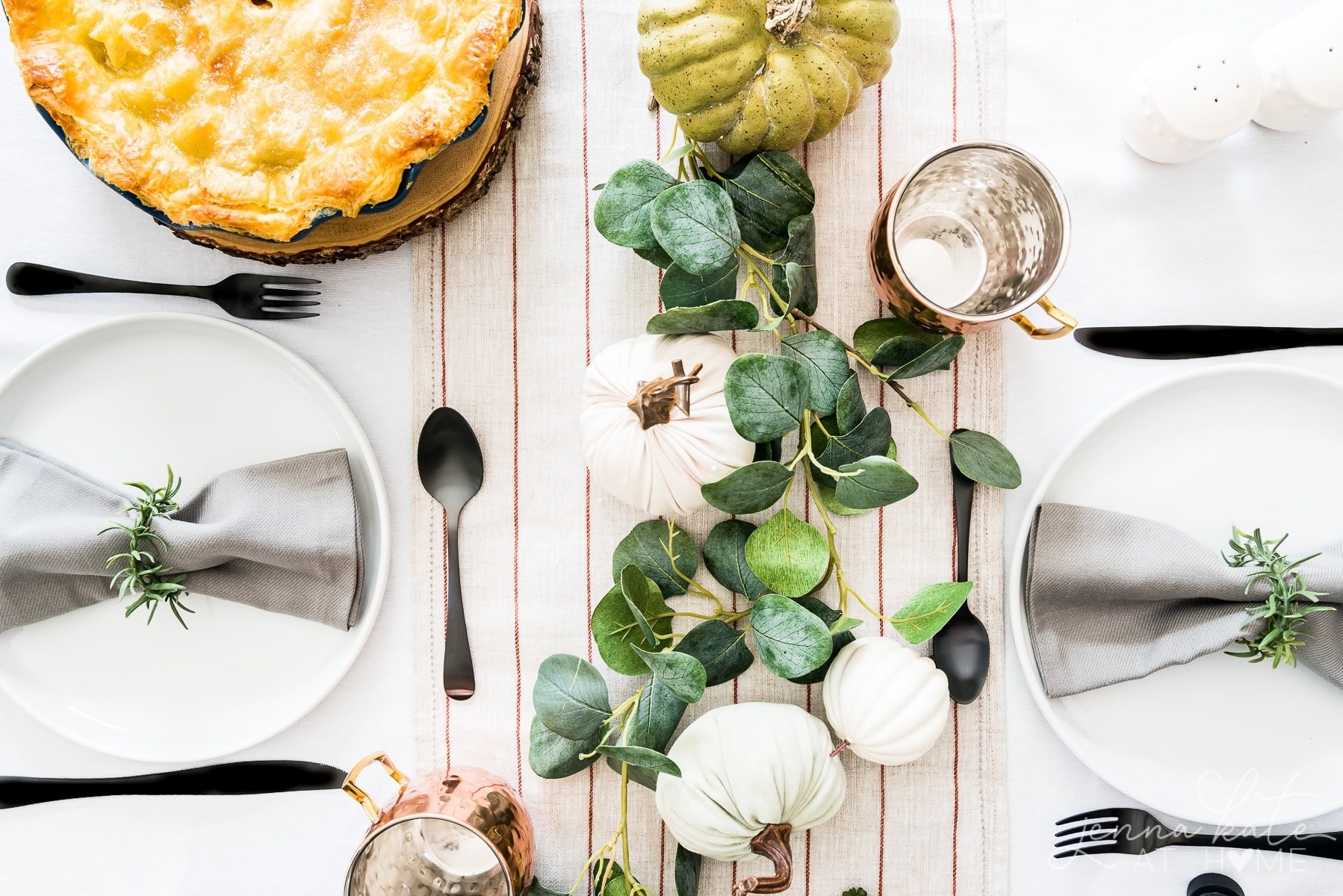 If you want an even simpler centerpiece – perhaps for your kitchen island or kitchen table – then a bowl of seasonal fruit or vegetables, like these artichokes not only looks that part, but you can eat them, too!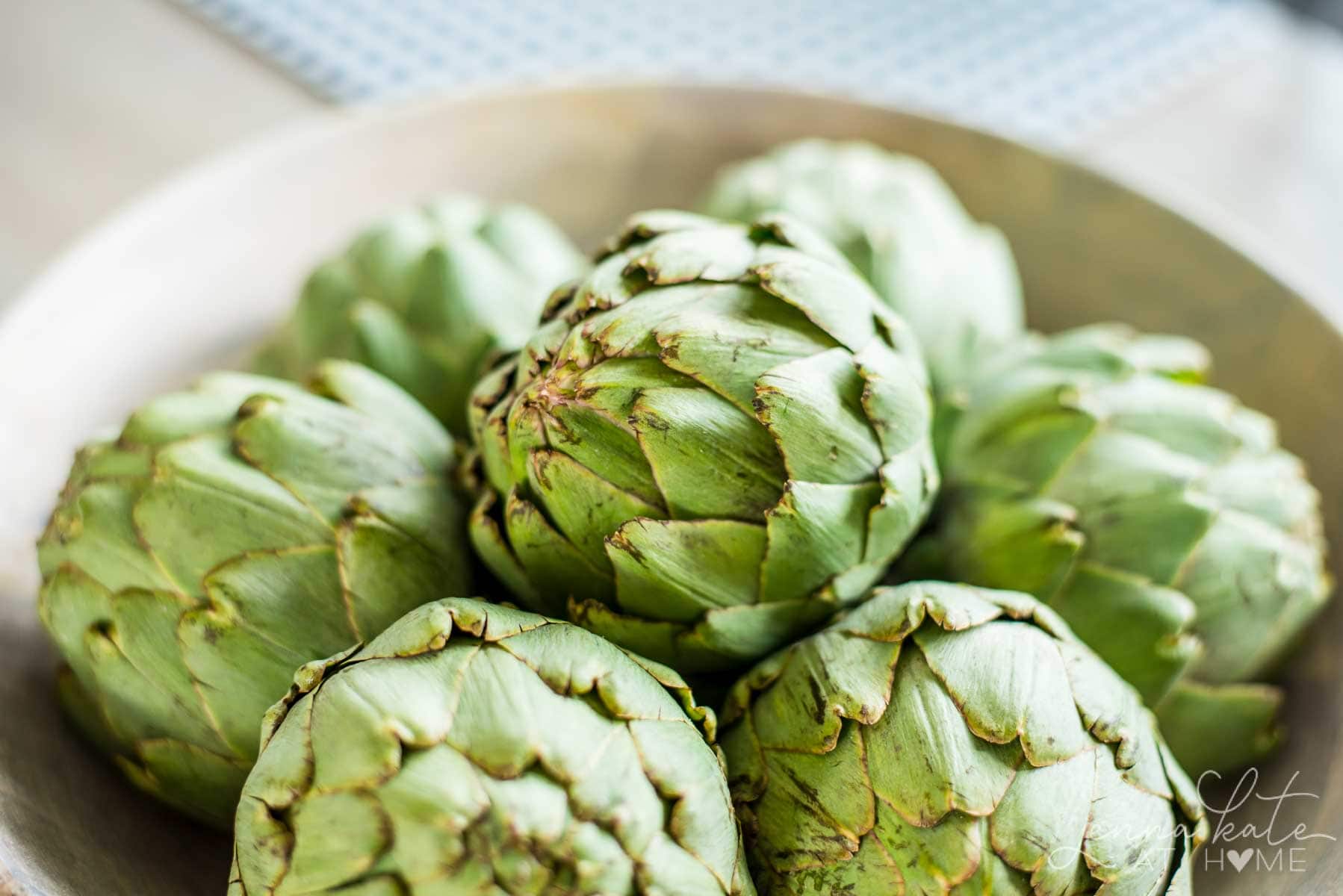 Bringing Nature into the Living Room
The living room is where the majority of people will start decorating for fall. After all, we spend the majority of relaxing time in here, so it's nice to feel the warmth of the season around us, right?
Decorating the Mantel with Colors Found in Nature
I instantly think of our fireplace mantel when it comes to seasonal decorating. While Christmas will always be my favorite for mantel decorating, fall is certainly a close second.
When decorating a fireplace and mantel, there's so many ways to using nature as your inspiration. The upside of this fall mantel decorating approach, is that it's usually pretty budget-friendly, too.
Pumpkins are always a great idea, and generally a hit with the kids. You can fill an entire mantel full of mini ones, whether they be real or fake, or intersperse them with a eucalyptus garland. Candles are always welcome at this time of the year, too, and make a house feel cozy, even when it's still warm outside!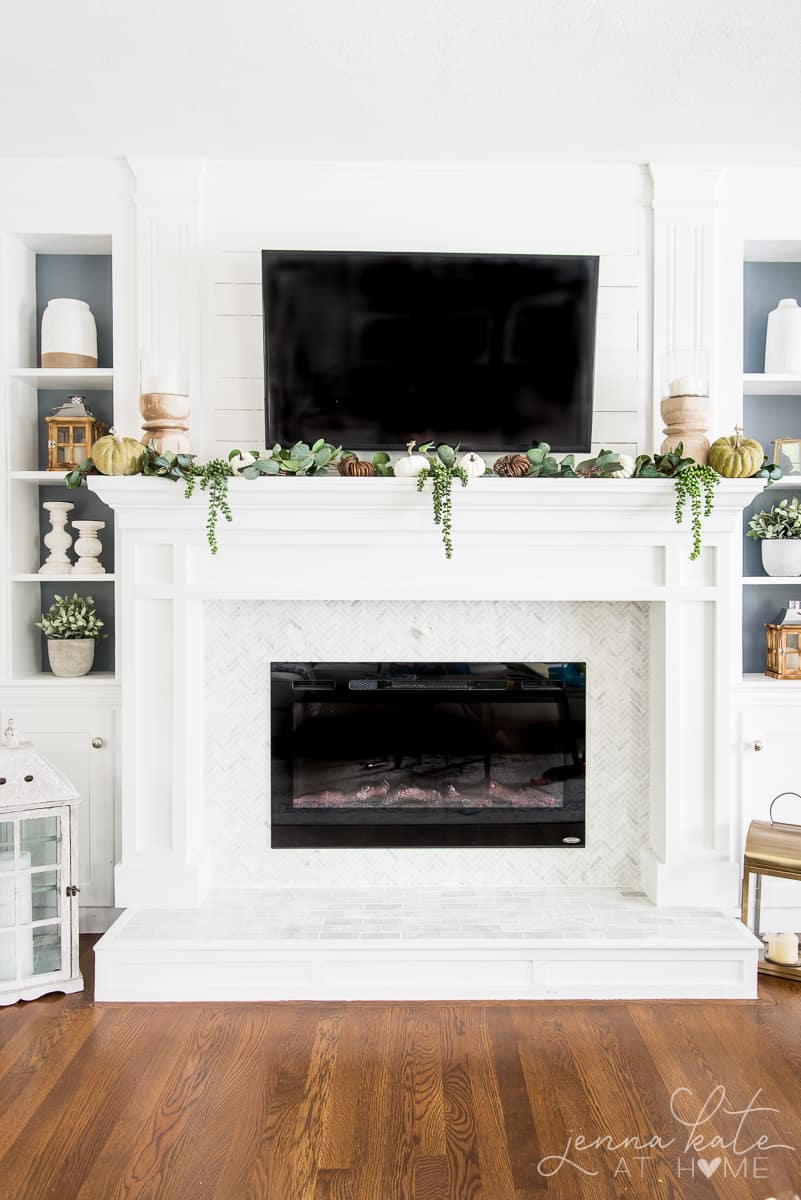 If you want to embrace minimalism (which many of us with kids find ourselves leaning towards during this phase of life), then strategically adding in those pretty fall colors like amber, rusty red, deep orange or the rich jewel tones, can really set the tone for a space, without overwhelming it with stuff.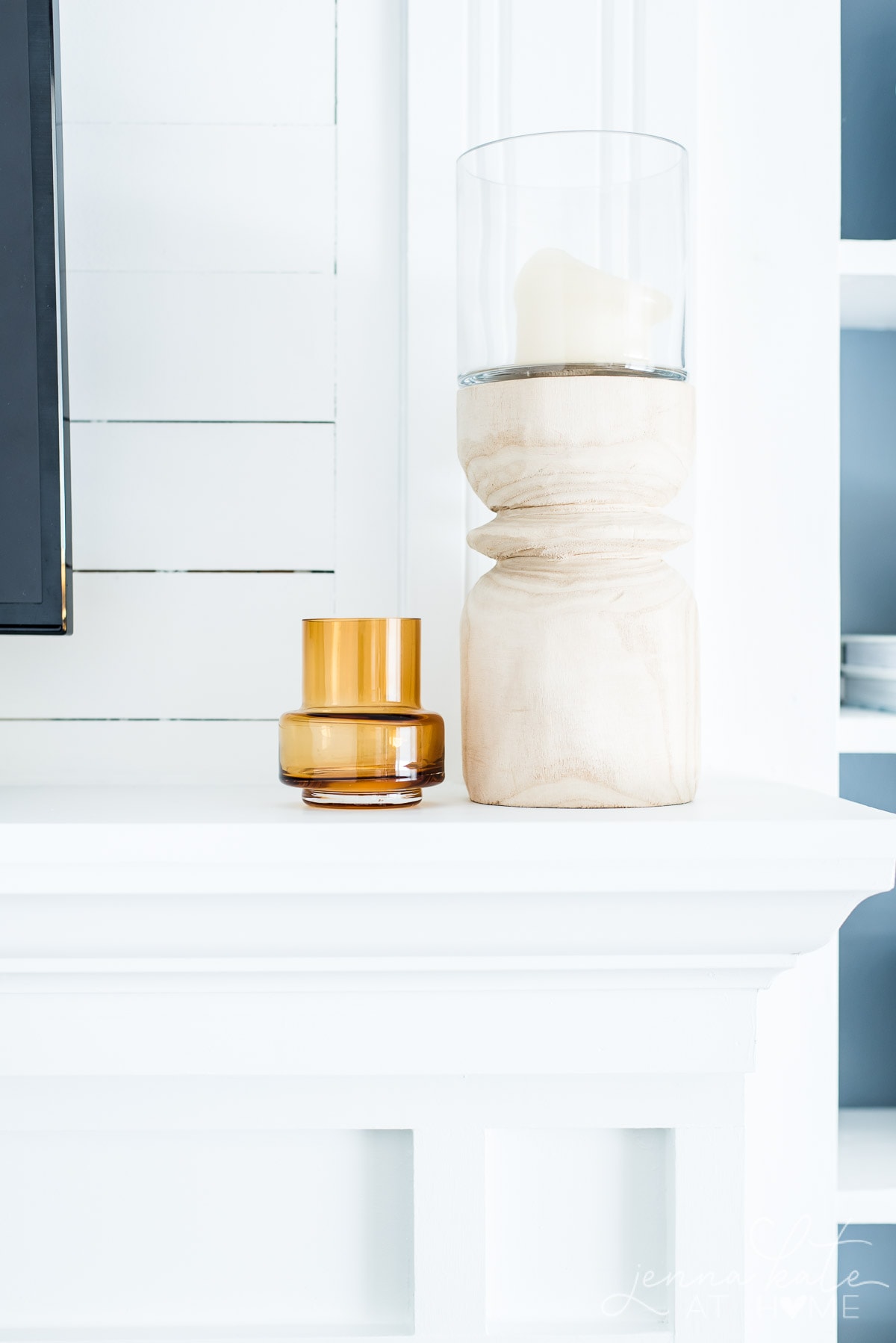 Seasonal Touches for Coffee Tables and Console Tables
Large branches placed in a vase make a stunning centerpiece for a coffee table, nightstand, dining room table or even to add decorative flair to an entryway. If you're on a budget, or just don't want more stuff to store after the season ends, then this is such a simple but effective way to decorate, all while bringing those natural elements into your home.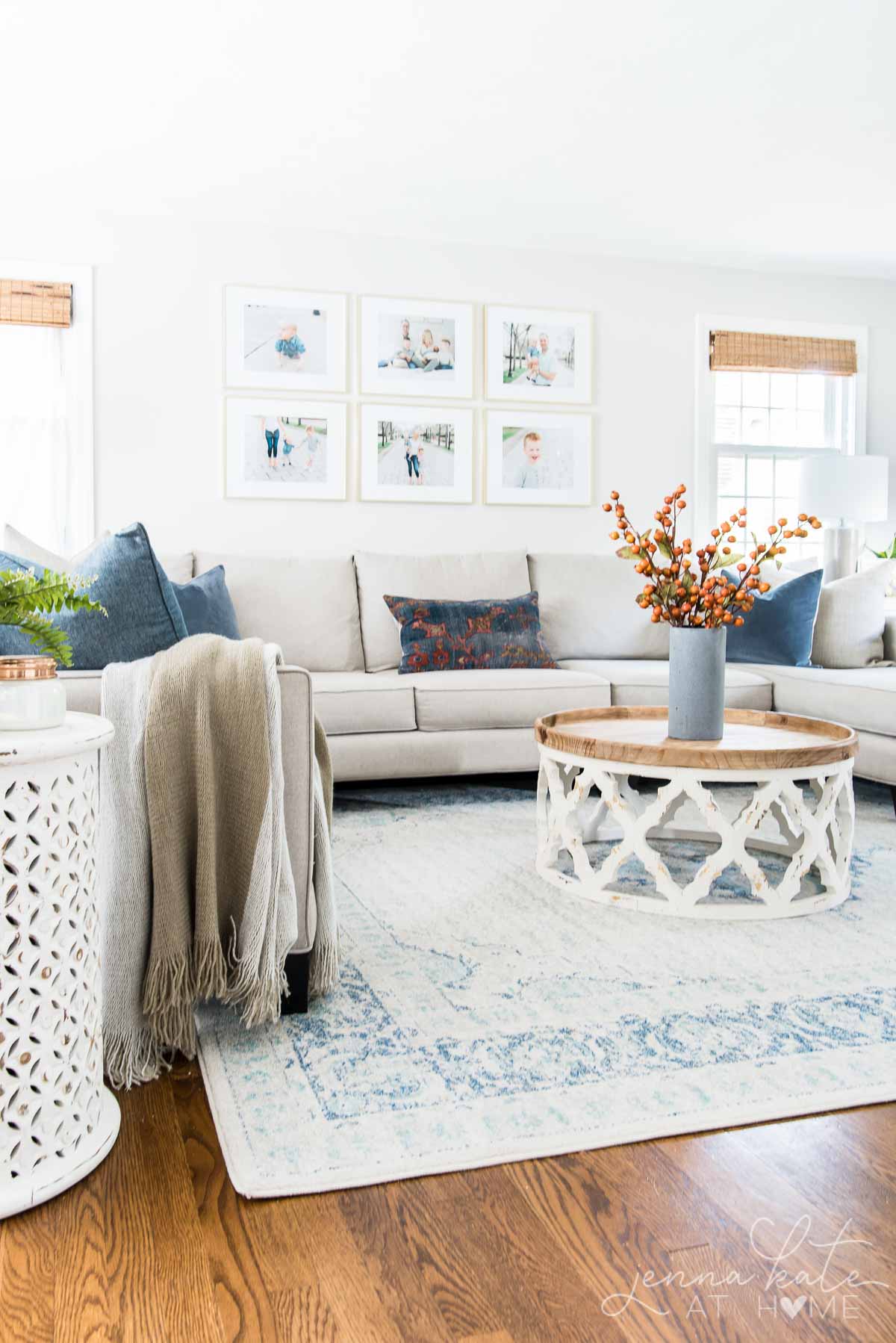 The branches and foliage are again examples of the beautiful colors we see outside during the autumn months. My favorites to bring indoors include sugar maple, Japanese maple, crab apple, oak, anything with berries and if you're looking for something with a pretty flower – Rose of Sharon.
Just remember if you have small kids that berries can be poisonous and a potential choking hazard.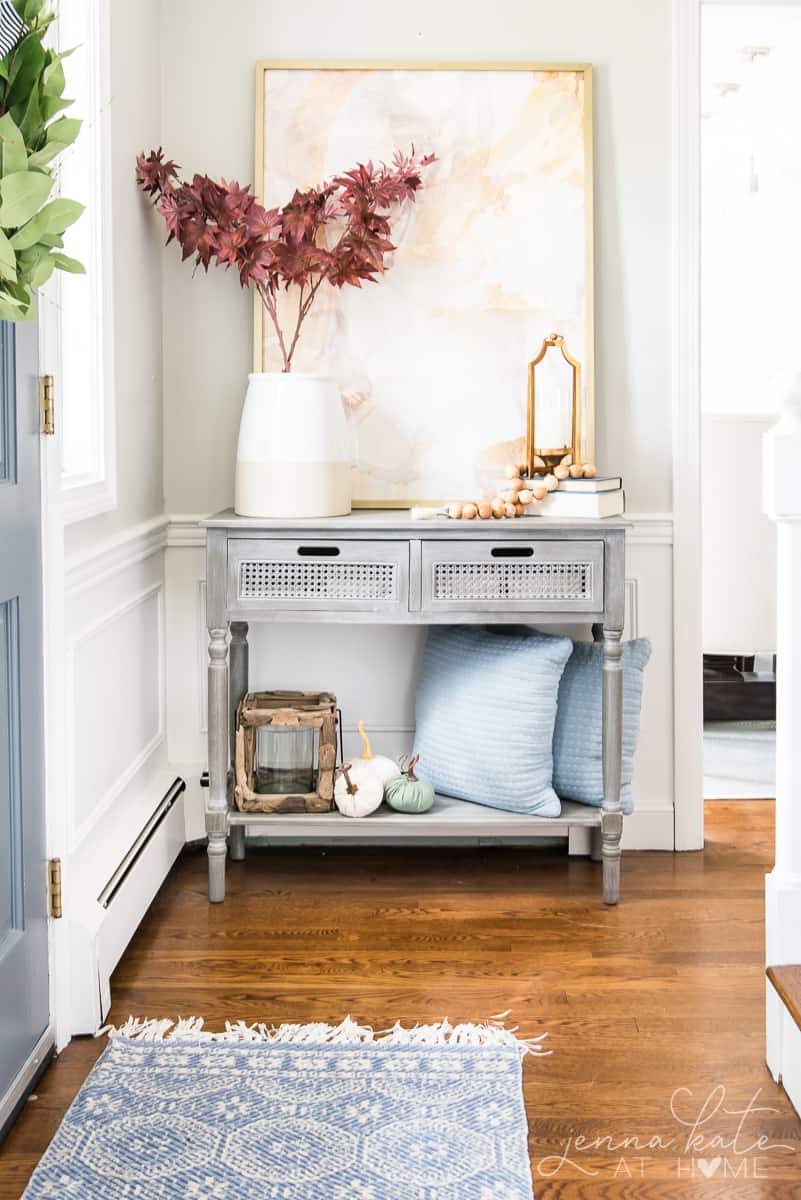 Now is also the perfect type to cut those hydrangeas and bring them indoors. They air dry beautifully to reveal different shades of green, mauve and bronze, and will last months as part of a simple floral arrangement.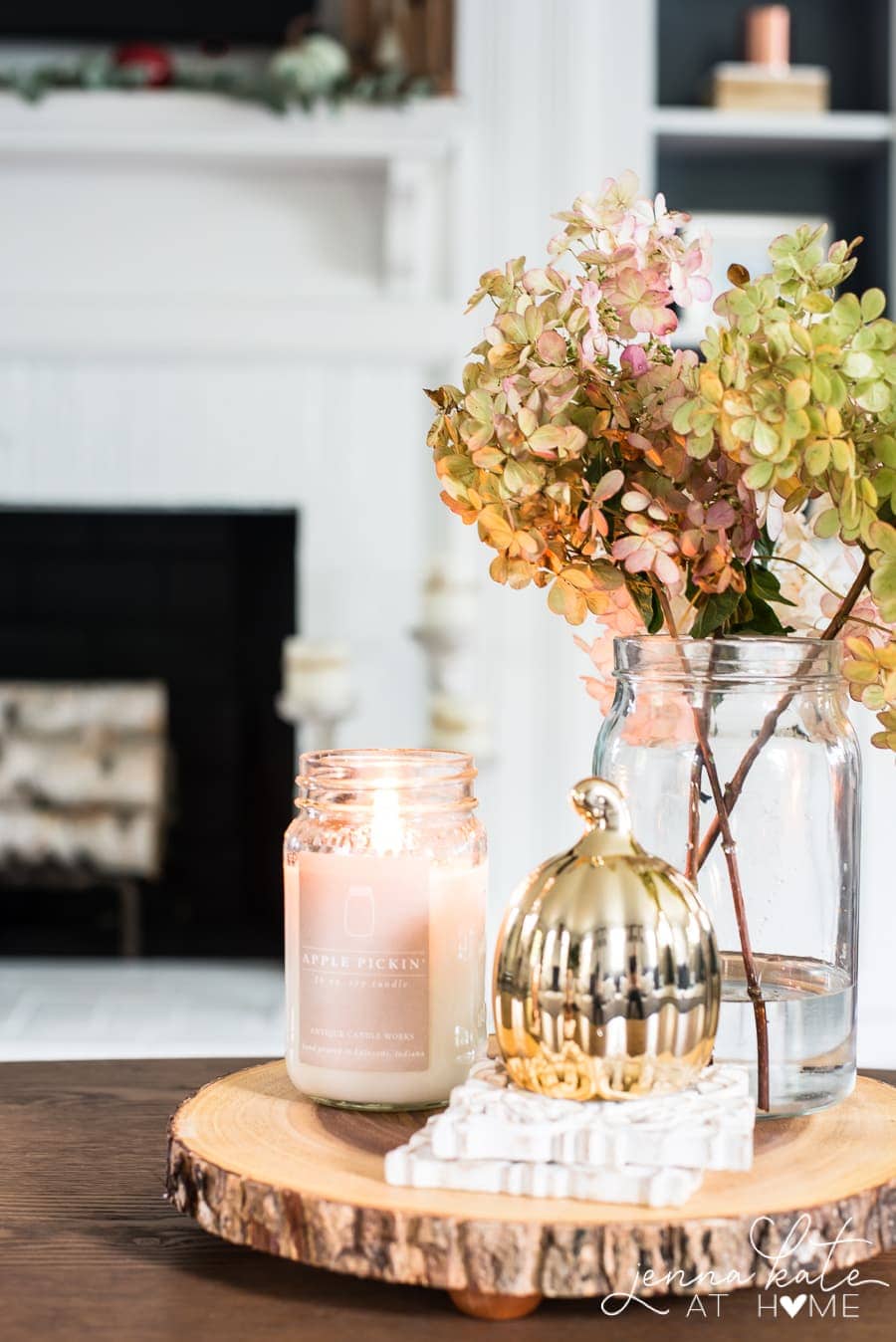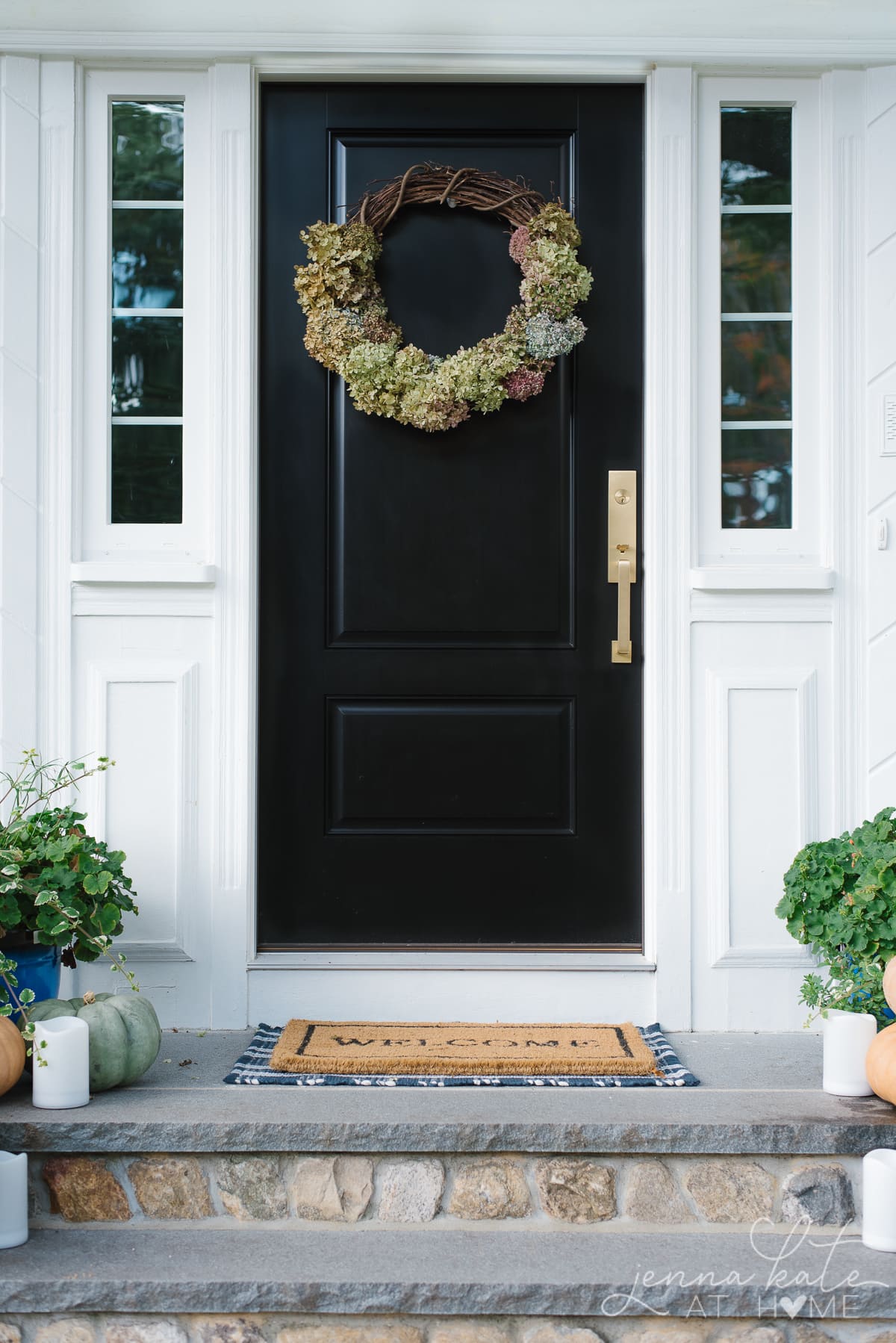 You can also use them to make your own Hydrangea Wreath, which I recently did for our front door.
A Touch of Fall in the Bedroom
Don't let your main living areas get all the fall love! Simple nods to the season in the bedroom look stunning. Pair throw pillows, quilts or throws so that they coordinate with the natural elements.
Below, you can see how the red from the Japanese maple branches pulls a similar shade out of the decorative throw pillows, creating a beautiful color scheme in the bedroom for fall. This is a simple way to decorate for fall in the bedroom without completely having to change everything in the room.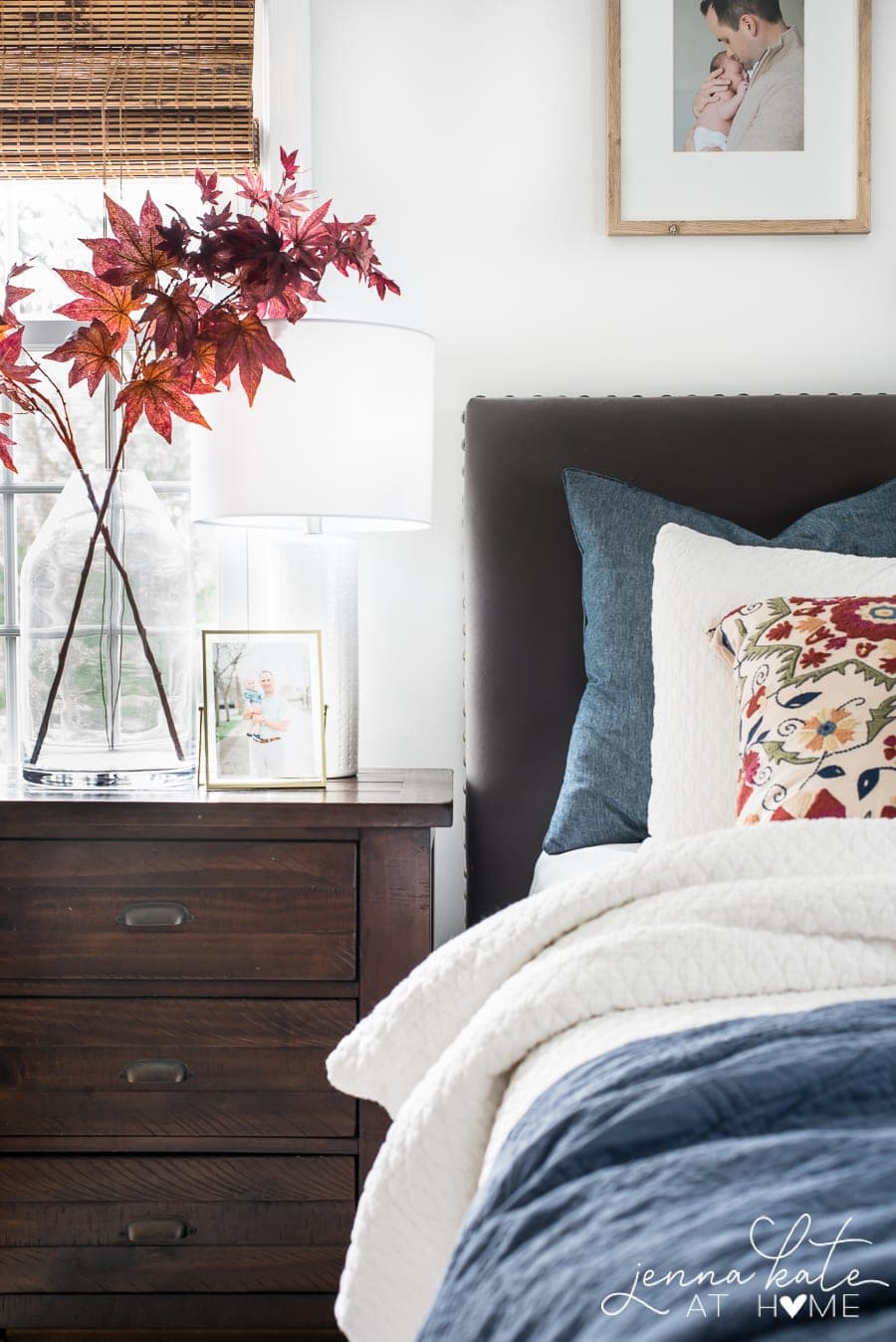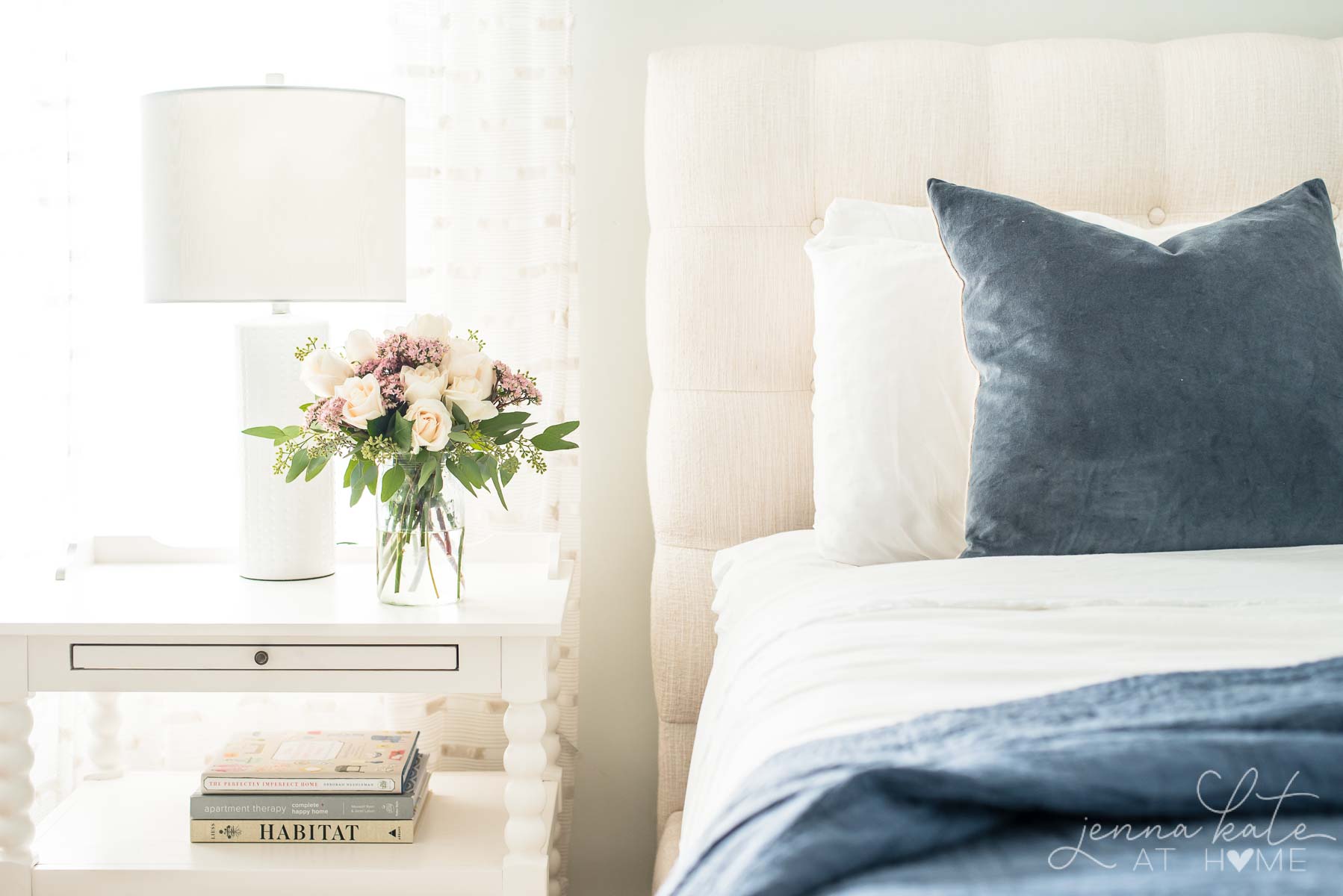 Use the flowers from your garden when decorating for fall. This arrangement is a mixture of store bought and pink sedum from the yard.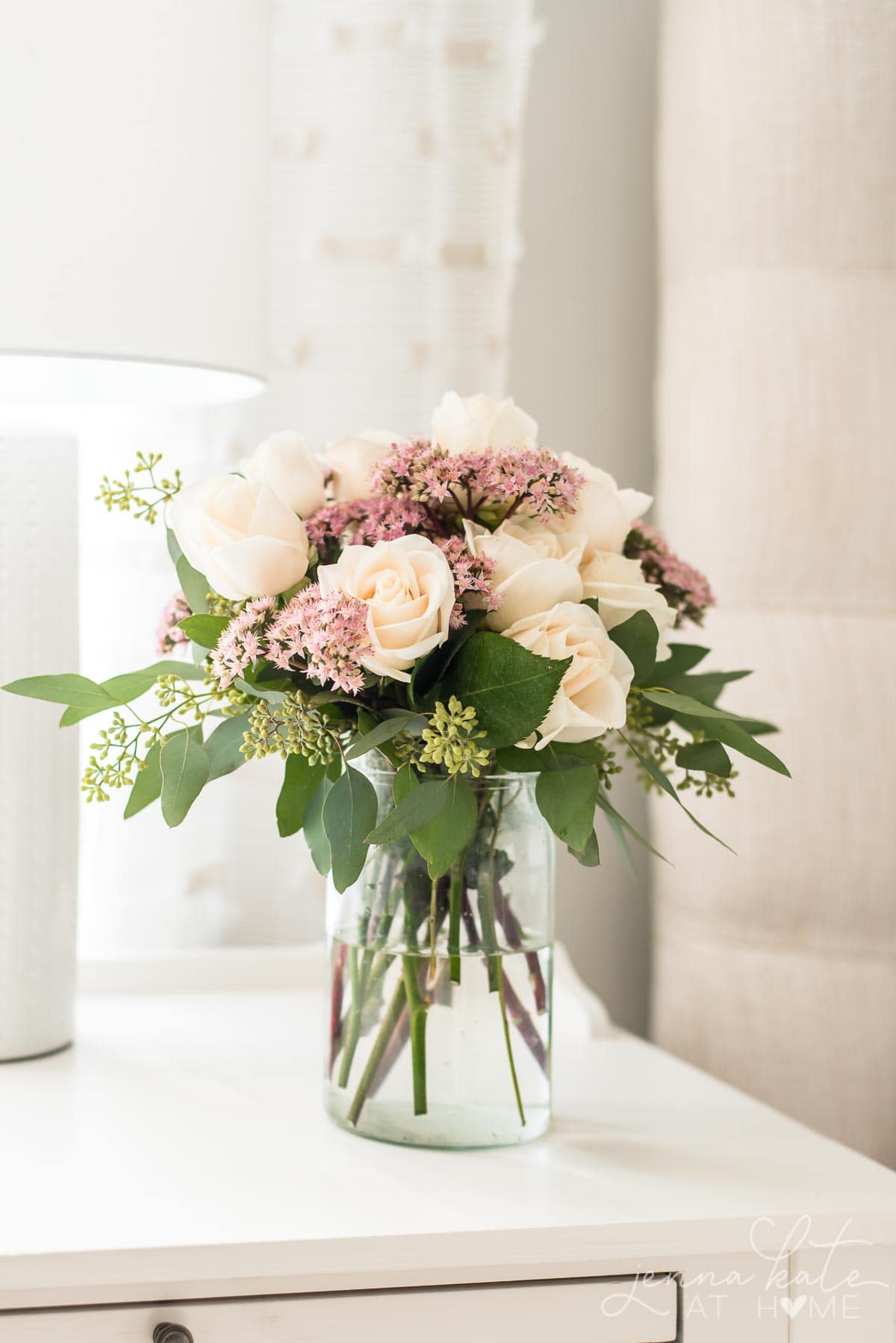 Other Natural Fall Decorating Ideas
Freshen up your mudroom or entryway with branches or flowers in a vase or tote bag. Hydrangeas are a great choice if you want something floral, as they will naturally dry out.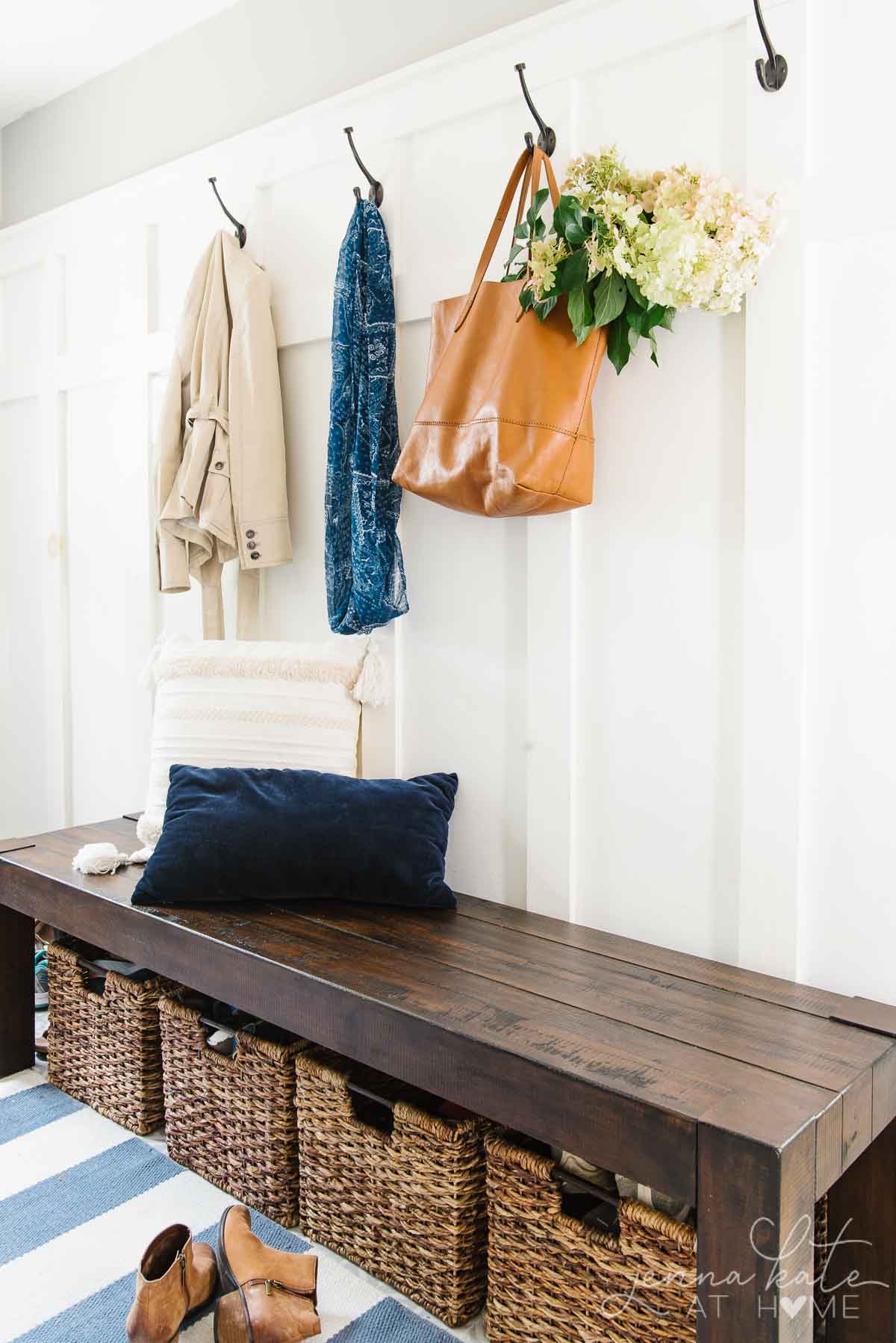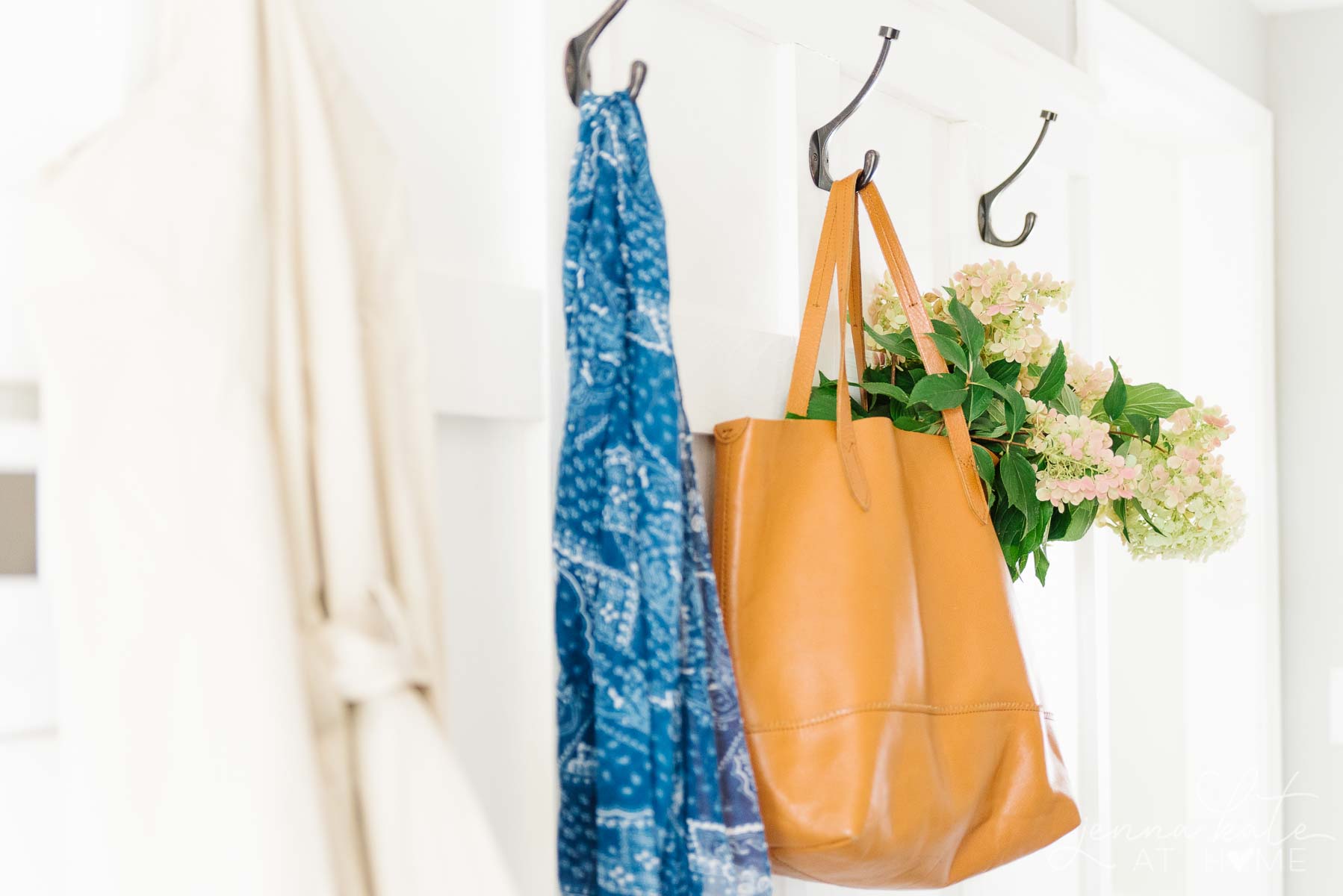 Simply adding some branches to a vase in the corner of your entryway or next to a bench, is also a lovely seasonal addition.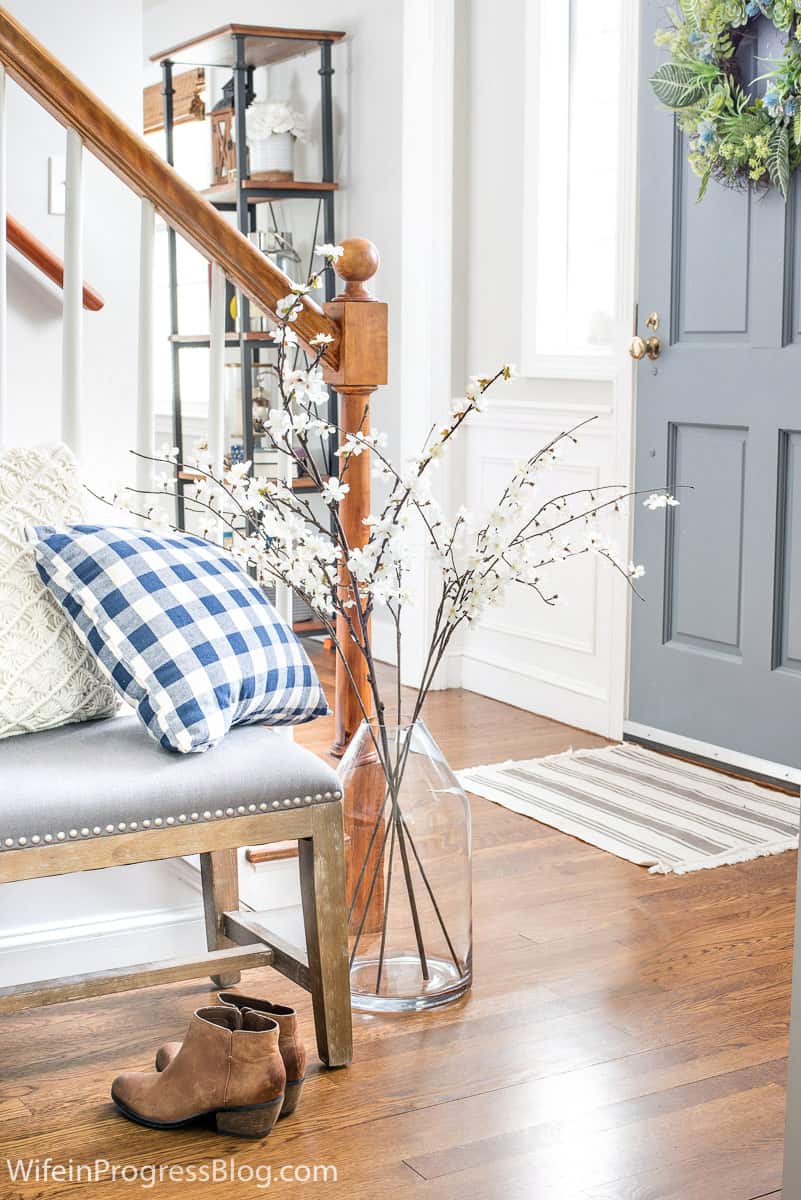 Have I inspired you to try some of these natural fall decorating ideas this year? It's such a fun and inexpensive way to decorate for the season, and I think you'll love how creative or how simple you can be with it!
More Decorating Ideas You'll Love
Connect with me for lots of extra behind the scenes content!