This post may contain affiliate links | For further details, please read our privacy policy
This simple DIY spring table setting is easy to create and is perfect for a spring gathering, Easter dinner or even a Mother's Day brunch.
Hello, hello! I'm thrilled to show you this fresh, spring-inspired table setting idea featuring DIY place settings and vibrant fabric coasters.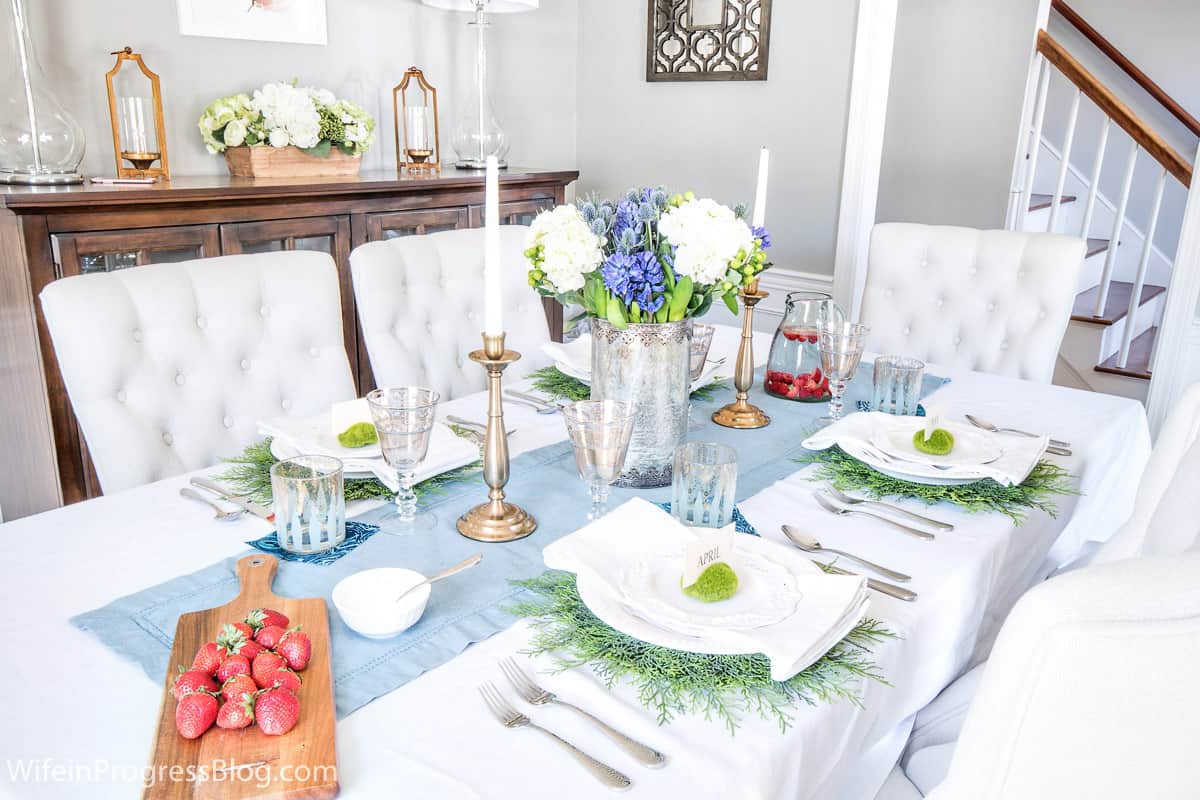 I regularly pop into my local HomeGoods to see what gems they have to offer that week—Hobby Lobby is another great option for your spring tablescape decor. It's one of those stores where you go in to browse and can't help but leave with something amazing. I got a particularly great haul this week for my simple spring table setting and I've been dying to share it all with you!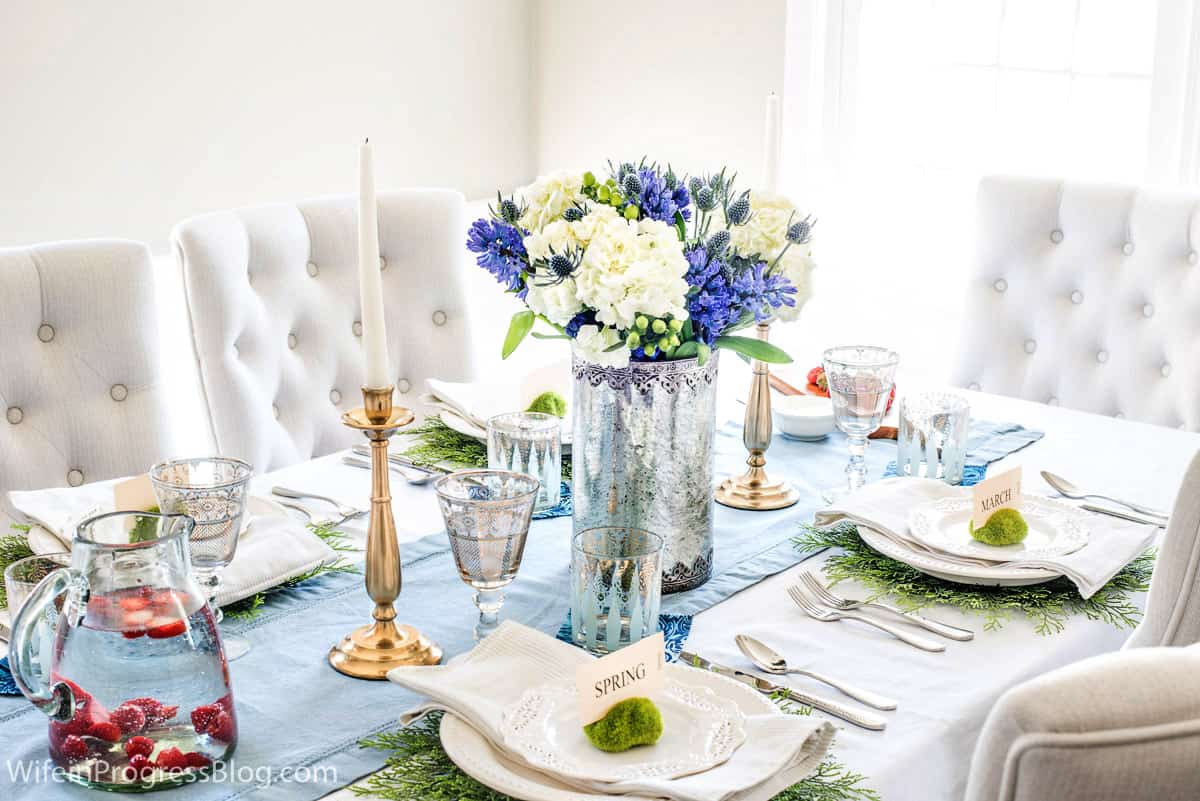 Place Settings
First up, how cute are these place settings that I made? These are the simplest craft ever because all you need is a knife! I picked up some moss vase fillers and these adorable seasons and months cards for each setting. All I did was cut a slit in the middle of the moss ball (they are just styrofoam inside) and slipped the card right into it.
If you're decorating your spring table for a special occasion, like a Mother's Day brunch, a great idea to add a more personal touch would be to have place cards instead. It's the perfect way to personalize your dining room table.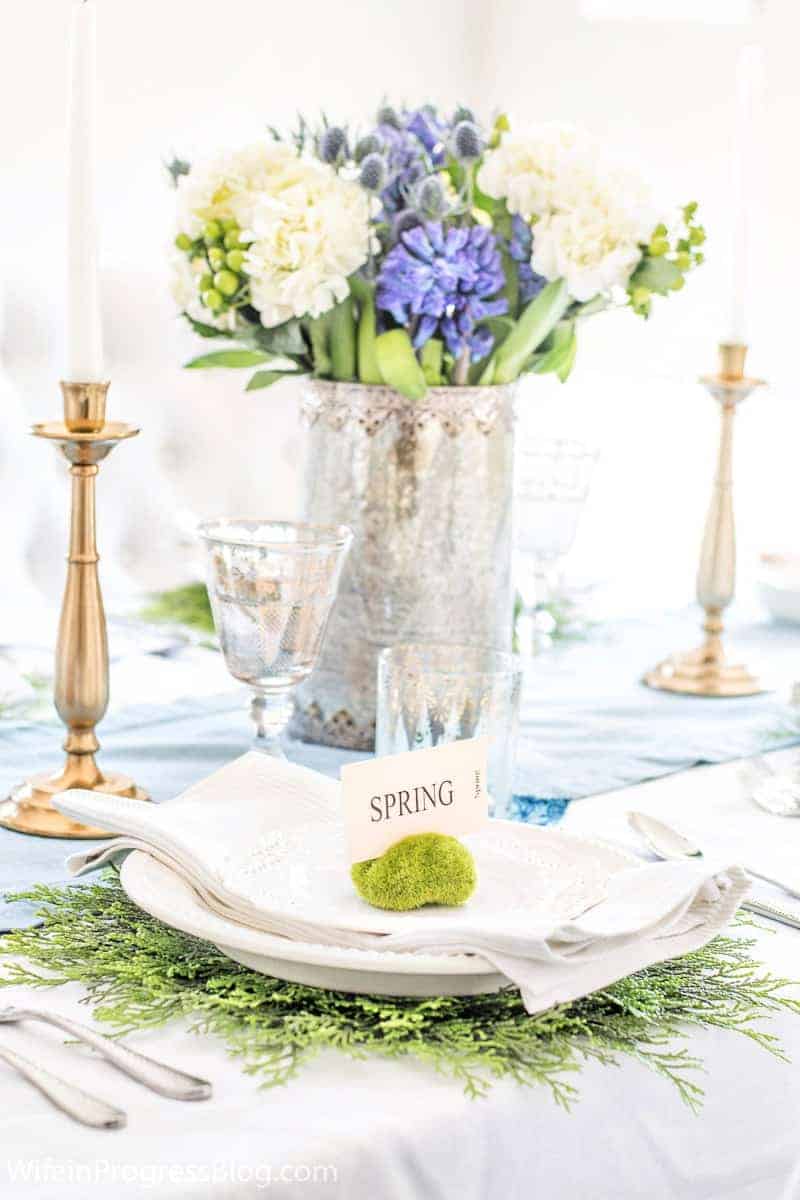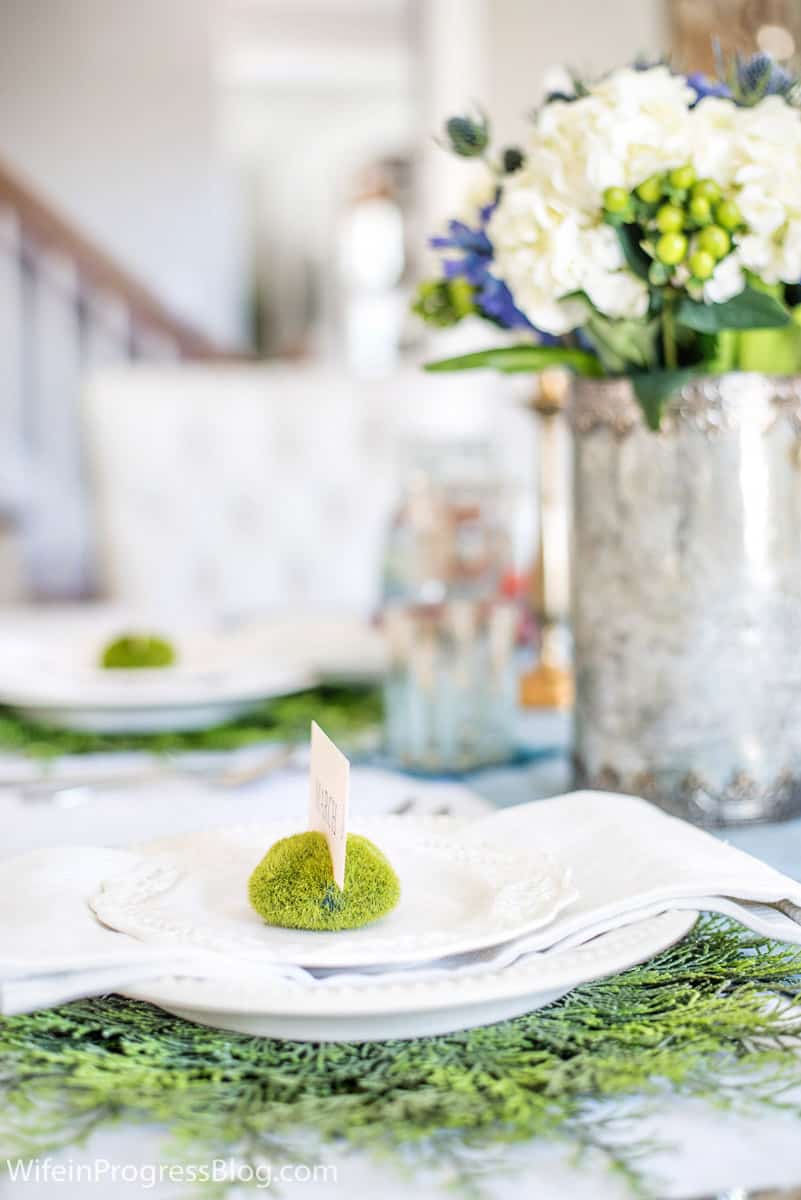 From the cards, I chose "spring" and then "March", "April" and "May", since those are the spring months. I was thinking of just doing the four seasons and calling it a "Four Seasons" tablescape but I really wanted to stick with a spring theme.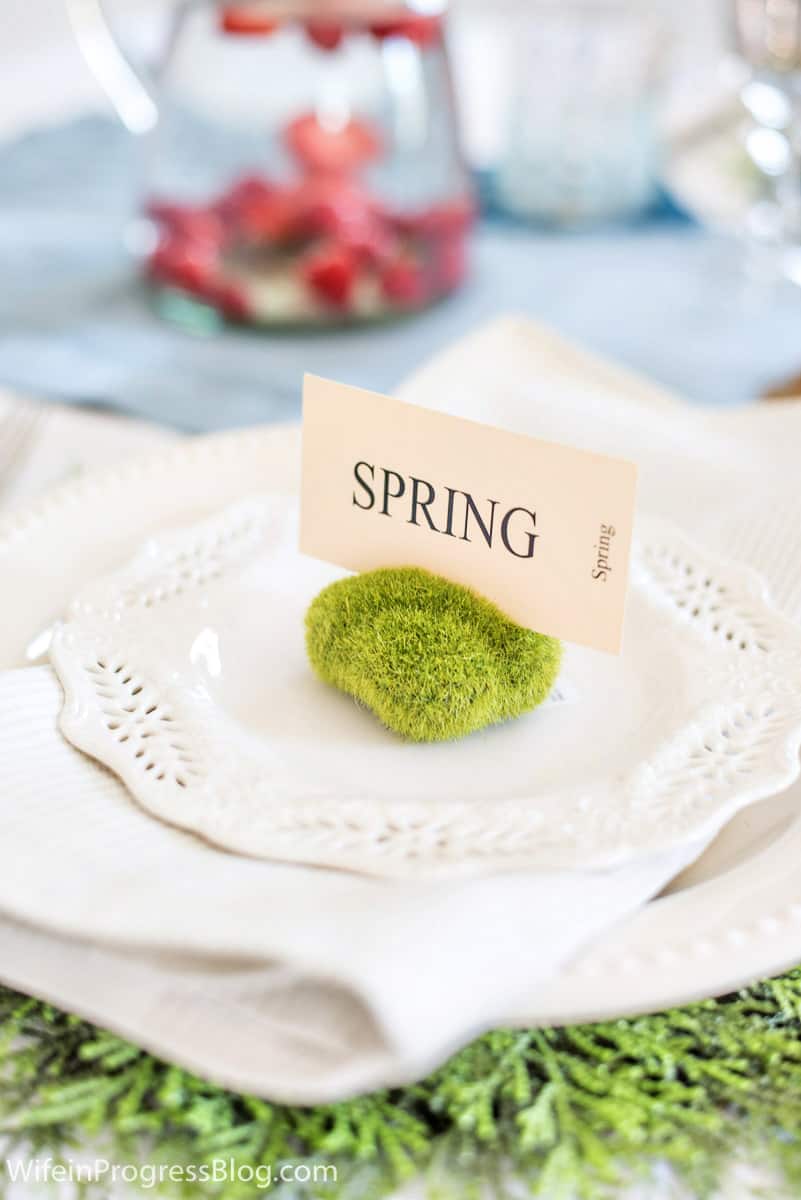 Dinner and Glassware
The rest of the plating includes these dainty lace effect dessert plates and neutral kitchen towels that I'm using as napkins (think outside the box, right!?).
The trick to setting up a beautiful tablescape for spring is to keep your dinnerware color palette neutral. By using these white dinner plates, I'm able to add that pop of color with all the extra green elements so that they really stand out and become the focal point to our spring table.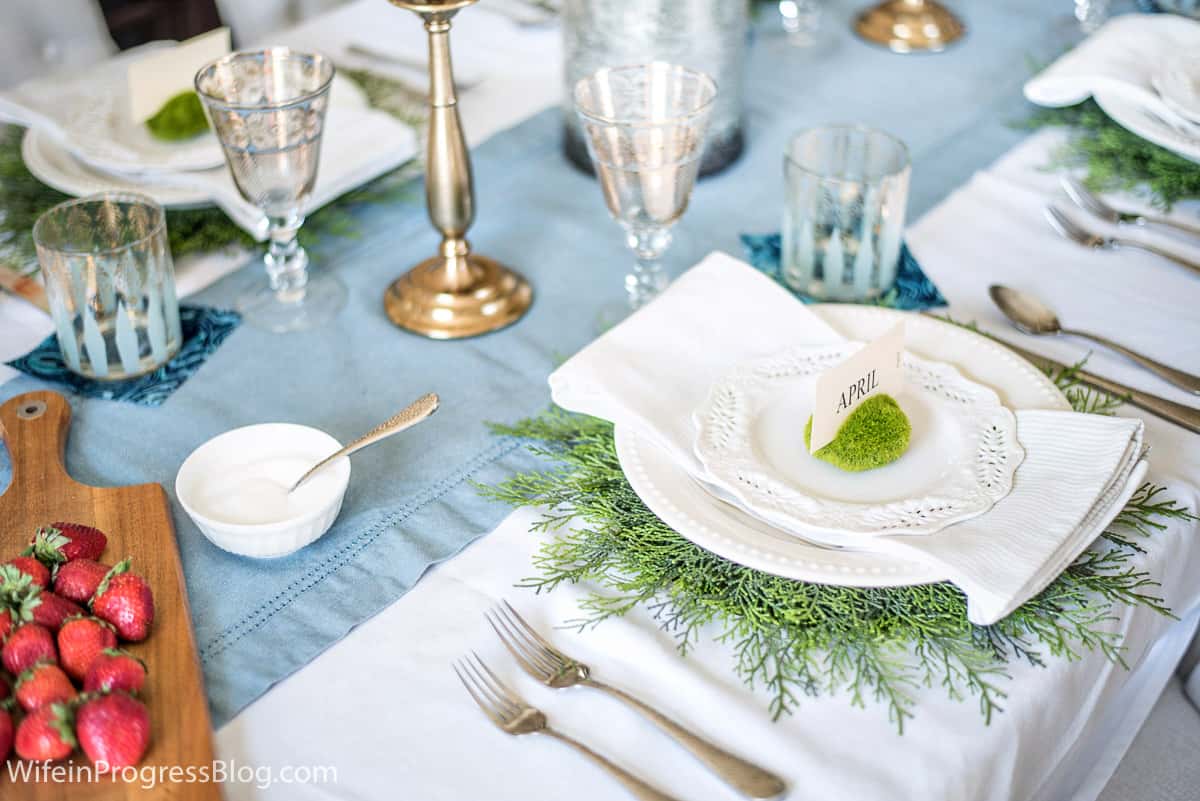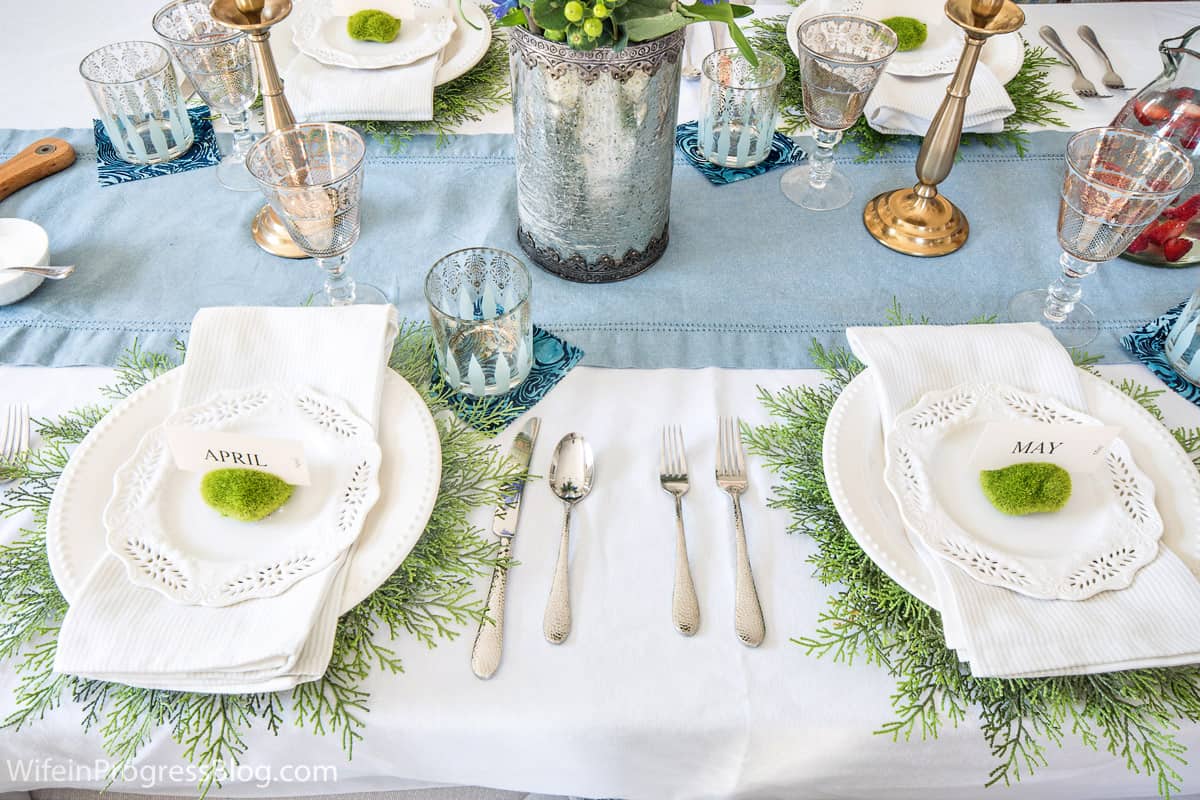 Tuesday Morning has new deals every day, handpicked from around the world by their buyers, like these exotic looking goblets and water glasses. Other great options for finding glassware like this is your local thrift store or if you have a World Market close by.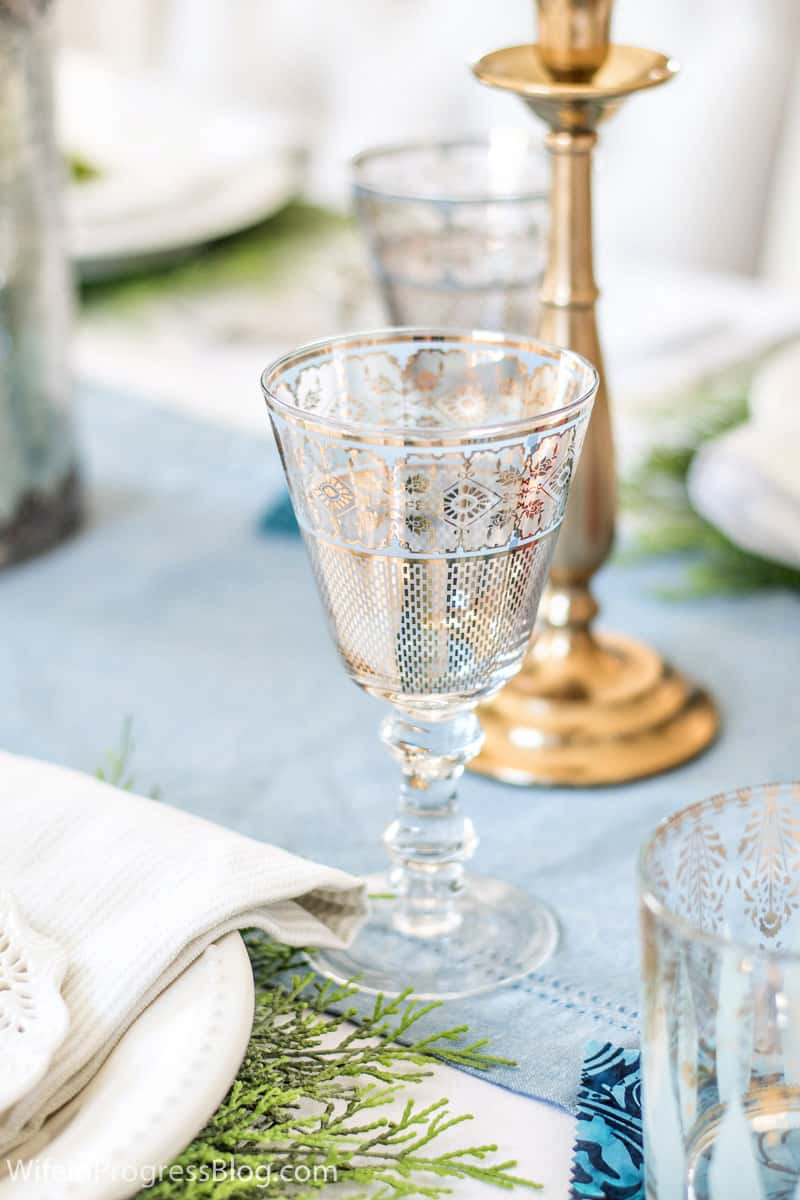 Are they not the prettiest glasses you've ever seen!? The goblets also come in blush pink and a darker blue and the water glasses were just this sea foam and gold color. I know you guys can tell by looking at them that they are great quality pieces…but they were so affordable and I know I won't find anything like this at my other local home goods stores.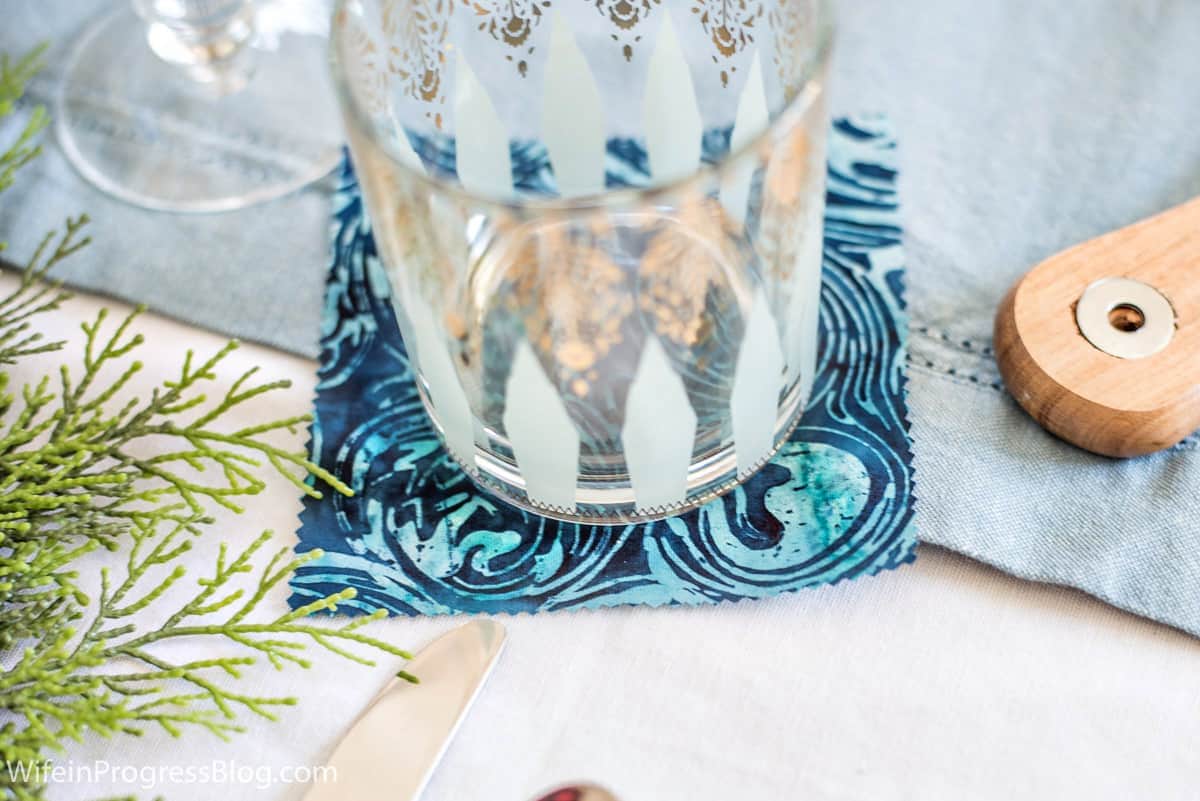 Table Linens
Again, think outside of the box. These Jewel Batik fabric swatches make for great coasters. They come in a big bundle of different colors so you'll find something to match many tablescapes to comes! If you want to reuse them, you could also mod-podge them to 3×3 tiles which would make them pretty hardy and water resistant.
And like I mentioned earlier, using the white kitchen towels is a great alternative to linen napkins.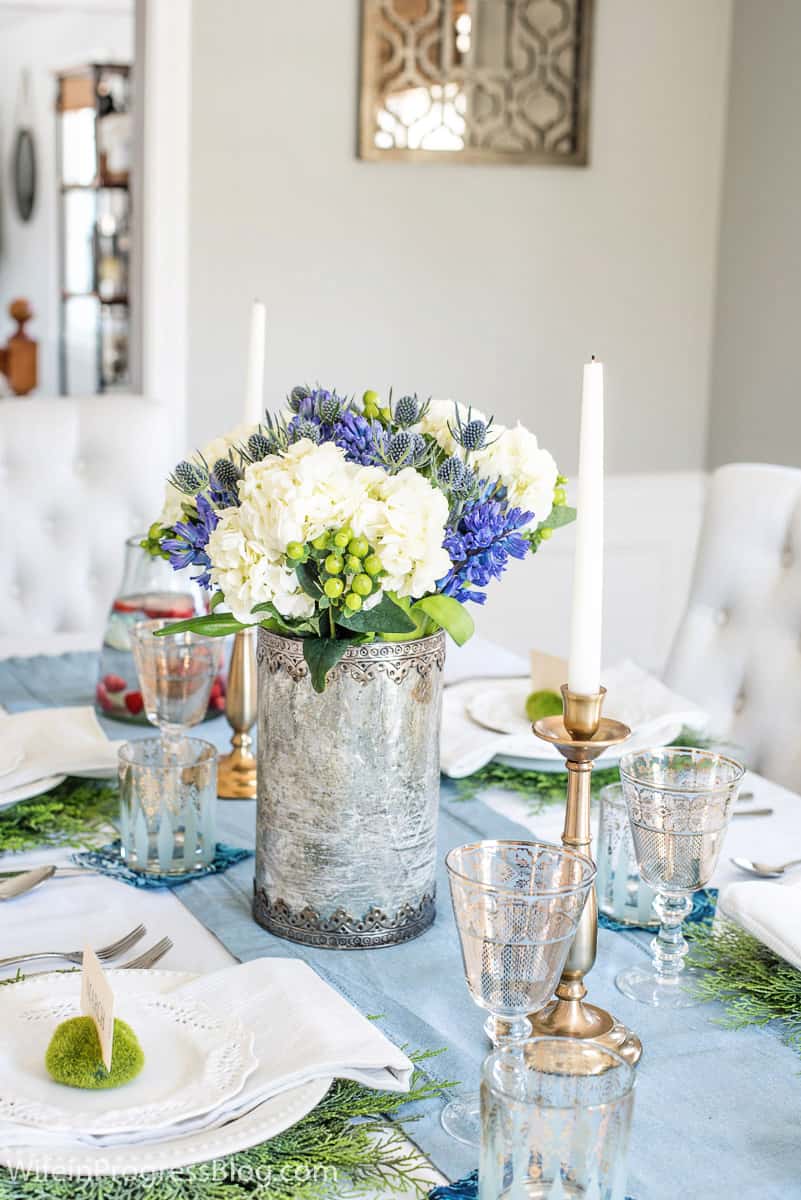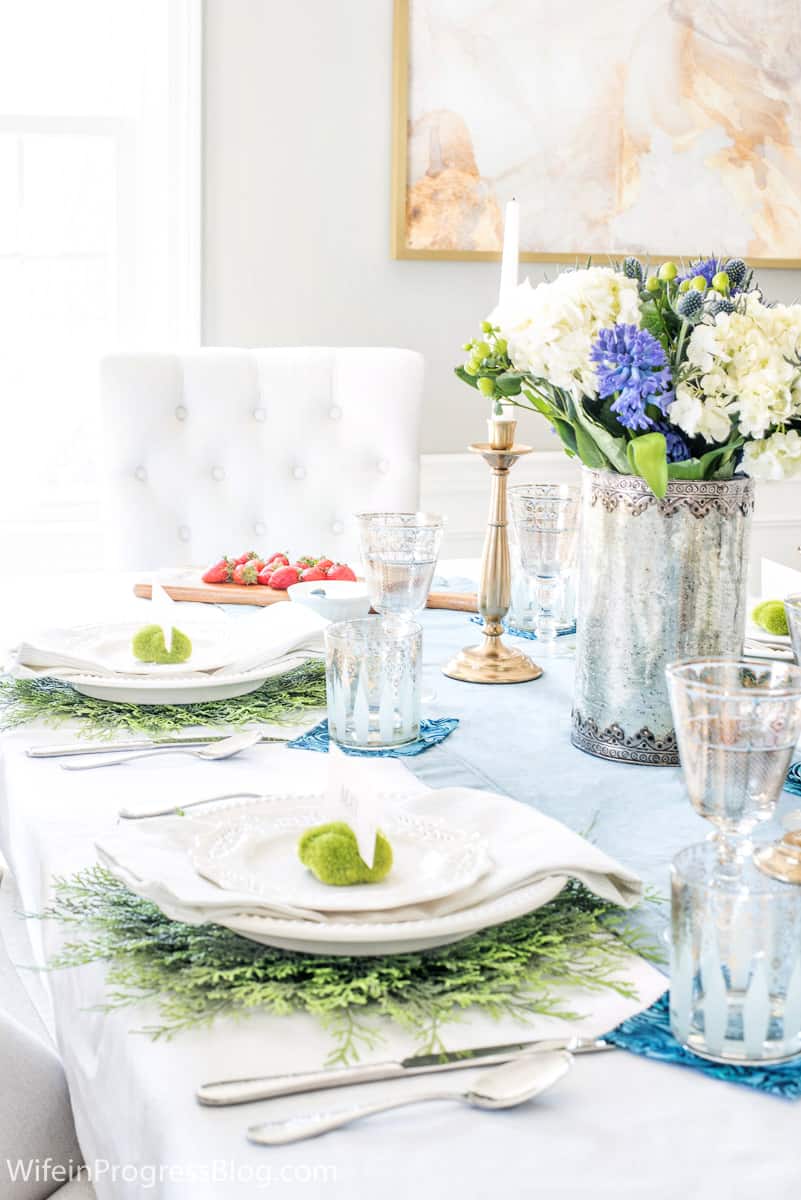 When setting up your spring dining table, start with a neutral, preferably white table cloth and begin to slowly layer on the elements with different textures and colors. I started with a simple white tablecloth, then added this light blue table runner, and continued with the fabric coasters that add just the right amount of fun without stealing the show.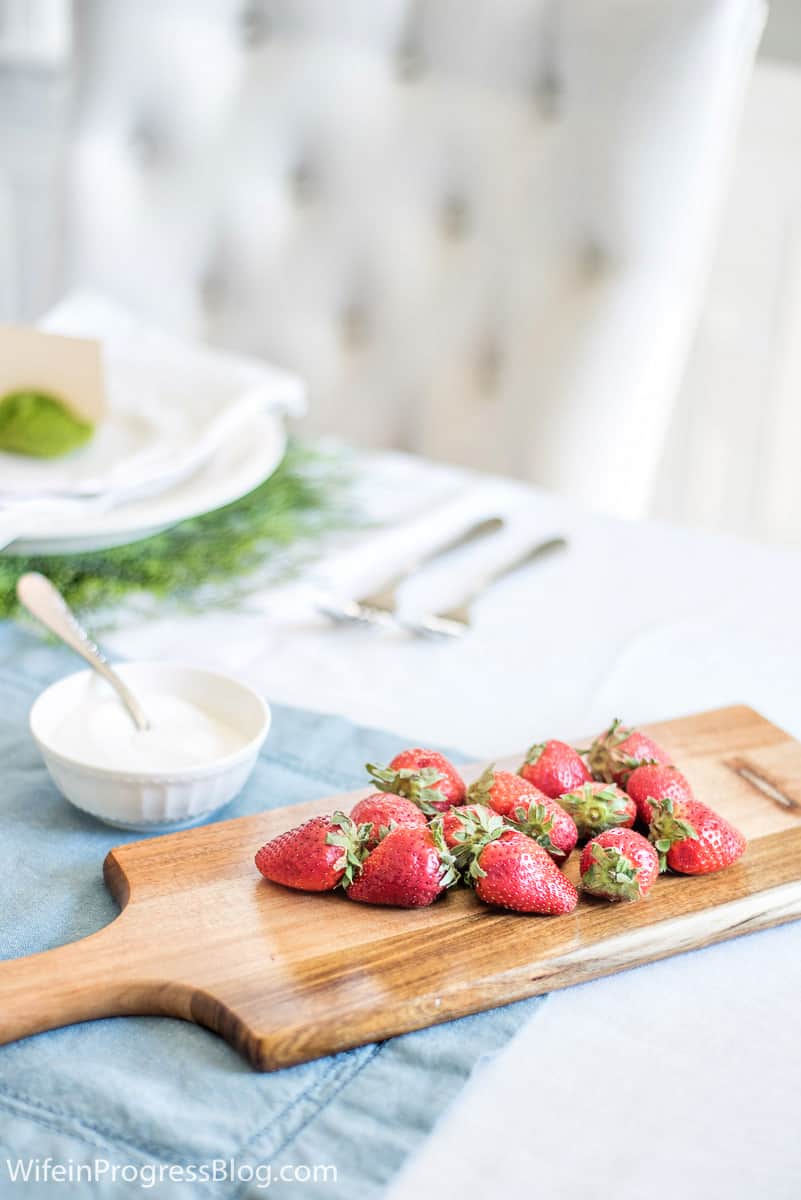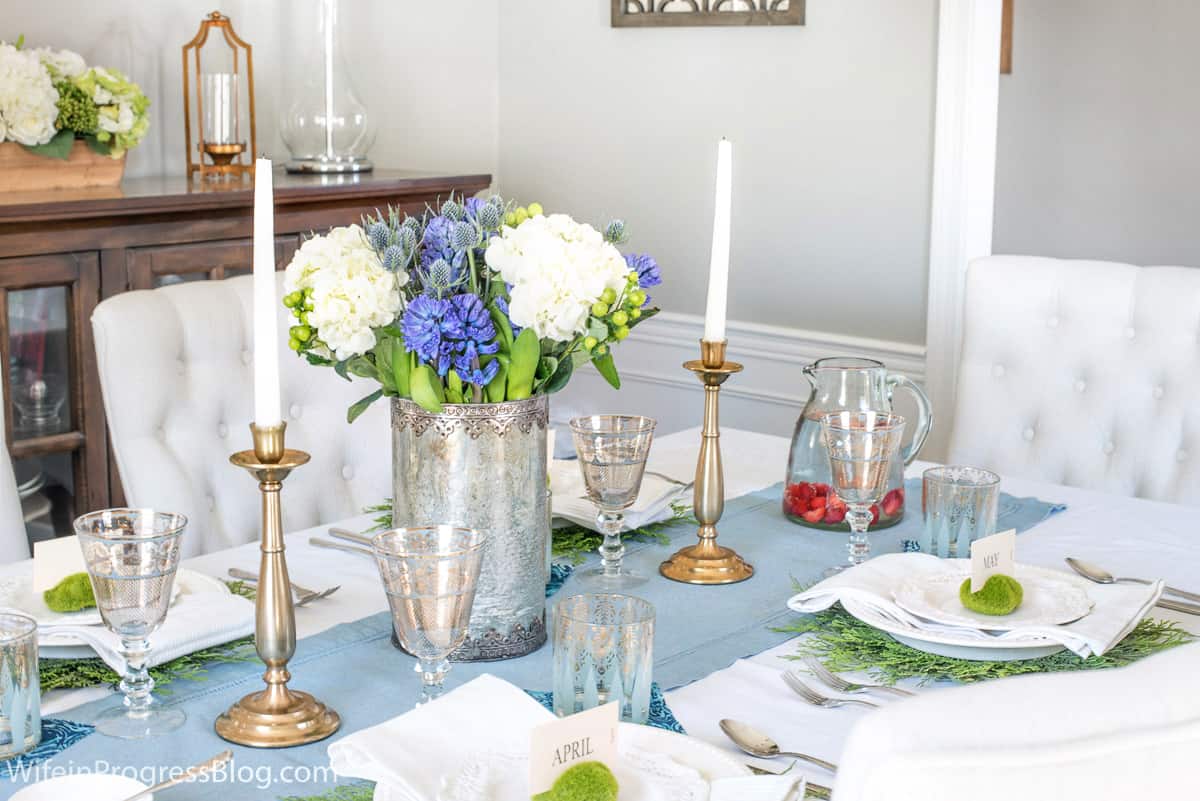 Simple Centerpiece
Let's stop and admire the silver metal hurricane for a minute. You'll find many beautiful items like this at Tuesday Morning at a really affordable price. I love pieces like this because they are really versatile. It's quite the showshopper in this tablescape, with fresh hydrangeas, thistle, hypericum berries and hyacinth – but would be equally beautiful with a pillar candle placed inside.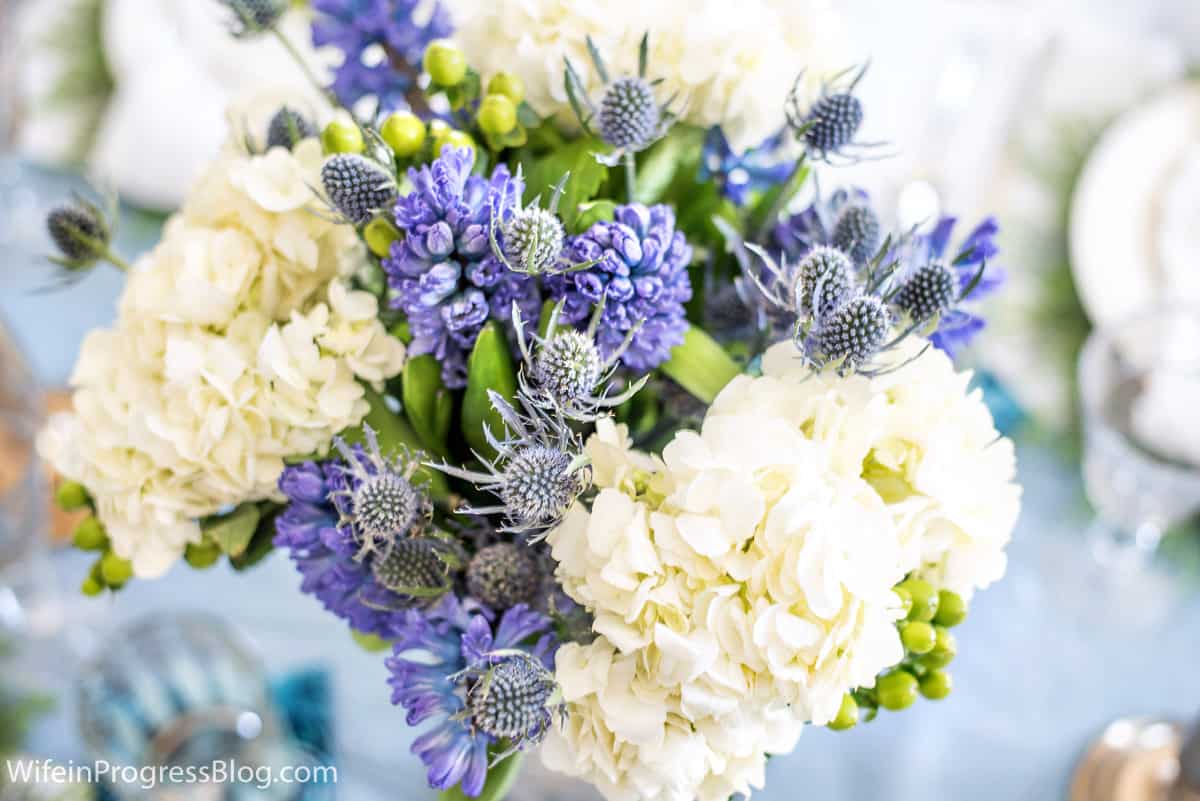 Another great option to add to your spring centerpiece would be faux pussy willows, which give additional texture to your floral arrangement.
There are endless options for spring flowers that would bring your table to life. If fresh flowers aren't your thing, no worries, there are tons of beautiful faux flowers on the market now that look almost real!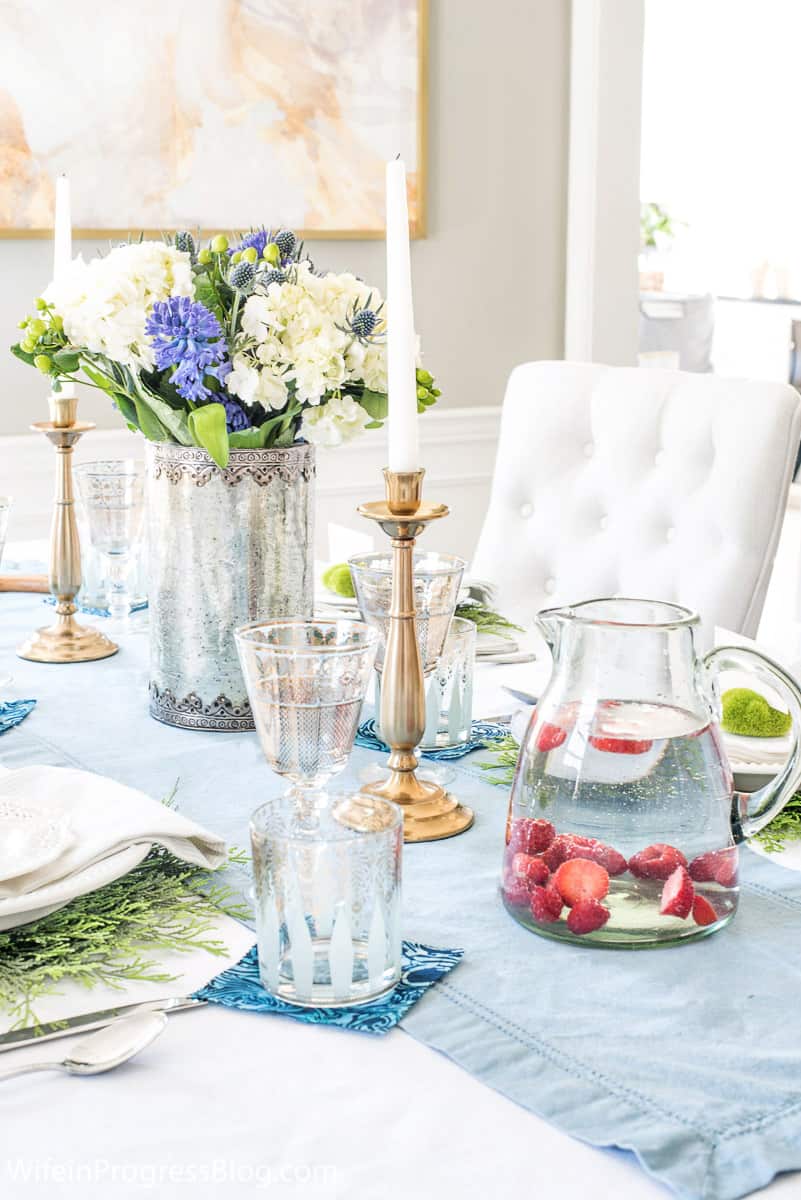 And don't be afraid of arranging your own flowers. There's just a few simple rules to follow: pick colors to complement or contrast with your decor and vary the textures. I wanted a neutral (hydrangeas), a pop of green (the berries) and some bright blue (thistle & hyacinth). I placed a tape grid on the hurricane vase and plopped my flowers in! Easy and oh so pretty!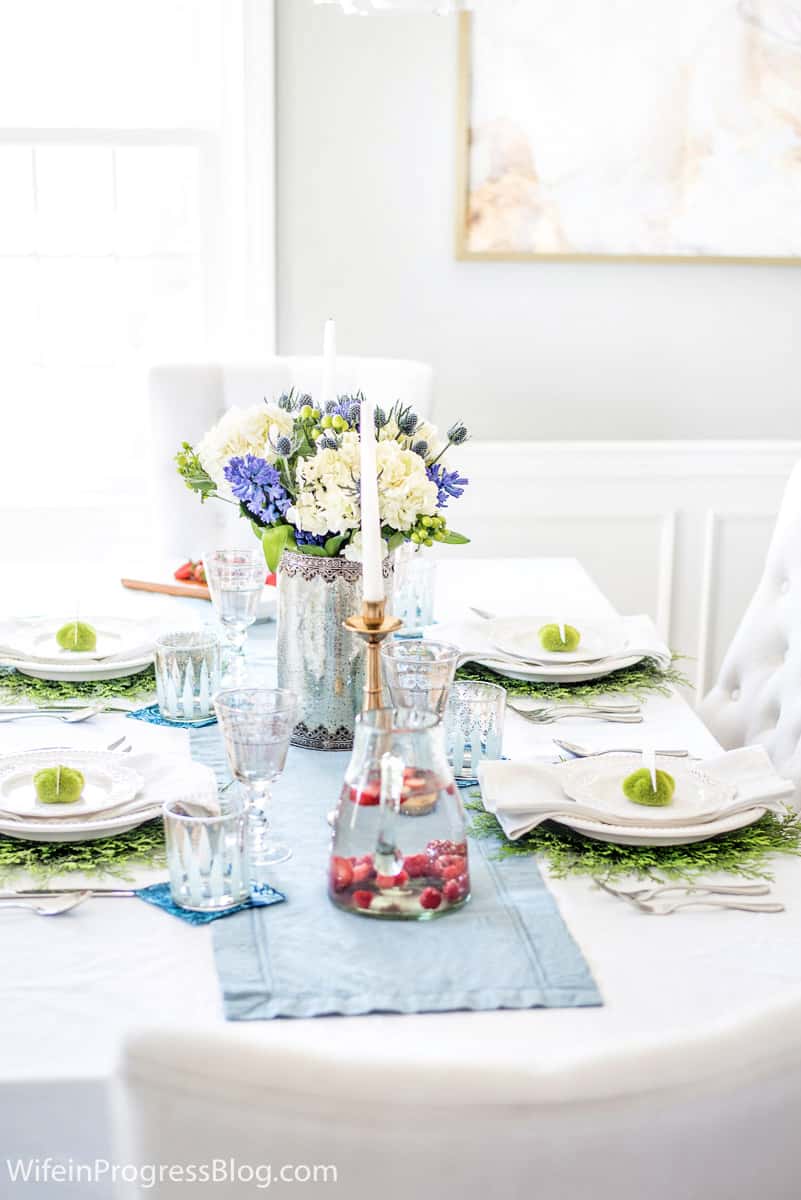 Additional Elements
To add contrast to the sea of green, I added some bright red strawberries and raspberries to the mix. Strawberries are one of the first fruits to come into season in spring, so they are the perfect choice for added table decorations. Plus, who doesn't love nibble on a strawberry dipped in some sugar?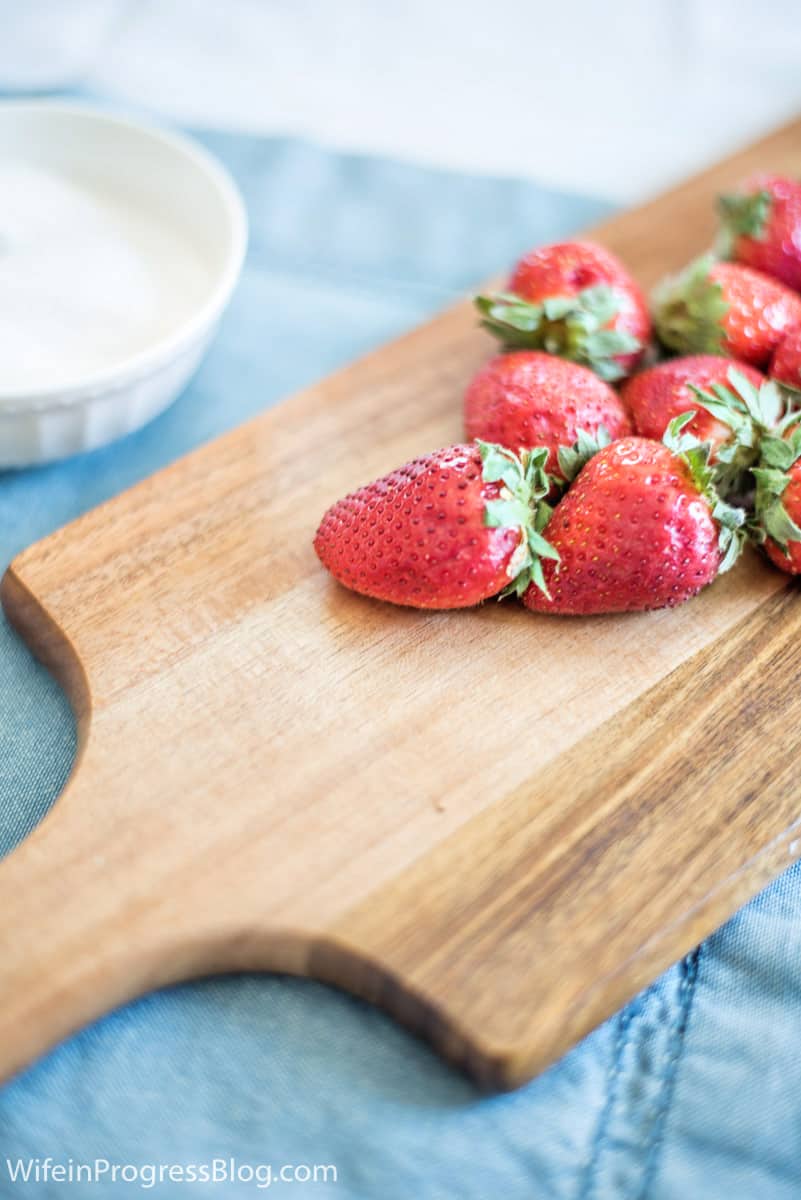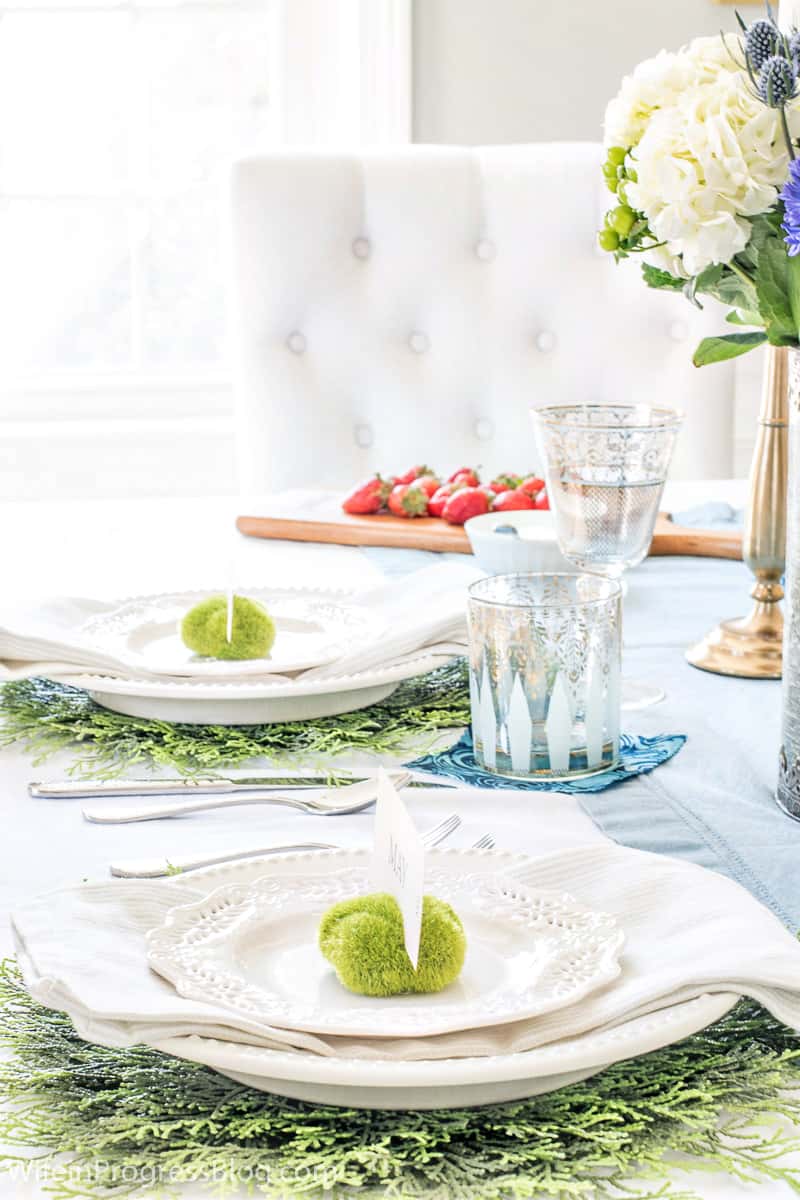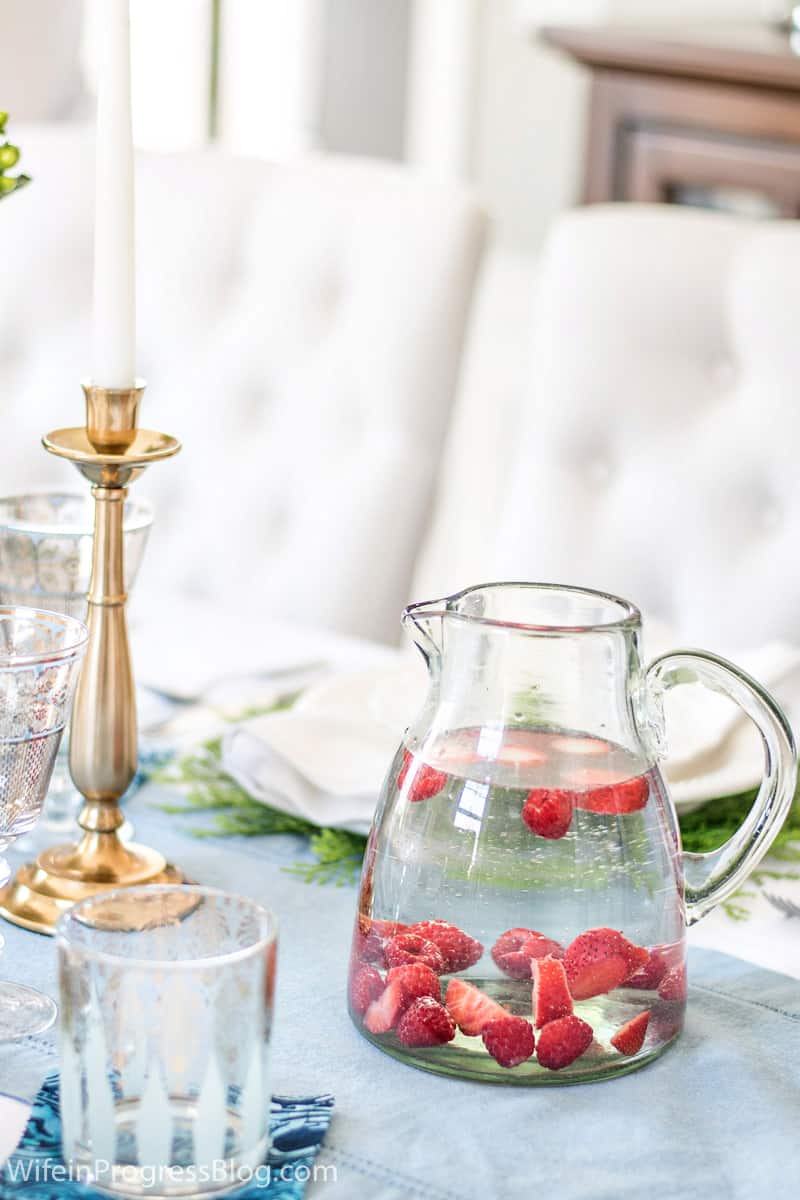 For a refreshing take on plain water, I added chopped raspberries as well as the strawberries to a pitcher.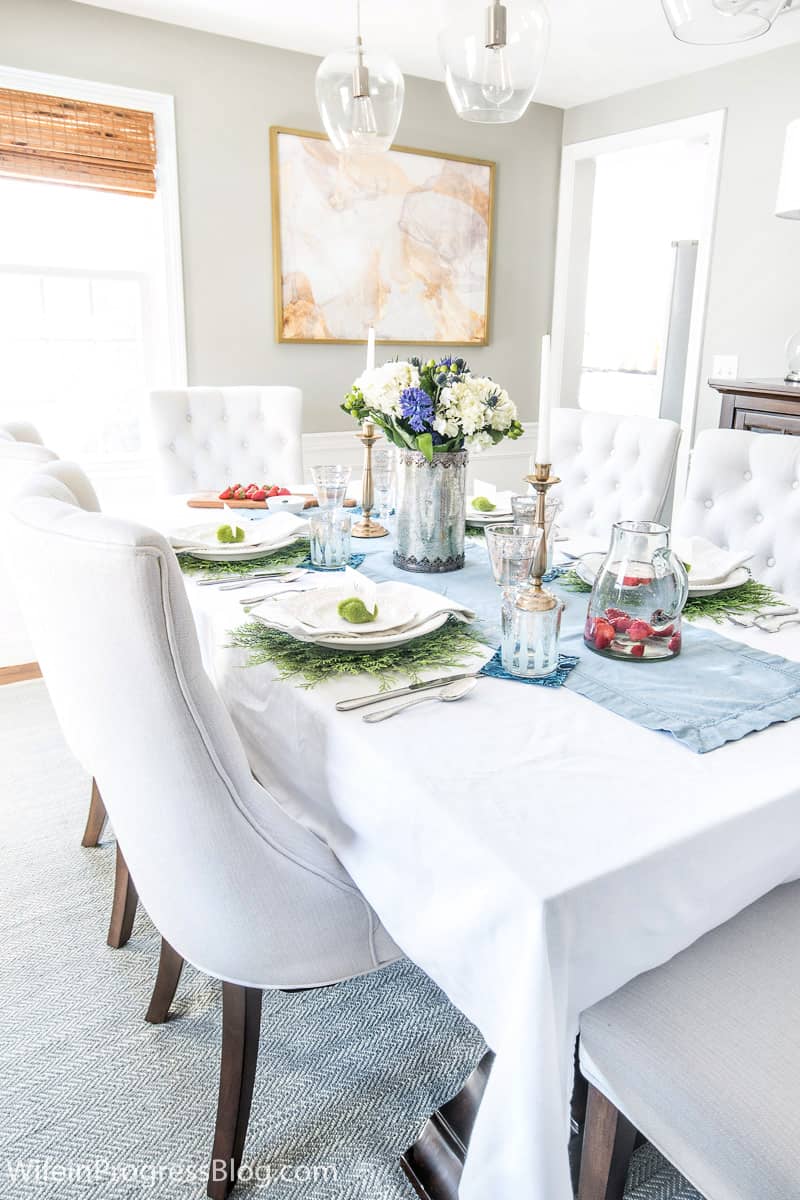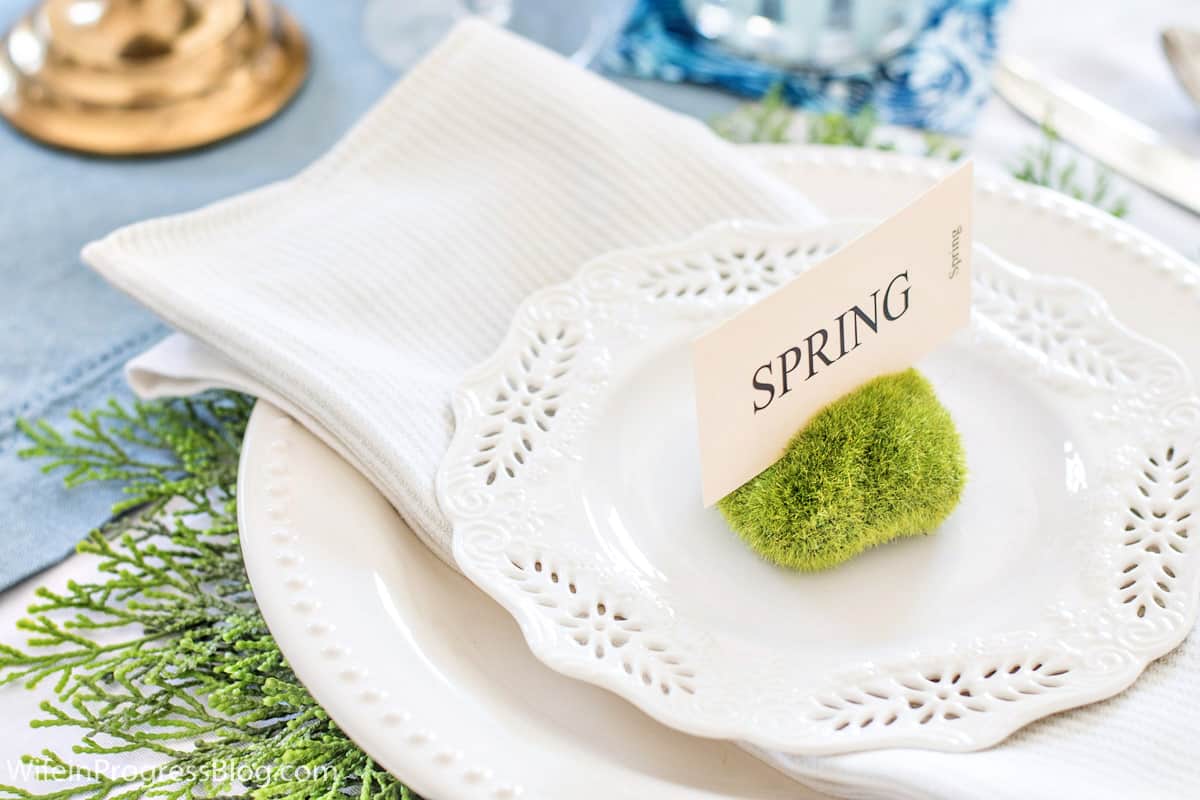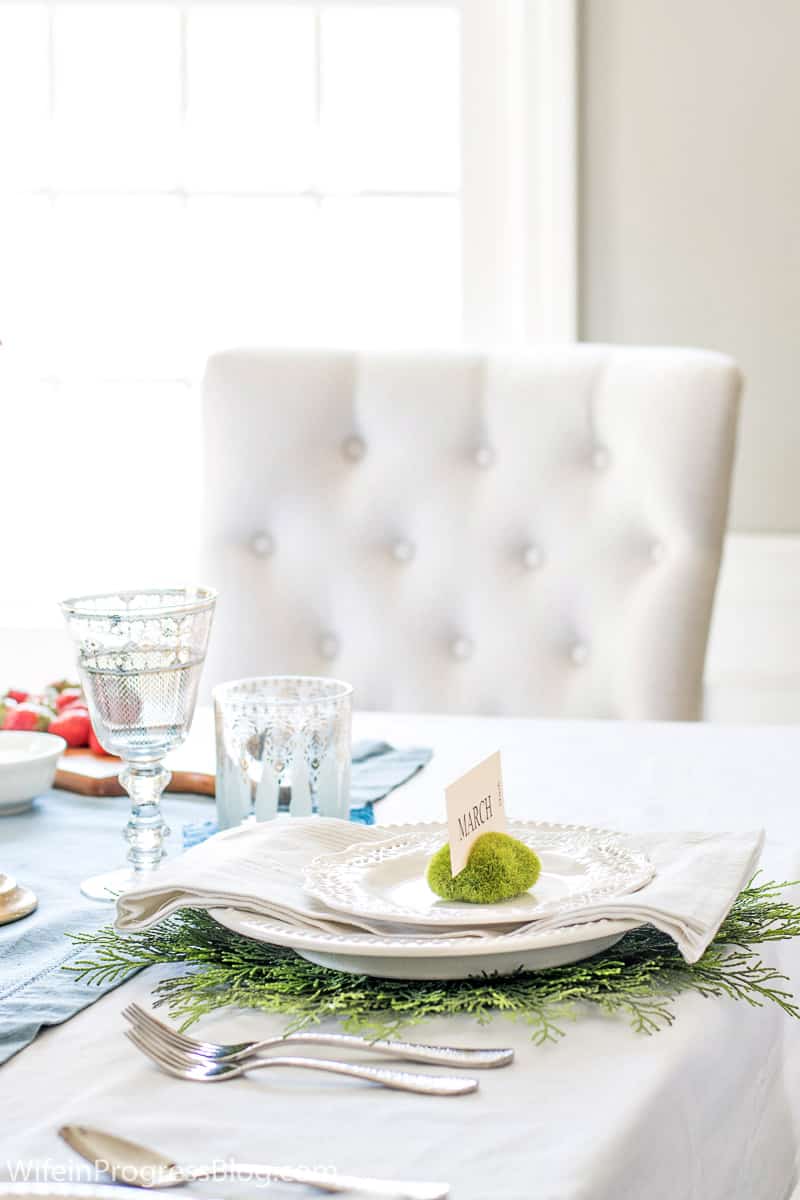 I think this simple DIY spring table setting is a great one to pull together at the last minute for unexpected guests, for Easter dinner for a Mother's Day brunch. The colors and textures are soft and feminine and will transition easily into a summer tablescape with the addition of some more punches of color!
I hope my spring tablescape gave you some great inspiration to create your own stunning table for the spring season. Easily create your own by adding white plates, simple greenery, a spring flower arrangement in the center of the table, and a pop of color and texture throughout.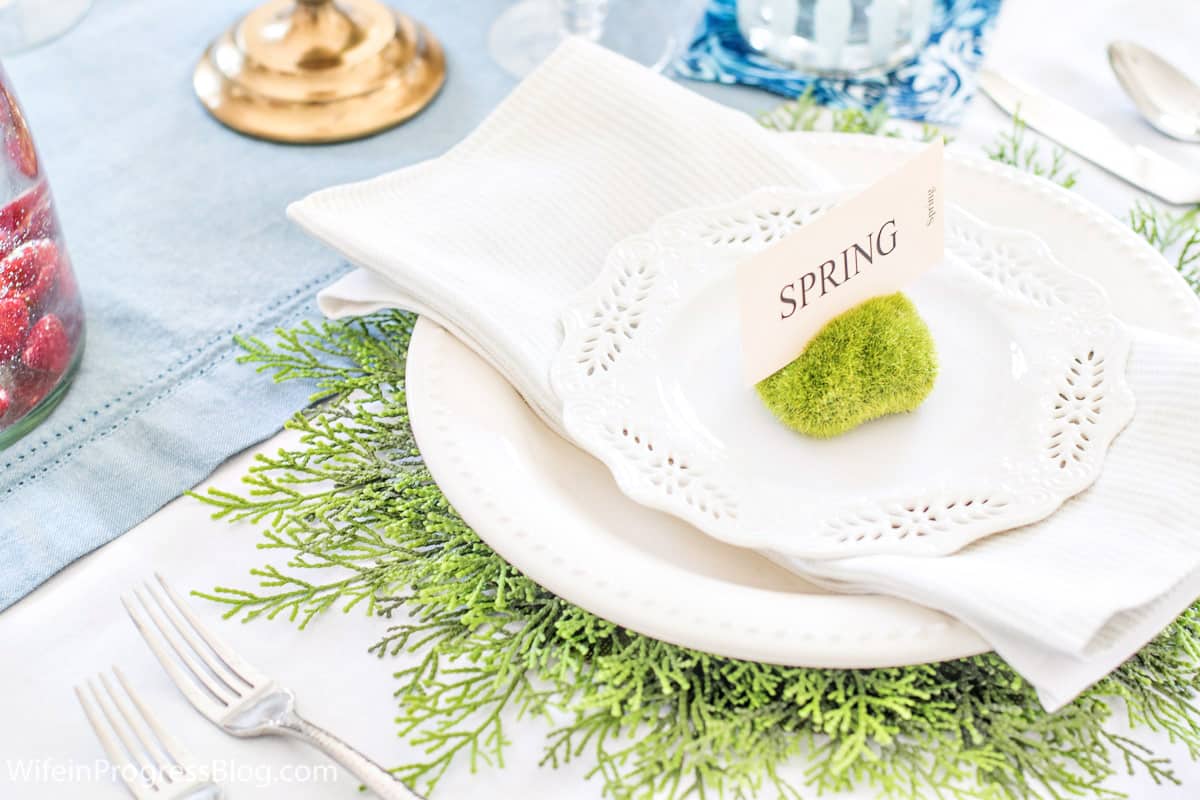 No matter what season it is, I've got simple and elegant table setting ideas that I know you'll love!