Over the past few years, using a Christmas tree collar has become a more popular option than the traditional Christmas tree skirt of years past. Not only does a tree collar serve the function of hiding an ugly Christmas tree stand or base, but it looks good too.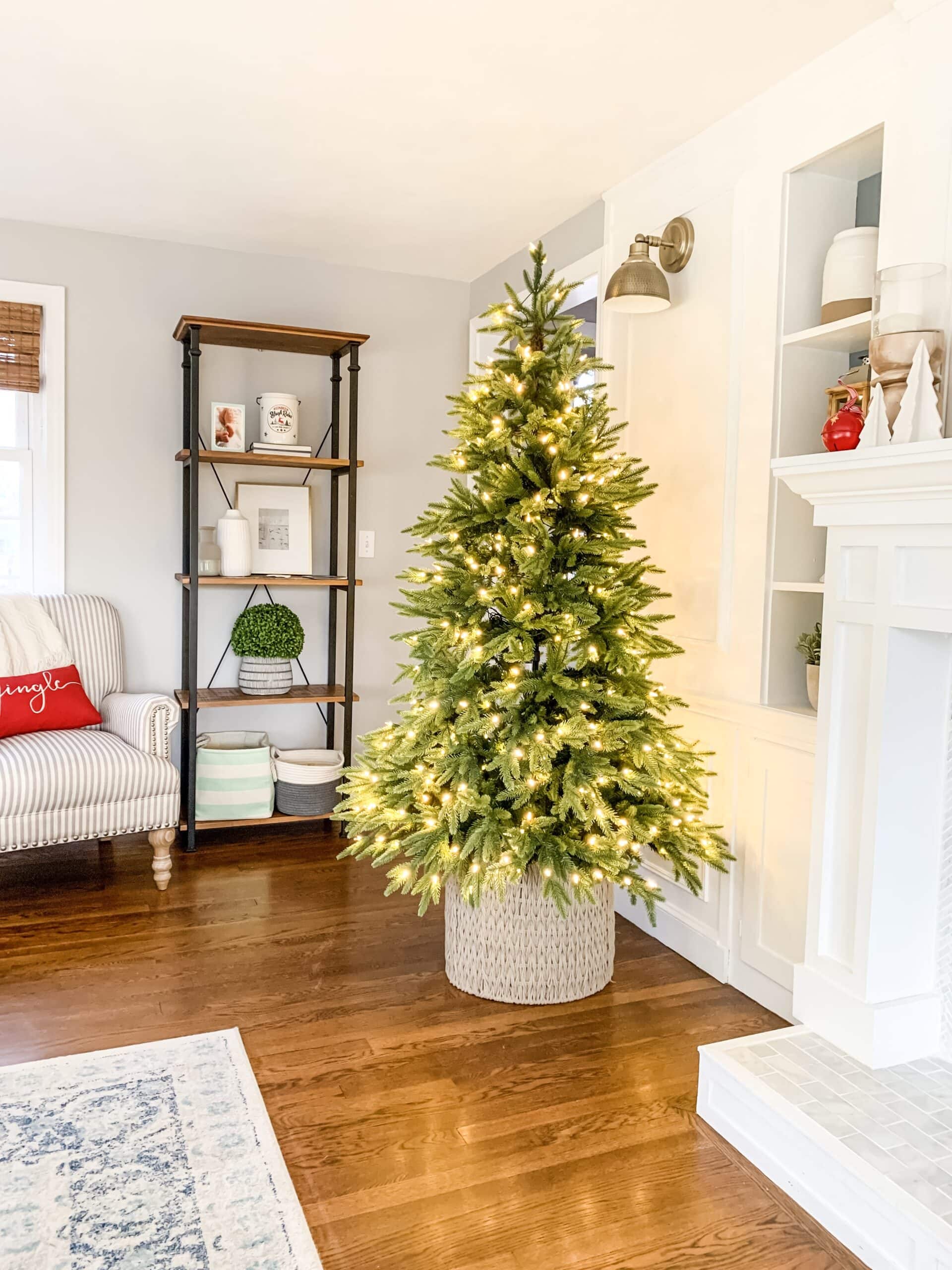 Instead of a mass of fabric loosely draped at the base of your Christmas tree, these tree collars are fitted around the stand and offer a neater, more streamlined look. This clean look has the added benefit of making it easier to keep your floor clean, especially if you regularly need to sweep or vacuum real pine needles or faux flocking!
Christmas Tree Collars To Buy Online
This holiday season there are many great options online when it comes to choosing the perfect tree collar.
From woven collars, to wooden colors in both round and square varieties, and metal collars in glam gold or farmhouse galvanized metal, there's something for every taste.
Like in years past, many of these will sell out well before Christmas, so if you see one you like, press Add to Cart and nab it while you can so you're not left disappointed.
Without further ado, here are a selection of the best Christmas tree collars:
Woven Tree Collars
Woven tree collars are my personal favorite style as they fit with any of the home decor styles, but particularly with my more coastal style of decorating.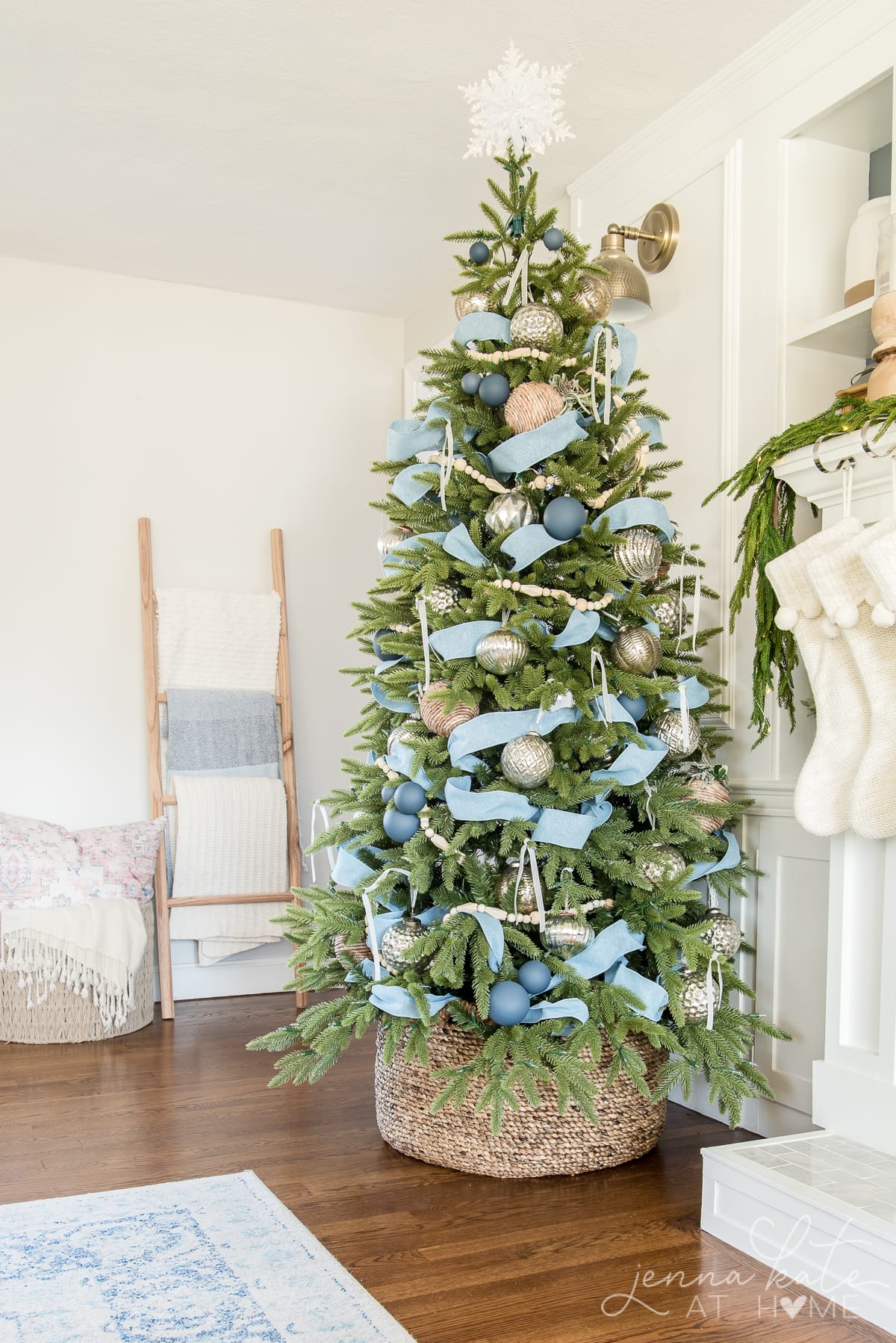 The look that a woven basket brings adds warmth to any living room. While I've literally put my Christmas tree into a large wicker basket before (see above!), it can be difficult to get the stand to fit and be stable. To get the same look, a great alternative is to use a basket-like tree collar. It's also a much safer option as the tree doesn't sit in it.
The texture of the woven materials helps bring an organic look to your holiday decor. Your Christmas decorations can take a nod from the warm tones, or be a completely different style and still look cohesive.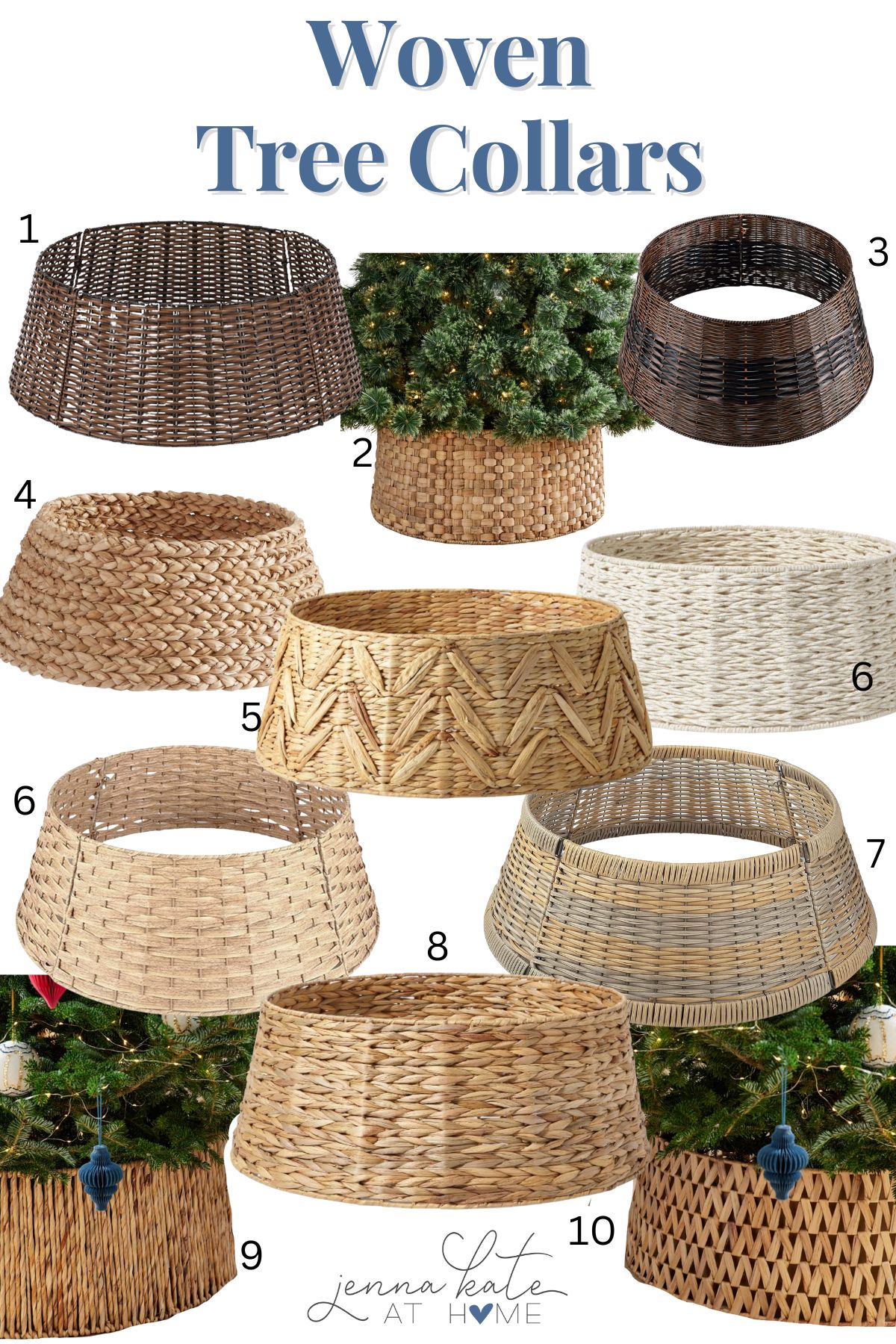 Product sources: 1 // 2 // 3 // 4 // 5 // 6 // 7 // 8 // 9 // 10
Whether you choose rattan, wicker, or seagrass, a woven Christmas tree collar is one that will serve you well even if your decorating style changes in the future.
Metal Tree Collars
Metal tree collars, and in particular galvanized tree collars, lend themselves to more of a farmhouse or industrial look. They come in solid colors, such as red, white or gold or of course a plain metal look.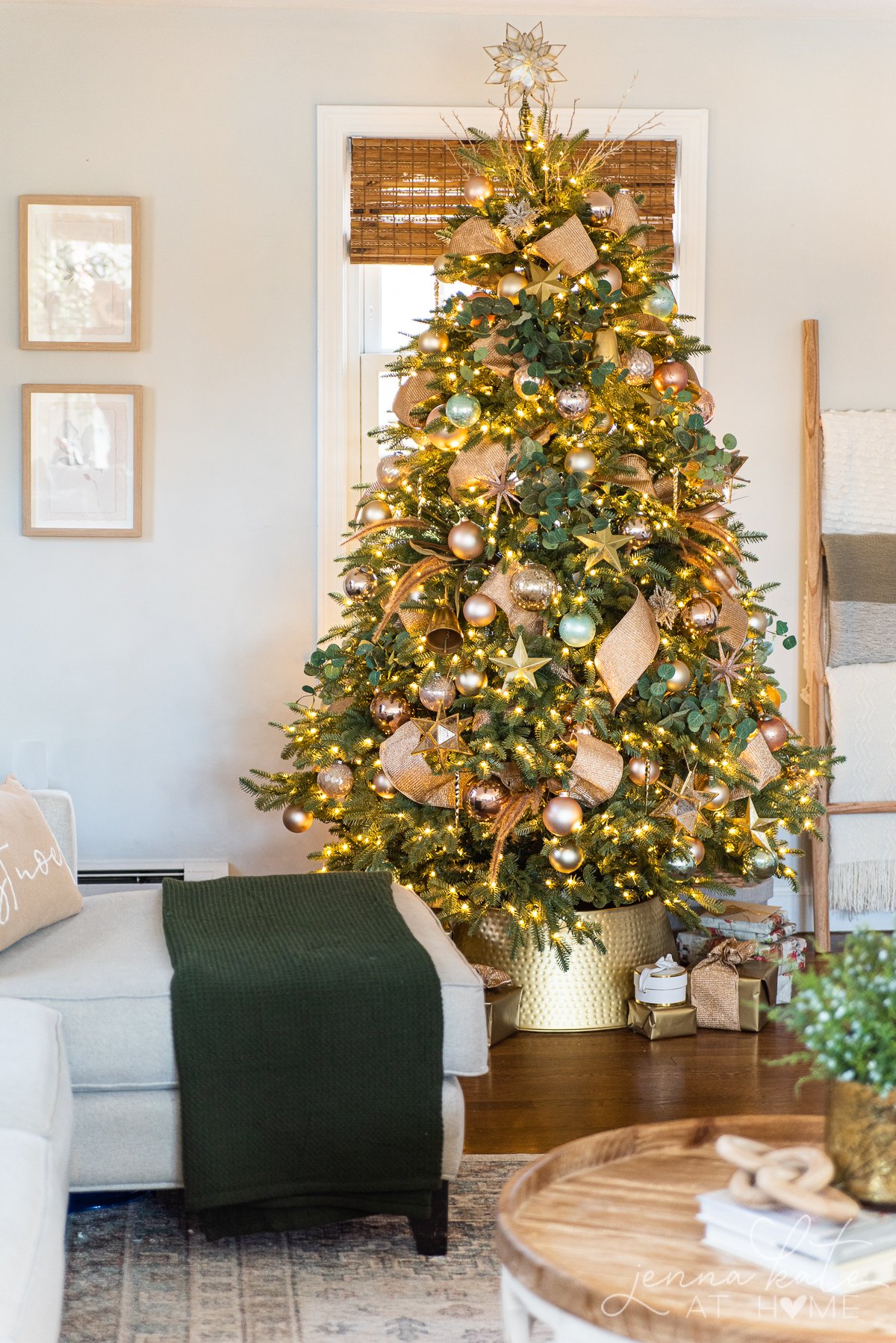 The red versions are perfect to work alongside more traditional Christmas decor colors like red and green, while the gold and copper collars are perfect for a glam touch. The white versions with the cutouts look amazing with a flocked tree and feel quite rustic.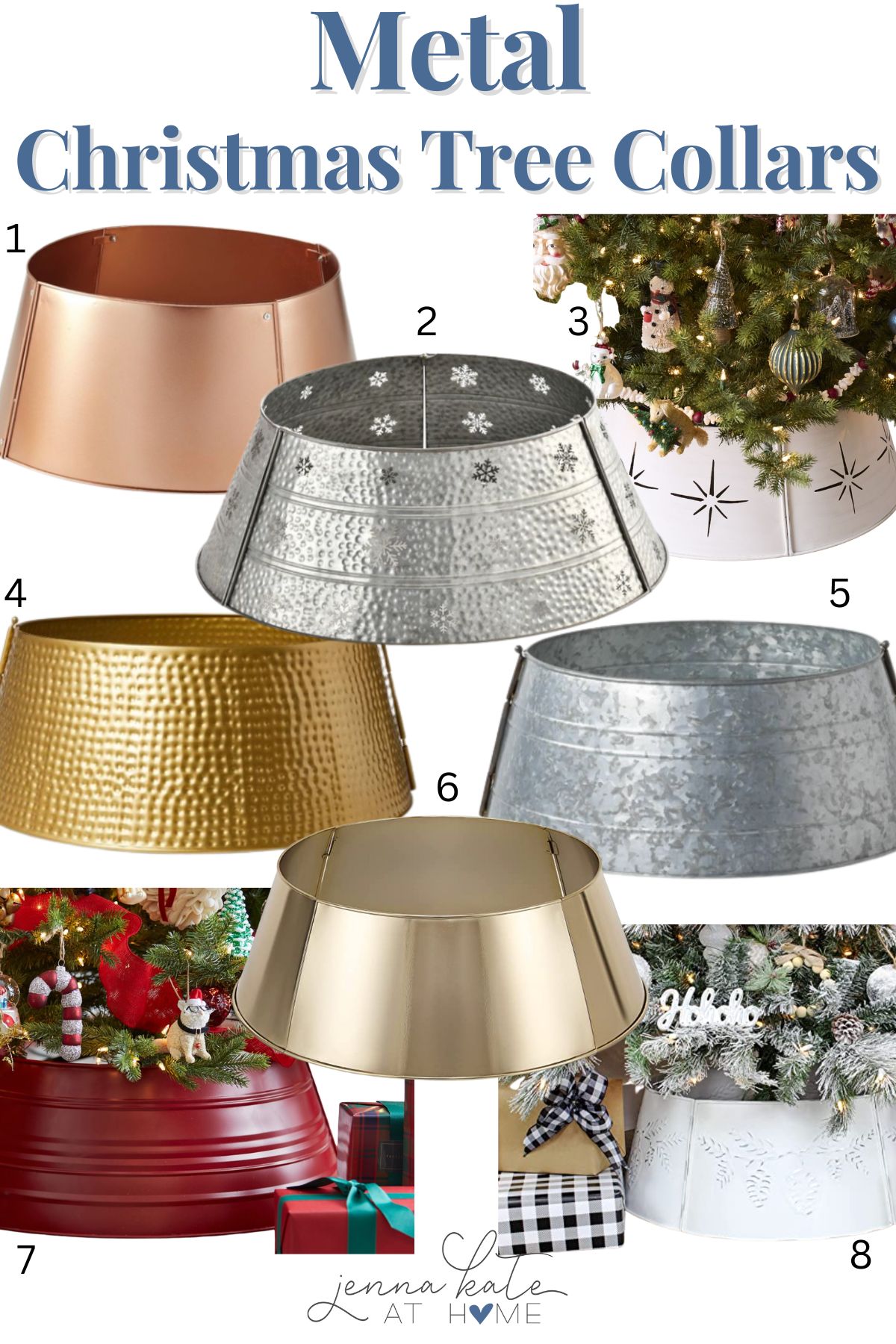 Product sources: 1 // 2 // 3 // 4 // 5 // 6 // 7 // 8
Wooden Tree Collars
A wooden Christmas tree collar is another way to bring a touch of rustic to your Christmas decor.
They work with coastal, farmhouse and more traditional styles. From round to square collars, there's a shape that will work for your tree.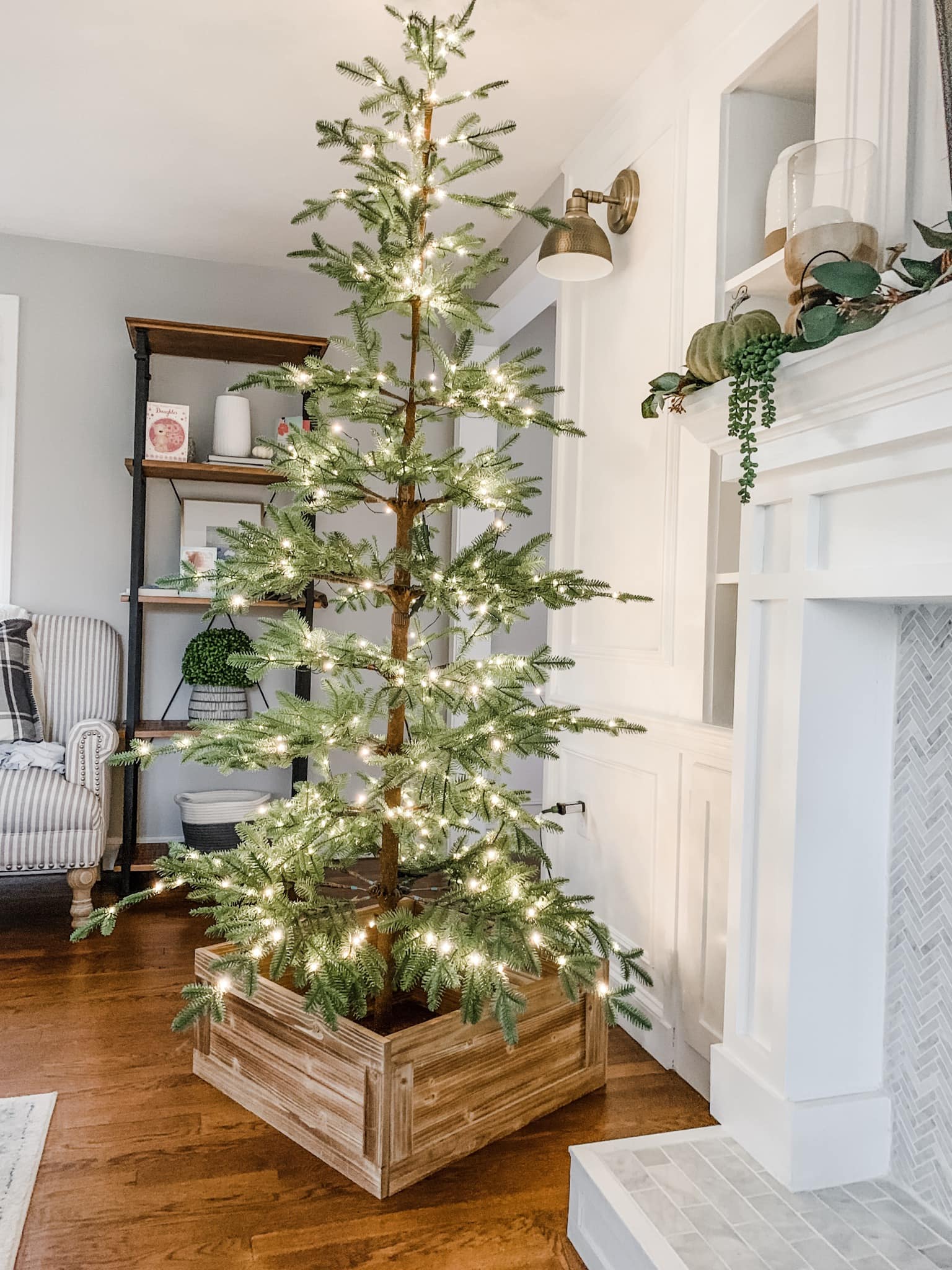 The wooden variety are generally hinged collars, which makes them easy to fit around the base of the tree. It also makes them easy to store, as they can lie flat when completely opened.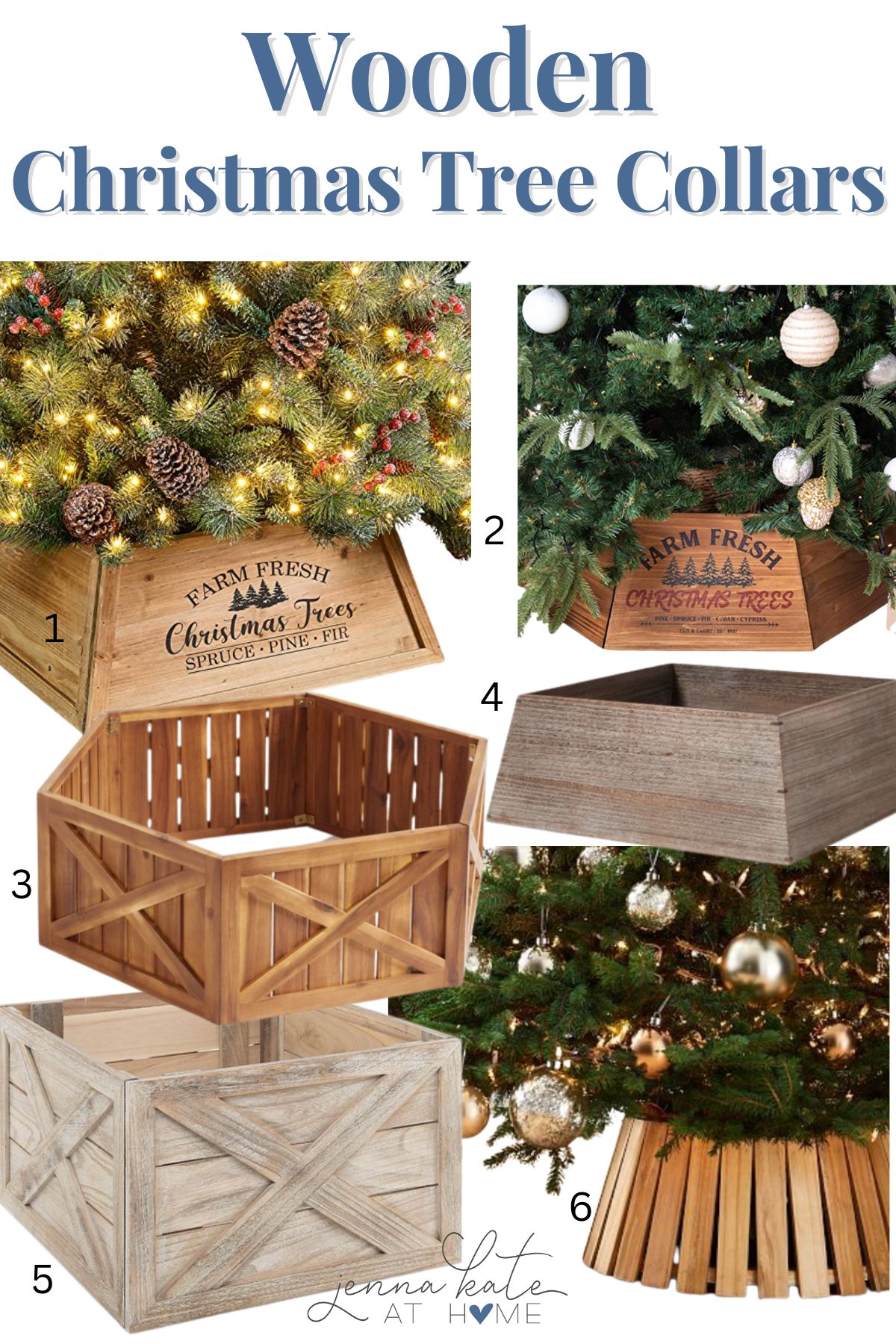 Product Sources: 1 // 2 // 3 // 4 // 5 // 6
How to Determine The Correct Collar Size
To make sure the tree collar fits your particular Christmas tree, check the diameter size of both your Christmas tree base and the collar.
Most tree collars are between 21″ and 27″ in diameter, so should comfortably fit around the base of a tree up to 7 feet. Different sizes are needed for larger trees, since they may have a larger stand, so check the dimensions before purchasing.
How Do They Fit Around a Tree?
Most versions are hinged collars, so you can open them at 2 or 3 points to easily put around your real or artificial tree. However, if your collar is one piece, ensure that you put it around the base of the Christmas tree prior to putting the rest of the tree up.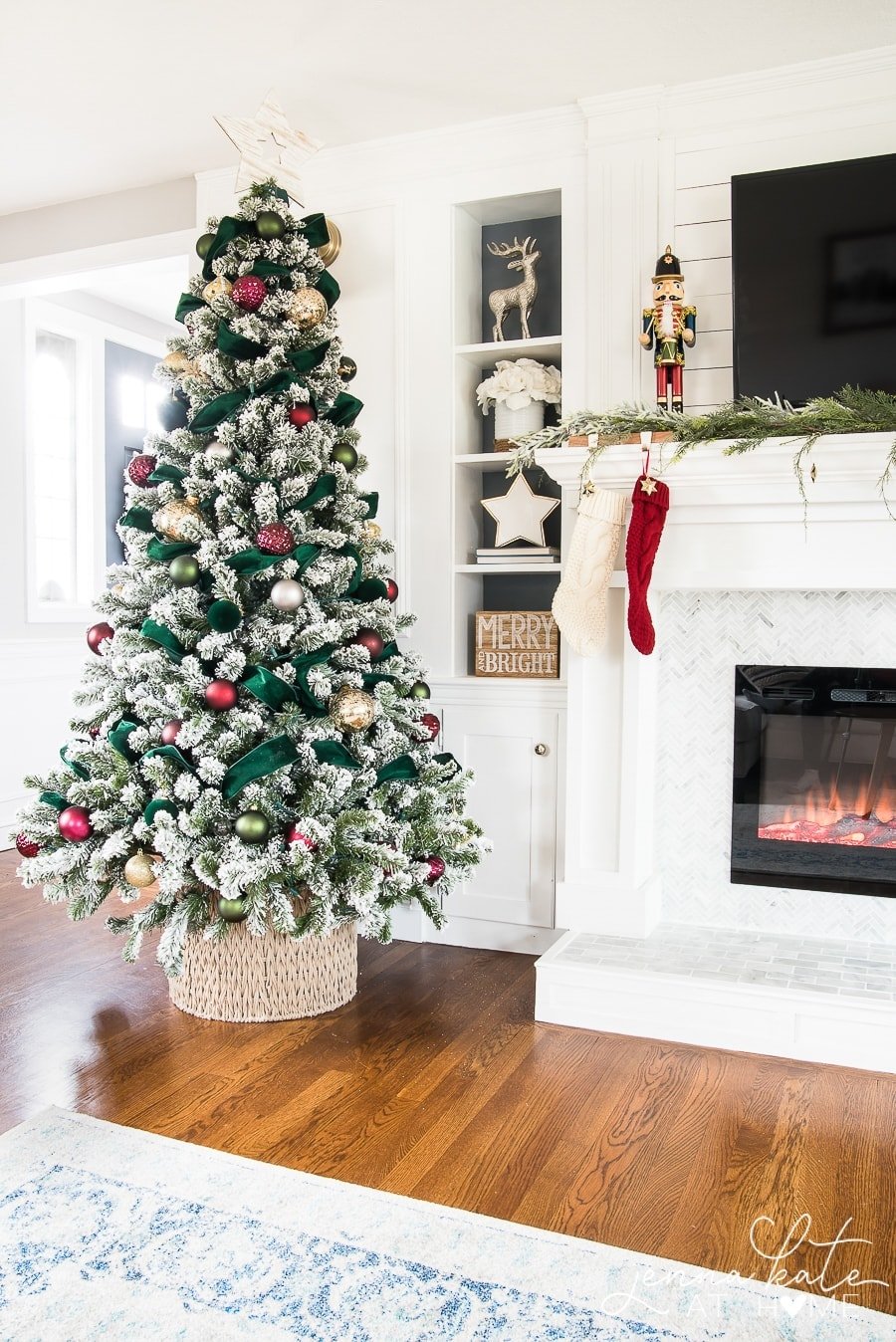 If you're short on storage space, the hinged collars usually fold up on themselves for easy storage, so be sure to keep that in mind, too.
Tree Collars Versus Tree Skirts
Ultimately, this is a personal preference. Tree collars are more popular in 2023, and traditional tree skirts less so.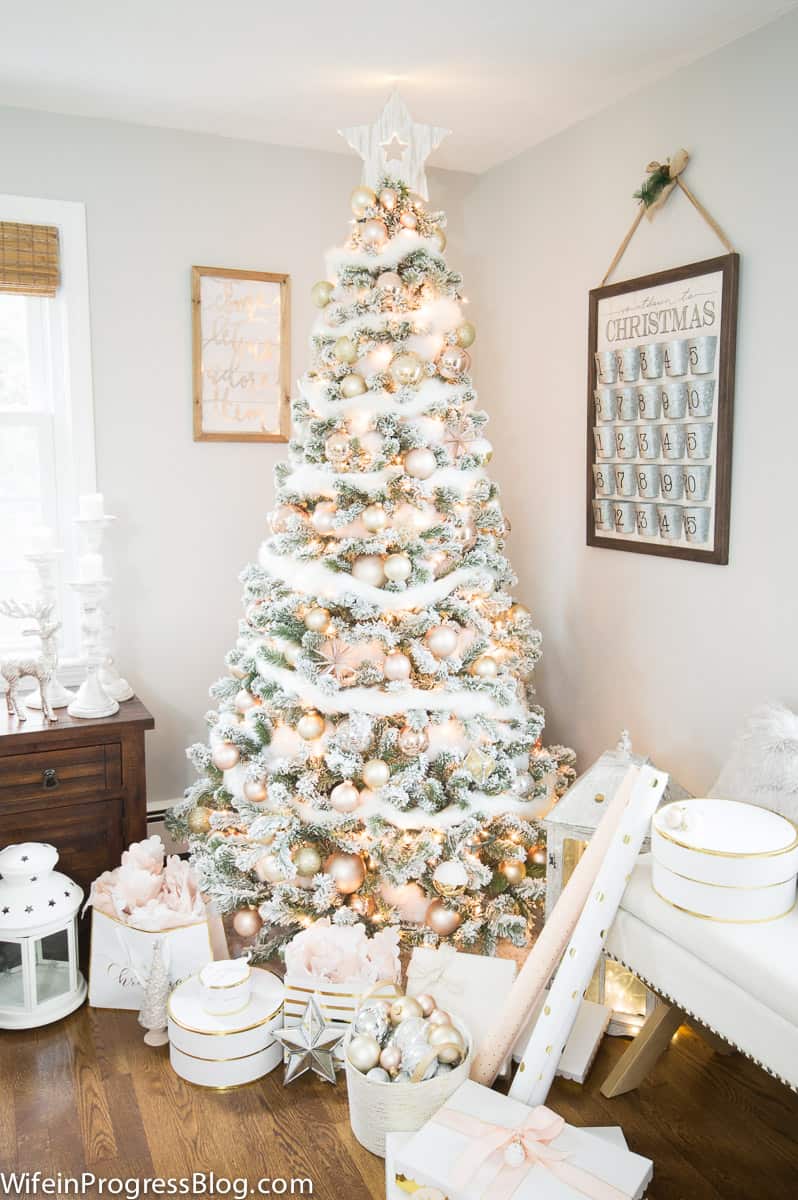 With that being said, there are many beautiful tree skirts that you can buy too. If you're more a fan of loading up the base of the tree with gifts (real or faux) when you may be tempted to skip the collar and just use a tree skirt.
Can I use a Real Tree With a Tree Collar?
Absolutely! In fact, it's a great idea to stop pets (or small children!) messing with the water or getting under and up the tree.
Final Thoughts
Just like how the decorations you choose for your tree are an expression of you and your family's decorating style, so should be the style of tree collar you choose! Whether you like the idea of a basket look, a classic Christmas with a bright red metal collsr, or even if prefer a glam or rustic touch, there's a Christmas tree collar that will work for your particular decorating tastes and Christmas tree!