With the days getting longer and warmer, inevitably we all want to spend as much time outside as possible. Having a deck, whether small or large, is an amazing space to relax, entertain and enjoy all that your backyard has to offer.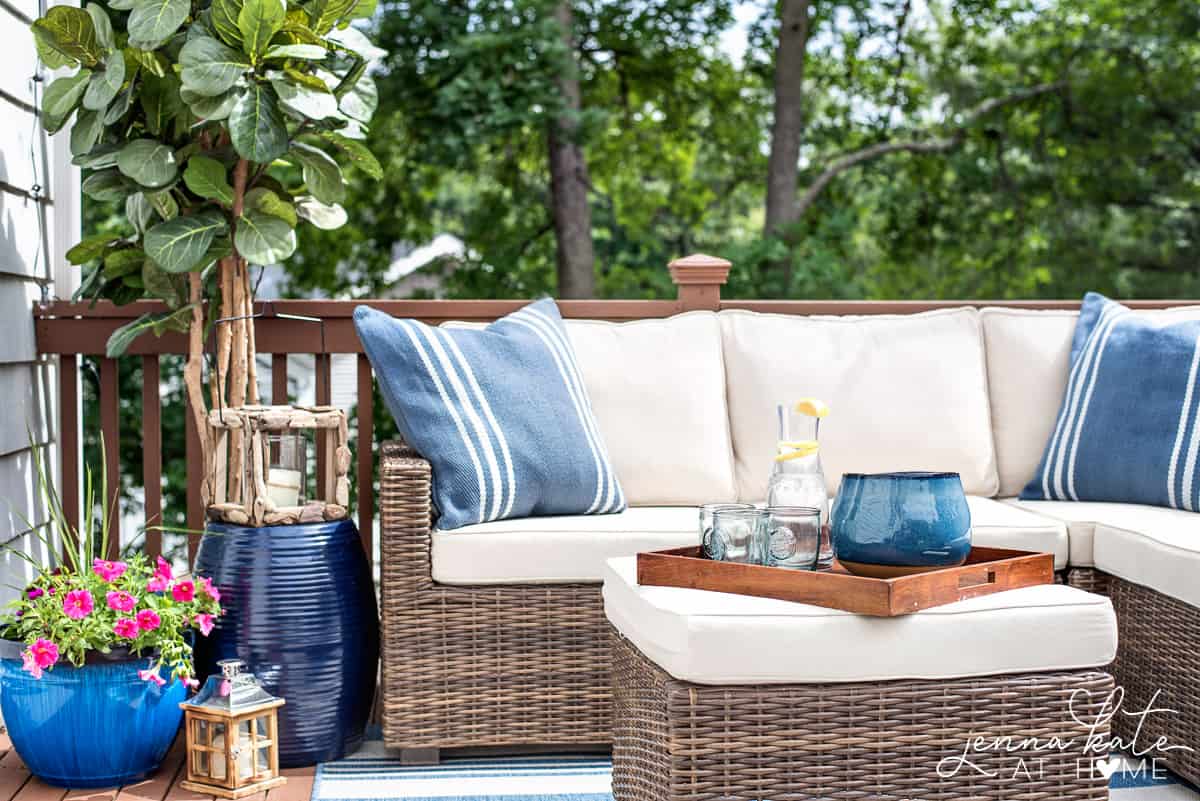 Whether you've just moved into a fixer upper or your deck has just seen better days, there are several things you can do to refresh and revive it so that you can make the most of what you have.
With a few simple, expensive summer decorating ideas, you can transform your small backyard deck into a charming retreat that you can enjoy all summer long.
Restore a Deteriorated Deck
Throughout the dark winter months, all we crave is sunshine and warmth, especially here in New England. I long for our backyard deck to relax and unwind on a lazy summer's day.
But those harsh winters take their toll on wooden decks. After all the snow had melted, a close look at our small deck revealed its deterioration. The paint was chipped, worn, and some of the wood was beginning to splinter. Not exactly the ideal foundation for our outdoor oasis.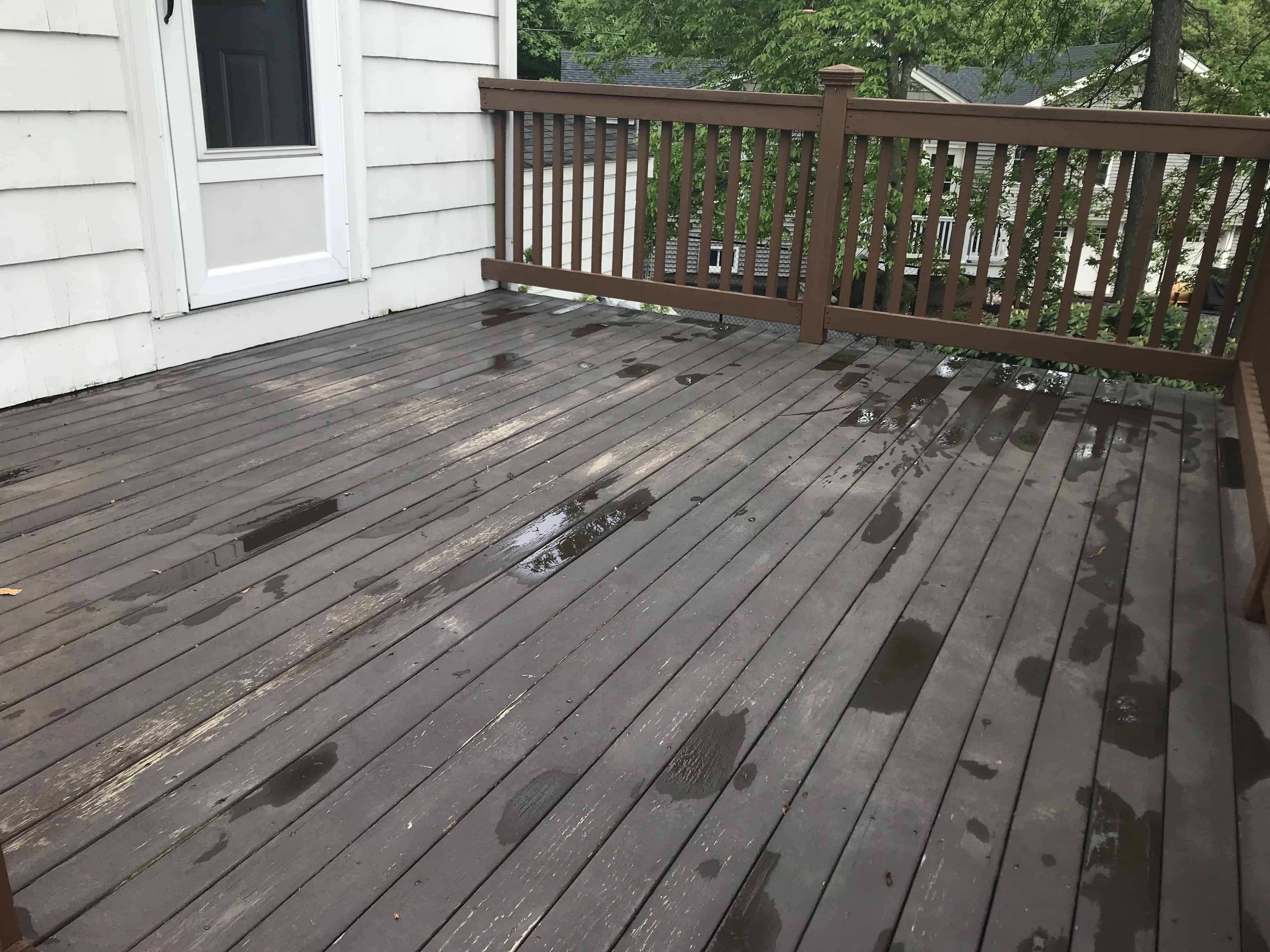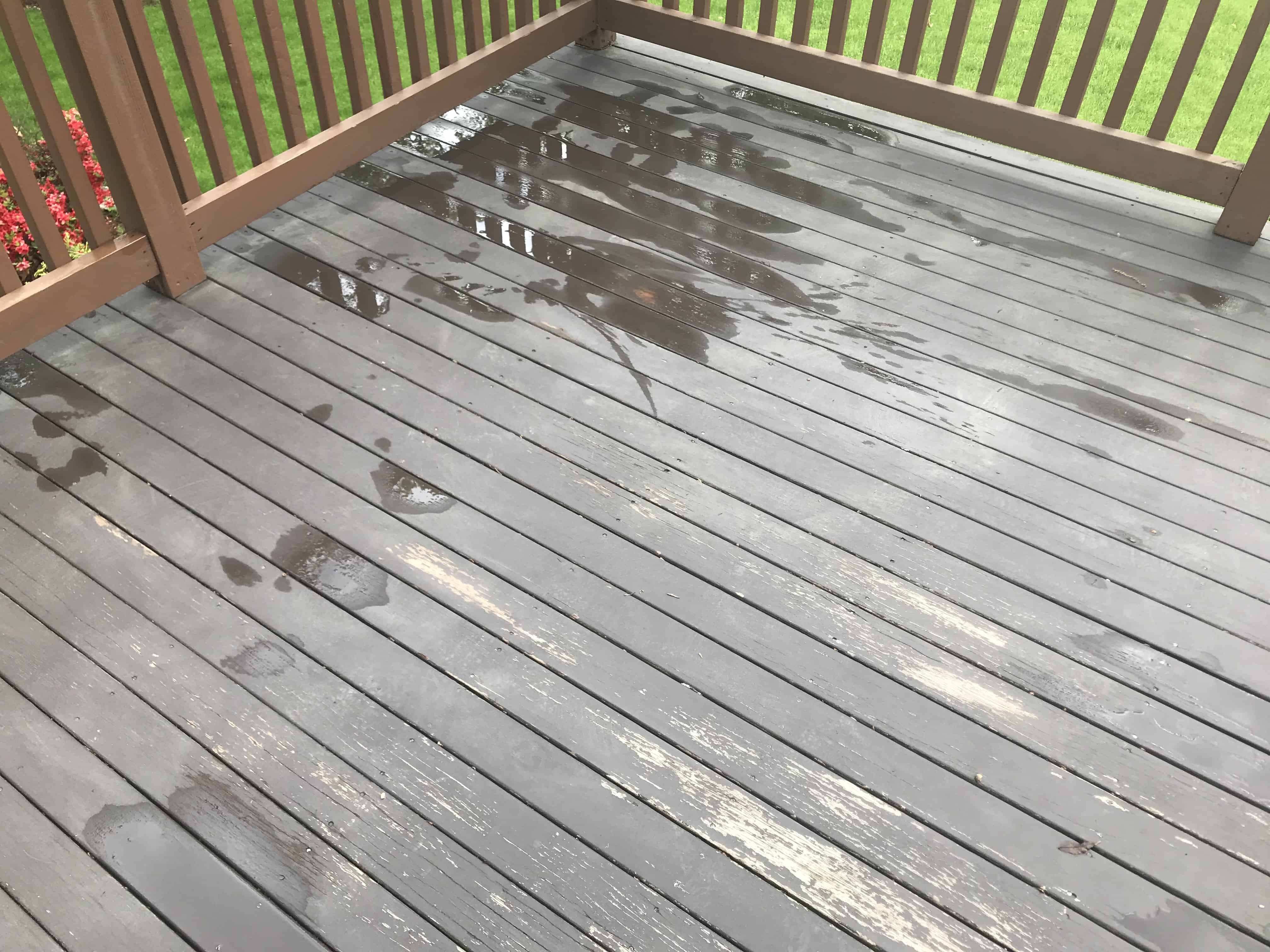 There are several products on the market designed to revive weather-beaten decks such as this one. After doing some research, I chose Behr's Deck Over product. This resurfacing treatment sealed the wood as well as any paint chips and splinters, making it look (almost) brand new again.
It wasn't a difficult process at all. You can read the full tutorial on how to restore an old deck in just one afternoon by clicking here.
If you have a raw wood deck, I have a whole tutorial on painting that, too.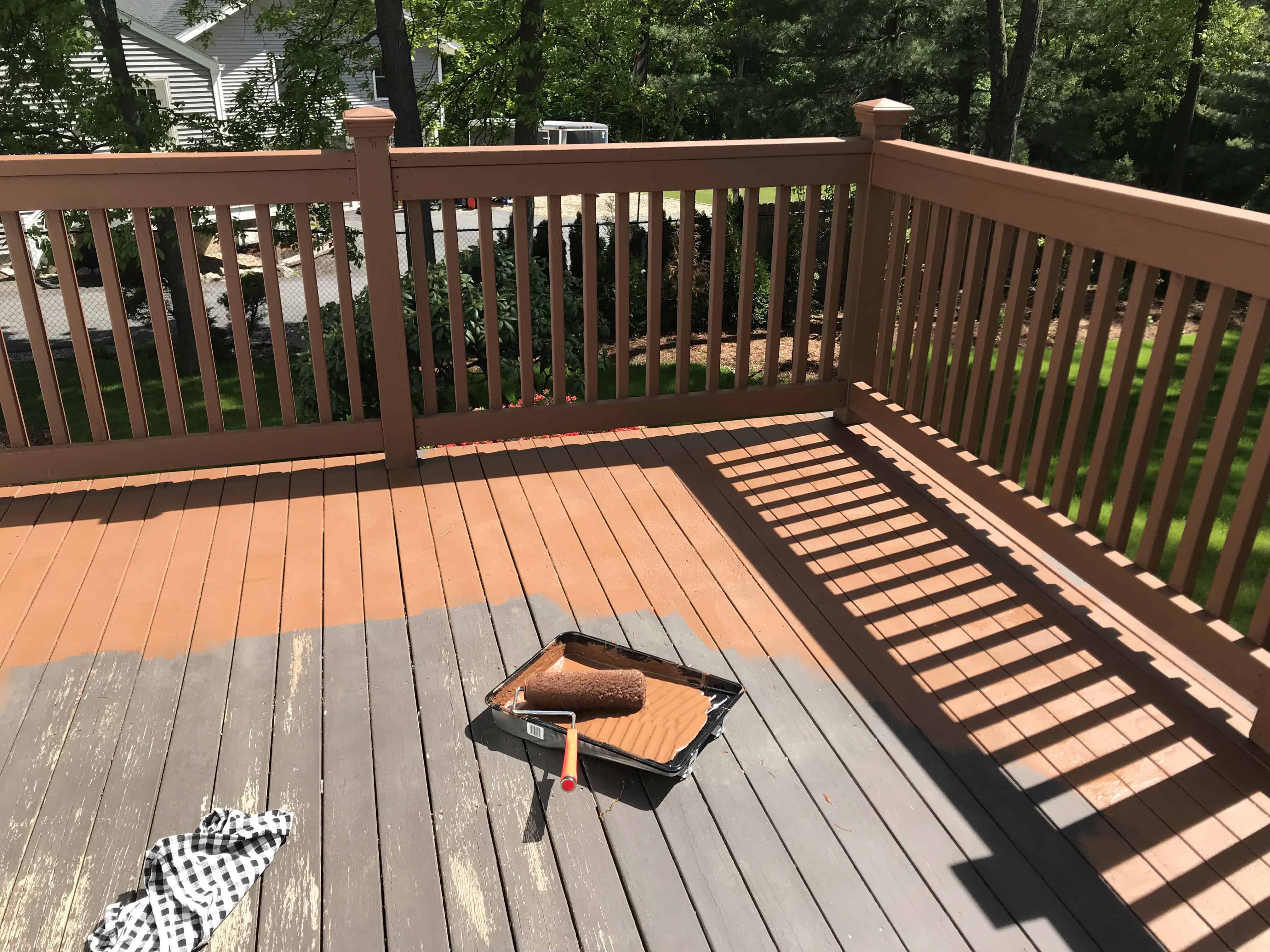 Once we put all our furniture back, along with a new rug and some accessories, our backyard oasis came to life!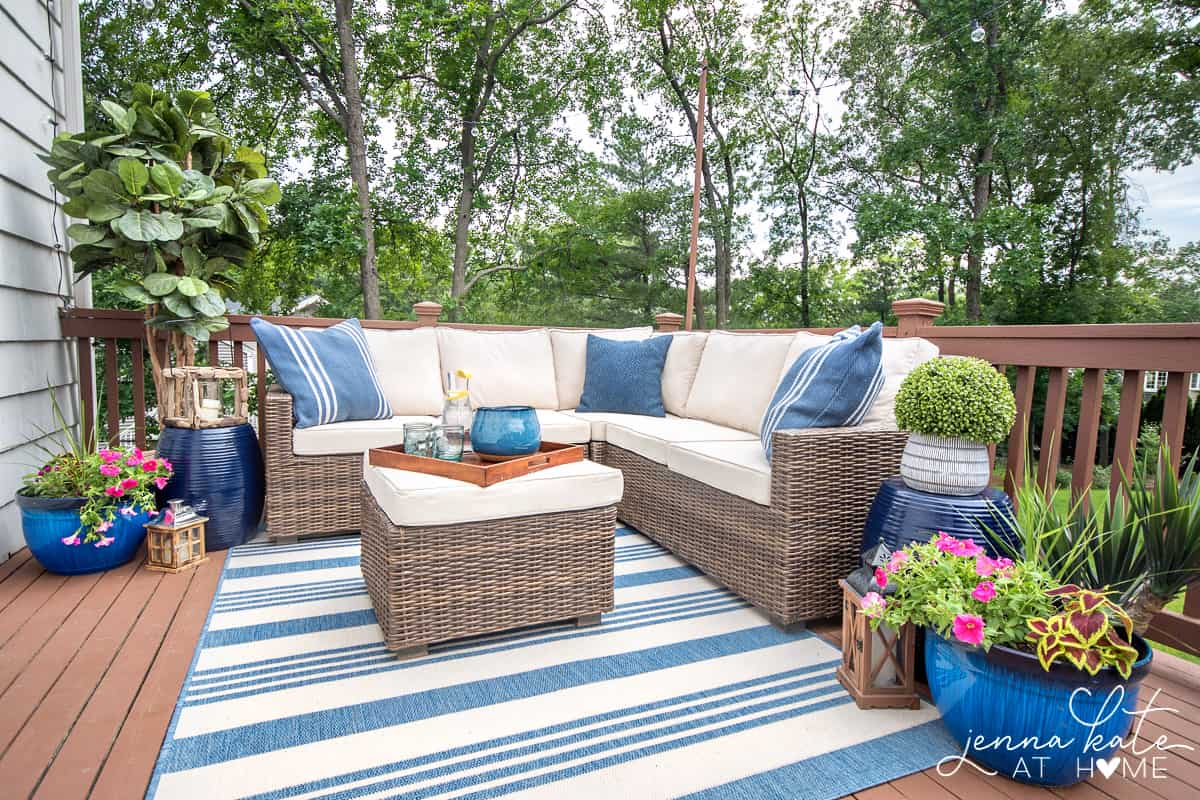 Read on for more small deck decorating ideas to create your own summer haven.
Decorate a Small Deck for Comfort
To make your space more inviting, it needs to be comfortable for you and for your guests.
Don't be afraid to add large elements when decorating your small deck. This tiny space can be both beautiful and functional with carefully-chosen pieces.
We were able to fit a 4 person sectional (no longer available to purchase) and a few accent pieces as well.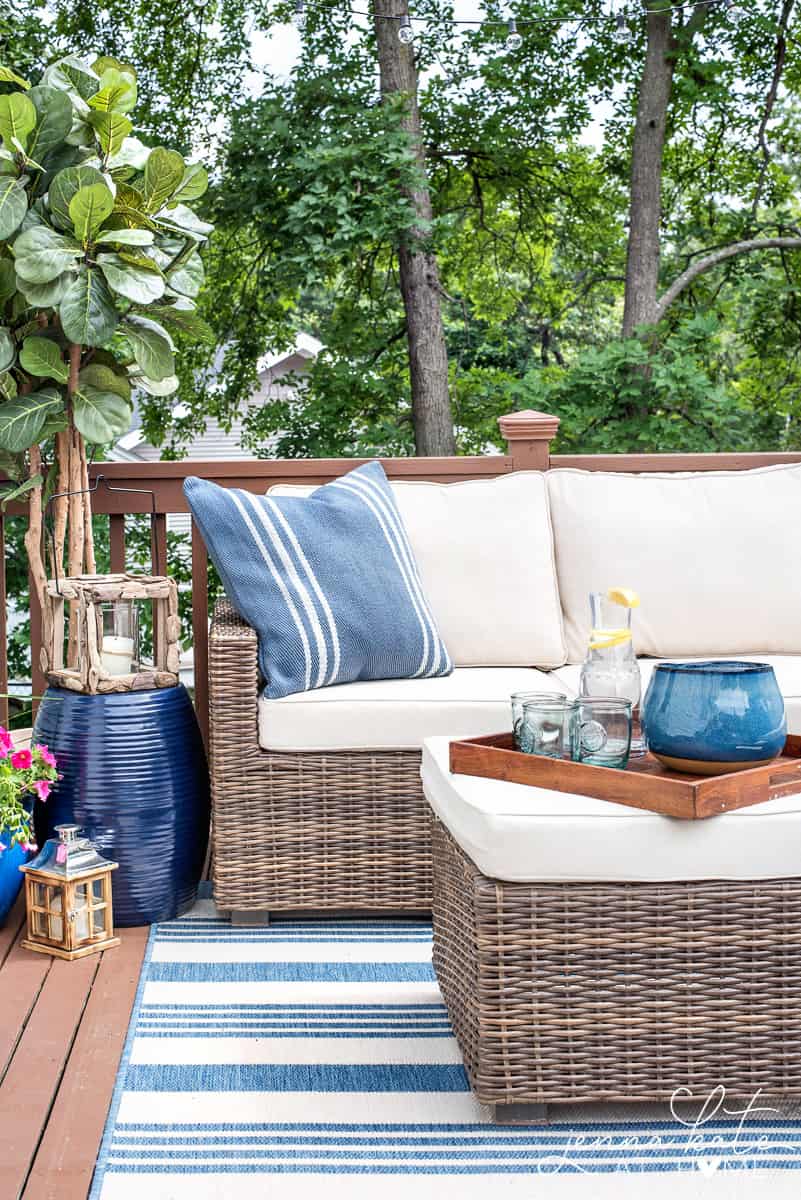 The sturdy ottoman in the center serves a dual purpose – foot rest and coffee table.
Depending on what we need, the tray stays or goes. I chose a wooden tray for a more rustic appeal and it complements the sectional and accent pillows nicely.
The navy blue garden stools were purchased at Target last year and are no longer sold, but I've linked similar ones above. They are another multi-functional piece, serving as both a side table or extra seating.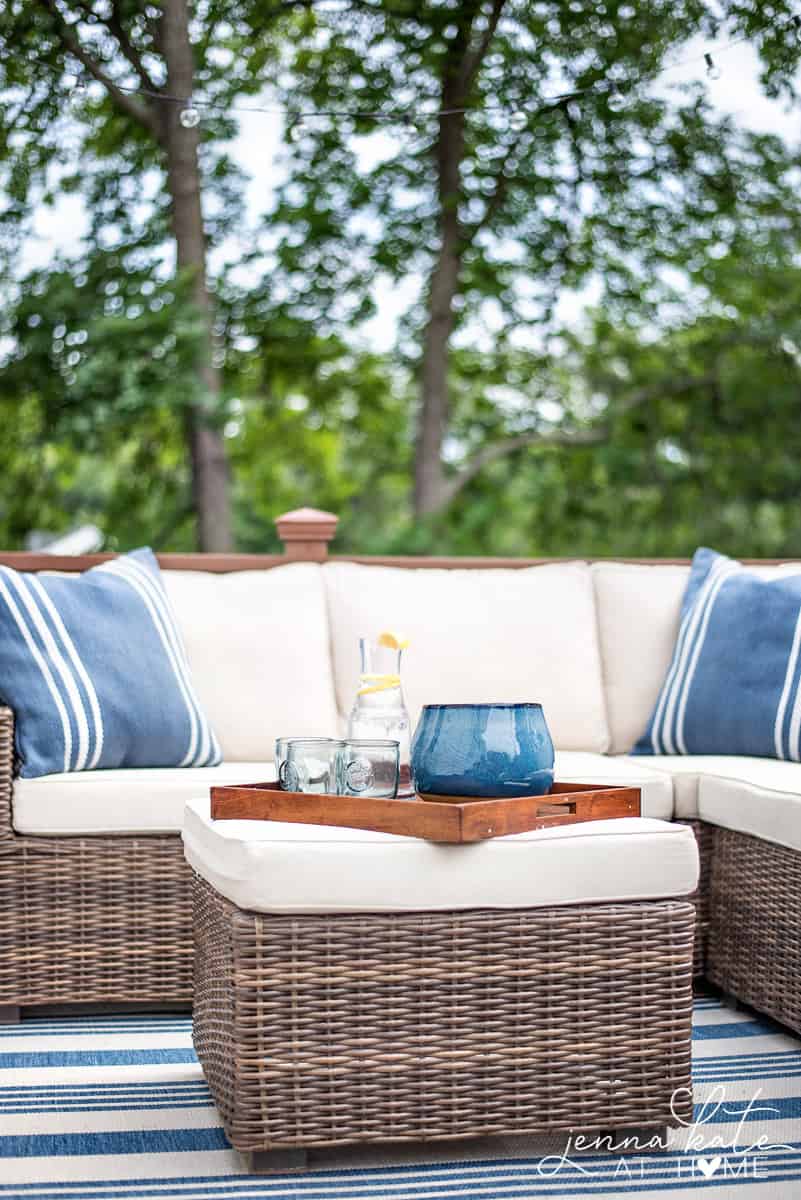 Light it Up
No outdoor living space is complete without appropriate lighting, especially when you decorate a small deck. We added overhead deck string lights, the soft glow creating a festive ambiance in our backyard haven. Now we can use this space well into the night.
A three-wick citronella candle is essential to keep the bugs at bay in the evenings, while the wooden lanterns add charm and interest to the corners. They can act as another light source or just as a simple decorative element .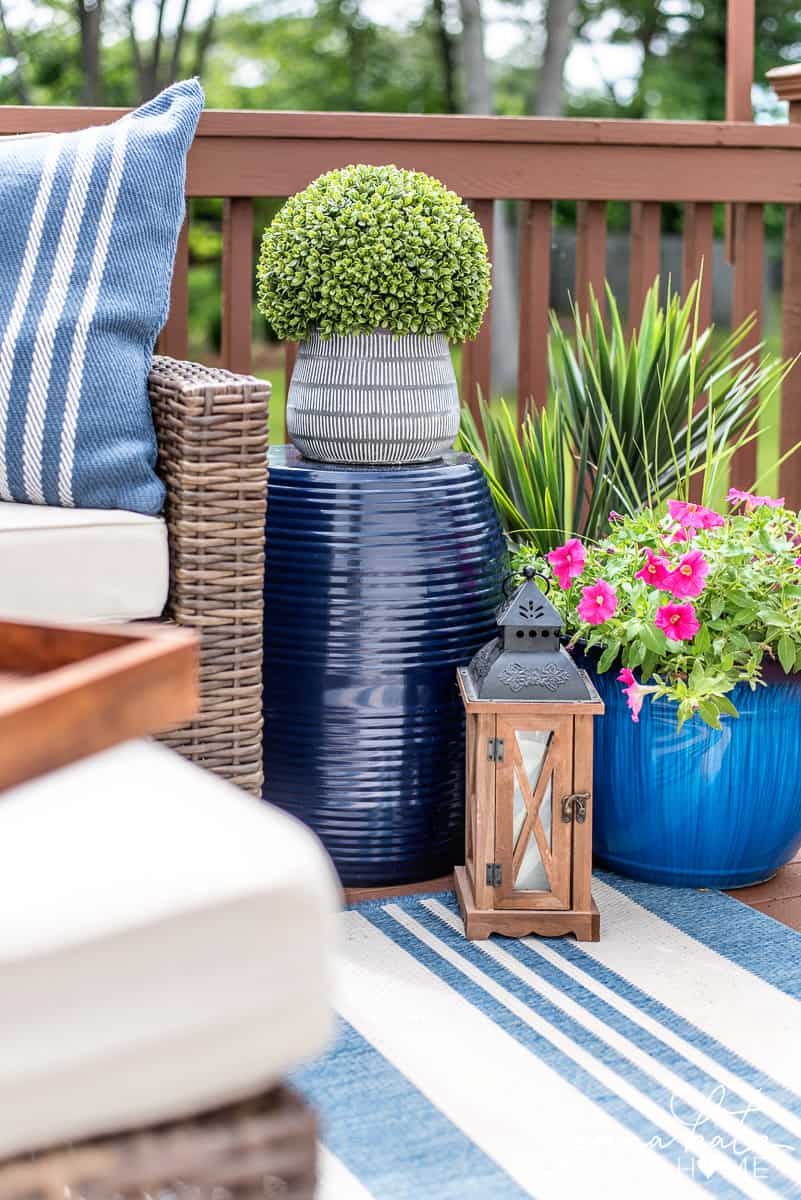 Inject Personality into a Small Deck with Color
Perhaps you've noticed an underlying trend in my decorating style – there's always a pop of blue! Of course, I could not resist purchasing a few large blue planters to add a splash of color to my deck decor.
I have the same containers on my front steps and they take my breath away every time I pass by. The lush pink and vibrant greens pop against the gorgeous blue of the planters, and really make the space feel like summer.
Other decorating ideas like layering the planters with objects like the lanterns and varying the height and texture, go a long way to making this space feel cherished.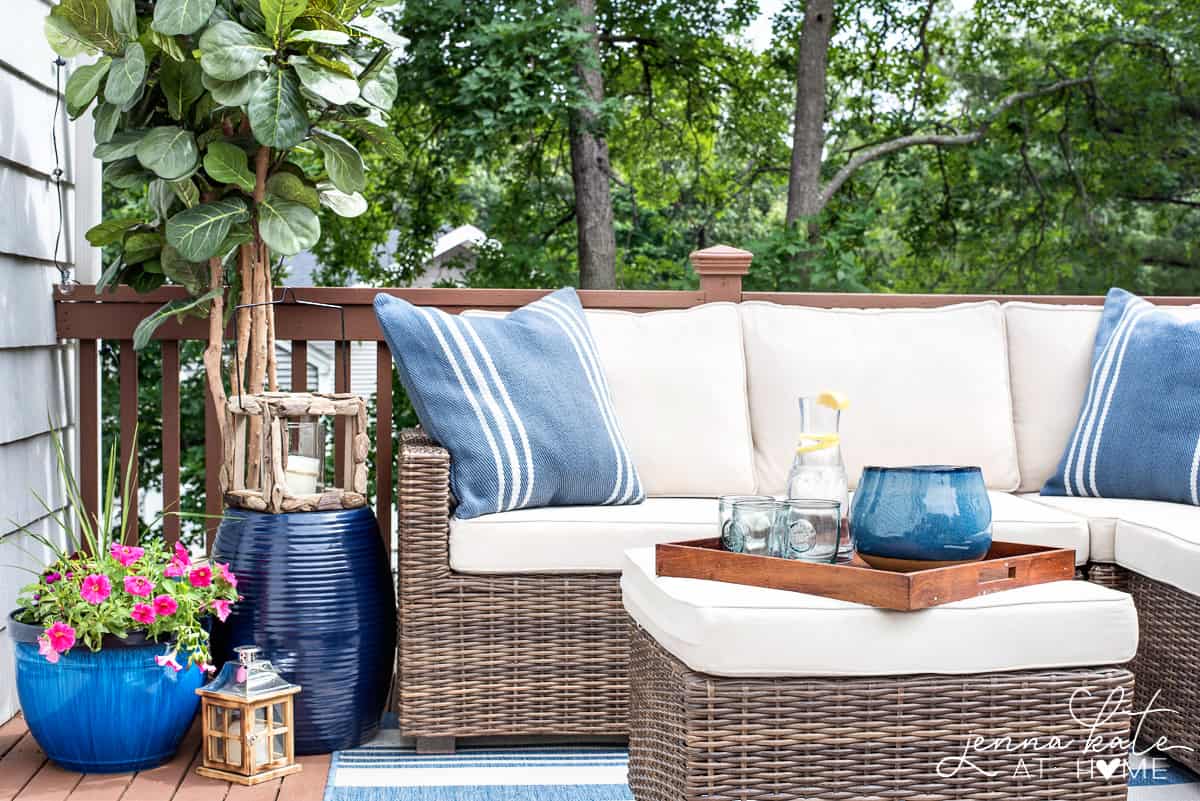 Decorate with Natural Elements
Even though you're outdoors, don't hesitate to add more greenery to decorate a small deck. It infuses color in an organic way, offsetting the brown tones of the deck wood and furniture that could make a small space feel smaller.
We are lucky to be surrounded by beautiful, green mature trees and adding these natural elements to our deck seamlessly transitions to the rest of our backyard.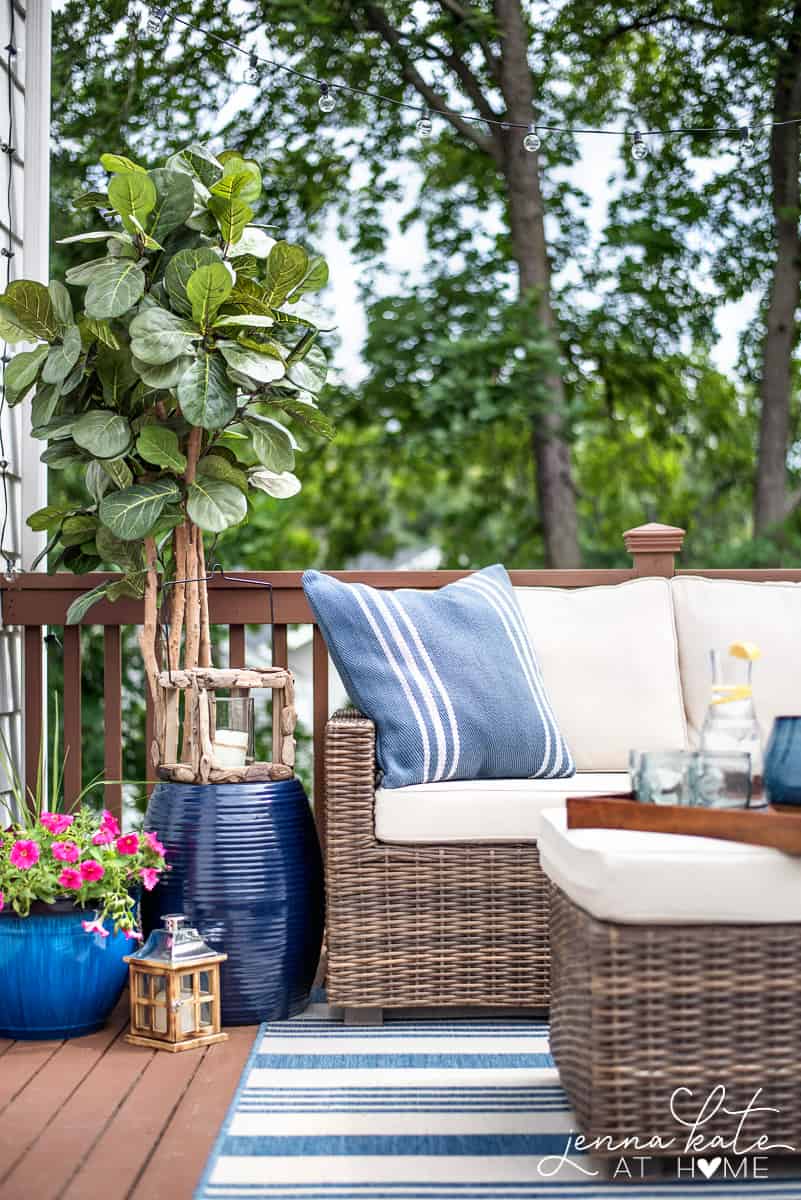 I dragged my faux fiddle leaf fig out here just for these photos (it's not UV rated and so lightweight that it would topple over constantly).
You could achieve the same look by purchasing a young tree (perhaps a palm) and placing it in a large planter. 
We also use these UV rated faux evergreens outside all year round. They are lush in the summer and even more spectacular on our front steps for Christmas, covered in snow!
Define the Area
One of my favorite small deck decorating ideas is to showcase a beautiful outdoor rug. It instantly defines this unique sitting area by making it feel more intimate and provides a barrier from the hard floor.
Outdoor rugs are not difficult to maintain. Even though mine has wide, off-white stripes, I sweep it every few days and it stays in great shape! Plus, it dries quickly after rain (the water pools and then evaporates within a day or two).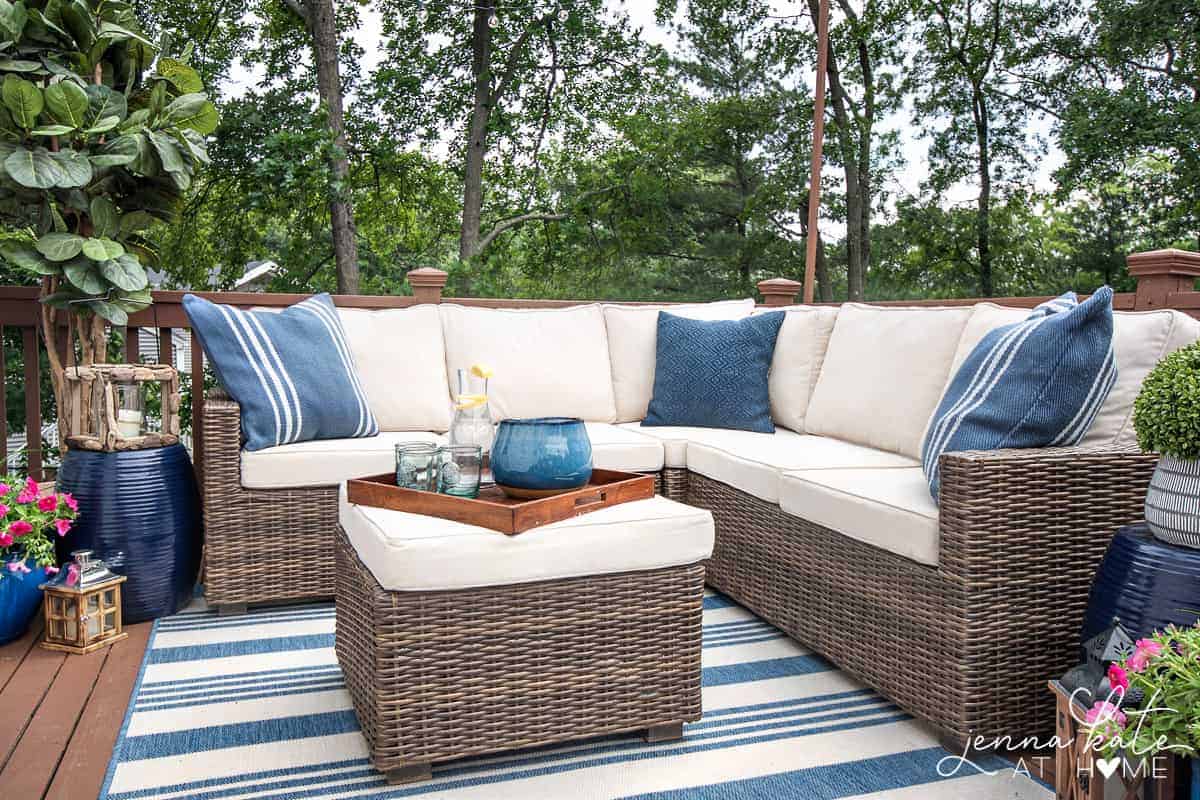 Also, let's take a minute to just stare at those stunning blue striped pillows from Annie Selke. As you can see, they work perfectly with my rug!
Sneak in Extra Storage Options
And because I know you might be wondering – we have these deck boxes behind our deck where we store our couch cushions every night.
If we left them outside, the cushions will collect early morning condensation or an occasional rain sprinkle. The inevitable mildew or dampness will ruin them over time.
Our deck boxes were the best solution for us – ain't nobody got time to be dragging a million cushions inside the house! These cushions stayed clean for 4 years, until eventually I had to clean them (full tutorial on that here).
We also have a third deck box that we use exclusively for the boys' outdoor toys, so that they are not constantly strewn all over our lawn.
These small deck decorating ideas don't just add charm your family retreat – they create space!
Now Sit Back and Relax!
When the sun begins to set, the magic really happens out here…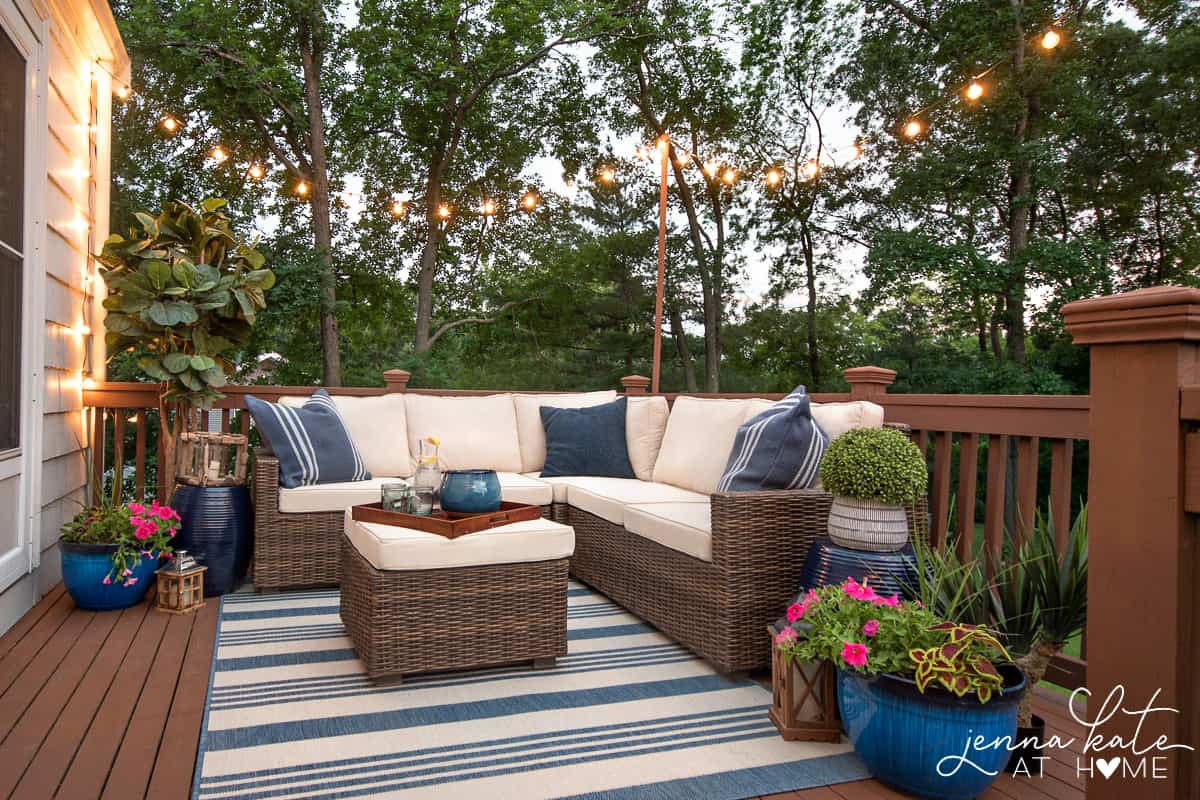 Since we incorporated these small deck decorating ideas, we've enjoyed countless evenings out here with family and friends, watching our kids play and sampling scrumptious new summer recipes.
We adore our little suburban oasis – now we have something lovely to look forward every summer day.
Looking For More Summer Decorating Ideas?