Adding a runner rug to your kitchen floor is the perfect way to add some color or texture, and it can completely transform how your space looks!
There's so much variety out there, but I've rounded up 13 of the best kitchen runners that will add the perfect finishing touch to any kitchen. One of these might just be a great option for you!
What Type of Runner Rug Should I Get?
Kitchens are high-traffic areas that will inevitably see lots of spills, crumbs, and messes. In fact, most days I manage to spill something simply pivoting from my island to my sink! So it's important for your sanity that you choose a rug that can handle what will inevitably land on it.
My main consideration when choosing rugs for a kitchen is whether it's machine washable, or at least a durable material that can be hosed off outside and withstand staining.
It's also important to ensure that your kitchen runner doesn't pose a safety hazard. You do not want a rug that slips and slides under your feet. Walking across the kitchen with a hot pan or boiling water could be dangerous if the rug were to move underfoot.
For that reason, I highly suggest having either a non-slip pad under your rug or securing it with corner grippers, unless the runner specifically has been designed as non-slip (which some of the rugs below are). A rug pad can truly be a game changer!
As you can tell, there are many factors that play into finding the best kitchen rugs based on your personal style, kitchen size, rug durability and day to day needs.
1. White Moroccan Washable Runner Rug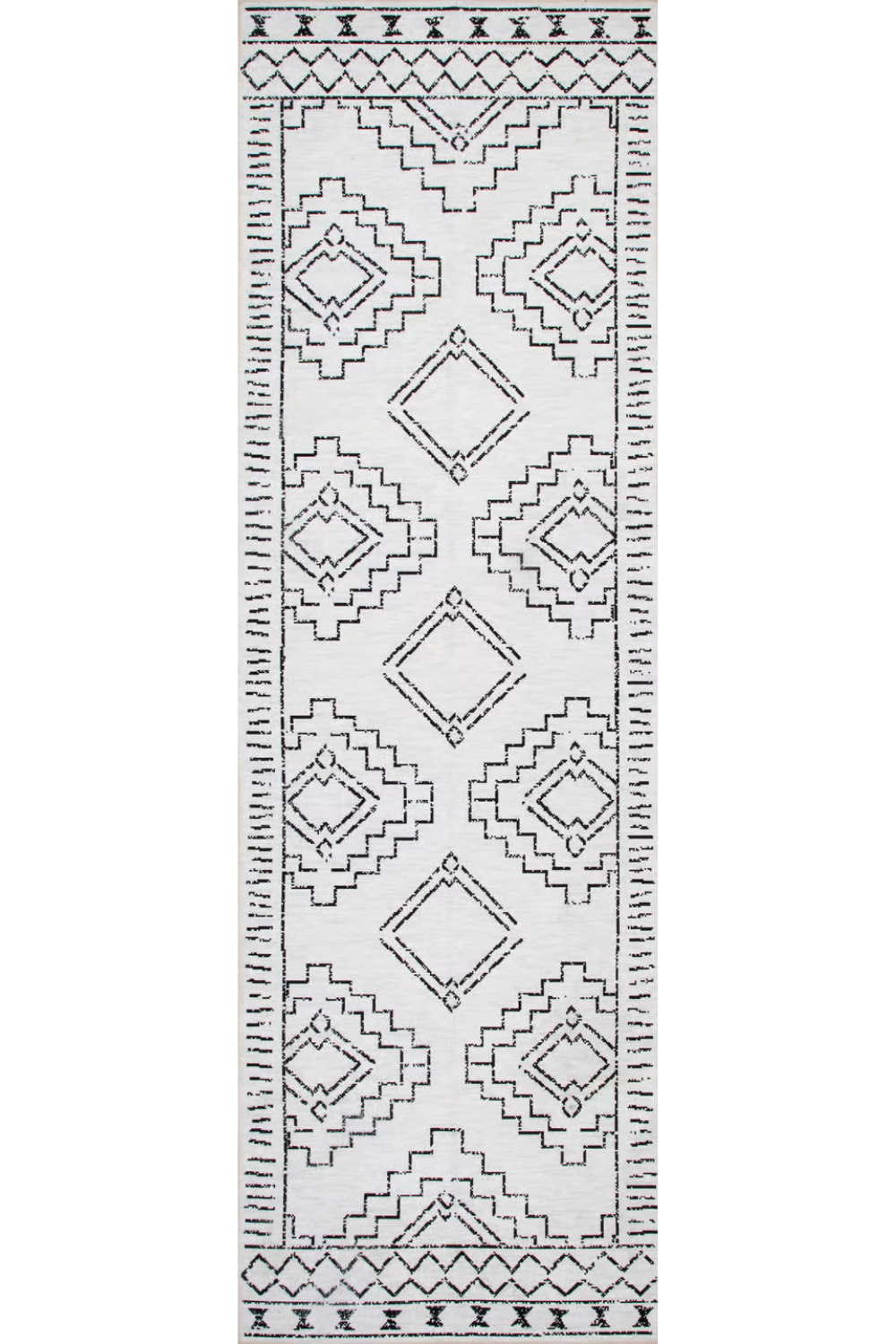 Usually I would stay away from such a light colored rug in the kitchen, but if a bold black and white geometric print is what you want, then this washable rug is a must-have.
If you walk around with bare feet in your kitchen often, the bright white should help you see particles or objects to prevent stepping on them. If you have a very minimal personal style, the simplicity of black and white might also be appealing to you.
2. Striped Cotton Runner Rug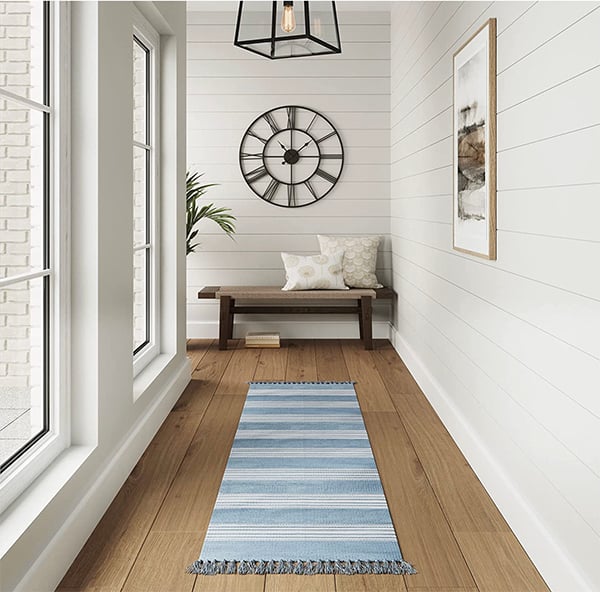 Blue and white stripes are always a good choice in my opinion! This pretty rug will add a coastal or grandmillennial feel to any kitchen and instantly brighten up the space.
I love 100% cotton rugs because you can easily pop it into the washing machine on a delicate cycle and know that it will wash well. This one fits the bill and is so easy to clean. I think it would look beautiful in a vacation home or during the summer time for a light and airy feel.
3. Kamran Coral Rug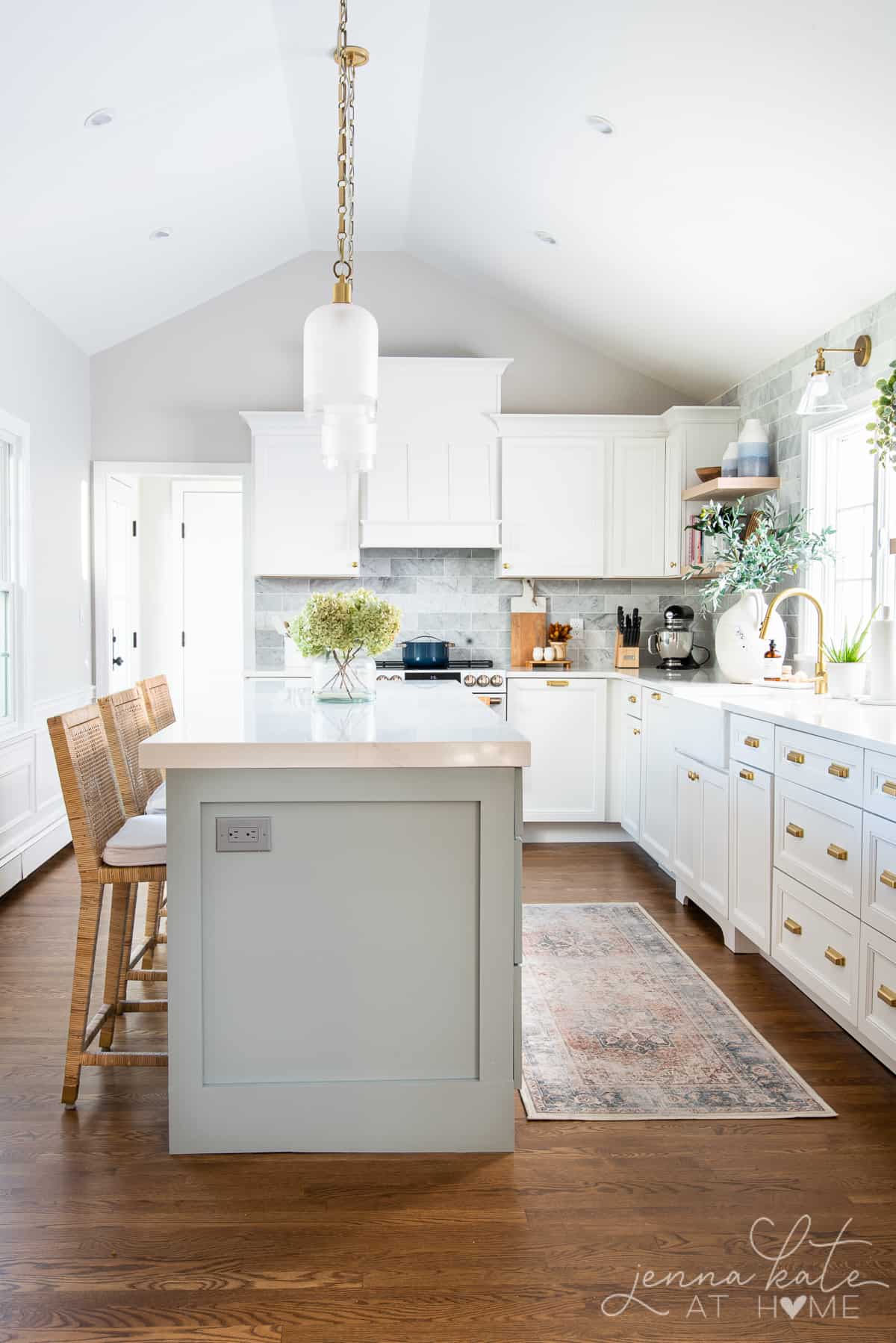 This is the runner I have in my kitchen since we remodeled it, and I absolutely love it. It's machine washable so I can throw it in the washing machine AND dryer every few months once spills and stains pop up. Ruggable rugs are known for being easy to maintain and clean.
Saying that, the color and pattern hide stains really well so I don't find myself having to wash it too often! It has been a great addition to my kitchen and the color scheme is beautiful.
4. Loloi II Hathaway Denim/Multi Runner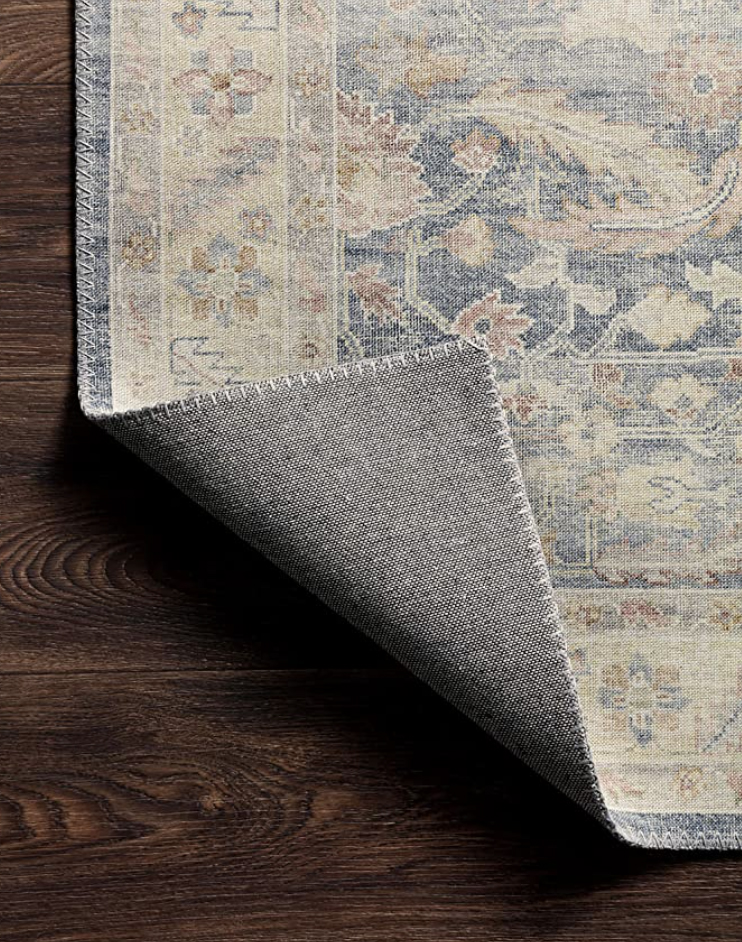 I also own this runner and previously had it in our high foot traffic hallway. It's a screen printed rug so you don't ever need to worry about pulled threads, and it has a really pretty vintage look to it. The blue is beautiful and the rest of the colors are muted so it hides stains really well.
It is very slippery on hardwood floors, so definitely grab yourself some corner grippers or carpet tape. This will provide peace of mind and reduce the risk of someone taking a tumble!
5. Light Blue Braided Indoor/Outdoor Runner

Rugs that are rated for outdoor use are a great choice for a kitchen mat because they are designed to repel water and stains. I'd use this one right in the front of the sink to reduce water dripping directly onto the floor.
This pretty blue rug is handmade and braided and not only offers a pop of color, but a nice texture too. I'd love to see this in a white kitchen for a clean and modern look.
6. Beige Striped Indoor/Outdoor Runner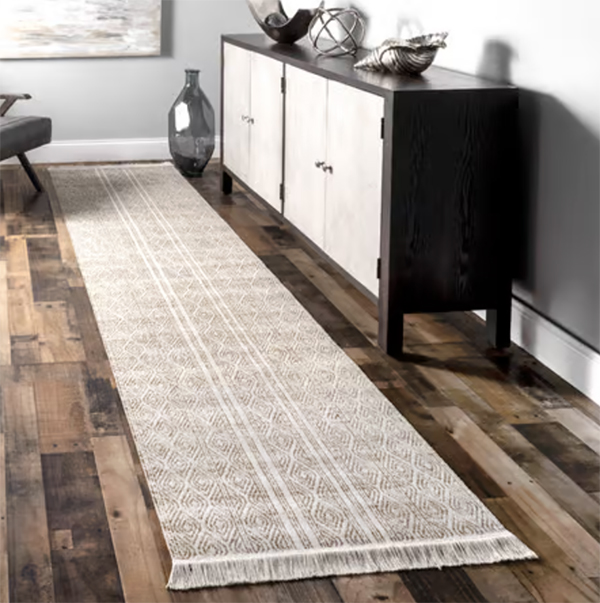 I love the fringe on the end of this runner as well as the subtle pattern. Beige is a neutral color that will work in any kitchen and hides stains well, while still being light and bright. This is another indoor/outdoor rug that can easily be hosed down outside.
This might be a good fit for you if you love earthy tones like chestnut brown, leafy olive green, or calm cream. It also provides a western or boho spirit which might be just what you are looking for to bring texture in the home.
7. Grey/Ivory Trellis Cotton Runner Rug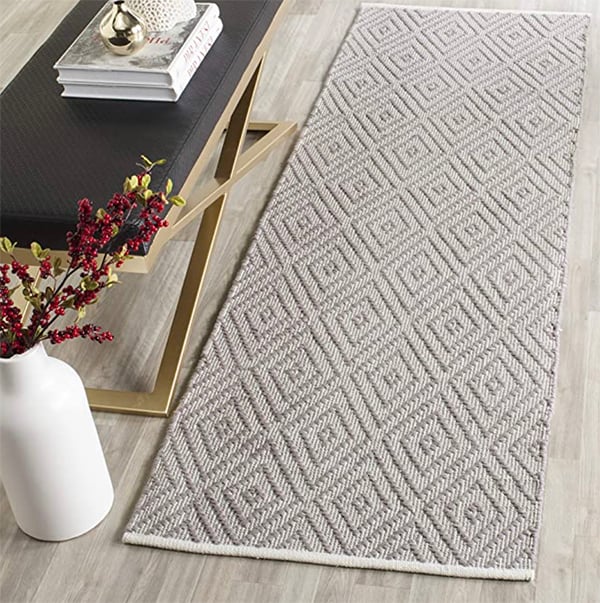 In the past, I had an area rug under my dining table similar to this one and the cotton material was both soft underfoot and highly durable. This one comes in several colors and I love the trellis pattern.
The natural elements and muted tones create a very easy to style piece that would look stunning paired with a variety of other home decor accents.
8.Gray Vintage Medallion Washable Area Rug
I love the colors in this kitchen runner! The pinks and blues will work in many kitchens to add a subtle pop of color that you may not otherwise have thought to use. This is also another machine washable runner so you know you don't have to worry about spills and messes!
I'd style this one next to my kitchen island or possibly in front of the stove to showcase the pretty pattern and bright colors.
9. Hendesi Heriz Sage Rug

I would never normally buy a rug this dark, but I think I might get this one for my kitchen for the winter months. I love the dark and moody vibes and again, it's another machine washable one!
If you have dark wood cabinets, grey cabinets or even dark green or black cabinets this rug would look stunning! This would also be a breathtaking pattern to style in a mountain or cabin home.
10. Alessia Dusk Blue Rug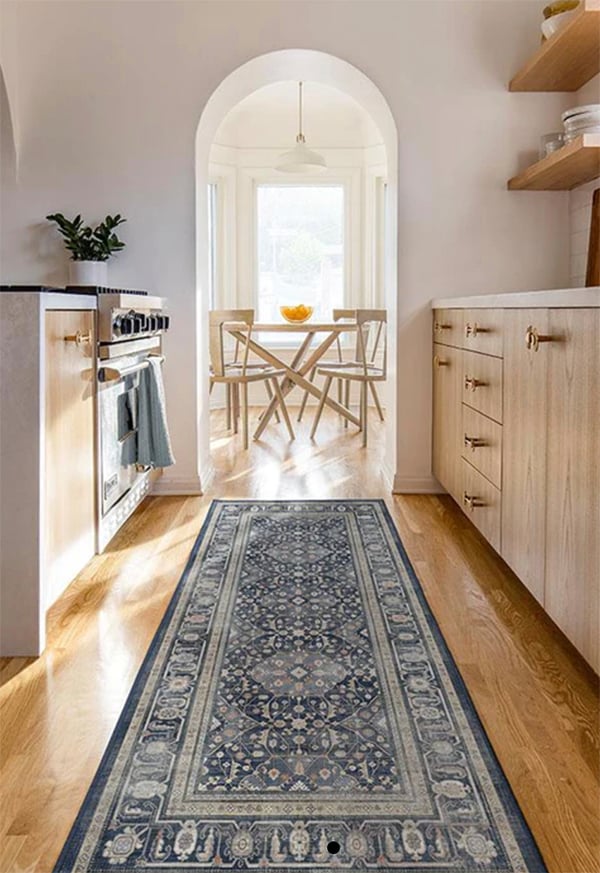 This is the same line as the sage rug above, just in a dark blue. It's simple and timeless so you can incorporate it regardless of how you have styled your kitchen. I had to show both because the colors are just stunning. I'm tempted to buy this one too and see which one I like best!
11. Nama Coastal Standing Mat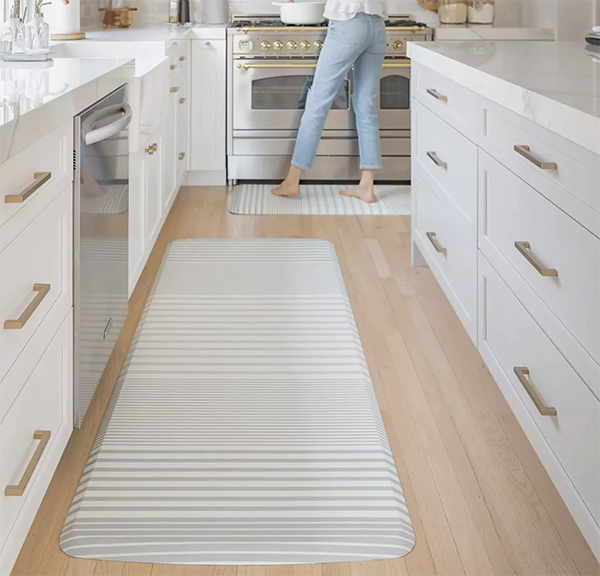 If you stand at your counters or sink a lot, investing in an anti-fatigue mat may be a game changer for you. In the past they've mostly been ugly, but this mat is beautiful with its soft coastal colors and pattern. Treat your poor weary feet!
Chances are, your kitchen must just be your hardest working room. You deserve both comfort and style!
12. Nara Stripe Standing Mat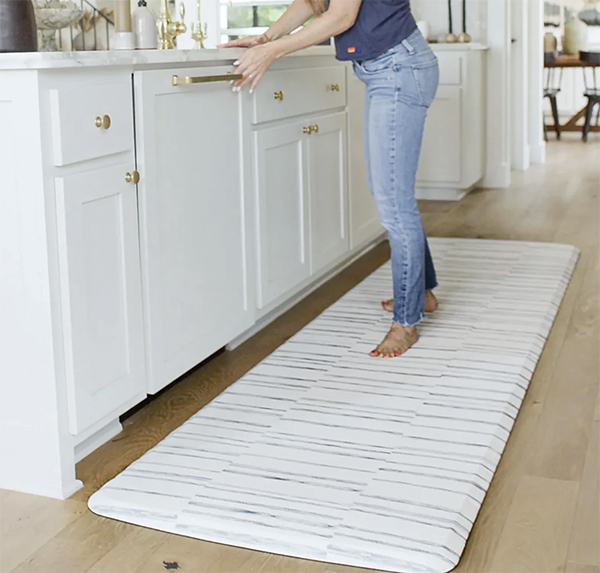 Another pretty pattern and soft color for this anti-fatigue mat. This one is truly the perfect kitchen runner rug because it's just so convenient and easy to clean. If you spend long hours in your kitchen, a fantastic kitchen rug is definitely worth the extra cost.
13. Paloma Standing Mat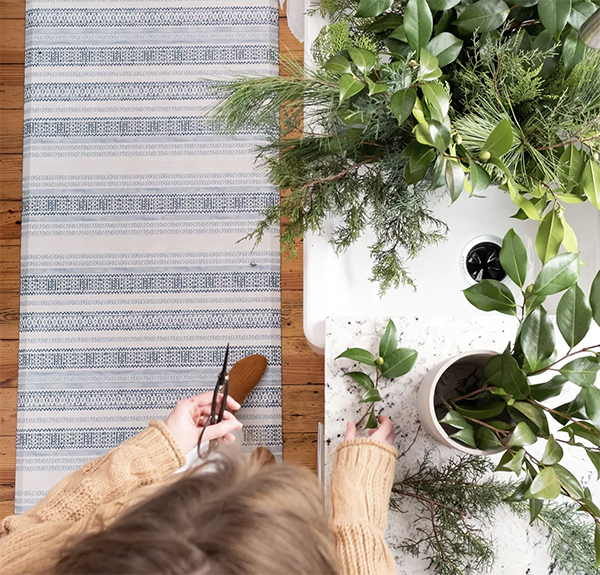 Inspired by Turkish textiles, this anti fatigue standing mat design mimics woven details & looks just like a rug, but feels like standing on a cloud.
The hand illustrated design is paired with a signature ergonomic foam that provides support to your feet, legs, and back while standing on this Paloma kitchen mat. It has a luxurious feel and is well worth the investment.
How To Choose a Rug Color
As with selecting any home decor, consider your color palette and other decorating choices when choosing your rug color. If everything else in your kitchen decor is neutral, consider adding a pop of color with your runner. It's such a great way to introduce new colors and doesn't require a long-term commitment!
There's so many styles to choose from too; whether you prefer moroccan style rugs, modern geometric designs or even something more traditional – there's a pattern that will look great in your space. Jute rugs and those made from natural materials are also unique and modern. Let's find the right rug for you!
Final Thoughts
Ultimately, to find the best kitchen rug runners you need to determine how functional you would like it, the color scheme it would fit most naturally in, and the size of the space you are hoping to cover.
I'm confident with these suggestions you can find the best choice for you!