Looking to spruce up your home decor without breaking the bank? Have you been searching high and low for affordable luxury curtain styles? Then you'll love this post!
Finding affordable curtains that look expensive can be a challenge. Luckily, I've been purchasing a variety of curtains online for years and I've narrowed down my favorites to one brand in particular.
If you follow home decor accounts on Instagram, you may have come across the "famous Amazon curtains" from Two Pages.
These curtains have become an internet sensation because they offer a high end designer look at a much more reasonable price point. They're not your basic $20 panels from Target. But they will give you that luxurious look for your living room or bedroom for the fraction of the cost of what you would normally pay for custom curtains.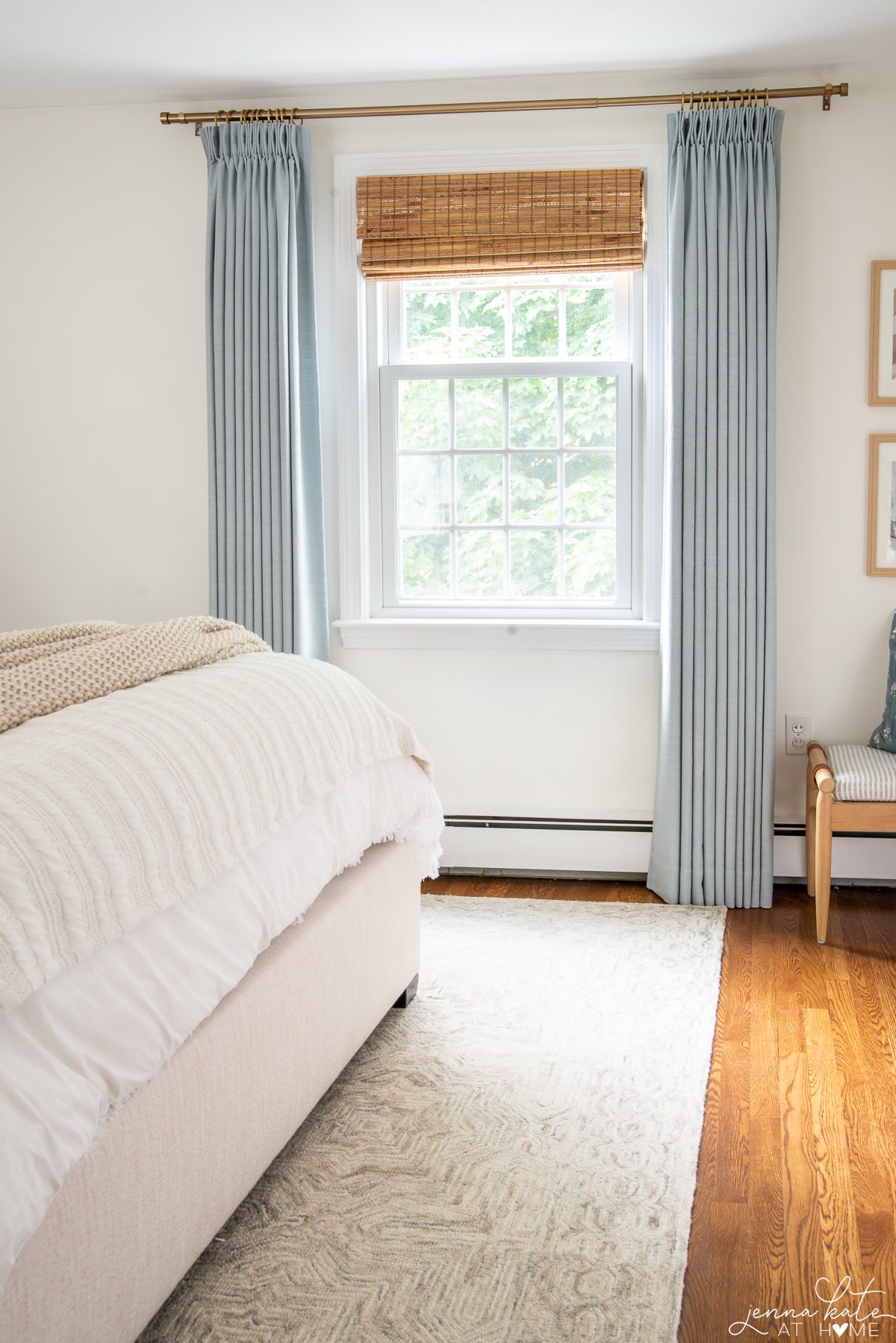 [adthrive-in-post-video-player video-id="2eAQn7FA" upload-date="2023-06-25T18:03:42.000Z" name="B9B83AC6-8F8A-4CAB-AFF1-396D0751EE37.MOV" description="null" player-type="default" override-embed="default"]
Why Are They More Affordable?
The curtains are made from synthetic materials, mainly polyester or a polyester cotton blend which makes them much more affordable than velvet, linen or 100% cotton. These polyester blends mimic the look and feel of higher end materials.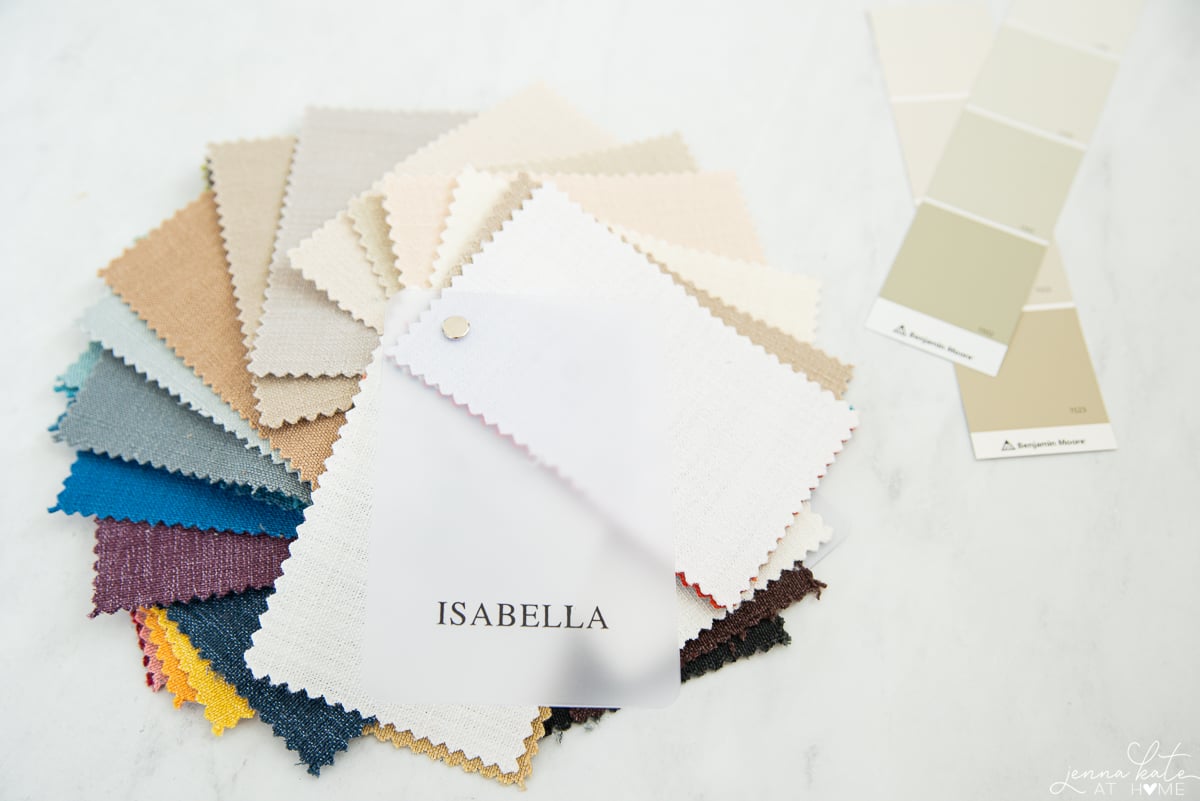 Are They Really Custom?
Yes! If you order through Amazon you can purchase a variety of standard lengths and widths, but you can also order completely custom sizes. My ceilings are lower than average, so being able to order curtains 2 inches shorter than standard has made a huge difference to getting that custom look, and has saved me paying to have them professionally hemmed.
You can also order directly from the Two Pages website, which is easier to navigate when adding custom options.
What Makes Them Look High End?
These curtain panels are available with many header options, including rod pocket, grommets and pleats. In my opinion, the pleats are what really make these curtains look high end.
The pinch pleats are nice. But opt for the triple pleats for a really high end look.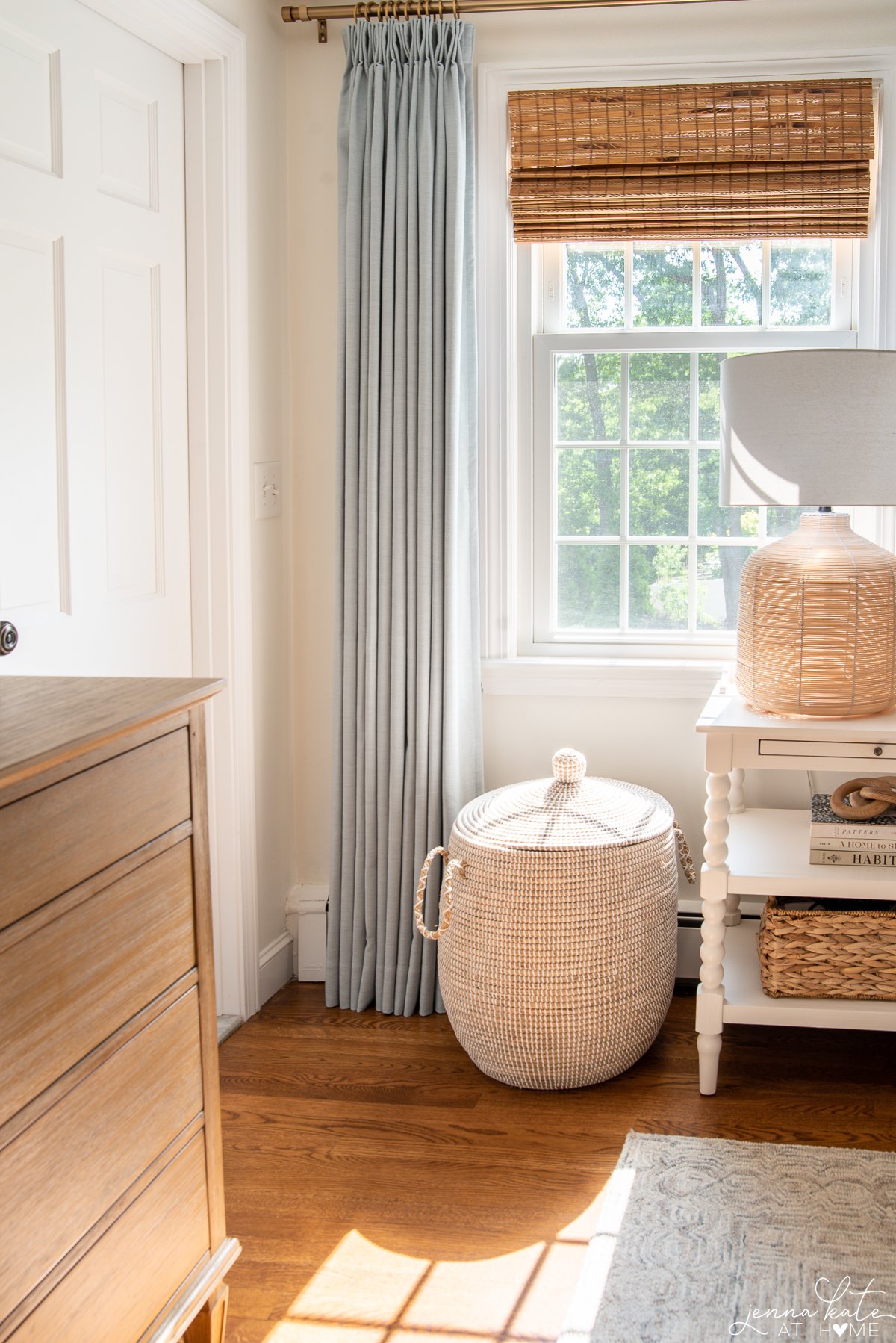 The other thing that makes these curtains look luxe is the fabric. I've purchased two different styles of curtains: The "Liz" (which is what you'll see the most on Instagram) and the "Isabella".
The Liz is a linen-look polyester that's lightweight. The Isabella is a polyester-cotton blend that's much heavier, and therefore looks a little more high end.
Finally, one aspect to consider when you are ordering is to get the body shaped memory training. It's more expensive, but it it means you don't have to train the pleats on your curtains to stay put. Every time you open and close the curtains, they retain their pleats and look absolutely stunning.
Color Options
Just like when you're looking for the perfect paint color, it's important to sample first. Fabric colors will look different depending on the lighting conditions in the room, as well as whether there's a liner or not.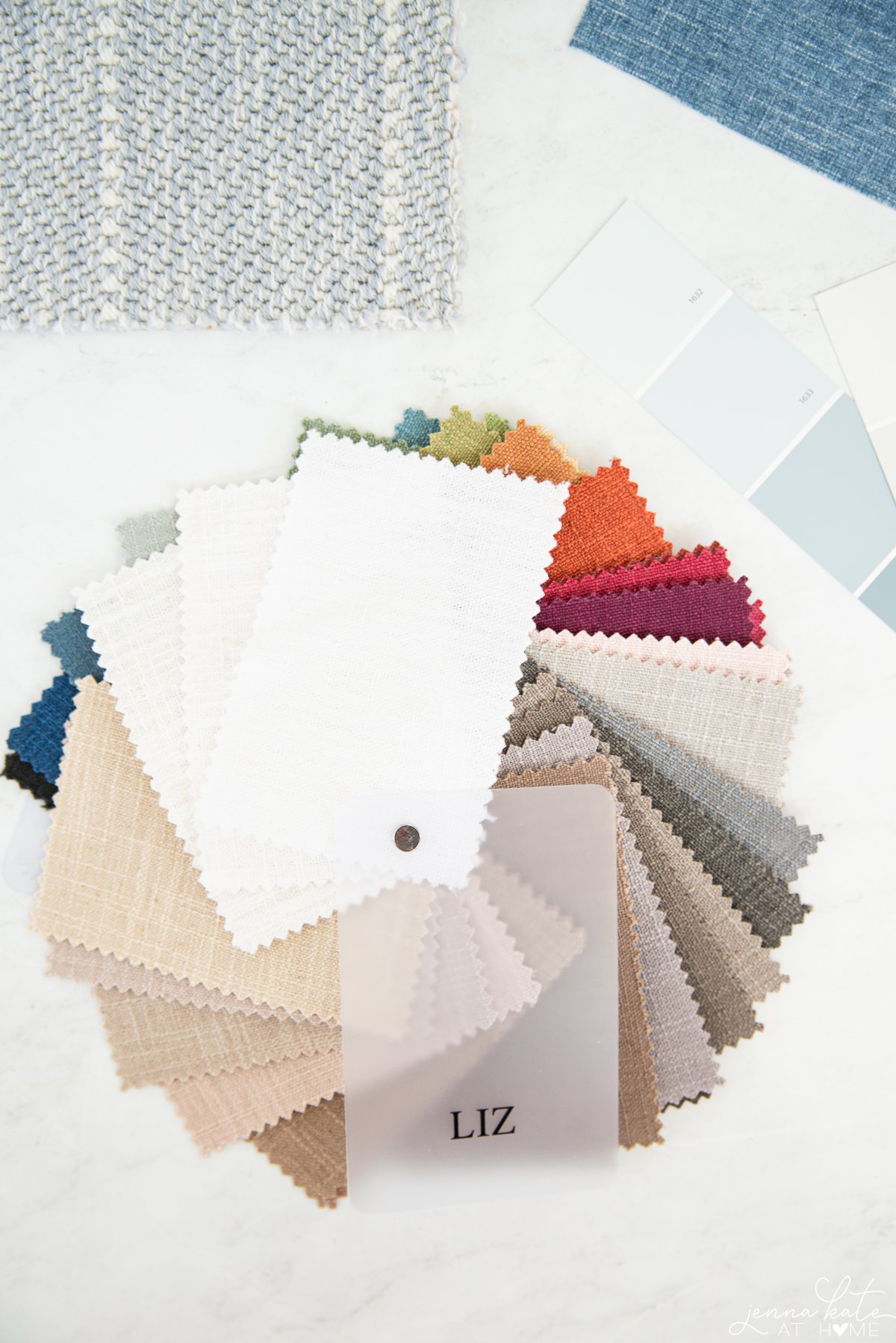 Five free fabric samples can be ordered from the Two Pages website or you can order 3 sample booklets for $9.
Liner Options
The blackout liner is great for bedrooms and nurseries, however I highly recommend getting the memory shape training if you opt for this liner. Otherwise, the fabric is heavy and has a hard time retaining its pleats even when it has been trained.
In my bedroom, I have the room darkening liner paired with bamboo shades. Since my bedroom has west and north facing windows, I don't need to worry about strong morning sun streaming through.
In my living room, I have opted for unlined since we don't have privacy or light concerns.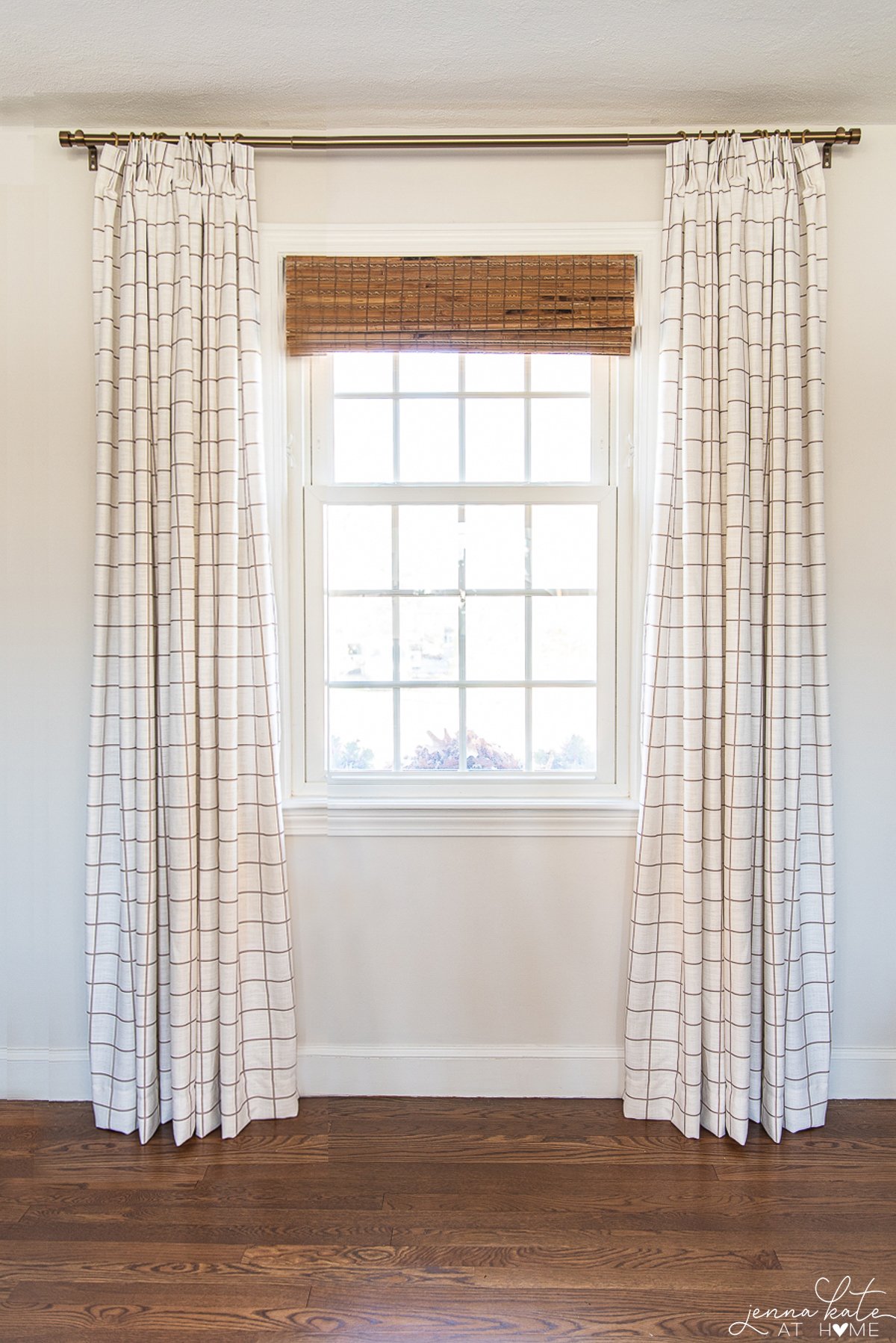 How to Properly Hang Curtains
It won't matter how much your custom curtains look if you haven't hung them correctly.
Curtains should be hung high and wide. This means you'll hang the rod about 2/3 of the way between the top of the window trim and ceiling. On standard 8 foot ceilings, this will mean about 2- 2.5 inches below the ceiling. If you have really high ceilings, aim for about 6 inches higher than the top of the window.
How wide you go depends on the space you have, but opt for a minimum of 10 inches out from the window.
The material should just skim the floor (no more than 1/2 inch above) or gently pool for a more casual look. I find that when they just touch the floor, they look the most high end.
Curtain Hardware You'll Need
The pinch pleat curtains arrive with ratchet hooks, so all you need is a rod and some drapery rings.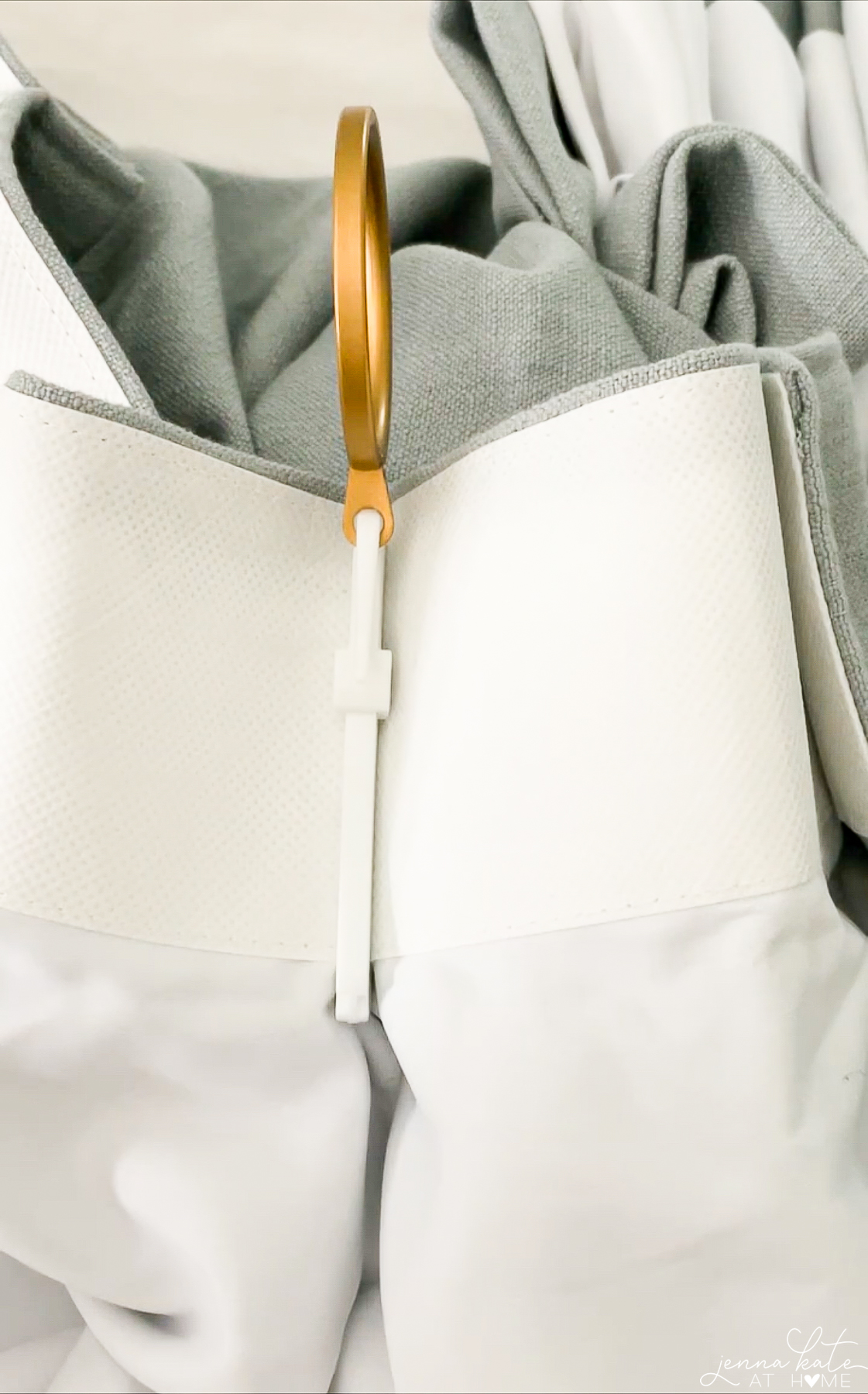 The ratchet hooks are amazing because they allow you to adjust the length of your curtains up to 1 inch. So if you find that you've hung your rod just a fraction too low, you can adjust the ratchet so that the curtains kiss the floor perfectly.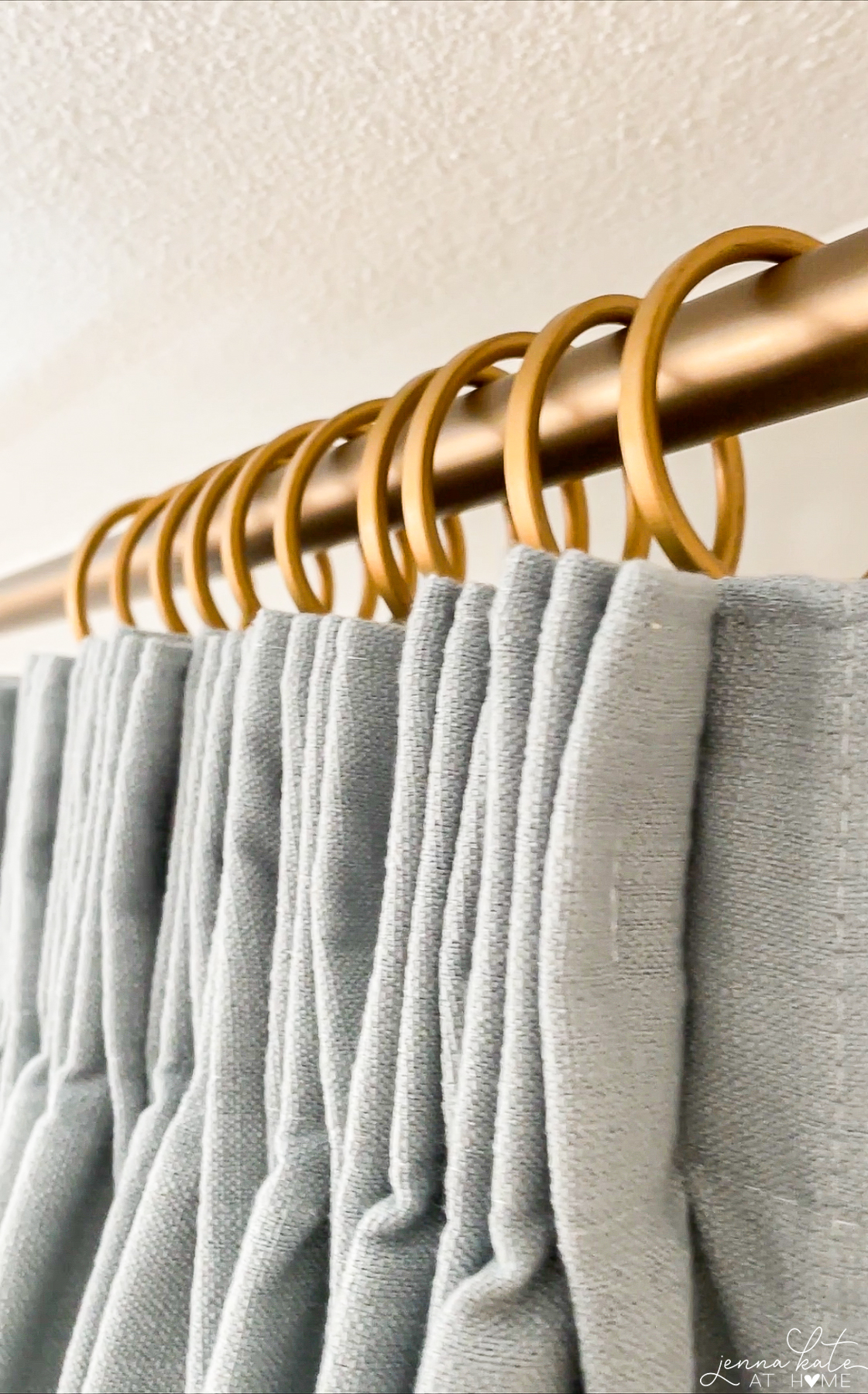 I have used these curtain rods all over my home, in both the brass and flat black colors. These curtain rings match perfectly and are the ones I've used for years.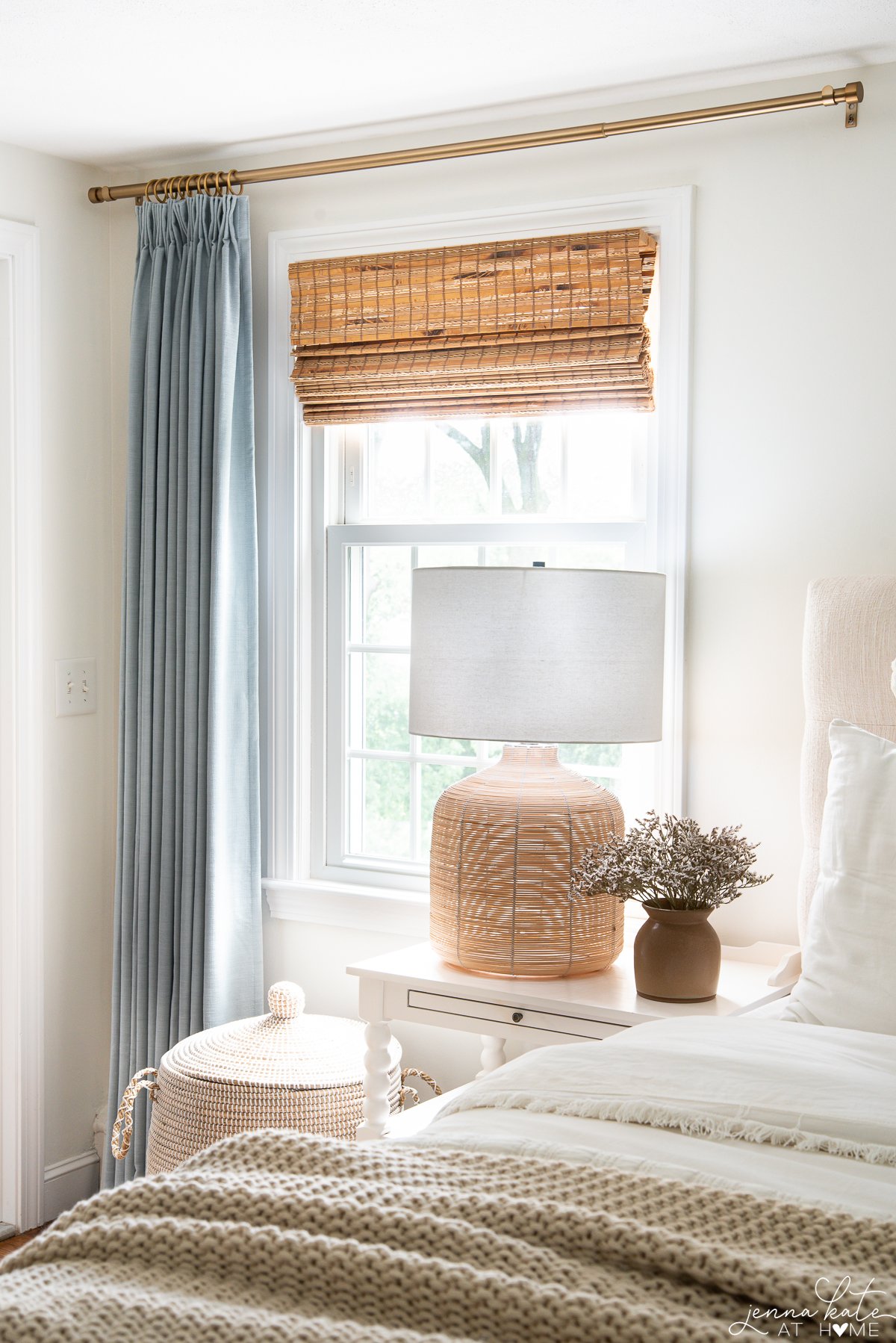 curtains // brass rod // laundry hamper // table lamp // nightstand // chunky knit blanket
Final Thoughts
If you've been looking for the finishing touch for your bedroom, living room or dining room, then these designer look for less curtains should be top priority. They come in a variety of colors, styles and fabrics, and really give a high end, luxurious look at a much more reasonable price point than true designer custom-made curtains or drapes.