Benjamin Moore's Edgecomb Gray is a beautiful greige paint color that will brighten any room. It's an excellent color choice to add warmth to a space while still maintaining a light and airy feeling.
What color is Edgecomb Gray?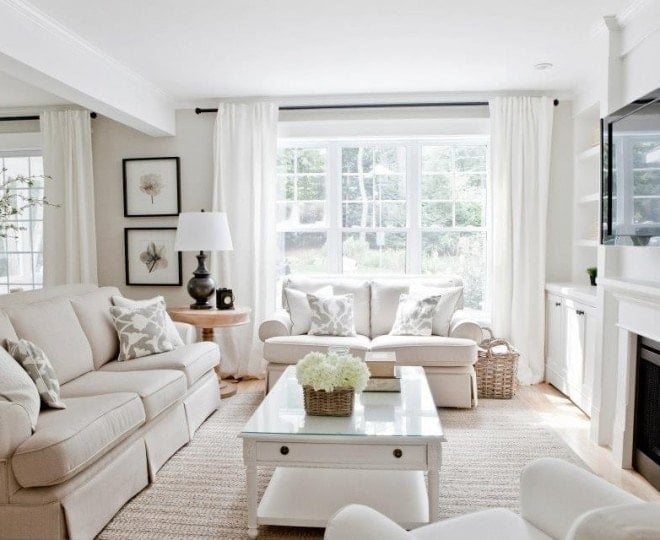 Edgecomb Gray is a stunning greige paint color. Greige is a combination of gray and beige and Edgecomb Gray sits pretty neatly between the two.
Is Edgecomb Gray Warm or Cool?
Edgecomb Gray is a warm toned gray beige (greige). That being said, how warm or cool it looks will depend on the lighting in your room. For instance, Edgecomb Gray will lean slightly cooler and more gray in a north facing room, while in a south facing room Edgecomb Gray will lean more towards beige, appearing slightly warmer.
What is the LRV of Edgecomb gray?
As a reminder, LRV or Light Reflective Value is the amount of light reflected from a surface when it is illuminated with a light source. A higher value (closer to 100) means the color will reflect more light back, while a lower value (closet to 0) means the color will absorb more light, thus appearing darker.
Edgecomb gray has an LRV of 63. It tends to be slightly lighter than most other greige paint colors out there, however it still has some depth to it. It sits in the perfect range of colors to brighten up a dark room, and would be a great choice for basement space.
What are the Undertones of Edgecomb Gray?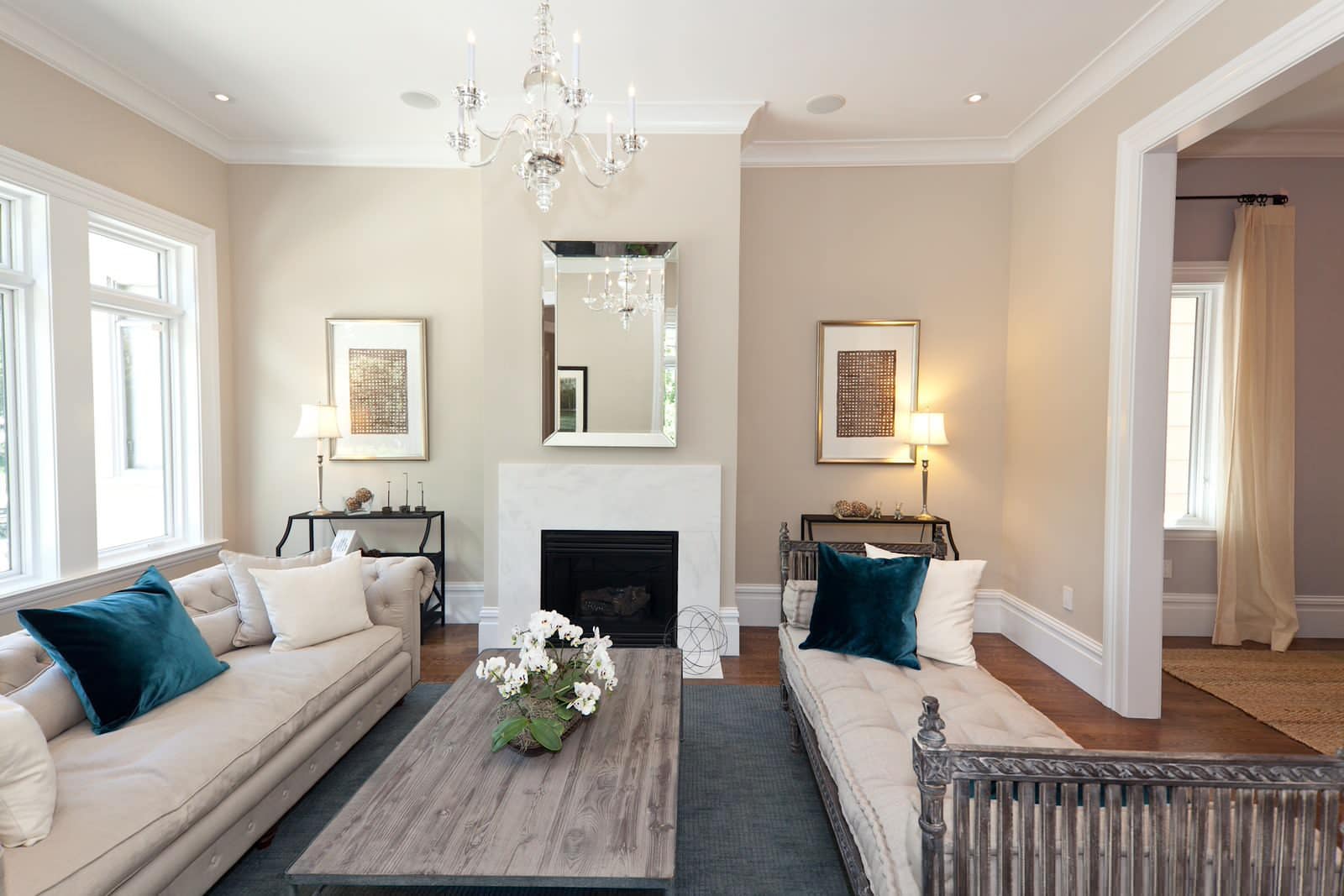 Edgecomb Gray has less of the green and taupe undertones than many other greige colors have, and sticks pretty well to being a solid greige. Like any paint color, it is of course influenced by what's around it (floors, trim, furniture, etc.) but it doesn't have any glaringly obvious undertones.
When I think of Edgecomb Gray, I think of it as the perfect definition of what a true greige should be. It is well balanced, warm and really adds a light and airy feeling to any room.
What Colors Go Well with Edgecomb Gray?
Edgecomb Gray looks beautiful paired with soft white trim such as Benjamin Moore White Dove.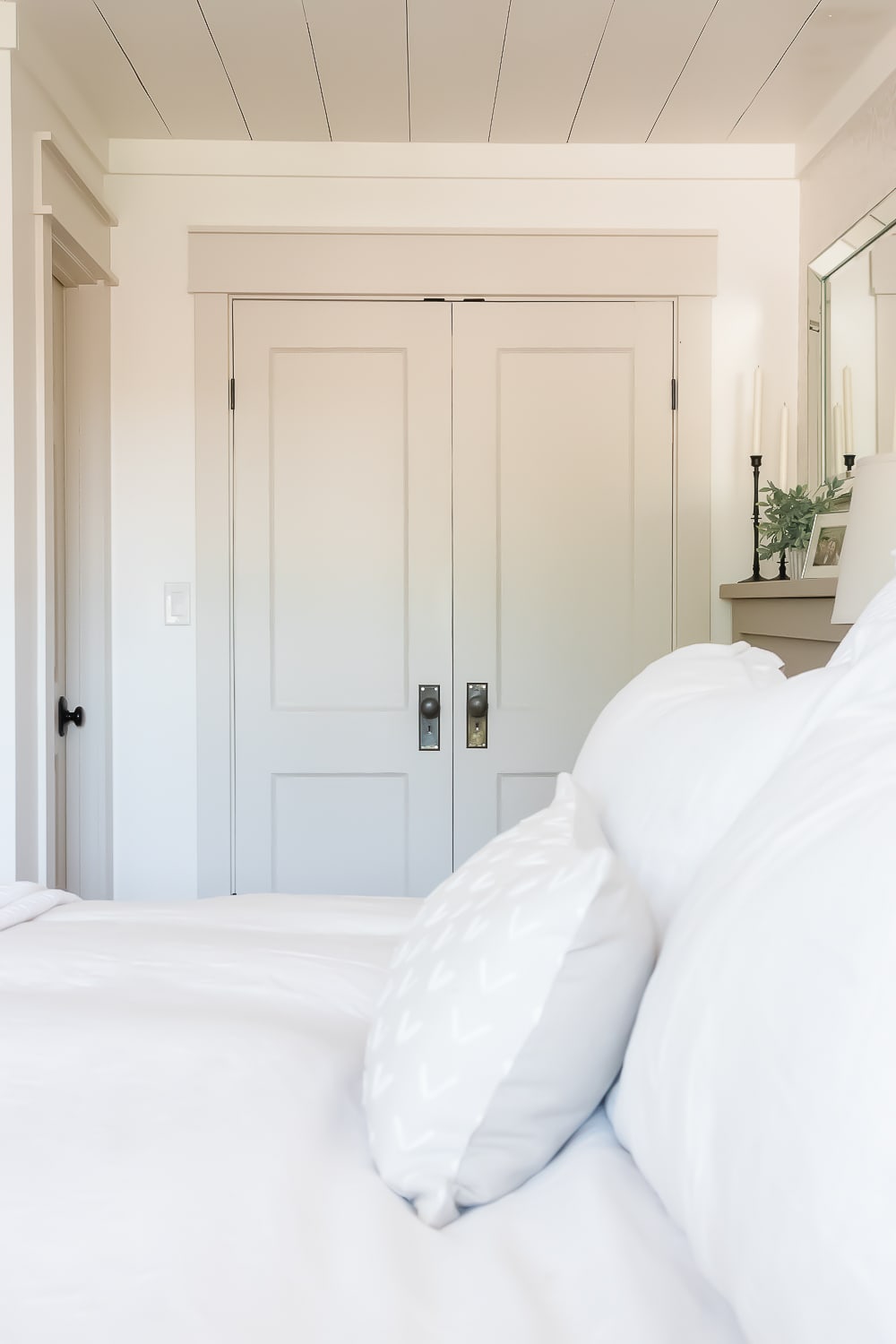 Equally, it looks beautiful as the trim color with White Dove (or another soft white) walls.
If you are looking for a bold contrast color for an accent wall, Hale Navy or Kendall Charcoal make Edgecomb Gray look its best. A light turquoise such as Tranquility by Benjamin Moore also pairs well.
Edgecomb Gray also compliments honey oak tones of wood really well, so it's a great choice for kitchen walls.
Edgecomb Gray vs Agreeable Gray
Edgecomb Gray has an LRV of 63, while Sherwin Williams Agreeable Gray is a smidge darker at 60.
Edgecomb Gray is a beige paint color with some gray, but Agreeable Gray has substantially more gray in it. Edgecomb Gray is definitely warmer.
Agreeable Gray varies in color a lot more depending on the lighting, whereas Edgecomb Gray is less sneaky.
Both colors are great whole-house paint colors and very versatile.
Edgecomb Gray vs Revere Pewter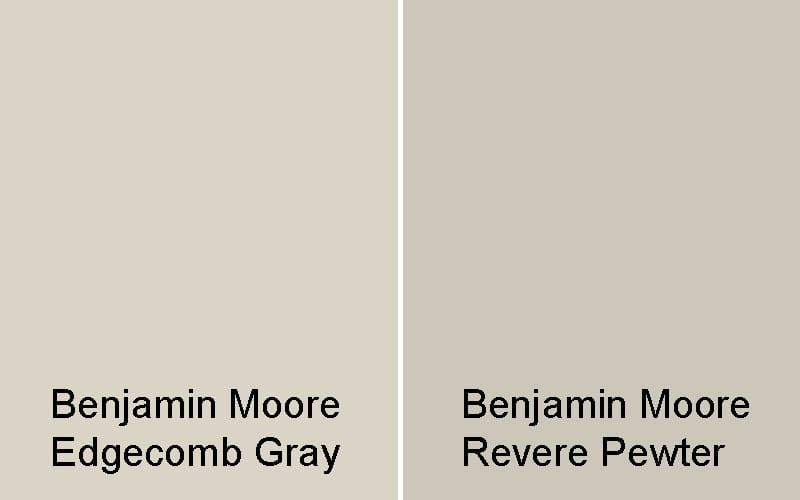 Edgecomb Gray sits next to Revere Pewter on the same color card, but doesn't inherit its cousin's inclination towards green and muddy undertones.
Edgecomb Gray has an LRV of 63, while Revere Pewter sits at 55.5. So if you're looking to reflect as much light back into the room as possible, Edgecomb Gray is going to be the color you want to choose.
Both colors look beautiful for contrasting trim and doors.
Edgecomb Gray Exteriors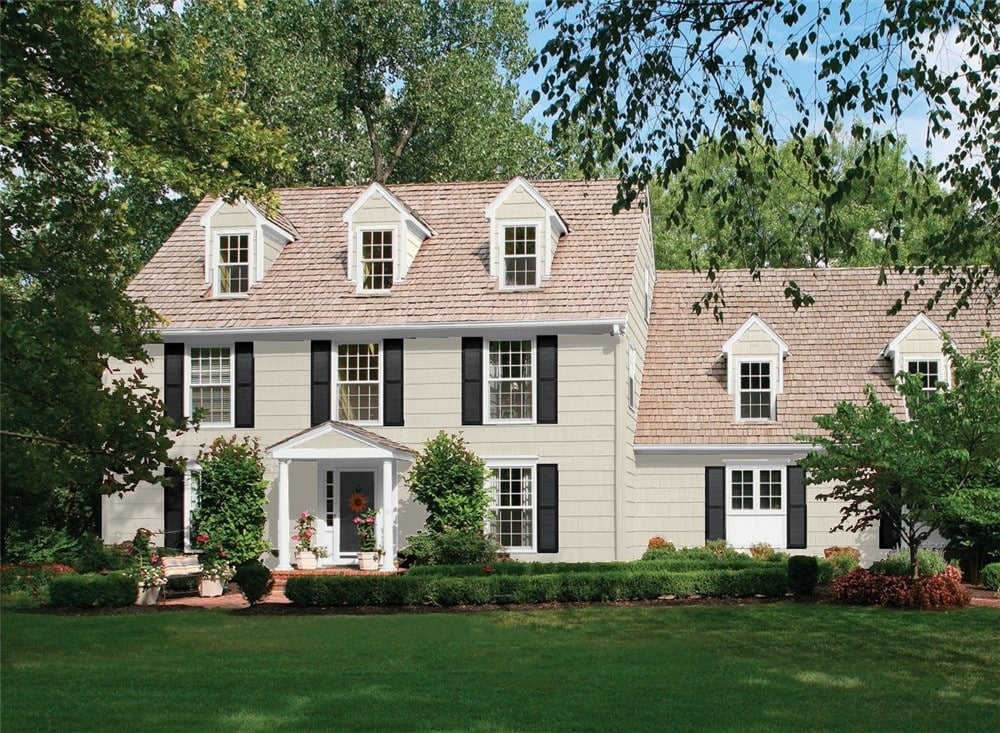 Edgecomb Gray is a beautiful choice for a house exterior. It looks like and bright, and almost creamy at times. I particularly love it on shingled beach houses, but it looks equally good on regular lap siding or even on stucco.
Final Thoughts
Benjamin Moore Edgecomb Gray is one of my favorite greige paint colors. If you're looking to steer away from the "grayer" sides of these popular colors, while still achieving a modern, light and bright look, I think this may just be the perfect paint color for you!
However, no matter what you have read or photos you have seen online, it's SO important that you always sample paint colors in your own home before committing.
Instead of purchasing a ton of sample paint pots, my friends at Samplize have made it really easy with their amazing peel and stick paint samples.
These samples are made with real paint, are easy to store and move around your house as you need! They are the only paint samples I buy and they ship quickly, too!