Blue gray paint colors are fresh, modern and work with any design style. They look sophisticated and stylish in any home. Read on to see some of the most popular blue gray paint colors for 2022!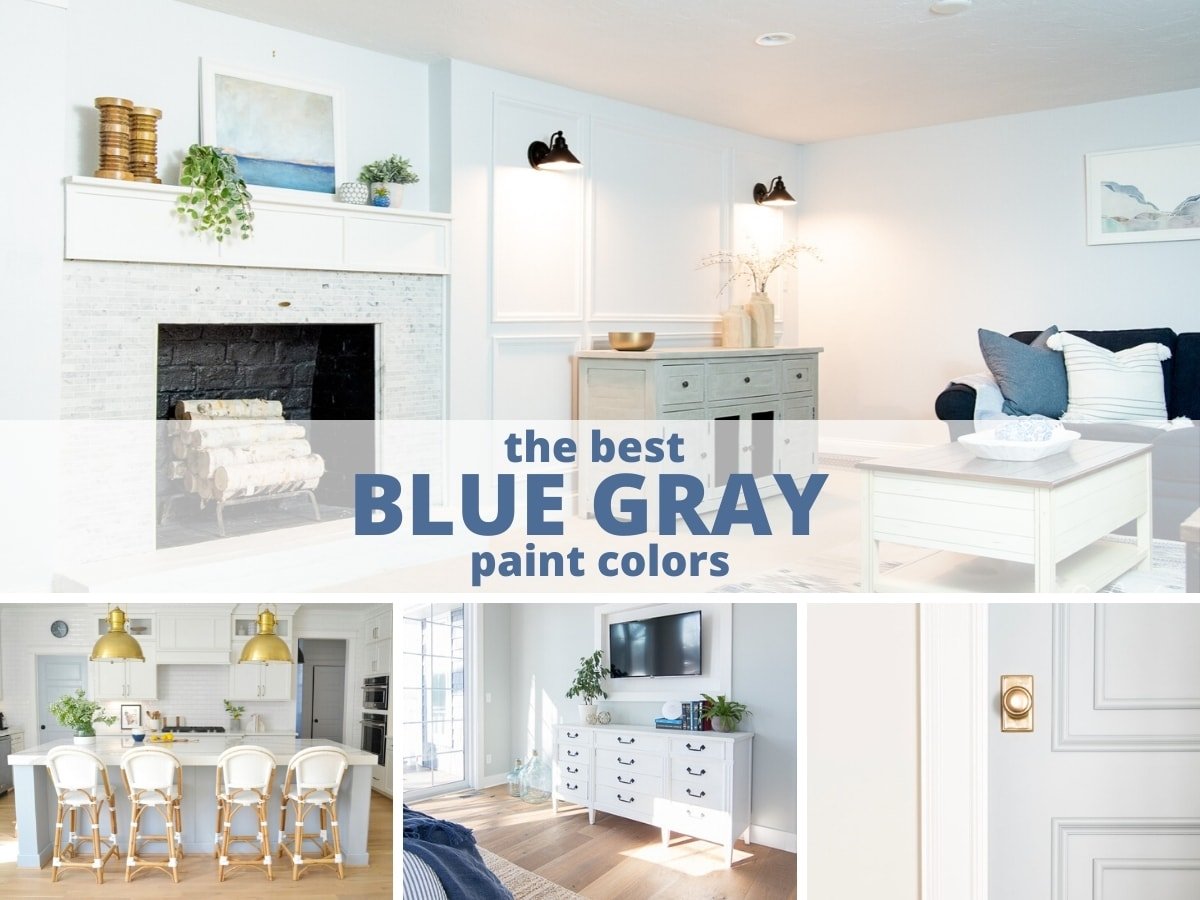 What is a Blue Gray Color?
I know what you're thinking – what on earth is blue gray paint (or gray blue paint, depending on what you call it!). According to Wikipedia, blue gray is a color that is a blue with strong gray undertones, or conversely, a color that looks gray on the color swatch but actually has a strong blue undertone.
Blueish gray color recommendations are one of the most requested in my Home in Progress Facebook group (a great group for seeking decorating and paint advice!)
I always start by pulling out color samples to make sure we are on the same page – whether they want a gray with a strong blue undertone, or a blue with a gray undertone.
Whether you want a grayish blue or a blueish gray, I've got you covered!
Why Are Blue Gray Paint Colors So Popular?
Blue grey paint colors are fresh, modern and work with any design style. They look sophisticated and stylish in any home. They are popular because they work with any style of home decor.
These paint colors work particularly well in bedrooms and bathrooms because they are soft, soothing and relaxing colors. We can all use more sleep so if a paint color can help, that's even better!
The blue-gray colors that I'm sharing with you today are some of my favorite colors to work with, especially when trying to create a modern coastal feel.
However, these paint colors will work with any decorating style and in and room of your home – yes, they are inherently suited to bedrooms and bathrooms, but work equally well on living room walls, front doors and even kitchen cabinetry.
Personally, I like to stick with the colors that are closer to gray with a blue undertone, as they are a more neutral canvas for me to work with.
The colors that are a stronger blue tone work wonderfully when paired with white wainscoting, as a kitchen island color or even as a door or cabinet color. They also make for serene nursery, bedroom or bathroom paint colors.
What Rooms are Best To Use These Colors in?
The bluer colors work best in bedrooms, bathrooms and nurseries. The grayer shades are better for the other rooms of your home.
Any of the shades would work for a stunning cabinet color. Get creative! Paint your bathroom vanity, kitchen island or laundry room cabinets for a a pretty pop of color against a neutral background.
What are the Most Popular Blue Gray Paint Colors?
There are several blue gray paint colors that have proven popular in 2021 and again in 2022:
Benjamin Moore Blue Gray Paint Colors
Click on the paint color name to order a real peel & stick paint sample.
Sherwin Williams Blue Gray Paint Colors
Behr Blue Gray Paint Colors
Behr Light French Gray
Behr Reflecting Pool
Benjamin Moore Boothbay Gray
Benjamin Moore Boothbay Gray is a light grey blue paint color. It leans closer to gray but with the softness of blue. It's very pretty and feminine, and works wonderfully as a door, kitchen island (see it in our kitchen remodel) and as a wall color, too.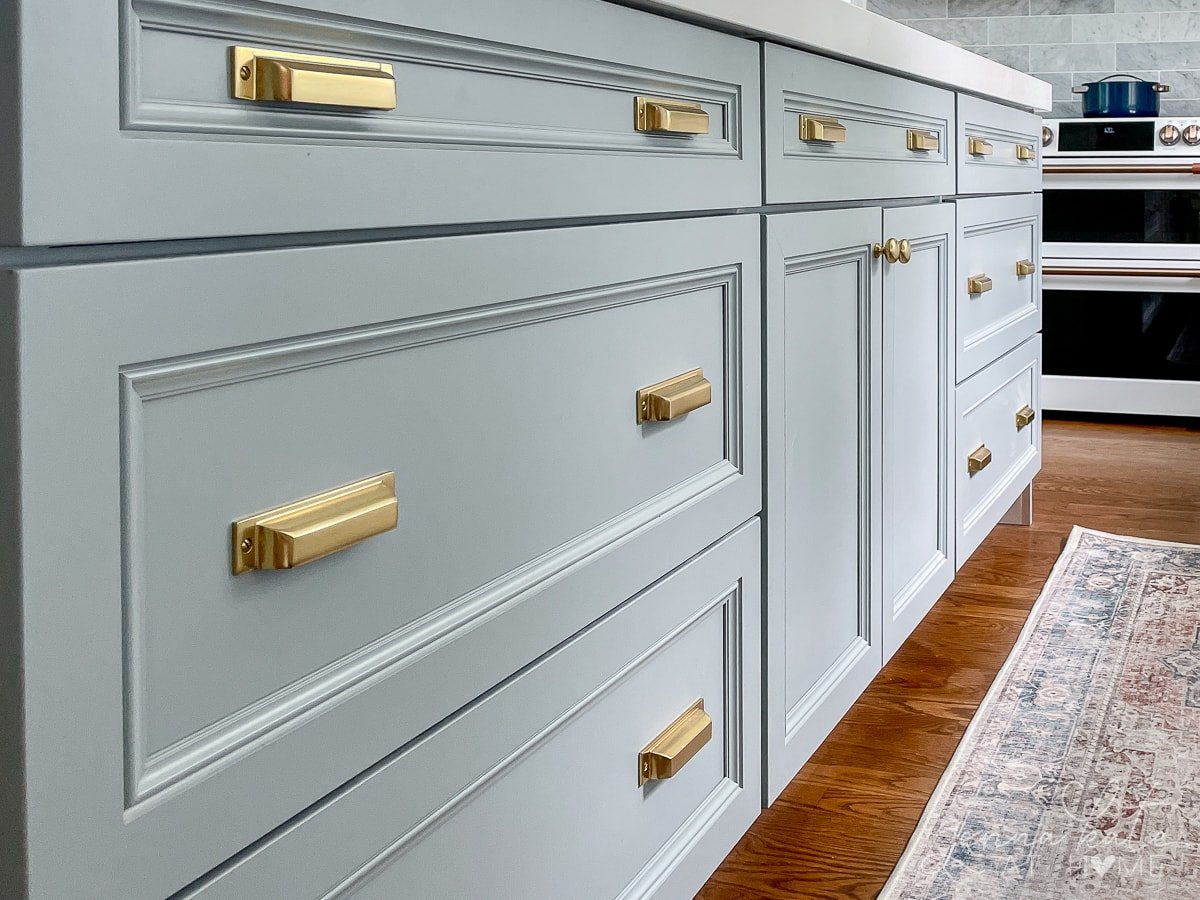 I've had this particular image (below) pinned to one of my Pinterest boards for several months and it really makes me want to paint all my doors and add brass hardware. It's so pretty!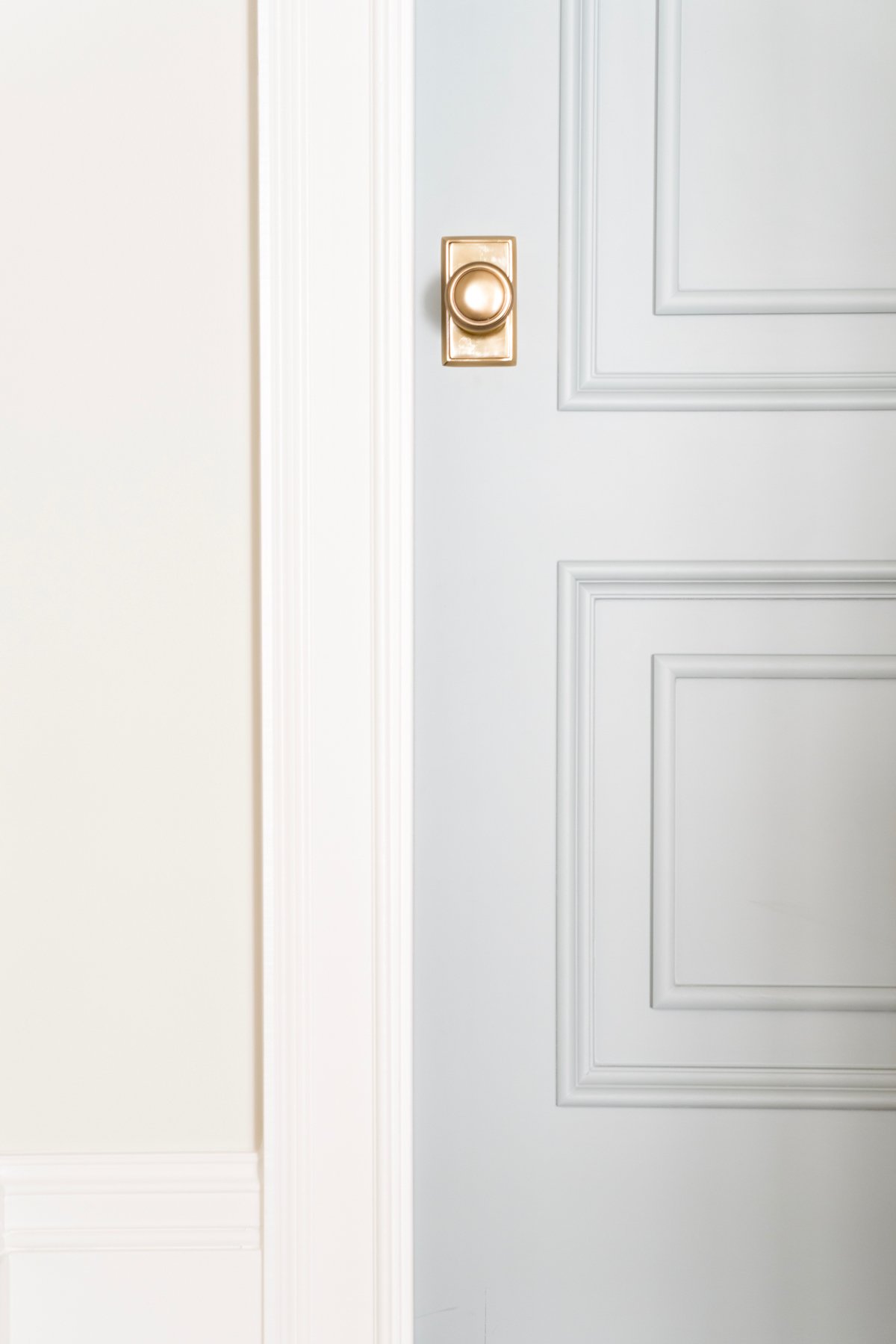 Benjamin Moore Santorini Blue
Santorini Blue is a color I've loved for years but have yet to use in my own home. It's one of those colors that looks amazing paired with crisp white wainscoting.
This is a paint color that's definitely a blue, but with a gray undertone. However, the gray side is more apparent in a room with less sunlight.
It's a great choice for a blue gray bathroom wall color, but look would also look stunning on a kitchen island or even laundry room cabinets.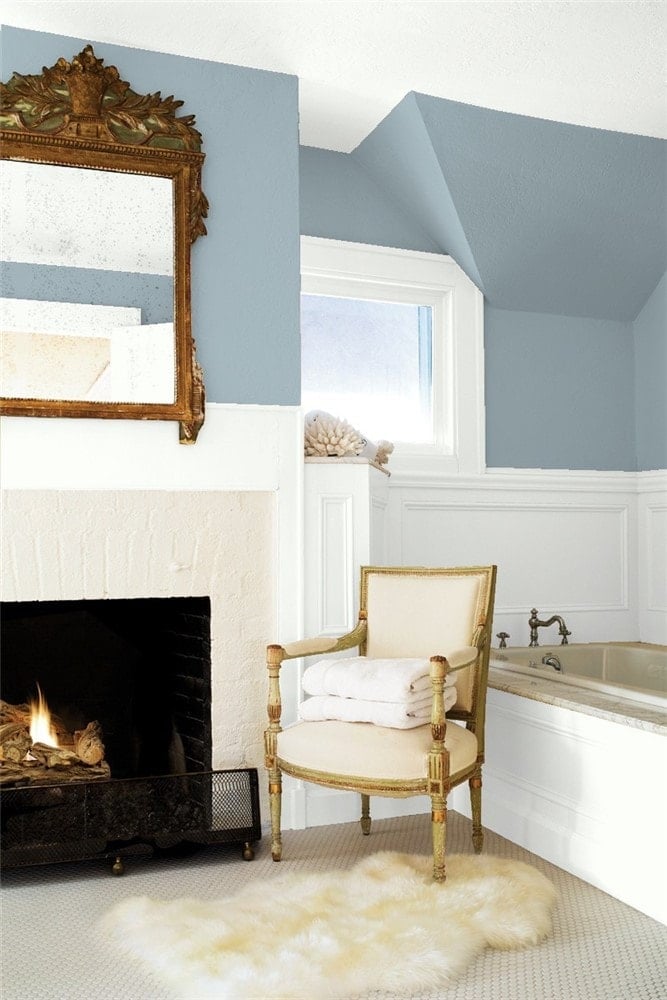 Benjamin Moore Water's Edge
Decidedly more blue with just enough gray to tone it down, Water's is a fun pop of color in this otherwise neutral entryway.
This is another blue gray color that has a lovely coastal feel, especially when paired with lots of bright white trim.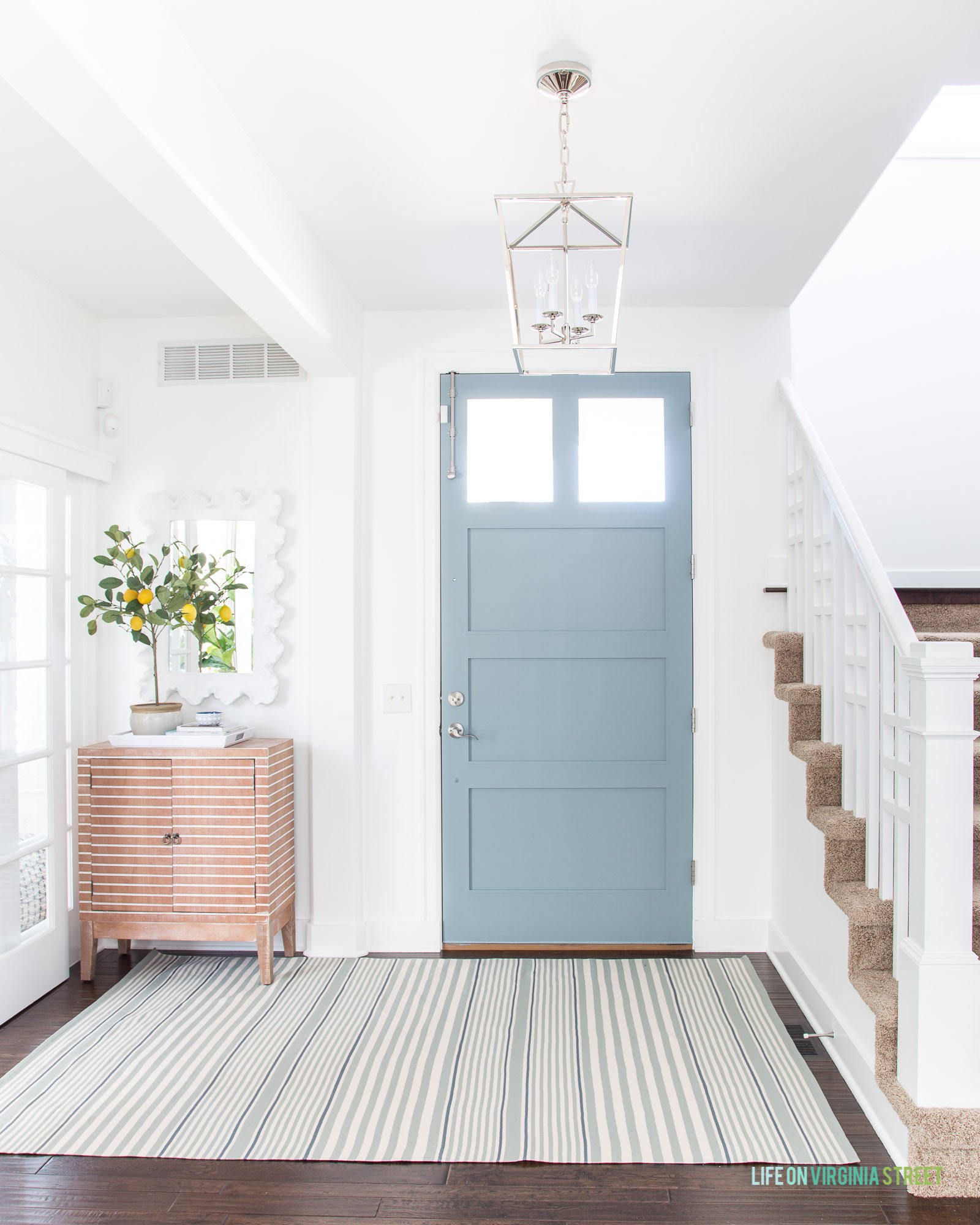 Benjamin Moore Nimbus Gray
Nimbus Gray is one of those colors that completely changes color based on the time of the day and lighting in your home. Sometimes it's blatantly blue and at other times it's a moody gray, and yet other times there's even a wee hint of green. I'm tempted to refer to this one more as a blue-green-gray!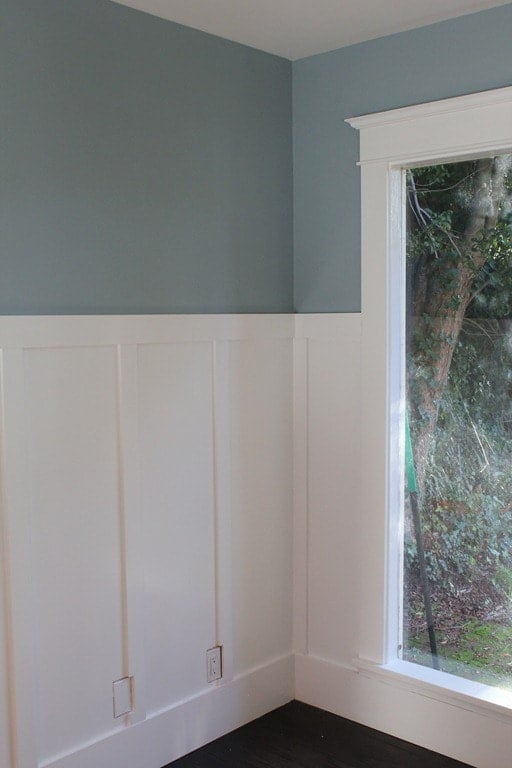 Benjamin Moore Summer Shower
The name alone is so pretty, right? This is a very soothing paint color for a bedroom or bathroom but would work equally well for a cabinet door or island.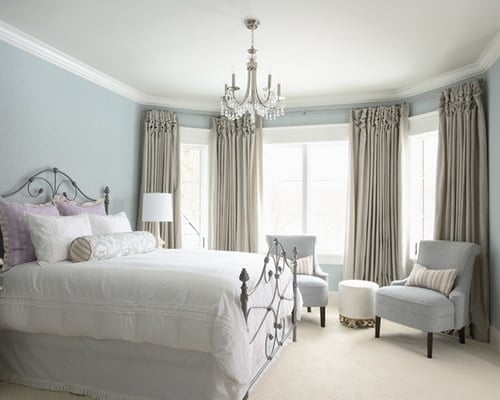 Benjamin Moore Smoke
These Smoke painted cabinets are another image that I've been drawn to for a while now. When I saw this laundry room reveal from Jillian Harris, I immediately wanted to paint my cabinets the same color.
I ended up choosing Boothbay Gray instead, but I definitely want to use this one at some point.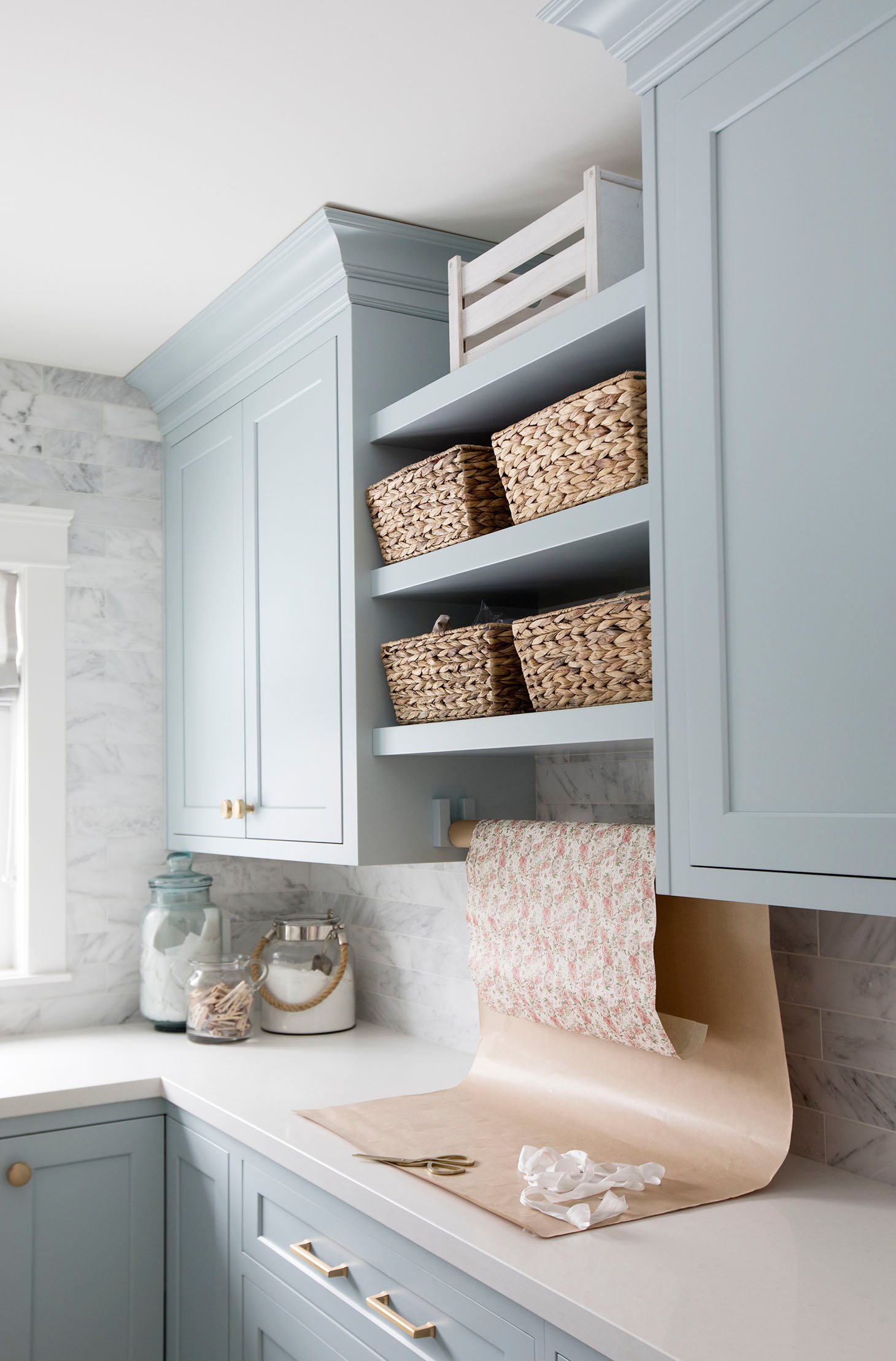 Benjamin Moore Gentle Gray
Proof that blue-gray colors are not just for bedrooms and bathrooms. To truly create a soft, casual coastal feel in your home, flow a soft blue-gray like Benjamin Moore's Gentle Gray throughout the main floor.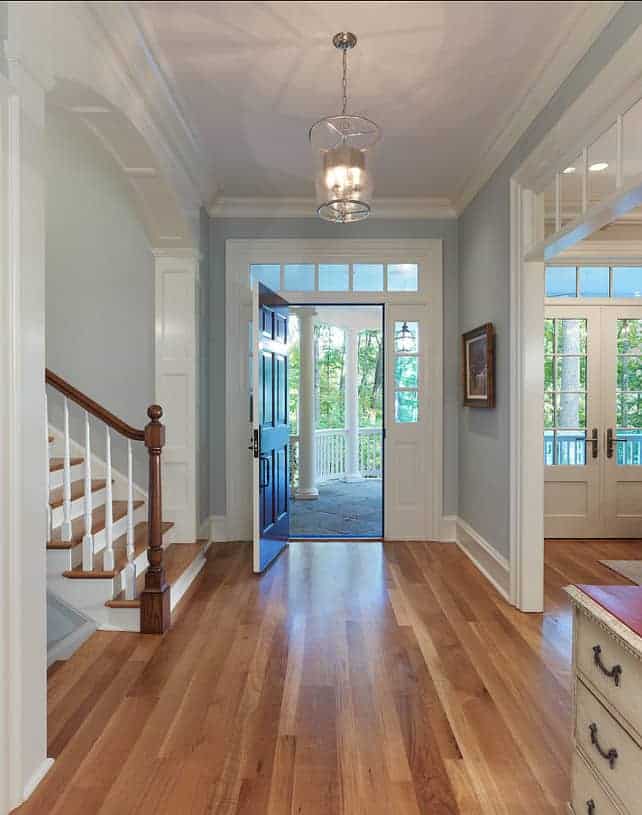 Benjamin Moore Gray Wisp
This is another one of those blue-green-gray colors! I love these colors because green undertones work really well with warmer wood tones, and stop the blue-gray part from feeling cold.
Benjamin Moore Arctic Gray
Is it gray? Is it blue? Is it green? Are you seeing a trend with these chameleon colors? Arctic Gray does actually lean a bit green/blue.
Pay attention to the top of the wall which is getting a lot of natural light and compare it to the bottom where it's pulling more bue/green. These undertones make it stunning in a bathroom, don't you think?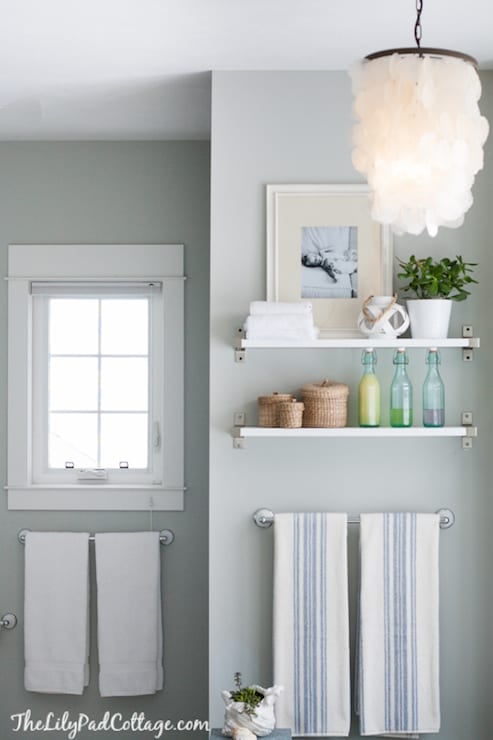 Sherwin Williams Icy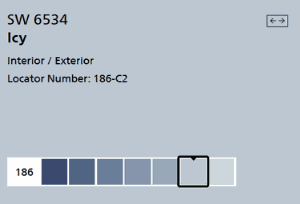 Icy (SW6534) is a beautiful light blue gray. You won't confuse this with a gray paint color. It is truly a blue with a gray undertone.
The gray undertone stops it being too babyish or feeling like a color that should be a nursery. It's perfect for bedroom and bathrooms and works well in both bright and darker rooms.
Sherwin Williams Krypton
One of my new favorite colors, Krypton is a light gray with a light blue undertone. Depending on who you ask, they will say it's either gray or baby blue.
How it looks in your home will depend upon the exposure of your room and how much natural light it gets.
I love how Chrissy Marie painted both her island and pantry door this soft shade. It works so well with the bright white cabinets and brass accents, for the perfect cool, coastal vibe.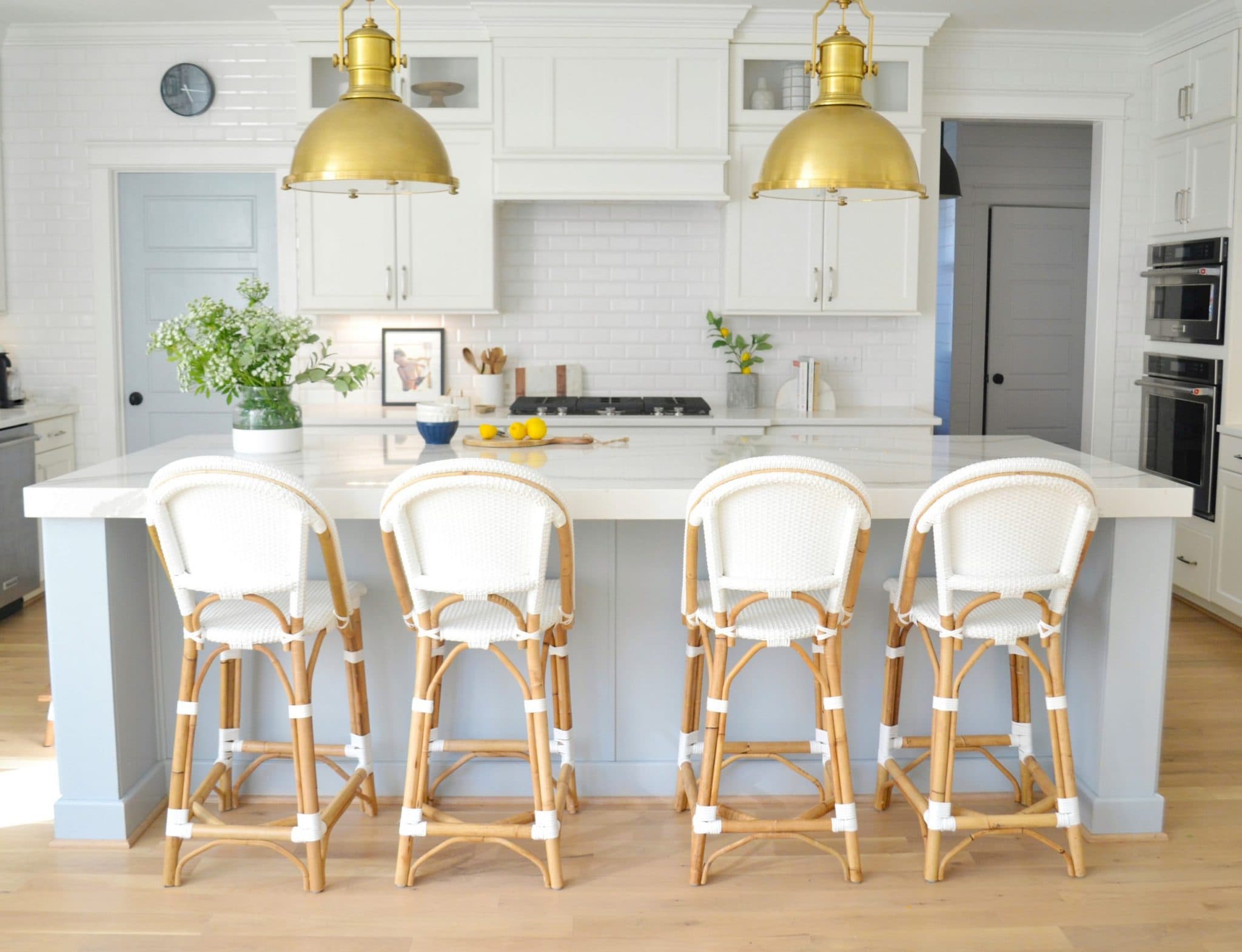 Sherwin Williams Serious Gray
Serious Gray is one of my all-time favorite chameleon colors. I would classify it as a dark gray blue paint color, but sometimes it looks completely gray and only in brighter light you may notice the blue. That's kinda why I love it so much!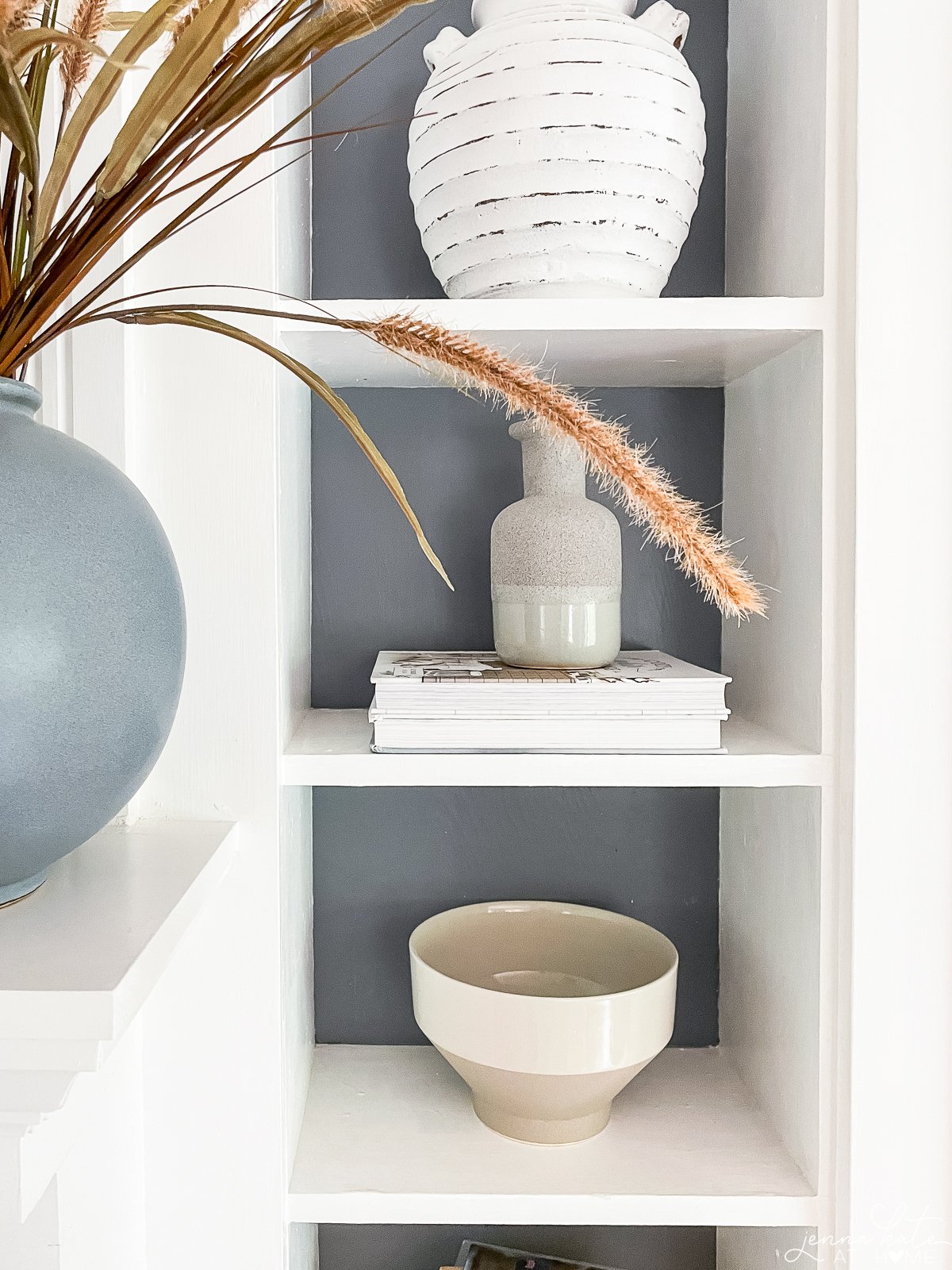 I adore how it changes depending on the time of day and space that it's in. I've used it in multiple spaces in my home, from the inside of my front door, to my bathroom and even the backs of my living room built-ins. It's also a really good accent color for repose gray, my go-to wall color in our house.
It's moody and dramatic and so pretty!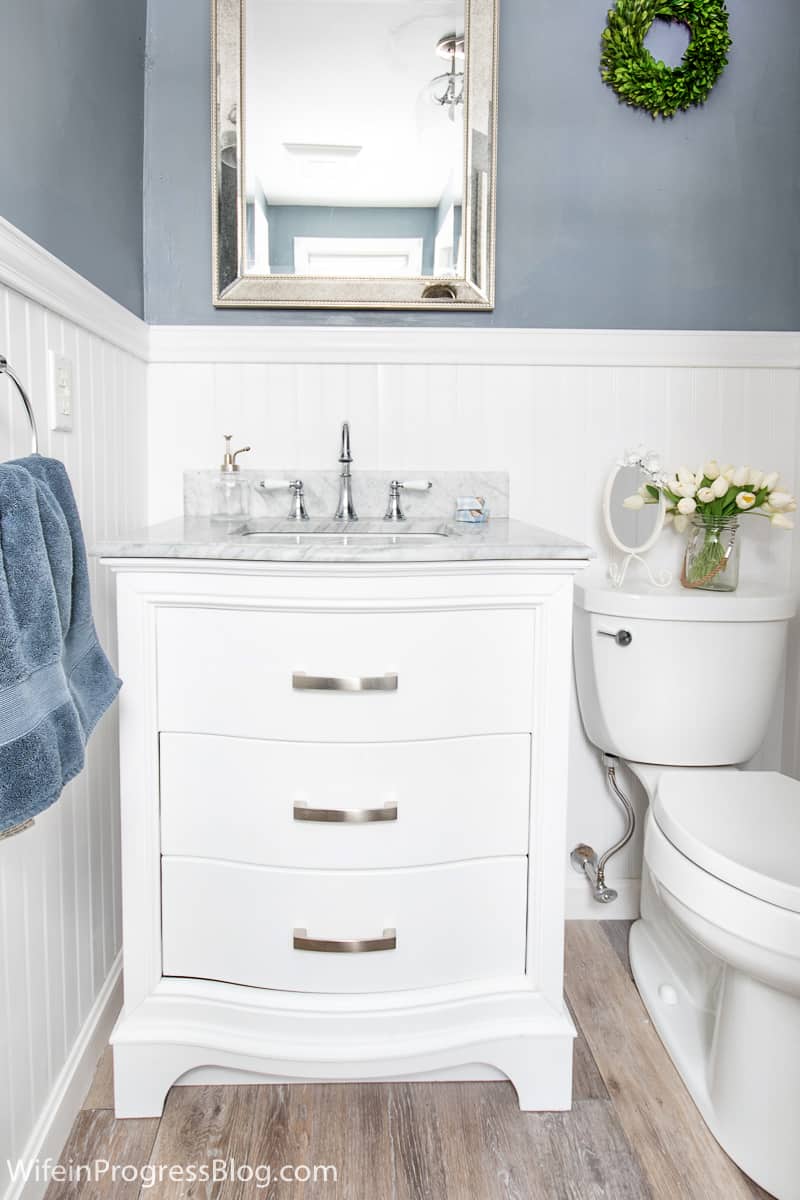 Sherwin Williams Morning Fog
Morning Fog is a shade lighter on the color card than Serious Gray. I chose it for our inside of our mudroom and garage doors. It's a beautiful color and I love how it adds color to our otherwise white kitchen.
Unfortunately, it can have a slight purple/lavender undertone at certain times of the day.
If you're looking for a gray-blue that sticks to those two colors and doesn't skew into purple, it might be best to avoid it.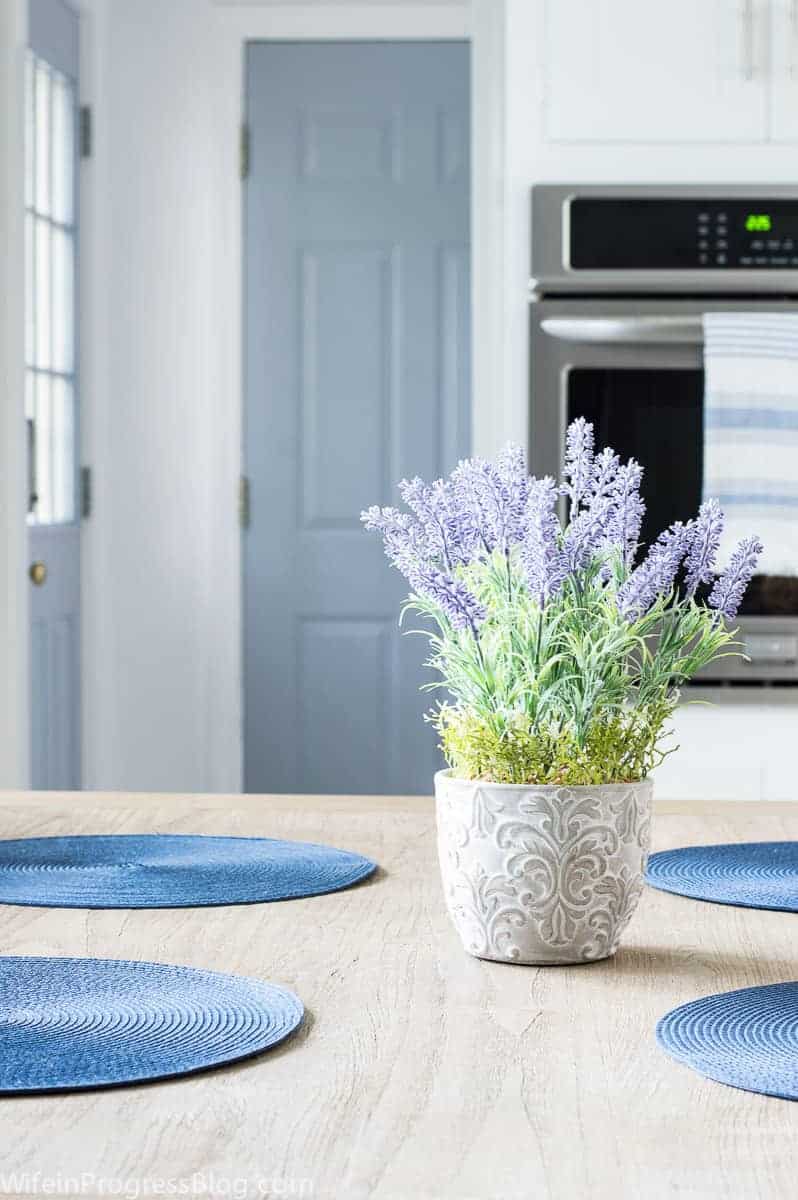 Sherwin Williams Silver Strand
Silver Strand is a great choice when you want to keep things fairly neutral on your walls. It's a beautiful light gray with a blue undertone that really pops against white and lots of greenery. It feels very clean and fresh.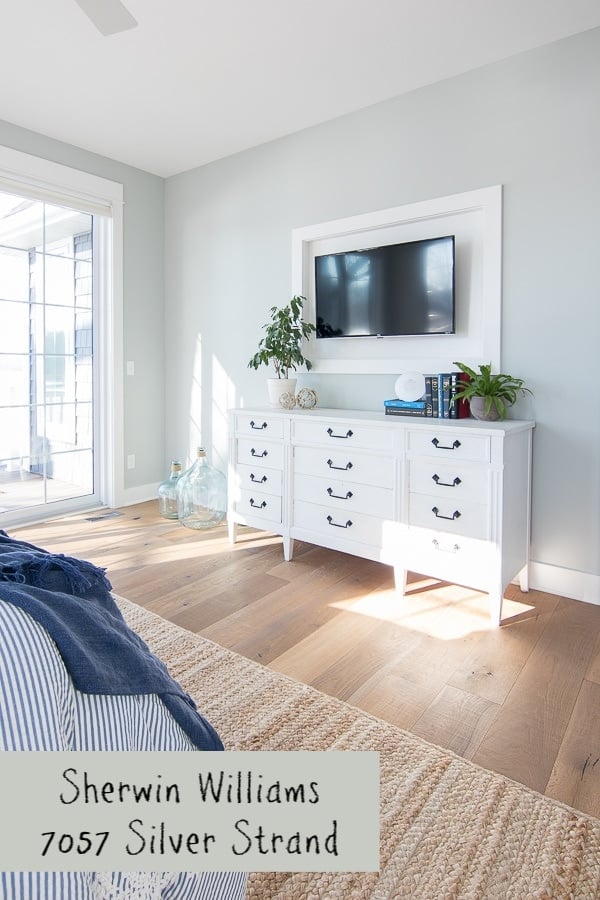 Behr – Light French Gray
Behr's Light French Gray (not to be confused with the Sherwin Williams color of the same name) is another beautiful blue-gray color.
I originally chose it for our master bedroom when we moved into our house several years ago, but had to switch it out for a less "blue" color as it made our north-west facing room feel very cold.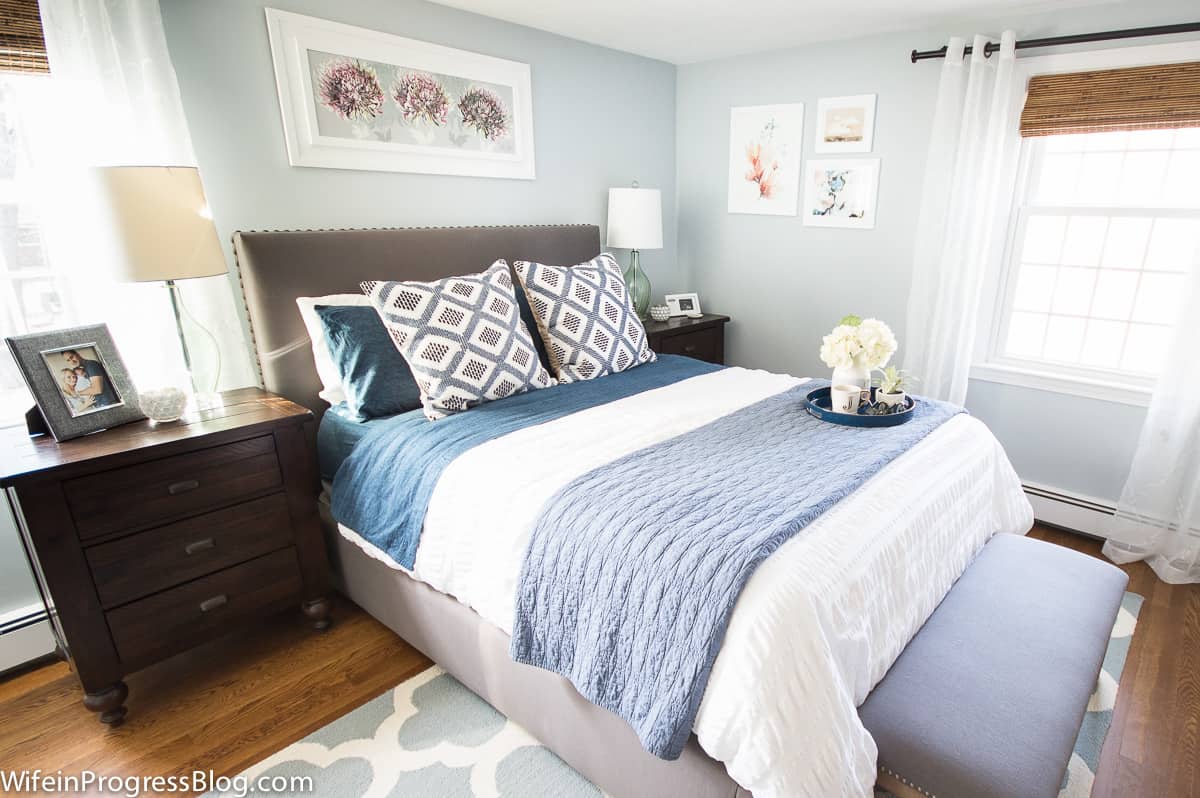 I definitely recommend using it in a room that gets warmer light to stop it feeling overly blue and cold.
Behr Reflecting Pool
Reflecting Pool is a very popular Behr grey paint color. We've used it several times, in both homes that we've owned.
When I hear light blue gray paint, this one immediately springs to mind. It's a very light color that definitely looks pale gray in some lights and almost baby blue in other light.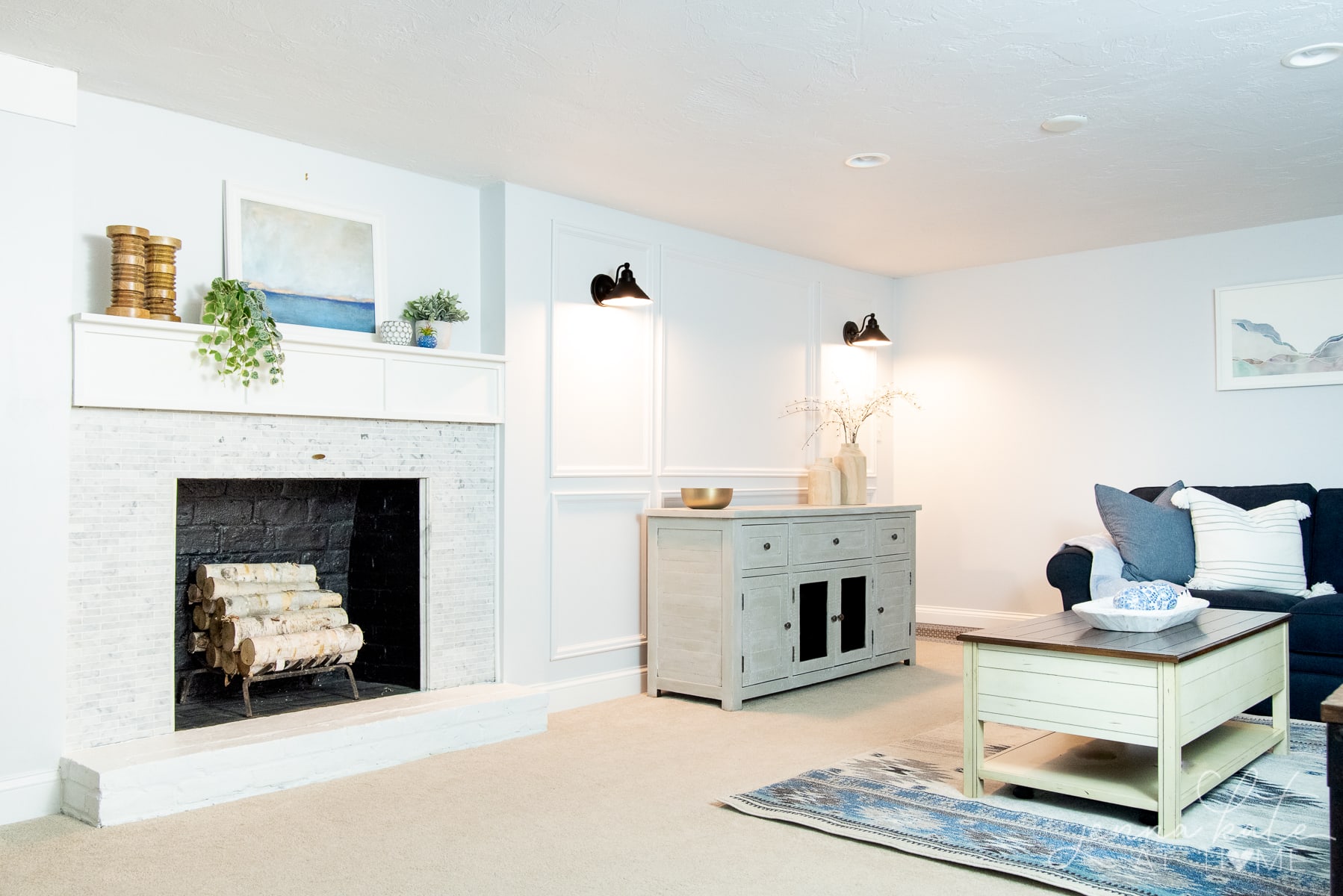 It's very soft and calm, perfect for a bathroom or nursery. We even used it in our basement and kids' playroom.
Reflecting Pool is actually one shade lighter than Behr's Light French Gray which was directly mentioned above.
Final Thoughts
I hope I've provided some inspiration for your future paint projects today! These blue gray paint shades are the perfect way to add a cool neutral, spa-like feeling to any room in your home
Don't Forget To Always Use Real Paint Samples!
Don't forget – no matter what you've read or photos you've seen online, it's really important to sample paint colors in your home before committing!
Samplize provides real paint samples that are easy to move around your home, and cheaper than buying a gazillion paint pots! It's the only way I buy paint samples.
Looking For More Interior Paint Colors?