Have you ever taken a step back, assessed the decor and colors in your room, and realized that it just looks a little 'flat'?
Well that's what happened me recently with my bedroom. I've never really taken the time to design this room properly. I bought new nightstands, switched up the rugs and bedding every so often…but it just never felt right, because it was missing one important component of a successful design: contrast.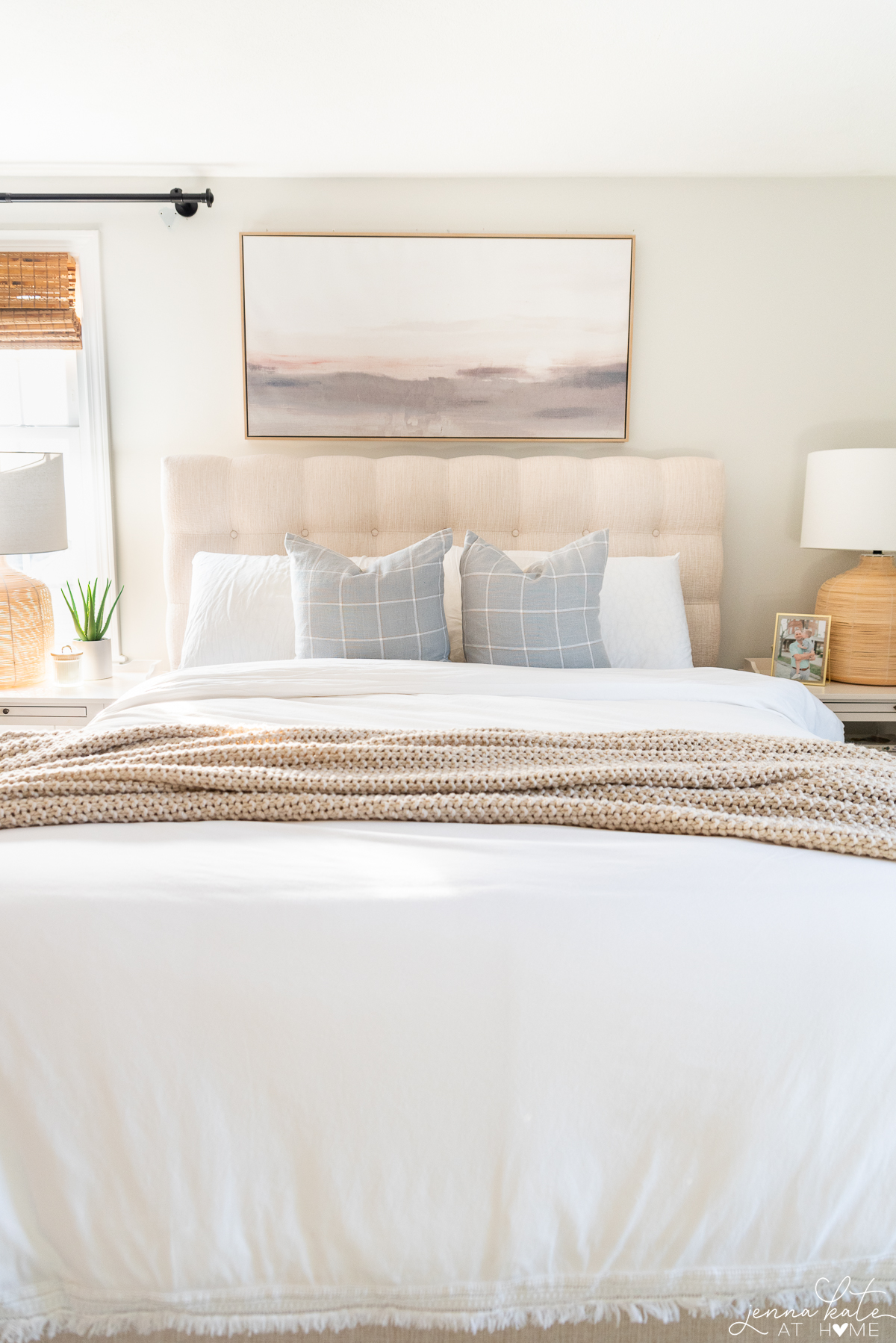 Contrast refers to the juxtaposition of opposing elements such as colors, textures, shapes, and sizes. When used effectively, these elements work together to create a visually pleasing design. By playing with opposites and experimenting with various combinations, you can transform any room from feeling "flat", boring, and just "off" to a really beautiful design that you love.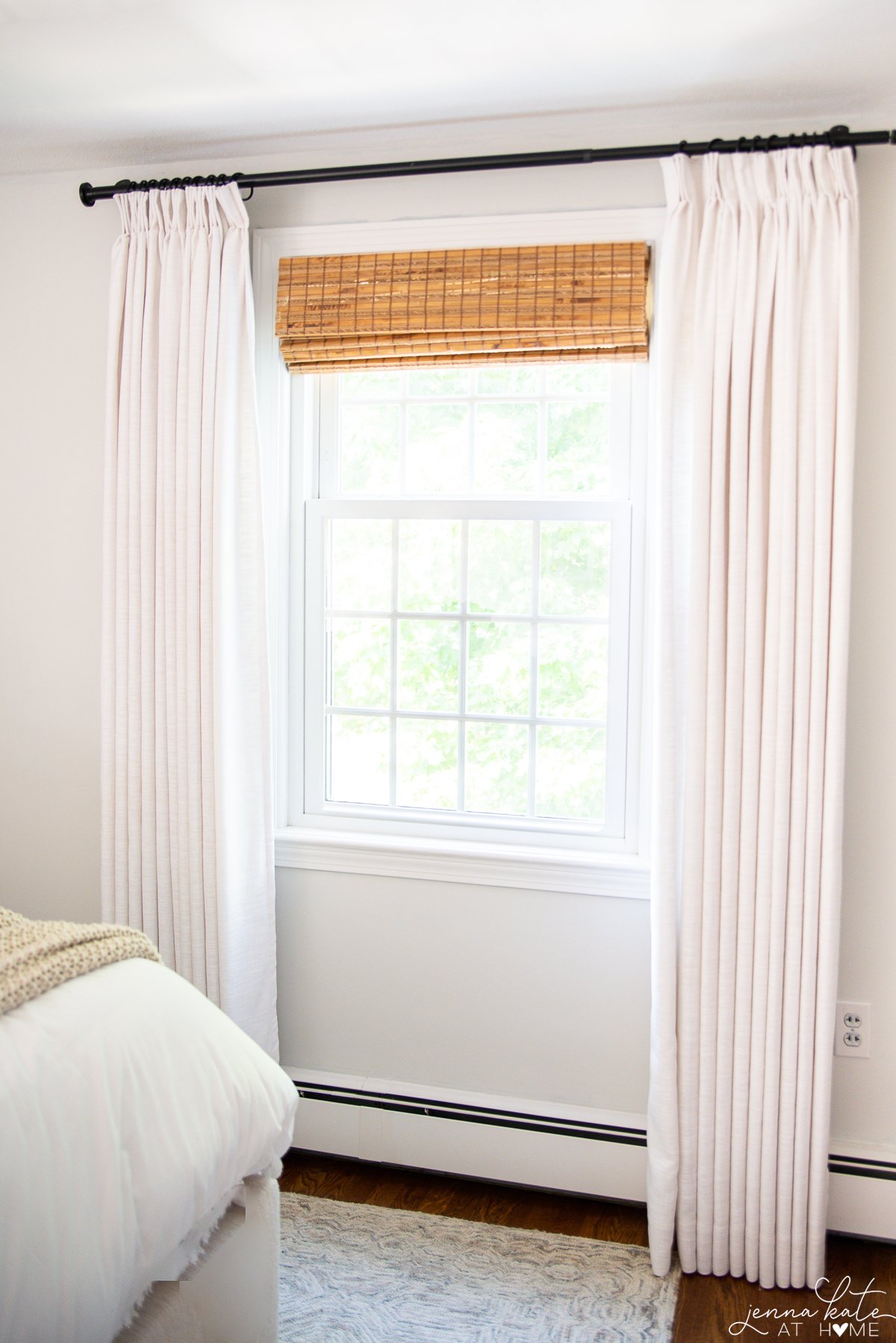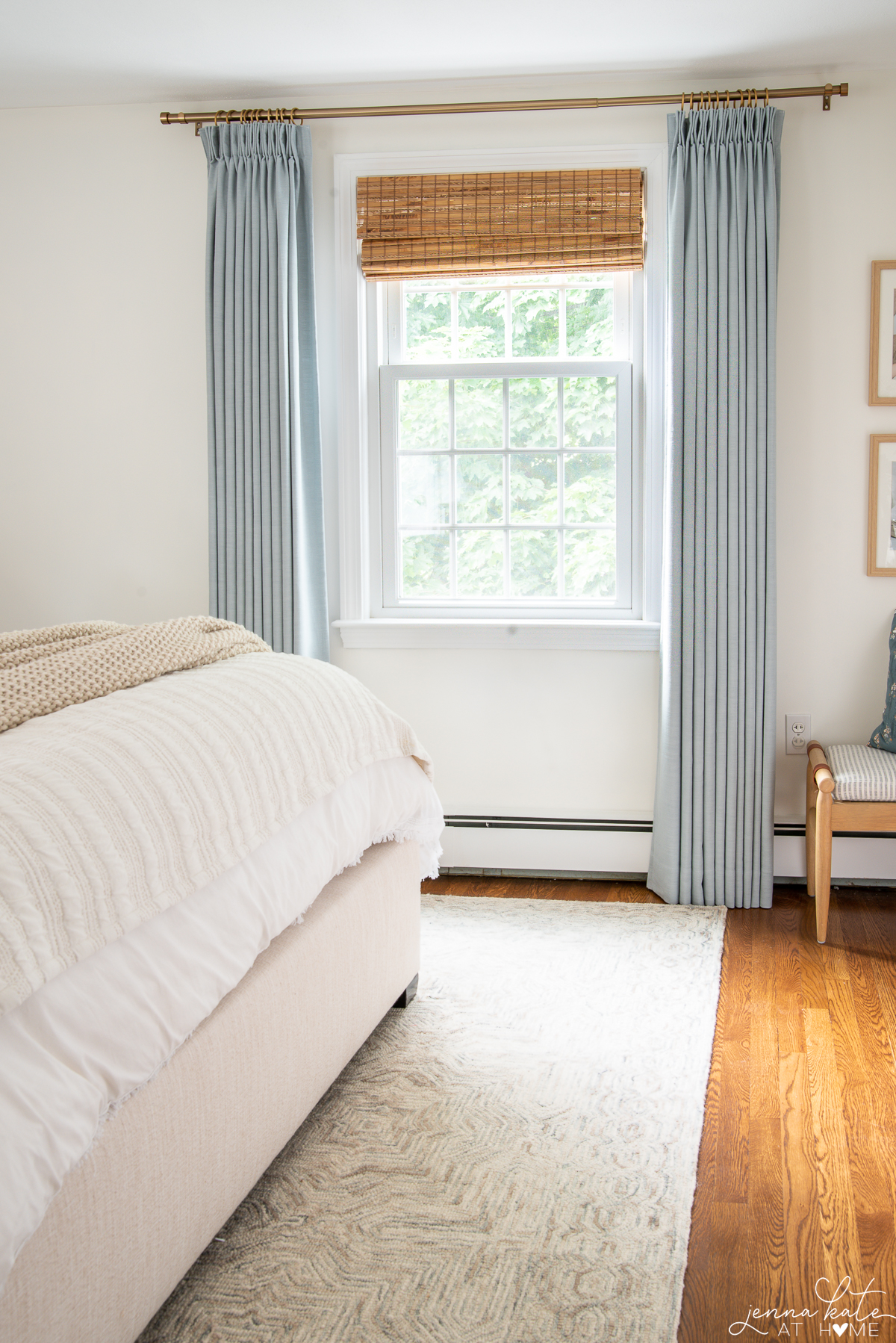 My 2 favorite ways to add contrast to a space are through color and shapes. Many times you will hear people say that every room should have some black. While I don't believe that's true (I generally don't decorate with black) I think that believe comes from the contrast that black brings to the space. However, any darker color will give the same effect.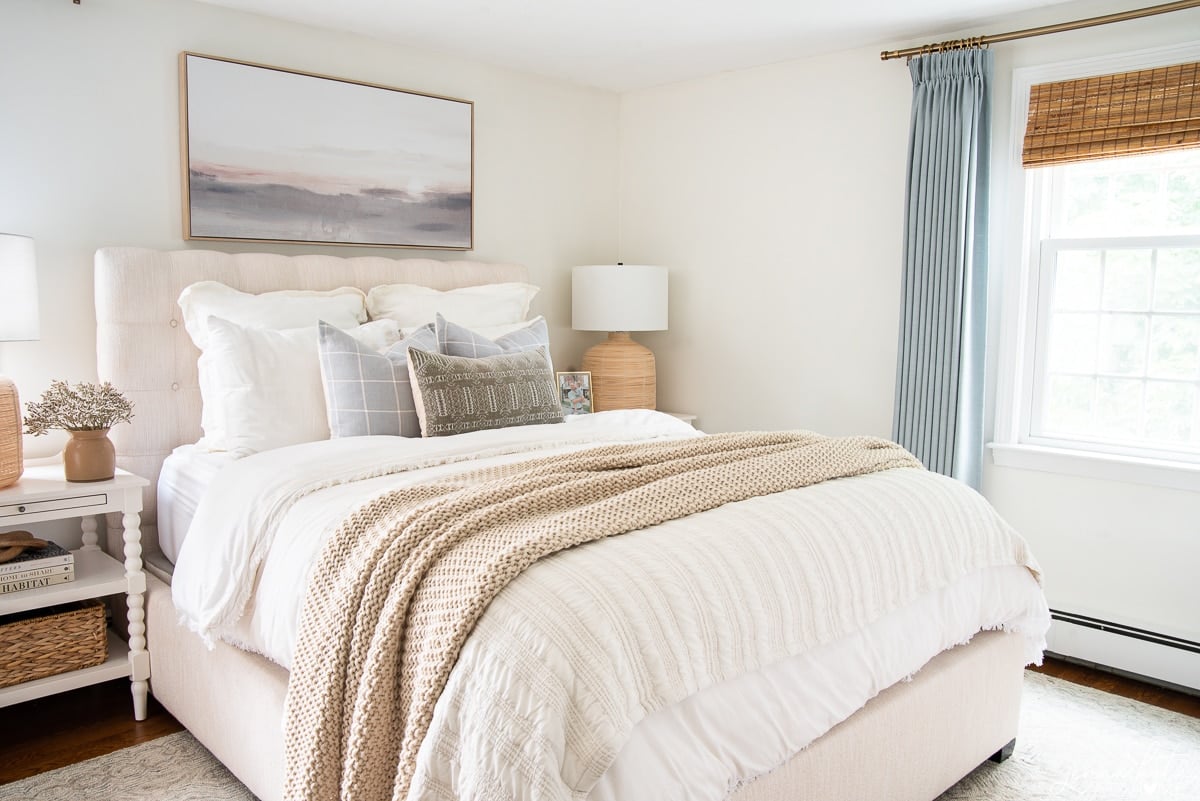 In my bedroom, for instance, instead of having the entire room in neutral shades – linen headboard, linen curtains, white bedding, light colored rug and light gray walls – I brought in a darker shade of blue for the curtains and one throw pillow on the bench in the corner.
This simple change instantly added contrast and lifted the entire room.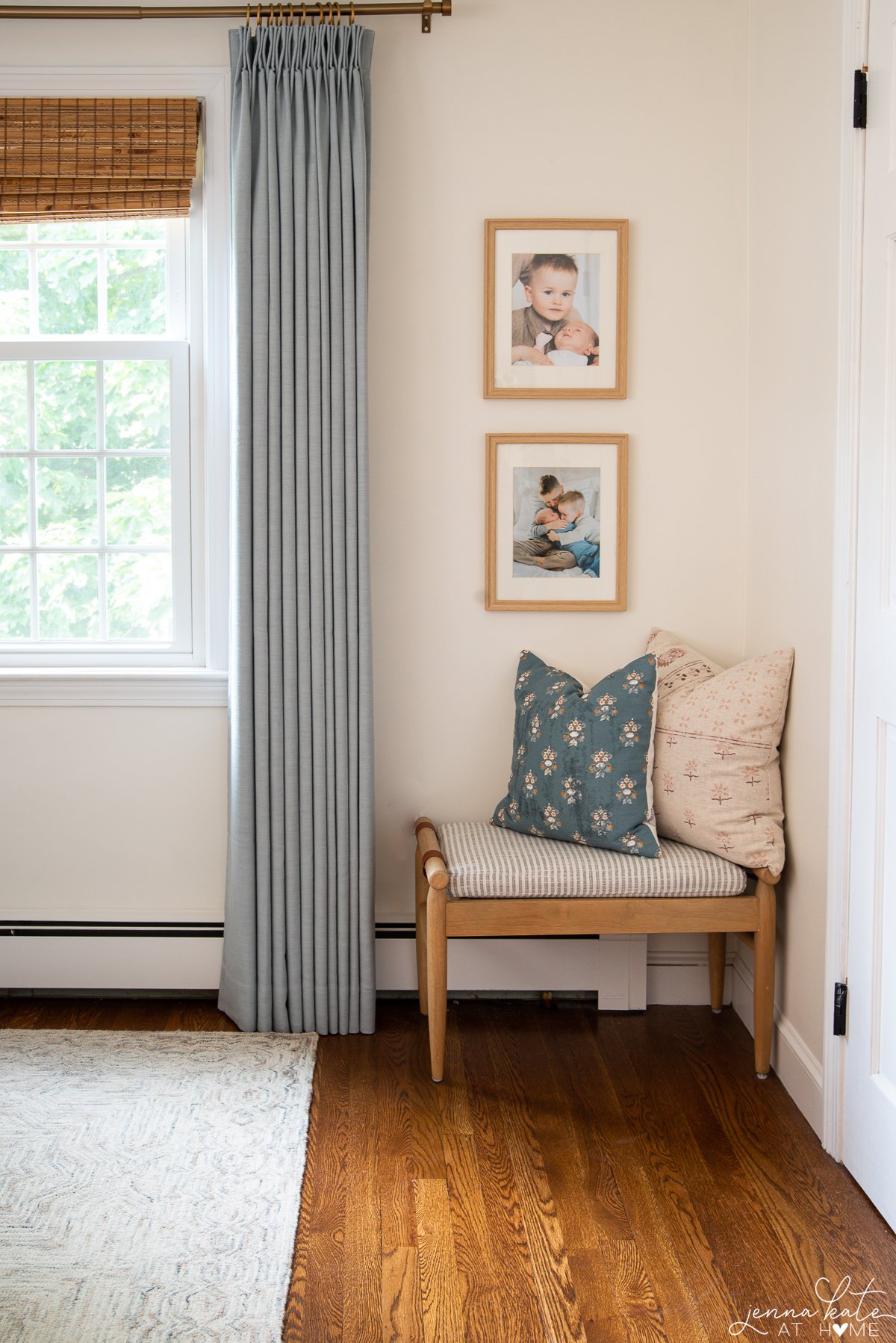 Over the past few years, I've really gravitated towards striking a balance between warm and cool tones, and not just sticking to one or the other. I first did this in my kitchen remodel, and now in this bedroom, you can see how the cooler tones of blue and white are balanced by the warmth of the White Dove walls, warm wood tones, and brass accents.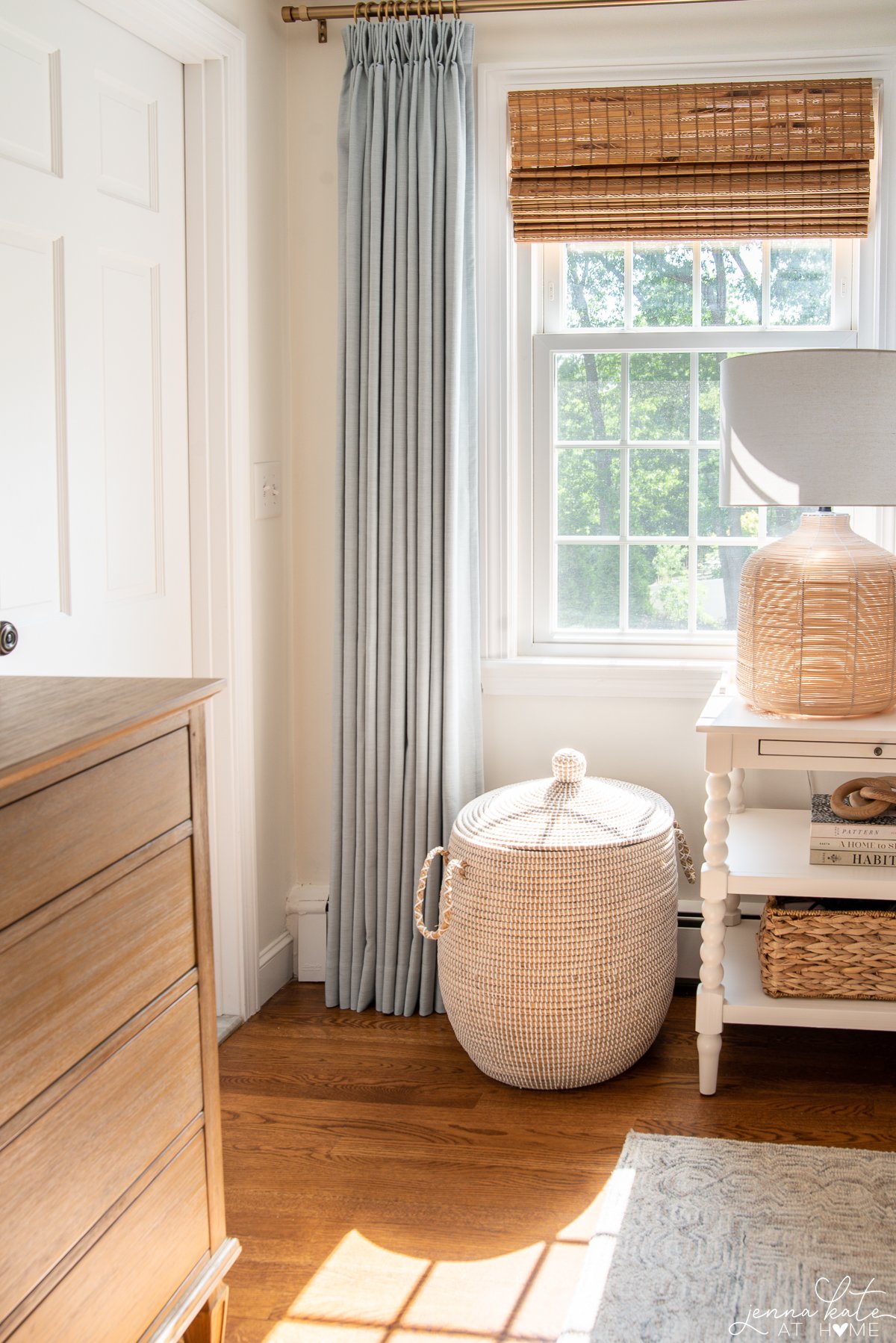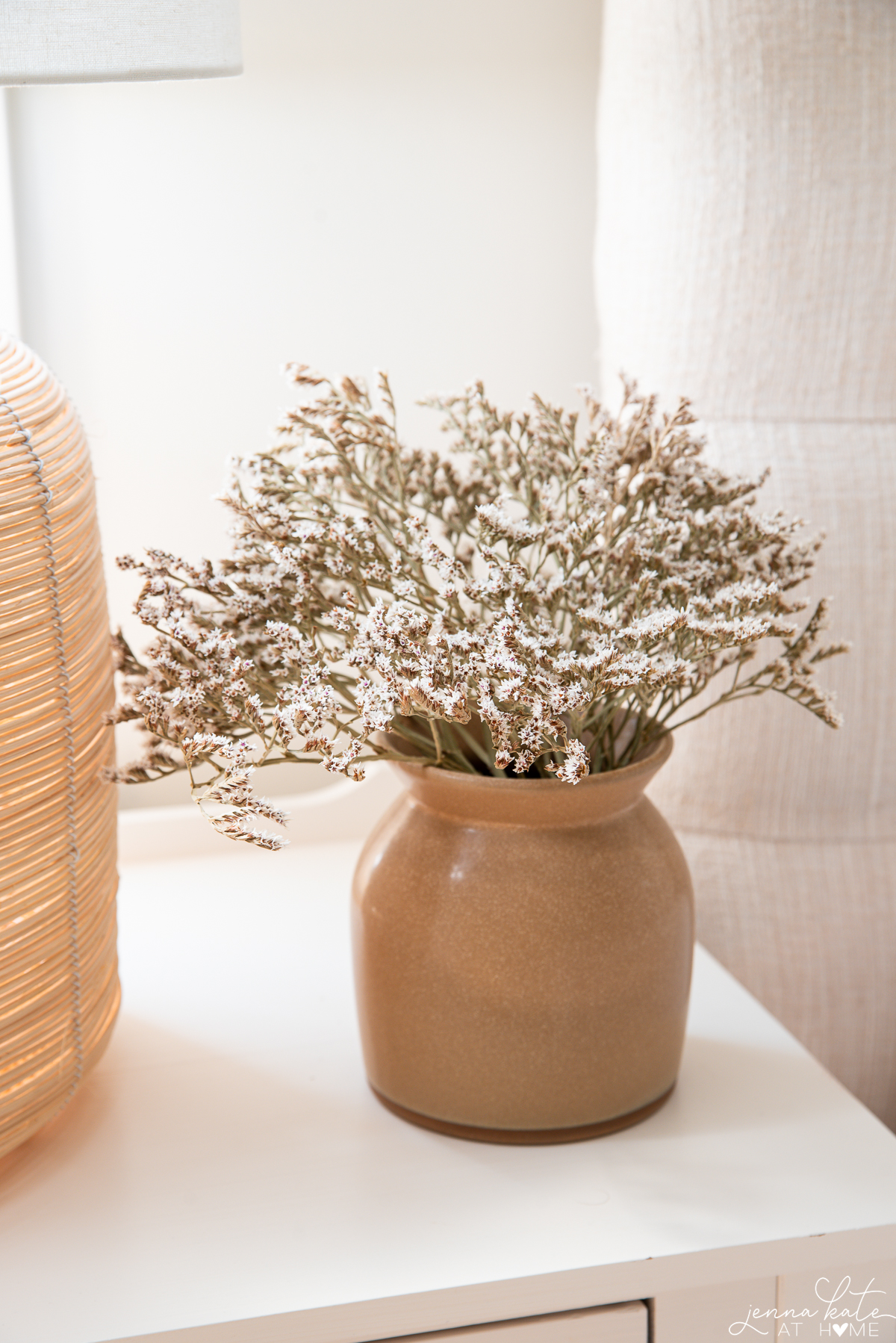 To balance out all the straight lines in the room (the curtains, the dressers, the window shades, etc.) I added a wavy mirror over the dresser. This adds contrast because it's the opposite shape of what mostly exists in the room.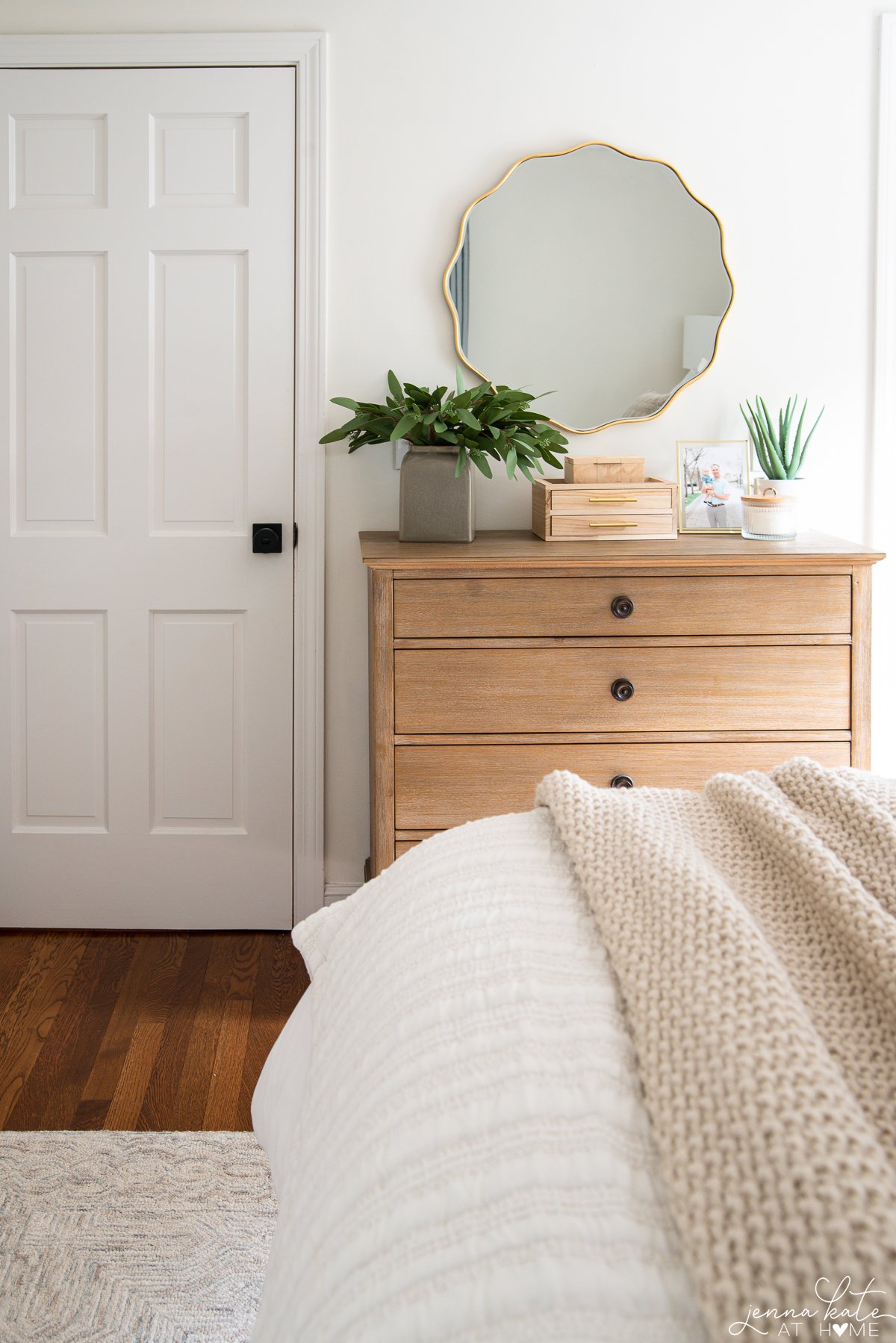 Adding a mirror in a bedroom like this that has poor natural light also has the added benefit of bouncing light around the room, making it appear brighter than it actually is.
I also just adore this mirror as it's a great dupe for one of my favorite Serena & Lily ones!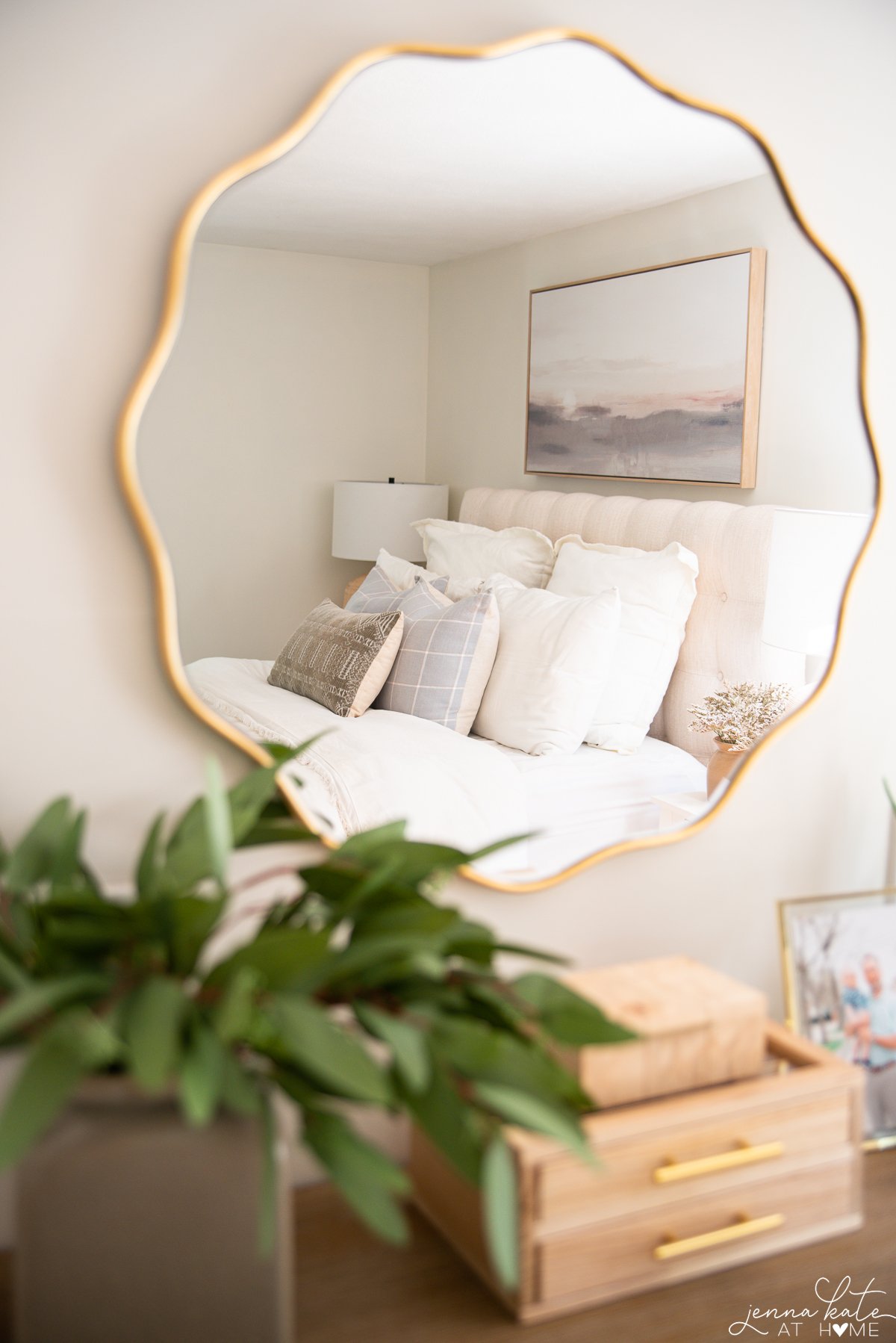 Balancing Textures
It's essential to strike a balance between various textures in your home decor to create an energetic and inviting environment, too.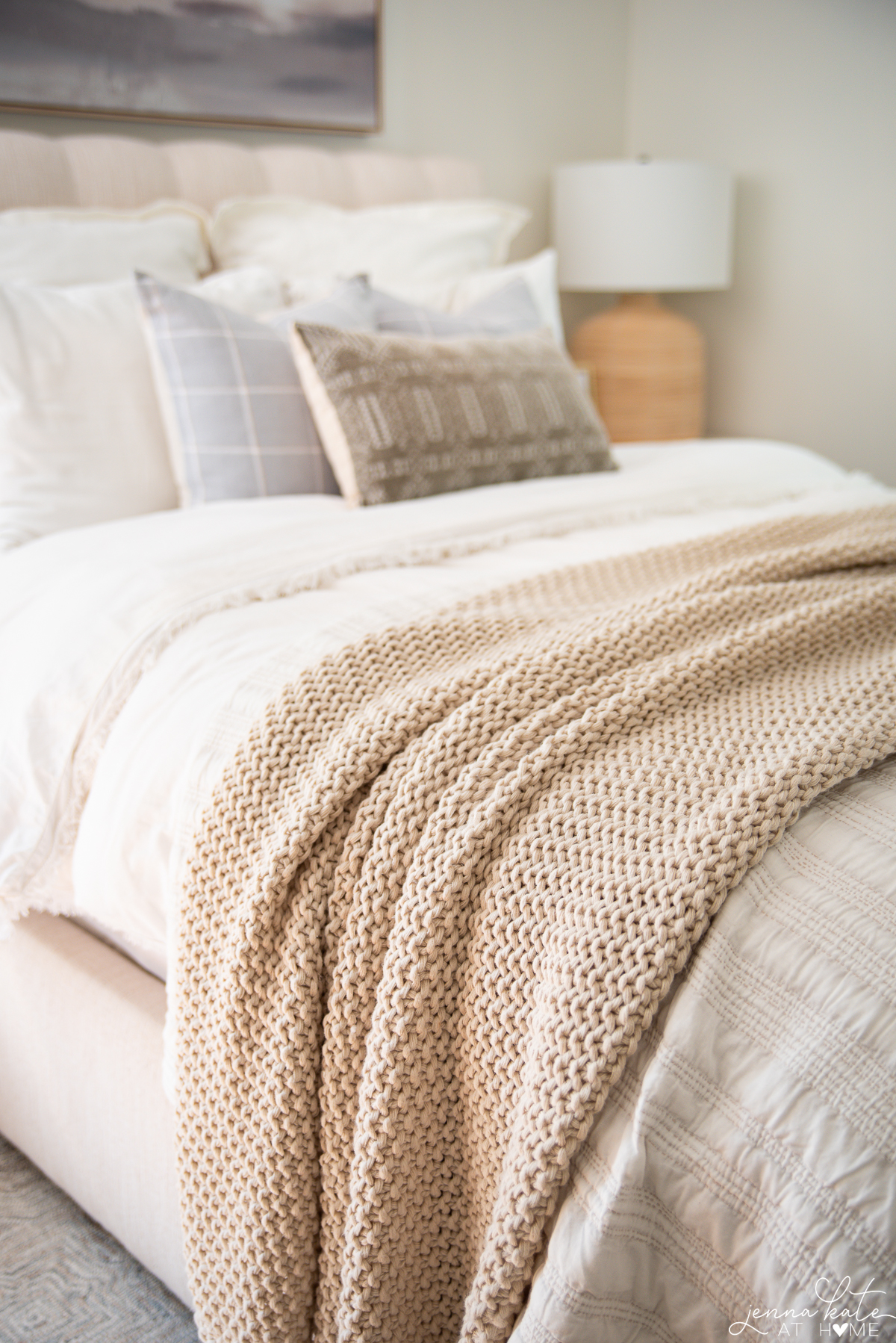 Follow these tips to achieve the perfect balance:
Mix and match smooth and rough surfaces, such as a cotton duvet color and a knitted blanket, to create an interesting contrast.
Combine organic and geometric shapes in furniture and accessories to add depth and character.
Play with scale and size by incorporating both small and large patterned elements in the room (easy to do with throw pillows and rugs).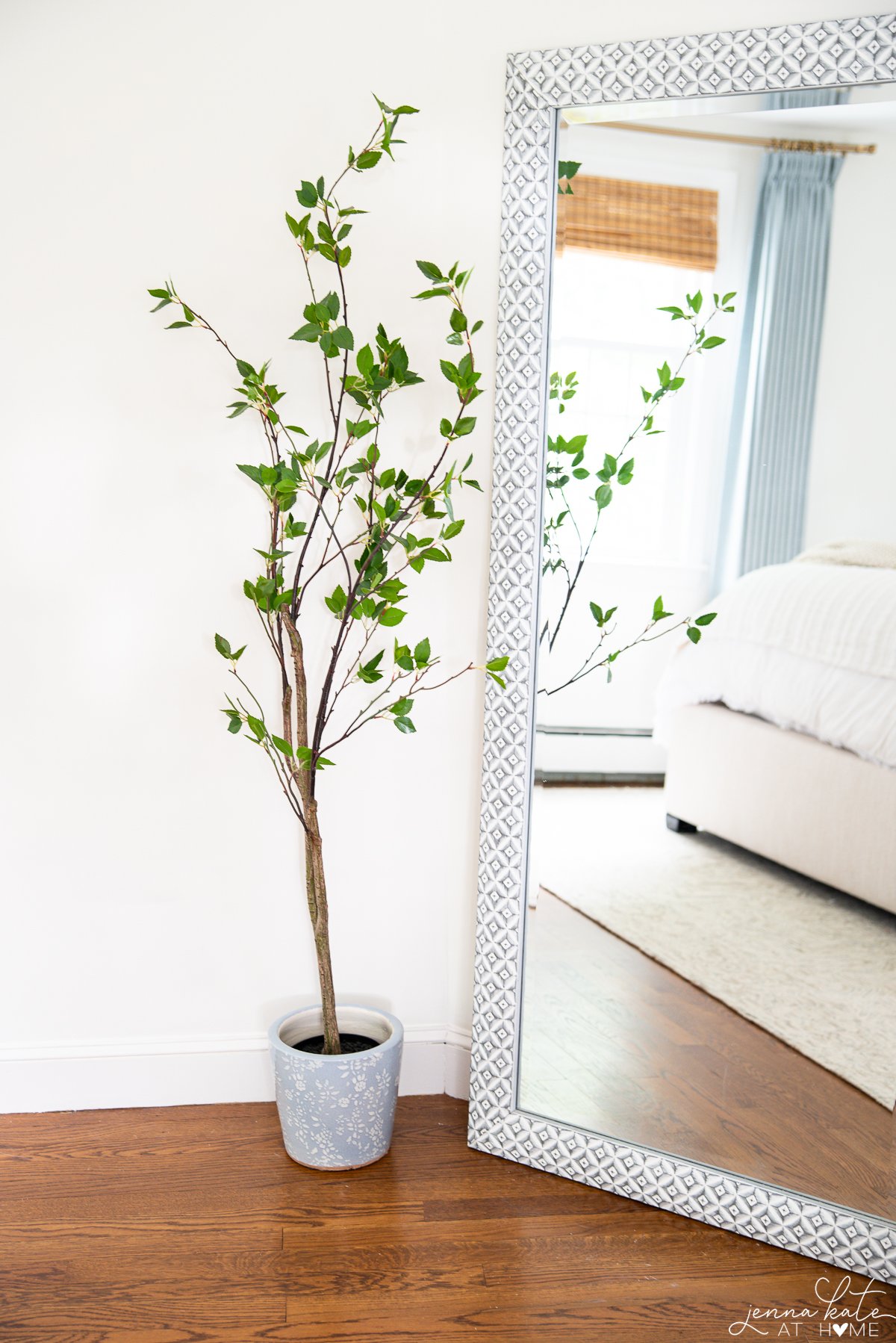 Symmetry
One thing that has consistently bothered me about this bedroom is the lack of symmetry with the windows. In a perfect world, the wall with the bed would have windows on both sides of the bed. But alas, it does not. I found that having curtains to the left further highlighted this problem.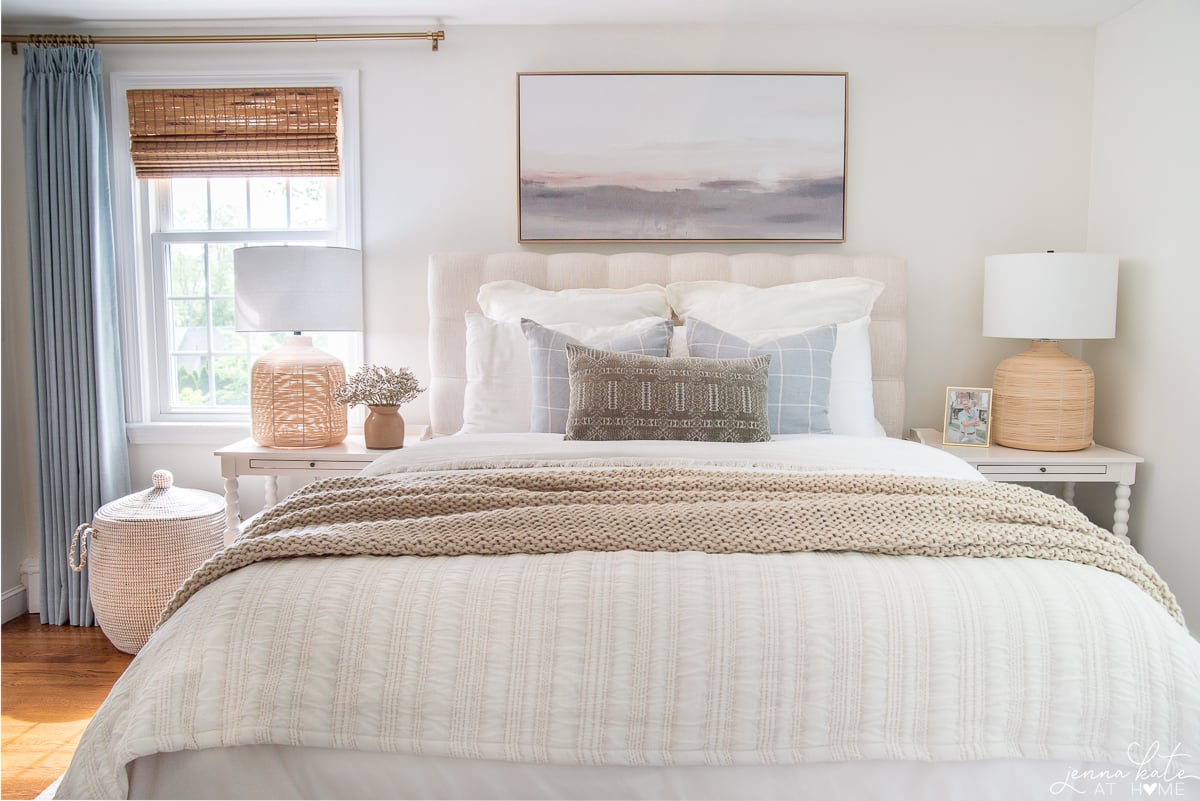 I came up with 2 simple solutions to this problem: remove the curtains entirely (I didn't want to because I love the softness they bring) or only hang one curtain panel to make the table lamps the symmetrical element on that wall.
This had the added bonus of letting more light in through the west-facing window, making the entire space feel much bigger and brighter. Win-win!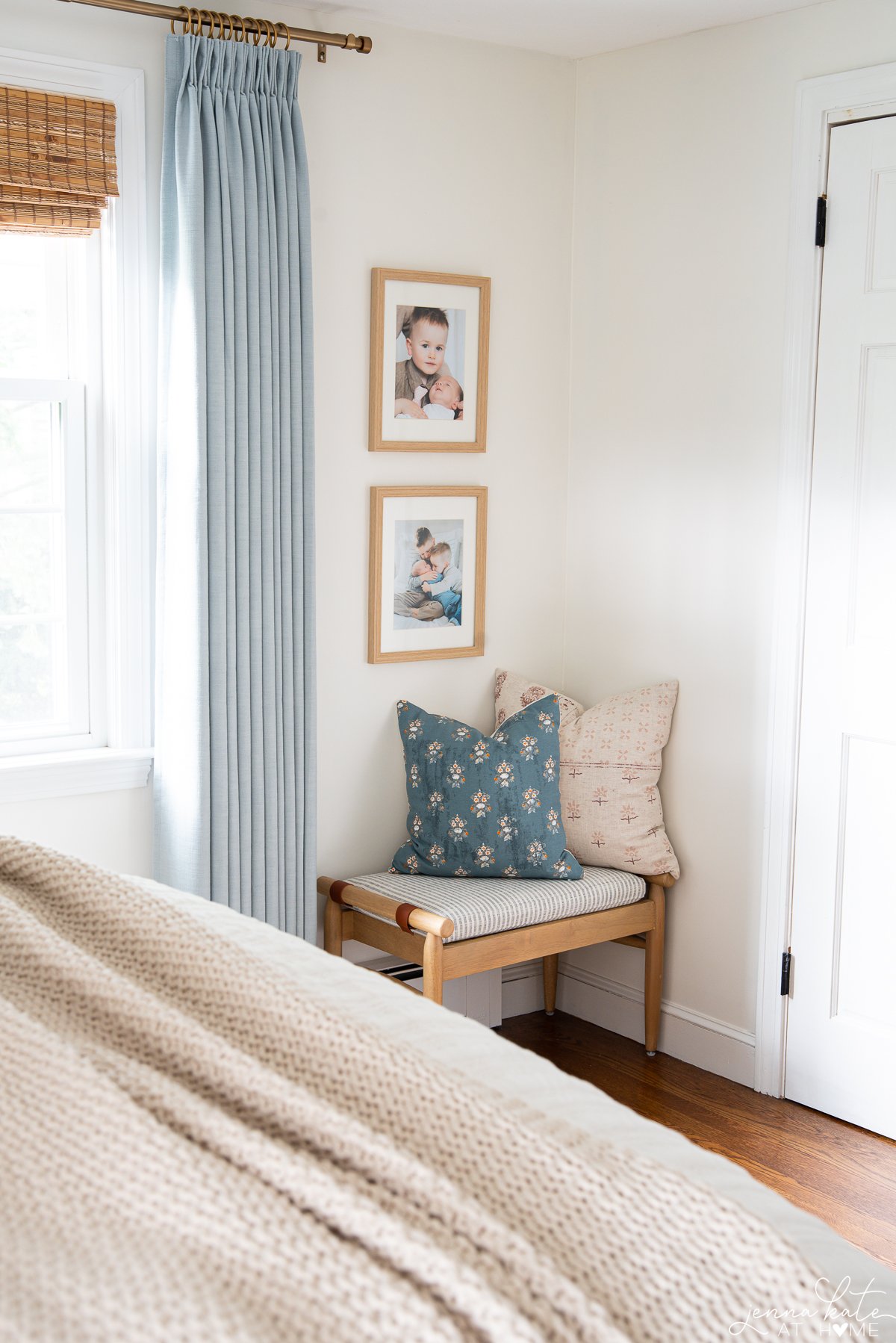 Final Thoughts
As you explore different ways to add contrast, keep in mind the importance of maintaining a sense of harmony and cohesion. Striking the right balance between contrasting elements is crucial to achieving a sophisticated and well-designed space.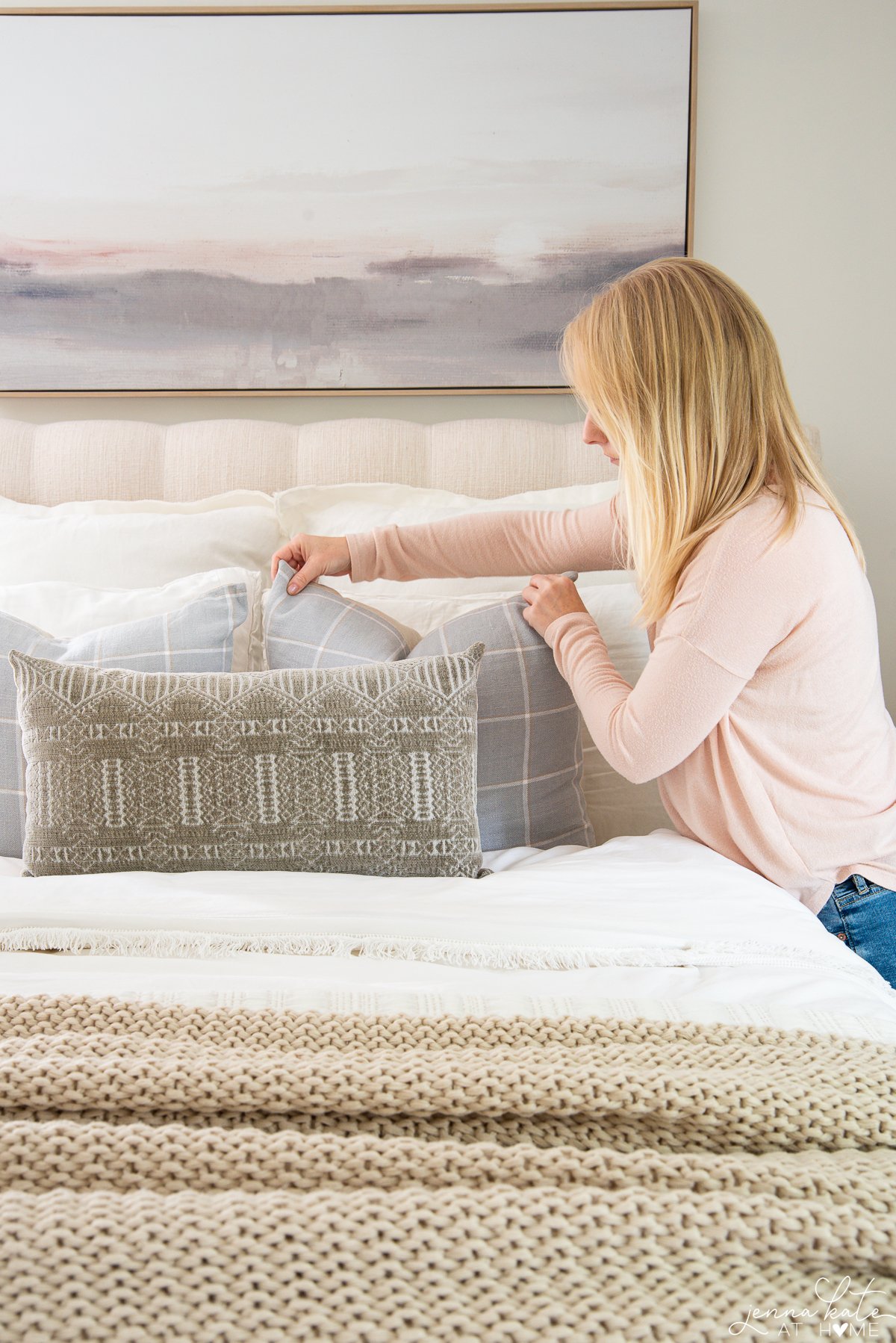 So, whether you opt for a dramatic black and white color scheme or a more subtle mix of analogous colors, don't be afraid to take some risks and let your personal style shine through.