This post may contain affiliate links | For further details, please read our privacy policy
Tired of the traditional red and green Christmas color scheme you see year after year? Why not give rose gold Christmas decorations a try! These ideas will inspire you to think outside the box and create a home you love this holiday season in a simple way.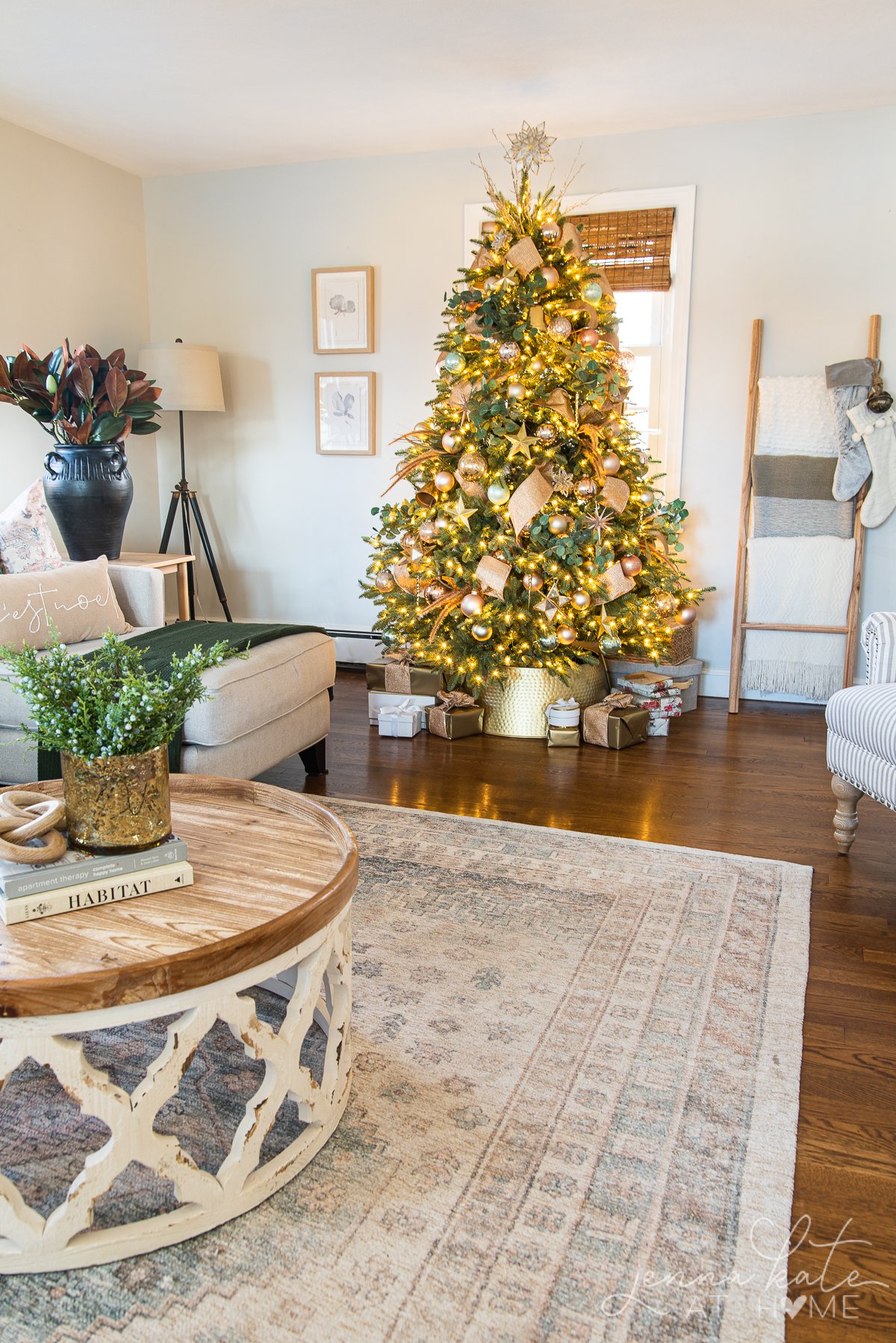 For this rose gold Christmas tree, I incorporated different shades of rose gold and muted green for a play on the standard red and green Christmas colors. I love how soft and elegant-looking it turned out.
In this post, I'lm going to show you just how to use this new color scheme to your advantage to create a beautiful Christmas tree and living room.
The Balsam Hill Faux Tree
The tree itself is the Balsam Hill 6.5ft Balsam Fir. I adore Balsam Hill's trees and usually the quality and fullness of the tree cannot be surpassed. They have always been my favorite trees! Unfortunately, this particular artificial tree has been a slight disappointment and I'm not sure I would recommend it because of the extra cost associated with this large tree.
Unlike my other Balsam Hill trees, no amount of fluffing eliminated visible gaps in the upper half of the tree. The lower half is very full, the top not so much. It's still beautiful – but I was a little disappointed. I'm tempted to try a flocked tree next year with this same color combination!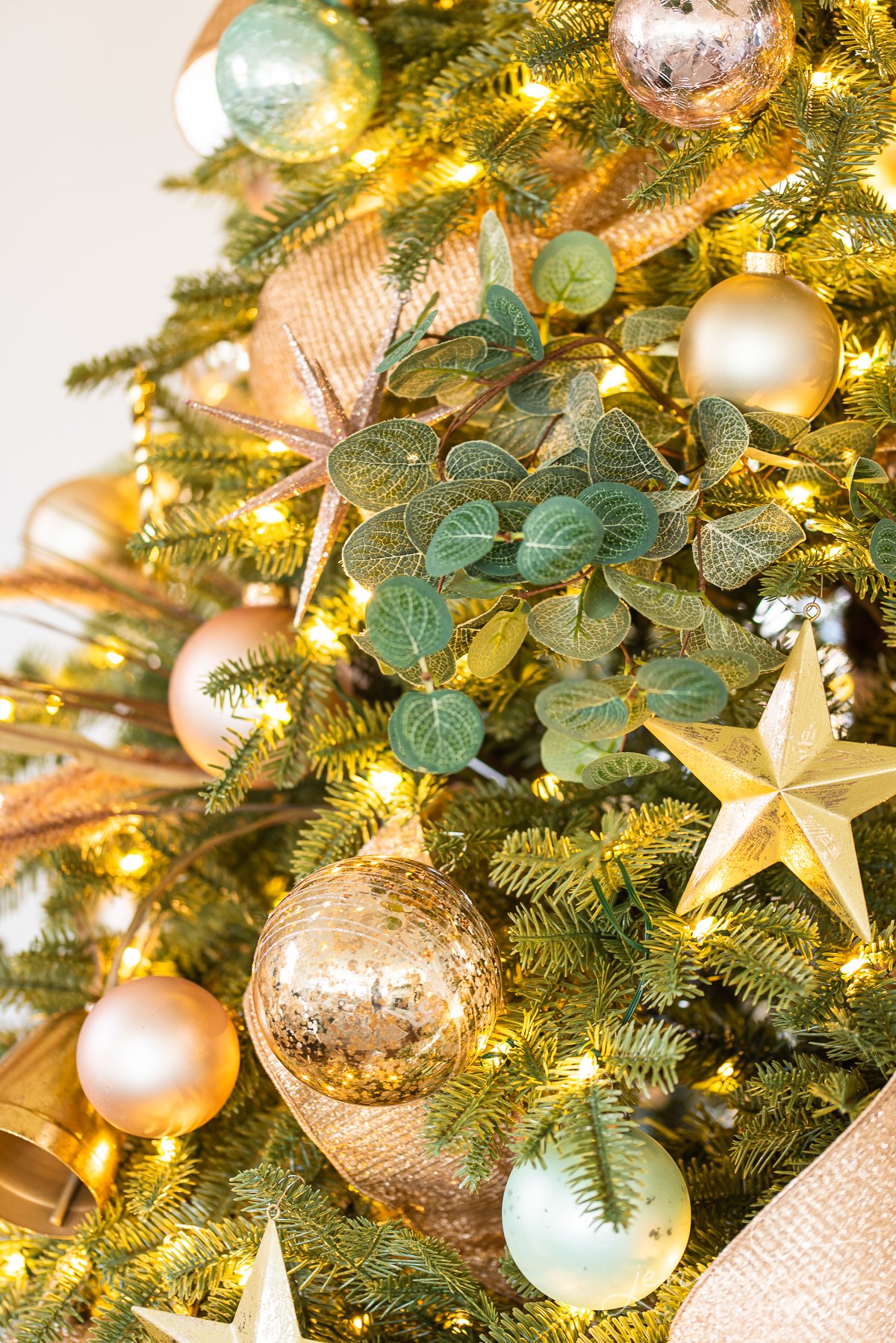 To help bring more green into the color scheme (and let's be honest, to fill some of the gaps!) I added faux eucalyptus picks throughout.
I love the different shades of green and added texture they bring. Don't they look stunning next to the rose gold ornaments?
This more muted shade of green pairs with the rose gold decorations perfectly and helps to complete the look.
Incorporating a few gold glitter stars of other shapes adds dimension and texture to the tree. Or, you could just use classic ball ornaments of different sizes to achieve this look.
Rose Gold Christmas Ornaments and Ribbon
The main way I switched up my usual decor this Christmas season is by swapping out the majority of my ornaments for these gorgeous rose gold balls.
I love how timeless the new ornaments look. Plus, you can find something similar at just about any of your favorite home stores around this time of year.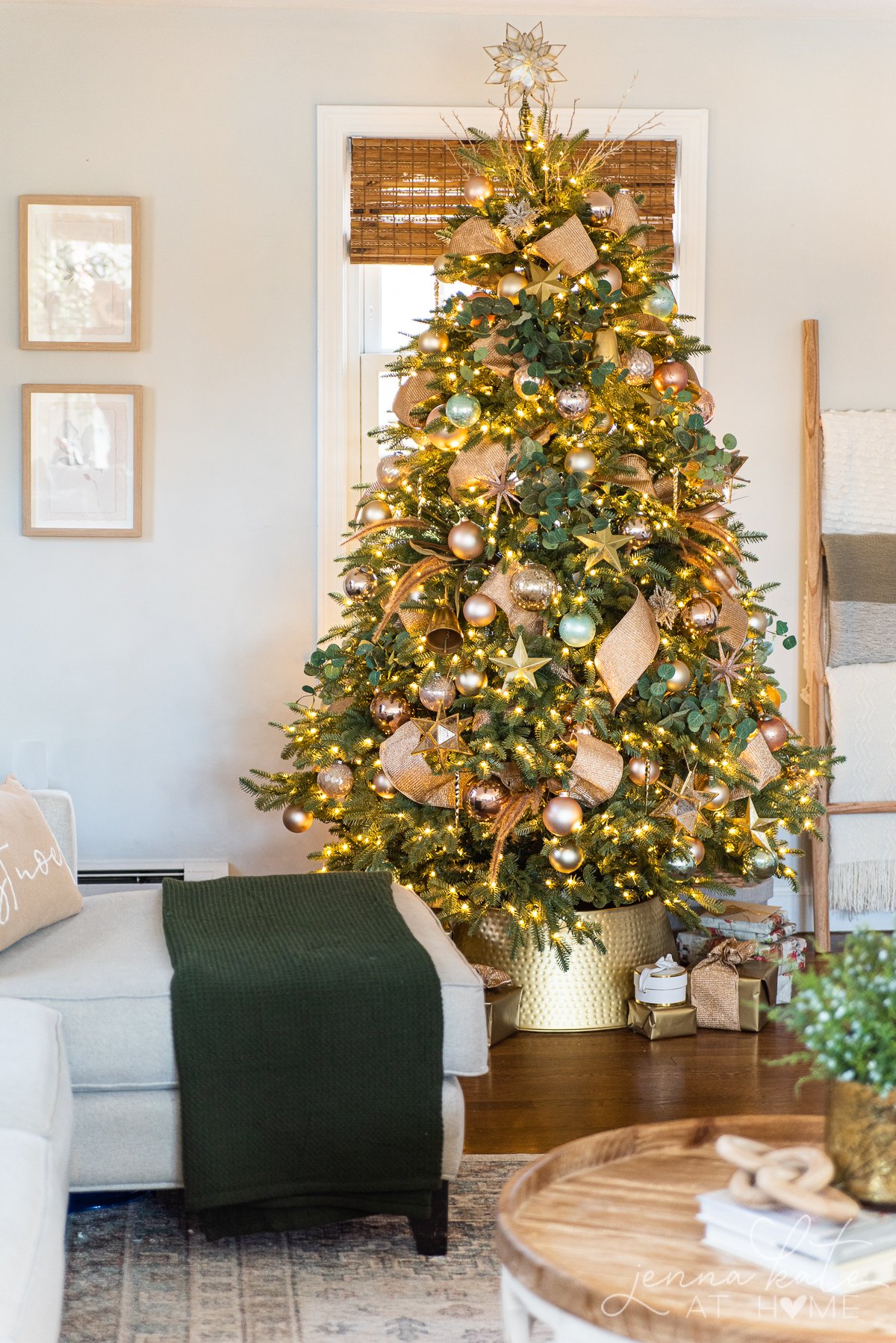 You'll also want to drape rose gold ribbon down the tree to really emphasis the accent color. I love how these simple strands upped the wow factor of the tree. It's a great way to further utilize the color!
Instead of a tree skirt, you can opt for a gold or rose gold Christmas tree collar. I've had this one for a long time and it has looked stunning with several different themed Christmas trees.
Coordinating Gift Boxes
To polish the look of your decorated rose gold tree, coordinate the gift boxes, wrapping paper, and ribbons. I use these same white boxes year after year and have added in a pink ribbon to match.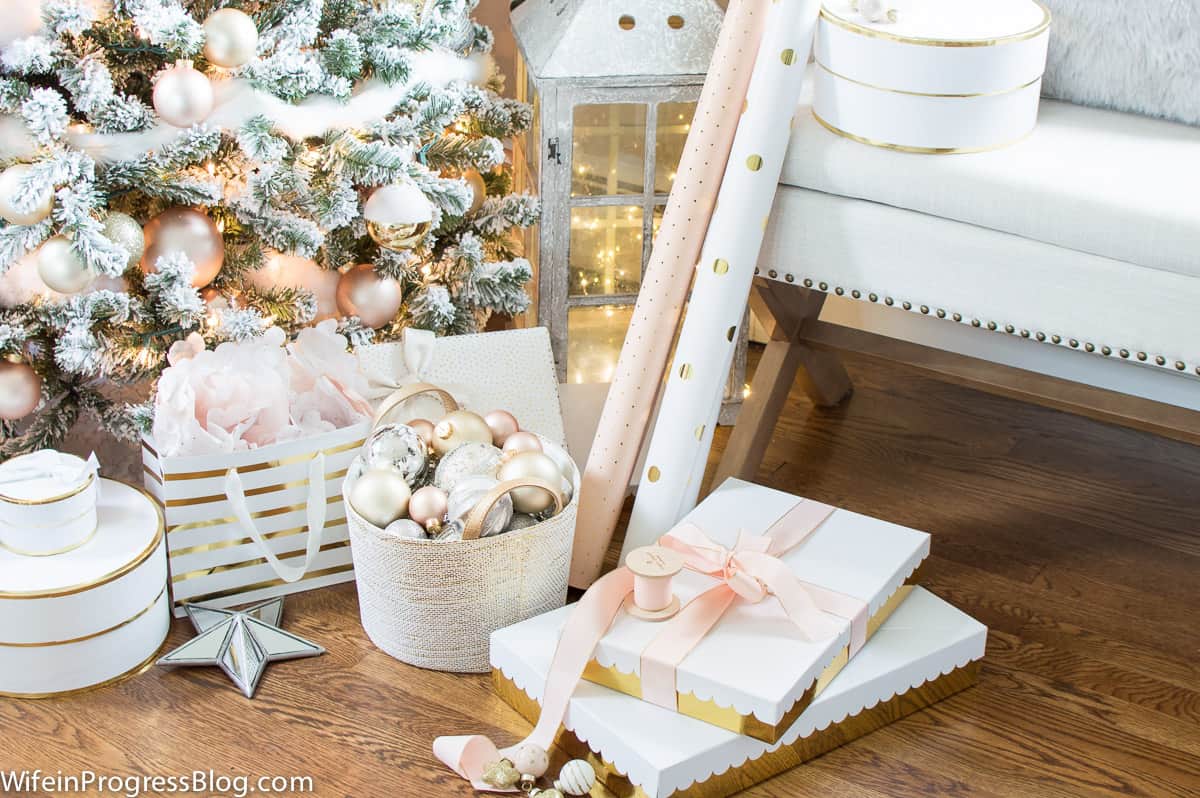 Of course, once your tree is just the way you want it, you'll want to spruce up the rest of the living room to coordinate. Let's get into how I did that this year!
Throw Pillows and Blankets
At the last second, I also added some dark green throw pillows and a simple blanket to the couch. I'm not sure how I feel about them as I usually prefer a softer look, but they added some much needed color contrast for these photos!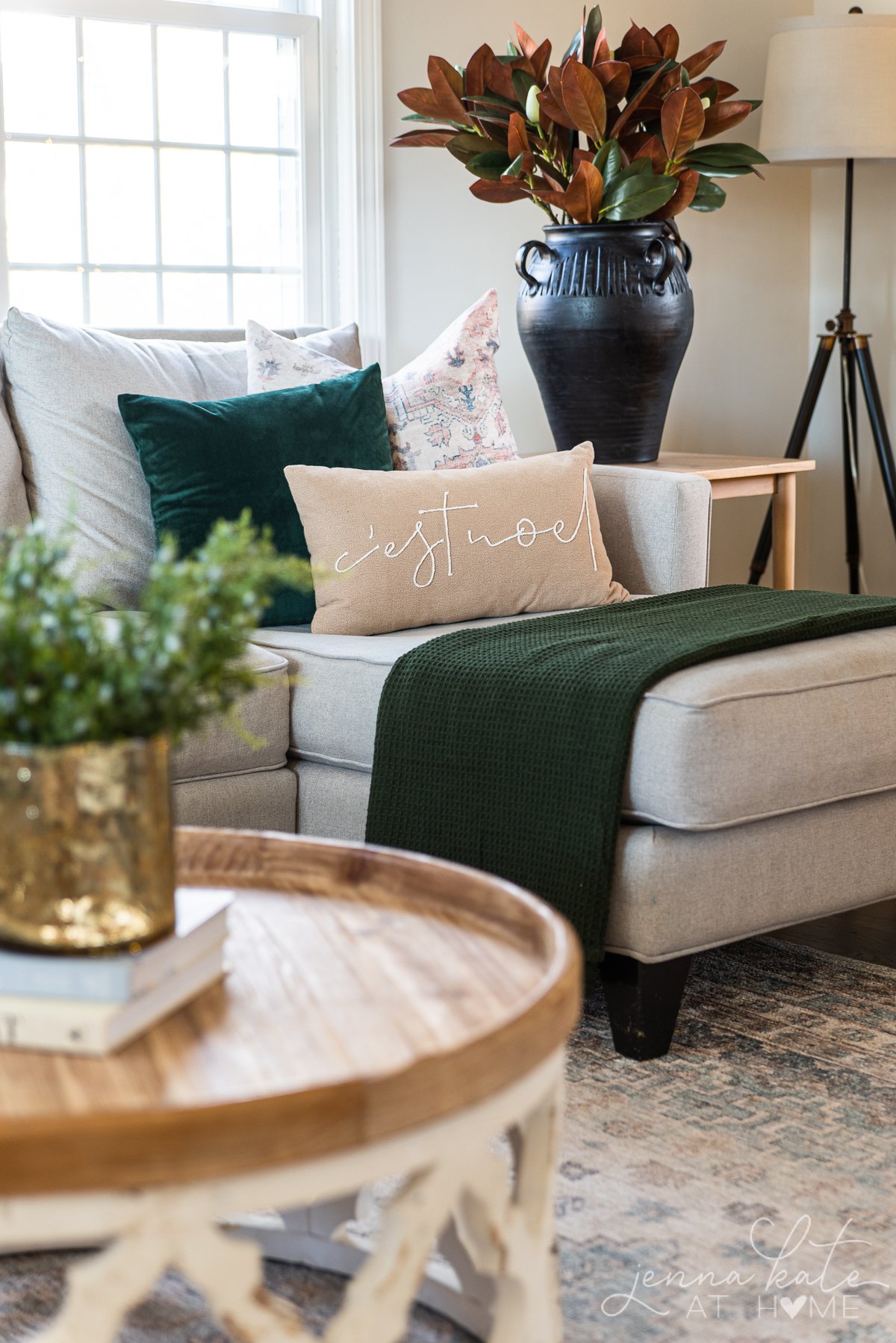 Blush Pink Living Room Accents
If the dark green pillows shown above were too much for you, you can sprinkle in some light pink Christmas decor items. This will draw out the rose gold color from the ornaments and create a warm and cozy feel.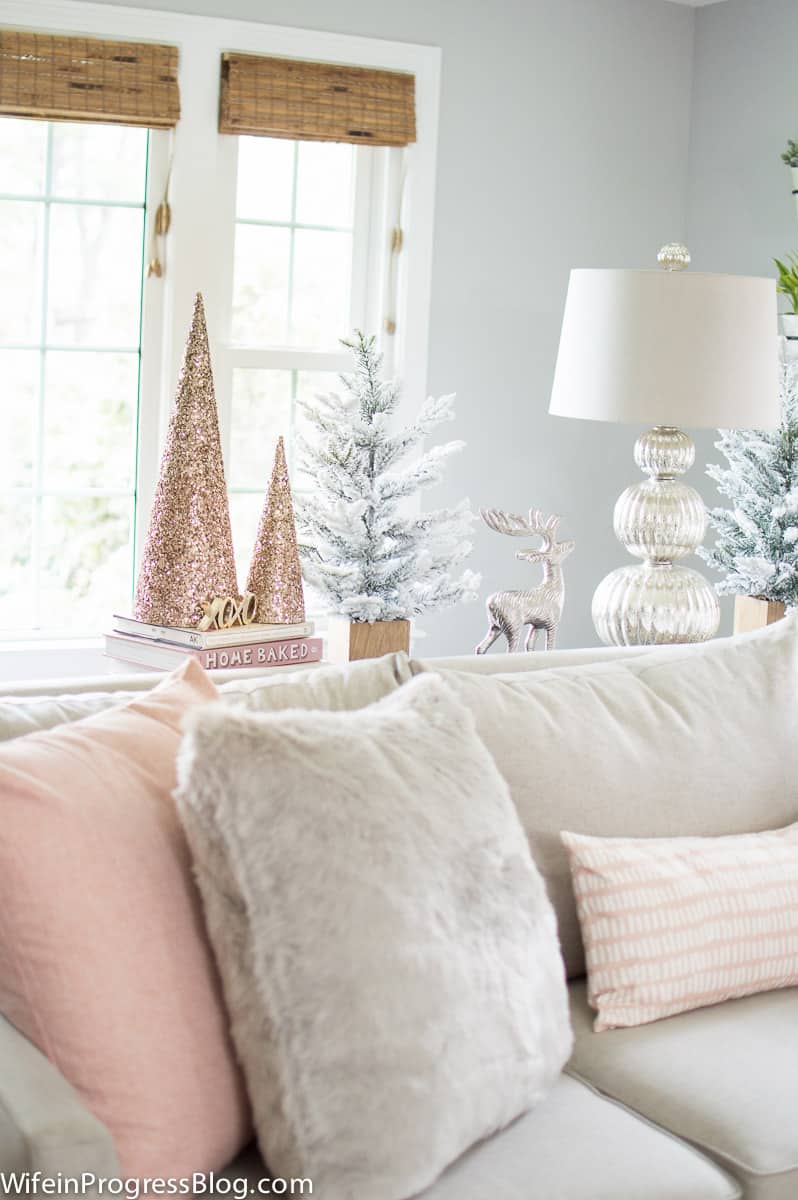 These light pink pillows and trees are a nice variation from the traditional Christmas bright red holiday decor. Talk about modern and sleek!
Afloral Flowers and Garland
Afloral has been my favorite source for faux flowers, garlands and the sort over the past few years. Not only is my fireplace mantel garland from there, but also the faux magnolia branches and these pretty juniper stems on my coffee table.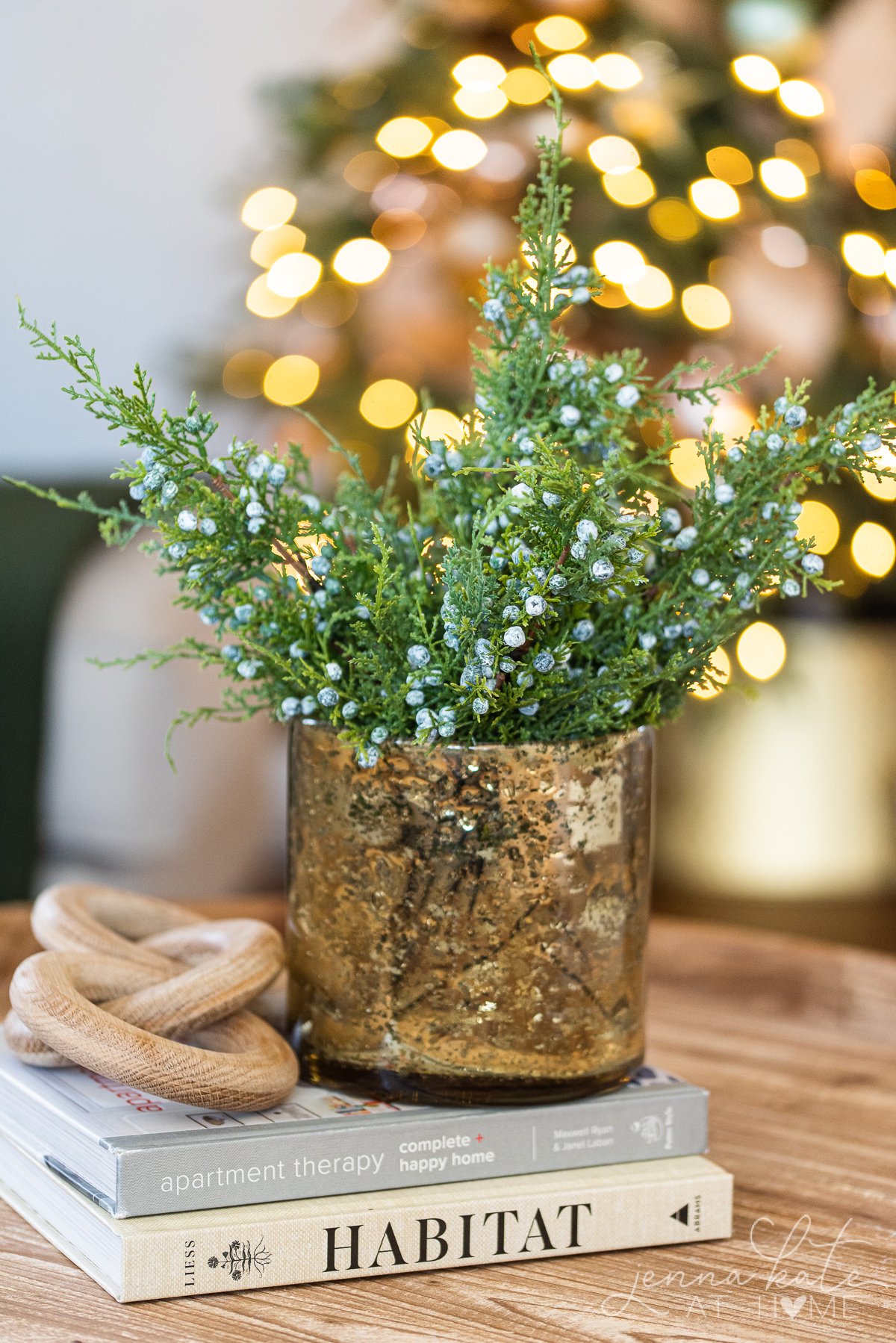 Holiday Mantel
As much as I love the Christmas tree, the mantel is my favorite view in our living room. We have our Frame TV mounted over it, and I switched out my usual landscape art for this pretty snowy scene.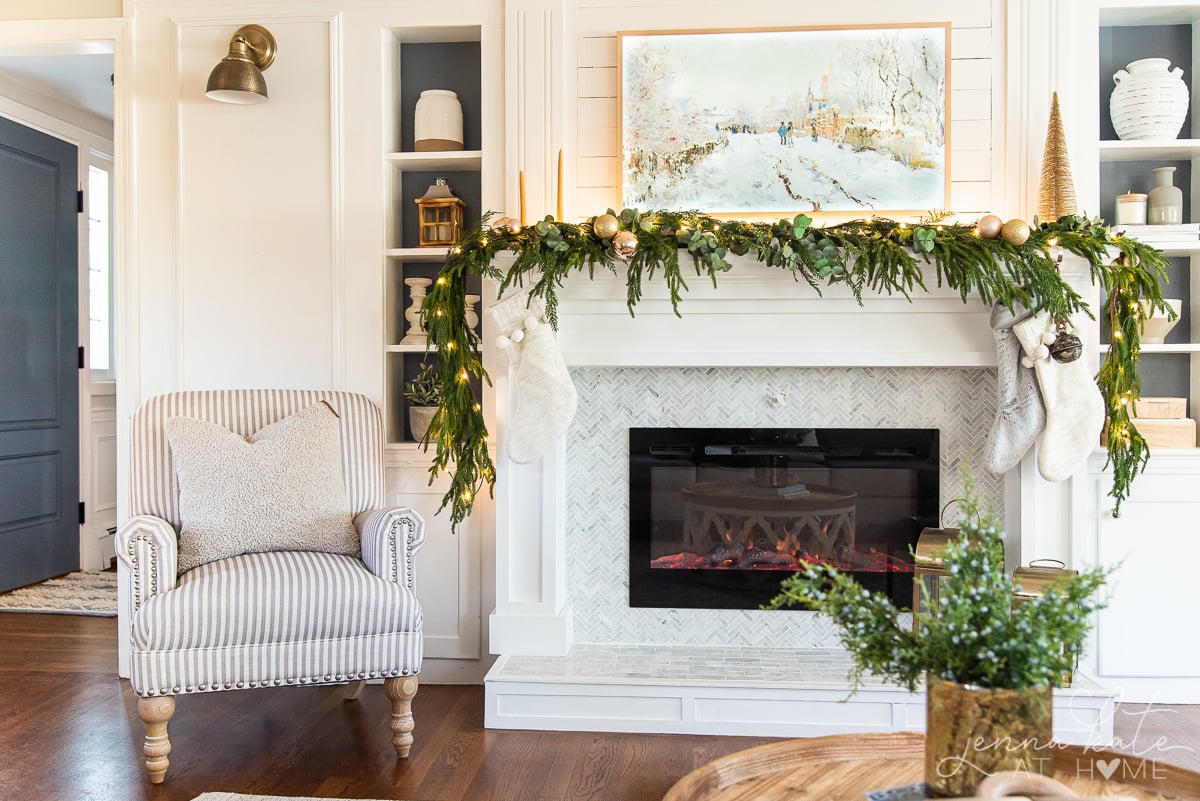 I layered three different artificial garlands to get this look – my favorite Afloral Norfolk pine, some faux eucalyptus and a cedar garland that I purchased at Target last year.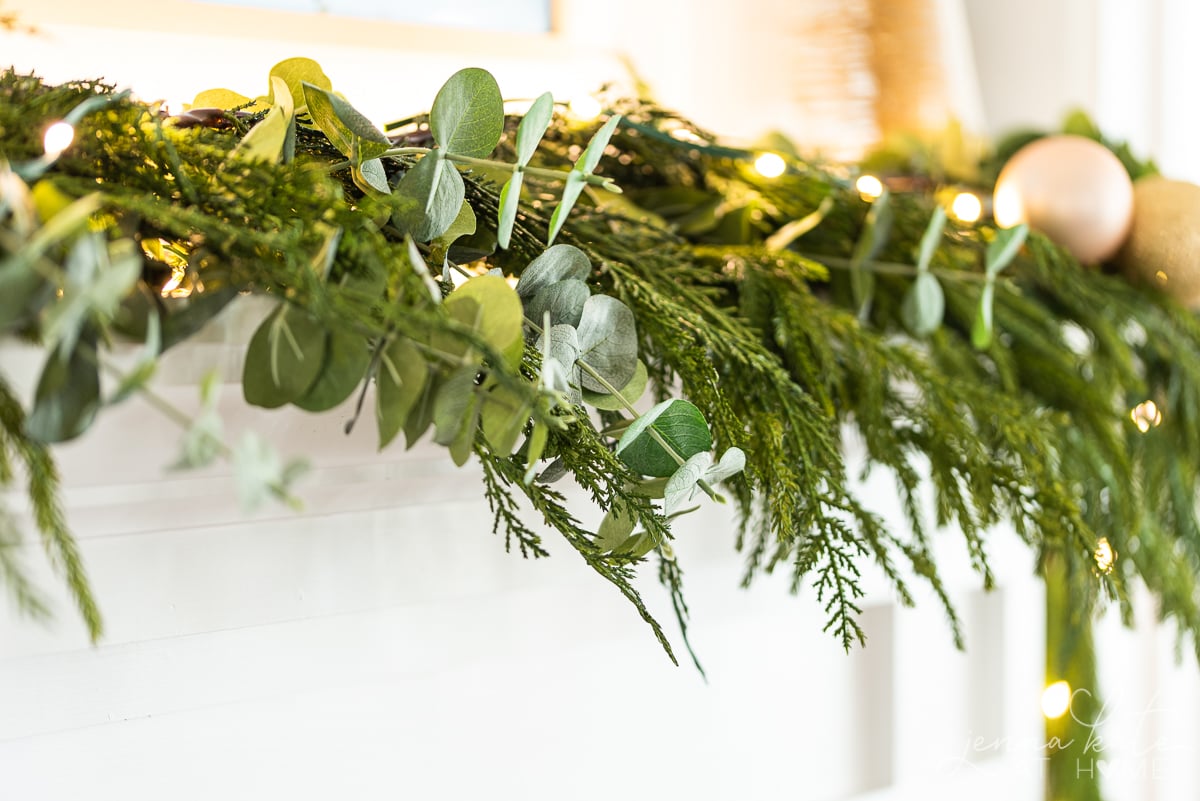 Some stockings and a cute bell are an amazing option to finish it off!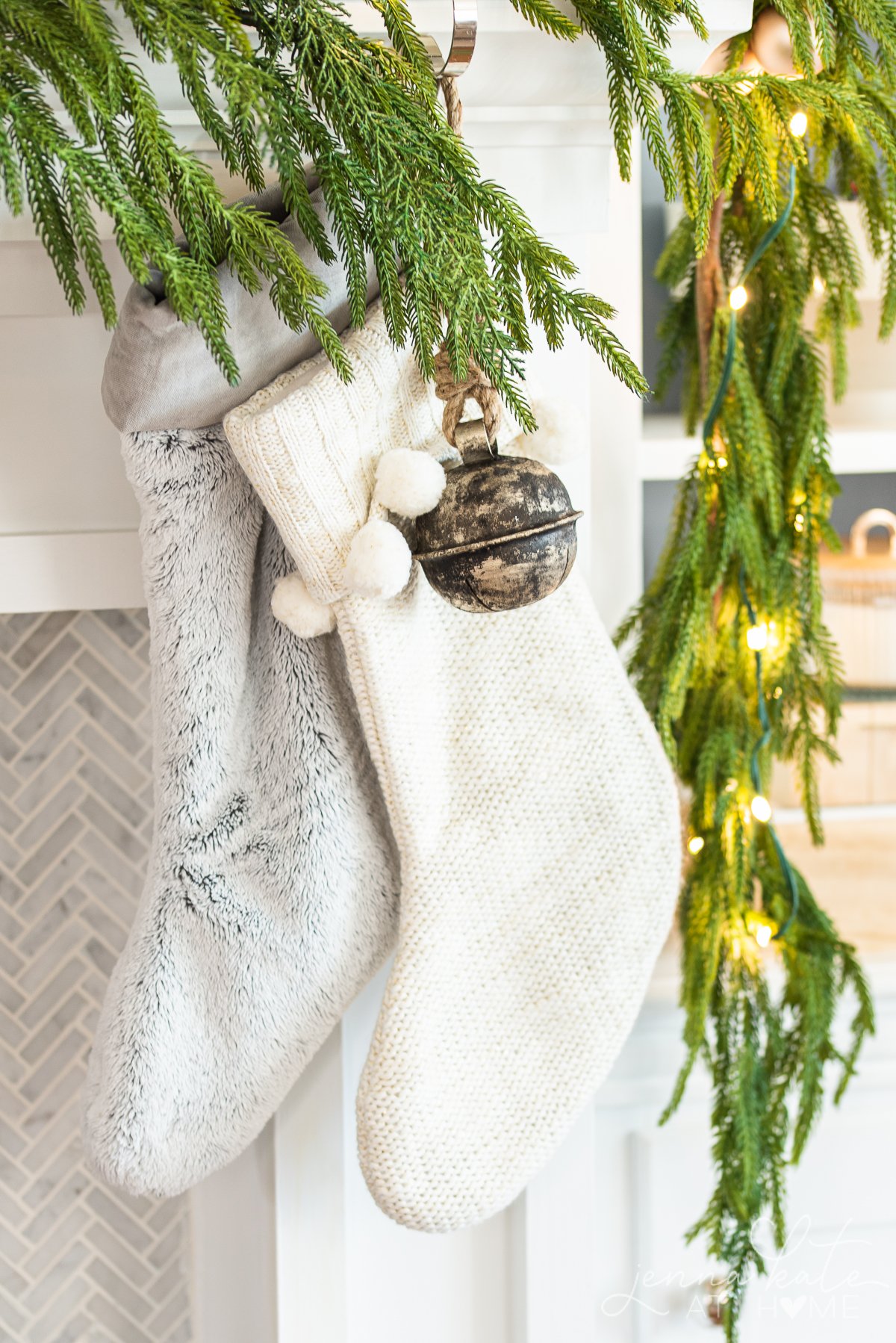 The entire living room looks bright with the subtle rose decorations, but with the right amount of festive twinkle and warmth. I just love it!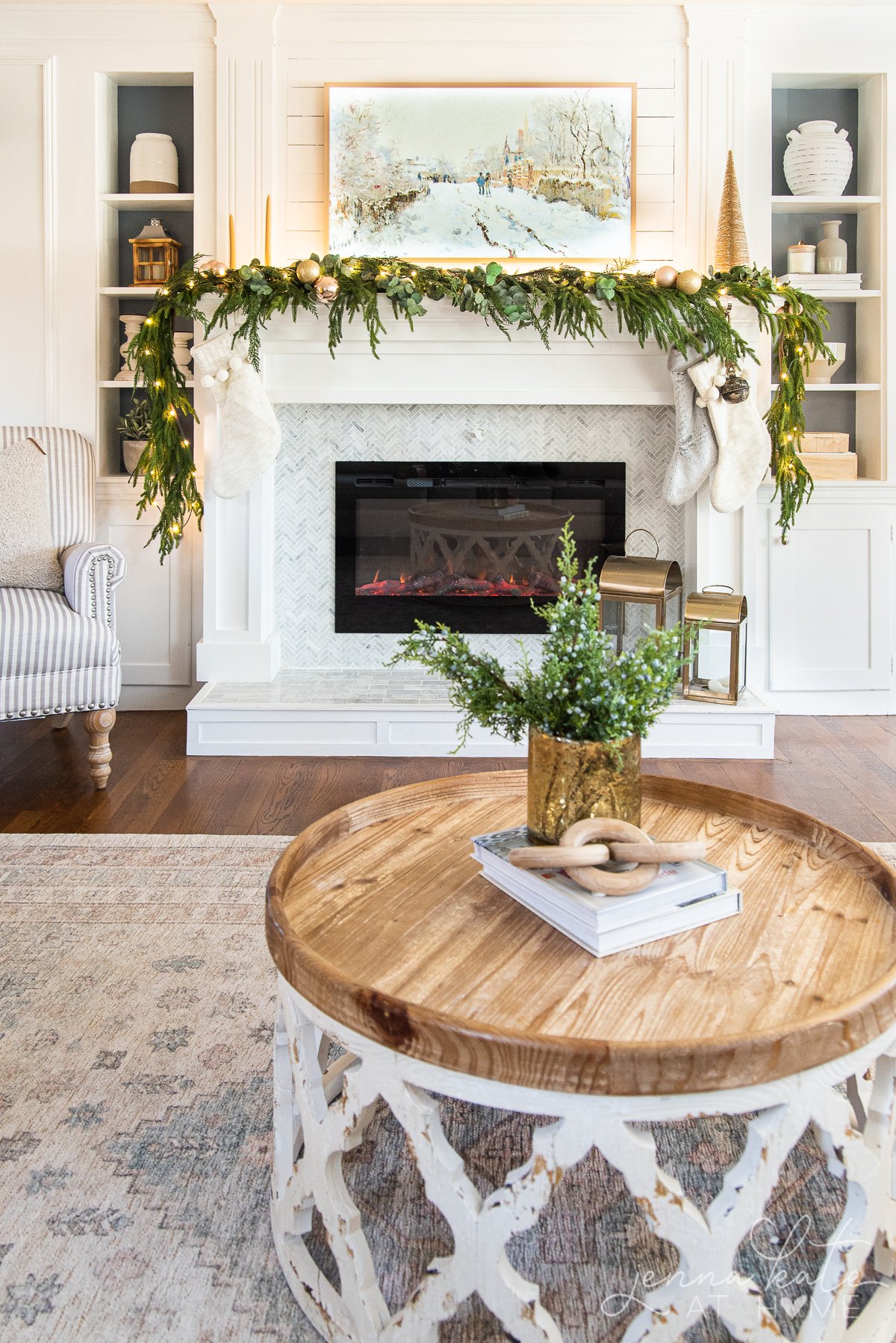 And there you have it! A twist on the classic Christmas colors, try this rose gold and muted green combo for an elegant look this holiday that still screams Merry Christmas!
This different color combo is just what your home needs. You are sure to by far have the prettiest Christmas tree in the neighborhood!