Get inspired with these pretty blue Christmas decorations to decorate your Christmas tree and other spaces this holiday season. There's nothing like a little decorating to get everyone in the holiday spirit!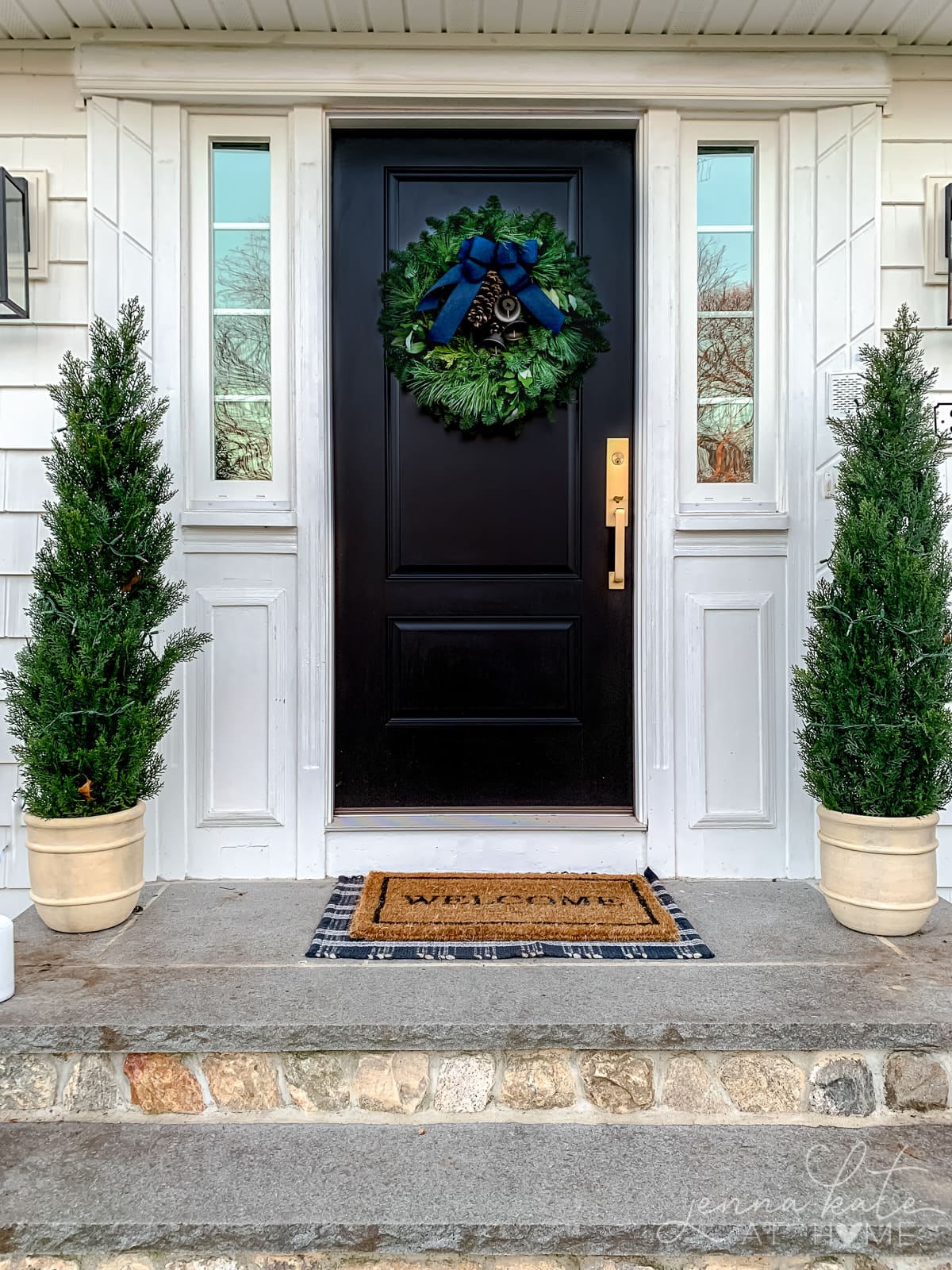 Blue Christmas Decor Ideas
Like in previous years, I take one item as my inspiration piece and use it as my primary color or theme for Christmas decorating. Although it may not be traditional Christmas decor, it has worked very well for me!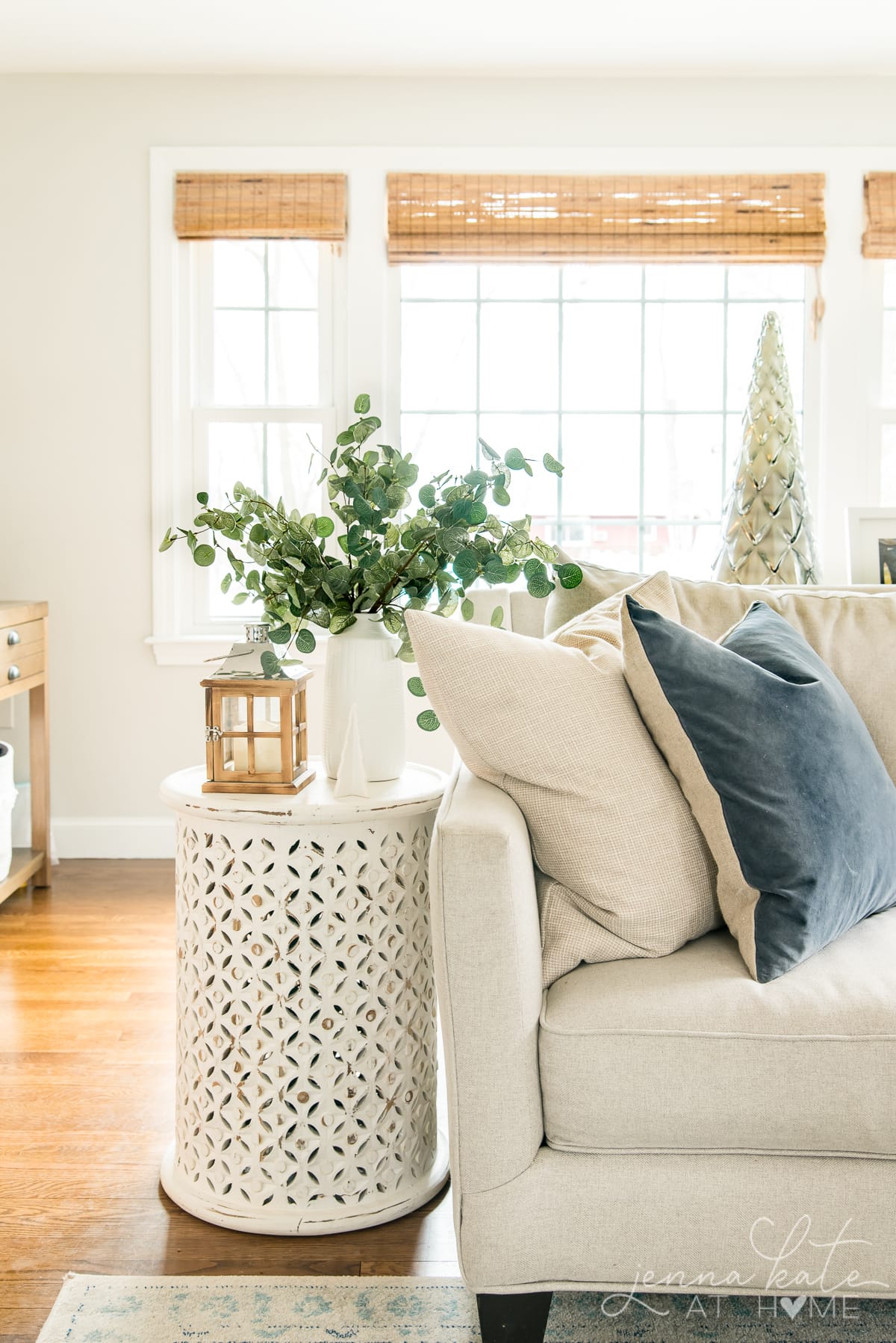 This year my inspiration is the blue velvet pillows on my couch. I've incorporated shades of blue, touches of white, as well as lots of pretty silver mercury glass ornaments into my tree's color scheme — and kept everything else simple with lots of greenery.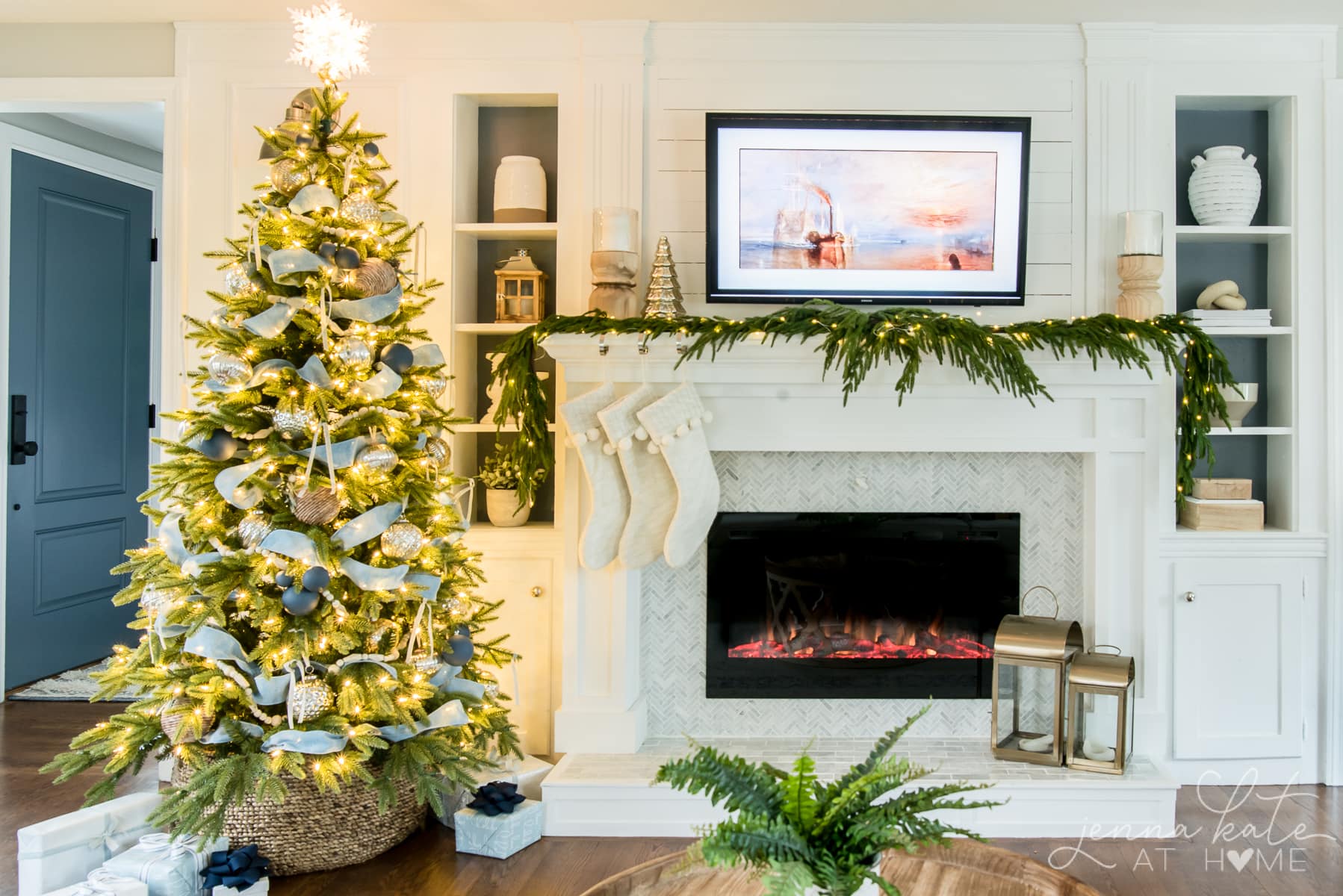 My home is always decorated with blue colors, so using my existing color palette is a great way to incorporate my Christmas decor into my usual decorating style.
Blue may not be a traditional Christmas color, but we all want to have a fun Christmas and this blue color scheme is both fun and elegant to me! It's also a very easy color to incorporate into your existing white Christmas decorations.
The Christmas Tree
The Christmas tree is the 6'5″ Stratford Spruce from Balsam Hill. It's incredibly realistic for an artificial tree, as long as you put the effort into fluffing and shaping it correctly. But what I appreciate the most is that it's pre-lit, and you don't even have to connect the individual strings – the poles connect all the wiring!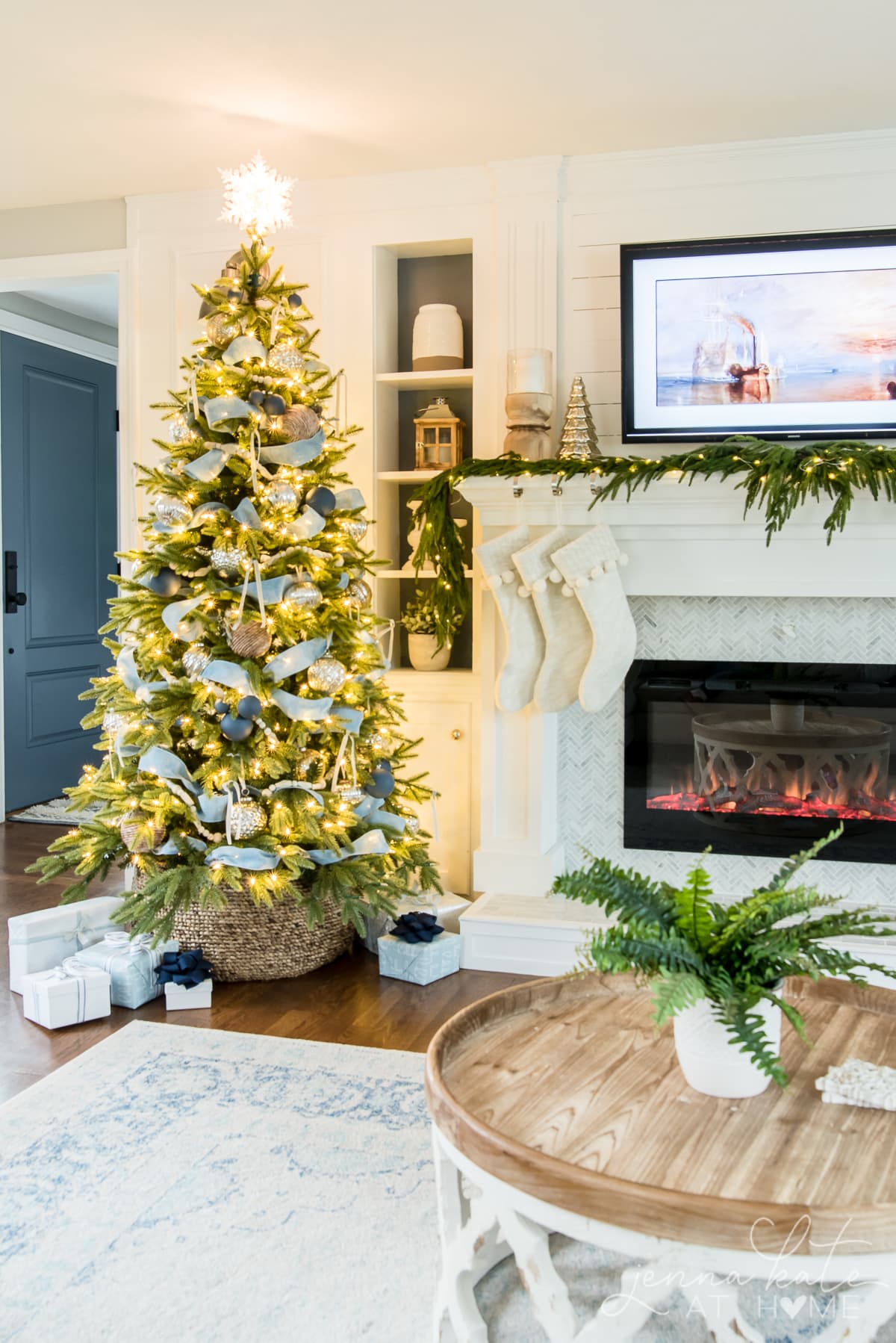 Whether you opt for a regular green Christmas tree, a white Christmas tree (a flocked tree or all-white variety) or even something funky like a gold tree, always be sure to make it look its best by spending the time to correctly fluff and shape it. This will ensure you have a fresh look.
The Ornaments
Like I previously mentioned, the tree is filled with silver mercury glass ornaments. I also have ornaments in different shades of blue (I particularly love the matte blue ones), a few matte white ornaments and some large rattan balls that match the tree basket. I know blue Christmas tree decorations are pretty uncommon, but I think they compliment the greenery often found at Christmas quite well!
Mercury glass ornaments can be really expensive if you want to fill an entire tree with them like I did.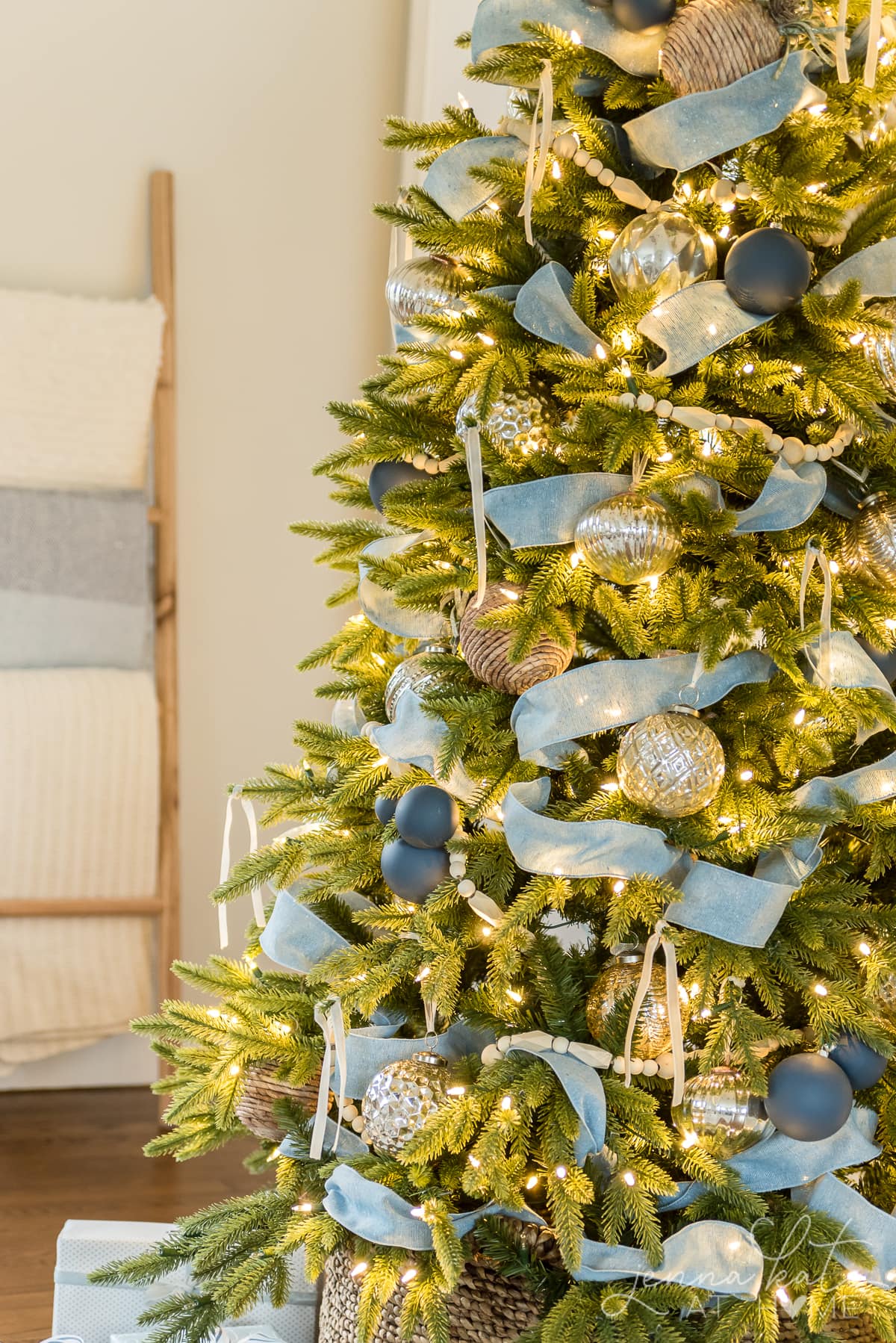 Here's what I did to get them for a fraction of the price: head to HomeGoods a few days after Christmas when their Christmas decor is slashed by 60-90% and grab as many boxes as they have. I bought 7 boxes last year at a cost of $5 a box so acquired all of these ornaments in one trip and quite inexpensively! You can try it this upcoming season and be well stocked and ready to go for next year.
The blue ribbons are a mixture of textures from velvet to grosgrain and vary from baby blue to navy blue, and even white with a soft blue stripe. The largest width ribbon is woven throughout the tree, while the thinner blue velvet ribbon strips hang from individual branches. Now, isn't it beginning to look like a winter wonderland?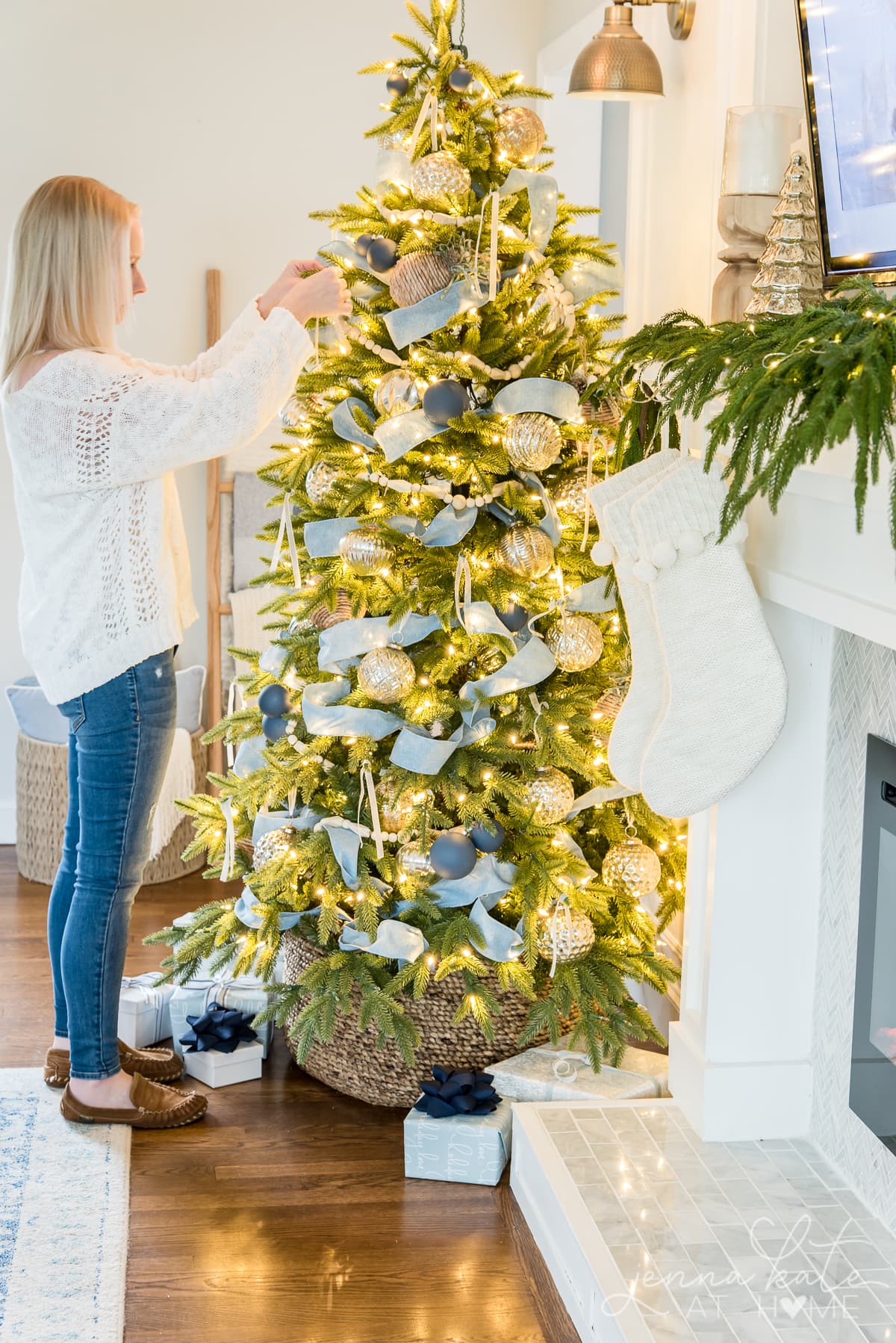 A wooden bead garland finishes the look off and ties in the other wood tones in the living room.


Accessories Make Your Tree Next Level
I love to match wrapping paper and ribbons to my Christmas tree for a cohesive look.
Target is my favorite place for pretty wrapping paper and blue ribbon during the Christmas season, but craft stores and Etsy are great sources too.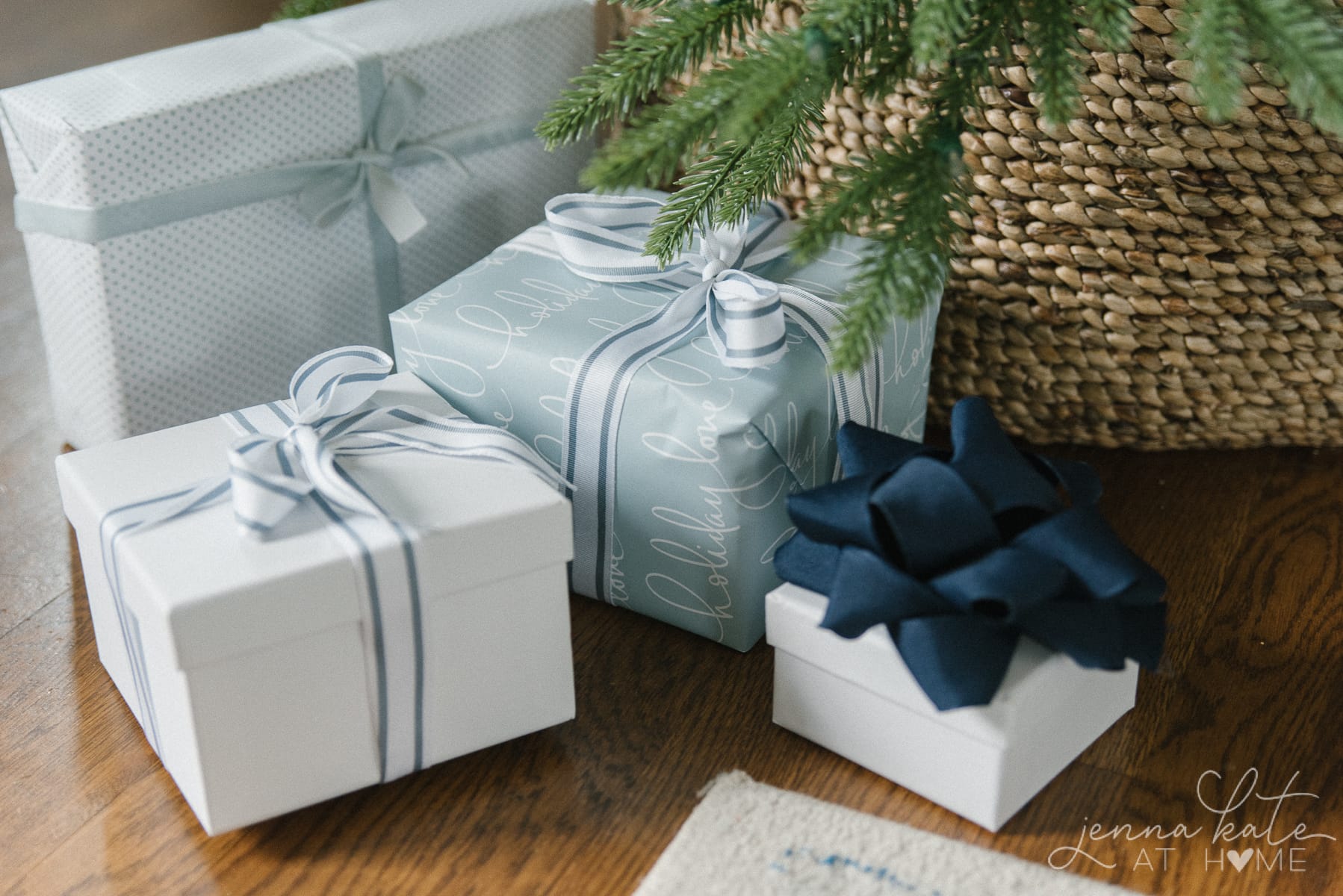 In recent years, I've ditched the tree skirt in favor of a basket. This year, I'm using a large woven basket that I bought at HomeGoods and plopped my tree stand in!
It's a more affordable option than many tree skirts and looks prettier (and tidier!) in my opinion, too. It's a great idea if you're on a budget and don't want the hassle of messing with a skirt.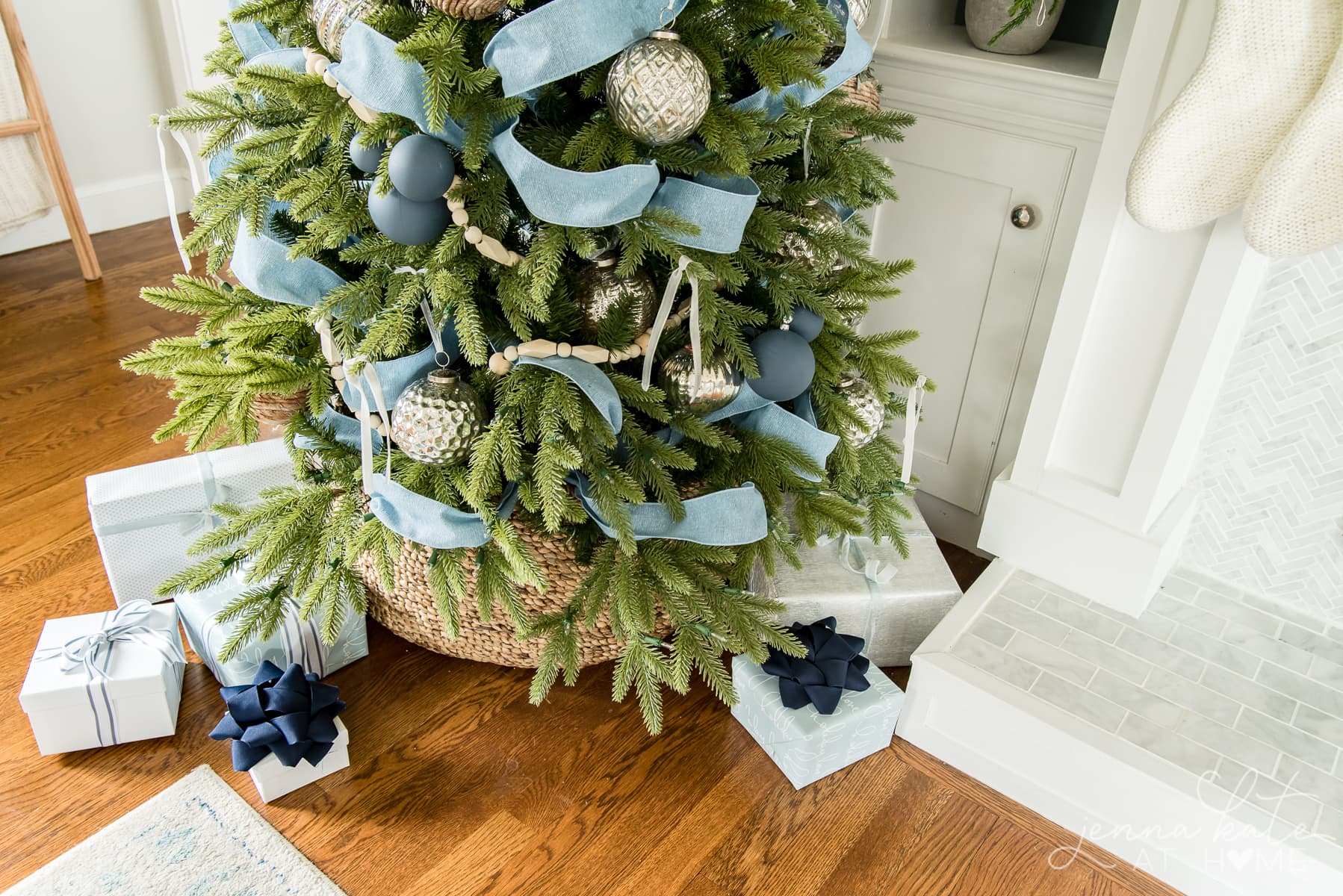 If you plan to do the same, remember to measure the width of your tree stand to ensure that it will fit in the basket! This will also free up a bit more space around the fireplace mantel for gifts!
View From The Front Door
I love this view of my living room when you enter from the front door. You can see exactly how the blue throw pillows tie wonderfully into the Christmas decor.
I get tired of red easily, so using my favorite color ensures that I won't want my Christmas decor down before Christmas actually arrives!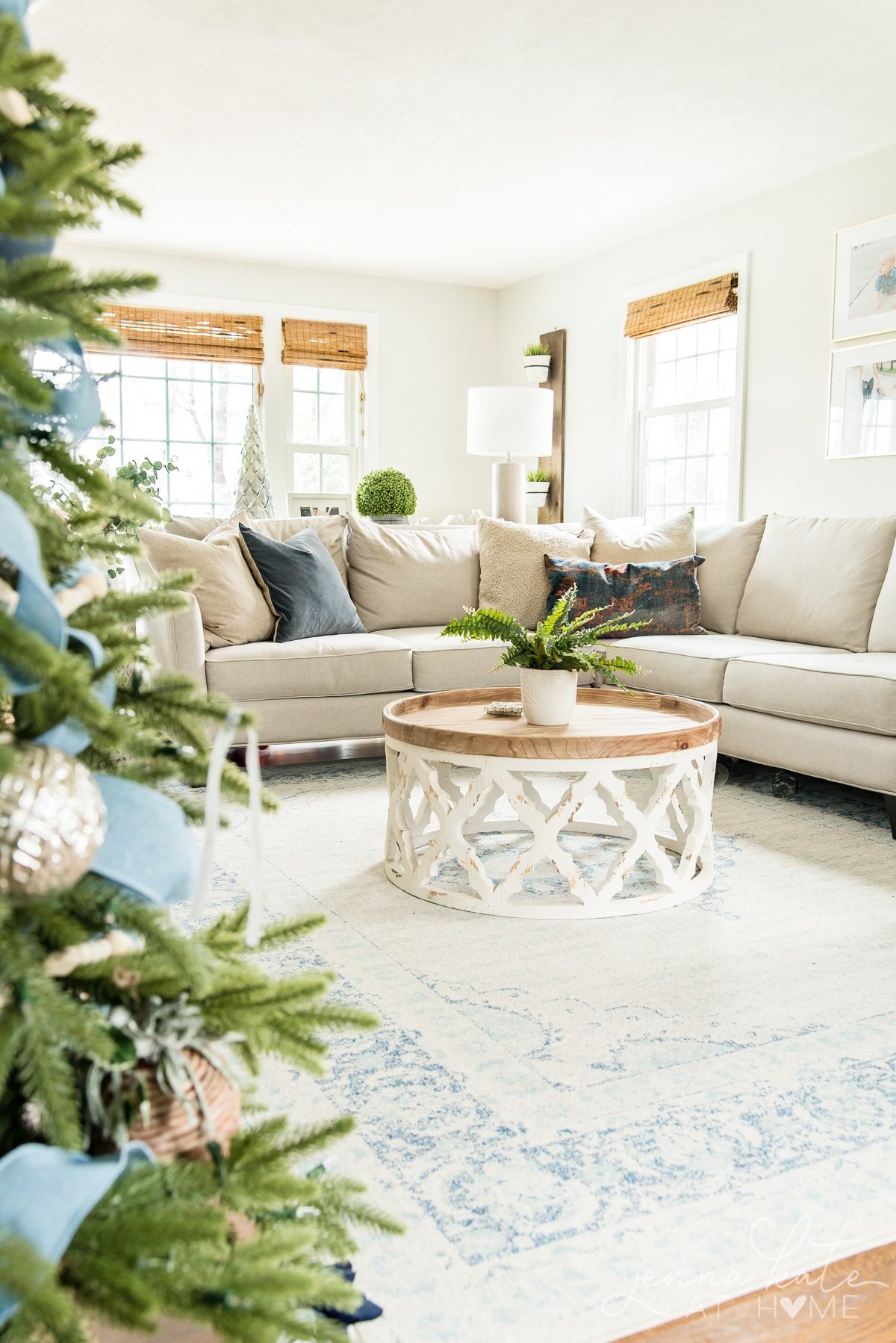 String Lights and Mantel Decor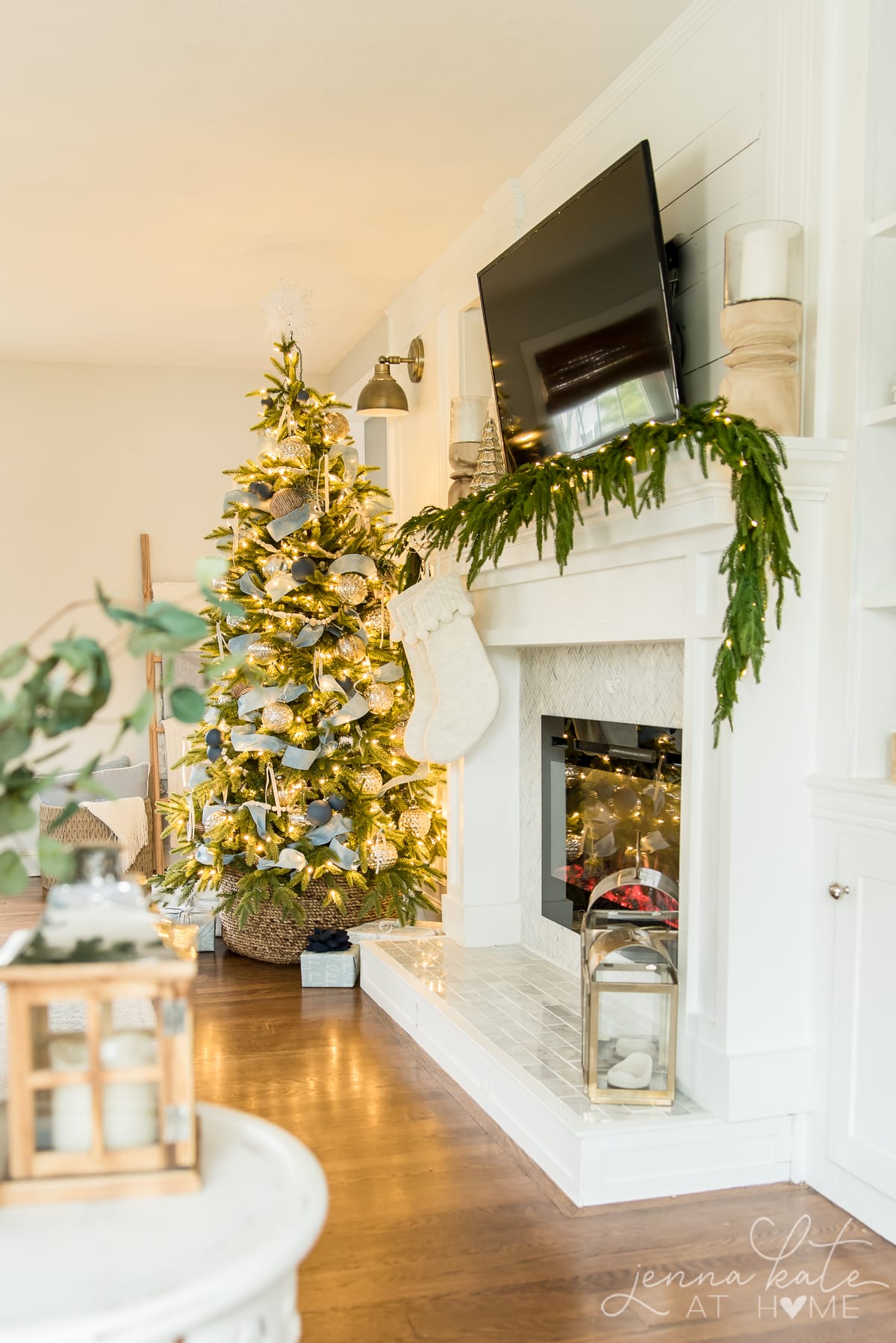 Give me all the warm and cozy twinkly string lights! Don't they have a way of making everything look magical?
In my opinion, once you turn on the string lights, you turn a pretty Christmas tree into a beuatiful Christmas tree. Do you agree?
The greenery on the mantel is faux Norfolk pine, and it's incredibly realistic. I also have many other beautiful options in my recent post on the Best Artificial Garlands if you're shopping for some.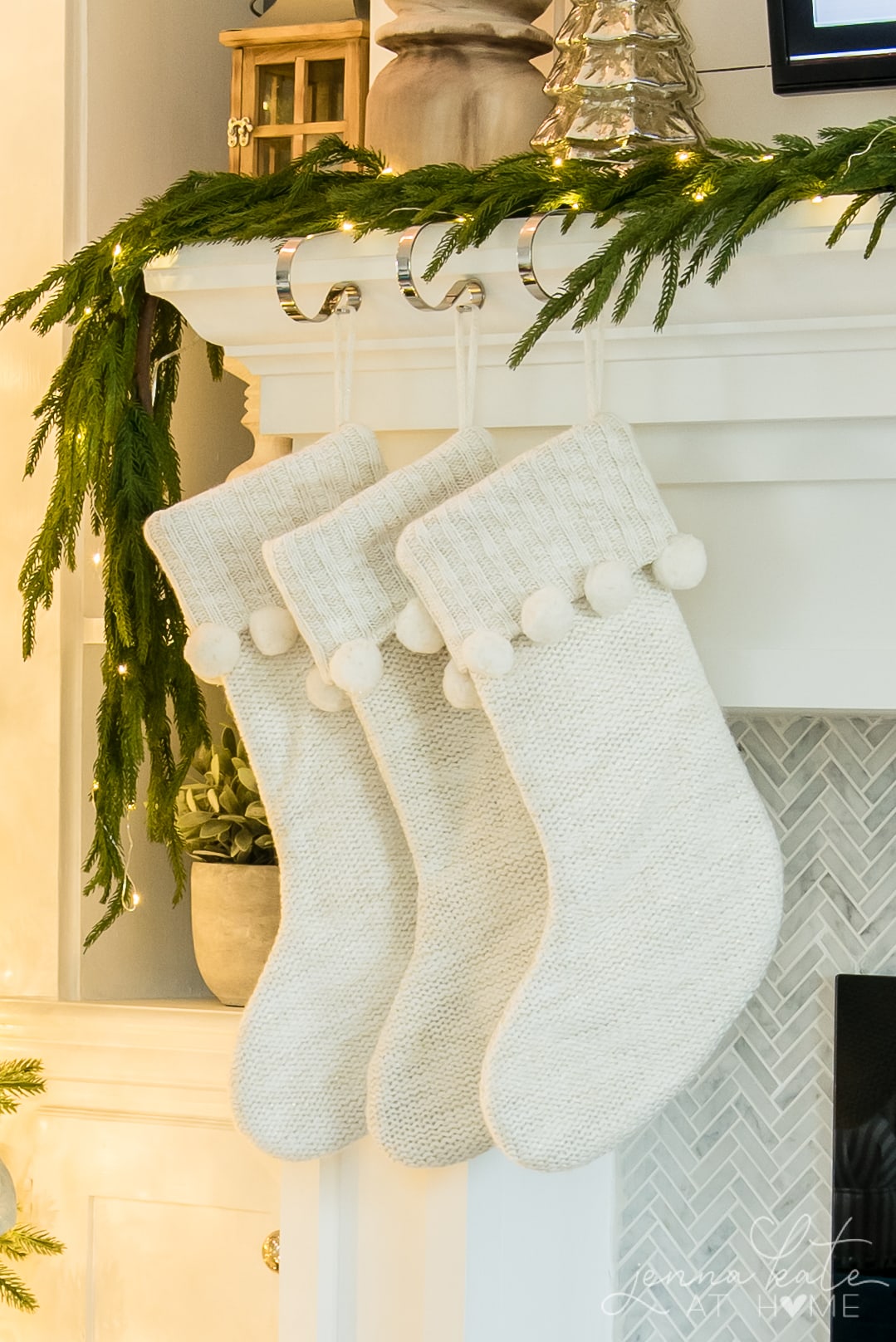 I purchases these pom pom stockings last year and I love how the neutral color works with everything. They are my "decor" stockings – the kids actually use the cute Pottery Barn ones with their names on them that come out on Christmas Eve.
The stocking holders for the mantel are the best I've ever had, and look sleek. They come in a variety of different colors, too.
Table Centerpiece
I usually like to go all-out with my table settings (and may closer to Christmas) but for now, my dining room table has a simple bowl of ornaments with faux greenery and battery operated candles.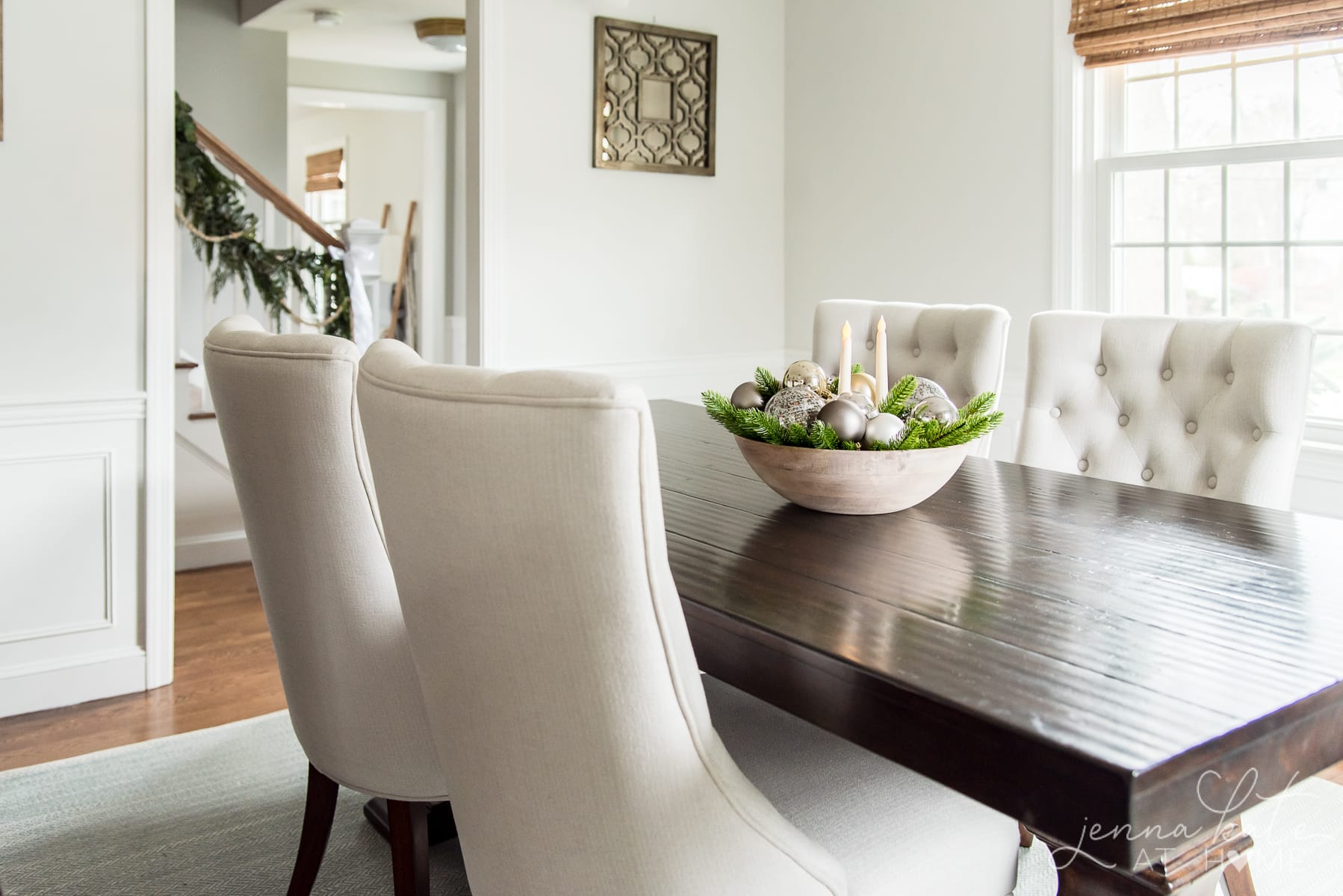 It's an easy centerpiece to scoop up and move to the coffee table or on my kitchen table.
If you have a kitchen island, it would look beautiful and be easy to move aside or pop on the counter to get out of the way when needed.
I stuck with the cool-colors theme for this centerpiece, but instead of blue ornaments I used silver ornaments. There's a mixture of plastic and glass in here (including some from the dollar store!) but use whatever you have on hand.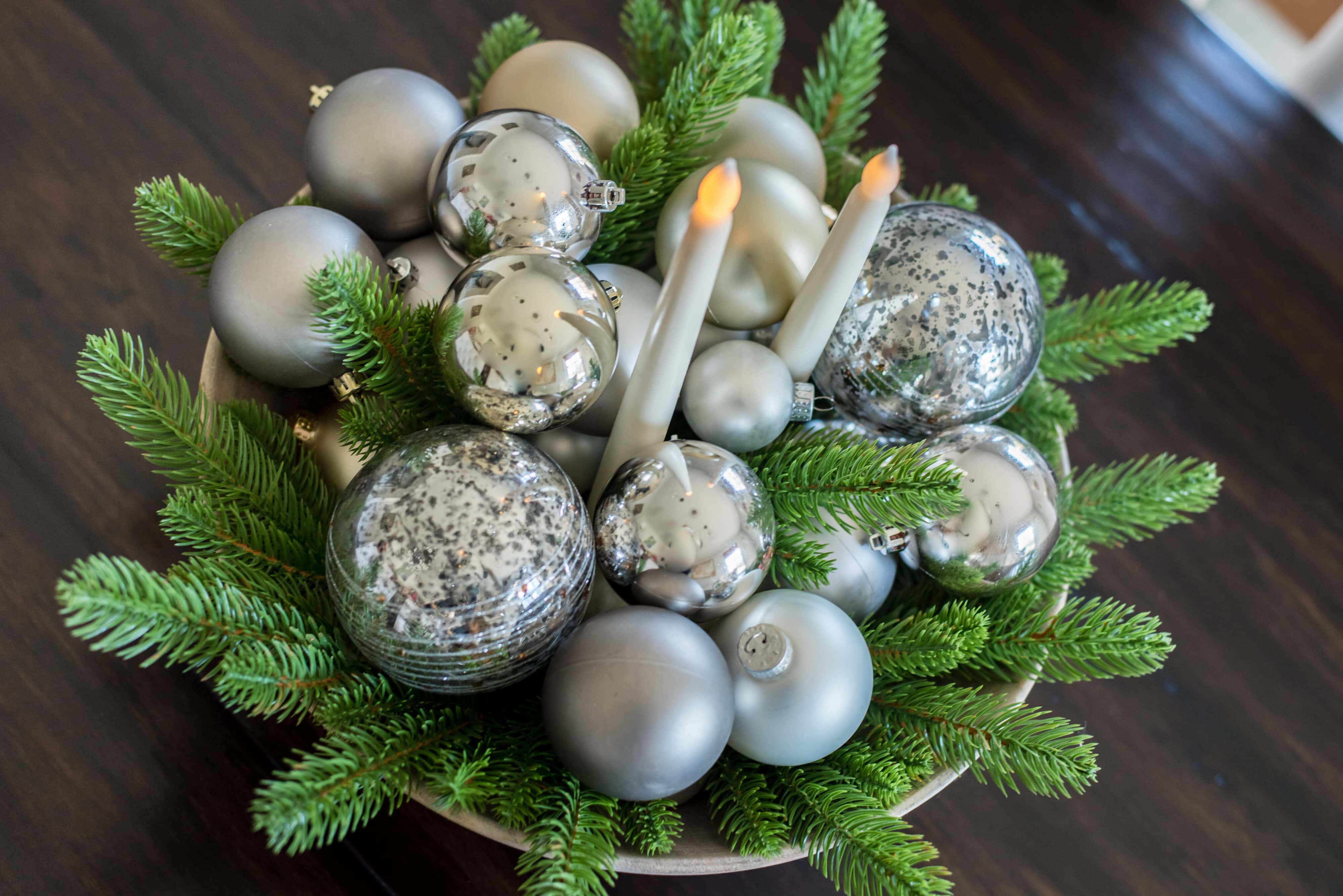 The same ribbon and bead garland from the Christmas tree adorns the banister, which has another faux garland along with eucalyptus draping from it.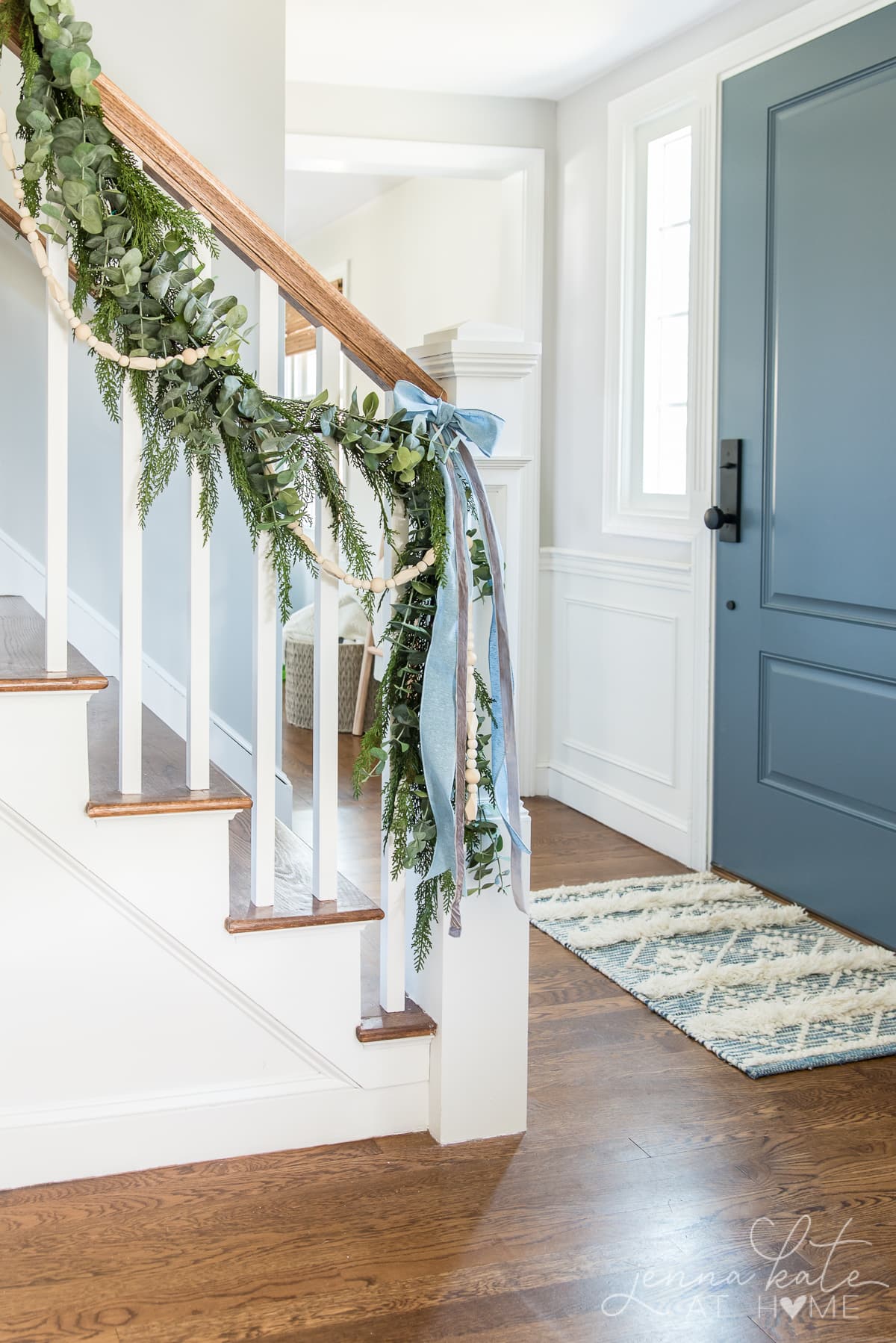 The blue theme transitions into my bedroom, too and includes more greenery. I added these pretty pink and blue Loloi pillows to the bed and love how they look with the blue quilt.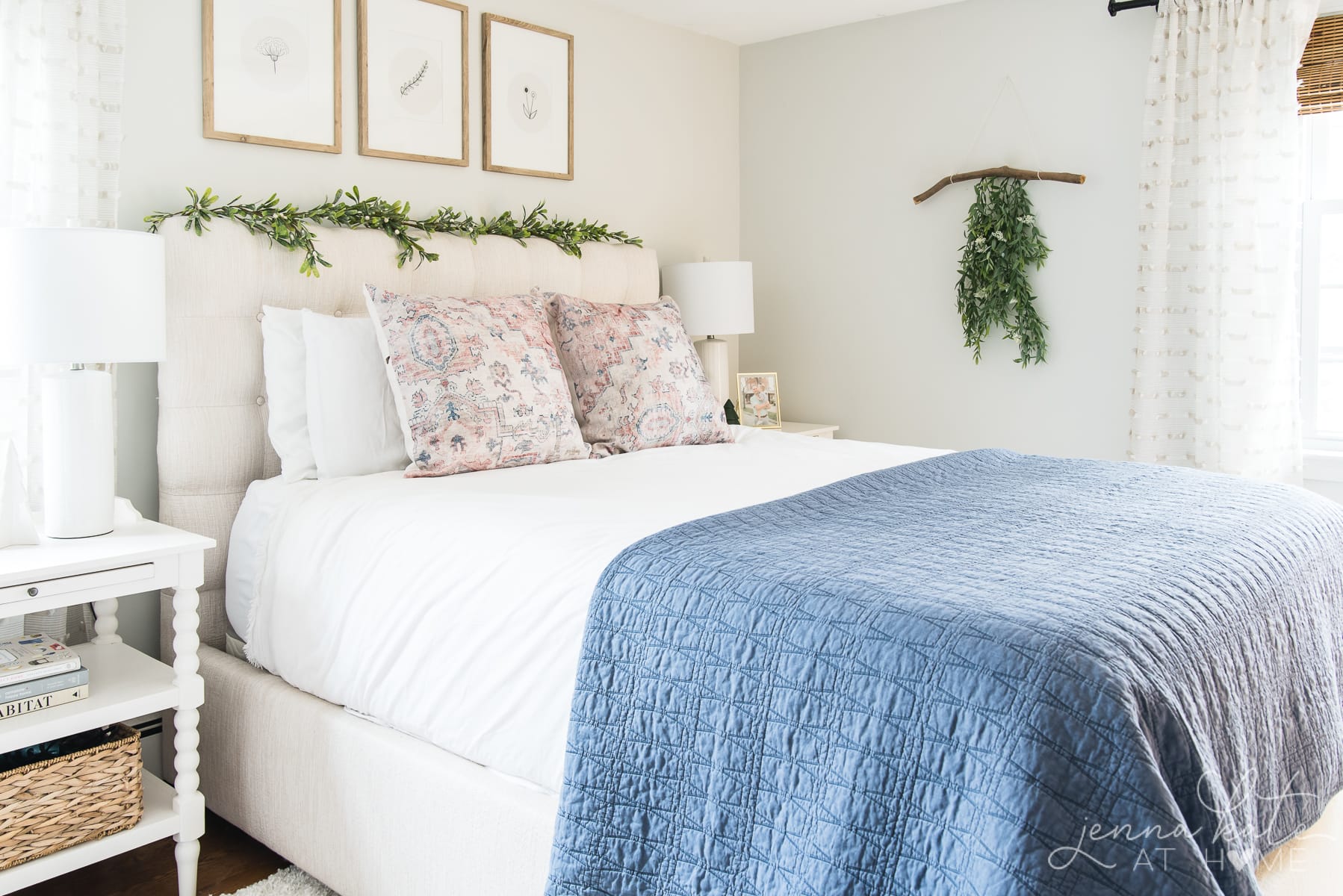 This is the first year I've added a tree to our bedroom, and I love how it looks! It's just a cheap little tree (5ft!) from Target that I added lights and faux eucalyptus to (the same stuff I have in my living room, it looks so real!), but I think it looks so nice in the corner.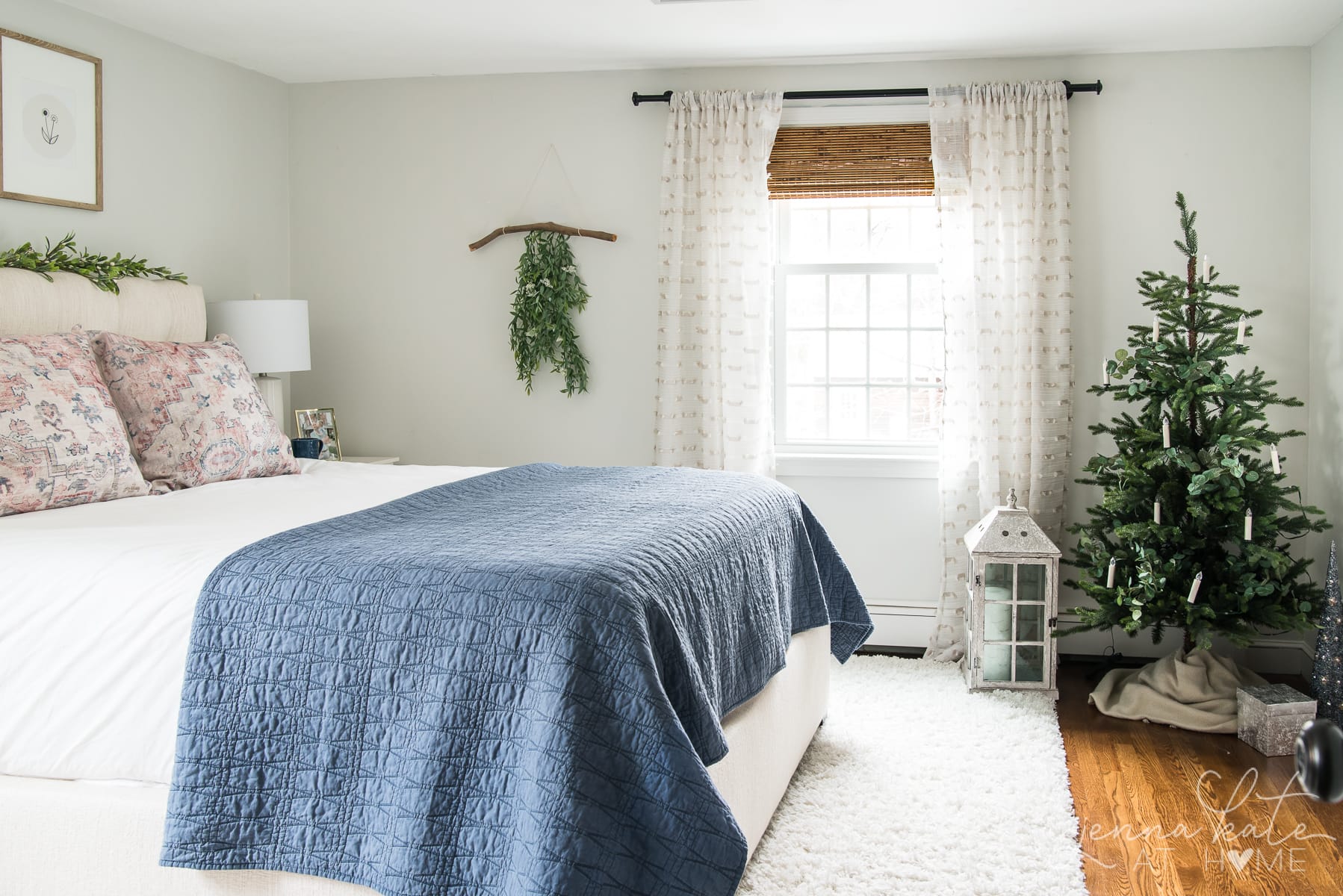 The clip-on candle lights are a few years old and I'm too cheap to replace all the batteries this year, but they still add a little something to the undecorated tree.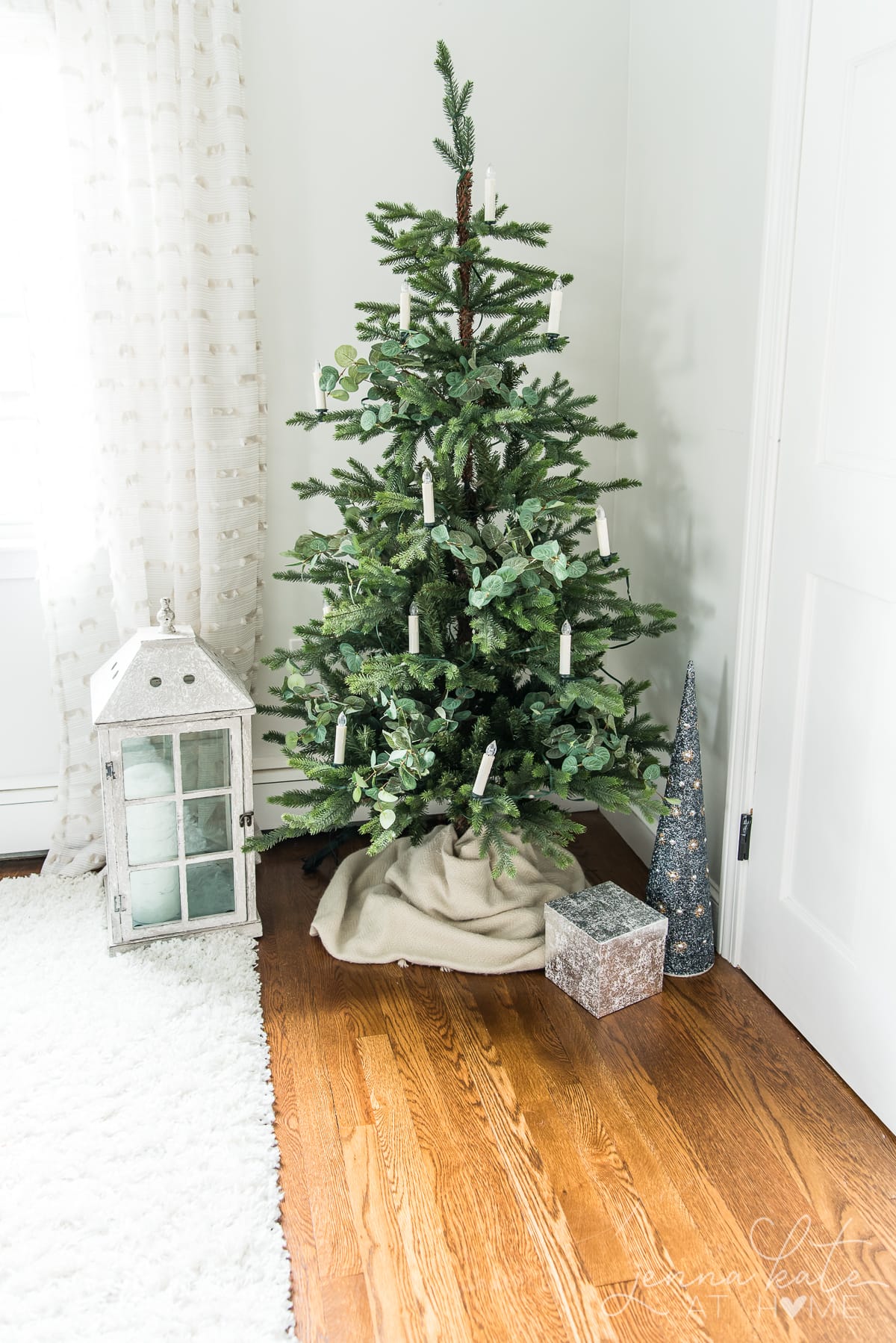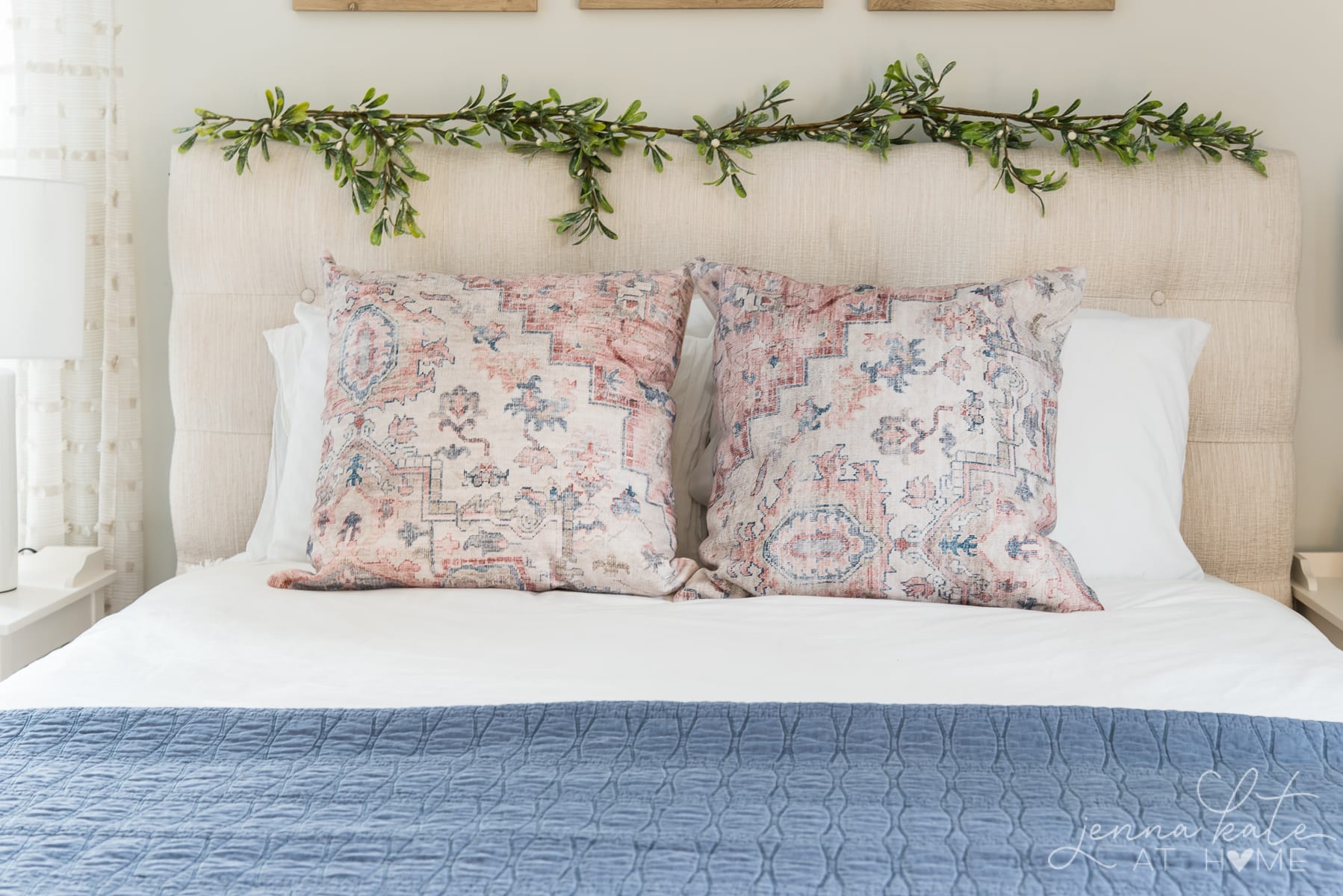 Really keeping it simple with the additional decor in here – just a ceramic Christmas tree and a couple of other little trees from the Target Dollar Spot. I don't want dust catchers!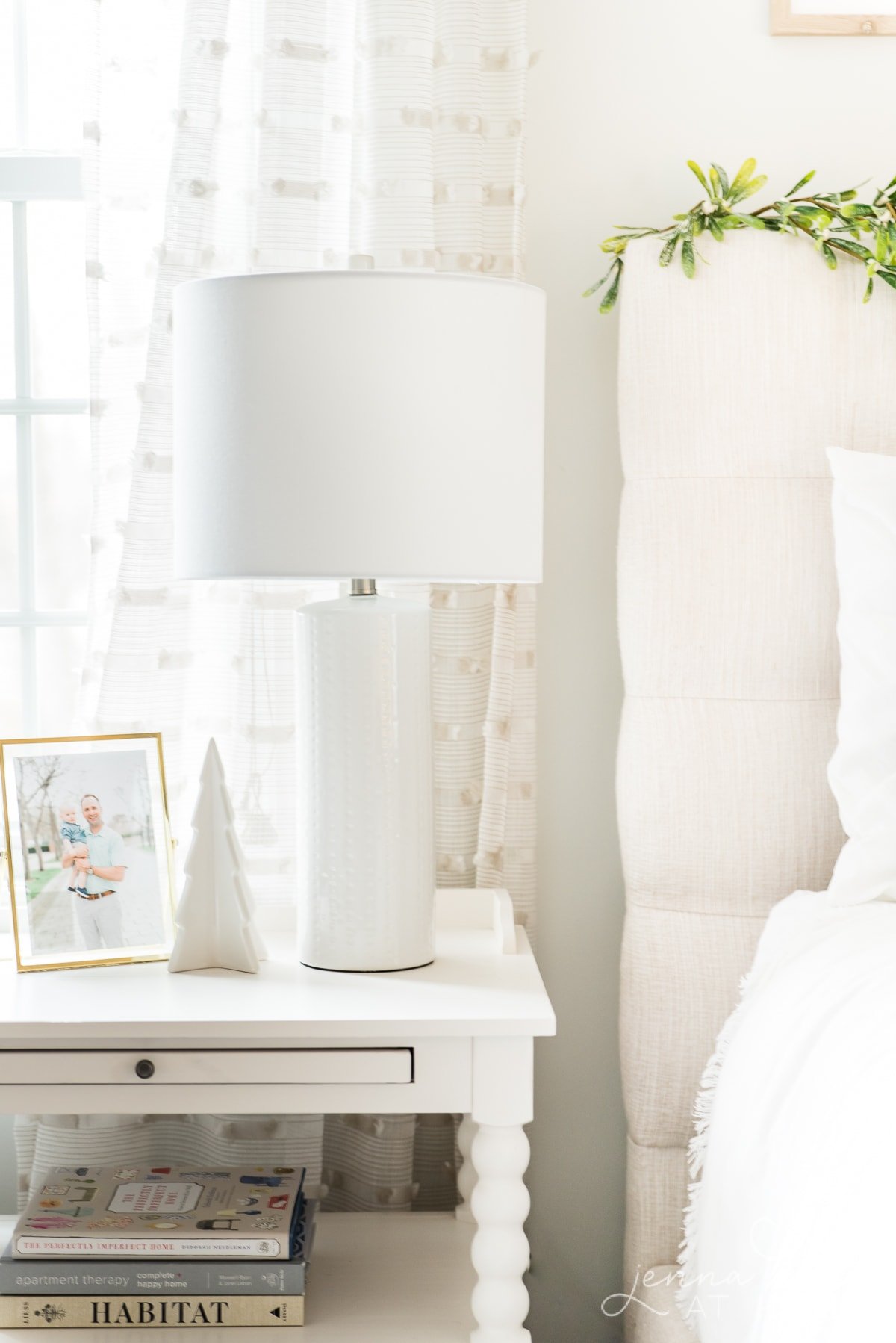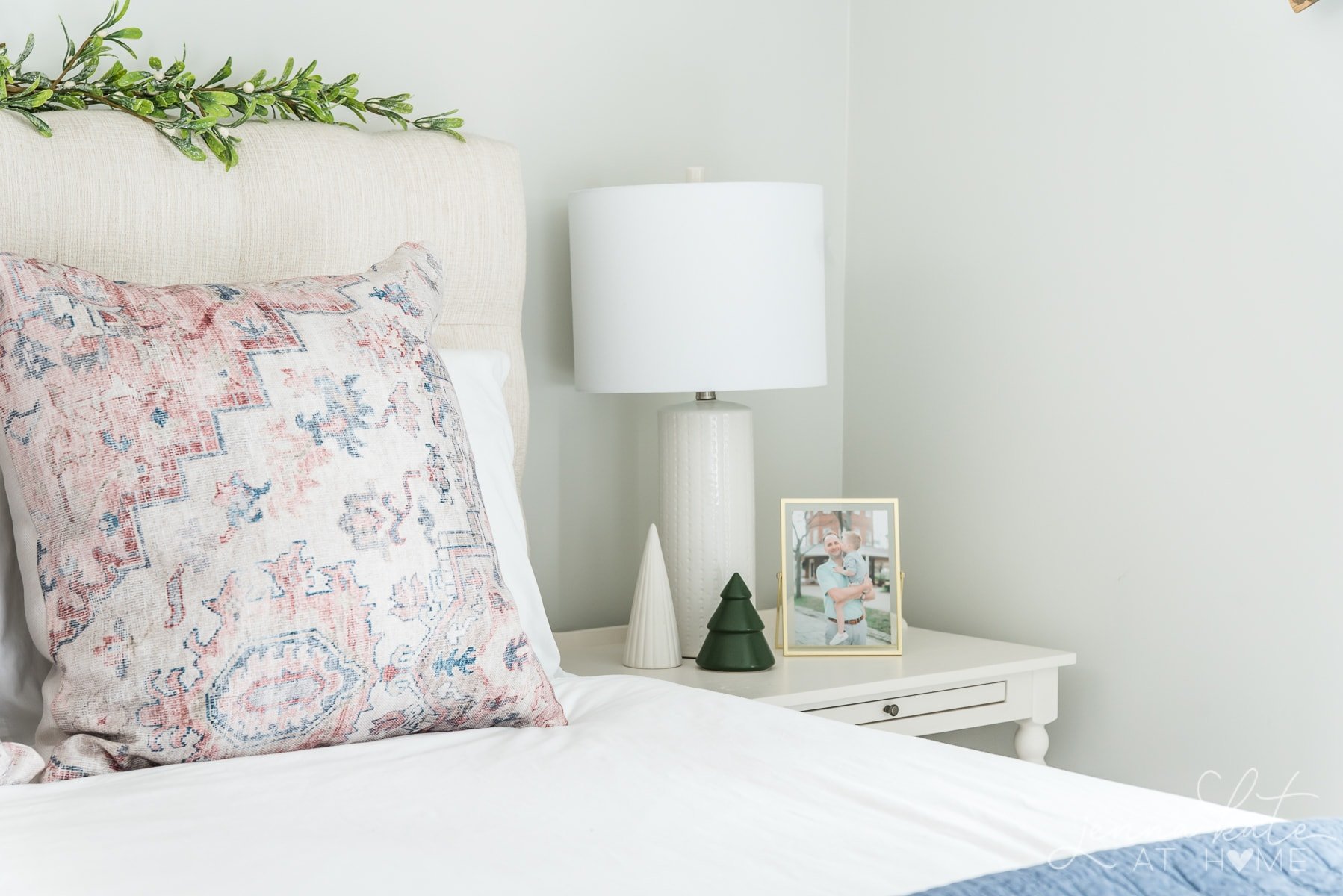 Finally, another first: adding a festive touch to the baby's nursery. Simple but pretty, right?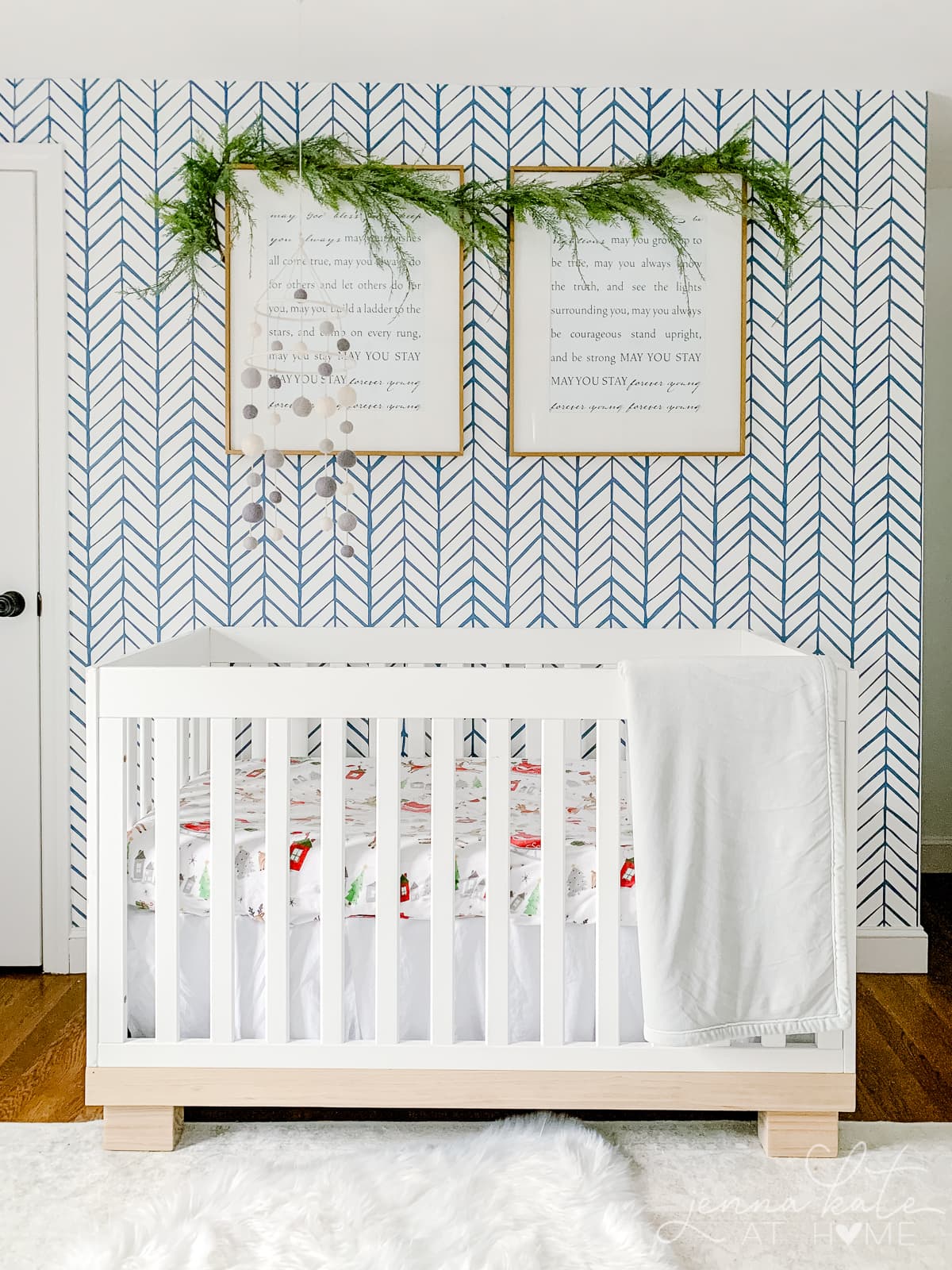 Did you spot the pretty wreath on my front door at the top of the post? Well here it is again, flanked by pretty twinkly lights. Every year, I get a wreath from Lynch Creek Farm and can't wait for it to arrive. I'm particularly loving the simplicity of this year's which is filled with evergreens and has a pretty blue bow and bells.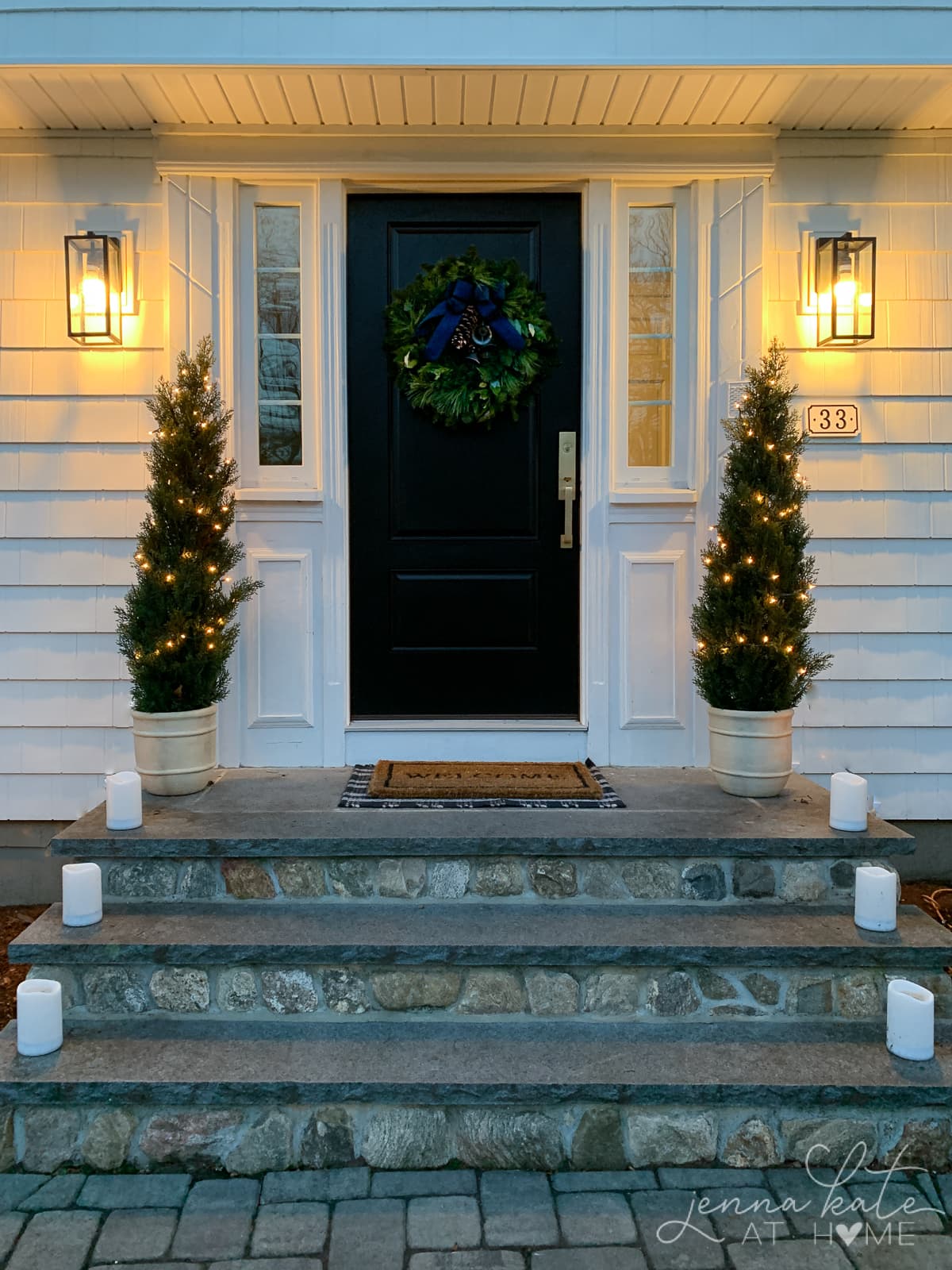 And that's it, friends! My simple and uncluttered Christmas home tour with blue decorations! Perhaps a touch away from traditional holiday decorations, but I think it embraces natural winter colors and my of course, my favorite colors!


What do you think? What colors are you creating a festive look with this year? I'd love to know!