The secret to keeping a clean house is little tasks that you need to do every day. These daily habits will ensure your home is neat and clean at all times!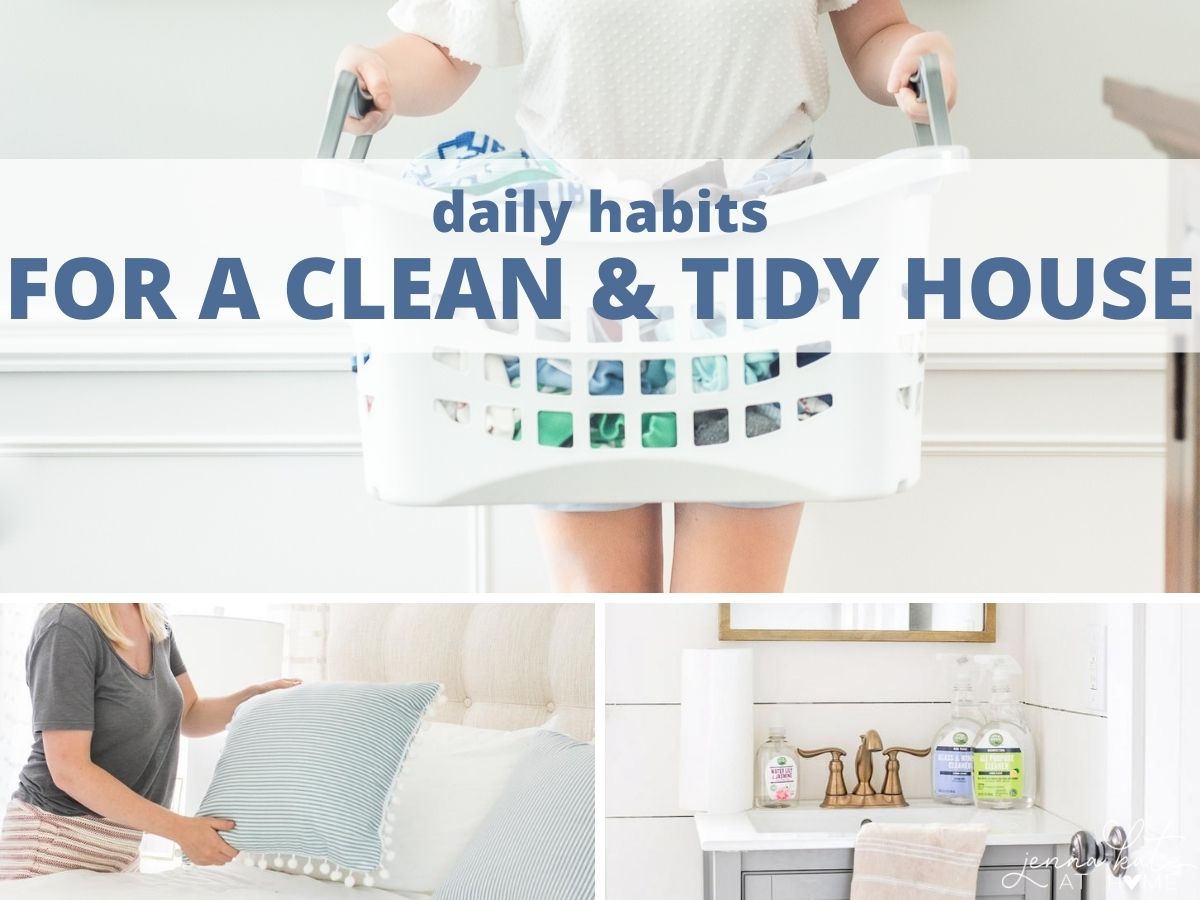 A clean house is important not only because it looks better, but because it's better for our mental health.
Not only that, but our children learn what they see. While they may seem like little slobs now, when they are adults they will remember how their role models taught them to keep a clean and organized house, pick up after themselves and generally take care of a home.
Just like we teach our kids good manners, the right types of foods to eat and how to interact with others, we must teach them how to clean up after themselves and keep their spaces tidy.
"A study led by associate professor NiCole R. Keith, Ph.D., research scientist and professor at Indiana University, found that people with clean houses are healthier than people with messy houses." – Psychology Today
There's really no secret and no magical hacks that give you a clean house. You really just need to get into a routine and do small daily tasks. It might sound daunting, but I've broken down the tasks for you.
This is exactly what I do to keep a clean house, while working and taking care of 3 kids, so I know you can do it, too!
Make Your Bed Every Morning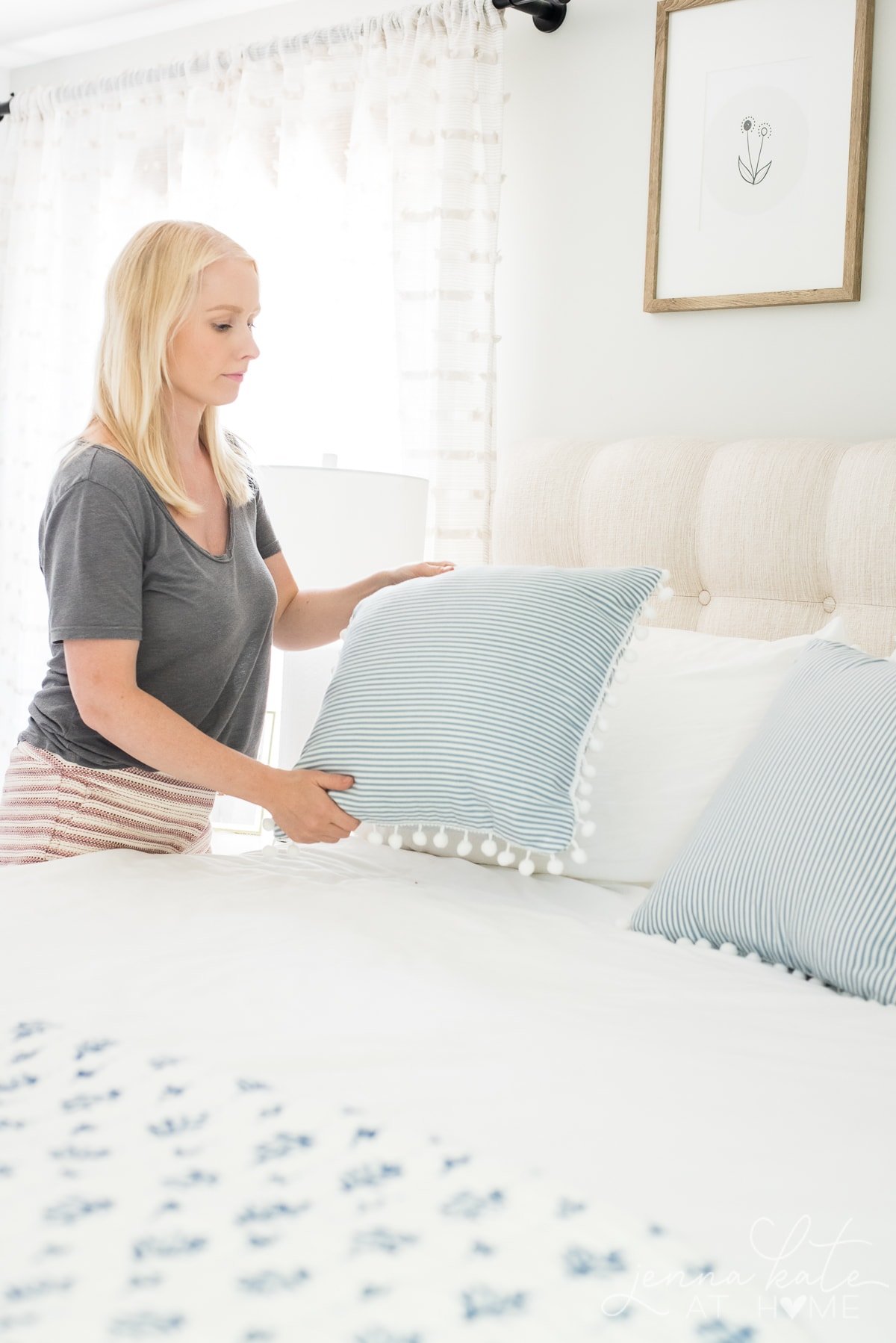 As soon as you get up and out of bed, make the bed. It's a small and quick task that will start your day off on the right note.
Train your kids to do this, too. It's perfectly acceptable to ask your 3 year old to simply straighten up their comforter once they get up in the morning.
Kids actually love doing these "adult" tasks and it helps them feel like contributing members of the family! Plus, if you get them into the habit at an early age, when they actually want to do it, you'll have much less of a struggle when they are teenagers and so used to doing it that it's second nature!
Unload the dishwasher first thing in the morning
While your coffee is brewing, unload the dishwasher. Load items into the dishwasher after every meal and run the dishwasher after dinner or right before bed.
Check your mail every day
File what needs your attention and throw out or recycle what you don't need. Do not let mail build up on the counter.
Mail, bills, store flyers, catalogs, and school papers arrive into the home constantly. Simply setting them aside leads to a pile taking over the kitchen counter.
When something comes in, open it and deal with it immediately. Recycle flyers and catalogs that you don't want, sort through mail and file what needs attention in a certain spot (I have a spot on my desk so that I remember to pay my bills) and organize school papers.
By dealing with everything as it comes in, you won't be let with a stack of papers and enveloped that leaves you feeling overwhelmed…especially when it keeps growing and growing!
Do one load of laundry every day
Start the wash cycle first thing in the morning so that you have time to get everything washed, dried, folded and put away.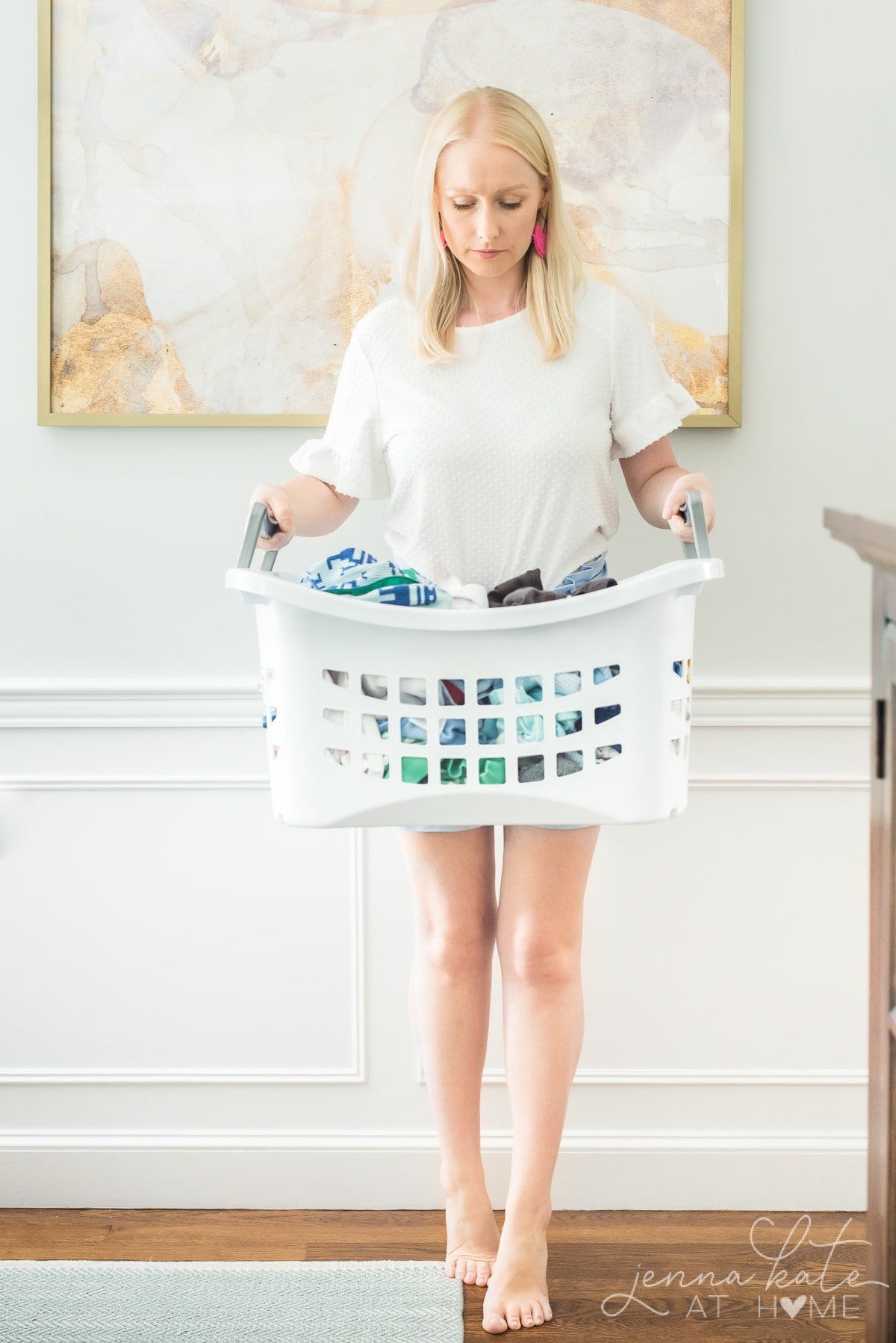 This one has been a game-changer for me, personally. I was a notorious once-every-week laundry doer until last year, when I realized that with 3 kids, doing 4-5 loads of laundry in one day was impossible.
Sure, it would all make it into the washing machine and dryer – but then it would sit (clean!) in a laundry basket for another full week until I got around to folding it and putting it away.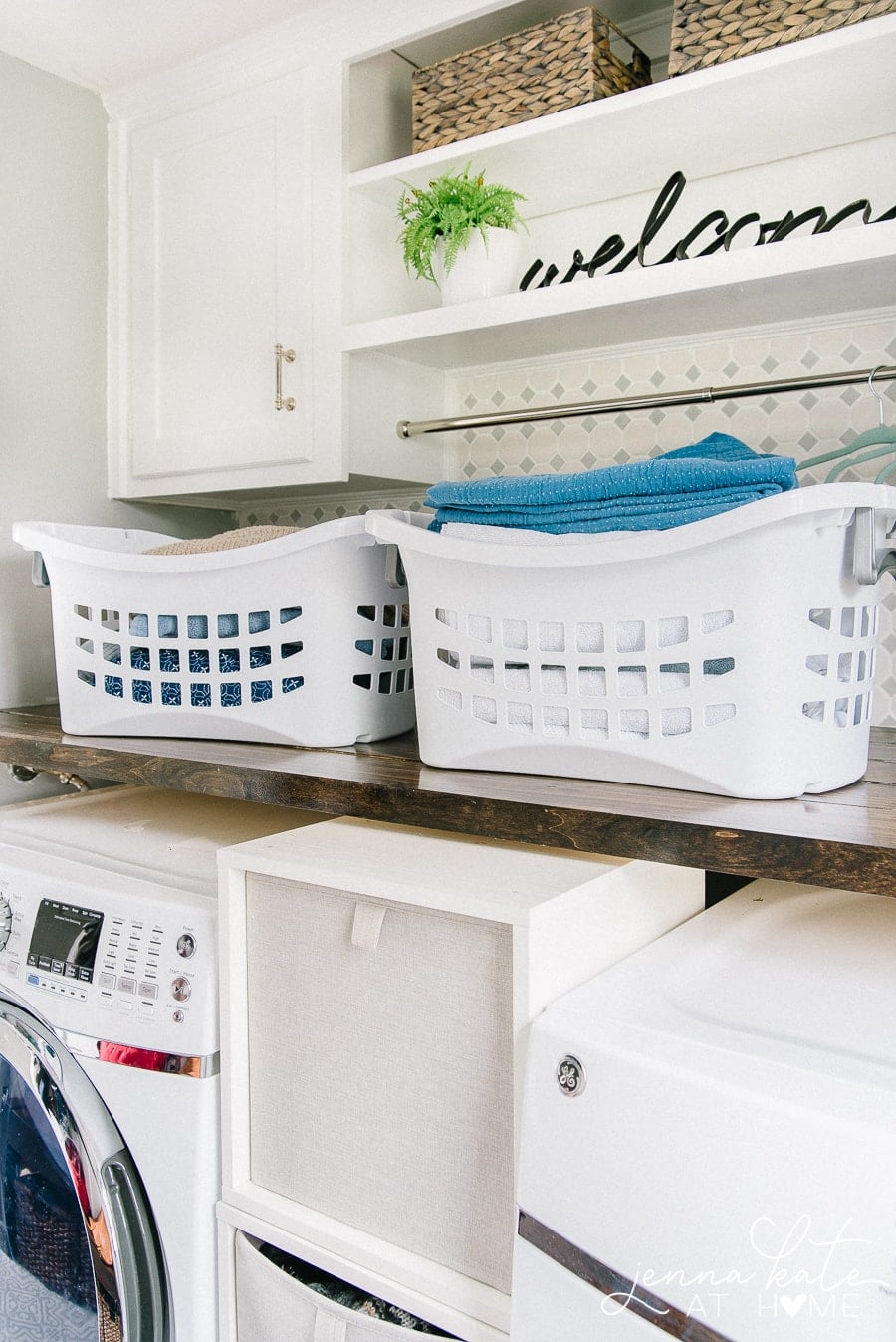 Sometimes it would get to the point where instead of taking clean clothes out of our dressers, we were getting them out of the hamper.
That's not a good example for me to be setting for my kids and certainly not a great way to be keeping our bedrooms free of clutter!
If you have kids home with you, this is a great chore to have them help with. I taught my 5 year old how to fold his clothes and put them away in his drawers.
We use a modified version of the Marie Kondo vertical fold – it's more of a roll (!!) – but my son can do it and it keeps his clothes from getting wrinkled, so it works for us!
DON'T WAIT TO CLEAN UP MESSES
If you notice crumbs or a spill on the counter, clean it up. If food is dropped on the floor and the floor needs sweeping or a quick Swiffer, just do it.
If dirty fingers left fingerprints on the walls, grab some spray and paper towel and wipe them off.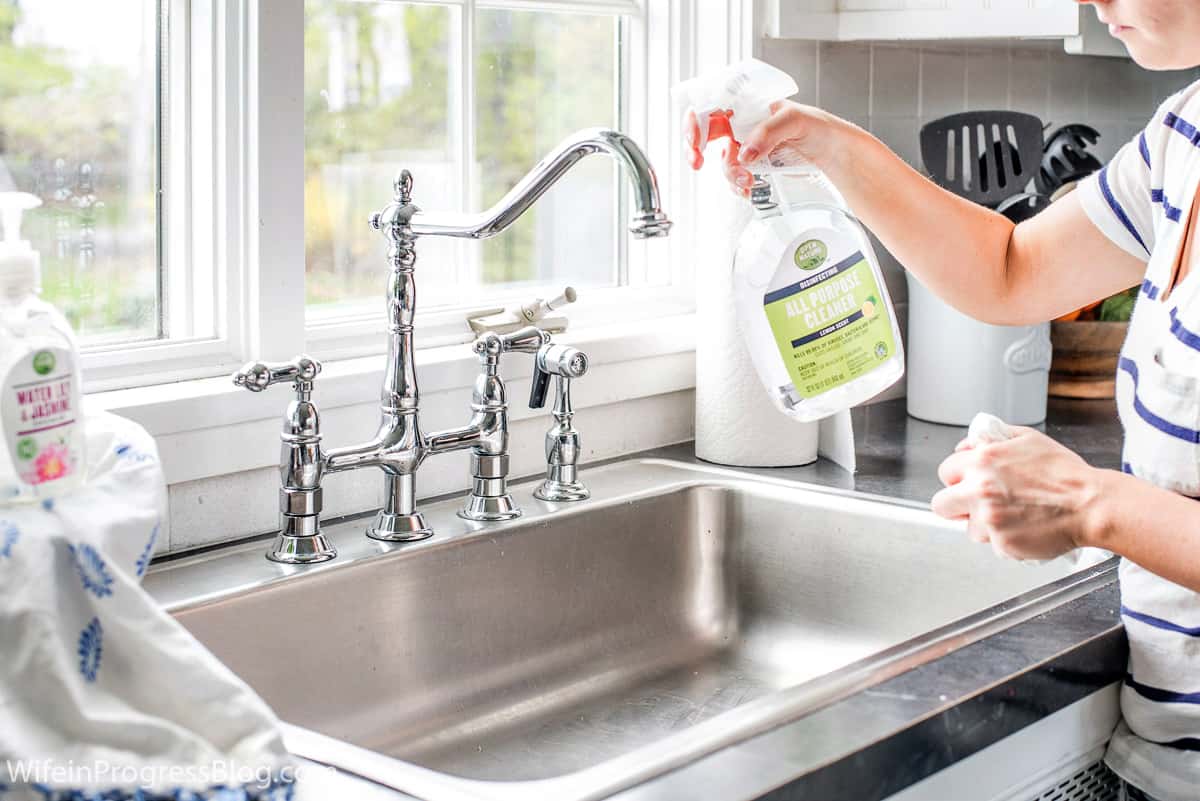 Don't wait to clean up messes, get in the habit of cleaning as you go. That way they are dealt with immediately, and are actually require less effort to clean because they haven't dried in!
Keep countertops free of items
This way it's easy to wipe them down after every meal. Messy counters are a hassle to clean since you have to move everything around. The less stuff you have out, the easier it is to give a quick and thorough wipe down.
Clean as you cook.
While making dinner, put things in the dishwasher and wipe down the counters. By the time the food is cooked, your kitchen will be clean and the only thing to do after dinner is wash the pans, plates and cutlery.
Do a quick pick up every evening
Once the kids go to bed, get in the habit of doing a quick pick-up. Keeping baskets in each room for toys makes it easy to zip around, grab them and plop them into a basket.
I actually have my boys do this before they go to bed, but inevitably there's still a few stragglers that either my husband or I have to pick up, too.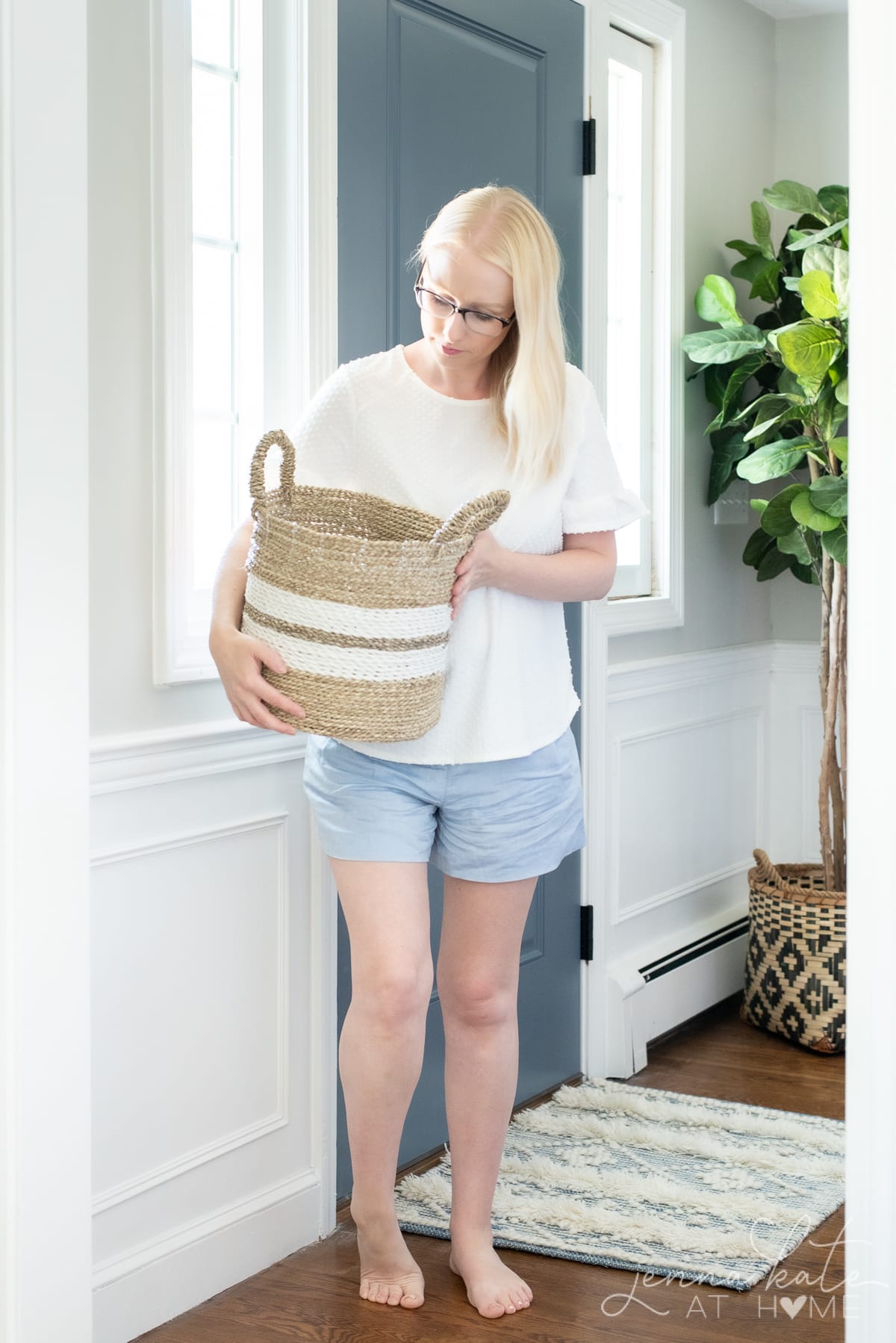 Do a speedy walk through every morning
Before you leave for work in the morning, do a quick walk-through of each space. Fill up a basket with accumulated clutter, and leave it by the door. Put each item back in its place first thing when you get home.
A picked up home gives the illusion of clean. A home could be perfectly clean and sanitized but if it's cluttered, it's not going to look good.
Rehang clean clothes before bed
If they're not dirty, hang them right up in the closet or fold them and put them back into your dresser. Don't forget to put dirty clothes into the laundry hamper and instead of throwing them on the floor or over a chair!
Clear Off and Wipe Down Bathroom Counters
Once a day, I try to make sure everything that doesn't belong on our bathroom counter gets cleared off. Then give the counters a quick wipe-down. This is a great way to keep the room neat and clean.
I've found that leaving cleaning products in each bathroom makes it much more likely that I will do this task. If I have to go all the way downstairs to grab cleaning supplies, it just won't happen (especially when I'm in a rush to get out the door).
So keep some cleaning spray and a microfiber cloth or paper towels in your bathroom or close-by. Once you're ready for the day, put your makeup and other products back in their places, and give the countertop and sink a quick wipe down.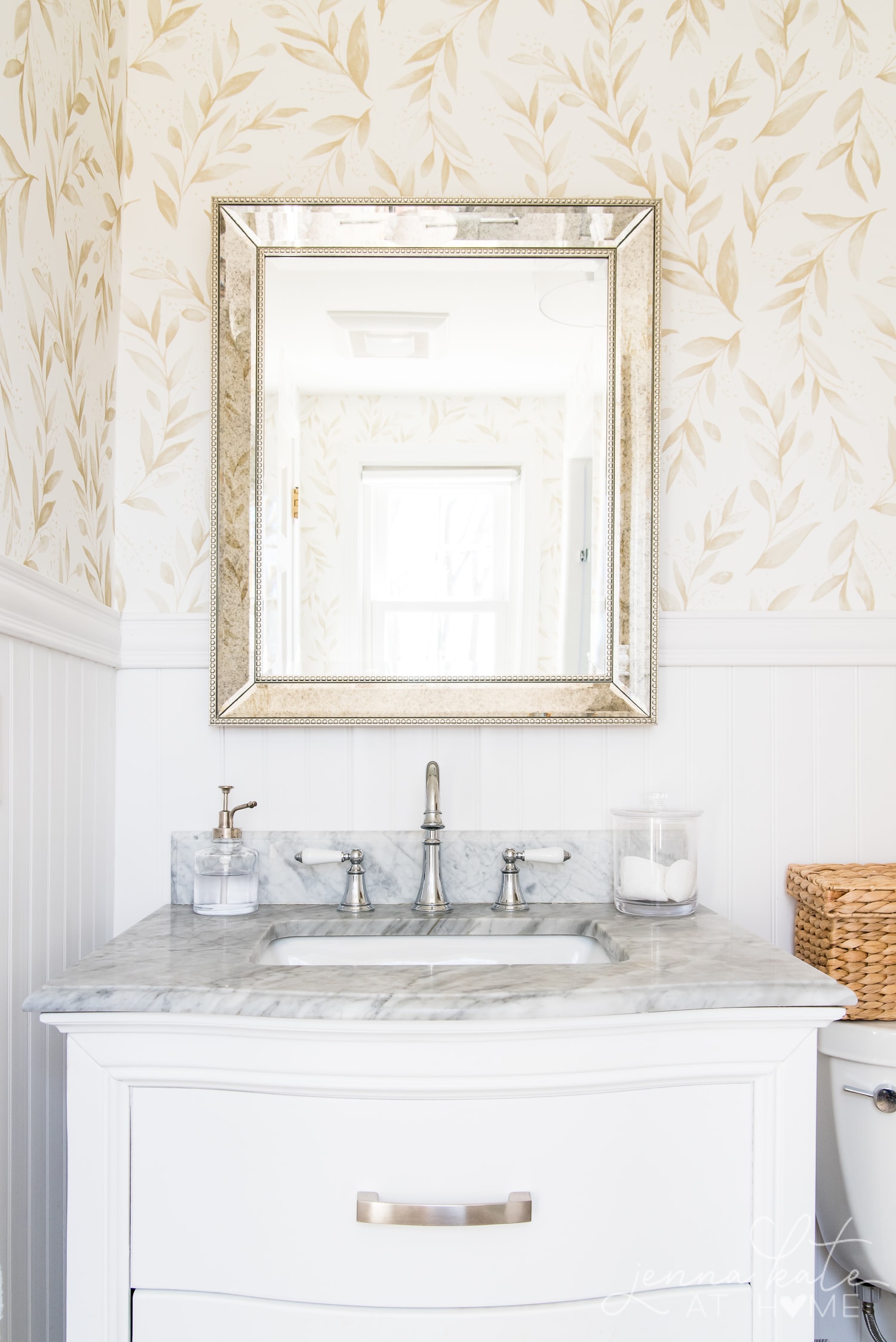 If you find that the morning is too hectic, just do this at night after you've brushed your teeth.
Spray your shower with cleaner after each use. Hang towels on bars and robes on hooks.
Give your shower a quick spray with a no-rinse cleaner as soon as you're done. If you have a stall shower with a glass door, at the very least spray that.
In order to reuse your towels 2 – 3 times, they need to properly air dry. So don't ball them up on the floor, straighten them out and hang them on a towel bar to dry.
DON'T ALLOW FOR A DROP ZONE
When you come in from outside, don't just drop things on the floor. Shoes go straight into a basket or on a dedicated shelf. Purses, backpacks and gym bags should be taken to their own dedicated spot right away.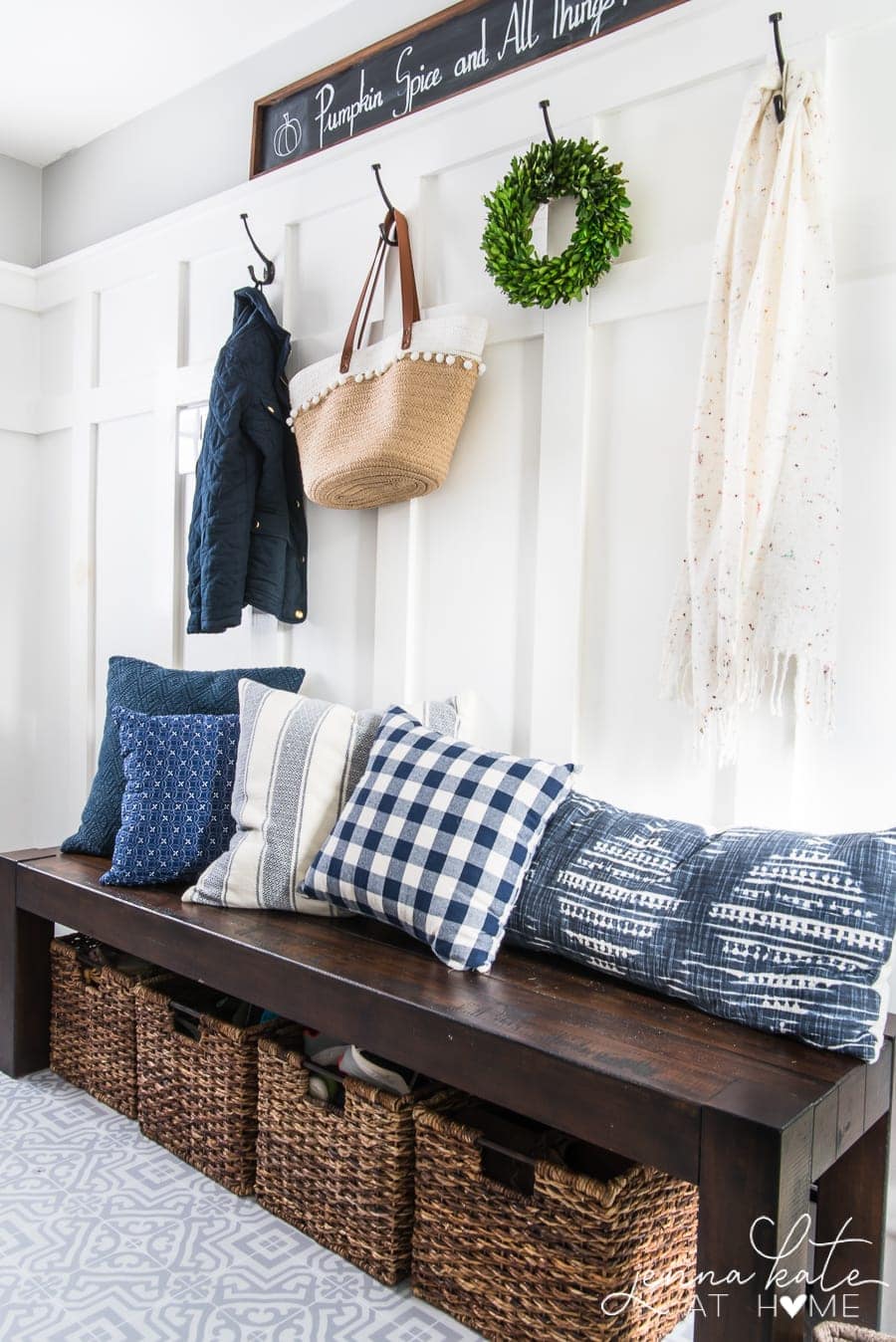 In our home, we each have 2 hooks in our mudroom/laundry room where our coats and bags must be hung.
Creating a mudroom has been one of the best things I ever did to eliminate so much "stuff" coming into our kitchen.
Use Doormats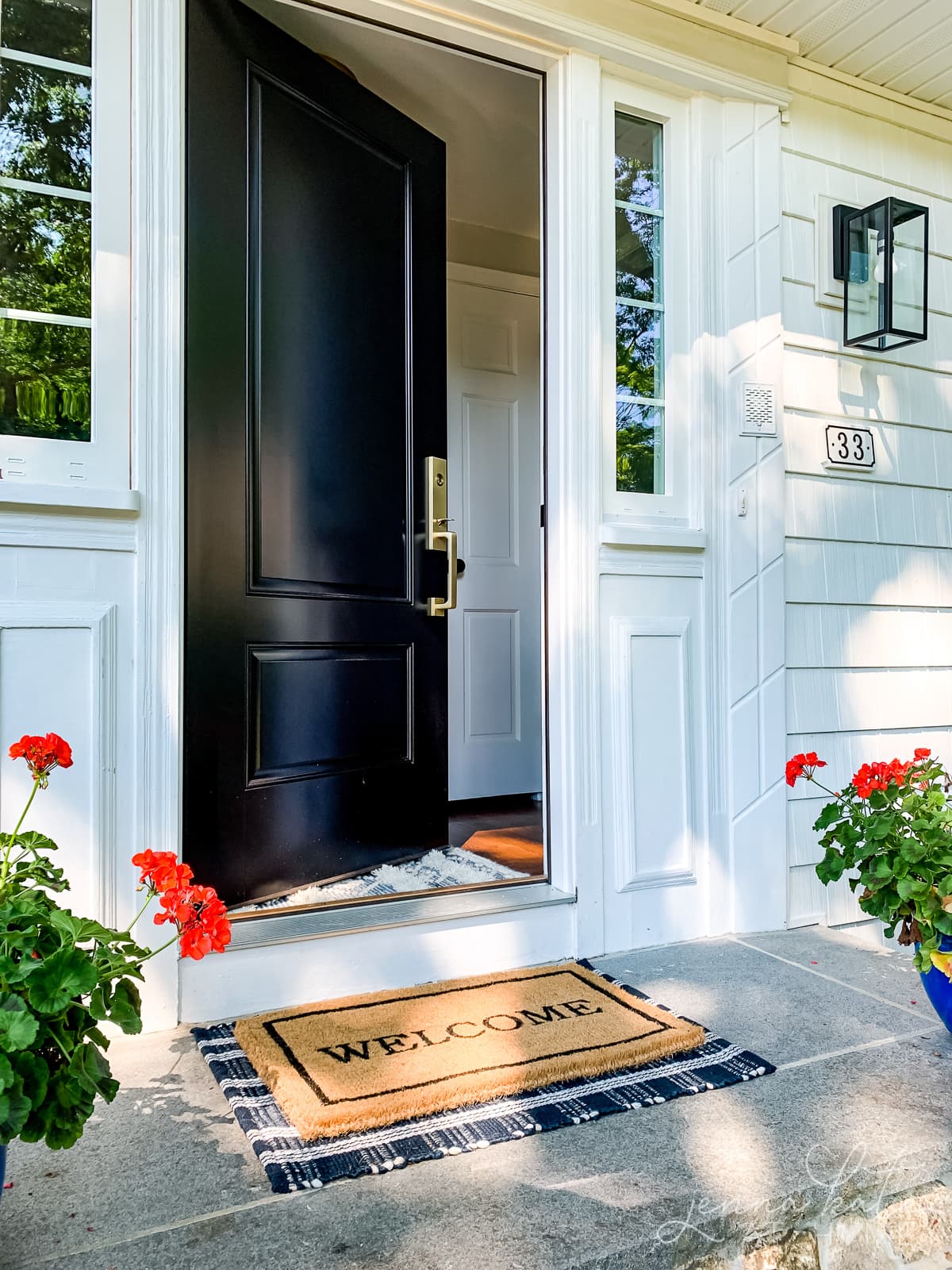 The less soil tracked indoors, the less often you'll need to clean your floor. Keep it out of your home with doormats at each exterior door. Vacuum or shake them outside every few days. Additional mats outside the door leading from your garage will trap even more debris.
Stick to Cleaning Routine
This can be as simple as cleaning one room a day. A simple routine may look like this:
Monday: Main Bathroom – Clean toilet, shower and sink. Wipe down mirrors and all surfaces. Wash floors.
Tuesday: Kitchen – Clean oven, and stovetop. Wipe down fridge. Wipe down cabinets. Wash floors.
Wednesday: Living Room – Dust all surfaces, vacuum rug and under couch cushions.
Thursday: Powder Room/Half Bath – Clean toilet and sink. Wipe down all surfaces. Wash floor.
Friday – Dust dining room and bedrooms. Vacuum dining room and bedroom rugs. Wash, dry and replace bedsheets.
By sticking to a routine and dedicated a half hour to each space once a day, your home will always be clean and the cleaning will never become overwhelming or get on top of you.
How to Keep Your House Clean When You Work Full-Time
If you work full-time, you might think keeping a clean house will be more difficult, but it's actually easier! Since you don't have anyone at home constantly making messes, you technically have less cleaning to do.
In the morning, make sure your bed is made and room is picked up, unload the dishwasher and put dirty breakfast items in. Then run a load of laundry.
When you return in the evening, put your bag and shoes away, finish the laundry and spend 20 minutes cleaning a different room every day. Finally, clean the kitchen while you're making dinner.
Make sure that everyone in your house is doing their fair share, too. Kids can pick up their rooms and put their laundry in the washing machine. My 3 and 5 year olds put their own dirty dishes in the dishwasher and vacuum their bedrooms on the weekend.
And speaking of vacuuming – a robot vacuum is a great investment since it can be programmed to clean your floors while you're at work. I love our robot vacuum that we purchased a few years ago. It mops as well as vacuums so my floors are always clean!
The ultimate secret to keeping a clean house?
The biggest secret to keeping your house clean is to not procrastinate. When you do these little tasks throughout the day, your house is easier to keep clean and tidy.
You don't need any house tidying hacks, per se. These are all simple tasks that when done on a daily basis, add up to an immaculate house!
But getting into new routines takes time. I find once I've done everything for 1 – 2 weeks, it starts to naturally become part of my routine. In order to get to that point, I'll leave post its on the fridge or alarms on my phone calendar to remind me what I need to do. Eventually, it all becomes second nature and just something you naturally do to keep your house in tip top shape all the time!
More Organizing Ideas