This post may contain affiliate links | For further details, please read our privacy policy
The post is sponsored by Latex Agent. While I have been compensated to write this post, all opinions are 100% my own. I only share products that I truly love and that I think will be helpful to you in your DIY endeavors.
One of the projects on my to-do list has been to paint the doors in our mudroom. We have three out there – a side door that leads to the front of the house, the door to the garage and a door out to our back deck. Our entire mudroom/laundry room is white. Too white, in fact. And I love a bit of color, especially since this space can be seen from the kitchen (on a side note, we are actually thinking of putting a door here to close it off. Also, I'm only showing you two of the doors because my laundry area is in despicable condition!!).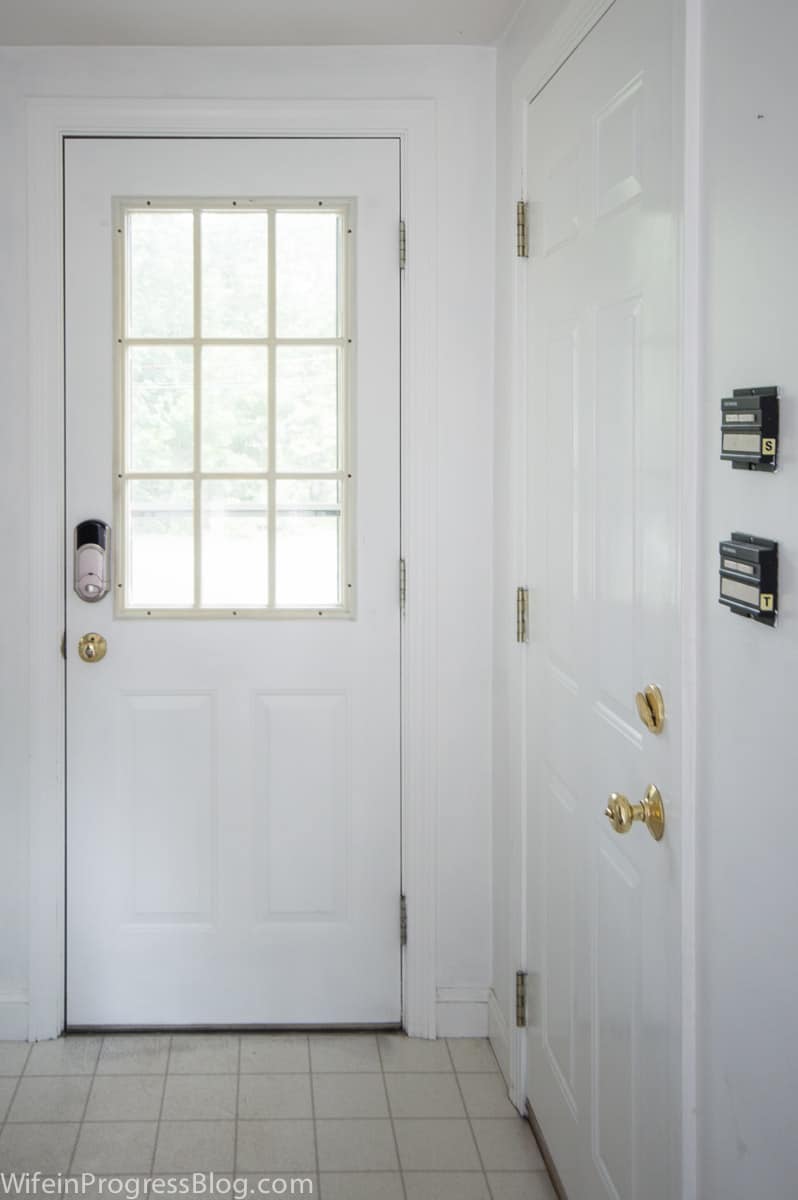 Since there's three external doors, they are all those heavy fire rated doors (as code dictates). I haven't had great luck painting these doors before – the paint always eventually started to peel or got chipped or nicked. I have a few free hours every afternoon when both boys are napping, so my projects need to be quick and get the job done. I don't have time for deglossing, using primer and sanding between coats. You know, all that extra stuff that goes with painting.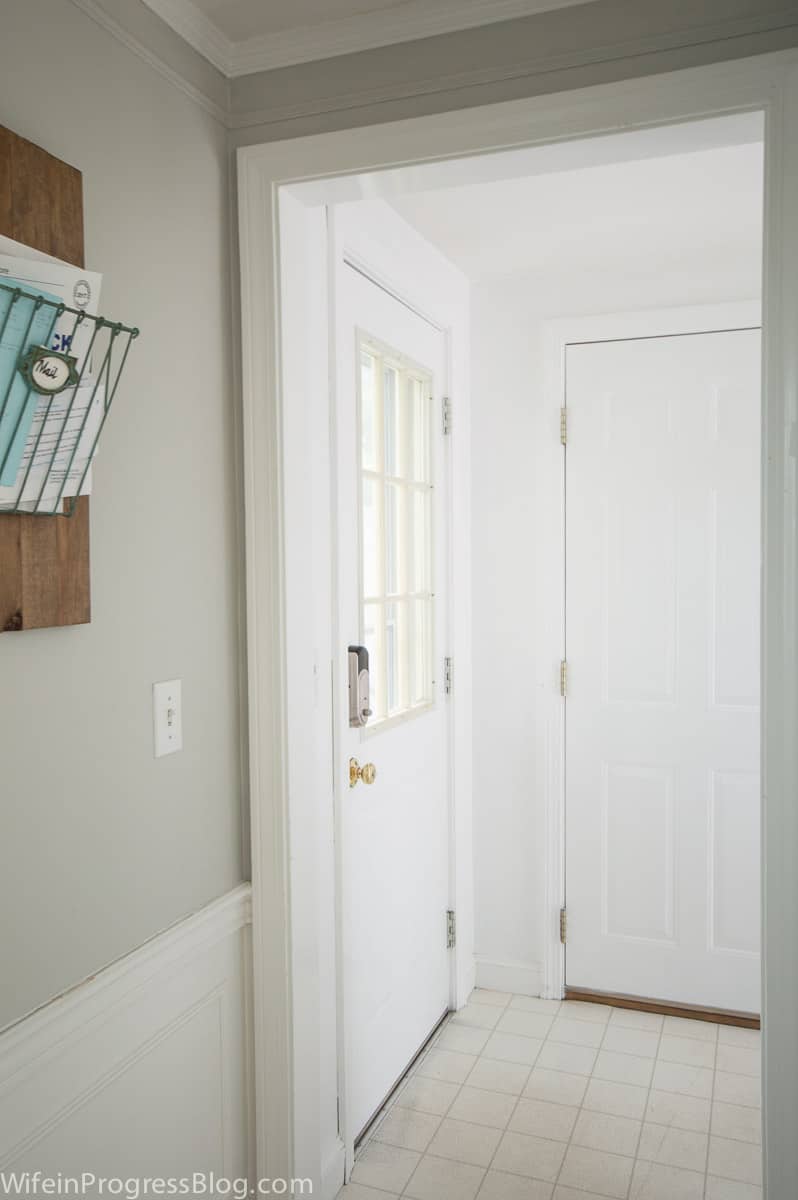 Well. Let me share my newest favorite product with you. The paint on my doors after using this is hard as nails. It's not going to budge. It's certainly not going to chip or peel. I even scratched it with my car keys to see if I could easily mess with it, but NOPE. This product is legit.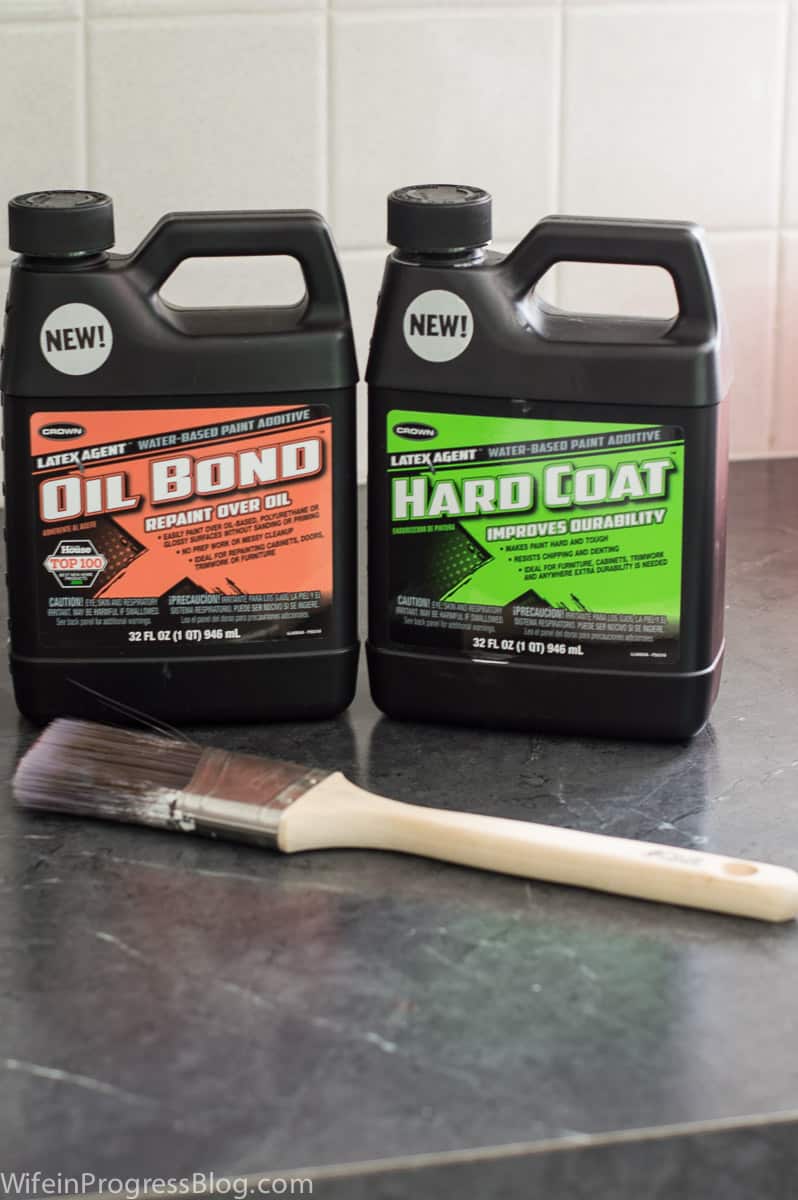 It's called Hard Coat and it comes from Latex Agent, the makers of Oil Bond who make that other awesome product that allows you to paint over oil based paint using regular ol' latex paint (read all about how to use it to paint your kitchen cabinets without sanding!). I actually started the whole process by cleaning my doors with some Oil Bond on a rag. It removes all the grime and dirt and works as a deglosser so that no sanding is required, and so that your paint will adhere perfectly.
Here's the science bit as they say:
Hard Coat latex paint additive provides a tougher more durable finish when added to latex paints. The technology is ceramic based, similar to ceramic based exterior paints. The technology uniquely suspends the ceramic particles throughout the latex paint with unique resins that "lock" the ceramic particles evenly throughout the applied paint. Most paints also hide and level better with the Hard Coat added. – Latex Agent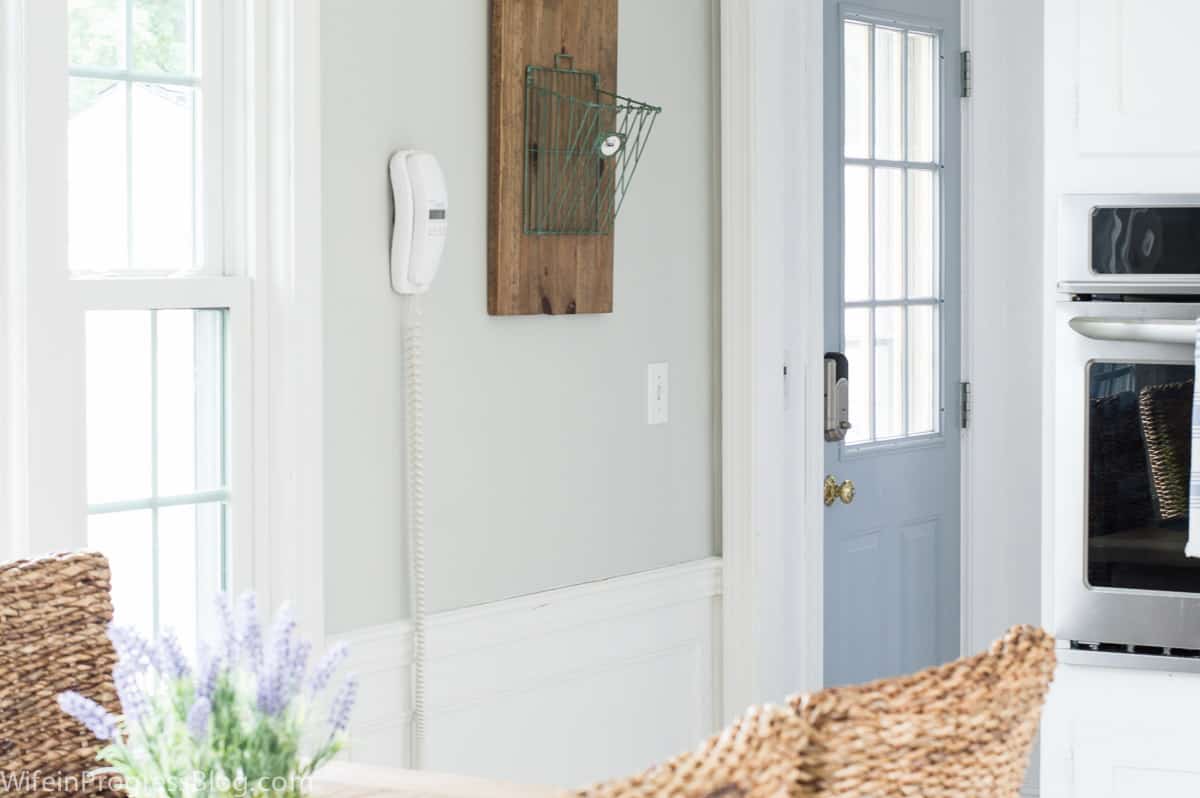 The other great thing about these products is that they are additives. So I didn't have to do an extra coat of product on top of my standard 2 coats of paint, I just ADDED it to the paint before I began. Talk about an exhausted mama's dream! Also, Hard Coat doesn't dilute the paint or make it super runny. In fact, I didn't notice much of a consistency change. I did, however, notice that the paint on my doors dried quickly and cured much quicker than anything I've experienced before (usually you need a week for a full cure, I would say my doors were rock sold after about 4 days).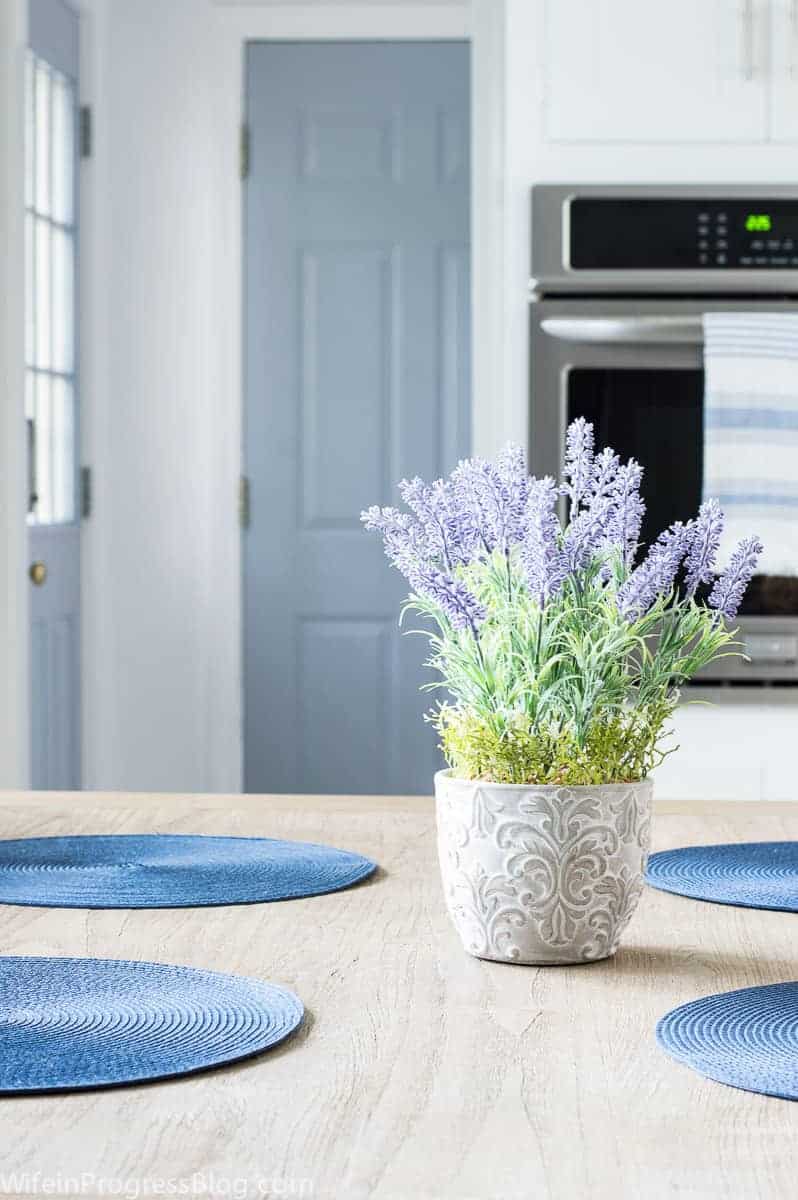 By the way – the paint color I chose is Morning Fog by Sherwin Williams. It's one shade lighter on the color card for Serious Gray, which is one of my all-time favorite colors. It's a great bluey gray that changes color during different times of the day.
*affiliate links included for your convenience*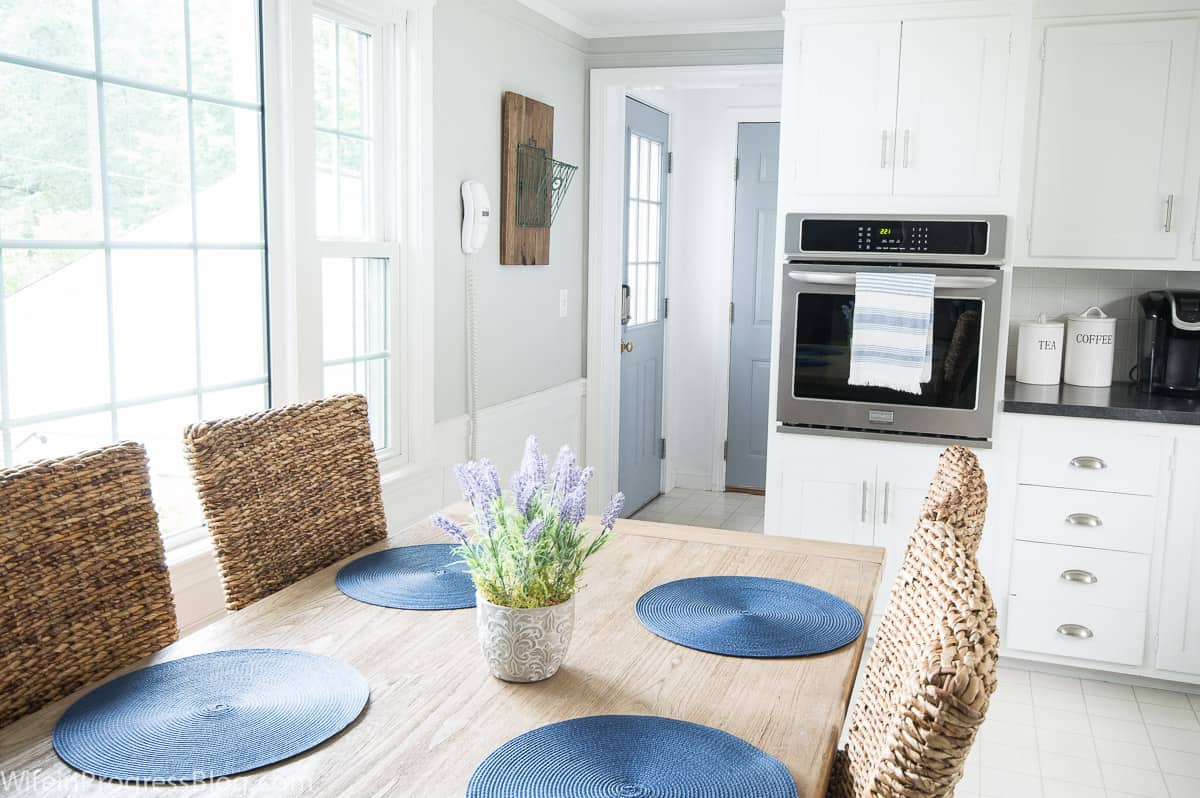 Are you ready to give Hard Coat and Oil Bond a shot? Here's a quick time lapse of my painting process to help you achieve perfect results painting your doors.
How to Paint a Door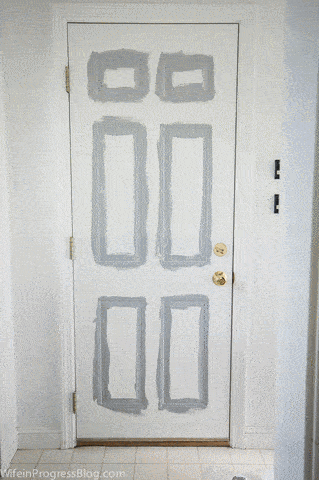 It's important that you start with a paintbrush and paint the detailed sections. Then fill the rest in with a roller. That way you can avoid brushstrokes and get even coverage. Although, the hard coat actually levels really well so you could paint the entire door with a paintbrush if you so wish. I did my second coat with a paintbrush (because I'm lazy and it was in my hand already!) and there's minimal brushstrokes.
You will need two coats of paint. Usually by the time you've finished the first coat it's dry enough to start the second. If not, give it another 20 minutes and you should be good to go. You can tape your door hardware or remove them. But if you do get paint on them, just scratch it off shortly afterwards and it will be easy to remove. I will be replacing all my door hardware shortly, but we're stuck with the brass for now! Also, ignore the ugly linoleum floors. They are also on the short list for immediate tackling!
I bet you're wondering where else Hard Coat might work? The possibilities are endless since it's rated for both interior and exterior use. I'm thinking it would be awesome on kitchen cabinets, door trim or anywhere you have a toddler that likes to ram trucks into woodwork :-) #thatsmyboy
Any questions? Ask away in the comments section. I'll be sure to respond!