Several years ago, while still living in our first home, Brian and I painted the cabinets in our dated kitchen. I vowed never to do it again. It was quite the endeavor and much more of a headache than either of us initially realized.
The prep was insane. Deglossing, sanding, cleaning, priming, painting, sanding some more, painting some more and it took WEEKS for it all to dry. It was such a drawn out drying process, even the cabinets covering a small area took a lifetime to dry. The entire thing was a nightmare! The good news is, it does NOT have to be such a painful experience!

Recently I was introduced to a revolutionary product that I wish I'd had way back then – Oil Bond. As soon as I read all the details and read the customer reviews, I knew I had to share it with you. After trying it myself, I'm convinced it is the best way to paint your kitchen cabinets.
Today's post will cover why sanding isn't essential anymore when painting kitchen cabinets, what Oil Bond is, and a step-by-step guide to painting cabinets WITHOUT any sanding!
Why Skip Sanding?
In case you aren't totally convinced yet of the misery that went down when sanding and painting our cabinets, let me fill you in on a few reasons an alternative might be a good idea.
Sanding kitchen cabinets can be a very time-consuming and messy process. Like I mentioned previously, it takes a long time to sand down and then paint kitchen cabinets. The sanding alone could be hours of work. Not to mention, all of the sanding supplies can really add up in cost!
Plus, if you have older cabinets, they may have lead paint, which can be dangerous if it becomes airborne during sanding. By skipping the sanding step, you can save yourself time and potential health hazards.
What is Oil Bond?
Oil Bond is a specially engineered paint additive that makes tackling paint jobs like those pesky kitchen cabinets a whole lot easier, and a whole lot quicker. Oil Bond is specifically designed to help latex paint stick to glossy surfaces (think your standard wood kitchen cabinets – it won't work well with laminate).
Oil Bond takes the place of stinky cleaning surfactants, deglossing agents as well as primer, allowing your regular latex paint to properly adhere to glossy surfaces. You know what that means, right? You no longer have to spend hours upon hours cleaning, sanding or priming! Hallelujah! Plus, It's water-based and low VOC so you can feel safe using it in your home.
You can use it for any paint color and multiple different cabinet surfaces. In fact, using different colors than the traditional white, grey, and tan would provide great character to the kitchen.
Your kitchen painting visions may now become a reality since this miracle additive will literally cut DAYS off the paint job process.
I know what you're thinking. This product must come with a hefty price tag. Not so! A 32oz container is only $14.98. Now, that's my kind of price point. So not only are you saving time but you've just saved the cost of all that sandpaper and primer too which could easily run to $100 or more. This stuff is like liquid sandpaper!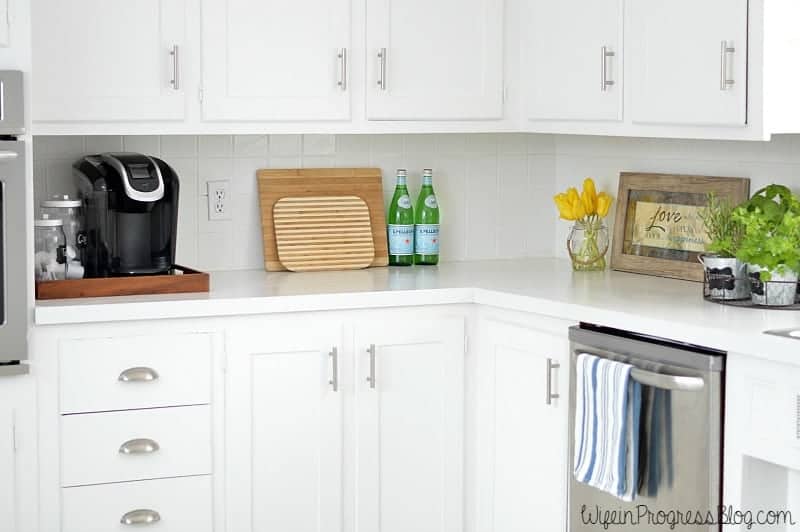 Don't have any kitchen cabinet doors to paint? I bet you've got some furniture that you've been dying to give a fresh new makeover to! This revolutionary product will make sure you have perfect results every time.
Have I mentioned Oil Bond is also awesome for doors, woodwork, molding, frames, mantles, built-in shelving and paneling? Indeed, pretty much anything you would want to paint, you can use this liquid sander on!
Has that piqued your interest? Yeah, mine too! On top of that, This Old House named Oil Bond one of their Top 100 New Building Products.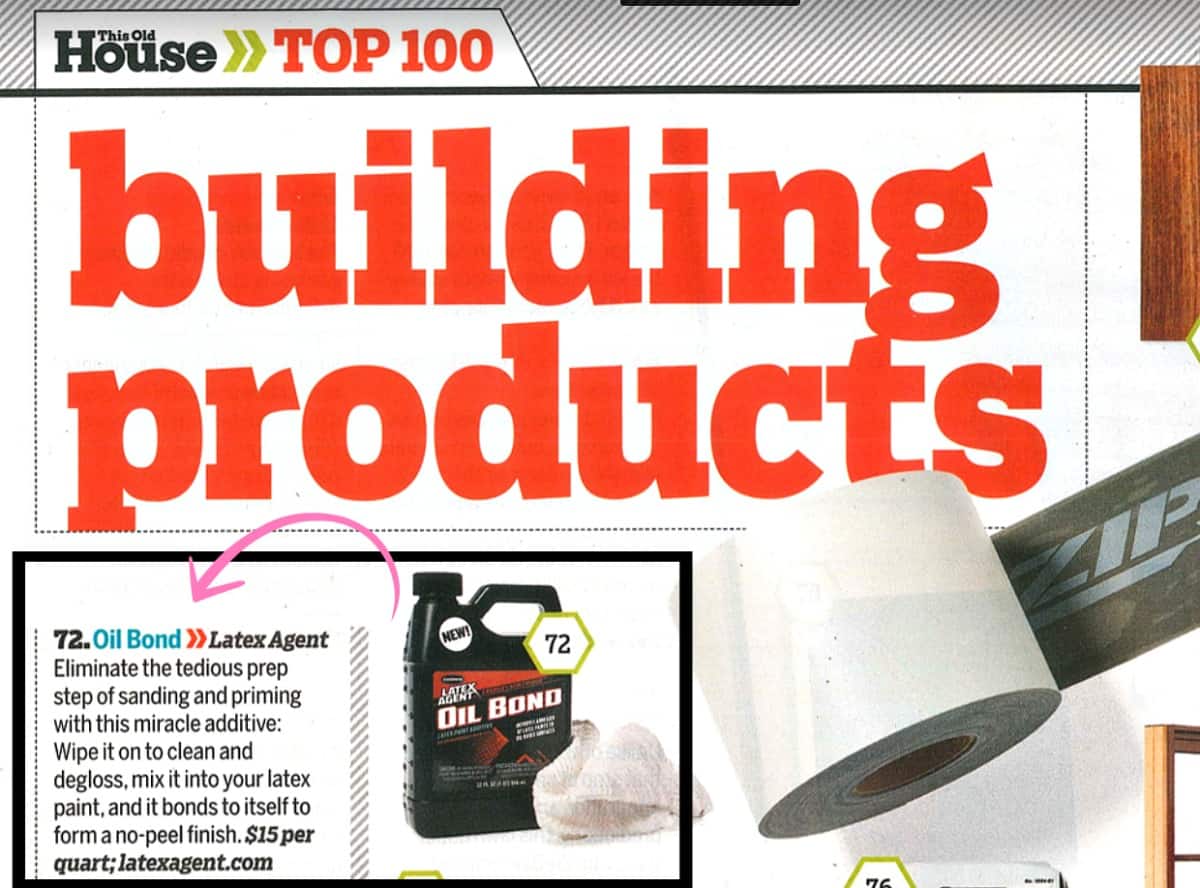 Why don't you take a minute to read the customer testimonials? There's lots of other great information available on the Latex Agent website, too. It will inform you of the right kind of paint to use, drying time, the step process of applying, and more!
READY TO ODER? YOU CAN PURCHASE OIL BOND DIRECTLY FROM LATEX AGENT OR AMAZON.
I'm so excited to finally have found a product that will make your kitchen cabinet painting efforts quicker and more effective. If you decide to try this product I'd love to hear your feedback on it! It's not every day that I come across something that I think will truly benefit so many of you, so I'd love to know how it worked out for you.
Step-By-Step Guide
Clean cabinets – The first step in preparing your cabinets for painting is to clean them thoroughly. This will help remove any dirt, grease, or grime that may have accumulated over time. For best results, you want to work with a clean cabinet!

Removing Cabinet Hardware and Doors – Once your cabinets are clean, the next step is to remove the hardware and doors for a smooth surface. This will make it easier to paint the cabinets and ensure a smooth finish. Use a screwdriver to remove all hardware, including knobs, handles, and hinges. Make sure and keep up with what goes where for when it's time to reassemble the cabinets!

Apply Oil Bond – Once you have prepared your kitchen cabinets for painting, it's time to start applying the Oil Bond. The best thing about Oil Bond is no additional bonding primer is needed. Wipe a single layer onto the piece you are painting.
Time to Paint – After the first layer of Oil Bond has dried, add 16 ounce per gallon of latex paint. Stir fully into the paint. Now it's time to apply for the first coat of paint. It will link to the Oil Bond you initially wiped onto the furniture. You can apply a couple coats of paint, but use thin coats to avoid clumps. The top coat should fully cover all of the previous cabinet color. Try to prevent brush marks by using a foam roller or paint sprayer.
Maintenance Tips
The great news is your cabinets can maintain good condition for years to come with this method of painting! To ensure proper care, there are a few tips to follow.
Regular cleaning is the key to maintaining the beauty of your painted cabinets. A damp cloth with soapy water should suffice and remove spills, dirt, and dust.
Prepare for minor touch-ups. Have on hand a bit of the Oil Bond and paint color of your choosing. It is expected that after years of wear, you might need to reapply a bit and do some touching up.
By monitoring the cleanliness of your cabinets and the condition of the paint, you can help their overall appearance for a long length of time!
If you're planning on painting your kitchen cabinets, furniture…or anything else, be sure and pick up a quart of Oil Bond!
Final Thoughts
If you're like me, you want products that are both affordable and high-quality. In my personal opinion, this product is well worth the price tag if you're looking for painted cabinets in the near future. It will save hours off the painting process and can aid in transforming your kitchen efficiently and quickly.
If you've been hesitant about painting your kitchen cabinets, now you can do it without sanding and in a more pleasant manner. The end result is a professional finish with minimal effort.