This post is sponsored by Latex Agent, the makers of Oil Bond.
Several years ago, while still living in our first home, Brian and I painted the cabinets in our dated kitchen. I vowed never to do it again.
The prep was insane. Deglossing, sanding, cleaning, priming, painting, sanding some more, painting some more and it took WEEKS for it all to dry. It was such a drawn out process.

Recently I was introduced to a revolutionary product that I wish I'd had way back then – Oil Bond. As soon as I read all the details and read the customer reviews, I knew I had to share it with you.
Oil Bond is a specially engineered paint additive that makes tackling paint jobs like those pesky kitchen cabinets a whole lot easier, and a whole lot quicker.  Oil Bond is specifically designed to help latex paint stick to glossy surfaces (think your standard wood kitchen cabinets – it won't work well with laminate). Oil Bond takes the place of stinky cleaning surfactants, deglossing agents as well as primer, allowing your regular latex paint to properly adhere to glossy surfaces.  You know what that means, right? You no longer have to spend hours upon hours cleaning, sanding or priming! Hallelujah!  Plus, It's water-based and low VOC so you can feel safe using it in your home.
Your kitchen painting visions may now become a reality since this miracle additive will literally cut DAYS off the process.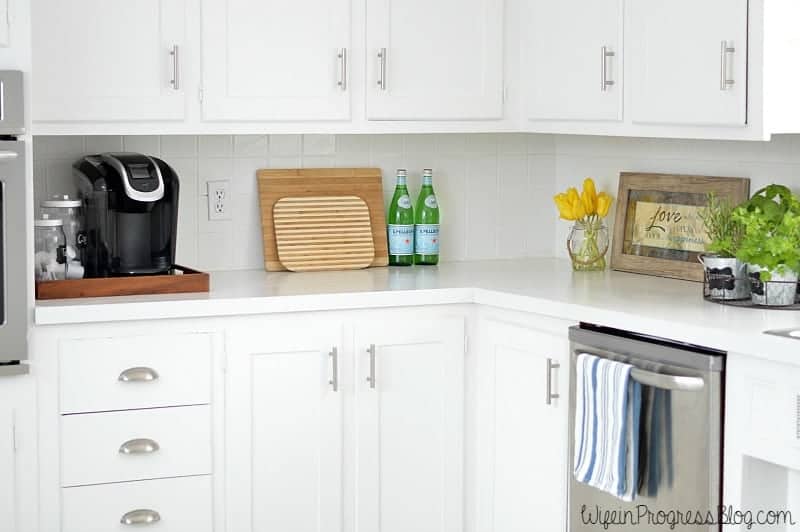 I know what you're thinking. This product must come with a hefty price tag. Not so! A 32oz container is only $14.98. Now, that's my kind of price point. So not only are you saving time but you've just saved the cost of all that sandpaper and primer too which could easily run to $100 or more.
Don't have kitchen cabinets to paint? I bet you've got some furniture that you've been dying to give a fresh new makeover to! This revolutionary product will make sure you have perfect results every time. These furniture painting tips from The Idaho Painter will also really help:
Have I mentioned Oil Bond is also awesome for doors, woodwork, molding, frames, mantles, built-in shelving and paneling? Indeed, pretty much anything you would want to paint!
Has that piqued your interest? Yeah, mine too! On top of that, This Old House named Oil Bond one of their Top 100 New Building Products.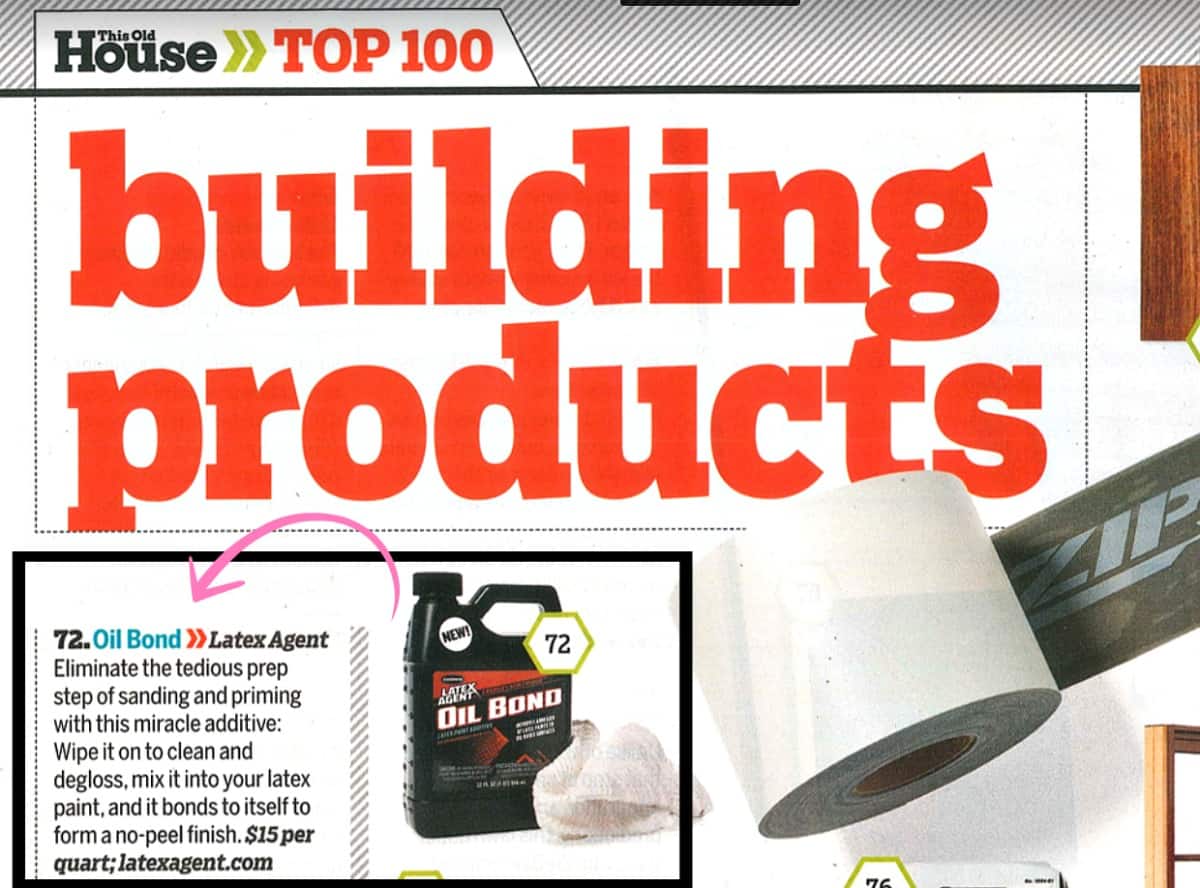 Why don't you take a minute to read the customer testimonials? Then download this helpful guide that details step by step how to paint your kitchen cabinets from start to finish without sanding. There's lots of other great information available on the Latex Agent website, too.
READY TO ODER? YOU CAN PURCHASE OIL BOND DIRECTLY FROM LATEX AGENT OR AMAZON.  
I'm so excited to finally have found a product that will make your kitchen cabinet painting efforts quicker and more effective.  If you decide to try this product I'd love to hear your feedback on it! It's not every day that I come across something that I think will truly benefit so many of you, so I'd love to know how it worked out for you.
If you're ever planning on painting your kitchen cabinets or furniture…or anything else (!) be sure to pin this for later!