This post may contain affiliate links | For further details, please read our privacy policy
This DIY picture frame is not only a simple project but makes for a beautiful homemade piece of decor or thoughtful gift idea. Hundreds of readers have made them and you can, too, with a few basic materials!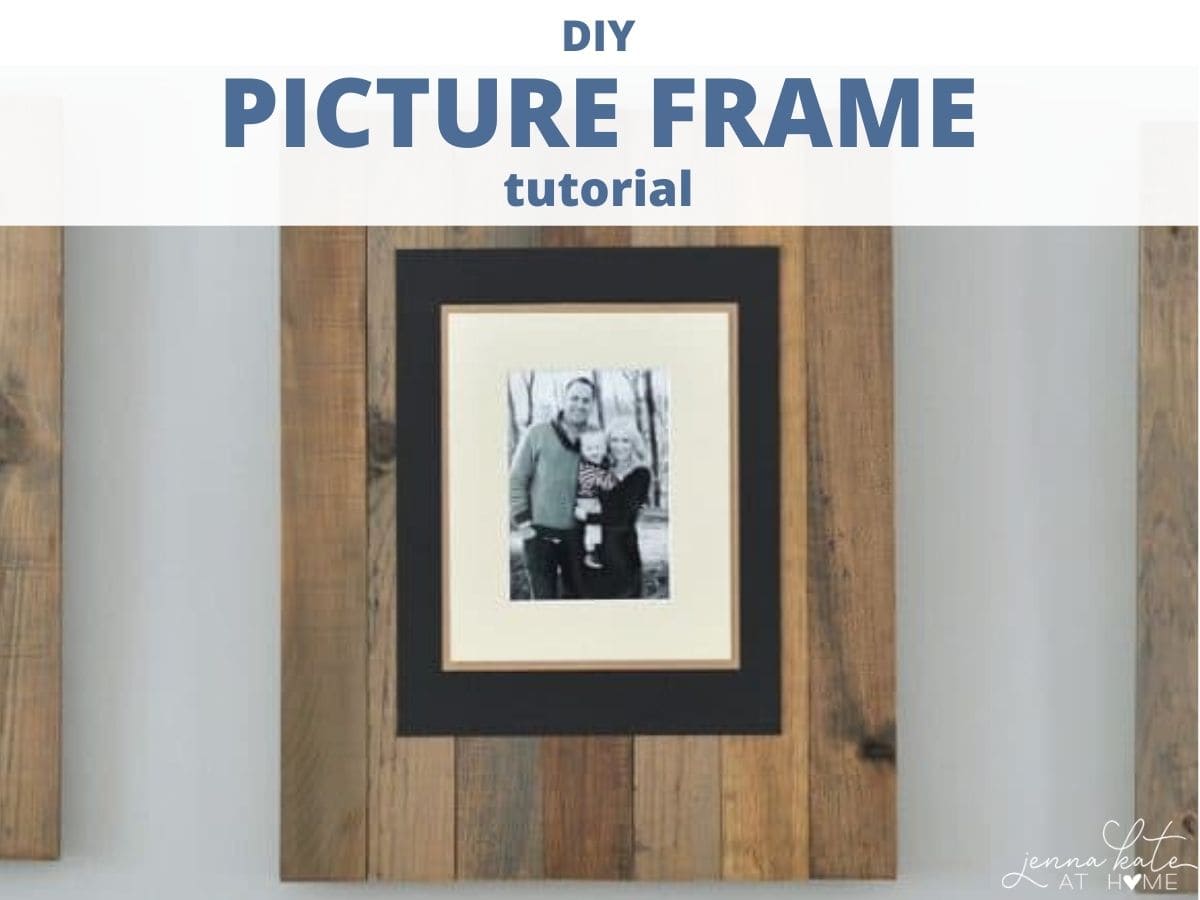 Simple Picture Frames You Can Make
These DIY picture frames are one of my favorite weekend projects ever. They are easy to make and require few materials. They can be customized to whatever shape, size and color fits your decor – which makes them the perfect project!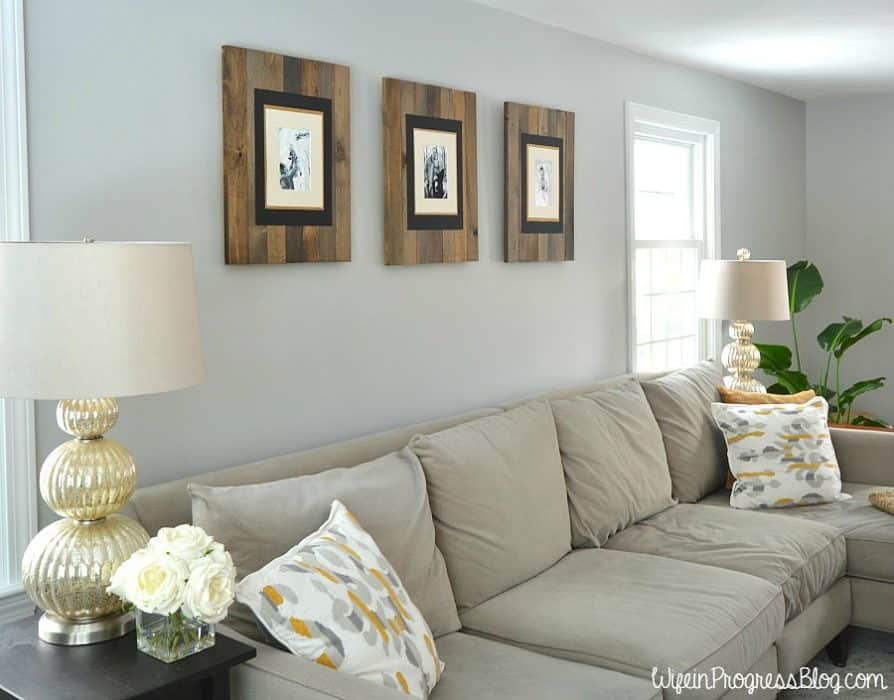 Showcasing family photos is a sure-fire way to make any house feel like a home. We have had professional photos taken when all three of my boys were newborns, as well as for their first birthdays. I love framing them and hanging them all over the house.
When we moved into this house, I had the dilemma of having this really long stretch of wall behind our couch to decorate. I didn't want one massive piece of art, but I did know that I wanted something simple, yet large enough to not look dinky on the wall.
After coming across some reclaimed wood frames on a very expensive website, I decided to try and make my own. And so this tutorial for homemade wooden picture frames was born!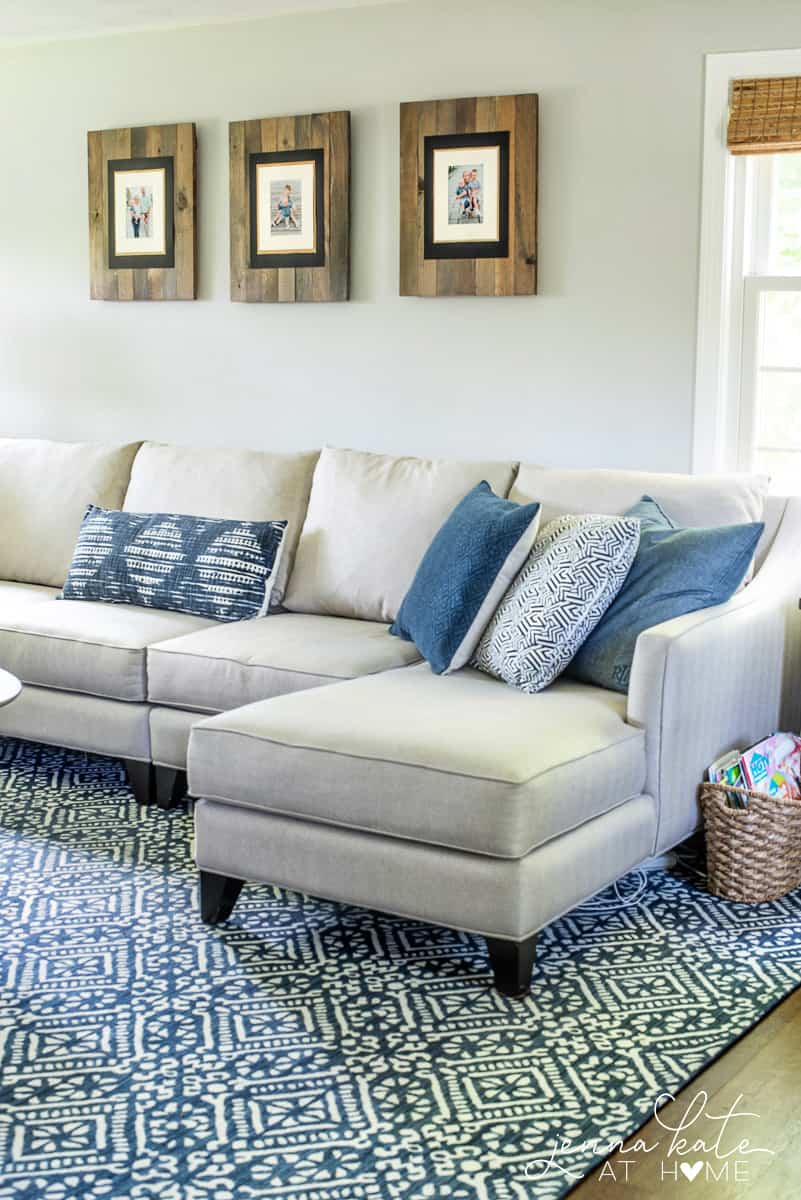 Anytime you have an inspiration image and you are trying to figure out how to recreate it, start with the basics. For this photo frame, I knew I needed to have a wooden backing, then a matted area for the photograph to sit on, and finally a "frame" on top.
I toyed with the idea of using some sort of plastic or acrylic on top to replicate glass, but quickly realized it wasn't the worth the effort. They look crisp and beautiful without it.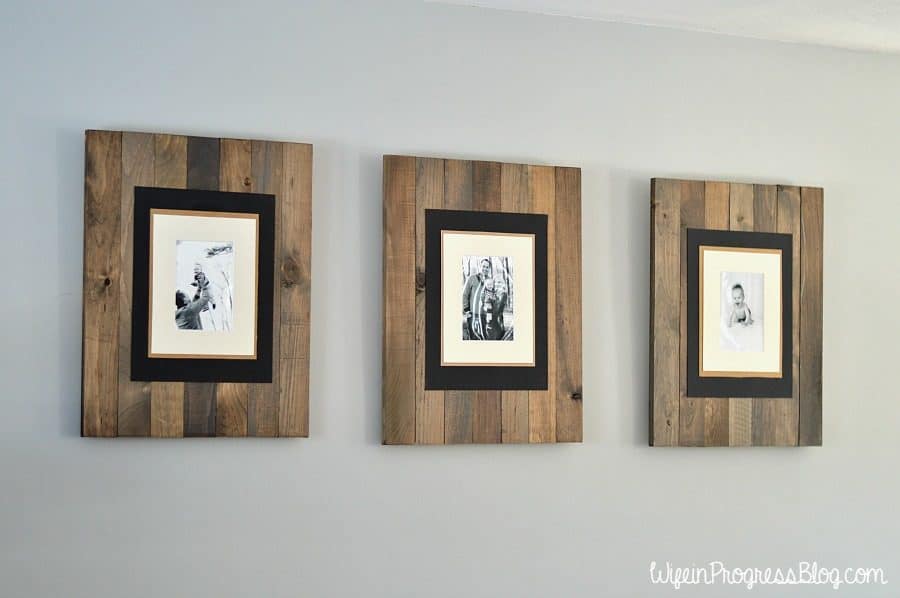 These may be cheap wood picture frames, but they look expensive and would make a lovely gift, too!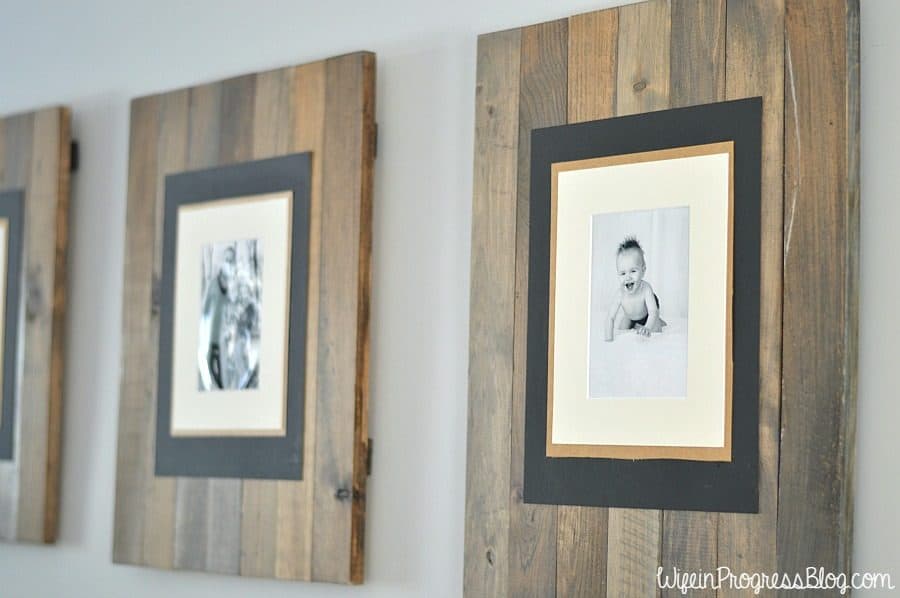 And they are so simple to make. They look like old weathered pallets but in fact they are basic white wood 1 x 3's from the hardware store that have been stained to look all old and rustic.
The staining technique is simple – it's just layers of dark stain with a gray stain on top. By varying the intensity of the different stains (the longer it's on, the darker the stain ends up), you get a variety of color on the wood.
My whitewashed wood technique is also another method that would work well here if you would prefer a lighter look.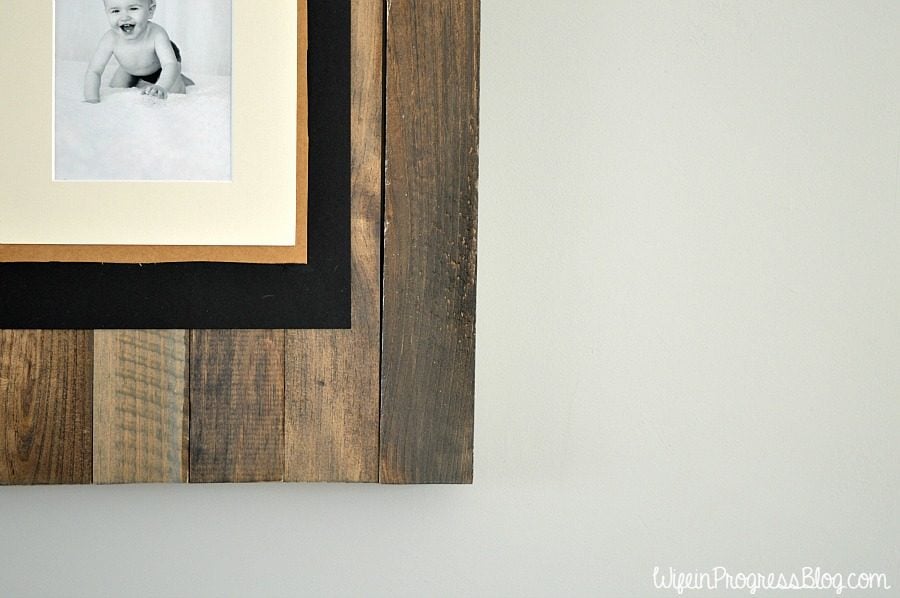 The frames have braces on the back where a simple sawtooth hanger is attached that allows them to hang from the wall.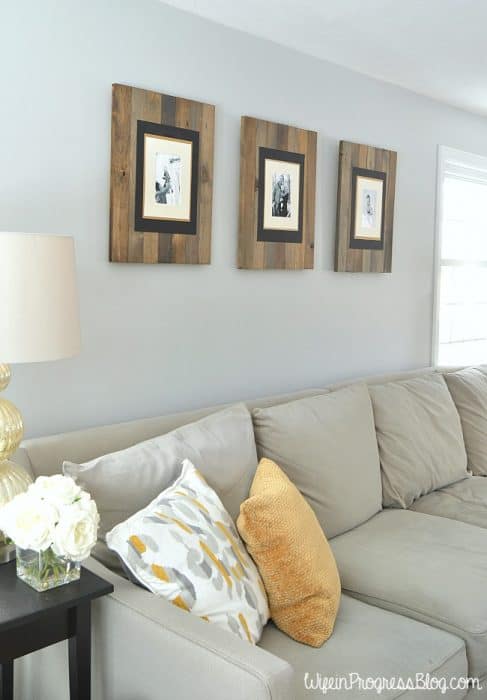 The front of the picture frames is simply a large piece of black card stock, layered with a smaller piece of canvas/tan colored card stock and finally the photo with a cream photo mat on top.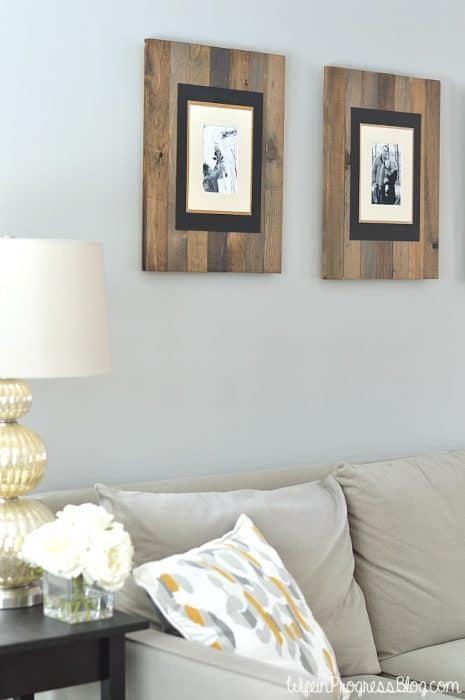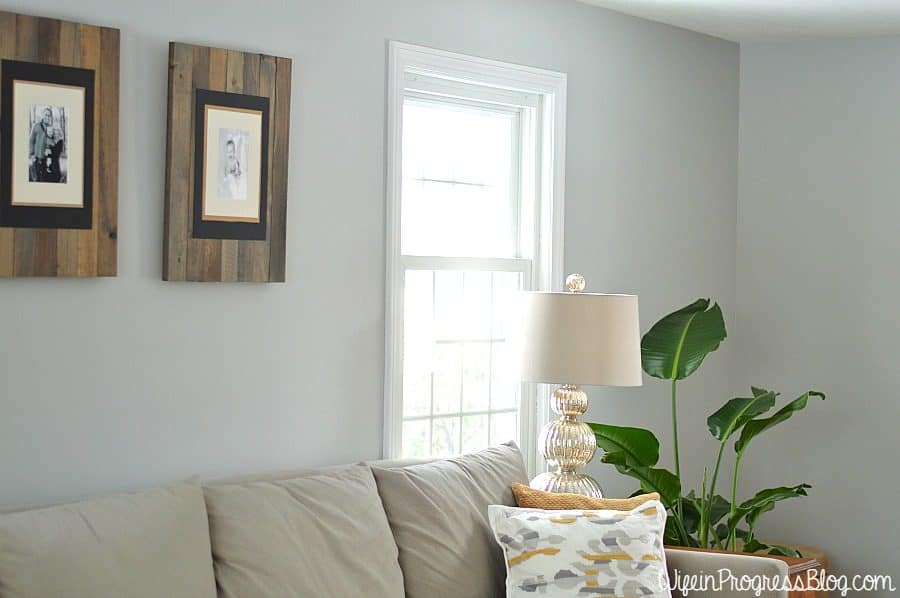 They really add so much warmth to the living room. Plus, I love looking at pictures of my babies!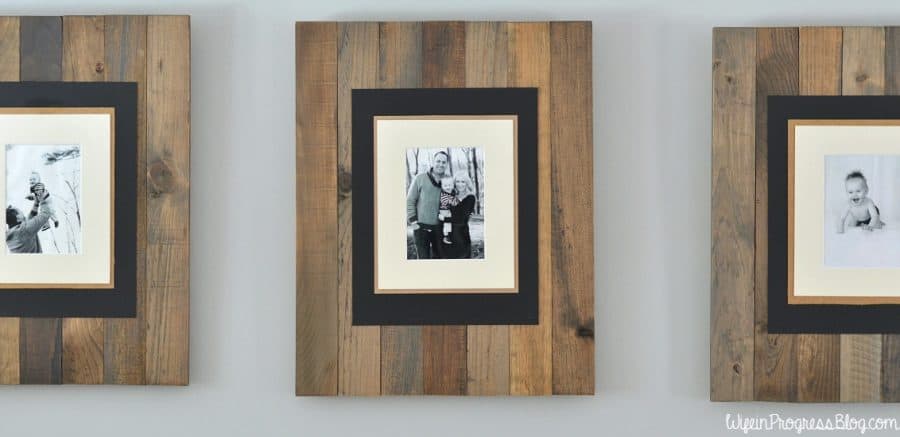 Materials Needed
1 x 3's cut to size (Lowes/Home Depot will do this for free if you don't have a saw).

Note: My frames are 22 inches long and 7 boards wide (just over 17 inches). I purchased 1 x 3 x 8's and had them cut down into 4 equal pieces. So I got 4 boards from each 8 foot piece at round $4.50 for the entire 8 ft board.

Smaller boards to brace the backs (whatever you can find that's low profile. Get these cut to about 1.5 ft pieces)
Wood Stain – I used Minwax Dark Walnut & Classic Gray (the small 8oz pots are under 5 bucks each)
Rags
11 x 14 card stock, black (or a black mat if you can't get large card stock)
8 x 11 cardstock burlap color
5 x 7 photo
Smaller mat for 5 x 7 photo (cream)
Sanding paper/block
I've put together a video tutorial to help you… or you can just skip over it and read the directions below ;-)
DIY Picture Frame Video Tutorial
[adthrive-in-post-video-player video-id="mlz6ANve" upload-date="2017-12-06T00:00:00.000Z" name="DIY Rustic Picture Frame Tutorial" description="DIY Rustic Picture Frame Tutorial" player-type="static"]
Watch this updated video to see how I improved my method using the removable glue dots so that the photos can be changed out as needed.
---
Instructions
Stain your wood. Start by putting a coat of Dark Walnut on all the boards except for a few. Immediately wipe it off 3/4 of them. Let it sit for 20 minutes on the remainder before wiping off. This will allow for a different depth of color on the boards.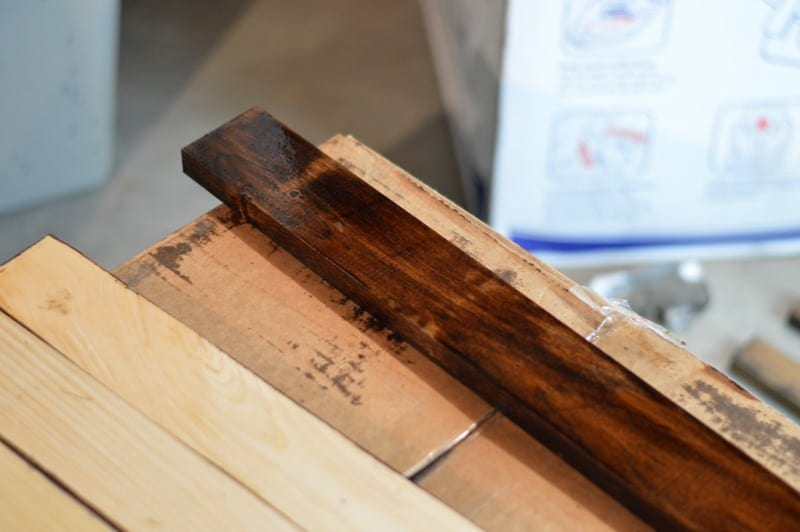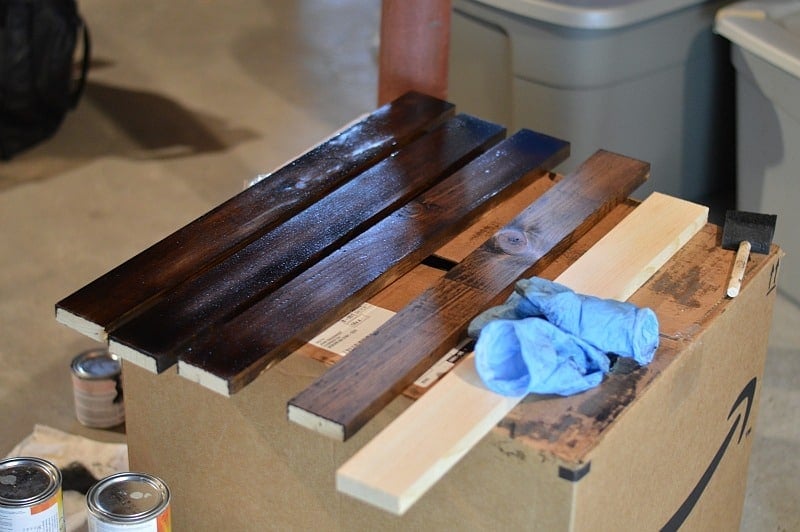 Next, apply a coat of Classic Gray to all boards, including the ones that didn't get Dark Walnut. Again, wipe it off a few, and leave it sit longer on others.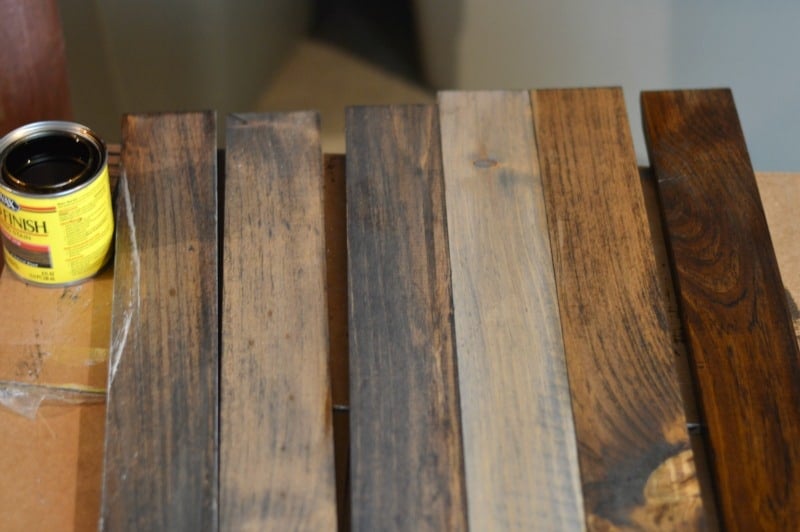 At this point, it's all a matter of preference whether you want to add more gray stain or darken up some of the boards. It's all about getting different colors on the wood. Play around with them!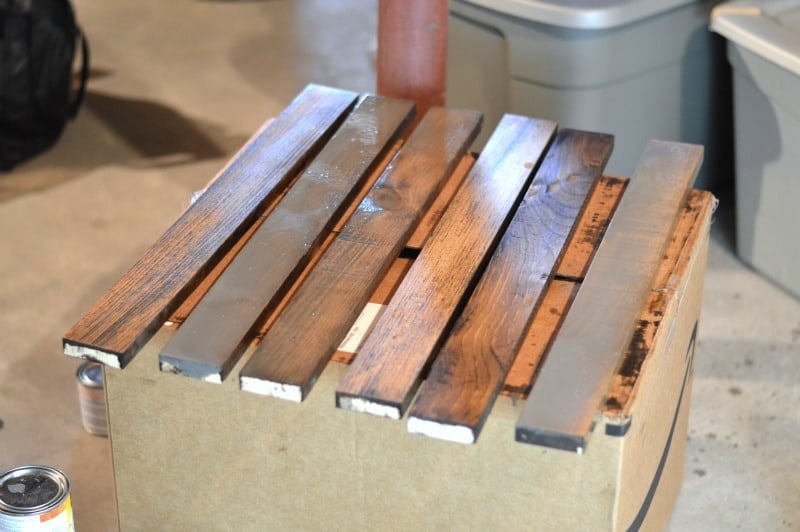 If you want a really old look, you can also add some watered down white paint or liming wax. I did not do this but it does look good, too!
By the way, you'll notice the ends of my pieces of wood are not stained. I wasn't sure what length I wanted my frames to be…so I didn't stain them as I knew I would be cutting them. I did stain them once I had decided on the length I was happy with.
Arrange your boards so that the colors vary. Flip 7 of them all over, laying them tightly together.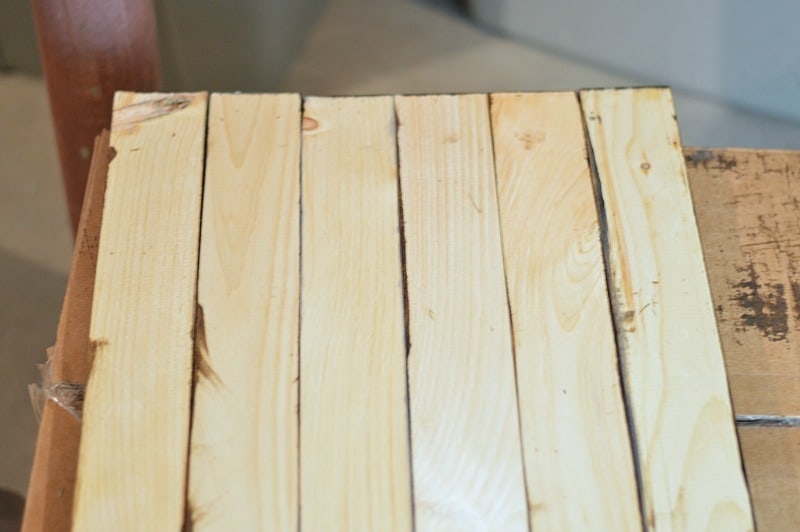 Using wood glue, place two braces on the backs. Weigh them down with something heavy so that the glue bonds correctly.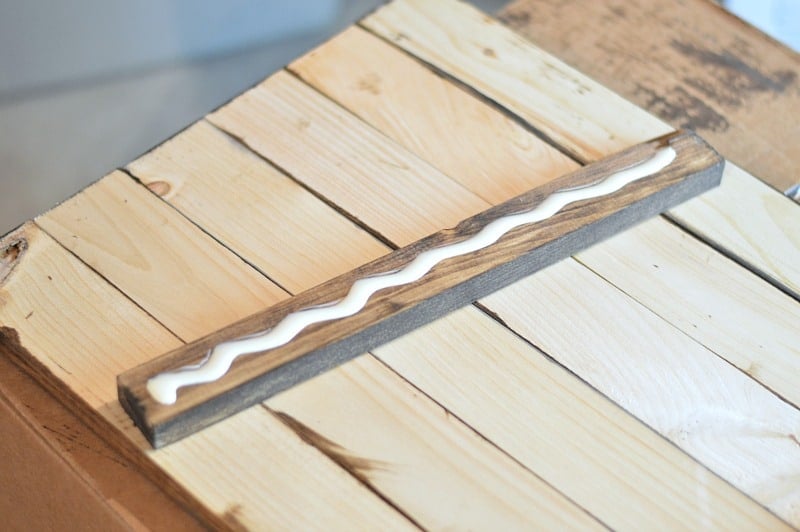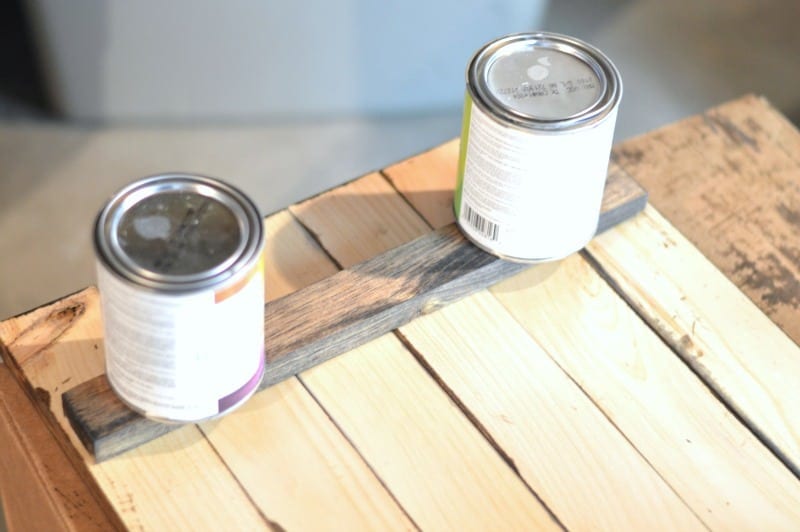 Once dry, attach the black card stock to the front, using Mod Podge or Elmer's Glue. Again, place something down on it and let it dry.
On top of the black, glue down the piece of tan colored card stock (you may need to cut it to fit correctly). Put some removable glue dots on the back of your photo and press it into the center of the tan colored card stock. Finally, line the back of the cream mat, and press it down on top of the photo.
Note: It's important to use the removable glue dots and not regular glue, or you won't be able to remove the photo and the mat on top of it.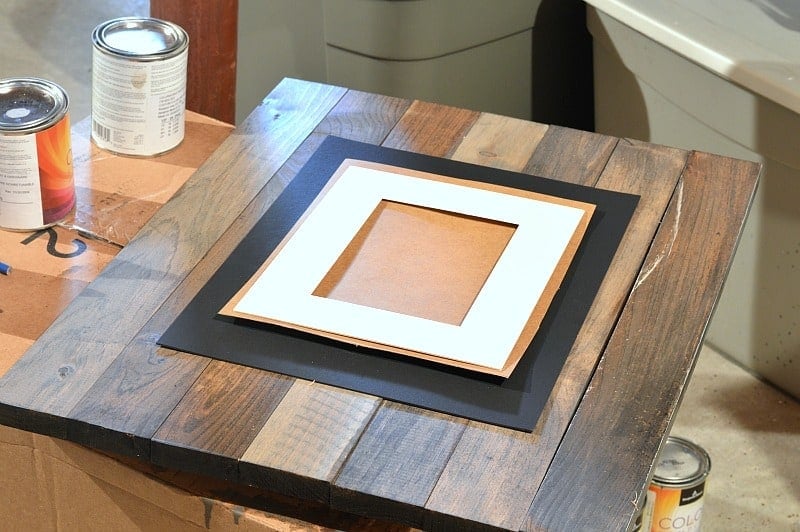 Lightly sand all the edges to give a slightly distressed look.
Finally, attach a sawtooth picture hanger to the back and hang it up!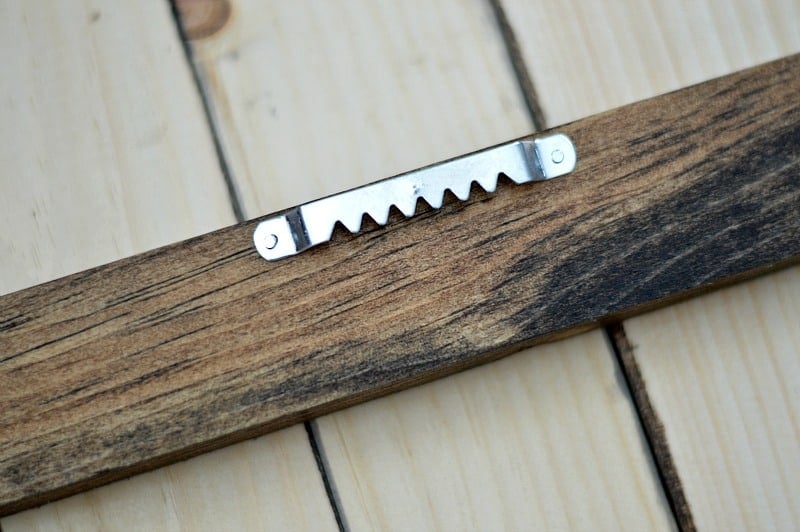 That's it. Really, they couldn't be easier to make and look pretty impressive in my opinion. What do you think?