This post may contain affiliate links | For further details, please read our privacy policy
Painting your cabinets doesn't have to be difficult, especially when you pick the best paint for the job!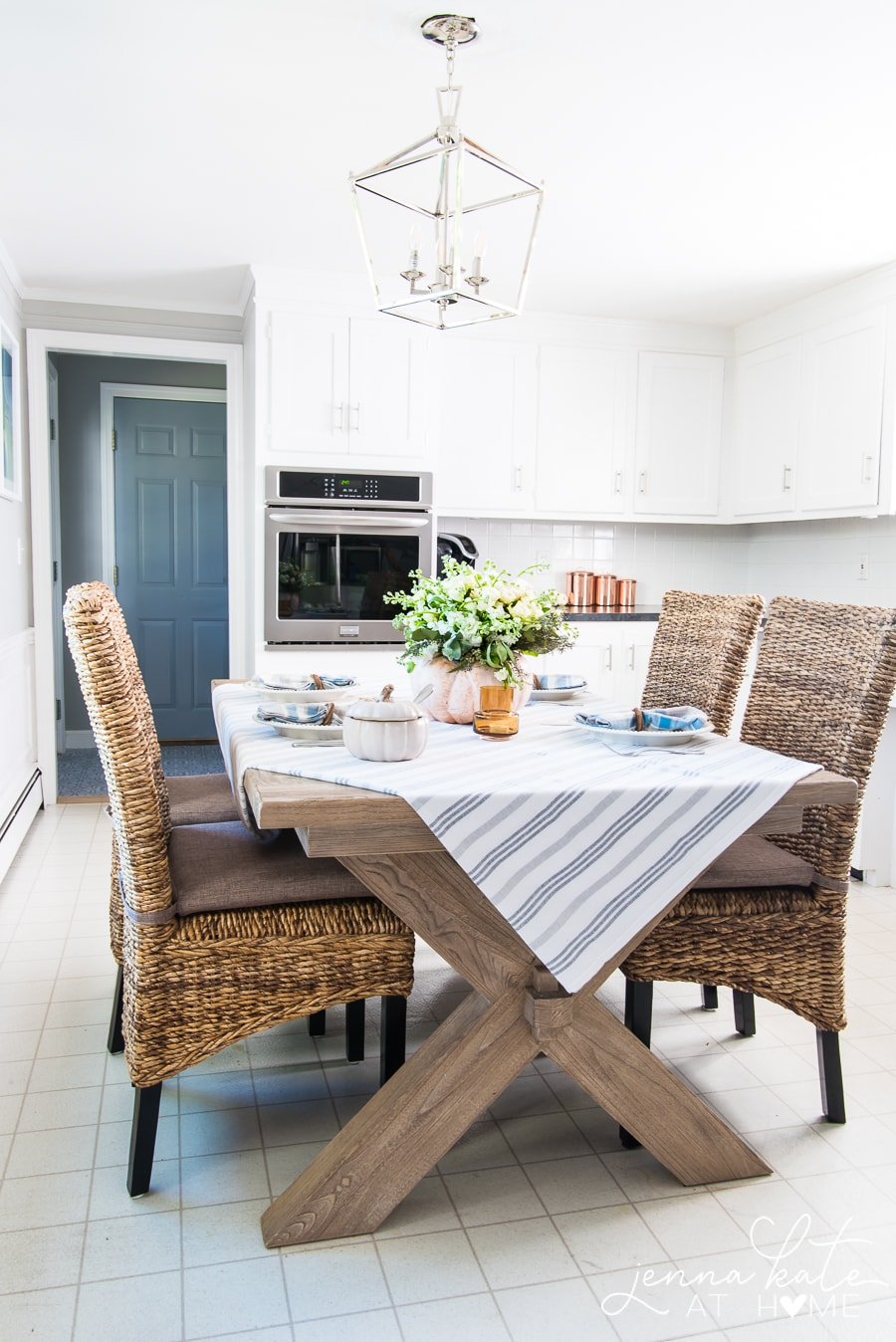 When it comes to painting kitchen cabinets, choosing the right type of paint is crucial. Not only does it impact the overall appearance of your kitchen, but it also plays a heavy role in the durability and longevity of your cabinets.
Hopefully, by better understanding the different paints available, you will feel confident in your decision.
One of my most popular posts lately has been How to Paint Your Kitchen Cabinets Without Sanding, so it got me to thinking of all my blogger friends who have painted their wooden kitchen cabinets over the years.
Deciding what type of paint to choose when embarking on painting your cabinets can seem quite daunting but there's several options that will yield the best results.
Of course, which paint you choose depends on the type of cabinets you have, their current condition and how durable a finish you want. With these tips, you can easily determine the best type of paint to use.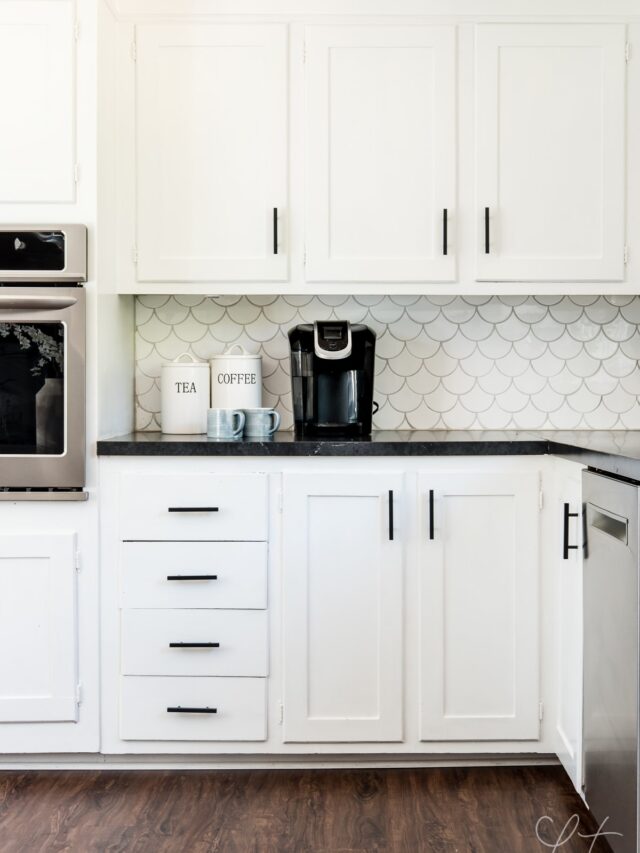 Factors to Consider When Choosing Paint
The right paint can make your cabinets look brand new and give your kitchen a fresh, modern look. However, choosing the wrong paint can lead to chipping, peeling, and loads of frustration.
Before you head off to the paint store, here are a few factors to consider. Exploring the different paint types available to use on your paint job is key!
Durability: How much wear and tear is likely to occur? This may vary depending on if your cabinets are mostly high and out of reach. If they are floor level, they will be more susceptible to spills, fingerprints, and the constant opening and closing from daily use. Especially if you have young children at home, consider the natural splatters that might happen.
Finish: The finish you choose will affect the look and feel of your cabinets. A high-gloss finish will give your cabinets a sleek, modern look, while a satin or matte finish will give them a more traditional look. Keep in mind that a high-gloss finish will show imperfections more easily, so it may not be the best choice if your cabinets are in rough shape.
Color: Not all paint types may be available in the color you are looking for. Determine the color scheme of the room and what will reflect your personal style. Choose a paint color that reflects other elements in the kitchen and make sure they cohesively work together.
Budget: Assuming you have already considered what budget you are working with, determine what type of paint will meet those guidelines. Of course, you don't want to skimp on quality, but you also don't want to overspend. Look for a paint that is within your budget but still meets all of your other needs in terms of durability, finish, and color.
Now, let's see what some of my blogger friends have used to paint their cabinets, shall we?
The Best Paint For Kitchen Cabinets:
Water Based Alkyd Paint [the most likely to give you flawless results]
Enamel Based Paint
Acrylic Milk Paint
Velvet Finishes
Paint Additives like Oil Bond
Which paint is best for your cabinets will depend on a few factors, including those mentioned above, so let's delve into each of these paint types and see how they stack up.
Alkyd Paint That Mimics Oil-Based
In terms of purchasing traditional paint for your cabinets, there's two products that you will need to purchase: a primer and then actual paint.
From my experience, professional painters will strongly recommend either going the oil based route (cons: strong smell & messy, with a long dry time) or using an alkyd paint like Benjamin Moore's Advance Waterborne Alkyd Paint, available in both a primer and paint that act like oil-based without the stink or clean-up.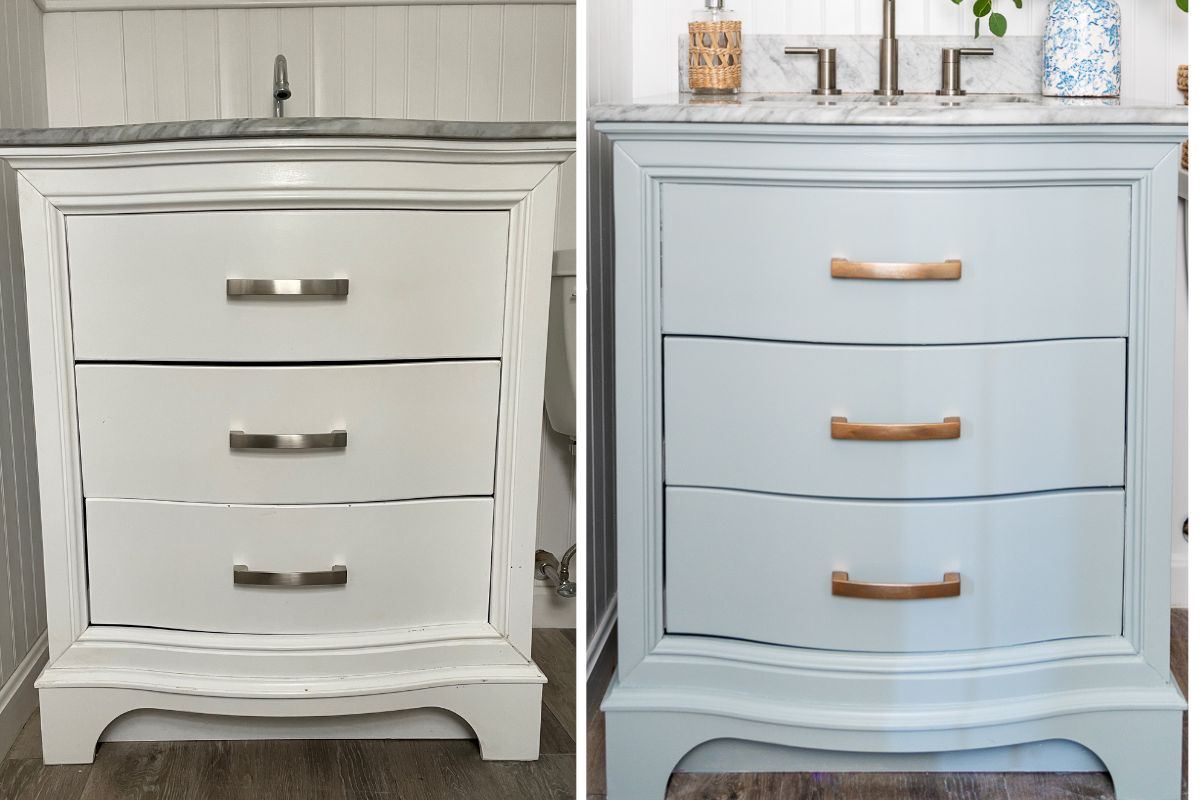 Last year, I painted my bathroom vanity with the Ben Moore Advance Paint as well as the shelves in my kitchen pantry. Provided you allow ample drying time between coats, and a good 2-3 weeks for it to properly cure, this paint will dry to a rock-hard finish that you cannot beat.
Below you can see how Laura from Inspiration For Moms painted her kitchen cabinets with Benjamin Moore's Advance line and used a sprayer to get amazing coverage.
If you're comfortable using one, a paint sprayer really gives a smooth, flawless finish. This is also something you can get done professionally and relatively inexpensively compared to the cost of brand new cabinets. If not, use steady brush strokes when applying this paint to achieve a smooth surface.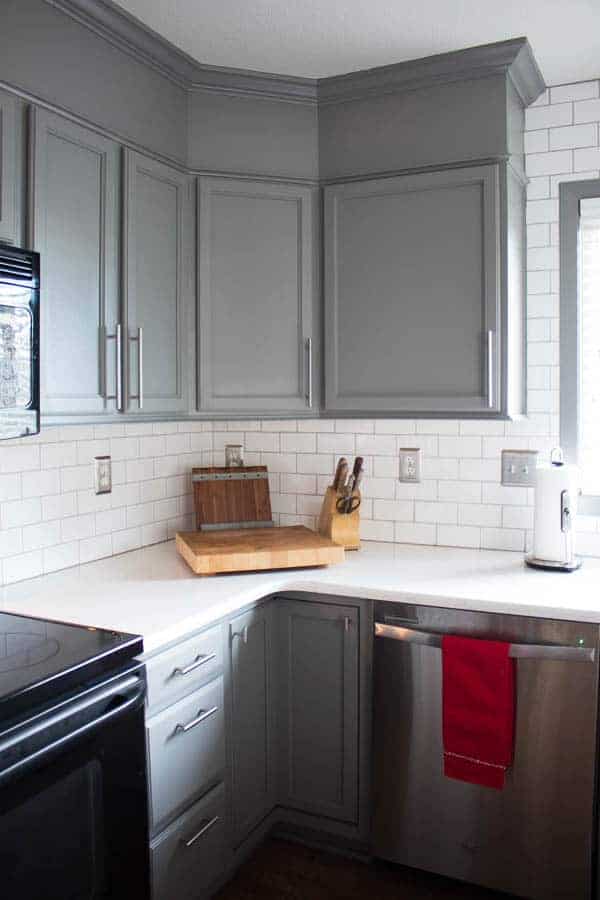 Source: Inspiration For Moms
Diane from In my Own Style opted to use the Sherwin Williams Alkyd formula and can testify that it has excellent adhesion abilities, flow and leveling to lessen the look of roller and brush marks as well as the fact that it is non-yellowing (which is super important if you're painting your cabinets white).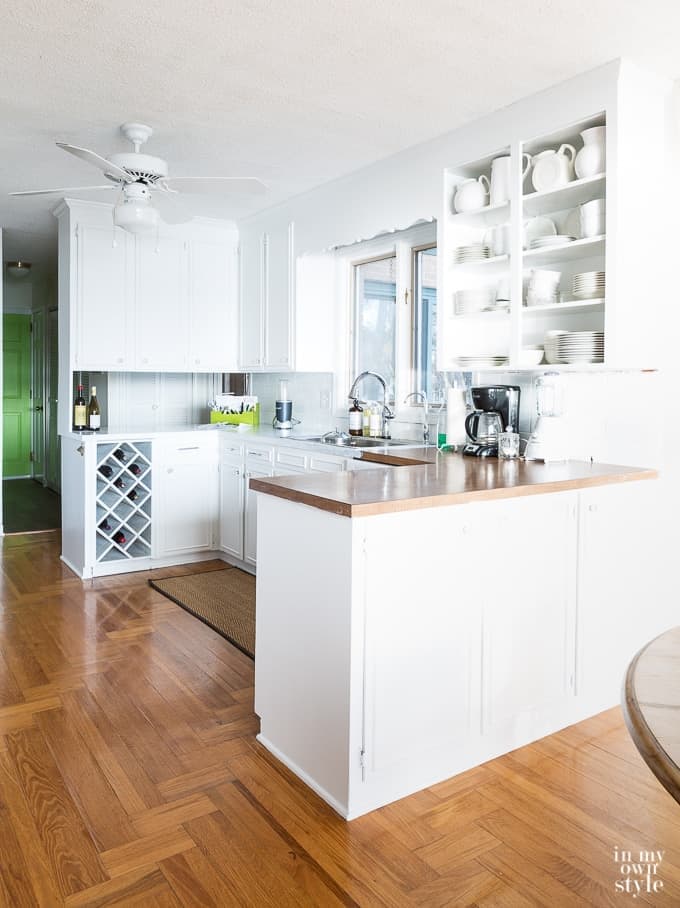 source: In My Own Style
Diane also talks about the importance of using a stain blocking primer, especially when you are dealing with older wood cabinets that may have tannins that will eventually bleed through.
This has happened to me in the past and trust me, it's not a good look. So whatever paint you decide to use, if your cabinets were previously stained, you will really want to use a primer first.
Enamel Based Paint
My friend, Carrie, from Lovely Etc. did an amazing job painting her oak kitchen cabinets using an enamel-based paint along with a stain blocking primer.
She's a perfectionist by nature, so I can assure you that the finished product is beautiful. Not only have her cabinets held up really well but she also figured out a trick to hide that unsightly grain!
Enamel based paints are known to give a rock-hard finish and while Carrie used Deco-Art, a traditional enamel based paint like Sherwin William ProClassic® Interior Acrylic Latex Enamel paint, which is mostly used as an interior trim paint, is another excellent choice for a really durable finish.
Head over to Carrie's blog, read her entire process and decide if enamel-based paint is the right one for your kitchen cabinets!
Acrylic Milk Paint
Tasha from Designer Trapped in a Lawyer's Body successfully painted her oak cabinets with milk paint, without sanding or priming (but she did de-gloss) and they are not only beautiful, but holding up perfectly several years later. She used a high quality Milk Paint followed by a very durable top coat – all the details and brands are contained in her blog post.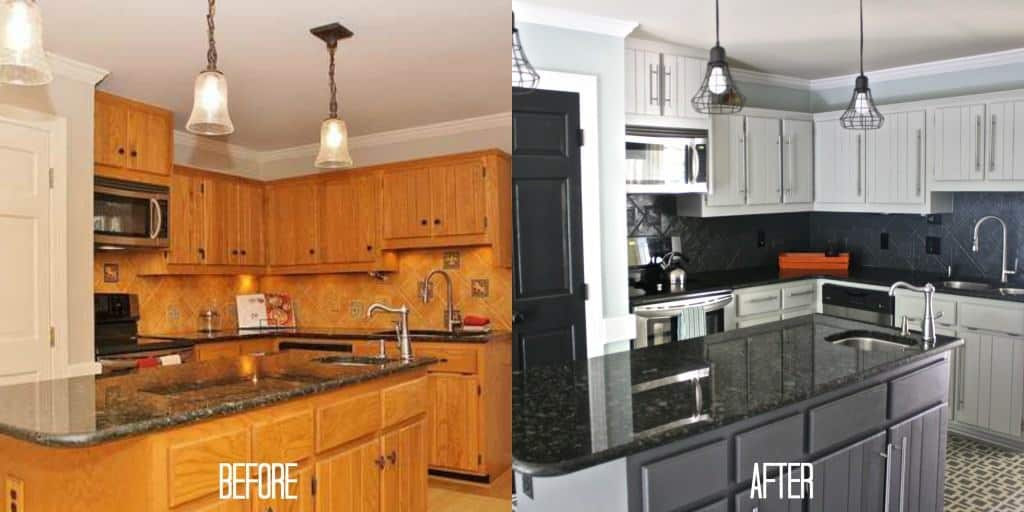 source: Designer Trapped in a Lawyer's Body
Tasha has several posts that will walk you through her process as well as a video that shows how her cabinets are holding up several years later. Like Carrie, she also had the issue with the wood grain in oak cabinets so be sure to read the comments in her posts to see what she decided to do!
Acrylic Milk Paint combines the benefits of acrylic paint and milk paint. Acrylic paint is a mostly water-based paint that is easy to work with and dries quickly. It is a good option for those who want a durable and long-lasting finish for their kitchen cabinets. Milk paint is a natural, water-based paint made from milk protein, lime, and pigment. It is a good option for those who want an eco-friendly and non-toxic paint for their kitchen cabinets.
Chalk Paint
If a matte finish is what you're after, using a chalk-style paint might also be an option for your cabinets.
Chalk paint adheres remarkably well and as long as it is sealed correctly (don't use wax in a kitchen!), it should last well.
I've personally only painted furniture using chalk paint – and everything has held up perfectly – but I cannot attest to whether it will eventually chip or flake. Saying this, many bloggers love their Chalk Painted Kitchen Cabinets and the paint seems to be holding up very well.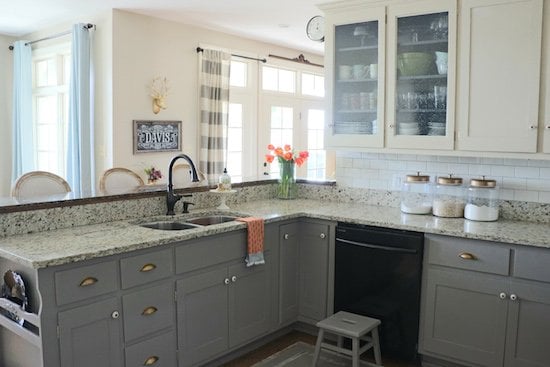 Velvet Finishes Paint
Full disclosure, I've used Velvet Finishes many times in the past and I've loved it. I've painted a dresser, rocking chair and my coffee table and the paint has never chipped or flaked off any of them. But I've never painted a kitchen cabinet.
My friend, Jenna from Rain on a Tin Roof went as far as to use Velvet Finishes paint on her kitchen cabinets. She didn't sand or prime, but did use the line's deglosser.

source: Rain on a Tin Roof
She has since sold that home, but said they held up really well! I know my coffee table has stuff thrown on it and we always rest our feet on it and it has NEVER even scuffed so I can definitely personally recommend this paint line! See the full before and after as well as Jenna's process over on her blog.
Use a Satin Finish
This is totally optional and a personal preference, but if you're considering a satin finish, you can absolutely use it! For cabinets, doors and trim a satin finish gives a more modern look. If you cabinets are older, using a satin sheen instead of a semi-gloss will also help to downplay any imperfections in the wood.
Use a Paint Additive like Oil Bond
If your cabinets have been previously painted using a oil-based paint but you want to paint with latex, try using a paint additive like Oil Bond. Oil Bond is a good choice if you're short on time or just don't want to worry with sanding. It reduces a lot of the prep work needed.
I've personally used it and it has really impressed me. By wiping it over your cabinets, it works as a deglosser (so no sanding required!) and by adding it to latex paint, it allows the paint to correctly adhere to a previous oil-based surface.
My favorite way to use it? Use the Oil Bond to degloss and then use Hard Coat (by the same company) as an additive in your paint. It creates a rock-hard finish that ensures your cabinets won't chip or peel.
When you're painting something that is opened and closed (and kicked and scuffed) several times a day, the last thing you want is peeling and chipping paint! You can read more about Oil Bond here and and then check out how I painted my doors using Hard Coat.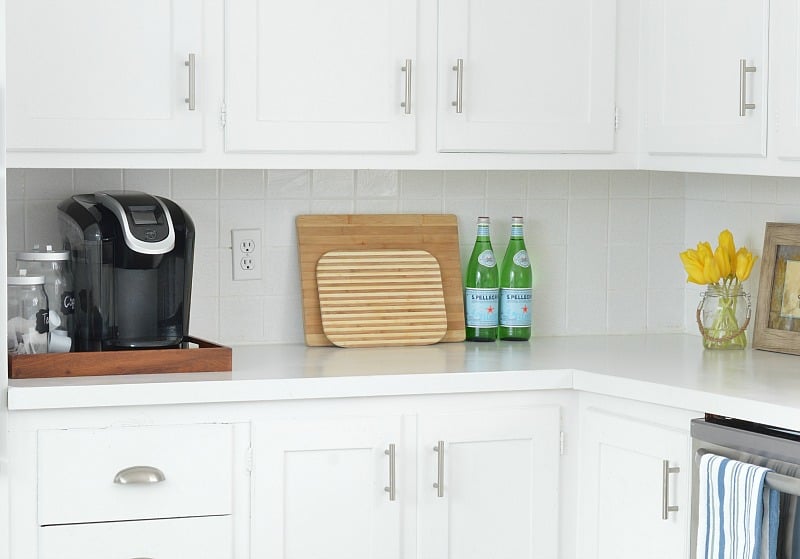 Maintenance and Care
Once you have chosen the right paint for your kitchen cabinets, consider how to properly care for it. Determining the necessary upkeep that will be required ahead of time might be a good idea as well. It could impact your paint selection depending on how involved you are willing to be in maintaining your new paint!
Regular cleaning is important to keep your cabinets looking great. You should clean your cabinet doors about once a week to prevent dirt and grime from building up. Use a soft cloth or sponge and a mild detergent to clean the cabinets.
Over time, your cabinets may get scratched or chipped. Touching up the paint can help hide these imperfections and keep your cabinets looking great. In addition, avoid exposing your cabinets to moisture. Moisture can cause the wood to swell or warp, which can damage the paint. If you spill water or other liquids on your cabinets, be sure to clean them up right away.
So which paint should you choose for your cabinets?
You have several options to help you decide what type of paint will be the best kitchen cabinet paint for you. Review your needs and determine which paint meets the most of them before applying your fresh coat of paint! Based on my research, I'd recommend using a high-quality paint that is specifically designed for cabinets and trim.
At the end of the day, if you want a rock-hard surface that doesn't show brushstrokes or roller marks, the professional level paints, in particular the Alkyds, are probably the best way to go for a long-lasting result. But many people have had success with other products such as milk paint and chalk paint. You can use these suggestions when painting bathroom cabinets, too.
Final Thoughts
Whatever type of paint you end up choosing, make sure you research the process used by others. Ensure your cabinets are clean before applying any products, sand and de-gloss if necessary and don't forget to apply a stain blocking primer.
On the other hand, if all of this seems too daunting maybe you should consider other options. If your cabinet boxes are in good shape, cabinet refacing is also an excellent and cost-efficient option to getting the look you want. You can read about how we refaced our kitchen cabinets here and see the full before and after.