Are you looking to transform your living room into a bright and airy living space? You can give your room a makeover by simply painting your brick fireplace white! This DIY tutorial will show you how easy it is to paint your fireplace, as well as how to prevent soot stains from bleeding through.
As you sit in front of the crackling fire of your wood-burning fireplace, you contemplate a lot of things. It's been a source of free heat for years, the best s'mores of the season, and a focal point for all your gatherings, big and small.
But as you stare, you start to realize that it's looking a little outdated. A snapshot of an elegant painted fireplace you saw online pops into your head…and it looks nothing like yours. Or maybe you've done some renovation and the old bricks sit awkwardly against the modern looks of your home improvements.
It's time to give the fireplace some of the attention it's given to you all these years – and this time, you're doing it with a paint brush!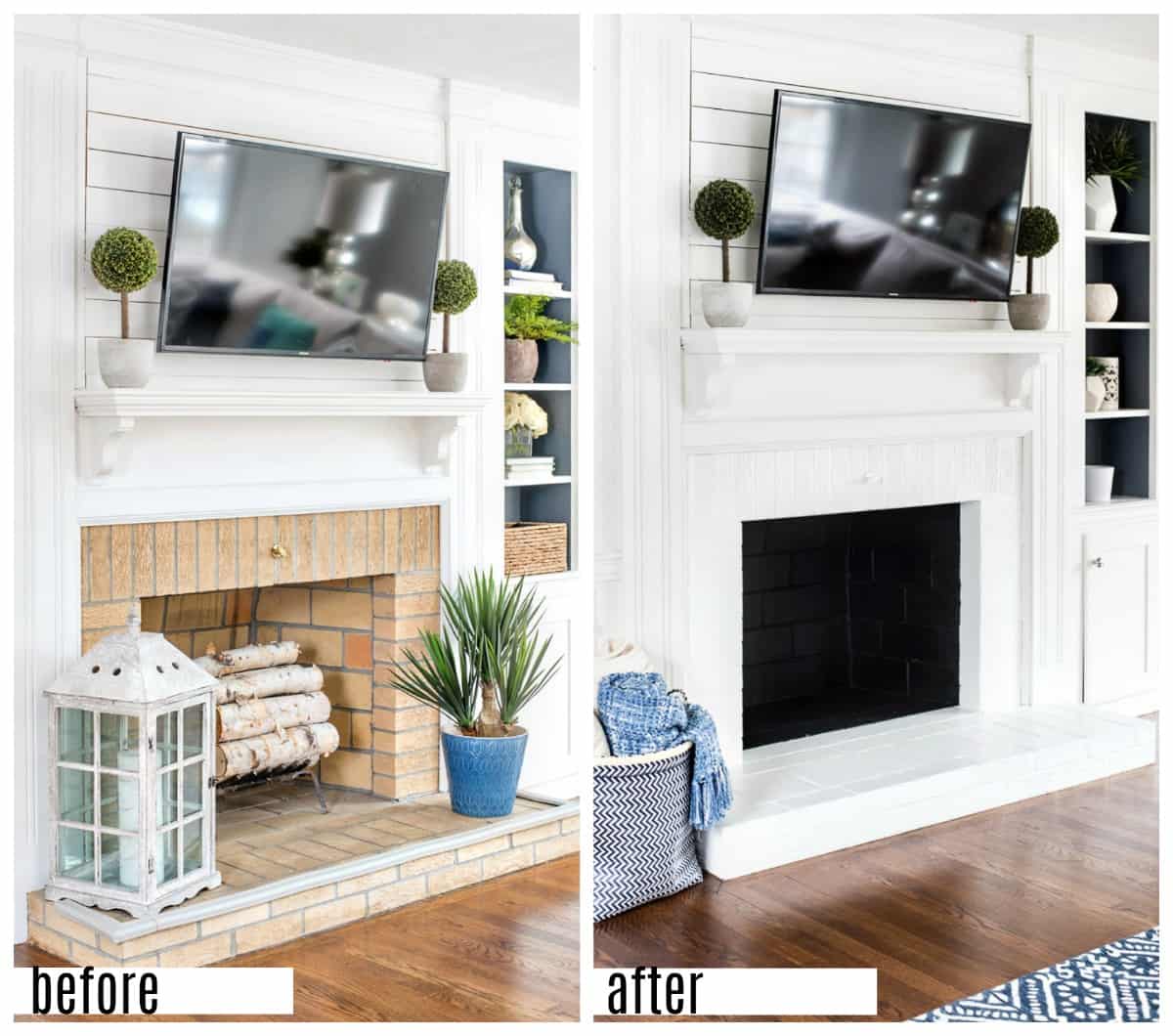 Is Painting a Brick Fireplace a Good Idea?
Absolutely! It's a quick and painless DIY project that transforms the entire room. You'll wish you had done it sooner!
My fireplace is now bright, crisp and clean; exactly the look I wanted. To create this look I chose to paint the inside of the fireplace (the firebox) black. Painting it black helps it recede so your eye wanders over the entire fireplace instead.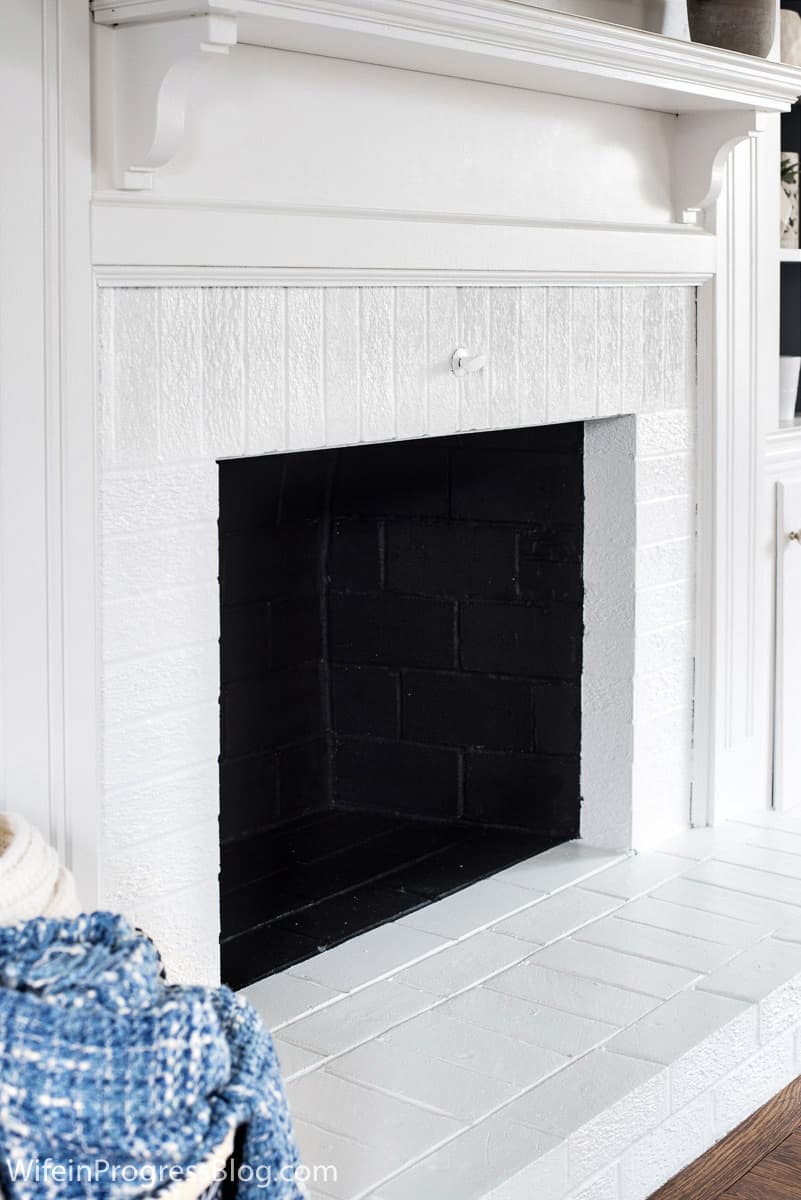 How Do You Prepare A Brick Fireplace For Painting?
First, clean your fireplace. If your fireplace has never been used, a quick sweep will do. If you've previously used yours, you're going to want to use some TSP to scrub down any dirt or soot.

Next, prime the brick. It is crucial to use a good primer. I highly recommend Sherwin Williams Loxon Concrete & Masonry Primer. It seals both imperfections in the brick as well as stains so that soot stains won't bleed through onto your newly-painted bricks.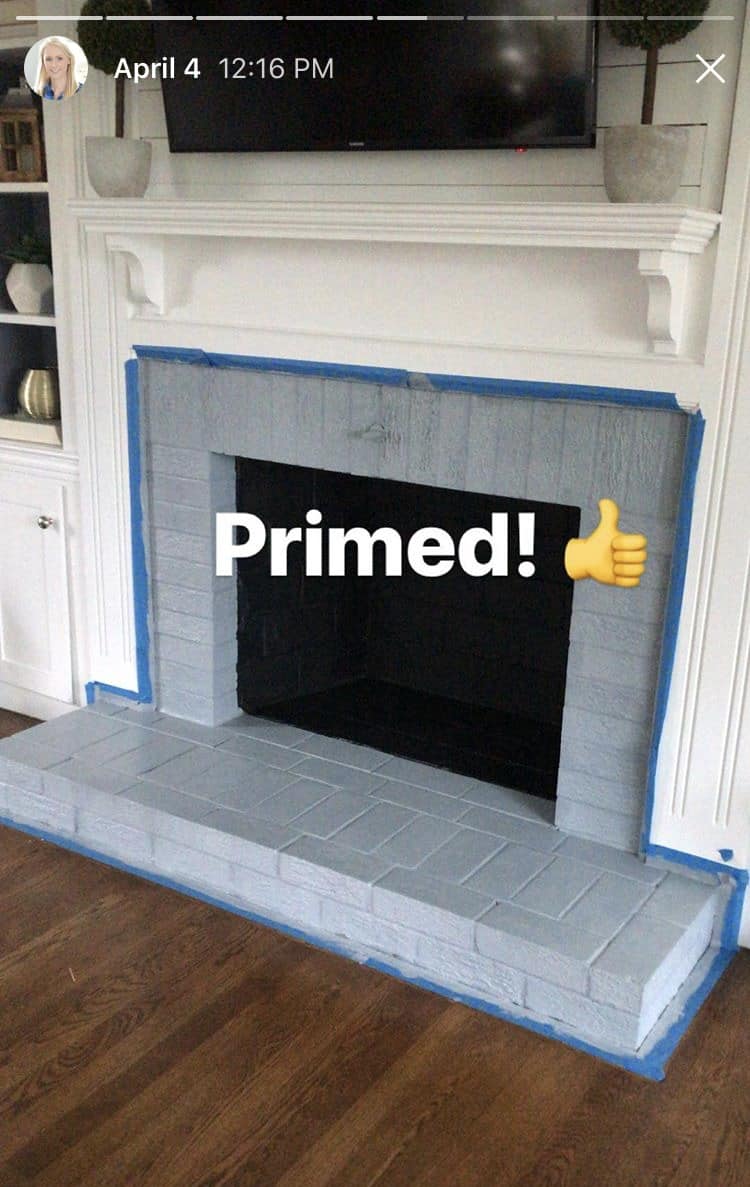 I applied it with a 4 inch nappy roller and used a paint brush for the edges and to really get into any cracks. I primed the firebox first, then painted it and then primed the hearth before painting it. That way, I could paint the entire inside of the fireplace without worrying about putting my hand in wet primer on the hearth.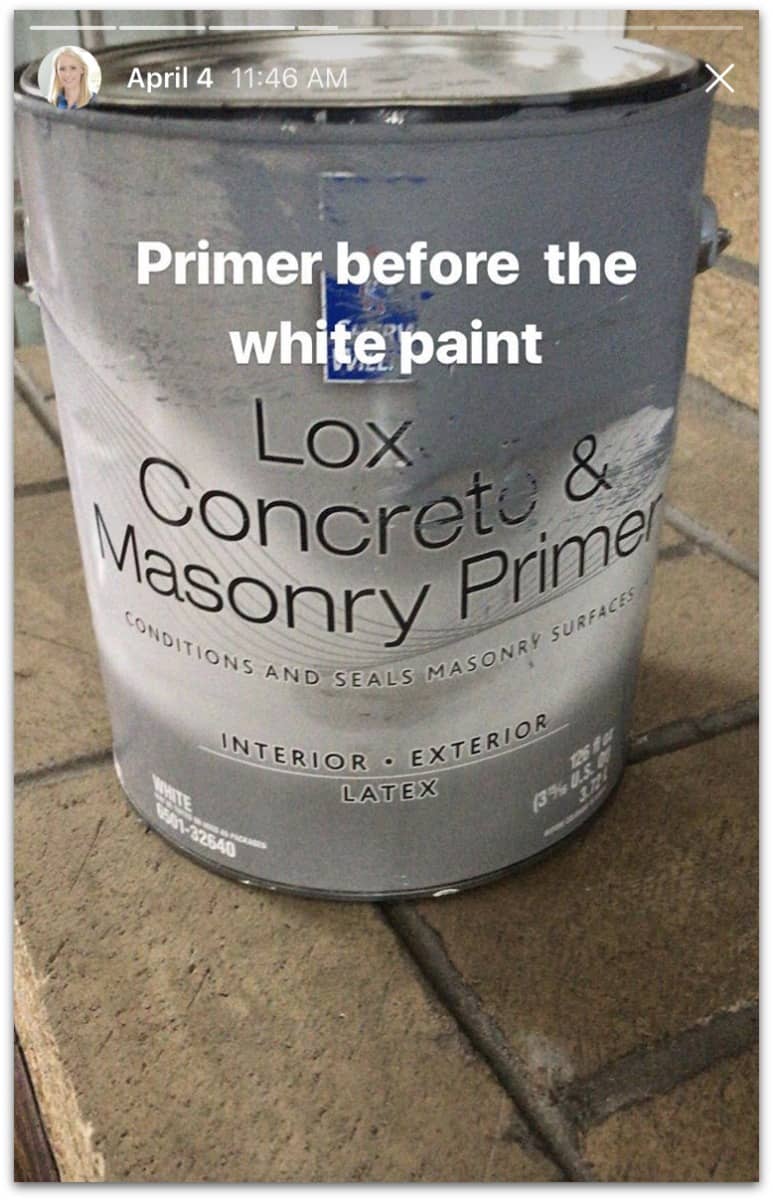 Once you've cleaned your fireplace and primed the brick, you are ready to start painting!
Start With the Interior Brick
As I mentioned, I painted the firebox black to avoid it being the focal point. Both a satin or flat finish will work for this step. You will more than likely need two coats. Because both the firebox and hearth were the same brick (i.e. same color), I had to create an artificial line where the firebox ended and hearth started. To keep the line neat and straight, I used a small artist's paintbrush.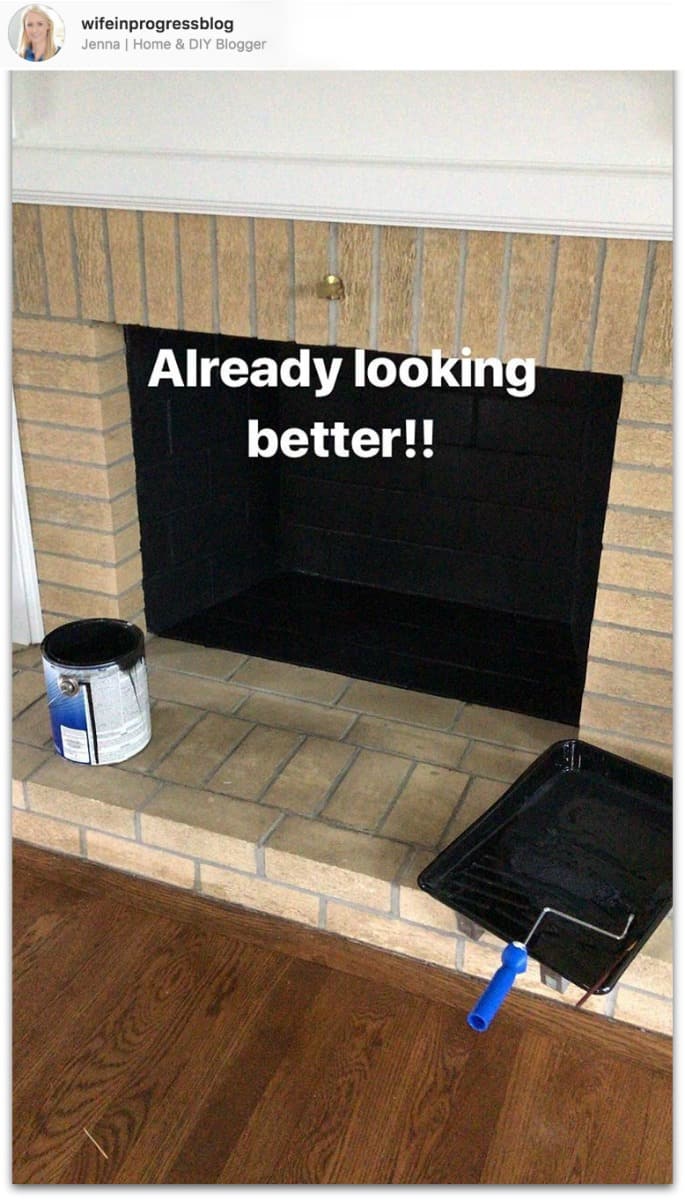 What Kind Of Paint Do You Use On A Brick Fireplace?
Once the firebox has been painted, the hearth needs a minimum of two coats of white paint. I chose to use Sherwin Williams' ProClassic Enamel paint in Extra White. This paint is less likely to peel or chip off, it's self leveling, doesn't leave paint strokes and is non-yellowing. I chose the extra white finish so that it would stand out from the white trim surrounding it.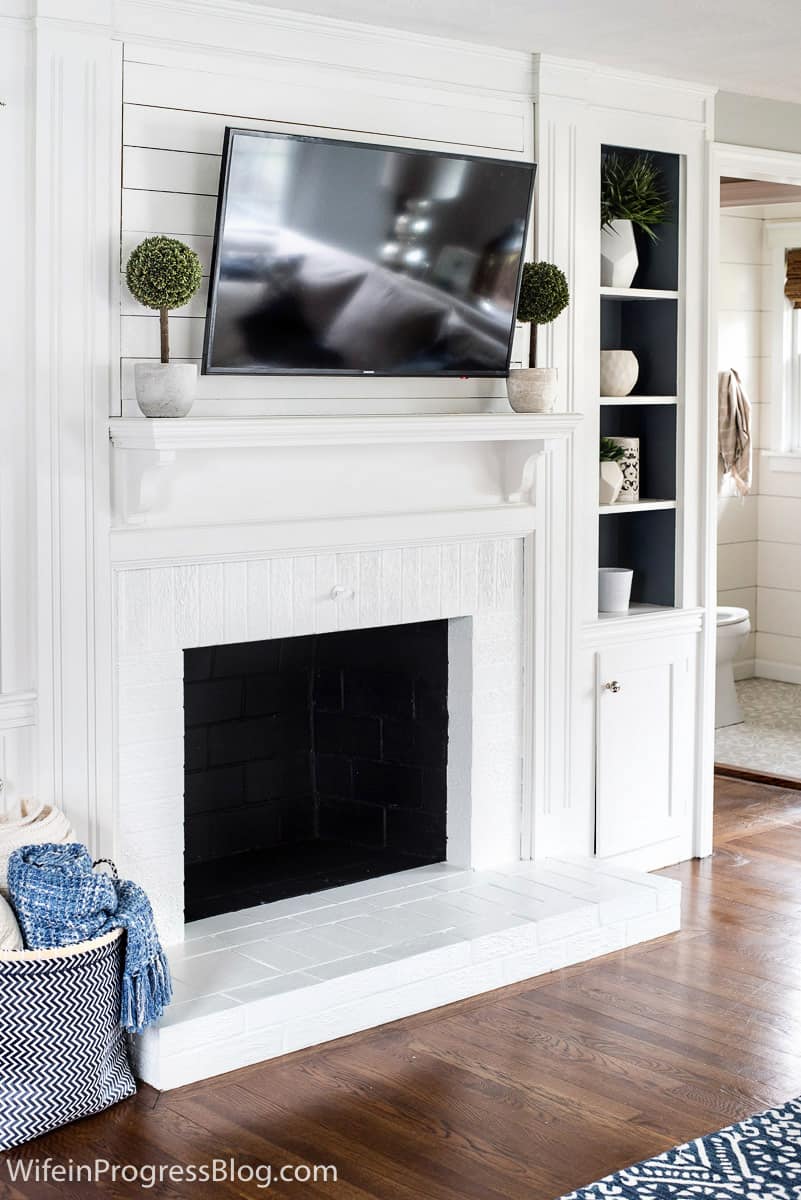 And that is it! Easy right? From start to finish (including drying time), the whole project took me about 4 hours. This weekend DIY project that completely upgraded the look of my living room was well worth it!
Looking For More DIY Tutorials?
If you found this DIY tutorial on How to Paint a Brick Fireplace White helpful, let me know in the comments! And of course, if you have any questions about my method or the products I used, let me know, too!
---