This post may contain affiliate links | For further details, please read our privacy policy
Hi Friends! Have you ever been confused about the paint type to choose for your project? It's by no means rocket-science, but if you're a total DIY newbie, this lesson might save you a little bit of research!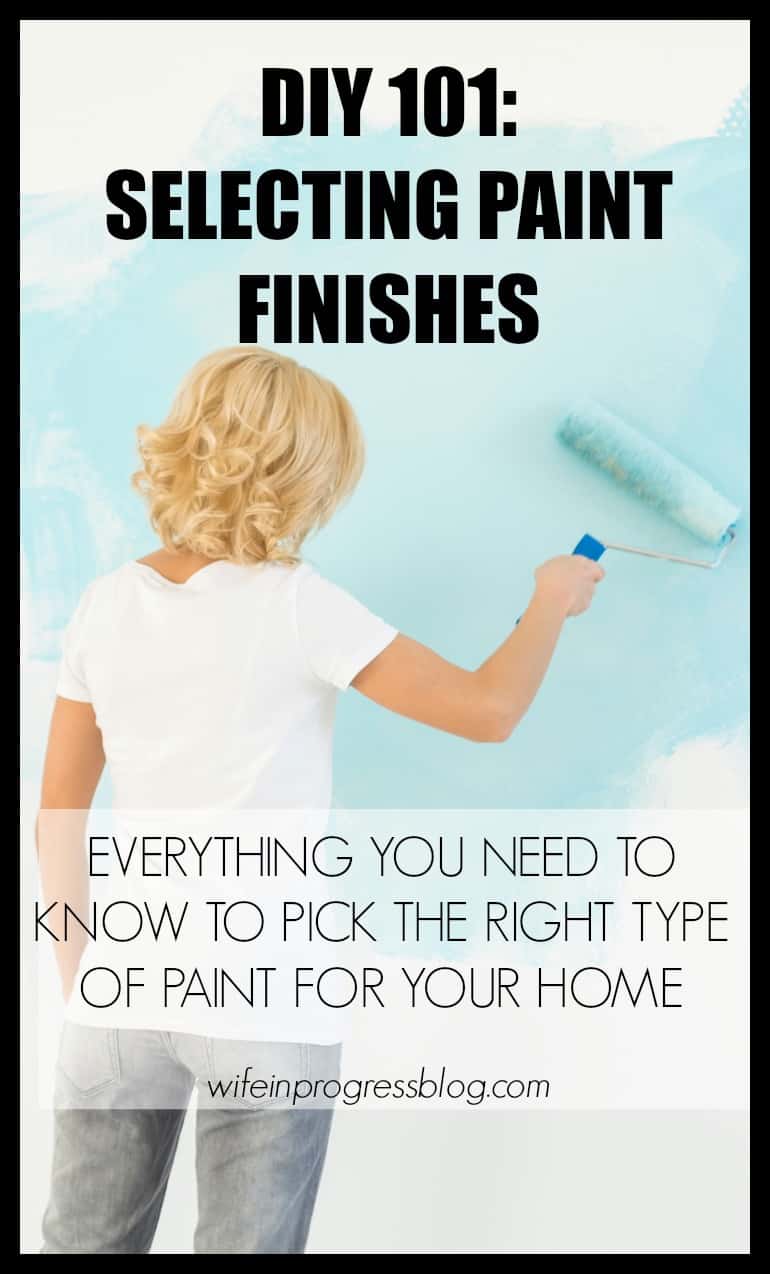 When we initially started pulling down all the wallpaper in our first house, one of the first things we did was head to Lowe's to figure out some paint swatches. That's about all I knew about paint – you need swatches. Then I realized they had samples. Samples will save you a fortune in the long run. This gets me into my first tip…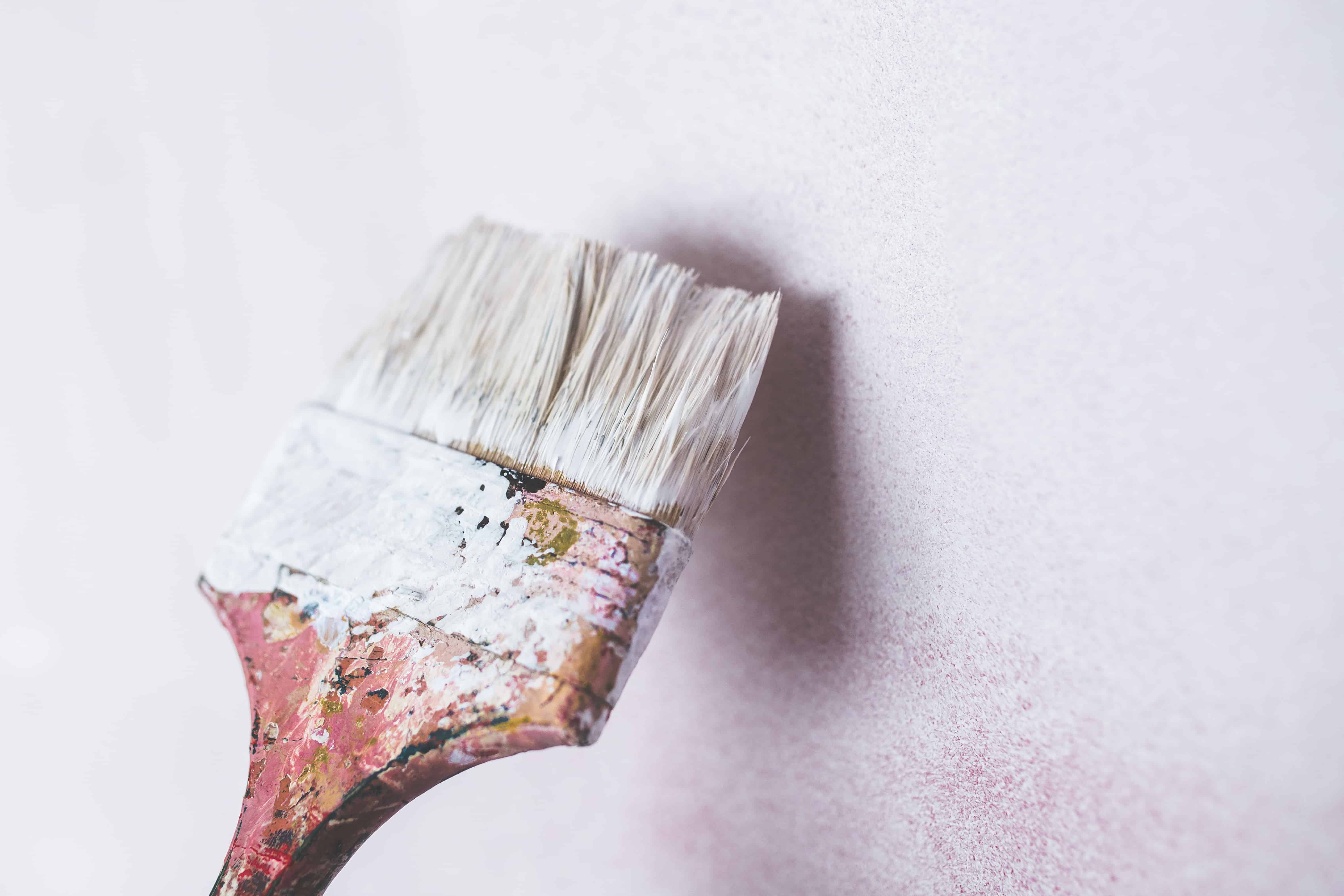 Samples are your friend. I'm sure you would rather spend $5 on a sample only to hate it then $30 on a gallon of paint that you cannot return. Once you have narrowed down your paint swatches to maybe two options, get samples. Paint those samples on different parts of your room so that you can see it in different light and at different times of the day. You'd be amazed at how different the paint will look from the swatch AND how the color may change depending on the room it's in.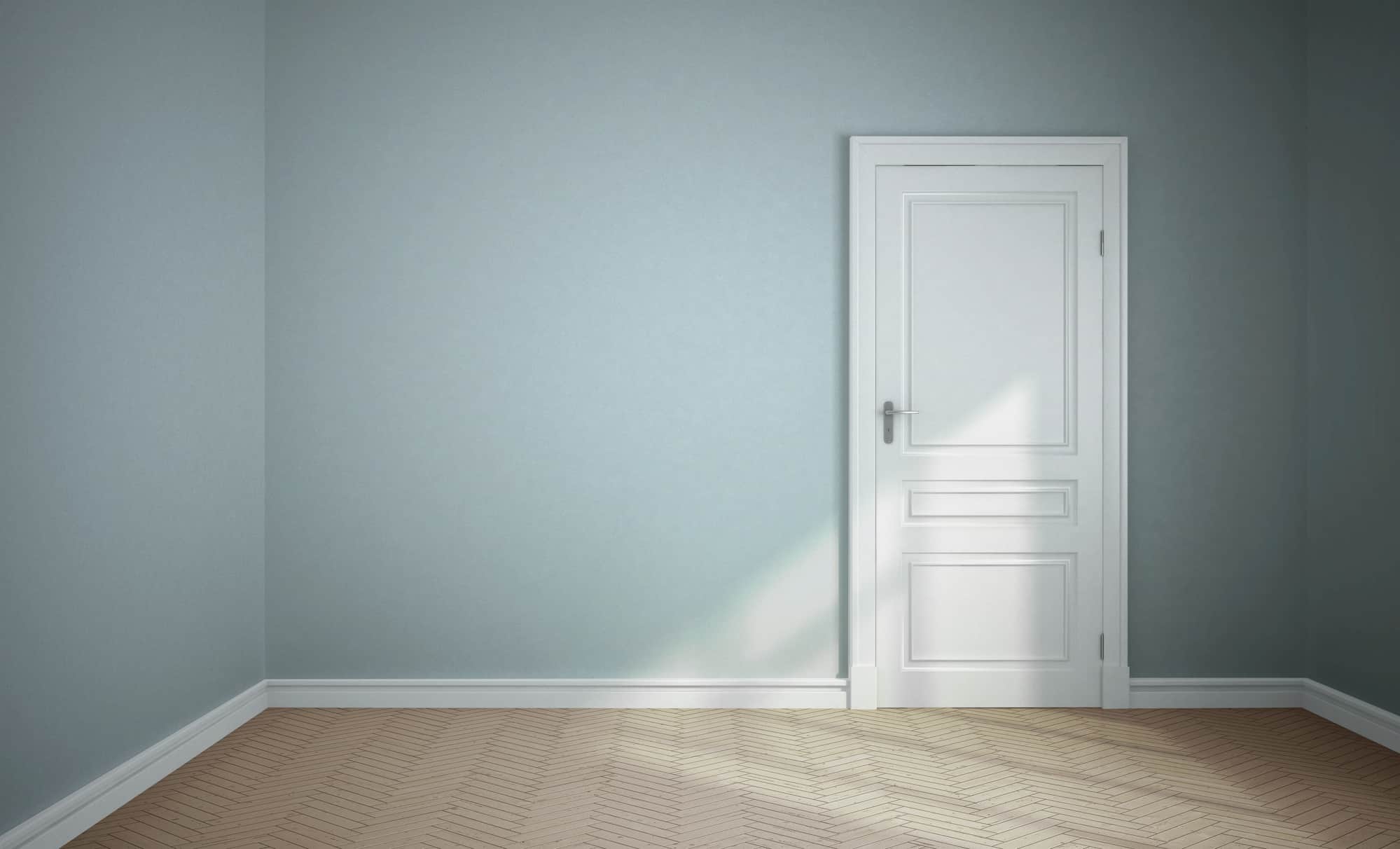 Decide on the correct sheen. There are five main paint sheens that you need to be aware of:
Flat – this is generally used for ceilings. It has a flat finish, there is no sheen to it.
Matte – looks the same as flat but has more washability to it. This is not becoming more popular for walls, especially when shiplap is being painted or hiding imperfections is important.
Eggshell – this is a good option for walls. It has a little bit of sheen to it so you can wipe it down if necessary.
Satin or Pearl –  It has more sheen than eggshell (but it's not glossy). The extra sheen means you can wipe it down quite often and it will still look fine. Satin is also now considered a modern modern look for trim and moldings, but semi-gloss is still used the most. All the doors and trim in my home are satin and it's much more forgiving to imperfect woodwork and the minimal sheen does not highlight imperfections. 
Semi-gloss – usually used on trim work. Semi-gloss is substantially more glossy than satin paint. I used off-the-shelf white semi-gloss for all the doors and trim in my first house as well as when I previously painted my kitchen cabinets.
Gloss – Usually used when you need a hardy finish, for example on an exterior door or railings. 
Note: Benjamin Moore and Sherwin Williams use different names for their paint finishes. I recommend using "Satin/Pearl from Benjamin Moore" which is the same as the "Semi-Gloss" at Sherwin Williams.
How Does Sheen Affect Paint Color?
The more sheen, the more reflective the paint is, and therefore the lighter it will appear. This is why when you paint the walls of a room all one shade of white, but matte on the walls and satin or semi-gloss on the trim, the trim work will appear lighter than the walls.
Which Paint Sheen Should I Choose For Walls?
It's really important to determine the shape your walls are in. If they need to be spackled and patched before you paint, be aware that a reflective surface will highlight any imperfections. For instance, if you use a satin finish paint, in certain light you'll almost definitely be able to see those bumps (unless you're a particularly amazing sander!). It's generally a better idea to stick to a eggshell – or even a flat – finish in this cases.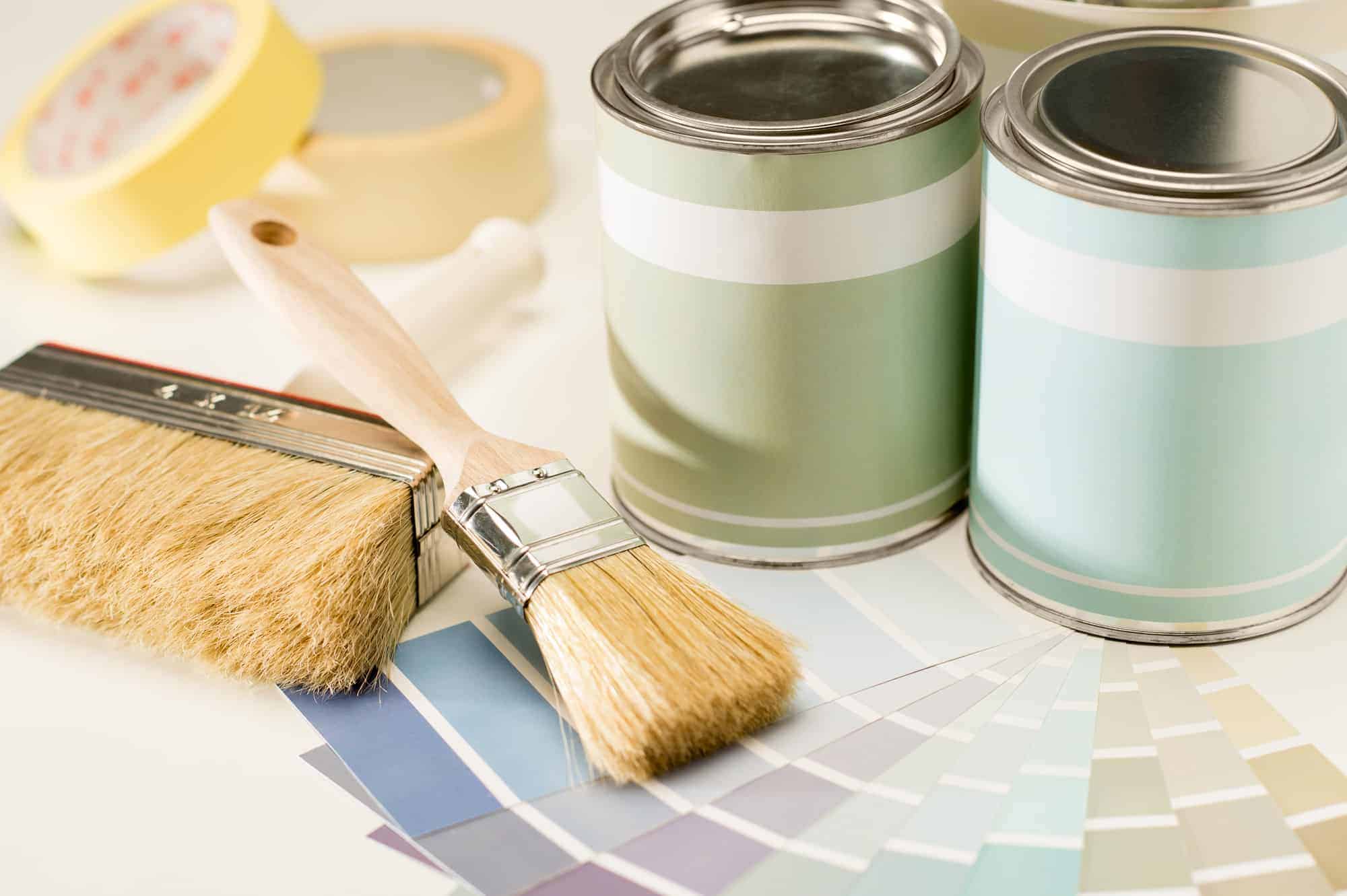 If you are painting a wall that previously had a very saturated color and you're going for a dramatic color change OR you're painting stained wood, you will need to prime the surface first. Primer gives you a blank slate to work from and will make sure your paint job is perfect and that the paint adheres correctly. It will also seal stains and odors. My go-to primers are Killz or Benjamin Moore Fresh Start Primer. If you need to seal stained wood, you'll want to use a shellac-based primer like Zinsser Bin.
Are The More Expensive Paint Brands Really Better?
Unfortunately, yes! The two most popular paint brands are Benjamin Moore and Sherwin Williams – and these are the two brands that most professional painters will use.
Their paints have great coverage and dry quickly. However, they are also more expensive than a brand like Behr, which I've honestly never had any issues with.
If you find a color in either the Ben Moore or Sherwin Williams lines that you love but don't have the budget for those brands, you can get the color mixed up in a cheaper brand of paint. Most paint stores will have a computer where they can look up the color codes for competing brands. Just tell them the brand and the color.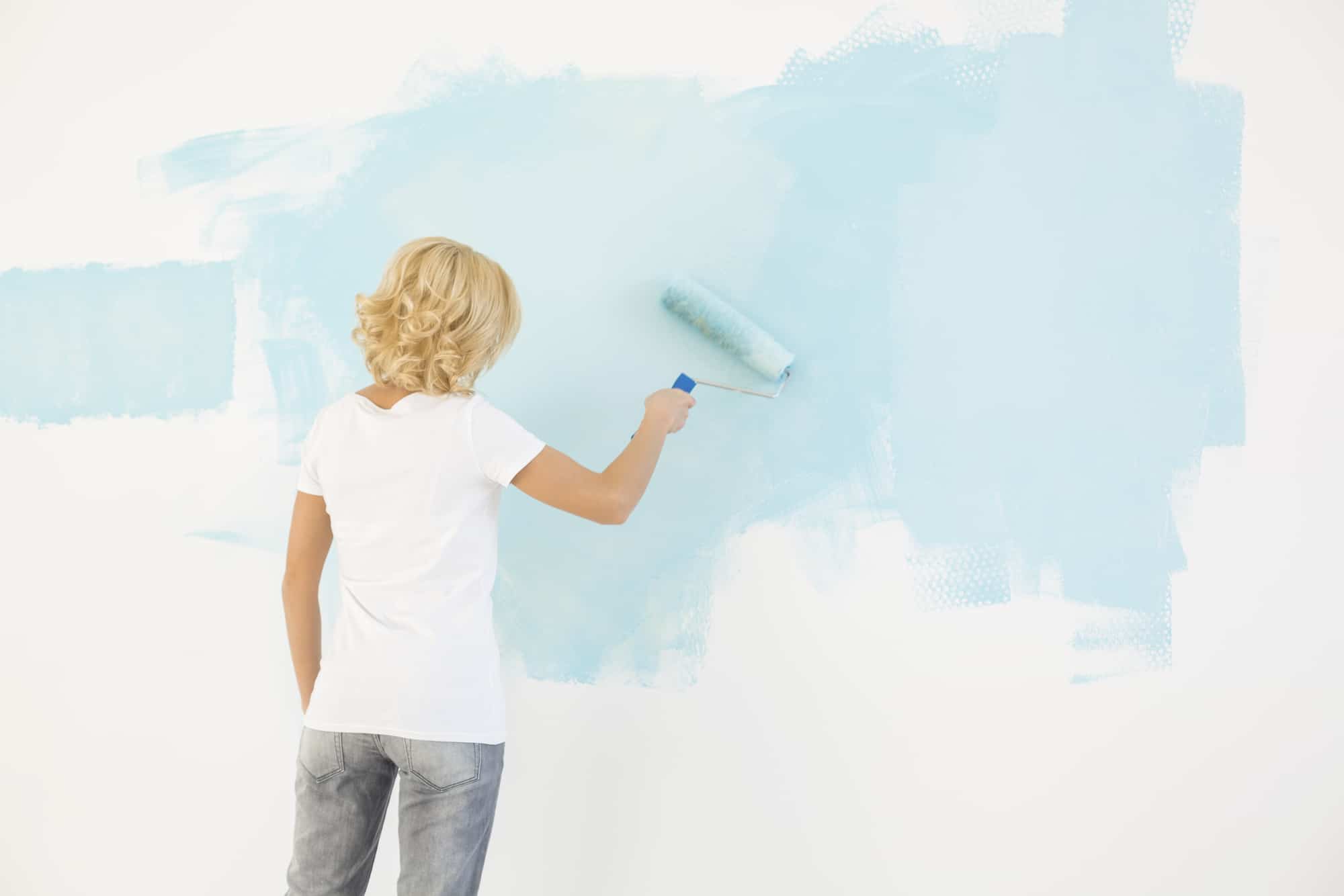 Buy Good Quality Paint Supplies
You'll really notice the difference between a cheap paintbrush/roller and the more expensive ones. And, if you take good care of them, they'll last a while. My preference for brushes are Purdy ones.
You will also need painters tape (Frog Tape is awesome), drop cloths to protect the area and a tray to pour the paint into. Don't ever dip your paintbrush directly into the paint canister as you will contaminate it with dust and other debris.
Another hand supply to grab is an "edger". These are great for getting a straight line between the wall and ceiling or the wall and baseboards, especially if you're new to painting and haven't quite mastered a steady hand for cutting-in.
For most household jobs, you will be using latex paint, which is water-based. This means that clean up is simple too. You don't need any harsh chemicals. I just use warm water and dish-soap to get my brushes looking brand new again! Just make sure you clean them as soon as you're finished and pop them into a zip-lock bag if you're planning on putting them aside for a short while so they don't dry out!