This post may contain affiliate links | For further details, please read our privacy policy
Decorating your home for fall doesn't need to mean pumpkins everywhere. These simple ideas mirror minimalistic home decor style while still embracing the fall season.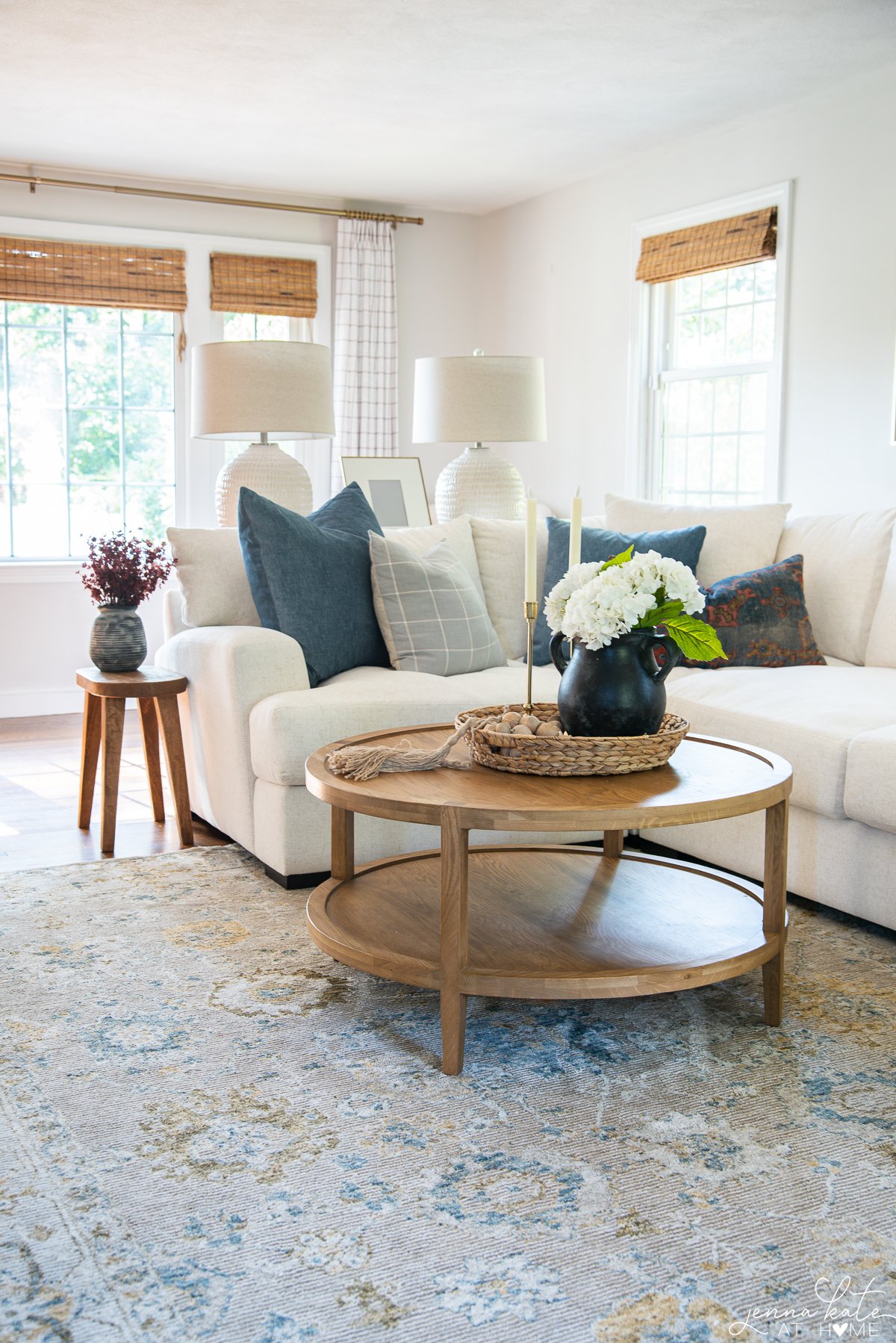 I don't know if it's because I have 4 little boys constantly running around, or if it's because I'm just getting older, but less is more is firmly my mantra when it comes to decorating my home these days.
I love refreshing my home as the seasons change, but I have no desire to hoard tons of stuff, nor to cover my house in a million pumpkins and other decorative items. A great way to still bring your fall decor to life without it overtaking your home is to maintain a minimalistic vision.
Understanding Minimalism
Minimalism in home decor is all about creating a space that is simple, clean, and uncluttered. However, visual appeal is still important in maintaining charm. Minimalism in home decor is not about having an empty room, but is about having a healthy balance between what you need and what you enjoy.
When it comes to minimalism in home decor, less is more. It is about choosing quality over quantity and focusing on the essentials.
It's not expensive or difficult to design with minimalist fall decor ideas. Here are some easy ways to help make your home feel uncluttered but decorated for Fall.
Update Wall Art or Frame TV Art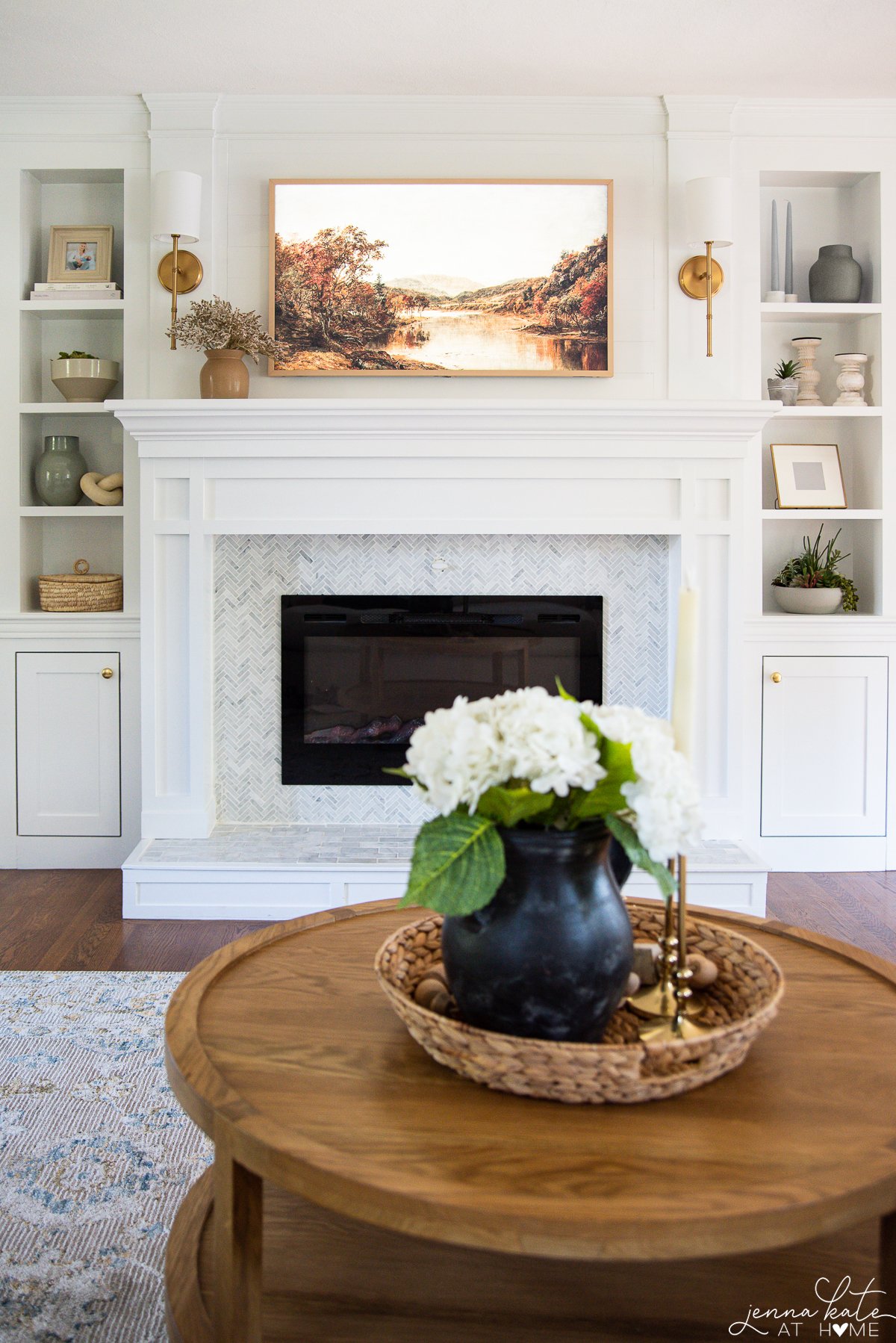 One easy way I've prepared for the changing season is by swapping out my Frame TV art display. Simply switching out the artwork on my Frame TV instantly brings fall vibes to my living room.
If you do not have a Frame TV but showcase wall art over the mantel instead, change it for a fall scenic photo or another piece of art that reflect neutral tones or fall colors such as deep burgundy or mustard yellow. At the end of the season, it's easy to switch the art back or swap it for something new!
Faux Flowers and Branches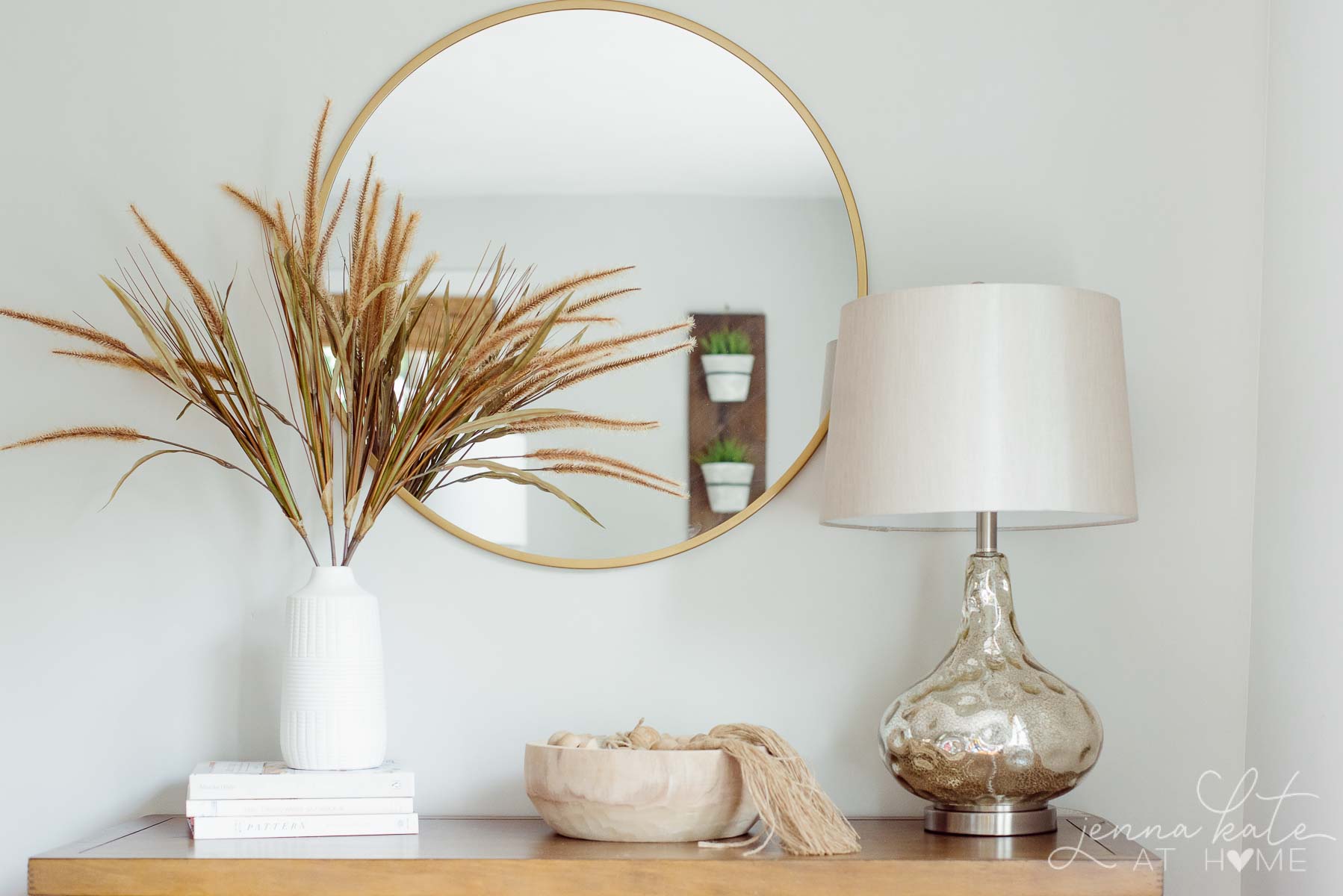 While I do like to bring nature indoors in the form of natural elements such as flowers and branches, carefully chosen faux items are always welcome in my minimalist approach. Especially since with faux I don't need to remember to change the water AND I don't have to worry about the kids knocking the water over! Talk about a win-win.
Grasses and faux leaves with shades of bronze and gold, really look the part. The warmth these faux Foxtails bring to a space really goes a long way to making a home feel cozy for fall.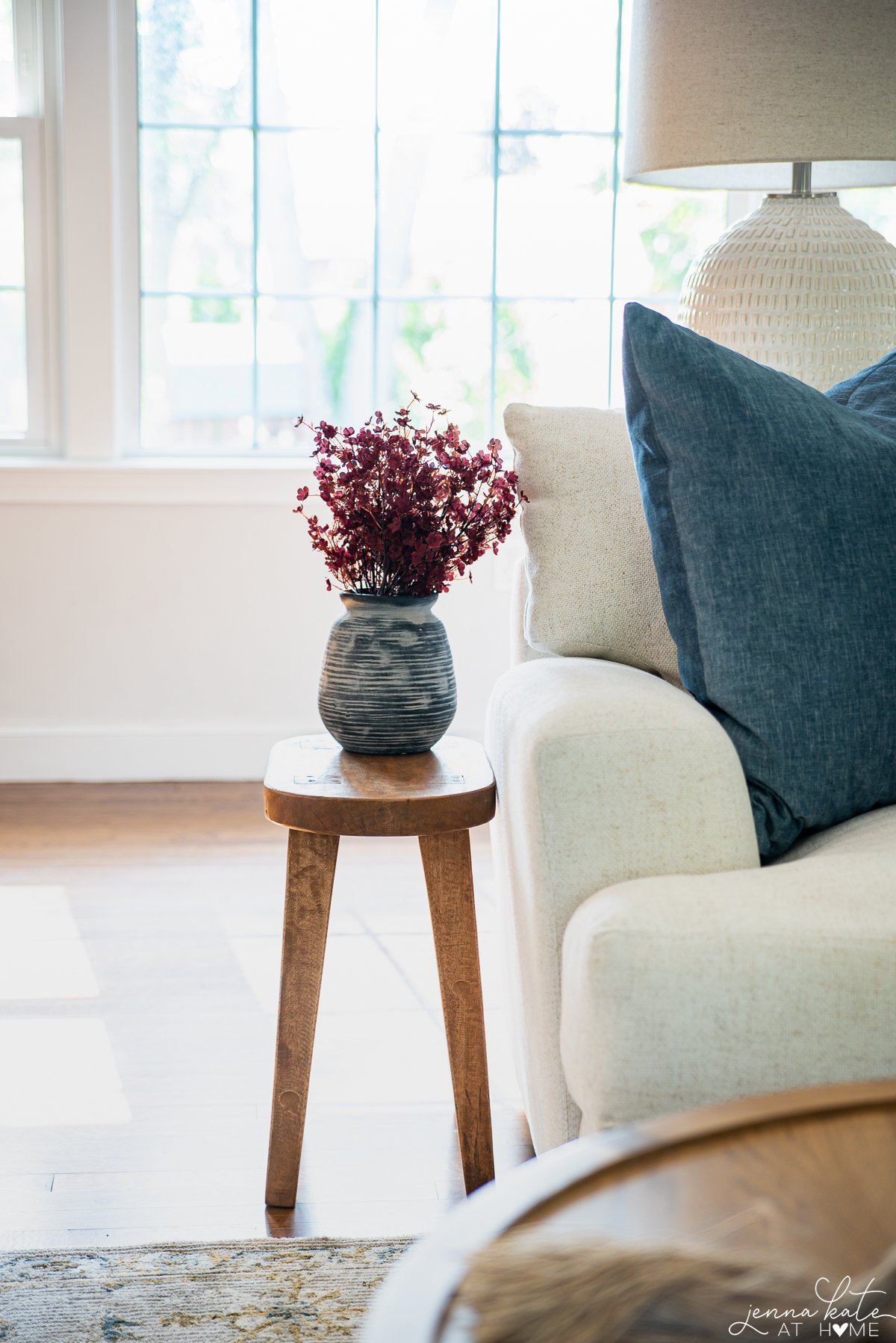 A stool or coffee table with faux fall stems in your favorite vases can easily be added next to a sofa, or at the end of a hallway.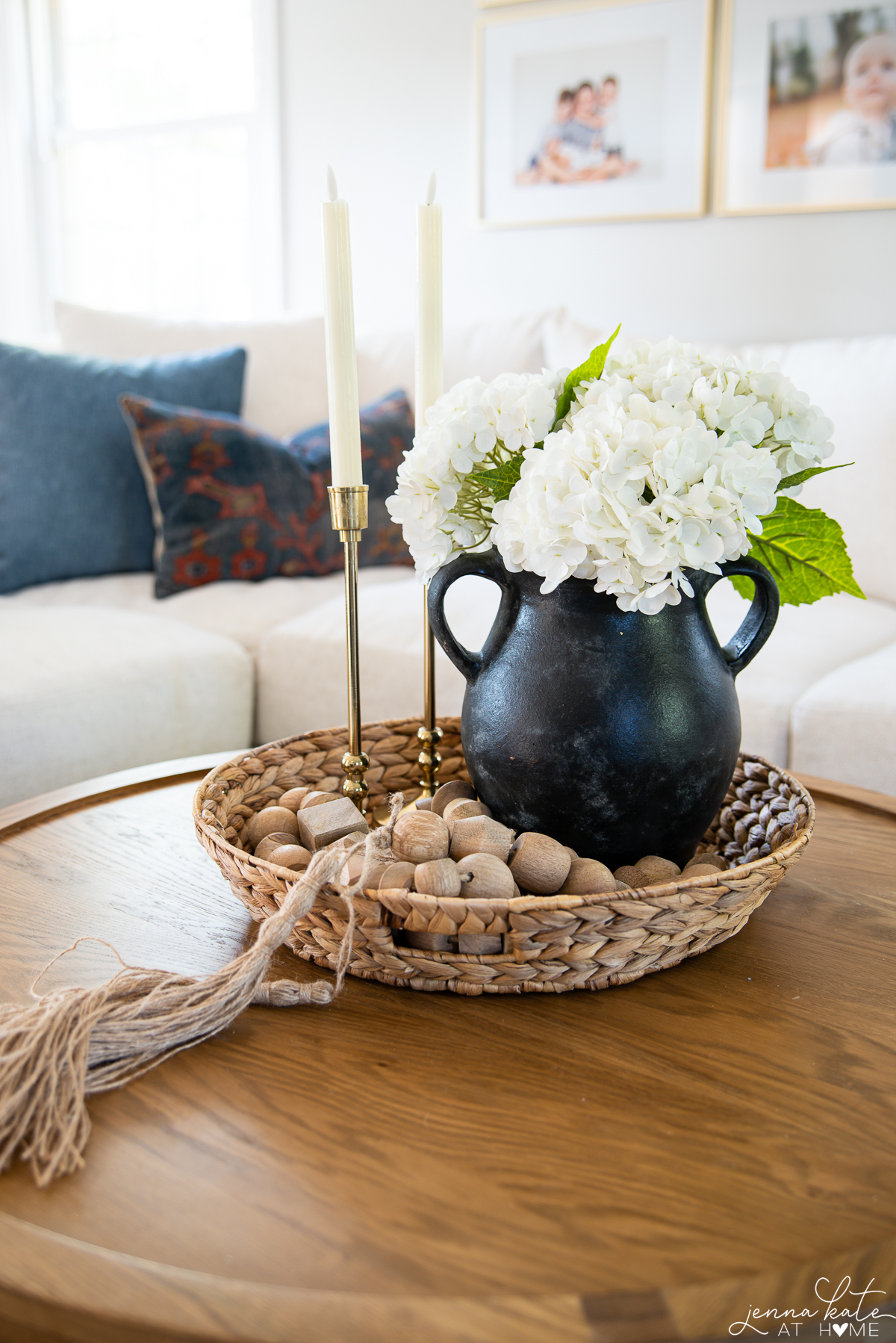 Switch Out Throw Pillows
Throw pillows are the single easiest way to transition your decor from one season to the next. You can literally not change another thing in the room, but if you switch out your throw pillow covers, it looks like a brand new space.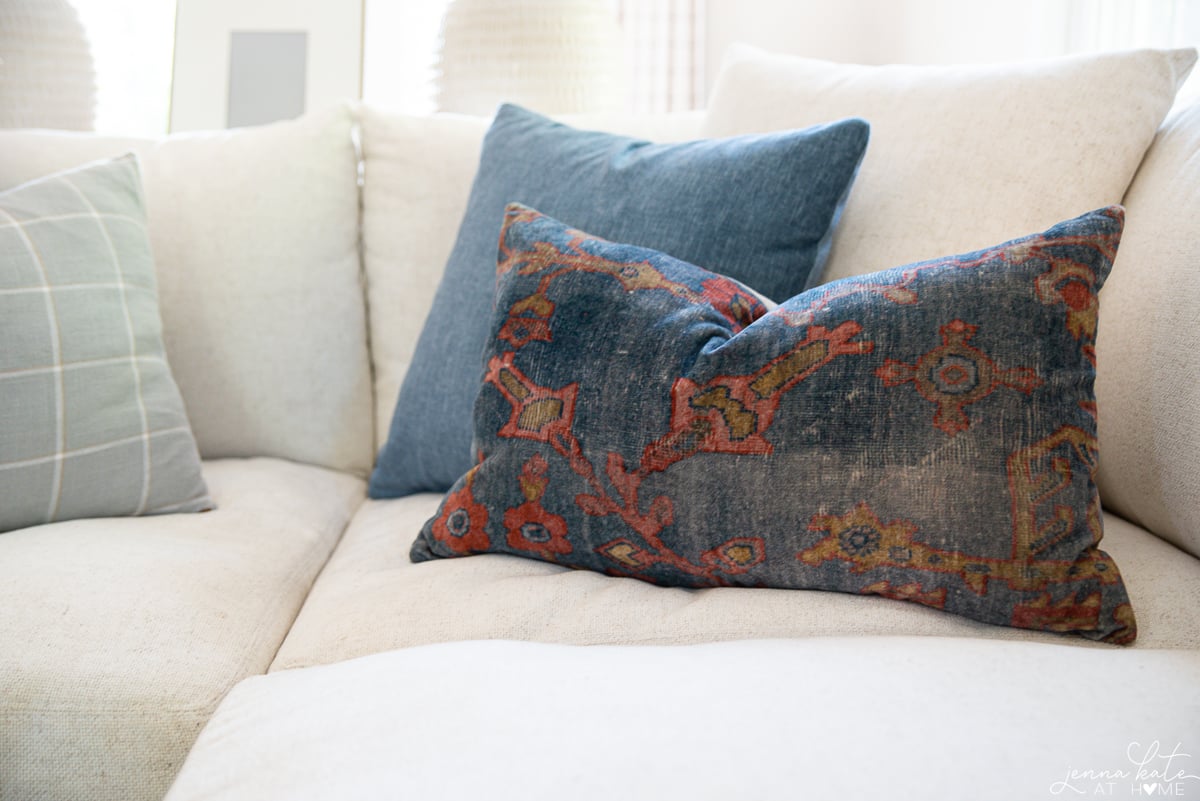 I had a huge yard sale recently and got rid of a lot of old throw pillows and other decor items, but I couldn't resist these new pillows from Pottery Barn. They have my favorite touch of blue, while still feeling very appropriate for the season.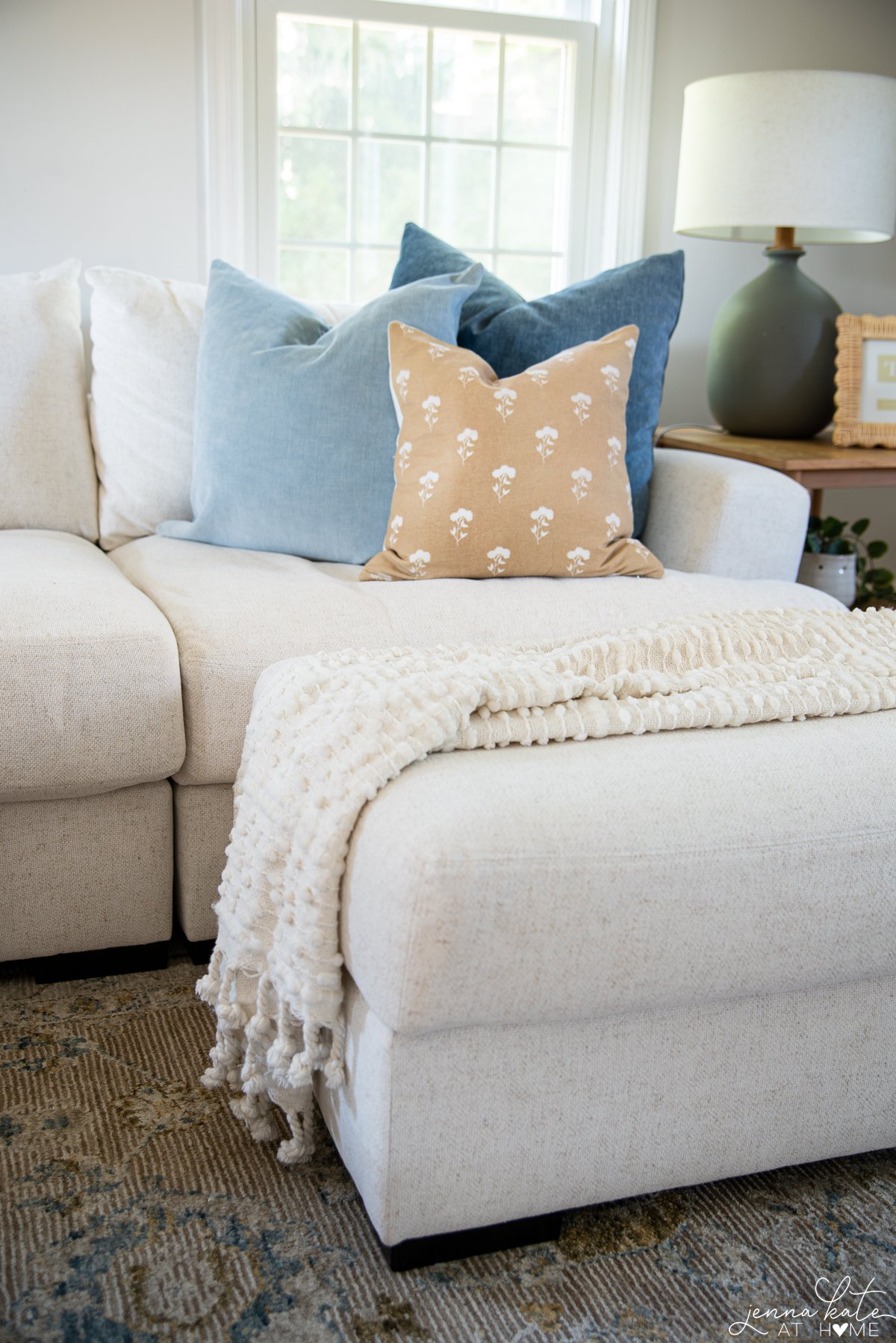 You can also drape a cozy throw blanket at the edge of the sofa to warm up the place in the colder months. Be careful though, as too many throw blankets will actually do the opposite of achieving a minimalistic home.


And you don't have to spend a fortune on new pillow covers, either. The largest of the throw pillows on my couch (the linen colored one) is an Amazon find. The quality is great and the price is just right.
I like to just buy covers too, which make storage a breeze. That way, you can just fold them up and store them in a drawer or even in your linen closet. I use the same set of feather inserts for all my pillows. Since the inserts are always on the couch, I don't need to worry about finding a space to store them, since they can be big and bulky.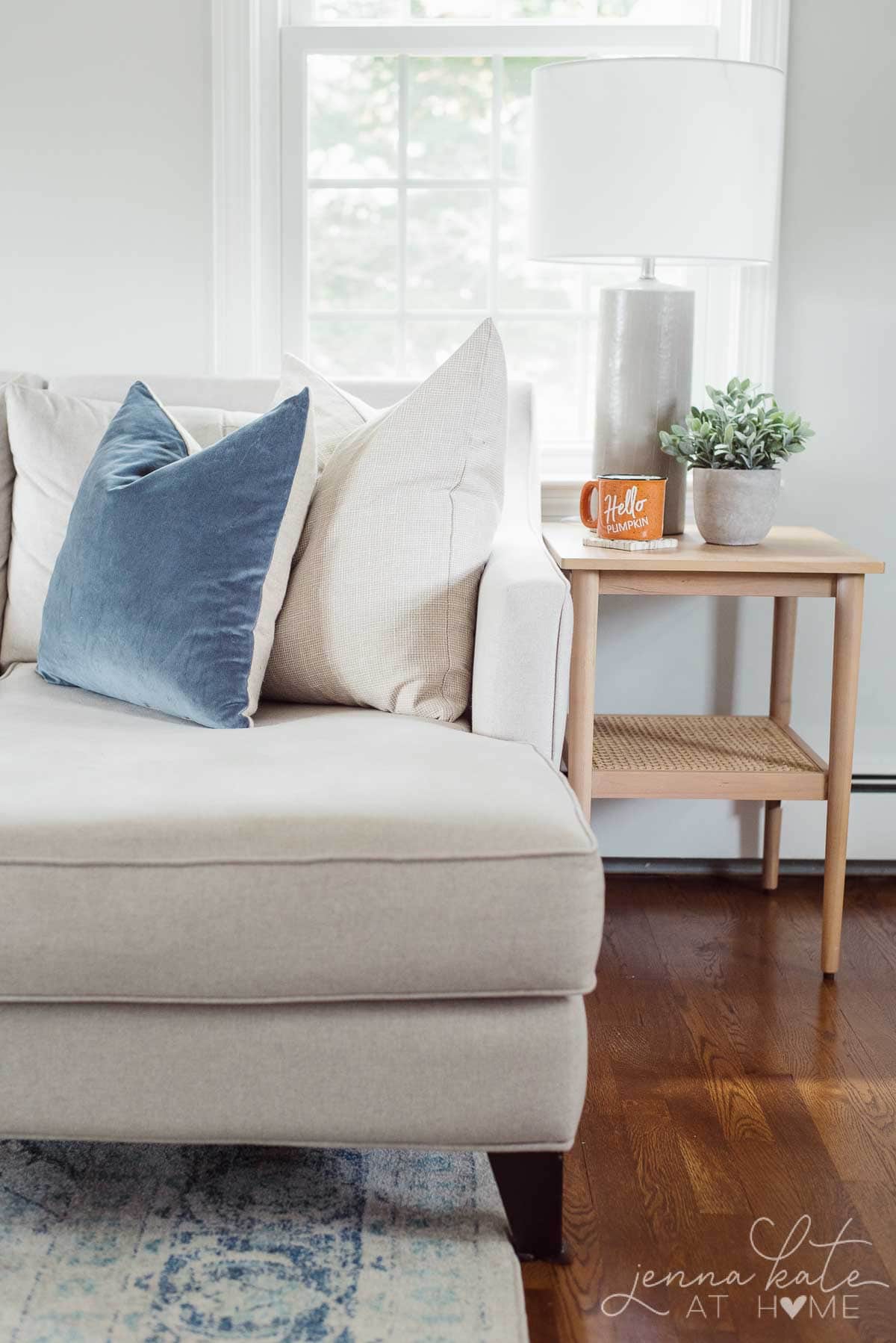 I made this DIY "hello pumpkin" mug last year, and it was a simple project that certainly adds a fall touch to the space!


Keep Your Mantel Uncluttered
There's no garland on the mantel this year. Instead, my usual wood and glass hurricanes are flanked by a simple piece of amber glass and a small faux arrangement as the focal point.
The warm colors don't overwhelm the space but clearly show that fall has arrived in our home without much decor.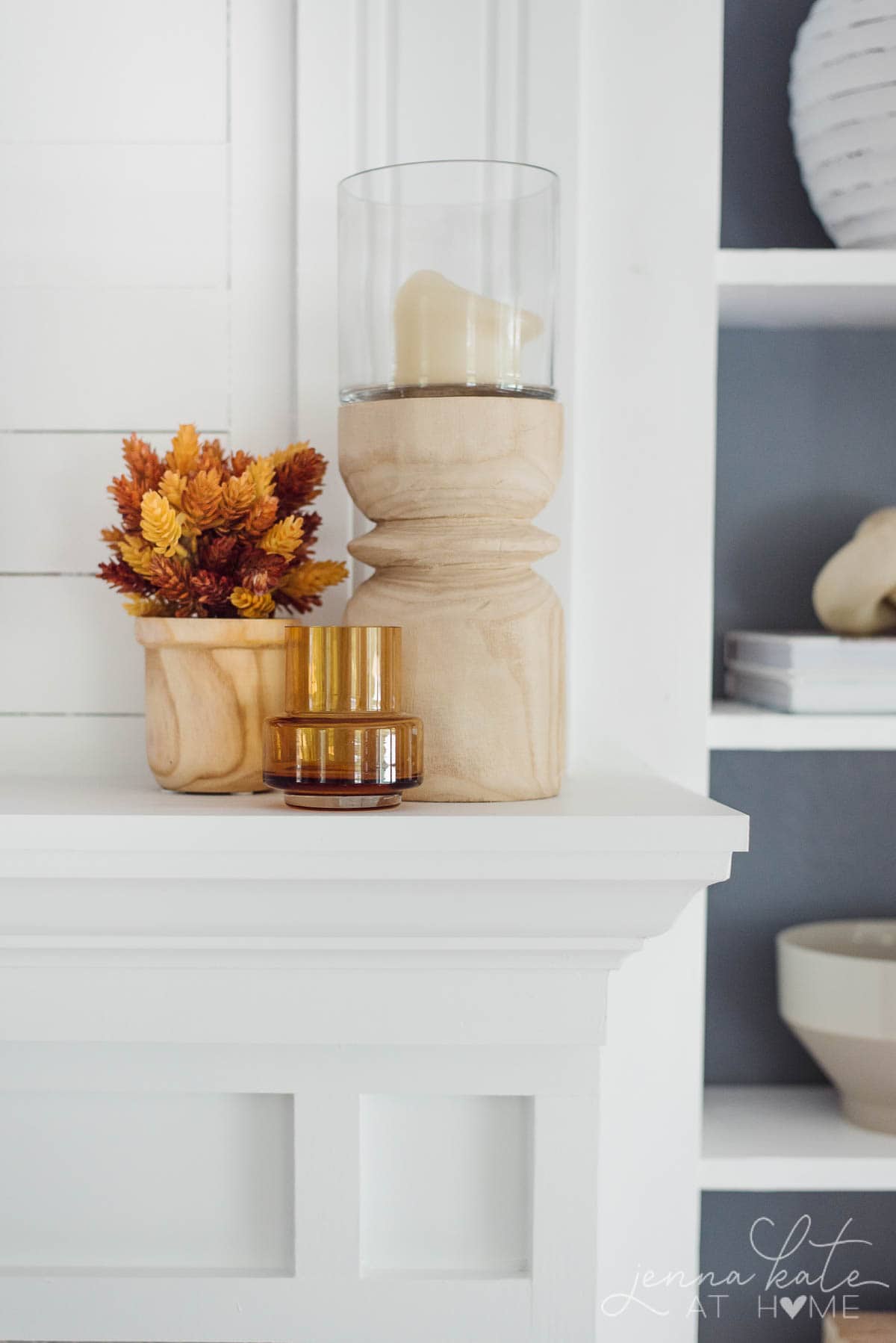 Sticking to what you already have and adding one or two seasonal items is an easy way to update a mantel for fall. It remains uncluttered, but it still looks like you've decorated for the season with a fall theme.
You could also leave the rest of the room as-is, and go gung-ho on the mantel with pine cones, garland, and various other decor elements. Last year's fall mantel was one of my favorites and the items were easy to store afterwards.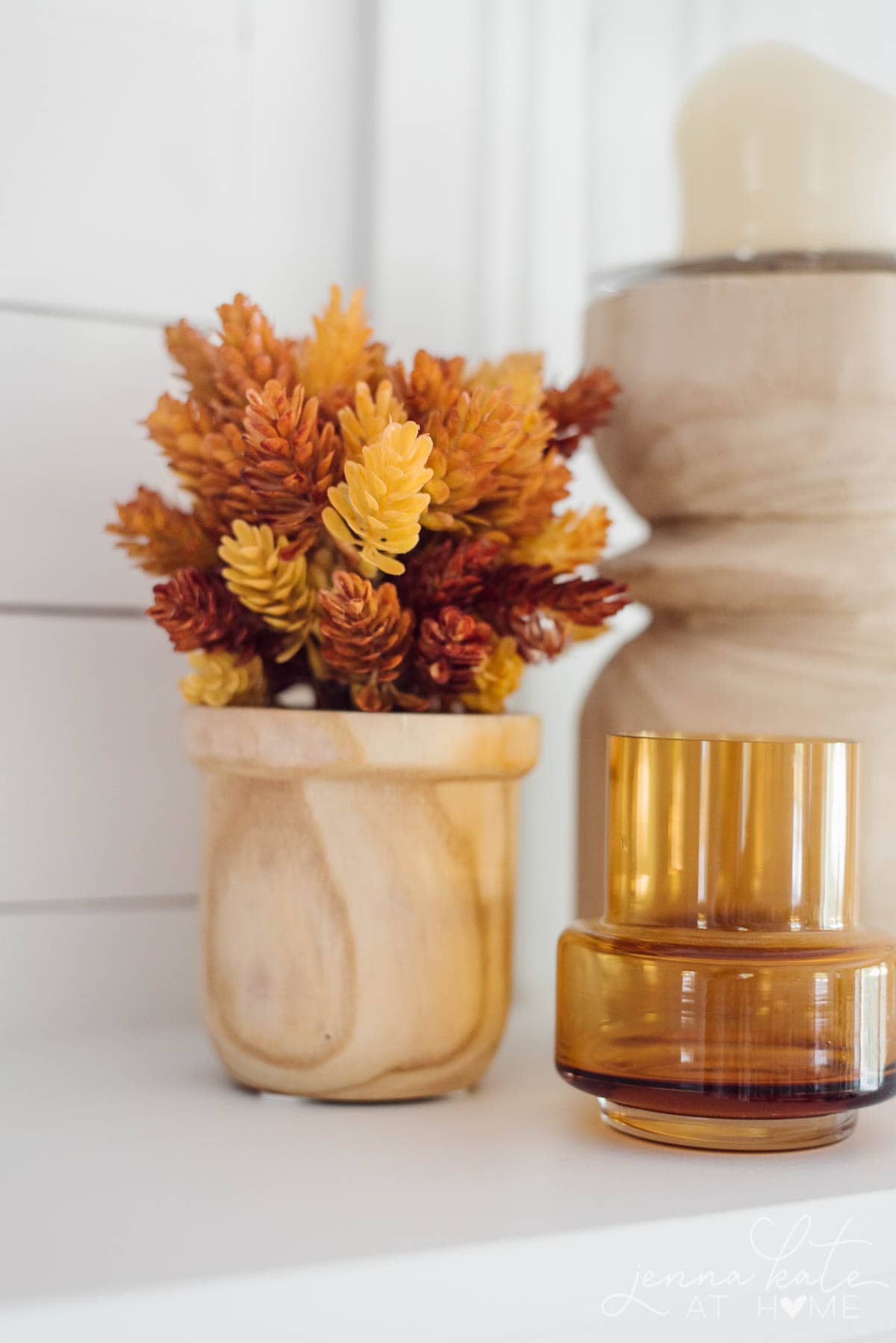 Decorate with Pumpkins
I know, I know. It's not fall if there's no pumpkins. Don't worry, I didn't completely eliminate the pumpkins. I have several as part of the beautiful nature inspired centerpiece that I made for Thanksgiving.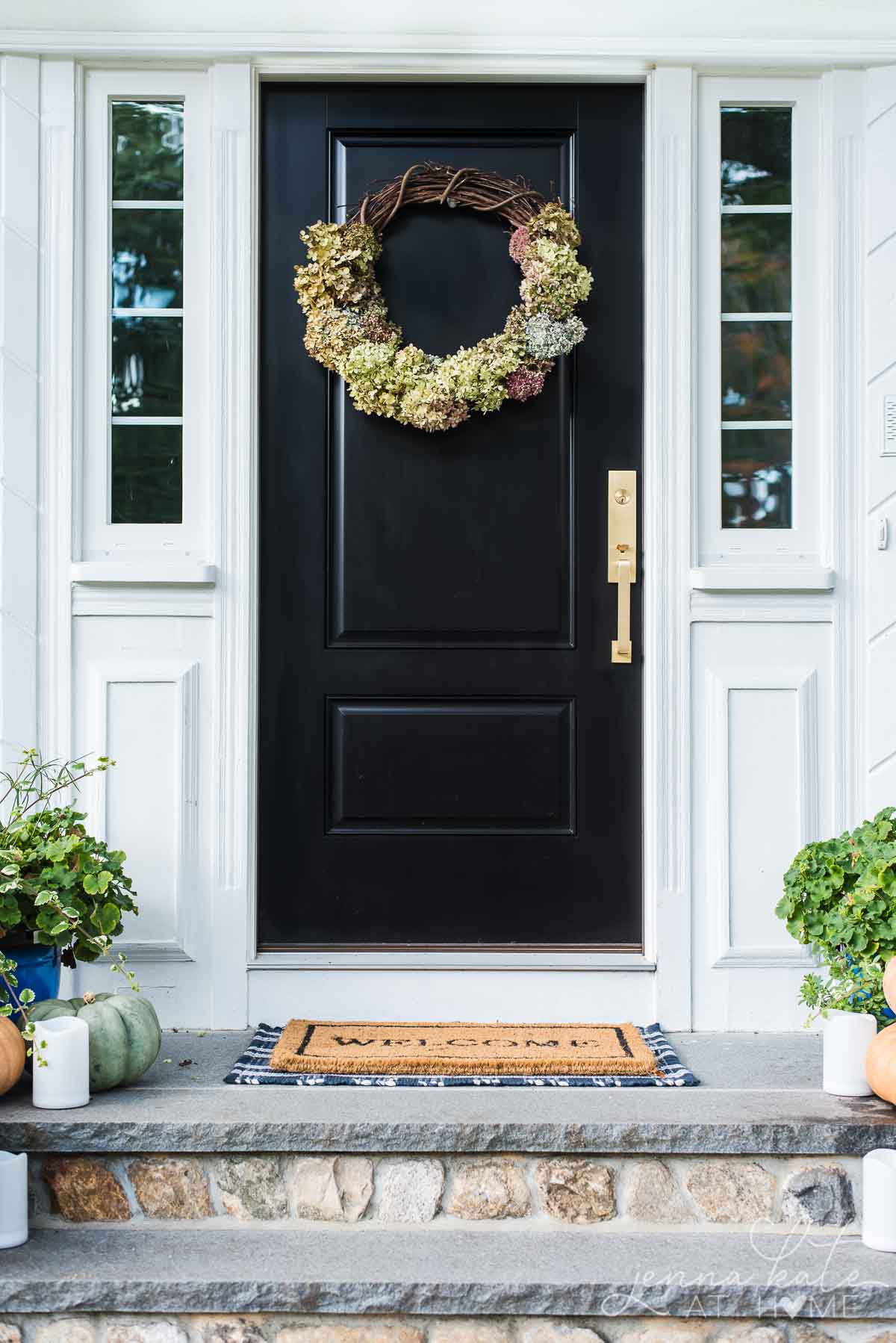 Our front porch steps also of course have my favorite heirloom pumpkins. There's no way my kids would let the season go by without our annual trip to go pumpkin picking, alongside deciding which color mums to use!
This year we decided on pretty gold and amber tones, to match what we have going on inside. Unfortunately, they're not blooming yet but hopefully they will soon!
To keep with my minimalistic fall decor, I kept the same planters that we had all summer long and simply added in a few pumpkins, some mums and solar powered faux candles .It was the perfect way to keep things simple but still implement a change with the new season.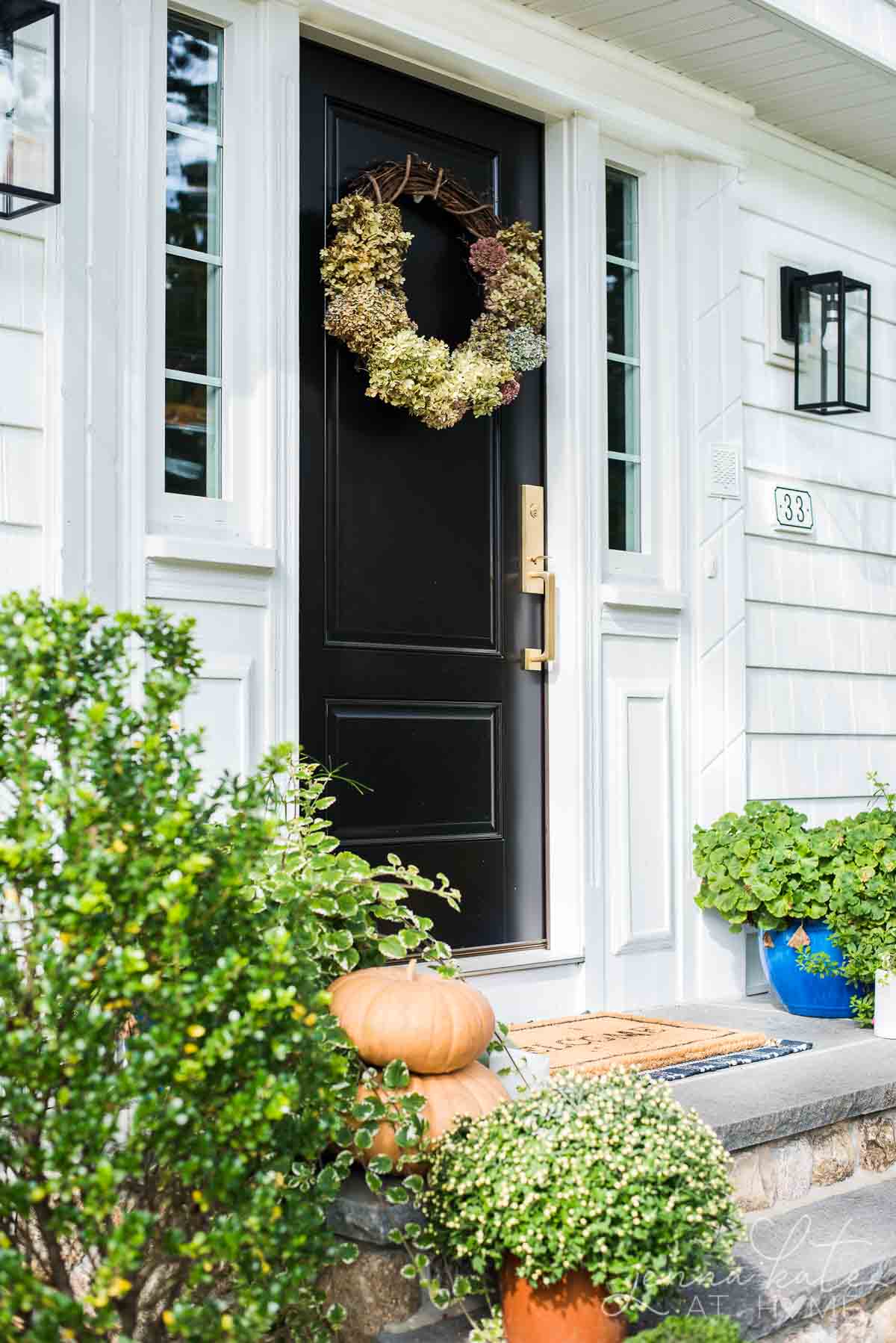 If you're stumped on which pumpkins would coordinate best with your existing decor, white pumpkins are always a safe bet.
Add Hints of Fall Color
Being a minimalist when it comes to decorating your home doesn't mean you need to sacrifice style or color. In fact, one of my favorite ways to decorate minimally is to accent a few seasonal colors!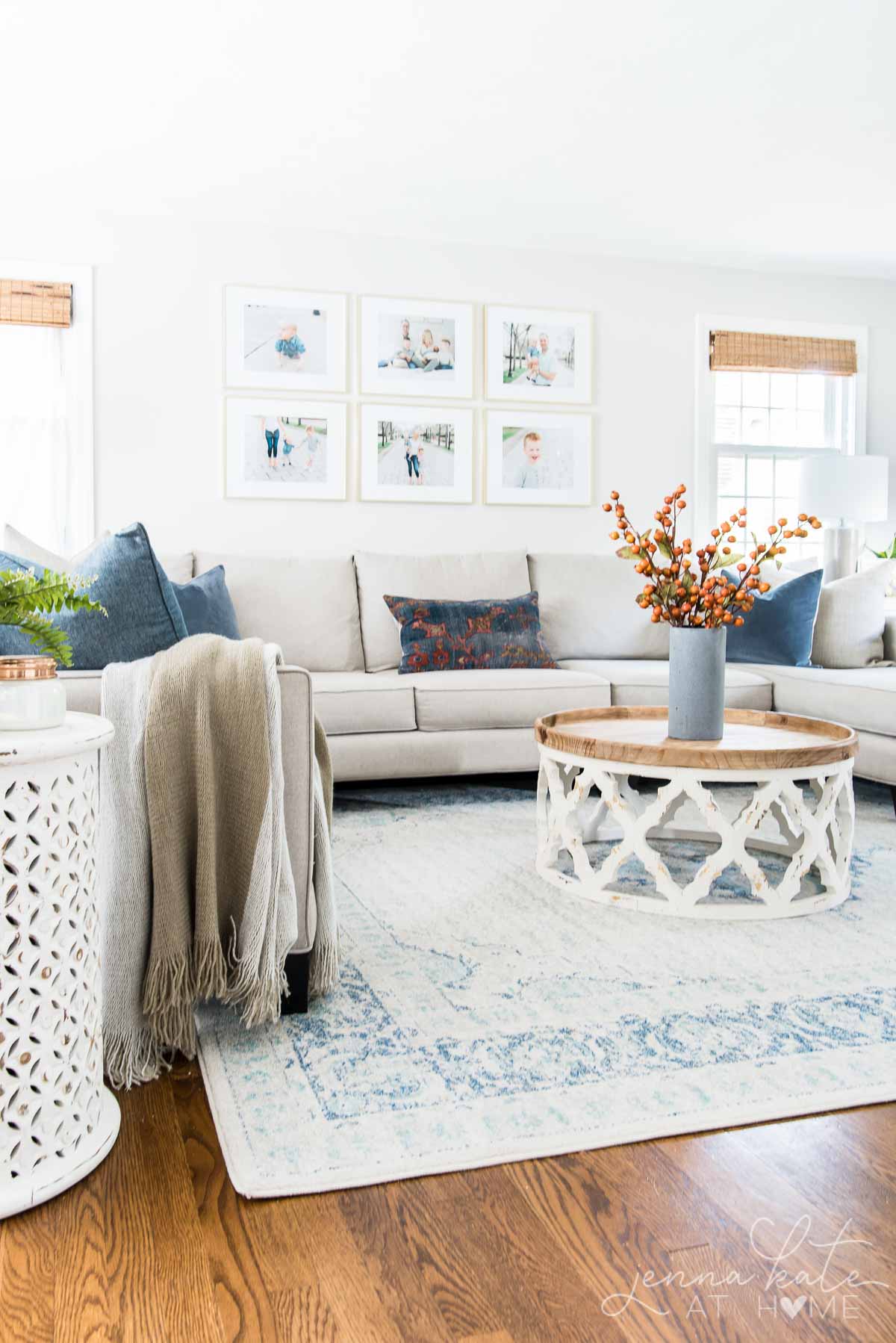 Minimalism is not about all-white, sterile rooms. It's about carefully curating a space, and only bringing in items that you truly love. Most of all, it's about keeping your home uncluttered, so that you can enjoy it at its best.
The best way to achieve this is to carefully add in splashes of deep blue, rustic orange, earthy green, or mustard yellow to enhance the fall tones and color palette.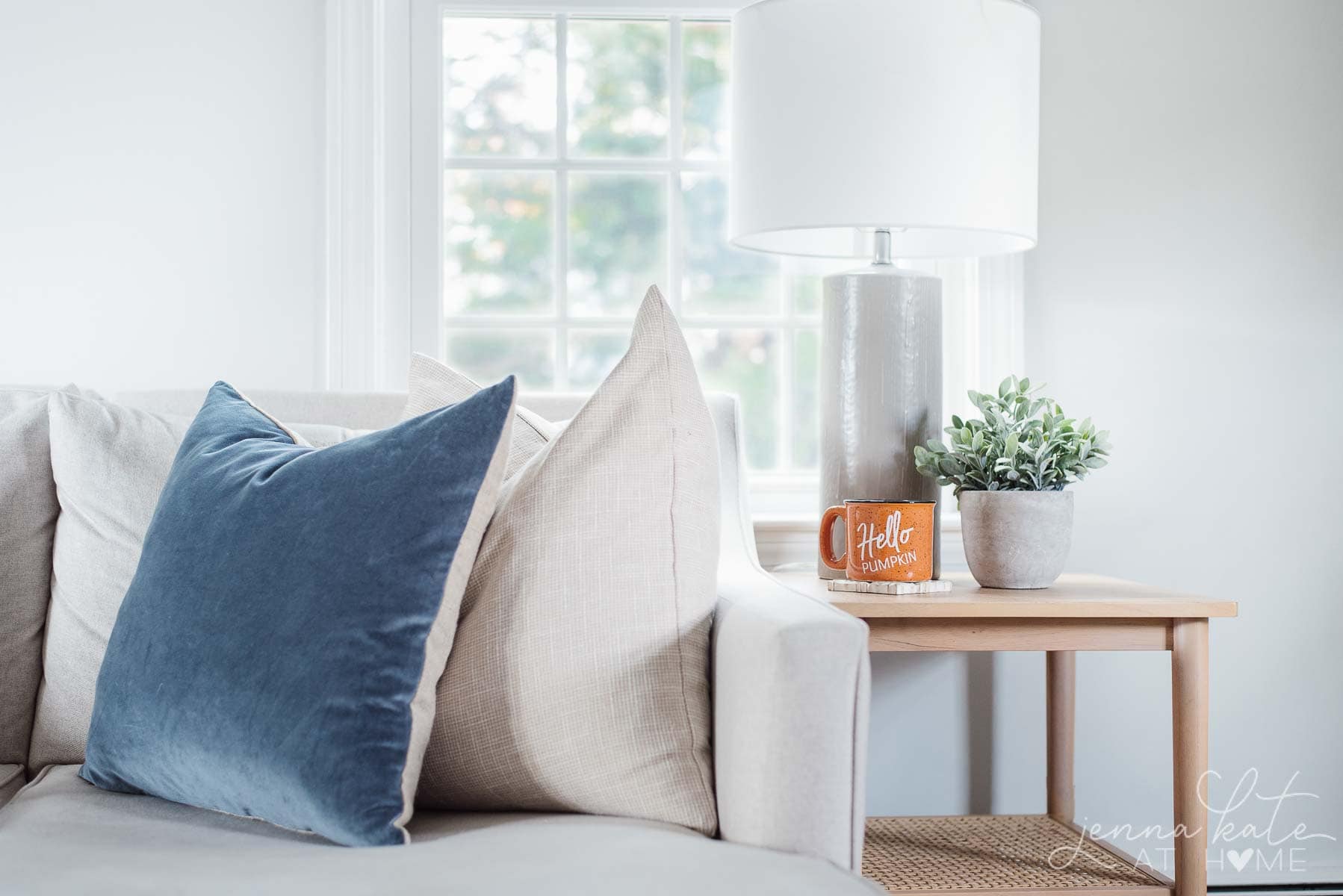 Use Ambient Lighting
Now is the perfect time to add in some warm, soft lighting. Mix natural outdoor light with modern candles or light fixtures. Bring in a few table lamps or candles to replace turning on illuminating overhead lighting during the fall months for a cozier ambiance.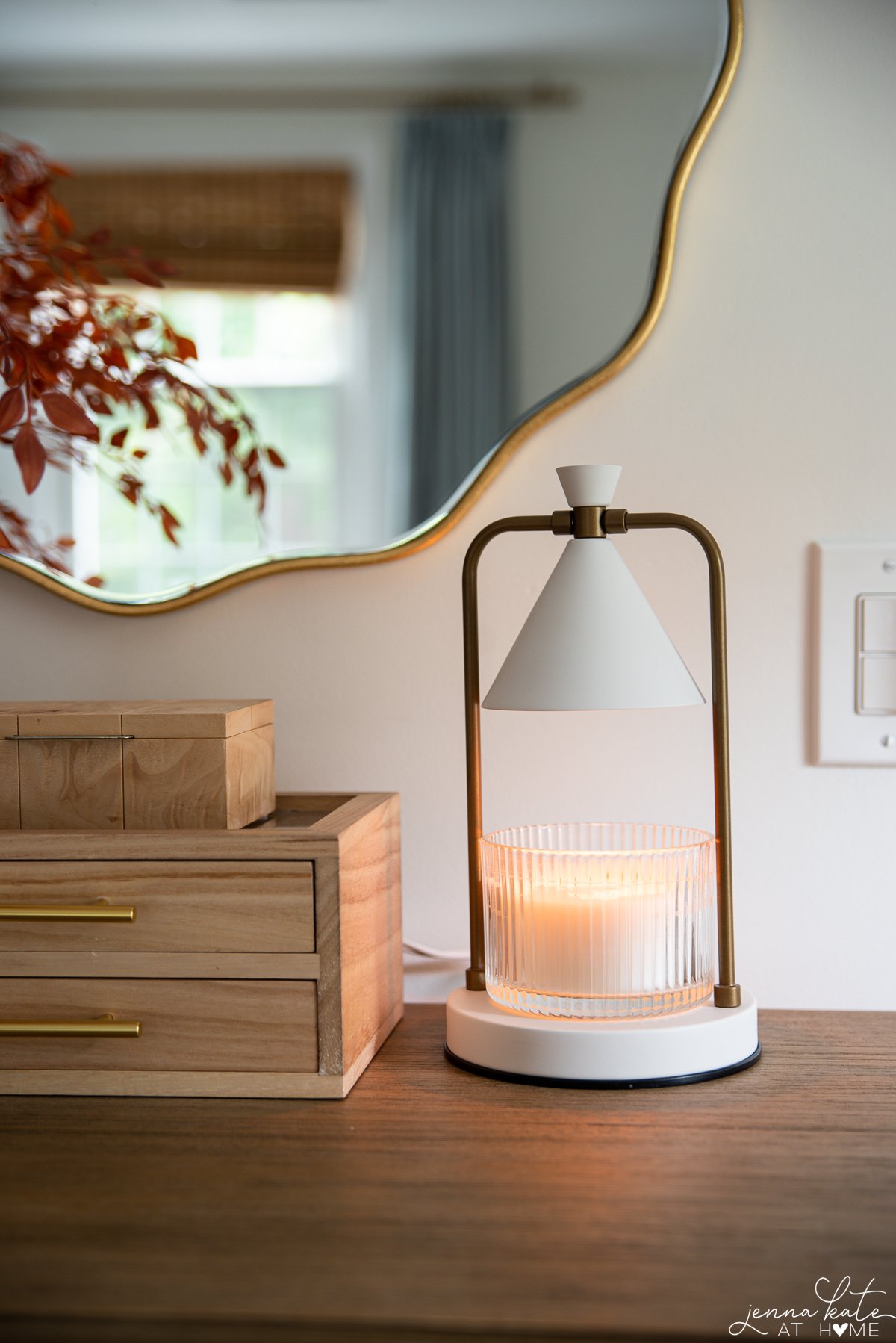 Unique candle displays or holders are great decorations because they can be repurposed throughout the year in various other rooms. There's nothing like the smell of your favorite fall candle scent wafting through the halls.
Final Thoughts
I've noticed my desire to gravitate towards less stuff over the past year, in particular since my third son was born. I think it's partly the fact that I don't have time to mull over my decorating choices, partly less stuff means less dusting and finally, less stuff to put away after the season!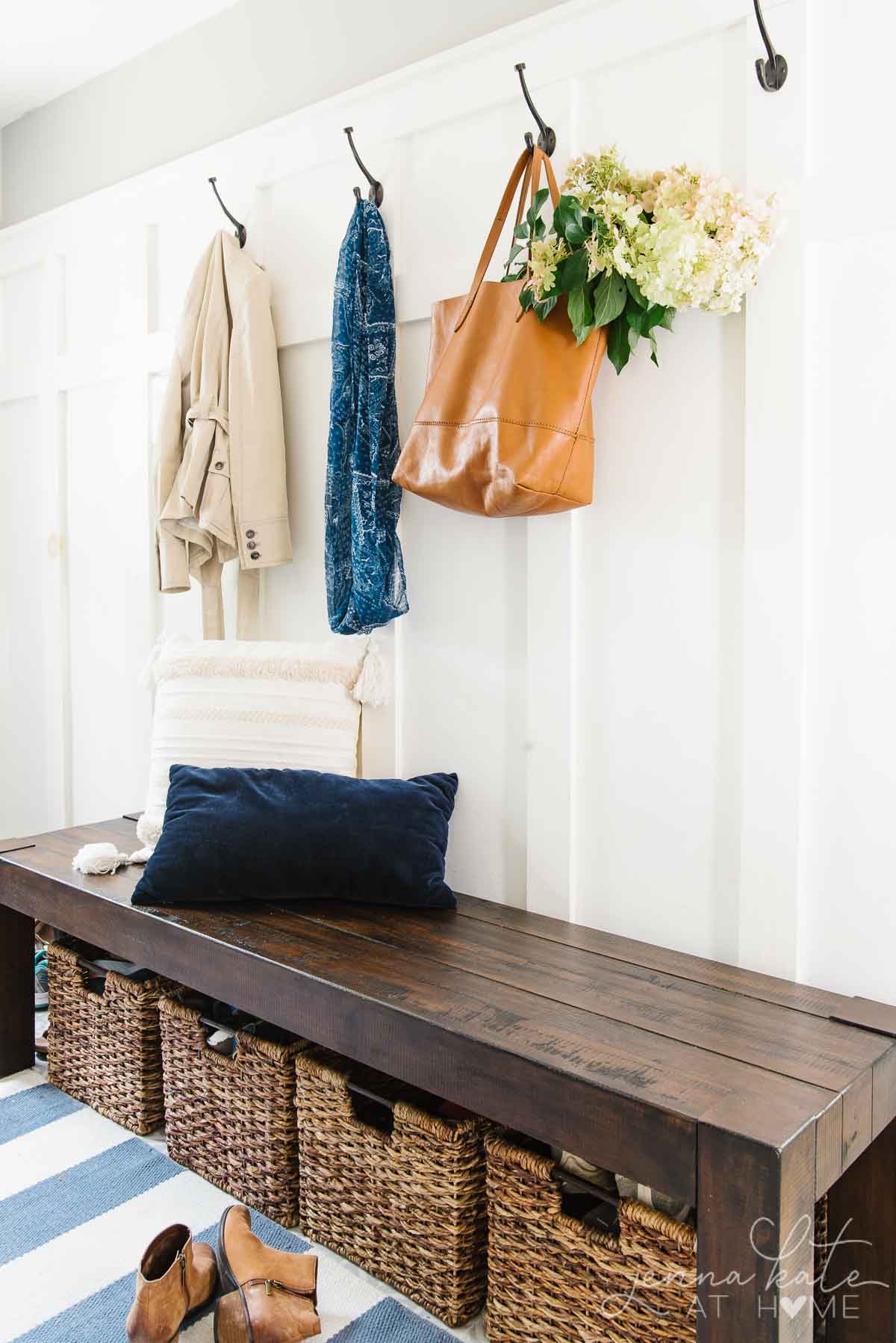 Have I inspired you to take a minimalistic approach to fall decorating this year? It can truly transform your home and help manage your stress level. It will bring tranquility and peace to the season and showcase your home's natural beauty.