Decorating your home for fall doesn't need to mean pumpkins everywhere. These simple ideas embrace a minimalistic home decor style, while still embracing the fall season.
I don't know if it's because I have 3 little boys constantly running around, or if it's because I'm just getting older, but less is more is firmly my mantra when it comes to decorating my home these days. I love refreshing my home as the seasons change, but I have no desire to hoard tons of stuff, nor to cover my house in a million pumpkins and other decorative items.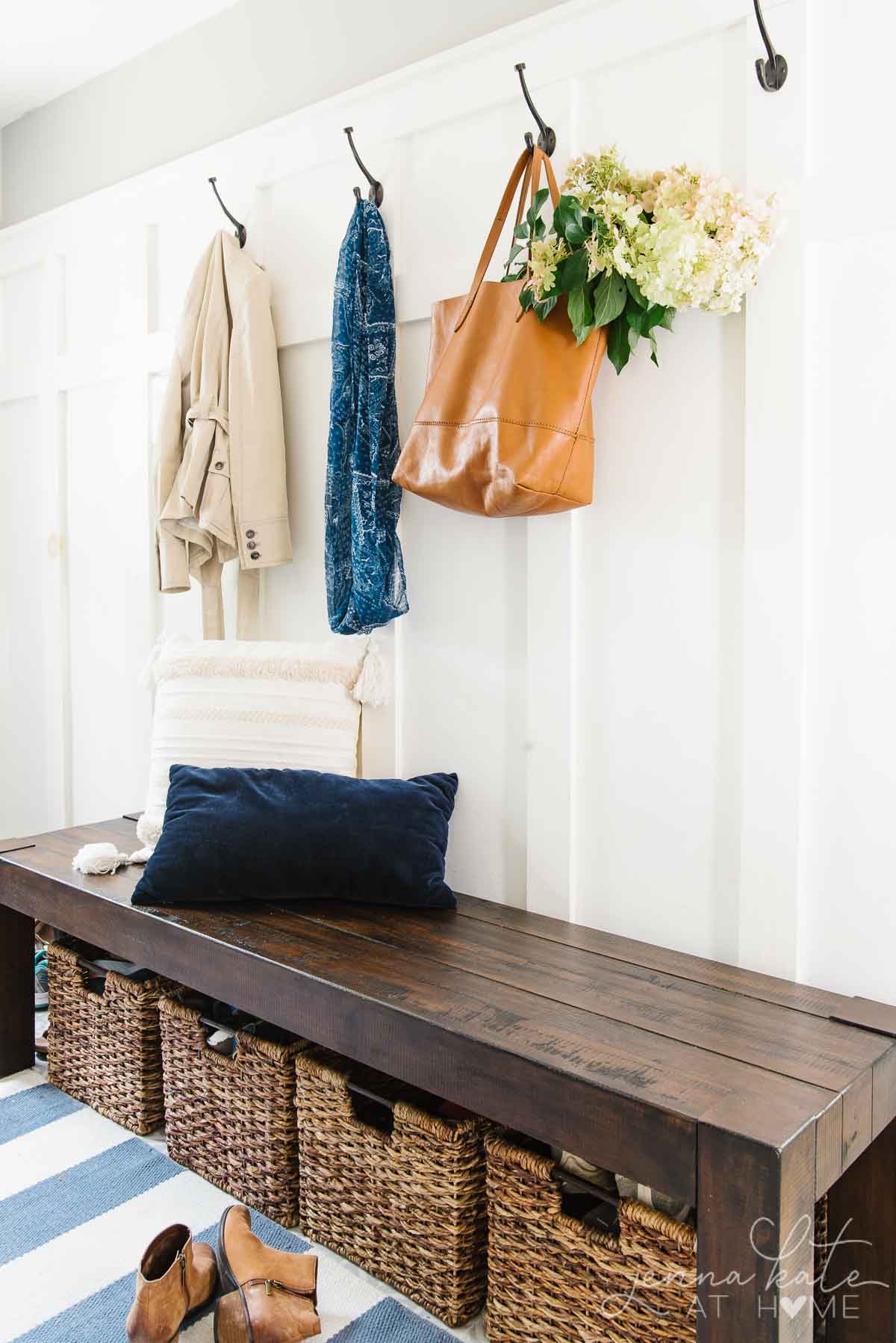 I've noticed my desire to gravitate towards less stuff over the past year, in particular since my third son was born. I think it's partly the fact that I don't have time to mull over my decorating choices, partly less stuff means less dusting and finally, less stuff to put away after the season!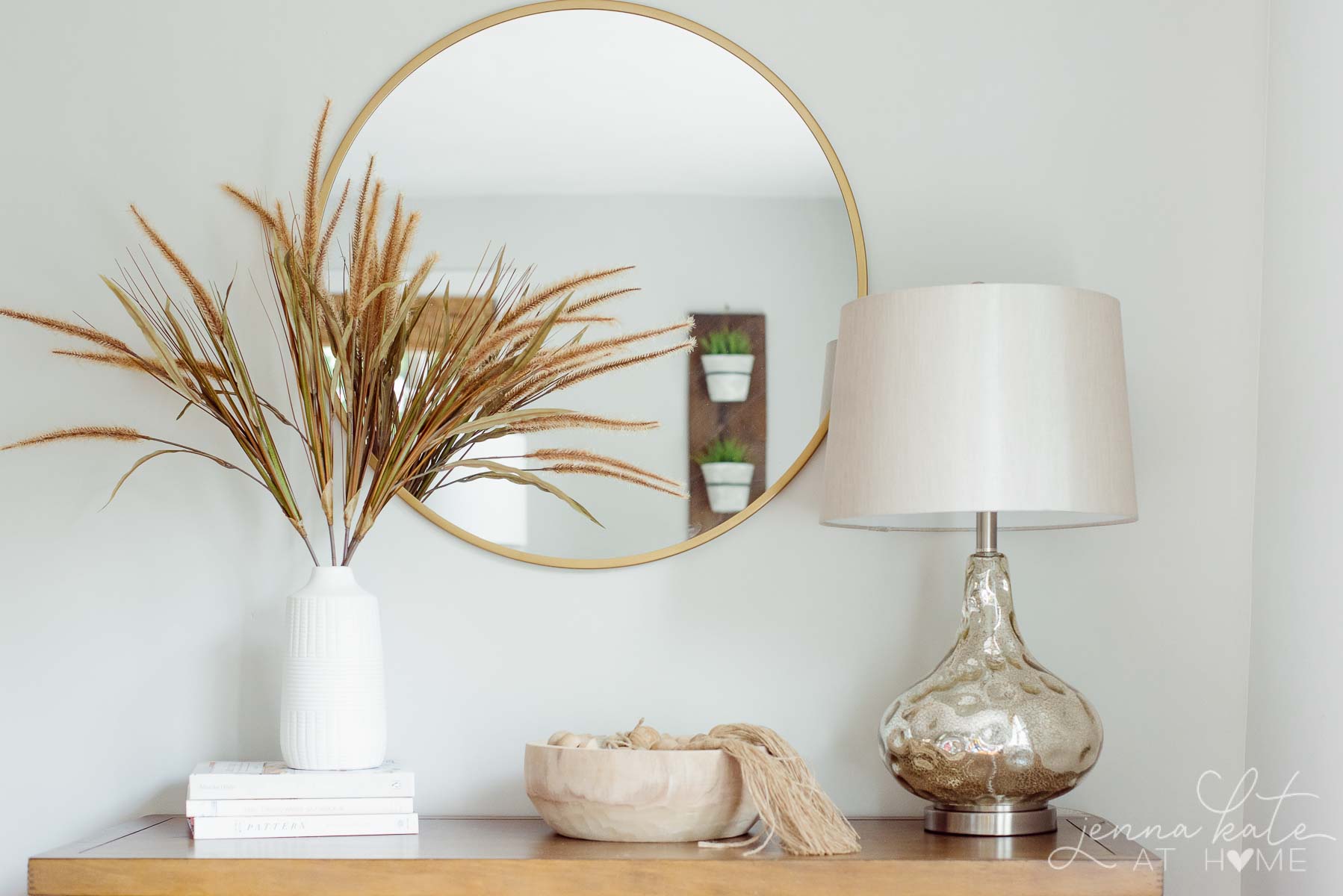 Flowers and Branches
While I do like to bring nature indoors in the form of flowers and branches, carefully chosen faux items are always welcome. Especially since with faux I don't need to remember to change the water AND I don't have to worry about the kids knocking the water over!
Grasses and branches with shades of bronze and gold, really look the part. The warmth these faux Foxtails bring to a space really goes a long way to making a home feel cozy for fall.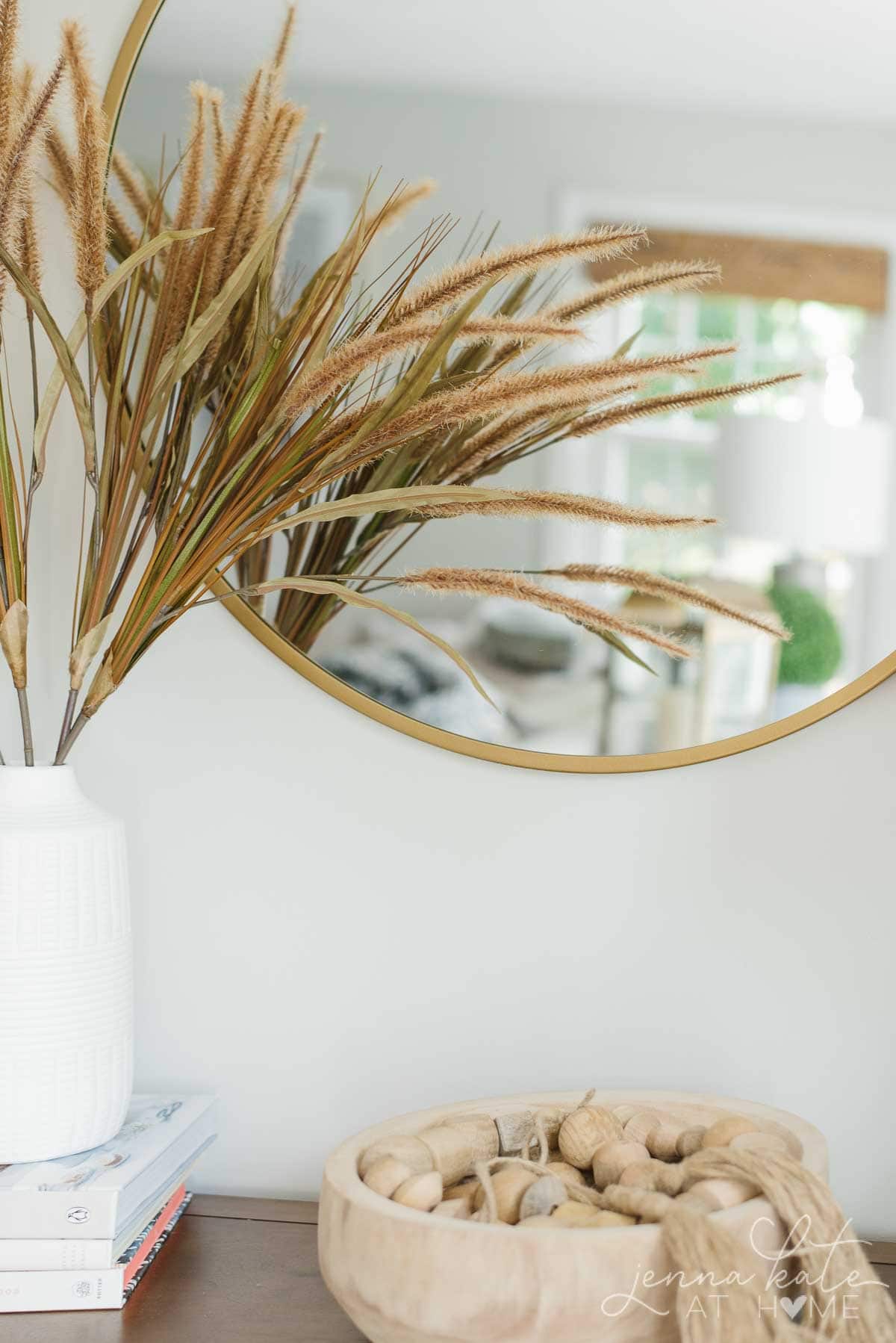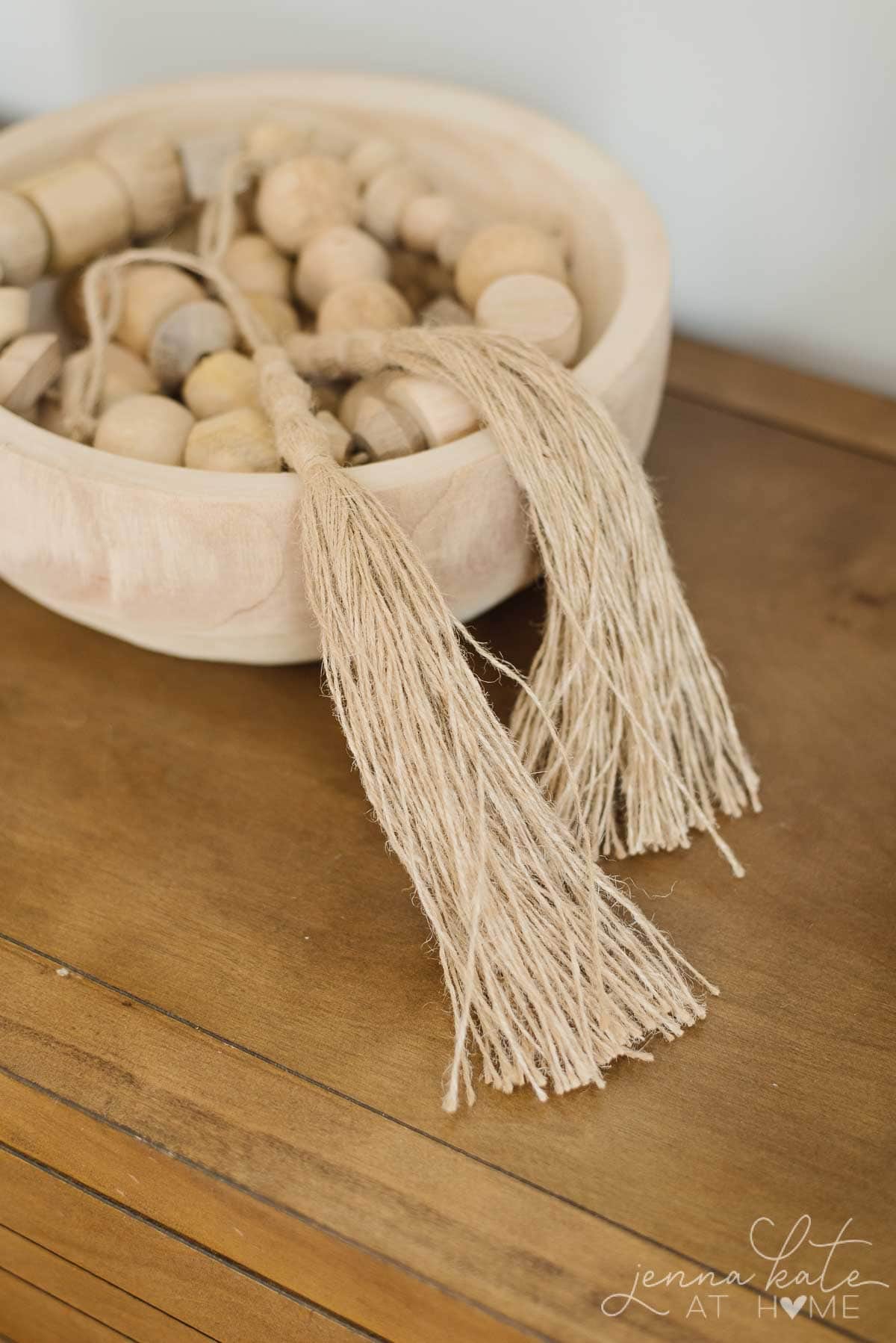 Switching Out Throw Pillows
Throw pillows are the single easiest way to transition your decor from one season to the next. You can literally not change another thing in the room, but if you switch out your throw pillows, it looks like a brand new space.
I had a huge yard sale recently and got rid of a lot of old throw pillows and other decor items, but I couldn't resist these new pillows from Pottery Barn. They have my favorite touch of blue, while still feeling very appropriate for the season.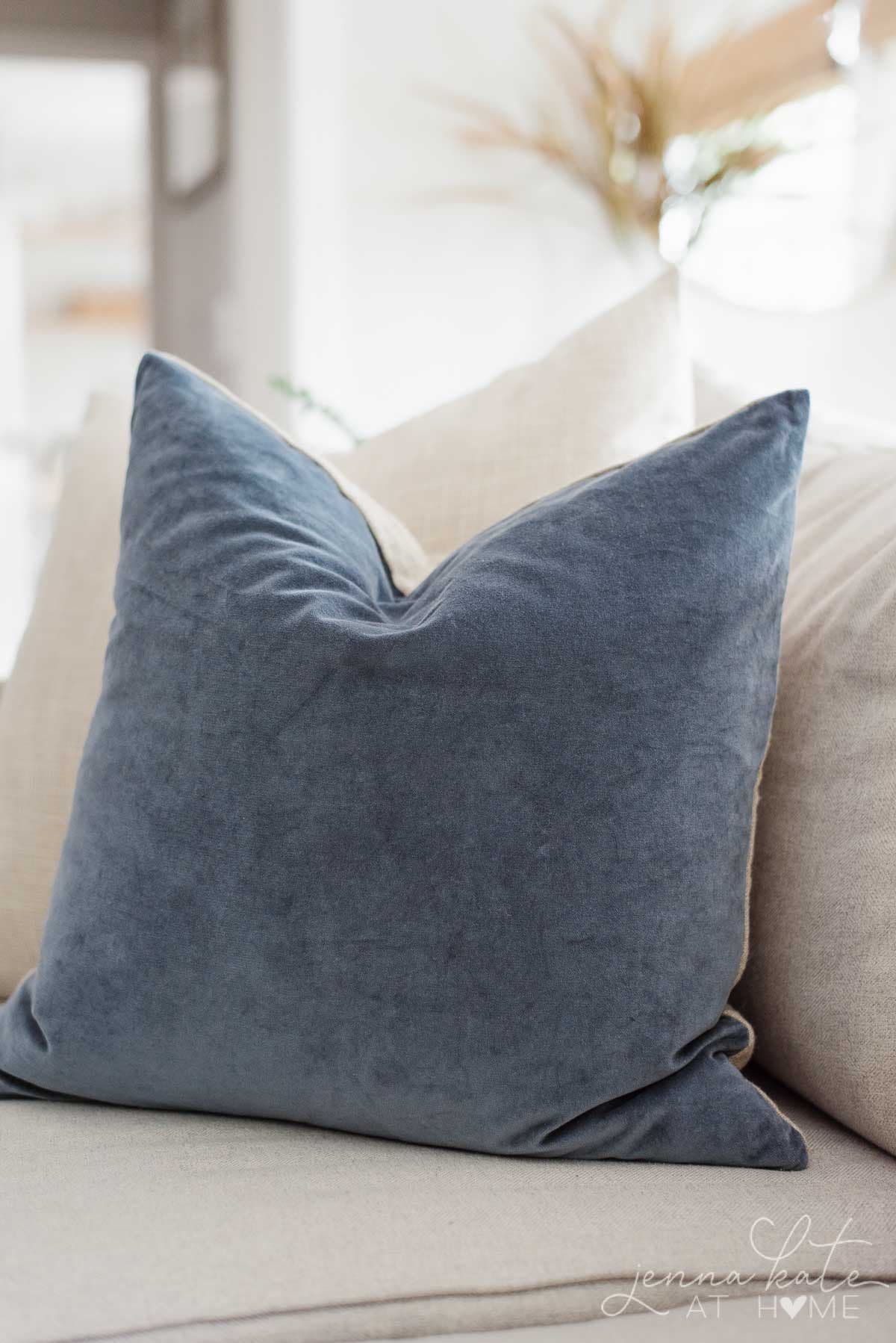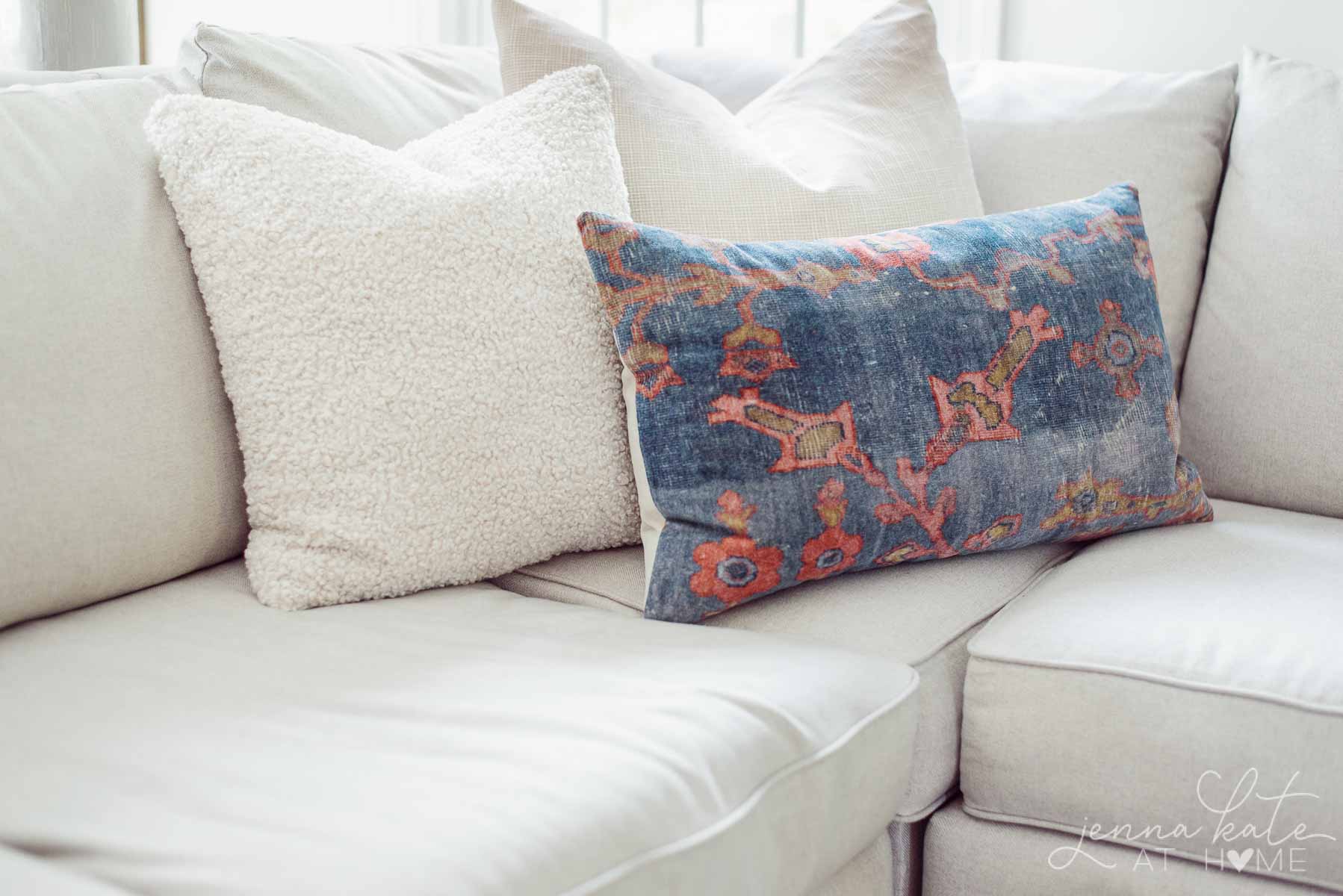 And you don't have to spend a fortune on new ones, either. The largest of the throw pillows on my couch (the linen colored one) is an Amazon find. The quality is great and the price is just right. The textured sherpa looking pillow is from Target.
I like to just buy covers, which make storage a breeze. That way, you can just fold them up and store them in a drawer or even in your linen closet. I use the same set of feather inserts for all my pillows. Since the inserts are always on the couch, I don't need to worry about finding a space to store them, since they can be big and bulky.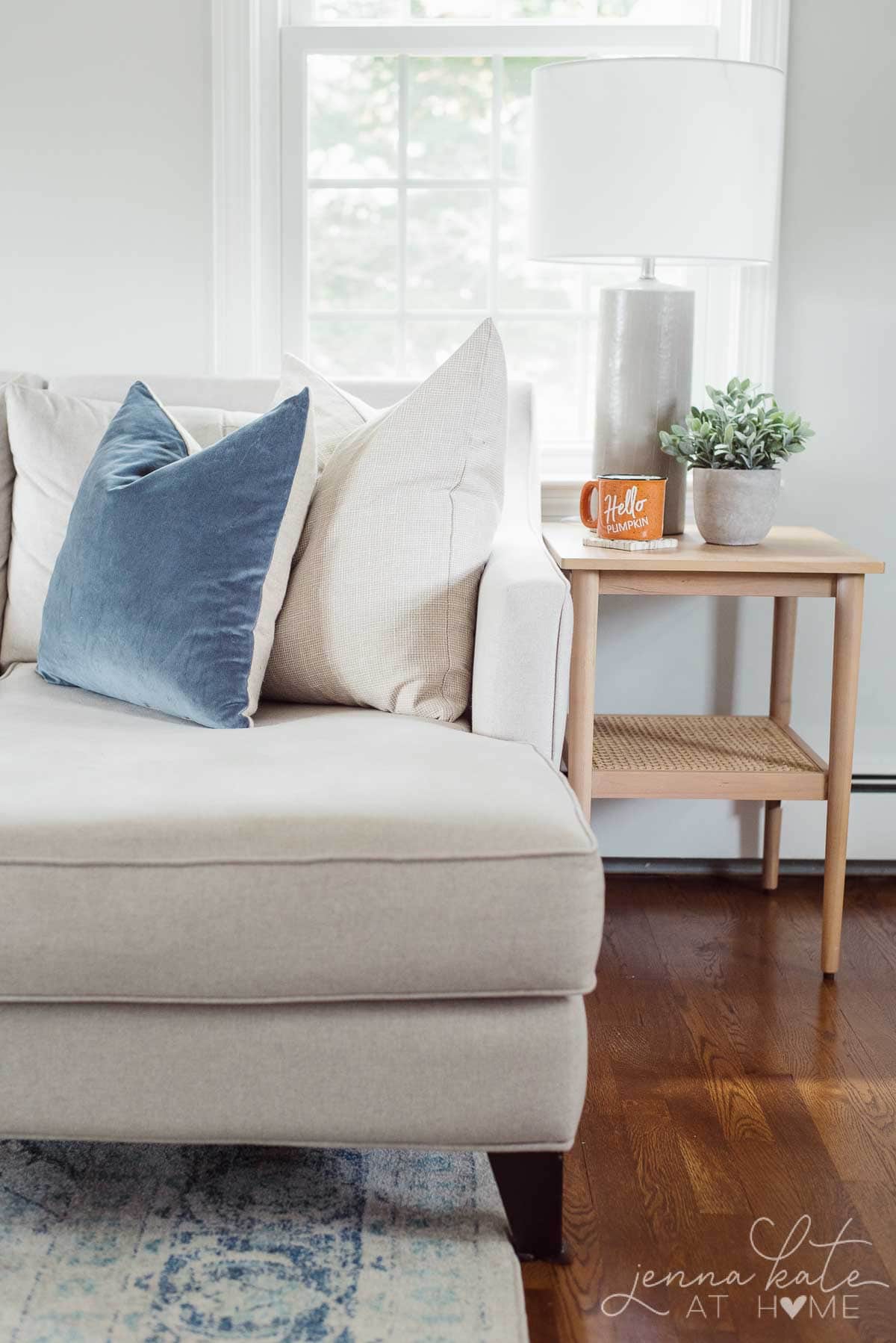 I made this DIY "hello pumpkin" mug last year, and it was a simple project that certainly adds a fall touch to our coffee table!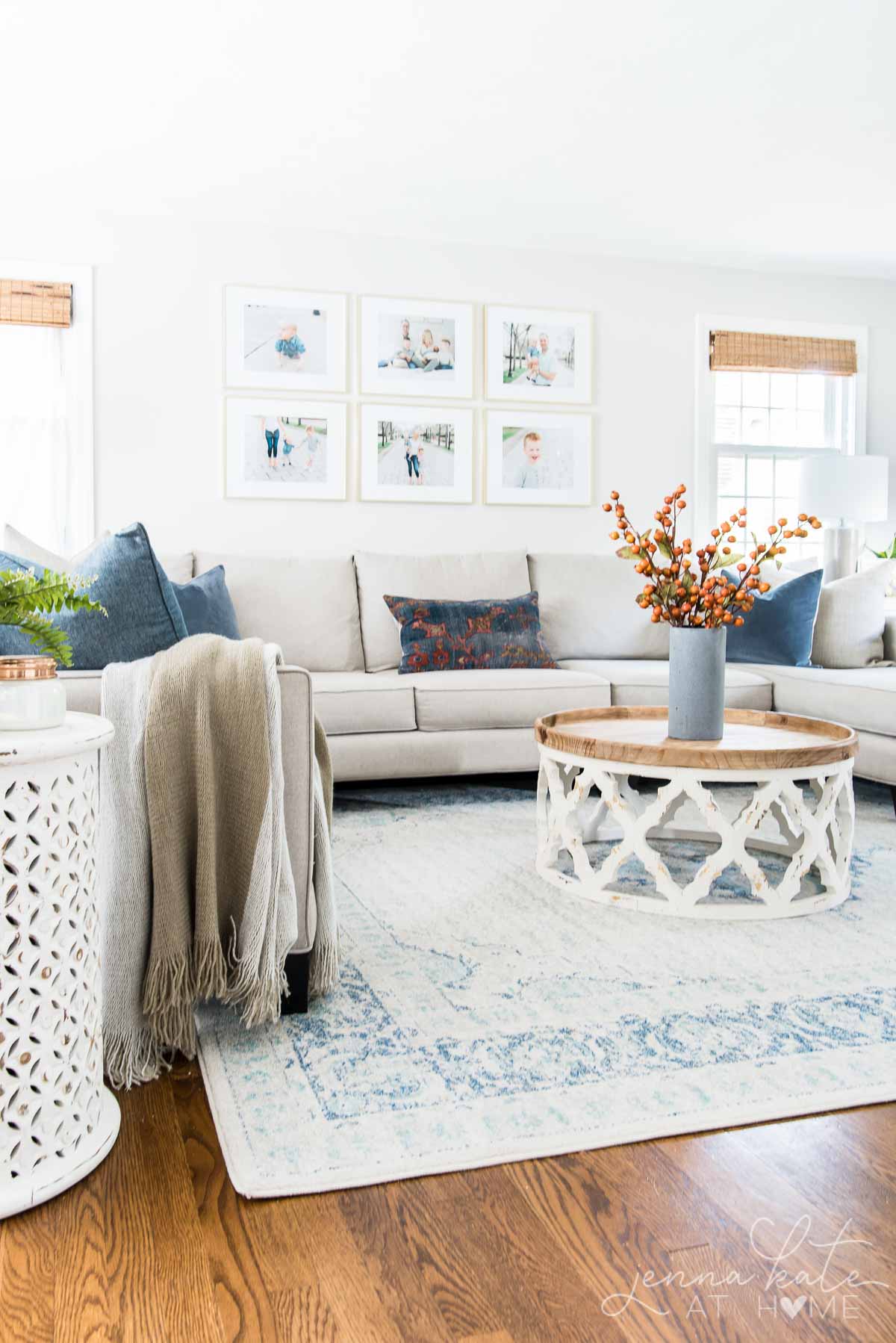 Keep Your Mantel Uncluttered
There's no garland on the mantel this year. Instead, my usual wood and glass hurricanes are flanked by a simple piece of amber glass and a small faux arrangement.
The warm colors don't overwhelm the space but clearly show that fall has arrived in our home!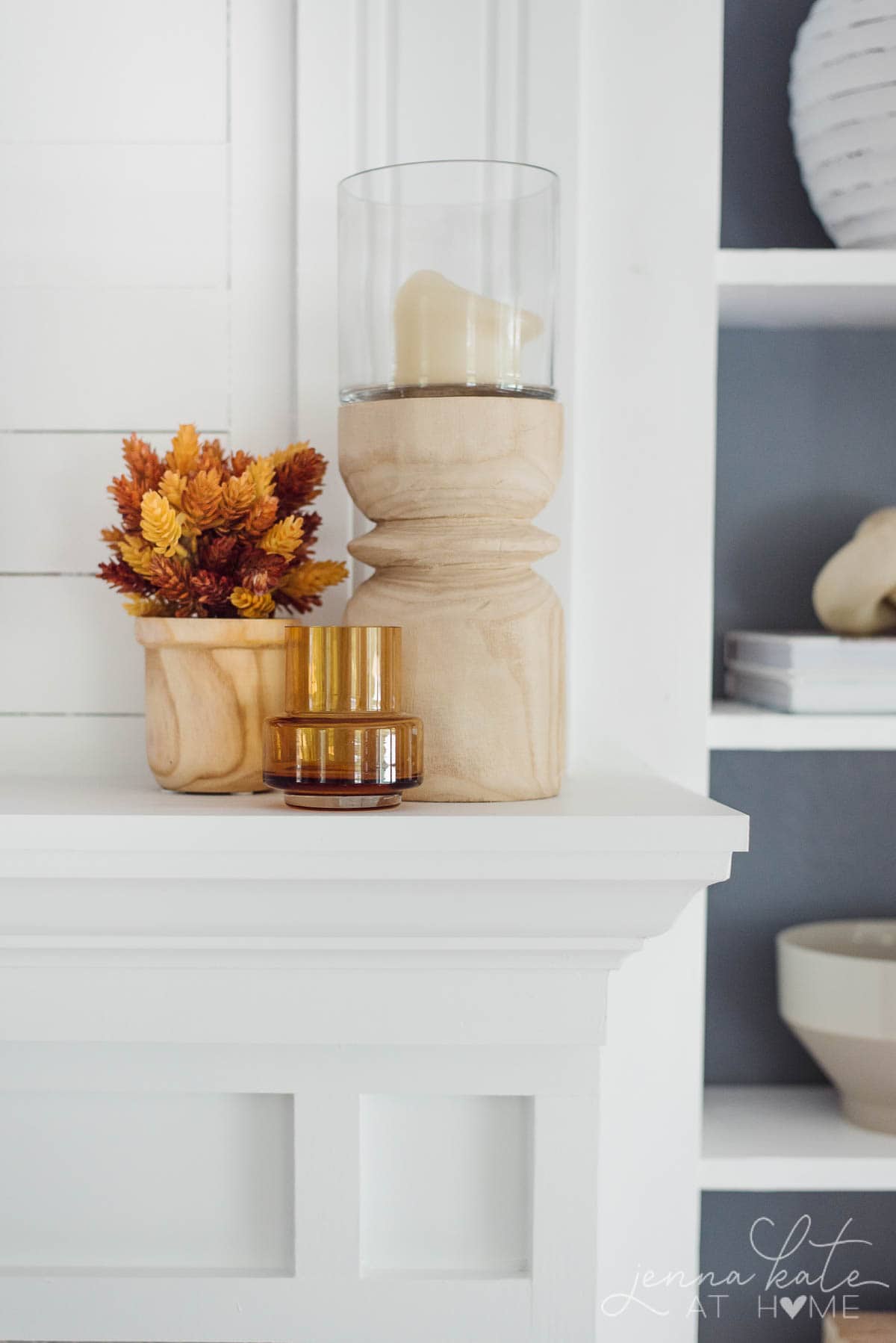 Sticking to what you already have and adding one or two seasonal items is an easy way to update a mantel for fall. It remains uncluttered, but it still looks like you've decorated for the season.
You could also leave the rest of the room as-is, and go gung-ho on the mantel. Last year's fall mantel was one of my favorites and the items were easy to store afterwards.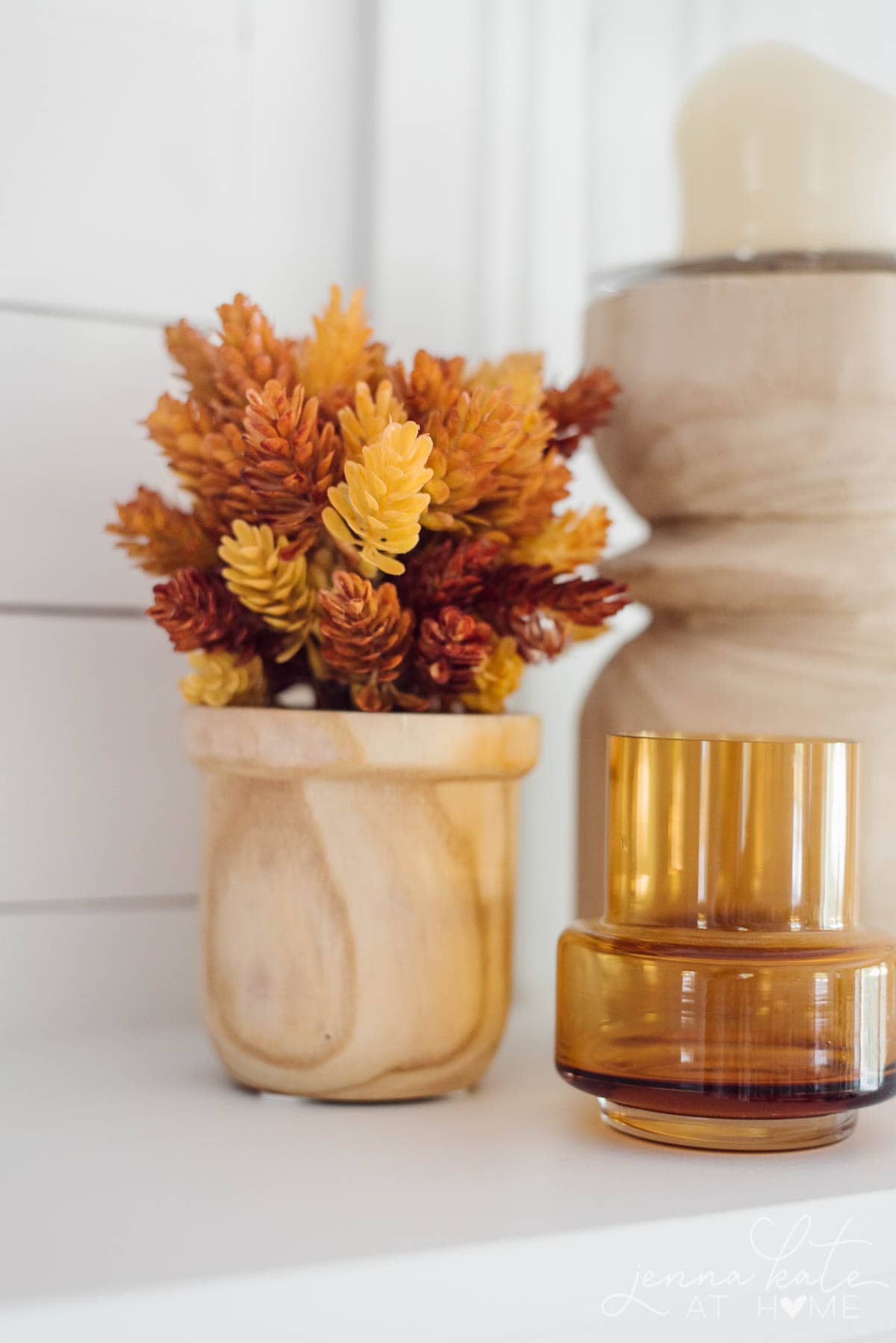 Decorating with Pumpkins
I know, I know. It's not fall if there's no pumpkins. Don't worry, I didn't completely eliminate the pumpkins. I have several as part of the beautiful nature inspired centerpiece that I made for Thanksgiving.
Our front steps also of course have my favorite heirloom pumpkins. There's no way my kids would let the season go by without our annual trip to pick them out, alongside deciding which color mums to use! This year we decided on pretty gold and amber tones, to match what we have going on inside. Unfortunately, they're not blooming yet but hopefully they will soon!
To keep with my minimalistic fall decor, I kept the same planters that we had all summer long and simply added in a few pumpkins, some mums and solar powered faux candles that were provided to me from from Lights.com.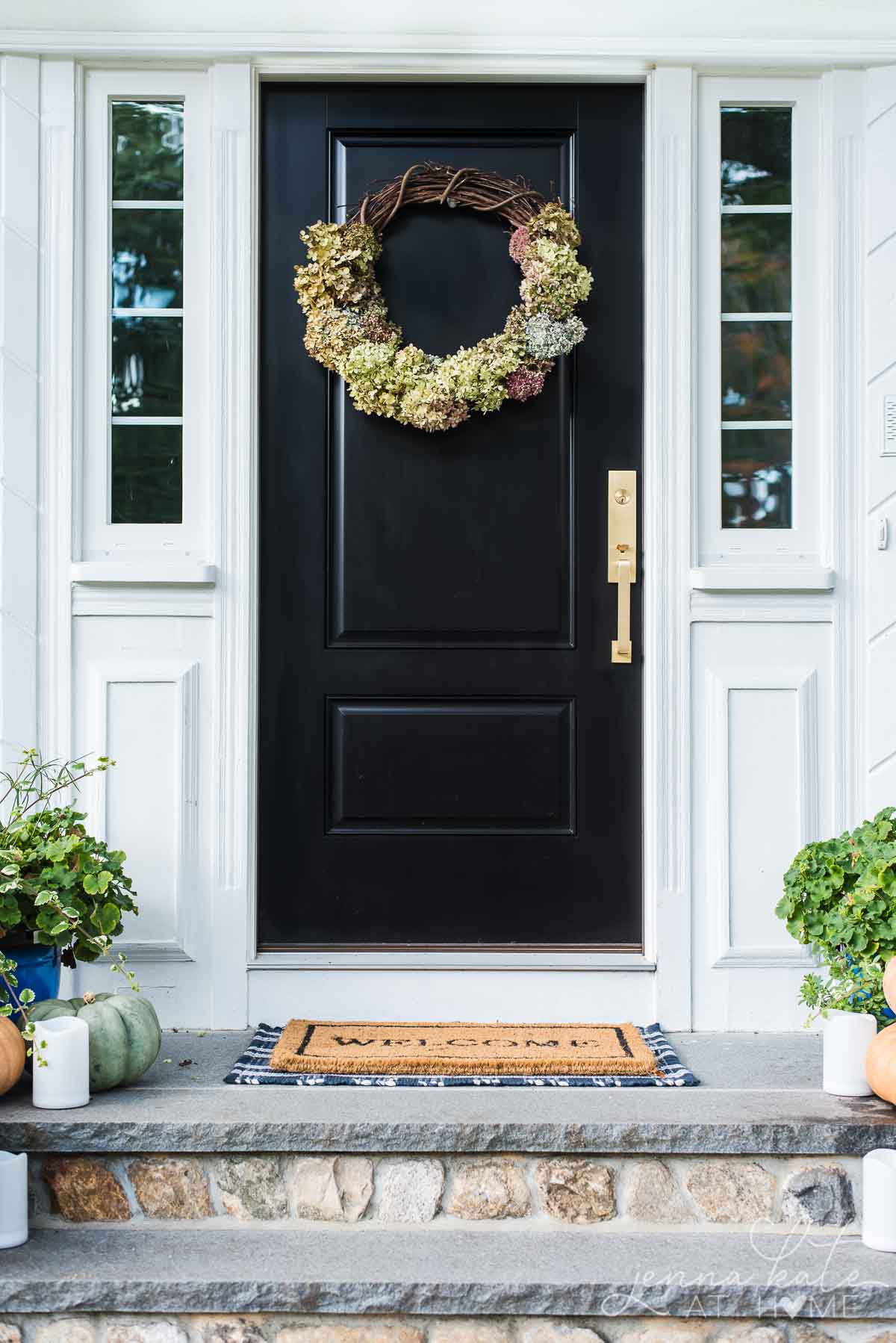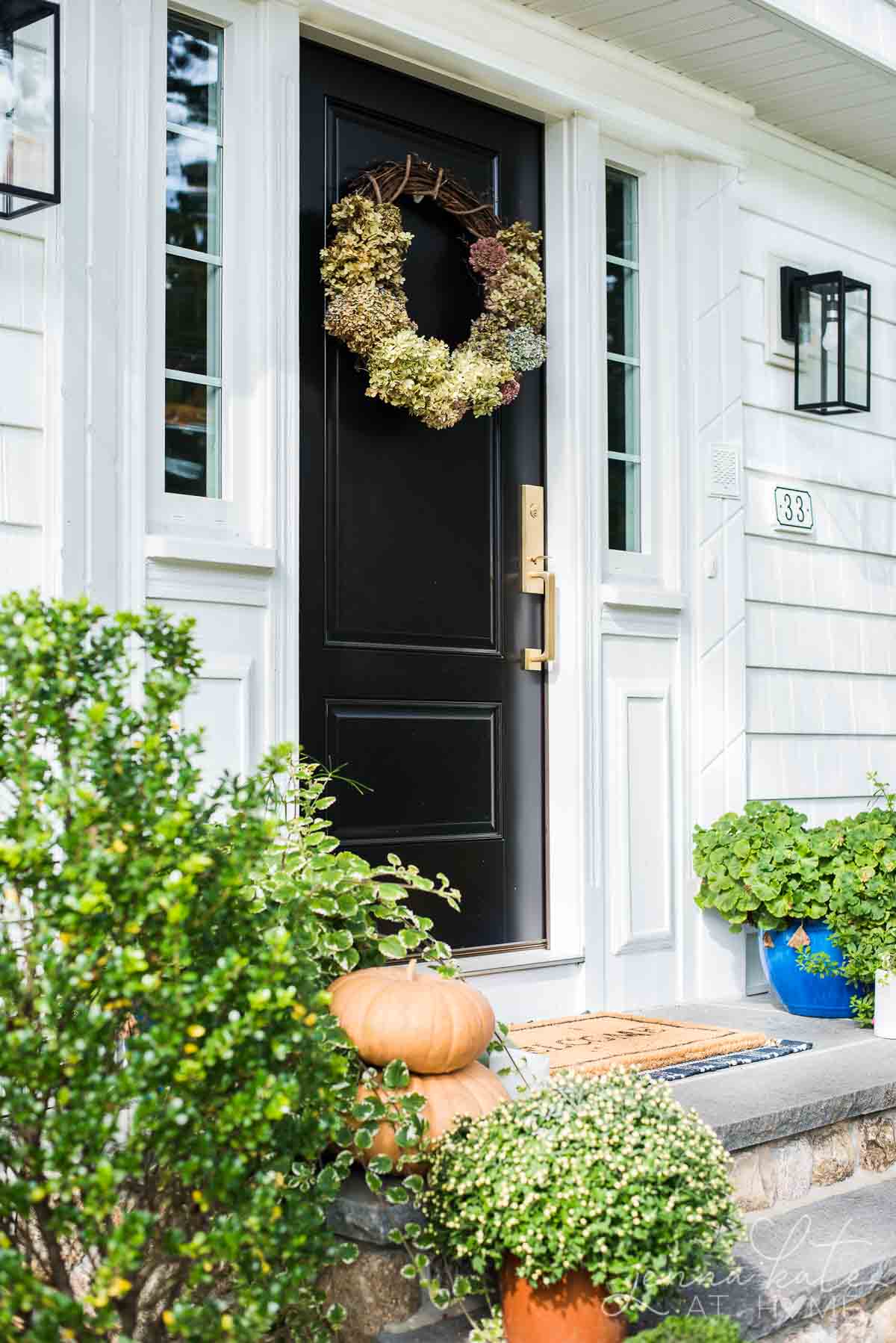 Minimalistic Fall Decor Does Not Mean a Home Void of Color
Being a minimalist when it comes to decorating your home doesn't mean you need to sacrifice style or color. Minimalism is not about all-white, sterile rooms. It's about carefully curating a space, and only bringing in items that you truly love. Most of all, it's about keeping your home uncluttered, so that you can enjoy it at its best.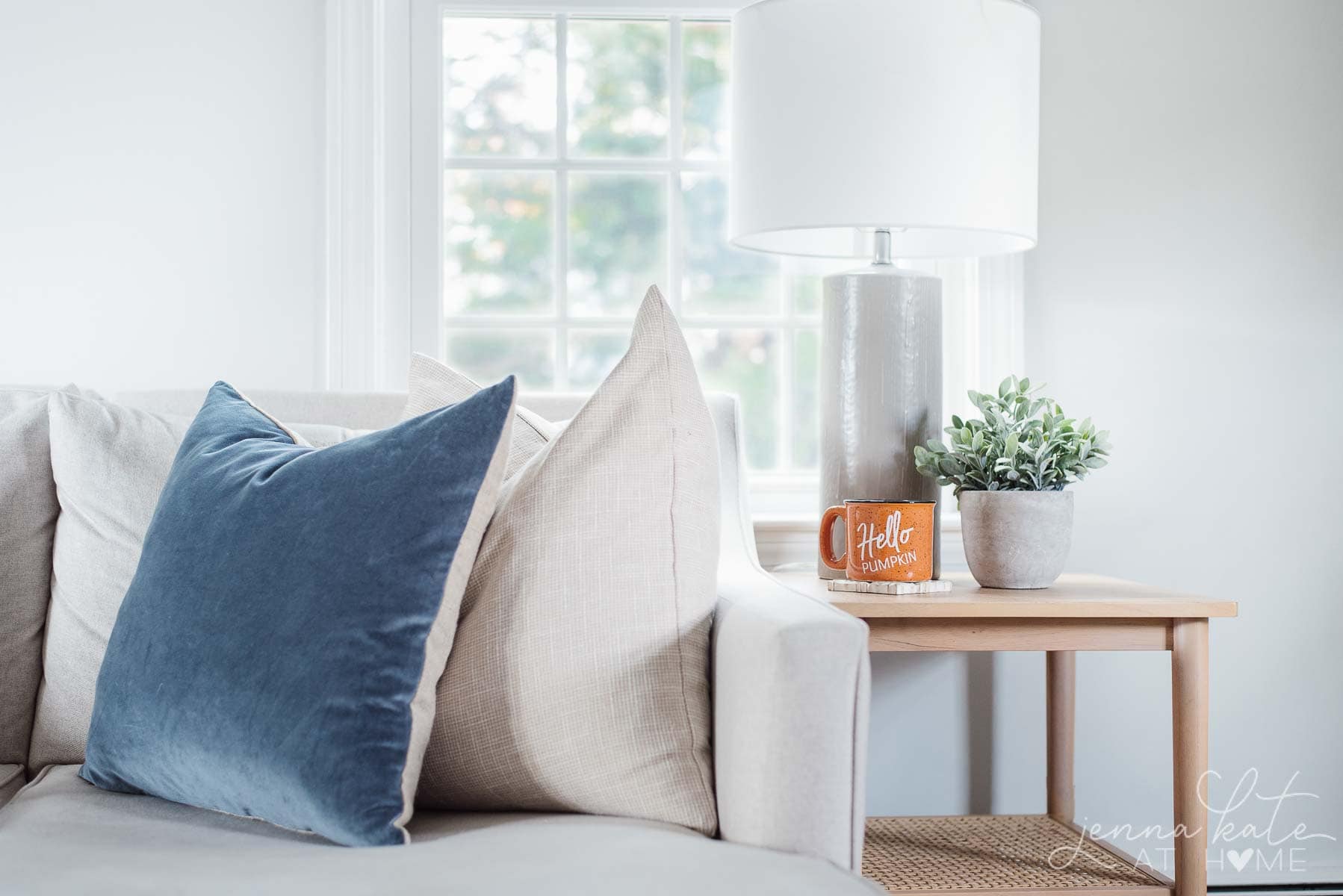 Keep The Bedroom Simple and Uncluttered
I'm not a big bedroom decorator, but I do like to swap out the decorative pillows and my quilt every so often. For fall, I usually opt for darker shades of blue than the brighter ones I use in summer.
This year, I also brought in a simple flower arrangement using some of the pretty pink sedum from my back yard, as well as some peach roses and eucalyptus from Trader Joe's. If you really want to avoid bringing new items into your house, decorating with natural elements is definitely the way to go. There's nothing to store, it looks more beautiful than anything fake ever could, and you can just throw them out when you're done!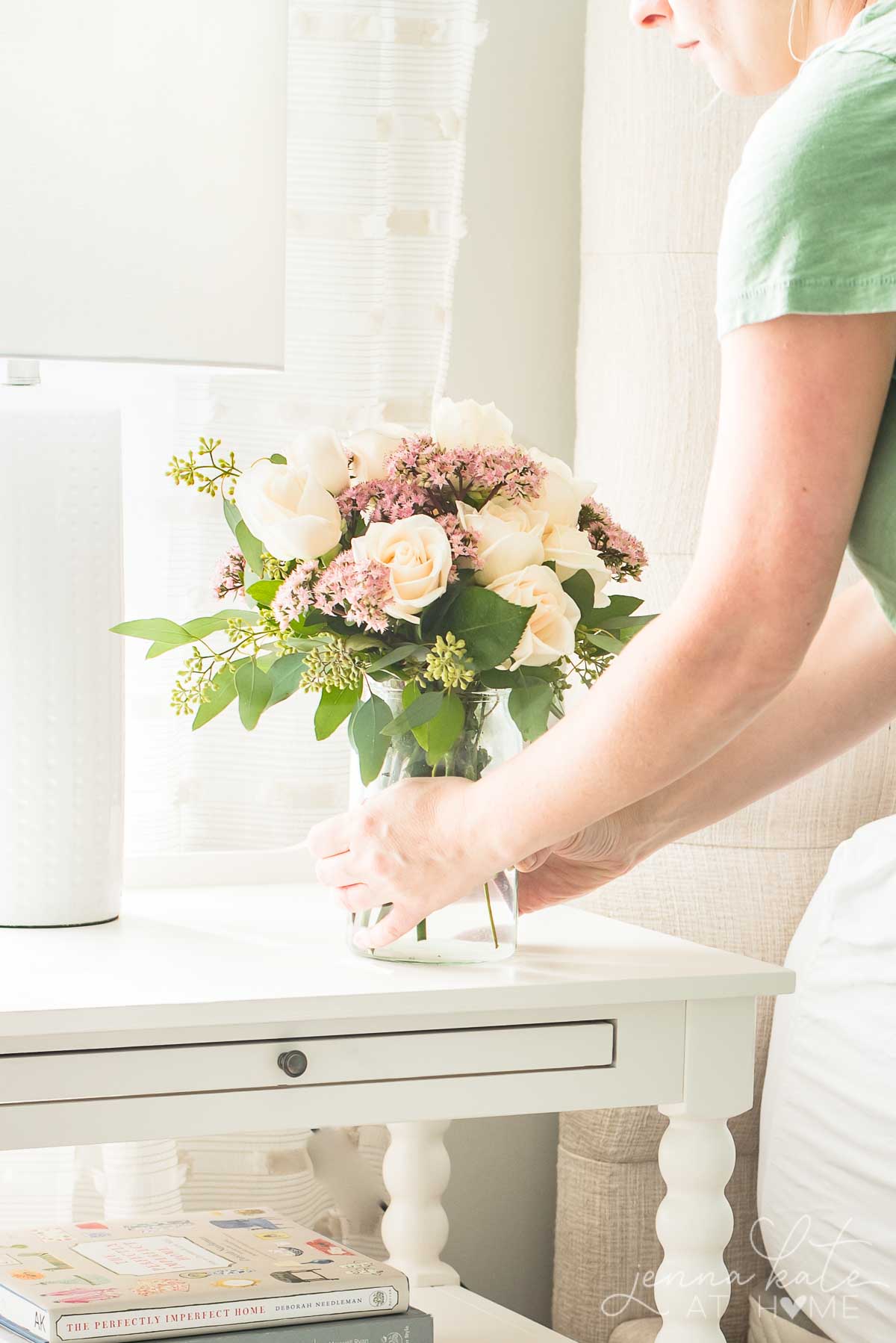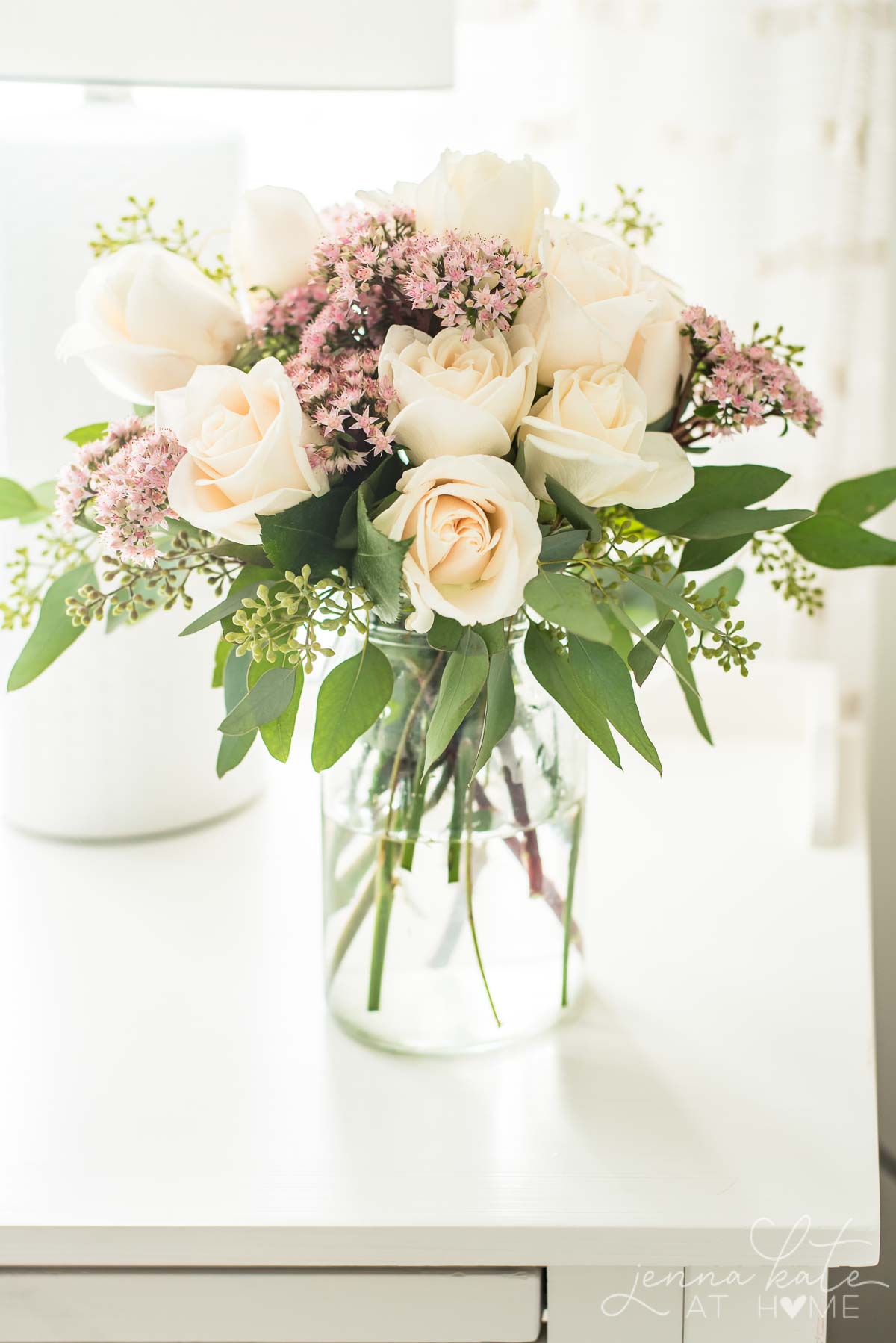 Have I inspired you to take a minimalistic approach to fall decorating this year?
I've got lots more fall decor ideas that you'll love, too!