This post may contain affiliate links | For further details, please read our privacy policy
Decorate your tree in shades of rose gold and blush pink tones for an elegant and non traditional take on Christmas decor.
A Non Traditional Color Scheme
If you're tired of the traditional reds and greens for Christmas, why not try a non-traditional color scheme when decorating your tree for the holidays? A soft color palette of rose gold, blush pink with touches of white is unique and elegant.
I like to try out different Christmas tree decorating ideas every year, and I have to admit that this has been one of my all-time favorites. I quickly tire of the brights red that we traditional see at Christmas, especially since I gravitate towards a more casual, coastal style. But this color scheme I could look at year-round!
Related: 24 Christmas Tree Collar Ideas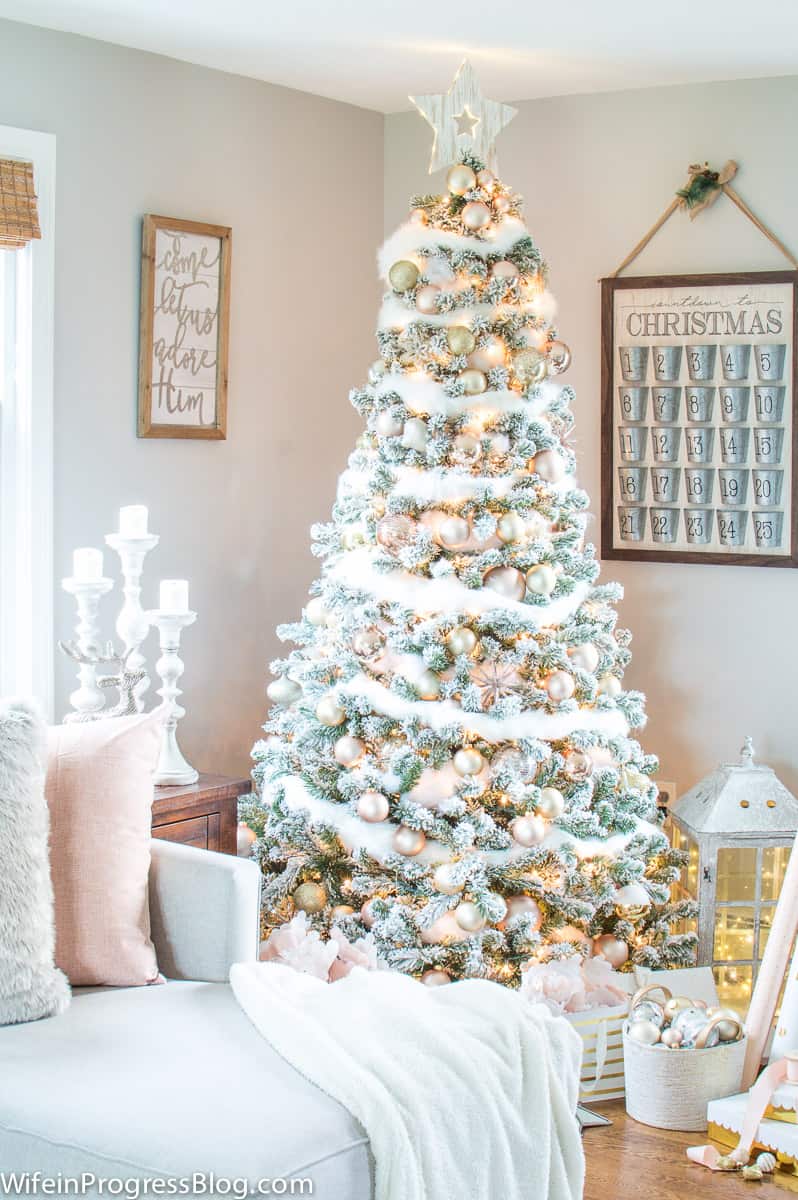 Blush Pink and Rose Gold Christmas Decorations
It might seem expensive to constantly change up Christmas decor every year, but I have two tricks that make it surprisingly affordable.
The first is that the majority of the ornaments are various shades of gold (rose gold, champagne gold, matte gold) that get used every year. The same goes for the snowy fur garland around the tree. It gets reused year after year with different ornaments. My second secret is that I like to buy the majority of my ornaments from The Dollar Store. In fact, all the standard gold ones are from there. The extra blush pink and rose gold ones are from Michaels and I used a 50% off coupon so they weren't expensive, either!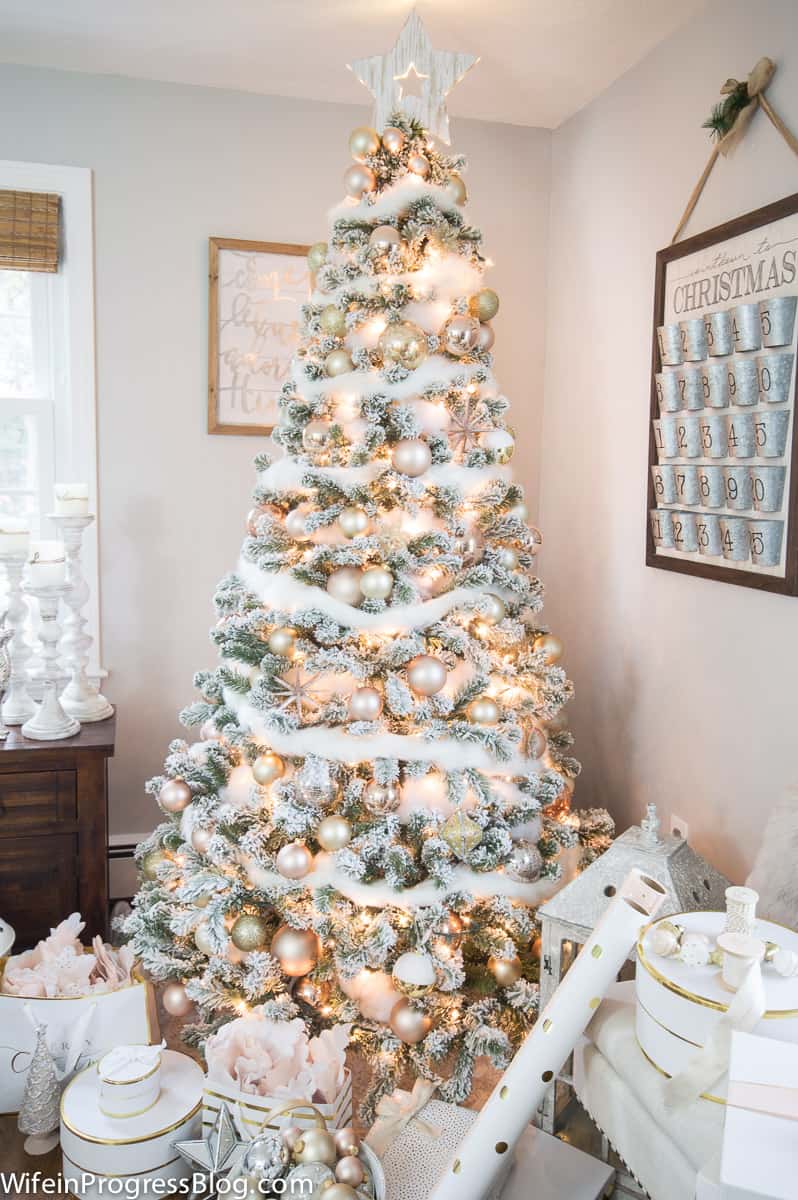 Romantic Christmas Tree Idea
I love the soft, romantic feel these Christmas tree colors bring to my living room. There's just enough shimmer and shine to still convey holiday decorating but the soft colors are very soothing and relaxing – but I think this would also be the perfect romantic Christmas tree for a bedroom. Don't you agree?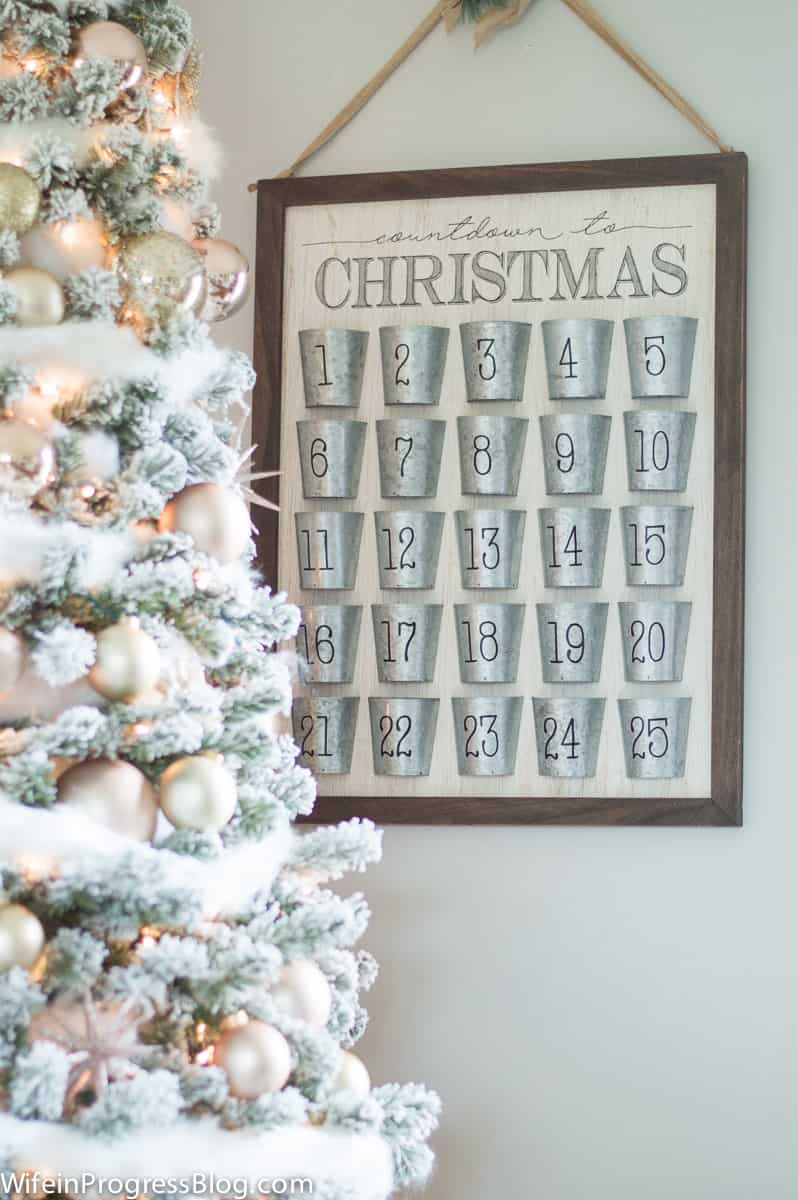 One of my favorite new decorations is this Countdown to Christmas Advent Calendar from Kirkland's. Isn't it the cutest? I'm not sure what to pop in the little buckets yet – I was thinking candy canes but then my toddler would want ALL of them, so that's probably not happening!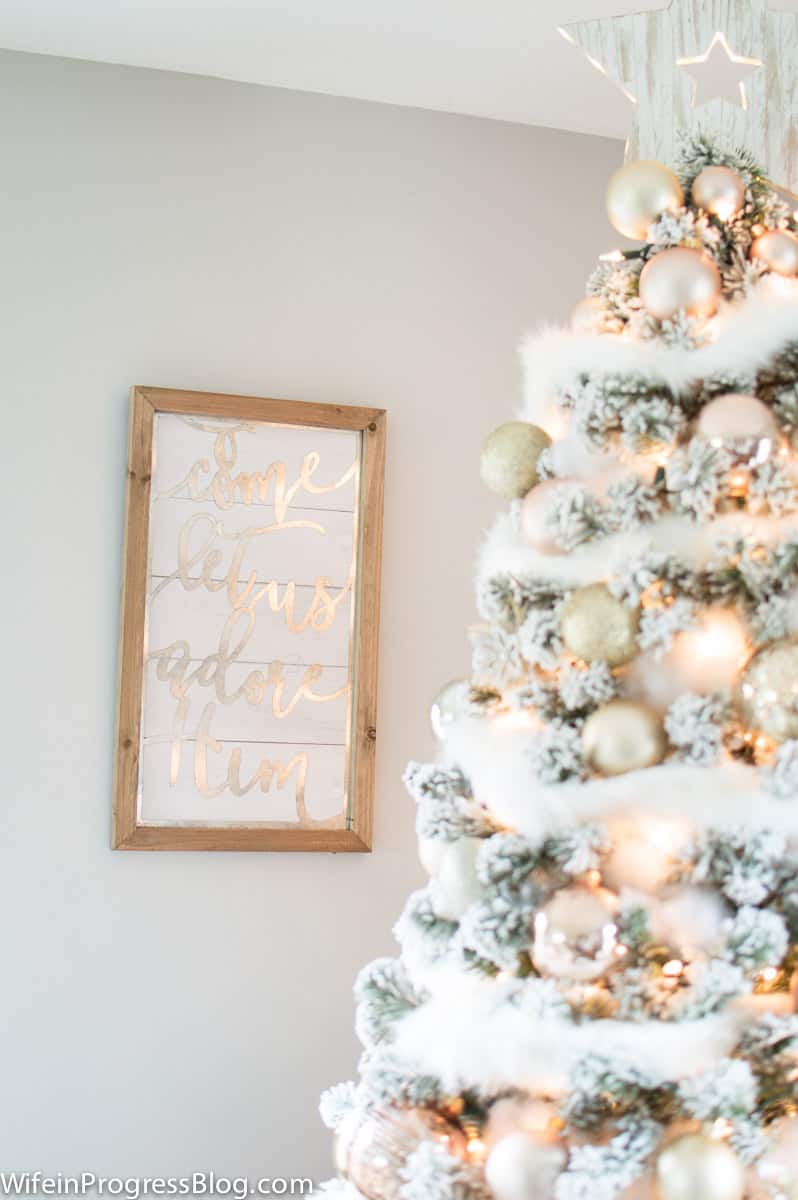 Matching Gift Wrap to the Christmas Tree
For a really professional, high-end look, I love to match my gift wrap and gift boxes to my Christmas tree decor. I re-use the same white gift boxes every year and just switch up the ribbon on them so that they match my color scheme. I purposely only gift presents to my family in these boxes so that it's not awkward when I ask for them back 🙈 🤣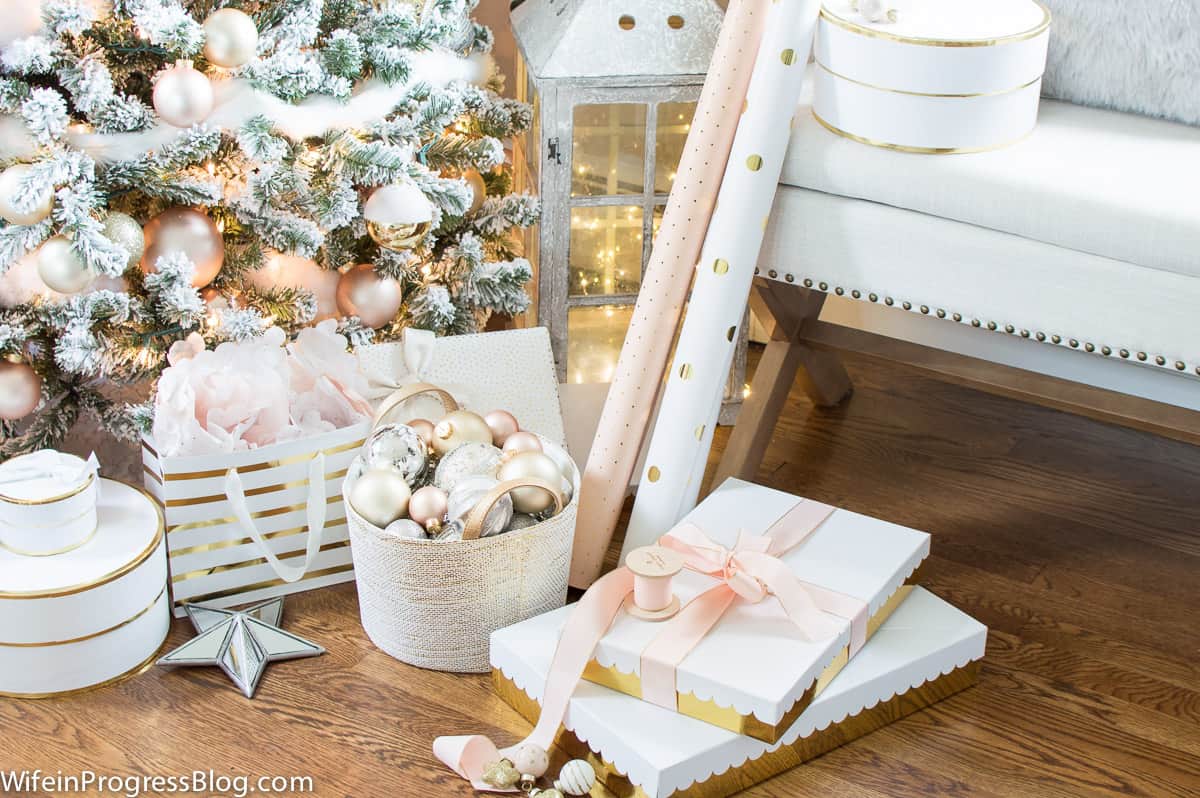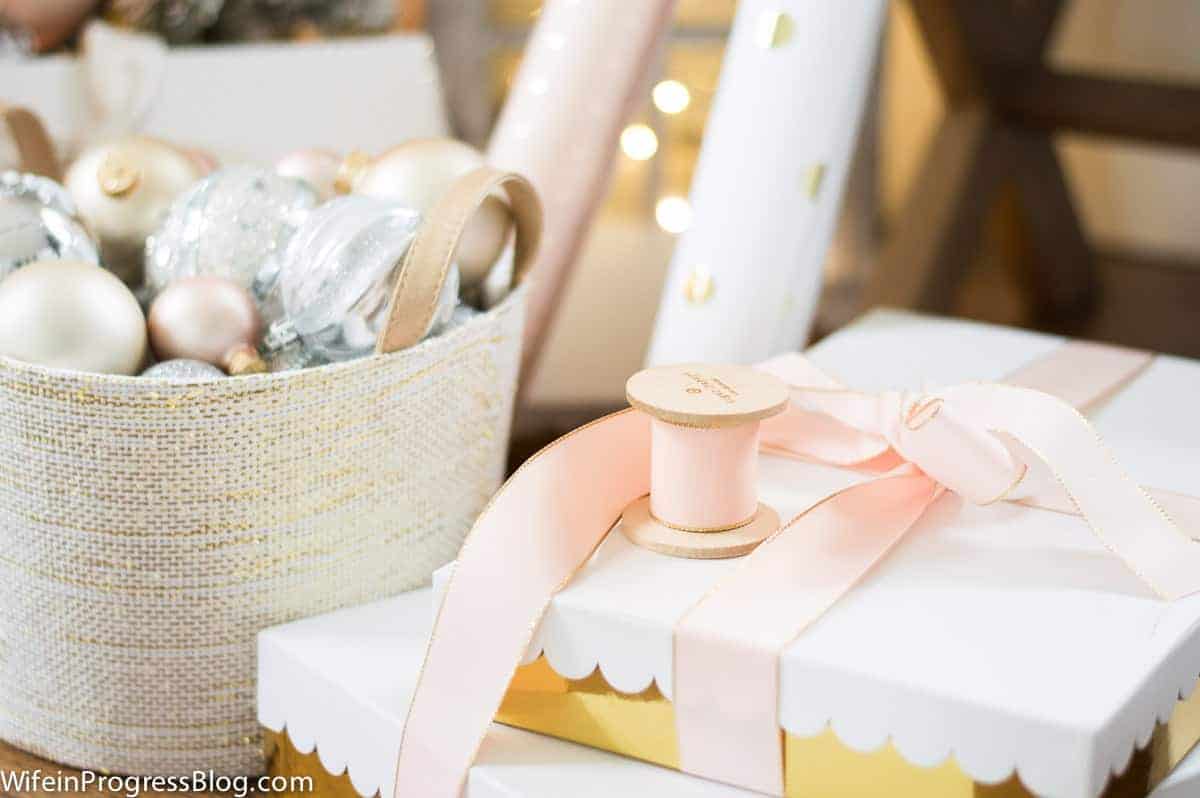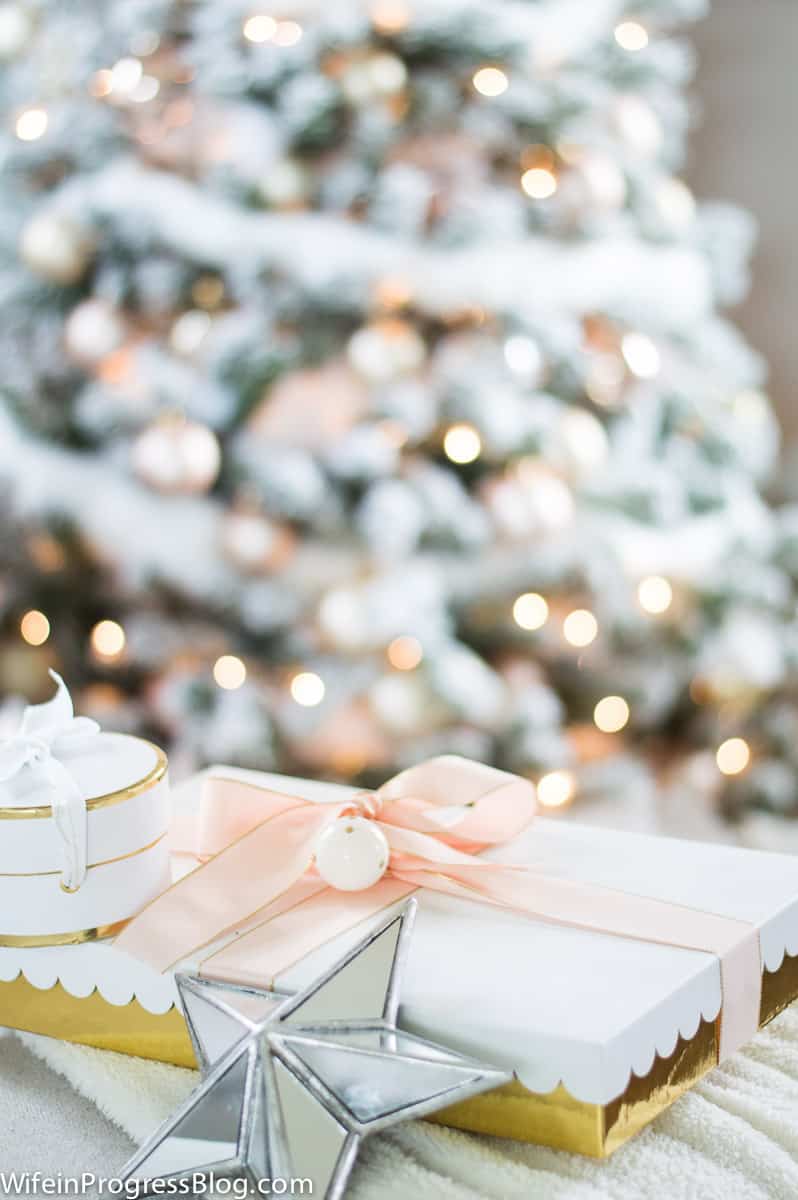 My Flocked Christmas Tree
I know you're wondering about the Christmas tree itself. It's the same flocked tree from King of Christmas that have used for several years in a row. I've had a lot of artificial trees over the years and it usually takes HOURS to fluff them so that they are nice and full. Not this guy. Half an hour tops and it was completely thick and full. And the flocking held up perfectly over the past year, too!
RELATED: How To Fluff an Artificial Christmas Tree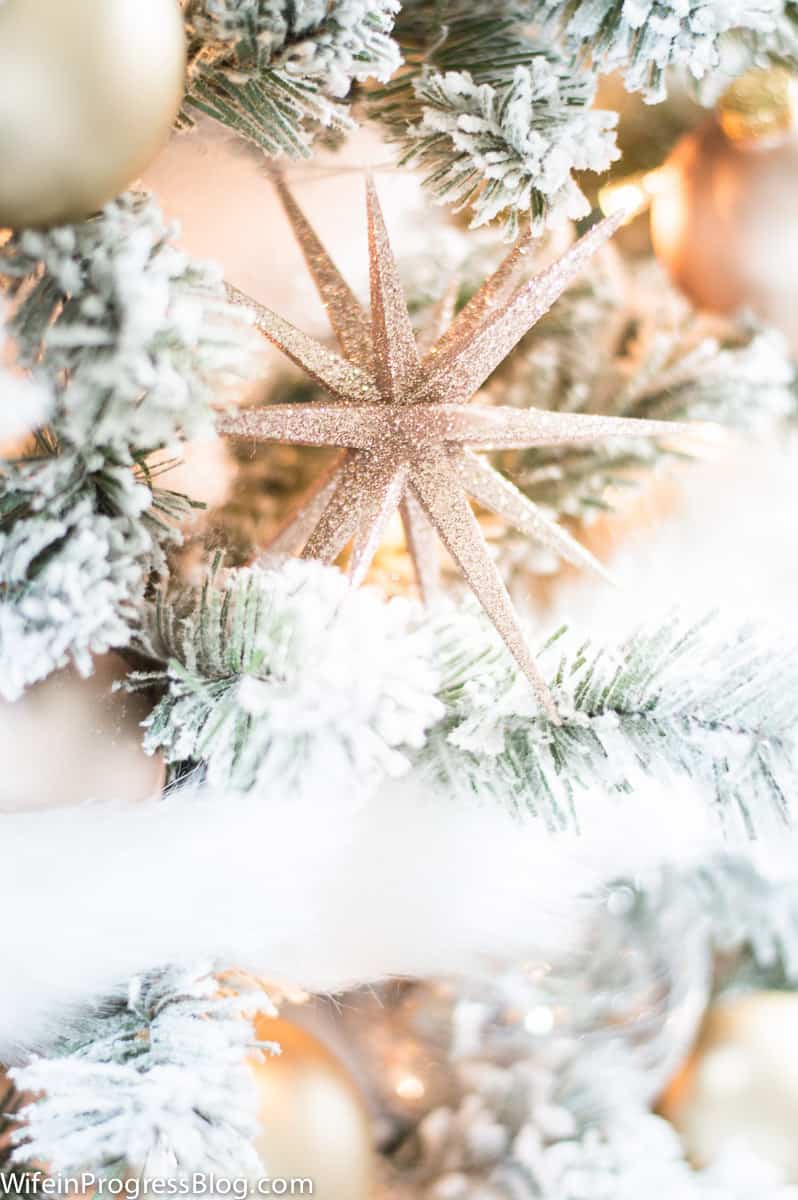 DIY Snow Covered Tree
If you don't have a flocked tree and don't want to endure the mess of DIY flocking, using faux fur garlands like I have creates a similar look. If you want to keep it every more budget-friendly, use wads of polyester pillow stuffing for similar effect.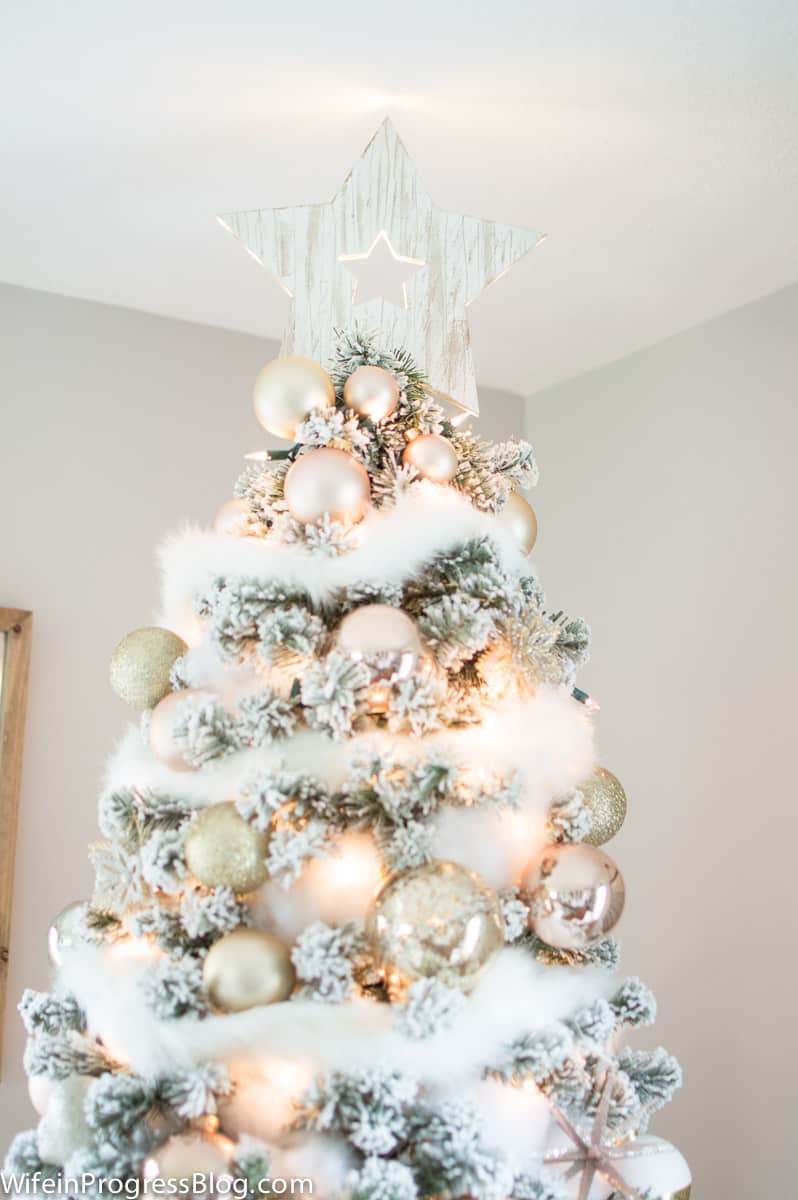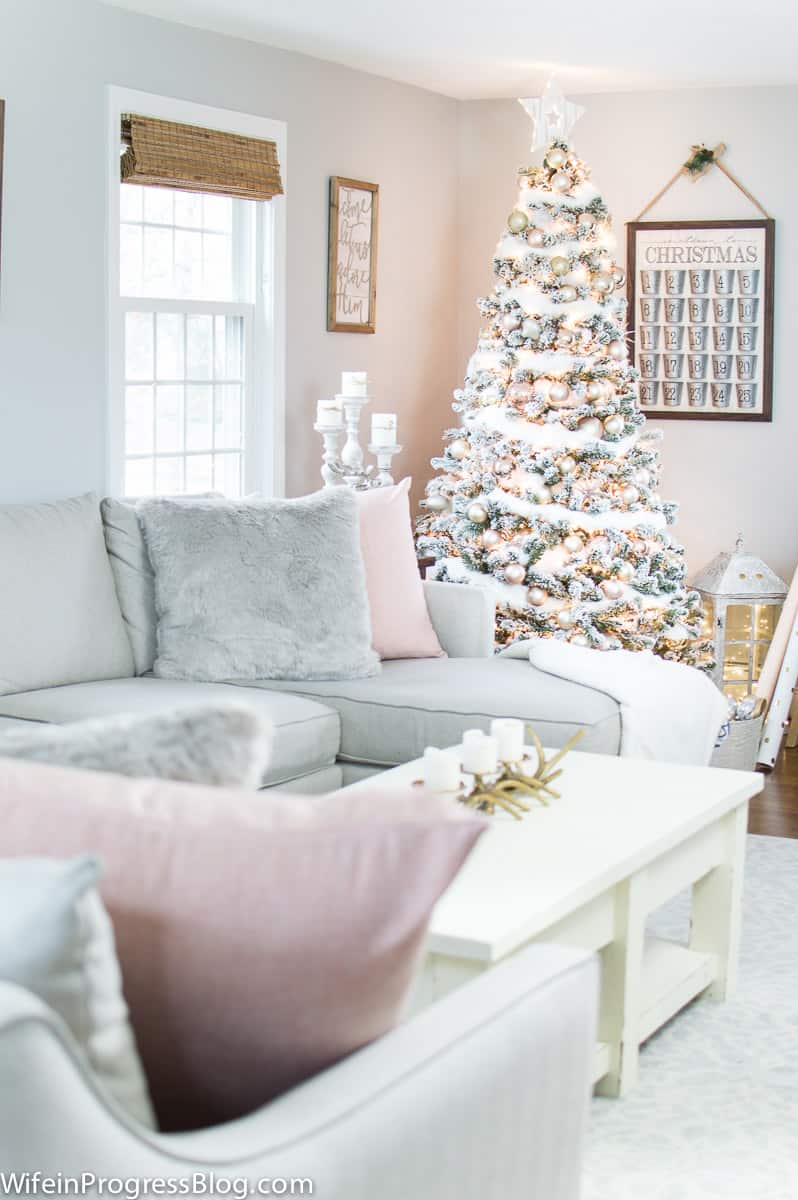 Tie in The Rest of The Decor, too
Gone are my usual blue pillows and in their place I've added some blush pink pillows that I picked up on Amazon (get yours here!) as well as some gray faux fur for a little texture. It's kind of funny…I'm not a faux fur fan usually, but when it comes to Christmas decorating I love it! I don't know why, but I think maybe because it's so cozy.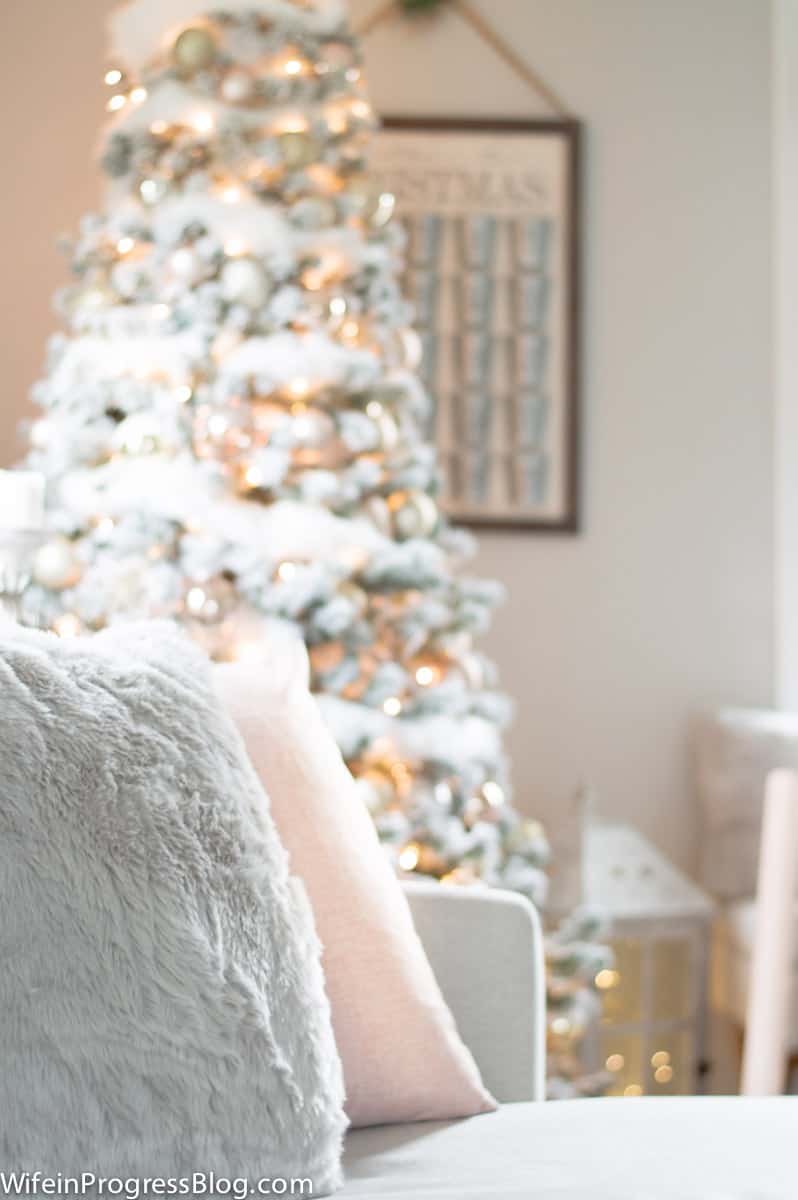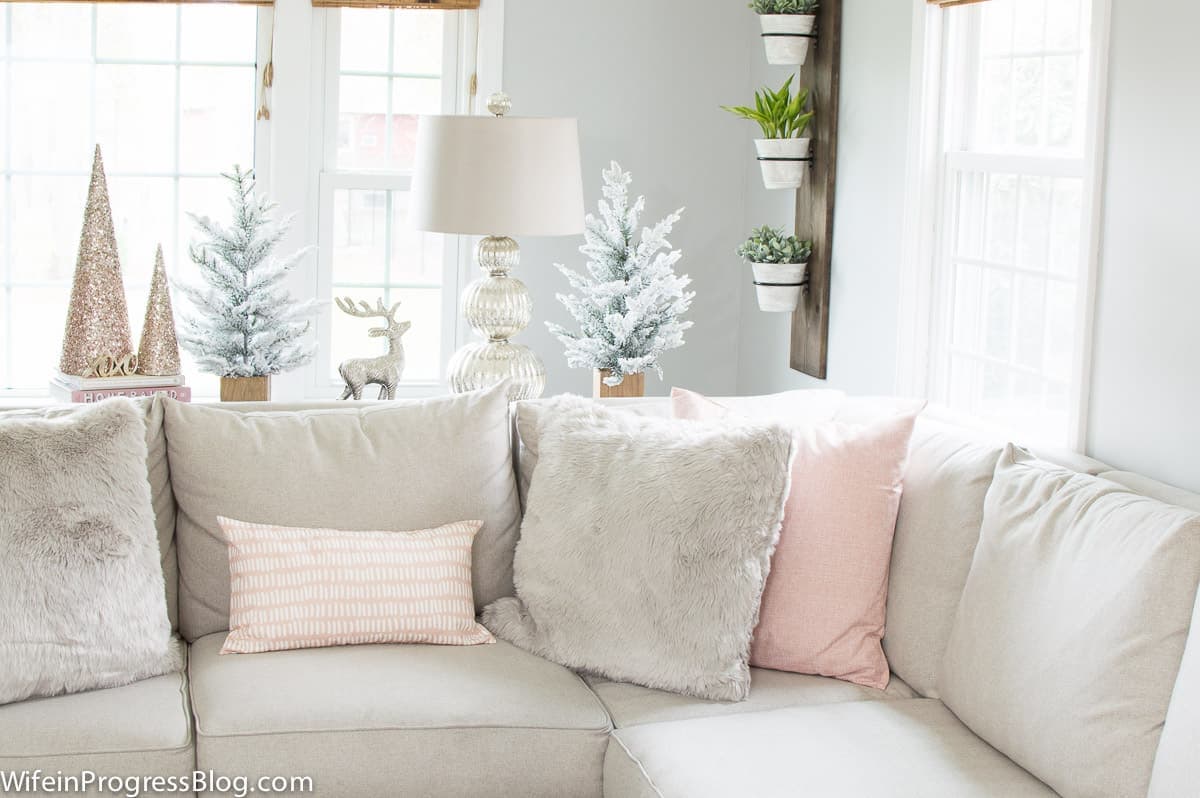 I've kept the rest of the living room pretty simple, mirroring the pink elements as well as adding couple of baby flocked trees. I can't think of the right word to describe how it feels in here right now but it's sort of warm and soft. Like the pink and rose gold give a soft focus effect. It's really comforting!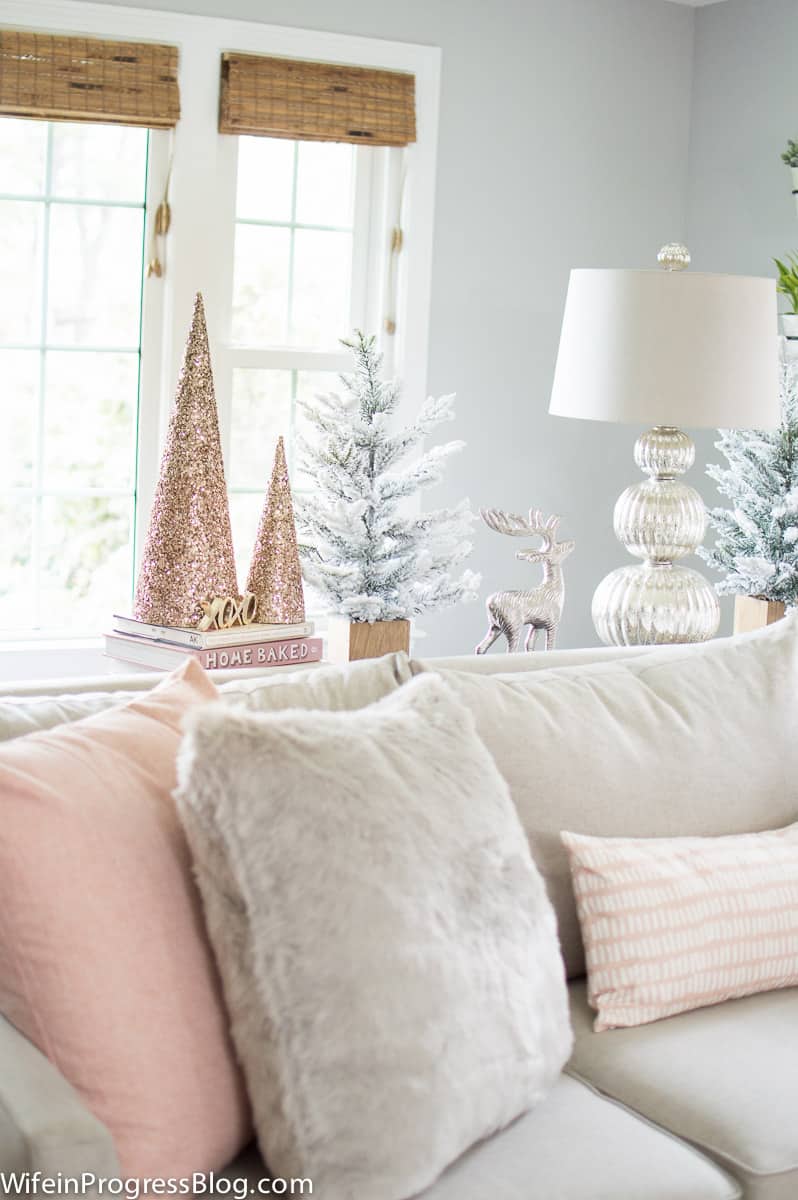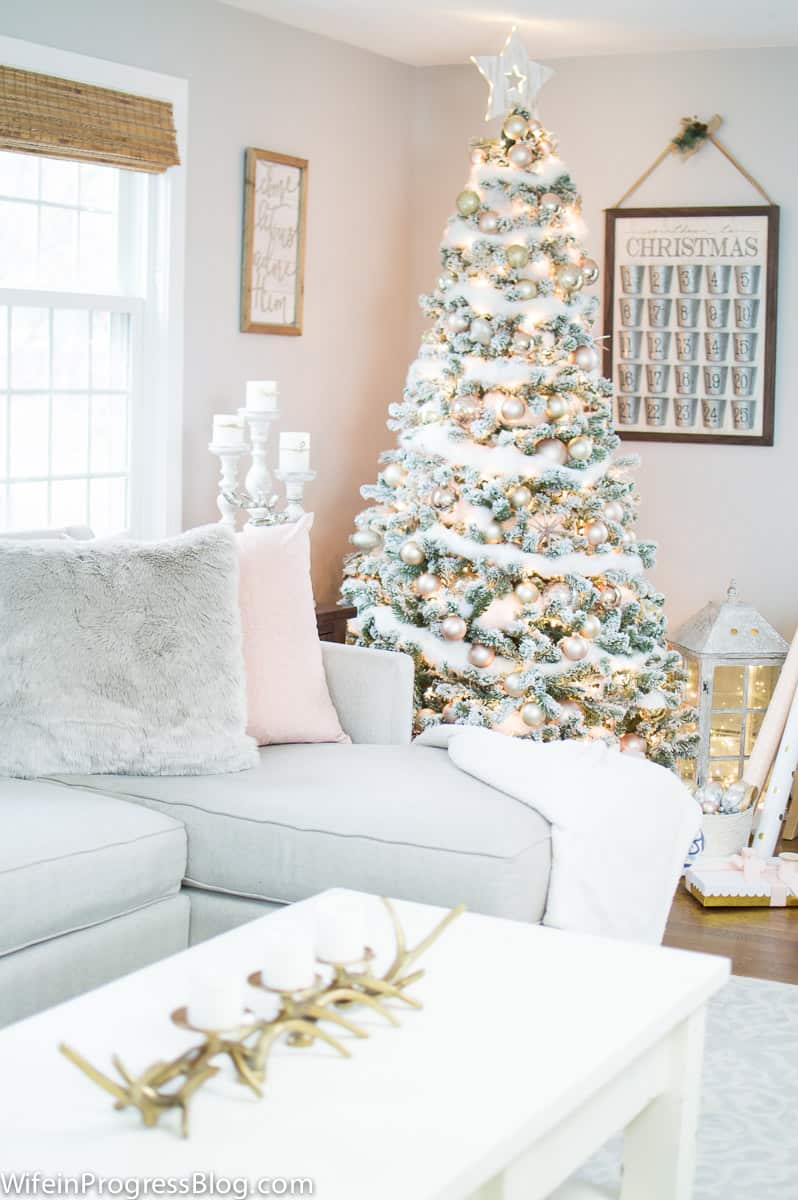 Has this inspired you to try rose gold Christmas decor this year? If you do, I'd love to see it! Be sure to share with me on Instagram @jennakateathome