Decorate every room in your house this summer with these simple but pretty seasonal decorating ideas.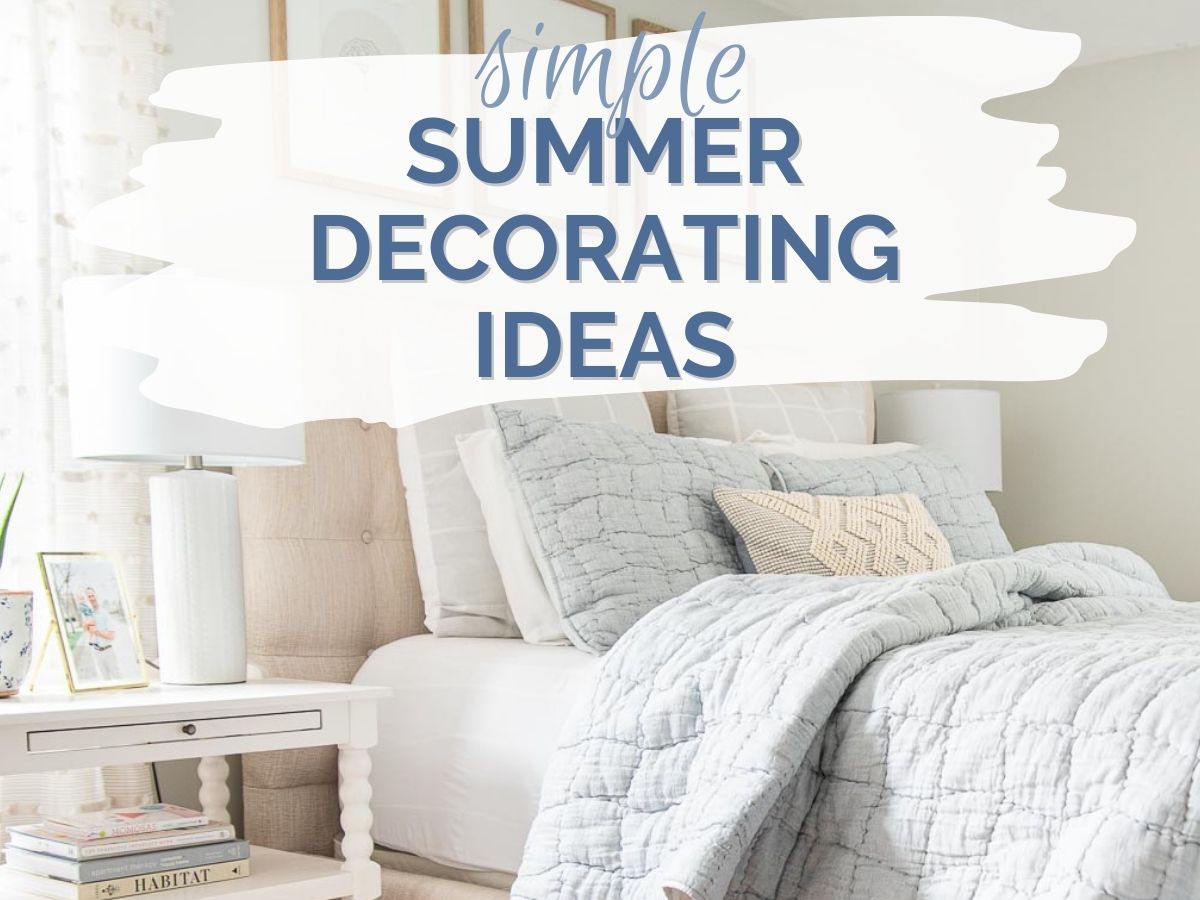 Add Fresh Flowers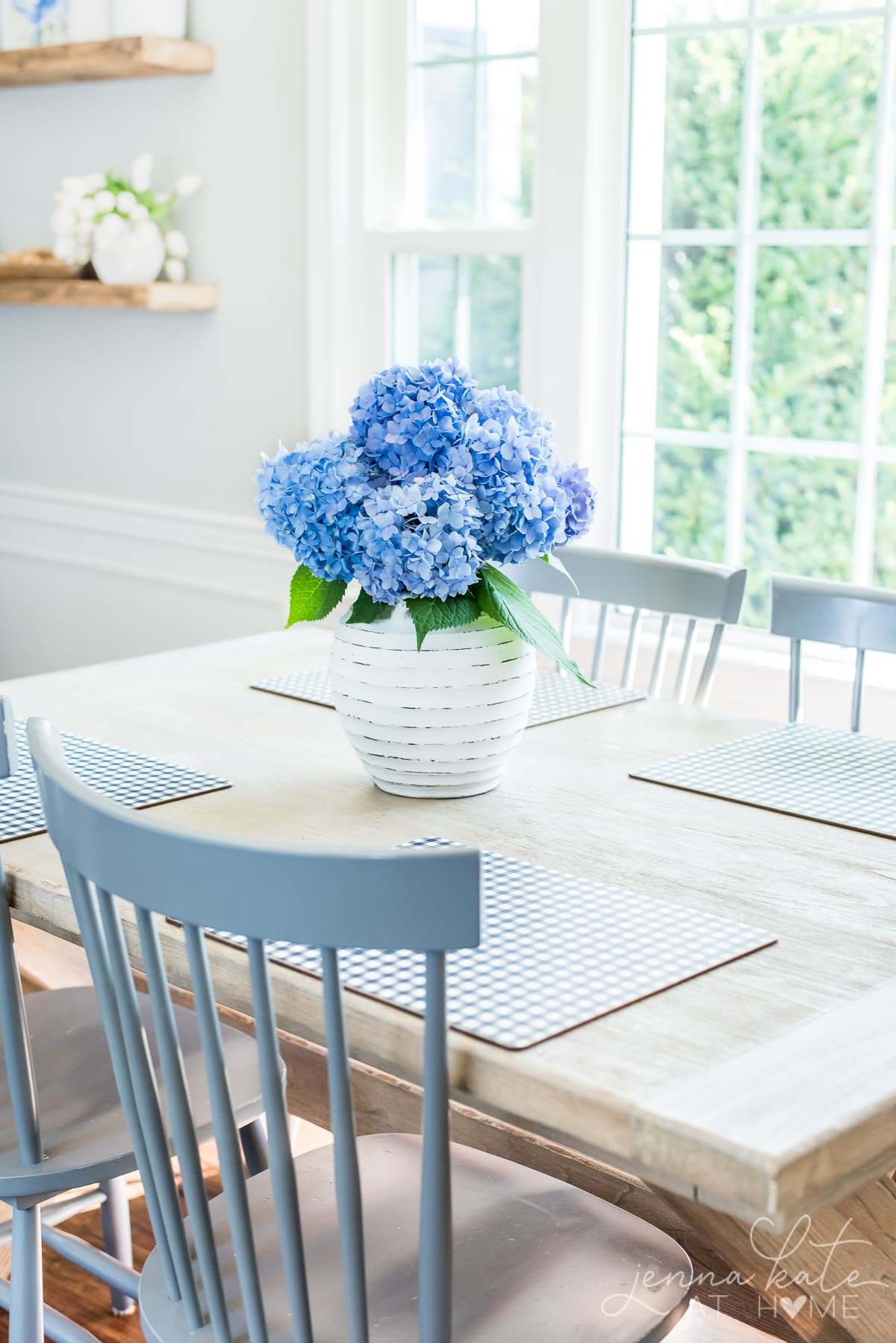 Nothing screams summer more than fresh flowers! I'm particularly fond of the beautiful blue hydrangeas that grown in my backyard, but any grocery store flowers will do for a punch of color in your home.
Once you know how to take care of them, hydrangeas can last several weeks in a vase, so they are great choice even if you're just buying them at the store.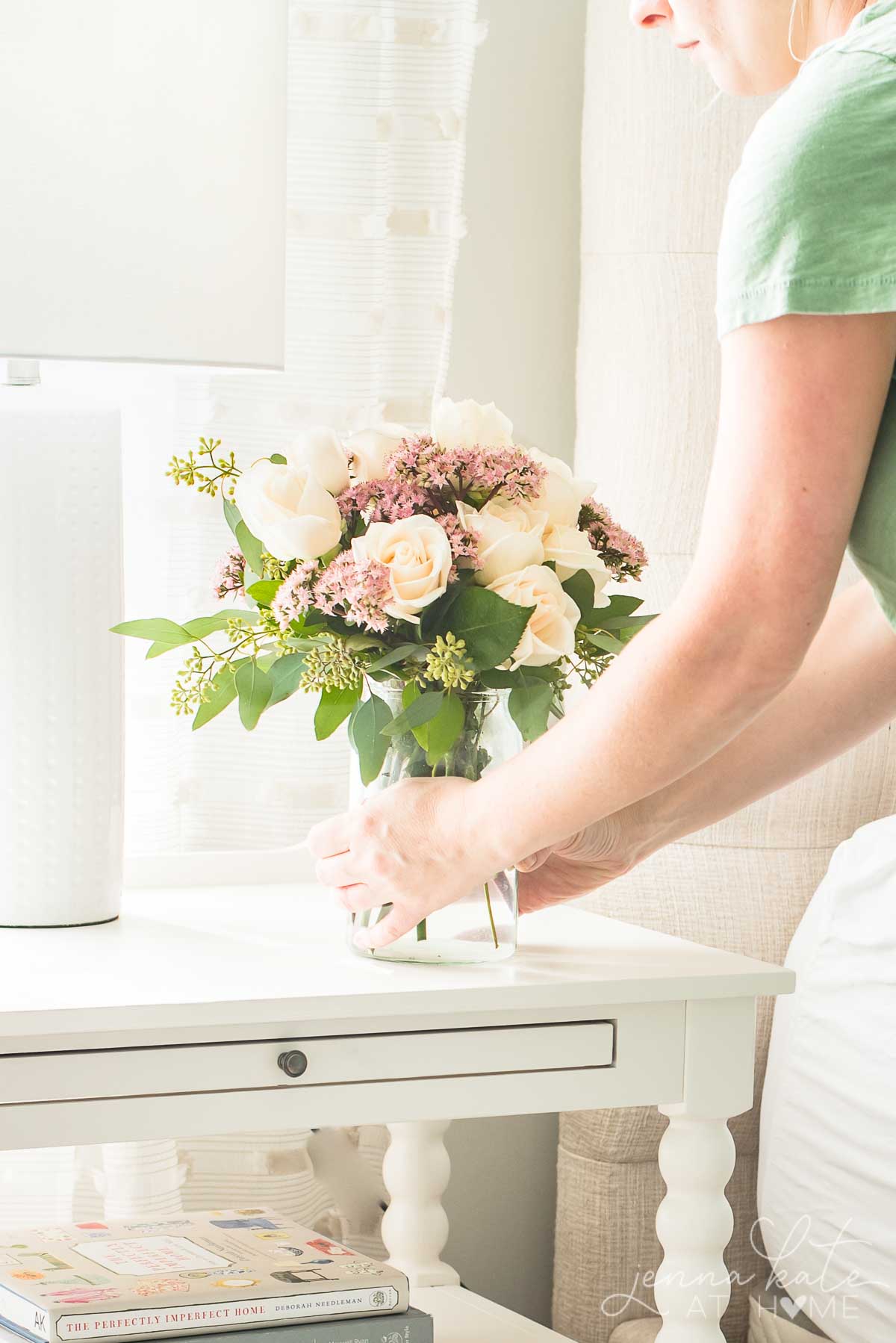 This small arrangement that I added to my bedroom nightstand was made from grocery store roses and eucalyptus alongside some pink sedum from my garden.
Adding lots of greenery, either real or faux, is another great way to add color and life to your home during the summer.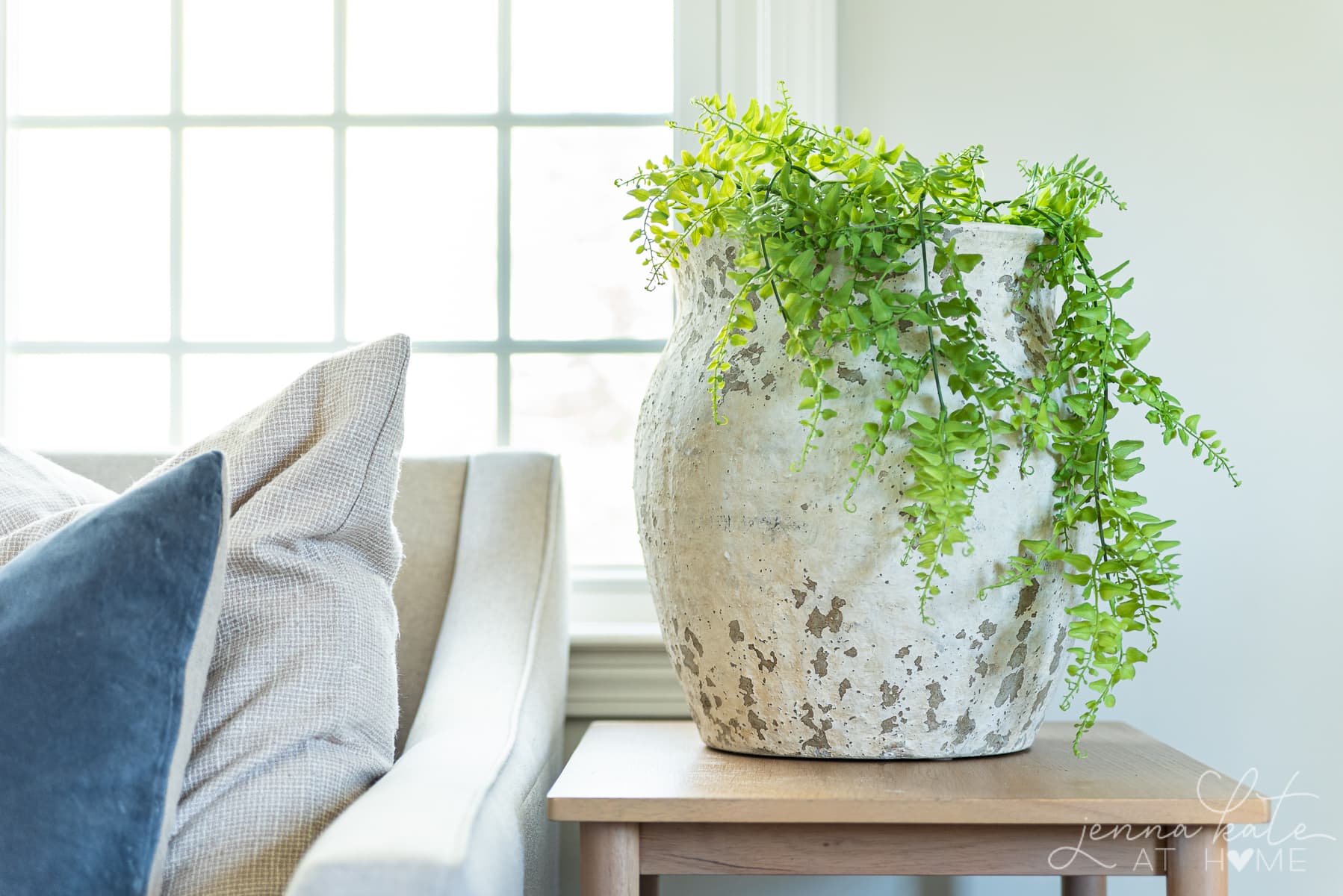 My living room is full of the faux variety, since I know my toddler will destroy/eat anything real!
Switch out Bedding For Something Light and Bright.
Remove heavy quilts and comforters from your bedroom and replace with lighter colors and textures like pure cotton and linen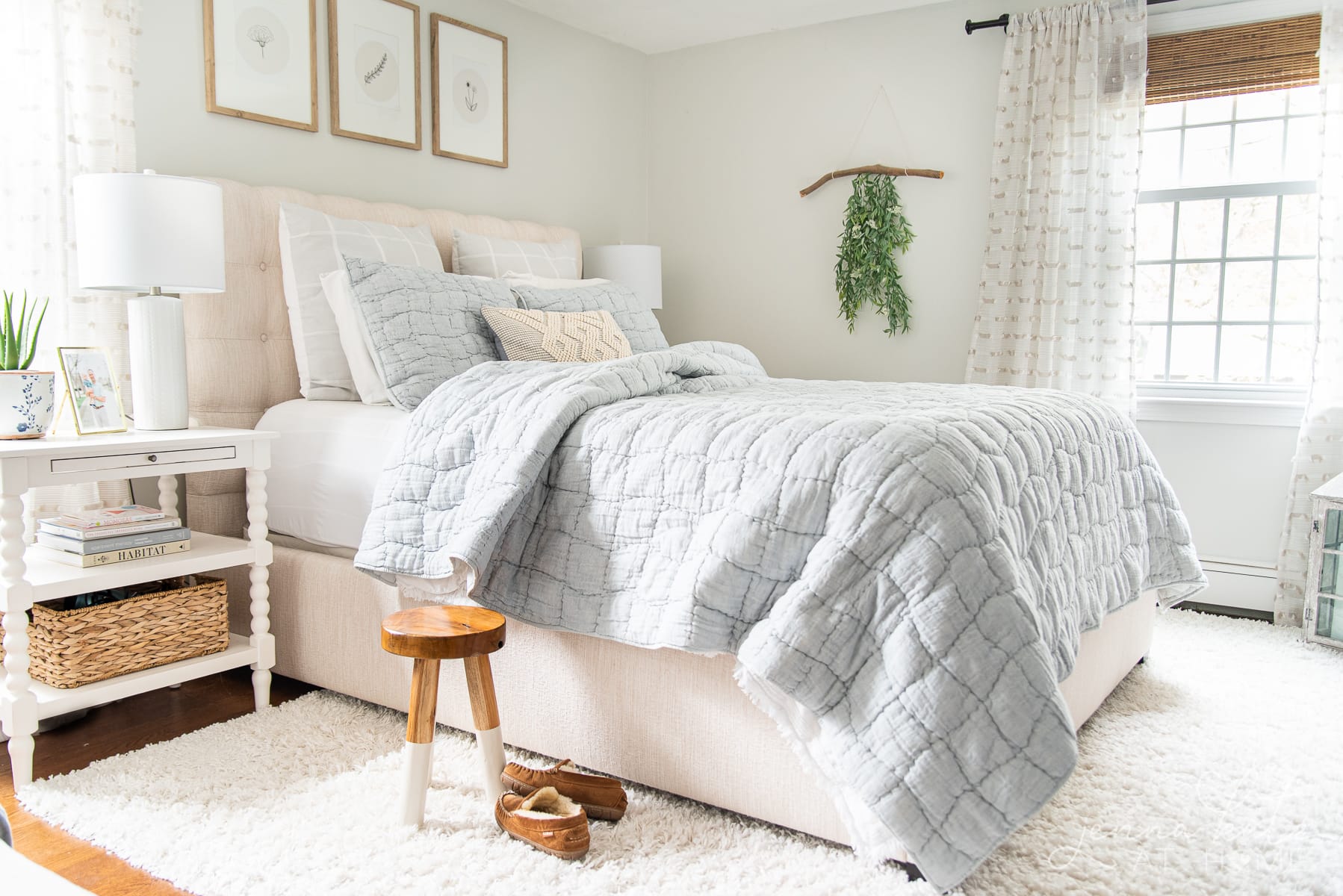 This light blue linen quilt from Pottery Barn checks all my boxes to achieve that coveted light and airy look in my bedroom. It's also not heavy like my winter quilt, and doesn't weigh me down or feel hot while sleeping.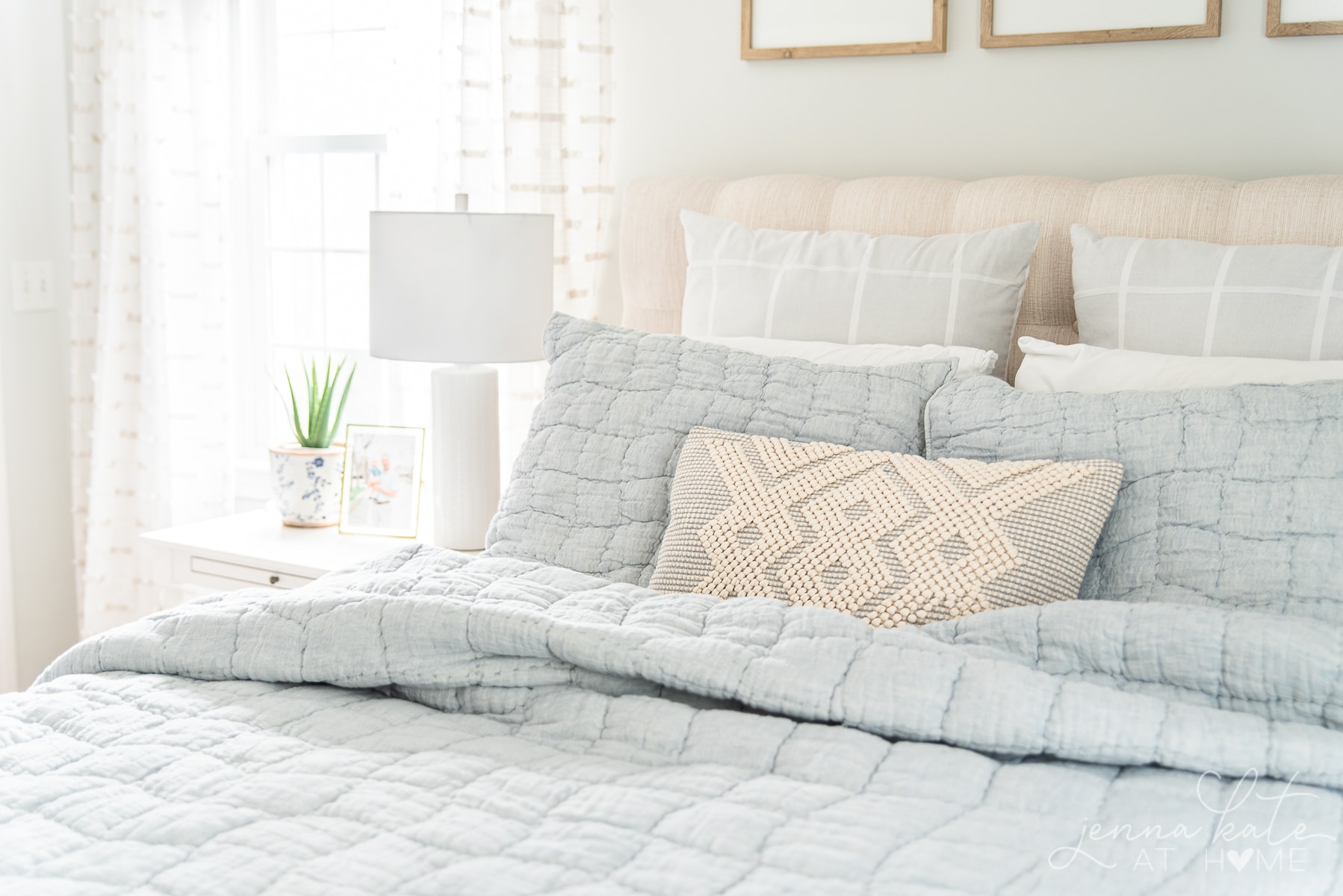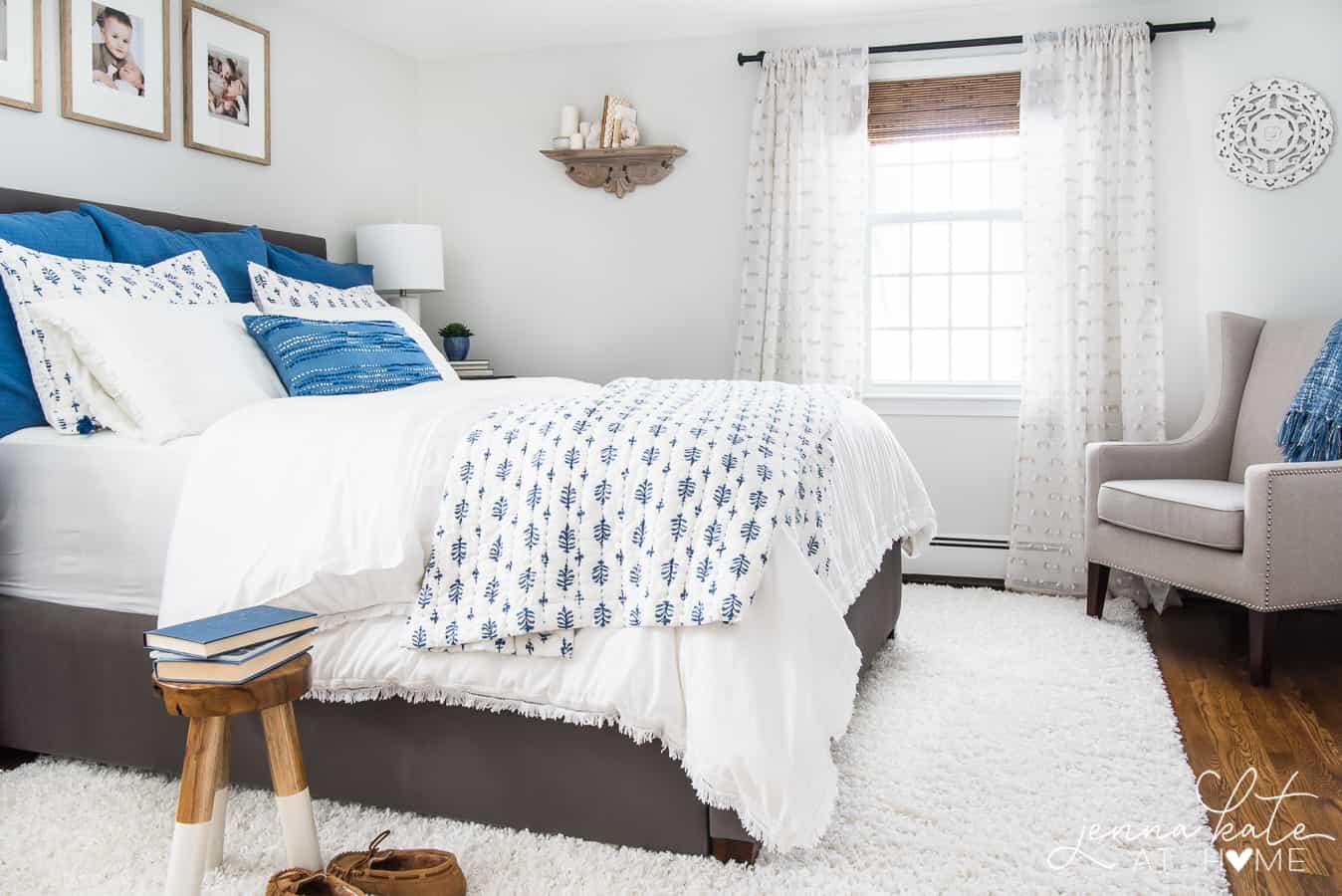 This Serena & Lily quilt and duvet cover from last year is still high on my all-time faves, but I'm wanting softer, more relaxed colors at this year.
If you're shopping for a new duvet cover, I highly recommend this one. It's the same duvet in both set of photos, because since I purchased it three years ago, it has not come off our bed (besides when it is being washed!).
It is SO soft and the sheets and pillowcases are even better. There has been zero pilling and the quality is beyond amazing. I will never go back to cheap bedding again!
New Throw Pillows on Your Couch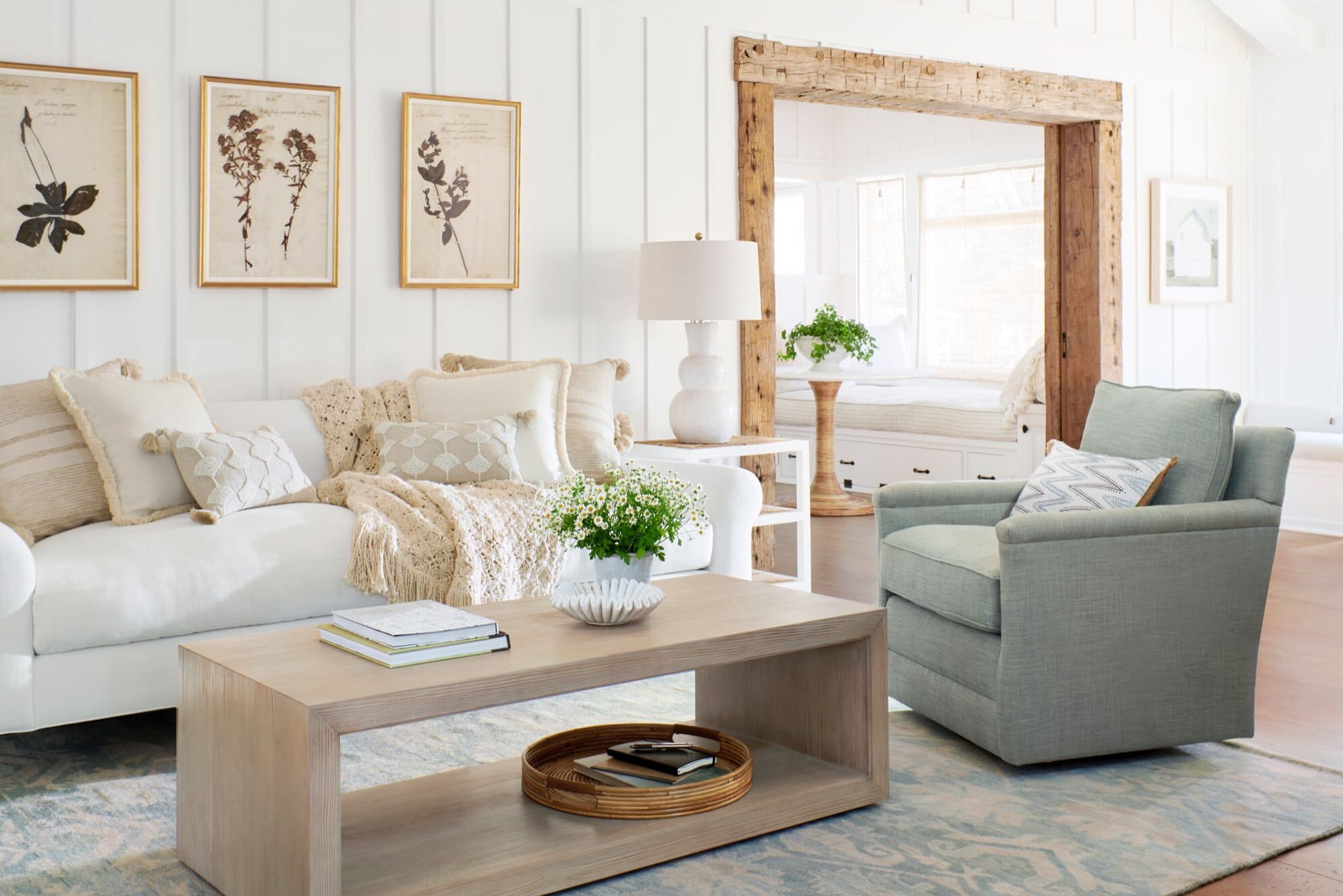 Update throw pillows with a lighter or brighter color scheme, or more summery fabrics like cotton and linen. They key to a cohesive look is learning how to mix and match patterns and colors.
Clear Out The Clutter
There's something about warmer weather that makes me want less stuff in my house. I want my spaces to feel clean, uncluttered and more minimalistic in nature.
In some ways, summer decorating is more like un-decorating.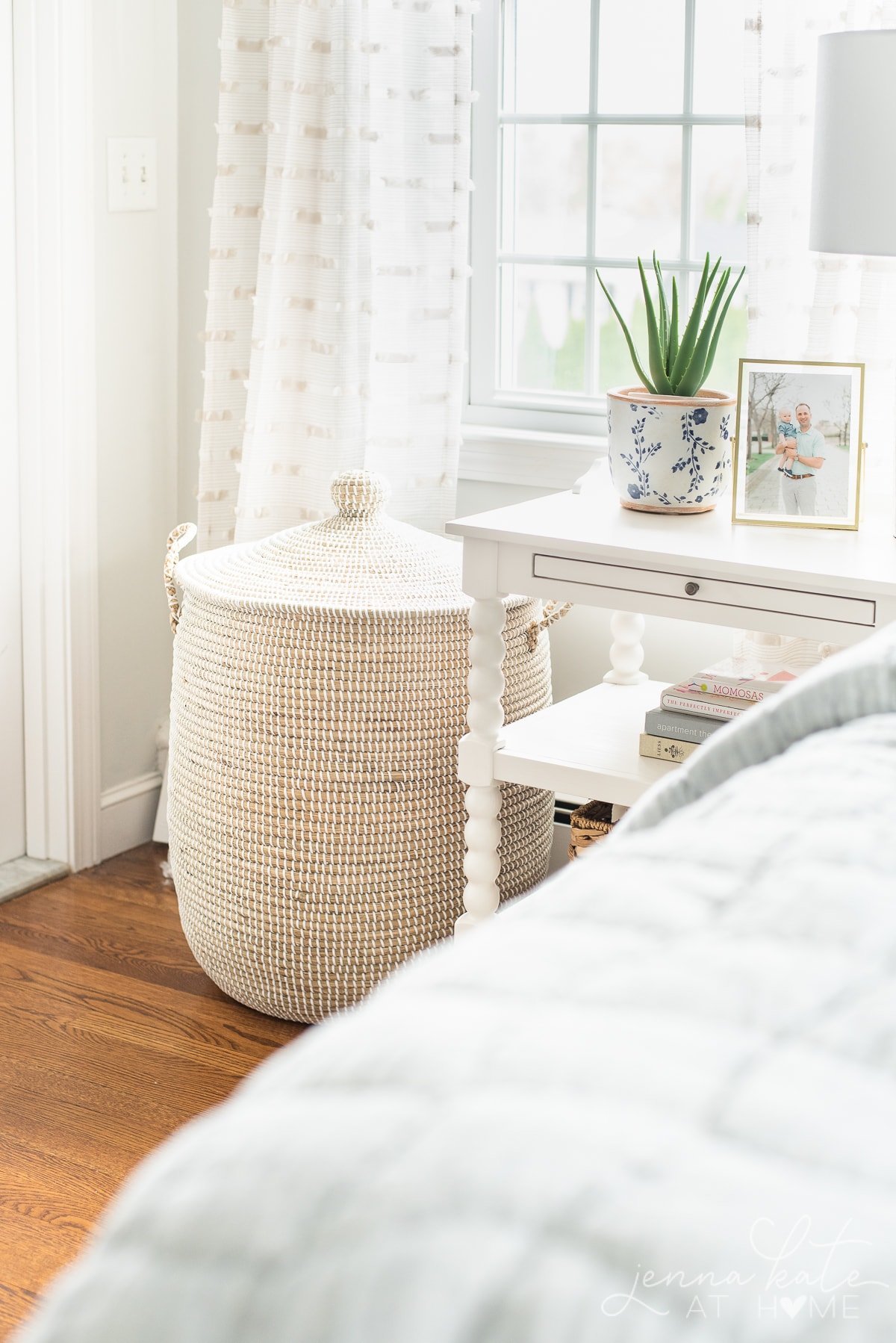 I love utilizing baskets in many of the rooms of our home to help me achieve that look. These large rattan La Jolla baskets from Serena & Lily are used as laundry hampers in several bedrooms. They look beautiful and keep the clothes off the floor.
Since they are really sturdy, they also work incredibly well for toy storage. My kids climb in and out of them , and do all sorts, and the shape hasn't warped one bit!
They also smell really good. Which is kind of weird. But I love how they smell!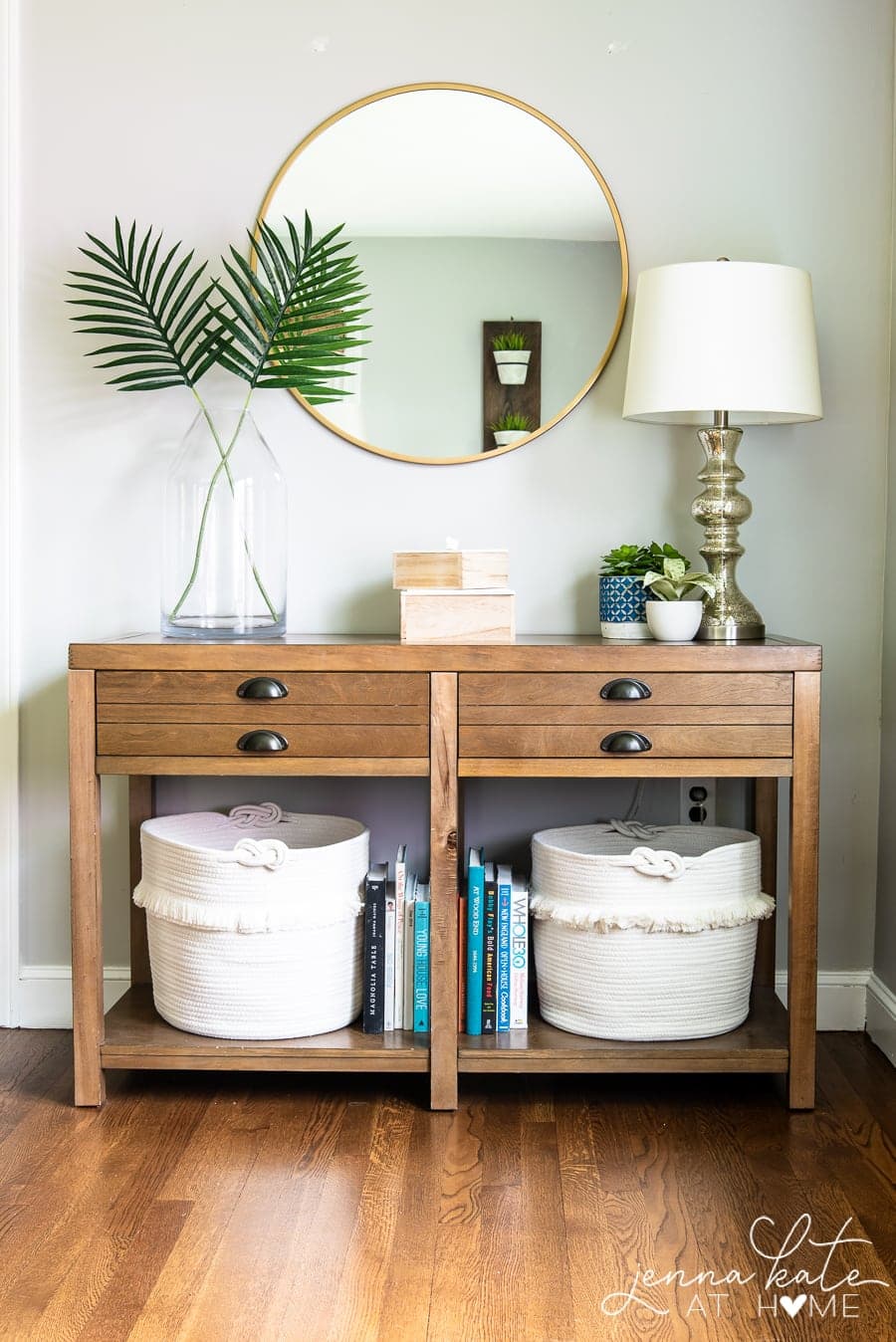 If you're on a budget, Target has great baskets that look good and function well. We've had these white ones (no longer sold) in our living room for a few years and I love how they look.
Make or Purchase a Wreath
Every season deserves a new front door wreath! For my summer decor, I like to either keep it simple with a dried olive wreath or introduce some color with a peony or hydrangea wreath.
Add a Touch of Citrus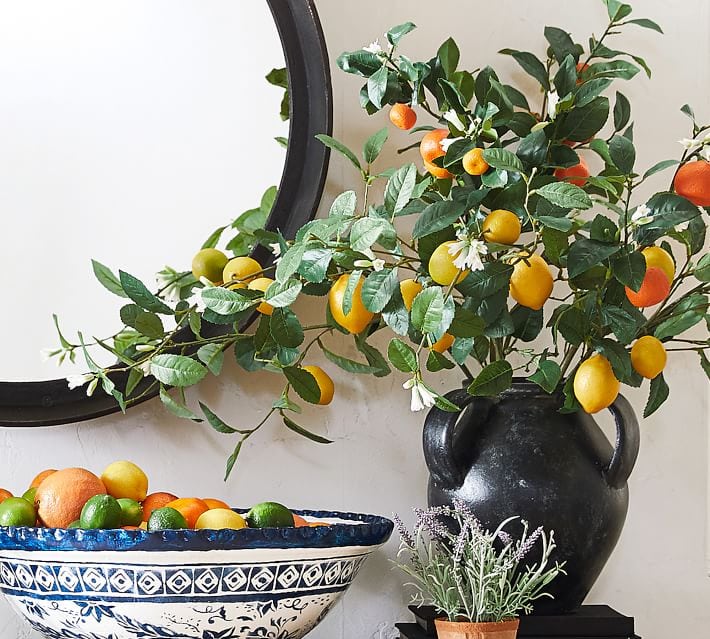 Accessorize your kitchen with citrus – faux orange stems, a lemon tree or even just a bowl of fruit.
Make The Most of Your Outdoor Space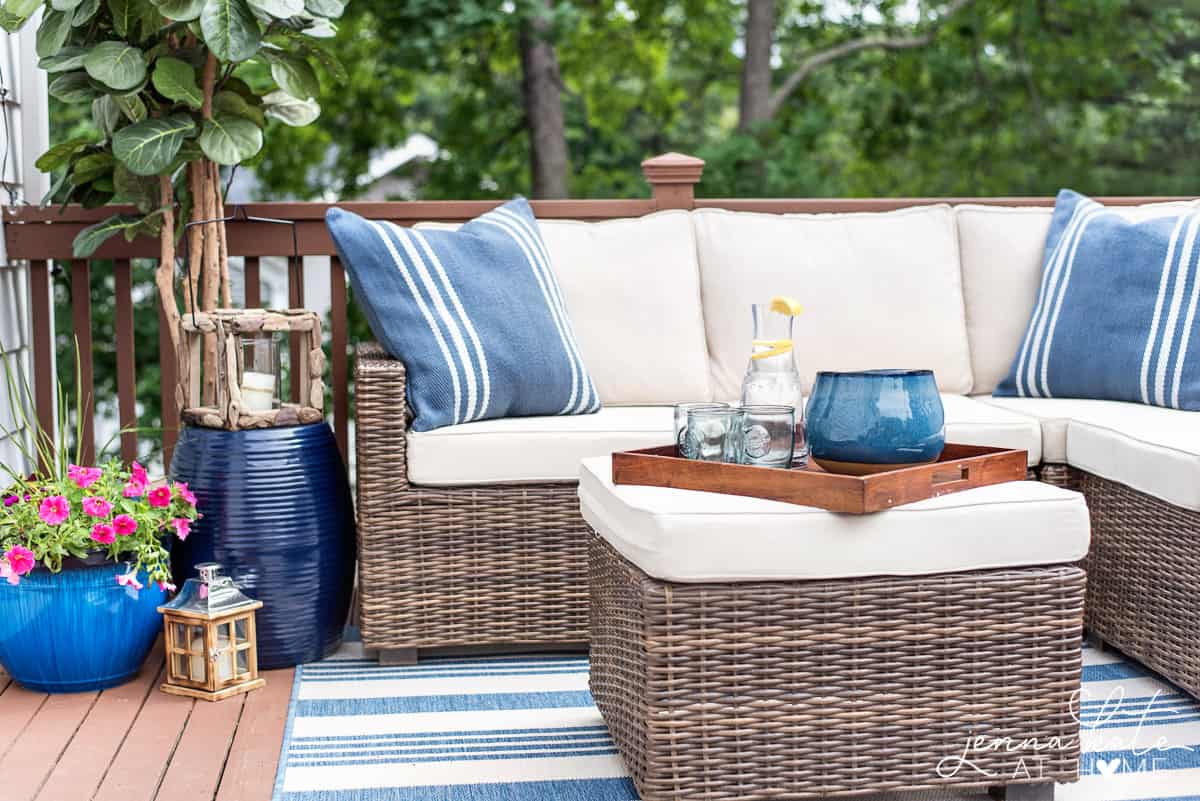 Treat your patio, porch or deck like an extension of your living room. Add a rug to ground the space, and bring out lots of throw pillows and blankets to make it feel cozy. Decorating even a small deck or patio will embrace the summer season and make you want to use it more.
Garden stools act as extra seating or side tables, and plants, lanterns and candles add color and ambience.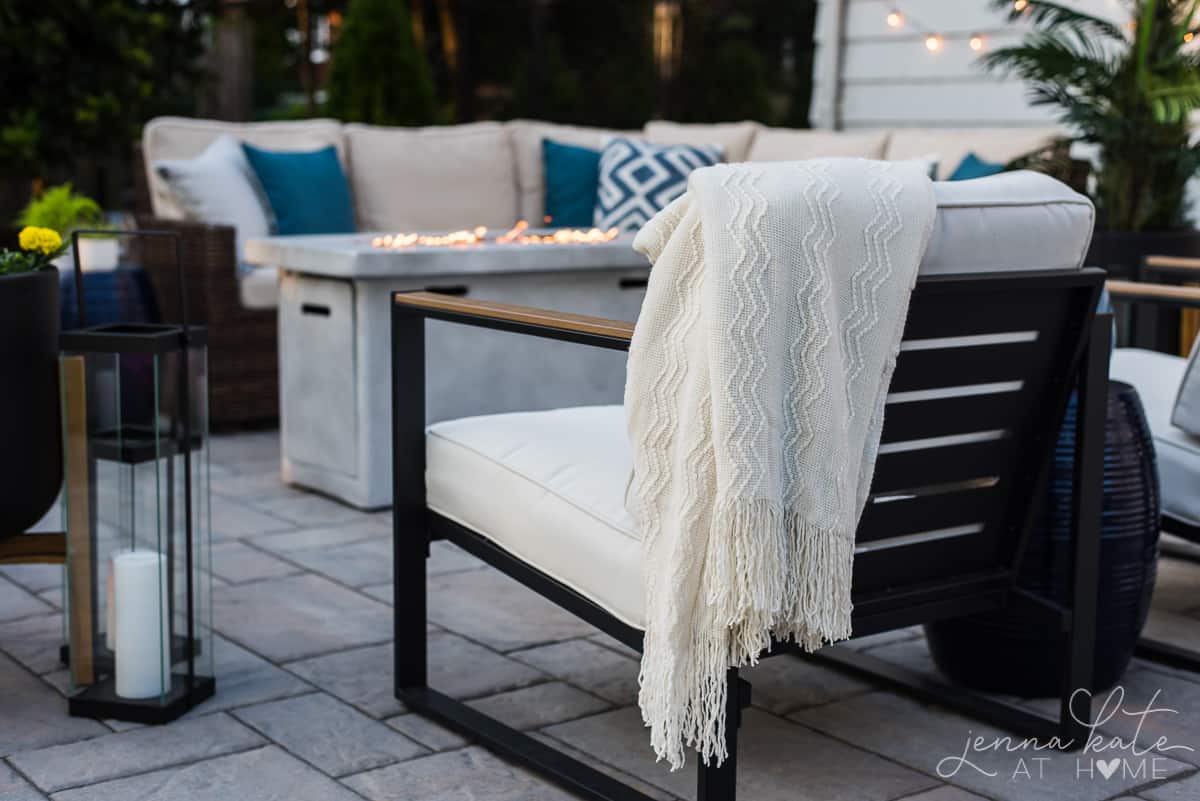 Create a Drinks Station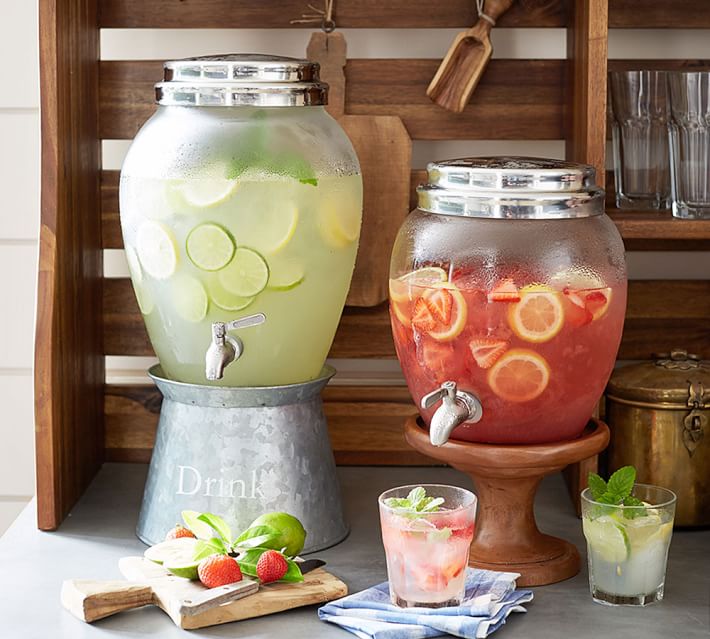 Set up a drinks station outdoors, in your dining area or your kitchen. Even if it's just a basic lemon water, it looks and feels like summer, and is the perfect functional way to decorate an empty spot.

New Welcome Mat
After a season of snow followed by a solid month of rain, my doormat is looking worse for wear. I'm looking forward to switching it out for something fresh and summer…and most of all, clean!
Here are a few of my favorites that I'm considering:

Add Window Boxes to your Home's Exterior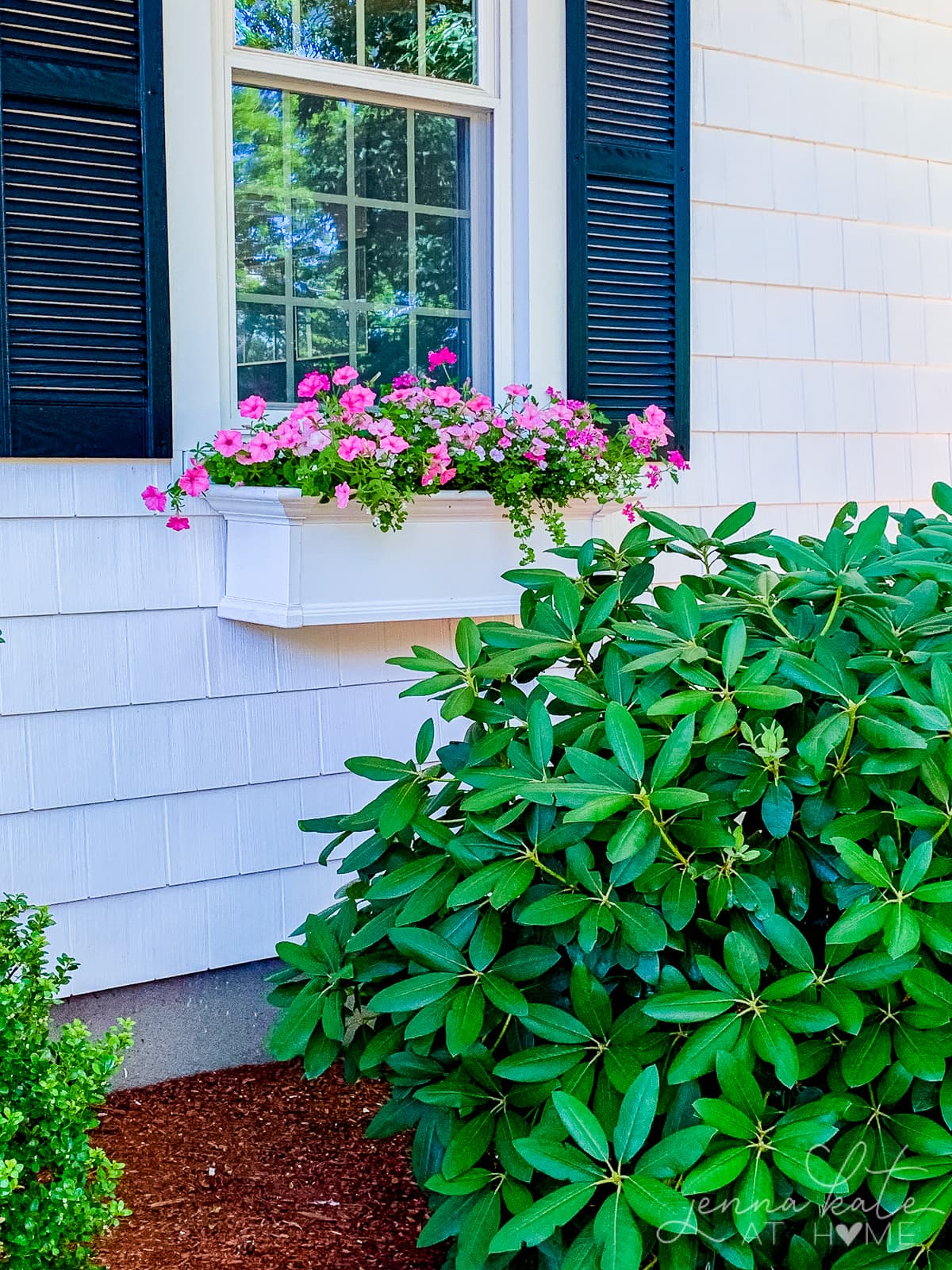 Any home gets instant curb appeal points once you hang a few window boxes. We've had these vinyl window boxes for 4 years and love the quality.
Last year, I planted a mixture of pink Petunias, white Bacopa and pink Verbena for this blast of color. I'm probably do the same this year and maybe add in some Creeping Jenny to trail down the front.
Are You Ready To Decorate For Summer?
I hope these summer decor ideas have got your creative juices flowing! Summer is such a great season to embrace color, bring in new textures and enjoy your outdoor spaces. After reading my decorating ideas, I can't wait to see how you incorporate them in your own home!
Other Posts You'll Enjoy
How to Clean Outdoor Patio Cushions For Summer
Simple Summer Entertaining Ideas