This post may contain affiliate links | For further details, please read our privacy policy
Easily refresh every space in your home this summer with these simple decorating ideas perfect for the warmer weather.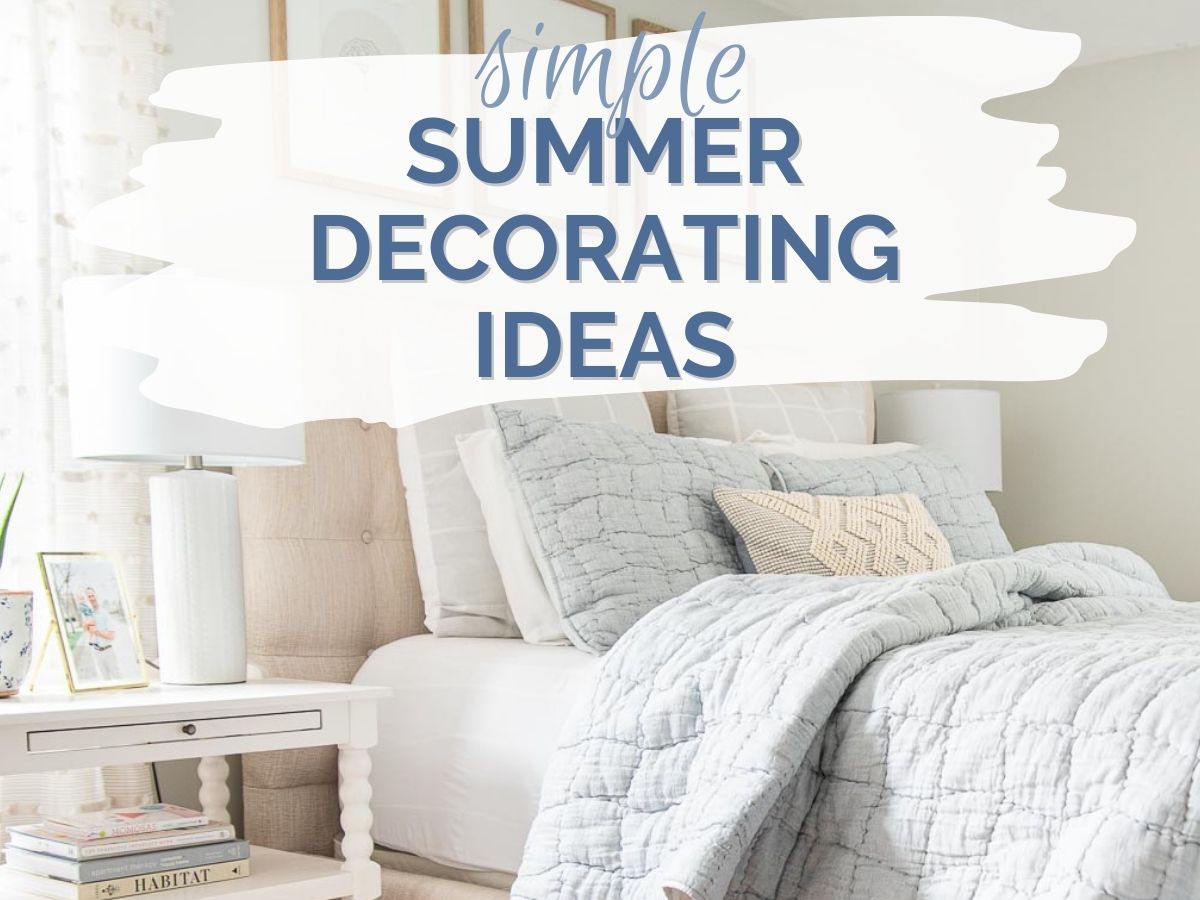 As summer approaches, it's the perfect time to embrace the warm weather and longer days by giving your home a fresh, seasonal update. With just a few simple decorating ideas, you can transform every room in your home into a summer sanctuary that feels bright, airy, and inviting. Whether you're looking to create a cozy outdoor living area or bring the outdoors in with some vibrant greenery, there's no shortage of inspiration for embracing the summer season.
From your front porch to your bedroom, incorporating elements of summer can be as easy as swapping out heavy textiles for lighter materials, adding a touch of nature with plants and greenery, or incorporating coastal-inspired accessories. Mixing and matching different styles and textures can create a breezy, relaxed atmosphere that's synonymous with the summer season. Don't be afraid to experiment – it's all about finding what works best for you and your space.
So, get ready to welcome in the sunshine and warmer temperatures: with these simple summer decorating ideas, you'll have a stylish and comfortable space where you can unwind and enjoy the best that the season has to offer.
Switch to Lighter Colors
Brighten up your home for summer by switching to lighter colors. Incorporating lighter colors into your home helps create a more open and airy feel, which is perfect for the warm summer months. Choose colors in soft shades of blue, cream, beige, and white.
This can be achieved by opting for lighter fabrics for your curtains, bedding, throw pillows, and even rugs. Don't forget accessories, either. Replace dark vases and artwork with similarly light and bright colors. You'll be amazed at how much brighter a room will feel when you switch out a black vase for a bright white marble one.
Clear Out The Clutter
There's something about warmer weather that makes me want less stuff in my house. I want my spaces to feel clean, uncluttered and more minimalistic in nature.
In some ways, summer decorating is more like un-decorating.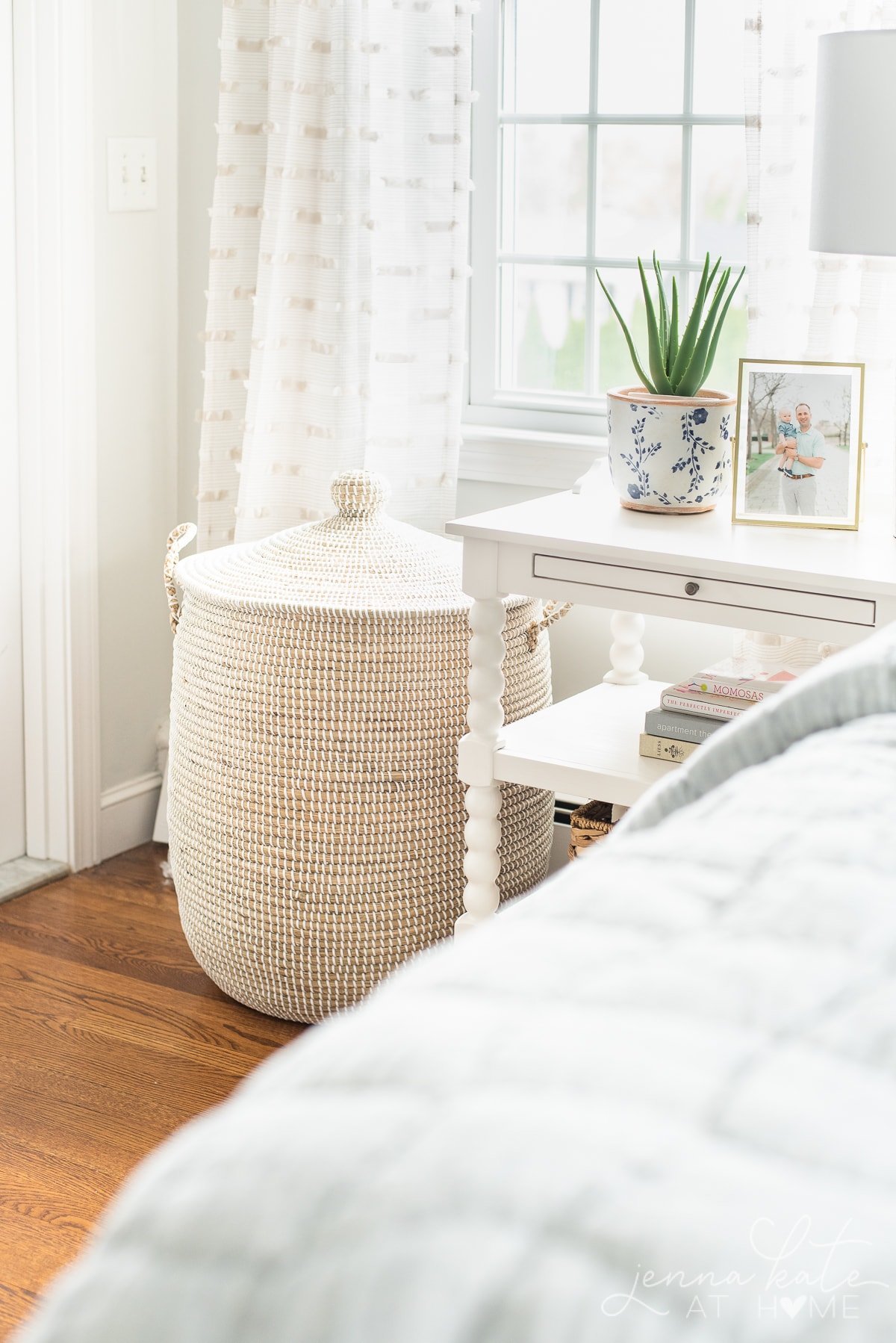 I love utilizing baskets in many of the rooms of our home to help me achieve that look. These large rattan La Jolla baskets from Serena & Lily are used as laundry hampers in several bedrooms, toy storage in our playroom, and storage for all my pillow covers in my office! They look beautiful and keep clothes and other items off the floor.
I also have a post with several Serena & Lily dupes that look just as good but cost a fraction of the price.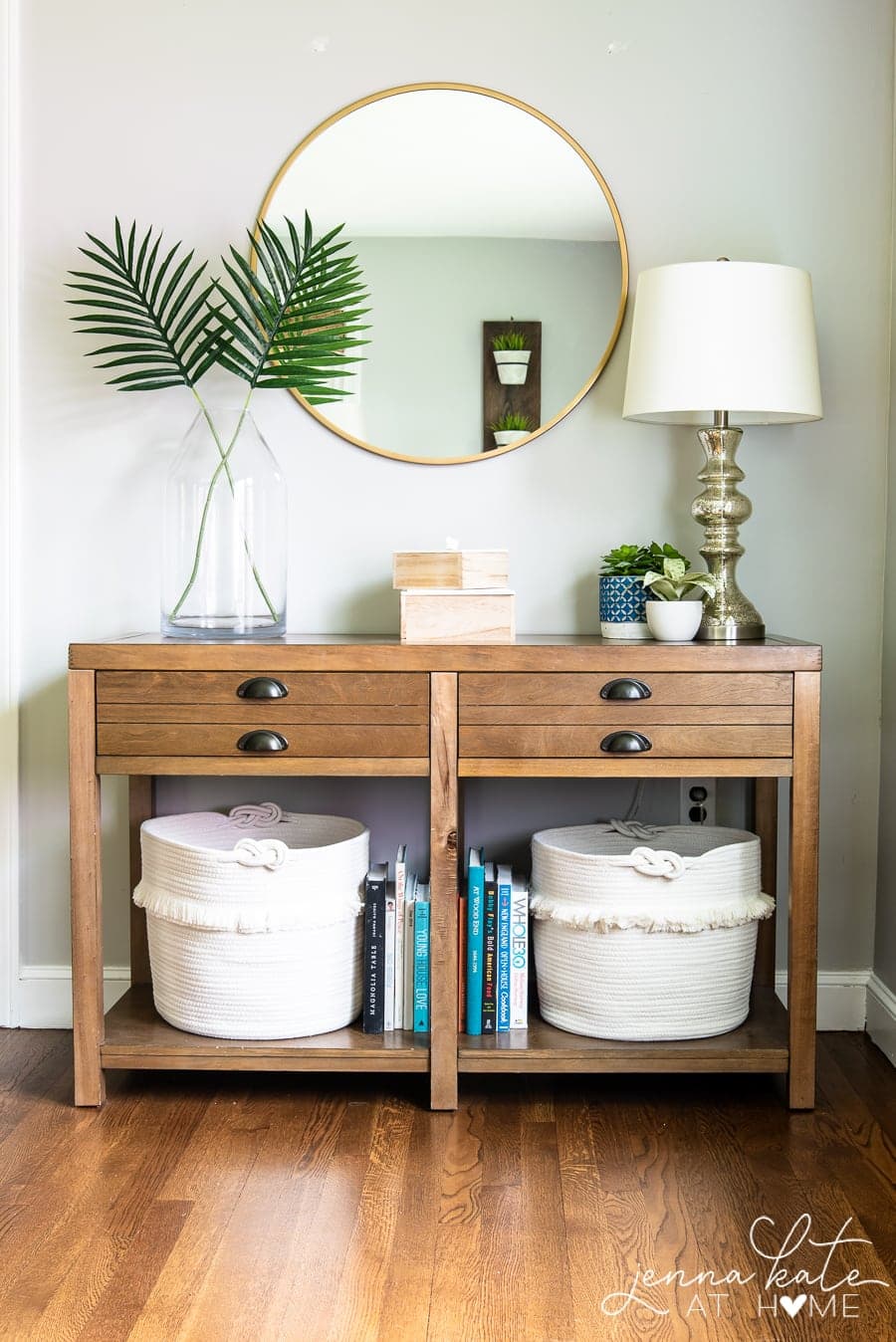 If you're on a budget, Target has great baskets that look good and function well. We've had these white ones (no longer sold) in our living room for a few years and I love how they look.
Incorporating Greenery and Fresh Blooms
Bring nature indoors by incorporating greenery, fresh flowers, and botanical prints into your summer decorating scheme. Live plants, such as ferns or palms, can create an airy, refreshing ambiance, while summer flowers like hydrangeas add a pop of vibrant color.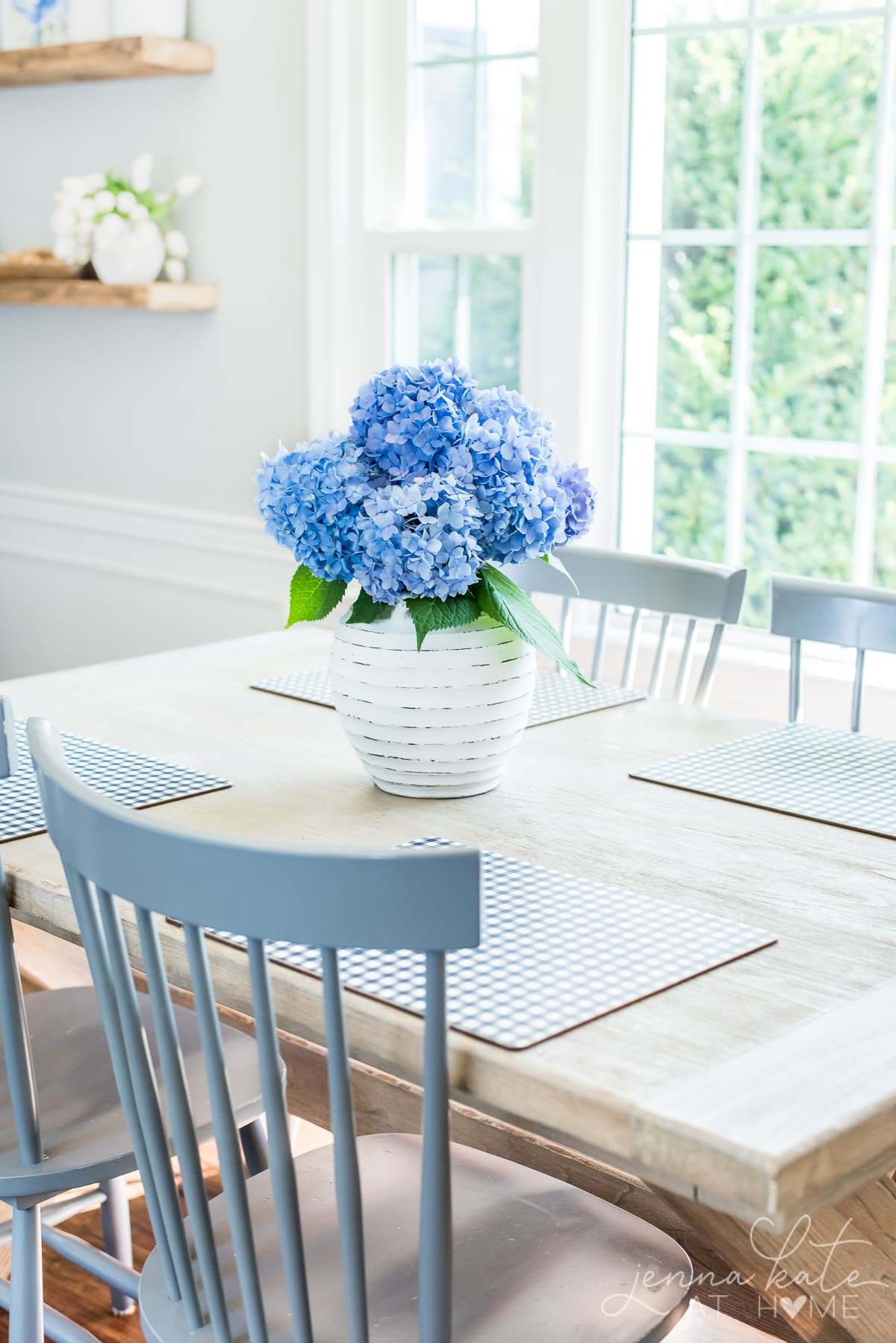 I'm particularly fond of the beautiful blue hydrangeas that grow in my backyard, but any grocery store flowers will do for a punch of color in your home.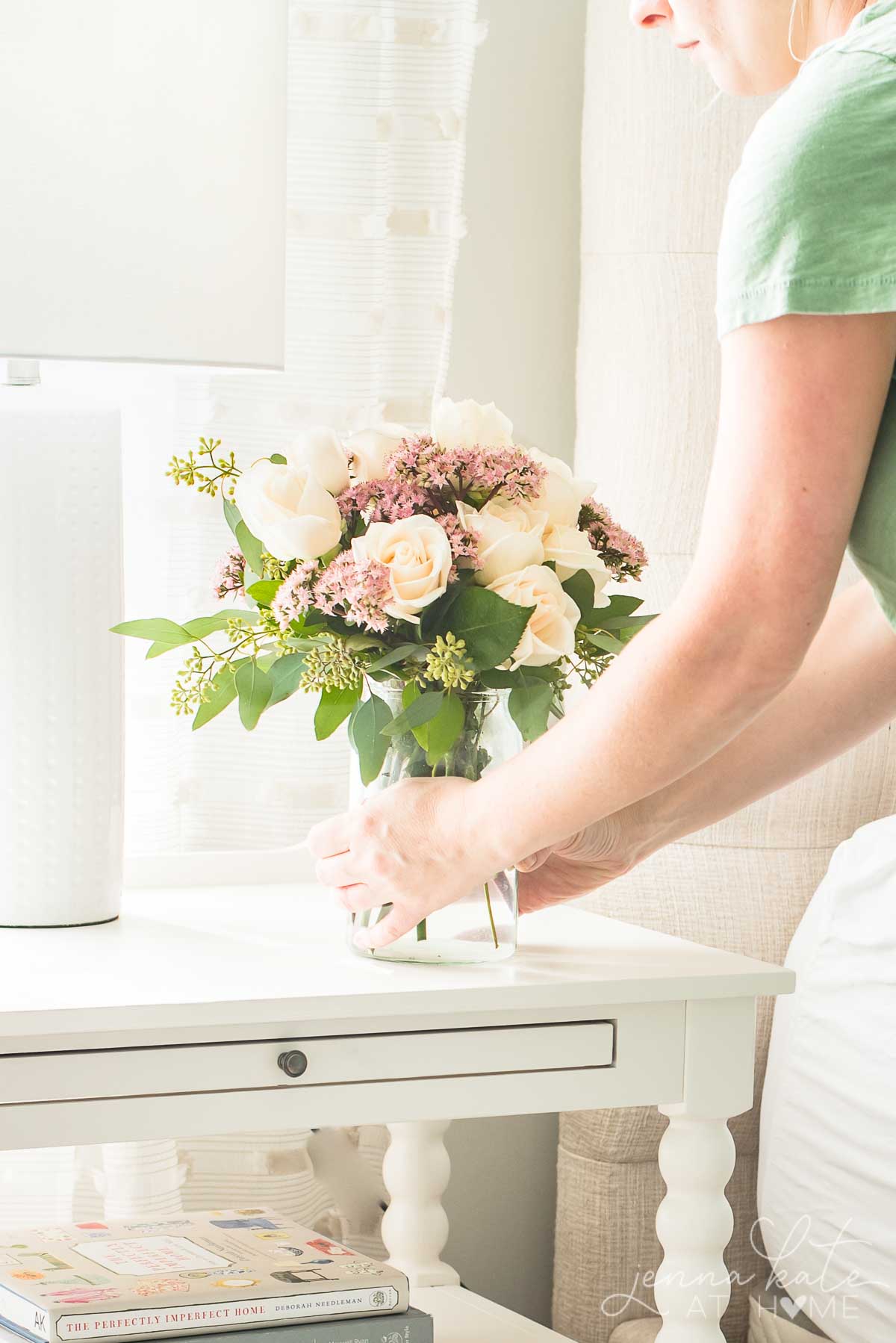 If you have toddlers, pets or generally kill all living plants, then faux flowers and stems are also an excellent choice.
To be honest, 95% of the plants in my home are fake and I love them!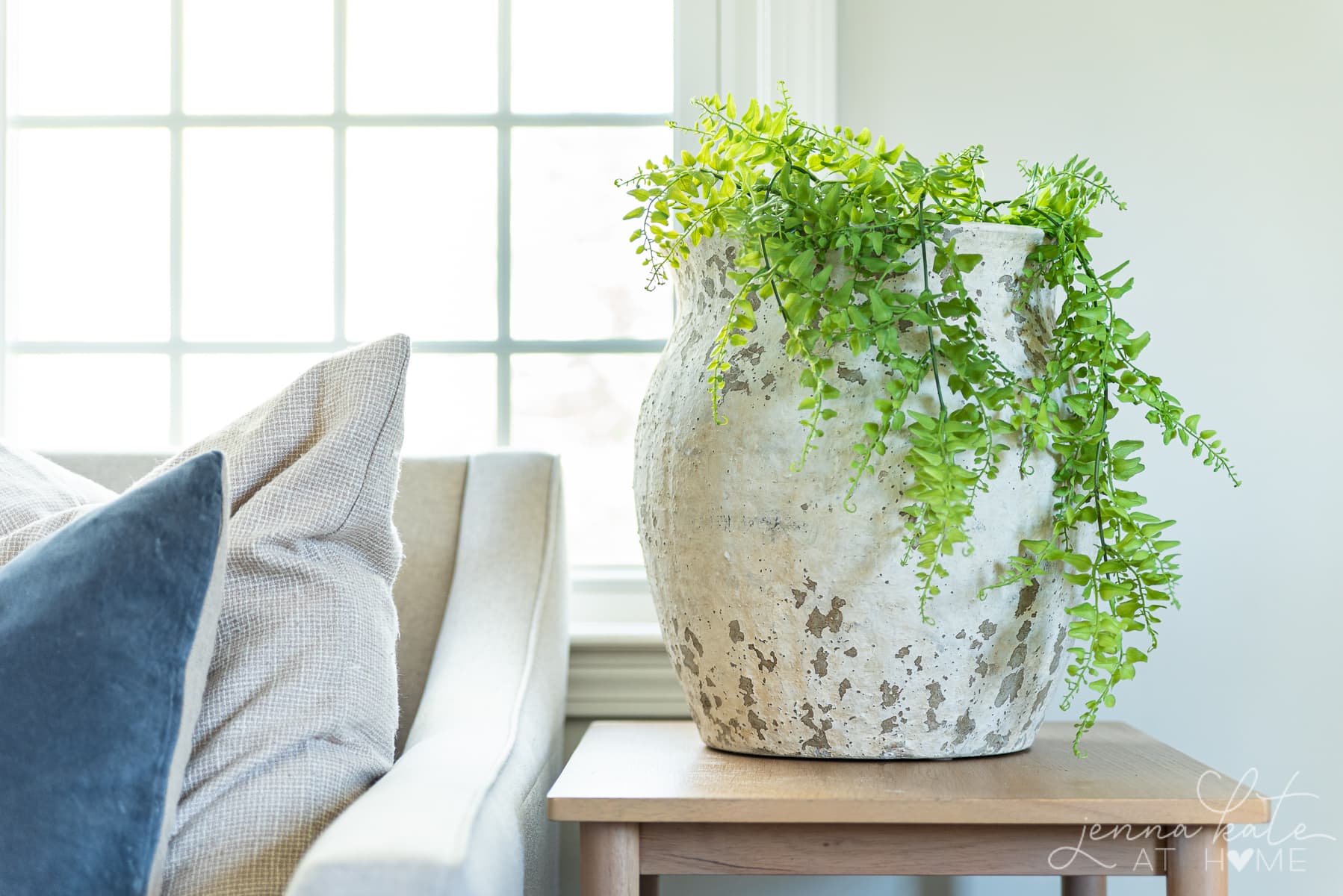 For a more subtle approach, incorporate botanical prints on your walls or in your textiles, like cushions or table linens. This allows you to celebrate the beauty of nature without the maintenance that comes with live plants and flowers.
Summer Bedroom Ideas
Summer is the perfect time to update and refresh your bedroom by introducing different textures and fabrics that are more appropriate for warm summer months.
Introducing Cotton and Linen
Cotton and linen are natural materials that not only look elegant but also breathe well and feel incredibly soft against the skin. Try replacing your usual fabrics with these airy materials for a fresh, summery vibe in your home.
For instance, consider swapping your ordinary bed sheets with those made of lightweight cotton or linen to create a cool, welcoming feel in your bedroom. These breathable textiles help in regulating temperature and ensure a comfortable night's sleep during the hot summer months.
If you're looking to update your living space, consider incorporating cotton or linen throw blankets and cushions, as these can easily change the mood and ambience of any room.
You could opt for classic white and neutral tones, or experiment with playful patterns like stripes, florals, and plaid that evoke a coastal charm.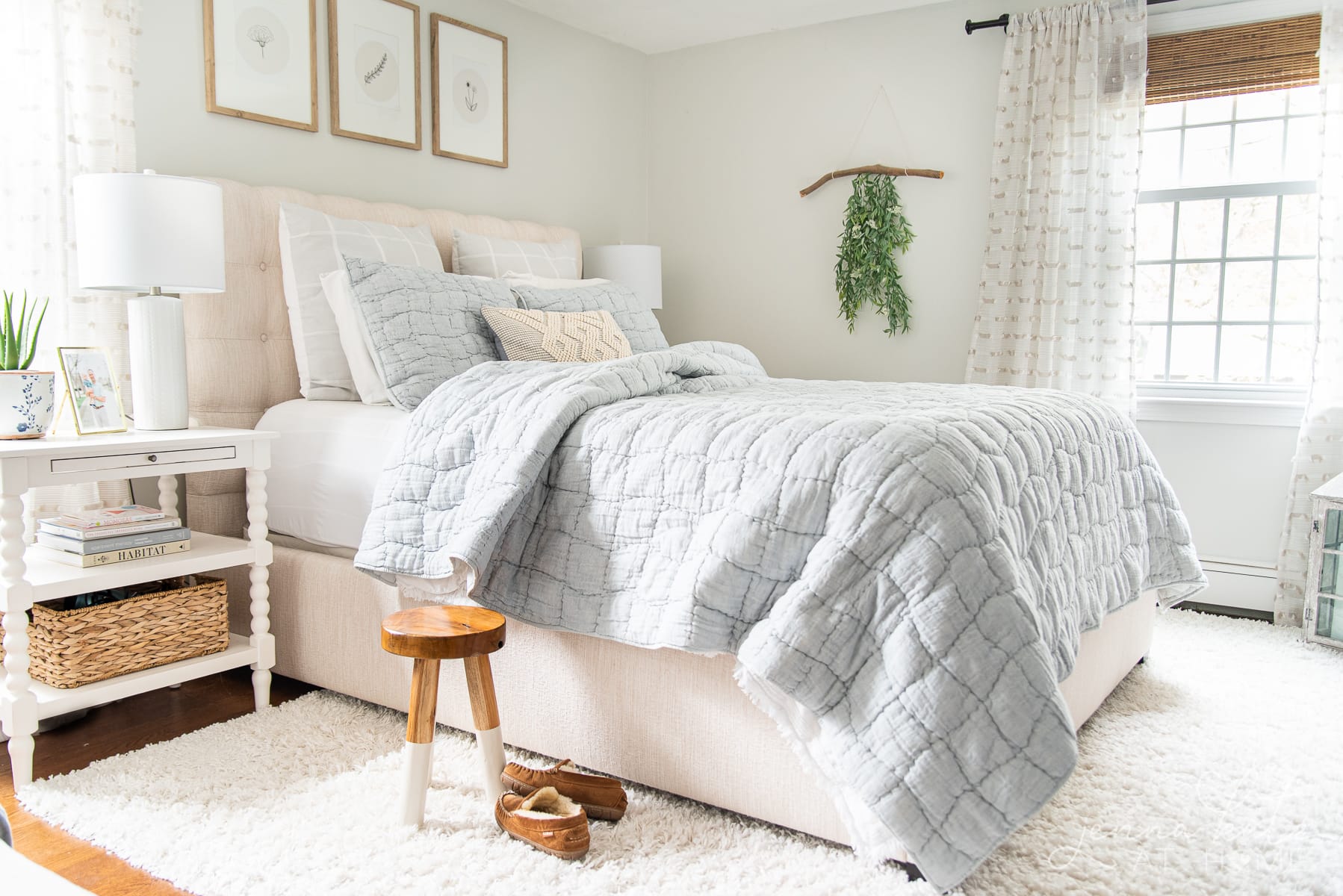 This light blue linen quilt from Pottery Barn checks all my boxes to achieve that coveted light and airy look in my bedroom. It's also not heavy like my winter quilt and doesn't weigh me down or feel hot while sleeping.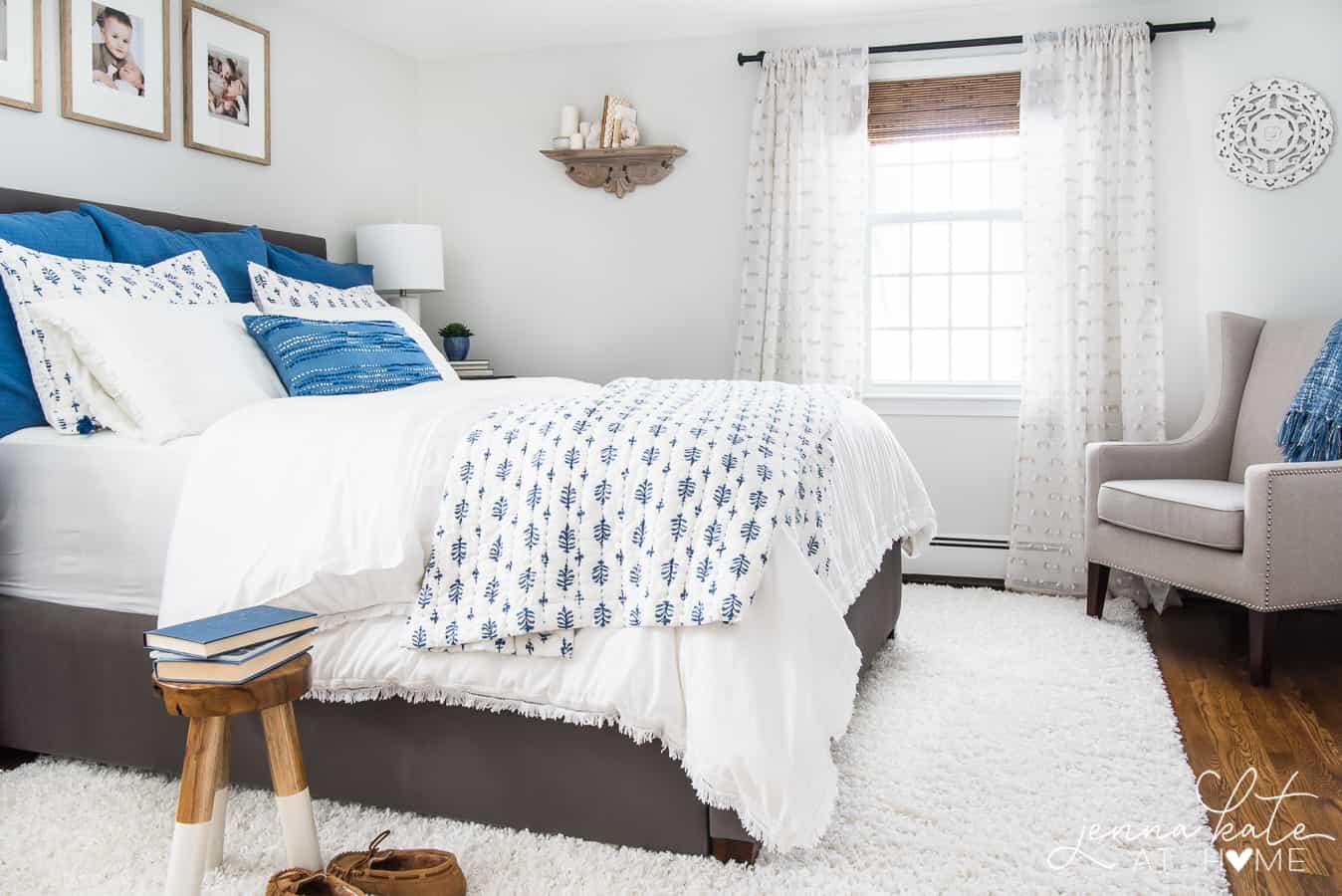 This Serena & Lily quilt and duvet cover from last year is still high on my all-time faves, but I'm wanting softer, more relaxed colors at this year.
You may think your curtains are a permanent fixture, but switching out those velvety, deep-colored curtains and drapes with delicate sheers or linen-look curtains can totally transform your room. They bring a light and airy feel, while still providing privacy and filtering sunlight.
Living Room Summer Decor Ideas
To effectively bring summer vibes into your living space, switch up your throw pillows, rugs, and baskets.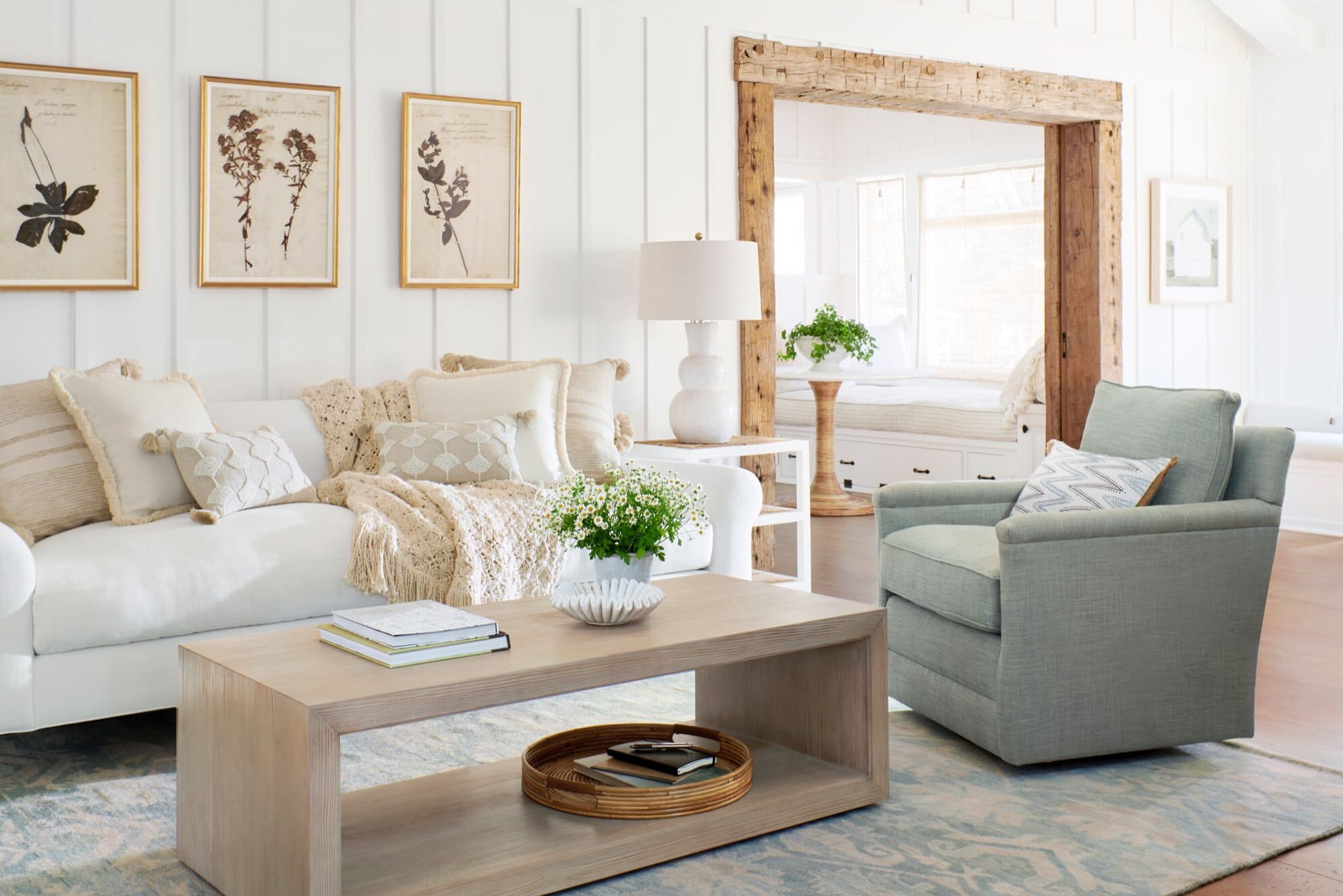 Update throw pillows with a lighter or brighter color scheme, or more summery fabrics like cotton and linen. They key to a cohesive look is learning how to mix and match patterns and colors.
Throw pillows have an amazing way of completely transforming the look of your living room, and outdoor throw pillows can quickly update the look of outdoor furniture, too.
Area rugs are another great addition to your summer décor. Choose from a range of materials, including natural fibers like jute or sisal, which can evoke a beachy, relaxed vibe. These materials are both visually appealing and practical for high-traffic areas in your home.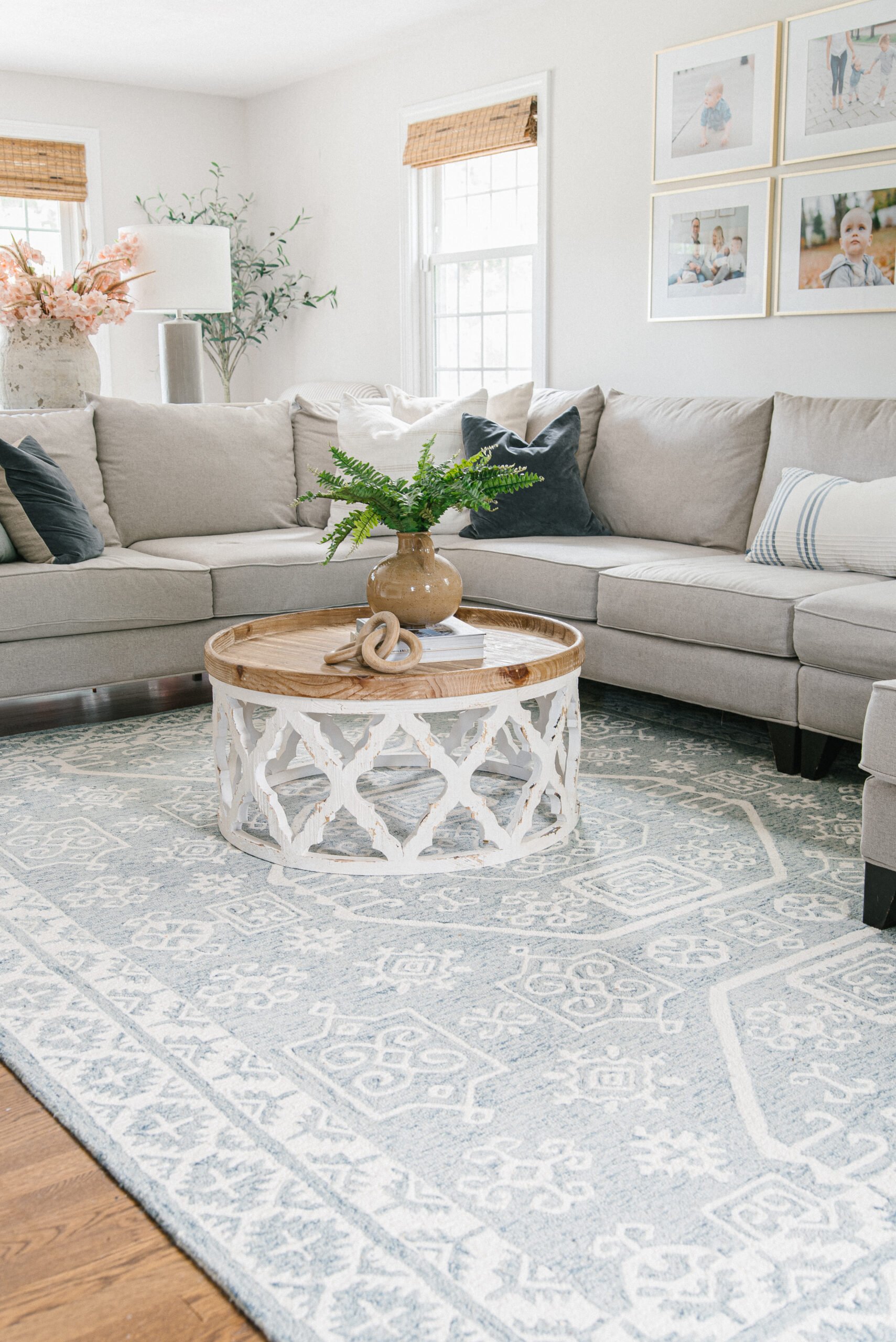 With woven baskets, you can add texture and storage options to your living space. Baskets made from materials like rattan or seagrass not only bring a natural, summery feel to your room but also provide additional space for storing throw blankets or toys – keeping your living area tidy.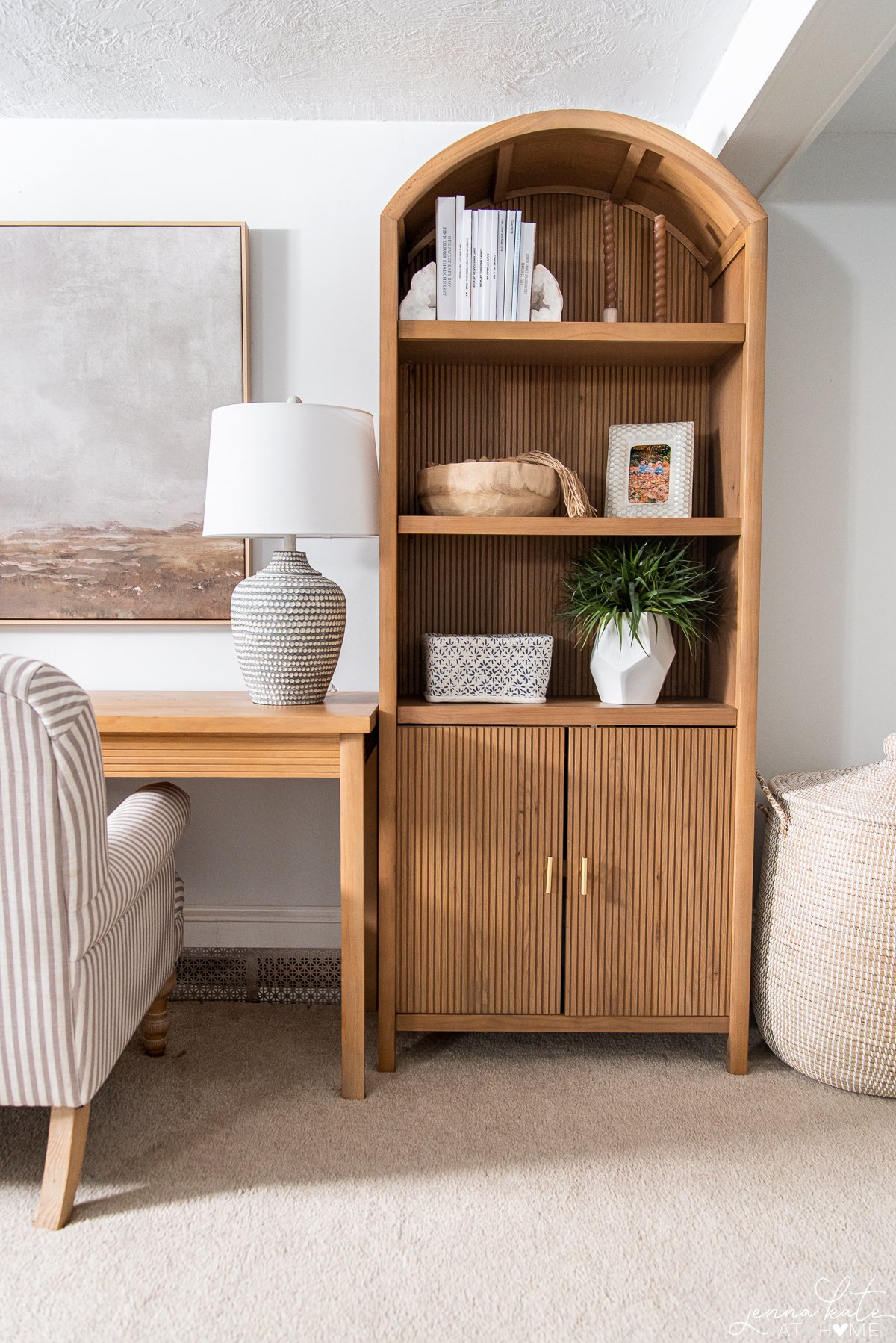 Add a Touch of Summer to Your Kitchen
Brighten up your kitchen and dining room by introducing citrus colors and summer-inspired artwork.
Display a vibrant bowl of fresh lemons, limes, or oranges as a colorful centerpiece on your dining table or kitchen counter. Swap out any heavy linens or textiles with lighter and brighter options, like a coastal blue tablecloth or citrus-patterned placemats, and bring in a kitchen runner rug in a lighter or more vibrant color.
Consider adding a few new touches to your walls or shelves, too. Hang a fun summery print or a collection of photographs showcasing your favorite beach or tropical destination.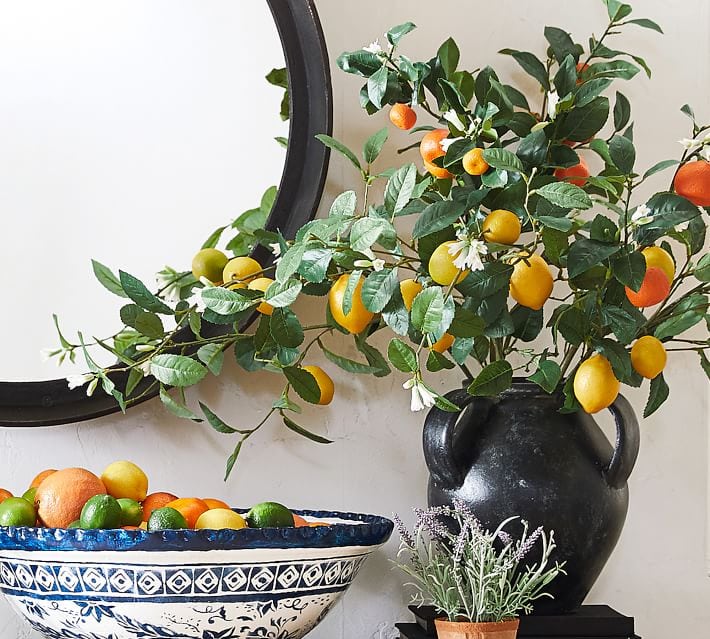 Adding Summer Accents to Entryways
A few well-placed summer accents can make a big difference in the look and feel of your entryway. Bring in (fresh or faux) greenery in decorative planters to add life and color to the space.
Accessorize your entryway with seasonal items such as a sun hat or beach bag to give a subtle nod to the warm weather. Swapping out heavy rugs for lighter materials will also help create a brighter, airier feeling in this area.
Make The Most of Your Outdoor Spaces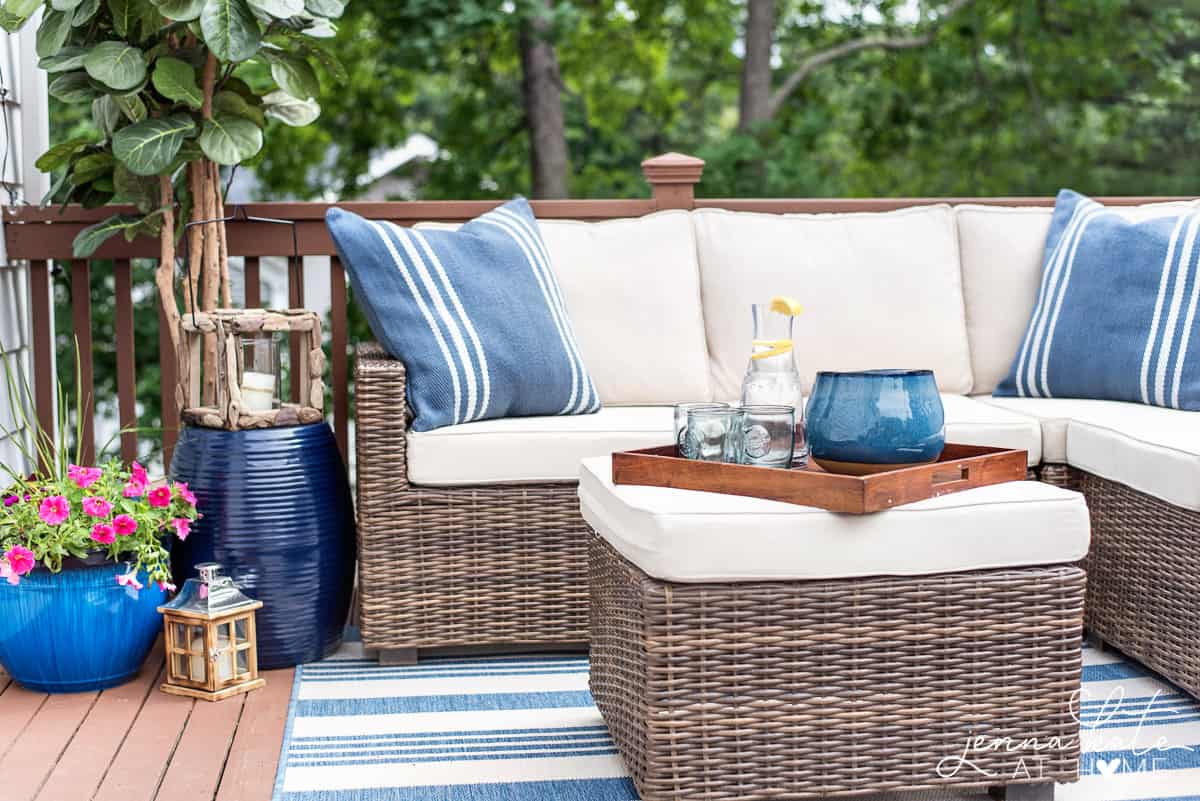 Treat your patio, porch or deck like an extension of your living room. Add a rug to ground the space, and bring out lots of throw pillows and blankets to make it feel cozy. Decorating even a small deck or patio will embrace the summer season and make you want to use it more.
Add color and texture to your patio or porch with potted plants. Choose planters that complement your outdoor furniture and color scheme.
Next, consider upgrading your outdoor furniture. Invest in comfortable, durable, and stylish pieces that make your patio or backyard an inviting retreat.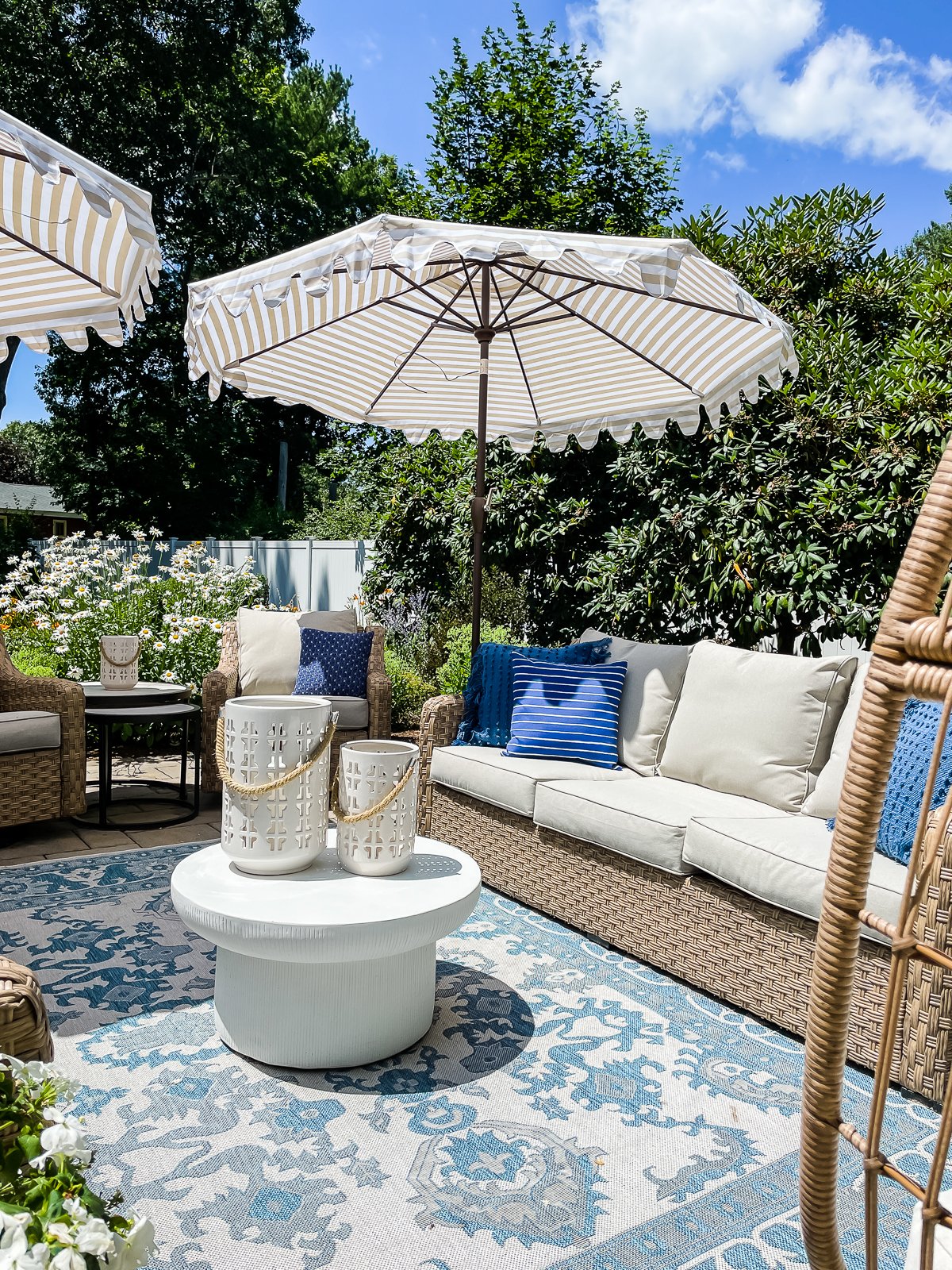 I've owned this Walmart River Oaks patio set for over a year and highly recommend it if you're looking for stylish yet affordable patio furniture.
If you're working with a small outdoor space, try incorporating multipurpose furniture that serves more than one function, such as a bench that doubles as storage or garden stools that can be seating or tables.
Lastly, enhance your outdoor space with creative lighting. Lanterns and candles add color and ambiance, while string lights are a popular option, as they create a warm, magical ambiance. Hang them above your deck, around your patio or fire pit ensuring they're securely fastened and weather-resistant.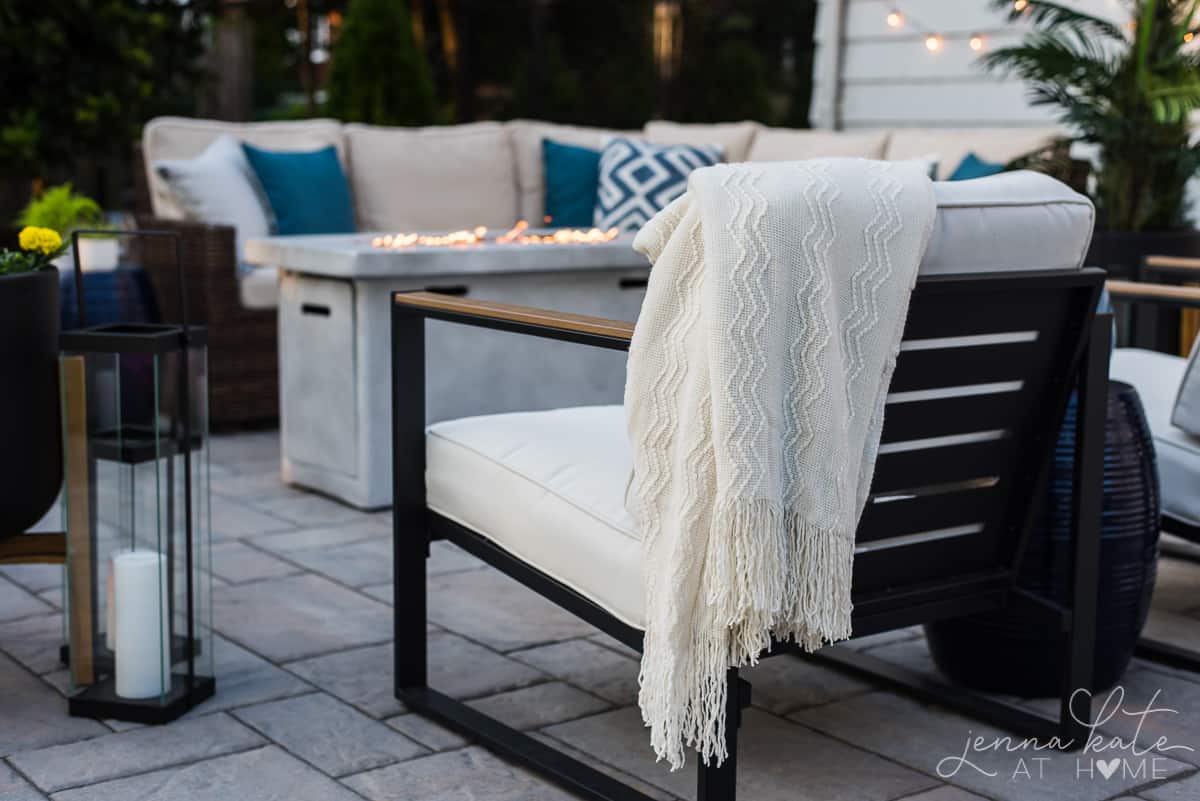 For Your Front Door
After a season of snow followed by a solid month of rain, my doormat is looking worse for wear. I'm looking forward to switching it out for something fresh and summer…and most of all, clean!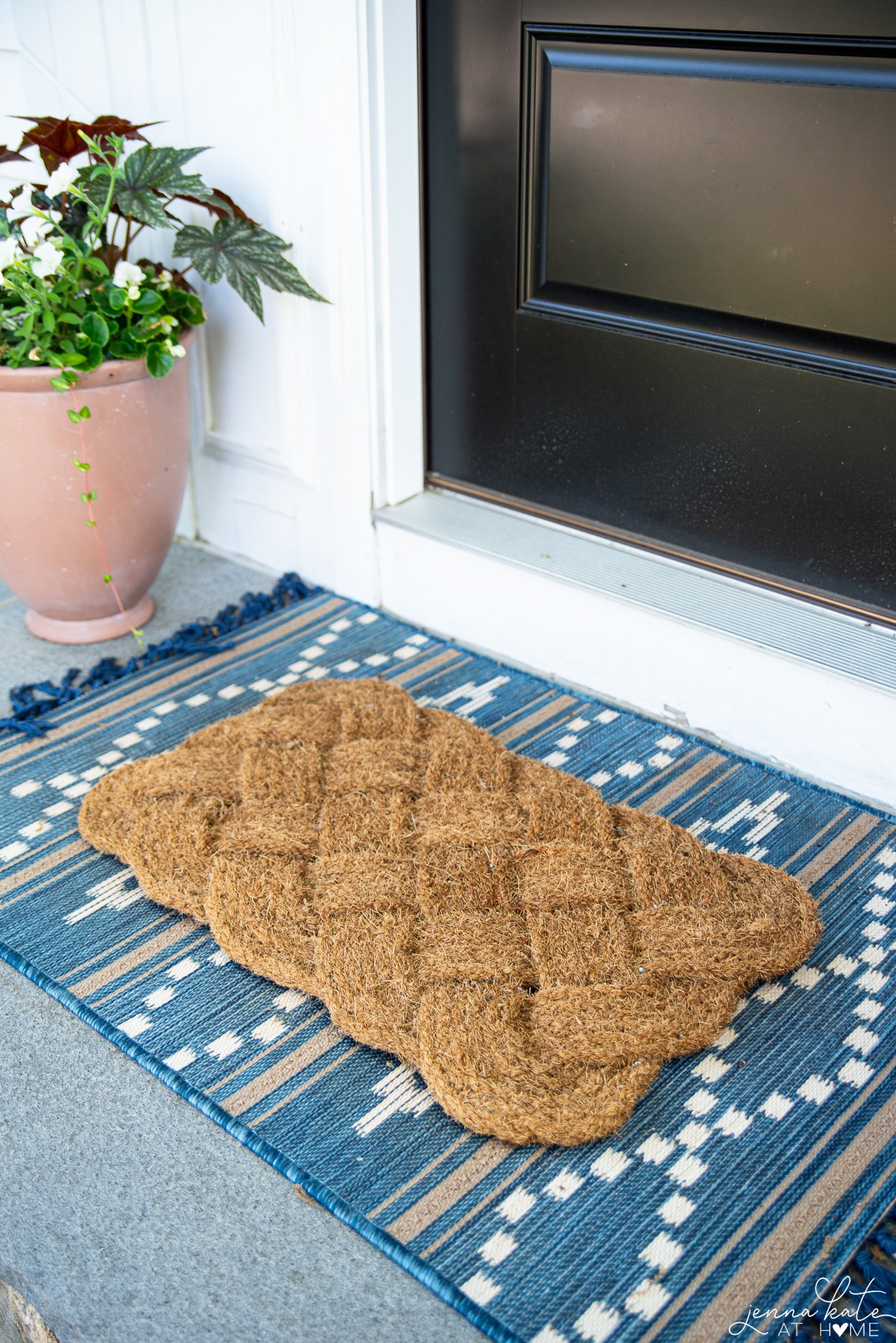 Make or Purchase a Wreath
Every season deserves a new front door wreath! For my summer decor, I like to either keep it simple with a dried olive wreath or introduce some color with a faux peony or DIY hydrangea wreath.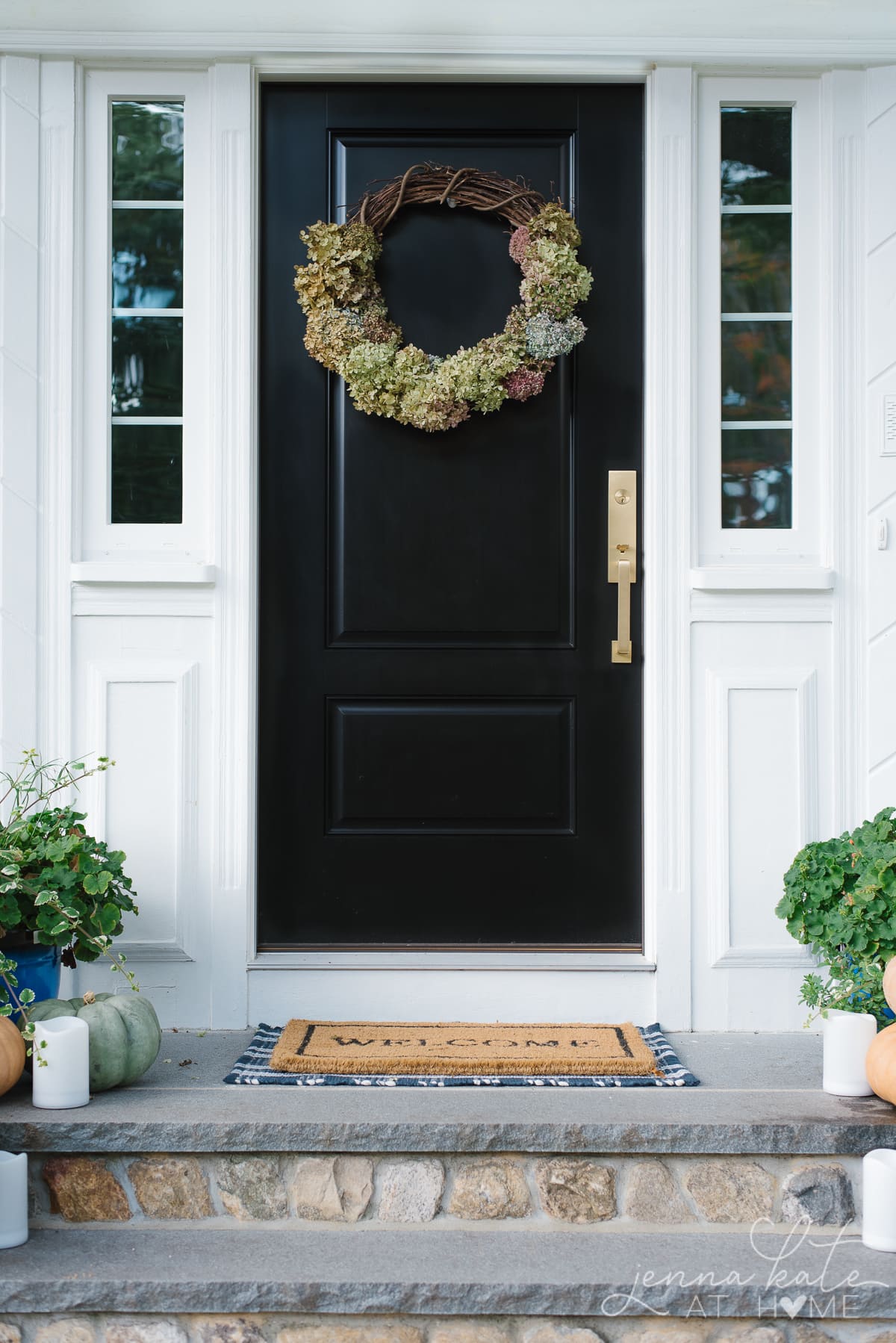 Add Window Boxes to your Home's Exterior
Window boxes are a great way to enhance your home's curb appeal in the summer. Filled with vibrant flowers and plants, they bring a touch of nature to your windowsills, adding beauty and color.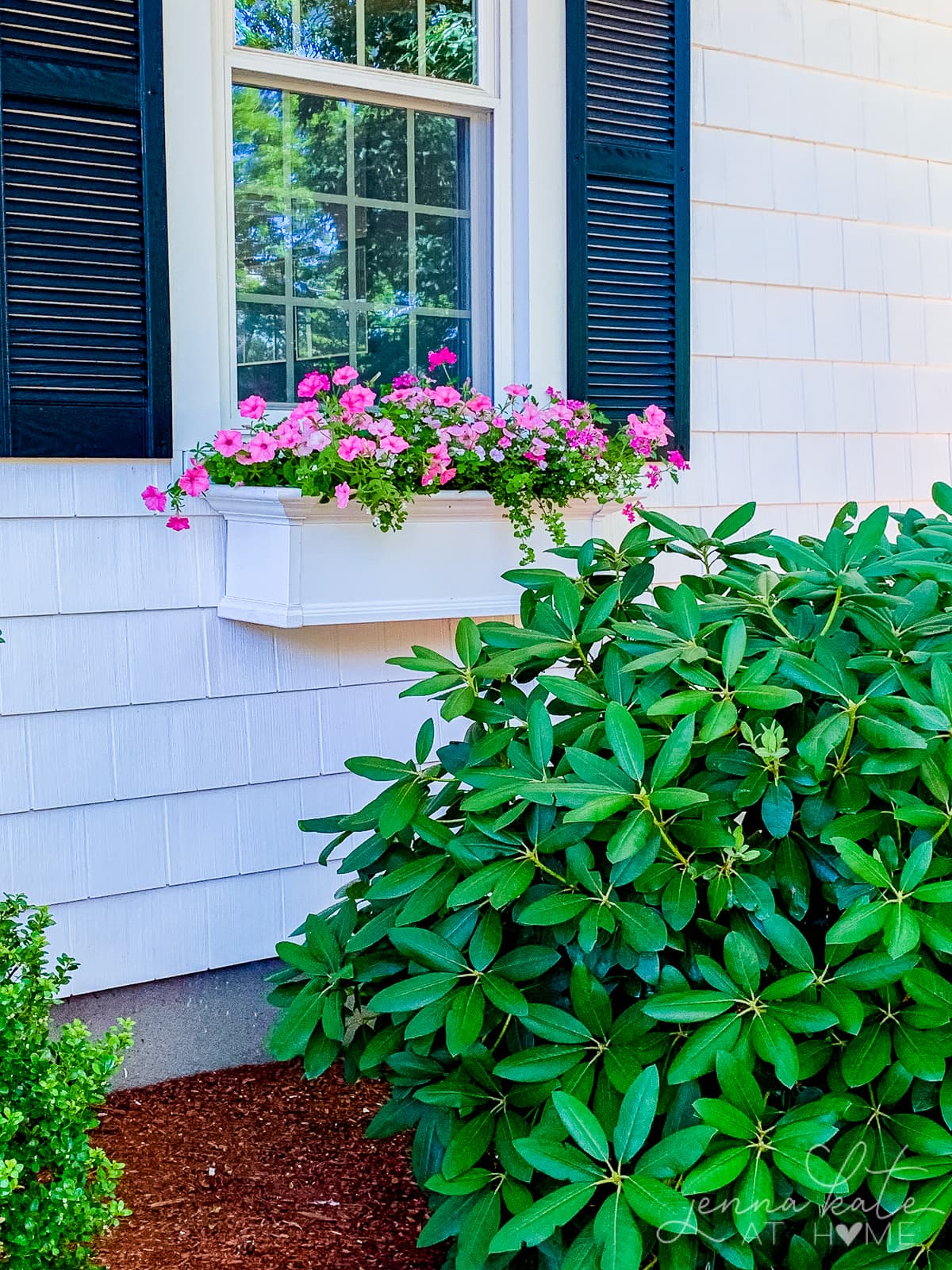 With various plant combinations, window boxes allow you to showcase your style and make your home stand out.
Last year, I planted a mixture of pink Petunias, white Bacopa, and pink Verbena for this blast of color. I'm probably do the same this year and maybe add in some Creeping Jenny to trail down the front. We've had these vinyl window boxes for 4 years and love the quality.
Are You Ready To Decorate For Summer?
I hope these summer decor ideas have got your creative juices flowing! Summer is such a great season to embrace color, bring in new textures and enjoy your outdoor spaces. With so many easy decorating ideas, it's easy to bring summer to your home decor!