This post may contain affiliate links | For further details, please read our privacy policy
If I told you I created this exquisite Christmas ornament wreath in one sitting with bargain store materials, would you believe me? Find out how I did it in this super-easy tutorial below.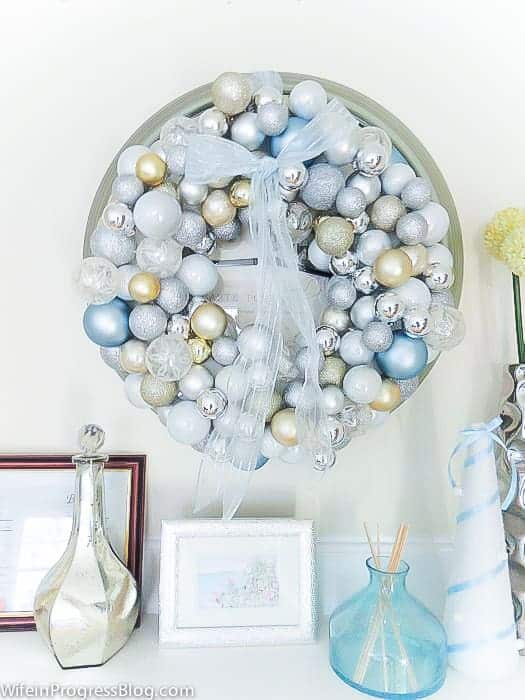 It's quite possible that this dazzling eye-catcher of a wreath is in everyone's Pinterest wish list for the holiday season. After all, this pretty wreath is swiftly taking over the DIY social media space!
When I was getting into the holiday spirit over the weekend, my first craft project was to make my own ornament wreath. I've seen so many beautiful versions of these online but they looked complicated and time-consuming.
I did it my way and it was surprisingly easy to make this holiday wreath – give it a try!
What You'll Need
Ornaments of various sizes and different colors (depending on your color scheme)
Wide ribbon to coordinate with the ornaments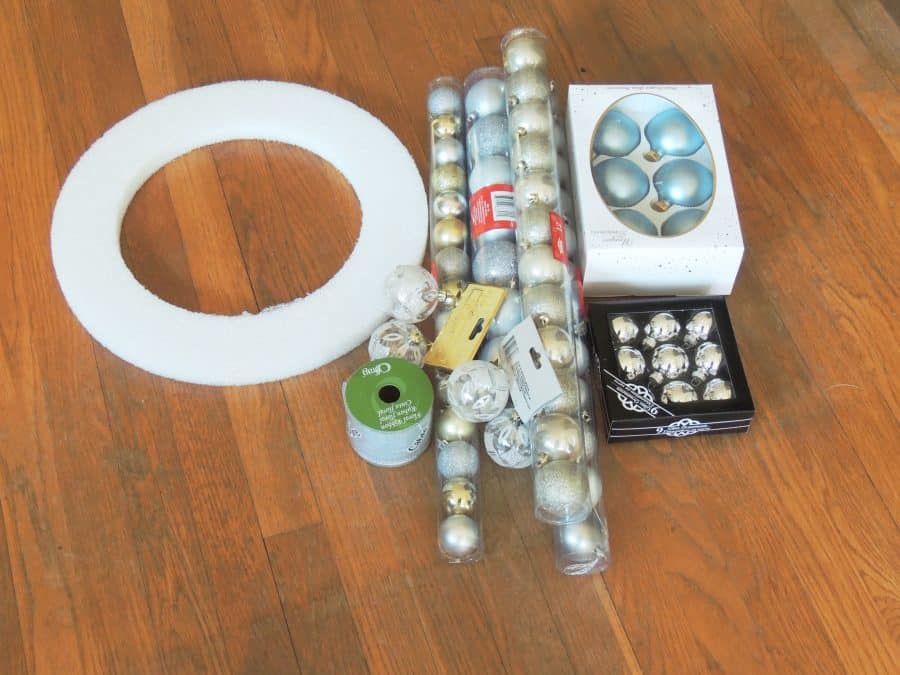 I got all of my supplies from the dollar store and spent about $20 in total cost. Hobby Lobby should have everything you need, too. Depending on how full you want your wreath, you can expect to use between 100 and 150 ornaments in a variety of sizes.
It's important to get both large and small Christmas ornaments – the larger ones create the shape and the smaller ones will fill any gaps, as needed. Don't make the same mistake as me. Get enough ornaments the first time! I may of taken a trip back to the store mid project. Oops!
How to Build your Ornament Wreath
You'll find this step-by-step easy to follow. You'll quickly be en route to your very own beautiful wreath!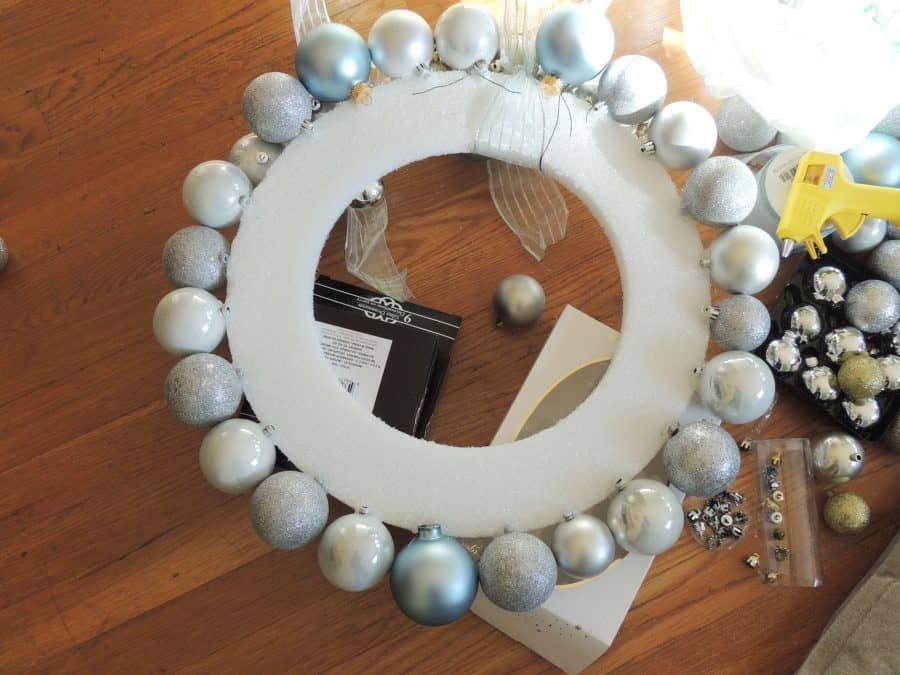 1. Attach Ribbon
The first thing you want to do is tie the ribbon around the wreath so that you'll be able to hang it up. This will be covered with ornaments so it's important that you do this first. If you miss this first step, it's much trickier later on.
There's a few different ways to use up any leftover ribbon. I ended up designing a bow that I attached at the end to cover up a gap. Get creative with how you'd like to decorate your wreath using ribbon! Or, keep it clean as I did for a very minimalistic look.
2. Glue Large Ornaments
Next, you will hot glue the largest ornaments to the outside of the wreath structure. Don't worry about making them perfect, but try to fill as much of the space as you can. If there's any gaps, we will fill those in with the smaller ornaments later.
I realized about half way through this step that it would have been a good idea to remove the metal pieces on the top of each ornament. So I did that for the rest of them! I would encourage you to do the same as it made for a much cleaner look once the ornament tops were gone.
Turn the wreath over and start filling it in with more ornaments. Cover the sides of the wreath completely and outer edge as it will most likely be viewed from multiple angles.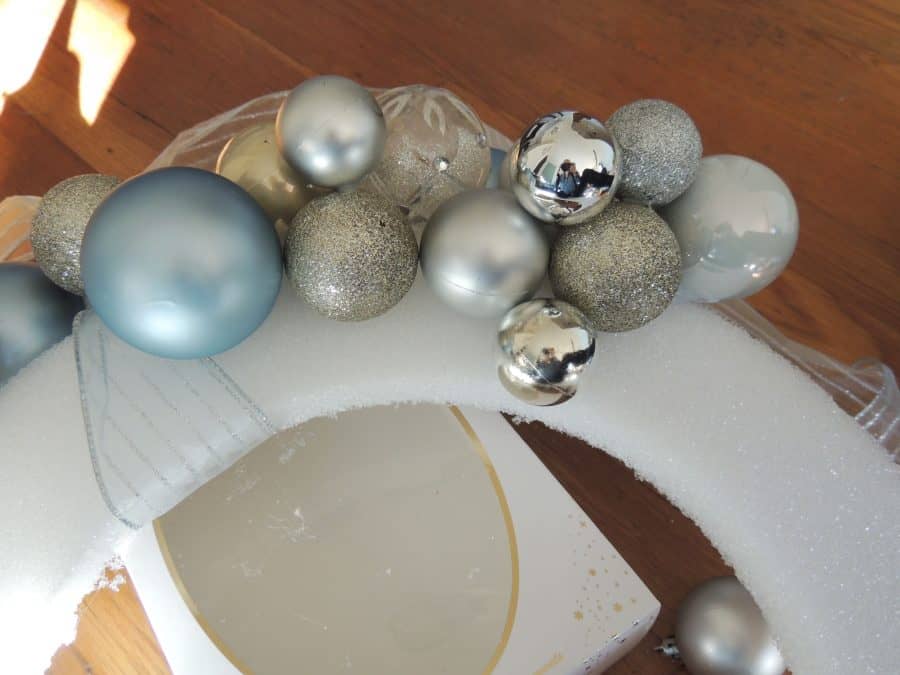 I balanced the wreath on some boxes to make it easier to turn the wreath without putting pressure on any ornaments on the outside edge and sides. This was a great way to ensure I wouldn't have to back track once attaching each ornament.
3. Glue Small Ornaments
Once the wreath starts to look full, sit it upright and look for gaps. Fill these in with the smallest ornaments. If you have any vintage ornaments or special elements you are hoping to include, now would be the time to work them in!
This is the step that's going to make a big difference in your final look so take your time looking for small gaps.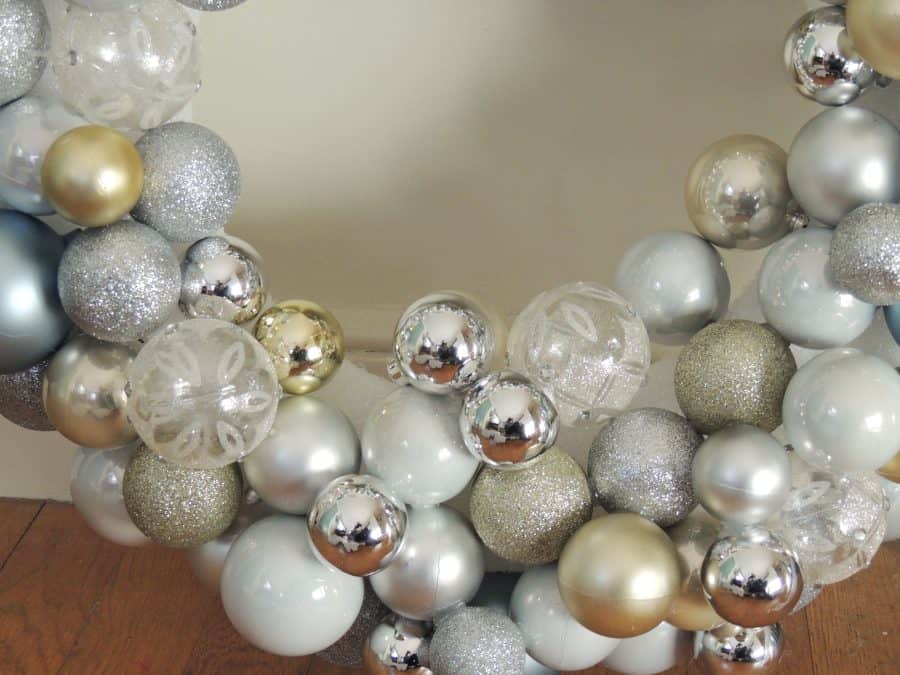 Don't forget to check the inside of the wreath for gaps as well. See what I mean below: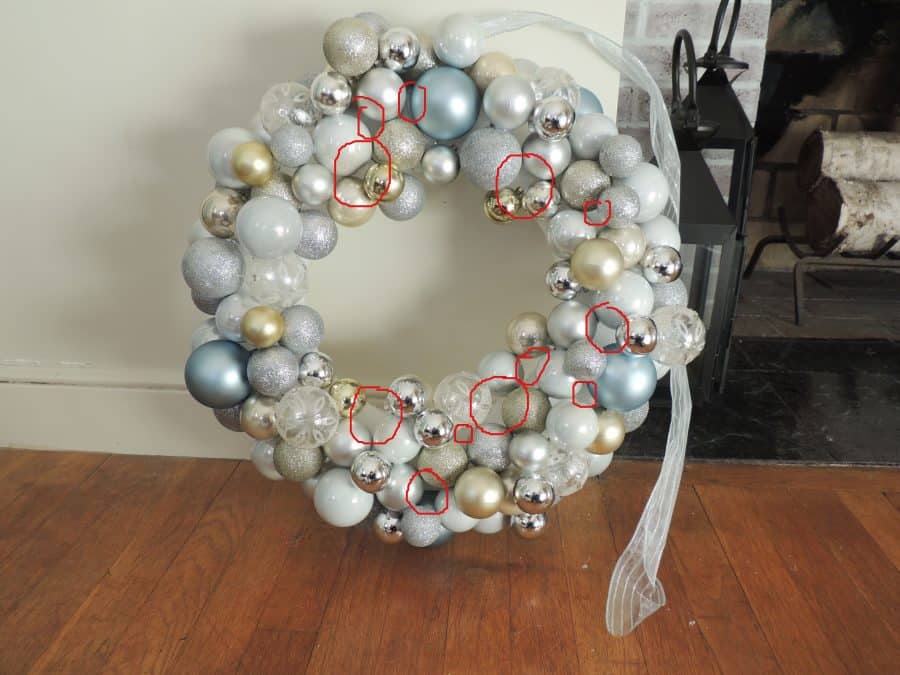 Don't worry if you can't get it perfect – once it's hung up, no one will notice the minor gaps. There was one gap that was bothering me so I hung a piece of ribbon in front and moved on!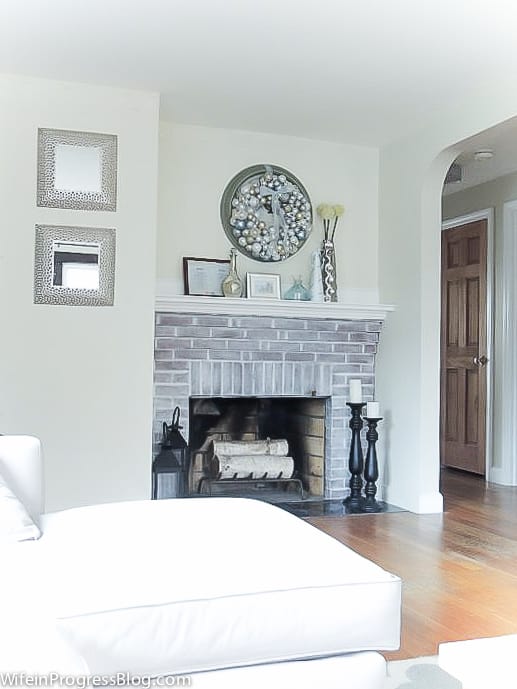 4. Hang your DIY Wreath
You can hang this Christmas ornament wreath anywhere. I placed it above my fireplace mantel and I love that it matches the colors of my living room. It would also look amazing displayed on your front door.
If you have a wreath hanger, that would simplify the process further!
Did you notice the little Christmas tree on the mantel for added visual interest? I made that too with a cone form and some wool!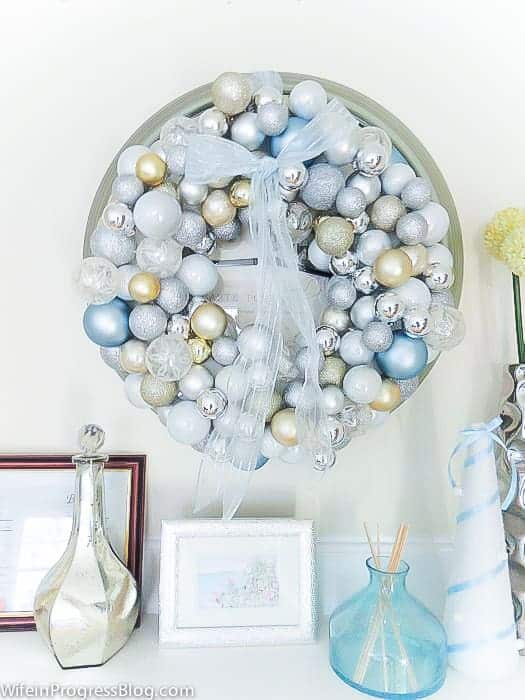 FAQ'S
How many ornaments does it take to create an ornament wreath? It took me about 150 ornaments in various sizes to complete this project.
What variations can I use? You can totally make it your own with your favorite tones or shades that match the existing color scheme in your home. You can also add various elements such as ribbon, bows, vintage bulbs, tinsel garland, or dried poinsettia. In the same way that you use small ornaments to fill in gaps, you can use these items as well.
What type of ornaments do you use? It is crucial that you use shatterproof ornaments for this project. Save your glass ornaments for the tree!
How much does this project cost? This is one of the most budget friendly projects around! The good news is you can find everything you need at the Dollar Tree. I spent around $20, but it could be more or less depending on where you purchase your materials and what brand ornaments you select.
Any design tips? Yes! You don't have to worry too much with making things perfect, but it may be helpful to lay out prior to getting started a general idea of where you'd like any statement ornaments to go. For example, if you have five red ornaments with stripes and the rest are solid color, you don't want to accidentally put them all on the same side. Giving yourself an outline of just the focal pieces will help. After you attach those first, it's easy to fill in the remainder without a formal plan in place.
Final Thoughts
Give this easy DIY tutorial a shot – you can choose ornaments that coordinate with whatever seasonal theme you have or stick with traditional holiday colors. Trust me, it won't feel like hard work at all!
If you like my color scheme, take a look at my blue and silver Christmas tree decorating ideas for more inspiration. There is so much character to be found in customizing decor to your own personal style.