Are you amazed at how quick your little one grows? This sweet, life size ruler is an adorable way to measure your kids' height as they get older. Follow this simple tutorial and you'll have the perfect decor for your child's bedroom to mark their milestones as they meet them!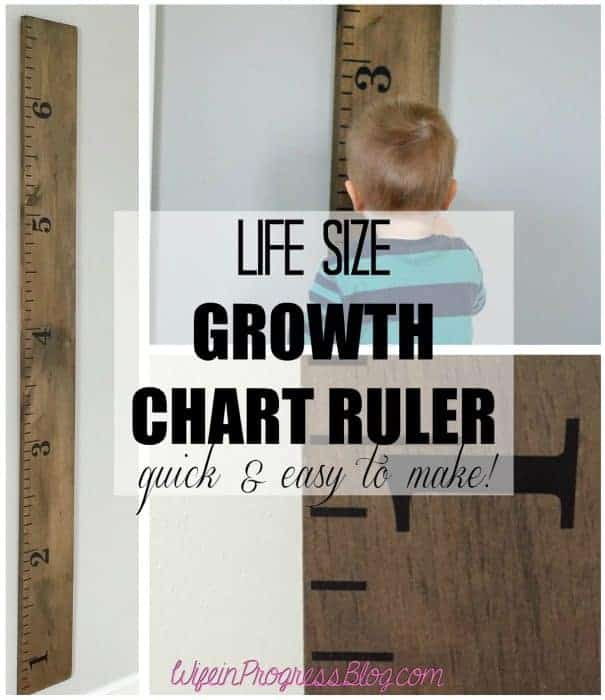 Did your parents measure your height by marking it on a wall or door in your home? Mine didn't but my husband's parents did. The marks are still written on the kitchen wall! Isn't that the sweetest?
I wanted to do something similar for my son Cian, but knowing that I will probably paint the wall a dozen times before he's a teenager, I needed something that wasn't permanently attached and that could be brought with us in case we ever moved.
And that is how my idea for this life size growth chart ruler was formed!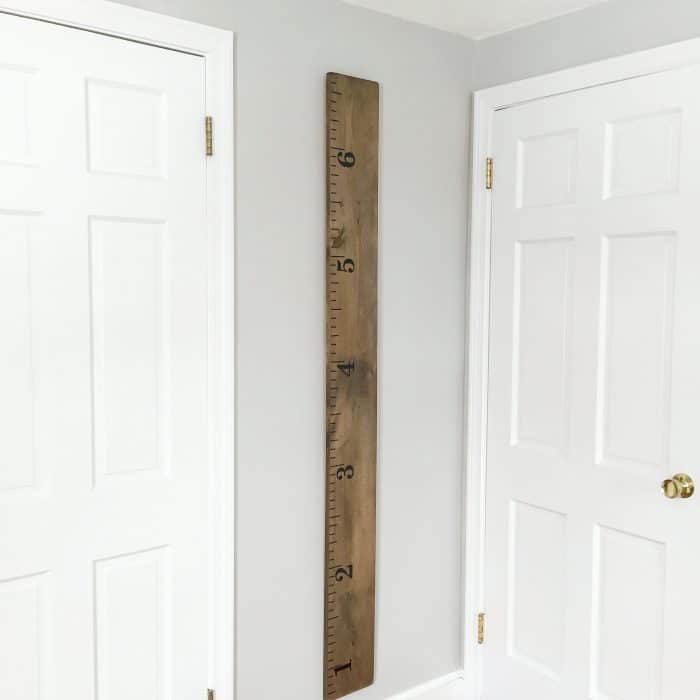 It was quick, easy, and only cost $25!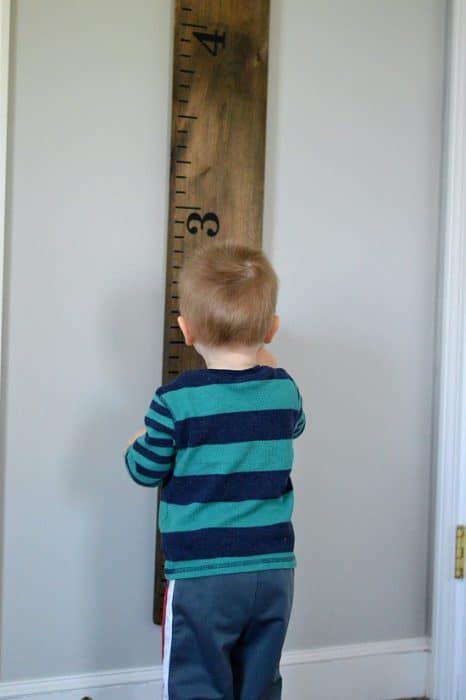 What You'll Need To Make This Life Size Ruler:
Vinyl Ruler Decals (I used these)
A 6ft 1 x 12 board (I got mine at my local home improvement store precut to 6ft but if they only have 8ft they will cut it to size for free)
Paint or Stain (I used a mixture of Minwax Dark Walnut & Classic Gray – the same technique as here)
Measuring tape
Pencil
Directions:
Stain or paint your board. If you stain it, you'll need to wait 48 hours before applying tick marks and numbers. Paint only needs 24 hours to fully dry.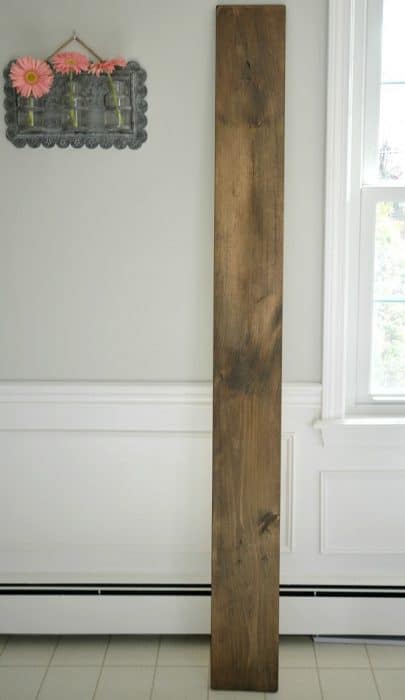 2. Sand the edges of the board to give it a more finished look as well as to round the top and bottom edges.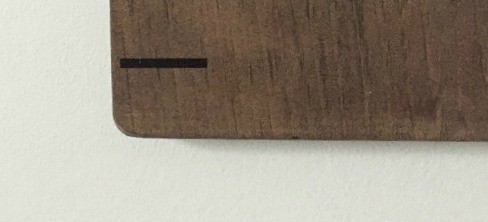 3. Mark your board. The ruler is designed to hang 8 inches off the floor, so you will want to mark the first spot for your tick mark 4 inches from the bottom of your board. This means the first measurement will be 1 foot. Using a pencil, lightly mark the board.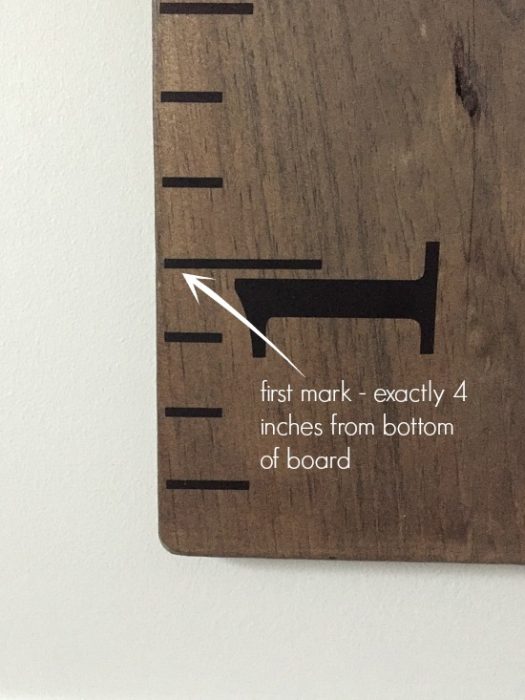 After your first mark, add another light mark to your board every 12 inches. The 6 marks you make will account for every foot, for a total of 6 feet.
4. Attach the decals. The ones I purchased were cut into strips so all you had to do was align them to the pencil marks, smooth them down and pull back the transfer paper.
All in all, applying the vinyl tick marks will take 10 minutes.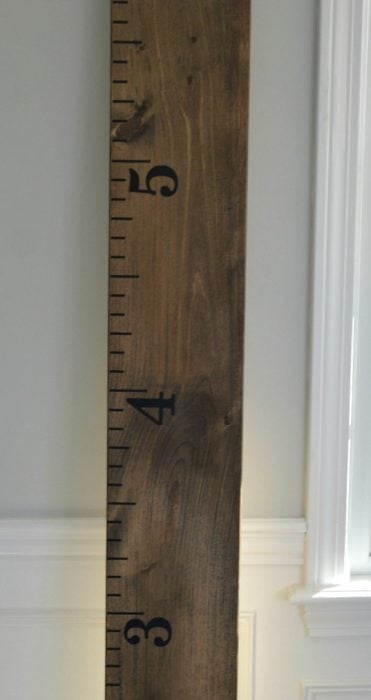 Once all the tick marks are applied, the last step is to place the numbers on. You can orient them vertically or horizontally, whatever you prefer!
5. Attach a sawtooth hanger to the back to make your life size ruler ready to hang on the wall!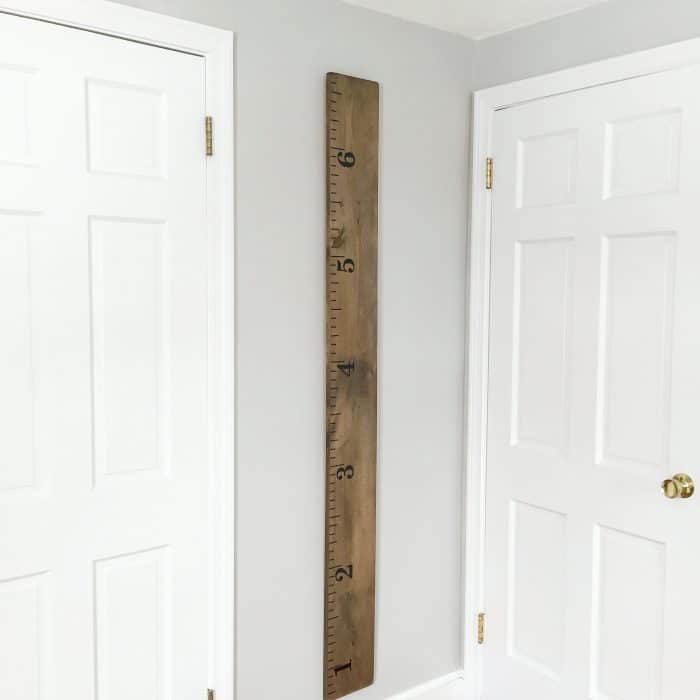 Don't you love this life-size ruler? This tutorial is so simple; anyone can do it! Babies seem to grow in the blink of an eye; make this ruler and keep track of their height milestones to look back on as they grow, grow, grow!