This post may contain affiliate links | For further details, please read our privacy policy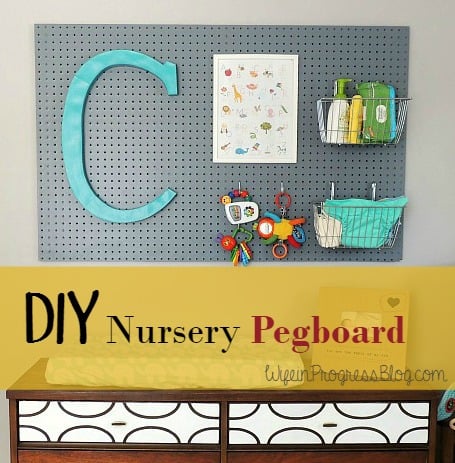 If you're new around here be sure to check out my son's Nursery Reveal as well as the Rustic Shelf and How to Refinish a Mid Century Dresser tutorials either before or after reading this post!
Today I'm showing you have simple it is to add some pegboard to your nursery. Or your kids room. OR your garage for that matter! Many of the nurseries that I pinned during my pregnancy had some sort of pegboard display over the changing table. I loved this idea – it adds some interest to the wall but also adds needed functionality to the space!
This is an easy project that you can do in one afternoon which is always a bonus.
What you'll need:
Pegboard (I got mine at Lowes and they even cut it to size for me!)
3 strips of wood. I chose "craft wood" for this that was 1/2 inch thick by 2 inches wide. I didn't want the pegboard too far out from the wall. (these will act as cleats. Get the cheapest piece available and again cut to size, slightly shorter than the height you want your pegboard)
Paint (I chose Elephant Gray by Behr)
Roller
Hammer & Nails
6 Screws
Other accessories you want to hang such as this letter C
Directions:
If you haven't already, cut both your pegboard and 1×2's to size. I wanted mine centered directly over the dresser/changing table so that's the width I opted for. I pretty much just eyeballed the height :-)
Paint the pegboard and let dry overnight. Don't be tempted to touch it – the surface of the pegboard needs enough time for the paint to properly adhere. Give it a second coat of paint if it needs it (mine did).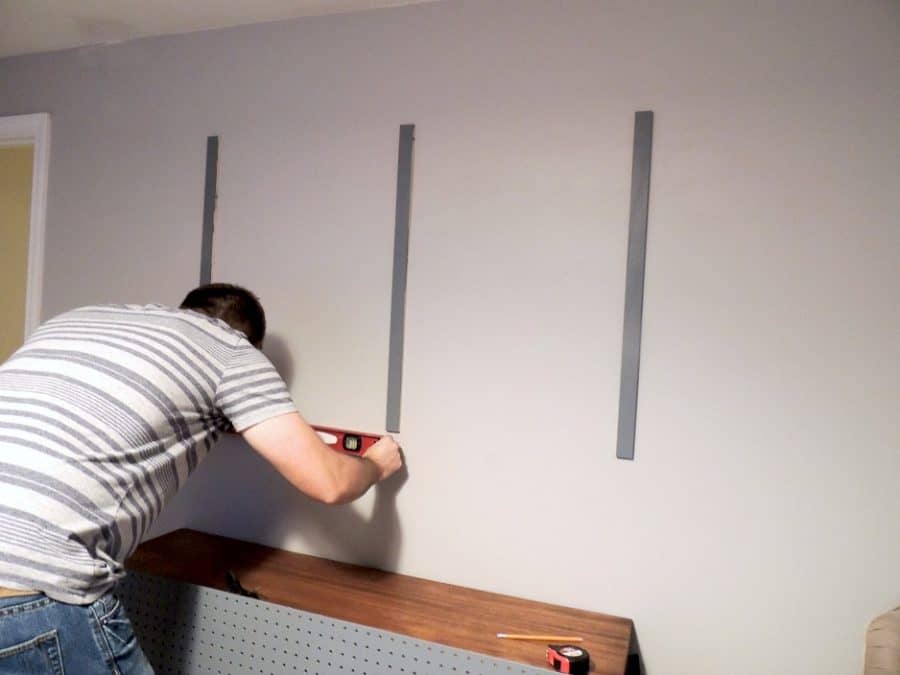 Nail 3 cleats into the wall. You want a center cleat and then the other 2 should be approximately 2 or 3 holes in from the edge of the pegboard. You will want to make sure that they are level so that you'll be able to screw the pegboard into them.
Screw the pegboard directly into the cleats. I used 6 screws – 3 on the top and 3 along the bottom.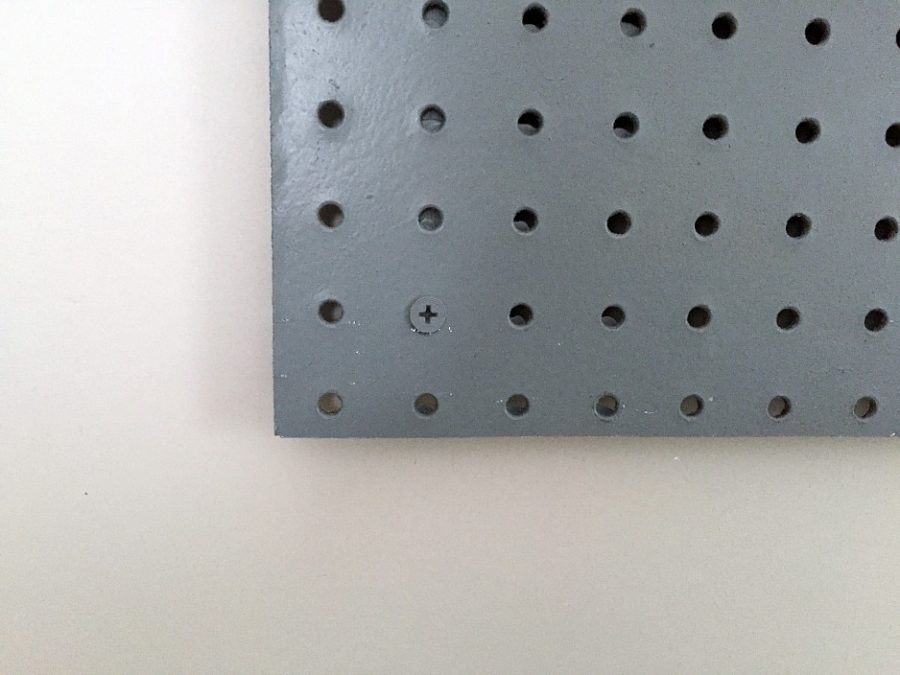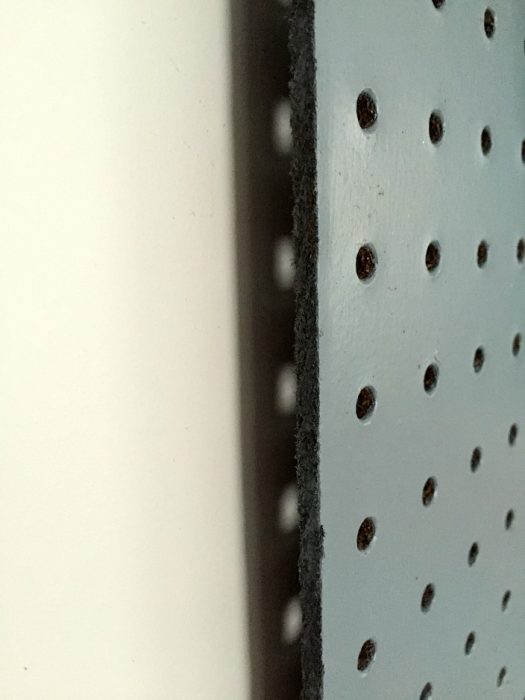 You can see that the pegboard isn't too far off the wall. If you want it further off the wall, you could always frame around it to make it look more finished.
Finally, attach the hooks and baskets and accessorize as you please!
The baskets are awesome for all your diapering necessities by the way. I highly recommend them. The hooks are great for hanging toys to keep baby amused while changing said diapers!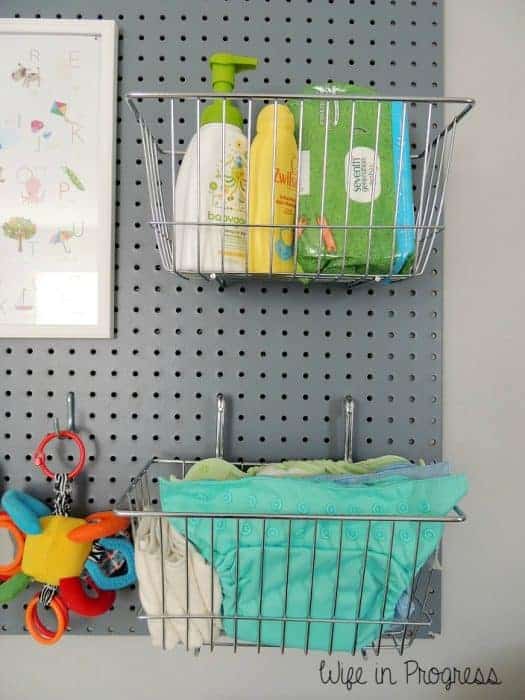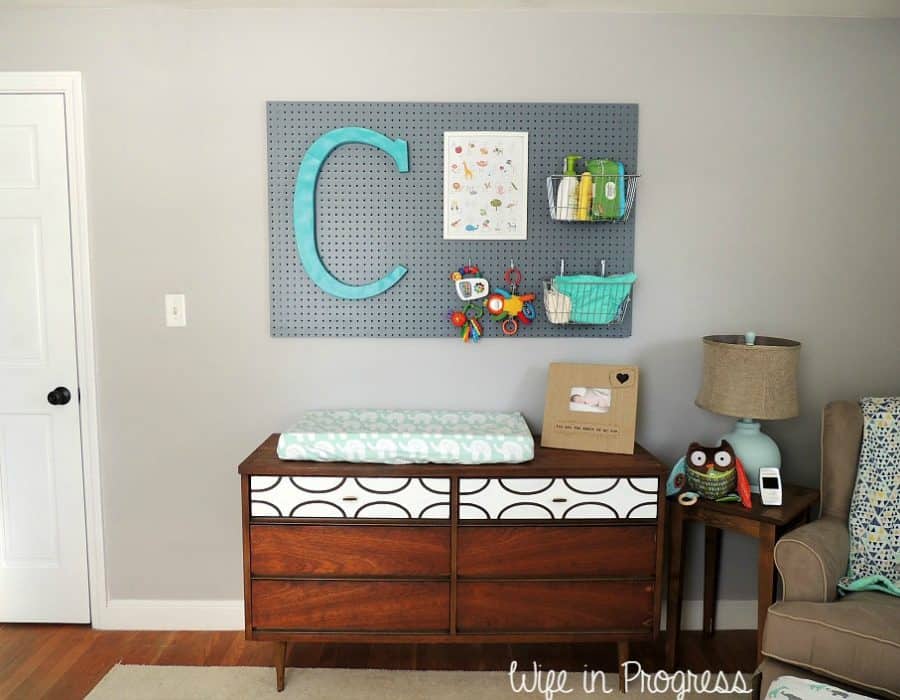 The final two tutorials that I'll be sharing with you will be the DIY Crib Mobile and the DIY Chalkboard Name Print. I hope you'll stop back to see them!
Until then..have you used pegboard in your home in a creative way? I'd love to hear all about it in the comments!