The day has finally arrived! The big office reveal is finally here! For the first time in my 5 year blogging career, I have a beautiful and functional space in which to work. I feel like I should celebrate somehow! Due to circumstances out of my control (I'm looking at you, backordered credenza!!) this makeover did take a lot longer to get photographed than I had originally planned. The space has been mostly finished for about a month but I was stuck waiting on one single piece of furniture that was pretty essential to the final product.
Before we look at all the pretty "after" photos, let's quickly recap on what the office looked like and how I arrived on my final design.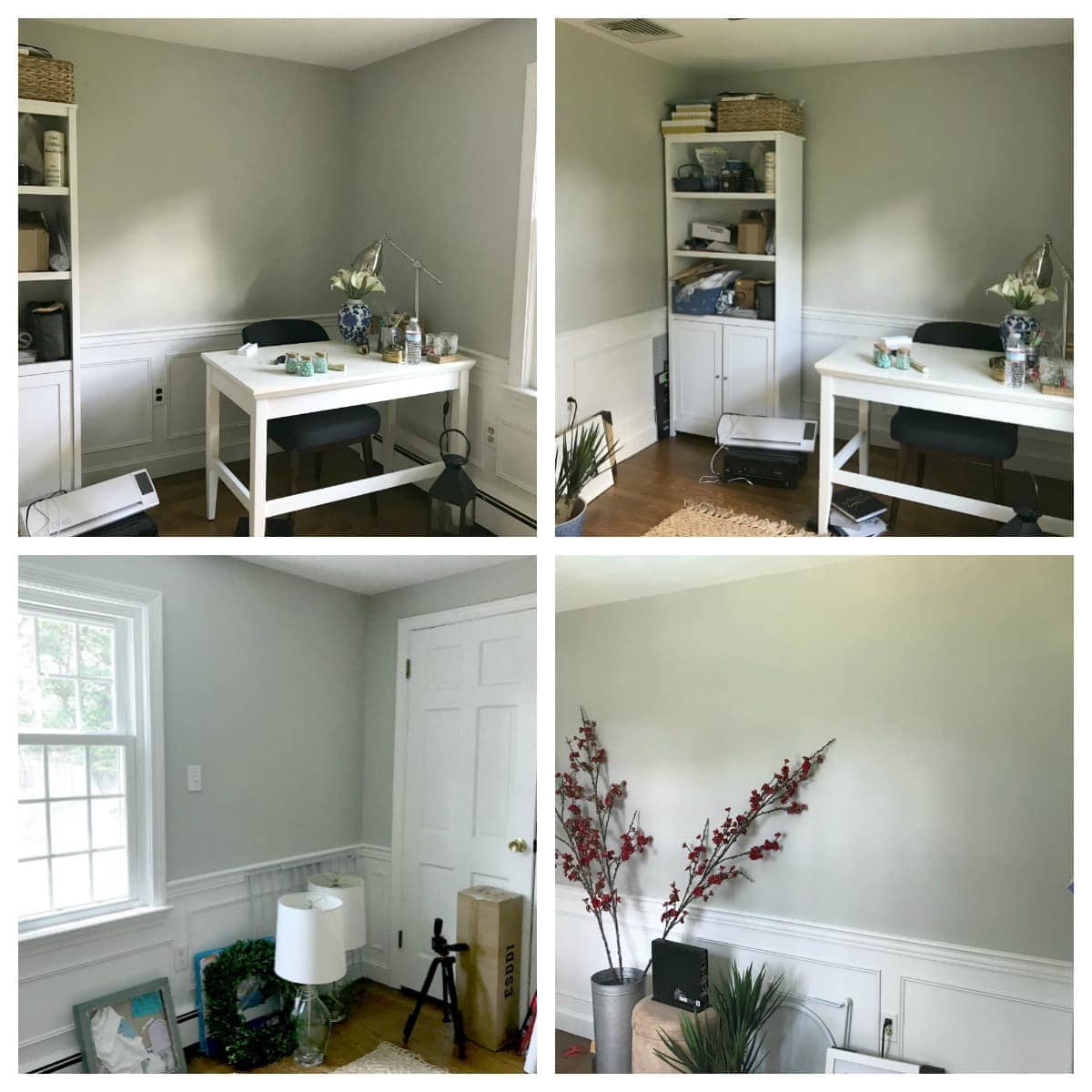 Yeah. Enough of that. My office space was uninspiring, dull and a dumping ground for random junk.I'm not sure why, maybe it's because the room is so small that it seemed daunting to me to figure out furniture placement and just how to generally make my the space function the way I needed it to. So when Modsy offered to work with me to design the space, I instantly jumped at the chance.
Working with Modsy has been a dream. If you need help on a full room makeover or even something as simple as where to put your new couch, they will help. They can completely model your room in 3D (even including items you already own!) and offer you different designs to fit your needs. It's not expensive either: Their basic package starts at only $59 per room. That's a steal if you factor in how long it may take you to buy a myriad of items only to realize some or none of them work. This way you get to skip all the hassle and have a designer do it for you.
You can read all about the initial process I went through with Modsy here but for now just know that we ended up settling on a combination of the two designs that they created for me. I had originally decided on one of the designs, but due to the shelves in that design being backordered, a combination of both designs seemed like a good idea. I firmly believe that everything happens for a reason and I just love the end result.
Here's the final 3D rendering that Modsy created of the two designs merged: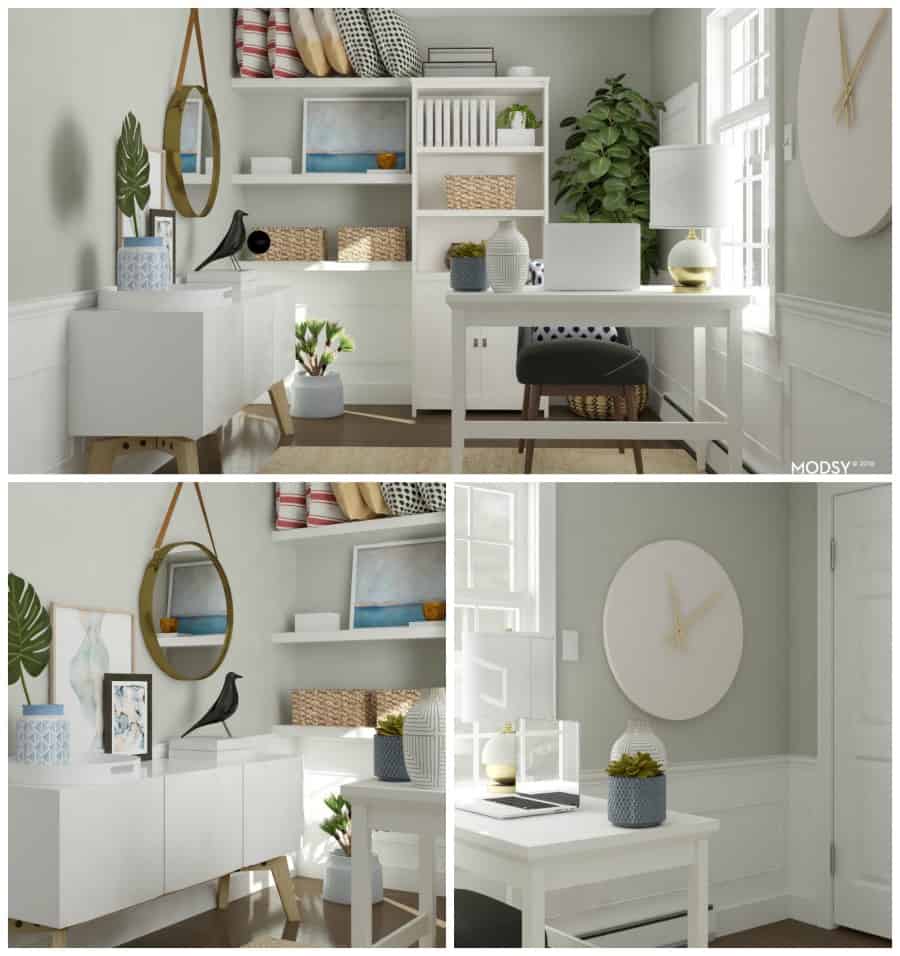 And here's the finished office in real life: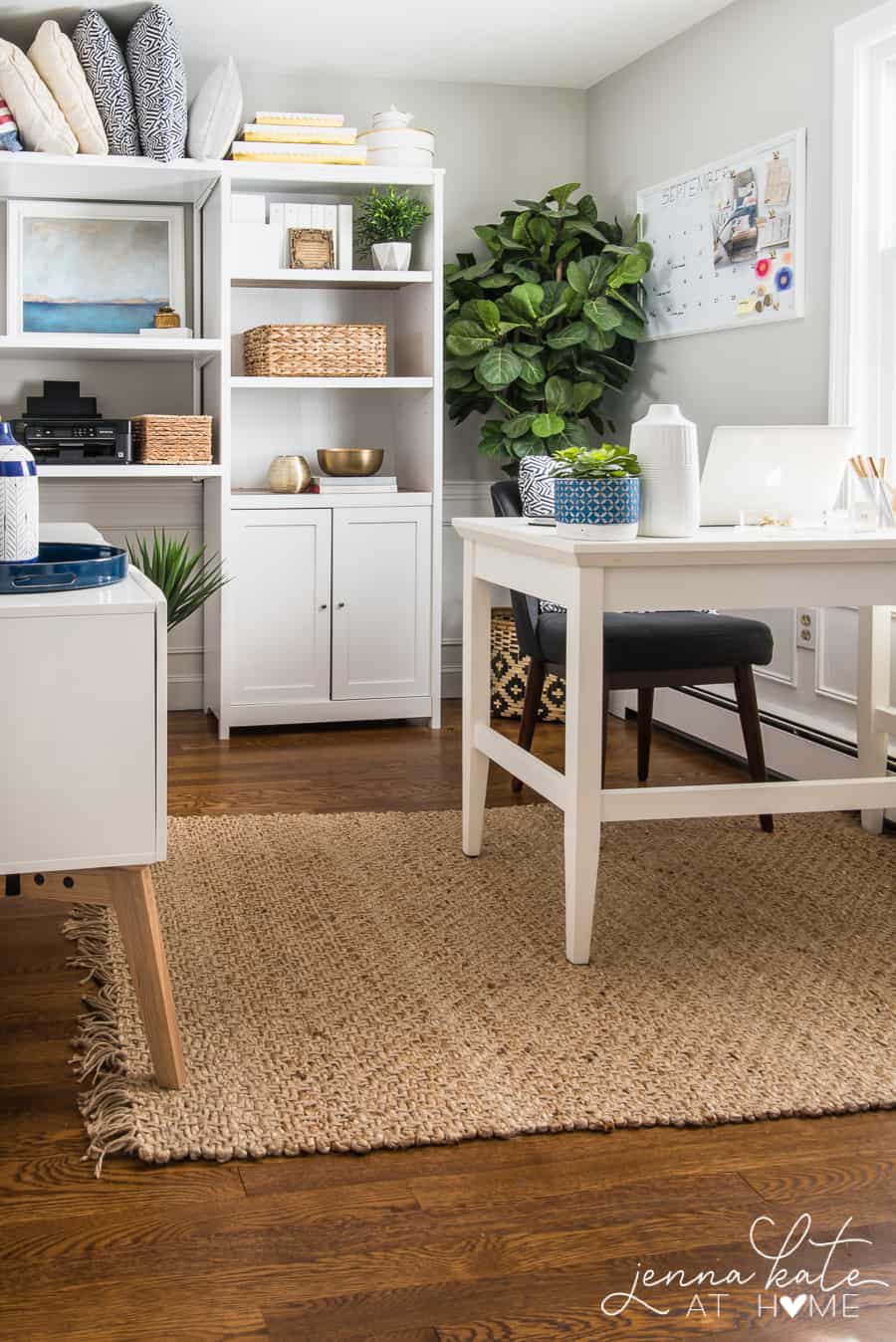 You guys – this was the best and easiest makeover ever for two major reasons.
It turned out amazing;
I did not have to use even the tiniest bit of brainpower since the design was done for me. All I had to do was click "add to cart" within Modsy and they coordinated all my purchases for me.
With 2 kids under the age of 4, my brain power and energy levels don't go very far these days.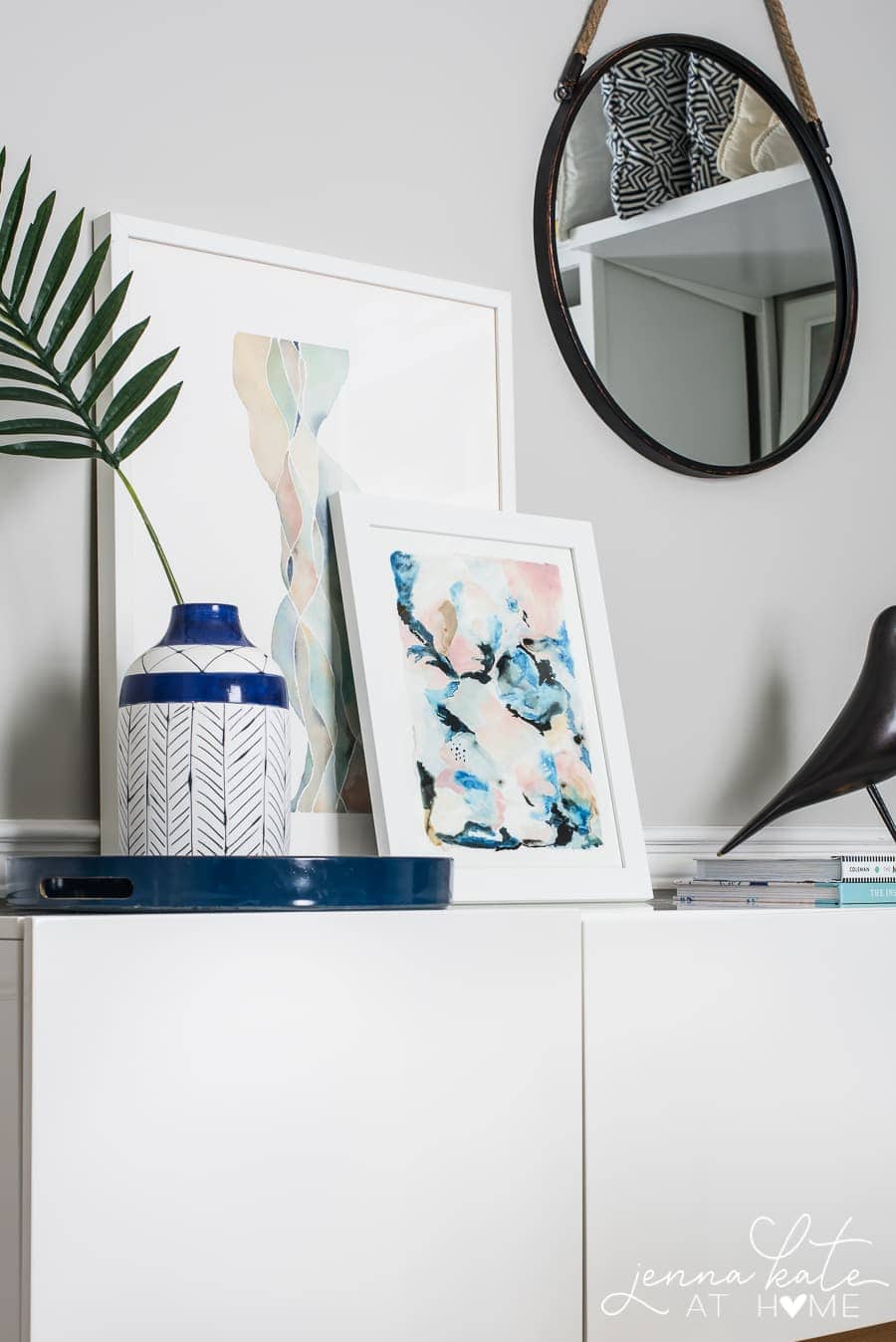 The fact that I could order everything from Modsy was amazing. Now, in true Jenna style, I did find some similar items in other stores at a cheaper price point. For instance, the rattan baskets I picked up at HomeGoods as well as the pretty desk lamp. BUT I kept the look exactly the same was what had been designed for me. So all I had to do was find something that looked similar and I knew it would work in the design!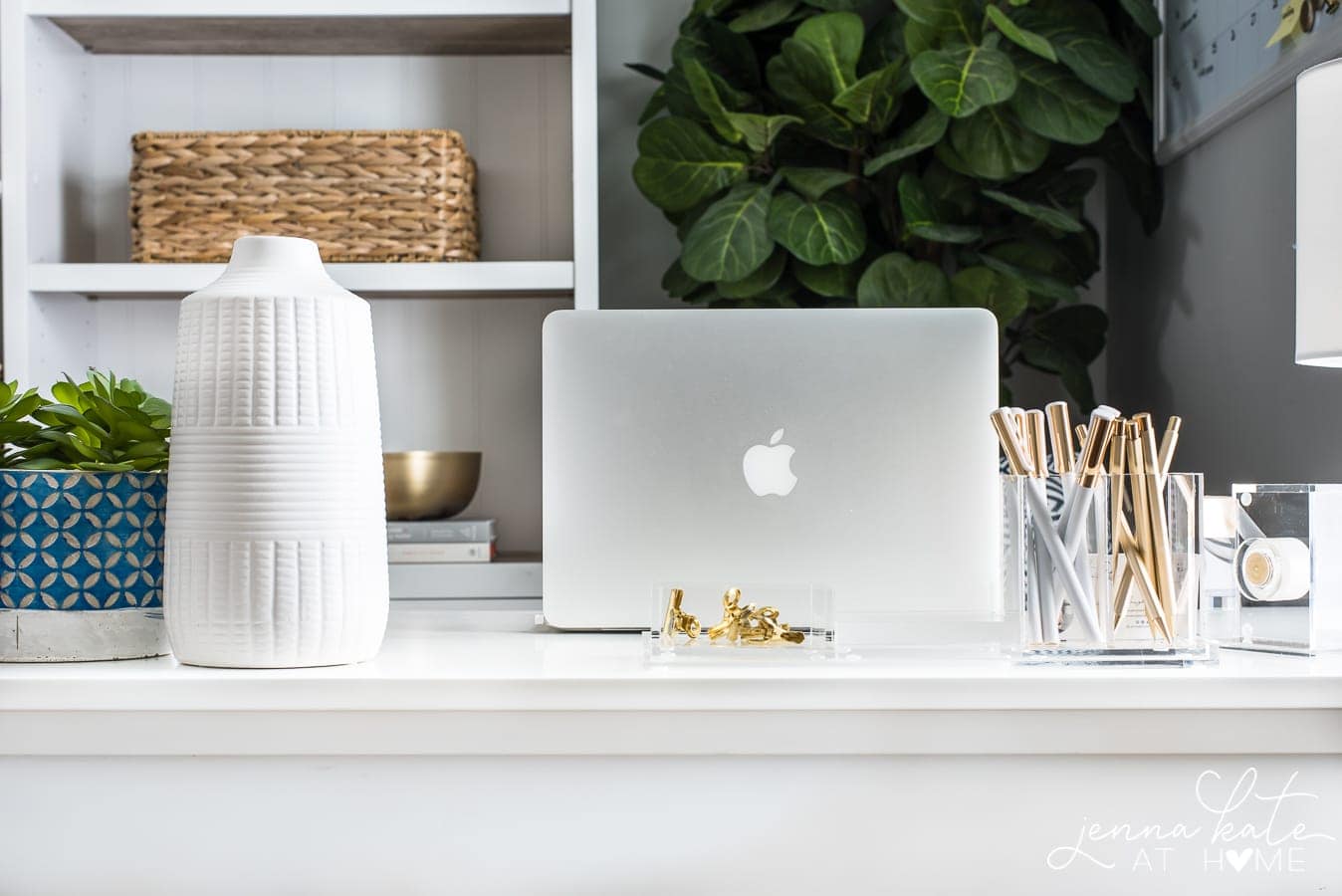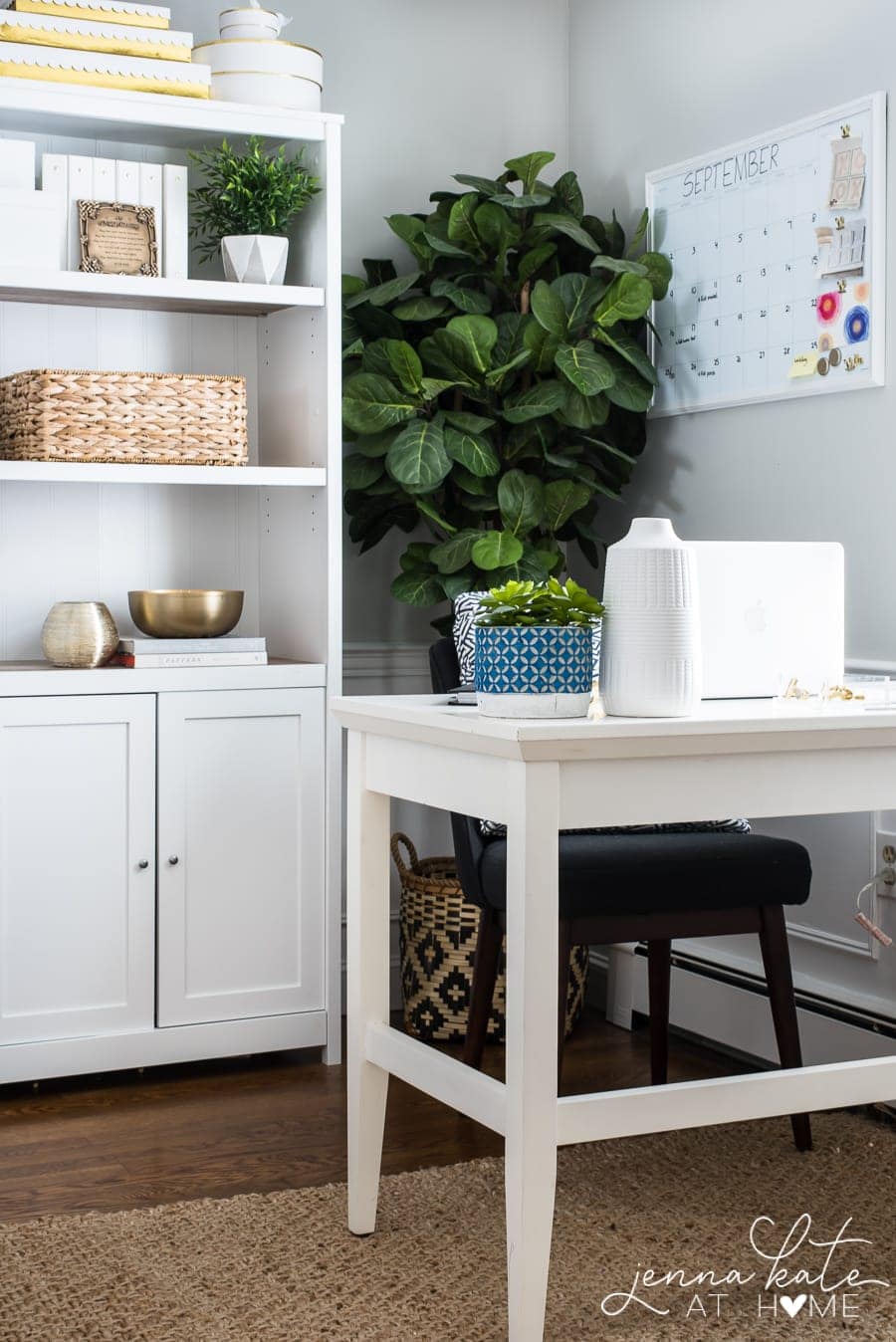 I hope you agree that the space turned out beautifully. It has a certain modern coastal feel about it that I'm really digging. I already had the desk chair with has a mid century vibe to it plus the rug which is kinda coastal so I love how the Modsy designers brought two distinct design styles together and make it all perfectly cohesive.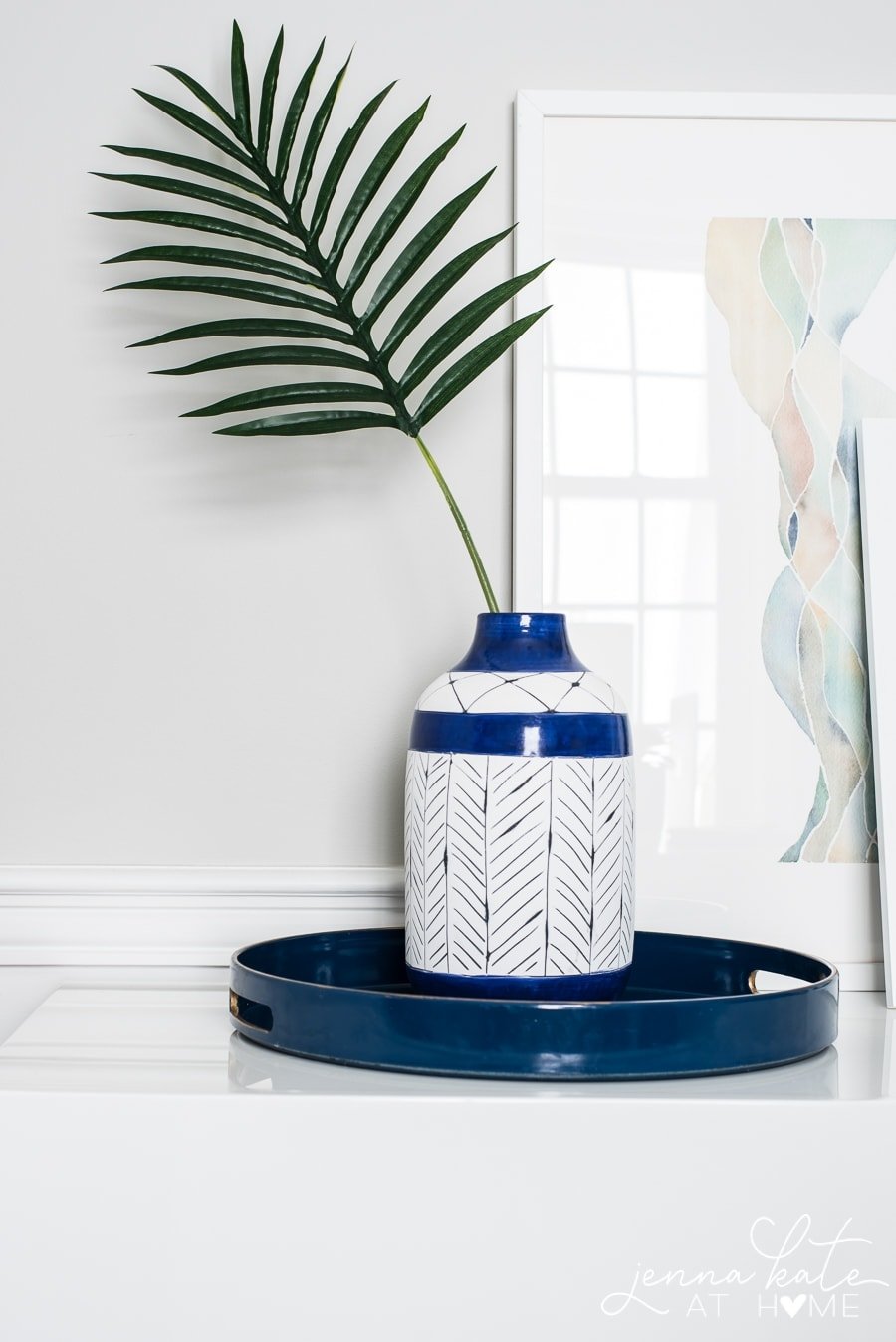 My signature pop of blue is of course represented!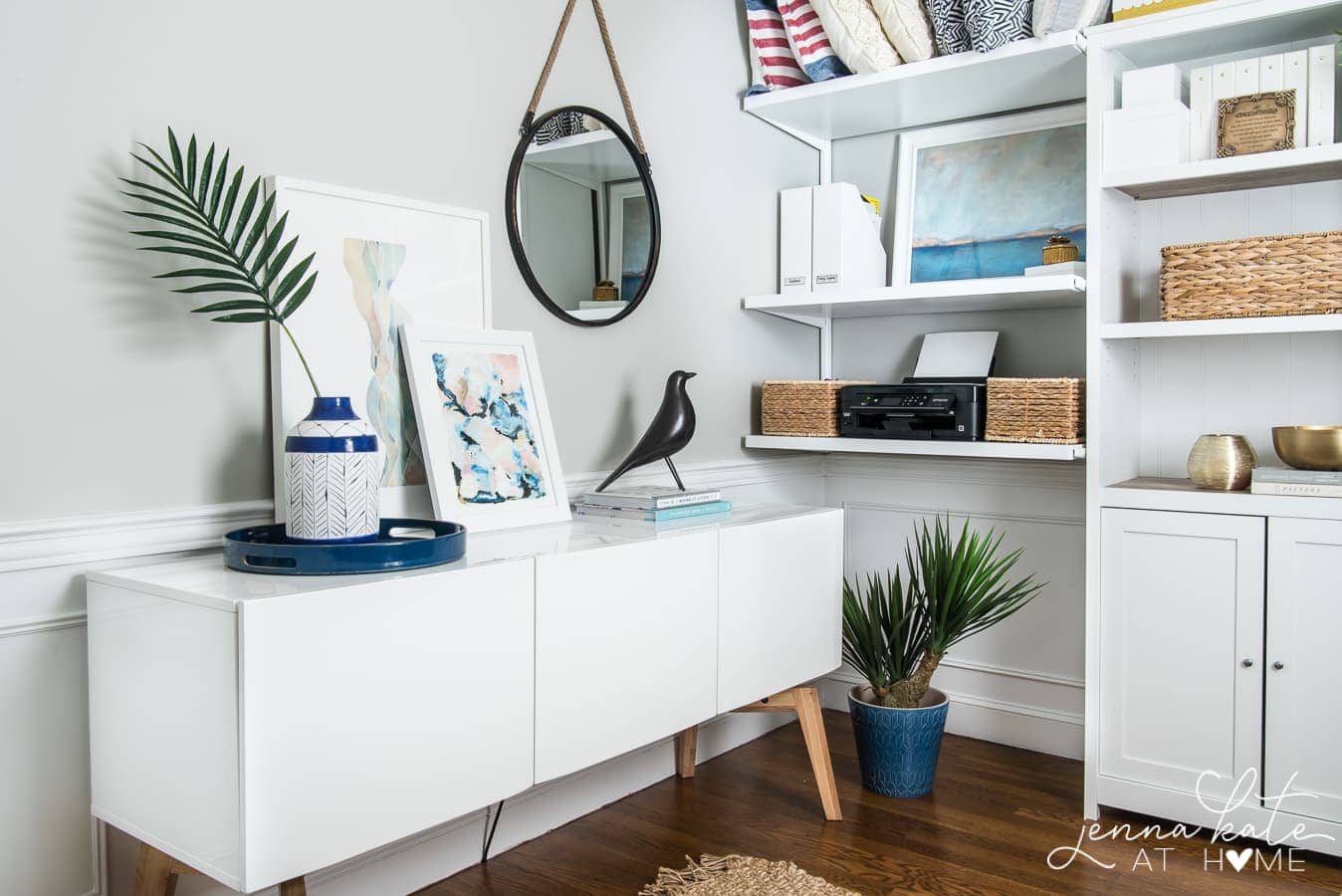 This credenza that I patiently waited for was certainly worth the weight. It's the perfect size for my small office but has a ton of storage. I was finally able to get our wireless router and my silhouette off the floor and behind doors. This unit also holds all my fabric, card stock and craft paper. The wall shelves hold my printer, magazine holders and even the very top shelf has been utilized for throw pillow storage.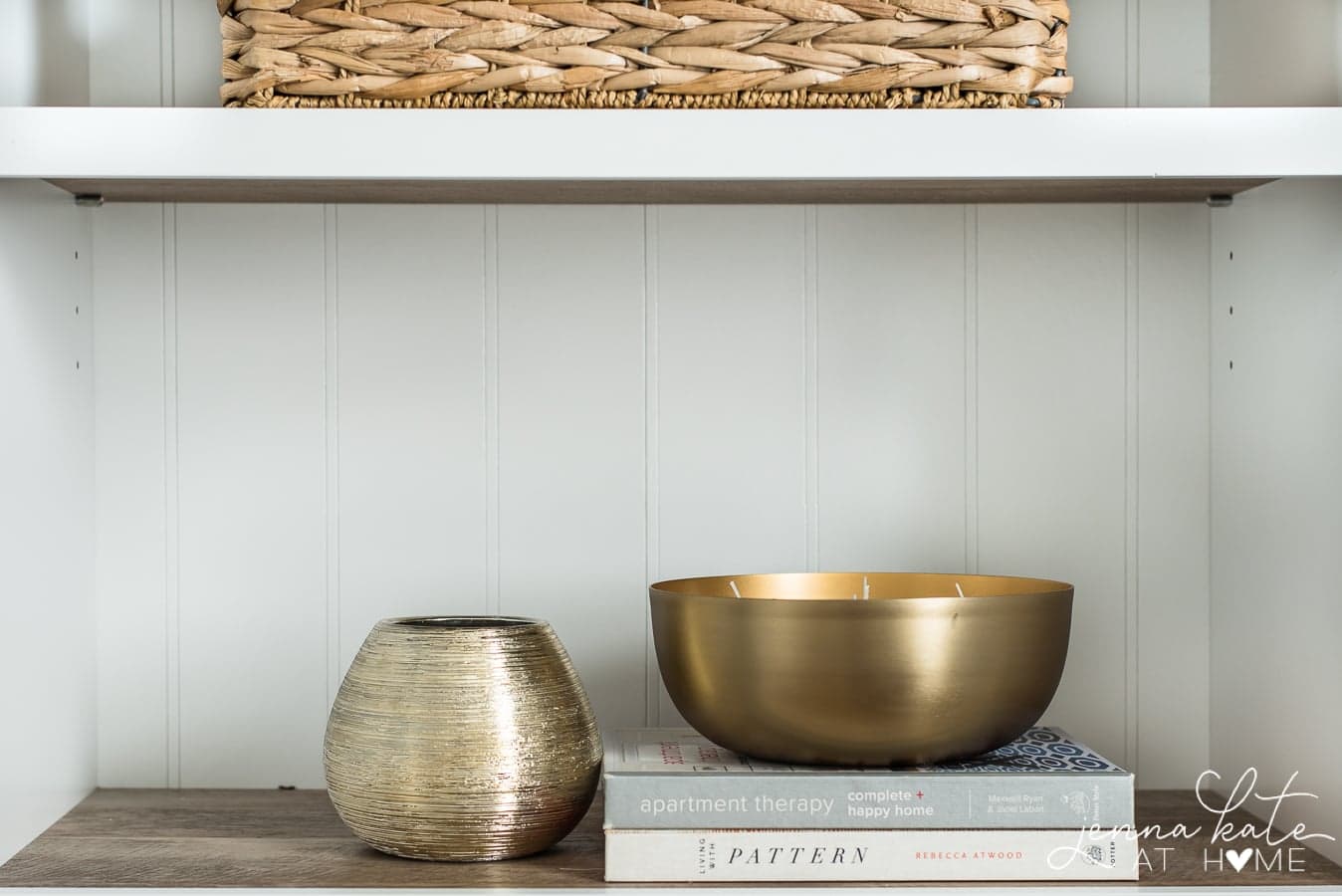 Every little detail was thought out and every inch of space used to create both function and beauty.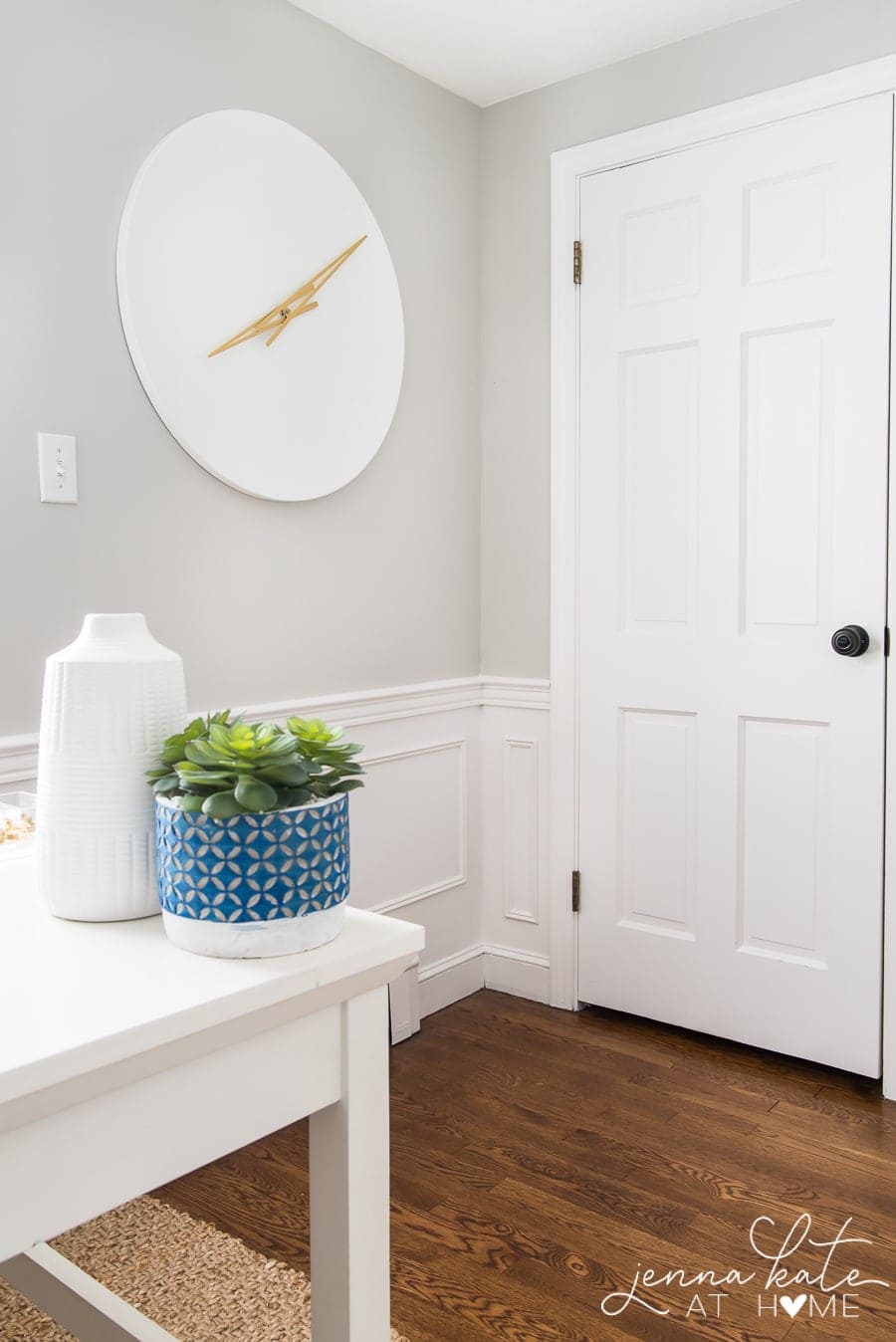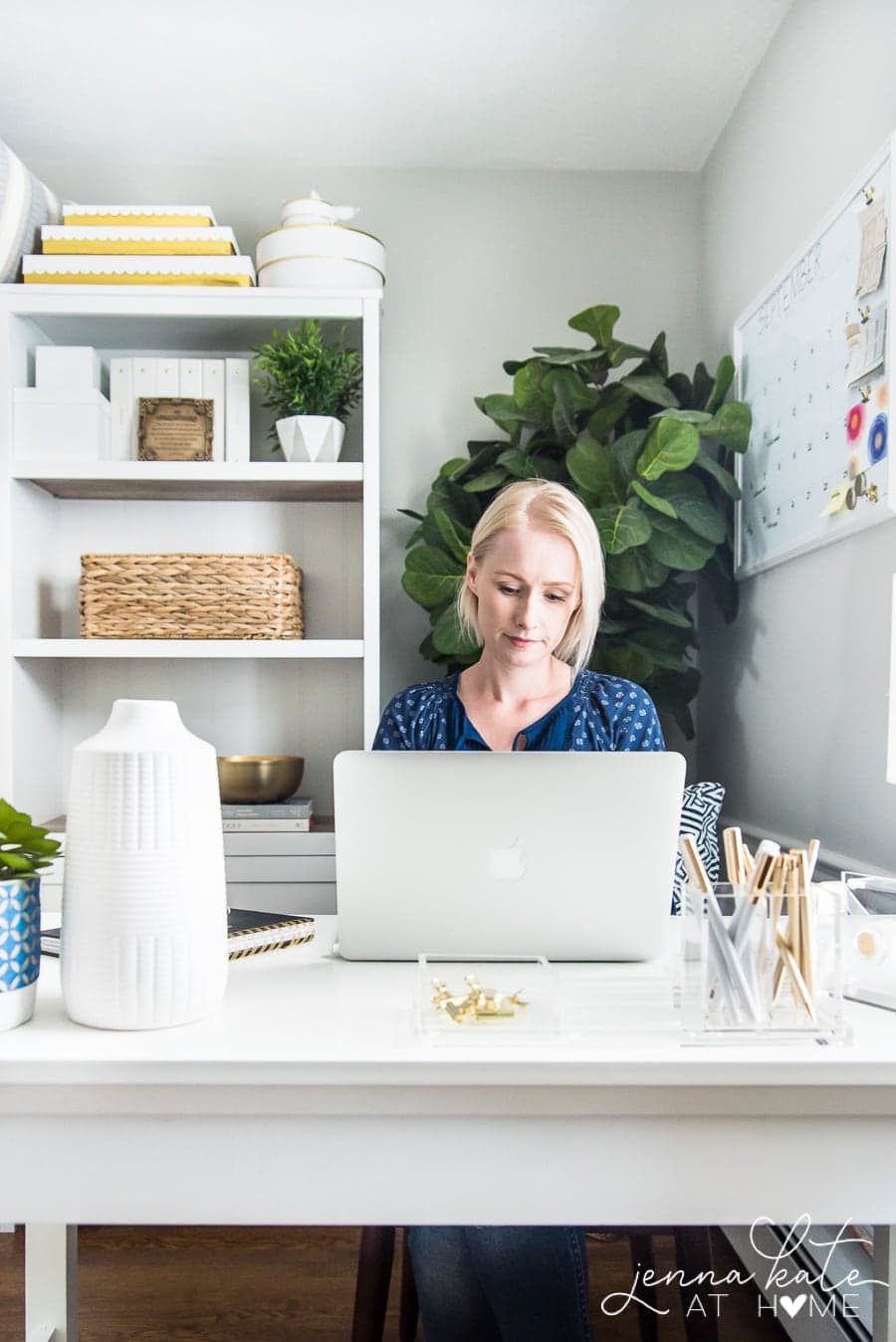 Can you tell how thrilled I am with how it all turned out? If you're looking for me, you'll find me sitting at my desk brainstorming other rooms that could use the Modsy treatment! ;-)