The best tips to create a functional men's wardrobe layout in a small but walk in closet. Who said he can't have the closet of his dreams, too!
*This post is sponsored by The Container Store but all opinions and awful before photos are my own.*
My husband is the sweetest, most considerate man. He works hard and works long hours. Most mornings he is up at the crack of dawn to shower, eat breakfast and head off to work. He always worries about waking me up, so instead of getting ready in the master bathroom, he uses the kids' bathroom and gets dressed in a separate room. In our old house, he used to do this in another bedroom. In this house, we have this weird little closet room that's too small to be anything other than a closet (or a telephone room – which is what it originally was!). His "walk-in closet" as we call it, was pretty basic. It consisted of a cheap hanging rail, an old dresser and and some slide-out wire baskets from IKEA. But he thought it was great and never complained. Because that's just how he is.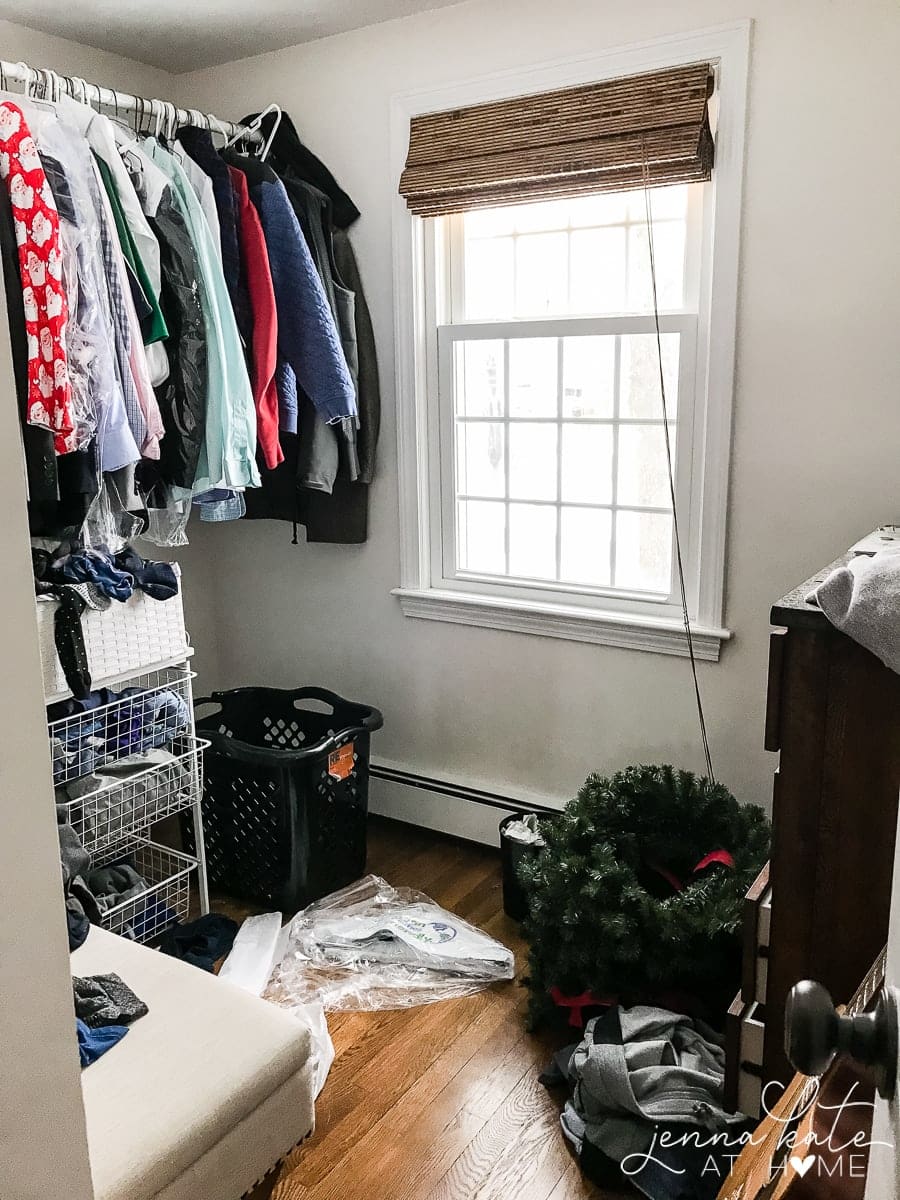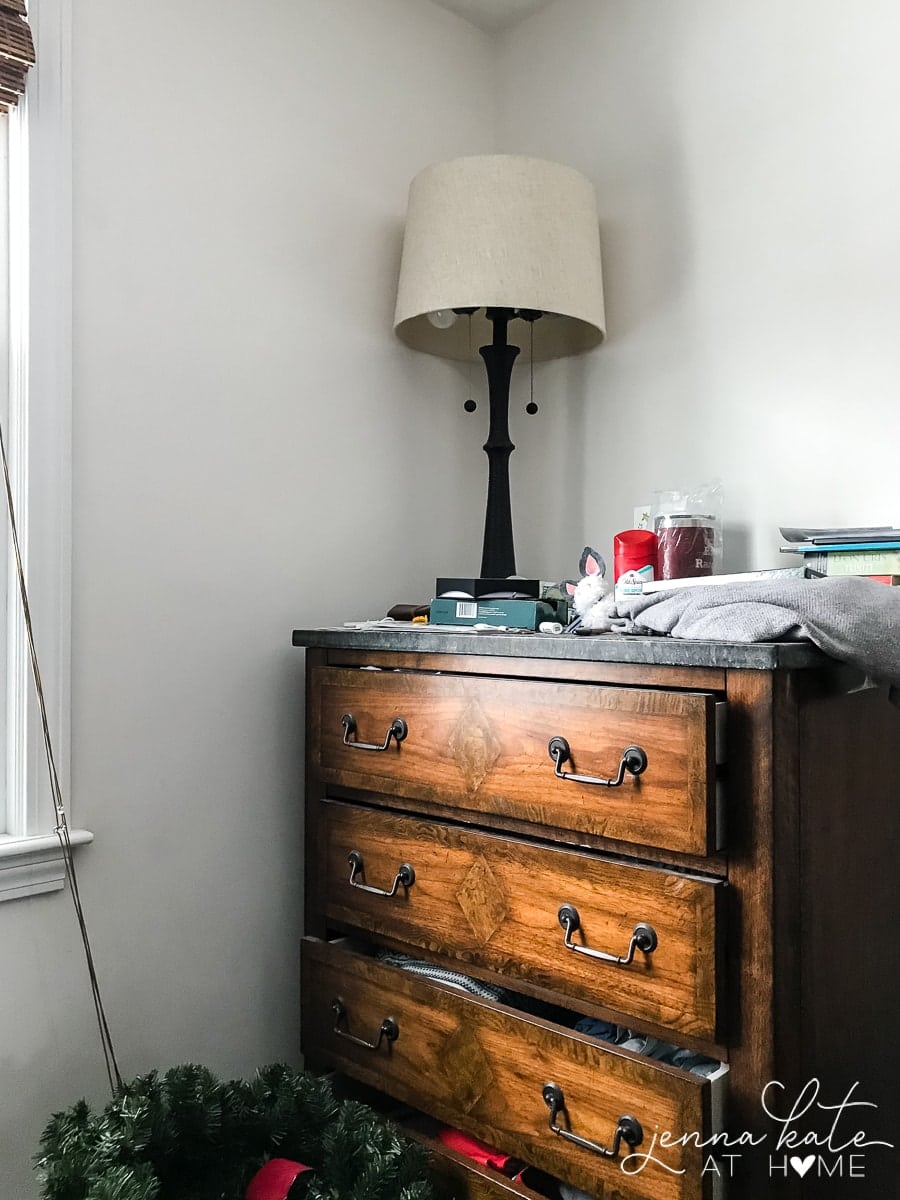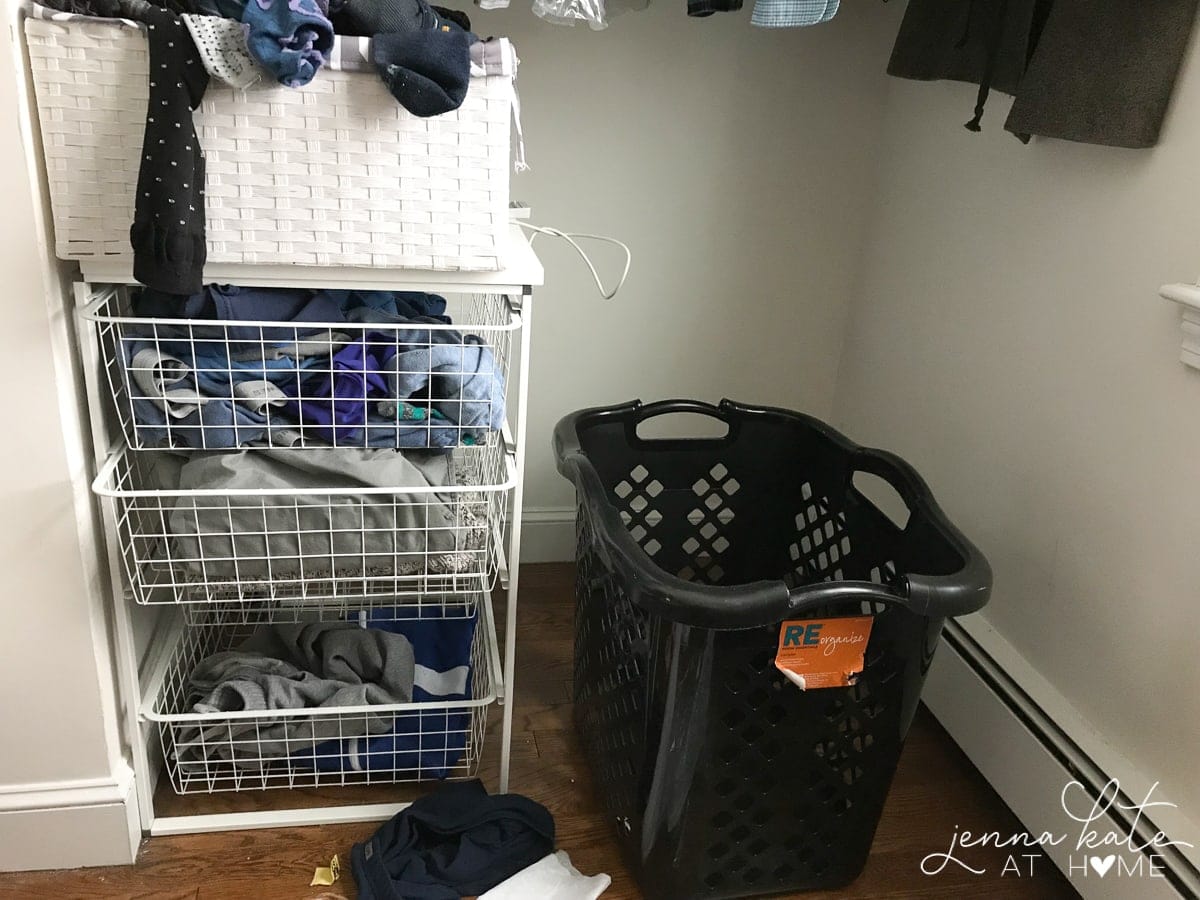 Well, this past month, as part of my ambassadorship with The Container Store, I decided to surprise him with a complete makeover of the space. Not just a cosmetic makeover with some paint and a new rug. But a proper makeover to give him more space and make his closet more functional.
I designed the space with the help of one of the ELFA Designers to utilize as much space as we could, keeping it mind the types of clothes my husband has and the items that would need to be stored.
And I'm so excited to show you how it turned out!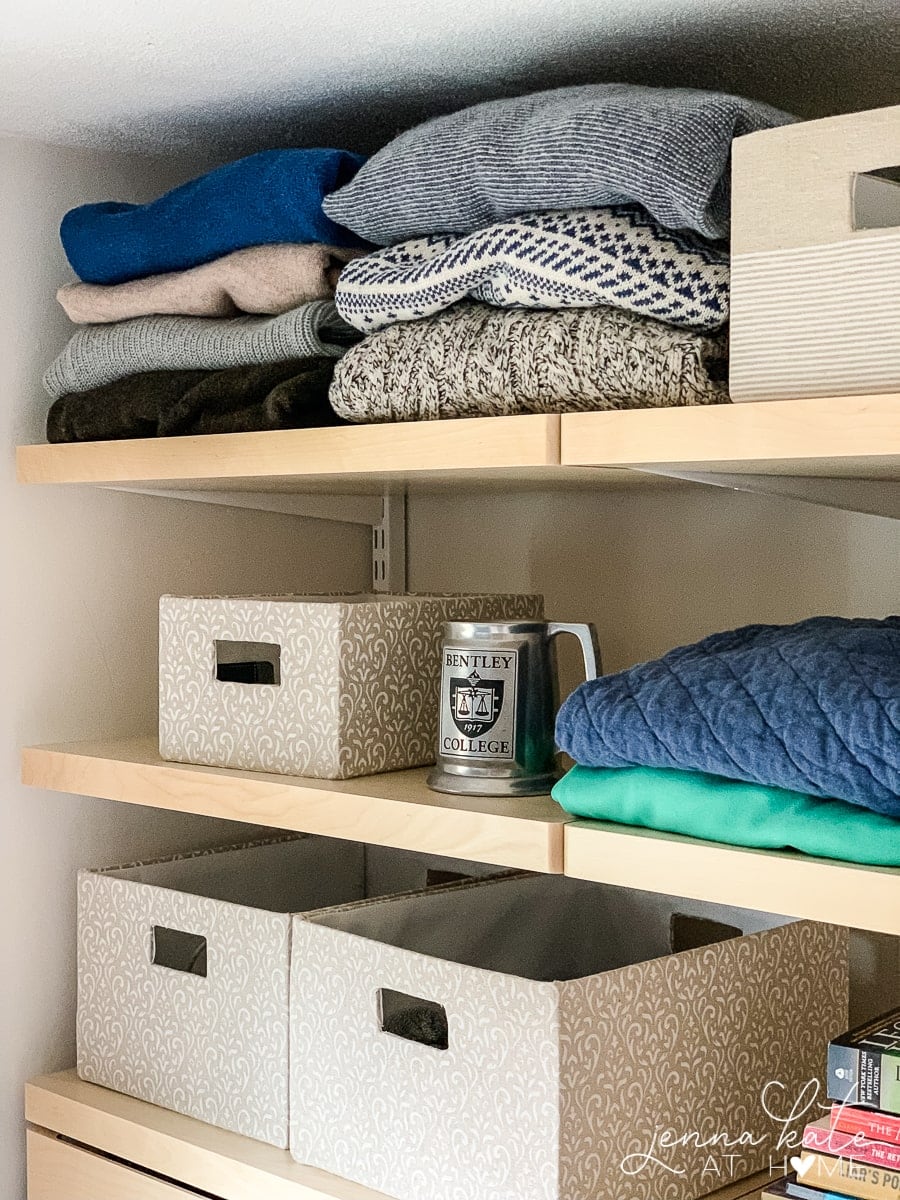 Every detail has been thought of. From the slide-out pants rack…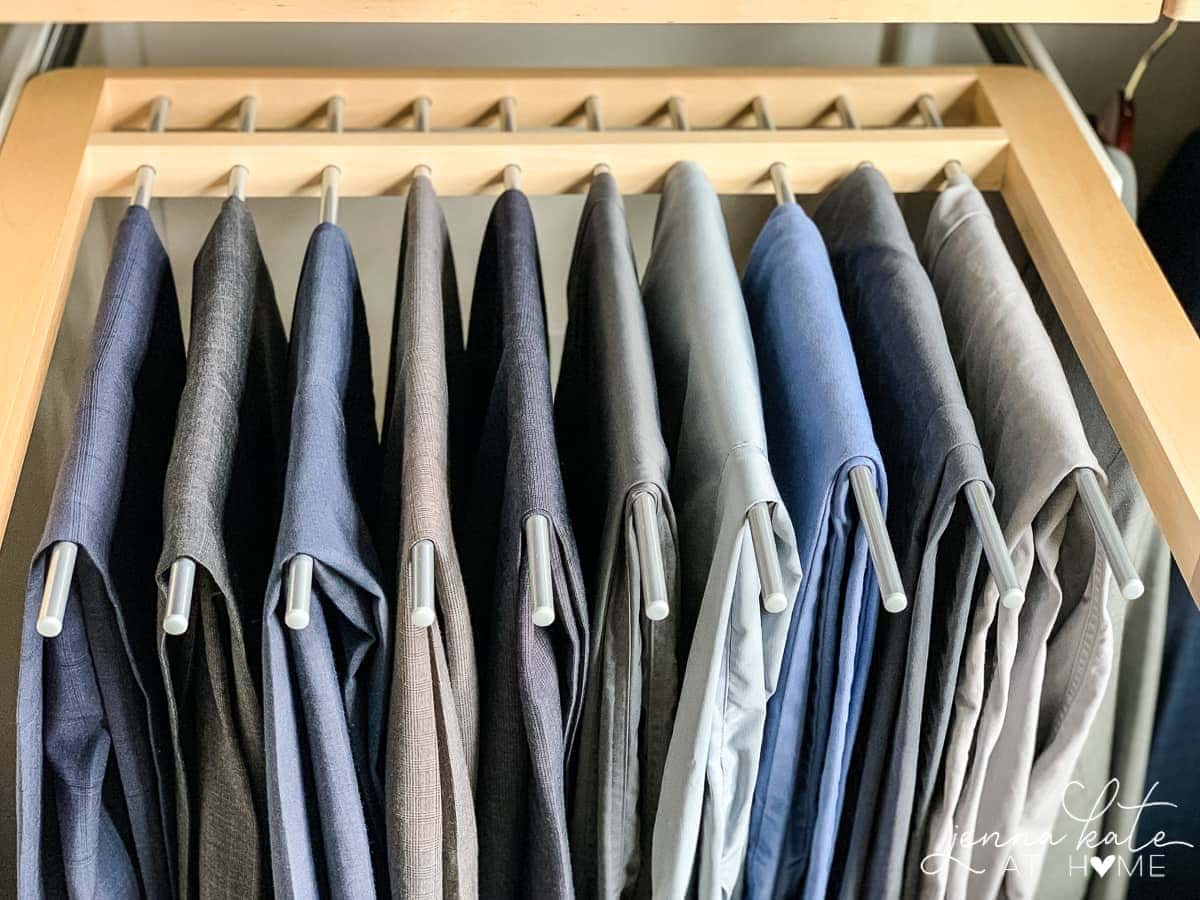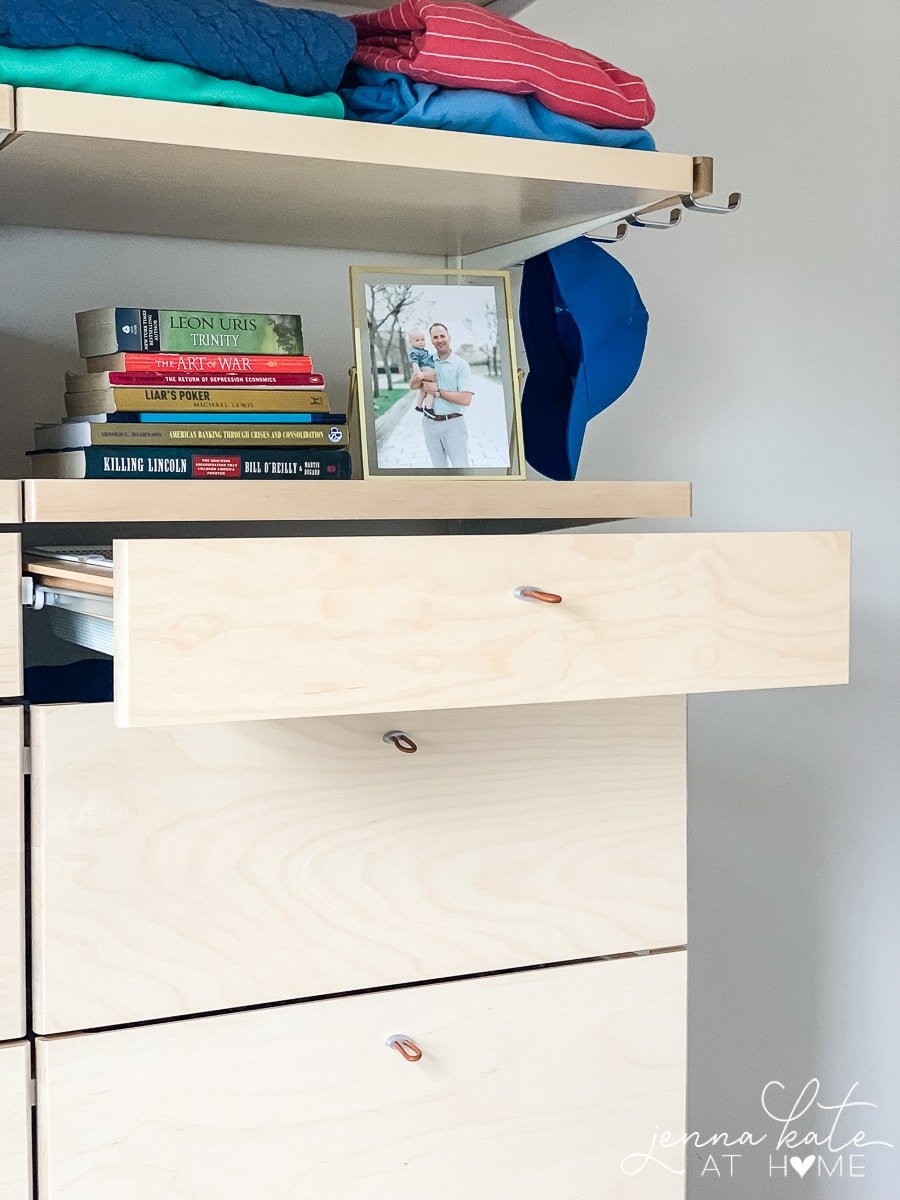 to the slide-out tie holder. Now his ties are no longer draped over a crappy plastic hanger! Fancy, right?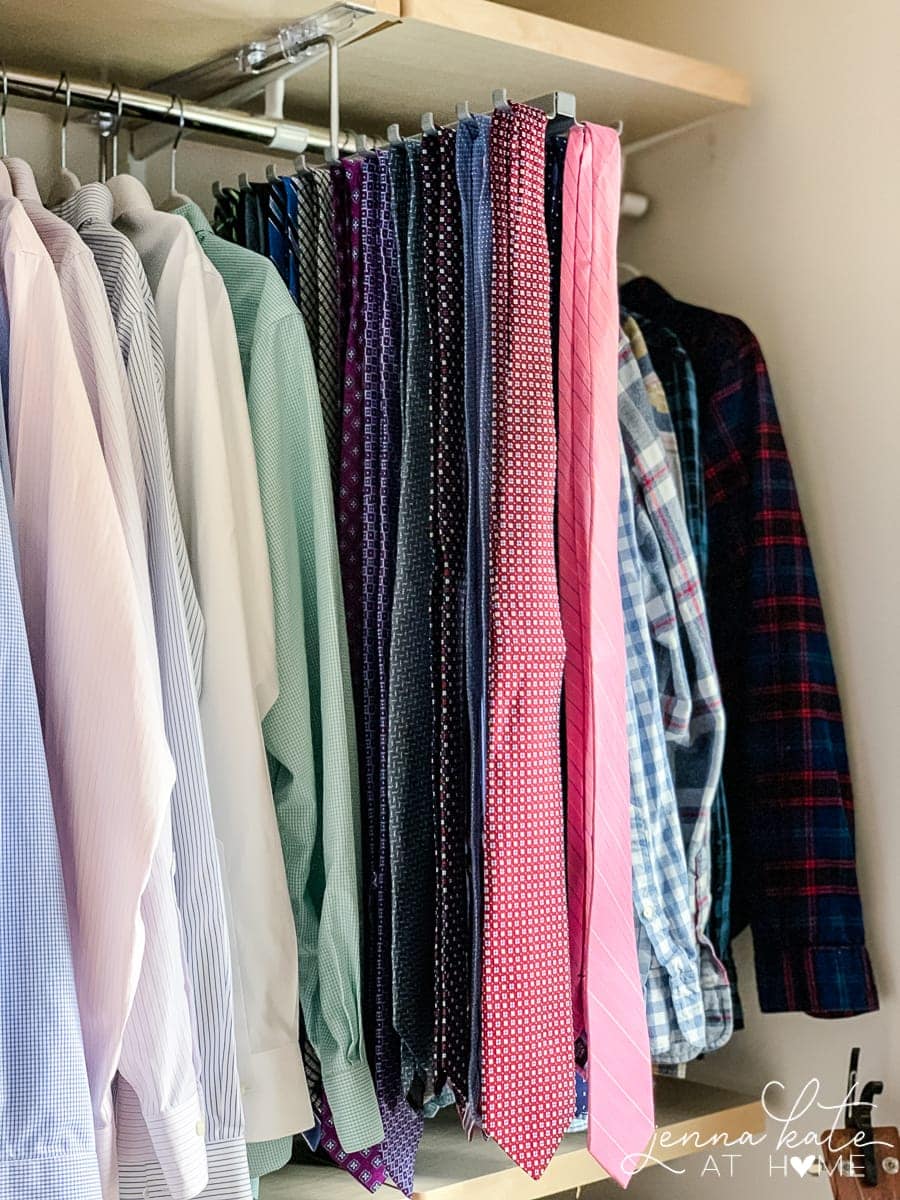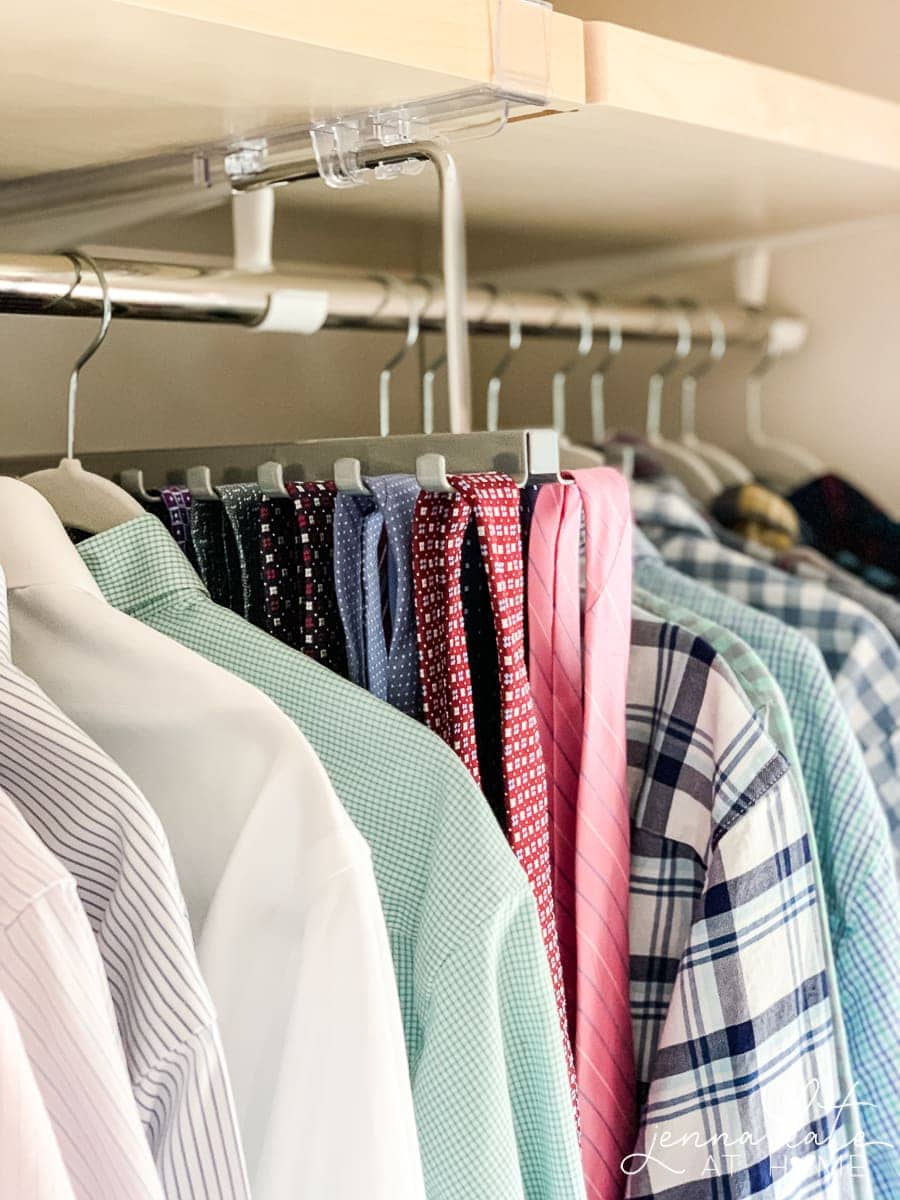 He was so excited when he saw it that he went and bought some new ties to fill up all the hooks!
---
Looking for more home organizing ideas?
---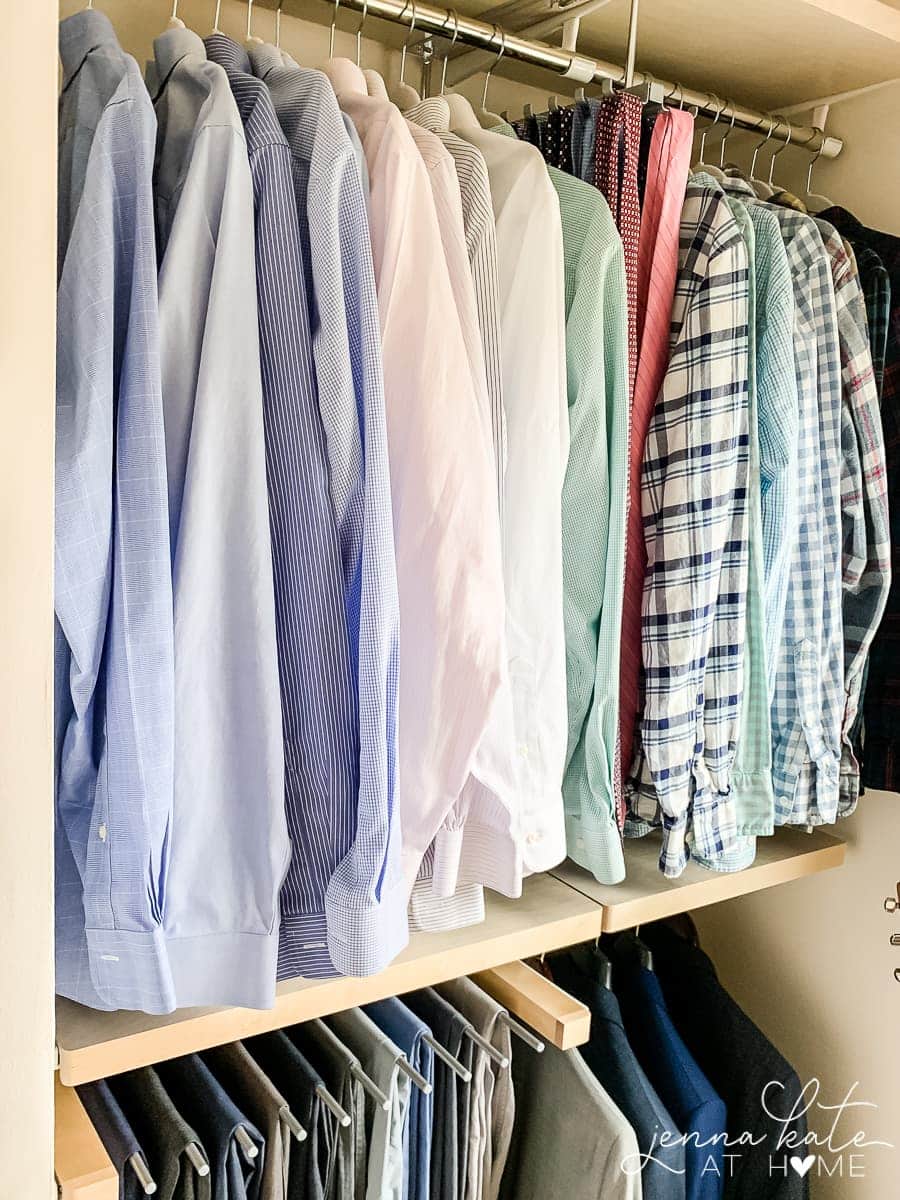 There's three rails in addition to what I've already mentioned, which is tons of space for his work shirts, suit jackets and casual shirts, too.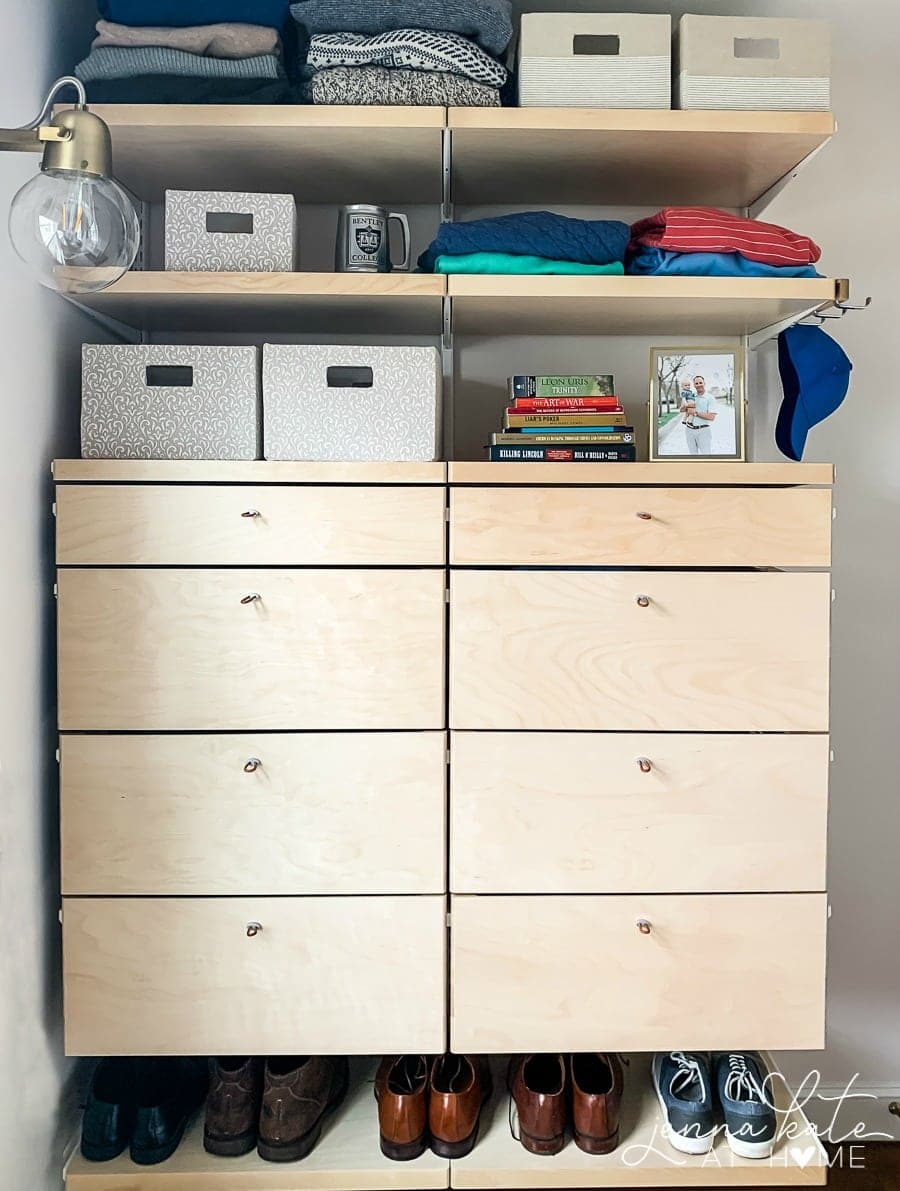 On the opposite side of the room, we focused on adding drawers and shelves. The drawers are home to socks, underwear, undershirts, t-shirts, shorts, sweatpants and sweatshirts. The majority of sweaters have been packed away after the winter but a few remain folded on the shelves.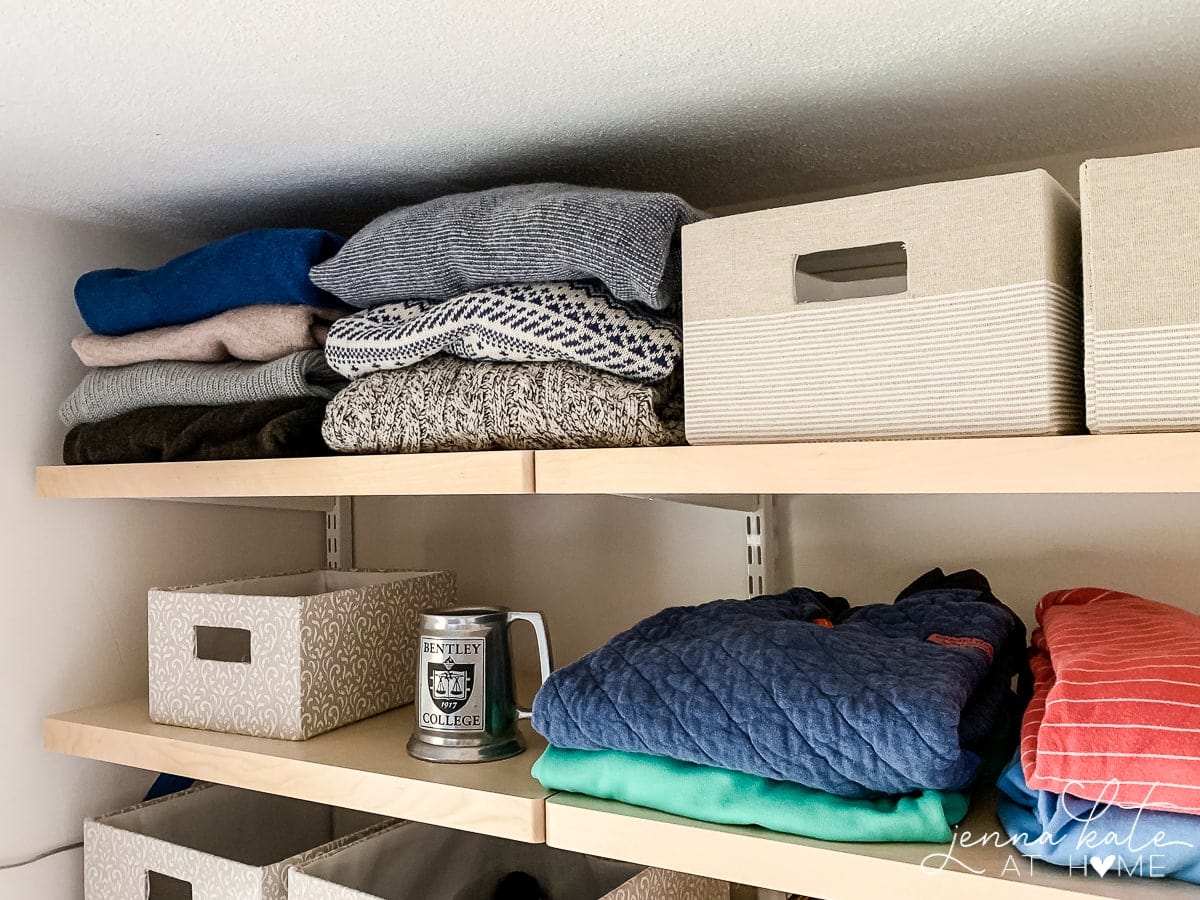 Speaking of shelves, hooks on the sides of the shelves are a great spot to hang extras, like baseball caps or backpacks.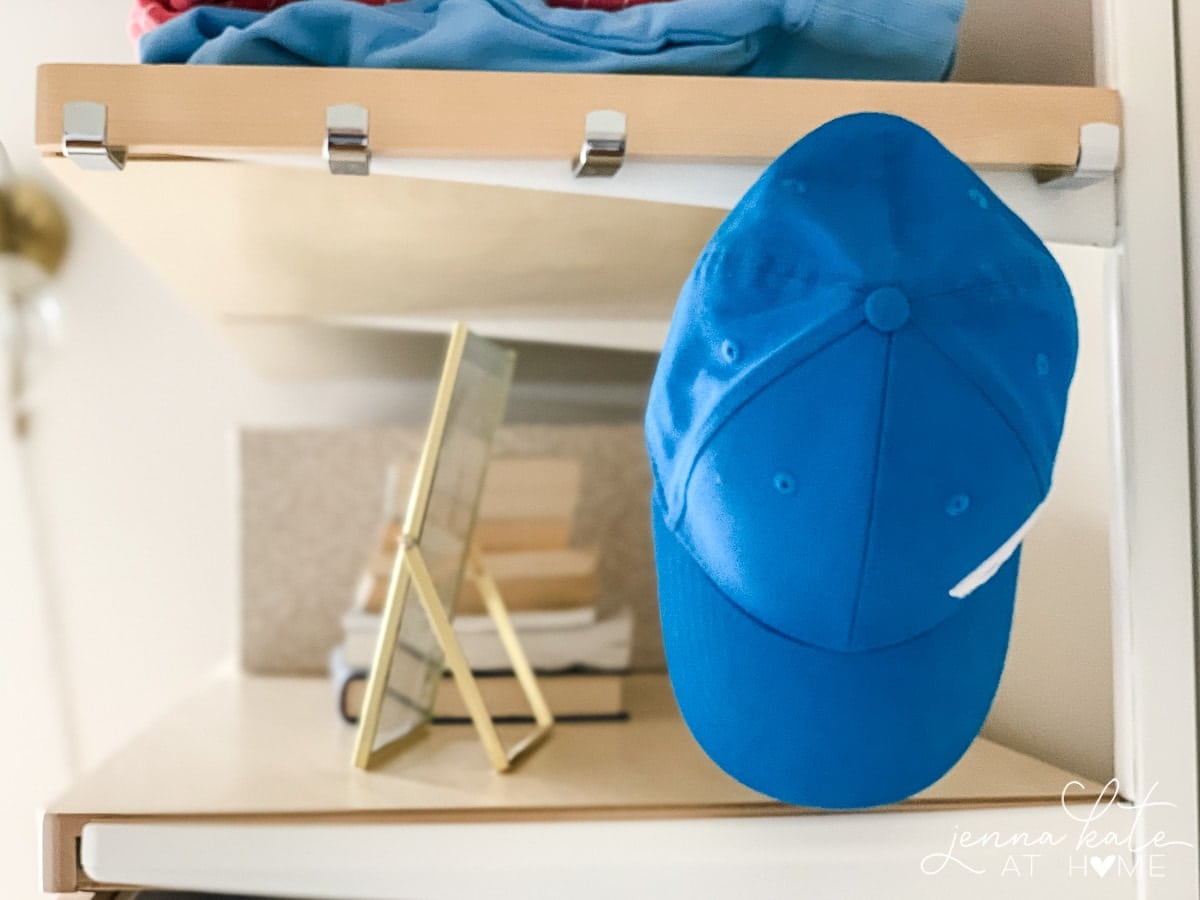 The drawers and shelves have birch wood fascia which really looks so much better than just having standard white wire baskets or plain shelves. The leather pulls are a fun finishing touch that really elevates this small walk-in closet to a pretty stylish walk-in closet, if I do say so myself!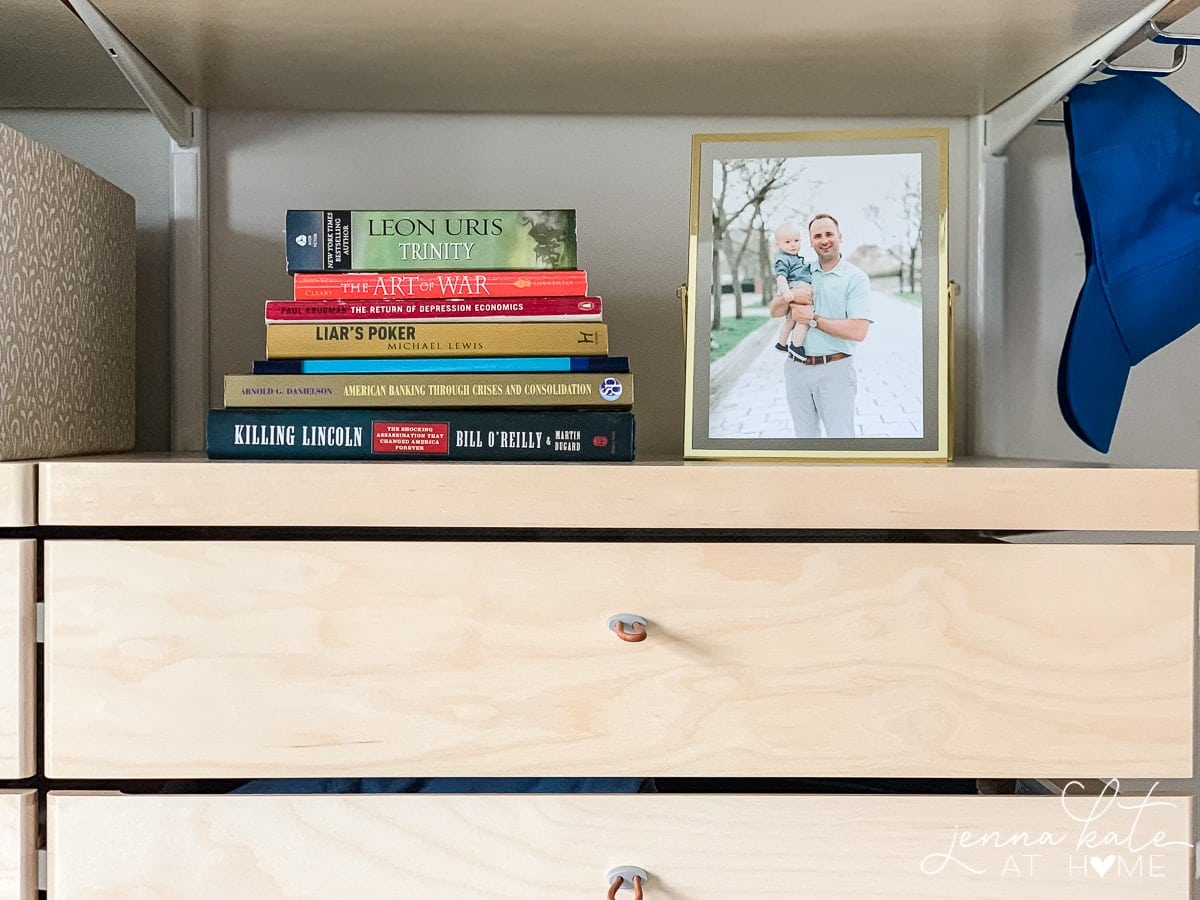 In order to add a little pretty to the space – although, it was pretty darn pretty before I did anything! – I added a small bench and a soft, cozy rug.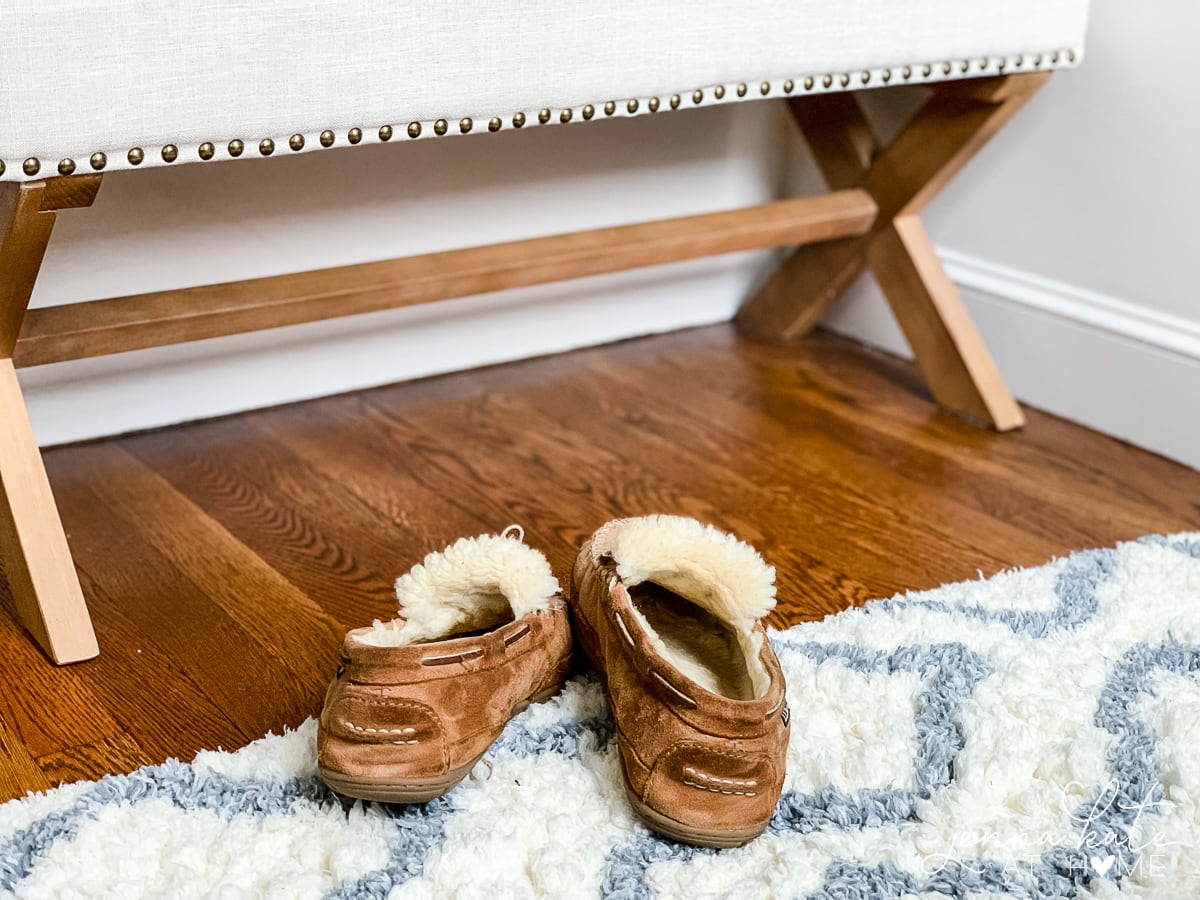 And while this room is not wired for a light fixture, we solved that problem by installing a plug-in sconce on the wall. The cable is tucked over to the side and secured with command strips for a cleaner look.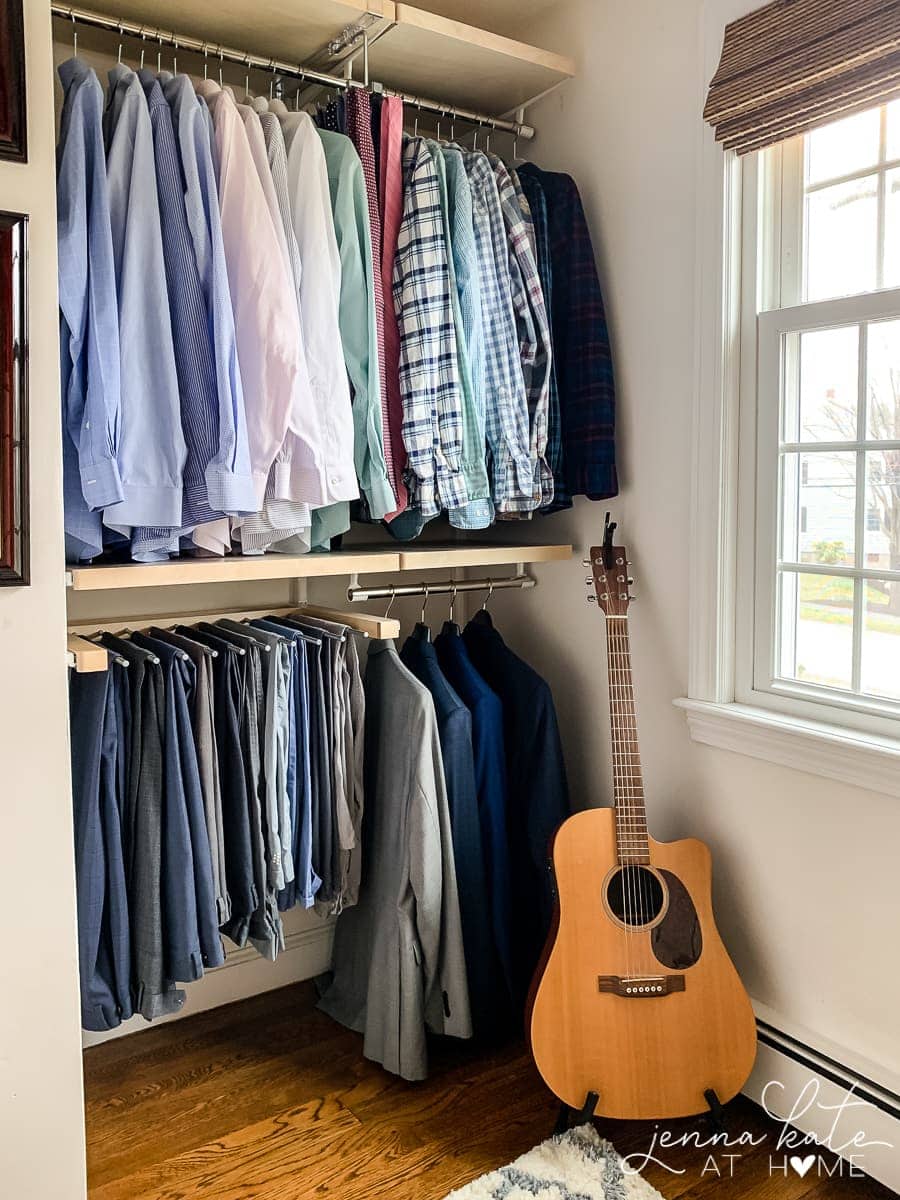 While I had this closet system installed, it's actually a very easy DIY project. I've installed a bunch of these ELFA systems in the past, and they all work the same. The only thing that's actually secured to the wall is the top right and then the vertical bars hang off that. So, if you're looking to install something similar and don't want to fork out for installation, know that it's completely do-able as long as you know how to screw some drywall anchors into a wall!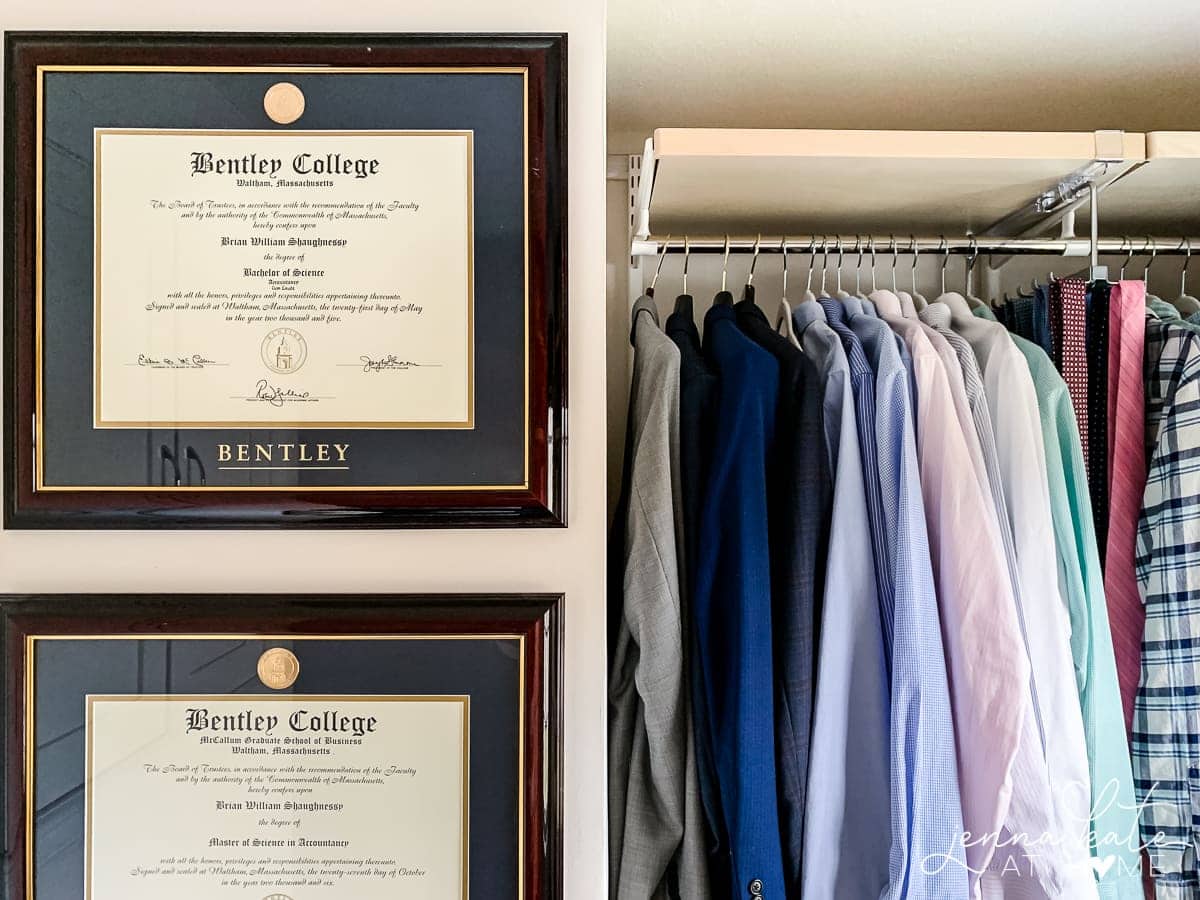 What a transformation, right?