Screened in porches offer the perfect blend of outdoor living and indoor comforts. With these spaces, you can enjoy the beauty of nature, fresh breezes, and lovely views while remaining protected from bugs and the elements.
Decorating a screened-in porch can be both fun and functional, transforming it into a comfortable, stylish space for relaxation and entertainment.
To achieve a truly inviting space, consider your porch's architecture, size, and desired function. Take your time selecting furniture, accessories, and ambiance to create a harmonious environment that suits your taste and lifestyle.
Be open to mixing and matching styles, textures, and colors for a porch that reflects your personality and complements the indoor spaces of your home.
Planning Your Screened-In Porch
When planning your screened-in porch, it's essential to find the perfect balance between function and style.
Start by considering the layout of your porch: Think about how you'll be using the space and what kind of furniture and decor you'd like to incorporate. From cozy seating areas to tables for dining al fresco, make sure the layout of your porch accommodates your needs while still showcasing your personal style.
Choose a color palette that's calming and inviting. Don't forget to take into account the surrounding view, as well as the level of privacy and seclusion from neighbors or the street.
Consider including practical items such as side tables, outdoor heaters, or ceiling fans to ensure your guests are comfortable in your screened-in porch.
Create Outdoor Dining and Entertaining Spaces
Turning your screened-in porch (or enclosed porch) into an outdoor dining and entertaining space is a great idea for enjoying meals and gatherings without worrying about bugs or harsh weather conditions.
Choose Outdoor Rated Furniture
First, choose a dining table that suits the size and shape of your porch. Consider tables made from materials that can withstand the elements, such as a natural wood like teak, aluminum, or wrought iron. Remember to leave enough room for chairs and walking space around the table.
Add some comfortable seating options to accommodate your guests. A mix of dining chairs, outdoor sofas, or even a cozy bench can create a welcoming atmosphere.
To elevate your outdoor dining experience, incorporate eye-catching pendant lights and a mix of textures, like woven dining chairs or rattan loungers.
Designate Zones with Rugs and Furniture
When planning your outdoor entertaining space, it's essential to create different zones. Establish spaces for dining, lounging, and mingling by using outdoor rugs, furniture arrangements, or distinctive decor elements.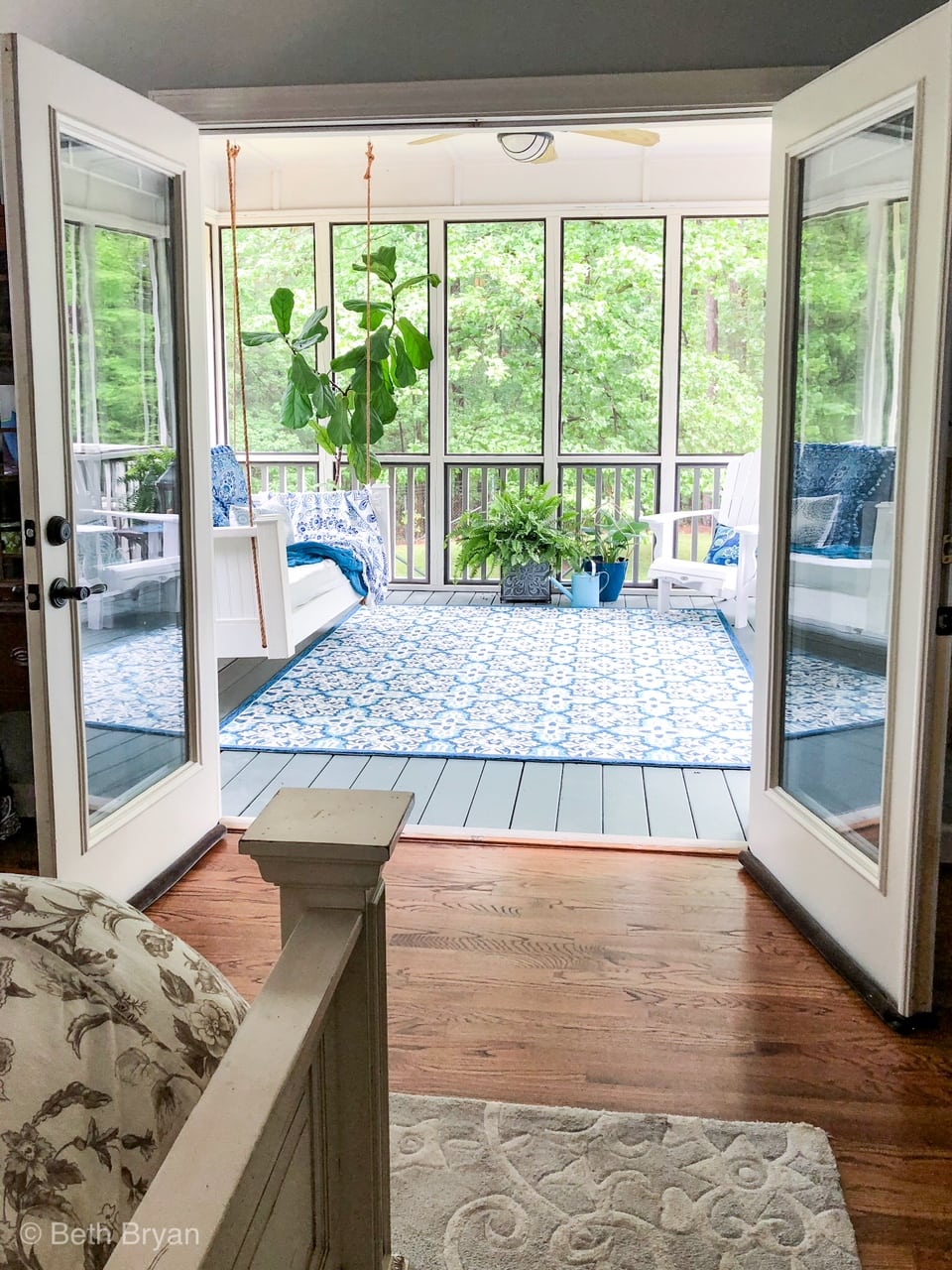 This will make your space feel more inviting and thoughtfully designed.
More Furniture and Seating Ideas
Porch Swing
A porch swing is a classic addition to a screened-in porch. It offers a comfortable and inviting seating option where you can relax and enjoy the fresh air.
You can find swings made of various materials like wood, wicker, or metal, depending on your preferences and the style of your porch.
Don't forget to add some cushions or pillows to make it even cozier. Porch swings can be a great spot for reading, catching up with friends, or even taking a nap.
Hammock
If you have the space in your porch, consider adding a hammock. A hammock provides a unique and comfortable seating option, perfect for lounging or napping on warm and lazy afternoons.
They come in a range of styles and materials, from traditional rope hammocks to colorful fabric designs. You can hang a hammock between two sturdy posts or use a hammock stand if that's more convenient.
Daybed
A daybed is another fantastic seating option for your screened-in porch. This versatile piece of furniture can double as a seating area and a comfortable spot for napping or sleeping.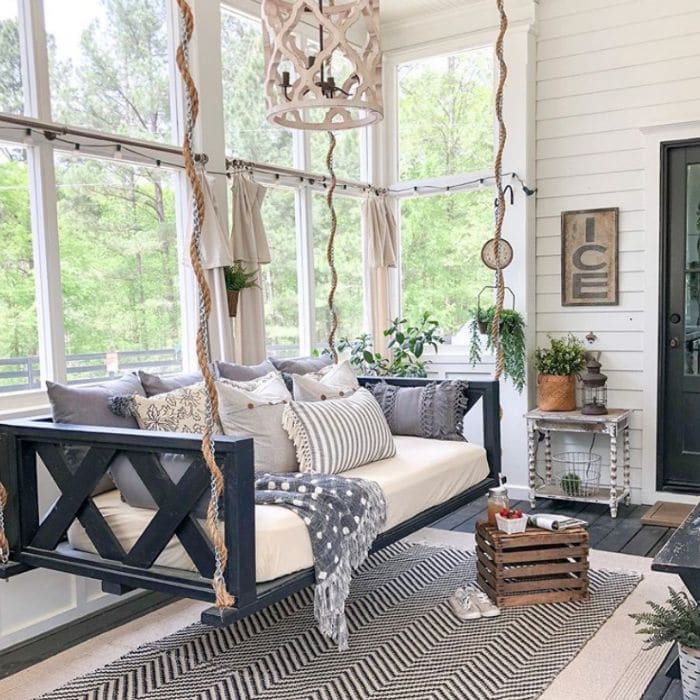 Daybeds come in many styles and materials, like metal or wood frames, with cushions or upholstered mattresses.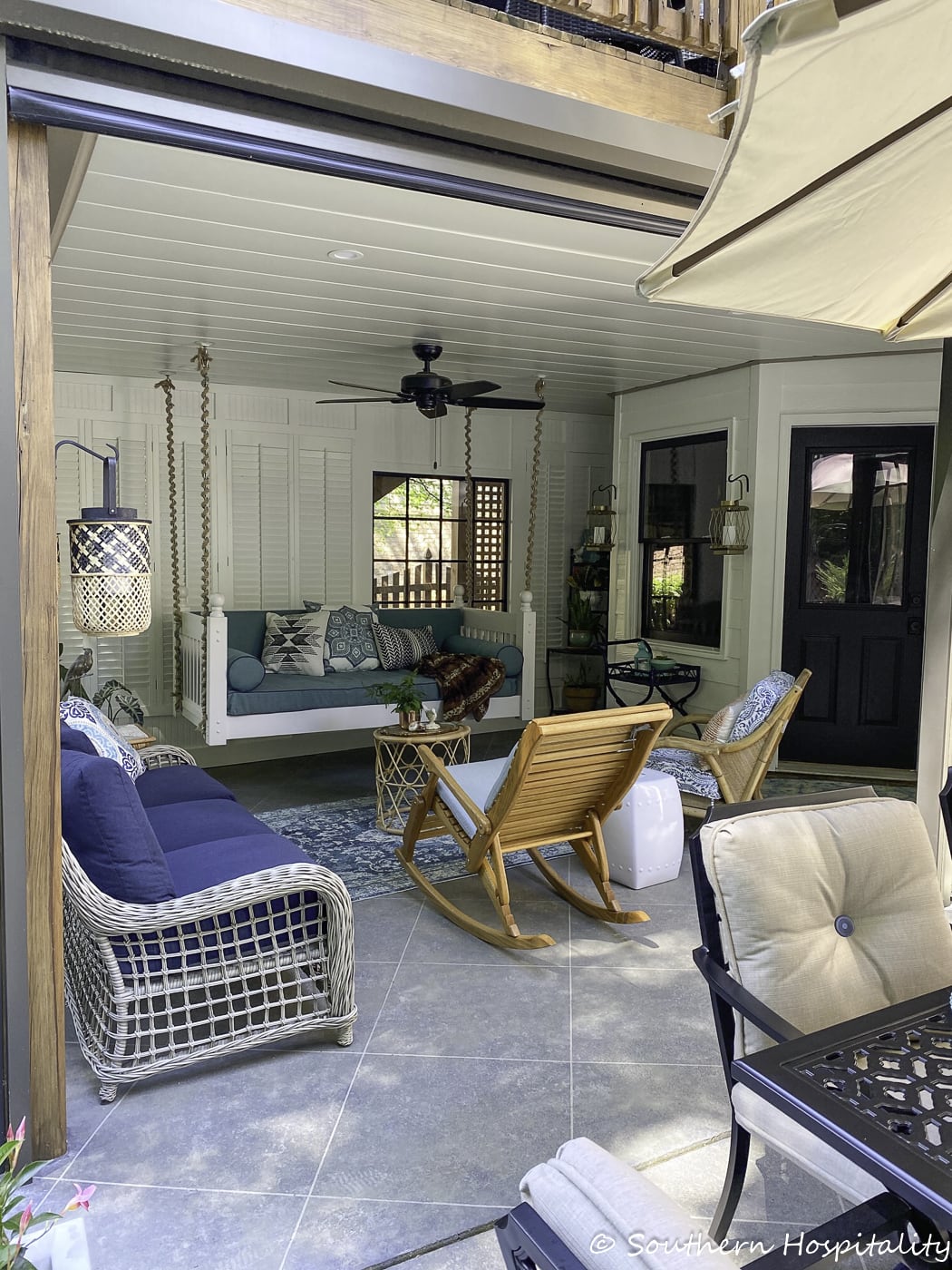 Feel free to mix and match with other seating options like rocking chairs, Adirondack chairs, or sofas to create a cozy and welcoming atmosphere on your screened-in porch.
Decor and Accessories
The right decor and accessories will transform any living space from merely functional to beautiful. With a few simple touches, you can create a charming atmosphere that truly makes your porch feel like an extension of your home.
Throw Pillows
Add some comfort to your porch with a variety of pillows and throw pillows. Mix and match shapes, sizes, and patterns to create visual interest while providing plenty of cushion for lounging. Don't be afraid to add a pop of color and add fun patterns to give your space a casual, laid-back vibe.
Artwork and Wall Hangings
The neutral color scheme paired with the pop of yellow from both the lemon print throw pillows and tulips make this screened-in porch fun and ready for summer. The large print on the wall adds a cozy feeling that really makes this porch feel like it's an extension of the home.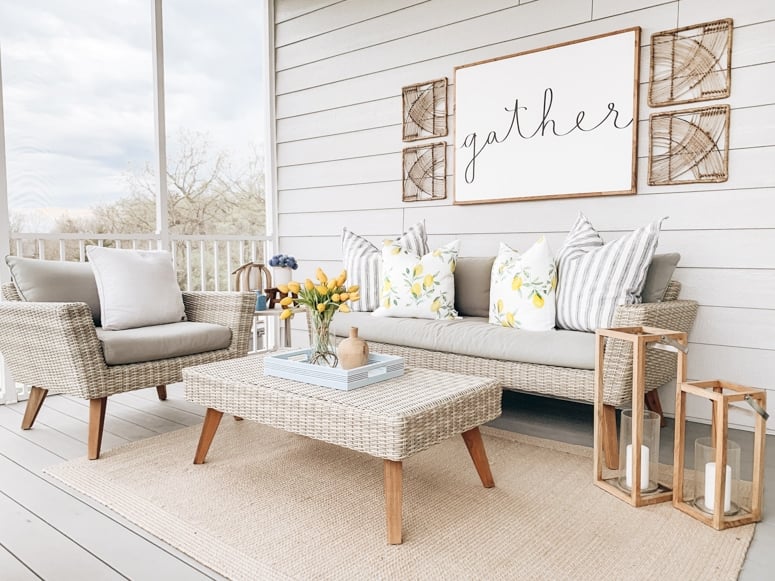 Incorporate Plants
Adding plants to your screened-in porch can elevate the space to a beautiful and serene outdoor oasis. With a variety of low maintainance houseplants and potted plants to choose from, you can effortlessly enhance the atmosphere and create a calming, casual environment.
First and foremost, select houseplants that thrive in the conditions of your porch. Consider factors such as sunlight exposure, humidity, and temperature.
For example, low-light tolerant plants like pothos, snake plant, and peace lily are perfect for shady porches, while sun-loving plants like succulents and cacti fare well in sun-drenched spaces.
Layering in a mixture of small potted greenery and larger, taller plants is the key to really making a wow statement.
Lighting and Ambience
Creating a cozy and relaxing atmosphere in your screened-in porch is essential for those evenings when you just want to unwind.
One key element to achieve this ambience is lighting. With a variety of outdoor light fixtures available, you can easily find something that suits your style and complements your porch decor.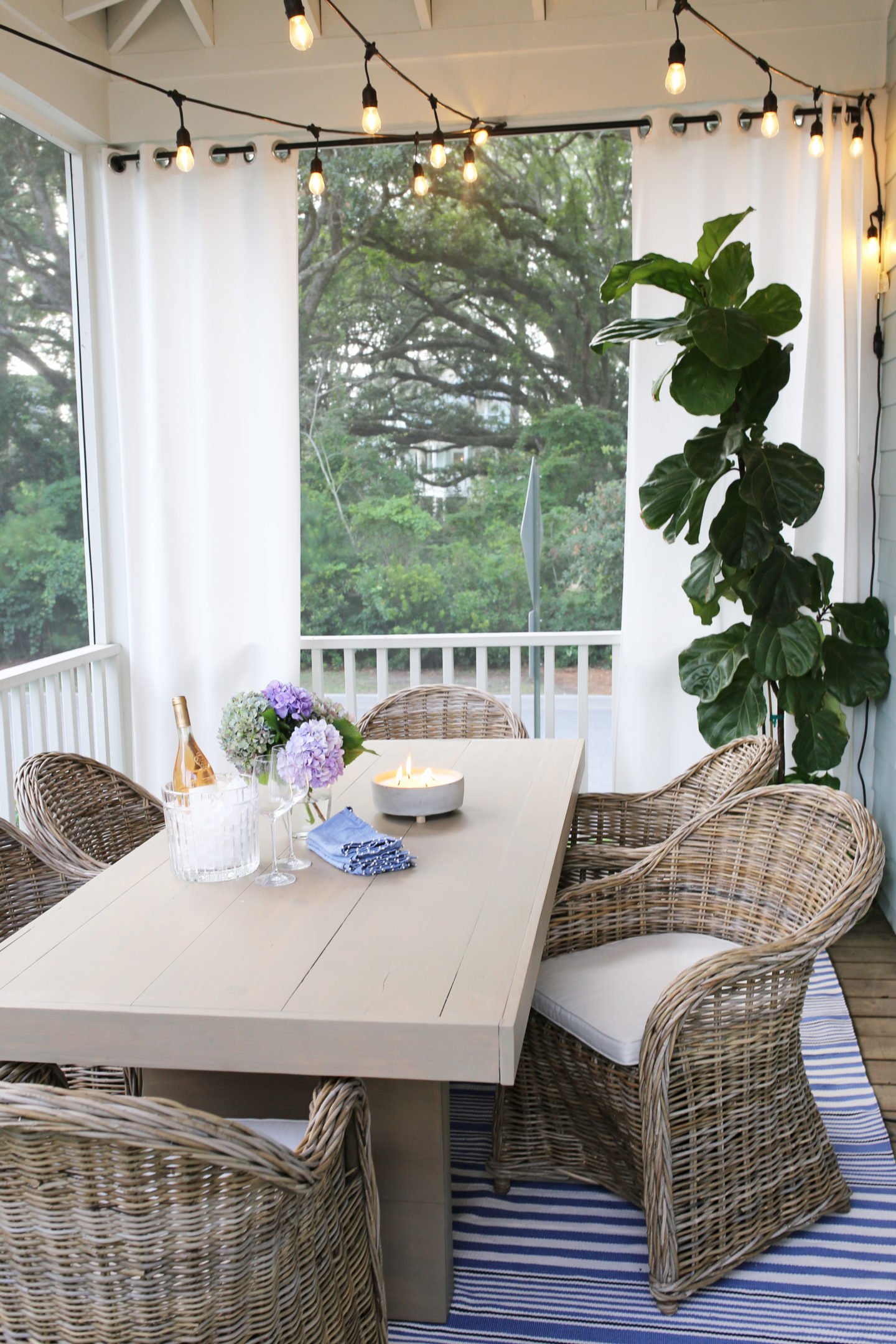 For a casual and inviting vibe, consider hanging string lights across the ceiling or around the perimeter of your porch. These lights will not only illuminate the space but also add a touch of whimsy and charm.
If you're looking for something more sophisticated, a chandelier or pendant light can be a stylish addition to your porch. Just make sure to choose fixtures that are rated for outdoor use and can withstand the elements.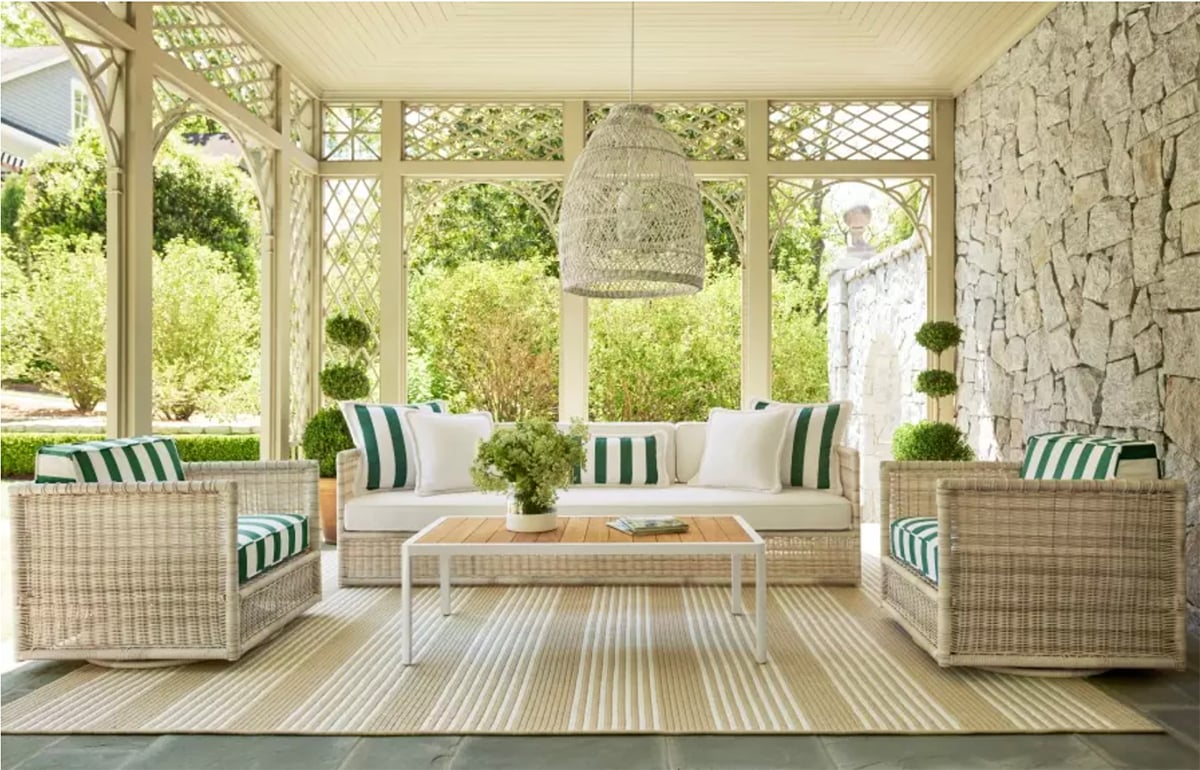 Skylights are another great option for brightening up your space while maintaining that indoor-outdoor connection. They allow natural light to pour into your porch, giving it a warm and welcoming feel during daylight hours.
Add a Fireplace
Adding a fireplace to your screened-in porch can take the cozy factor to a whole new level. An outdoor fireplace not only provides warmth on chilly evenings but also serves as an attractive focal point for your space. It also makes it so that your porch can be used during the colder months when you may not normally use it.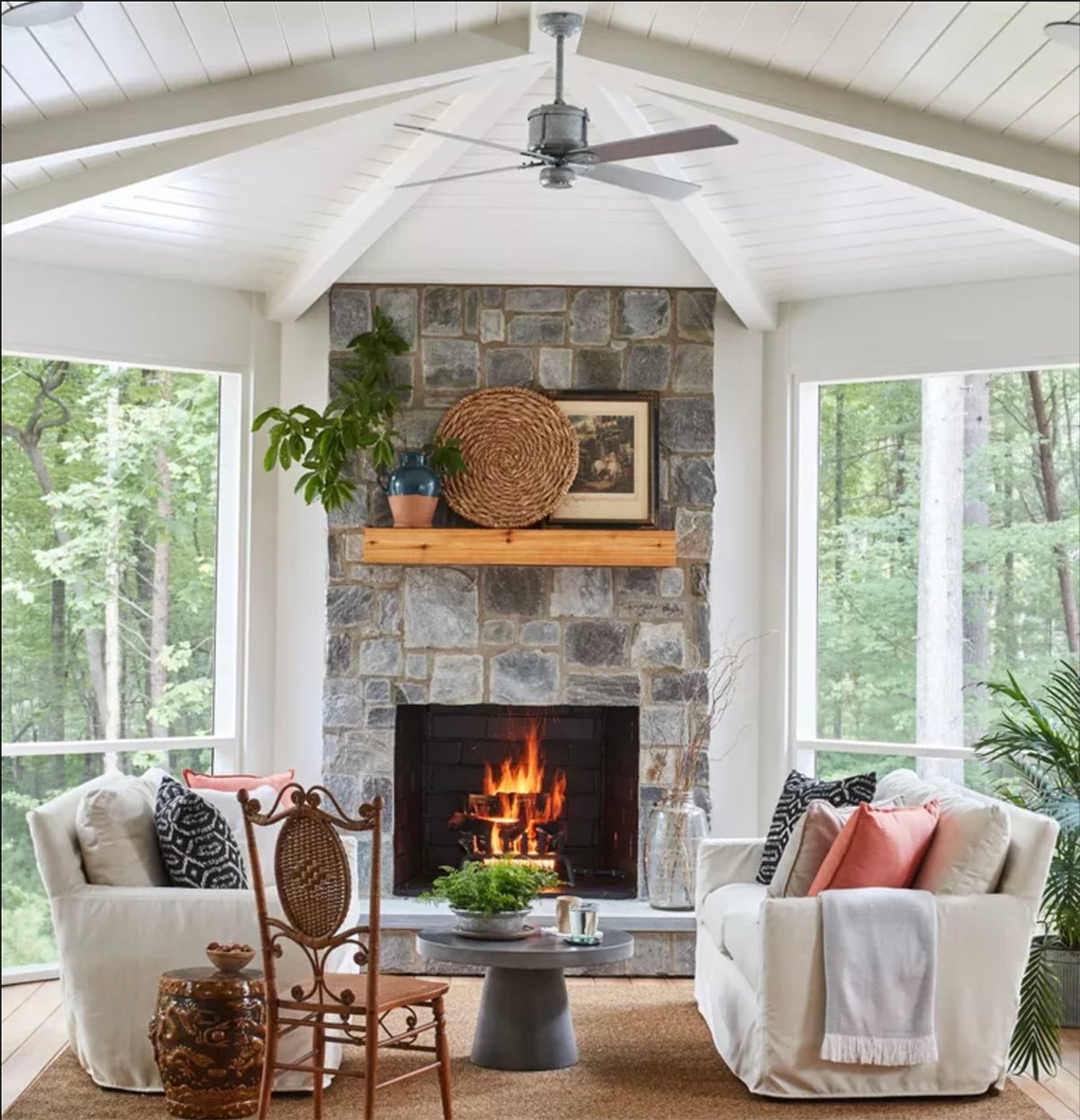 There are a variety of fireplace options available, from traditional wood-burning to gas or electric models, so you can choose the one that best fits your needs and style.
Create More Privacy
Add Curtains
This back porch from Lauren at Bless'er House is one of my all-time favorites. With the blue ceiling, it's full of southern charm and all the greenery and special touches give it a fun boho vibe.
I love how Lauren added string lights and sheer curtains to add softness and so much coziness to the space.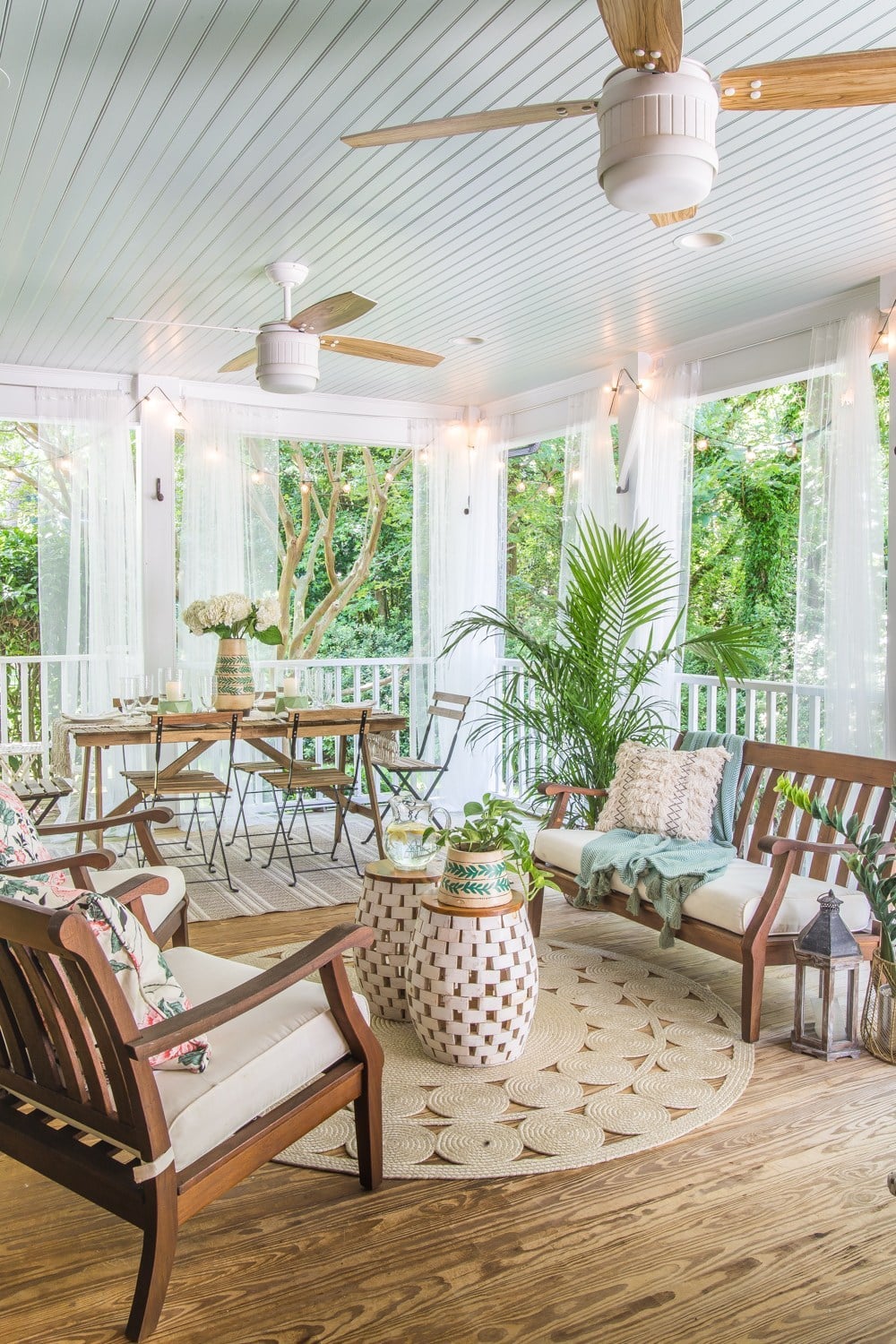 Privacy Screens
Use decorative privacy screens to create separate zones within your porch or to block unwanted views while maintaining airflow.
Don't Detract From The View
Make the most of a beautiful view by keeping the porch color scheme simple so that the view is the center of attention at all times!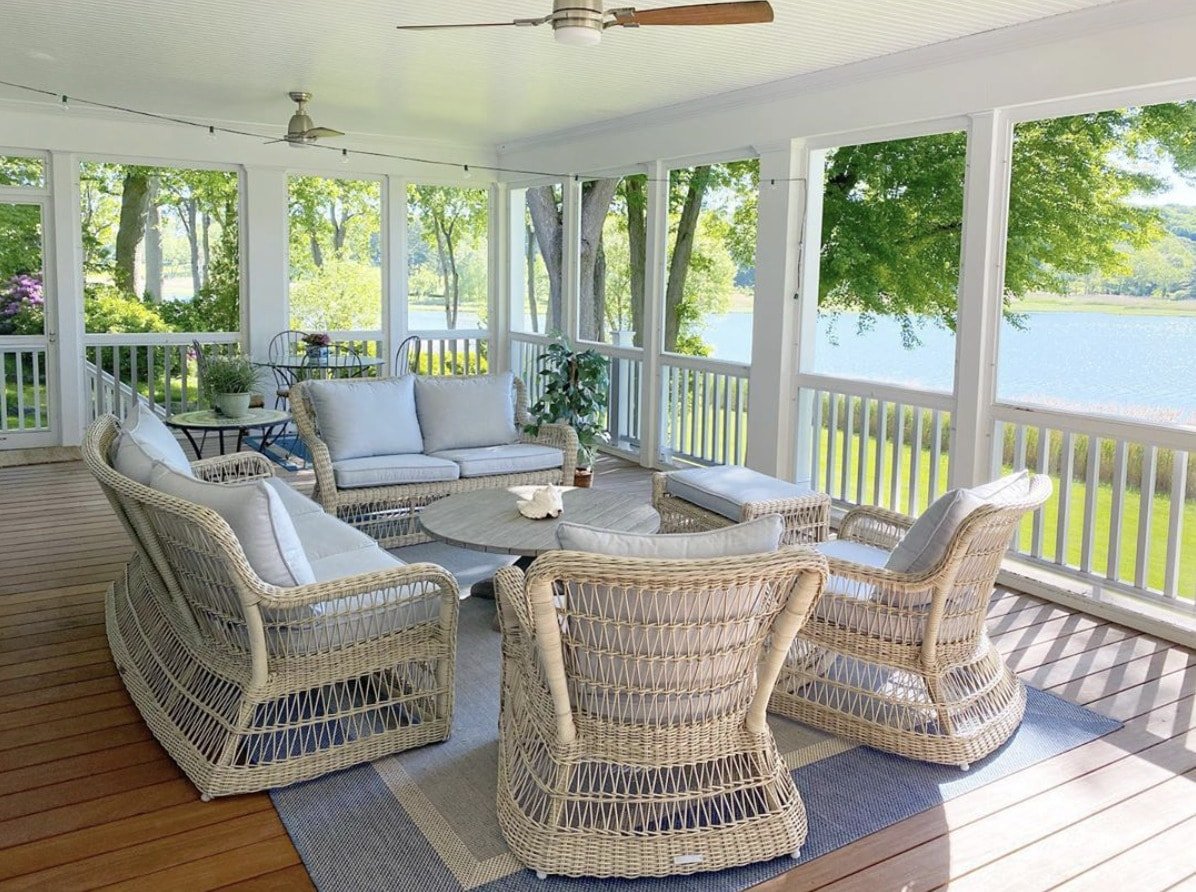 Ready to start decorating your porch? I can't wait to see how you take these screened in porch ideas and inspiration and make them your own!