This post may contain affiliate links | For further details, please read our privacy policy
From incorporating natural elements and adding rustic touches for texture and color, to finding creative ways to use items that you already have around the house, there are plenty of cheap fall decorating ideas that look classy!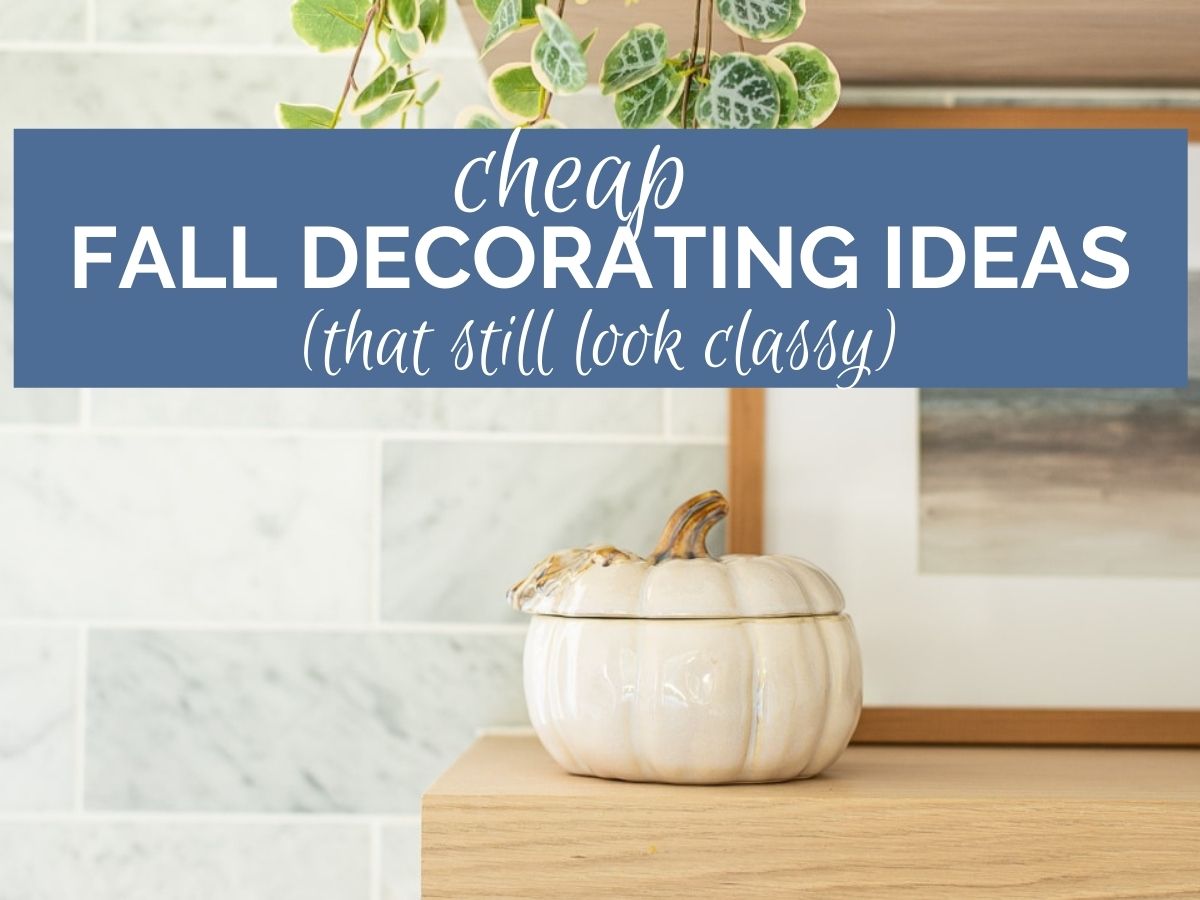 Fall is a great time to decorate your home and it can be really inexpensive to do so. If you're like me, you want your home to look like it belongs in a magazine but you don't want to spend thousands of dollars to achieve the look. I get it.
There are plenty of different ways to decorate our home for the fall season in an inexpensive way. With these simple budget-friendly fall decorating tips I'm sharing, you will see how you can have easy fall decor that's still classy without sacrificing a ton of money.
Here's 6 ideas that will have your home fall-ready in no time:
1. Utilize Natural Textures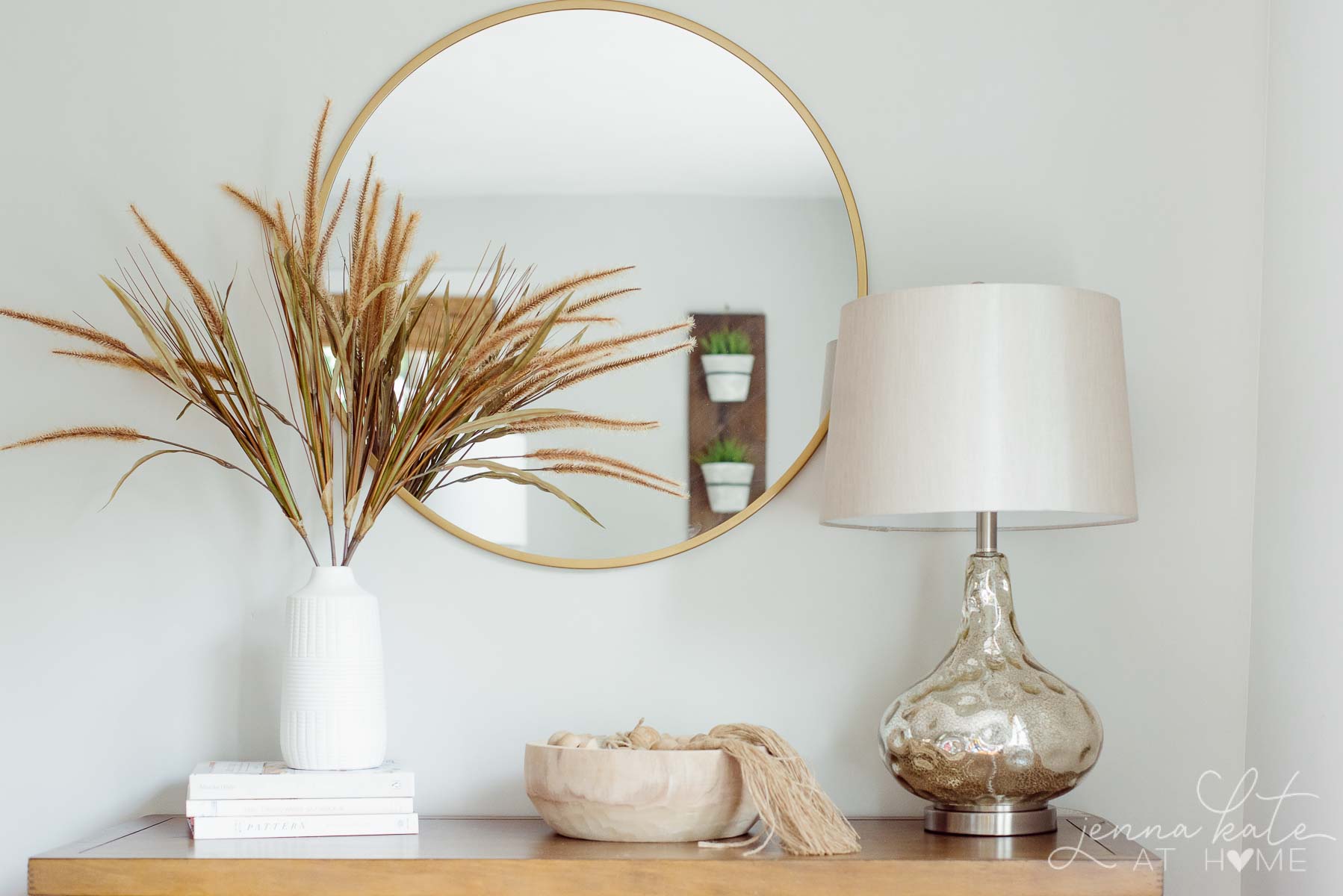 Now is the time to bring in the flowers from your yard: snap branches off of trees and if you have any flowers that are still blooming, bring them in to decorate with. You can even change it up every few days for variety! This brings in natural textures for a cozy fall vibe.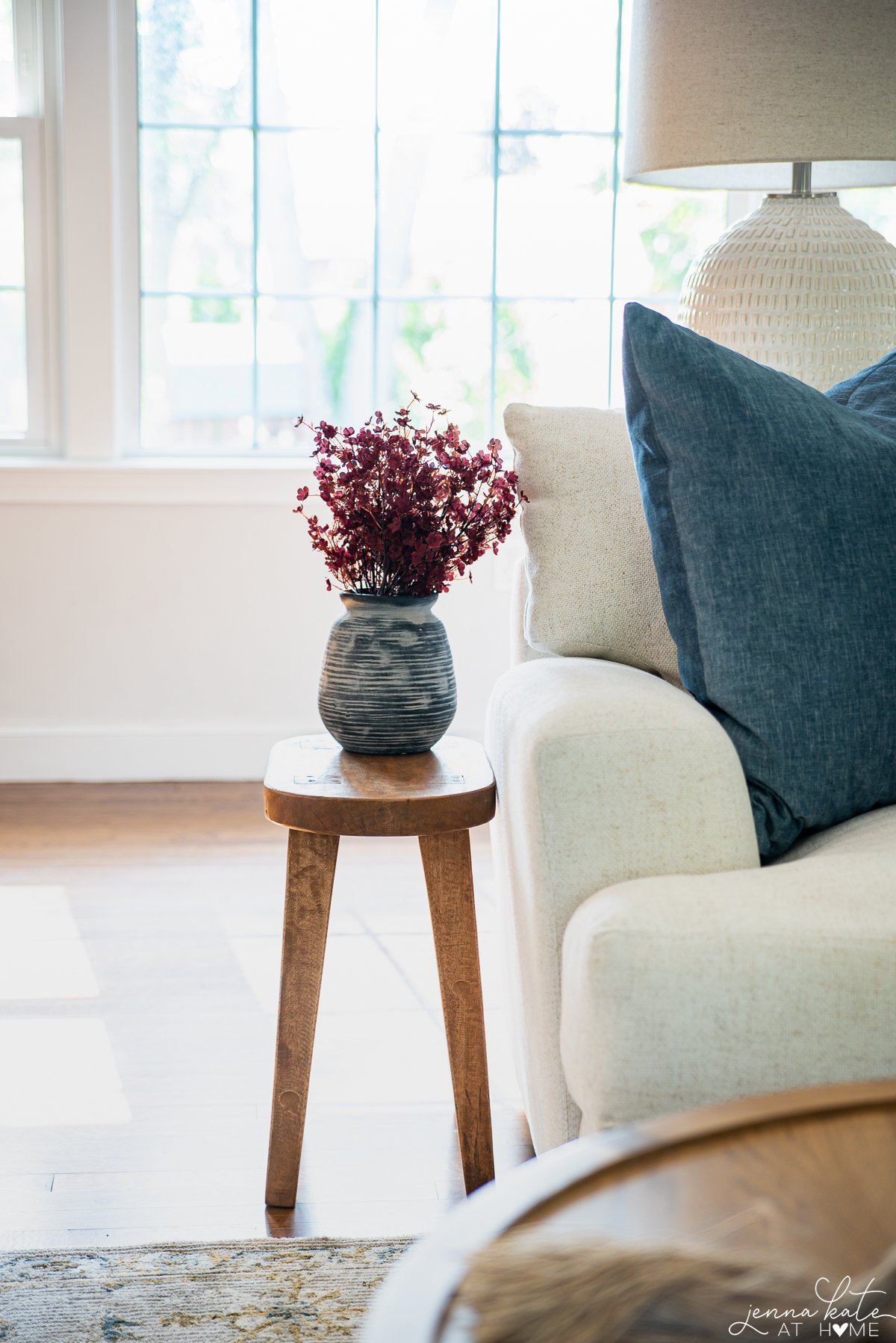 One of my favorite ways to decorate in any holiday season is by bringing nature indoors. Nature is free! I love foraging during the harvest season when my garden has all of these beautiful colors and textures that are perfect to decorate with.
Take a walk around your neighborhood or local park and gather up fallen branches, acorns, sprigs of pinecones, and leaves of different colors. It only takes a little time to make a big impact.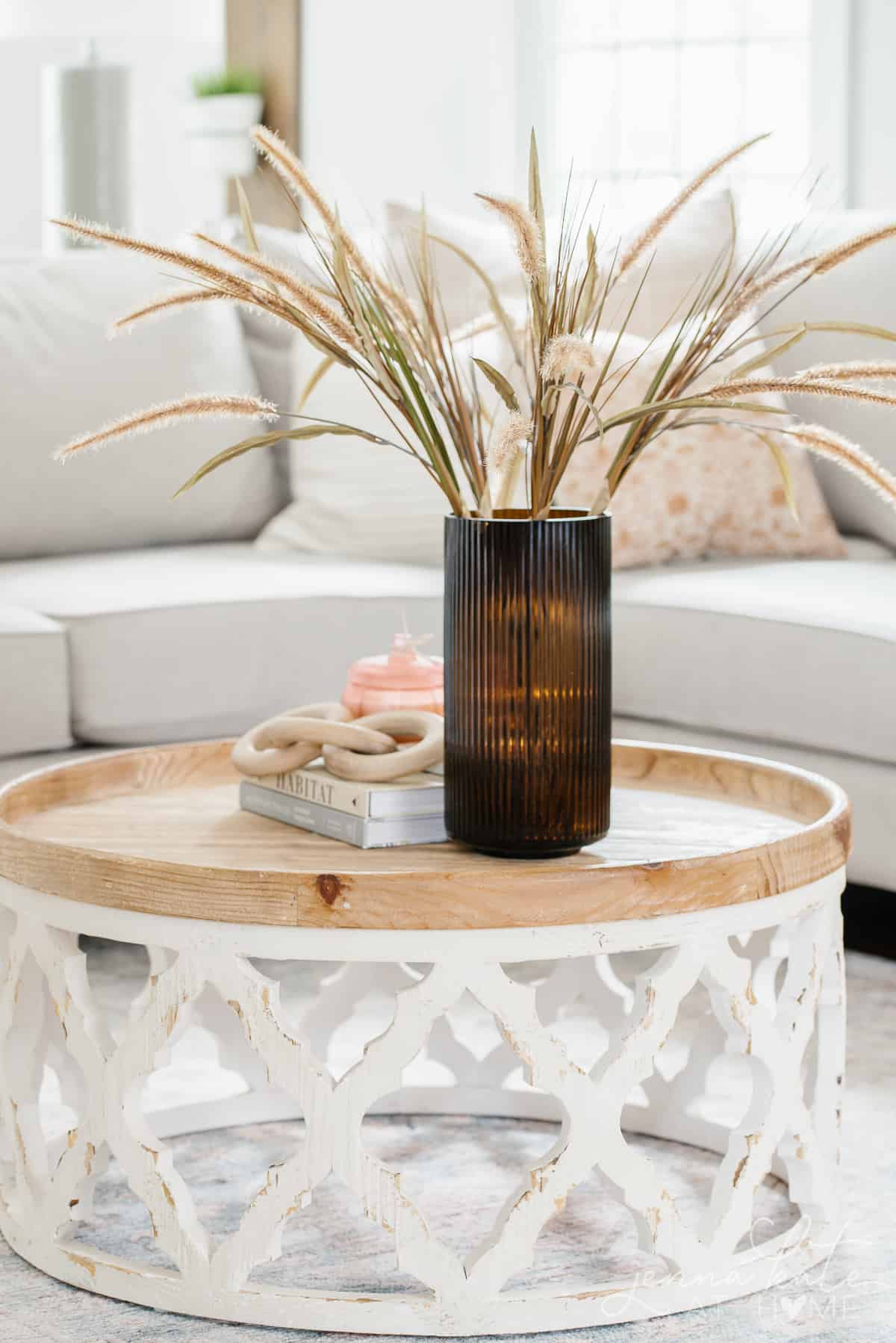 Branches and stems can be placed in vases throughout your home, while acorns, leaves, and pinecones make for perfect fillers in a bowl, glass vase, or lantern.
Pro tip: If you're bringing in things from outside like acorns or pinecones, make sure to freeze them first to kill the bugs!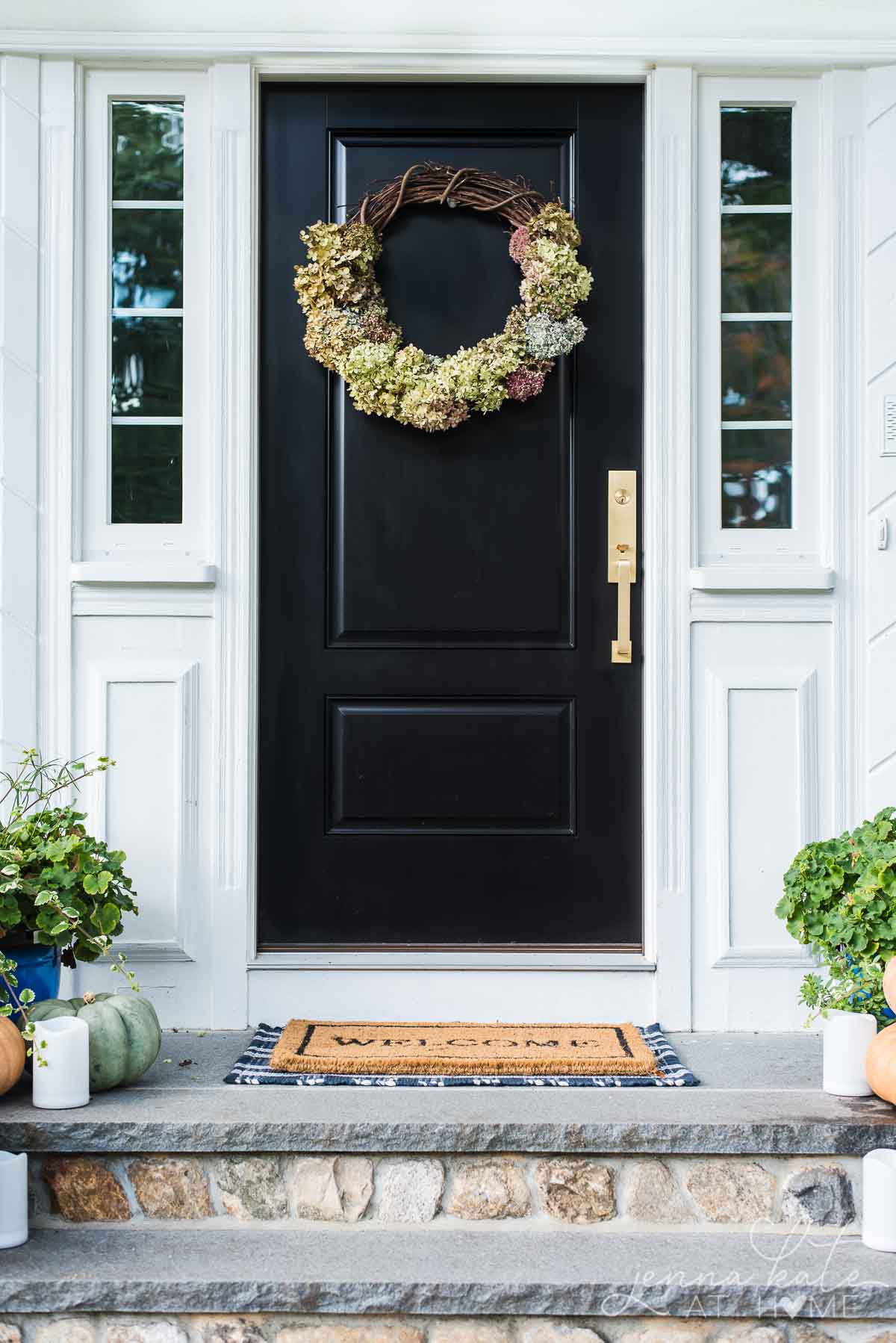 DIY fall wreaths are a simple little project to try on a budget. If you are lucky enough to have hydrangeas in your yard, a hydrangea wreath is an easy way to make one in only an hour and holds up beautifully for months.
I believe anyone can create something stunning using simple seasonal touches found around their home or in their garden.
2. Hit Up Your Grocery Store
Sometimes your location or climate is not a great way to forage foliage or flowers and that's okay! In some areas, the fall season is so short and there really is a lack of nature year round.
It may be a bit harder to gather natural elements from outside, but it's still possible by going grocery shopping! Plus, it's convenient since you are already shopping for the week.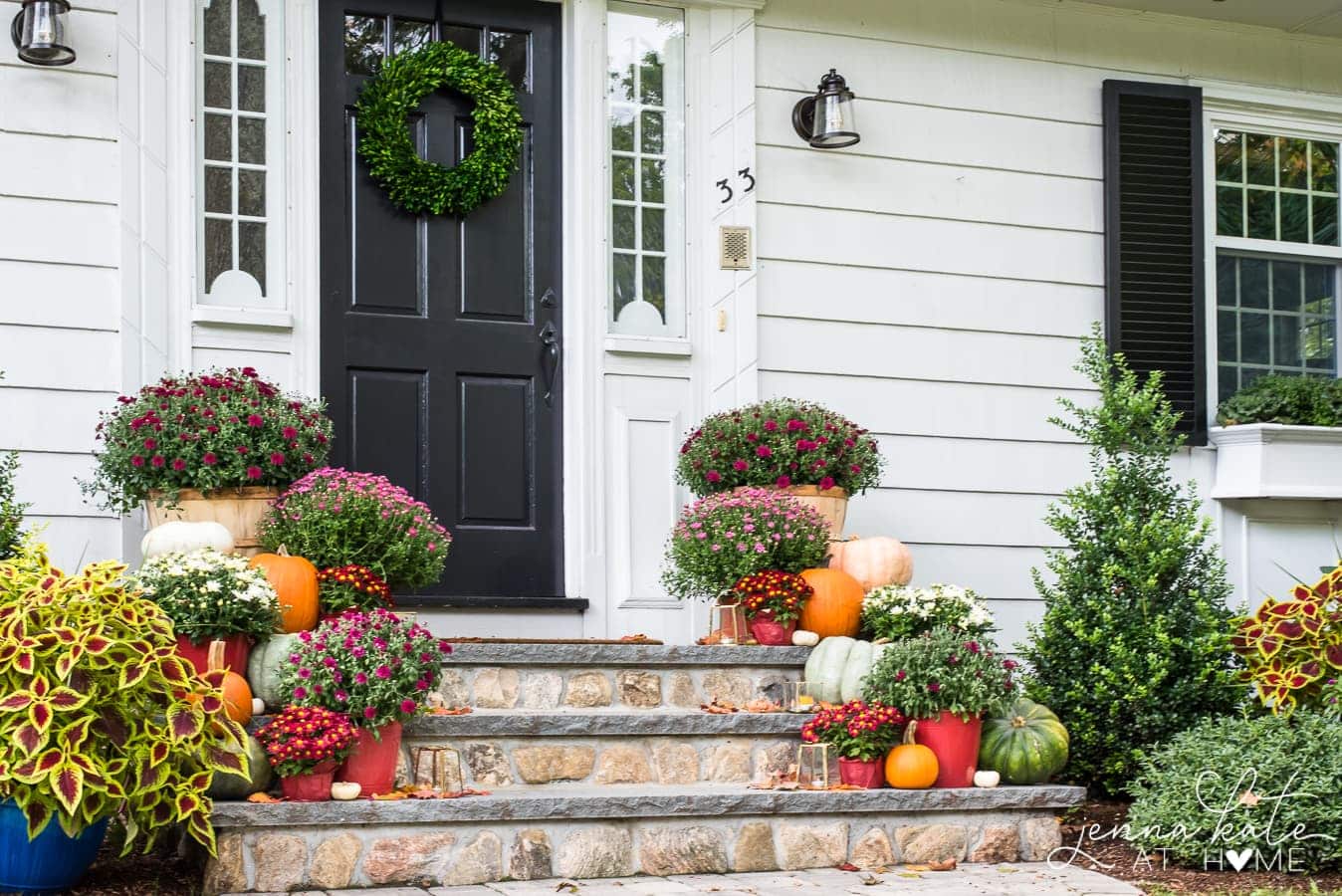 This is also a wonderful time of year to find pumpkins. real gourds, and fresh flowers such as mums, in your local grocery store. These touches will be great additions to a fall harvest front porch like this one.
Greet guests at your front door with a beautiful display of mums and pumpkins. Again, this doesn't have to cost a fortune!
I was able to take some grocery store mums and put them in simple wastebaskets from the dollar store. It's a simple way to make a beautiful first impression!
Large heirloom pumpkins are readily available at Trader Joe's and are much more inexpensive than at your local garden center – but these faux pumpkins from Pottery Barn look like the real deal and can be used year after year as long as they are on a covered porch.
Don't neglect the produce section at your local grocery store, either! It is a great place to pick up items like gourds and pumpkins that can also be great for decorating.
Don't forget about the fruit and veggie aisle! Seasonal fruits and vegetables like artichokes, figs, and apples are inexpensive and can be eaten so there's no waste which is an added bonus.
This also gives you the freedom and flexibility to change them out several times throughout the season if you get tired of them or decide to eat them.
Take a trip down the spice aisle and grab some cinnamon sticks, these can be tucked into a fall centerpiece in the dining room.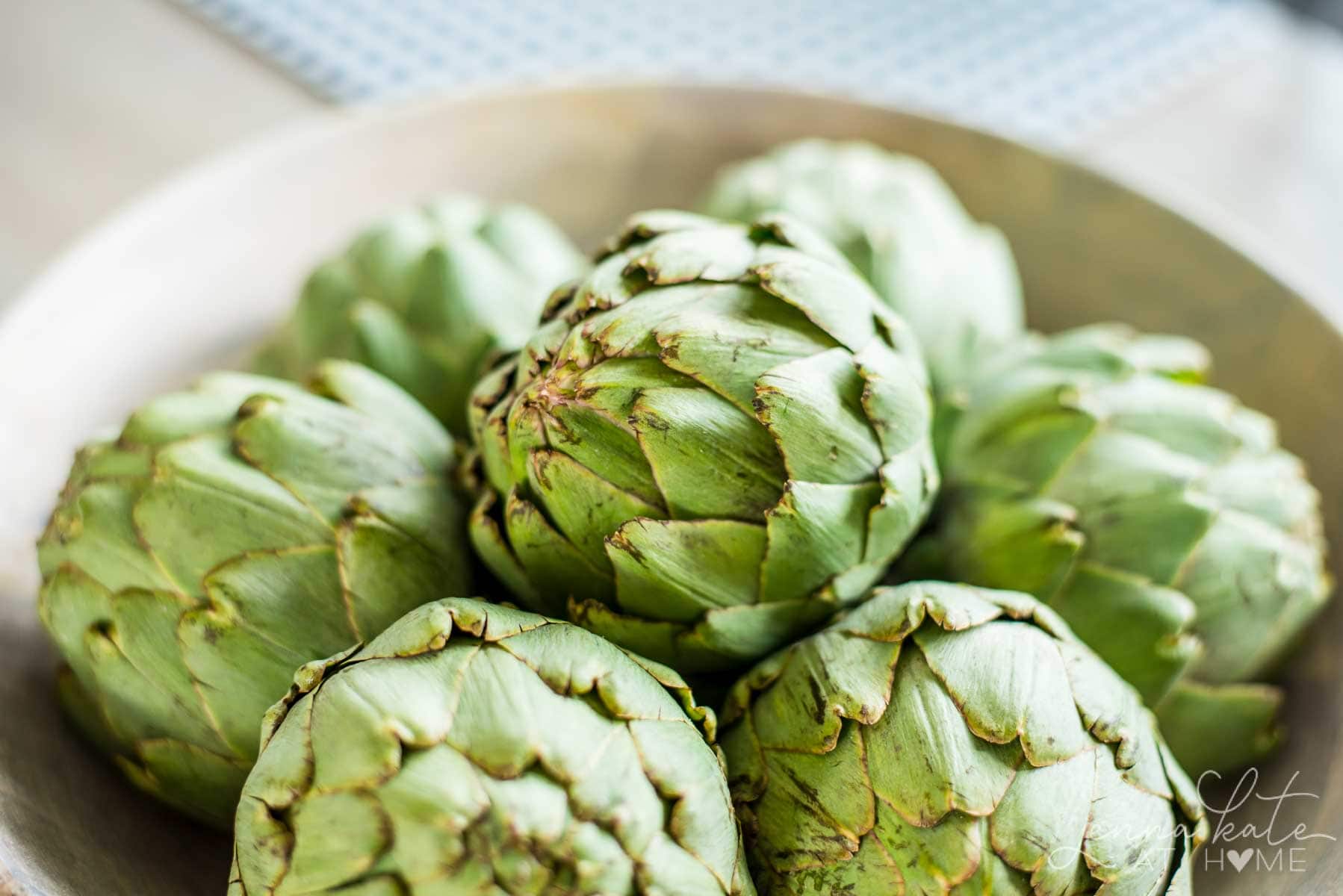 As you can see, I was able to take some fresh artichokes and use them in a rustic bowl for fall decor that looks like it came straight out of a magazine. Apples also give a similar look, along with a dash of pretty color.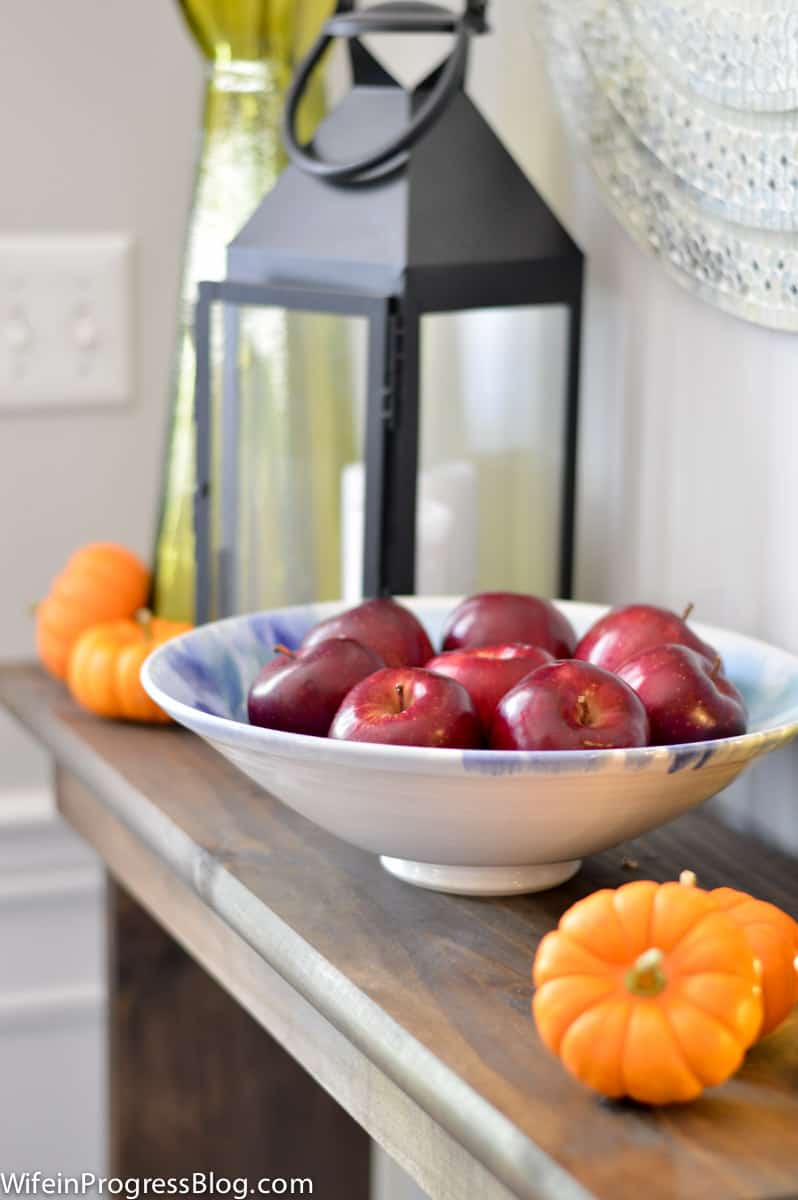 Think beyond just putting these items in a bowl, though.
Use them as place settings or to form a pretty autumn season-themed tablescape.
Some very simple seeded eucalyptus draped down the center of a table can create a gorgeous canvas for some delicious fall food for your friends and family to share.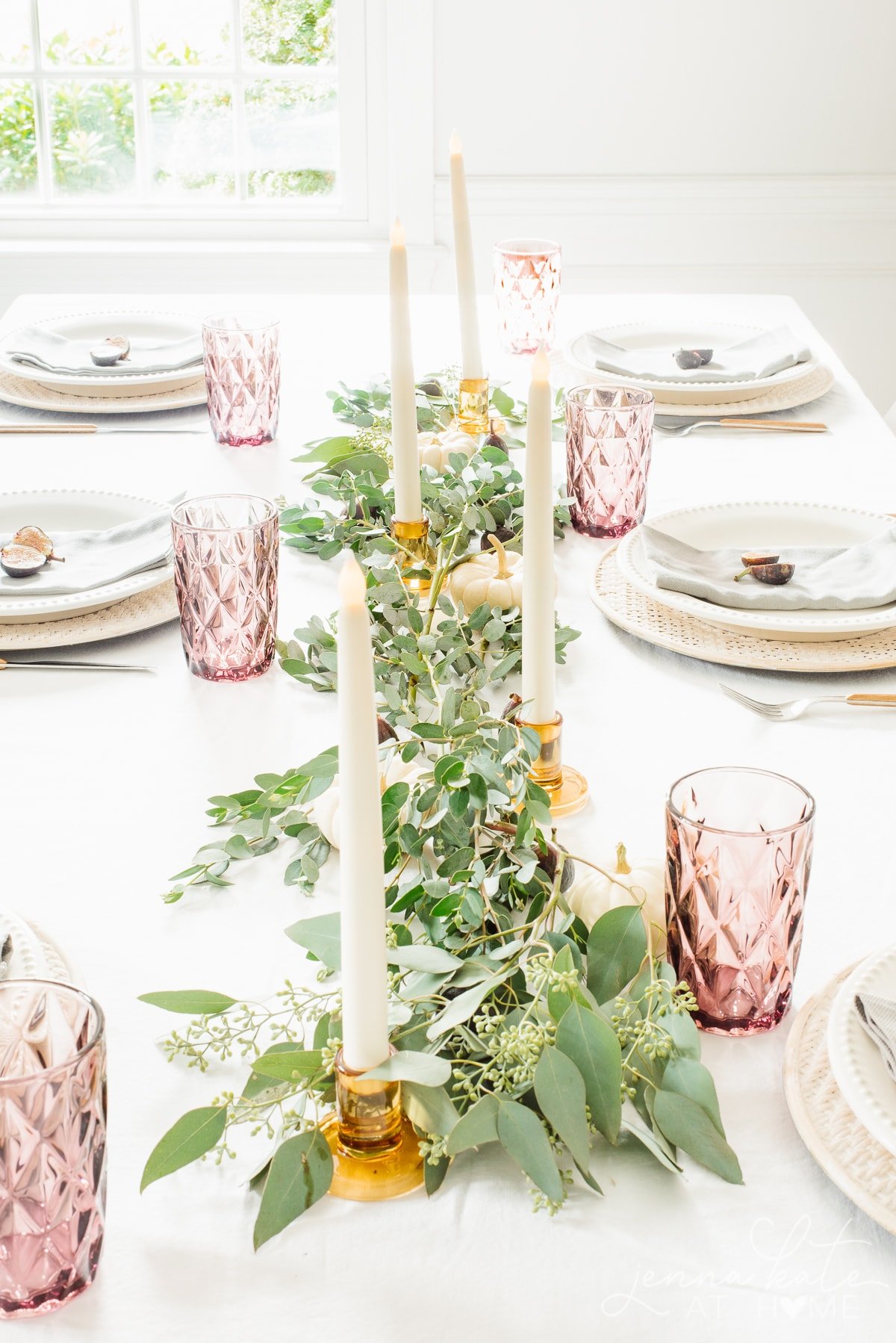 If you're not into foraging but want to add natural elements to your home decor, you can always stop by a local flower shop or a grocery store like Trader Joe's and pick up some.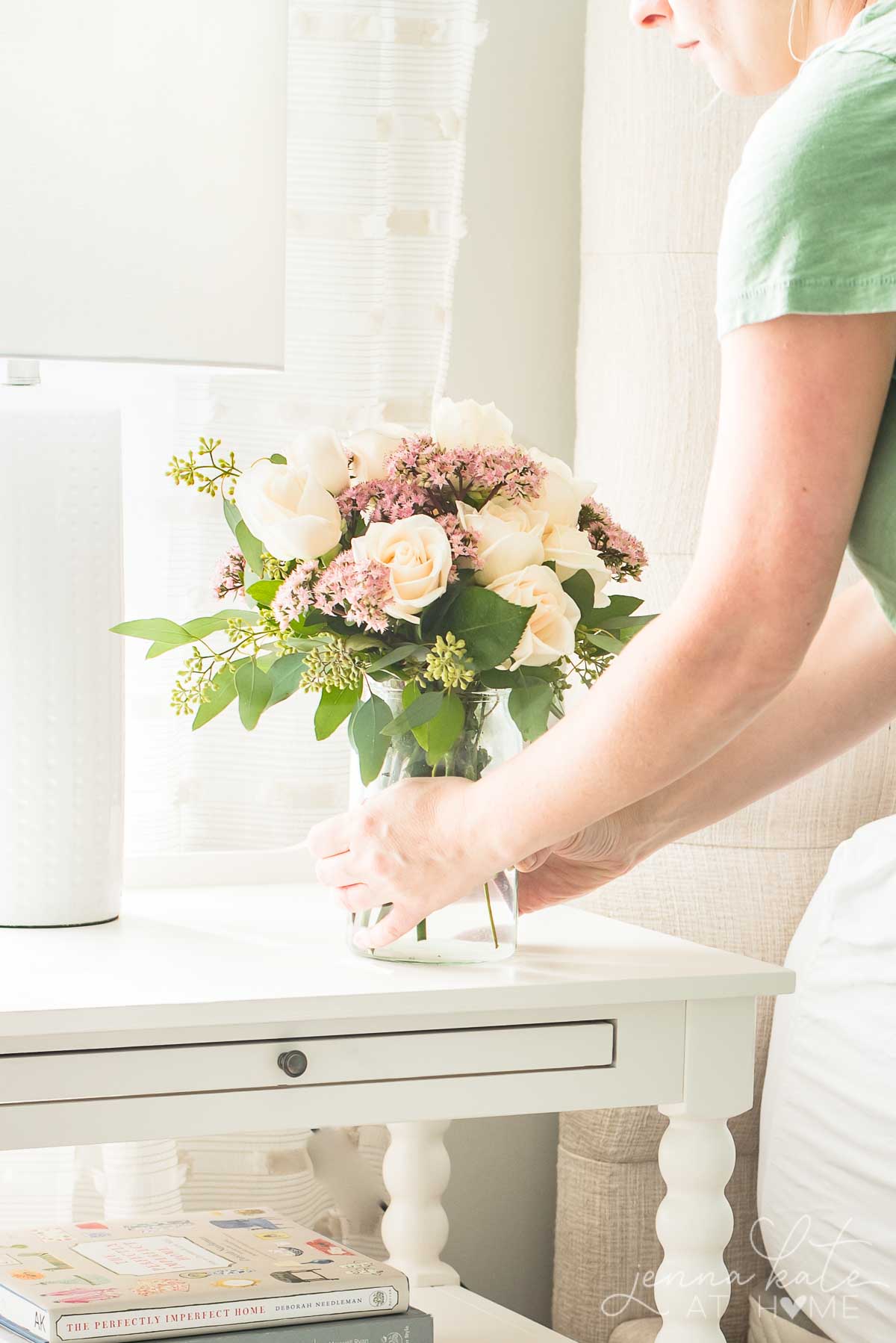 Make sure to look out for things that will last longer such as roses (if it's not too cold) and mums. Round out the arrangement with some eucalyptus (always my favorite addition to my fall and holiday decor!).
3. Add Texture With Pillows And Chunky Knits
One of my favorite things for the fall season is the textures you can bring in to add depth and warmth, especially when adding to your interior decor.
Adding pillows and chunky knit blankets to the mix is an affordable way to spruce up your living room or bedroom without spending a ton of money.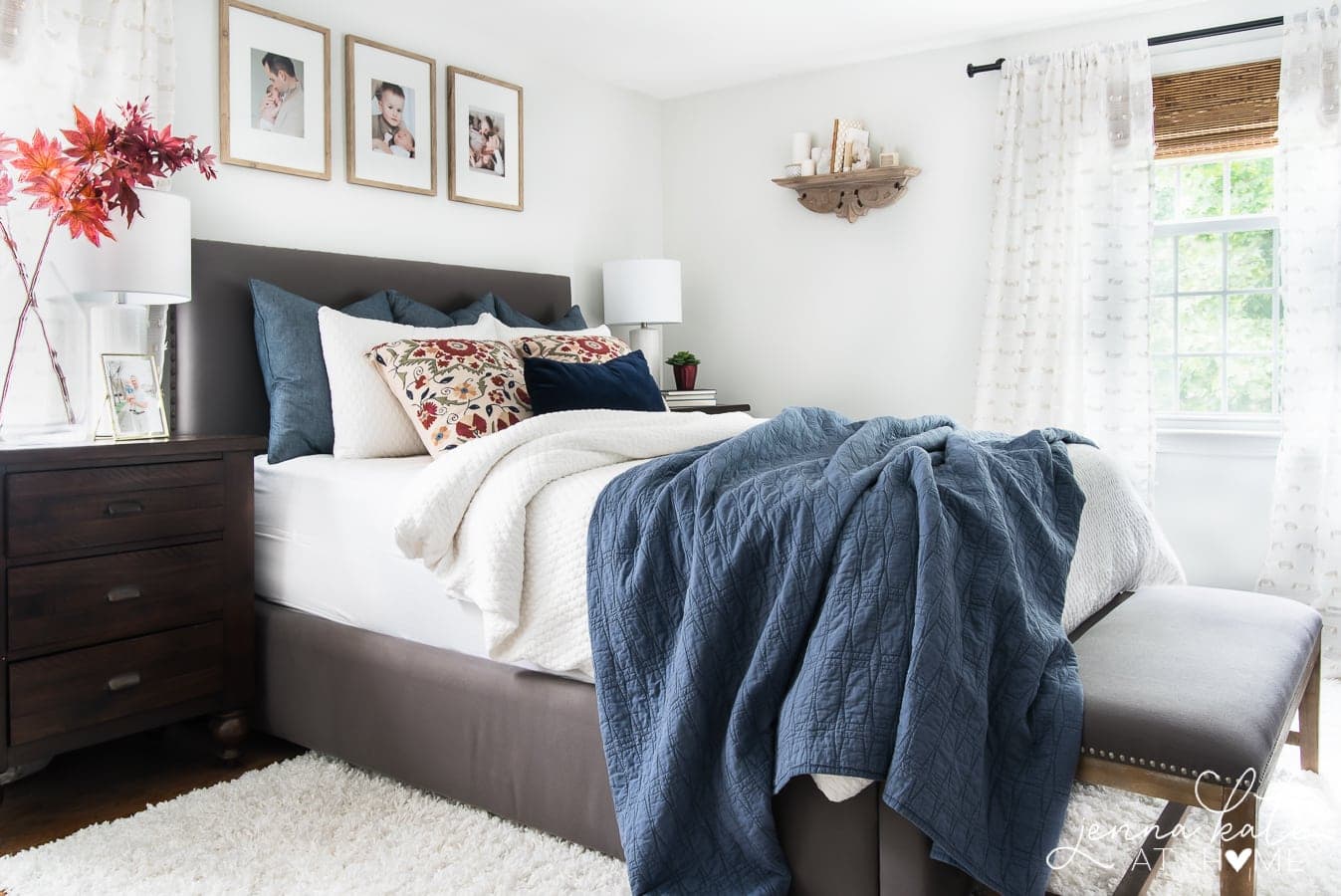 Every fall I add a throw pillow and some cozy throws that align with the fall aesthetic.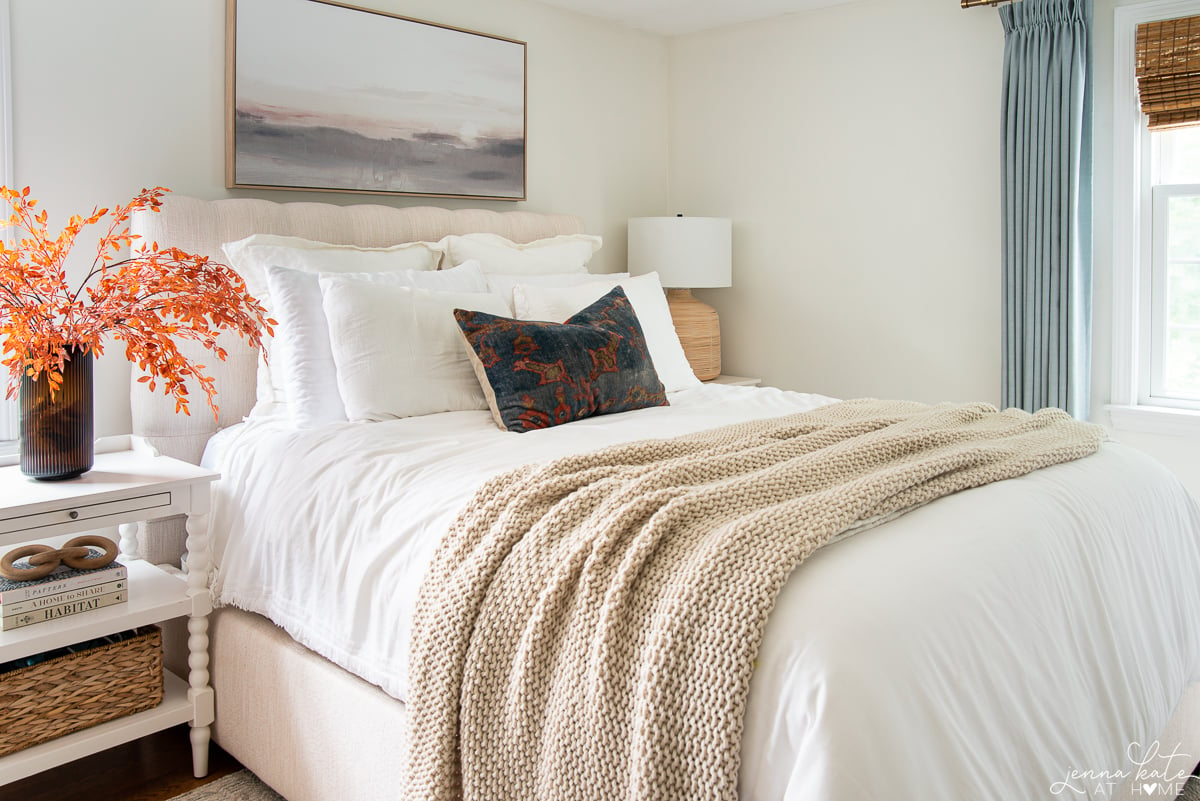 A warm fall color palette can include colors like rusty reds, burgundy, mauve, or touches of cream and brown. These colors can work as neutrals, but provide great pops of color as well.
Embrace different textures in the cooler weather that you avoid in the other seasons – heavier knits and velvet not only add texture but warmth and coziness, too.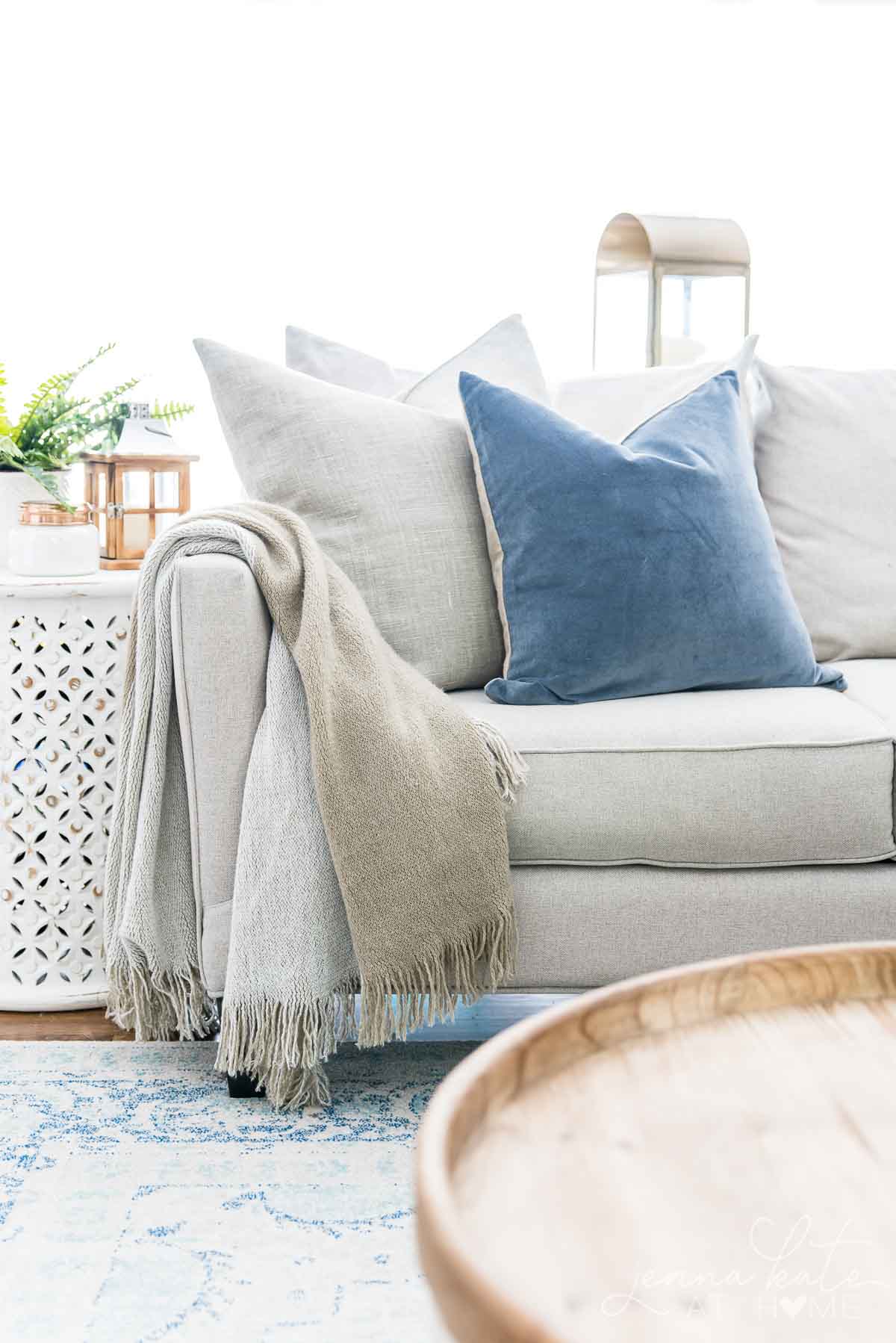 When it comes to blankets, make sure not to skimp on quality.
Yes, they are great for using for decor and storing on a blanket ladder, but they will also keep you warm on those cool fall nights. When you curl up at the end of a long day on the couch, you want your cozy throw to not only be cute but also keep you warm and comfortable.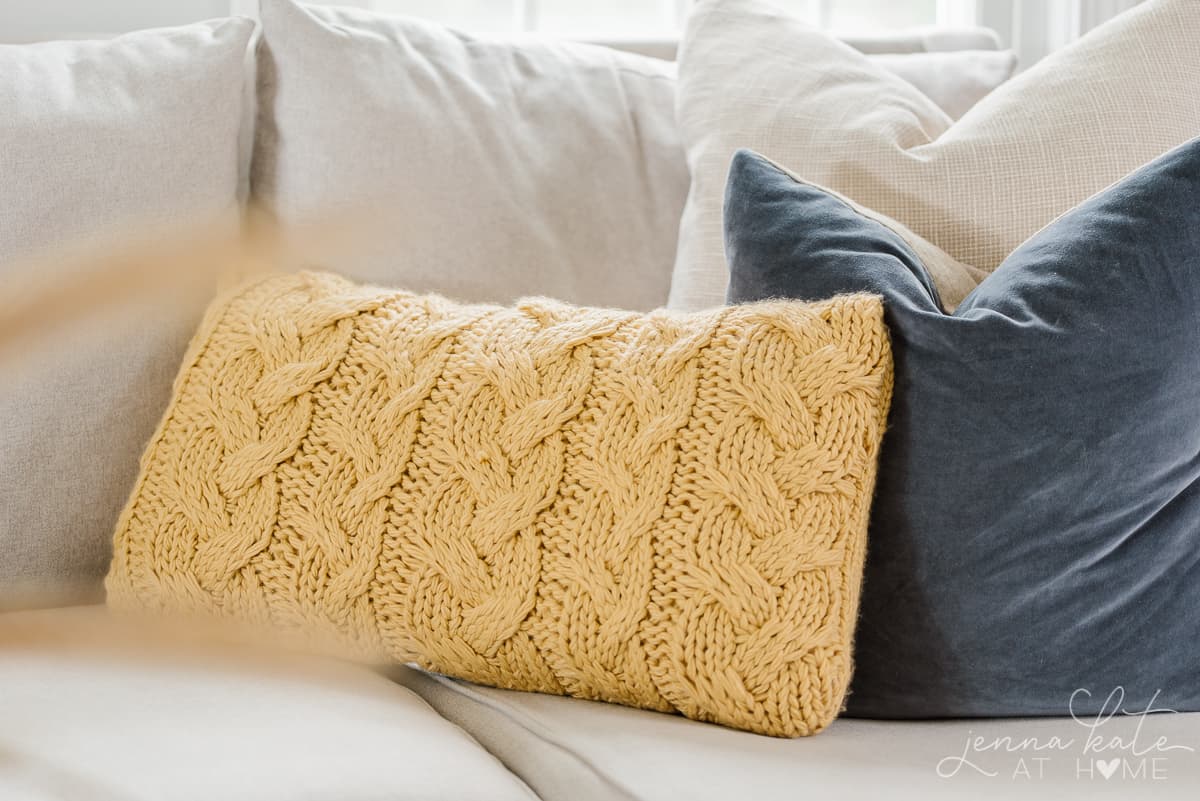 If you're on the hunt for some new fall blankets, some great materials to look for are fleece, cotton, soft flannel, velvet, or knit. Look for a blanket with a large-woven pattern and in a neutral color palette such as ivory, cream, or brown.
Pro Tip: Shop Your Home
Don't forget to shop your own home! Year to year, you may forget things that you've purchased for the fall season so before you head to Walmart or Target to see the latest things for the fall season, check those bins you have in the attic or in storage. This will be your best hack for cheap fall decorating ideas..
4. Create Fall Vignettes
A simple vignette on a coffee table or fireplace mantel can be the perfect nod to the season.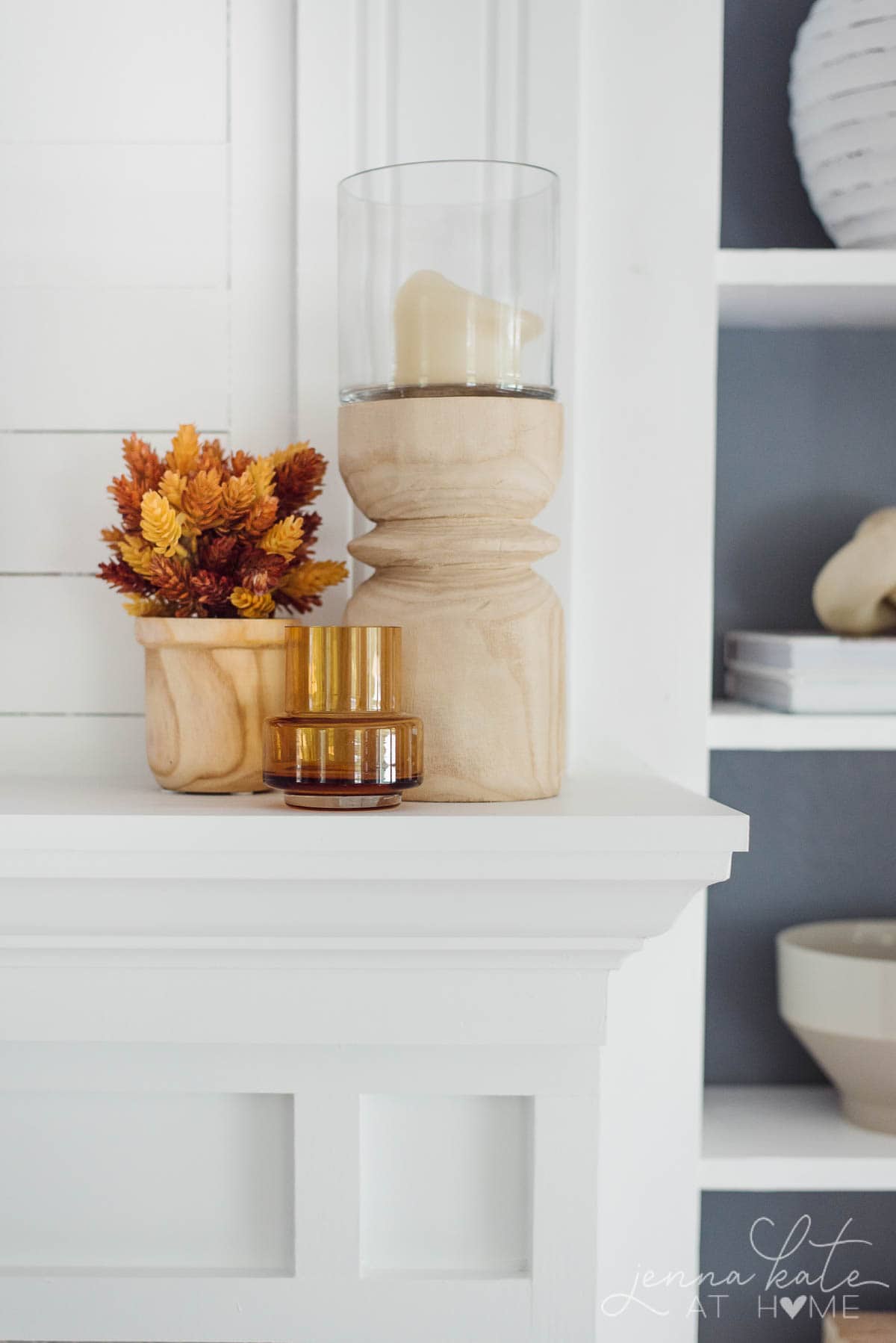 It can include everything from decorative objects, coffee table book, and candles to a vase of flowers or branches, or even the aforementioned foraged acorns or grocery store artichokes.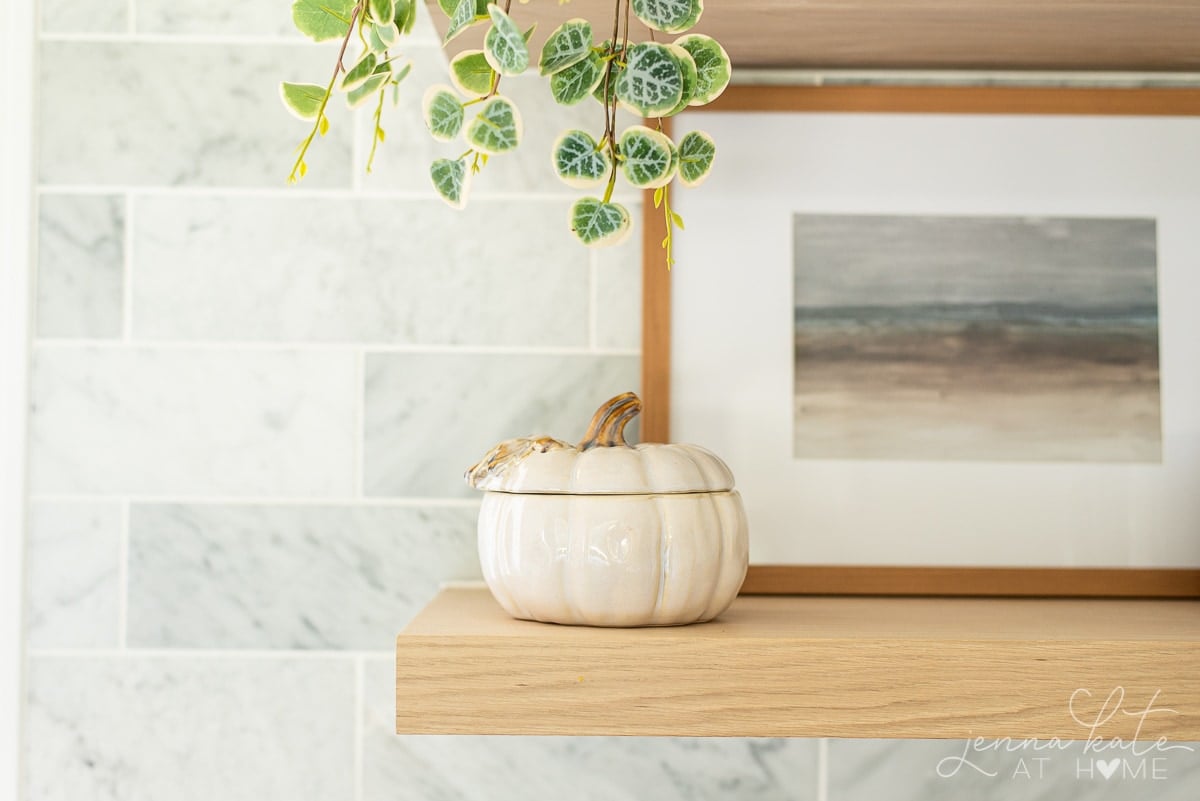 5. Think Simple
Sometimes we overthink decor which can lead to overbuying which ends up in clutter. This is an extra cost we can definitely avoid.
Do you have a Samsung Frame TV? Change out the artwork on it to a more seasonal scene.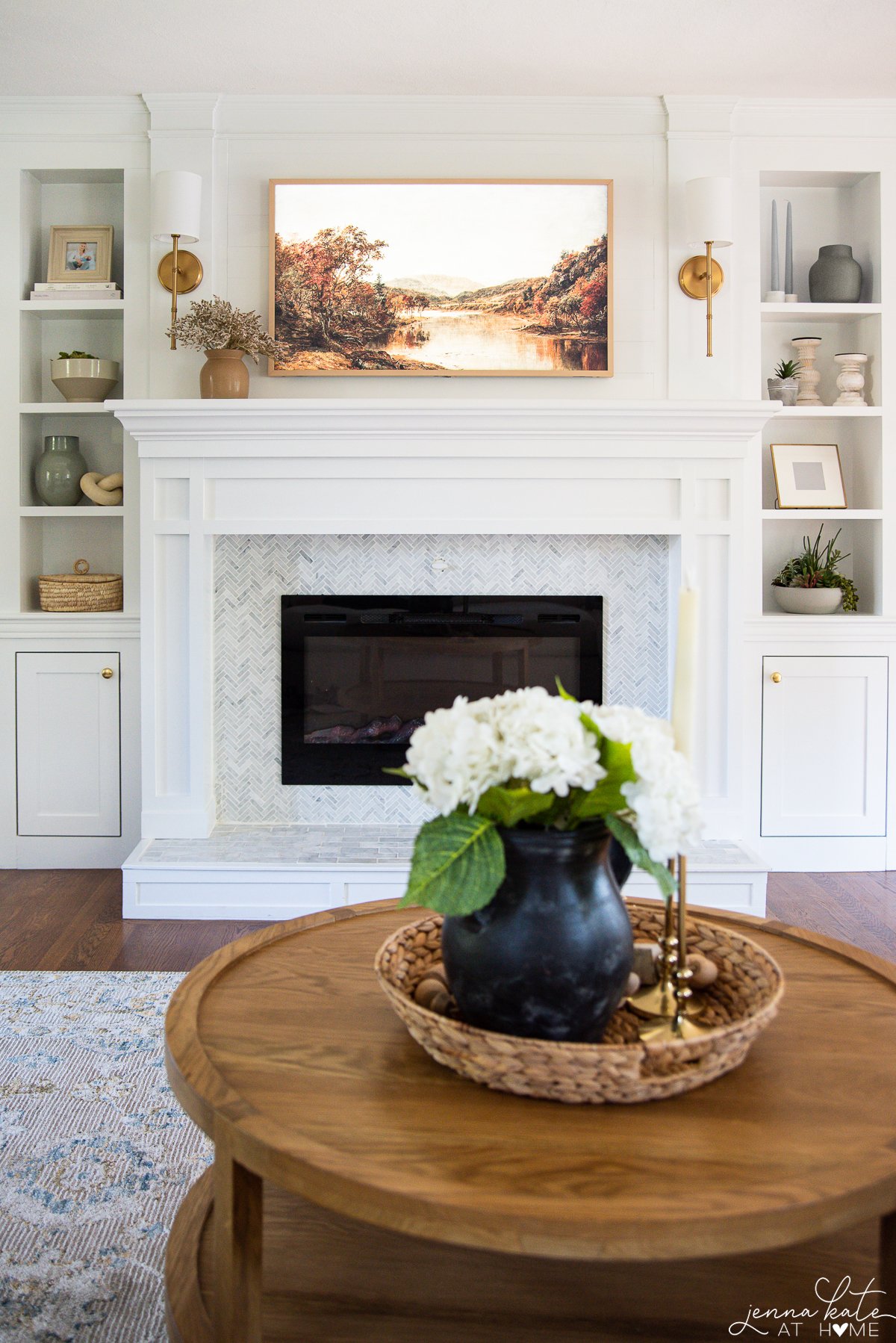 Switch up artwork, even print something from the internet and frame it.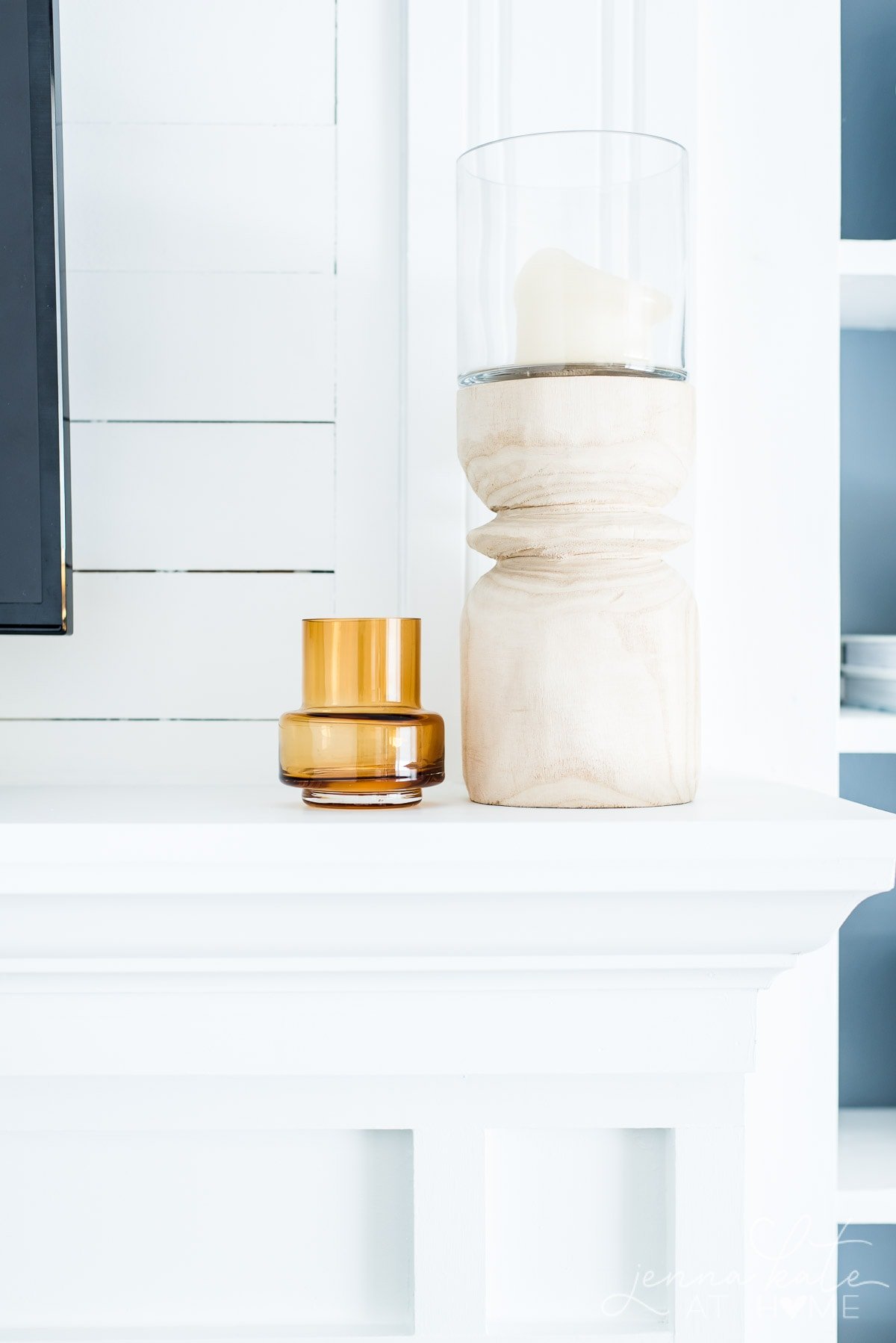 Put a vanilla pillar candle in a fall colored glass votive and add it to your fireplace mantle. Alternatively, you can light your favorite fall scented candle so your home feels and smells warm and inviting.
Sometimes even the most subtle addition can have the exact impact you want.
6. DIY Your Own Fall Decorations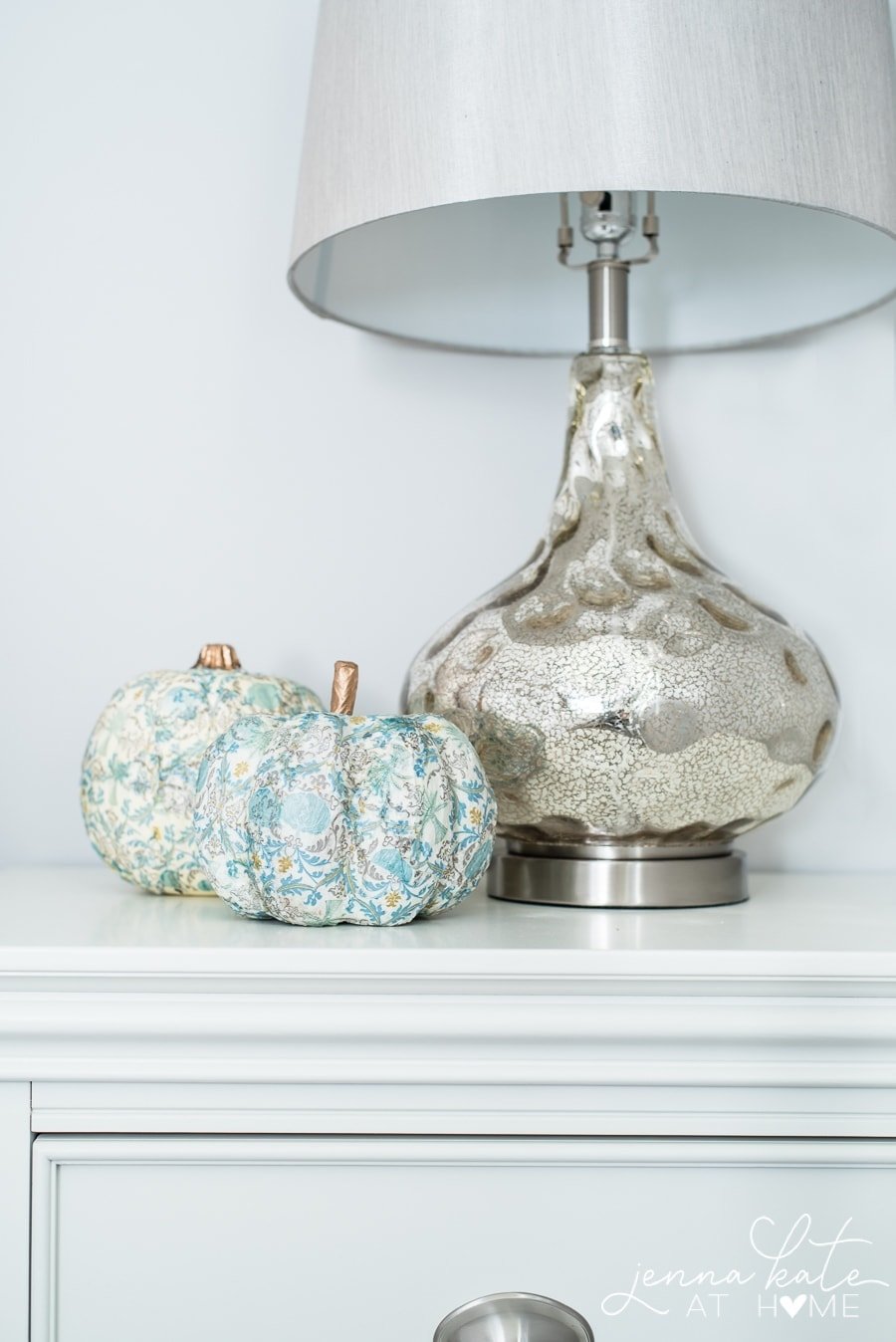 If you're looking for a quick simple DIY project, grab some inexpensive fake pumpkins from the local dollar tree and add some decoupage napkins on them in your favorite fall theme or color.
If you already own a plain wreath, add burlap ribbon or another fall-colored ribbon to it for an easy DIY fall wreath. This is a simple way to create a great piece of fall decor!
Final Thoughts
Fall is a season of renewal and growth, so it's the perfect season to use that to your advantage in your decorating.
Whether you go the minimalistic route with your decorating, or embrace all the mini pumpkins, pinecones, and pillow covers that you can gets your hands on, you can add that autumn touch to your home without spending a small fortune.
Hopefully, these inexpensive fall decorating ideas will help inspire you to design an inviting space where friends and family feel right at home at this season!