Bring new life to your old hardwood, tile, linoleum or plywood floors with these unique, beautiful and cheap flooring ideas.
There's a lot of really cool and really affordable flooring ideas out there on the interwebs! While I'm leaning towards luxury vinyl planks or even the vinyl stickers right now, maybe some of these other options may be perfect for your home!
Modern Sheet Linoleum 
Gone are the days of gross linoleum. The new age of sheet vinyl is here and it's looking both stylish and affordable. For less than $3 a square foot, your bathroom could look like this too! This could actually be a real contender for my mudroom. Because it comes in one solid sheet, you don't need to worry about anything besides cutting the edges!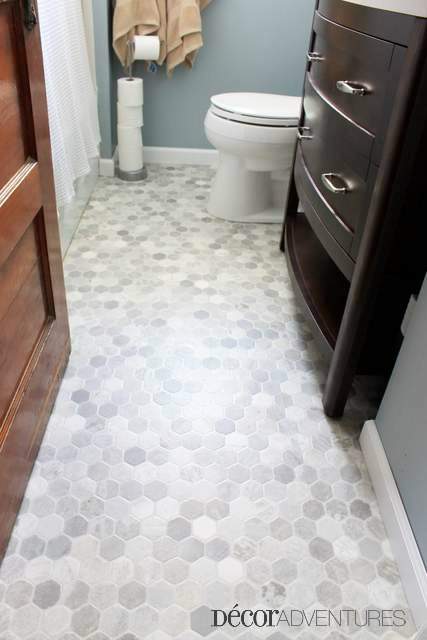 Hexagon Tile Effect Sheet Vinyl Floor via Decor Adventures
Herringbone Floor Using Groutable Peel and Stick Vinyl Tile
Have you see the inexpensive peel and stick tile they sell at Lowe's and Home Depot? It doesn't look light much but with a little creativity and some elbow grease, you can get a stunning floor for really cheap.
How To Install Peel and Stick Tile in a Herringbone Pattern by Shark Tails