Updating the floors in your home doesn't have to mean a massively expensive and time-consuming undertaking. There's so many options available that are both budget-friendly and DIY friendly.
While we were lucky enough to be able to sand and stain our hardwoods before we move into our house, the kitchen, bathrooms and laundry rooms had ugly linoleum and tile flooring that desperately needed to be updated. Two of the spaces had luxury vinyl tile installed, the kids bathroom got a complete remodel including new tile and the laundry room got a fresh look with vinyl floor stickers (they're not a long term solution but look awesome!)
DIY Flooring Ideas
With so many great products available both online and at local home improvement stores, there's definitely a product that will work for your skill level, time and budget constraints. Here are some of my favorite affordable flooring DIYs and ideas.
Painted Linoleum
This is a quick way to spruce up a floor on the cheap. It probably works best on a floor that's not super high trafficked, like this laundry room floor.
Vinyl Floor Stickers
I've actually just ordered a sample of these and I cannot wait to see them in real life. Lauren used them in her laundry room and reports that a year later they are still holding up amazingly well.
Paper Bag Faux Hardwood Floor
I still can't believe that these are not real hardwoods. It's just brown paper bags stained and with a faux wood effect rolled on. It's crazy but so clever!
Luxury Vinyl Plank (LVT Plank Flooring)
I LOVE Luxury Vinyl Plank. This is the only idea that I'm featuring here that I've actually tried myself and I'm 100% a convert. Last year, we installed it in our master bathroom and it has held up so well. Because it floats, you can install right over the existing flooring (tile in my case). It just clicks together!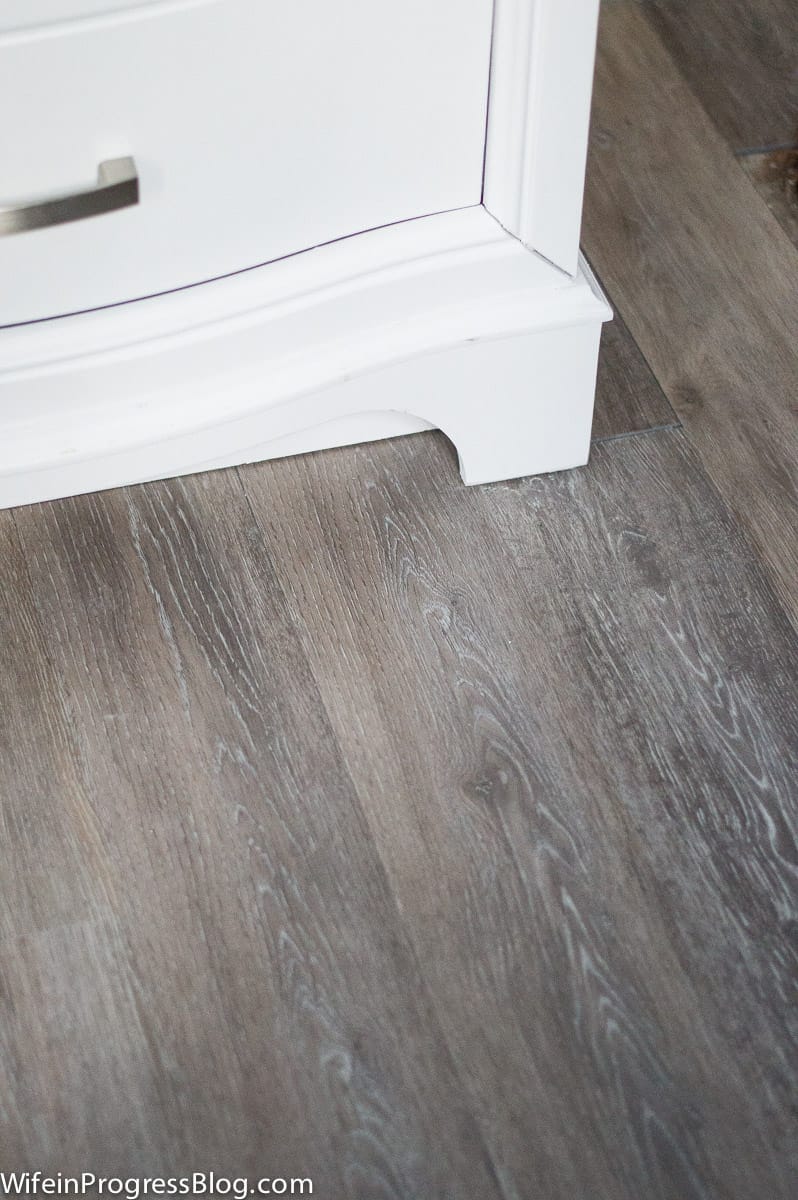 Luxury Vinyl Tile (LVT Tile)
Similar to LVT plank flooring, is the LVT tile. It comes in all shapes and patterns but I'm particularly in love with the marble looking one. LVT tile and planks are rated for kitchens and bathrooms, making them both a beautiful and affordable choice for your floor.
Modern Sheet Linoleum
Gone are the days of gross linoleum. The new age of sheet vinyl is here and it's looking both stylish and affordable. For less than $3 a square foot, your bathroom could look like this too! This could actually be a real contender for my mudroom. Because it comes in one solid sheet, you don't need to worry about anything besides cutting the edges!
Plywood Faux Plank Flooring
I've used plywood for my faux shiplap in my powder room but never would have considered it for a flooring. It's a lot cheaper than traditional hardwood flooring and according to this informative post on Remodelaholic, it holds up very well. This is a feasible option for dry areas but should probably be avoided in kitchens and bathrooms.
Painted Wood Floors
Painting your wood floors is a very inexpensive way to give a completely new look to your hardwood floors. Whether you go for a farmhouse white or a pop of color, it's an affordable project that you can do one room at a time.
Stenciled Wood Floors
If a solid painted wood floor is a little boring for you, consider adding a stencil. You can stencil directly over the hardwood or paint it first like the picture below. Don't forget to seal it once you're done so that the paint lasts!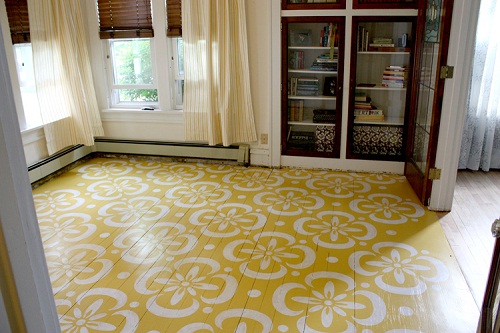 Herringbone Floor Using Groutable Peel and Stick Vinyl Tile
Have you see the inexpensive peel and stick tile they sell at Lowe's and Home Depot? It doesn't look light much but with a little creativity and some elbow grease, you can get a stunning floor for really cheap.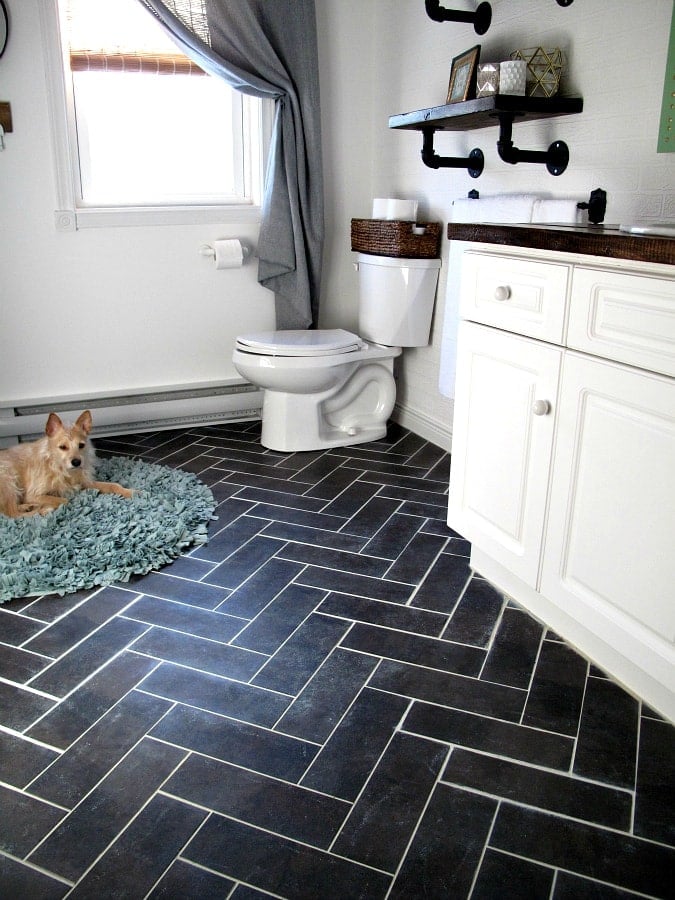 Wallpaper Floor
Now this is a crazy idea that is actually pretty awesome. I've no idea how well it holds up but it sure is unique!
Penny Inlay Floor
This one is a little out of the box but the effect is quite beautiful. If you've got years of pennies in a jar somewhere, maybe consider this intricate but cheap flooring idea.
Concrete Overlay Floor
If an industrial vibe sounds like your jam, then you might love these concrete floors. Poured straight over the subfloor, then can even be polished to give a more finished look.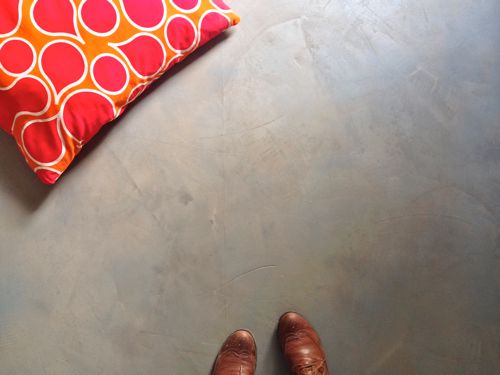 Stenciled Tile
If your tile is still in good condition but it's just plain ugly, using a stencil to get a faux cement tile effect is a cheap option to improve the look of your flooring.
Painted Plywood Floor
If you've recently removed carpet and now all that's left is the plywood subfloor – paint it! This is a great way to live with what you have until you decide (or can afford) to do what you really want. Although, Carrie's painted plywood floor is so beautiful, you may be tempted to keep it forever!
Whitewashed Hardwoods
Whitewashed hardwoods are very trendy right now. If your wood floors are in good shape but you just want to lighten the color, a whitewashing technique like this may be perfect for you. I personally think the best part of this technique is that the grain of the wood still shows through.
Epoxy Floor Coating
This metallic floor coating provides a rock hard finish that is perfect for garage or basement floors.
Acid Stained Concrete Floors
Another option for basement or garage floors is to acid stain the concrete. You can go with any color your heart desires, even turquoise like this room. This is a popular technique for outdoor concrete slabs but why not do it indoors, too!
Revive Old Hardwoods
Before doing anything drastic, have you considered trying to revive your old hardwoods? You'll be surprised what you can do to bring them back to life. So much so that they may even look almost new again!
You have a few options here:
Sand down your floors, re-stain and seal them (most expensive, most labor intensive).
Have your floors screened. Basically the top layer of polyurethane is lightly sanded off and a new fresh layer applied. This works well if you have a lot of scratches (but not gauges).
Apply a product like Rejuvenate which fills in light scratches, protects your floor and adds shine.
Tile Over Old Tile
If you're worried about having to smash out old tile and the mess it will make, you can just tile right over that old tile! In my home, all our bathrooms have tile original to house (1960). The tile is embedded in 2 inch thick of concrete and unless we smash it out, it's not budging. PLUS it's too risky to start smashing the floors upstairs since we may damage the ceiling below it. Instead, we tiled right over the existing tile. As long as the original tile is still firmly intact, it's easy to do! You can purchase tile on sale for as little as $1.50 a square foot and the tile adhesive and grout isn't too expensive, either. With only a couple of hundred dollars investment (and watching a few YouTube tutorials) you can get a beautiful new tiled floor!
Final Thoughts
So many amazing, unique and beautiful cheap flooring ideas, right? I'm excited to use the floor stickers in our laundry room and I already love the two rooms in which we put LVT planks.
Which of these flooring ideas would you use in your house and which ones are definitely a no-go? Let me know in the comments!